How to Keep Up With Trends: 5 Efficient Methods
Scrolling through social media, listening to podcasts, and reading trade journals to keep up with trends is very time-consuming and can quickly eat up your entire day.
It's also difficult to find emerging trends using these methods. By definition, emerging trends aren't yet popular across your industry, so social media, trade publications, and influencers probably aren't talking about them yet.
To solve these problems and help you find emerging trends more efficiently, here are a few trend spotting methods that don't require hours of weekly research.
1. Use a Trend Discovery Tool
The easiest way to find new trends is to use a trend discovery tool to do the work for you.
So how should you choose a trend tool?
There isn't a one-size-fits-all trend discovery tool, but the following criteria should help you evaluate each trend tool to find the best one for your needs:
Trend Identification and Selection Process: How does it source and qualify trends? Are trends just selected based on a single analyst's opinion, or is high-quality data used to qualify trends?
Trend Discovery vs. Trend Analysis: Many trend tools (like Google Trends) let you type in a topic, and then it provides data on that trend. The problem is that you already have to know that the trend exists. On the other hand, some trend tools are designed for trend discovery and introduce you to new emerging trends you've never heard of.
Long-term vs. Short-term Trends: Some trend tools are optimized to find short-term trends that will probably fade away in a few weeks – like popular fads and news topics on social media. Other trend tools help you discover broader, long-term industry trends that will play an important role in the industry in the coming years.
Ease of Use: Some trend tools just surface lists of articles on a particular topic. This might provide detailed insights into the trend, but you'll have to spend hours reading to find those few interesting trends. On the other hand, some tools are structured as trend databases and just give you the trend keywords directly.
As you can see, there are a lot of variables that go into selecting a trend discovery tool.
We couldn't find one that perfectly fit our needs, so we built Exploding Topics.
It's a great fit for investors, entrepreneurs, and content creators that want a high-quality trend discovery tool that quickly surfaces trends with long-term growth potential.
The flagship feature is the Trends Database, which you can sort by category (e.g., fashion, beauty, marketing, tech, finance, etc.) to find trending brands, products, and industry terms: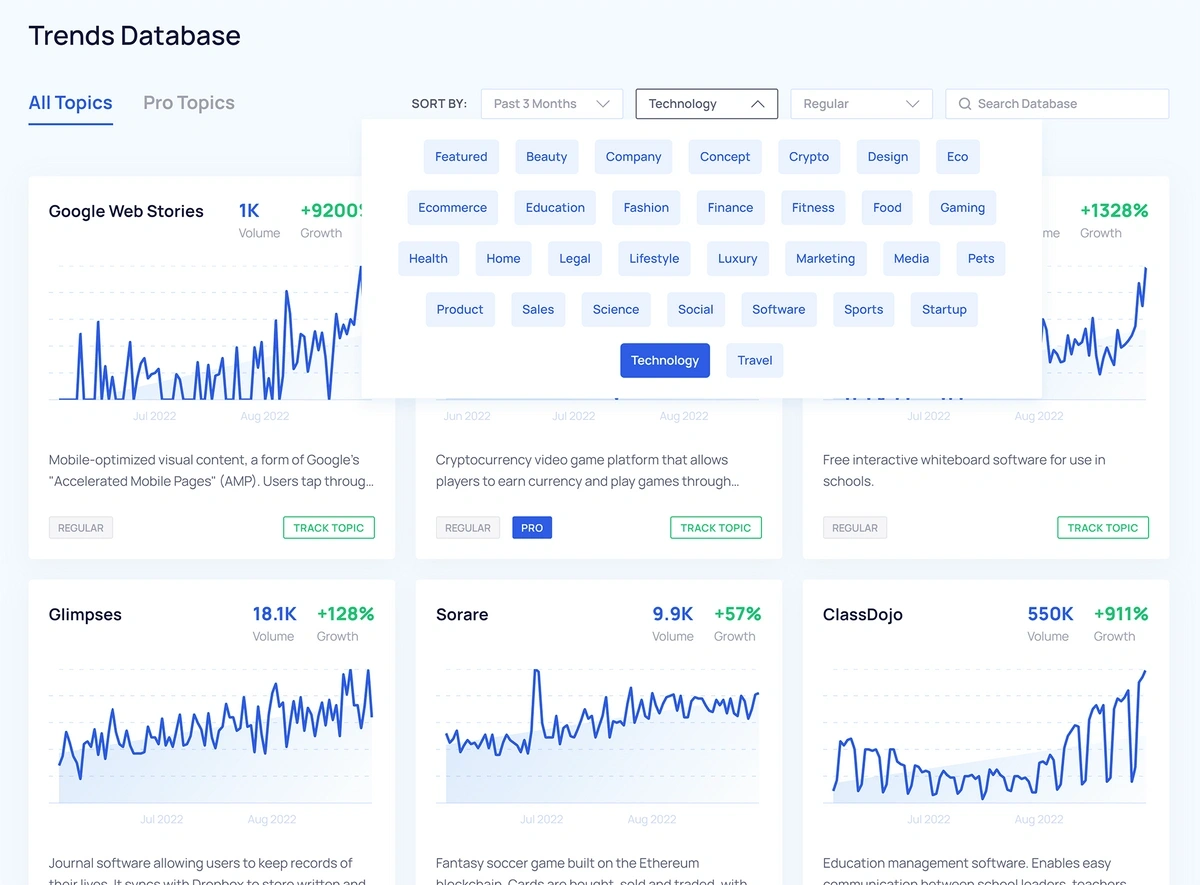 You can see a graph of each trend's historical Google Search volume, which we use to determine its growth potential.
We offer a free version of the Trends Database that anyone can use (no account required), though Pro users get access to our premium trends and other trend discovery features like:
Projects: When you find an interesting trend, you can track it by adding it to a Project. All Projects live inside your Exploding Topics dashboard so that you can organize and track trends over time.


Meta Trends: Within each market are usually a handful of niche trends. For example, "Pet DNA kits" are a meta trend within the pet market. So Exploding Topics shows you the meta trend and the brands, products, and industry terms associated with that meta trend.


Weekly Reports: To help you stay up-to-date with the latest trends, we send Weekly Reports that provide a detailed overview of five trending products and five trending brands.


Trends Search: While the Trends Database helps you discover new trends, Trends Search allows you to type in any topic and generate a trend report complete with Google Search volume history, related trending topics, and "people also search for" terms.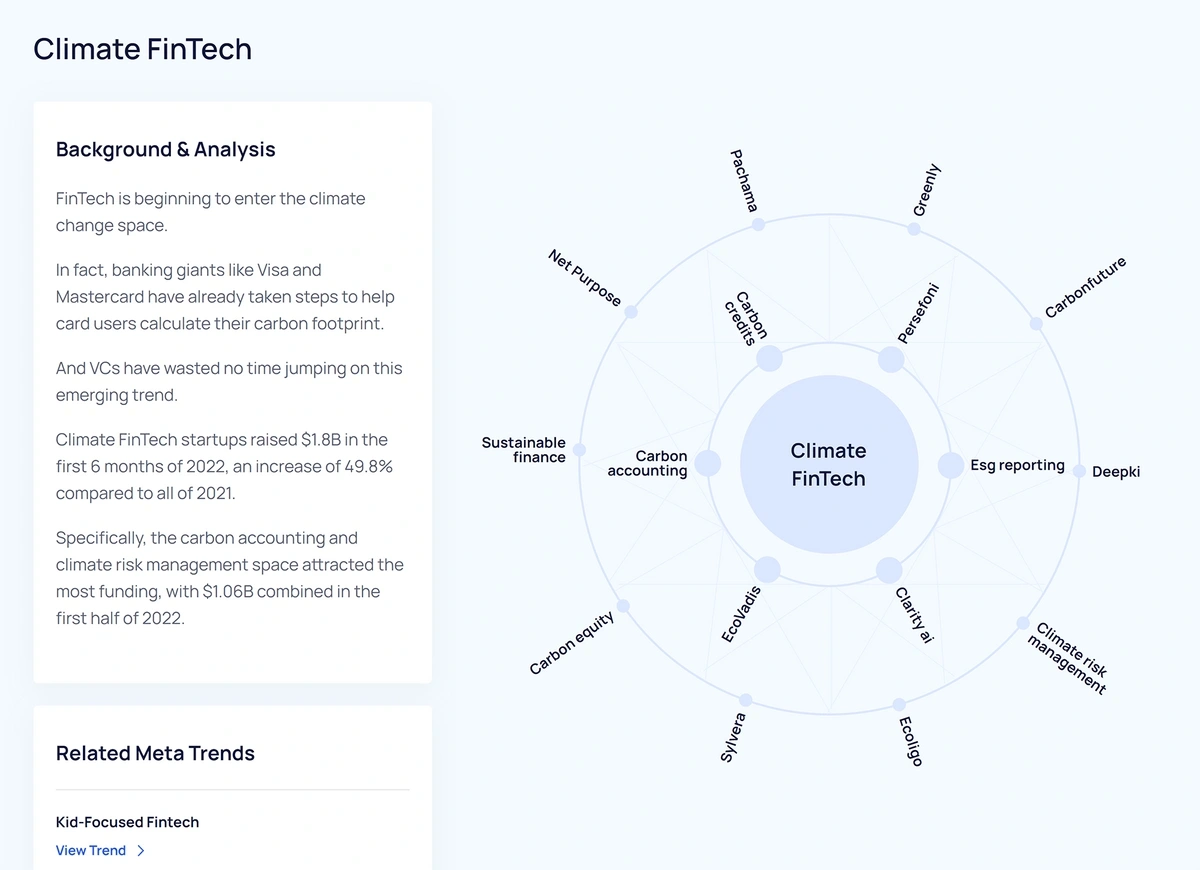 Trend quality is our top priority, so here's an overview of our trend discovery and qualification process: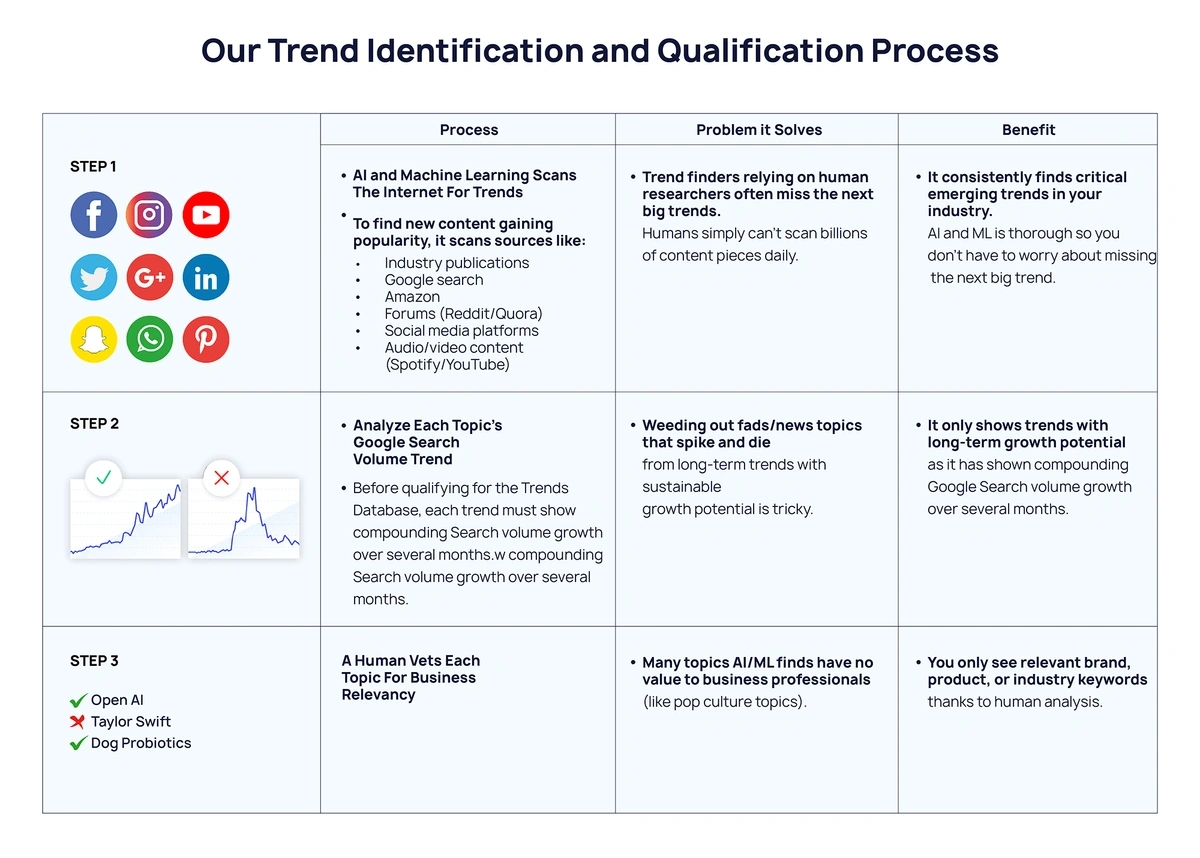 If you're interested in seeing other trend discovery tools, you can check out our guide to trend tracking tools where we discuss other alternatives designed for different use cases, like competitive trend tracking, social media trend tracking, and audience trend tracking.
2. Strategically Curate Your Content Diet
Industry publications typically have plenty of interesting trends, but scanning each one individually is time-consuming.
To save time and help you find trends faster, you can use an RSS feed tool (like Feedly) to curate relevant content for you.
Just type in your favorite websites, and the tool will show you a list of all the recent articles those sites published. Here's an example from Feedly: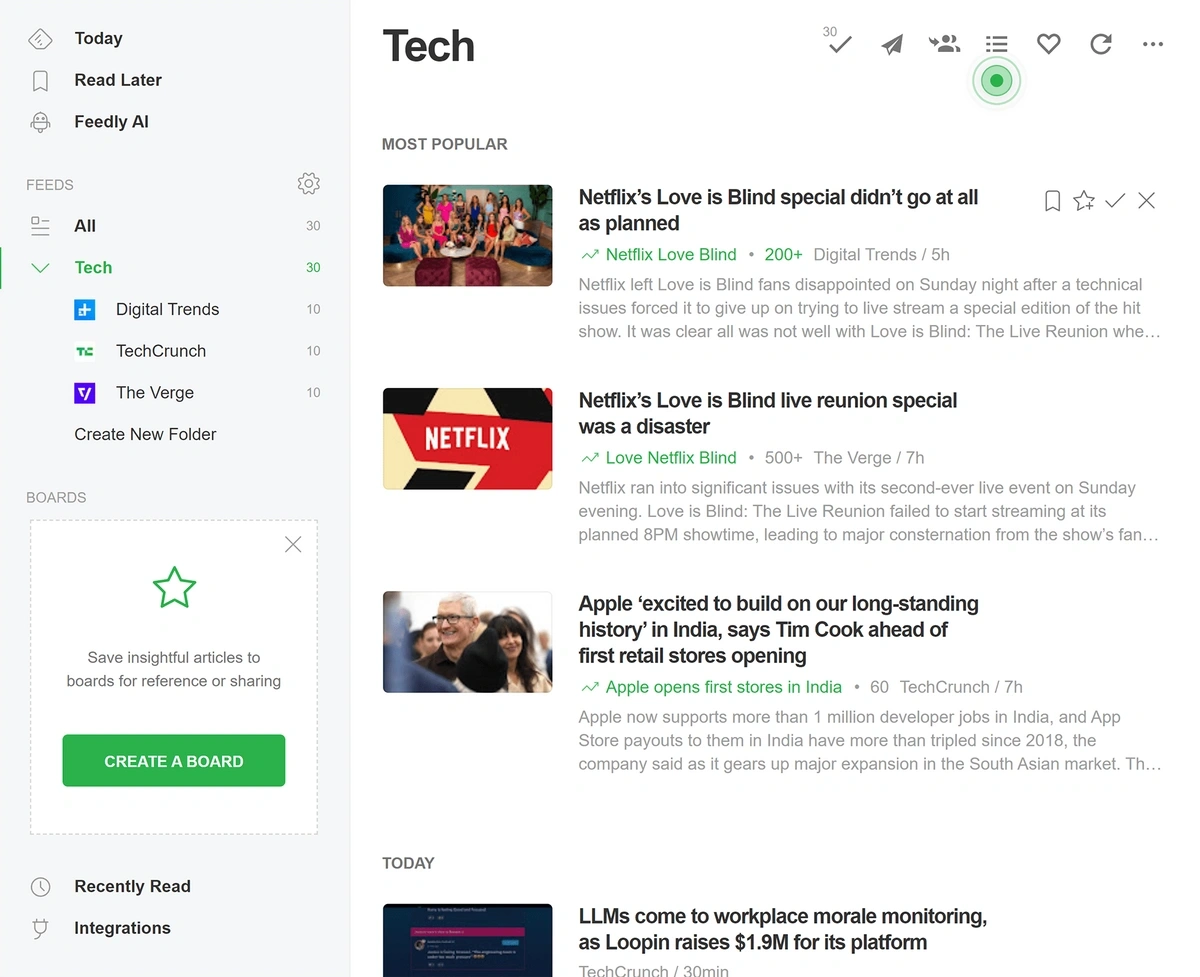 The only downside with this method is that it's still just a feed of content. So while you can scroll through the headlines for trend ideas, it won't directly spoon-feed you popular trends.
If you upgrade to Feedly's pro plan, they also allow you to track Twitter, Reddit, and Newsletters.
Another alternative option to using an RSS feed is to subscribe to a handful of daily newsletters that provide a briefing of the latest news.
Here are a few examples of newsletters that do this:
The drawback with using any single source is that most have a slightly biased viewpoint which can influence your viewpoints. However, it's still a great way to stay up-to-date with the latest news.
You can also use a social listening tool to unearth social media trends. Many social listening tools allow you to track hashtags, influencers, and keywords and send customized notifications and content feeds with the latest relevant content.
Some popular tools include Pulsar Platform, Awario, and Brand24.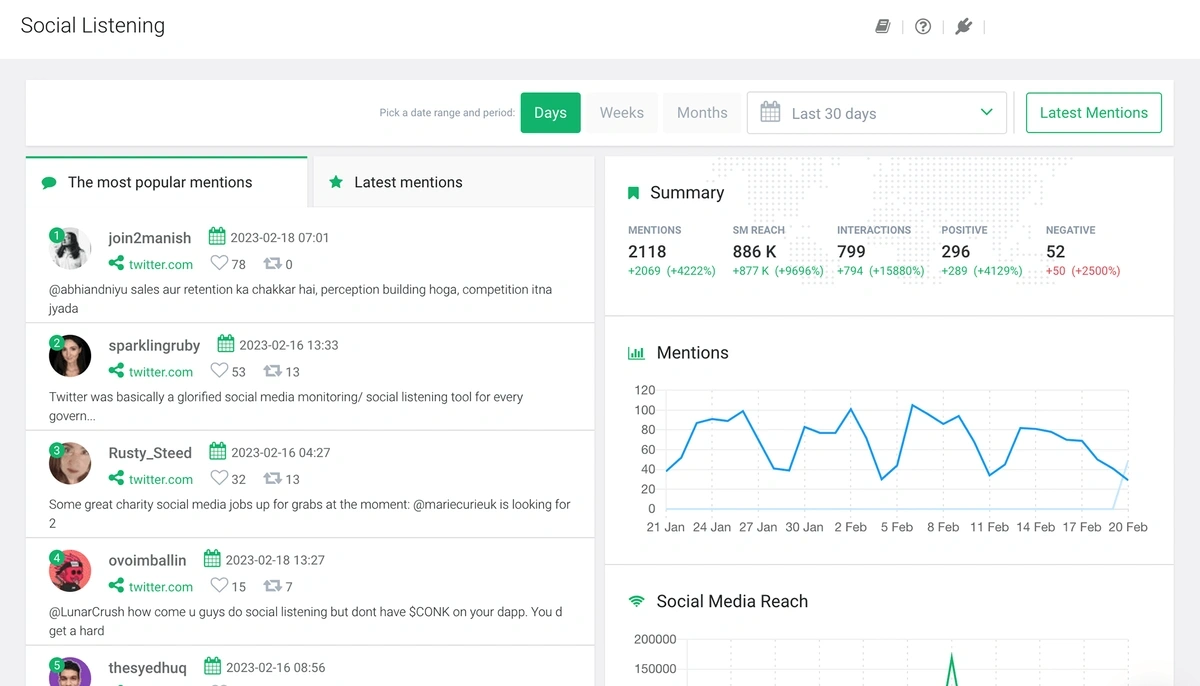 If you just want to track a particular keyword, you can use Google Alerts. Type in any search term you want to track, and it provides a real-time newsfeed of any sources (across the internet and social media platforms) that mention that term.
The main drawback of any content curation method is that it only shows current trends. This means the trends you find may be at their peak.
Or, they might just be news-worthy topics that will die down in a few weeks.
3. Talk to Industry Experts One-On-One
People with a large professional network have a significant advantage over those with limited professional connections as conversations with other industry experts can often lead to important trend discoveries.
Fortunately, even if you don't have a large professional network, you can still talk to industry experts one-on-one by booking a call through a platform like Intro or Clarity.fm.
For example, you can book a call with the co-founders of Reddit, Casper, and Nextdoor for a few hundred dollars on Intro: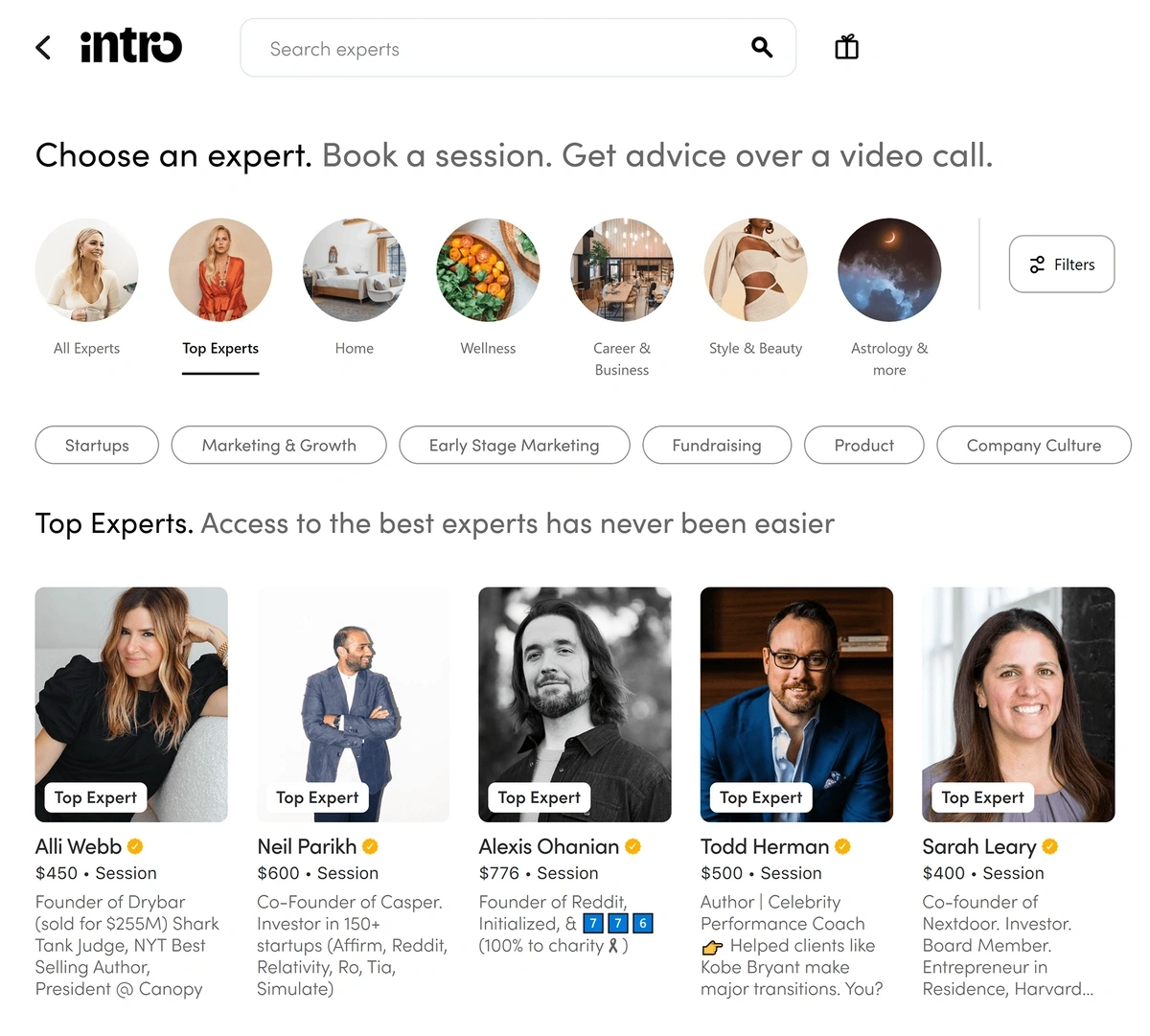 There are also plenty of other more affordable industry experts on these platforms, though you can see that these platforms make it very easy to quickly book a call with a variety of knowledgeable industry influencers.
For example, if you're considering launching a startup in the cybersecurity space, you could use one of these platforms to reach out to various VCs that have already invested in cybersecurity startups.
On the call, you can ask about the pros and cons of the industry, as well as what they look for in the startups they invest in and trends within cybersecurity that they're excited about.
4. Track Competitor Strategies
Tracking your competitors' movements is an excellent way to filter out important trends from noise.
It's easy to claim an idea is a trend, but it's much more meaningful to see competitors investing money into that trend.
For example, you might see several influencers saying that AI will revolutionize your industry, but it's much more meaningful if you see your competitors hiring AI engineers.
To help you stay up-to-date with the latest trends, you can use a competitive intelligence tool like Crayon.co, which tracks your competitors' marketing strategies, hiring activity, messaging and positioning, product and pricing strategies, and more.
You can also use a tool like CB Insights or Pitchbook to track your competitors' financial activity, like funding, acquisitions, leadership changes, and layoffs.
The downside of tracking competitor movements is that it's a reactive approach to trend discovery. If your competitors are already investing in a trend, you're probably already a few steps behind.
However, it's a great additional method to stay up-to-date with trends, as it's better to learn about a trend late than never. In addition, it might give you the conviction to invest in a trend you knew about but were on the fence about investing in.
5. Talk to Your Customers
Many people obsess over market data, influencer tweets, and competitor activity, but the people who pay you money are the only ones that really matter.
So talk to customers and ask them what they want.
For example, you might be considering adding AI to your product because that's what your competitors are doing, and all the influencers you follow preach that it's the right move.
Before you move forward, ask your customers if they want that new AI feature.
Would it actually help them? Would they be willing to pay more for it?
They might tell you that they actually don't want AI because it makes the product too complicated to use or dilutes the data quality.
So how do you "talk to your customers?"
Here are a few different ideas:
Send surveys via SurveyMonkey or Pollfish. You can incentivize customers to respond by providing a discount or monetary reward.
Ask your customer success team to talk with customers on one-on-one calls.
Use a tool like Respondent.io to book a call with people in your target market. This is great for companies still in the pre-launch phase or if you don't want to reveal your new plans to customers just yet.
Now that you know how to talk to your customers, what should you say?
A key problem with talking to customers is that they typically don't know what trends are up-and-coming.
So you can't really just ask them outright, "What trends are you interested in?"
Instead, ask them questions about their pain points. If you have an idea of how you'd adjust your product or service to ride a new trend, describe the new feature/offering and ask them for feedback (or better yet, ask them to pay money up-front for it).
Start Tracking Trends Now
If you spend more than an hour or two each week tracking trends, you're wasting time that could be allocated to executing projects.
While all of the trend tracking methods above are excellent for different use cases, the easiest way to quickly find a handful of promising, emerging trends in the next ten minutes is to use a trend discovery tool.
We outlined a criterion above you can use to find the best trend discovery tool for your needs, though Exploding Topics might be a good match if you want quickly find trends that are:
Under-the-radar and show long-term growth potential (they haven't peaked yet)
Relevant to business (brand, product, and industry keywords)
Selected and qualified based on objective data
To see for yourself how easy it is to use Exploding Topics, you can use the free Trends Database now. Or, if you want to unlock premium trend suggestions and more advanced trend tracking features, you can try Exploding Topics for free today.