Market Trend Reports (+ Trend Discovery, Analysis, & Tracking)
Exploding Topics provides weekly market trend reports and a self-service database so you can 1) learn about new market trends early on, 2) analyze current trend data, and 3) track trend growth — and you don't need to know how to do in-depth market research to use it.
Our algorithm and team of analysts work in tandem to spot and verify upcoming market trends — then, we send reports each week on the newest industry and market trends. We also store all trend data in our database (and we update our trend database daily) so you don't have to wait for weekly reports to research new trends.
You can log in to your account at any time and:
Explore trends by industry or topic.
View trend metrics — like the number of searches and the trend growth rate — to learn more about the trend's overall relevancy and how interest may change in the future.
Search trends you've already heard about and see related opportunities.
Save trends you're interested in and monitor trend growth in a dedicated dashboard.
Access new and previous market trend reports.
In this guide, we talk about Exploding Topics market trend reports, including what's covered in each report and how we gather new trend data. We'll also explain how to use the Exploding Topics trend database and other discovery and tracking features to learn about and monitor market trends.
You can also start an Exploding Topics Pro Trial to see all of the latest trends on our platform and access up to 10 of the most recent market trend reports.
Exploding Topics Trend Reports: Get 10 New Trends Every Week (Vetted by Professionals)
Exploding Topics trend reports include market trends across a variety of categories so you can learn about early seed startups, new products and services, upcoming eCommerce and retail trends, fashion and beauty trends, popular software and apps, emerging trends in technology, and more (e.g., eco, gaming, health, crypto, CPG, food/beverage, lifestyle).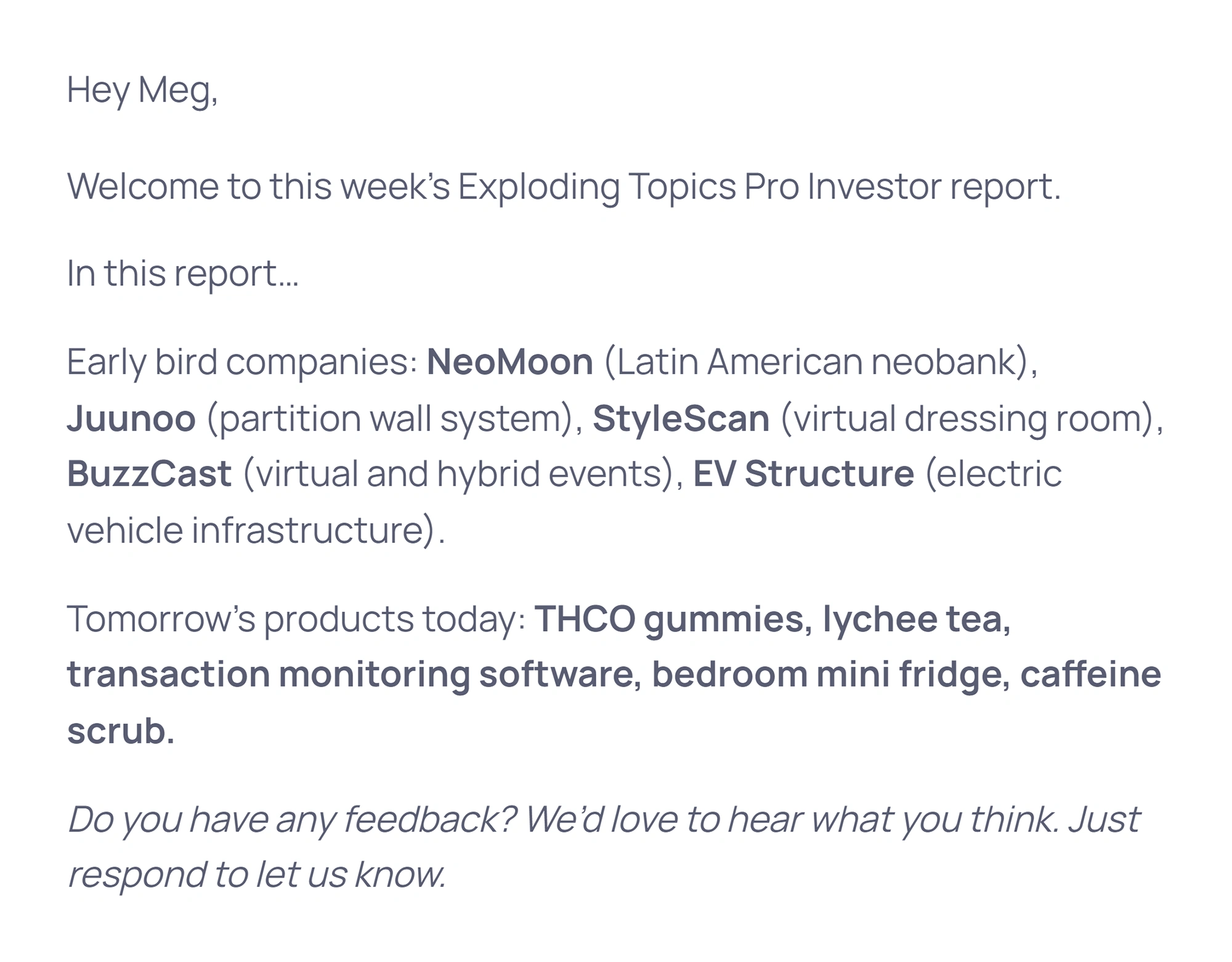 Each report includes 10 of the newest trends you should have on your radar. We provide key insights about each trend, including:
A description and background on the trend.
Details on the professionals, industries, and target markets this trend impacts.
Information on how the trend (product, technology, service, etc.) is already being used.
Expectations for future trend growth.
For example, one of our recent trend reports talks about NeoMoon, a US-based startup providing financial services to Latin American countries. It describes what problems the company is solving, how many customers they already have, target audiences and market size, and details on how the company may expand in the future.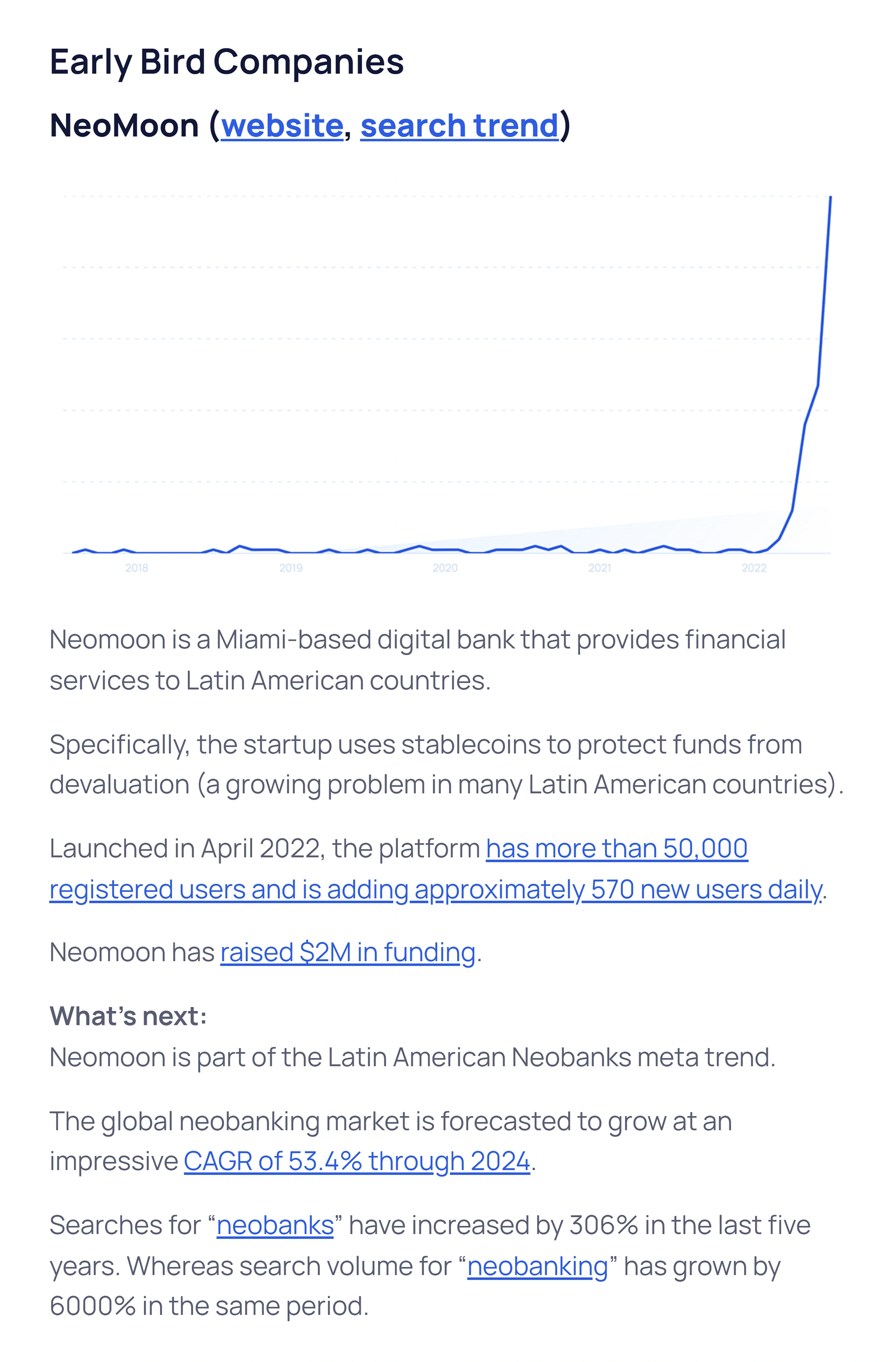 This way, you have enough information about each trend to decide if you want to save that trend in your dashboard and track its growth. We also make it easy to do more research about these trends by linking to the resources we use during our industry research and market trend analysis.
We can identify and report on new market trends because we use a combination of AI (to spot new trends) and analysts (to review and verify trends). And our unique algorithm finds trends at really early stages so you can learn about new opportunities before others in your space and gain a competitive advantage.
Here's how our process works:
First, our algorithm monitors search engines, news outlets, social media platforms, consumer behaviors on eCommerce sites, customer conversations on online forums, etc. to spot indicators of up-and-coming trends. The AI finds dozens of new trends each day, and it gathers relevant trend data so our analysts can review and forecast trend growth. (You can view up to 15 years of historical data for some of the trends on our site!)
Then, we have the human curation element. Our team vets every trend that our algorithm finds, looking only for trends that show signs of continued interest and growth. We sort out trends that are likely to be short-lived — for example, our platform doesn't have data about trending hashtags or current events — because those don't make for long-term opportunities or add much value to your business strategy.
This way, you can be sure that all of the trends in our reports and online database have been double-checked by experts, and you can leverage trend data to guide decision-making.
You can also preview Exploding Topics trend reports for free by signing up for our newsletter. Note: The free version of our trend reports only includes four new trends, but they are formatted in the same way as our Pro reports so you can get a feel for what to expect.
How to Use Exploding Topics Trend Discovery, Analysis, & Tracking Features
Our trend reports are delivered straight to your inbox every week so you can stay current on market and industry trends, but you can also use our online database and trend tracking tools to learn about new trends any time you want.
Explore New Trends in Exploding Topics
The easiest way to find new trends is by exploring our database: Trends are organized by category, so you can easily select the category you're interested in and see all of the latest trends.
For example, if you wanted to look at marketing and advertising trends, you could select "Marketing" from the category drop-down and see new social media apps and email marketing software you can employ in your marketing strategies.
You can click on any trend to view trend data (more on this below) and we show you related trends while you browse.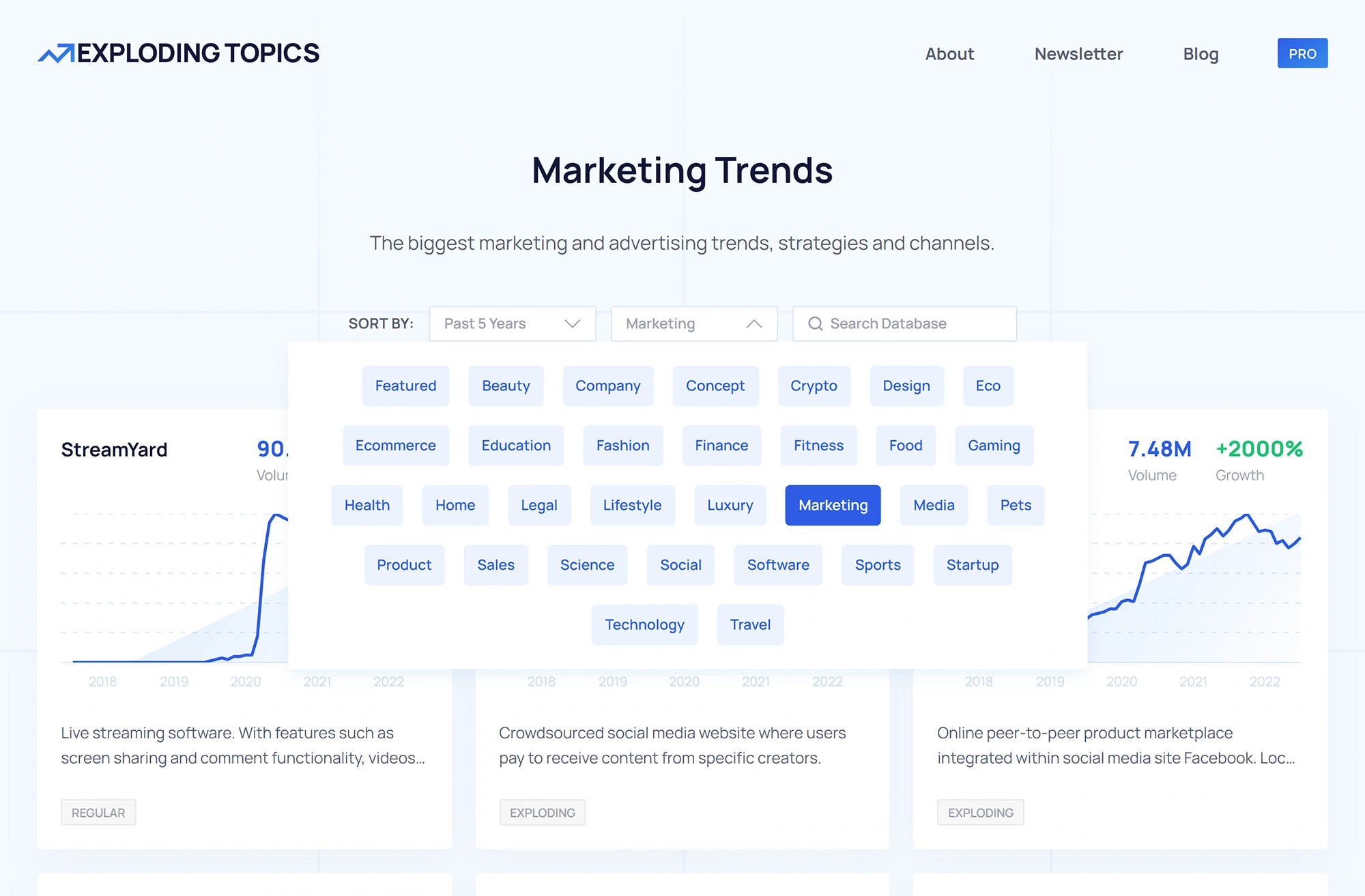 You can also use the search bar to look up trends in our database. You can research global market trends, or search trends by geographic location. We'll show you all the trends related to your search so you can view trend data and track trends in your dashboard.
Alternatively, you can start your research from the Meta Trends library. Here, we organize collections of trends by topic.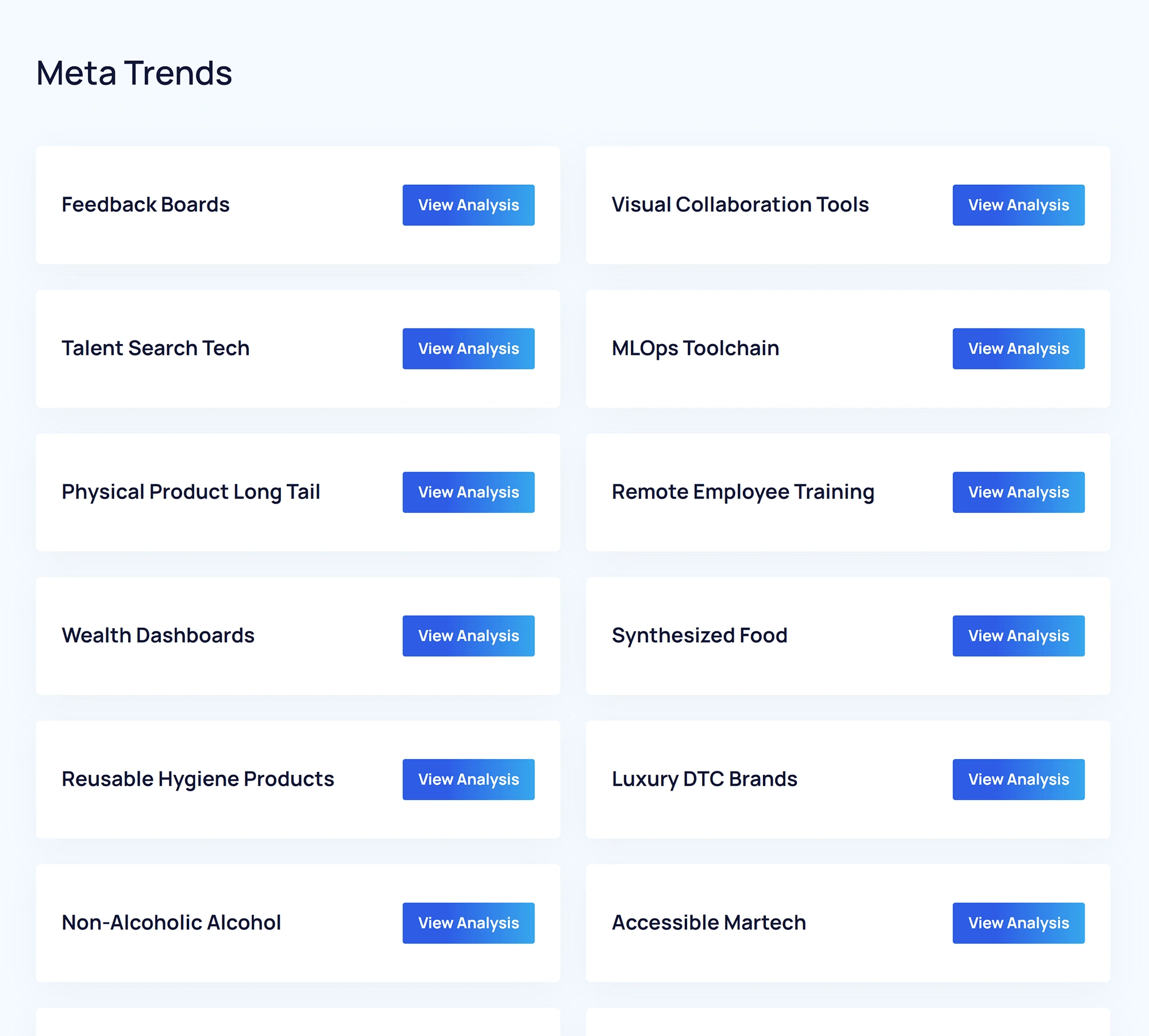 So instead of searching "marketing trends," you could look at something as specific as "Accessible Martech" or "Niche Streaming Services" and see all of the trends that make up the meta trend. We also provide a trend analysis report for each topic so you can get a little more background on meta trends.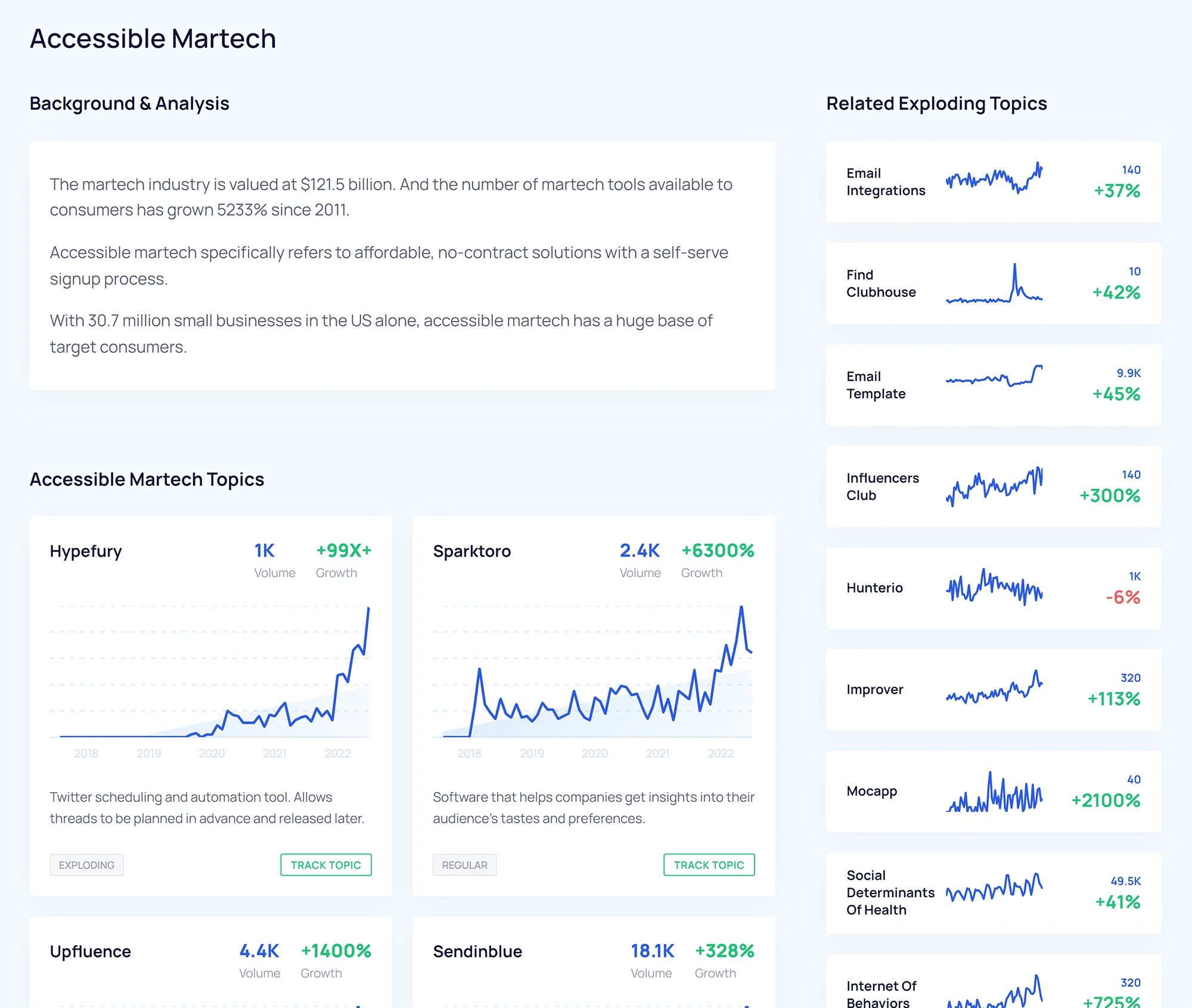 View & Analyze Trend Data
You can access all of the available trend data in the overview. We display search volume and growth rate on an easy-to-read graph so you can visualize how interest in the trend has developed over time.
The solid line represents searches — you can move your cursor along the trend graph to see searches per day — and the graph's slope shows whether interest is trending up or down.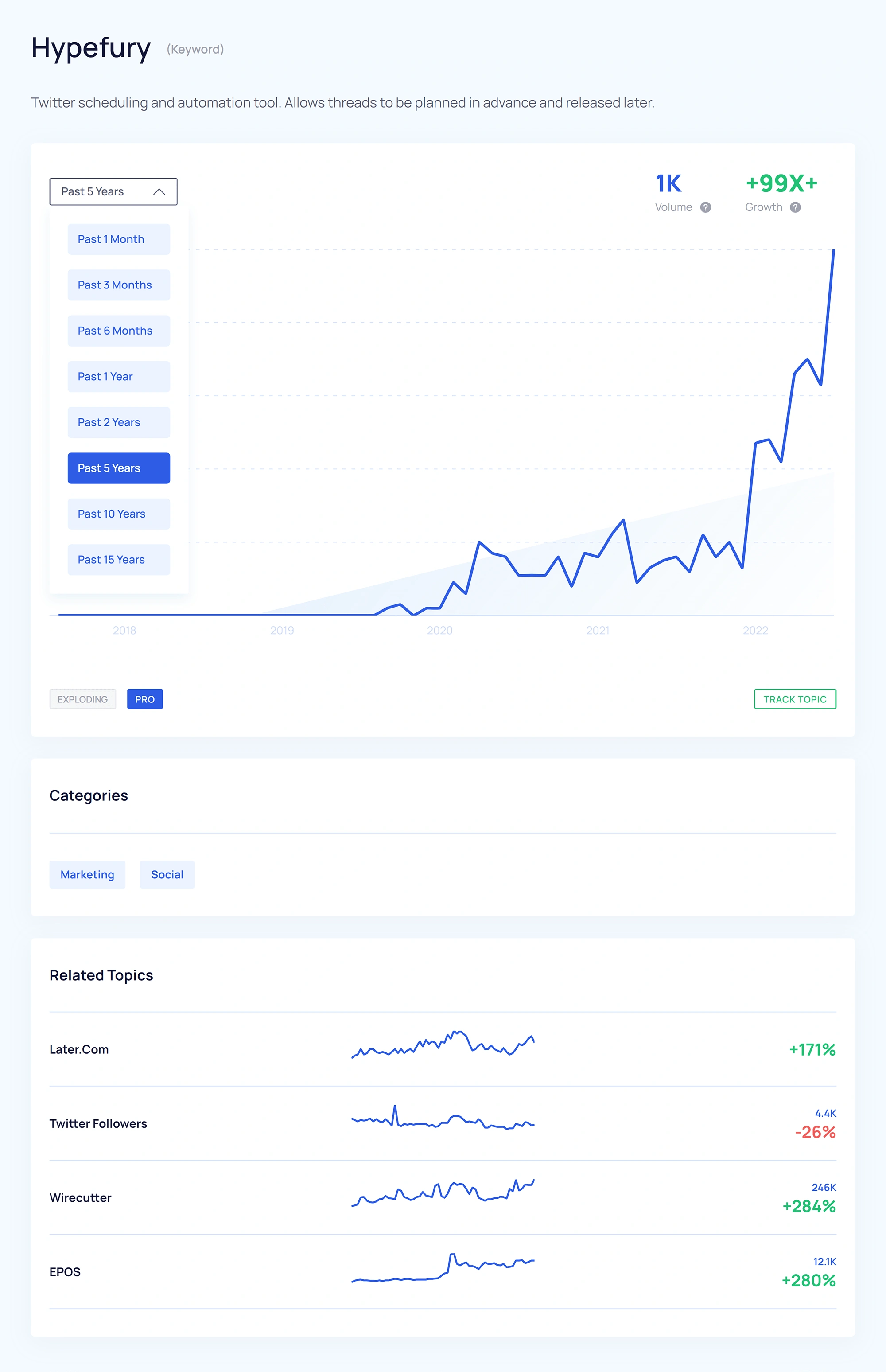 You can also adjust the graph date range to see recent and historical trend data — for example, you can look at search volume and growth rate over the last month or the last ten years. Looking back at trend data over previous years provides extra context so you can measure and benchmark trend growth, and more accurately predict how the trend will evolve in the future.
Remember, we update our database constantly so you can always access current market trend data.
Save & Monitor Market Trends
You can save any trend to your dashboard by clicking the "Track Trend" button from the trend overview. Within the dashboard, you can group related trends in "Projects;" this makes it easier to find and check in on saved trends, and Projects are especially beneficial for teams that are tracking dozens of trends and need to maintain an organized dashboard.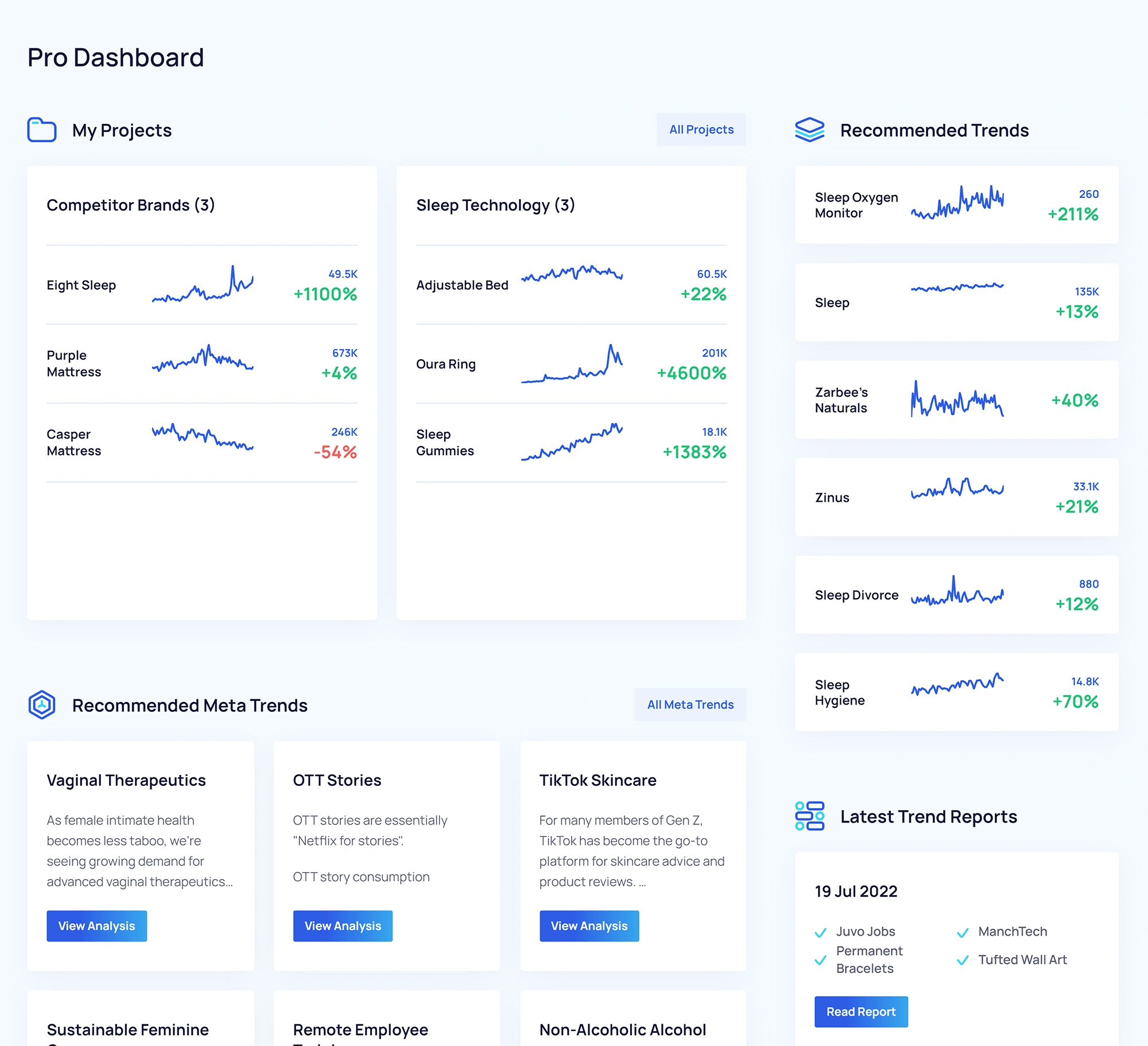 Then, you can log in to your database, see all of your saved trends, and view the most up-to-date market trend information. You can also set email alerts for trend updates and receive notifications when we spot significant changes in trend traffic or growth. These alerts are helpful for users who want to keep an eye on emerging trends and take action before trends start to really take off.
We also display other related exploding topics in your dashboard, as well as related meta trends and a list of our recent market trends reports. This way, you can navigate from the dashboard and explore other related opportunities without having to know exactly where you want to continue your research. We automatically show you what's relevant to your industry and interests based on what you have already saved.
Rest assured, we keep your dashboard private so other users can't see your saved data.
Read More: Market Research Tools to Discover & Track Industry Trends
Start an Exploding Topics Pro Trial for $1
Exploding Topics is a convenient solution for teams who want to strategically draw on market, industry, and consumer trend data, but don't know exactly how to conduct this research themselves or how to decode trend data to find valuable opportunities — we do that for you.
Our weekly trend reports keep you current on the most important up-and-coming trends, and our market trends website is so modern and user-friendly that anybody can use it to uncover new trends, review and understand trend metrics, and learn about trend growth.
Start a Pro Trial for $1 to unlock access to our Exploding Topics trend reports library and begin using our trend discovery and tracking features.
Of course, you can always reach out to our customer experience team if you have more questions about our reports, database, or pricing.