Industry Trend Reports (Track New Trends Verified by Analysts)
When investors look for industry trend reports, they face a few common challenges:
They only cover one industry. Many investors want valuable opportunities in multiple industries, not just one.
They're expensive. Investors and venture capital firms pay industry market research companies like IBISWorld up to $5K per industry analysis report.
They aren't updated frequently. Vetted industry reports that are released yearly, quarterly, or monthly might not provide updated data points for each trend that interests you.
We created Exploding Topics to solve these costly and time-consuming challenges.
Exploding Topics sends weekly trend reports listing 10 of the most interesting new industry trends. Each new industry trend is vetted by our team of analysts to show long-term potential. In each report, we cover details about upcoming industry trends you can factor into business decisions, including:
A background analysis examining early signs of growth.
A graph that displays search volume so you can track interest in the trend.
Insight into how the trend fits into emerging market segments.
Links to reliable sources so you can continue reading about trends.
Trend data so you can predict how interest will fluctuate in the future.
Exploding Topics also has a searchable database where you can find and track new industry trends long before they take off. Each database entry includes a trend data graph and links to related topics to support your industry research.
In this article, we'll look at what's covered in our weekly industry trend reports. We'll also explain how to use the Exploding Topics database to find, track, and analyze new trends.
Preview our latest industry trend reports and discover new industry trends when you start an Exploding Topics Pro Trial.
Industry Trend Reports Delivered Straight to Your Inbox: Read About 10 New Trends Each Week
We email you trend reports every week so you can discover the newest industry trends analyzed by our experts.
Our weekly trend reports are not limited to a single industry. Reports cover trends in industries like e-commerce, healthcare, aerospace, real estate, finance, and telecommunications. Some trends can be implemented in a variety of industries (i.e. "Digital Sustainability" or "AI Transcription").
Each trend listed includes information we found in our research that lead us to conclude it has long-term growth potential:
A description and background of the trend.
The problem driving increased demand.
How the trending concept, idea, or startup seeks to resolve the problem.
What traction the trend is receiving and how that shows long-term growth potential.
Links to the resources we reference in the trend analysis so you can read more and examine our sources.
For example, one of our recent industry trend reports covers the startup Ko-fi, a fund collection platform for content creators (similar to Patreon).
Our unique algorithm uncovered Ko-fi as an up-and-coming trend. Then, one of our human analysts completed background research that verified Ko-fi as a real trend with long-term growth potential.
The analyst also confirmed details about Ko-fi's competitive advantage over Patreon, how Ko-fi fits into the meta trend "Patreon Alternatives," and the reasons why content creators are drawn to platforms like Ko-fi. We include links to the sources we used during research, including an AppSumo blog, and trend data for related topics on our platform.
Bonus: When you start an Exploding Topics Pro Trial, you get access to 10 of the most recent industry trend reports. Any future industry trend report you receive will be stored in the Reports library so you can refer back to it as needed.
In the example above, we alluded to how we discover and report on industry trends using our unique algorithm and team of human analysts.
Here's a more detailed look at our methodology:
Our algorithm monitors a wide variety of online sources like search engines, news sites, podcasts, customer conversations on online forums, and social media platforms, to discover trends in their early growth stages before they've taken off.
A human analyst reviews the results, tossing out "fads" (i.e. the newest iPhone model) that everyone will soon forget, and leaving only the trends that have the potential to scale.
Another human analyst researches each remaining industry trend in depth, adding in background data that you can use to support investment decisions or preview the competitive landscape.
An expert will add these trends to our database of 11,000+ trends, then segment certain trends in the Meta Trend library.
Preview our industry trend newsletters and see a limited number of trends for free.
How to Use the Exploding Topics Database to Find, Analyze, & Track New Trends
As mentioned earlier, we email you weekly trend reports so you can learn about the most promising new trends on our database. However, the Exploding Topics platform also lets you search for new trends in a specific industry, organize them alongside other trends that interest you, and track trend growth.
1. Find New Trends & Filter Results by Industry
You can find new trends related to one industry any time you search the trend database. Just sort by category and pick an industry like food, gaming, technology, beauty, e-commerce, and more.
Select any trend in the search results to look at how the trend history has changed over previous years.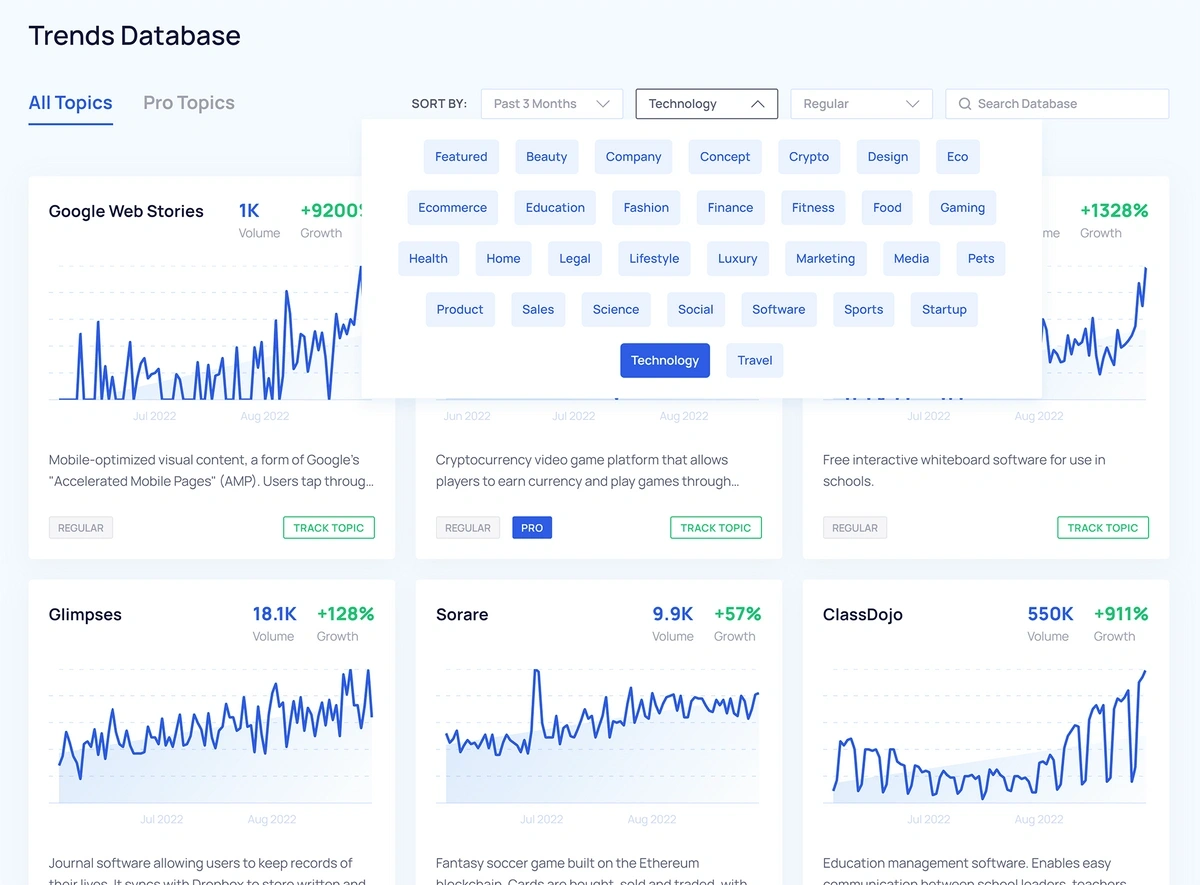 You can also filter results by trend "status," or the current popularity of the trend:
Regular: These trends are in their early growth stages. They haven't taken off yet, but show long-term potential to scale.
Exploding: Exploding trends are quickly gaining interest.
Peaked: Many people already know about peaked trends. They're widely popular.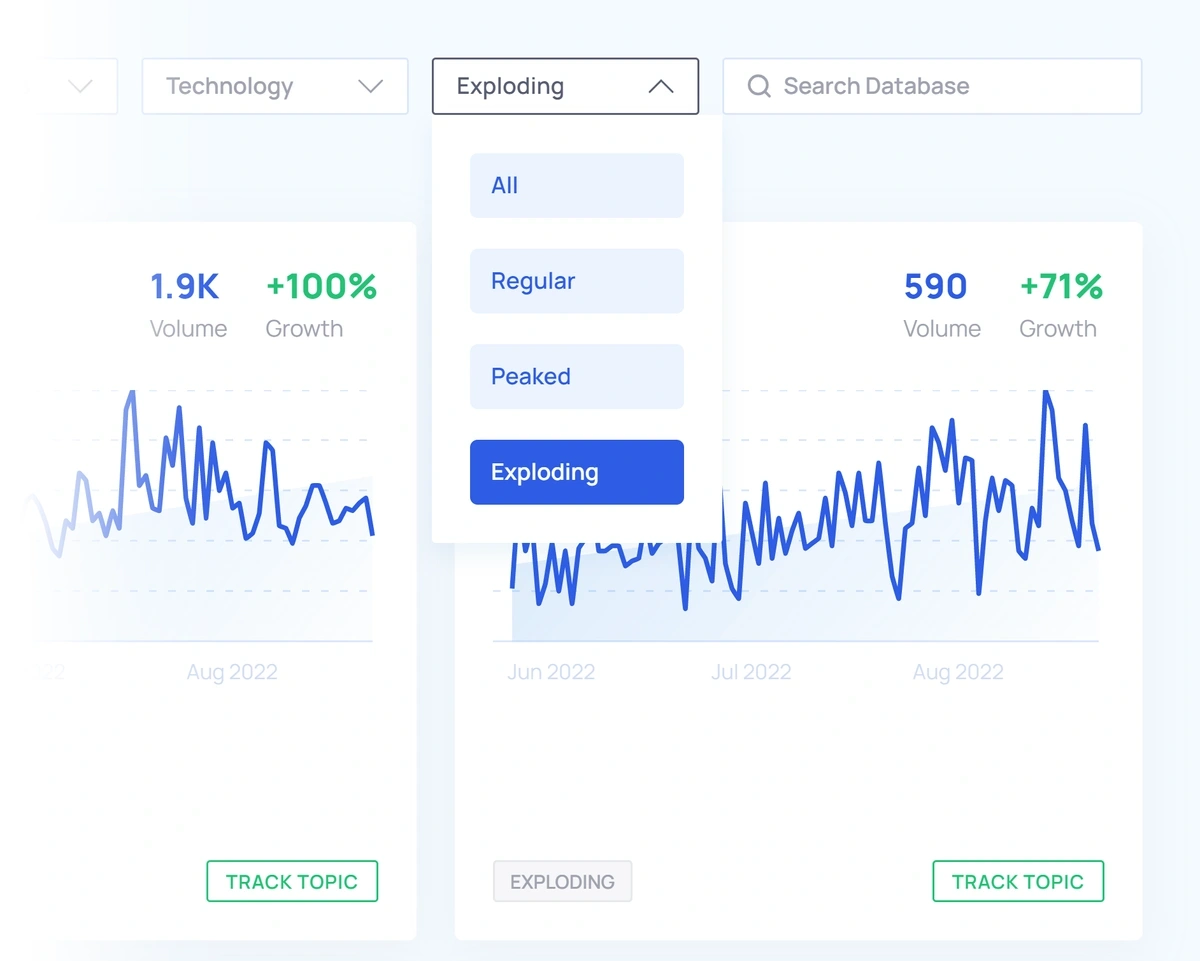 Read More: How to Identify Market Trends with Trend Forecasting Software
2. Search Trends & Discover Related Opportunities
When you type in a word or phrase using our trend search feature, the Exploding Topics platform will show you other topics or startups that are relevant to your search. You can research global industry trends, or filter results by country.
For example, when you search for "gaming accessories," you can see trend data for that product category, but we also show you trending brands like Bengoo and Corsair Gaming so you can see which names are relevant in this space.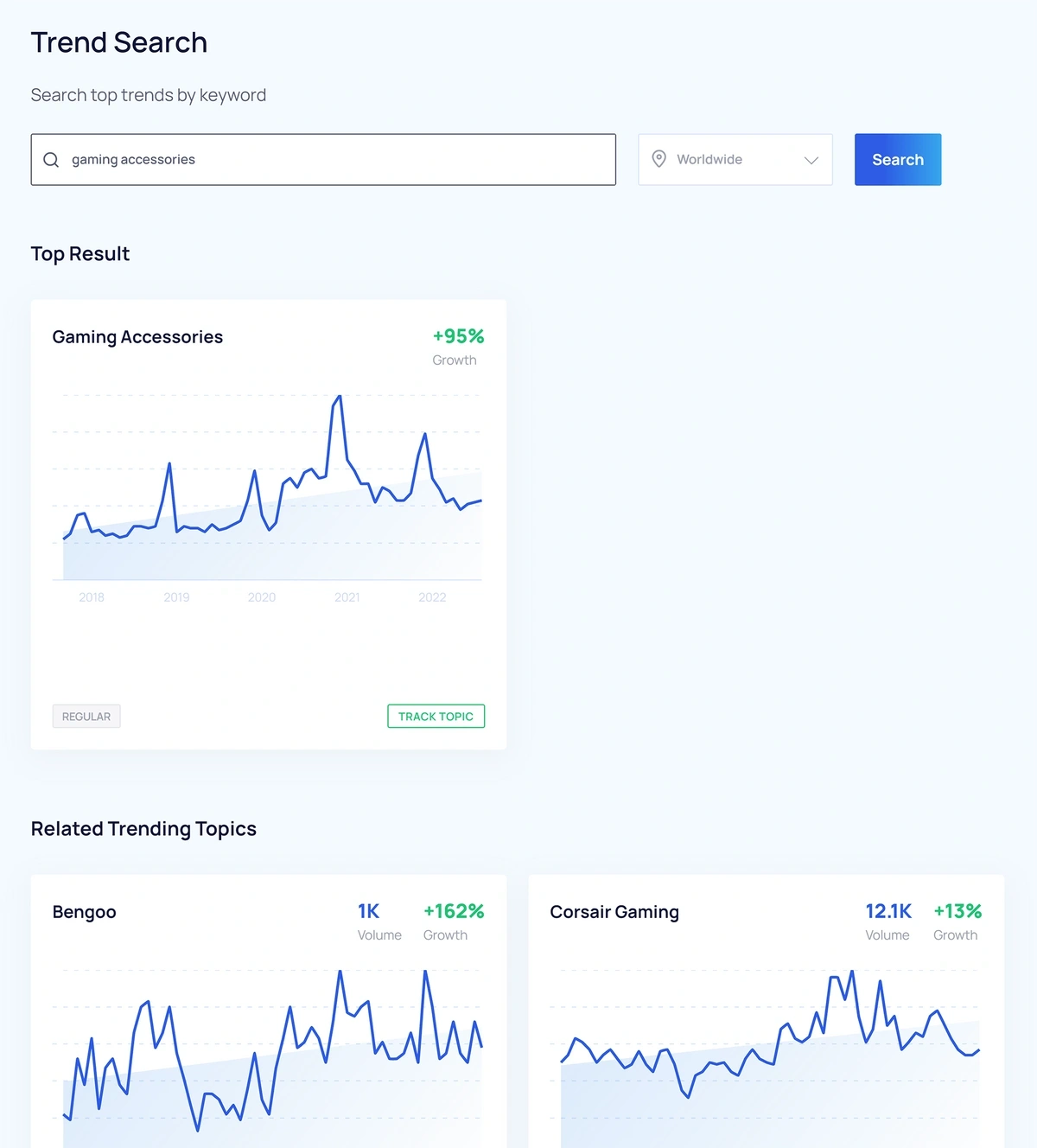 3. See Meta Trends Driving Industry Growth
You can see what topics are informing up-and-coming industry trends in our Meta Trend library. This is helpful for users who need to focus their search on industry trends that solve a specific problem.
For example, if you're looking for SaaS startups designed to fight churn, you don't have to sit and scroll through every SaaS-related trend on our platform. You can start your research with the "Churn-Reducing SaaS" meta trend instead.
When you select a meta trend, you'll see:
A description and analysis of the trend.
The collection of topics that are driving consumer demand.
Other related topics and meta trends.
4. Analyze Trend Data to Understand How Interest Has Evolved
You can do your own trend analysis by clicking into the trend overview while you browse.
There, you'll find metrics that let you benchmark trend interest and measure its growth over time. The graph is interactive — you can hover over points to view the search volume our algorithm measured on certain days. You can also adjust the date range to see how the growth rate has changed over the past month or past few years.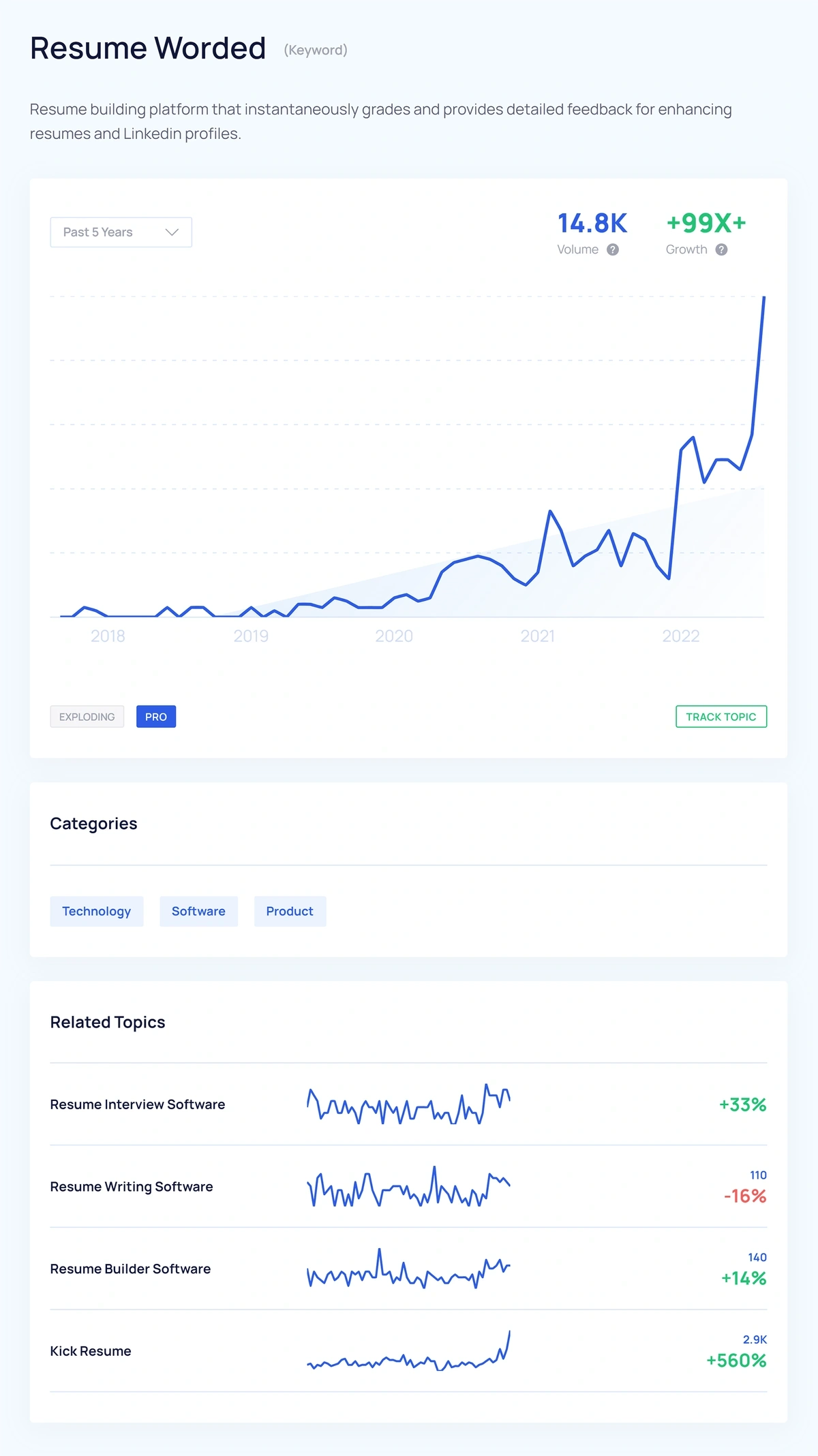 5. Track Trend Potential in the Project Dashboard
Building a Project in the Dashboard helps you track collected trends in a way that's organized to best fit your goals or the needs of a team.
When you find an industry trend in Exploding Topics, click the star to add it to an existing project in your dashboard. You can view each project and the related industry trends you've saved each time you log in.
We update trend data daily so you can see how your saved industry trends are developing to make informed business decisions.
Here's an example we created to show how the dashboard might look for a team that's researching potential investment opportunities in the sleep industry.
In this view, you'll also see other industry trends and Meta Trends that relate to what you're tracking. You can create email alerts for trends you save to your dashboard so you're instantly notified if there is a spike or dip in growth.
With our API integration, you can include the latest industry trends in your internal research reports. This makes it easy to incorporate Exploding Topics trend data with other business reports or industry data.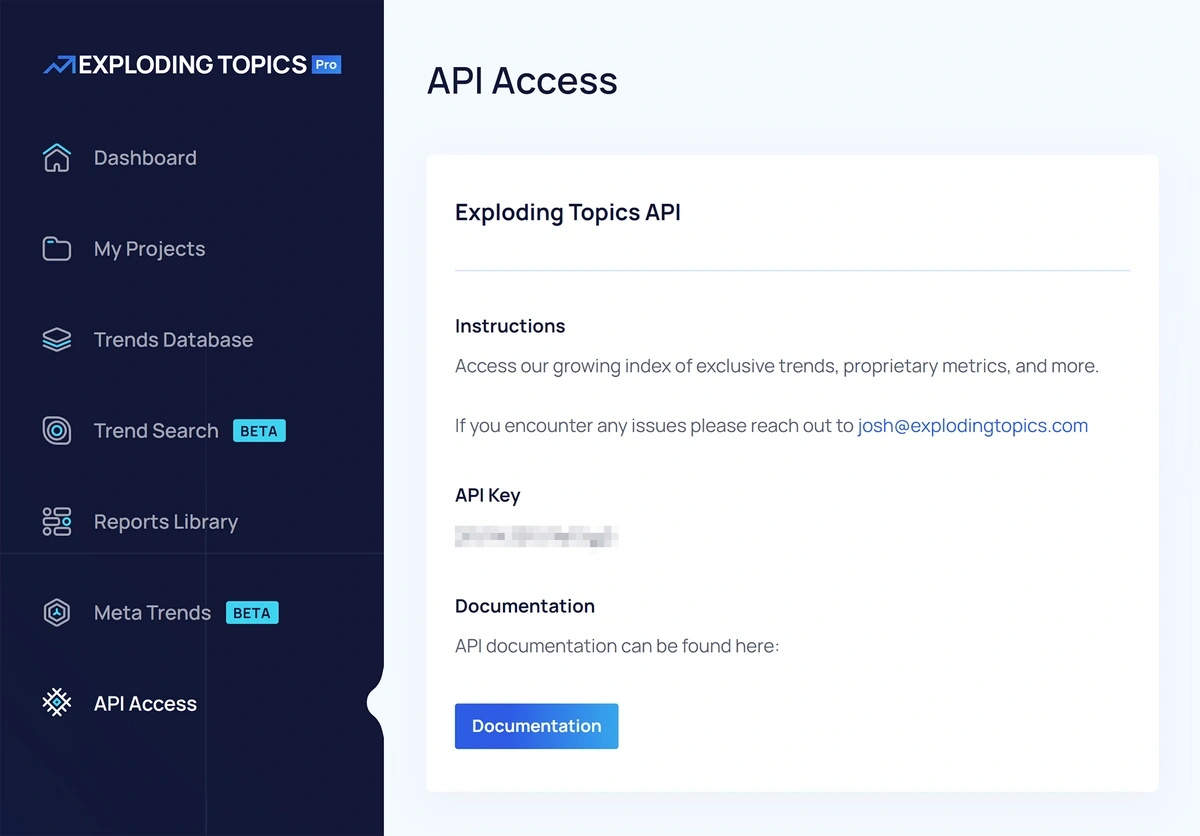 Try Exploding Topics Pro for Early Access to the Newest Industry Trends
Our trend forecasting software and industry trend reports let investors discover new trends that are verified by human analysts to have high, long-term growth potential. And, with the Pro version of our platform, you can search for the latest trends 6 months before they're available on our public database. You also get access to:
Weekly industry trend reports that cover the data you need to guide decision making.
Trend database that allows you to search new or existing trends by industry to determine if a trend is worth investing in.
Dashboard that lets you save, monitor, and organize industry trends to suit the needs of your current project.
Unlock access to Exploding Topics weekly industry trend reports and trend database to track promising trends when you start a Pro Trial.