7 Major Medtech Trends In 2021
In this report, you'll find 7 trends shaping the future of the medtech space.
According to a CB Insights report, funding to healthcare AI, telehealth, and medical devices reached an all-time high in Q3 2020 — a combined value of $9.9 billion.
(Compared to $6.2B in Q3 2019)
From telemedicine to 3D bioprinting, let's dive into the list of medtech trends creating new opportunities in this dynamic industry.
1. Growing consumer adoption of telemedicine
COVID-19 caused a massive shift in consumer behavior. And the healthcare space is no exception.
Based on a survey by McKinsey, only 11% of US consumers were using telehealth services in 2019. Today, thanks largely to COVID-19, that number has grown to 46%.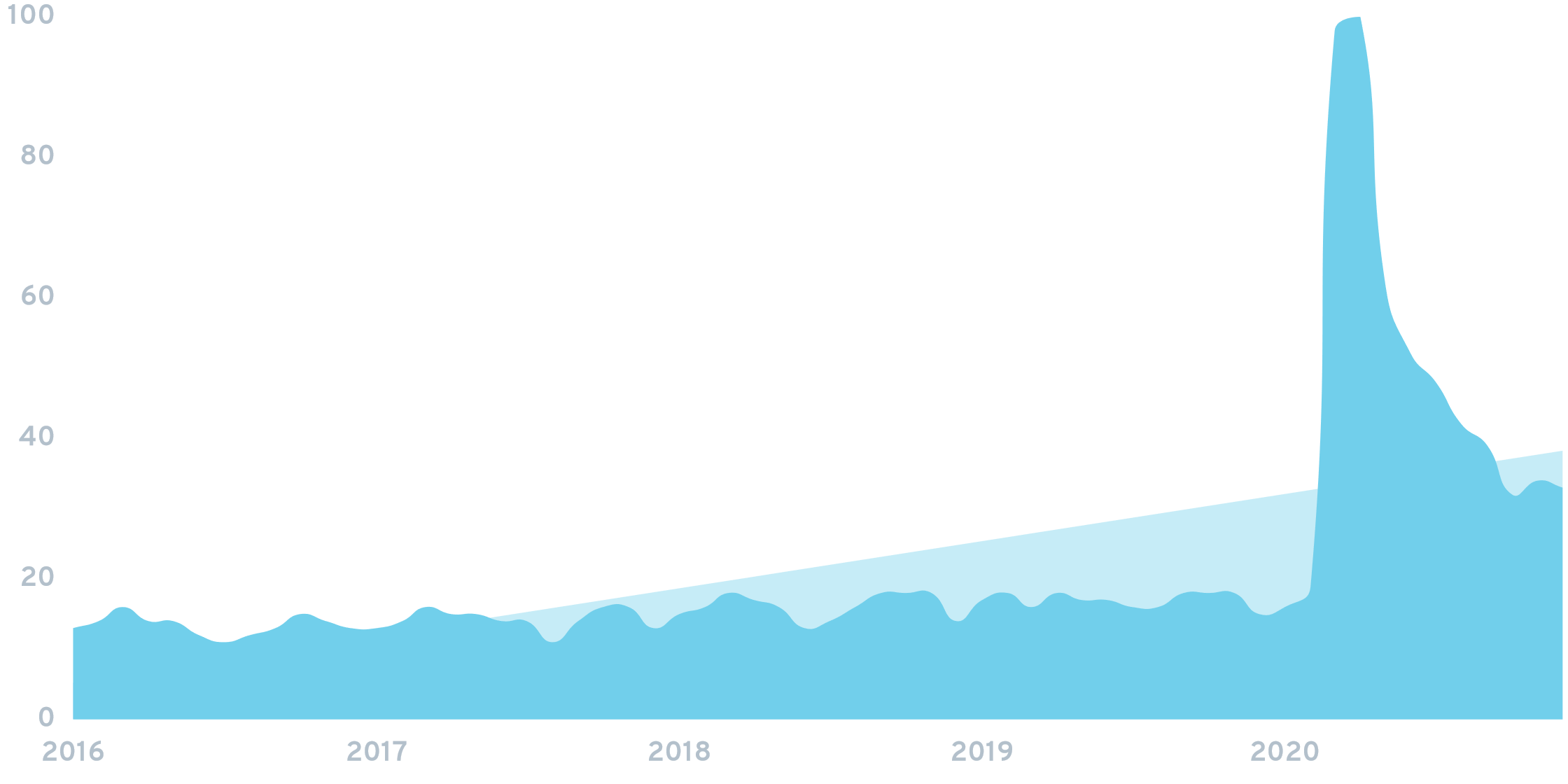 Searches for "telemedicine" spiked in the spring of 2020. But remain well above pre-COVID levels.
And looks like telemedicine is a medtech trend that will continue even as things get back to normal. In fact, 76% of US consumers report that they are interested in using telehealth in the future to complement in-person visits to the doctor.
With a forecasted CAGR of more than 20% from 2020- 2026, VCs have been especially interested in the telehealth sector.
According to Mercom Capital, telemedicine startups received close to $1.8 billion in VC funding in 2019. And in a single 9 month-period of 2020 alone VCs invested $3.2B in companies in the telemedicine space.
Companies like Teladoc in the telehealth category have experienced massive market success. Teladoc reports revenue of nearly $300 million in Q3 2020. Which represents 109% growth compared with Q3 in the previous year.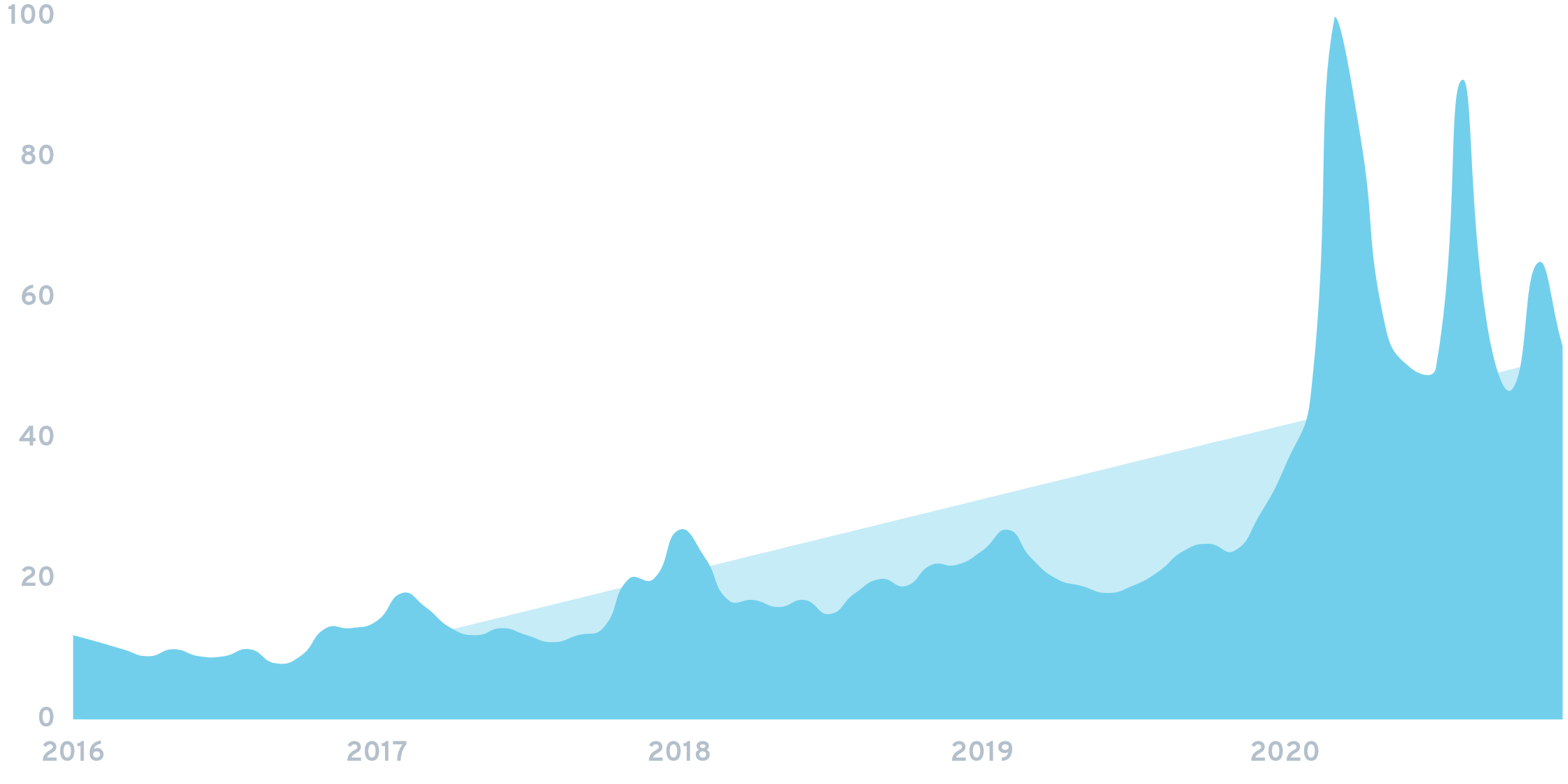 Searches for "Teladoc Health" have tripled over the past 5 years.
2. Artificial intelligence augments healthcare processes
According to CB Insights research, healthcare AI funding reached an all-time high with $2.1 billion in Q3 2020 across 121 deals.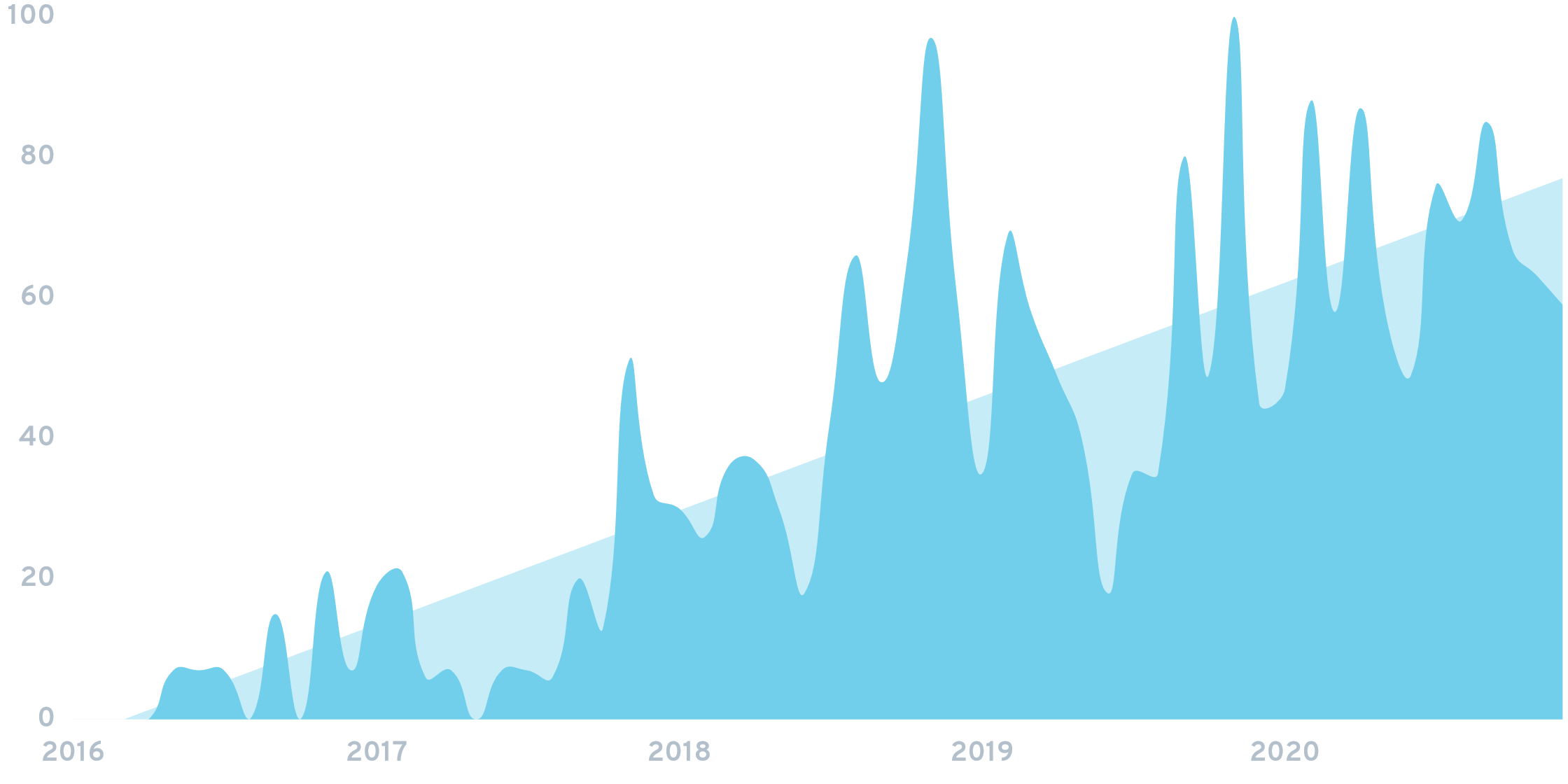 Searches for AI applications in healthcare have surged since 2017.
The FDA has largely embraced artificial intelligence. Specifically, they currently have several ongoing projects designed to develop and update regulatory frameworks specific to AI.
As of early 2020, there have been 64 AI/ML-based, FDA-approved medical devices and algorithms.
Based on Deloitte's European study with MedTech Europe, the economic impact of AI applications in healthcare can be quantified as €200 billion in annual savings (including opportunity costs) for the European healthcare system.
There are multiple types of AI applications in healthcare, including:
Robotics
Personalized apps
Labs
Monitoring
Data analysis
Virtual health assistance
Wearables
However, medical diagnostics in particular may have the most potential for AI tech. In fact, there are already commercial applications available today.
According to an IDTechEx report, image recognition AI technology in medical diagnostics will be worth more than $3 billion by 2030.
One of the companies utilizing artificial intelligence in medical diagnostics is Qlarity Imaging.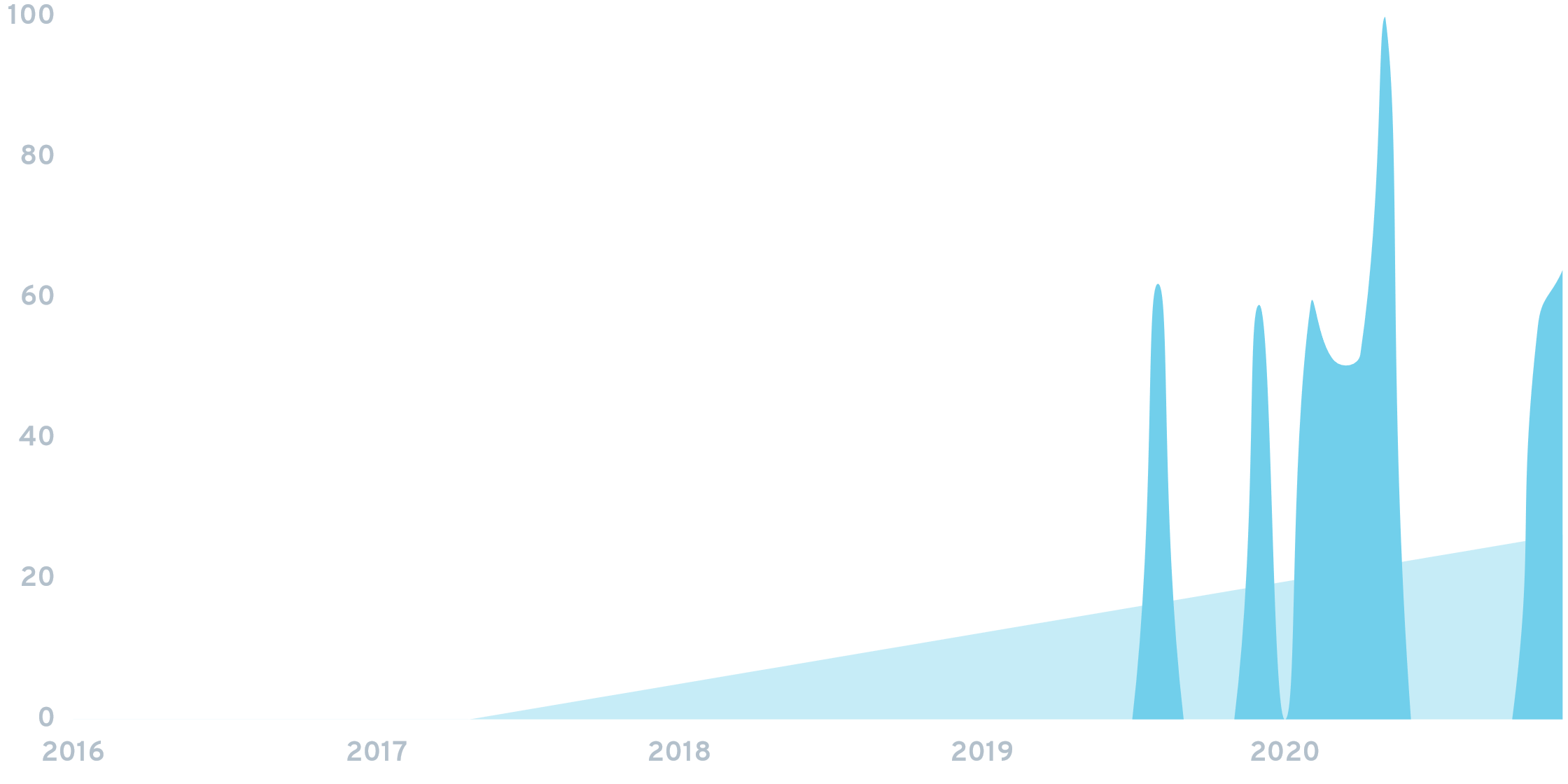 Searches for "Qlarity Imaging" since 2016.
Its QuantX product helps radiologists reduce false diagnoses when diagnosing breast cancer. QuantX has been featured in the ranking of best inventions by Time's magazine.
3. Medical robots continue to gain traction
According to a Verified Market Research report, the worldwide market size of medical robots is expected to reach $20.7 billion by 2027.
Surgical robots are by far the leading category among robotics used in healthcare. And demand for surgical robot technology has seen immense growth in the last few years.
Investments in robotic surgery companies have been one of the key drivers of VC funding increase in the medical devices category. And that's despite a large decrease in the number of elective surgeries completed due to the pandemic.
Moreover, many experts claim the use of robotic technology is especially useful during COVID-19 as it helps to decrease human-to-human physical contact in order to avoid pathogen spread.
Some of the notable surgical robotic developments include AquaBeam, which is an ultrasound-guided surgical robot developed by PROCEPT BioRobotics. The company has recently raised $77 million.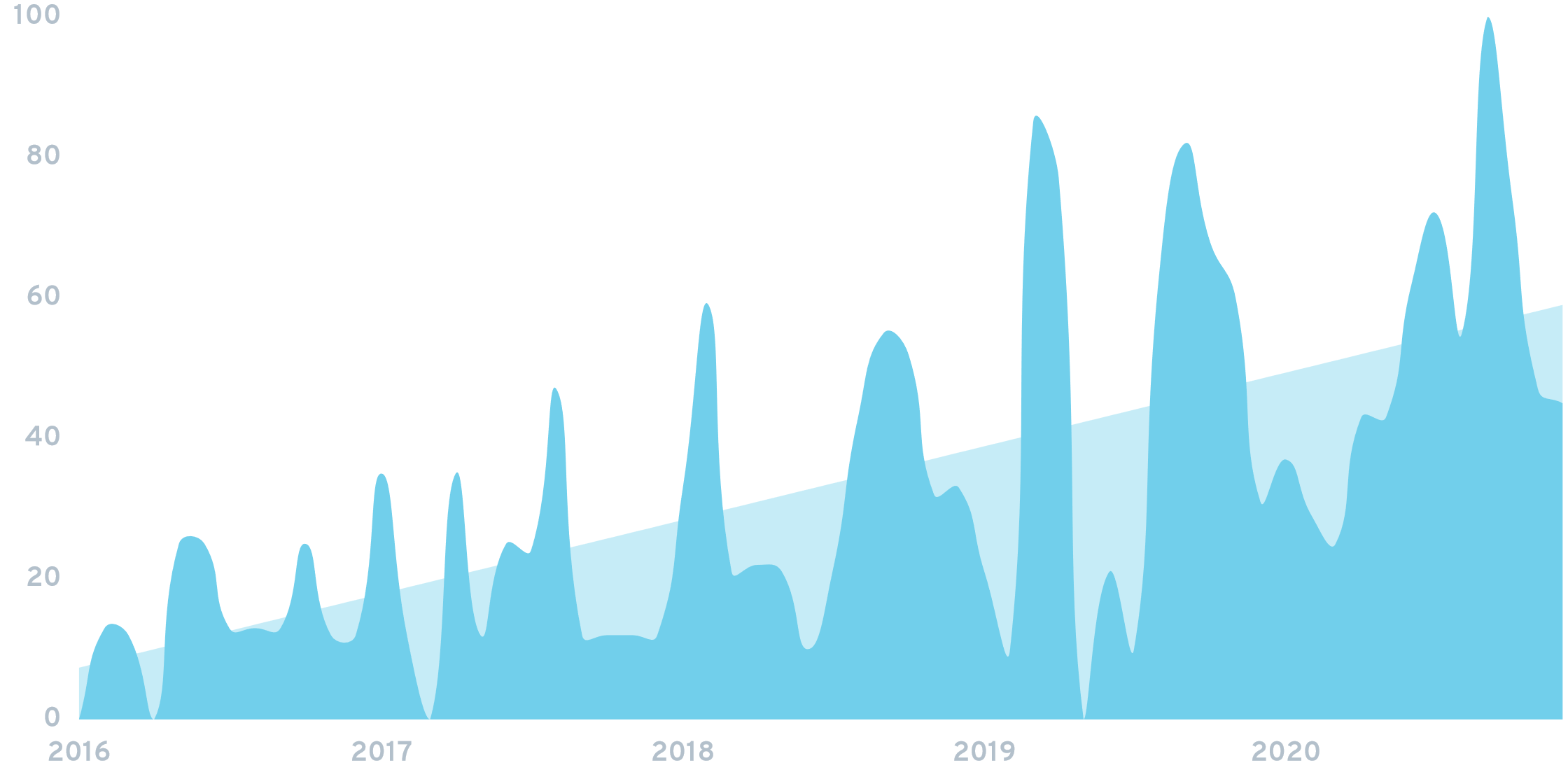 Searches for robot-assisted surgery has been consistently strong in the past few years.
4. Heightened interest in digital therapeutics
According to Digital Therapeutics Alliances, "digital therapeutics (DTx) deliver evidence-based therapeutic interventions to patients that are driven by high quality software programs to prevent, manage, or treat a broad spectrum of physical, mental, and behavioral conditions."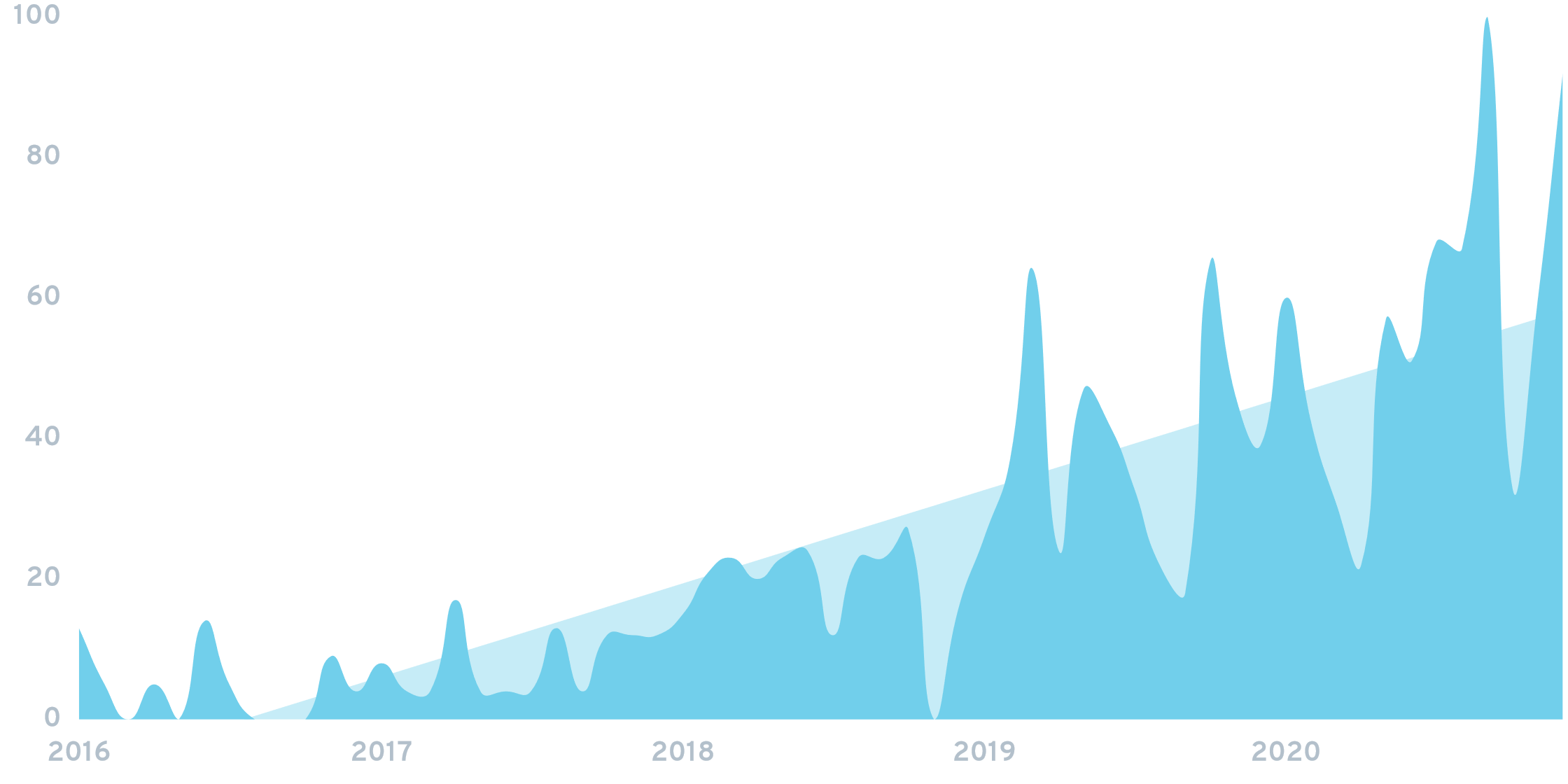 Search interest in digital therapeutics has significantly grown over the past 5 years.
Thanks to new technical developments and increased consumer adoption of digital health products, DTx (as a part of the broader digital medicine category) has been featured in a recent edition of Scientific American's top 10 emerging technologies.
Based on PitchBook data, back in 2015, VC investors funded $134.3 million on DTx deals.
That number has grown to $1.2 billion in 2019 (and $709 million as of the first 8 months of 2020). In total, the DTx space has a forecasted CAGR of 26.7% during 2020-2025 and market size of close to $7 billion in 2025.
In a survey of medtech leaders by Deloitte, 63% of respondents agreed that digital therapeutics will have a major impact on the industry over the next 10 years.
One of notable players in this sector is Boston-based startup Pear Therapeutics.

Search growth for "Pear Therapeutics" since 2016.
Pear Therapeutics recently raised $80 million with a total disclosed funding amount of $214 million. Its current product portfolio offers applications focused on treating chronic insomnia and helping with substance use.
5. More virtual reality healthcare applications
Virtual reality (VR) technology can benefit the healthcare industry in a number of ways, including:
Medical training
Patient treatment
Medical marketing
Disease awareness
According to a Verified Market Research report, the VR healthcare market was valued at $2.14 billion in 2019. And is forecasted to reach $33.72 billion by 2027.
VR startups in the healthcare category have attracted attention from major players. As was the case with the acquisition of British startup Digital Surgery by medtech giant Medtronic back in February 2020.
Oxford VR is another example of a growing VR startup.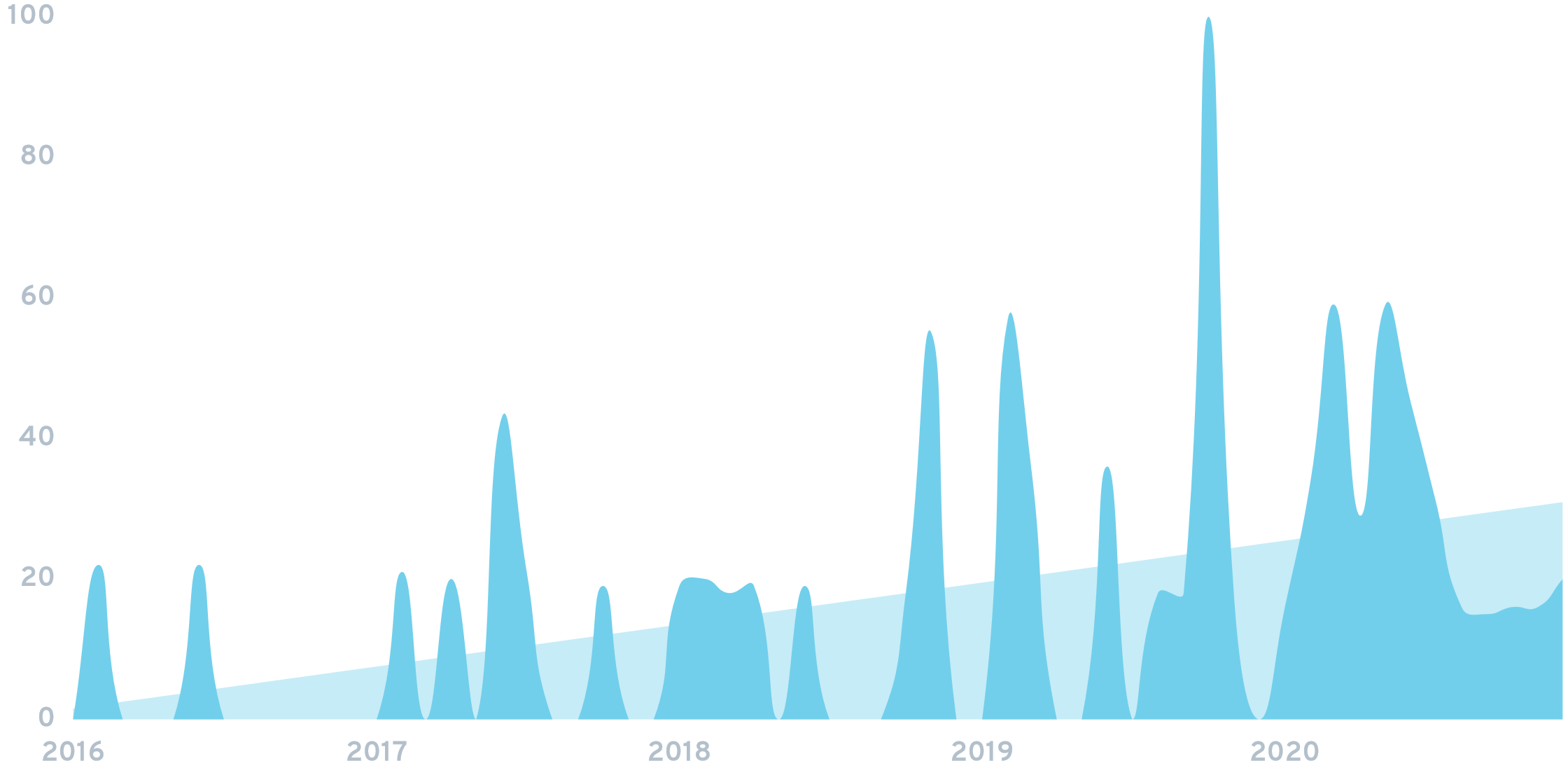 Searches for Oxford VR over the past 5 years.
The company is focused on mental health applications for VR. And they recently raised over $12.5 million.
6. Use of biometric devices and wearables is growing
Products like the Apple Watch, which is still growing, helped create initial awareness of ongoing health tracking. And largely led to mass adoption of wearable technology.

Searches for "Apple Watch" are still on the rise.
Today, a growing number of medtech companies are creating a slew of devices to track metrics ranging from physical activity to women's health. All of which form the Internet of Medical Things (IoMT).
According to a Jabil Digital Health Survey Report, 52% of digital healthcare decision-makers are developing or plan to develop wearable devices.
Interest in launching wearable products should come as no surprise. The wearable tech industry is projected to see a CAGR of over 25% from 2020-2027 (based on Research and Markets report findings). The same report estimates the wearable market will reach upwards of $60.4 billion by 2027.
One of the innovators in biometric wearables include Oura. Oura is a wearable health tracking product in the form of a small ring that tracks sleep and activity levels.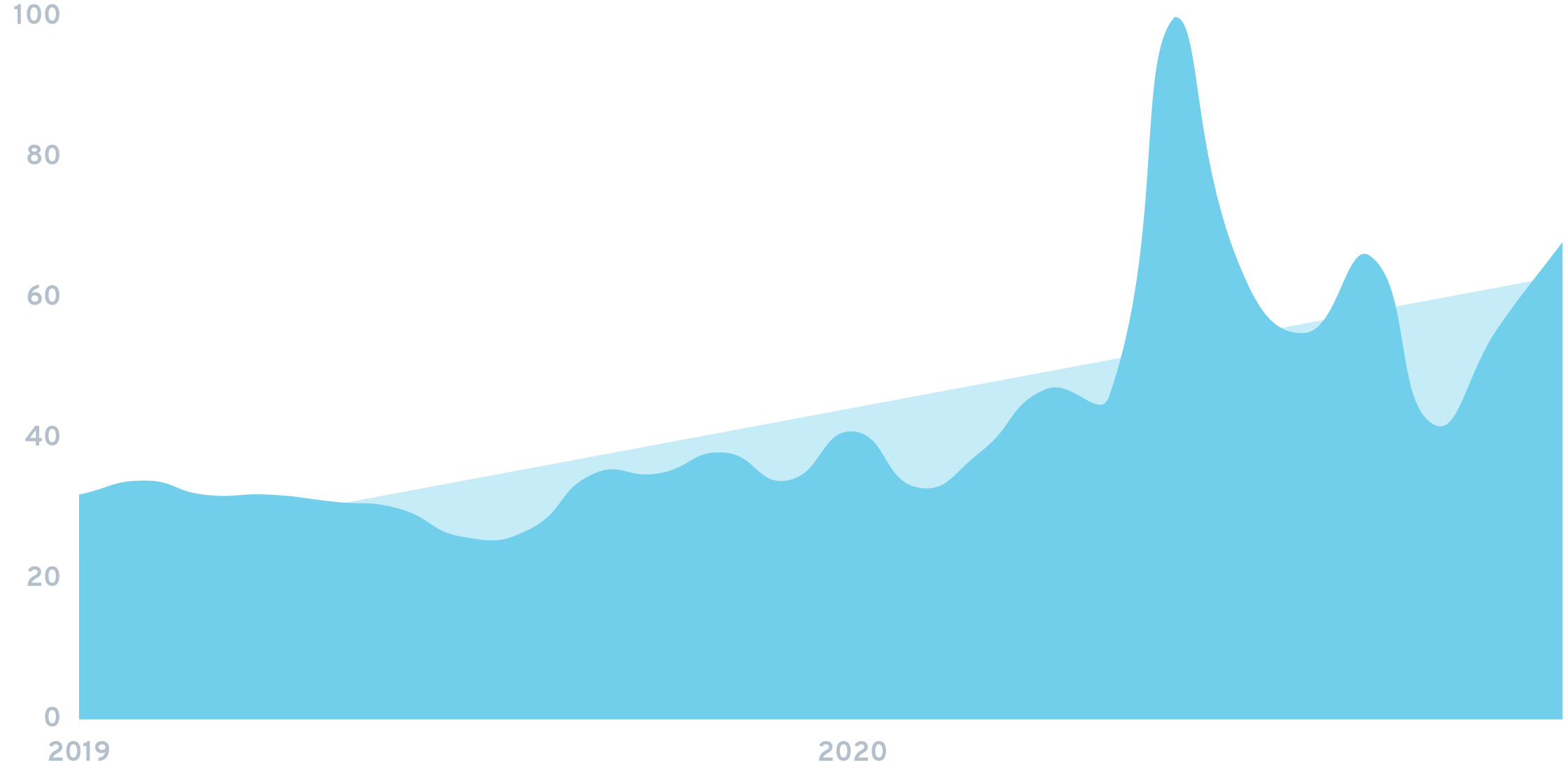 Search interest in the Oura ring has significantly increased over the last 2 years.
Oura raised $28 million during Series B. Which marked it as the largest VC deal for a biometric wearable in Q1 2020.
7. Additive manufacturing and 3D bioprinting gain steam
Additive manufacturing (commonly referred as "3D printing") of medical devices was valued at $1.1 billion in 2019 and is estimated to reach close to $4 billion by 2027,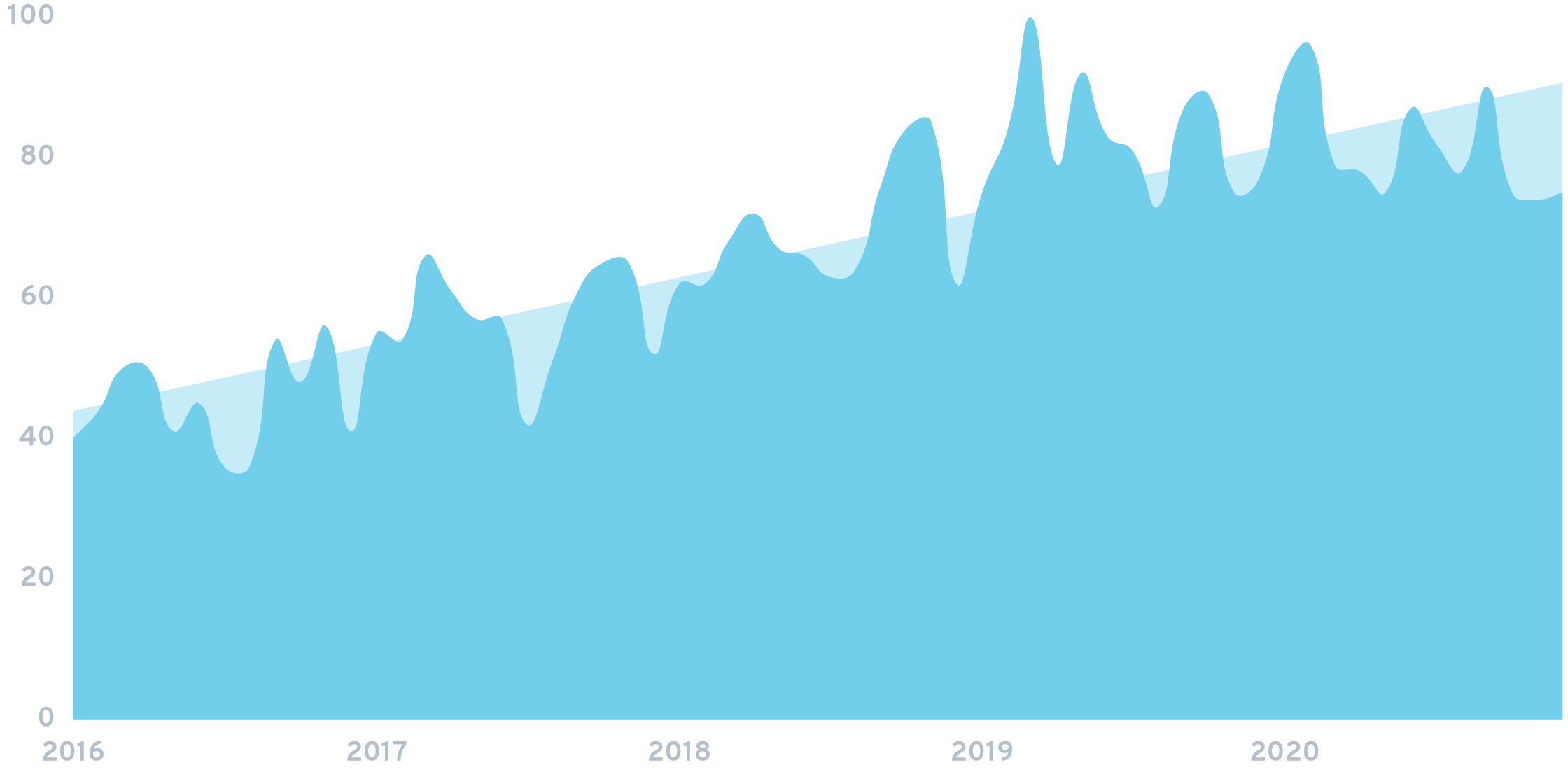 Search volume for "additive manufacturing" has shown consistent positive growth over the last 5 years.
This growth is largely driven by technology advances in the area of 3D printing.
There are multiple use cases of 3D printing in the medical field (including manufacturing of surgical instruments, prosthetics, implants, and tissue engineering products).
However, 3D printing is commonly used for rapid prototyping. Nearly all of the 50 leading medical device companies use 3D printing technology to quickly create prototypes.
Amid the COVID-19 pandemic, 3D printing saw a wave of increased demand in the healthcare space. Mostly due to supply chain disruptions and need for producing greater numbers of PPE, testing and medical devices to combat COVID-19.
Another concept that is gaining growth in market size is 3D bioprinting.
3D bioprinting is similar to regular 3D printing, but it's specifically designed to print biological materials. One of the pioneers in this field is Vancouver-based startup Aspect Biosystems.
Aspect Biosystems focuses on 3D bioprinting of human tissues. The company raised $20 million of disclosed funding in 2020.
Wrapping up
We hope you learned something new from this list of 7 medical technology trends for 2021.
COVID-19 significantly impacted the medtech industry in 2020. And continues to reshape it.
Specifically, the pandemic boosted consumer adoption of many innovative technologies and highlighted the importance of adaptability in the medical space. So we can expect to see even more medtech innovation in 2021 and beyond.
Last Updated: 
December 30, 2020