How to Monitor Industry Trends In 2023
It's no secret that staying on top of trends and news in your industry is an absolute must.
As it turns out, the most efficient way to monitor market trends is by utilizing trend tracking software.
Why? Trend tracking software can, 1) keep tabs on dozens of information sources (social media sites, eCommerce platforms, news outlets, etc.), 2) detect emerging trends, and 3) alert you of changes to trend growth.
Without trend tracking software, you have to spend time each day combing through all of the sources you're interested in to check on search volumes and growth rates, and then manually report on trend data in spreadsheets and other business reporting tools.
These manual methods might work OK. But they require a lot of time, and teams that want to get ahead of industry trends often miss out on early opportunities because they don't have the resources or know-how to identify and analyze trends before they blow up.
When you invest in a market research tool like Exploding Topics, you can:
Look up trends that you're interested in to analyze current trend data and learn more about each opportunity.
Save trends to a private dashboard, organize them by topic or category for easy reference, and set alerts for trend updates.
Get ahead of new trends with trend discovery features, trend reports, and suggested trends (generated for you by our AI).
In this post, we explain how to use our platform to monitor industry trends and find new, valuable opportunities for your business. You can also start a Pro Trial to explore our platform yourself and see how our trend research tools work.
How to Monitor Industry Trends in Exploding Topics
Every Exploding Topics user has a custom trend tracking dashboard that you can customize based on your research goals. When you sign into the platform, you'll automatically hit this dashboard so you can look at the trends you already have saved and see how interest in them is growing (or diminishing).
Let's explain how to set up and use this dashboard:
1. Search & Find New Trends In Your Industry
First, you need to add trends that you want to monitor. There are a few ways you can do this.
You can look up trends you've heard about through other sources with the Search feature — this works a little like Google Trends because you can filter the search by geographic location (view global market trends vs. trends in just North America, Europe, or China), check trend search volume and growth rate, and look at related topics that users also search.
Then you can use all of this data to decide if the trend you're searching is (or could be) valuable for your business, and compare other emerging opportunities in your category of interest.
So for example, say you saw a Reddit thread with users talking about the benefits of mushroom supplements, and you want to get a better gauge of consumer interest in these products. You can navigate to the trend search through the Exploding Topics menu and type "mushroom supplements" into the search bar. We'll show you:
Search volume and growth rate for "mushroom supplements" category.
A list of related trending topics — in this case, we see topics like "Genius Mushroom Lions Mane" and "Mushroom Powder."
"People Also Search For" — in the screenshot, we see "Mushroom supplements UK" and "Mushroom supplements for weight loss."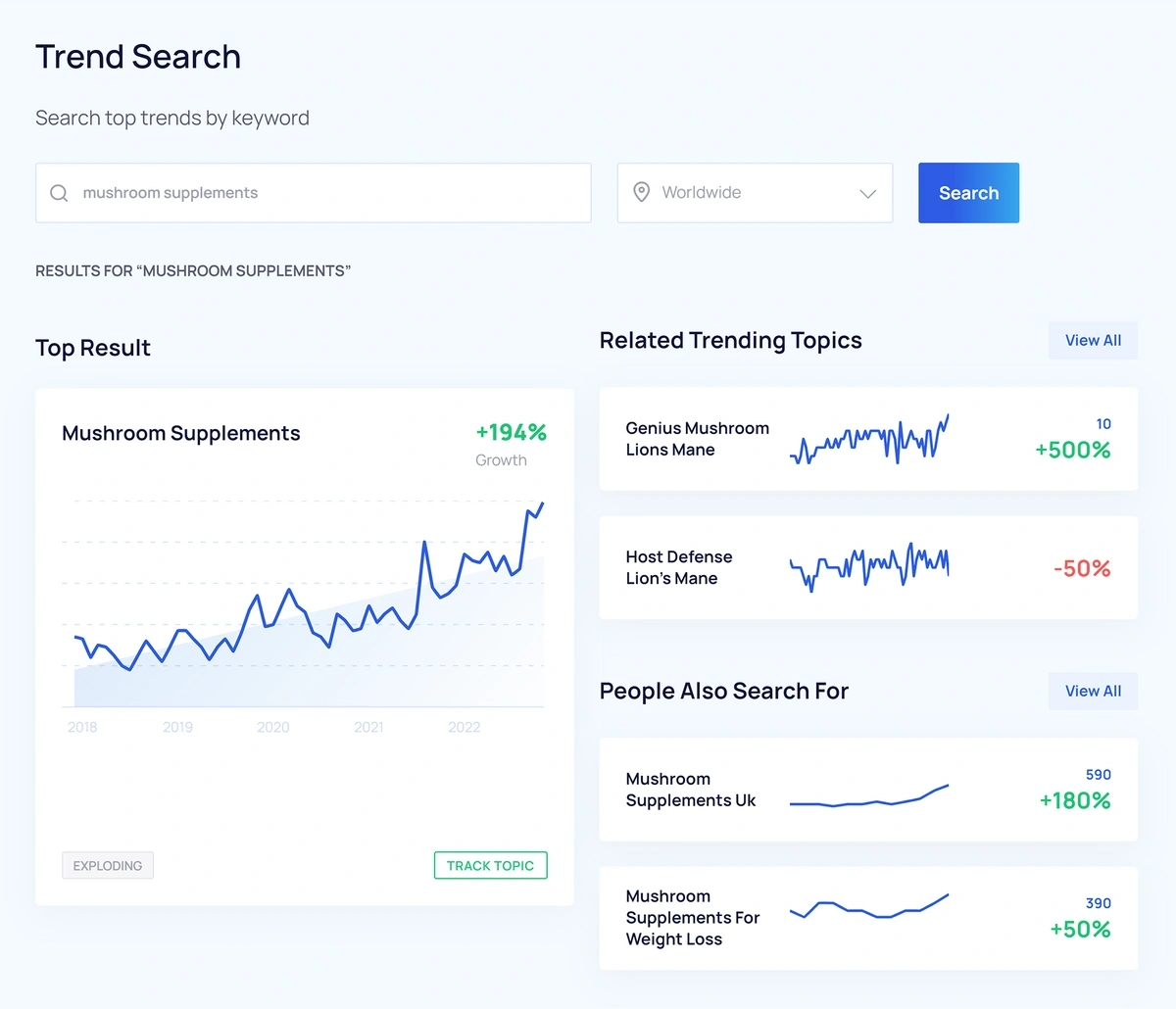 Click on any trend that grabs your interest to open the overview window and check the available trend data (more on this in Step 2).
In addition to our trend search, Exploding Topics Pro has trend discovery features so you can learn about new industry and market trends through our trend database, Meta Trends library, and weekly trend reports.
Trend Database: This is where we house data on all of our trends. You can search trends by category, sort results by popularity, and filter down to see just the newest trends our team has found. We cover trends across dozens of categories, including beauty, fitness, design, lifestyle, gaming, technology, software, startups, and more.
Meta Trends: This is where we organize collections of trends by topic. So instead of starting with a broad category, you can zoom in and look at types of products, companies, and services. For example, some Meta Trends include Workflow Automation Tools, TikTok-First Products, Containers as a Service, and DTC Oral Care. We provide a brief write-up on each topic and list related Meta Trends so you can understand more about the market segment and pivot to similar topics.
Trend Reports: We email you trend reports each week with information on 10 of the fastest-growing trends on our site. Each report covers a variety of industry and market trends, and we break the table of contents into Companies vs. Products so you can easily scroll to the type of trends that interest you most. We provide a detailed analysis of each trend so you can understand more about the competitive landscape, monitor market size and key players, and gauge market growth.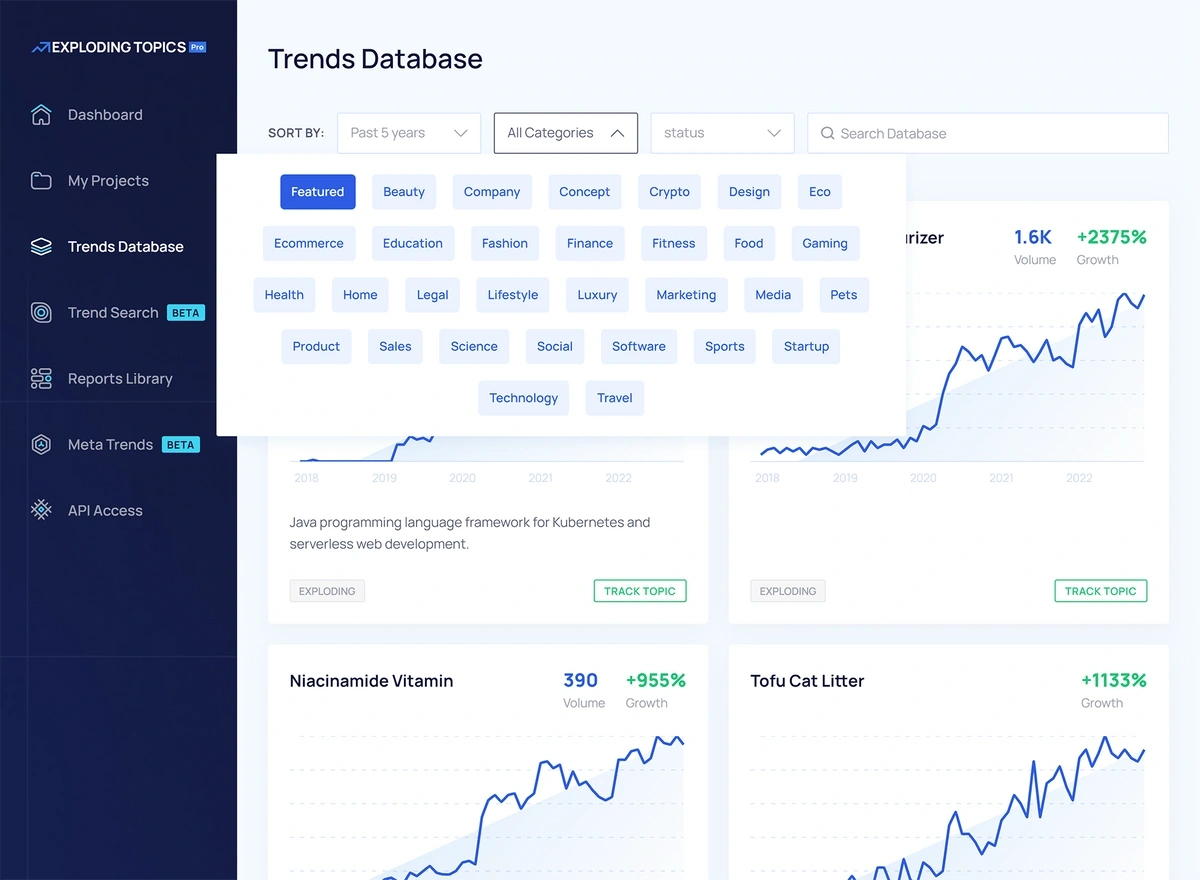 Read more about our market research reports.
While our trend search is helpful to research products, businesses, and topics you already know, our trend discovery tools are arguably more beneficial because they let you learn about early trends before you would even know to research them.
If you're struggling to get ahead of the competition and leverage emerging trends before opportunities are saturated, these trend discovery features can give you a leg up. (You can also learn more about identifying new trends here.)
A quick note on our methodology…
Our trend research process is broken down into two key parts: Our AI handles the laborious web scraping and online monitoring, looking for signs of new, emerging trends. Then our analysts take over and do a more in-depth analysis of each trend our AI finds.
Analysts look at all of the available trend data to distinguish short-term "trending topics" from long-term business opportunities. This way, you can handle all trend research within the Exploding Topics platform, and you can feel confident that the information you're working with has already been reviewed and verified by experienced market researchers.
Now let's talk about how to analyze trends and add topics to your dashboard.
2. Review Trend Data & Add Promising Trends to Your Dashboard
As we mentioned above, you can access all available trend data by opening the overview window. Here, we provide the current search volume and growth rate, then we display that data in an interactive graph below: You can change the graph timeline to look at historical trend data vs. data over the last few months, and you can even move your mouse along the graph to view data points by day. This lets you understand more about the trend lifecycle and forecast future growth.
Speaking of… we also assign each trend a "Status" — Regular, Exploding, or Peaked — to give you a better idea of trend popularity.
Regular trends are early early trends that are less commonly known. This is where you can explore the newest opportunities in your category.
Exploding trends have a higher search volume and growth rate, as they're a little more commonly known. These trends are becoming more popular as interest grows, but you can still leverage these opportunities to gain a competitive edge.
Peaked trends are already pretty popular and well-known. These trends don't hold a ton of new value for your business, but we always display related trends when you browse our site, so you can see similar opportunities and explore interest in those.
Within the trend overview, you can also see the categories in which this trend is relevant, and see a list of related topics so you can add those to your trend tracking dashboard, too.
After you perform trend analysis — and if you decide you wish to monitor trend growth — you can add trends to your dashboard by clicking the "Track Topic" button. When you do this, you'll be prompted to add the trend to a specific Project. (Projects simply let you organize saved trends by topic or category.)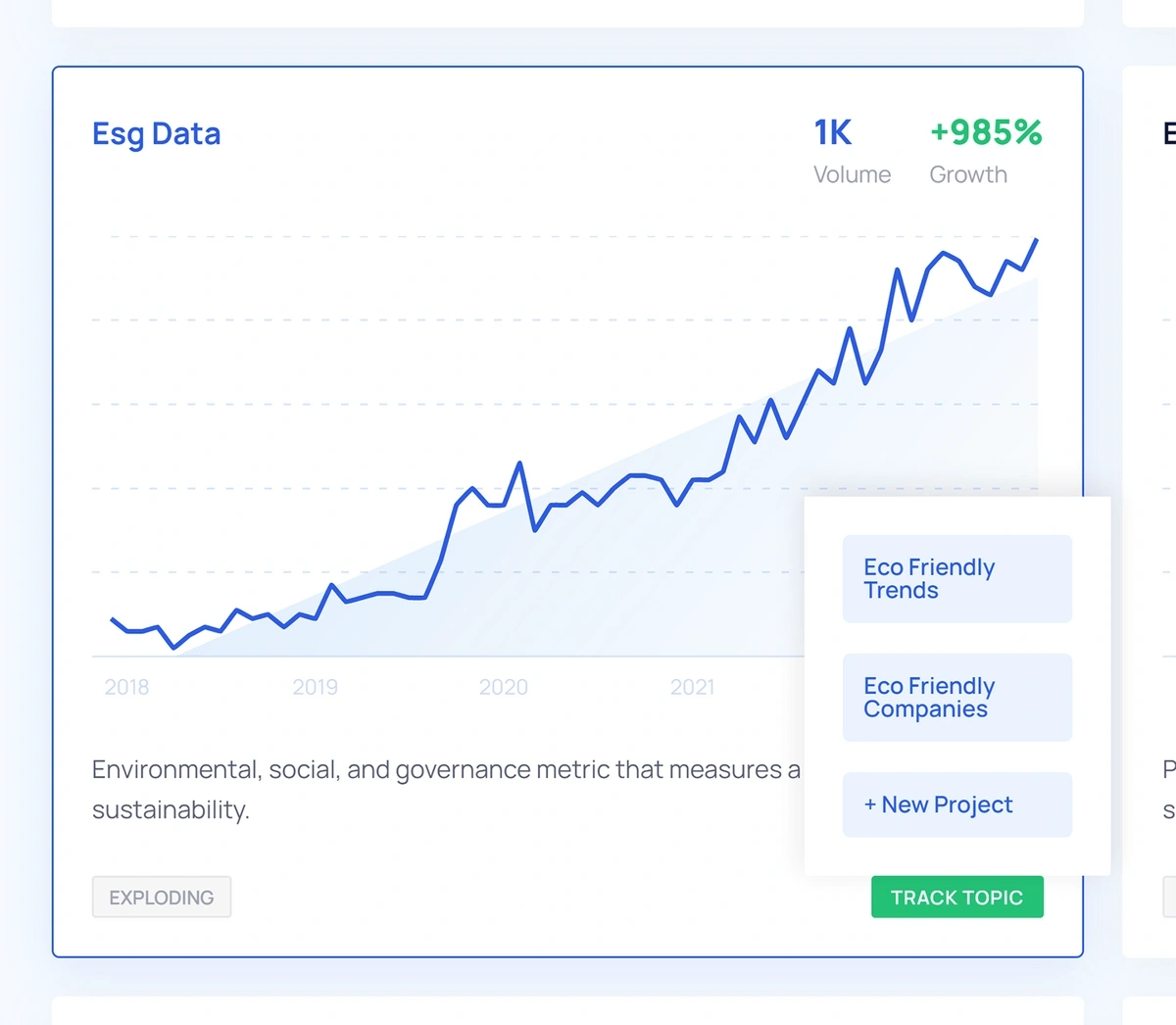 So for example, say you work for a beauty company and want to keep tabs on skin care and hair care products. You could have one Project entitled "Skin Care & Makeup" and another for "Hair Care & Styling Tools." This way, you can easily navigate to the types of trends you want to check on, and you aren't scrolling through one massive hub of trends every time you log in.
3. Set Alerts for Trend Updates & Check On Trend Growth
Then, anytime you want to check on trend growth, you can open the Exploding Topics dashboard, navigate to the Project you're interested in, and scroll through the most current data. You don't have to check multiple different sources or update spreadsheets — and we're constantly adding new information to our site so you can see the most current trend data our team has.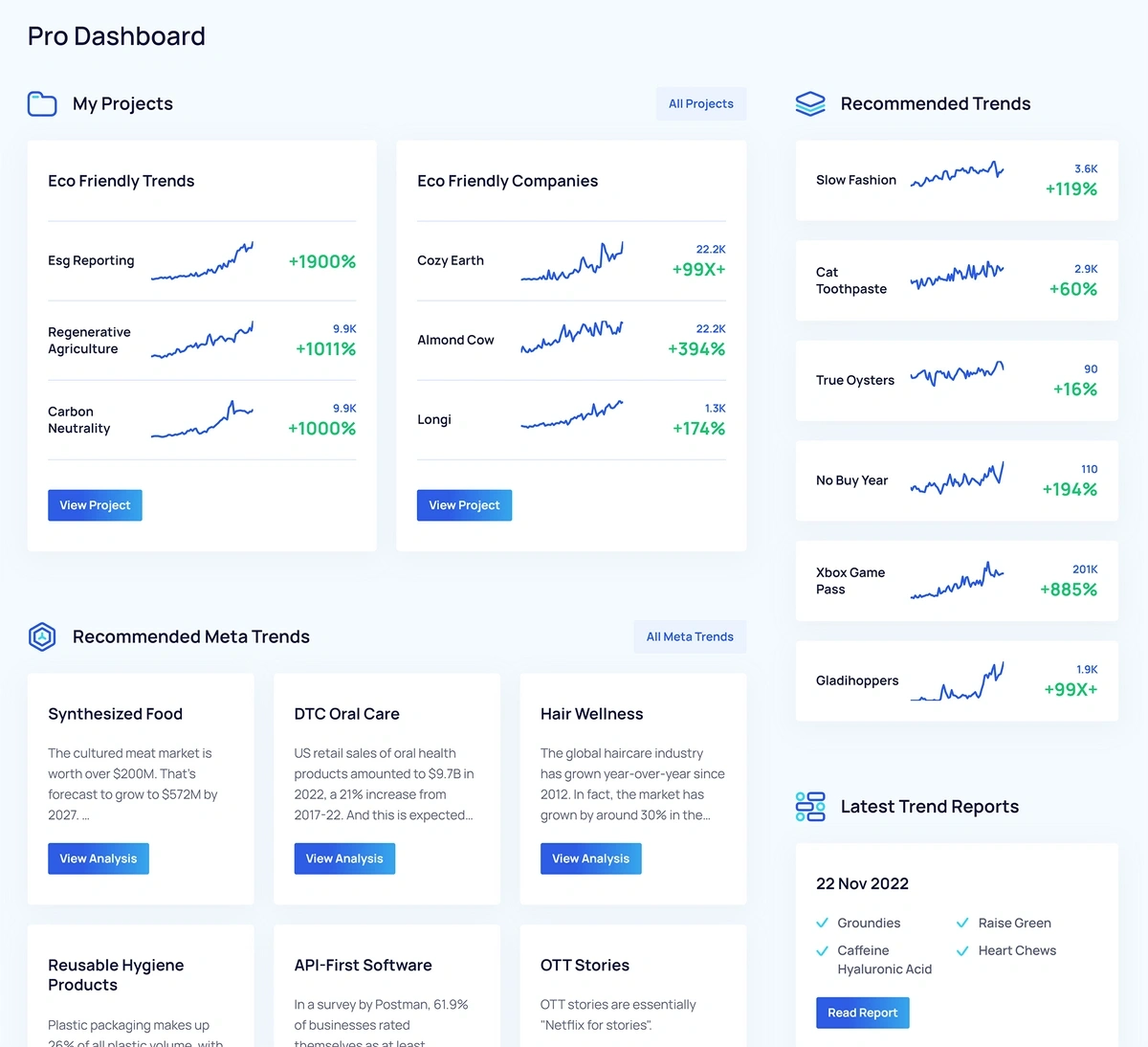 Even more convenient? You can also enable our trend alerts feature to receive email notifications about trend activity. We'll let you know when search volumes or growth rates spike (or dip) so you can stay up to speed with the trends you're tracking — without logging in and checking every day.
Within this dashboard, you can also access trend reports and view related trends our AI recommends based on what you have saved. This makes it easy to spot super early trends in your industry, without having to allocate a lot of time to trend research. You can easily add recommended trends to your dashboard and set alerts for those, too.
Get Started With Exploding Topics
Monitoring market trends without software to help can eat up a lot of time and lead to missed opportunities, especially if you're new at this type of market research. A solution like Exploding Topics gives you the tools to analyze and track market trends that have already been identified and verified by our market research team. You can explore trends across dozens of categories, complete trend analysis, check out other trends that relate to your interests, and keep track of everything in one unified, organized dashboard.
We have two plans to suit different business professionals and research needs — but you can get started with a Pro trial today to receive full access to our market research site and begin building out your trend tracking dashboard.
Related Read: #1 Site for Business Trends Research: Identify + Track Trends