27 New Online Shopping Statistics for 2024
This is a list of up-to-date online shopping statistics, data, and trends.
Over the past few decades, online shopping has evolved from a niche activity to the primary shopping method for millions of people around the globe. In 2024 we have thousands of online subscription services, one-day shipping, Cyber Monday, and more.
But online shopping comes with tradeoffs. For the ability to buy anything anywhere, shoppers sacrifice key in-store experiences: trying on clothes, testing out products, and interacting with salespeople.
Despite those drawbacks, online shopping continues to thrive. To dive deeper into the world of online shopping and the numbers behind it, here are 27+ new online shopping statistics.
Content
Top Online Shopping Stats
Before you jump into the full list of statistics, here are some notable online shopping standouts:
76% of US adults shop online.
Global online retail sales are $5.2 trillion.
57% of global consumer spending is online.
41% of Americans shop online at least once per week.
90% of shoppers believe they can find better deals online than in-store.
Ecommerce sales increased 25% during the COVID-19 pandemic.
Online Shopping Market and Spending Statistics
How much revenue does online shopping generate? What percentage of the population is part of the ecommerce ecosystem? These statistics show how vast the online shopping market is.
Around 3 in 4 US adults shop online (NPR)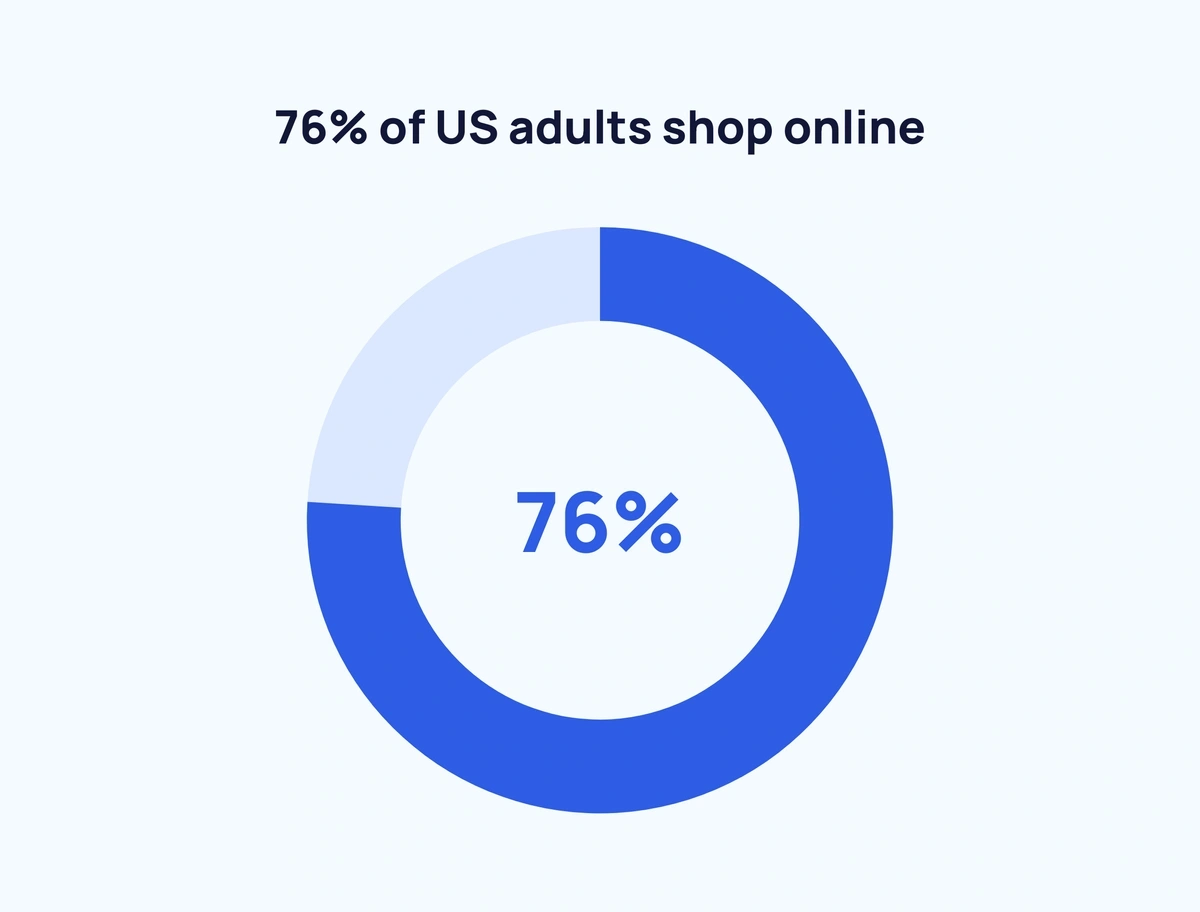 Just over three-quarters of American adults are online shoppers according to a poll by NPR and Marist. 25% shop online at least once per month, 16% at least once per week, and just 2% shop online every day.
Global online retail sales are $5.2 trillion (eMarketer)
Global retail ecommerce sales totaled $5.211 trillion, making up 18.8% of all retail sales each year.
Total global online retail sales are expected to reach $8.148 trillion in 2026 (eMarketer)
Digital retail sales increased 17.1% between 2020 and 2021, largely due to the COVID-19 pandemic. Growth slowed to 9.7% the following year.
Between now and 2026, online retail sales are expected to record a 9.26% CAGR. By 2026, they could make up 24% of total global retail sales.
Alibaba is the largest online retailer based on estimated sales (Statista)
Chinese e-commerce giant Alibaba recorded an estimated $780 billion in sales in 2022, making it the world's largest online retailer. Amazon came in 2nd with $691 billion in estimated sales.
Ecommerce sales increased 25% during the COVID-19 pandemic (BigCommerce)
COVID-19 had far-reaching effects on the everyday lives of billions around the globe. Online shopping took off during the pandemic, with a 25% overall increase in ecommerce sales. The number of online orders in the U.S. increased by 55% over the same timeframe.
One-quarter of global consumers have online delivery subscriptions (Dynata)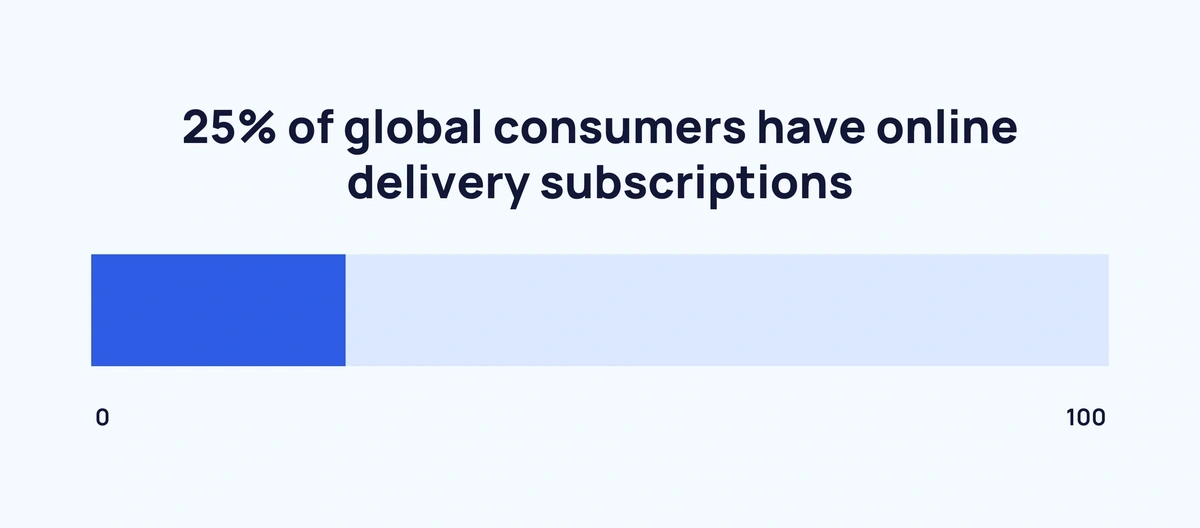 Millennials are the top online delivery subscription demographic, with 36% of millennial adults having at least one subscription. The top online delivery subscription product categories are groceries (41%), personal care products (38%), household products (34%), and clothing (32%).
Direct navigation is the most valuable online shopping traffic source (Kibo)
The average online shopping order from users navigating directly to a seller's site was $121.05 in Q2 of 2022. That puts the average value of a direct navigation order higher than orders from email ($109.65), search engines ($103.32), and social media ($86.21).
57% of global consumer spending is online (Wunderman Thompson)
Online shopping peaked during the COVID-19 pandemic when 61% of consumer spending took place online. Prior to the pandemic, online shopping only accounted for 45% of global consumer spending. China has the highest percentage of online shopping spending at 66%, while Japan has the lowest at 48%.
The recommerce market is worth $160.1 billion (OfferUp)
Recommerce, or C2C ecommerce, is the buying and selling of second-hand goods between two consumers. The recommerce market is expected to hit $289.4 billion by 2027. Second-hand marketplaces like Poshmark, ThreadUp, and OfferUp help connect buyers and sellers in the recommerce market.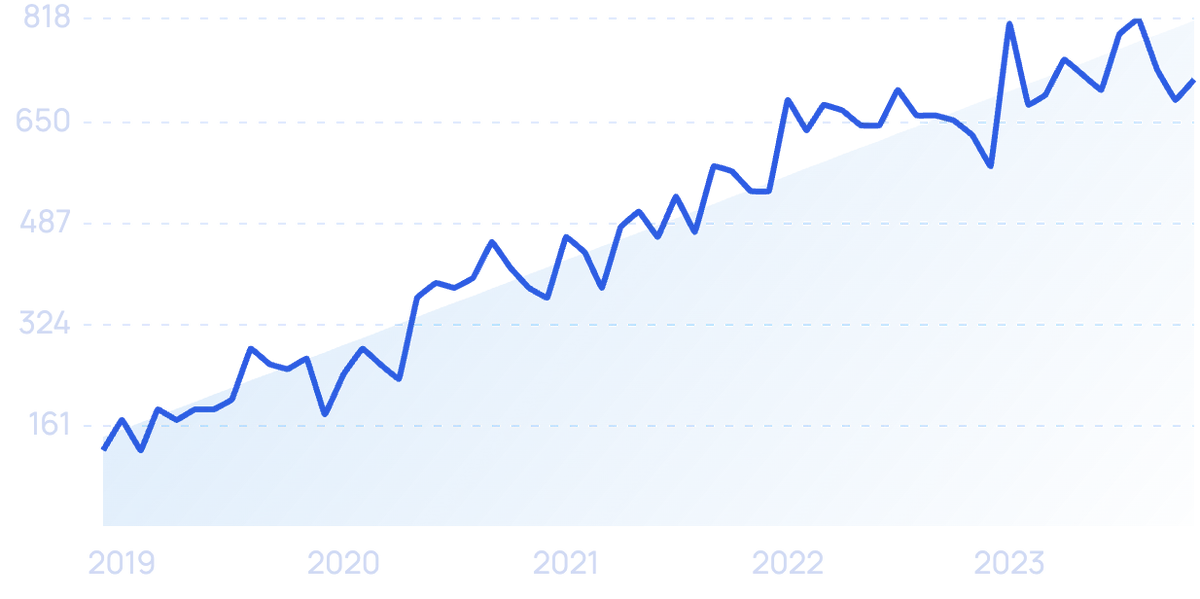 Google searches for "second hand marketplace" are up 487% over the past 5 years.
Shopping cart abandon rates are 81% across all industries (SaleCycle)
Travel has the highest care abandon rate at 87%, while retail has a below-average rate of 77%. Extra costs being too high is the most cited reason for cart abandonment (55%). Other common reasons for cart abandonment are account creation requirements (34%), complex buying processes (26%), and hidden costs (21%).
Toys, games, and books are the most popular non-essential online purchases (Dynata)
41% of shoppers say they prefer purchasing toys, games, and books online over 21% who say they'd rather shop for those items in person. Online is the preferred method for purchasing electronics as well, with 38% preferring to shop online versus 26% preferring in-store.
Online Shopping Consumer Statistics
As more and more shoppers start heading to online retailers and marketplaces, researchers have started learning about online shoppers' preferences. These stats are all about online shopping through the eyes of the consumer.
73% of global consumers believe that online shopping will be even more important in the future (Wunderman Thompson)
Only 6% of global consumers believe that online shopping will lose steam in 2023 and beyond. 60% say they plan on increasing their use of digital shopping channels.
Approximately 2 in 5 Americans shop online weekly (ClearSale)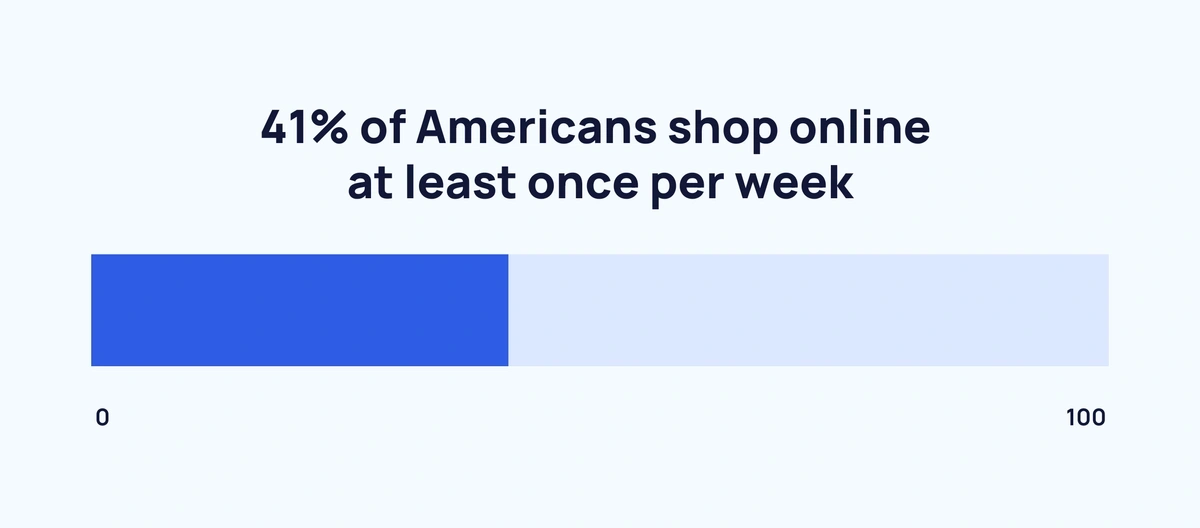 Consumers in the U.S. are global leaders when it comes to online shopping frequency. The UK is in 2nd place with 27% of consumers shopping online at least once per week. Other top countries are Mexico (22%), Canada (22%), and Australia (22%).
75% of online shoppers say free delivery has a significant impact on purchase decisions (Shopify)
The cost, speed, and flexibility of shipping are strong drivers in online shopping. 60% of online shoppers say shipping speed is a significant influence on purchase decisions, and 53% say the same about flexible shipping.
What does a "significant impact" look like? 32% of online shoppers say they've abandoned a cart over long shipping times, and 22% abandoned carts due to a lack of estimated shipping date.
Flexibility is the top perceived benefit of online shopping (Dynata)
45% of consumers consider flexibility — being able to shop whenever and wherever they want — as a main benefit of online shopping. 37% think paying better prices is a benefit, while 36% see not having to go to a physical store as a plus.
Not having the ability to touch or see products is the top perceived drawback of online shopping (Dynata)
When asked what they consider to be the top drawbacks of online shopping, 46% of consumers mentioned not being about to feel products in person. Similarly, 45% said they can't be sure of a product's quality when they shop online. Finally, 34% said returns being complicated was a top drawback.
Faster delivery times are the most common thing people would change about their online shopping experience (Wunderman Thompson)
In a 2022 survey of adults who shop online at least once per month, 13% said their top desired change to the online shopping experience would be faster delivery times. Other top answers were free returns (8%), convenient delivery (6%), and better payment options (5%).
72% of online shoppers in Vietnam buy eco-friendly or sustainable products (PwC)
In PwC's 2022 survey of online shoppers from 25 different countries, 72% of Vietnamese shoppers say they "always or very often" buy eco-friendly or sustainable products. That puts Vietnam at the top of the list and well above the global average of 42%.
9 in 10 shoppers think they can find better deals online than in-store (Ibotta)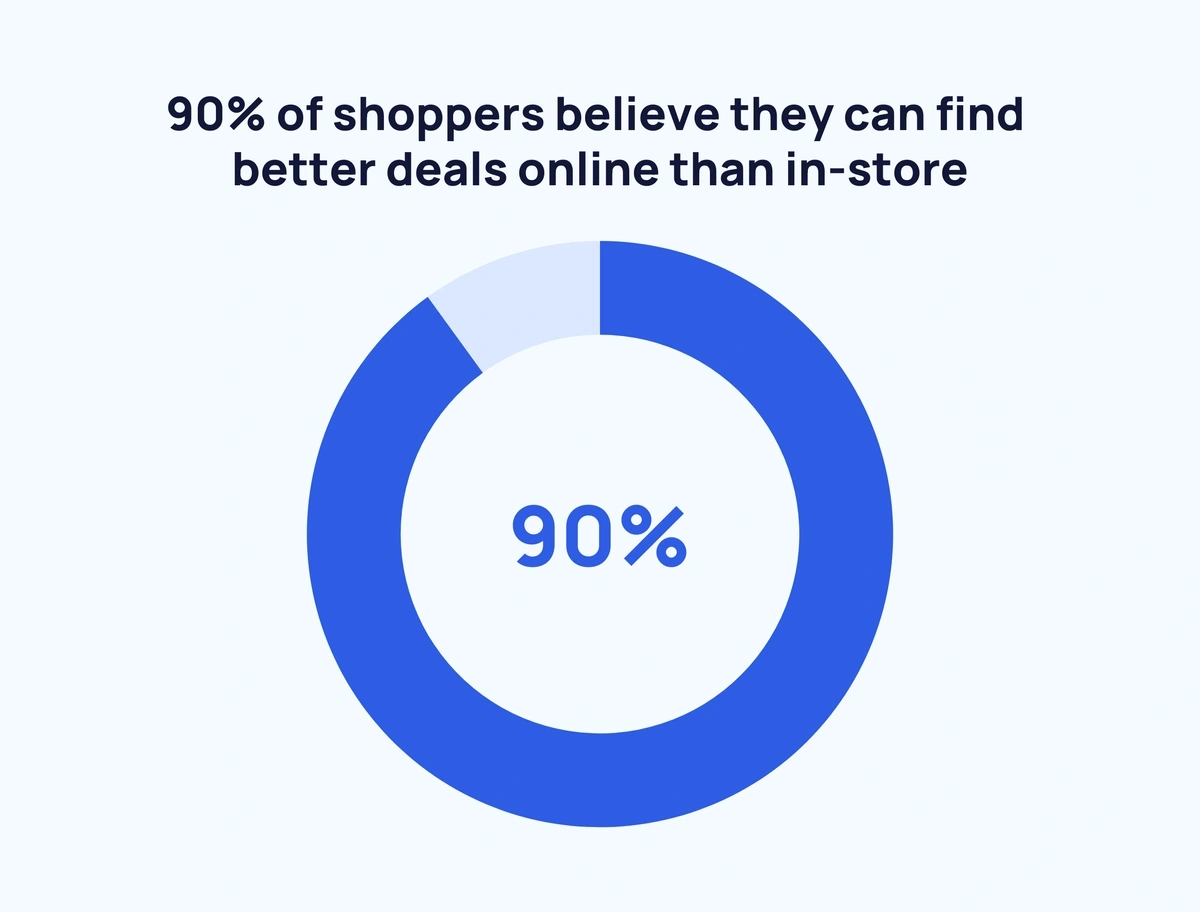 Getting the best deal on a purchase is an important factor when deciding where to shop. 9-in-10 shoppers think the best deals are online. In fact, only 5% of shoppers want to ask salespeople about in-store deals.
29% of US adults shop on social media platforms (eMarketer)
18.3% of American adults have shopped on Facebook via Facebook Marketplace and Shops, making the social media platform the most popular among online shoppers. Instagram is the second most popular social shopping platform, with 11.1% of US adults having shopped there in the past 12 months.
Online Shopping Technology Statistics
Digital technology like augmented reality helps online retailers address the challenges people face when shopping online. Retailers that offer virtual try-ons and other technological perks can win over customers and improve their bottom line.
60% of global consumers prefer shopping with brands that offer an omnichannel experience (Wunderman Thompson)
Omnichannel retailers—those who have both digital and physical stores — are the preferred choice for the majority of shoppers. 72% of shoppers research products online before purchasing them in-store, and 60% check product reviews while shopping in person.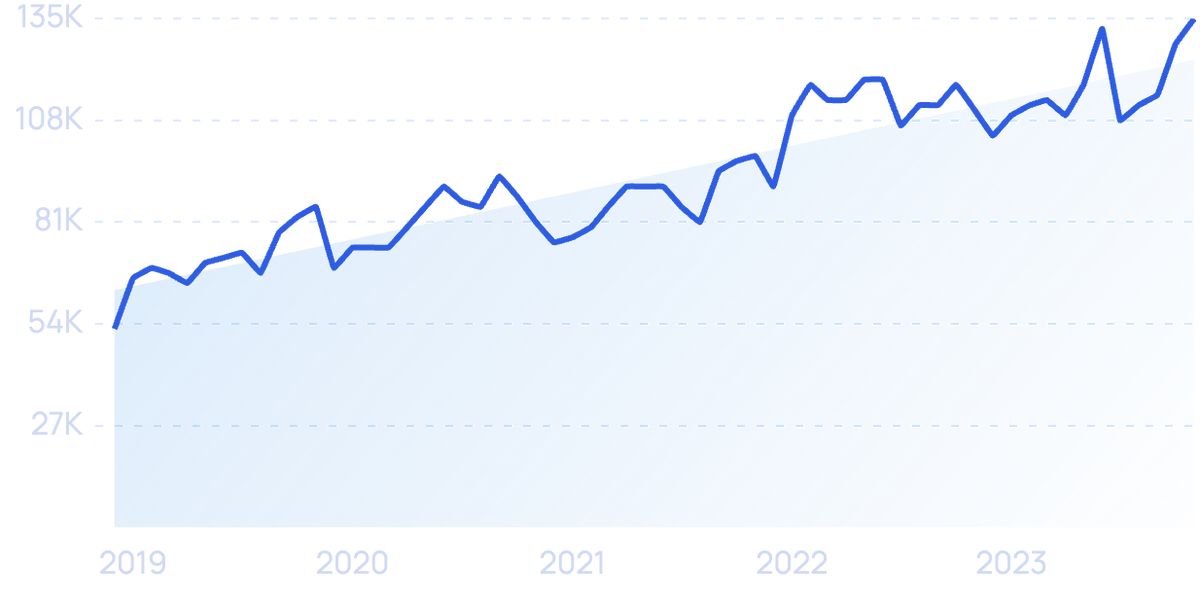 Google searches for "omnichannel" have increased 156% over the past 5 years.
16% of global shoppers have used augmented reality (AR) while online shopping (Snap)
COVID-19 encouraged millions of online shoppers to use AR in the online shopping process. Gen Z took to the technology more than other demographics, with 23% using AR while shopping in 2021. By 2025, 36% of Gen Z will have adopted AR in their online shopping routine.
AR try-on technology could save $7.5 billion globally in product returns (Snap)
AR can help shoppers determine whether or not a product will fit them, a potential game-changer for companies looking to reduce returns. 38% of products are returned because they don't fit the wearer.
Online Shopping Security Statistics
Much like any online activity, online shopping has security risks. While ecommerce companies face significant risk of nefarious acts like payment fraud, security is also top-of-mind for many shoppers.
On average, ecommerce companies lose $41 billion annually through payment fraud (Statista)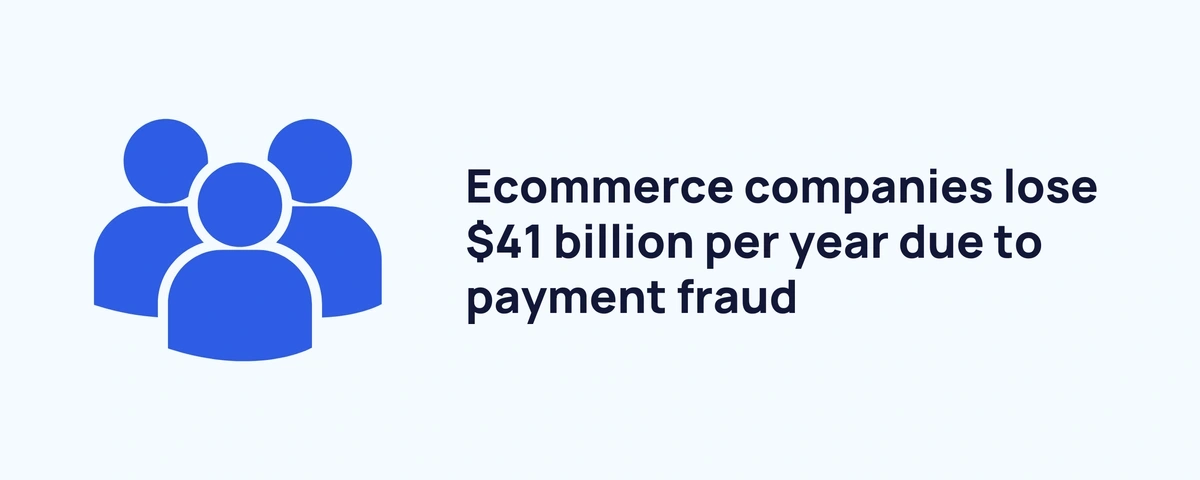 Losses from payment fraud in the ecommerce industry doubled between 2021 and 2022, from $20 billion to $41 billion. According to estimates, ecommerce companies could lose a collective $48 billion in 2023.
92% of American consumers say security is important to them when online shopping (ClearSale)
While 28% of American shoppers believe online retailers are acting "overly cautious" when it comes to security, 83% say they're more likely to buy from a company they know has fraud protection.
Online shoppers who spend $260 or more have greater confidence in overseas transactions (ClearSale)
71% of consumers spending between $260 and $520 shopping online feel confident purchasing products from overseas sellers. Only 37% of online shoppers who spend $65 or less share that same confidence.
Apple is impersonated in almost half of online shopping phishing attacks (Statista)
47.78% of phishing attacks identified by Kaspersky Labs in 2021 were impersonating Apple. Additionally, 21.48% of phishing attacks impersonated Amazon, while 5.32% impersonated eBay, and 4.14% impersonated Alibaba. Combined, the 4 brand identities were used in just under 80% of all phishing scams in 2021.
Wrap Up
Online shopping accounts for trillions of dollars in global sales every year. Across borders and age demographics, people are finding ways to get their favorite products shipped to their door with just a few clicks.
For some, online shopping doesn't quite check all the boxes that in-person shopping does, but for many, the advantages far outweigh the drawbacks. And with emerging technologies that can help online retailers replicate the brick-and-mortar experience, the future of online shopping looks brighter than ever.