9 Important CPG Industry Trends (2024 & 2025)
You may also like:
The consumer packaged goods industry is changing fast.
New CPG competitors are emerging every day.
And many incumbents are struggling to adapt to changing marketplaces, consumer behavior, and pricing strategies.
That said, new technologies and consumption habits are also creating new opportunities — for both stalwarts and startups.
And in this post, we'll outline 9 of the most important trends impacting the CPG industry right now.
Including several trends (like product personalization, direct-to-consumer upstarts, private label brands, and sustainability) that are likely to continue growing into 2026 and beyond.
1. Industry Stalwarts Rush Into DTC
Incumbent CPG companies are joining the direct-to-consumer wave.
And they're doing it in 3 major ways:
First, by acquiring (or investing in) competitors.
Unilever has been particularly aggressive.
Since 2015, CPG Unilever has acquired dozens of companies — including many DTC brands.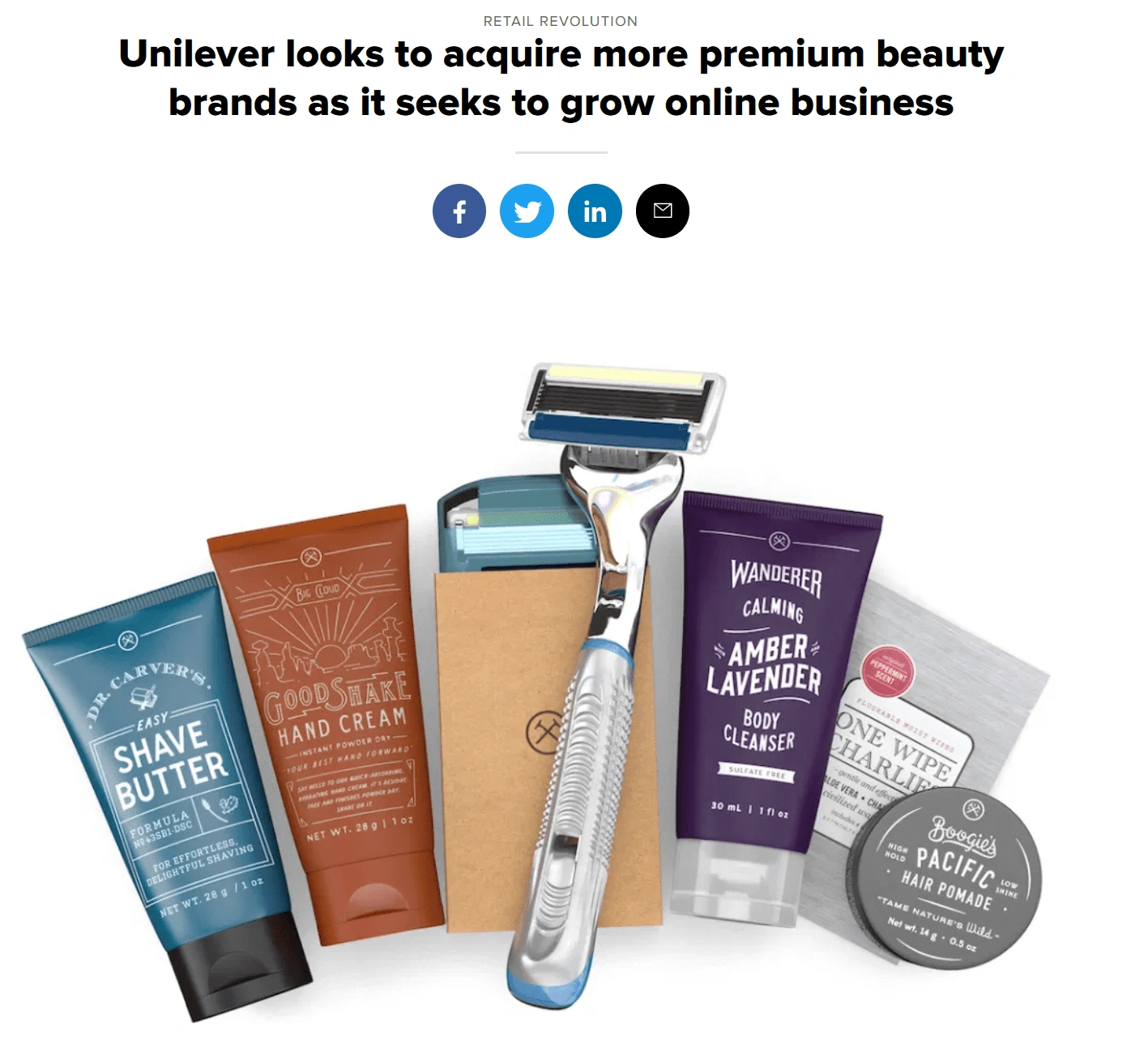 Unilever has been on an acquisition spree as of late.
Like Dollar Shave Club (for $1 billion in 2016), Schmidt's Naturals (for an undisclosed amount in 2017), and UK-based Graze (for £150 million in 2019).
But Procter & Gamble isn't resting on its laurels, either. Its 2019 acquisitions include This is L for $100 million, Walker & Company, First Aid Beauty, and more.
Second, legacy CPG companies are launching entirely new brands.
Procter & Gamble's EC30 is one example of this increasingly common strategy.
Originally launched on Indiegogo with the name "DS3", EC30 is an eco-oriented brand of dissolvable, solid-form soaps and cleaning products.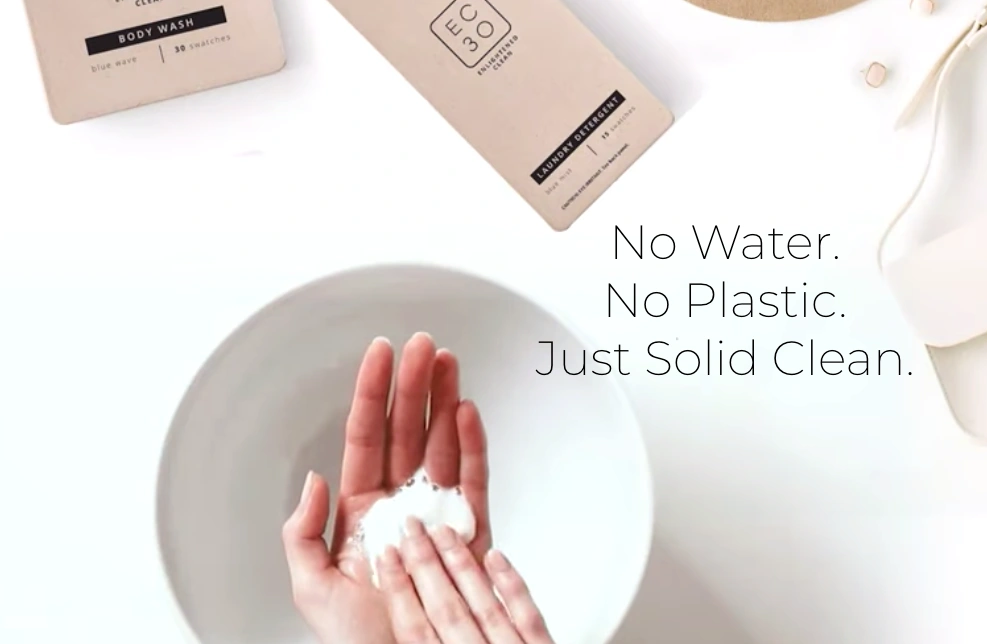 EC30 is a DTC brand under Procter & Gamble.
Finally, traditional CPG brands are selling their existing brands directly to consumers.
Last May, PepsiCo announced two new websites to do exactly that: PantryShop.com and Snacks.com.
And their DTC sales nearly doubled in Q3 2020.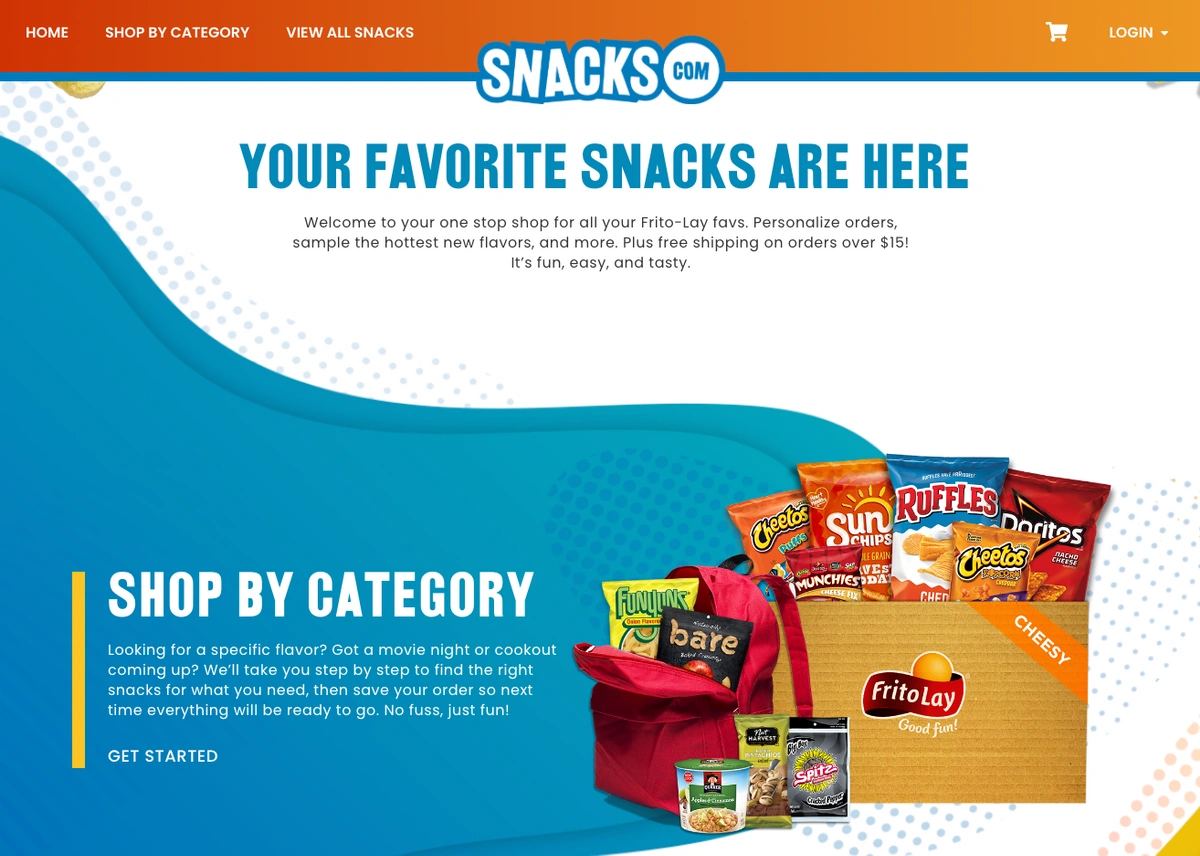 Snacks.com is PepsiCo's direct-to-consumer e-commerce store for Frito-Lay products.
And Heinz recently followed suit with their "Heinz To Home" e-commerce websites, launched in the UK and Australia during the Coronavirus pandemic.
2. New "Challenger" CPG Brands Emerge
DTC online sales grew are expected to reach an estimated $161.22 billion in 2024.
By removing the middleman, the direct-to-consumer model promises bigger margins, more nimbleness in product offerings, and valuable consumer relationships.
And right now, DTC startups are busy nibbling away at traditional CPG brands' profits.
Thanks to competitors like Dollar Shave Club and Harry's, Gillette's share of the US razor market fell from about 70% to under 50% in the course of a decade.
Like Dollar Shave Club, many DTC startups use a subscription model, bringing in a steady stream of recurring revenue.
Other growing subscription-based DTC brands include Blue Apron, GlossyBox, and BarkBox.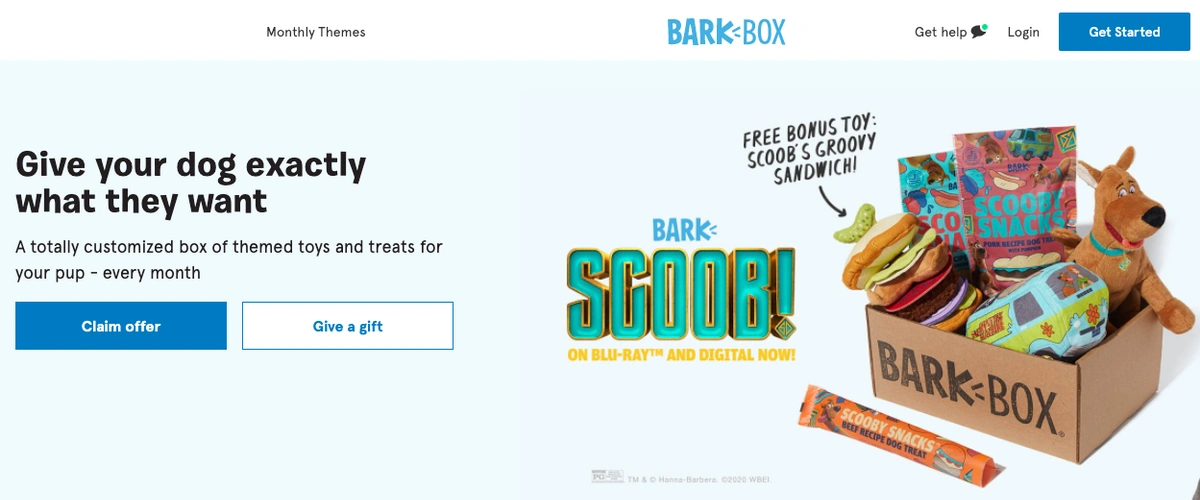 BarkBox offers dog toys and treats via monthly subscription.
But without needing to compete for retail shelf space, the DTC business model is susceptible to competition.
Newer competitors like Walker & Company, HelloFresh, and BeardBrand are threatening older challenger brands' footholds.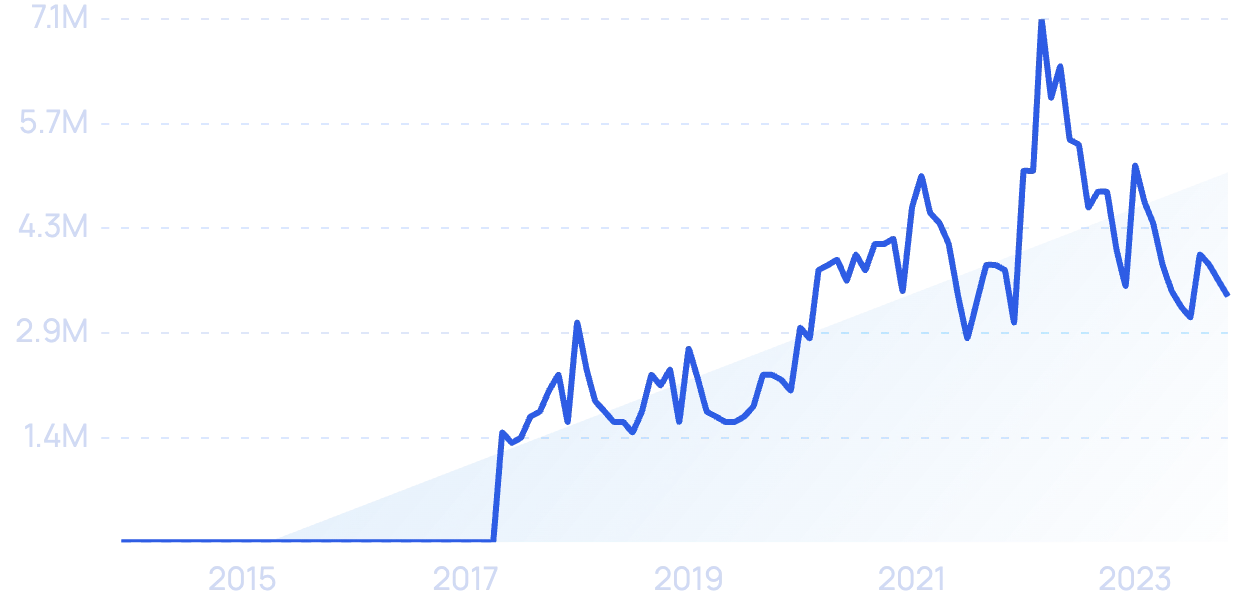 Search interest in HelloFresh, a Blue Apron competitor, has been rising (4,600% over 10 years).
3. More Private Label Brands Launch
CPG companies are pushing their own e-commerce storefronts.
But an even longer-trend term is the other side of the coin: retailers starting their own brands.
With better margins and direct control over product development, private label brands are attractive to retailers in the same way DTC brands are attractive to CPG conglomerates.
Amazon's private-label clothing brand Goodthreads is one example.
And it's easy for customers to spot AmazonBasics and Amazon Essentials as two other brands from the company.
But beyond those, over the years Amazon has actually grown dozens of private label brands.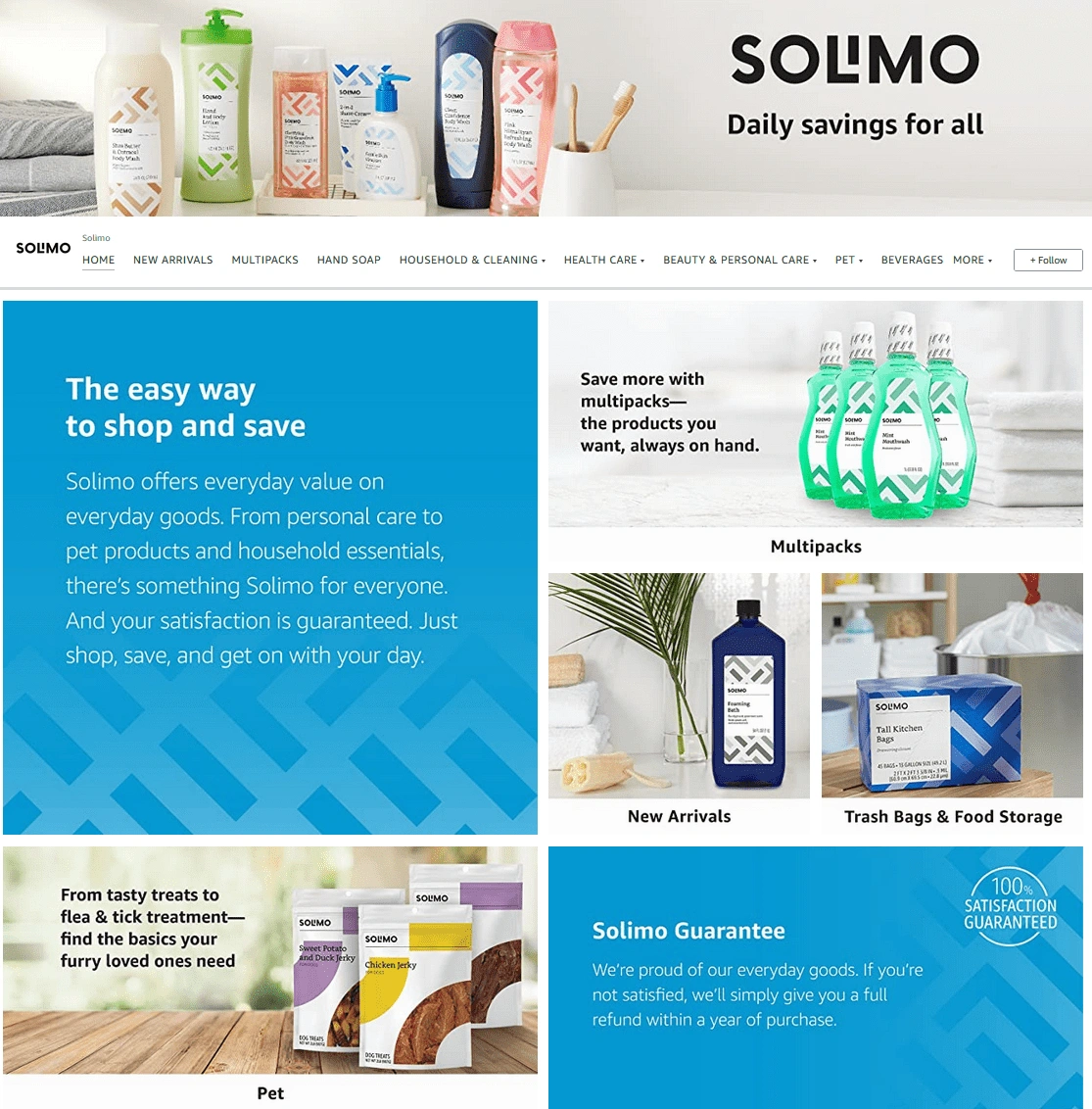 Amazon's Solimo is one of many of their in-house CPG brands.
Walmart and Kroger are two other large companies launching their own consumer brands.
4. Renewed Focus On Faster and Easier Delivery Options
E-commerce has been a growing CPG channel for decades now.
But with the pandemic, it went into turbo mode.
Amazon announced year-over-year sales increases of about 27% for Q1 2020, around 40% for Q2, and a further 37% for Q3.
And Walmart's online sales almost doubled in the US in that time (and more than doubled in China).
Walmart also launched a program called Walmart Plus, to compete with Amazon Prime and allow the retailer to offer faster free shipping to customers.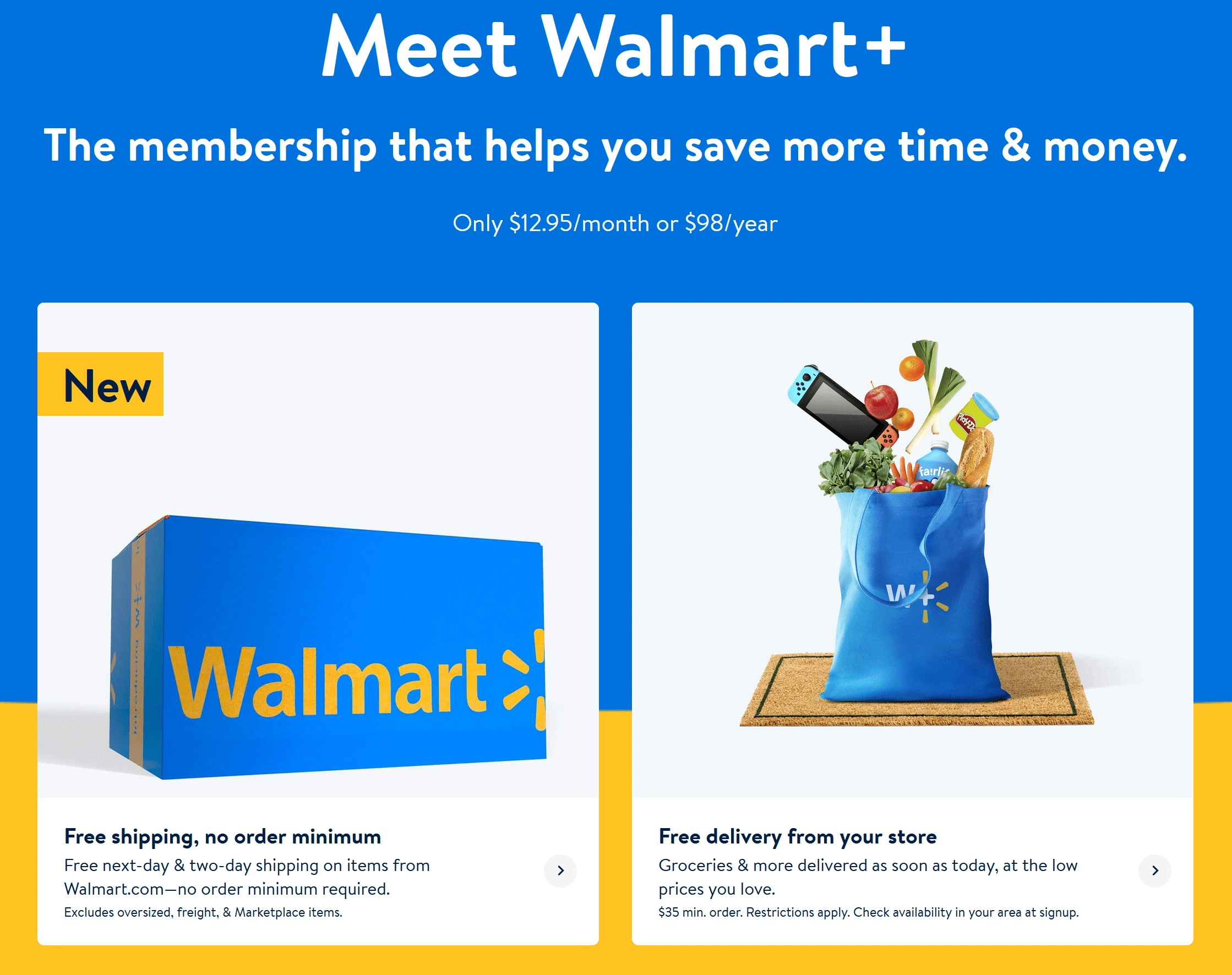 Walmart+ launched in 2021.
Walmart+ provides unlimited two-day shipping along with other perks for $98 per year.
But Amazon has been focusing on improving delivery times long before the pandemic. In April 2019, it announced one-day shipping as the new standard for US Amazon Prime members.
(It's estimated that as many as 82% of US households subscribe to Amazon Prime.)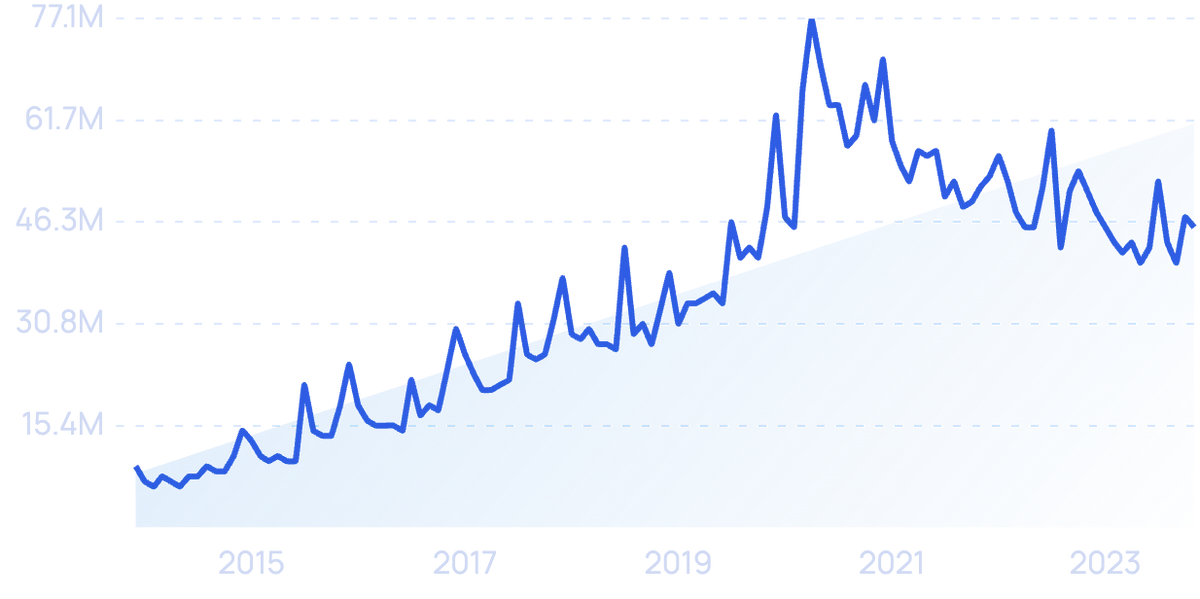 Global searches for "Amazon Prime" are up 392% over 5 years.

But for some purchases, even one-day shipping isn't fast enough.
That's why Amazon offers same-day delivery of many grocery items.
Still, dedicated fast-delivery CPG retailers are growing rapidly to meet additional demand. One example of this is GoPuff, which is basically an e-commerce-only version of 7-Eleven.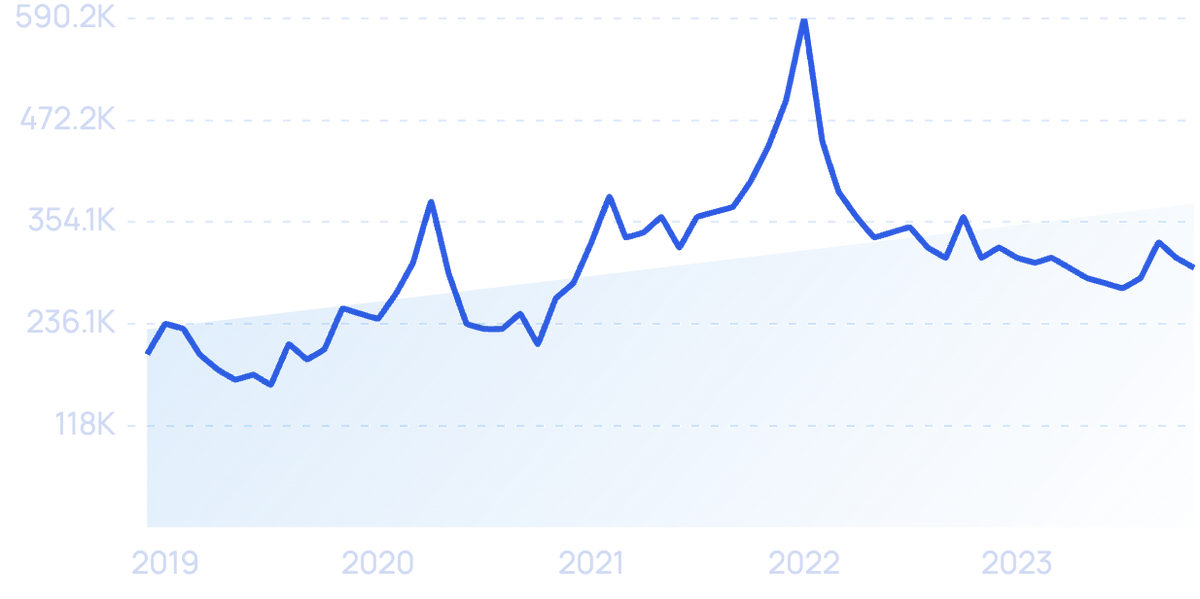 Search interest in "GoPuff" has been rising for years (50% over the last 5 years), and spiked during pandemic lockdowns.
According to the company, they deliver in minutes - not days or even hours.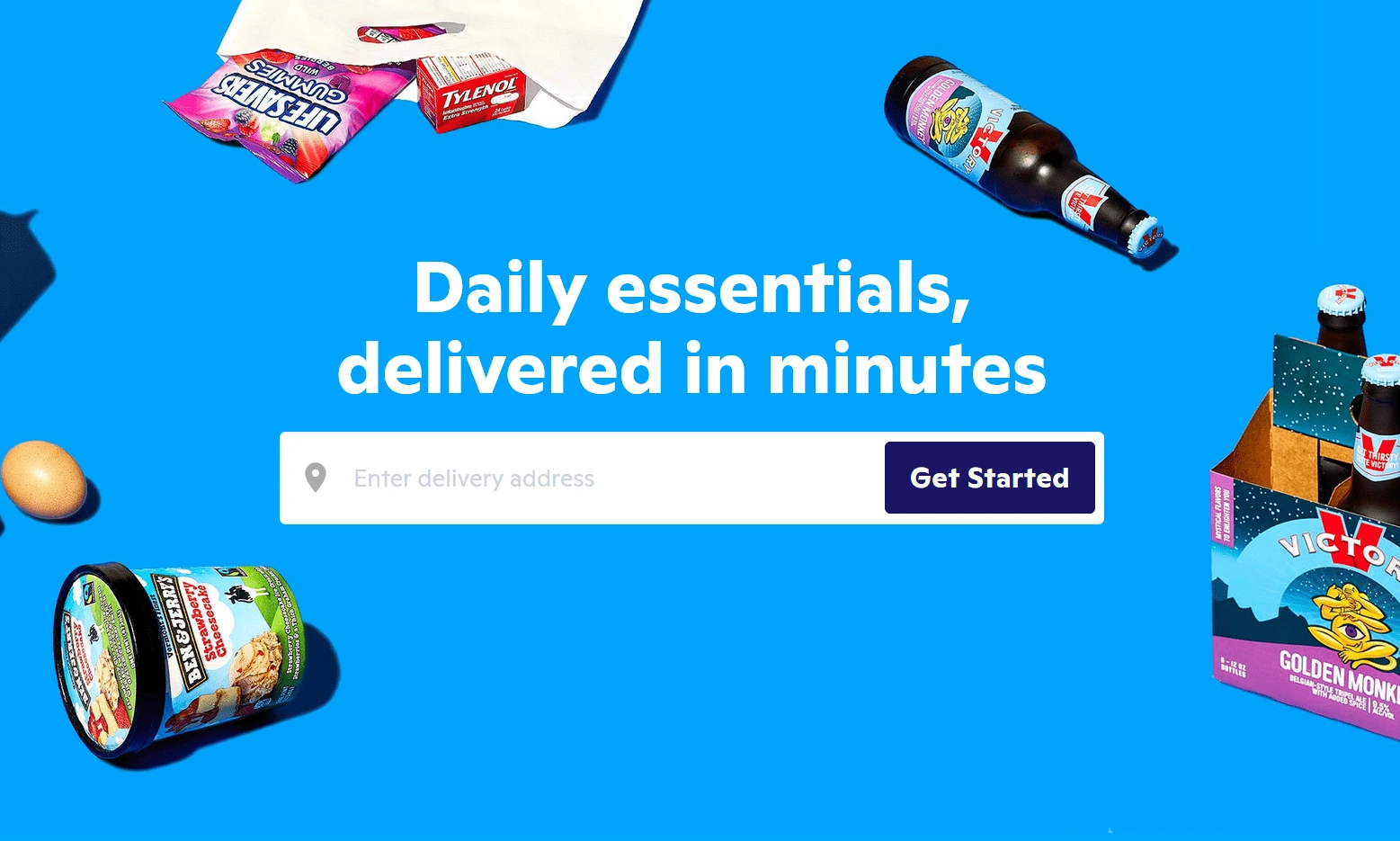 GoPuff's homepage.
Which is a critical feature for many CPG products (like toilet paper and soda).
5. Omnichannel CPG Shopping Takes Hold
Another growing CPG trend is the push from brands and retailers to create omnichannel shopping experiences.
In other words: purchasing is smooth and seamless across different devices, and even in-store vs online.
Often, these experiences are tied together.
For example, even before the pandemic, Walmart was quickly expanding its in-store pickup kiosks. They increased the number by 8x in 2 years, to 1,700 stores.
While Sephora uses online resources to enhance - rather than replace - the in-store experience. The retailer offers in-store tablets so that people can access their online "Loves" (shopping lists) on large screens inside stores.
6. CPG Brands Go All-In With Multi-Channel Marketing
Consumer packaged goods companies are also taking a more omnichannel approach to their marketing.
TV ads, product placements, and PR are still massively popular.
(In fact, as of 2019, CPG was still the top-spending industry on up-front TV advertising.)
And traditional digital marketing channels like SEO and pay-per-click advertising aren't going away, either.
But influencer marketing has been on a tear in recent years. Especially in the CPG space.
Skincare brand CeraVe (a division of L'Oreal) has demonstrated how powerful this can be, crediting TikTok influencer Hyram Yarbro with boosting their sales among Gen Z two years earlier than forecast.
And not just with big-name celebrities. Even "micro" and "nano" influencers, who have as few as 1,000 social media followers, are delivering results for brands.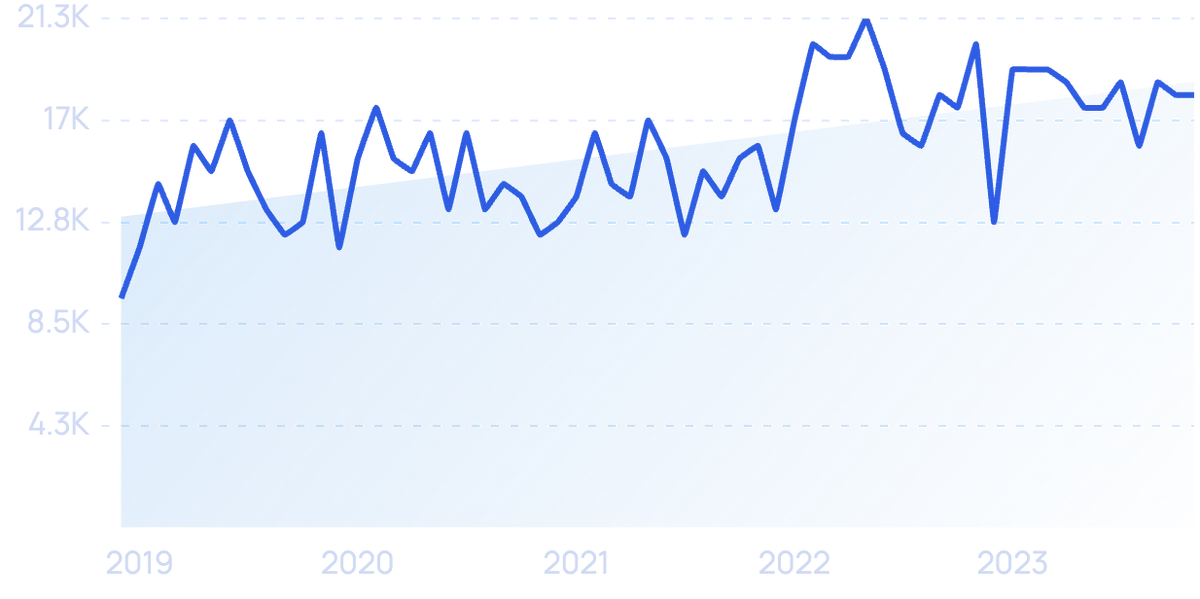 Searches for "micro influencers" have increased by 89% over the last 5 years.
7. Consumers Demand Sustainability and Clear Brand Values
Almost half of internet users (47%) say they'd switched products or services after a company violated their personal values.
Specifically, the top reasons for switching were protecting the environment, lack of transparency, and climate change.
According to Nielsen, sustainable-minded consumers were expected to spend up to $150 billion on sustainable products by the end of 2021 in the US alone. The company says the top-growth subcategories of the sustainable movement include vegan, cruelty-free, and B corporations.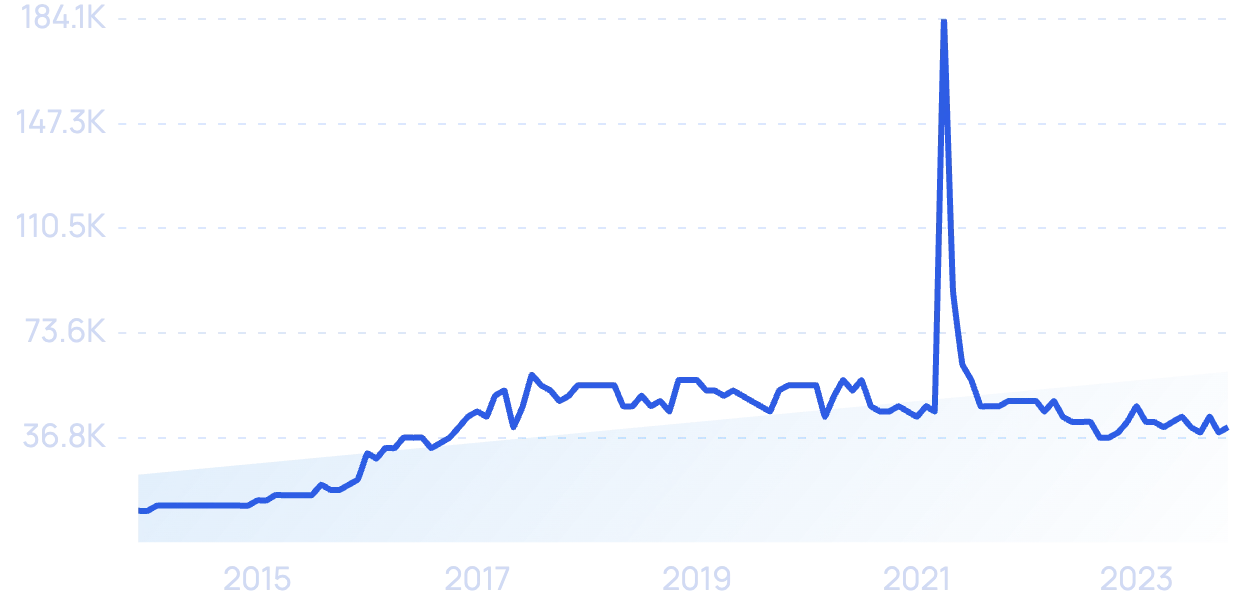 Search interest in "cruelty-free" products and companies has increased dramatically by over 267% during the past 10 years.
Brands built from the ground up with sustainability in mind include Patagonia for apparel, Pura for diapers, Hippeas for snacks, and Puracy for household cleaning.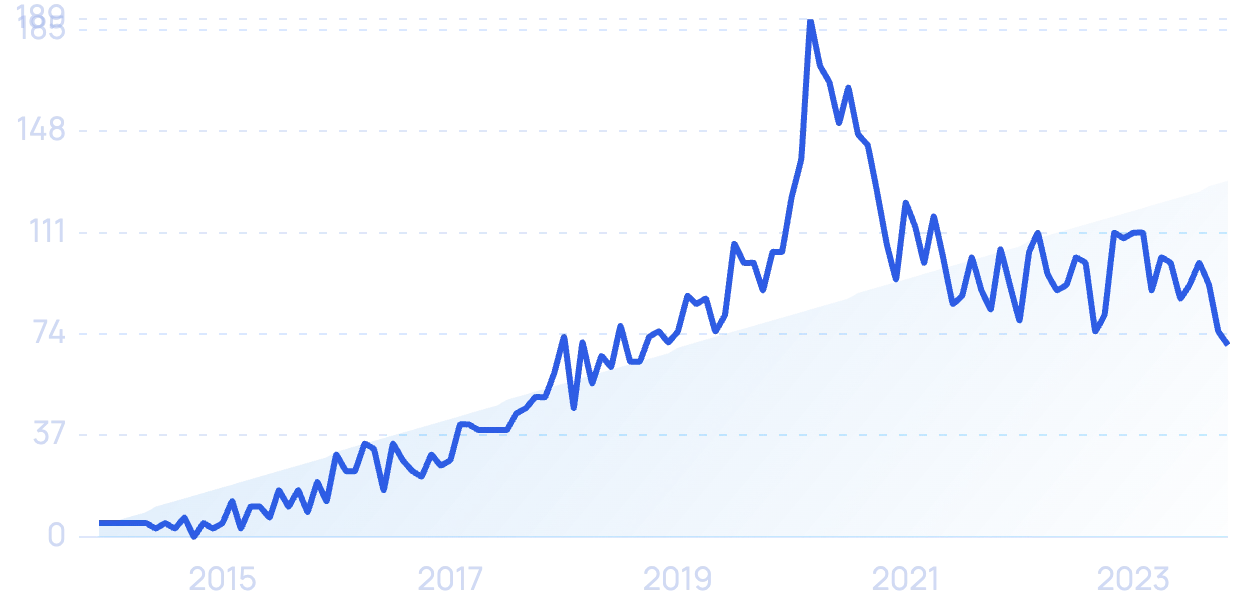 Searches for "Puracy" have increased by 1,113% over the last 10 years.
Some companies have also seen positive results by taking a public stance without necessarily changing the way their products are made.
For example, Nike's decision to continue sponsoring Colin Kaepernick after the NFL dropped him for "taking a knee" to protest police brutality during the national anthem.
While opponents boycotted Nike for this choice, it ultimately led to an increase in sales.
8. Growing Demand For Self-Care Products
Millennials spend more on self-care than any other generation before them (2x more than Baby Boomers).
And for the first time ever, skincare products are now outselling makeup.
Brands like CeraVe and DRMTLGY are taking full advantage, seeing interest in their brands spike dramatically.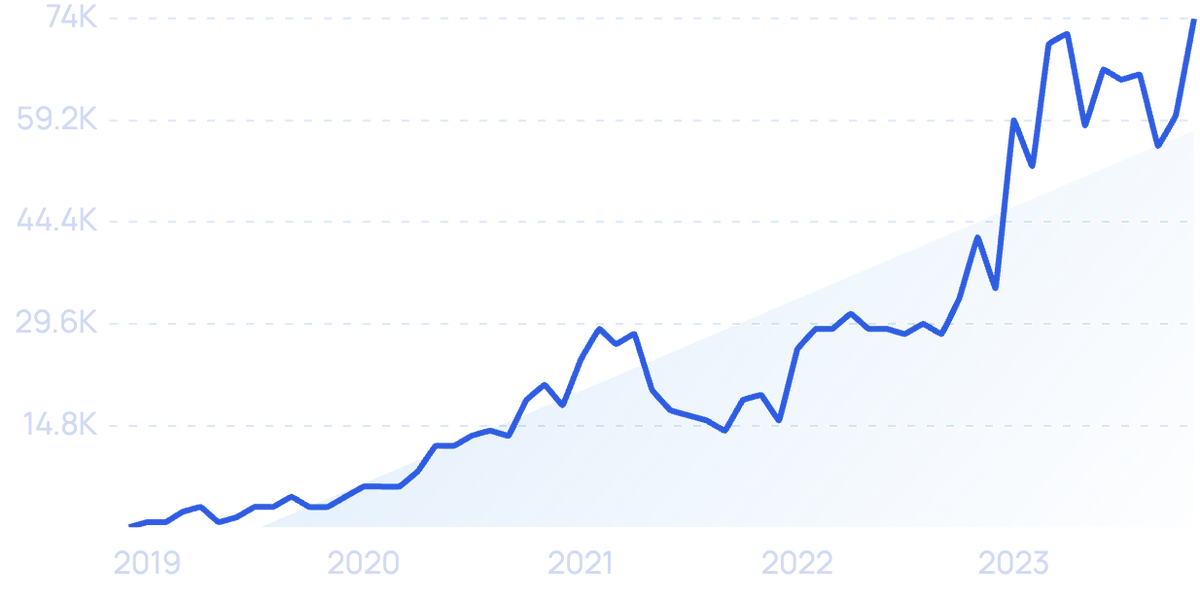 Searches for direct-to-consumer startup skincare brand DRMTLGY are on the rise with a +99x increase in 5 years.
CBD products are another rapidly-growing part of the self-care category.
CBD products were not legal nationwide in the US until 2018.
But now, they're already used by an estimated 28% of US consumers - and 56% of Millennials. And sales are expected to continue growing very quickly: from about $4.6 billion in 2020 to over $16 billion in 2026.
9. Consumers Expect Product Personalization
70% of the top DTC subscription brands use product quizzes (usually during or before the signup process) to help personalize the customer experience.
For example, monthly subscription box service BarkBox asks questions like: What's your dog's name? How big is it? As well as questions concerning breed, date of birth, and allergies.
According to Forbes, about 120,000 different variations of each BarkBox go out to a million dogs each month.


BarkBox's personalization process.
As a way to boost e-commerce conversion rates and customer retention, the beauty brand Tatcha also allows personalization via its Ritual Finder tool.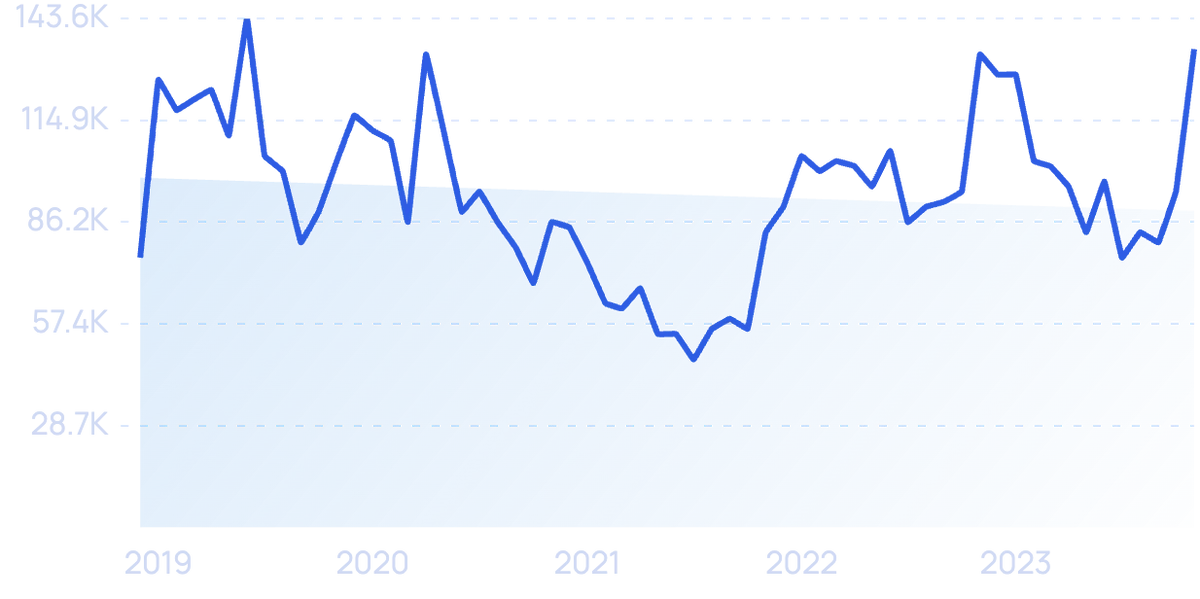 "Tatcha" interest may have peaked. But the brand still attracts more than 135K searches per month.
And in 2019, L'Oreal launched the DTC hair color brand Color&Co. The brand relies on personalization as its main differentiator.

Personalization is Color&Co's unique selling proposition.
Conclusion
From DTC to product personalization, those are the top CPG trends to keep an eye on right now.
One theme that ties many of these trends together is convenience. Thanks largely to e-commerce options and improved delivery times, consumers increasingly expect "CPG on demand". Another interesting angle that many of these trends share is a focus on sustainability and the environment.
Considering that most CPG products are disposable, it makes sense that eco-minded consumers would turn their attention to the environmental impact of the products that they use every day.
It will be interesting to see how these trends shake out in the coming years.