6 Key Public Relations Trends in 2024
You may also like:
Major shifts in society, business, and technology are altering how companies large and small are managing public relations today.
From adapting to new technologies or dealing with changing customer tastes, PR is constantly adapting to today's business environment.
Read on to learn about the most important trends affecting the public relations space in 2024.
1. Rising Cost of Paid Media Diverts Budgets to PR
Global digital news consumption rose by 33% between 2019 and 2021.
The number of visitors to digital news sites increased rapidly at the start of the pandemic.

Average time spent with each category of media.
Brands responded to this surge of online activity by diverting marketing budgets online, and the increased demand led to escalating ad costs.
A 2021 study that analyzed over $7 billion of ad spends of 3,000 advertisers across 150 countries, found that the average cost per click (CPC) for paid search ads increased by 34% in 2020.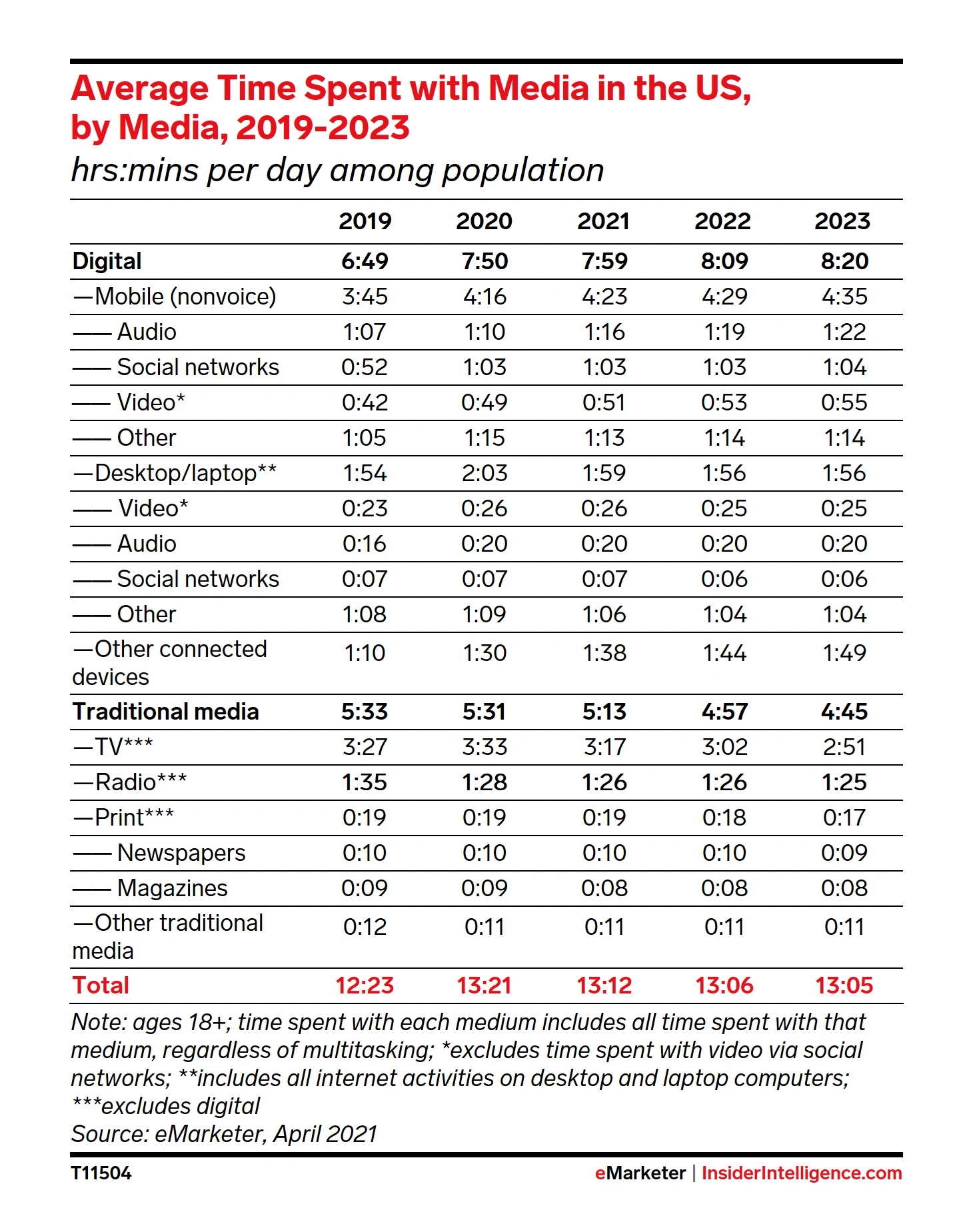 The increasing costs of paid social advertising.
The same study also found that the cost per thousand impressions (CPM) went up by 41% over the previous year.
These spiraling costs have not gone unnoticed by businesses.
Recent data from Gartner shows that organizations increased their allocations for PR outreach, with social media seeing an 11.7% increase in resources in 2020.
B2C companies also indicated that they expected an increase in spending in 2021 on PR initiatives related to social priorities, and increased FTE resources by 46%.
According to a report by Digiday, consumer brands such as Haus, Parachute, and Recess are prioritizing PR over paid media, having discovered returns of over 100x in earned media, far outstripping the expected ROAS (return on advertising spend) for similar budgets in paid advertising.
Muck Rack's 2021 State of PR survey found that 45% of PR professionals predicted an increase in PR budgets in 2021.
And 83% anticipated that the importance of PR would increase in the coming years, corresponding to the higher expectations of transparency and ethics in corporate communications and initiatives.
2. Brand Communities Boost Customer Engagement
Online communities are quickly becoming one of the best ways for brands and businesses to drive customer engagement and loyalty.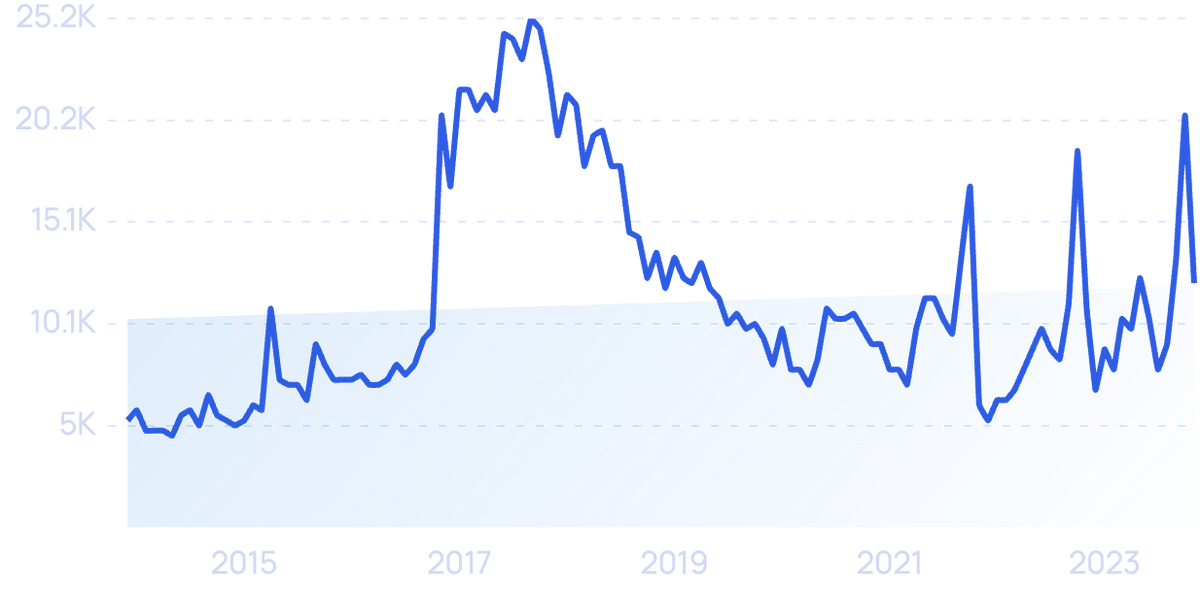 Search interest in "community building" is up by 129% over the last decade.
In fact, more than half of the customers who follow a brand through social media are more loyal to that brand.
And it's no secret why.
Creating a community around a brand makes the brand more trustworthy in the consumer's eye.
Friends and family are always considered the most trustworthy source for brand and product recommendations – at least according to 83% of consumers.
This translates directly to community building. If consumers are receiving recommendations from other consumers instead of the brand itself, they are much more likely to make a purchase.
And once a community is built, it becomes its own PR and customer support function.
A Harvard Business Review study found that allowing a brand community to answer customer questions was 72% less expensive than employing customer representatives to do so.
While brand community building is improving, an Aspire study found that two-thirds of consumers feel that they can't contribute to their favorite brand's image.
And many of those same customers are eager for more brand interaction.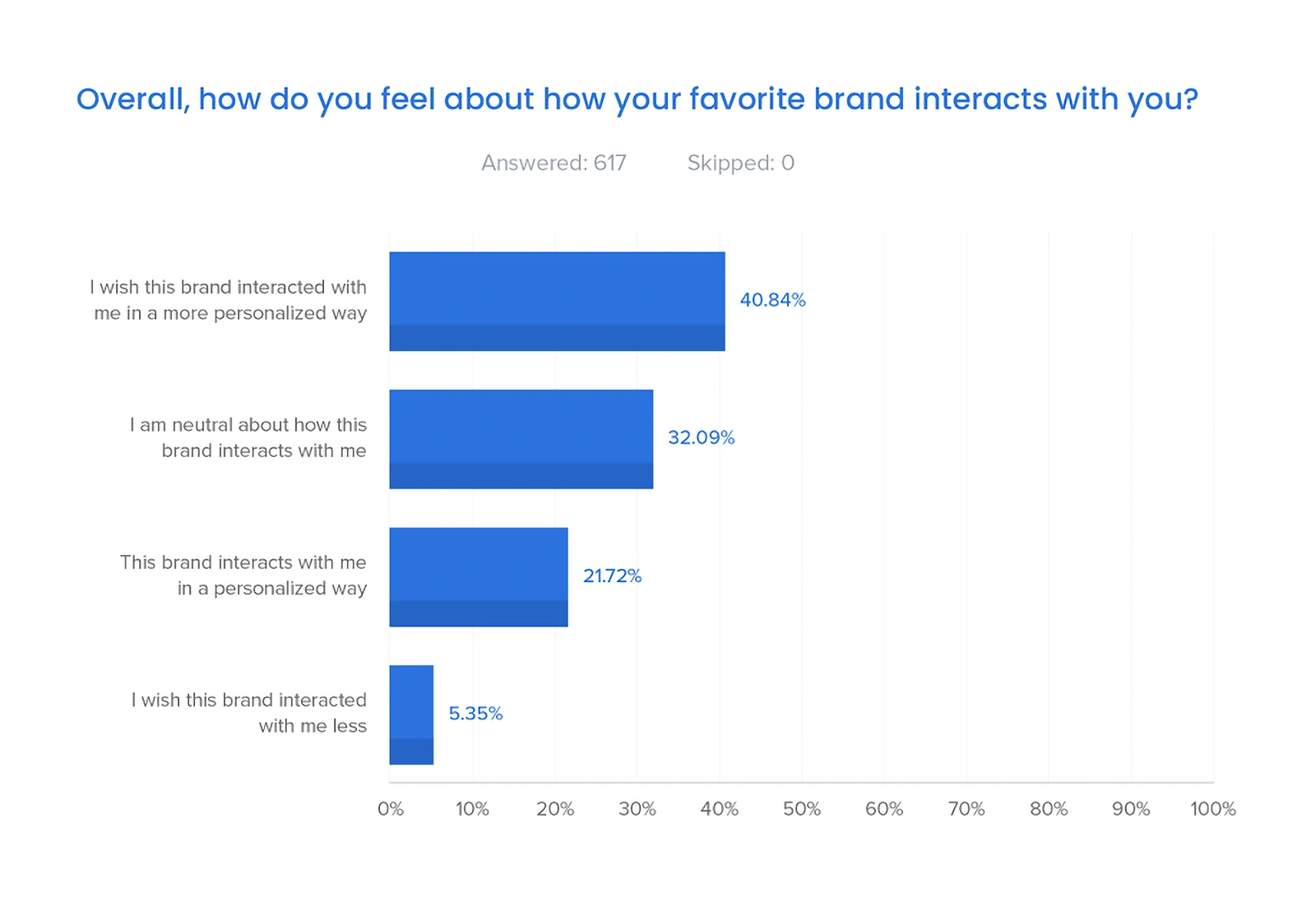 Customer preferences related to brand interaction.
One of the best parts about creating a brand community is that companies don't have to create their own platforms. The customers are already out there, they just have to go get them.
For instance, there are around 3 billion Facebook users. And there are already 10 million Facebook groups. More than half of these Facebook users are in five or more groups.
Making a Facebook group that revolves around a brand can be an inexpensive way to build a community.
It's no surprise that businesses have been taking note.
Last year, about three-quarters of large companies, reported having at least one online community.
And this number is expected to grow in the future. Just under half of US Gen-Z consumers say they trust online communities – a number that's on par with trust in traditional news sources.
If companies want to start communities on their own platform instead, there are now tools for that too.
Honeycommb is a company that allows businesses to create apps and platforms to support brand communities.
In fact, the company claims that there are already over 300 custom apps created across multiple platforms, and 1.5 million people across all communities, who have collectively created more than 5 million pieces of content.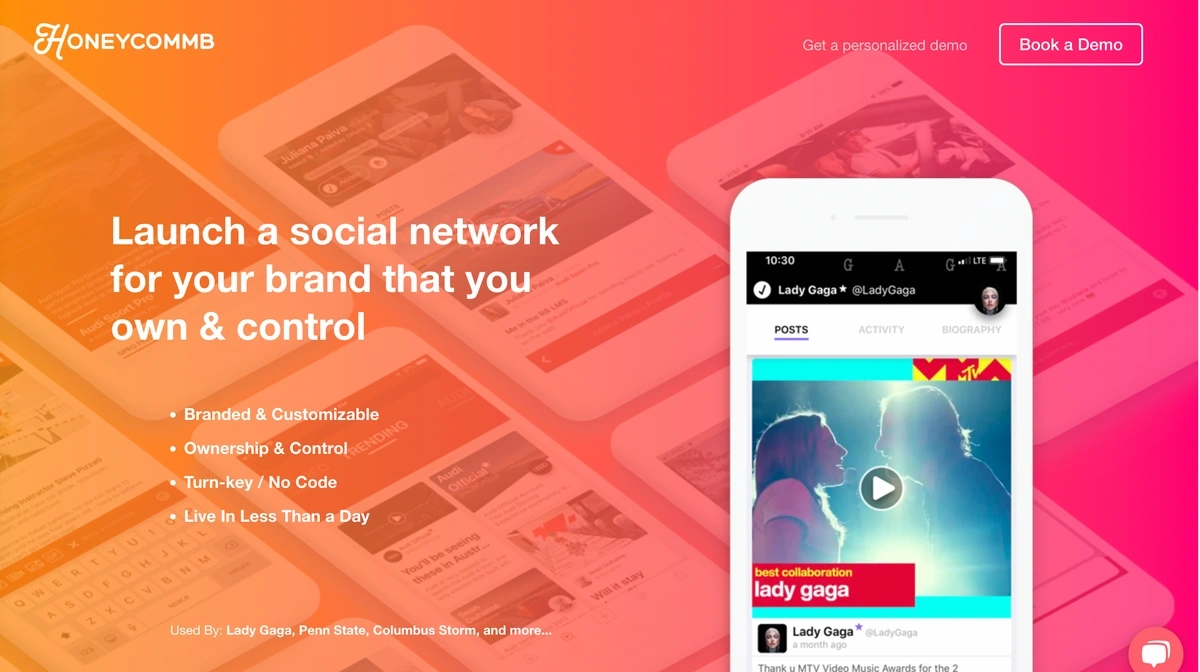 Snapshot of Honeycommb's brand community app.
3. Virtual Events Get Real Attention
While live streams are primarily concerned with reach (capturing as many viewers as possible), virtual events are focused on interaction.
Depending on the type of virtual event, this may include product unveilings and QA sessions for live events, along with on-demand videos and interactive content for recorded events.
"Hybrid events" add an online component to physical events.
They provide live access and interactivity simultaneously alongside in-person events and have been popular in tech and sports entertainment for a few years now.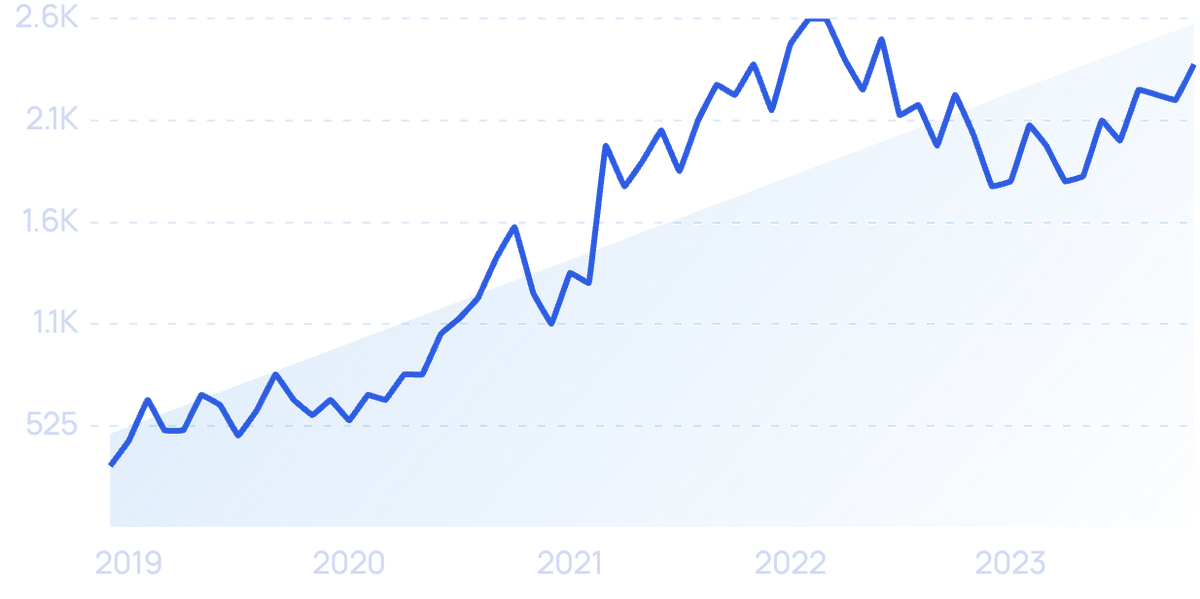 Searches for "Hybrid Event" have grown rapidly in the last 5 years (658%).
A notable milestone that kickstarted the trends of hybrid events was the 2012 Google I/O event, which "won the Internet" with the famous skydiving stunt to demo the brand's Glass eyewear.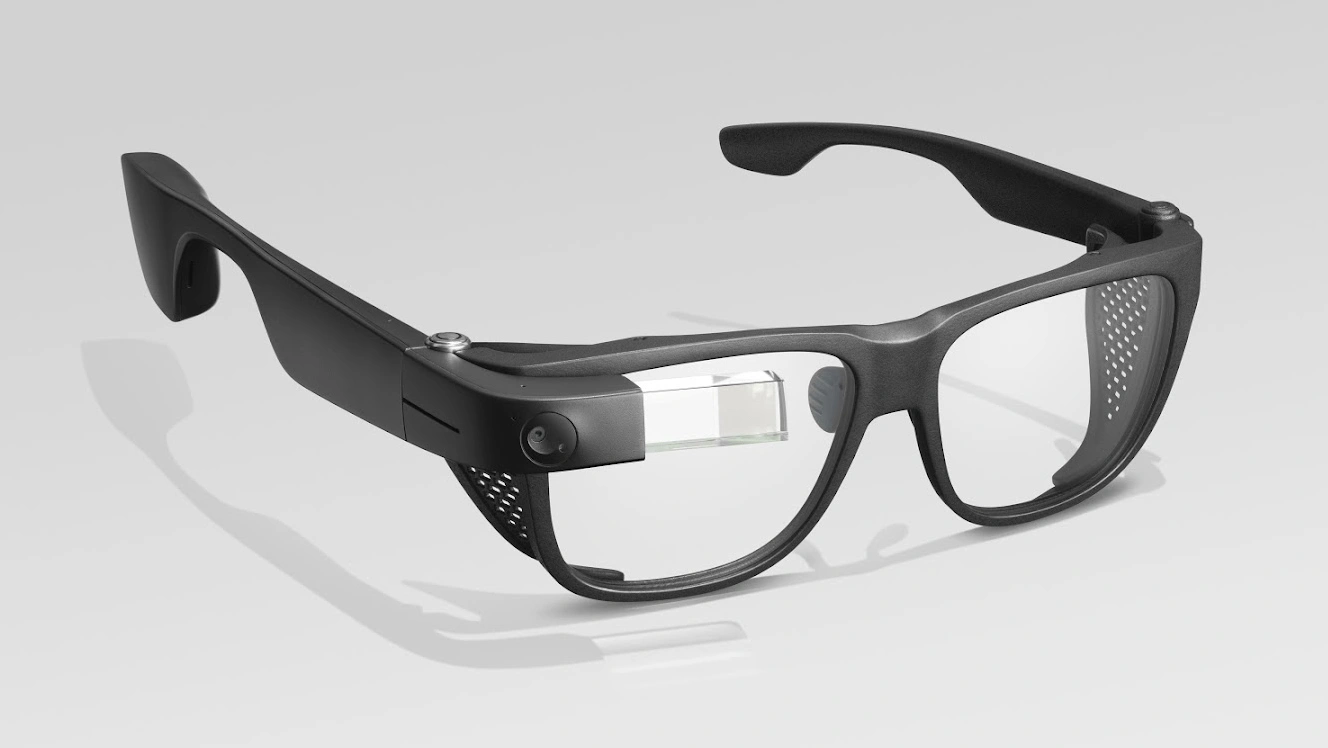 What looks cooler – this picture of the Google Glass Enterprise Edition 2 or a skydive live-streamed through them?
In the last year though, necessity propelled the use of virtual-only events in brands' public relations campaigns into overdrive.
In fact, only 20% of the virtual event's audience in 2020 said that they attended because they couldn't go to the in-person event, meaning 80% of attendees had planned on or preferred only the virtual event.
Consumer participation in online events has exploded accordingly, with some brands reporting increases of up to 23X in the turnout at their virtual events compared to their in-person events.
Salesforce was one of the first major brands to pivot to virtual events in 2020, completely modifying its World Tour event into an online-only format.
Many other brands, including the likes of Apple, NBA, and Burning Man, followed suit.
Estimates see the value of virtual events touching $504.76 billion by 2028, from the $113 billion in 2021.
4. Purpose Meets Profit Due to ESG & Consumer Activism
As early as 2019, a study found that 93% of Fortune 500 CEOs believed that their organizations' responsibilities extend to social goals, beyond just profit.
This trend has only accelerated through 2020, with businesses around the world rethinking their public relations strategies to meet the growing consumer demand for brands to behave ethically and with empathy.
Environmental, Social, and Governance (ESG) issues have taken center stage in the eyes of consumers as well as corporations.
In fact, 70% of consumers think a business should take a stance on a relevant social issue.
A McKinsey poll of 1,000 participants from US companies went even further, with 72% of respondents indicating that purpose should be more important than profit.
For PR professionals, this surge of consumer interest in ESG principles comes with expectations of greater transparency and better reporting on ESG goals.
A Deloitte study earlier this year found that Unilever's sustainable brands are growing 69% faster than their other brands, while also delivering 75% of the company's total growth.
This trend is perhaps best reflected by the rise of ESG investing.
In 2020, global investments in ESG funds more than doubled, crossing $30.7 trillion. And ESG was predicted to surpass $41 billion in 2022.
In the US, more than 90% of businesses on the S&P 500 index published their ESG reports last year, as opposed to just over 10% a decade ago.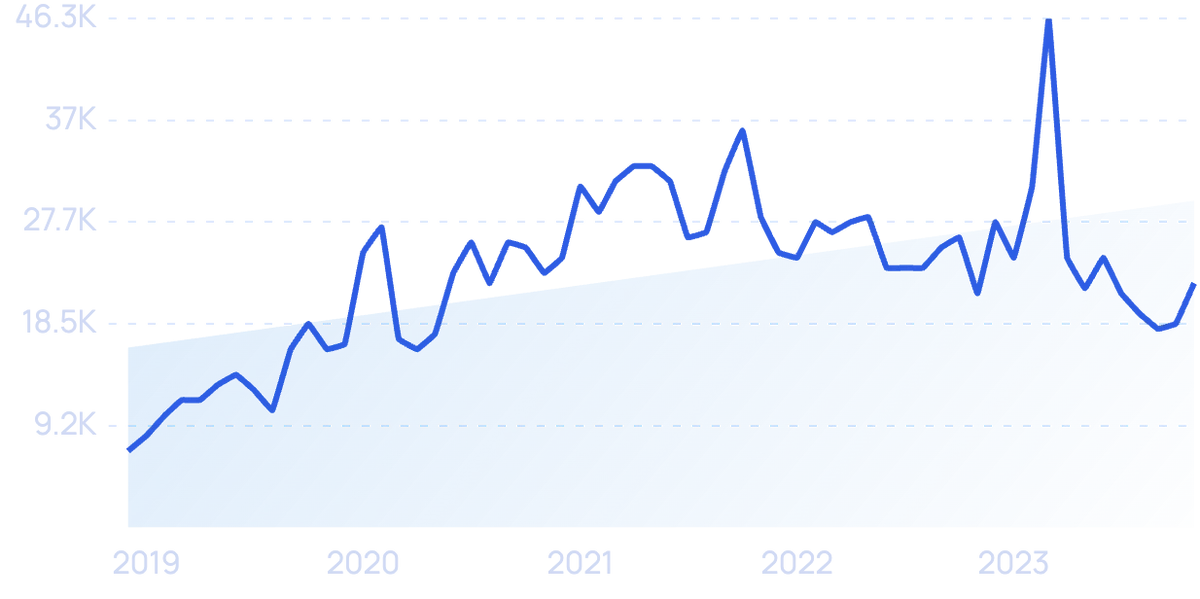 Search interest in "ESG Investing" has increased by 220% in 5 years.
And this trend isn't limited to developed countries.
An international study by Zeno Group, a top-10 global PR firm, found that consumers even in developing economies are 7.9x more likely to buy from brands they perceive as living out a strong purpose.
According to a PRWeek report, large conglomerates in countries such as India have adopted global ESG reporting practices.
Historically, these businesses have been slow to implement such measures. But by the end of 2020, 72% of the firms on NIFTY (an Indian stock market index) had published sustainability reports as part of their PR initiatives.
5. Artificial Intelligence Makes PR Firms Smarter
The term "AI" conjures up sci-fi notions of Terminator-esque robots taking over the world, but the reality is far more mundane.
A 2019 study found that the number of enterprises using artificial intelligence in routine operations had grown 270% over the preceding four years. AI is already here, and it's working all around us.
In public relations, the two main applications of AI are expected to be assisting practitioners in parsing the vast amounts of news generated each day and predicting future trends.
Data show that in the 16 years between 1979 and 1995, accredited news sources in the Google News database published a total of 18 million news stories.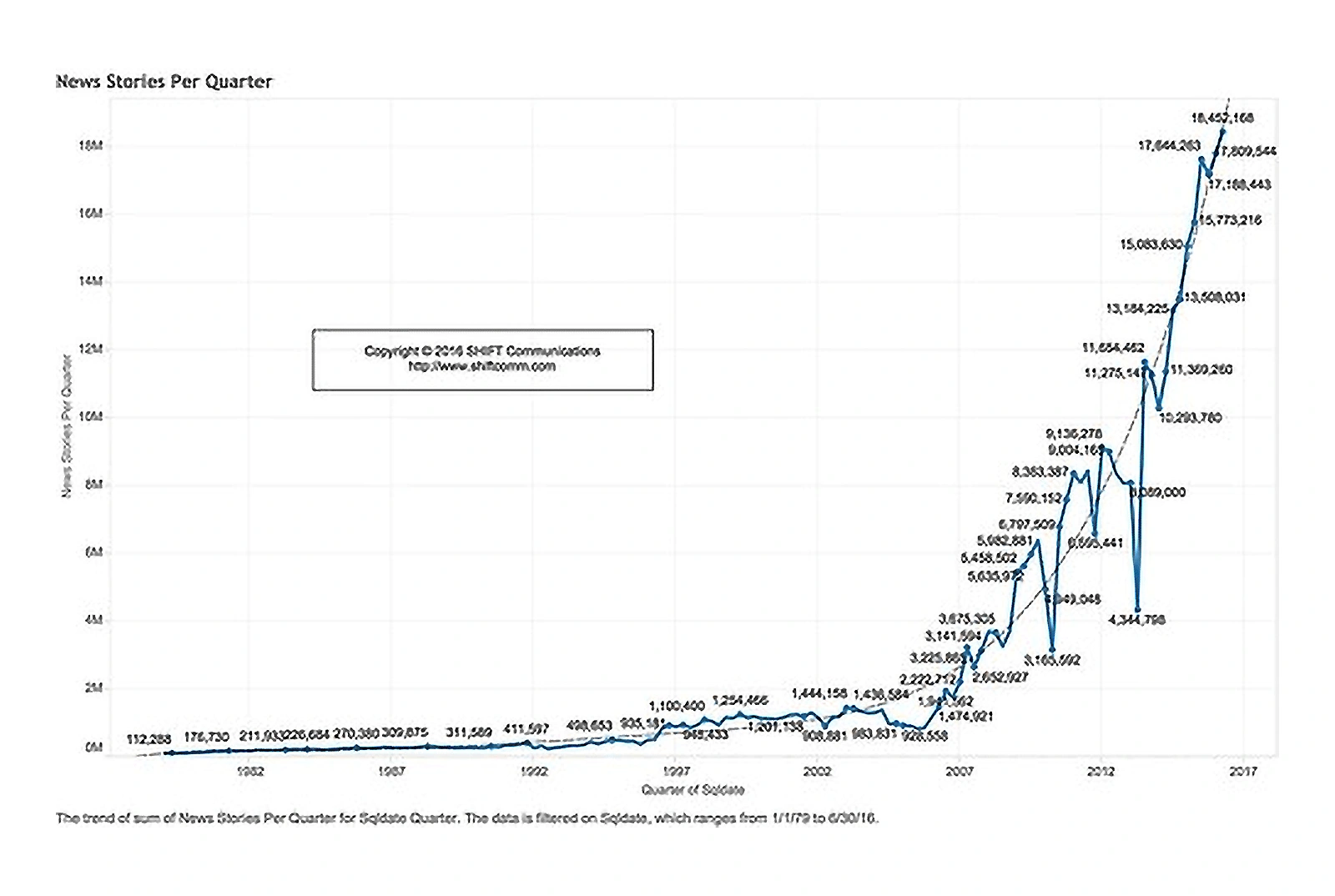 Stories per quarter by accredited news sources on Google.
By 2009, 18 million news stories were published in a single year. And in 2021, an estimated 18 million stories were published each month.
Given the impossibility of parsing this volume of information manually, the rise of AI-based "listening tools" is unsurprising.
These tools have been used in PR for monitoring news and sentiment analysis across social media.
As early as 2014, the Associated Press was using an AI platform to generate news stories from raw data, and all minor league baseball coverage has been AI-generated since 2016.
Improvements in natural language processing (NLP) technology — software with the ability to understand and respond to human languages in text or audio form — is a key driver of AI's expanding influence in PR.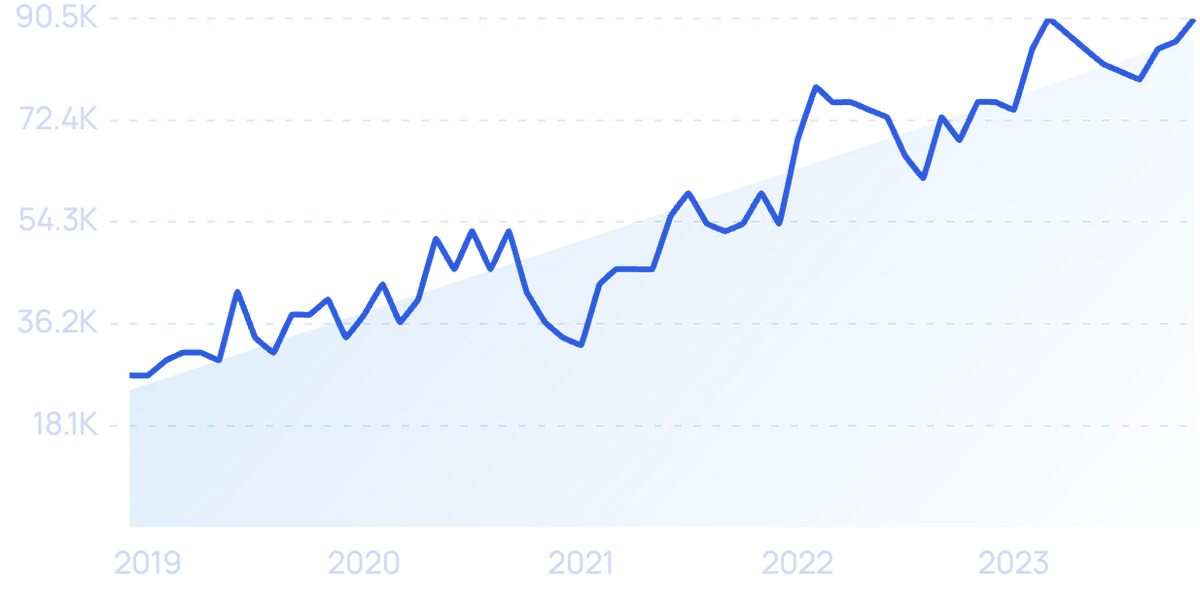 Searches for "Natural Language Processing" over the last 5 years.
The market for PR tools capable of social monitoring and sentiment analysis was valued at $1.6 billion in 2020 and is estimated to hit $4.3 billion by 2027.
More broadly, the market size for PR tools – such as those provided by Cision and Meltwater – was estimated to be $9.32 billion in 2021. And forecasts projecting that it will exceed $18.09 billion by 2027.
6. Live Streaming Finds Its Place at the PR Table
Live streaming has been around since 1995 when RealNetworks streamed a baseball match between the Yankees and the Mariners via RealPlayer.
YouTube also ran early experiments with the medium as early as 2008.
However, with the exception of early adopters in tech and media, businesses have been slow to adopt live streaming as part of their set of promotional tools — but this all changed in 2020.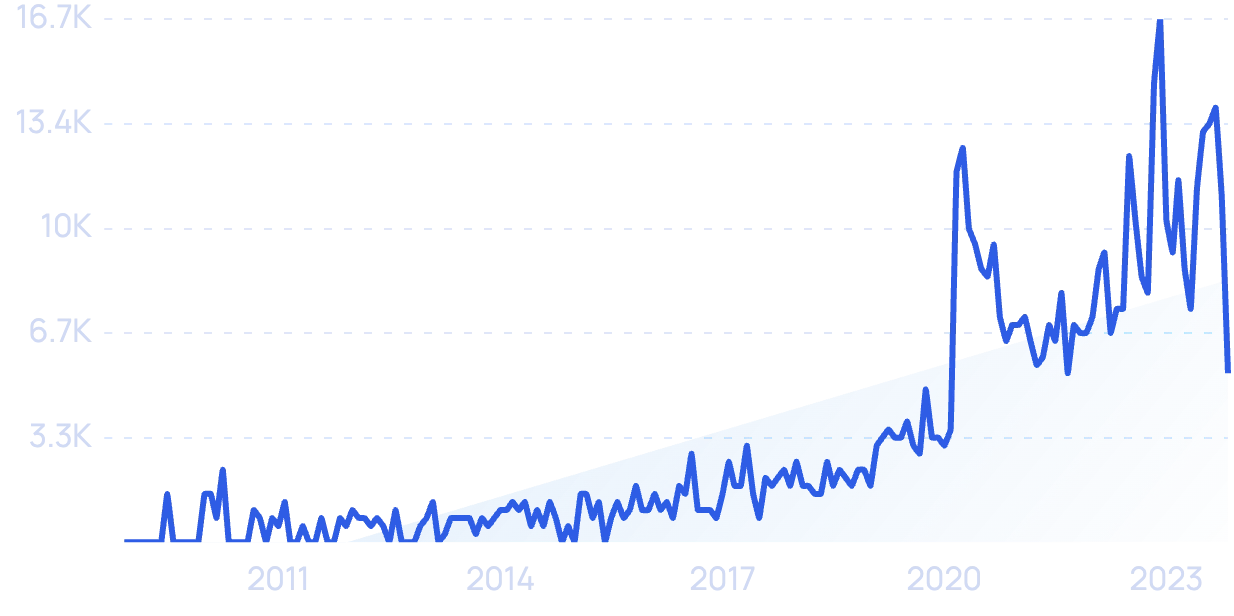 Search interest in "live streaming platform" has grown by 2,000% in 15 years.
Data from NPAW, an analytics provider to top-tier video streaming services, shows that streaming consumption increased 73% in the US within just a month of nationwide shutdowns.
Similar increases of about 49% were being reported across Europe and Asia.
Brands were quick to respond to this uptick, with Facebook reporting that usage of Facebook Live went up over 50% in the US in the same time period.
A similar Google study revealed that watch time for live streams had increased by 250% through 2020.
From giant brands like Formula 1 and Microsoft to small outfits such as community animal shelters and neighborhood beauty salons, businesses used live streams for interviews, QA sessions, launches, and other outreach.
What's more, experts predict that this isn't a transient spike: a study by Global Web Index (GWI) found that 56% of live stream users say that they would prefer to continue consuming live stream content even after the end of the pandemic.
Market research reports peg the current size of the live-streaming industry at $59 billion, with projections that it will exceed $223 billion by 2028 – a CAGR of 21%.
A major portion of that growth is expected to be driven by businesses using live streams for outreach.
A recent Content Marketing Institute study indicates that 66% of B2C brands plan to integrate live streams into their communication plans in the coming year.
Conclusion
As businesses around the world respond to heightened consumer concerns around social and environmental issues, PR is shaping up to be a very important discipline.
However, these same forces have also changed the PR landscape permanently, with virtual events and online interactions with the press and consumers becoming the new normal.