22+ Referral Marketing Statistics (New For 2023)
This is a list of regularly-updated referral marketing statistics and trends.
Referral marketing is a key revenue driver for businesses across all industries. As humans living in a digital, commercialized world, people naturally trust social proof like personal recommendations and user reviews more than ads or branded content.
But just how effective is referral marketing? And how does it stack up to other marketing channels? Let's dig into some numbers to find out.
Contents
Top Referral Marketing Statistics
Before you get into the entire list, let's review some of the more notable referral marketing stats.
92% of consumers trust referrals from friends and family over other forms of advertising.
88% of Americans say they would like some sort of incentive for sharing products on social media.
Consumers discuss specific brands in conversations 90 times per week.
86% of B2B buyers say word-of-mouth is the most influential factor in making purchase decisions.
83% of customers are willing to refer products and services.
69% of employers have an employee referral program.
Word-of-Mouth Statistics
Word-of-mouth is at the core of referral marketing. Even if companies don't have an official referral program, customers are always free to share their opinions with friends and family—whether those opinions are positive or negative.
92% of consumers trust referrals from friends and family over other forms of advertising (Nielson)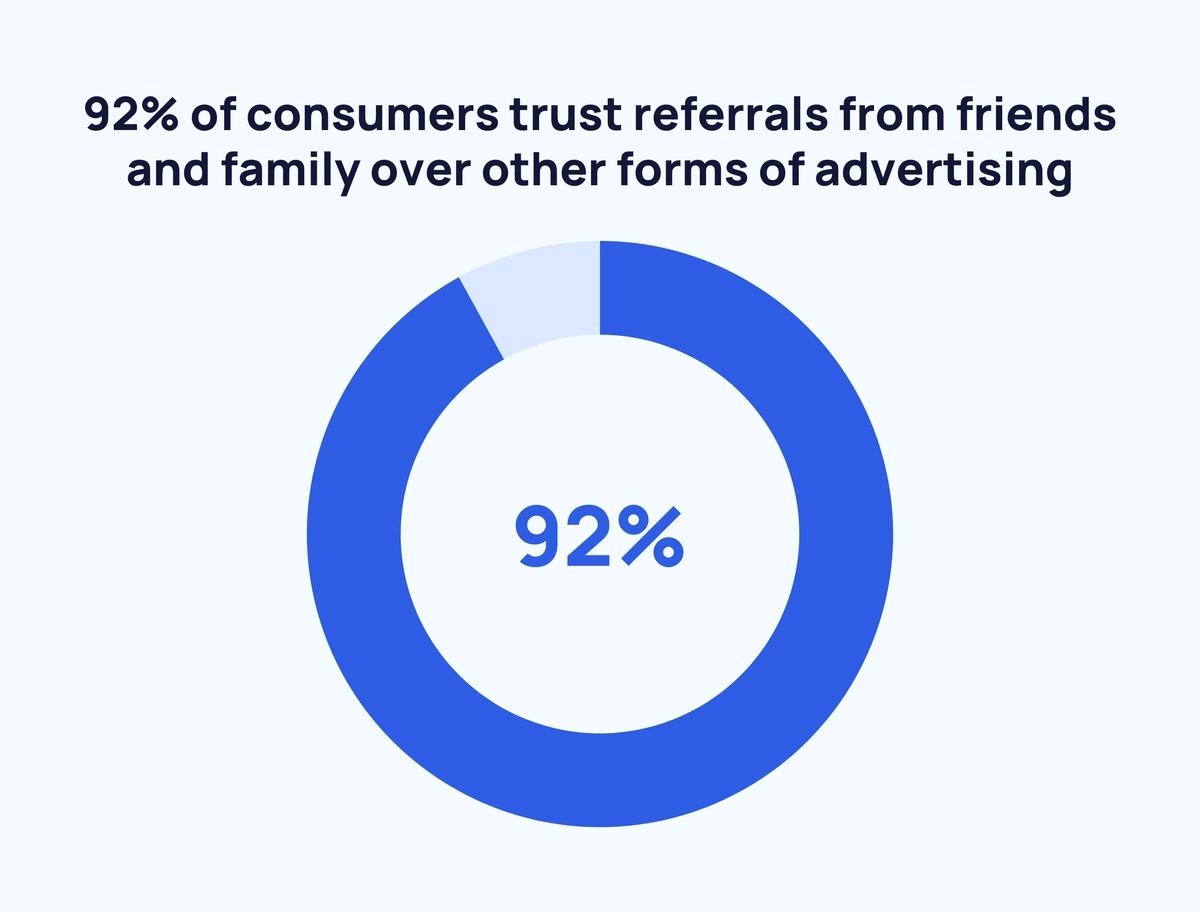 Is word of mouth more effective than advertising? According to a Nielson survey of over 28,000 internet users, 92% trust word-of-mouth product recommendations. 70% also said they trust online customer reviews. That's compared to just 36% who trust online video ads.
82% of Americans say they seek out recommendations from family or friends before considering a purchase (Ambassador)
Americans put a lot of stock in the opinions of those close to them. Two-thirds of Americans say they're more likely to purchase a product or service if a friend or family member posts about it on social media.
91% of millennials would consider a purchase if it came recommended from a friend (Annex Cloud)
Referrals are a big deal to millennials. Nearly half (48%) say they're influenced more by word-of-mouth than they are by TV ads. And 23-28% say they would steer clear of a product or service if their friends disapproved.
Consumers discuss specific brands in conversations 90 times per week (HubSpot)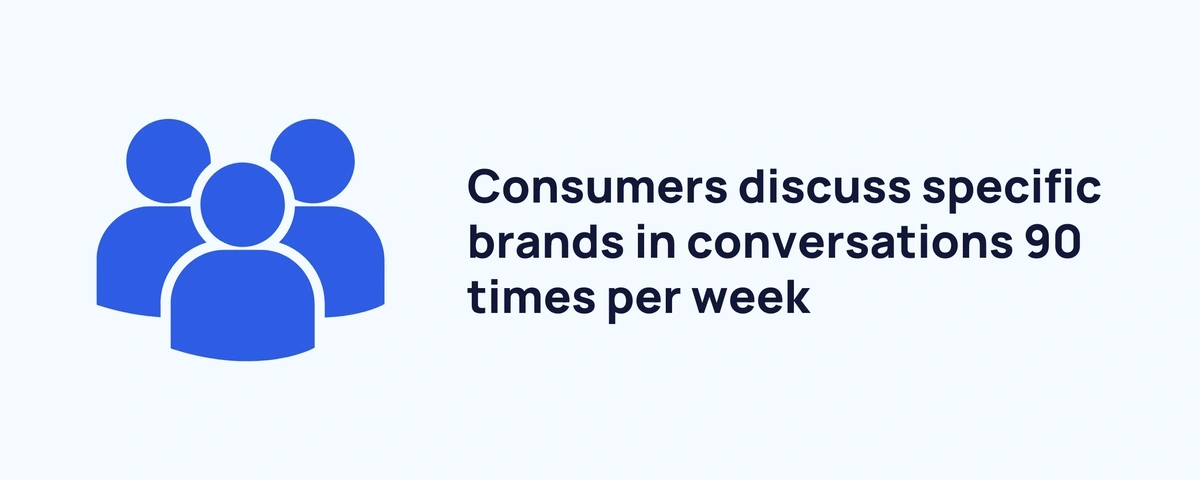 People love talking about their favorite brands with friends, which means that customers are constantly making referrals. All that conversation is good for brands, since 90% of people trust brands their friends recommend.
83% of customers are willing to refer products and services (ReferralCandy)
The majority of customers are open to referring products and services, but the reality is that few of them actually follow through. Only 29% of customers actually make referrals without being prompted to do so.
Referral Program Statistics
Brands can leverage the power of referrals by offering incentives to customers for referring their friends. With formalized referral programs, customers can earn rewards for spreading the word about their favorite brands.
The global average referral rate is 2.35% (ReferralCandy)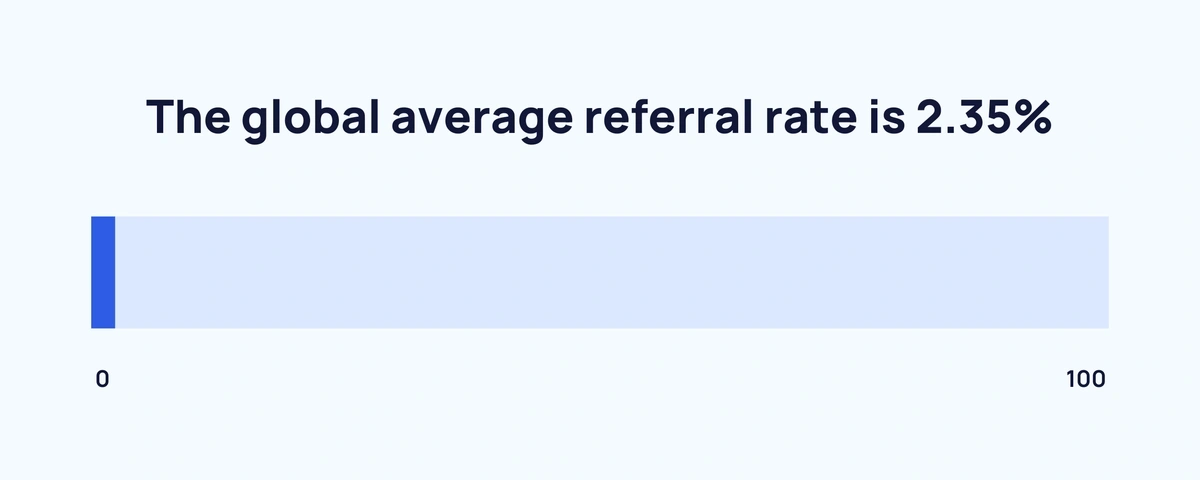 Referral program software vendor ReferralCandy ran the numbers on referral rates for their eCommerce customers. They found the global average referral rate to be around 2.35%. But rates were different across product categories.
Software (4.75%), books (3.27%), and food (2.98%) had the highest referral rates, while beauty (1.66%), apparel (1.77%), and health (1.92%) had the lowest.
Dollar credit is the most popular reward type in referral marketing programs (SaaSquatch)
50% of referral reward programs offer dollar credit to their promoters. Gift cards are the second most common referral program reward at 17.6%, followed by percent discounts (9.8%), subscription time (5.9%), cash (5.9%), and points (5.9%).
$10 is the most common dollar credit value in referral marketing programs (SaaSquatch)
$10 in dollar credit is an oft-used incentive in referral marketing, but values tend to increase with product prices.
For example, for transactions of $20 or less, the average dollar credit reward is $7.57 for promoters and $8.14 for referred friends.
But when looking at transactions of $500 or more, the average reward is $62.50 for promoters and $88.33 for referred friends.
91.2% of referral programs are double-sided (SaaSquatch)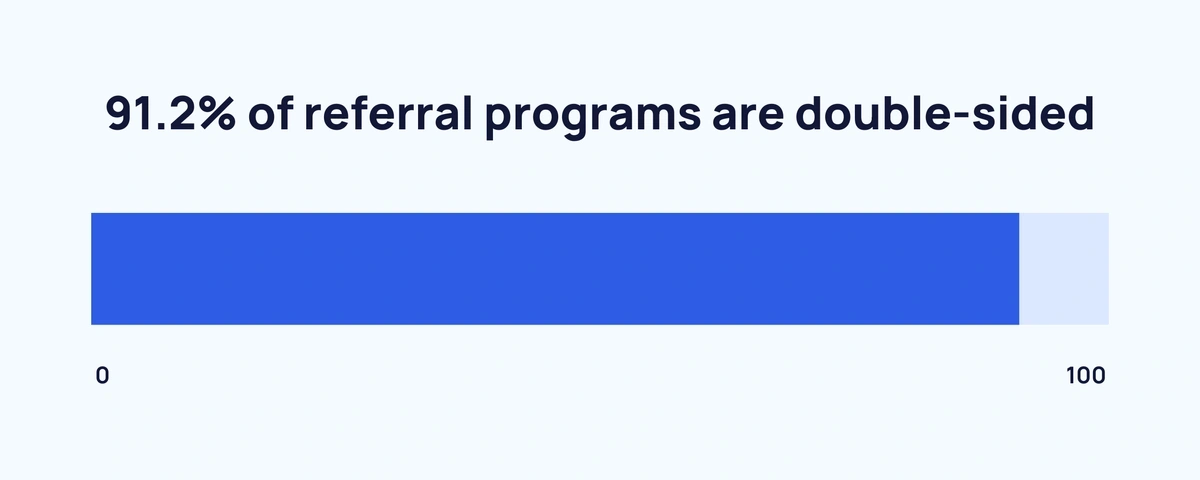 The majority of brands with referral programs don't just reward the promoter—they reward the referred friend as well. 72% of companies offer the exact same reward to the promoter and referred friend.
88% of Americans say they would like some sort of incentive for sharing products on social media (Ambassador)
For millennials, that number jumps to 95%. And what is the most powerful incentive for referring friends to products or services? According to 77% of Americans, the incentive of choice is cash.
B2B Referral Marketing Statistics
Referral marketing takes on a different meaning in the B2B space. Since buyers are seeking out solutions as part of their job, they need to be more calculated in their purchase decisions.
86% of B2B buyers say word-of-mouth is the most influential factor in making purchase decisions (Blanc & Otus)
Word-of-mouth is a potent force in the B2B world. 68% of B2B professionals say they use word-of-mouth as a key information source multiple times per week. That's more than any other source of industry news.
Just 30% of North American B2B companies have a formalized referral program (Statista)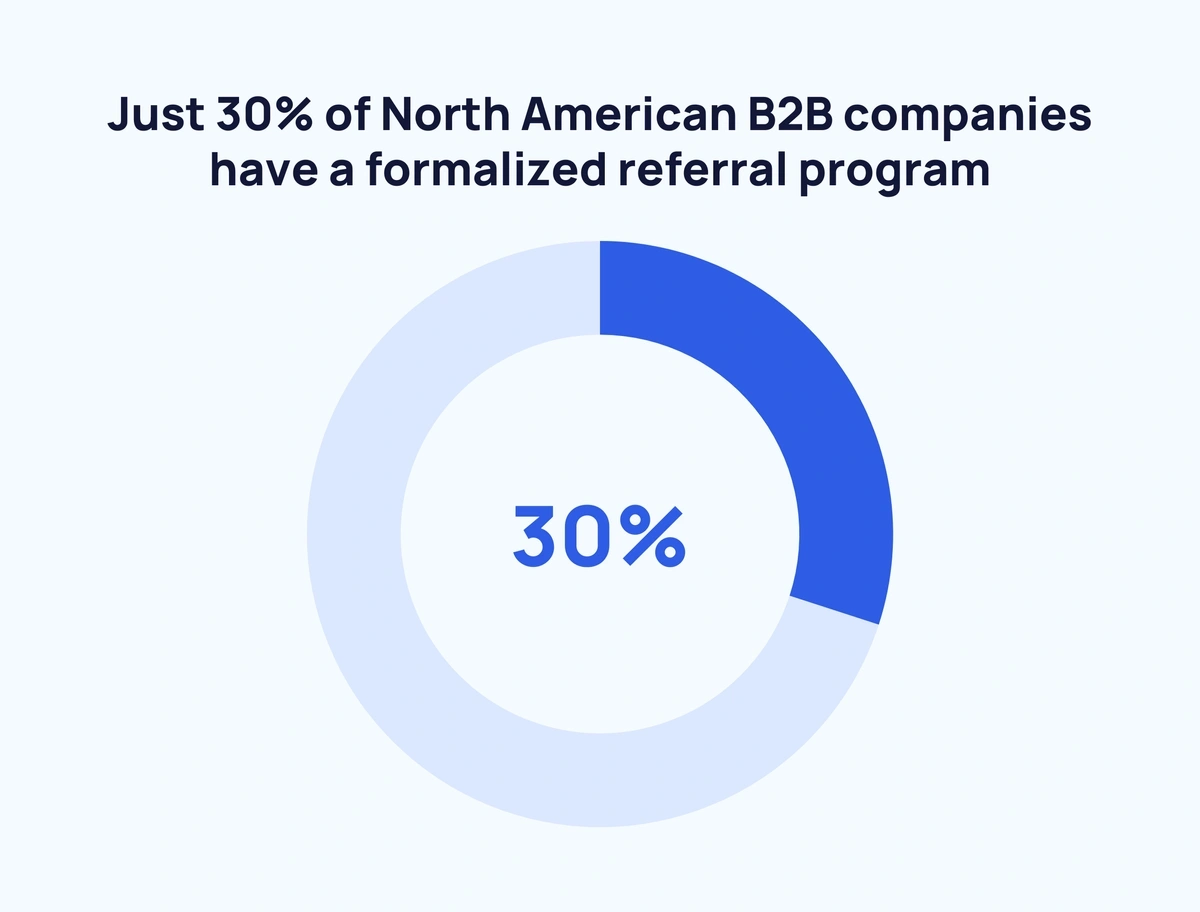 B2B companies have much to gain from establishing formal referral programs. Of companies that do have referral programs, 71% report higher conversion rates, 69% report faster times to close, 59% report higher lifetime value.
B2B companies with referral programs are twice as likely to have effective sales efforts than those without (Statista)
A study by Influitive and Heinz Marketing found that 87% of B2B professionals from companies with referral programs viewed their sales efforts as effective.
Conversely, only 42% of professionals from companies without referral programs viewed their sales efforts as effective.
Companies with referral programs were also 86% more likely to have an effective sales pipeline.
Referrals are the most effective marketing tactic according to B2B vendors (TrustRadius)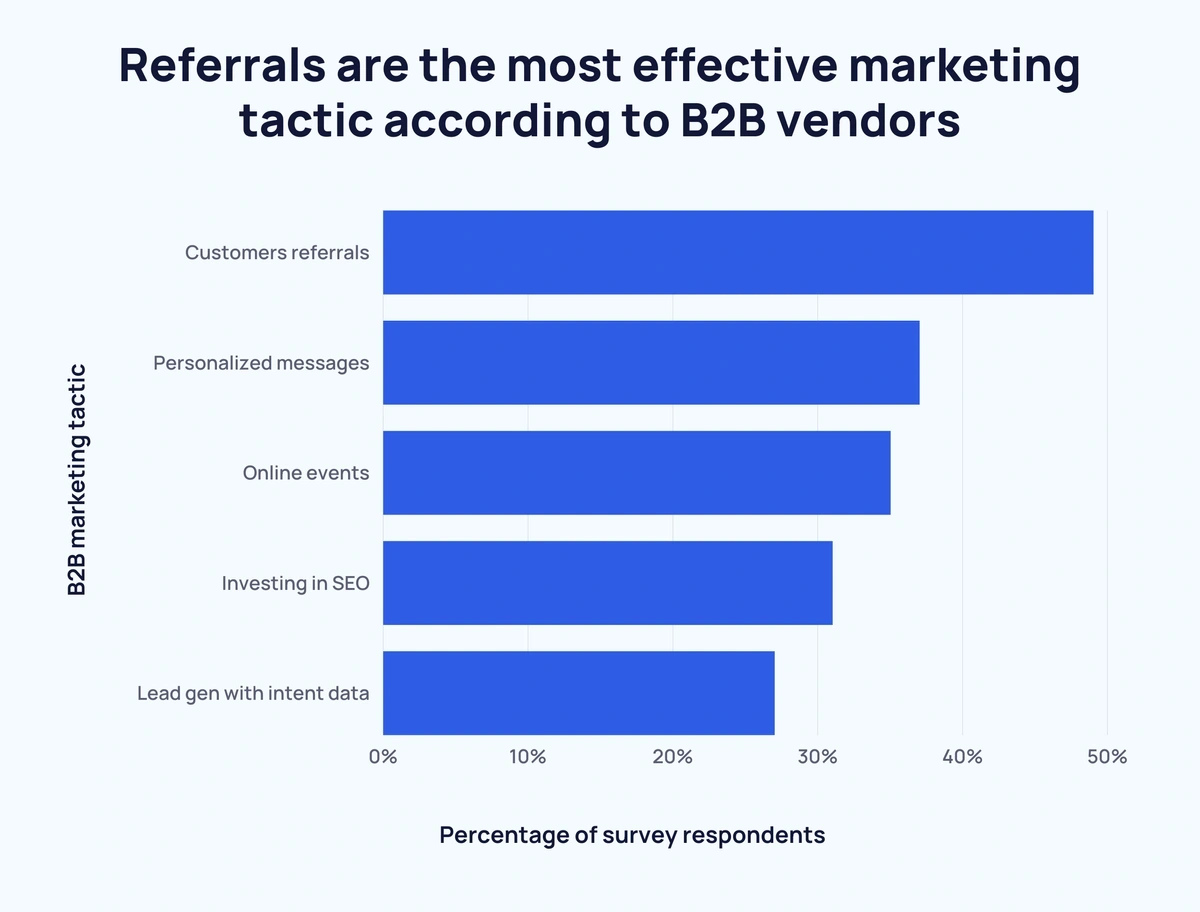 A 2020 survey by TrustRadius narrowed down the top 5 B2B marketing tactics according to tech vendors. Customer referrals were at the top of the list:
Customers referrals (49%)
Personalized messages (37%)
Online events (35%)
Investing in SEO (31%)
Lead gen with intent data (27%)
From a vendor's perspective, referrals come out on top for marketing effectiveness. For B2B buyers, referrals aren't quite as impactful. Still, 29% of B2B buyers say they factored referrals from friends into their buying decisions.
Employee Referral Statistics
Referral marketing works in the hiring world, too. HR departments tap into employee referrals to find candidates who are already recommended and vetted by trusted employees.
69% of employers have an employee referral program (CareerBuilder)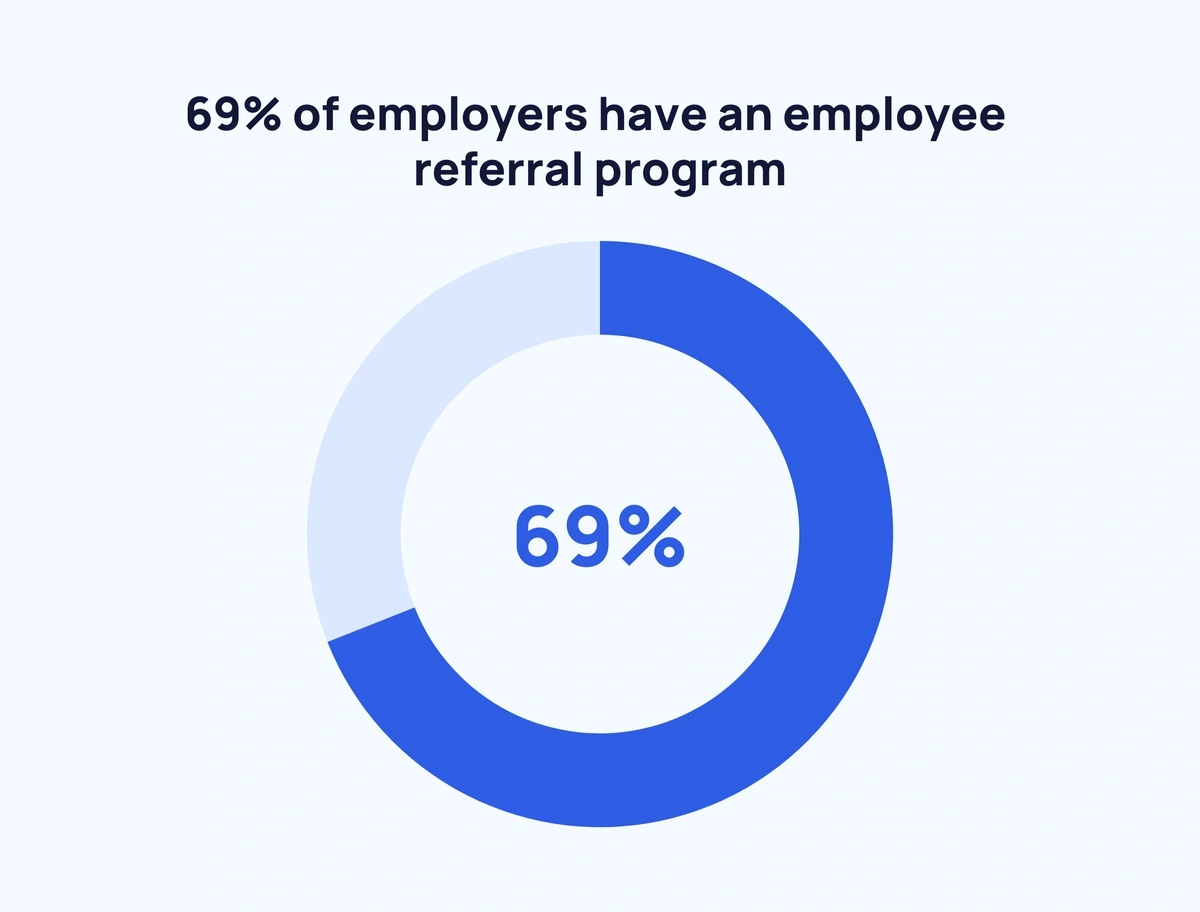 More than two-thirds of companies take advantage of employee referral programs, and for good reason: 82% of employers say employee referrals offer the greatest return on investment and 88% say employee referrals generate the best quality hires.
71% of employers believe cash is the best incentive when getting employees to make referrals (Clutch)
Most companies incentivize employee referrals with cash bonuses. Less common incentives include paid time off (13%), gifts (10%), social praise (4%), and donations to charity on the referring employee's behalf (1%).
40% of company hires come from employee referrals (Jobvite)
Companies get more applicants from job boards and career sites than they do from referrals, but referrals lead to more hires. 75% of applications and only 36% of hires come from job boards and careers sites. Meanwhile, 7% of applications and 40% of hires come from referrals.
Employee referrals are hired faster and stay at companies for longer (Jobvite)
The average applicant hired through a referral starts working at their position after 29 days, compared to 39 days for job board applicants and 55 days for career site applicants.
47% of employees hired through a referral stay at their company for three years or longer.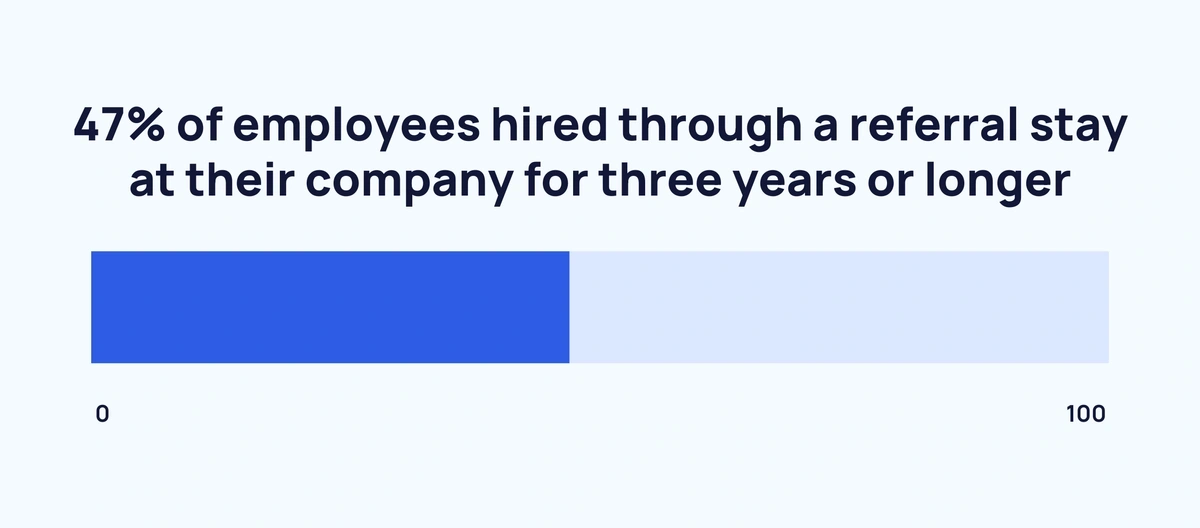 On the other hand, 39% of those hired through job boards and only 14% hired through career sites hold their jobs for three years or longer.
A study by ICIMS found that referral hires stay with their company an average of 70% longer than non-referral hires.
The shorter recruiting process is the top benefit of hiring through an employee referral (Clutch)
Clutch.co asked 353 companies with employee referral programs for the top benefits of hiring through employee referrals. 53% mentioned shorter recruiting processes.
That's not the only advantage of hiring through referrals. Referred employees often stay at companies for longer (49%), fit company cultures better (47%), and are less expensive to recruit (45%).
Online Review Statistics
While online reviews aren't a direct form of referral marketing, consumers place a similar level of trust in customer reviews as they do word-of-mouth recommendations. Here's how online reviews are influencing brand trust and purchase decisions.
98% of people read online reviews for local businesses (BrightLocal)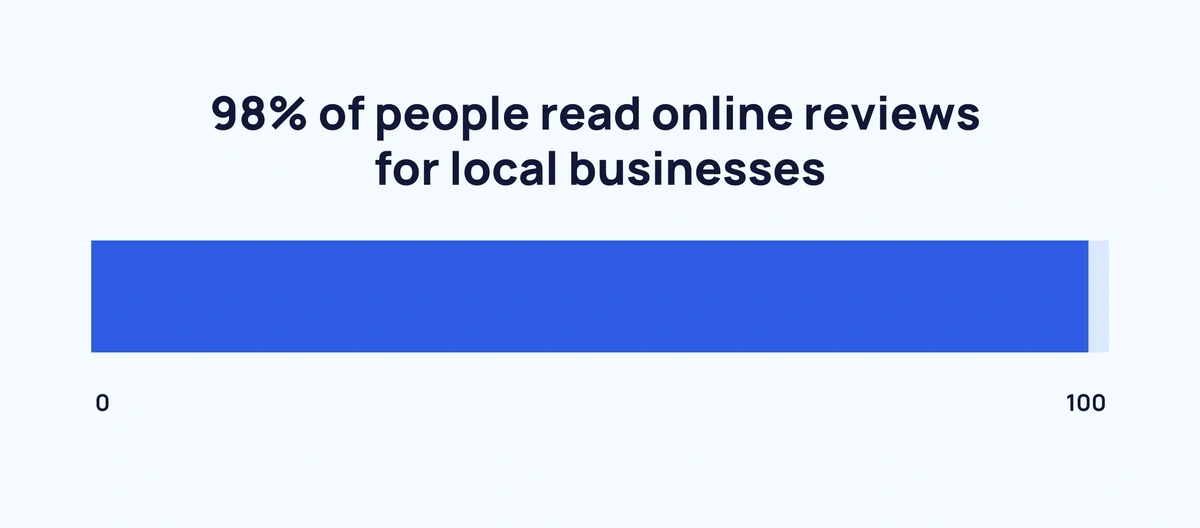 Almost every single person will read an online review before visiting a local business at some point. 76% of potential customers regularly read online reviews when browsing local businesses.
Brands that display consumer reviews on their website can see conversion rates increase an average of 19.8% (Power Reviews)
The simple act of displaying user reviews on a webpage can create a huge boost in conversion rates. This effect is more significant in certain industries. Musical instrument retailers can see their conversion rates jump by 47.3% after displaying user reviews.
37% of consumers will only leave positive online reviews (BrightLocal)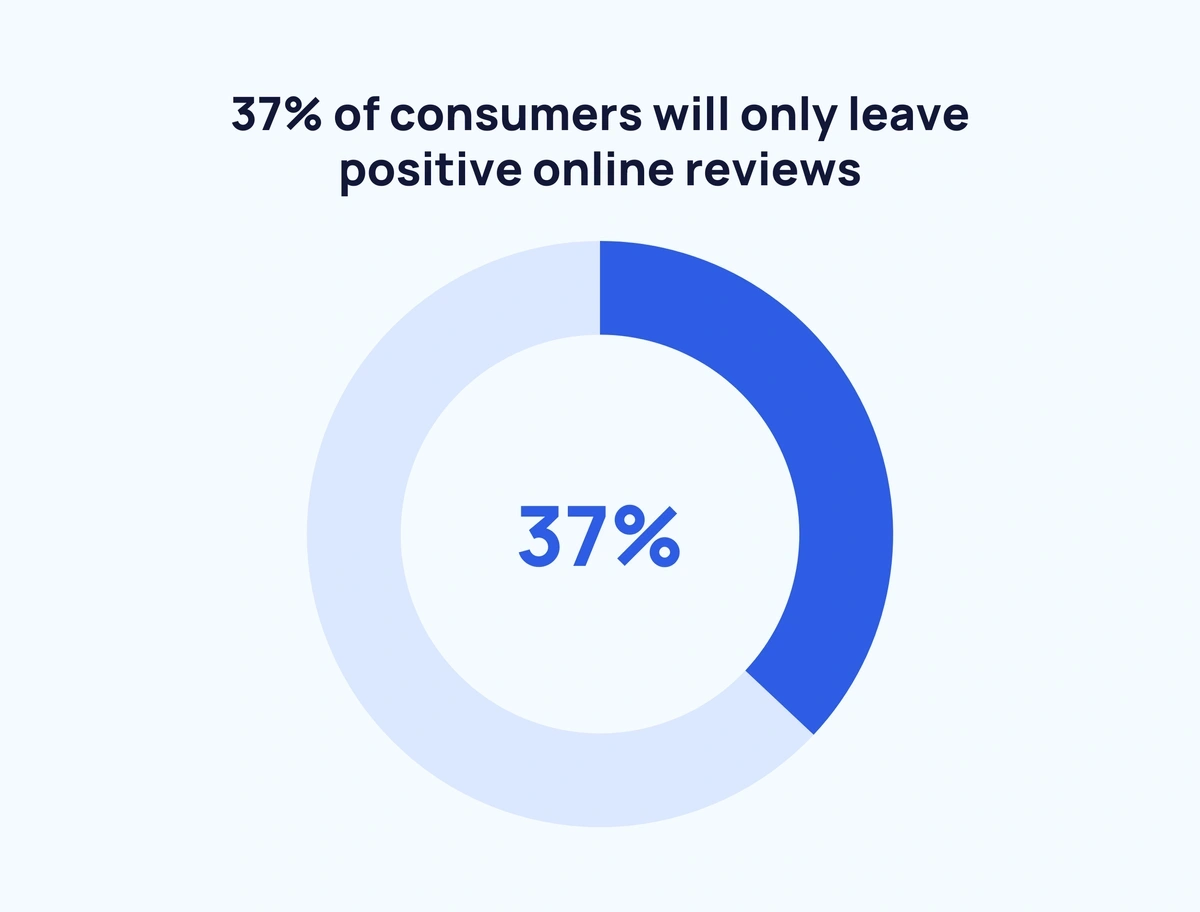 "If you don't have anything nice to say, don't say anything at all" seems to hold true for at least one-third of consumers. On the other side of the spectrum, 6% of consumers say they'll only leave a review if they had a negative experience. 4% of consumers say they never leave online reviews.
Wrap Up
When it comes to selling products, forging B2B relationships, and hiring great employees, referral marketing remains a go-to tactic. Since it's built on the foundation of trust—something most other marketing activities lack—it often leads to better outcomes at a smaller cost.
That's not to say businesses can thrive on referral marketing alone. But as part of a marketing (or hiring) arsenal, referral marketing and word-of-mouth can help just about any brand build sales and momentum.