The State of Shopify in 2023: 30+ New Statistics
Ecommerce platforms like Shopify give entrepreneurs the opportunity to start a business without the huge financial investment involved in opening a brick-and-mortar store.
In enabling millions of entrepreneurs to run their own online stores, Shopify has grown from a two-man startup into a multi-billion dollar company with thousands of employees.
So what do Shopify's success and growth look like in numbers?
Read on to find out.
Contents
Top Shopify Statistics
Looking for the most eye-opening Shopify statistics? Here are some big ones to get you started:
Shopify is worth over $85 billion and generates $4.6 billion in annual revenue
Shopify controls 32% of the eCommerce platform market
Over 1 million businesses in 175 countries use Shopify
The number of operating Shopify stores tripled during the COVID-19 pandemic
There are 111 Shopify merchants with over $1 million in sales revenue
Shopify users have collectively installed more than 25 million apps from the Shopify App Store
Shopify is clearly doing something right. Next, let's take a look at Shopify as a company.
Shopify Company Statistics
In 2006, two Canadians decided to open an online snowboarding store. When they were disappointed by the current eCommerce landscape, they took matters into their own hands – eventually launching Shopify.
Today, Shopify is worth billions of dollars and powers millions of online stores. Here are the current numbers behind Shopify's success.
Shopify is now worth more than $85 billion (CompaniesMarketCap)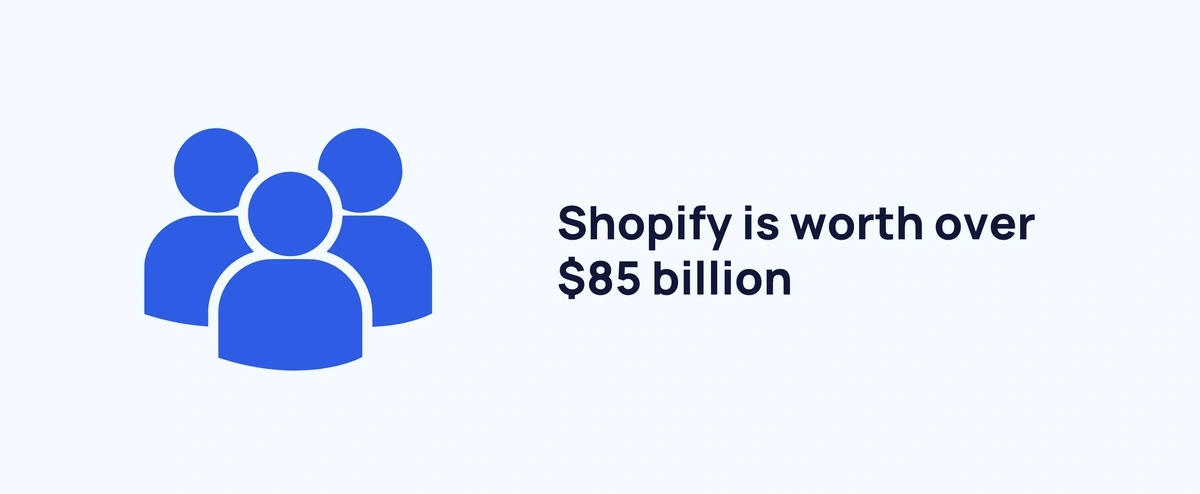 By market capitalization, Shopify is the 3rd-largest Canadian company today. Since launching in 2006, Shopify has become one of the most successful tech startups not only in Canada but the entire world.
Shopify generates $4.6 billion in annual revenue (Shopify)
Shopify's $4.6 billion in revenue in 2021 represented a 58% jump over 2020's $2.9 billion. Shopify divides its revenue into two categories: subscription solutions and merchant solutions. Merchant solutions represent 70% of Shopify's revenue.
Shopify controls 29% of the eCommerce platform market (Oberlo)
Shopify's biggest competitor — WooCommerce — commands 18% of the market while Wix (15%), Squarespace (14%), and Ecwid (4%) round off the top five.
Shopify is the 10th-largest online services company in the world (Statista)
It's unlikely Shopify will ever surpass the top two service companies (Amazon and Alibaba), but they rank well ahead of other big names like Doordash and eBay.
Shopify employs more than 10,000 people (Shopify)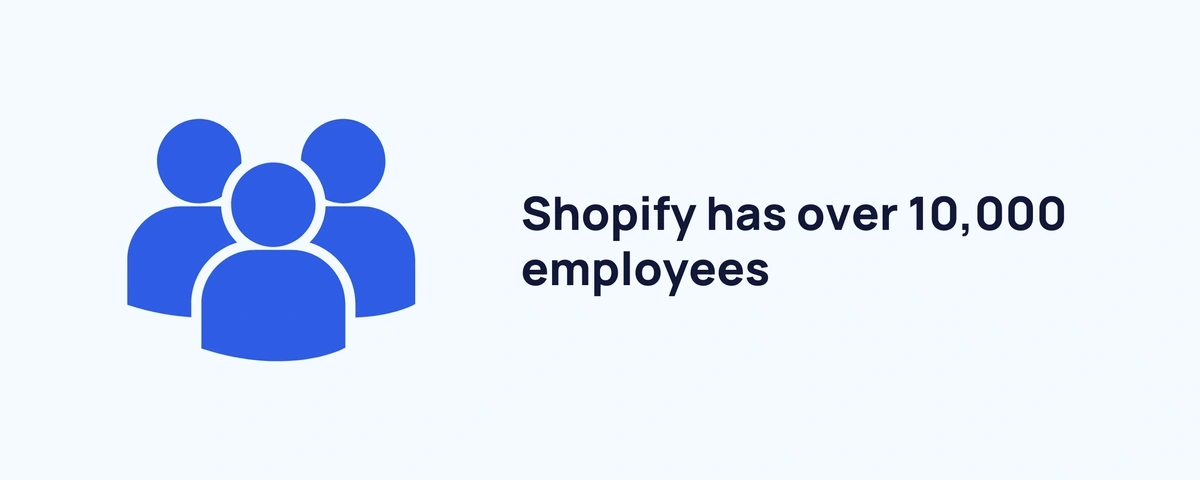 Shopify is a robust organization, with teams ranging from legal and HR to data engineering and UX design. Shopify's employees enjoy a "Digital by Design" company philosophy. They can work remotely and live abroad for up to 90 days.
Shopify has over 780 Experts in their marketplace (Shopify)
Shopify Experts are hired guns who can help Shopify merchants set up or fine-tune their stores. They can even help with creative tasks like the brand design or content marketing.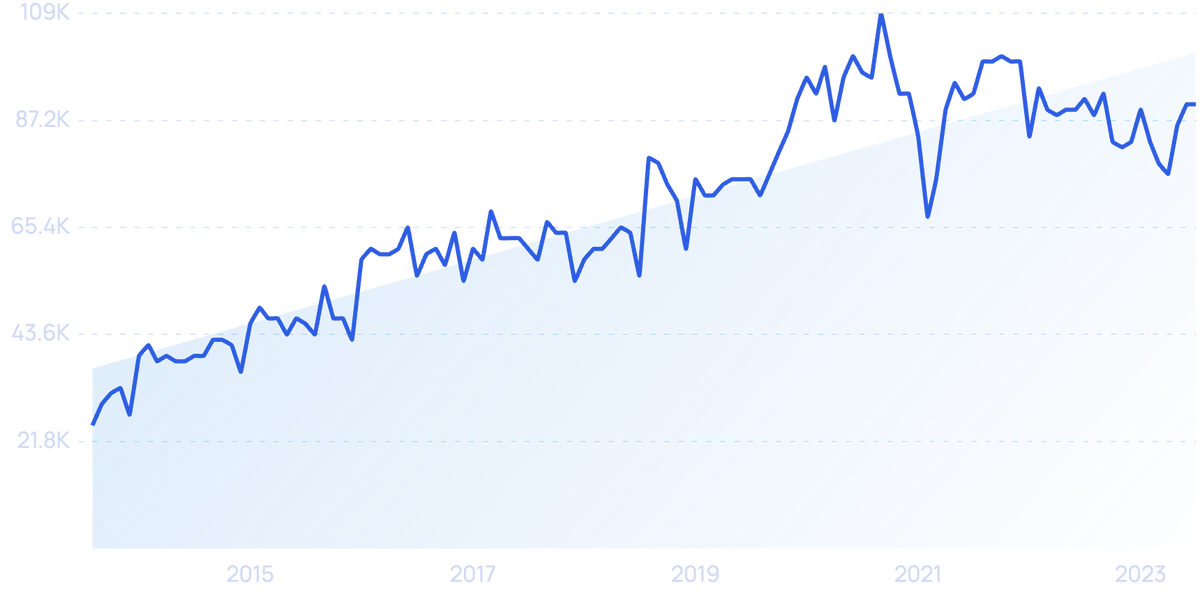 Google searches for "content marketing" are up 261% over the past 10 years.
Shopify App Statistics
Shopify launched its App Store in 2009. Since then, it's grown to host thousands of apps. Shopify apps help merchants integrate their stores with social media platforms like Facebook and TikTok, design online storefronts, run email marketing campaigns, and manage inventory.
There are upwards of 8,000 apps currently in the Shopify App Store (Shopify)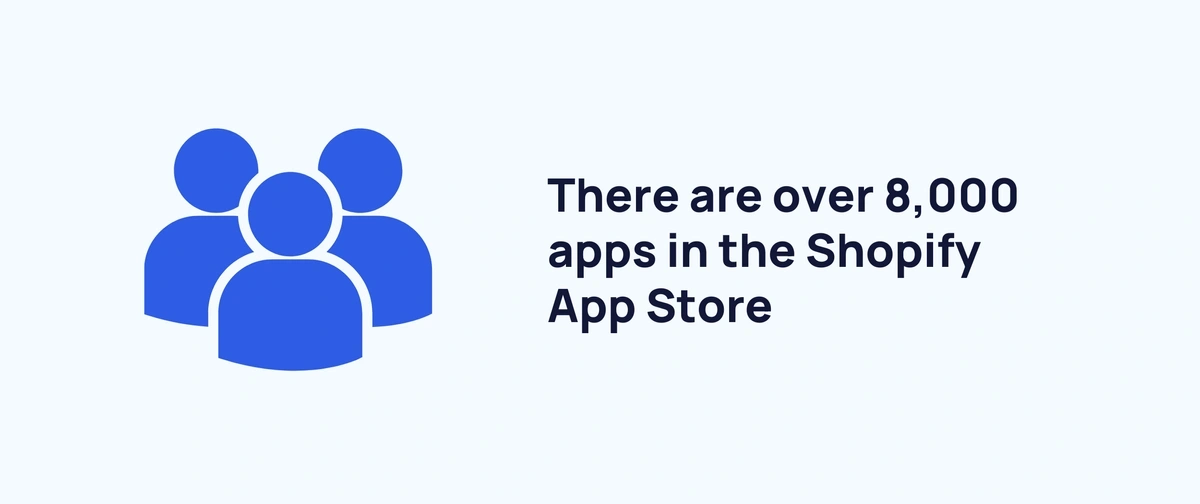 Shopify apps offer a wide range of features from store design and management to conversion optimization and marketing. In total, around 59% are free-to-use.
Shopify users have collectively installed more than 25 million apps from the Shopify App Store (ShopifyAndYou)
The App Store is a critical aspect of the Shopify business model. Merchants have spent over $100 million dollars in the App Store.
The average Shopify merchant uses 6 Shopify apps (ShopifyAndYou)
Shopify apps help merchants earn more by adding more functionality to their stores and letting them integrate with other online platforms. The 6 most popular Shopify apps? Facebook channel, Google channel, Point of Sale, Shopify Email, Buy Button channel, and Shopify Inbox.
The top 25% of Shopify app developers earn $162,000 per year on average (ShopifyAndYou)
While Shopify develops essential apps like Facebook Channel, Google Channel, and Product Reviews, they don't have a monopoly in the App Store. In fact, 4 out of 5 merchants use third-party apps. Apps like Judge.me and Privy have thousands of downloads and positive reviews.
Shopify Merchant Statistics
Shopify merchants range from one-person shops selling custom t-shirts to established global brands. Over the past decade and a half, Shopify has expanded into almost every country, where it's used by millions of merchants.
More than 1 million businesses in 175 countries use Shopify (Shopify)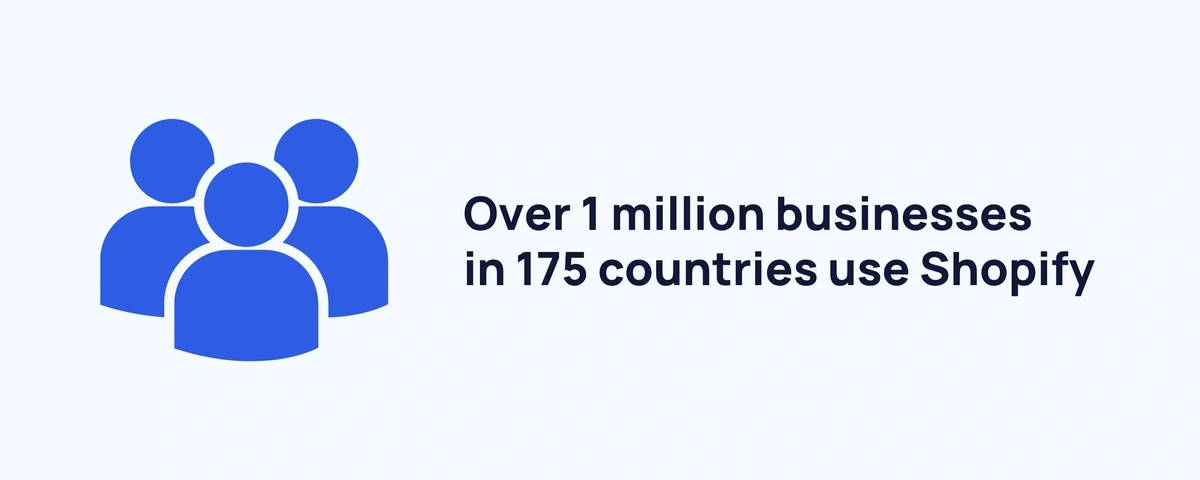 Shopify has a huge global footprint thanks to its wide array of services. Some established retailers use Shopify's enterprise platform Shopify Plus, while others simply take advantage of Shopify's digital shopping cart solutions.
Shopify merchants generate over $300 billion in economic activity every year (Shopify)
Ecommerce has a growing role in the global economy, and Shopify is at the forefront of that growth. If all Shopify merchants were put together, they'd be the 7th largest company in the world.
More than 3.6 million jobs have been created by Shopify merchants (Shopify)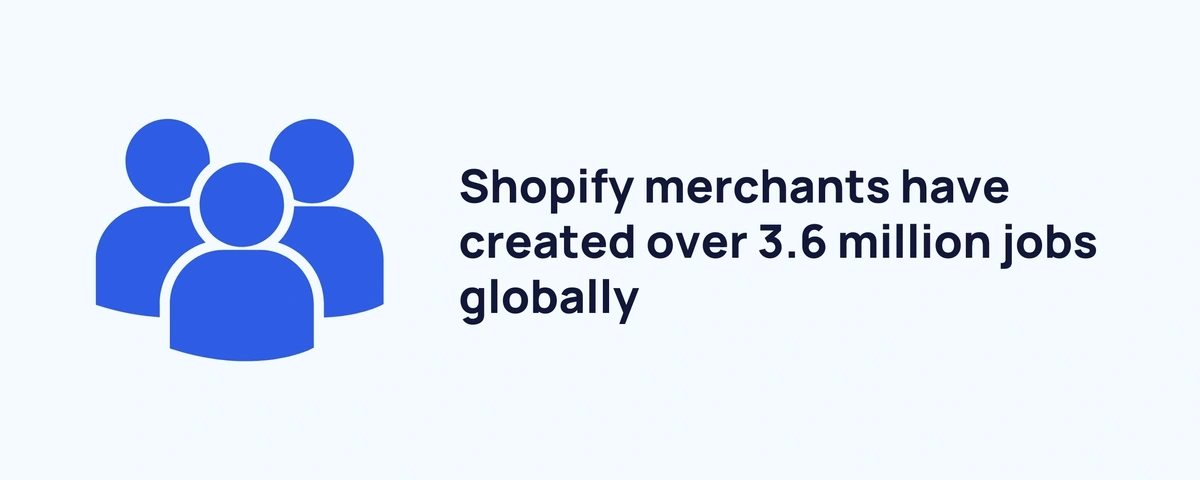 You might not think of Shopify stores as big employers, but you'd be wrong. Shopify's merchants combine to employ the largest workforce in the world.
Shopify merchants generate over $20 billion in cross-border sales (Shopify)
Ecommerce platforms like Shopify let people buy products from all over the world. Skincare brand Facetheory is one of many Shopify stores shipping internationally.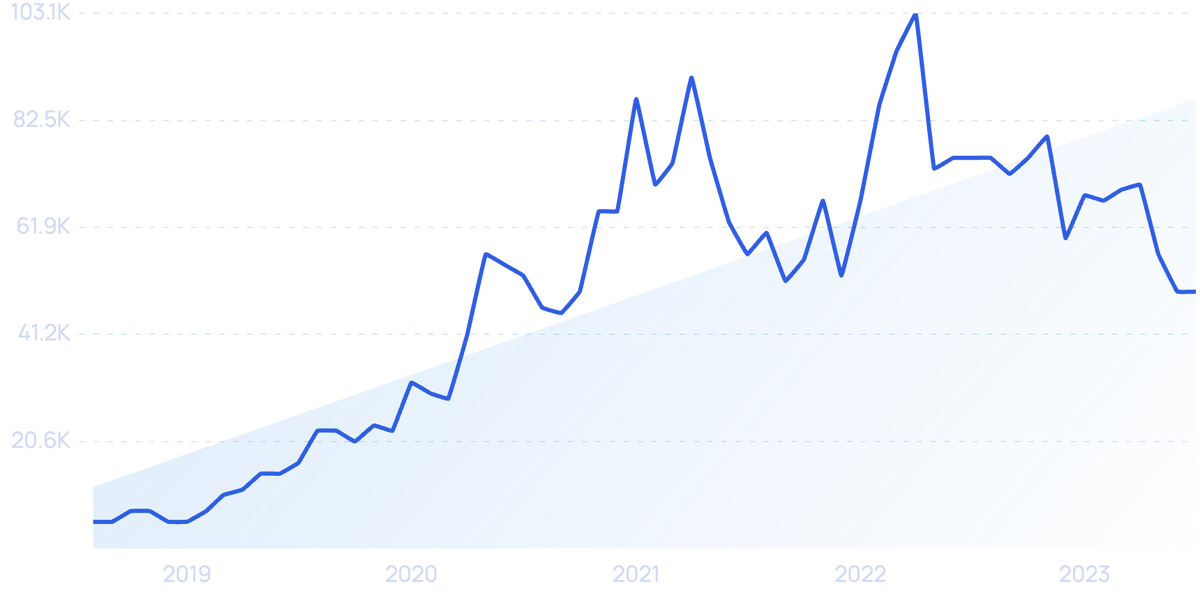 Google searches for "facetheory" are up 860% over the past 5 years.
Shopify merchants logged $6.3 billion in sales across Black Friday and Cyber Monday (Shopify)
2021 was a landmark year for Shopify merchants looking to post big numbers in the late-November shopping season. 2021's Black Friday/Cyber Monday sales beat the previous year by 23%.
There are 111 Shopify merchants with over $1 million in sales revenue (BuiltWith)
Many of those 111 merchants are established brands like the Seattle Seahawks, Xbox and Patagonia. But startups like the hiking trails app Alltrails have crossed the million dollar mark on Shopify too.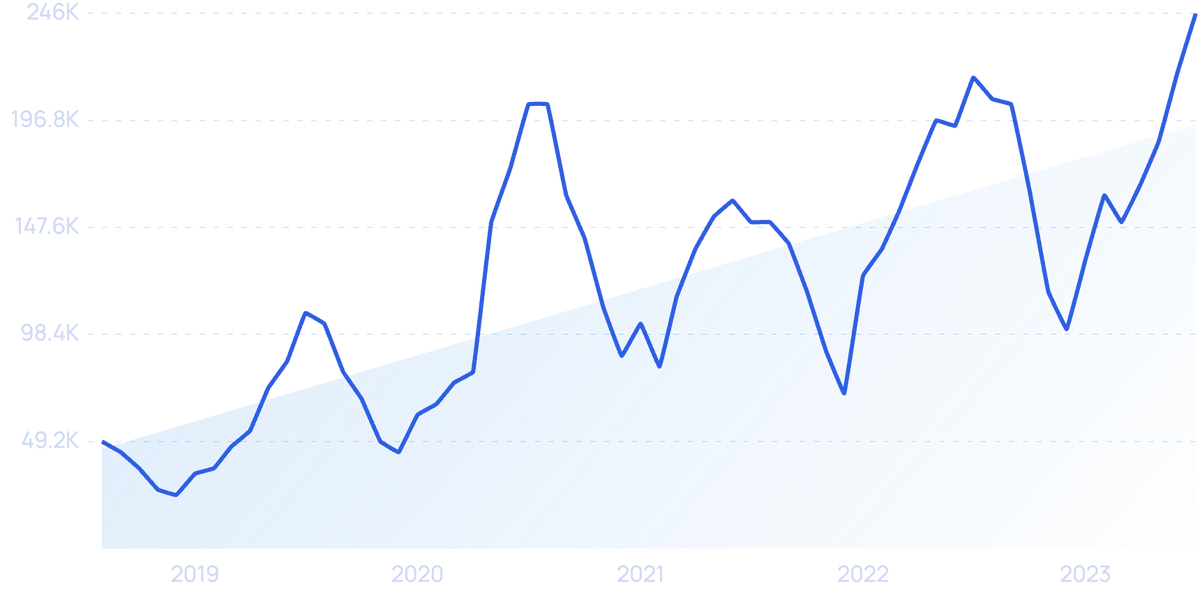 Google searches for "alltrails" have risen 400% over the past 5 years.
The number of global merchants using Shopify POS grew by 22% in 2021 (Shopify)
In-person shopping is back. Ecommerce entrepreneurs are diversifying with brick-and-mortar stores and pop-up shops. Shopify POS gives vendors a simple way to integrate online and in-person sales.
Over 10,000 businesses use Shopify Plus (Shopify)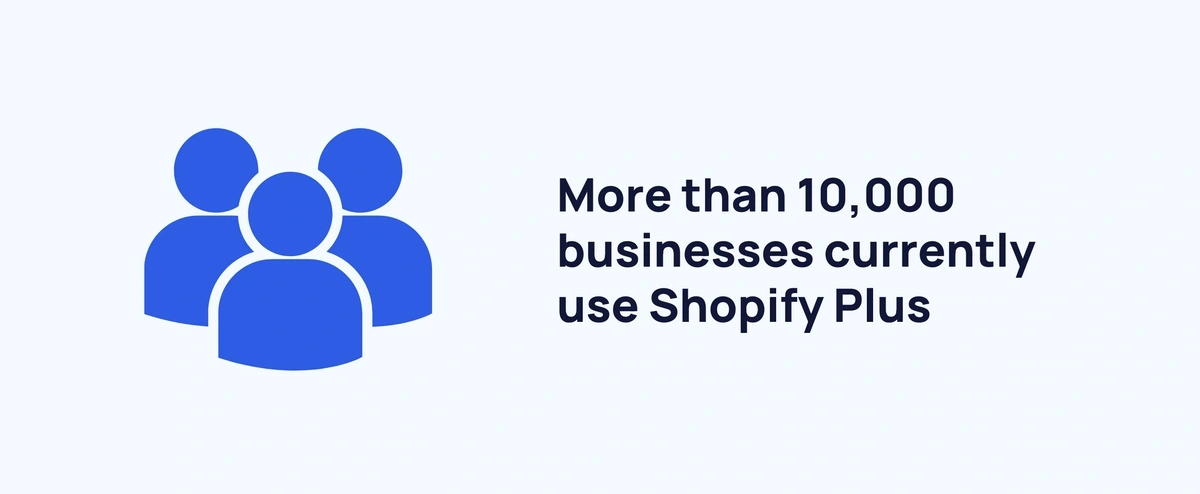 Shopify isn't just for solo entrepreneurs. For large eCommerce companies, there's Shopify Plus. This enterprise platform is used by big brands like Crate & Barrel and Unilever. It's also used by growing eCommerce startups like Curlsmith.
Shopify Store Statistics
Shopify stores are the hubs sellers use to attract customers to their products. Stores need a mix of amazing products, attractive design elements, and smart marketing to be successful. Here's a look at Shopify stores, their performance benchmarks, and the products they sell.
The number of operating Shopify stores tripled during the COVID-19 pandemic (Genus.ai)
What better time to open an online retail store than during a global pandemic? In March 2020, there were 1,287,547 live Shopify websites. Fast forward to January 2022 and that number shot up to 3,882,345 — a 202% jump.
The average Shopify store earns $92 per customer (Littledata)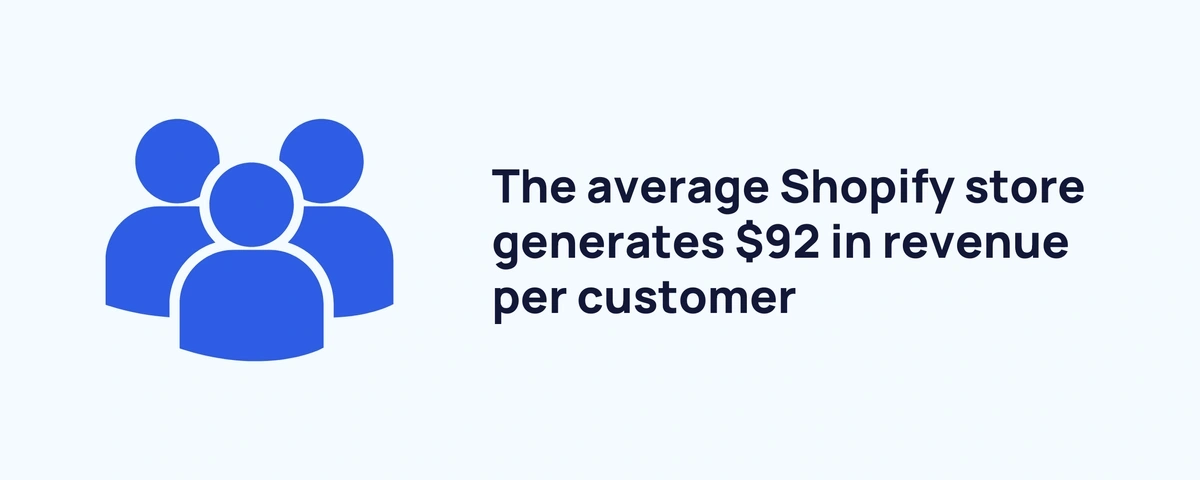 The top 20% of Shopify stores generate over double the average at $202 or more per customer. For the bottom 20%, that number shrinks to $42 or less.
Shopify stores have an average add-to-cart rate of 4.6% (Littledata)
Littledata's most recent survey of over 2,700 Shopify stores found the average add-to-cart rate at just under 5%. The top 20% of stores enjoyed a 7.7% average add-to-cart rate. For the top 10%, that figure jumps to 9.6%.
In total, 87% of Shopify stores manually ship products (Statista)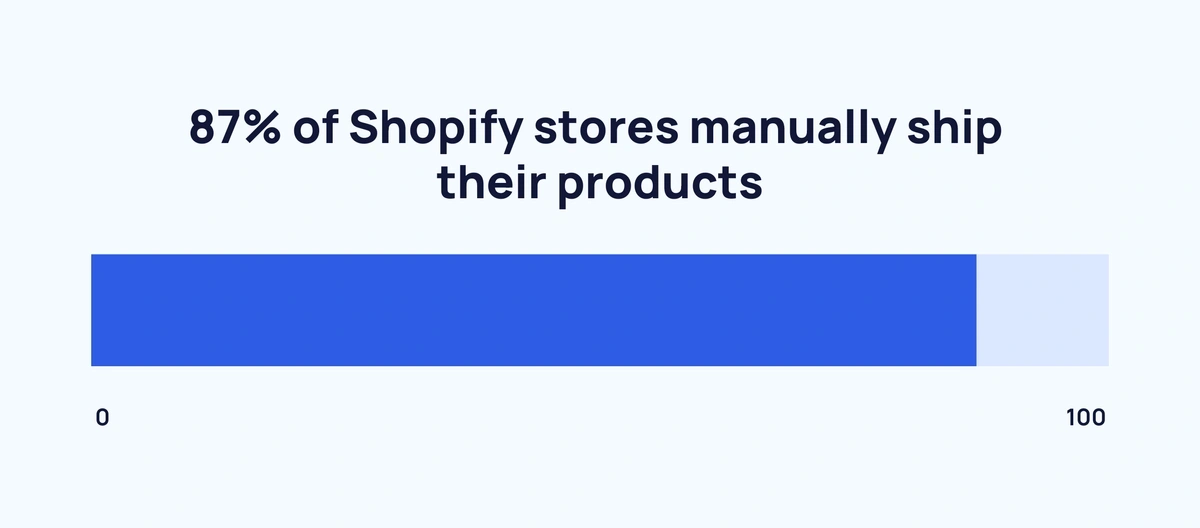 Despite all the hype around dropshipping, most Shopify stores ship directly from their own brick-and-mortar locations. In fact, only 7.77% of Shopify stores use third-party drop shipping to deliver their products.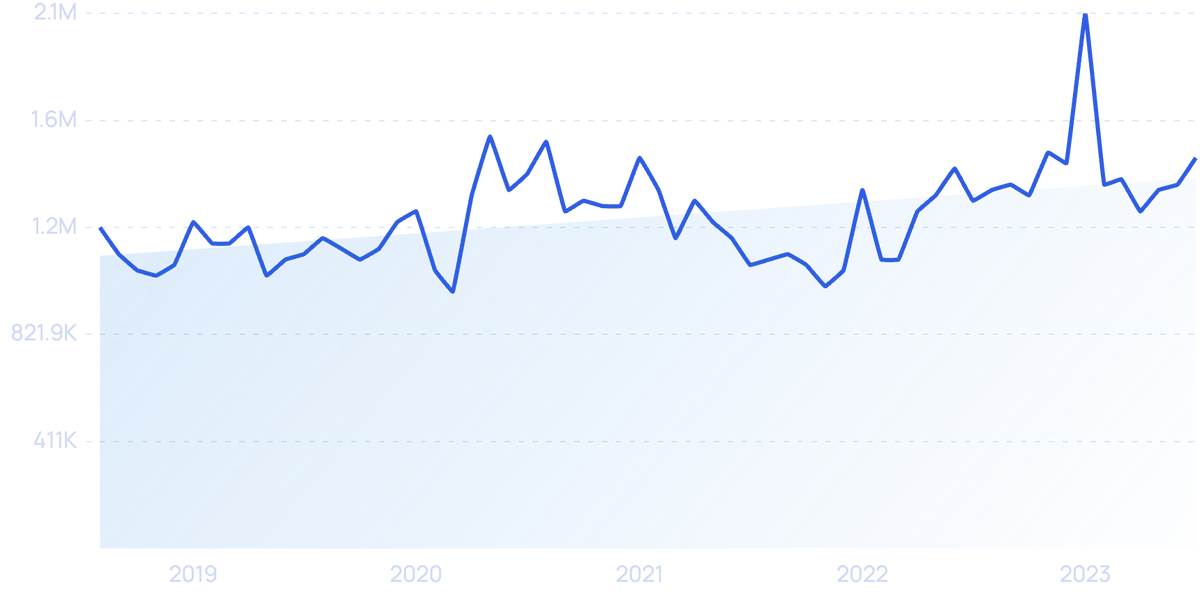 Google searches for "drop shipping" have risen over the past 5 years.
One-quarter of all Shopify stores sell clothing (Shopgram)
Of the 2,438,670 Shopify stores tracked by Shopgram, 256,996 (10.5%) are clothing stores. Print-on-demand services like Printify make it easy for anyone to hit the ground running with their own custom merch.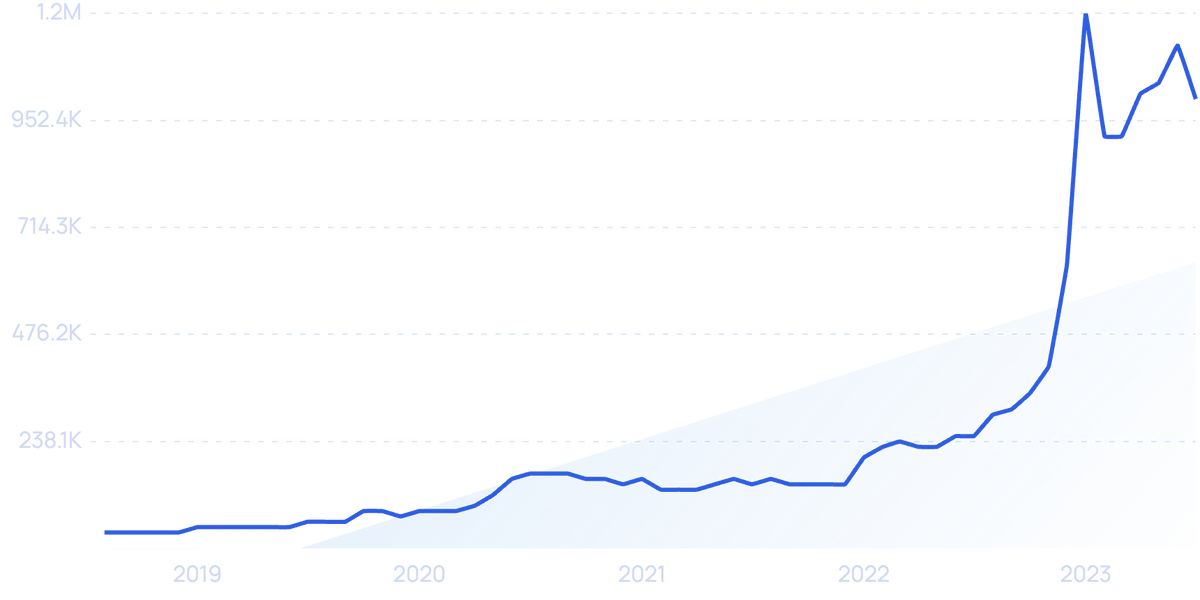 Google searches for "printify" are up 2,700% over the past 5 years.
The top 17 Shopify product categories make up 40% of all products sold on the platform (TowardsDataScience)
T-shirts are the top product category, representing 11.9% of all Shopify products. Close behind are tops (10.8%) and accessories (10.1%). Books are the only product type in the top 17 that aren't wearable.
Paintings are the most expensive popular product type on Shopify (TowardsDataScience)
The median price for paintings on Shopify stores is $219, more than double the price of the next most popular product type. Rounding out the top 5 are jackets ($91), watches ($87), shoes ($61) and handbags ($60).
Shopify Customer Statistics
Shopify wouldn't have much of a business without customers. Online shoppers are the driving force behind the eCommerce industry, and their preferences shape how Shopify and its merchants design and run their stores.
As many as 65% of online shoppers think about free shipping thresholds while shopping (channel)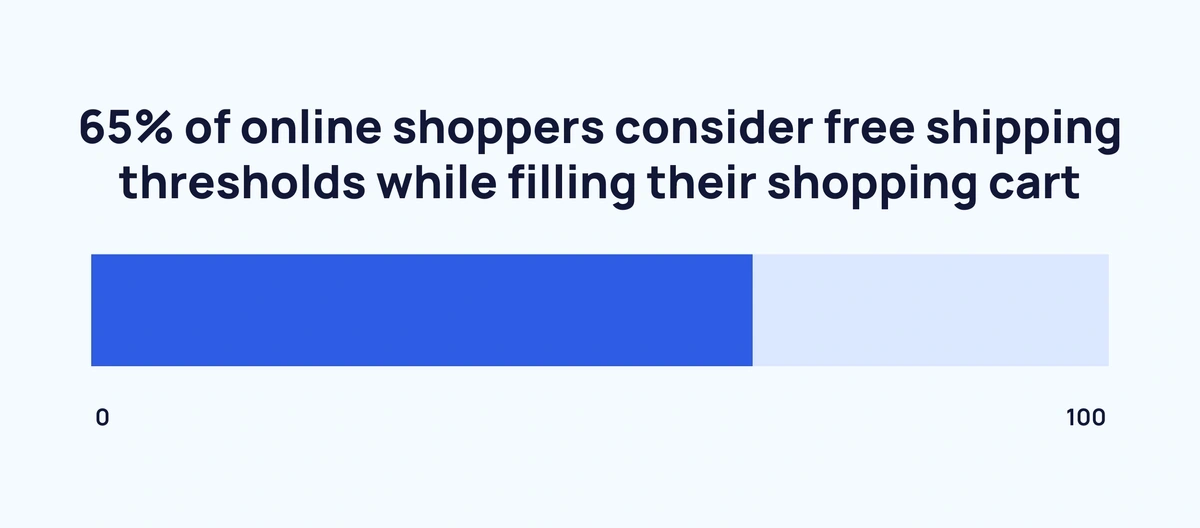 Most online shoppers today expect a free shipping option. But many are looking for fast and free. 39% of online shoppers expect two-day shipping as their free shipping option. 29% say they'd cancel a purchase if two-day shipping wasn't free.
Not being able to see products in person is the top reason people avoid online shopping (Foresight Factory)
Getting your hands on a product before buying it is a big part of the shopping experience. 47% of online shoppers say not being able to try on clothing is their top frustration. That percentage jumps to 51% for millennials and 55% for Gen Z.
Two-thirds of consumers shop online for apparel and footwear products (Statista)
30% of apparel and footwear shoppers say they shop more online than they do in person, while 36% say they use a mix of the two. Meanwhile, 34% of shoppers say they prefer shopping in-store.
57% of online shoppers say they've made at least one cross-border purchase in the past year (Statista)
Shopify gives merchants the opportunity to sell their products internationally, and shoppers are more than willing to buy from overseas. 30% of shoppers say they're considering making an overseas purchase.
In total, 39% of online shoppers use search engines to find products (Wunderman Thompson)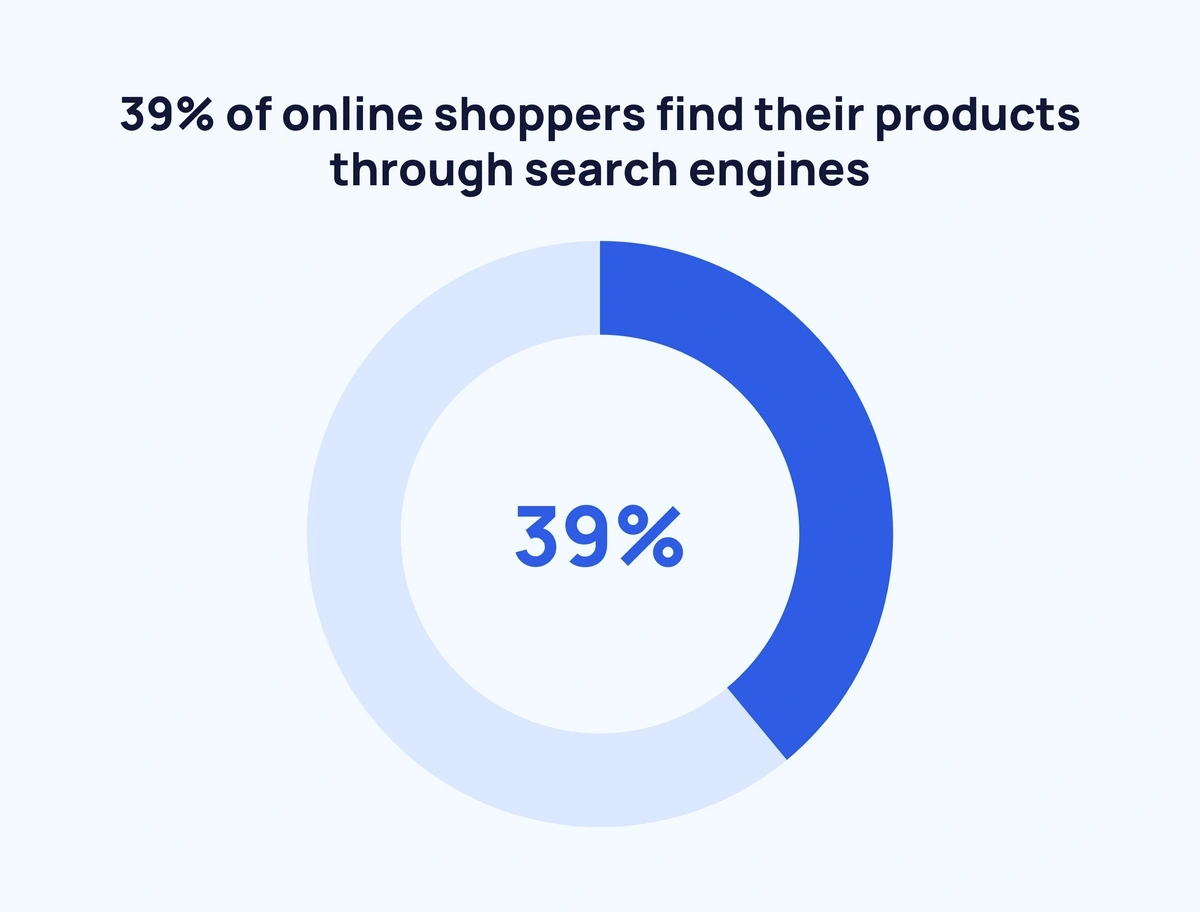 Search engines are the top channel for discovering online shopping products. 33% of online shoppers find their products mainly through social media, while 29% find them through Amazon.
Wrap Up
As you can see from this list of Shopify stats, Shopify is a heavy-hitter in the world of eCommerce.
From small, boutique online stores to massive brands, Shopify has the solutions to help sellers sell and ship their products.
As the world of eCommerce evolves, Shopify evolves with it. Their App Store is constantly growing, and new services like Shopify Plus give enterprise companies a robust toolkit to run their online sales.
If you enjoyed reading these stats, we have more here: 79+ Brand-New eCommerce Statistics and Top 11 Ecommerce Trends.