11 Key Software Development Trends (2023-2025)
You may also like:
Global IT spending was down 5.4% in 2020, largely due to the volatility caused by the pandemic.
But, the industry has begun to rebound, with total projected spending of $3.8 trillion.
This year, software developments have been tapped to help society do everything from building apps with zero IT experience to monitoring patients in hospitals to tracking social distancing in the workplace.
Where will software and tech take us in 2023? Let's dive right in. Here are the top 11 software development trends.
1. Businesses adopt low-code and no-code development
Software development is often riddled with problems and setbacks.
Approximately 20% of all software projects fail and another 52% are "challenged".
Of course, the process is incredibly expensive, too.
These factors have led some in the software development industry to start encouraging a simplified way of creating software: low-code/no-code development.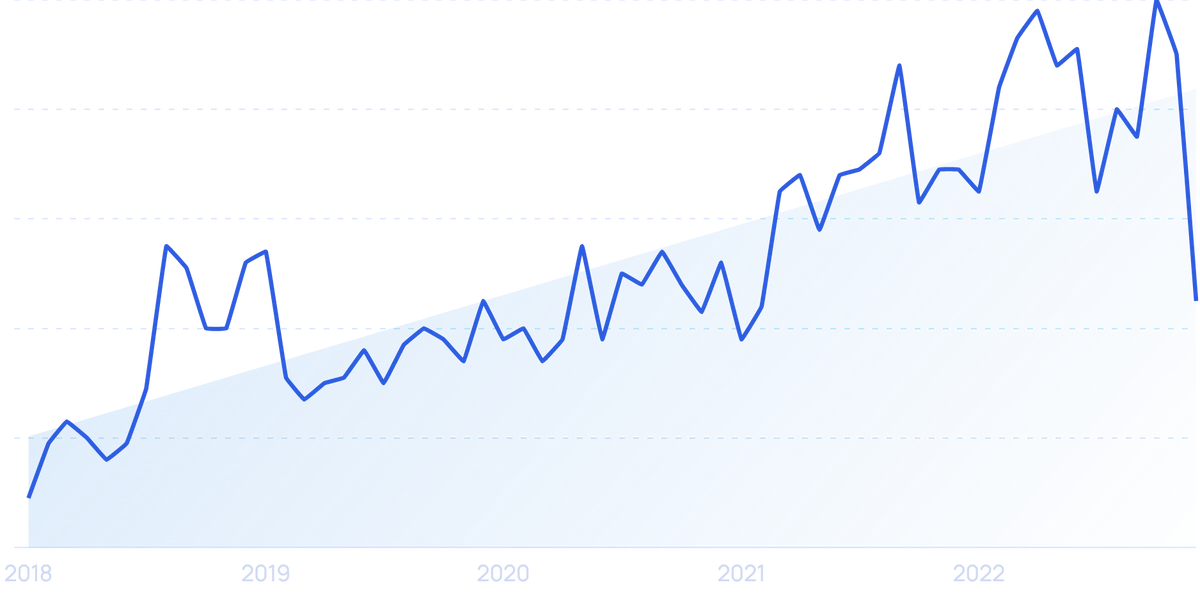 The popularity of "low-code" has exploded and searches are up 371% over the last 5 years.
As its name implies, developing software in this way does not utilize advanced IT knowledge or coding skills.
Low-code and no-code development can translate into easier, faster development.
No-code platforms allow users to drag-and-drop blocks of pre-made code in a visual interface.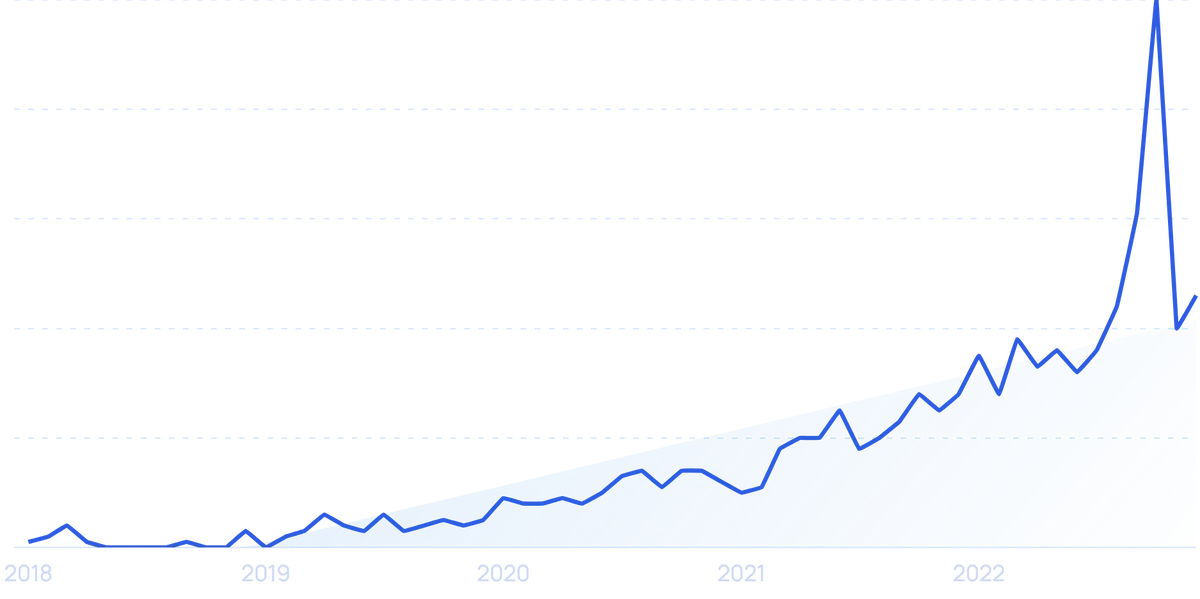 Search growth for "no-code" is up 4,500% in 5 years.
Low-code platforms are a bit more technically involved, but provide shortcuts that help developers work quicker.
KPMG reports that 100% of enterprises that have put a low-code platform into place have reported a positive ROI.
They also say that the number of business executives who list this type of development as their most important automation investment has nearly tripled since the pandemic began.
Forrester predicted that 75% of all app development would use these types of platforms in 2021. That's an increase of 31% over 2019.
According to Gartner, more than half of all medium to large enterprises will have adopted a low-code application platform by the end of 2023.
Bubble is one example of a visual development tool that's been used to build everything from budgeting programs to project management tools to virtual learning apps.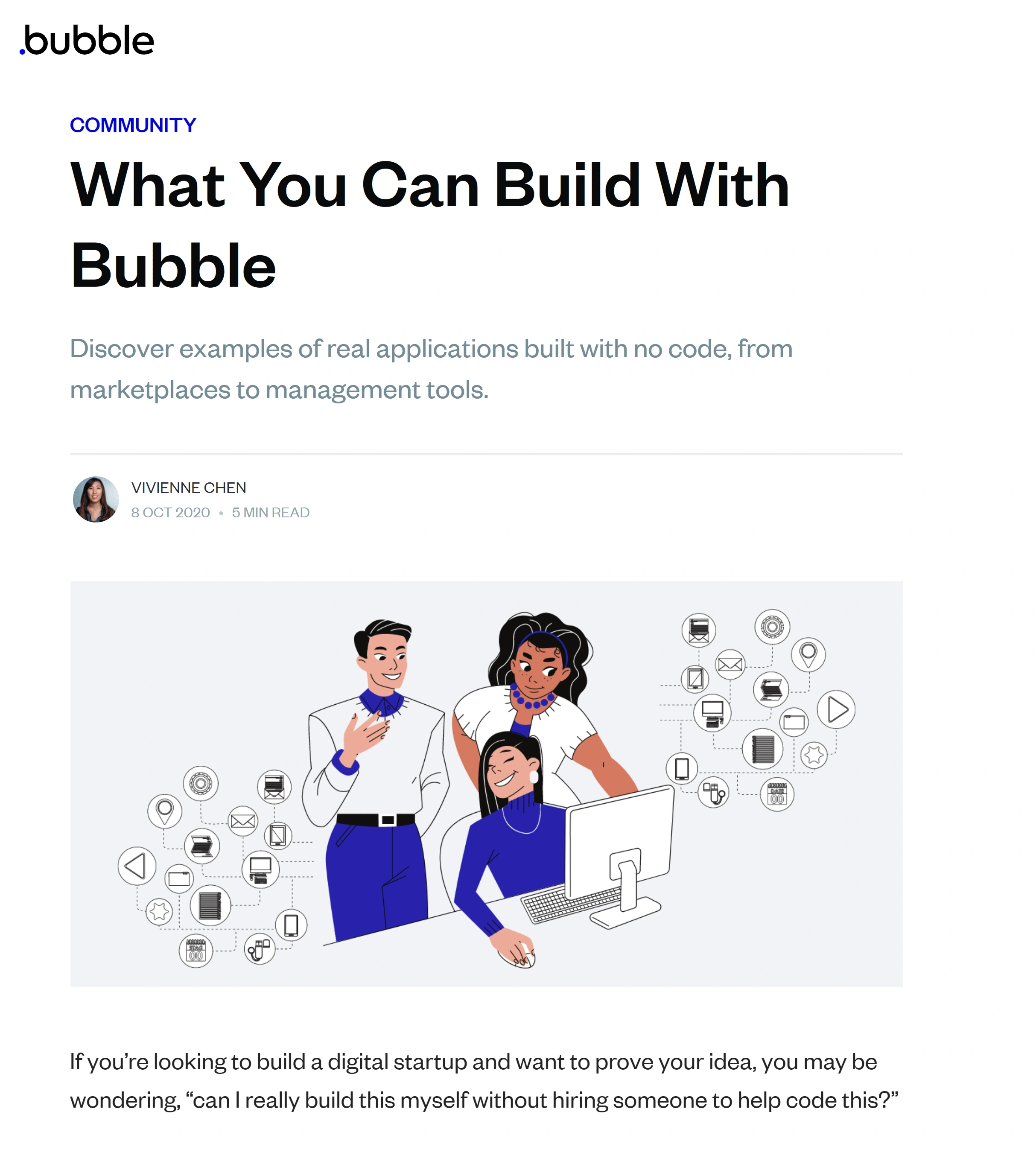 Bubble is a growing no-code tool for creating web apps.
In its first round of venture capital funding, the company raised $6.25 million.
Adalo is another popular no-code platform. The startup announced an $8 million series A round.
2. Remote work drives an increase in cloud computing
As much as COVID-19 was the downfall for many industries, it prompted the rapid acceleration of cloud computing.
During the pandemic, most businesses expanded remote work capabilities and experienced a huge shift in IT needs.
The cloud was the perfect tool to help companies who needed to shift and adjust to the increased demand of this "new normal".
More than 90% of respondents in one survey said that cloud usage is higher due to the pandemic.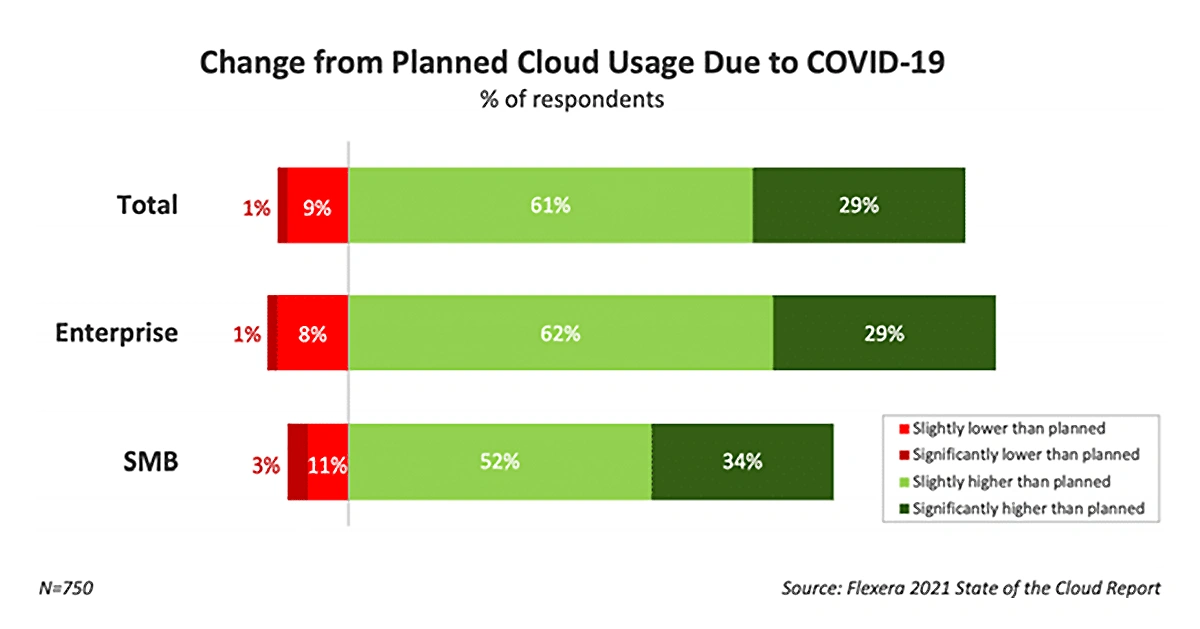 In many businesses, cloud usage is expected to increase significantly this year.
But the pandemic also showed how useful the cloud can be to businesses who need to down-scale.
For example, the bottom fell out of the tourism industry and those using cloud services don't need to maintain expensive data centers when they didn't need them.
Even though global IT spending decreased in 2020, cloud spending grew by more than 6% to total revenue of $258 billion.
Experts say the market will double over the next few years.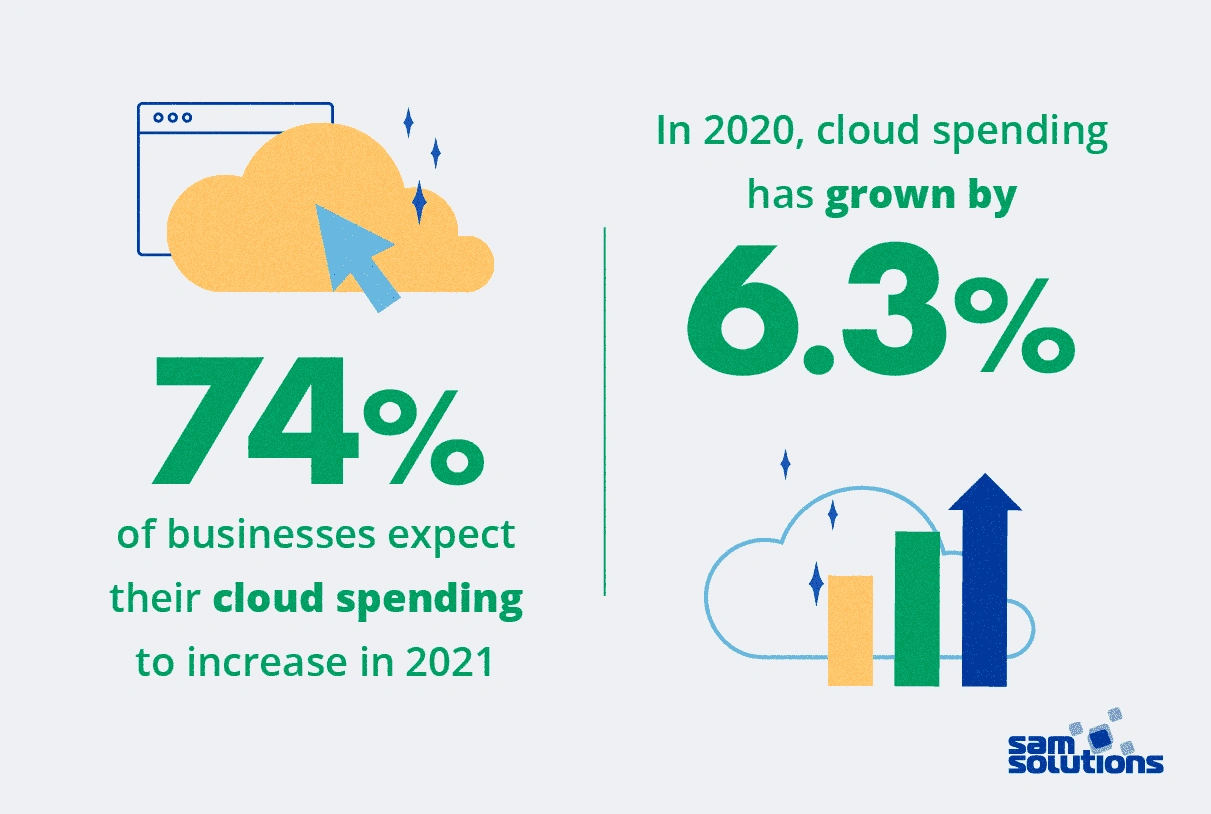 Cloud spending was up in 2020, and experts expect this spending increase to continue in 2021.
Global tech consulting firm Accenture launched "Cloud First" with a $3 billion investment in September 2020.
The move created a group of 70k cloud professionals working to get Accenture's clients moved to the cloud quicker and more efficiently.
Accenture is also focused on acquiring cloud companies.
Most recently, they bought Industrie&Co and have acquired several other companies since the start of 2020.
Due to the massive growth in this industry, demand for cloud-native software engineers has never been higher.
This is especially true for individuals with experience in Software as a Service (SaaS), Infrastructure as a Service (IaaS), and Platform as a Service (PaaS).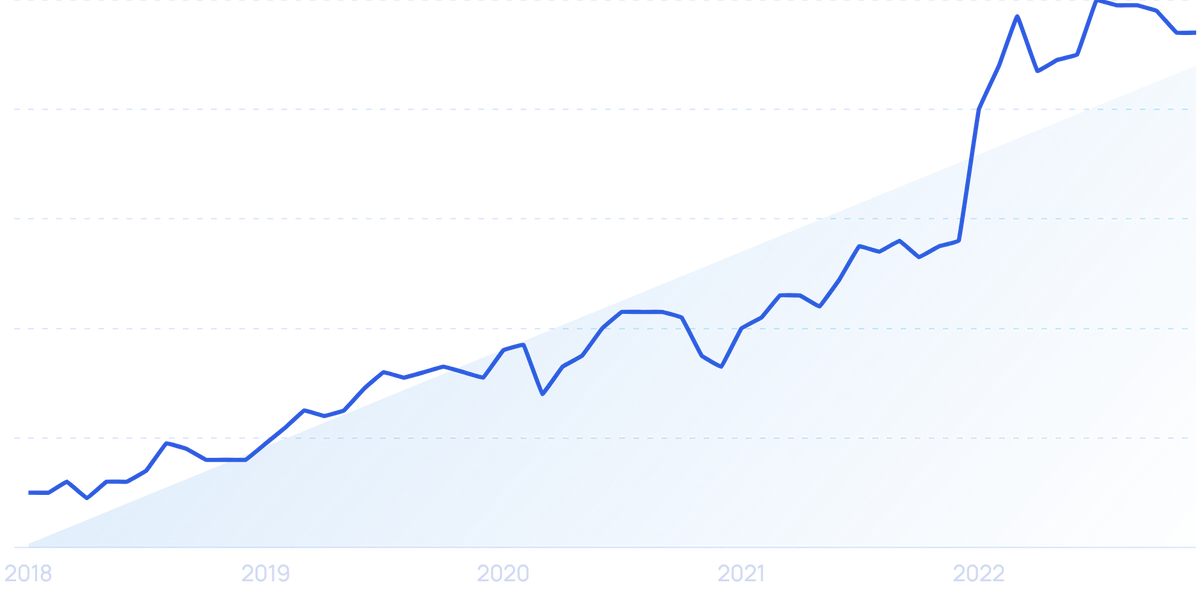 Searches for "cloud engineering" are exploding with a 840% increase in the past 5 years.
Amazon, which holds a 33% market share in cloud infrastructure services, is working proactively to train more people on cloud computing.
In December 2020, the company announced it would provide free cloud computing skills training to 29 million people across the globe in the next five years.
3. Malicious software development ramps up
Cybersecurity will likely remain a major concern in the next few years.
Ransomware, in particular, is a threat that's expected to increase.
That means businesses will be looking for the right tools to keep their assets protected.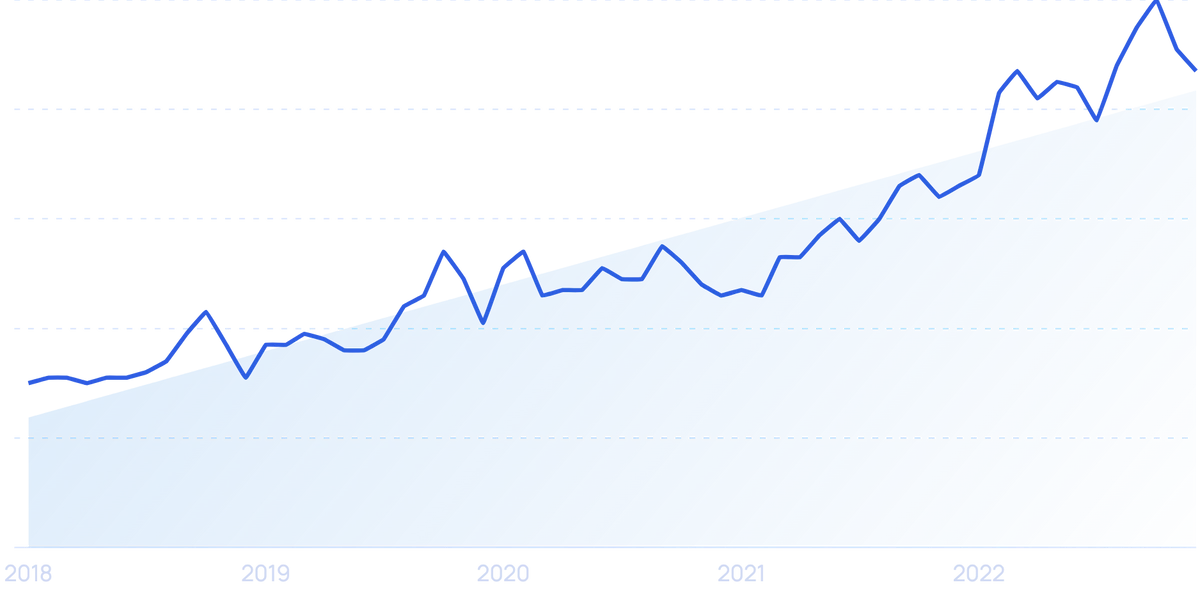 Searches for "cybersecurity" continue to rise. The topic has grown 190% in 5 years.
In 2020, ransomware attacks increased 435% over 2019.
Ransomware payments are up too. The average payment in November 2020, calculated at $233,000, had increased 31% from Q2 to Q4 2020.
Attacks in recent months have been devastating.
Hackers have targeted United States government agencies, hospitals, and major energy companies.
One of the latest trends in ransomware is double extortion.
In this malicious tactic, attackers first hold the company's data for ransom. Later, they threaten to release that data if another ransom isn't paid.
In one report, IBM said double extortion attacks accounted for 59% of the ransomware attacks that IBM Security X-Force handled last year.

How businesses are protecting themselves against ransomware is evolving in 2023.
IBM Security reports that organizations with fully deployed security automation potentially save themselves $3.58 million in the event of a data breach than those who don't have automation deployed.
Many organizations are going so far as to invest in cyber insurance.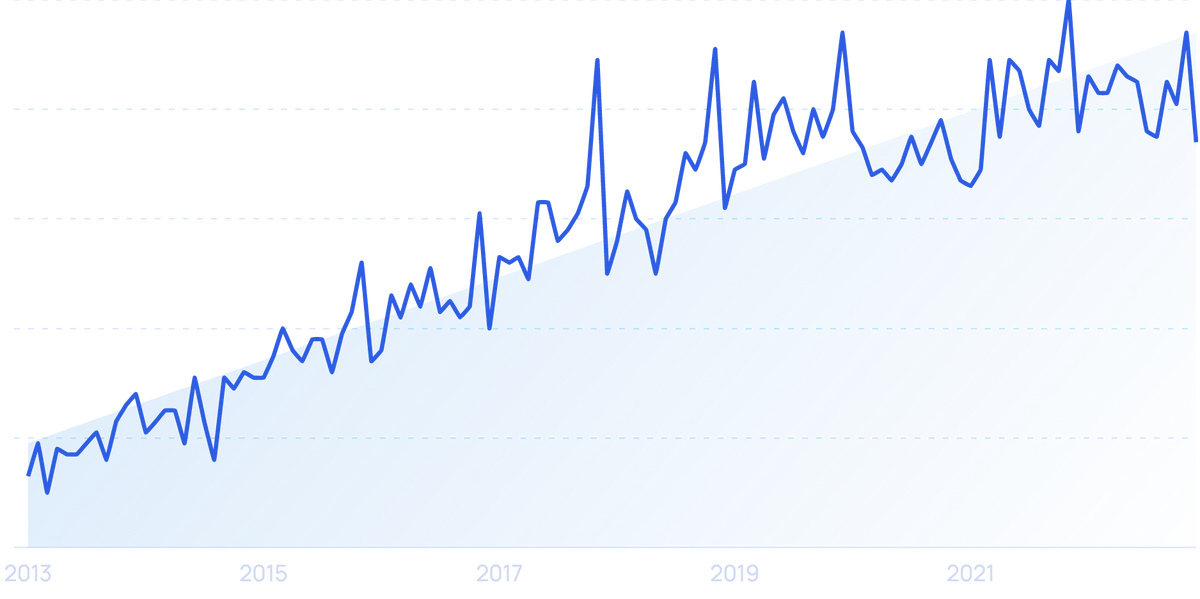 Google search engine demand for "cyber insurance" is up 469% over 10 years.
In fact, Colonial Pipeline, the owner of the nation's largest fuel pipeline network that fell victim to a ransomware attack in May 2020, reportedly had a $15-million policy.
The number of cyber policies increased 60% between 2016 and 2019.
However, ransoms and the losses associated with the attacks are so expensive that insurers may no longer offer coverage for these events in the coming years.
4. AI adoption accelerates
According to predictions from IDC, the global artificial intelligence (AI) market was expected grow more than 16% during the course of 2021 to $327.5 billion.
And they expect it to reach $500 billion by 2024.
Some form of AI and machine learning used in nearly every industry and it's in our homes too, whether we realize it or not.
The rate of adoption was increased significantly by COVID-19 and this acceleration is expected to continue in the coming years.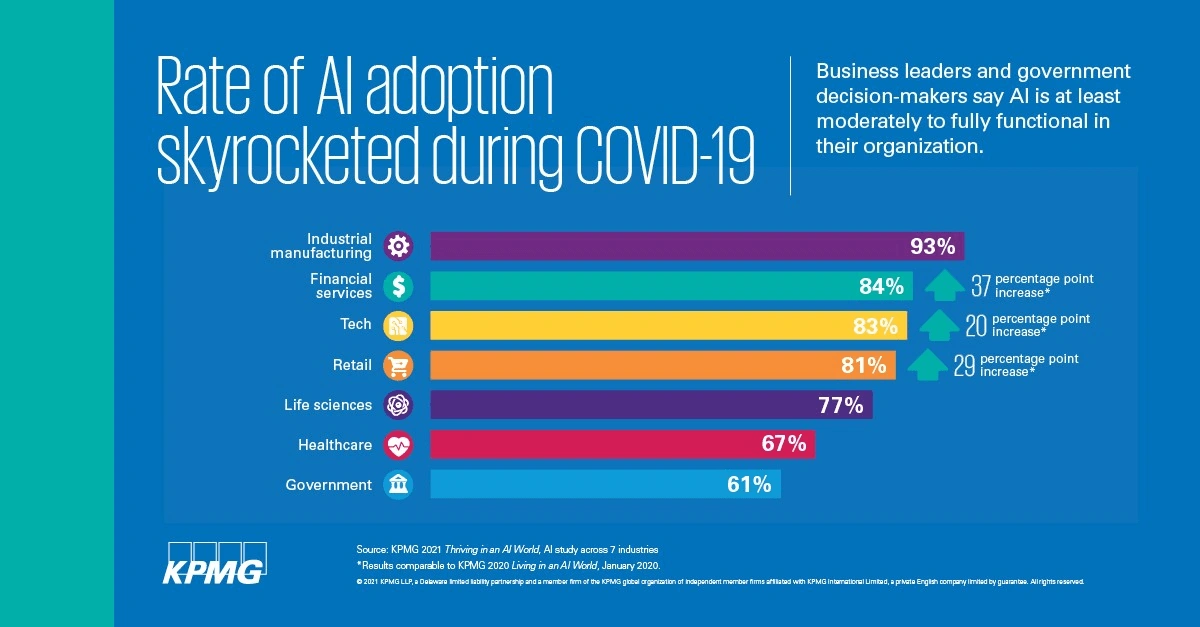 KPMG's research shows that AI adoption has especially accelerated in the financial services industry.
In the banking industry alone, experts predict that AI could drive $1 trillion of additional value every year.
AI helps lower costs by increasing efficiency and reducing errors.
It also allows banks to provide the kind of hyper-personalization that customers are demanding in today's world.
One of the other industries in which AI software is poised to make the biggest impact in the coming years is healthcare.
According to a survey in March 2021, 90% of hospitals have an AI strategy in place.
That's compared to just 53% in the third quarter of 2019.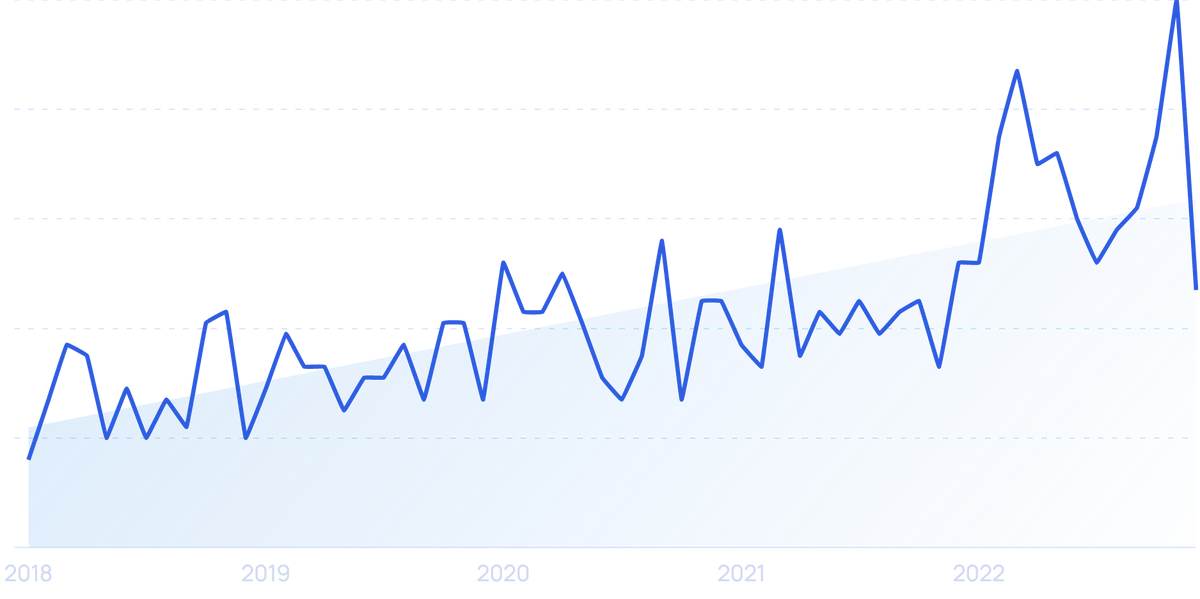 AI's impact in the medical field is undeniable. Searches for "ai and healthcare" have increased 187% in the past 5 years.
A Deloitte study revealed that the top three goals of AI in healthcare are to lower costs, improve efficiency, and enhance existing products and services.
For example, AI software can improve symptom analysis in patients, detect medication errors, and automate administrative tasks.
Another sign that healthcare AI is an important trend: venture capitalists have invested more than $8.5 billion in the top 50 healthcare AI firms.
In the business world, AI software is making an impact through Robotic Process Automation (RPA).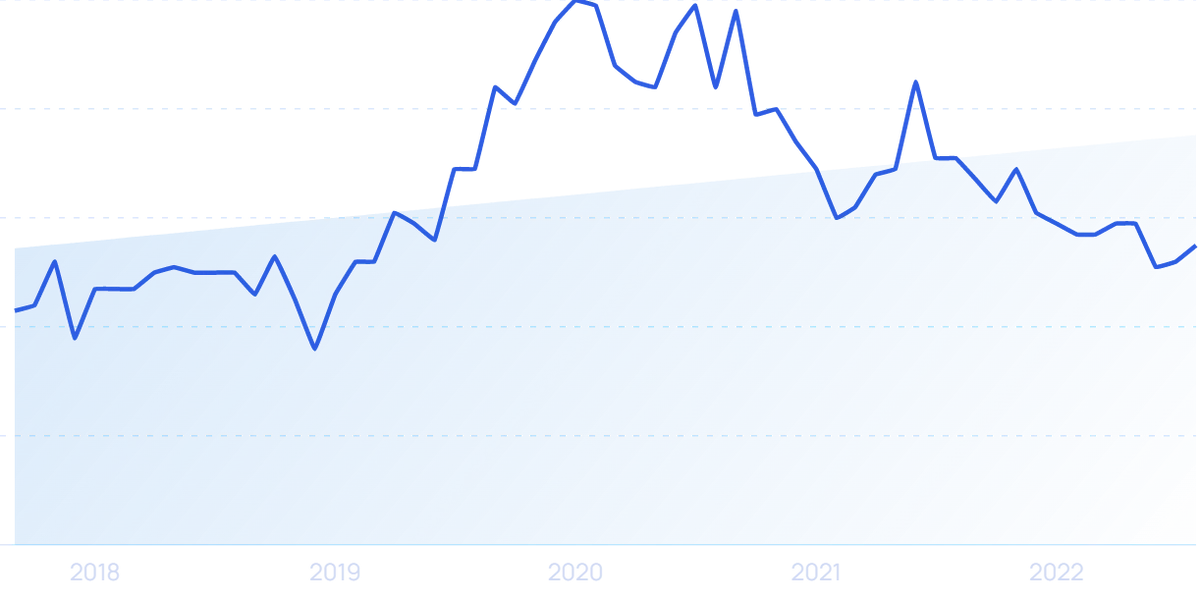 Search growth for "robotic process automation" has increased by 120% over 10-year span.
This type of technology automates mundane tasks so that skilled workers can focus on projects with higher potential value.
One survey showed more than 50% of businesses are using RPA and nearly 20% who aren't using it now expect to start in the next two years.
Here are just a few examples of what businesses are using RPA for in 2023: data entry, mass emails, lead nurturing, financial planning, payroll, and compliance.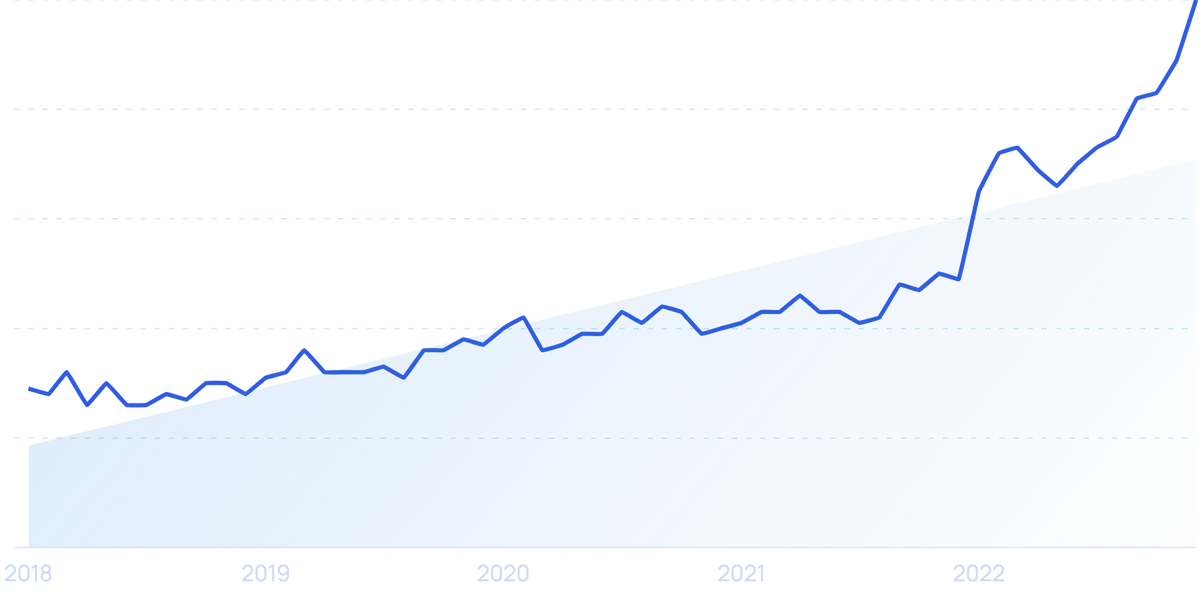 Searches for "ai software" have shown a steady climb, increasing 244% in the past 5 years.
Even the United States Air Force is utilizing AI software capabilities.
In late 2020, a military aircraft flew with an AI algorithm controlling some tasks that a pilot normally performs during flight.
An Air Force representative said, "The best operator in the world can lose to a mediocre operator that has AI on a good day...[AI] will create a confounding effect on adversaries because now they have to train for both our people and our AI".
5. Rust gains momentum
Rust is the programming language having a breakout few months.
It's been voted the "most beloved language" in the past four years in StackOverflow surveys.
And it's the second-most used programming language.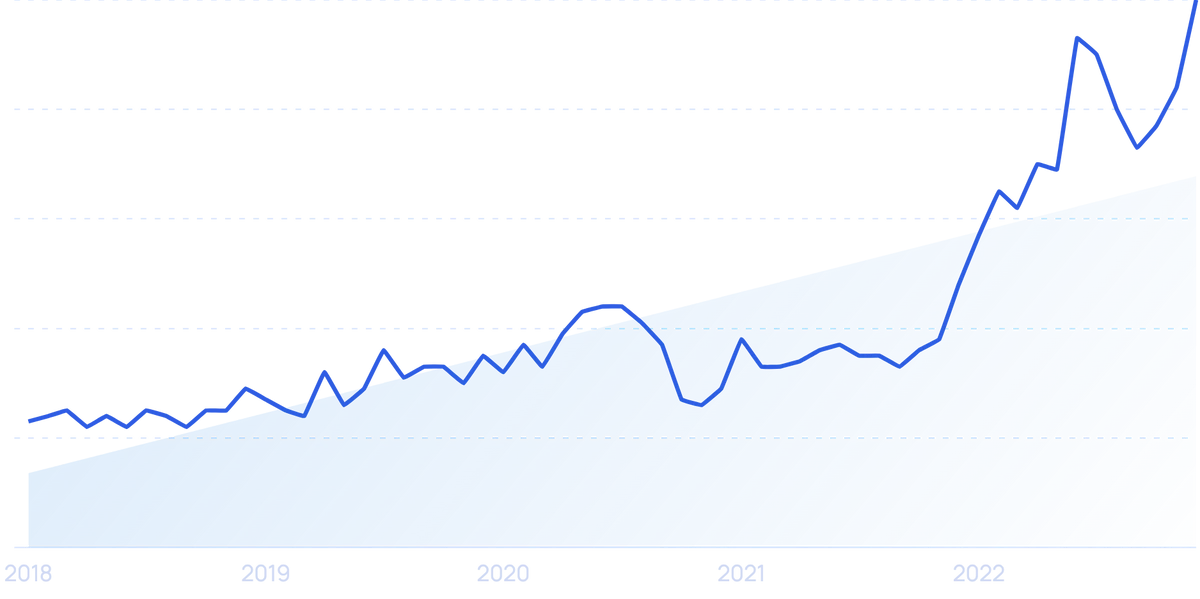 Searches for "Rust" have increased 334% in the past 5 years.
Rust was released in 2010 by Mozilla Research.
However, in early 2021, the formation of the Rust Foundation was announced.
The Foundation now owns all trademark and infrastructure assets.
Part of the appeal of Rust is that it's a "memory safe" language, which means that it eliminates the risk of memory-related bugs in the software.
It's also praised for its speed, security, and performance.
In a recent survey of .NET developers, Rust was the second choice when users were asked what language they're interested in learning.
In the past year, the language also moved up 18 spots on the Tiobe popularity index.
Some big-name companies, like Facebook, Dropbox, and Amazon, use Rust in production.
And, several large corporations are investing in the language, too.
This programming language has even been used by hackers in writing malware.
It's nicknamed RustyBuer.
6. Continued expansion of the IoT
The Internet of Things (IoT) is set to continue expanding in 2023 and beyond.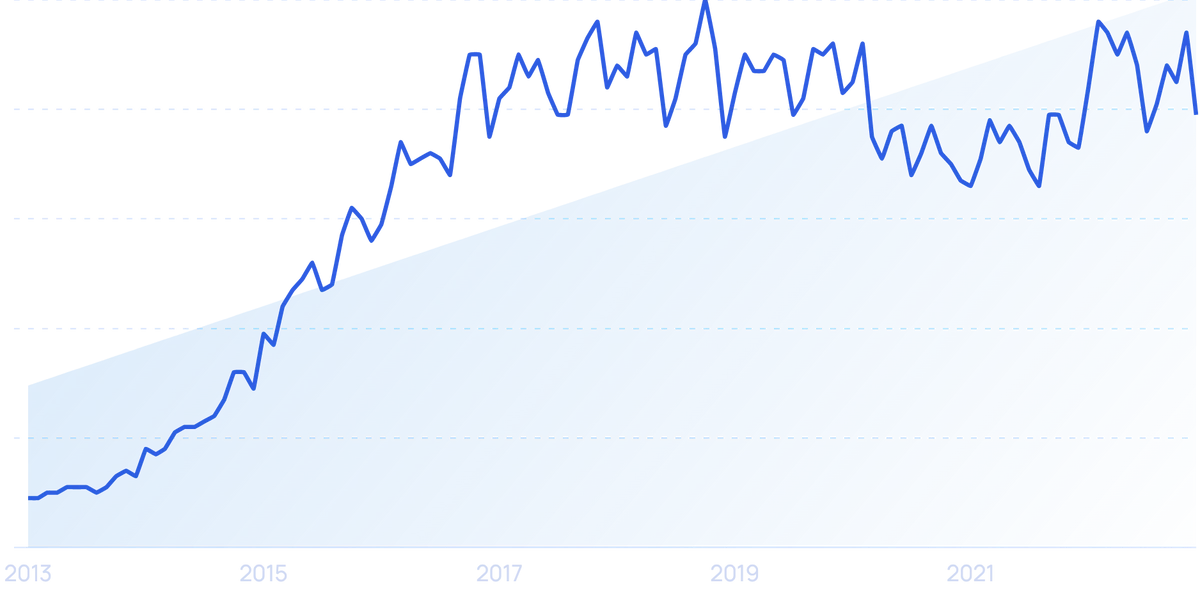 Search growth for "internet of things" appears to be on the rise once more.
Stats show that there will be 65 billion IoT devices in 2025. That's 6x more than in 2018.
In late 2020, the number of IoT connections surpassed the number of non-IoT connections.
In particular, smart speakers are expected to continue in an upward trend. Data shows the market could be worth $35.5 billion in 2025.
Forrester predicts that wearables and sensors aimed at allowing patients to monitor their own health at home will surge in 2021 and beyond.
The data that's collected from the patients can enable doctors to be proactive in medical treatments and improve care.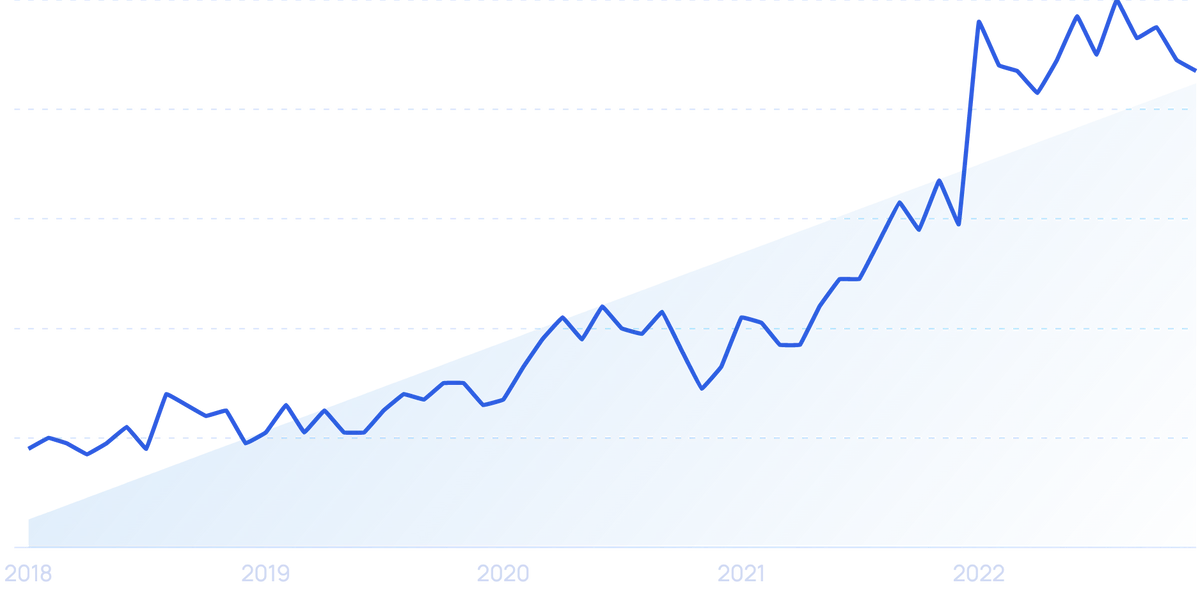 Searches for "remote healthcare" have increased 383% over the past 5 years and have remained high since the pandemic.
The IoT goes way beyond use in homes.
Bayer recently developed an inexpensive IoT chip that's similar to a mailing label.
It can be attached to anything from chemical compounds to seed packs to track items after leaving the warehouse and throughout distribution.
There are also wide-ranging capabilities of the IoT making an impact in the workplace.
Most notably in 2020, companies considered using RFID tags to monitor employees' hand washing and social distancing.
7. Progressive Web Apps (PWAs) Aim to Provide a Better User Experience
Smartphone users want their app experience to be fast and reliable, but oftentimes, they don't want to download apps because they take up too much space.
In fact, Google found that half of smartphone users are likely to use a brand's mobile site because they don't want to download an app.
Many companies are turning to progressive web apps (PWAs) to find a solution.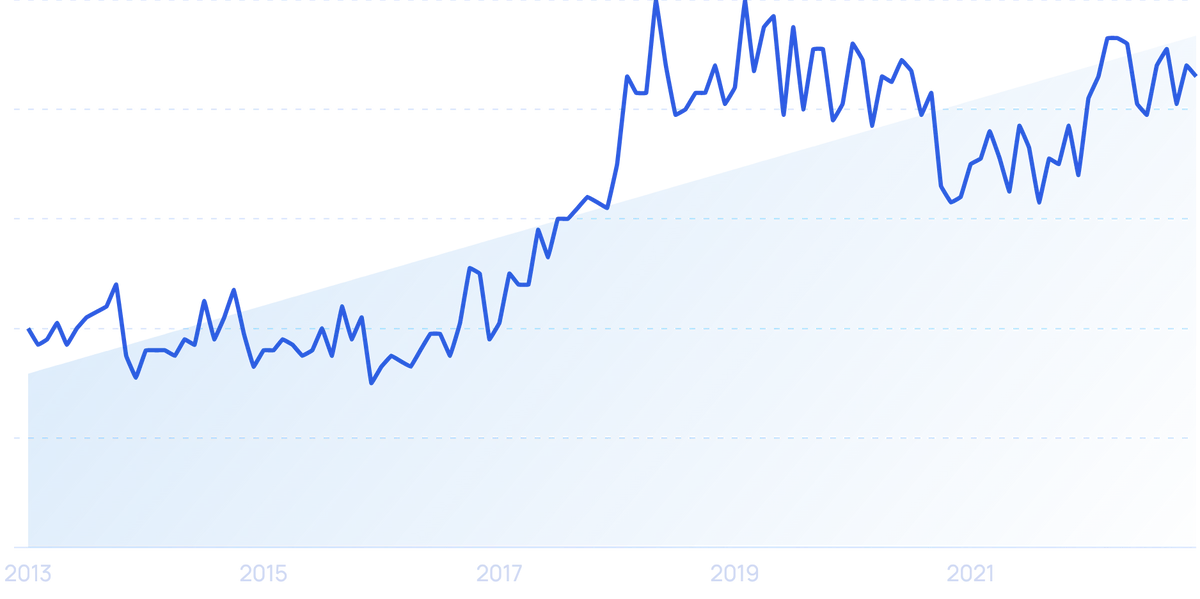 Search volume for "progressive web apps" showed a big jump in early 2022.
These offer the ideal combination of standard website technology and the convenience of an app.
Developers tout PWAs as the best of both worlds.
Compare the native app to the PWA from Twitter, for example. The brand's PWA takes up only 3% of the storage of the Android app.
PWAs run on HTML, CSS, and JavaScript like websites do, but they take away the browser interface and borders.
Unlike native apps, users do not need to download PWAs. They simply save them to their homescreens.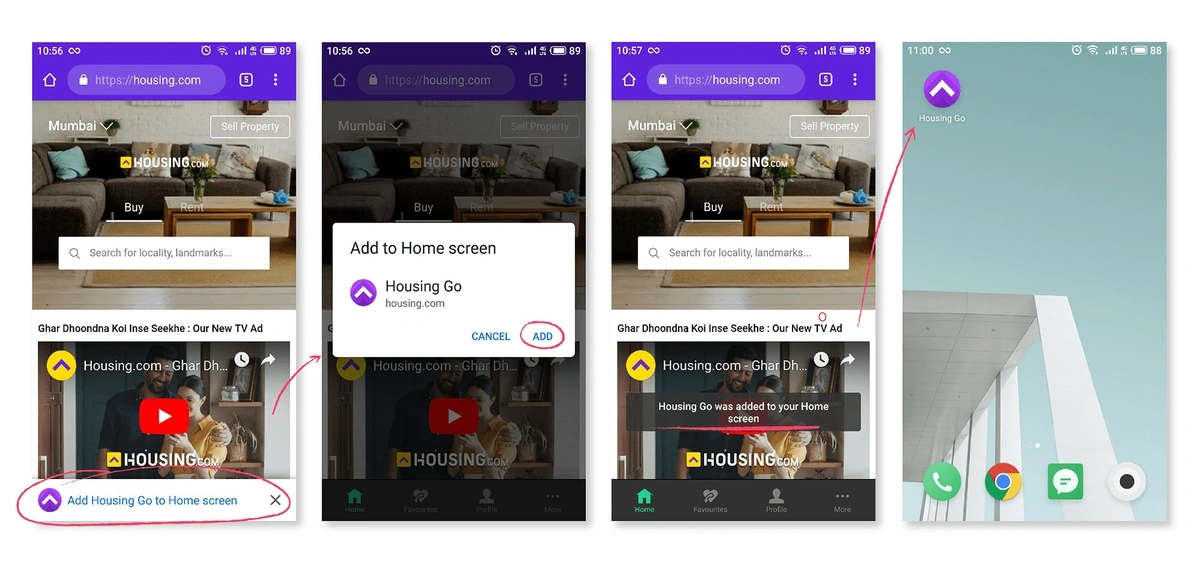 Users visit the PWA URL once and then they're able to add the icon to their home screen.
PWAs load quickly and send push notifications just like a native app. And, because they cache data, they're even available offline.
One attribute that makes PWAs increasingly popular with developers is that they're platform agnostic — developers don't have to build a separate app for mobile, tablet, and desktop.
Ease of development is just one way PWAs save brands money. These apps are also quicker to design and cost less to maintain.
One estimate says PWAs can cost up to 15 times less than a normal mobile app.
Starbucks is one company that's already taking full advantage of the benefits of a PWA.
To start, it's 99.84% smaller than the brand's iOS mobile app.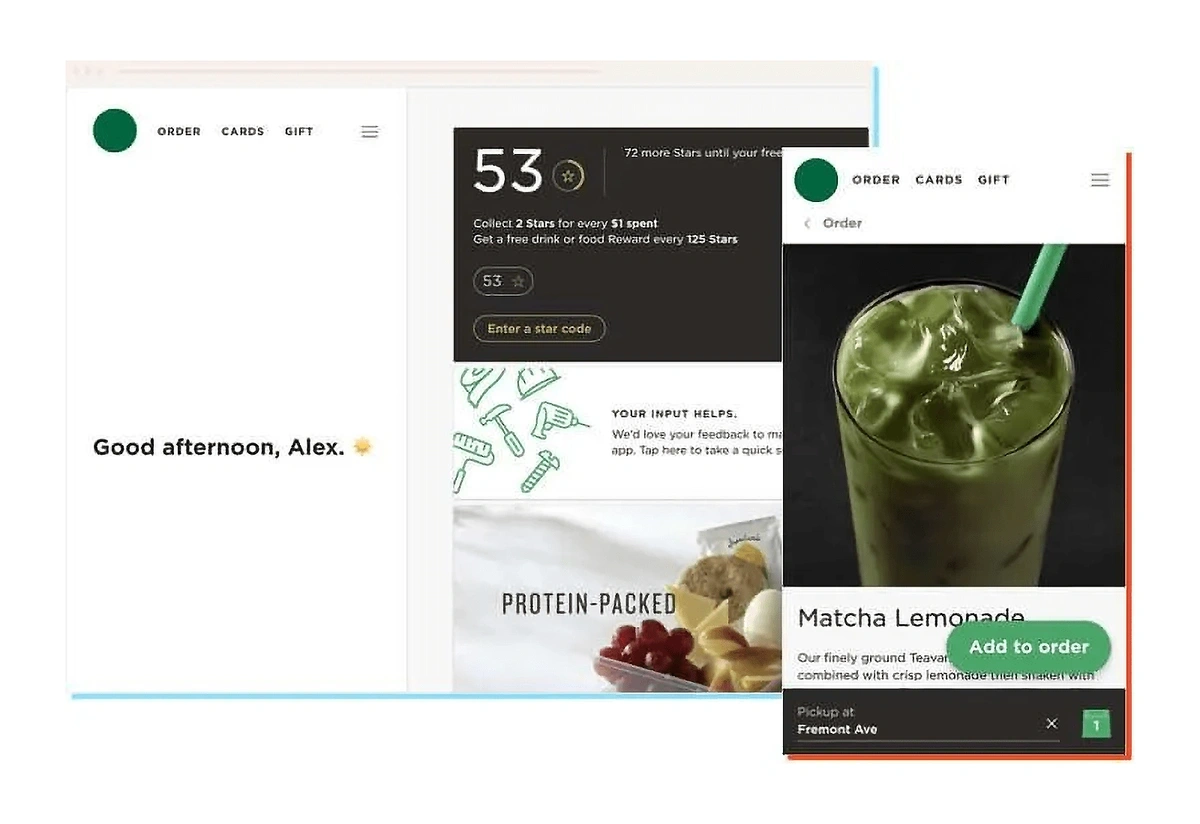 Starbucks' PWA is especially convenient for customers who don't have a reliable network connection throughout the day.
The brand's PWA allows customers to browse the menu and even customize their orders without being connected to the internet. Once they are connected, they can see specific pricing for the nearest location and place their order.
Since implementing the PWA, Starbucks has doubled the number of web users who place orders each day.
8. Microservices Architecture Simplifies Deployment and Scaling
Technavio reports that the growth of the cloud microservices market is accelerating. They predict the CAGR will surpass 25% through 2026, adding $1.59 billion in market value.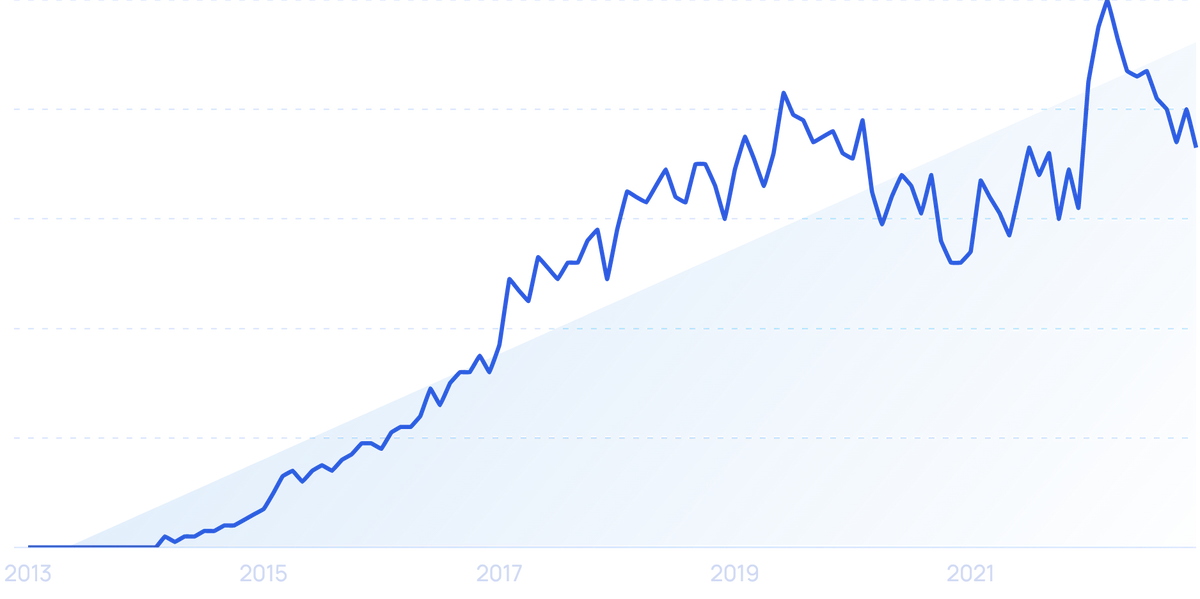 Search volume for "microservices" is up 7,200% in the past 10 years.
Microservices architecture represents a new approach in software development.
The old approach, monolithic architecture, involves all the application processes being coupled together and run as a single service.
Because all of the code is grouped together, changing one process means changing the entire application. This approach is neither agile nor scalable.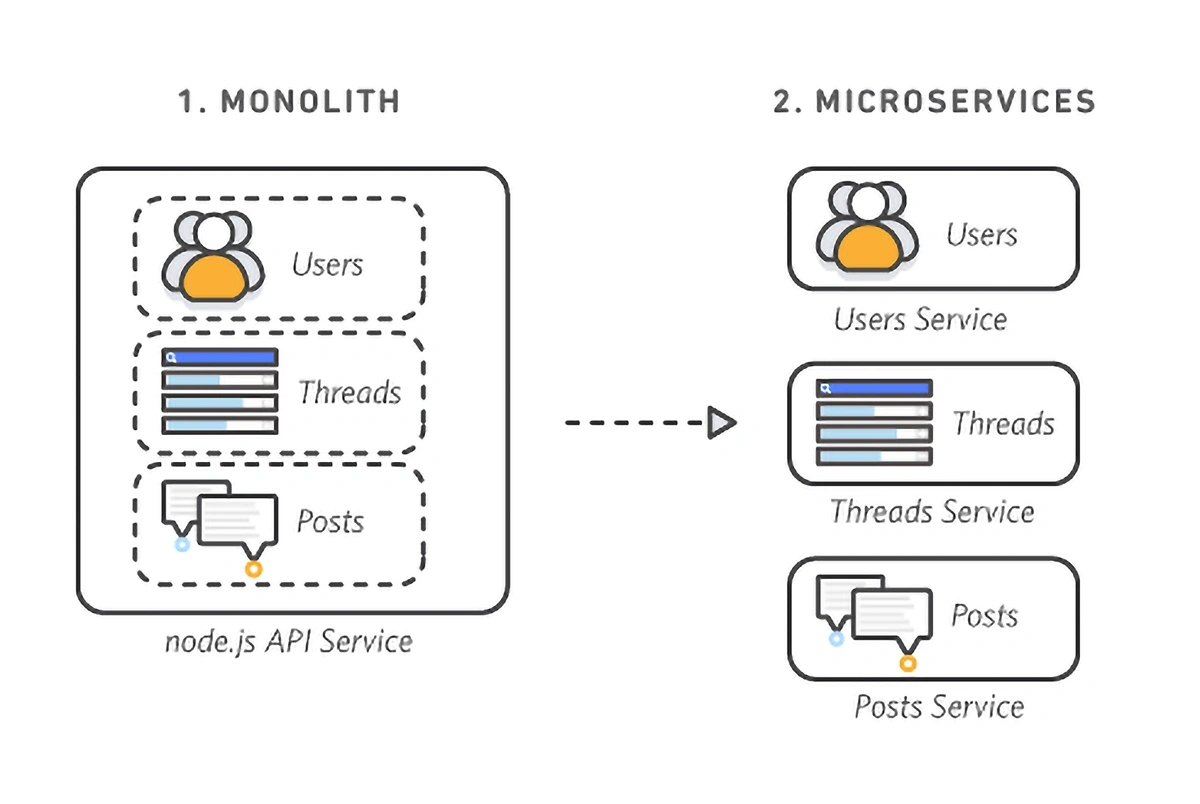 With a monolith approach, all code is grouped together and makes updating a very time-consuming endeavor.
On the other hand, microservices architecture features modules built as independent services. Each of these modules supports a specific task or goal and uses an API to communicate with other sets of services.
The modules can be built, managed, and changed without altering other modules.
This new structure means microservices require less development time and can be scaled easily. They can also be reused in other projects.
IT teams also save time and money when a problem occurs.
If something goes wrong in a monolithic architecture, teams have to troubleshoot, test, and update the entire software. With microservices, the fault is isolated, remediated, and redeployed within a single service.
In a 2021 IBM survey, 88% of current microservices users said they agree or agree completely that microservices architecture offers many benefits to their development teams and 87% agree or completely agree that the effort and expense of adopting this approach will be worth it.
One of the most popular tools to use within microservices architecture is Docker.
Docker provides containers that encapsulate each service. Each container has the source code and operating system libraries required to run that service in any environment.
This becomes incredibly useful in automating the deployment of applications.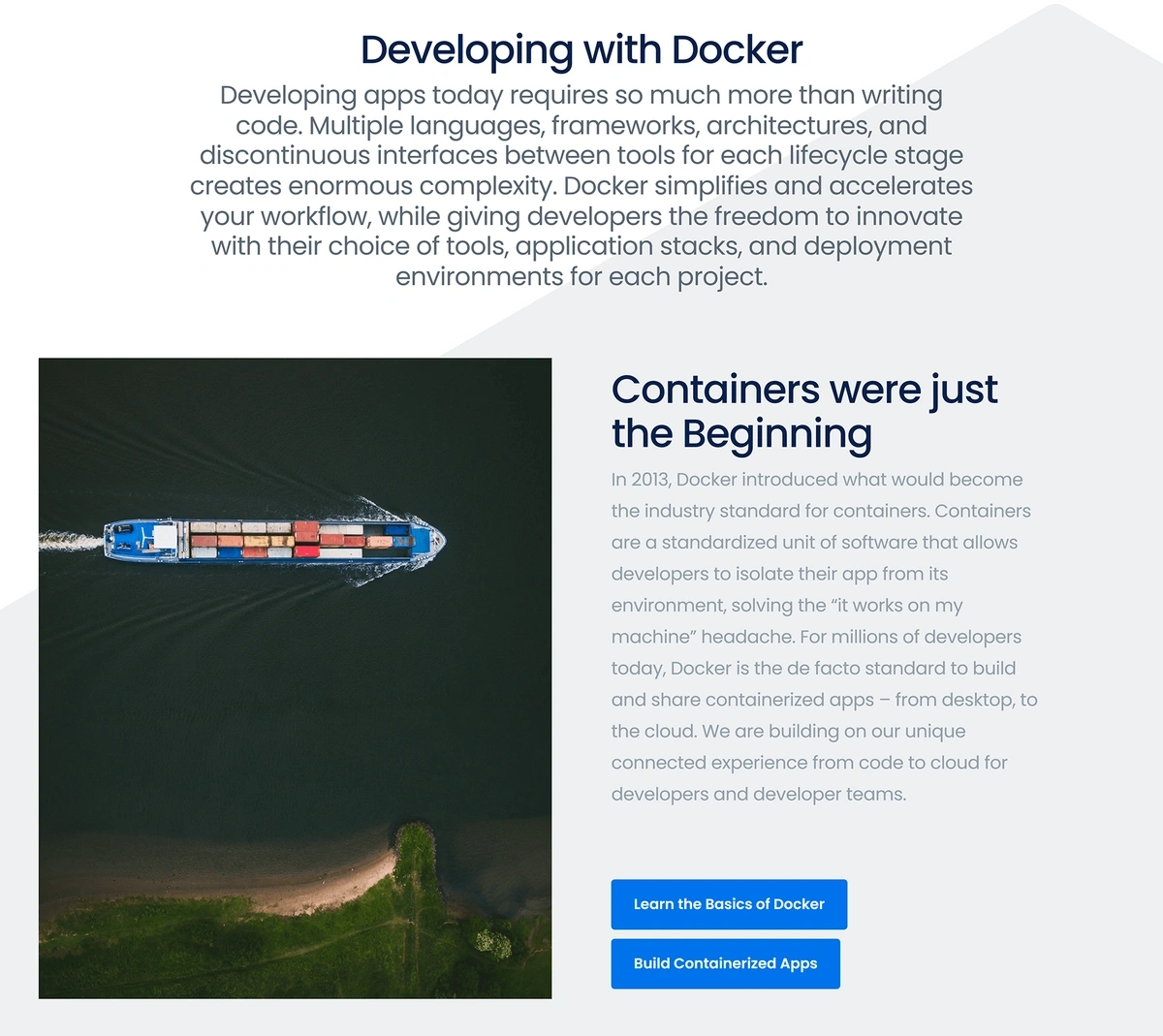 Docker has developed container technology that's portable, flexible, and easy to deploy.
9. Use of Blockchain in Software Development Expands
The majority of the buzz surrounding blockchain technology has been focused on cryptocurrency. But, the technology has implications for the software development industry as well.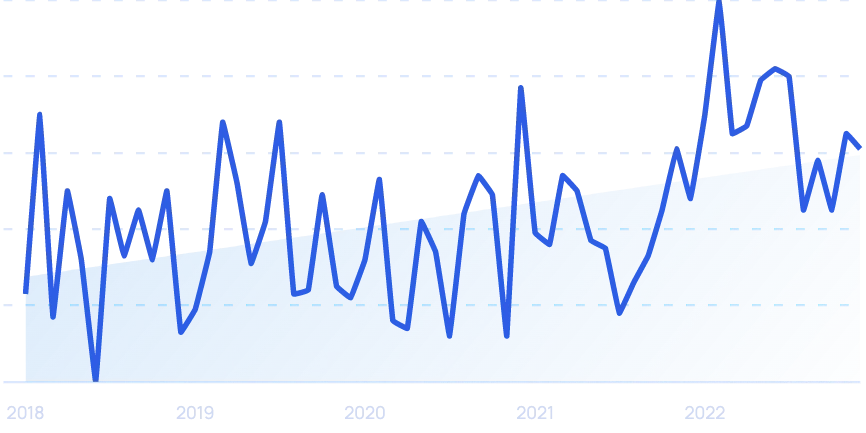 Search volume for "blockchain software development" is up 165% in the past 5 years.
Overall, global spend in the blockchain market is expected to grow at a CAGR of more than 46% through 2024.
Businesses across the globe are implementing blockchain in their organizations.
In fact, 55% of organizations surveyed by Deloitte in 2020 said blockchain was in their top-five strategic priorities.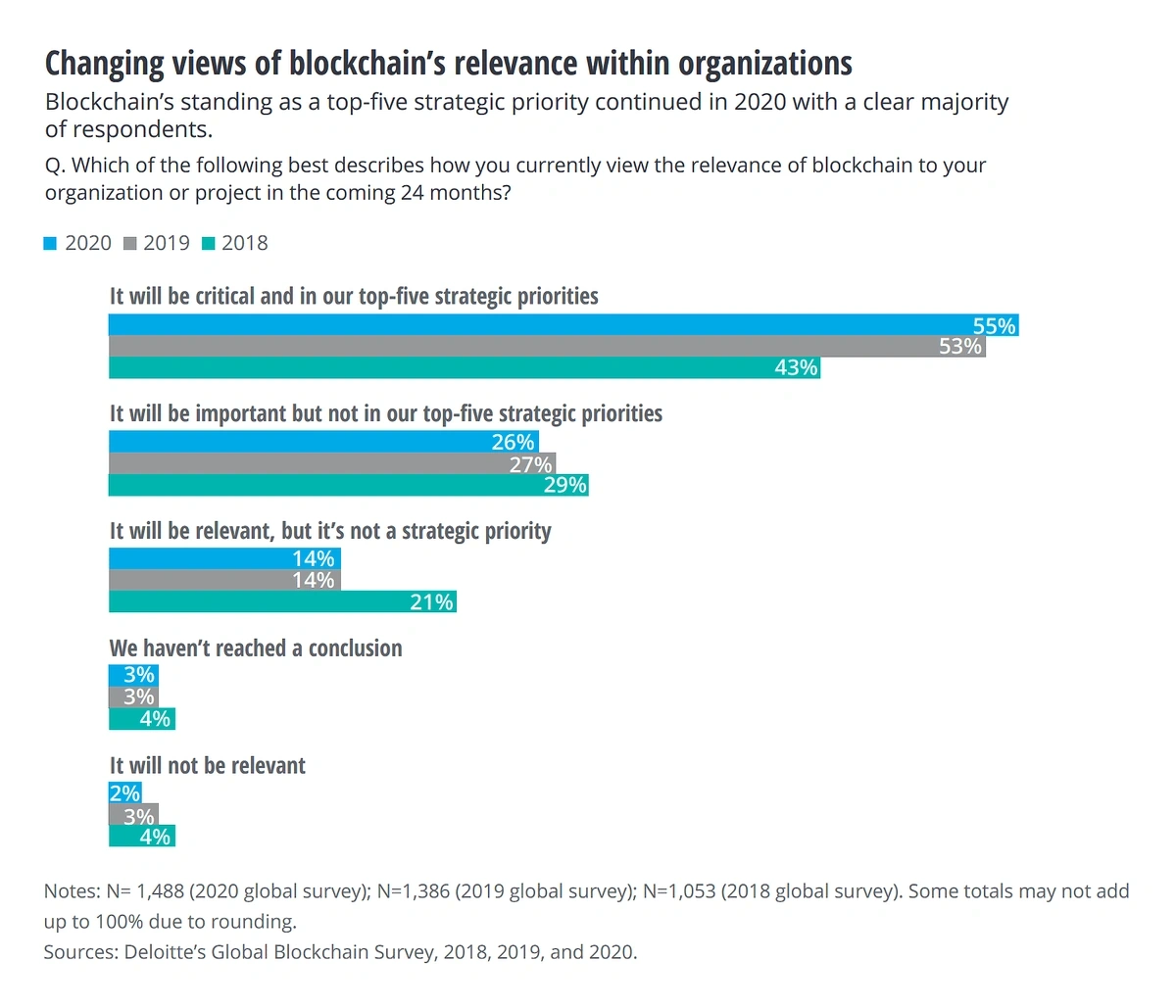 Deloitte's survey shows growing interest and investment in blockchain technologies.
There's good reason for this.
Blockchain-oriented software (BOS) systems are robust and incredibly secure.
The data in the systems is replicated and decentralized, ensuring data security.
There's also transaction recording and public-key cryptography, which add another layer of safety to the data.
There's little risk of hacking or theft because users can view and record to the software, but they cannot modify or delete any data.
One area in which the security of blockchain technology is particularly appealing is software development for the healthcare industry.
For example, blockchain-based systems can bring together pharmaceutical companies, hospitals, insurers, medical device OEMs, and others. They can log contract details, track transactions, and provide payment details.
They can also automate the terms of their contracts using a technology called smart contracts.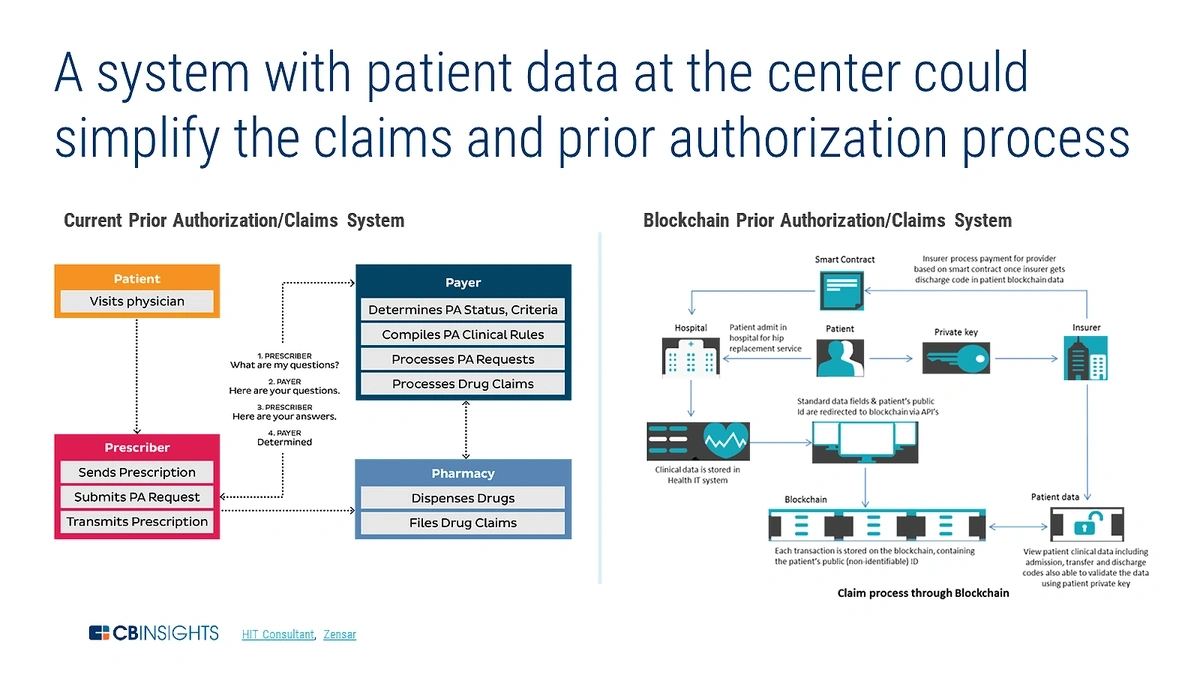 Blockchain systems have the potential to track patients, avoid duplicate processes, and speed up the exchange of data.
Another instance of blockchain-based software is a specific type of app called a decentralized application (dApp).
As its name implies, there's no centralized place where the code is stored and it's not owned by any specific company.
In practical terms, this means that the "middle man" is unnecessary. For example, users don't need a company like Airbnb or Uber. Instead, they can directly access the platform and its services.
One of the most popular dApps is a gaming app called Axie Infinity.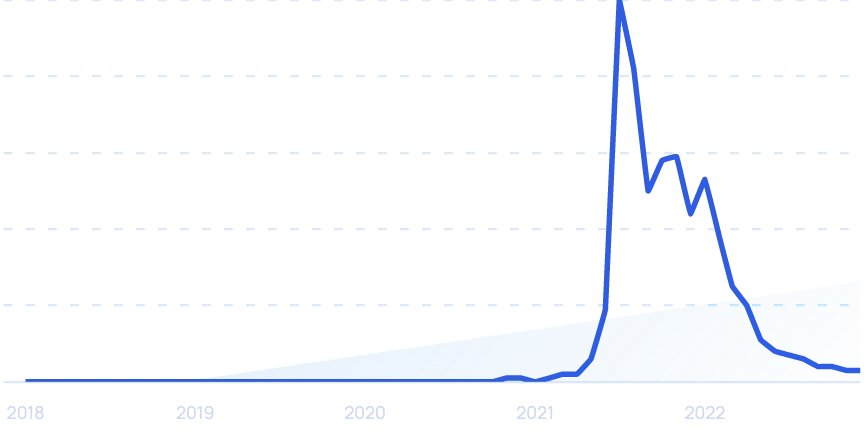 Search volume for "Axie Infinity" has increased 200% in the past 5 years.
In it, users can raise, trade, and battle digital creatures called Axies, which are NFTs.
The game boasted 8.3 million players and one million active daily users as of the end of 2021.
However, in mid-2022, the Axie network lost $620 million in a hack and lost half of its players, according to some sources.
Other blockchain games stand a good chance of luring those users to their platforms.
For example, Game of Silks, a horse racing game with NFTs, raised $2 million in funding in mid-2022.
10. Companies Turn to Outsourcing in the Face of IT Skills Shortage
Executives are eager to implement emerging technologies, but they're having to do so with fewer staff members than ever before.
According to a 2021 Gartner report, 64% of executives say the talent shortage is the most significant adoption barrier for their business. That's compared to just 4% in 2020.

Search volume for "IT talent shortage" has jumped 900% in the past 5 years.
A 2022 survey showed that 73% of technology leaders say it's either very or somewhat challenging to recruit tech workers and fill their open positions.
In the coming years, industry experts say the talent shortage is only going to get worse.
By 2030, there could potentially be 85 million jobs that are unfilled, costing the global economy $8.5 trillion.
Breaking those numbers down, we see the potential for $162 billion in revenue losses in the tech sector if the US can't fill high-tech positions.
To make matters worse, a survey from September 2021 showed that 72% of IT employees were considering quitting their jobs in the next 12 months.
Three-quarters of those surveyed said that their company focuses more time on attracting new hires than investing in their existing employees.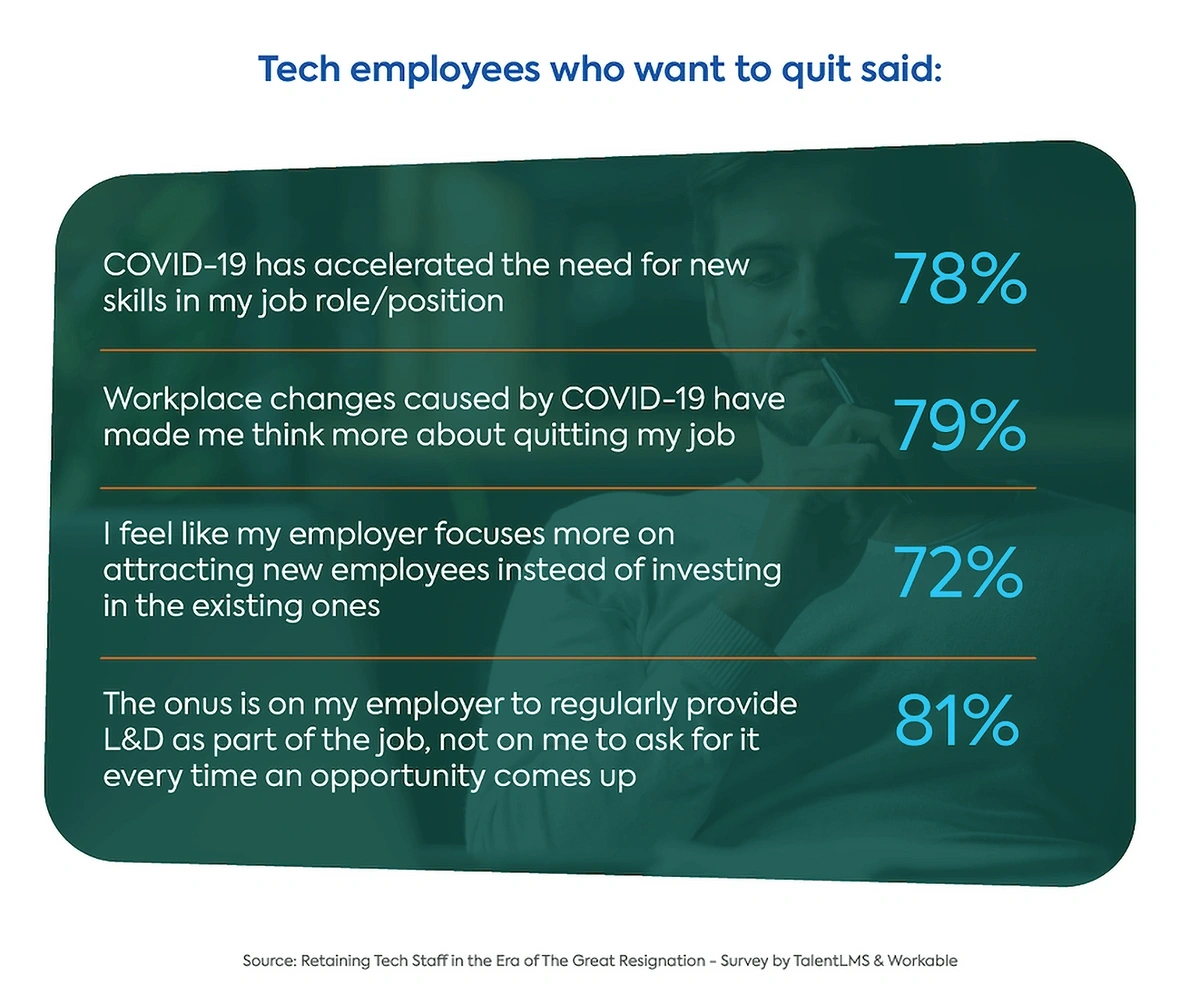 Survey results showed the pandemic and a lack of learning and training opportunities led many employees to consider quitting.
To combat the shortage, many companies are turning to non-traditional hiring methods.
In the past, software developers were expected to have an academic background and training. But, in today's hiring climate, nearly 80% of HR professionals are open to hiring individuals who have been self-taught or trained in a bootcamp-style course.
IBM is one company that's taking concrete steps to train the workforce it so desperately needs.
The company announced an ambitious goal in October 2021: to train 30 million people by 2030.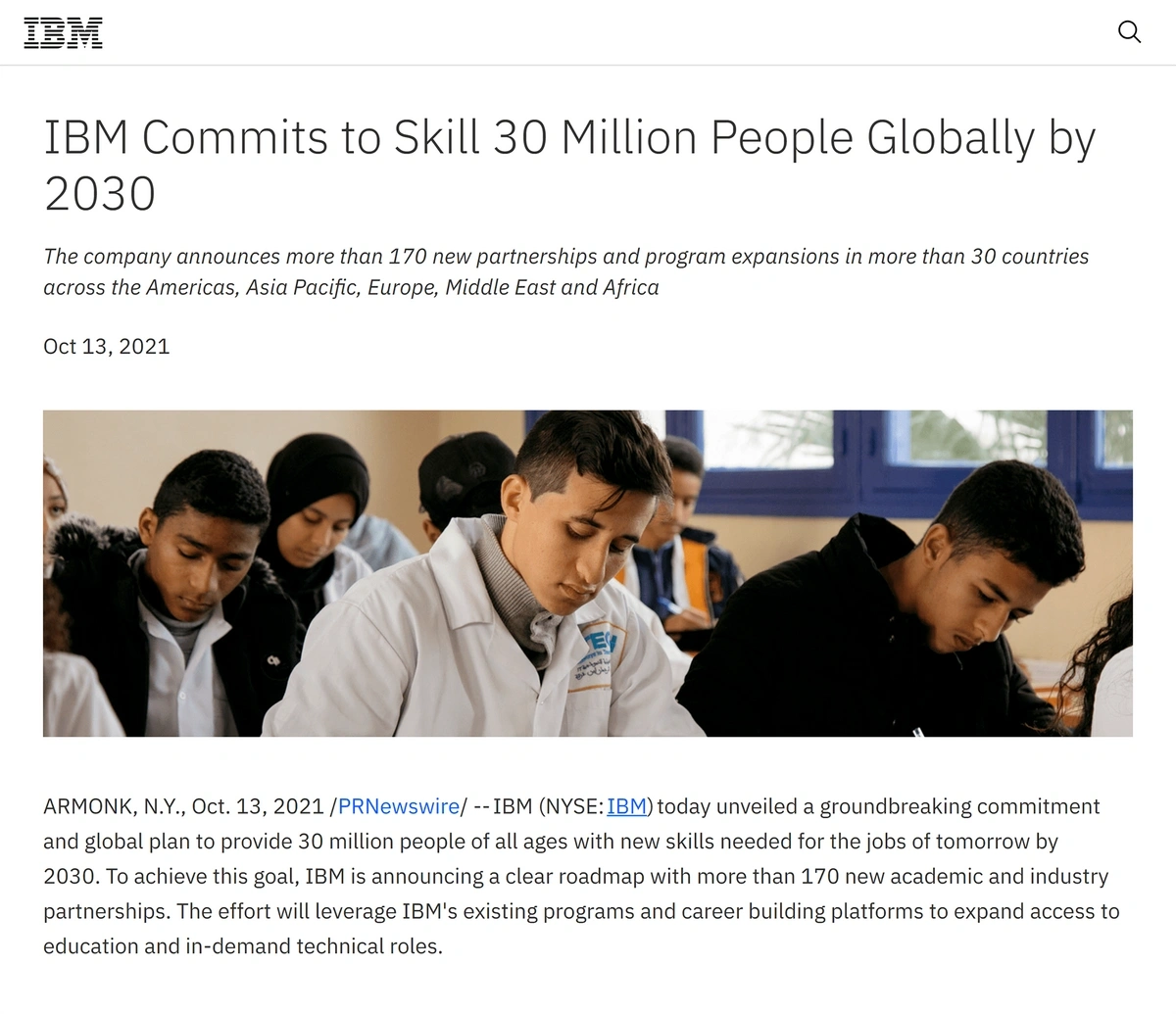 IBM CEO Arvind Krishna said, "We must take big and bold steps to expand access to digital skills and employment opportunities so that more people–regardless of their background–can take advantage of the digital economy."
IBM will launch 170 new partnerships with academic and industry leaders. That's in addition to their earn-and-learn apprenticeship program for those without a bachelor's degree.
Outsourcing is another way IT departments are looking to scale and stay agile while avoiding the headache of recruiting and the pinch of attracting new employees with high salaries.
The IT outsourcing market reached $522 billion in 2021 and is expected to swell to $689 billion by 2027.
In one example, CSX transitioned 137 in-house IT jobs to Mumbai-based TCS (Tata Consultancy Services) in July 2022.
In a similar move, OhioHealth eliminated 567 IT jobs, citing plans to outsource the positions to Accenture, a professional services company.
A representative from OhioHealth said, "We've realized the best way to deliver in IT is to leverage the tools, technology and global talent pool external partners can provide. These are areas that continuously have rapid growth. By leveraging the deep expertise of our partners, we will keep pace with these rapid changes in a better way than we could on our own."
11. DevSecOps Approach Integrates Security into the Development Process
The combination of development, security, and operations (DevSecOps) represents a new software development approach that integrates security throughout the entire IT lifecycle.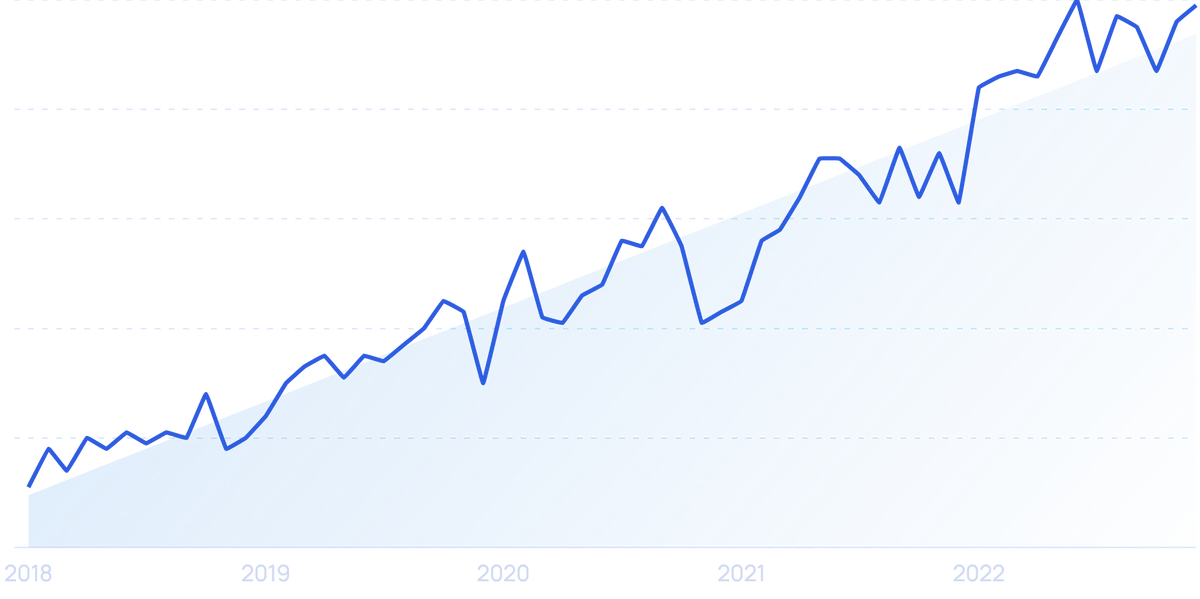 Search volume shows growing interest (800% in 5 years) in "DecSecOps".
In the traditional development approach, there was plenty of time for the code to go through testing and security processes because new software was released every few months or even years.
Today, new features and code are being pushed out very quickly, so quickly that security testing cannot keep up.
The DevSecOps integration is crucial when it comes to implementing security without slowing down development or delaying releases.
Instead of security being a concern at the tail end of the development process, developers can fix security issues in the code in real time.
The result is software that's deployed as quickly as possible while being as secure as possible.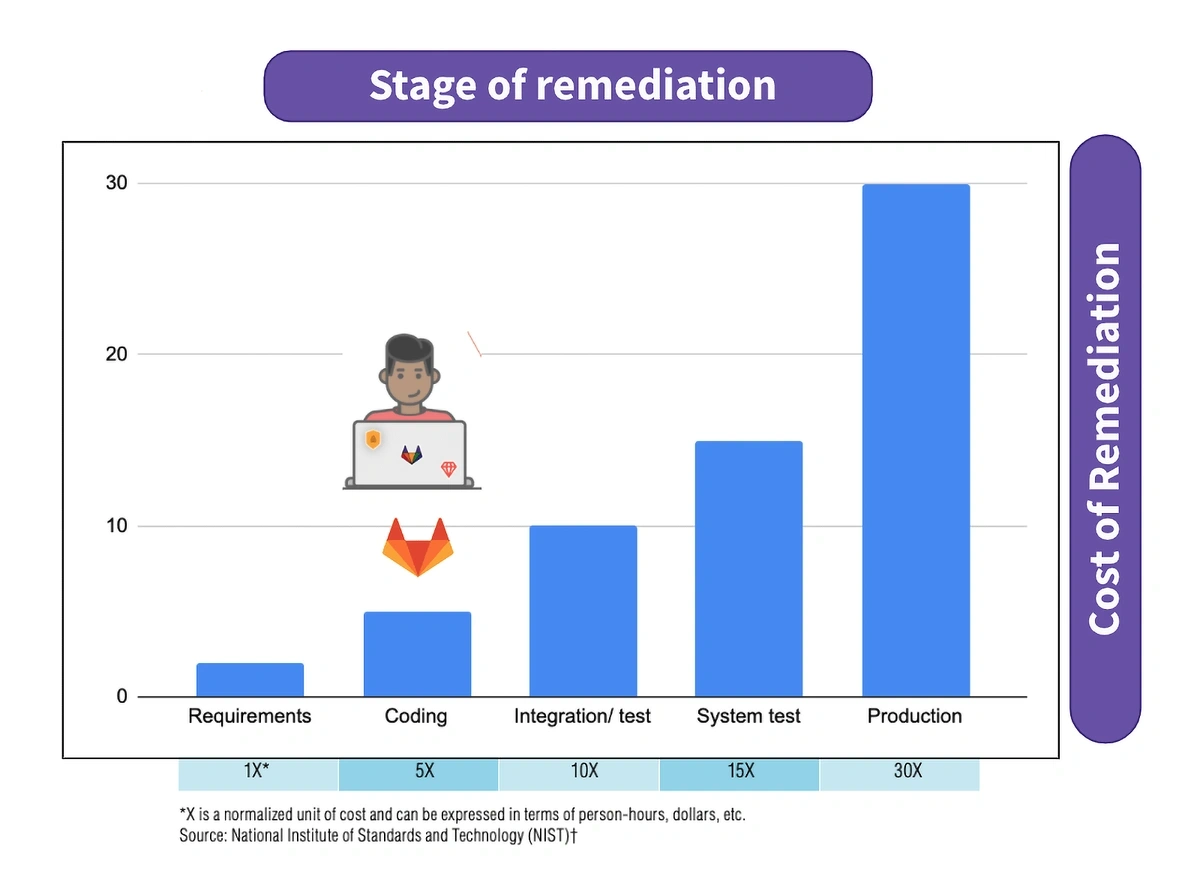 Fixing security issues earlier is much quicker and more cost-effective than fixing issues in the production stage.
Many teams are adopting this approach. In a 2021 GitLab survey, 70% of security professionals said their teams have moved security earlier in the development process. That was compared to 65% in 2020.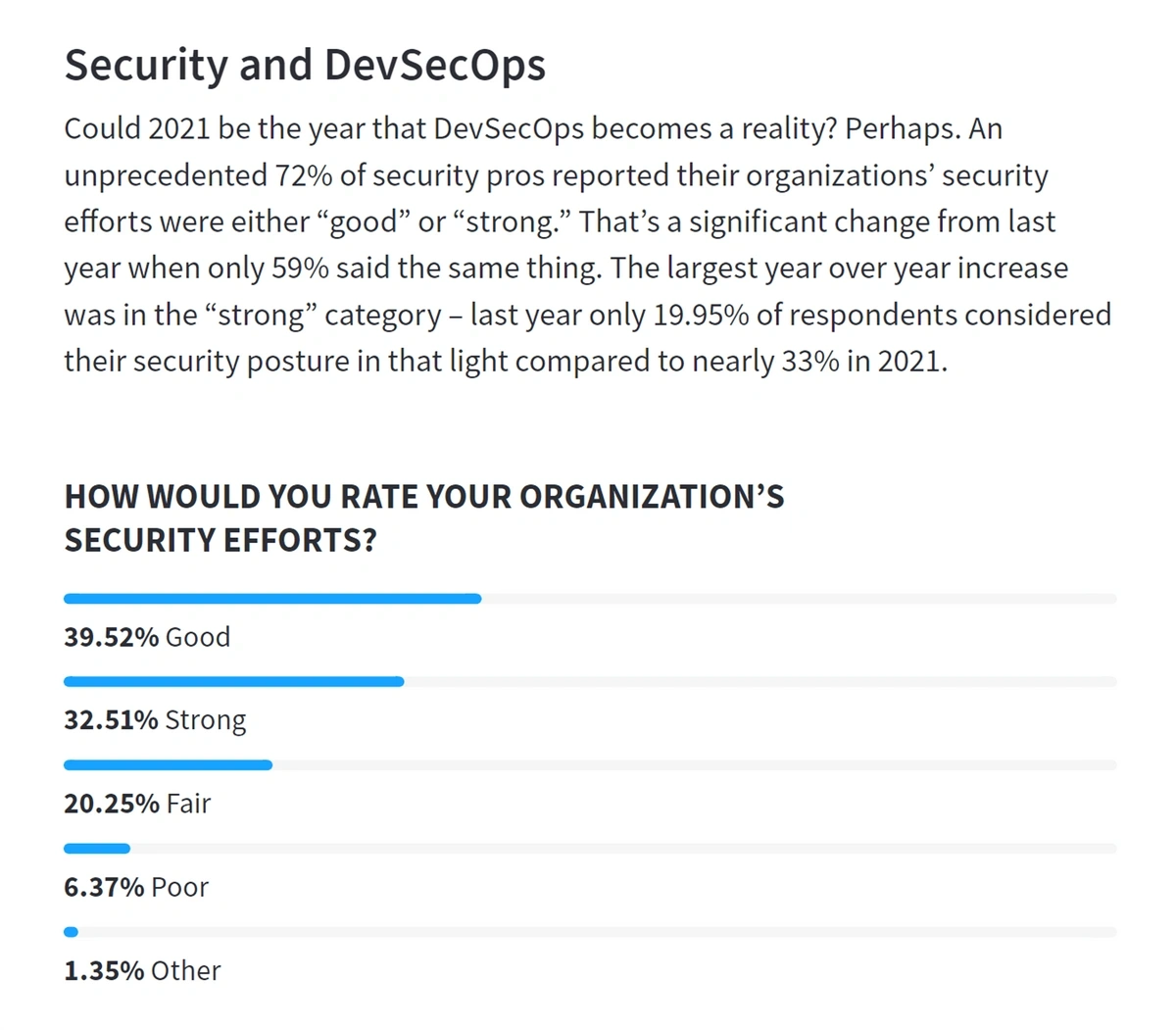 GitLab reports that respondents are becoming more confident in their security posture.
However, there's still internal debate regarding the DevSecOps strategy.
The GitLab survey reported that 45% of security team members say that developers catch less than one-quarter of bugs in the code.
However, the ROI of utilizing the DevSecOps strategy is solid.
Those organizations that use the strategy deploy code 46x more frequently than low-performing teams.
These organizations also reduce costs 56% more effectively and are 144% more likely to resolve security flaws quickly.
Conclusion
That wraps up the 11 emerging trends in software development happening right now.
Interconnectivity, automation, and cloud computing are likely to continue on the path of rapid adoption. However, these developments do come with challenges.
Are we, as a society, ready to integrate this much technology into our everyday lives? Hackers are betting on it and are ready to pounce on any vulnerabilities.