6 Key Software Development Trends (2022-2024)
You may also like:
Global IT spending was down 5.4% in 2020, largely due to the volatility caused by the pandemic.
But, the industry but began to rebound last year, with total projected spending of $3.8 trillion.
This year, software developments have been tapped to help society do everything from building apps with zero IT experience to monitoring patients in hospitals to tracking social distancing in the workplace.
Where will software and tech take us in 2022? Let's dive right in. Here are the top six software development trends.
1. Businesses adopt low-code and no-code development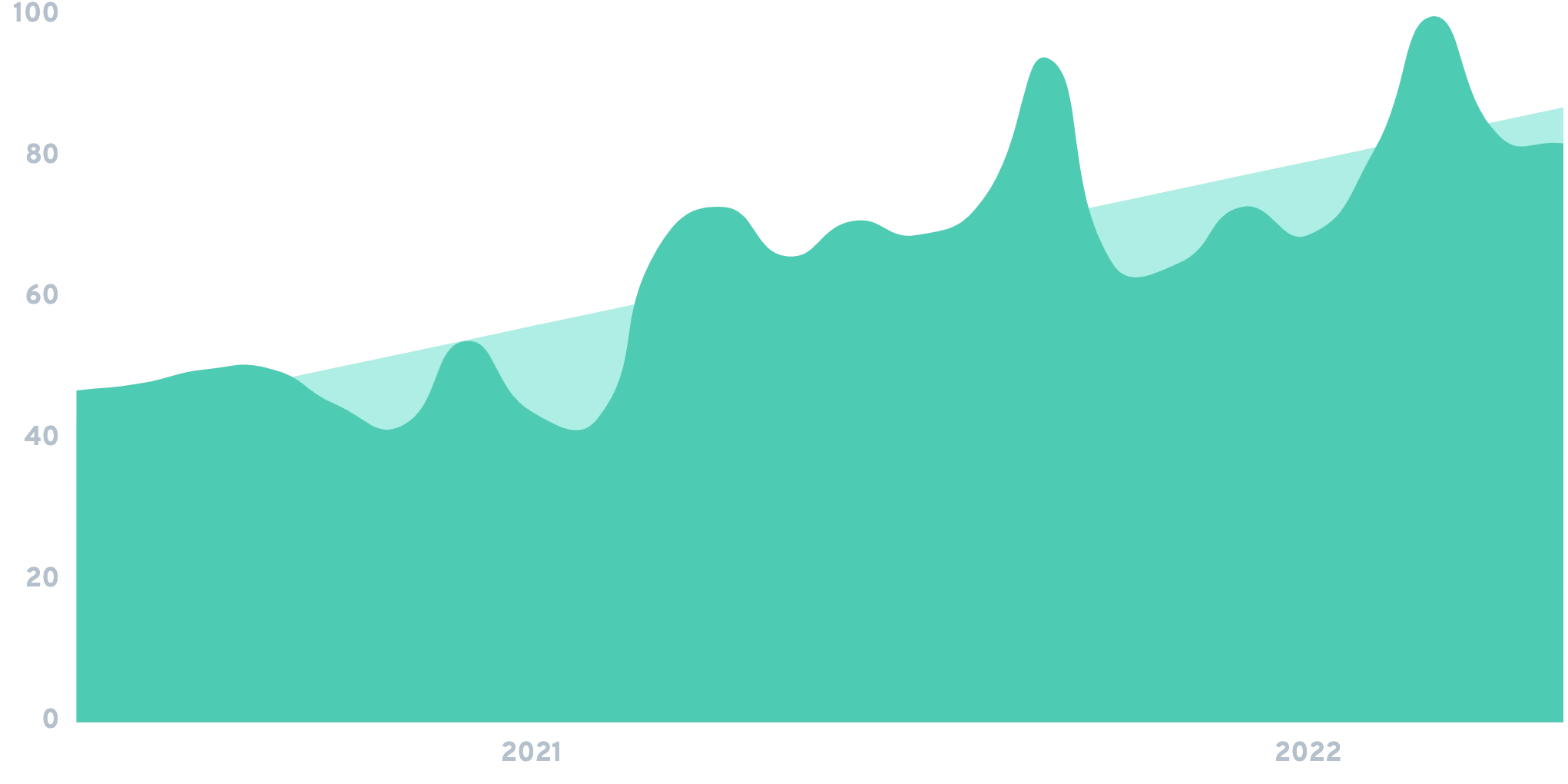 The popularity of "low-code" has exploded and searches are up 74% over the last 2 years.
Software development is often riddled with problems and setbacks.
Approximately 20% of all software projects fail and another 52% are "challenged".
Of course, the process is incredibly expensive, too.
These factors have led some in the software development industry to start encouraging a simplified way of creating software: low-code/no-code development.
As its name implies, developing software in this way does not utilize advanced IT knowledge or coding skills.
Low-code and no-code development can translate into easier, faster development.
No-code platforms allow users to drag-and-drop blocks of pre-made code in a visual interface.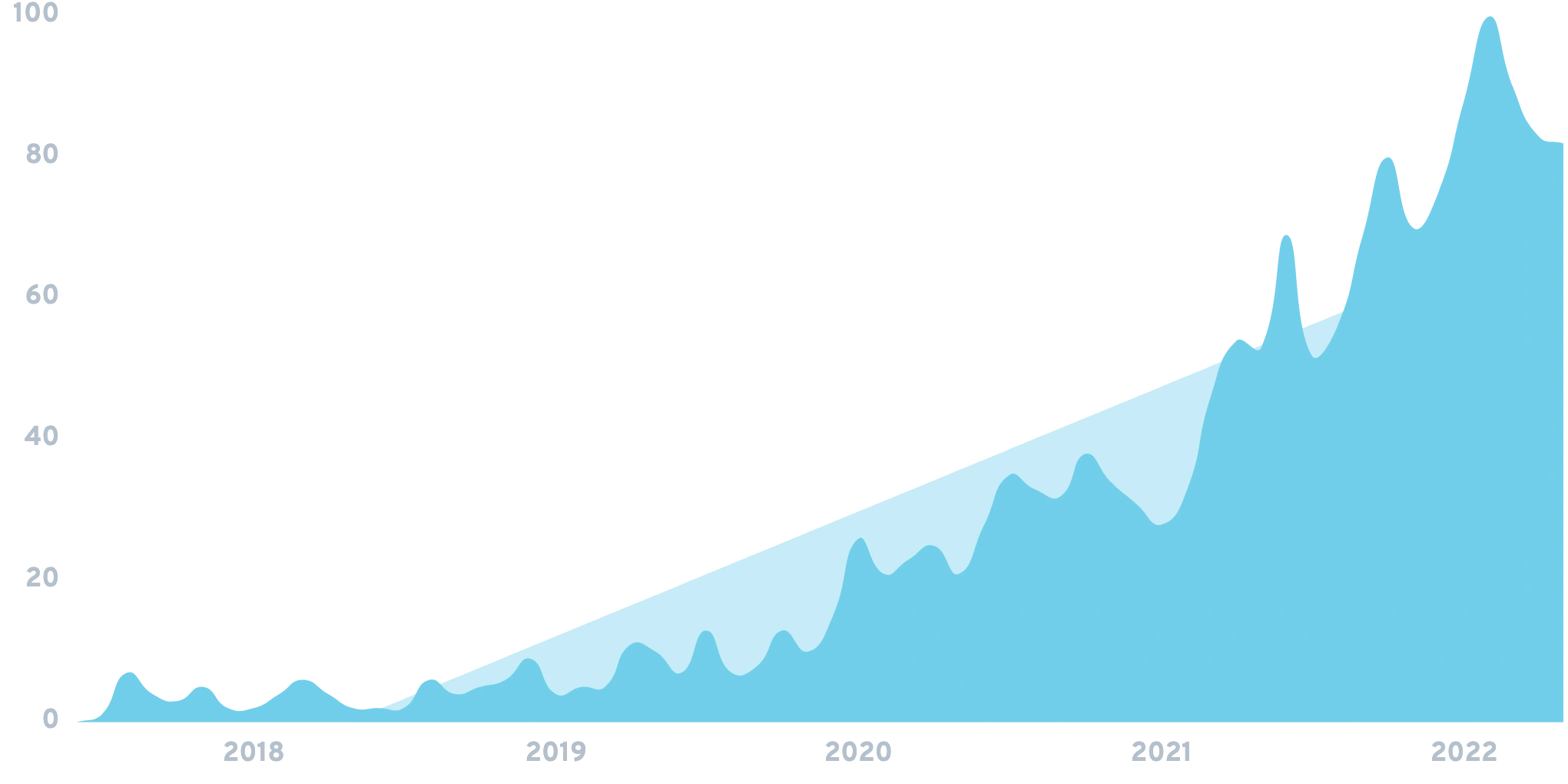 Search growth for "no-code" is up 8,100% in 5 years.
Low-code platforms are a bit more technically involved, but provide shortcuts that help developers work quicker.
KPMG reports that 100% of enterprises that have put a low-code platform into place have reported a positive ROI.
They also say that the number of business executives who list this type of development as their most important automation investment has nearly tripled since the pandemic began.
Forrester predicted that 75% of all app development would use these types of platforms in 2021. That's an increase of 31% over 2019.
According to Gartner, more than half of all medium to large enterprises will have adopted a low-code application platform by 2023.
Bubble is one example of a visual development tool that's been used to build everything from budgeting programs to project management tools to virtual learning apps.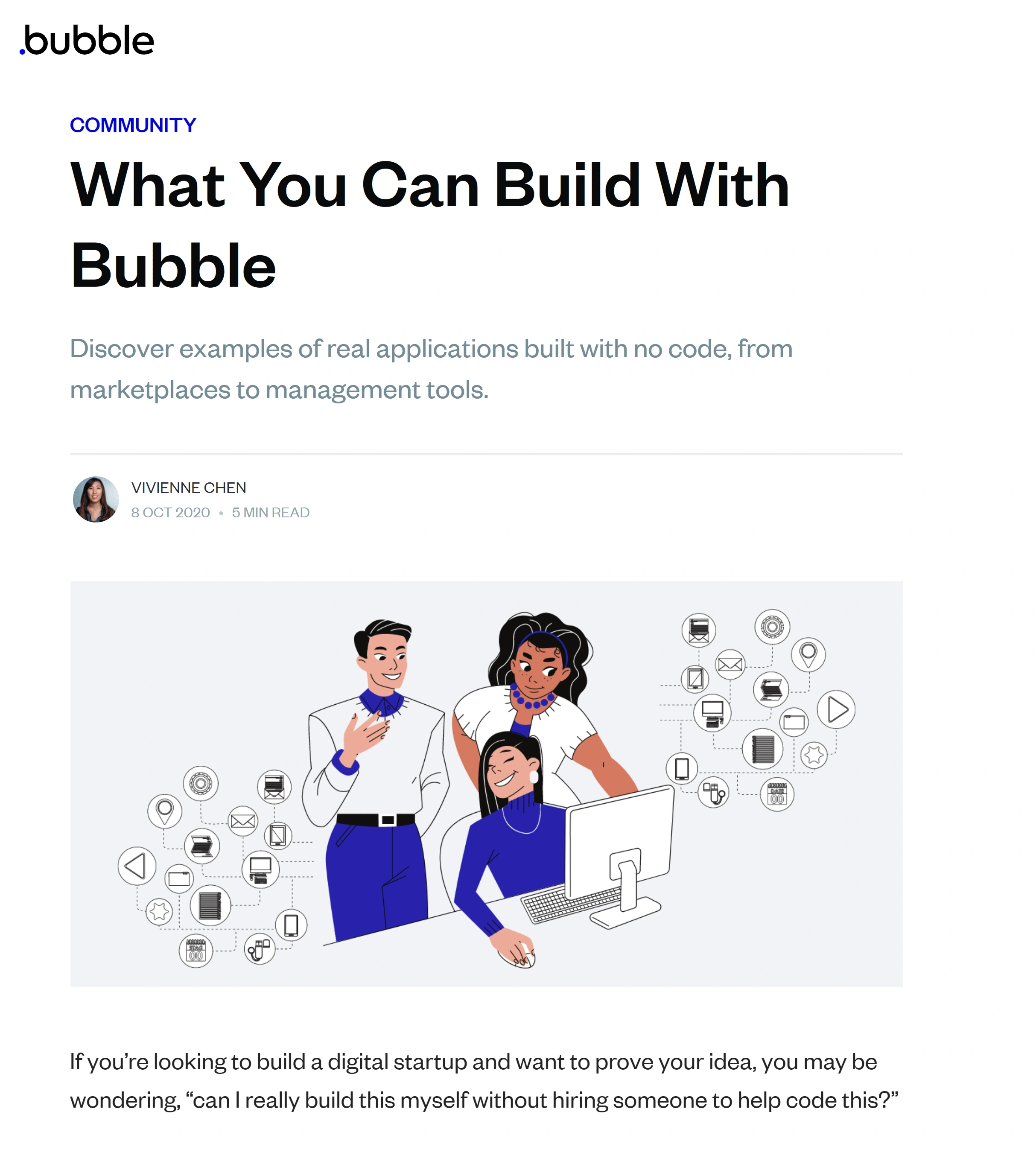 Bubble is a growing no-code tool for creating web apps.
In its first round of venture capital funding, the company raised $6.25 million.
Adalo is another popular no-code platform. The startup announced an $8 million series A round.
2. Remote work drives an increase in cloud computing
As much as COVID-19 was the downfall for many industries, it prompted the rapid acceleration of cloud computing.
During the pandemic, most businesses expanded remote work capabilities and experienced a huge shift in IT needs.
The cloud was the perfect tool to help companies who needed to shift and adjust to the increased demand of this "new normal".
More than 90% of respondents in one survey said that cloud usage is higher due to the pandemic.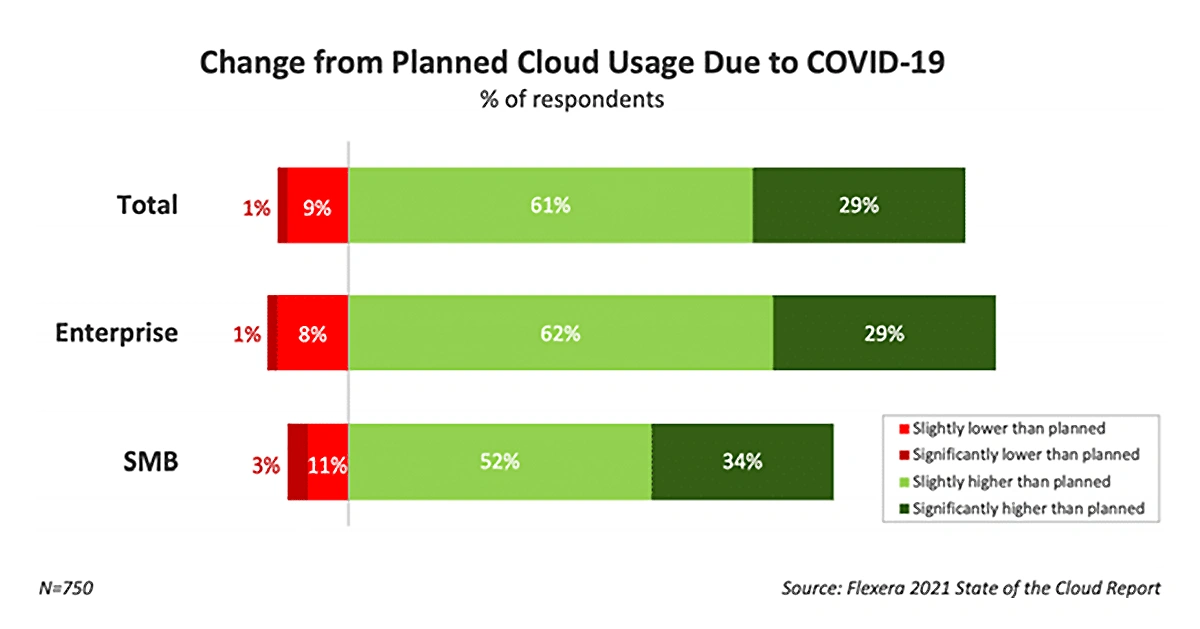 In many businesses, cloud usage is expected to increase significantly this year.
But the pandemic also showed how useful the cloud can be to businesses who need to down-scale.
For example, the bottom fell out of the tourism industry and those using cloud services don't need to maintain expensive data centers when they didn't need them.
Even though global IT spending decreased in 2020, cloud spending grew by more than 6% to total revenue of $258 billion.
Experts say the market will double over the next few years.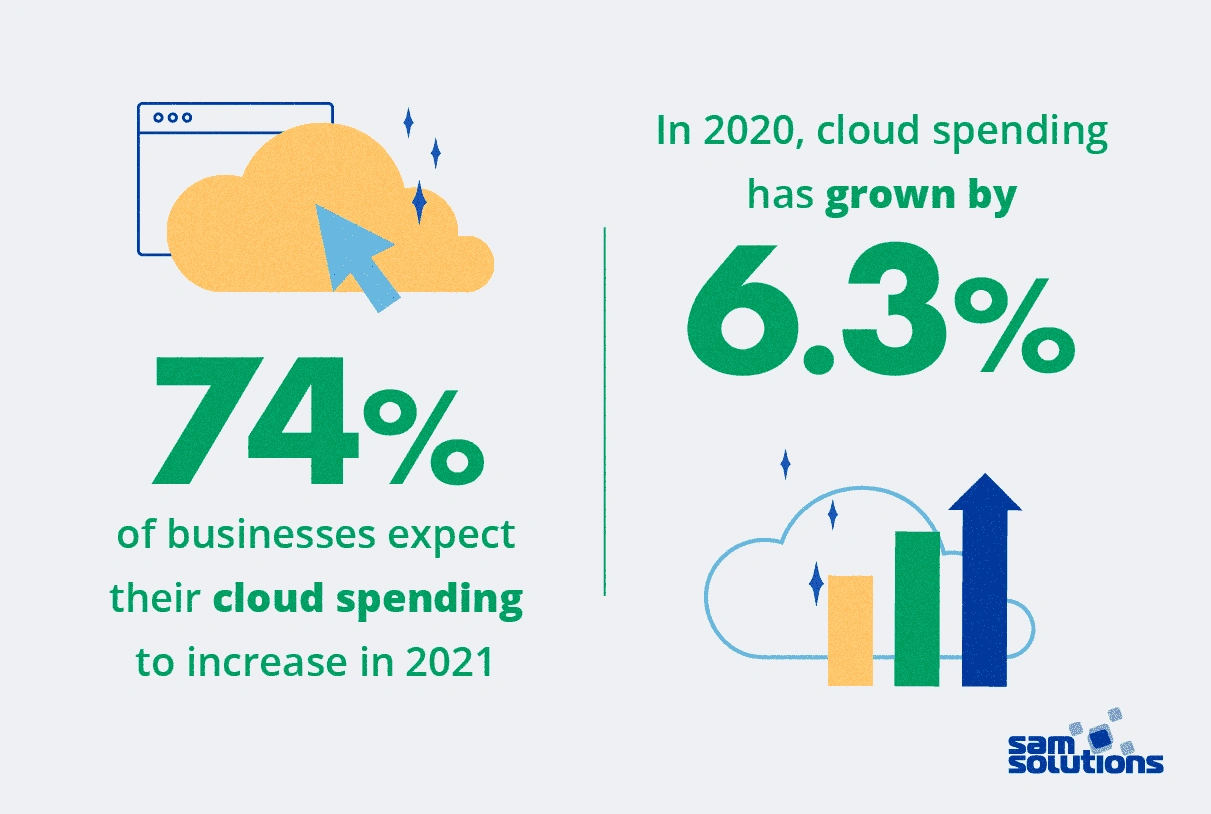 Cloud spending was up in 2020, and experts expect this spending increase to continue in 2021.
Global tech consulting firm Accenture launched "Cloud First" with a $3 billion investment in September 2020.
The move created a group of 70k cloud professionals working to get Accenture's clients moved to the cloud quicker and more efficiently.
Accenture is also focused on acquiring cloud companies.
Most recently, they bought Industrie&Co and have acquired several other companies since the start of 2020.
Due to the massive growth in this industry, demand for cloud-native software engineers has never been higher.
This is especially true for individuals with experience in Software as a Service (SaaS), Infrastructure as a Service (IaaS), and Platform as a Service (PaaS).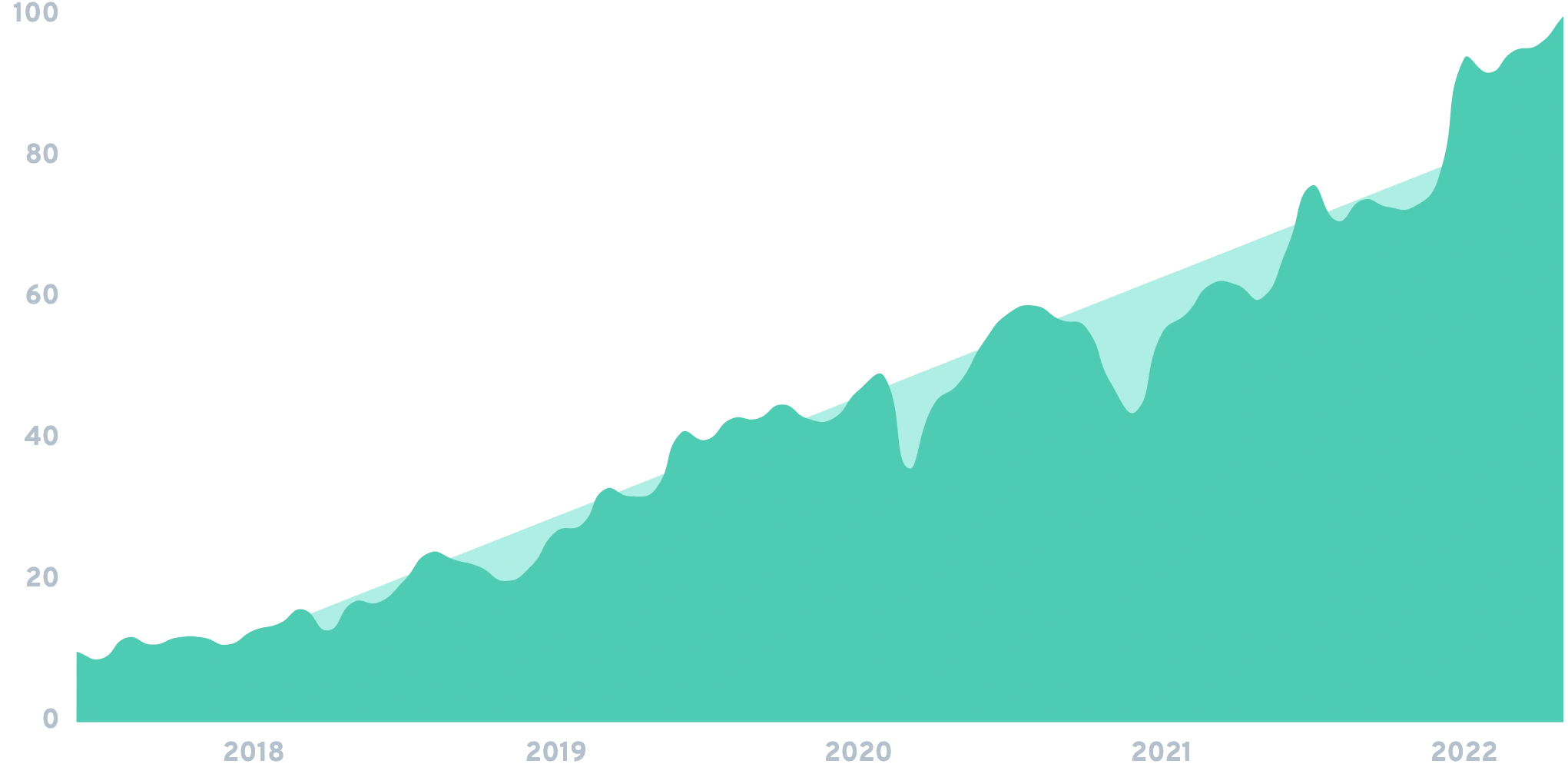 Searches for "cloud engineering" are exploding with a 900% increase in the past 5 years.
Amazon, which holds a 33% market share in cloud infrastructure services, is working proactively to train more people on cloud computing.
In December 2020, the company announced it would provide free cloud computing skills training to 29 million people across the globe in the next five years.
3. Malicious software development ramps up
Cybersecurity will likely remain a major concern in the next few years.
Ransomware, in particular, is a threat that's expected to increase.
That means businesses will be looking for the right tools to keep their assets protected.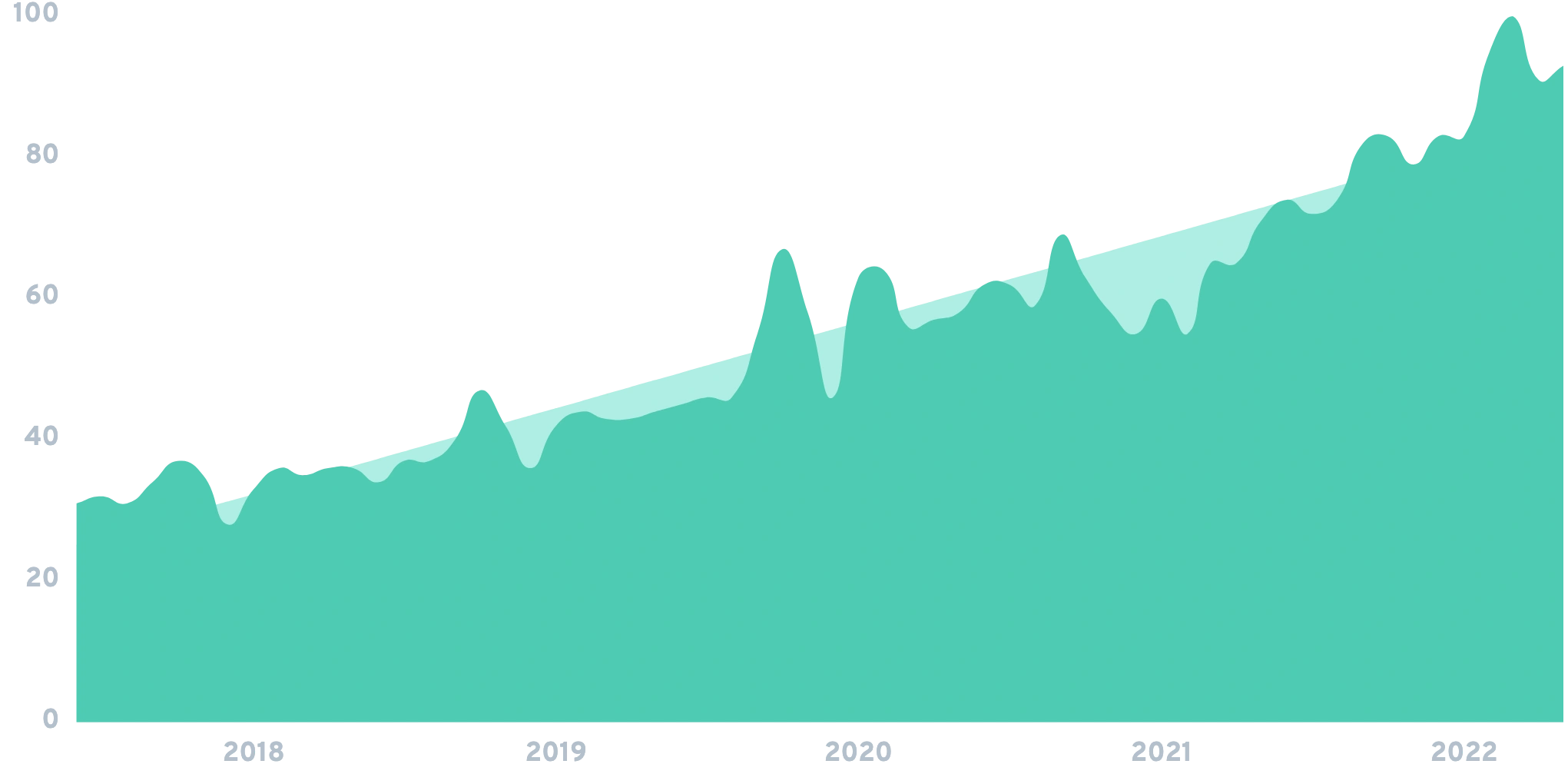 Searches for "cybersecurity" continue to rise. The topic has grown 200% in 5 years.
In 2020, ransomware attacks increased 435% over 2019.
Ransomware payments are up too. The average payment in November 2020, calculated at $233k, had increased 31% from Q2 to Q4 2020.
Attacks in recent months have been devastating.
Hackers have targeted United States government agencies, hospitals, and major energy companies.
One of the latest trends in ransomware is double extortion.
In this malicious tactic, attackers first hold the company's data for ransom. Later, they threaten to release that data if another ransom isn't paid.
In one report, IBM said double extortion attacks accounted for 59% of the ransomware attacks that IBM Security X-Force handled last year.

How businesses are protecting themselves against ransomware is evolving in 2022.
IBM Security reports that organizations with fully deployed security automation potentially save themselves $3.58 million in the event of a data breach than those who don't have automation deployed.
Many organizations are going so far as to invest in cyber insurance.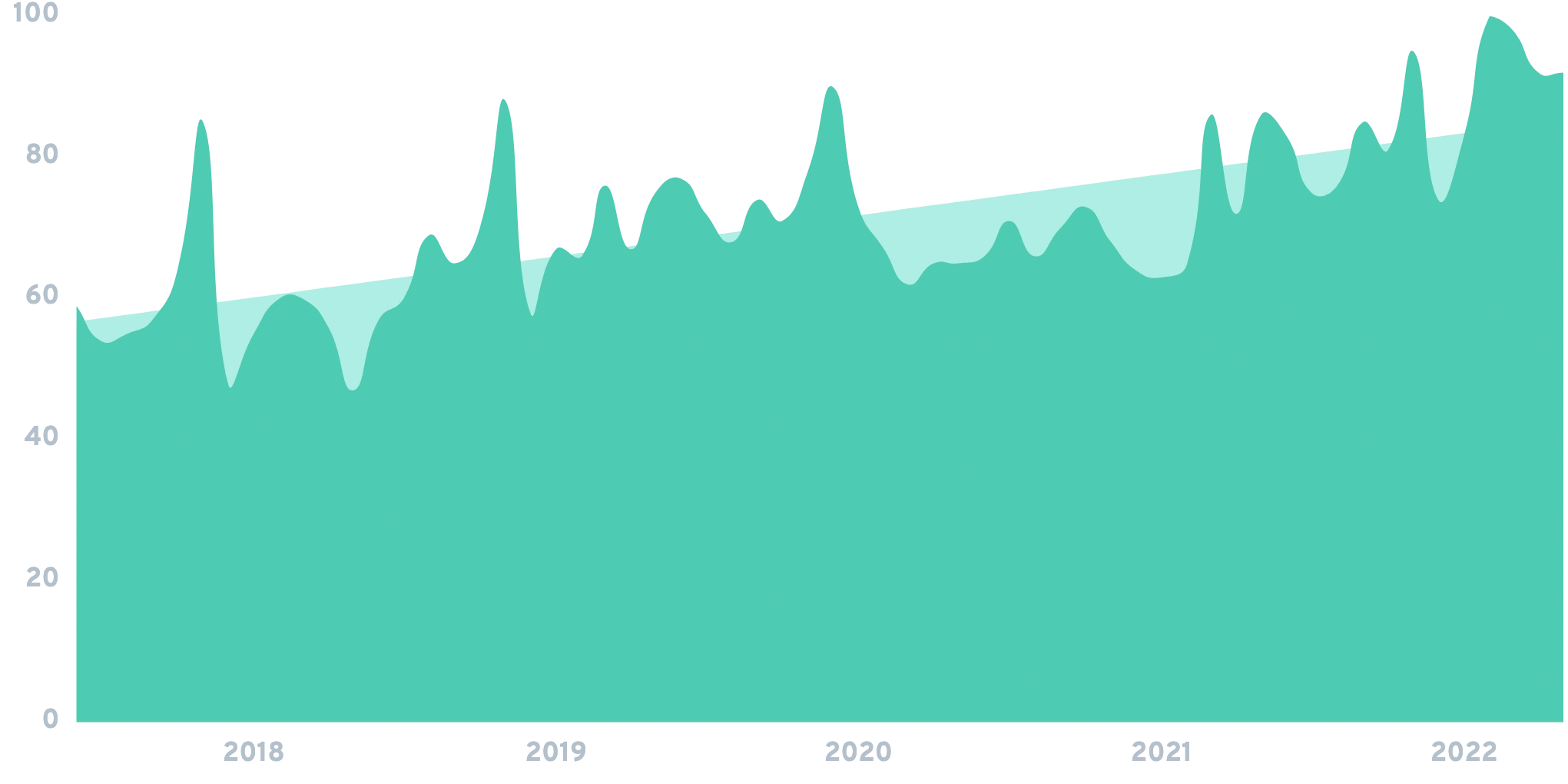 Google search engine demand for "cyber insurance" is up 55% over 5 years.
In fact, Colonial Pipeline, the owner of the nation's largest fuel pipeline network that fell victim to a ransomware attack in May 2020, reportedly had a $15-million policy.
The number of cyber policies increased 60% between 2016 and 2019.
However, ransoms and the losses associated with the attacks are so expensive that insurers may no longer offer coverage for these events in the coming years.
4. AI adoption accelerates
According to predictions from IDC, the global artificial intelligence (AI) market was expected grow more than 16% during the course of 2021 to $327.5 billion.
And they expect it to reach $500 billion by 2024.
Some form of AI and machine learning used in nearly every industry and it's in our homes too, whether we realize it or not.
The rate of adoption was increased significantly by COVID-19 and this acceleration is expected to continue in the coming years.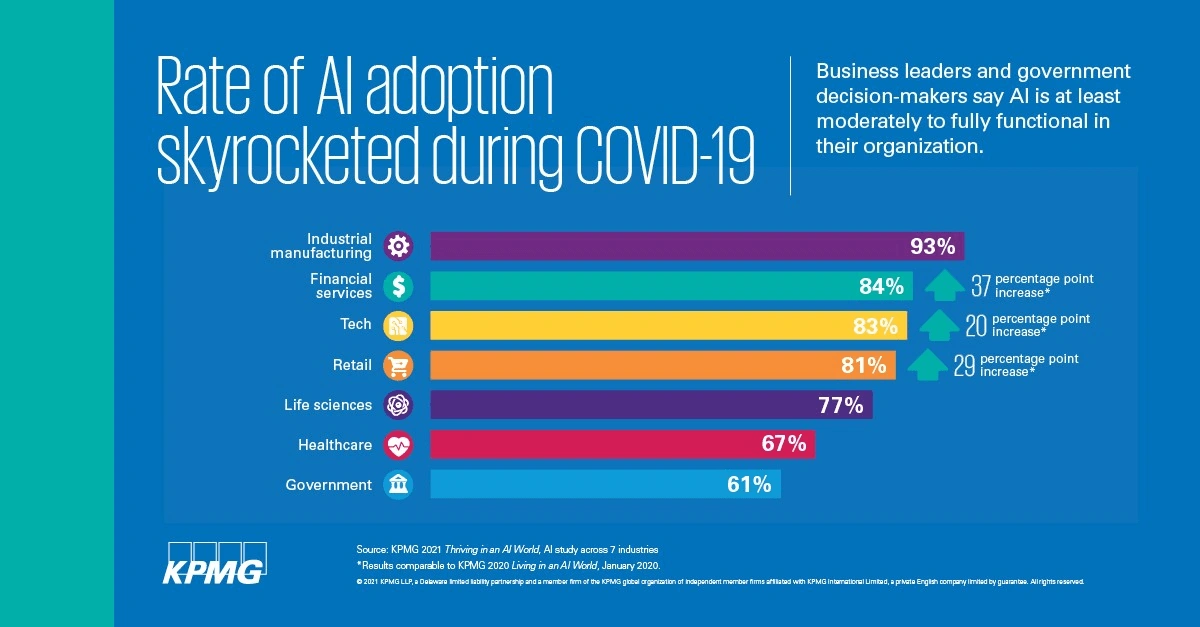 KPMG's research shows that AI adoption has especially accelerated in the financial services industry.
In the banking industry alone, experts predict that AI could drive $1 trillion of additional value every year.
AI helps lower costs by increasing efficiency and reducing errors.
It also allows banks to provide the kind of hyper-personalization that customers are demanding in today's world.
One of the other industries in which AI software is poised to make the biggest impact in the coming years is healthcare.
According to a survey in March 2021, 90% of hospitals have an AI strategy in place.
That's compared to just 53% in the third quarter of 2019.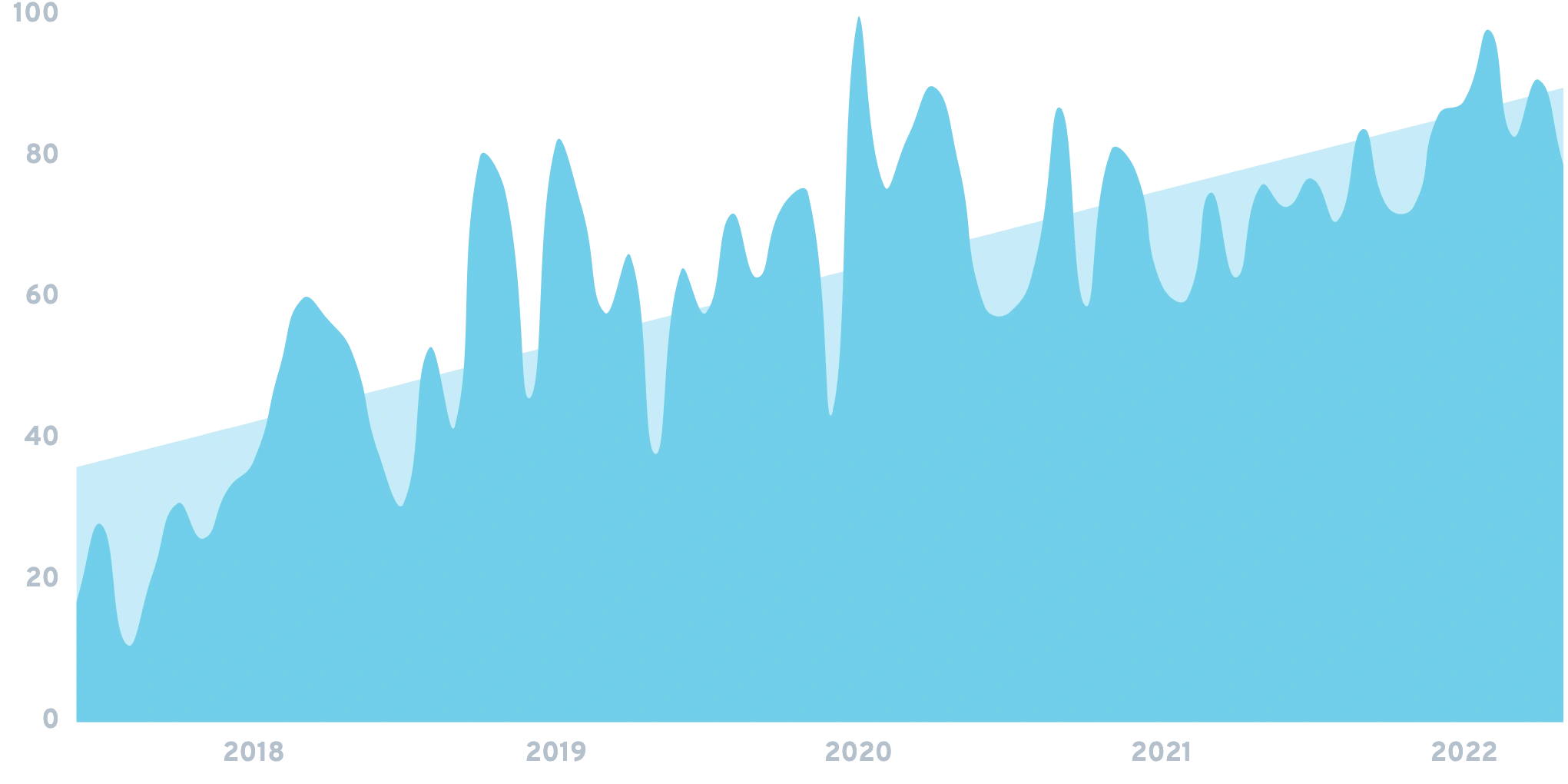 AI's impact in the medical field is undeniable. Searches for "ai and healthcare" have increased 364% in the past 5 years.
A Deloitte study revealed that the top three goals of AI in healthcare are to lower costs, improve efficiency, and enhance existing products and services.
For example, AI software can improve symptom analysis in patients, detect medication errors, and automate administrative tasks.
Another sign that healthcare AI is an important trend: venture capitalists have invested more than $8.5 billion in the top 50 healthcare AI firms.
In the business world, AI software is making an impact through Robotic Process Automation (RPA).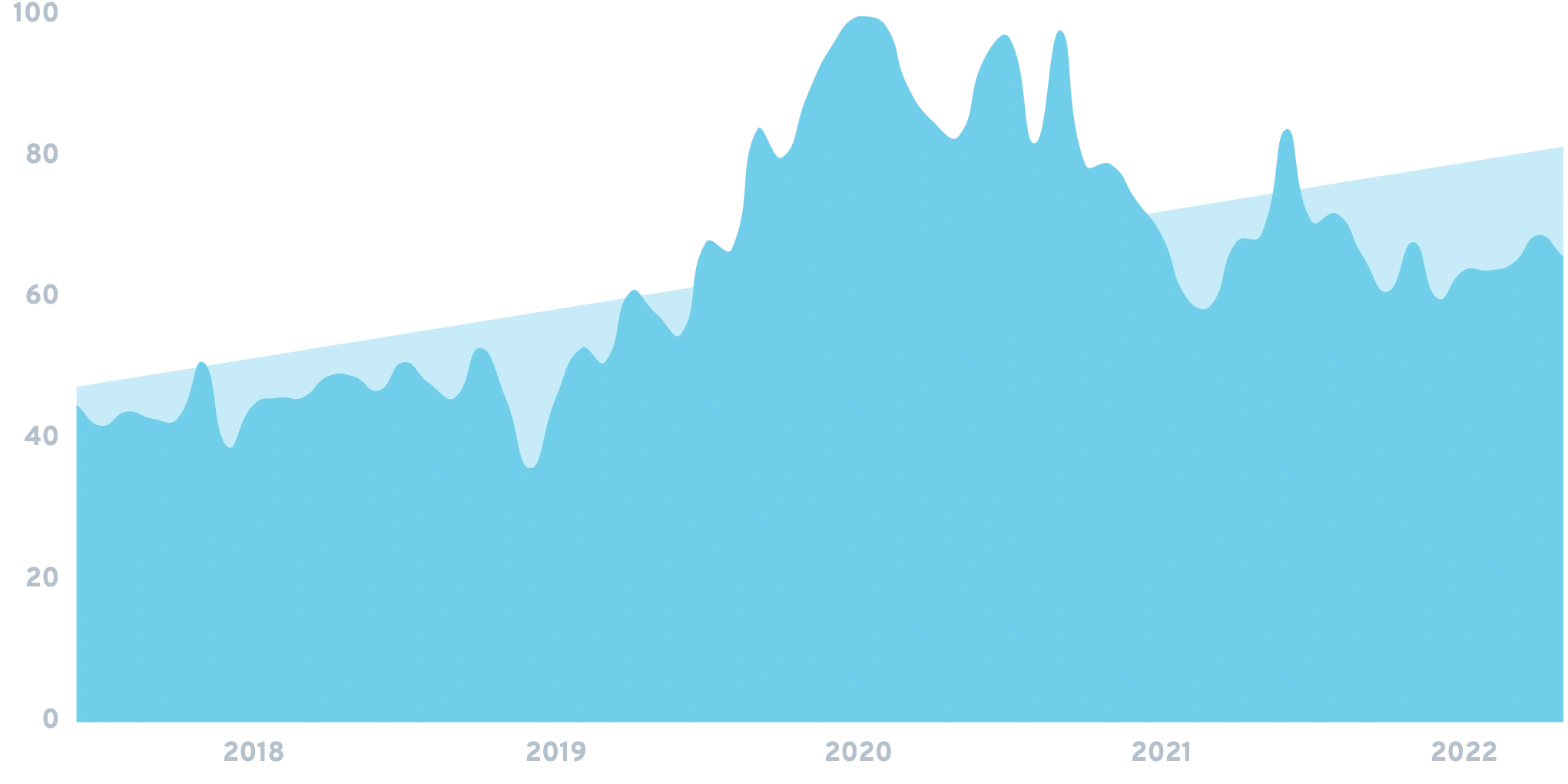 Search growth for "robotic process automation" has increased by 46% over 5-year span.
This type of technology automates mundane tasks so that skilled workers can focus on projects with higher potential value.
One survey showed more than 50% of businesses are using RPA and nearly 20% who aren't using it now expect to start in the next two years.
Here are just a few examples of what businesses are using RPA for in 2022: data entry, mass emails, lead nurturing, financial planning, payroll, and compliance.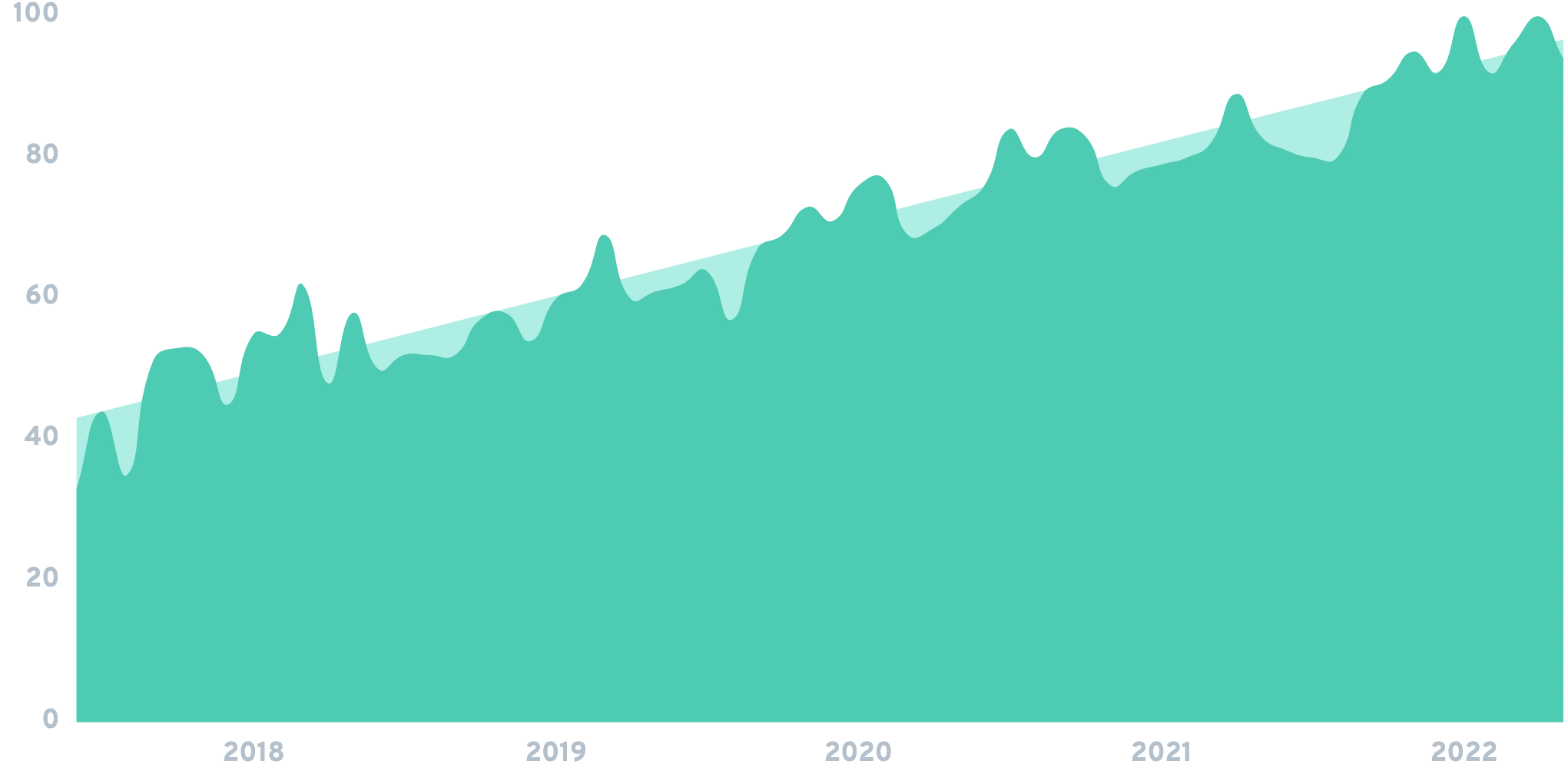 Searches for "ai software" have shown a steady climb, increasing 184% in the past 5 years.
Even the United States Air Force is utilizing AI software capabilities.
In late 2020, a military aircraft flew with an AI algorithm controlling some tasks that a pilot normally performs during flight.
An Air Force representative said, "The best operator in the world can lose to a mediocre operator that has AI on a good day...[AI] will create a confounding effect on adversaries because now they have to train for both our people and our AI".
5. Rust gains momentum
Rust is the programming language having a breakout few months.
It's been voted the "most beloved language" in the past four years in StackOverflow surveys.
And it's the second-most used programming language.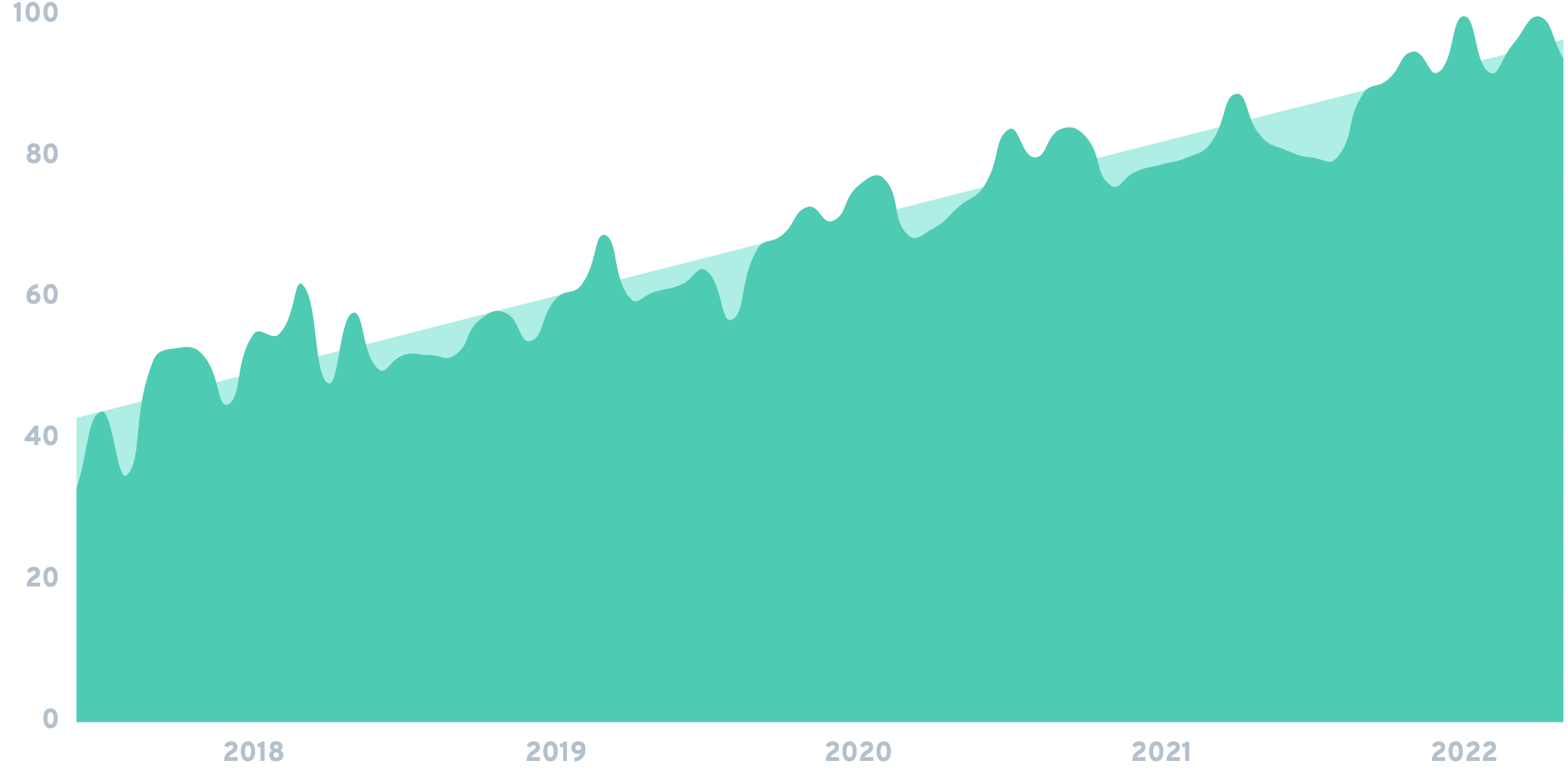 Searches for "Rust" have increased 144% in the past 5 years.
Rust was released in 2010 by Mozilla Research.
However, in early 2021, the formation of the Rust Foundation was announced.
The Foundation now owns all trademark and infrastructure assets.
Part of the appeal of Rust is that it's a "memory safe" language, which means that it eliminates the risk of memory-related bugs in the software.
It's also praised for its speed, security, and performance.
In a recent survey of .NET developers, Rust was the second choice when users were asked what language they're interested in learning.
In the past year, the language also moved up 18 spots on the Tiobe popularity index.
Some big-name companies, like Facebook, Dropbox, and Amazon, use Rust in production.
And, several large corporations are investing in the language, too.
This programming language has even been used by hackers in writing malware.
It's nicknamed RustyBuer.
6. Continued expansion of the IoT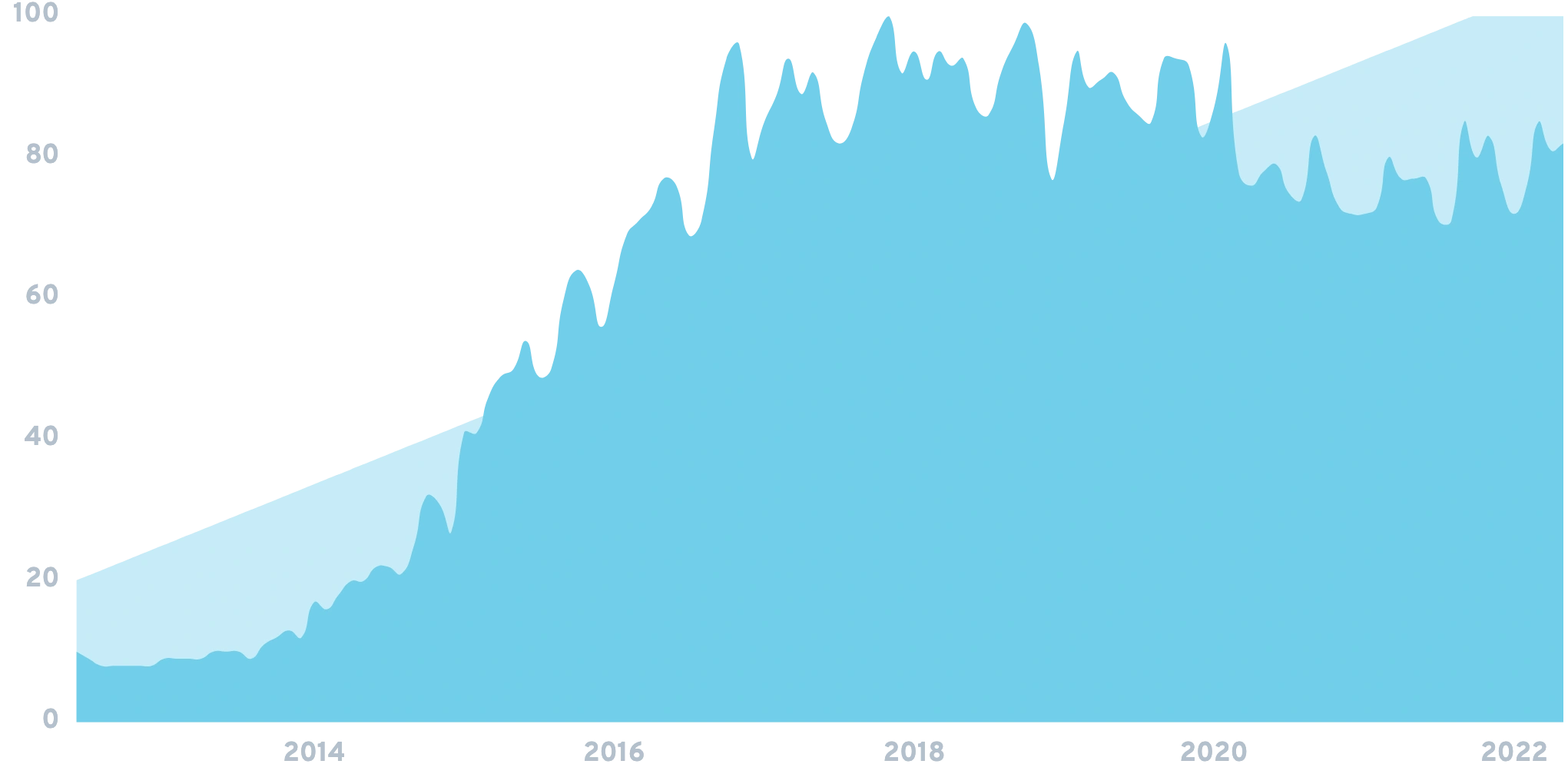 Search growth for "internet of things" appears to be on the rise once more.
The Internet of Things (IoT) is set to continue expanding in 2022 and beyond.
Stats show that there will be 65 billion IoT devices in 2025. That's 6x more than in 2018.
In late 2020, the number of IoT connections surpassed the number of non-IoT connections.
In particular, smart speakers are expected to continue in an upward trend. Data shows the market could be worth $35.5 billion in 2025.
Forrester predicts that wearables and sensors aimed at allowing patients to monitor their own health at home will surge in 2021 and beyond.
The data that's collected from the patients can enable doctors to be proactive in medical treatments and improve care.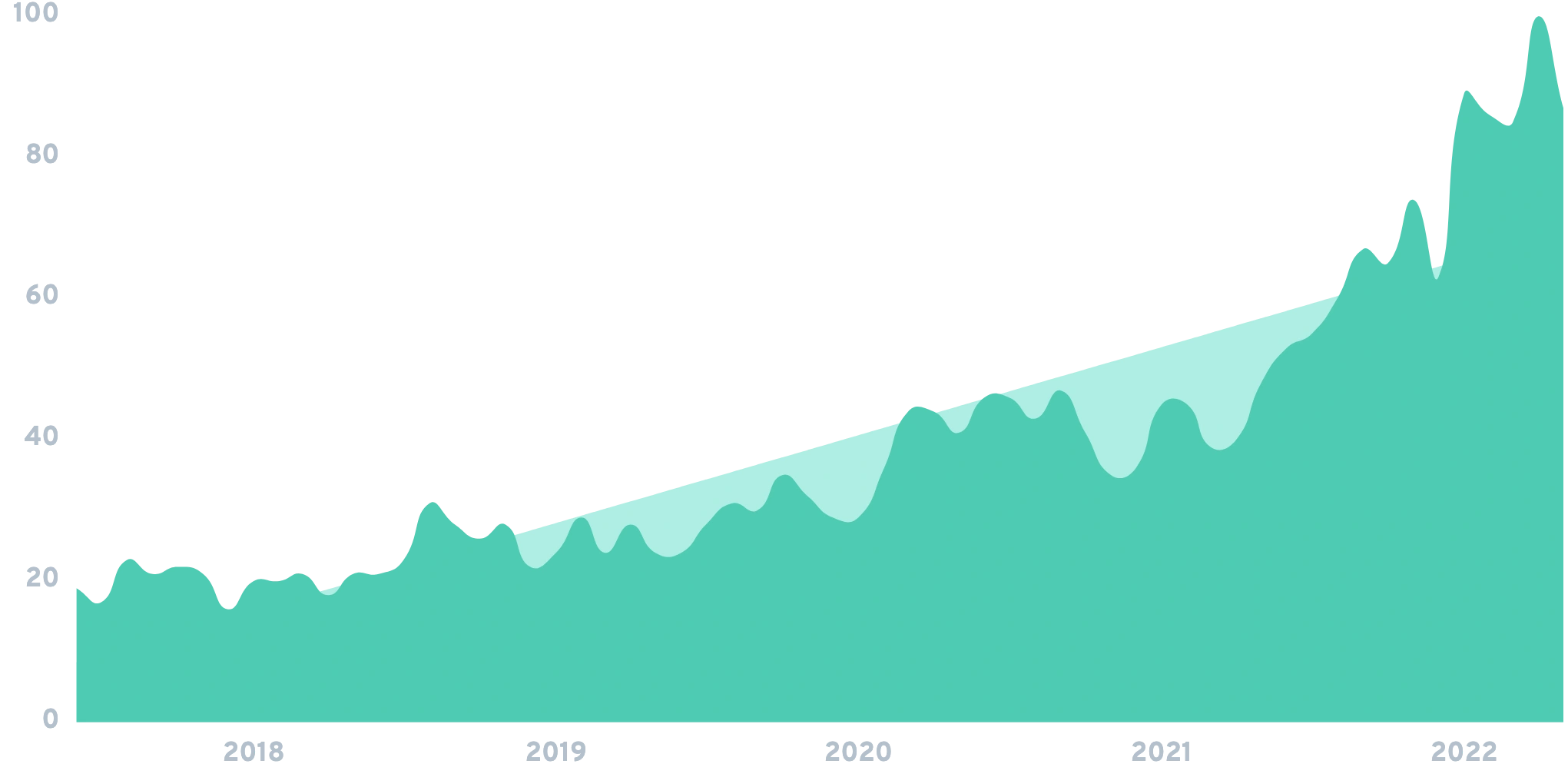 Searches for "remote healthcare" have increased 357% over the past 5 years and have remained high since the pandemic.
The IoT goes way beyond use in homes.
Bayer recently developed an inexpensive IoT chip that's similar to a mailing label.
It can be attached to anything from chemical compounds to seed packs to track items after leaving the warehouse and throughout distribution.
There are also wide-ranging capabilities of the IoT making an impact in the workplace.
Most notably in 2020, companies considered using RFID tags to monitor employees' hand washing and social distancing.
Conclusion
That wraps up the six emerging trends in software development happening right now.
Interconnectivity, automation, and cloud computing are likely to continue on the path of rapid adoption. However, these developments do come with challenges.
Are we, as a society, ready to integrate this much technology into our everyday lives? Hackers are betting on it and are ready to pounce on any vulnerabilities.