7 Best Stackline Alternatives (2023)
Stackline may have failed to meet your business expectations, but that's okay—we're here to help you find the best alternative for your needs.
We've done our research and narrowed down our list to the seven best Stackline alternatives out there.
First, we'll take a quick look at the most common criticisms of the platform, and then we'll dive right into our list of alternatives. Let's get started.
What Is Stackline and What Are Its Flaws?
Stackline is a market intelligence tool that provides insight into ecommerce trends and consumer behavior. Boasting a dataset of over 300 billion consumer ecommerce searches, the platform collects and analyzes data from multiple sources so that ecommerce businesses can leverage trends and opportunities in the market.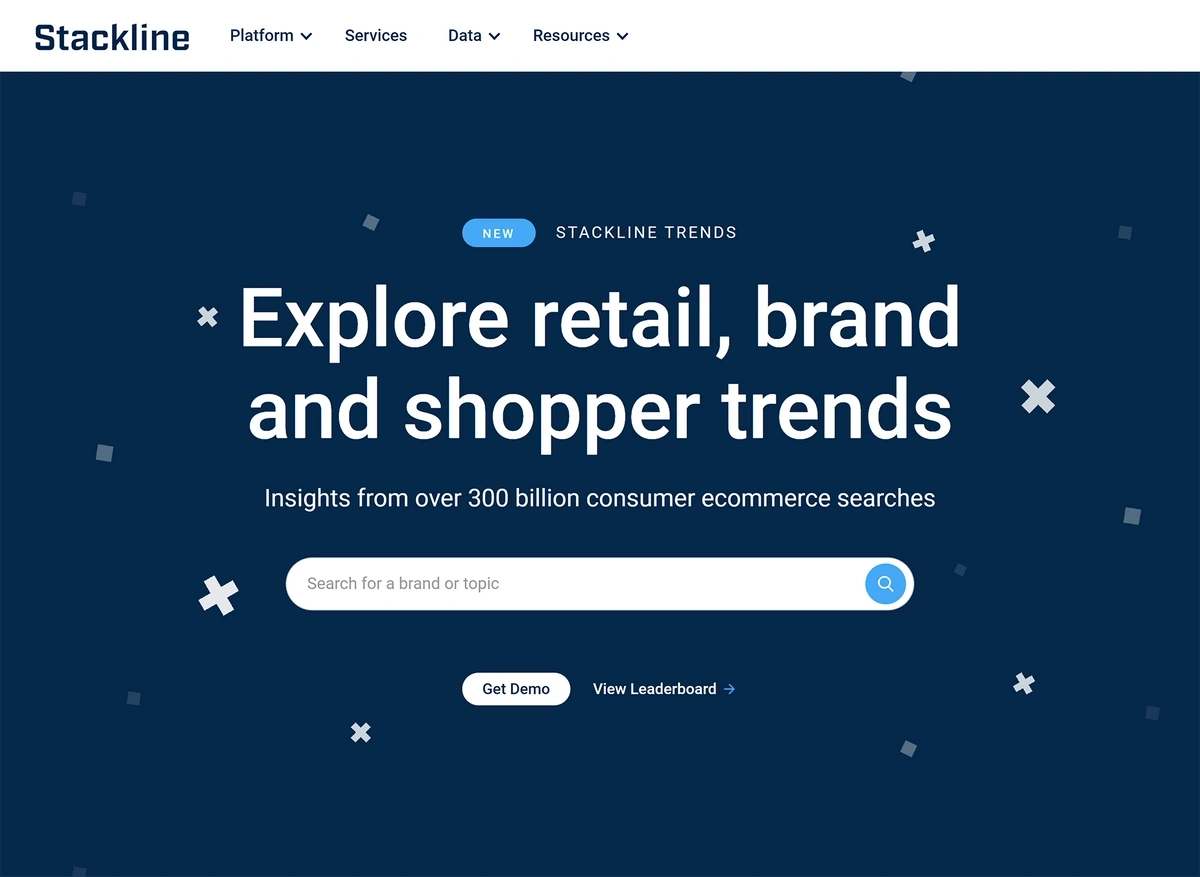 But Stackline's users have noted a few major flaws, namely in its complicated, expensive pricing, poor customer service, and lack of data accuracy. With that in mind, let's have a look at the best Stackline alternatives in 2023.
1. Exploding Topics - Best for Finding and Tracking Market Trends
Exploding Topics leverages advanced AI and machine learning algorithms to analyze a vast amount of data before our human analysts manually vet each trend.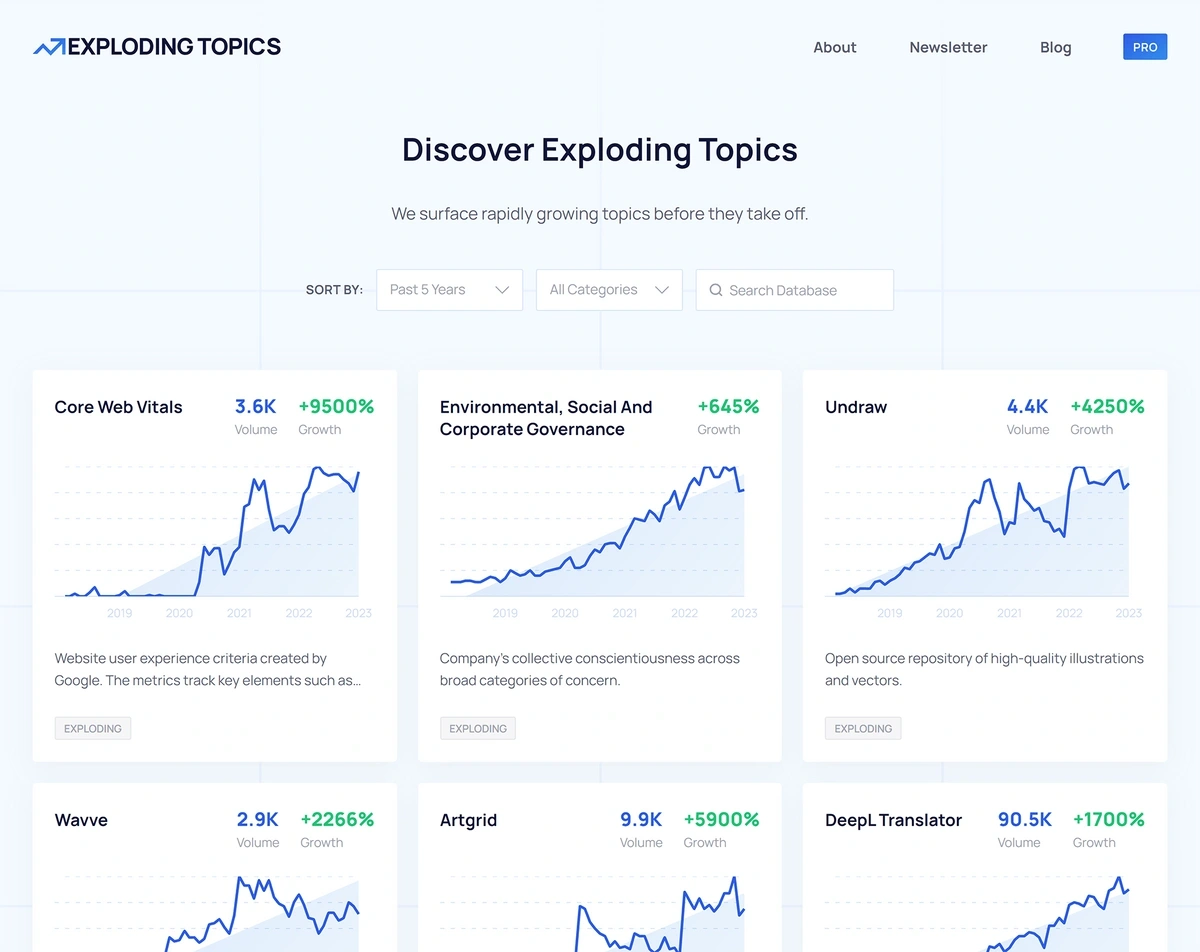 That way, we identify fast-growing DTC product categories before they go mainstream.
Take the below topic of air fryers as an example: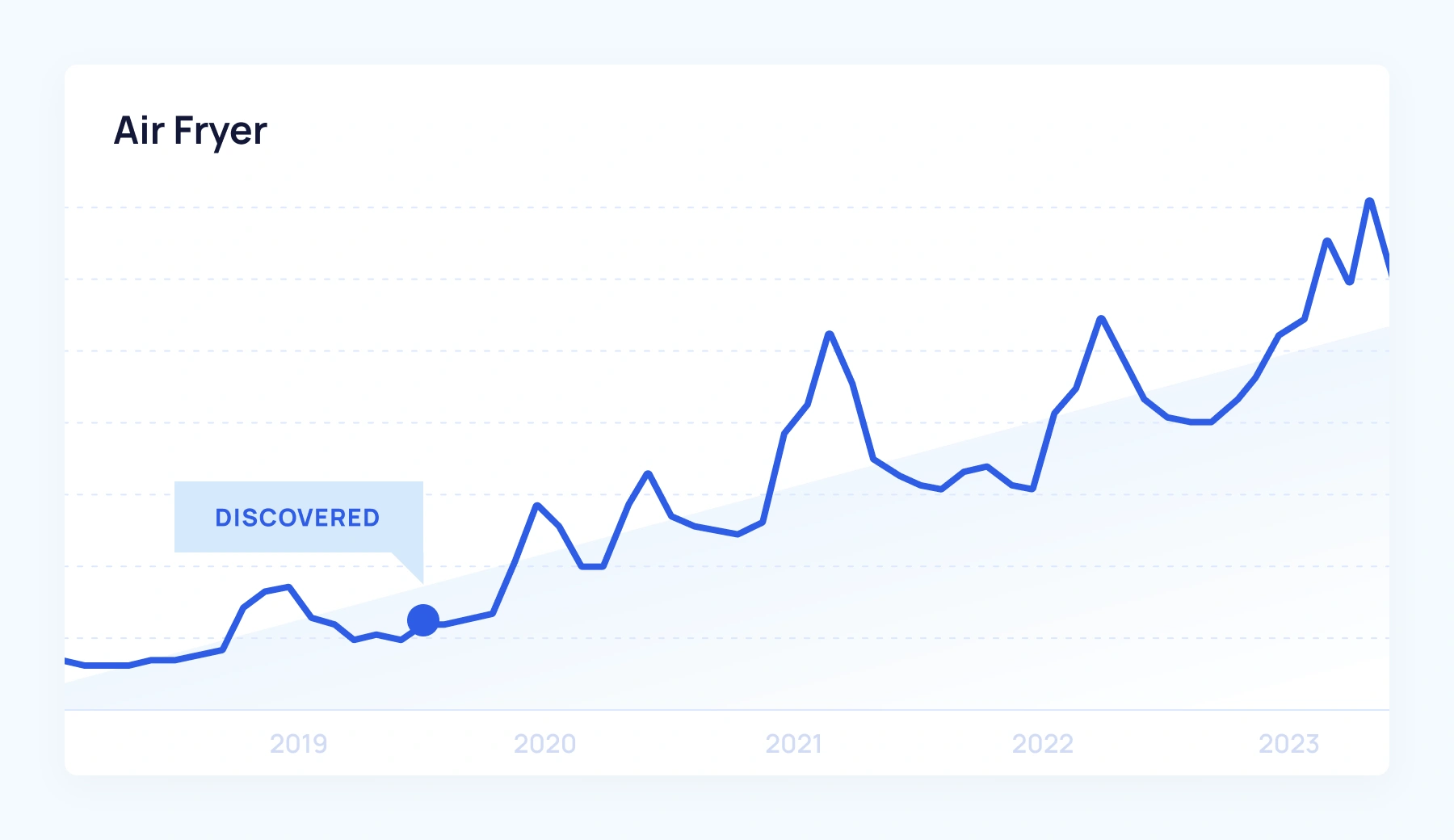 This is a topic that we first identified back in the summer of 2019. Consumer interest in this product (based on Google search growth) has grown by 5.6x since then.
For each entry in the database, we also include a category filter to make finding relevant topics easier, as well as any related topics.
Since every trend is manually vetted by our analysts, you can be confident that you'll be working with high-quality trend data. And our entire database is updated on a daily basis, so you always have the most up-to-date information.
While Stackline's "Trends" feature does offer you the ability to search specific market trends, it only provides limited information on search volume.
Why Choose Exploding Topics?
Exploding Topics is ideal for ecommerce businesses looking to identify and capitalize on emerging product and brand trends.
In fact, we now have a dedicated "Trending Products" feature that makes it easy to find trending products to sell on your ecom site.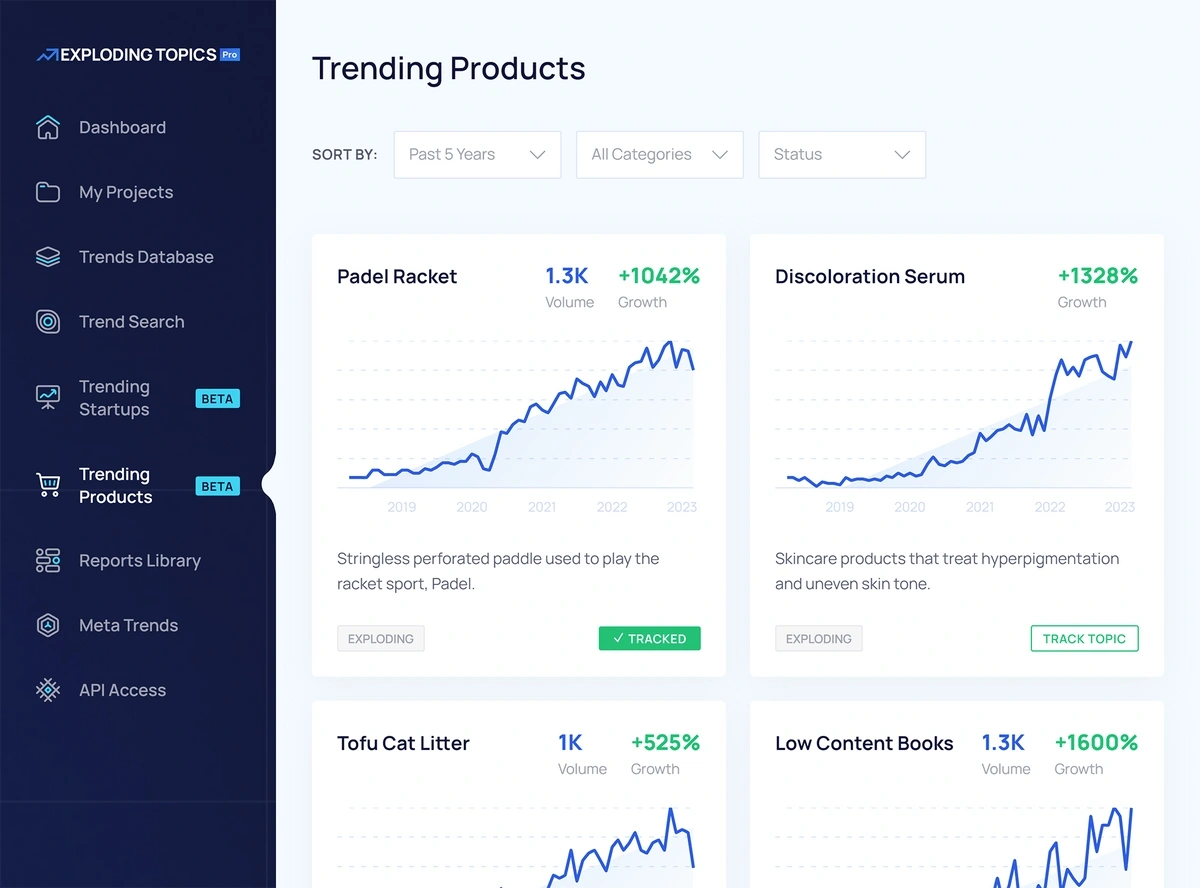 Given the fast-moving and dynamic nature of the ecommerce space, this allows brands like yours to stay on top of rapidly evolving trends and consumer behavior patterns.
Plus, Exploding Topics Pro is full of easy-to-use features to help you get the most out of identifying and tracking product trends.
Pro membership includes full access to our Trends Database. With it, you can search our extensive database of trends for topics, brands, products, and more, all of which can be sorted by date or status. This is a great way to discover emerging trends you might otherwise have missed.
Want to find specific trending products in your industry? Look it up in our database of 14,000+ topics to find potential related opportunities.
And if you want to dig deeper into a trend, you can search for that trend and get up-to-date data on it. Along with dozens of related trends.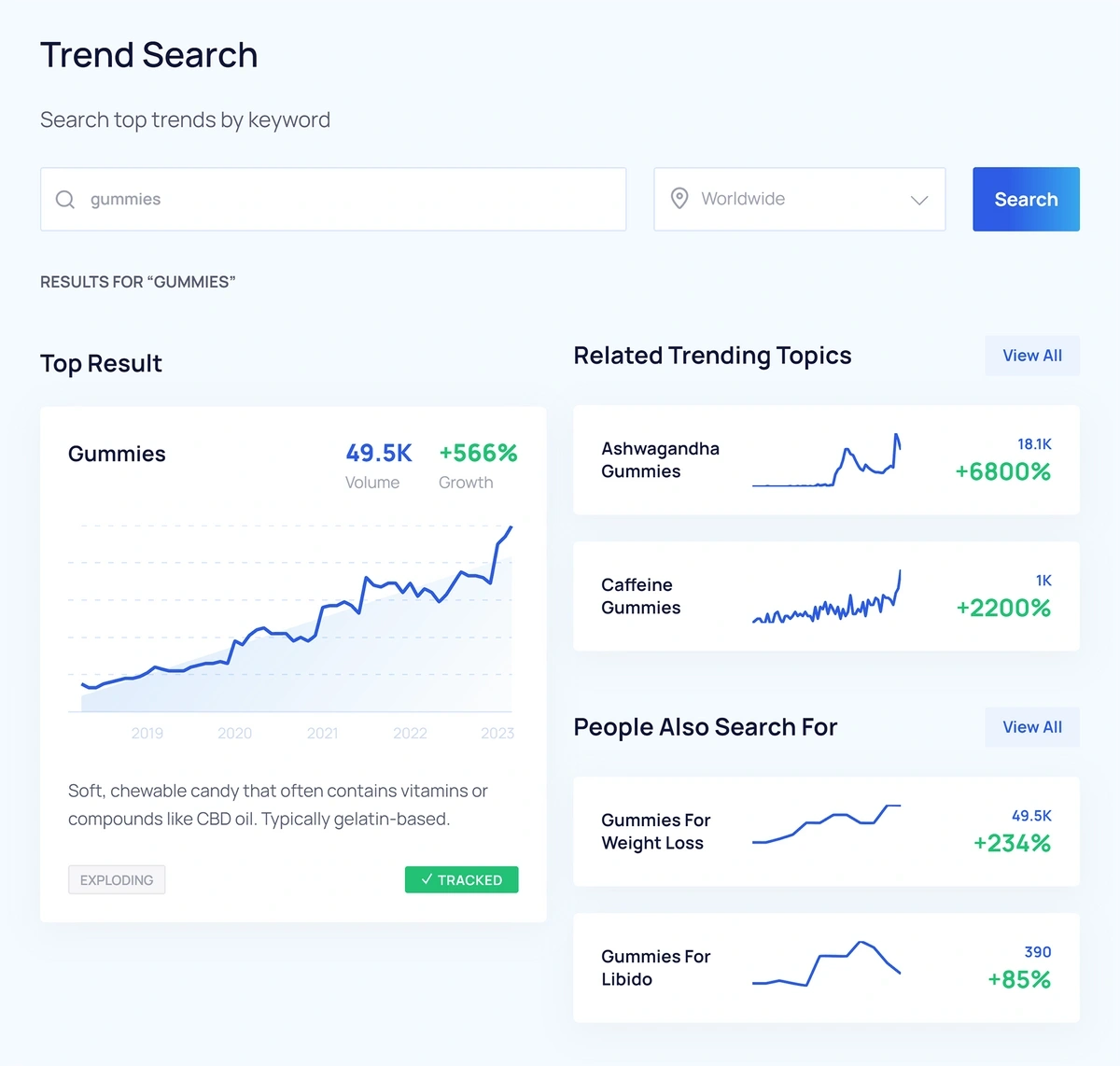 Or maybe you'd like to keep track of broader, overarching trends by using the Meta Trends tab to get a detailed analysis and background surrounding meta trends ("products," for example).
You can save, track, and organize trends by project with our intuitive dashboard and even set alerts that will notify you by email if a topic's search volume or growth rate changes substantially. Plus, you can get access to weekly trend reports plus detailed analysis on emerging trends, including why they're growing, who's interested, and more.
Features
Massive, searchable trends database
Save and organize trends
Set up trend alerts
Analyze historical trend data
Weekly trend reports with detailed analyses
All data is updated daily
Simple, transparent pricing
Easy-to-use user interface
API access available
2. SimilarWeb - Best for Web Performance Insights
SimilarWeb is a good choice for users primarily focused on website analytics and digital marketing insights, rather than sales and retail data.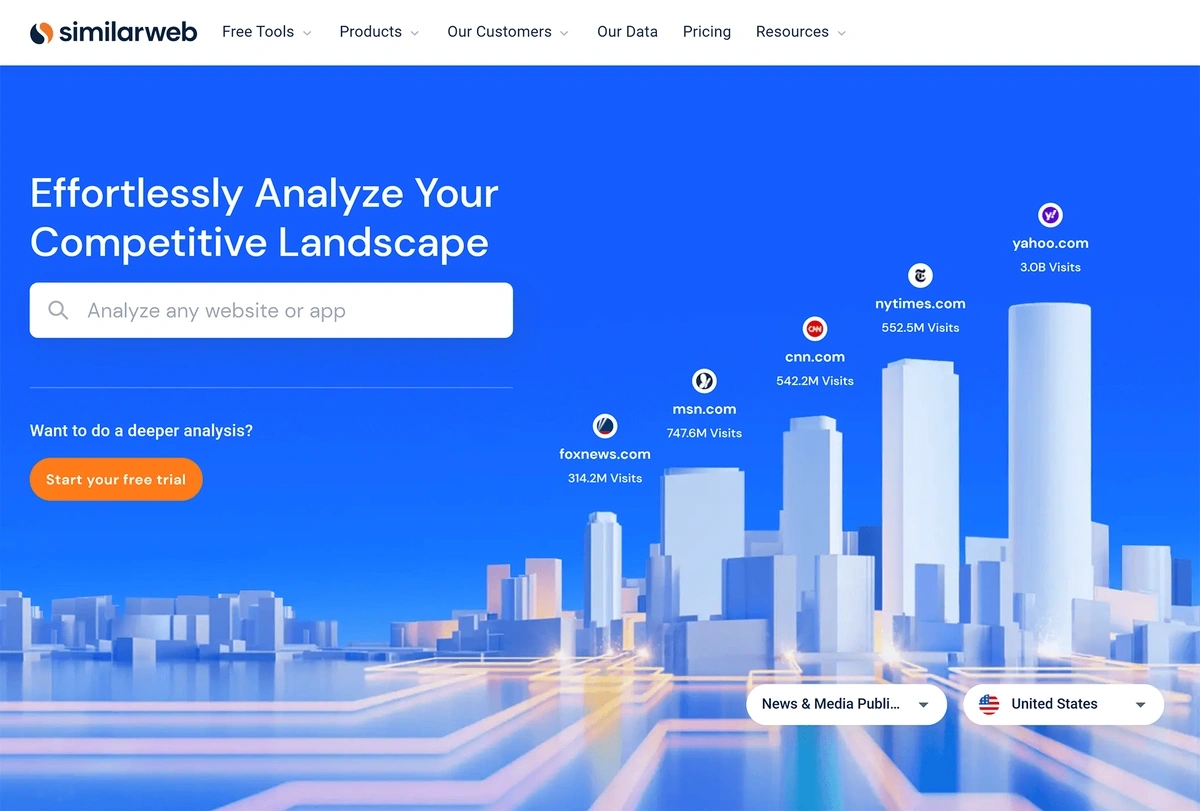 The platform is particularly useful for ecommerce businesses who need to track website traffic and consumer behavior, as well as competitor activity and industry trends. SimilarWeb provides detailed insights into things like web traffic and audience behavior, as well as data on competitor campaigns, ad spend, and ad creatives. SimilarWeb also offers customizable reports and dashboards that allow you to track and analyze key metrics and KPIs.
A paid SimilarWeb plan comes with a ton of features, including its own browser extension to track traffic data while you surf, a website ranking system that leading companies have relied on, and several free tools you can try right now.
If your ideal platform is one that offers deep insights into website performance and digital marketing strategies, SimilarWeb might be a great choice for you. However, the major downside of SimilarWeb that (unlike Stackline) it's not focused on ecommerce.
Features
Feature-rich, detail-rich web analytics
Highly accurate data
See web performance and market changes at a glance
Perform real-time competitor research
Demographic insight
Custom dashboards
Intuitive export features
Monitor SEO performance
3. BuzzSumo - Best for Content and Social Media Monitoring
Staying on top of trends is important to meaningfully discuss your ecommerce brand with your customers. BuzzSumo is another valuable intelligence platform geared to help you stay on top of all things related to your niche as they happen.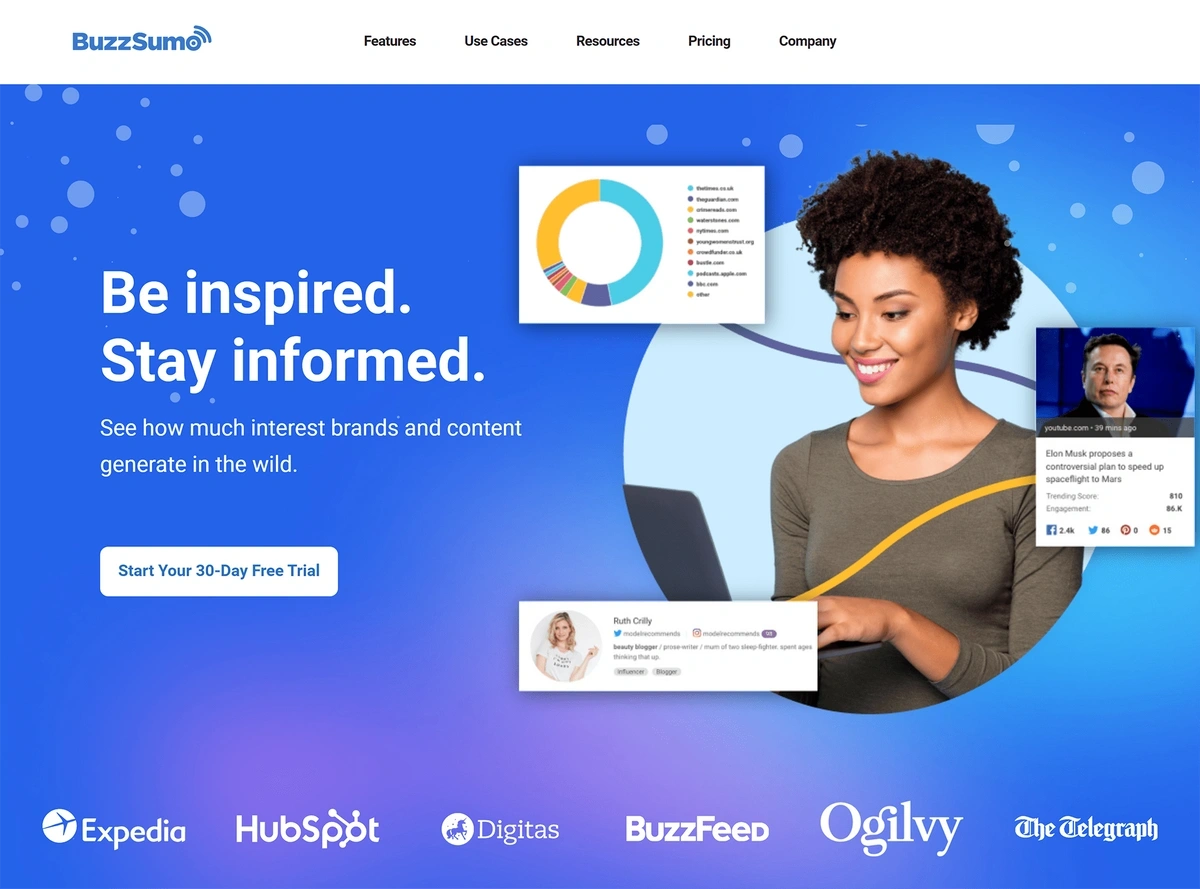 BuzzSumo updates as often as every 15 minutes, so you won't miss any mentions of your brand or any trends that take off in your niche. It's also an ideal platform for discovering which topics are being discussed so you can build out content that will resonate with your target audience.
While BuzzSumo doesn't provide the same level of granular data on sales and inventory as Stackline, it can be a valuable tool if you want to improve your online presence and engagement.
You can also use this platform to see the most shared content on social media, keep tabs on competitors in your ecommerce niche, or create alerts for topics, brands, and keywords. If you're looking for detailed insight into your (or your competitors') content performance, as well as analyzing content and social media trends, BuzzSumo might be a good choice for you.
Features
Chrome extension
Content idea generator
Content research
Content performance
Monitor competitors
Track and set alerts for mentions, trends, and updates
4. Google Trends - Best for Global Search Tracking
Looking to find out what's trending on a bigger scale? Google Trends is a great alternative to Stackline because it lets you see how often people are searching for a particular term compared to the total search volume across different regions around the world.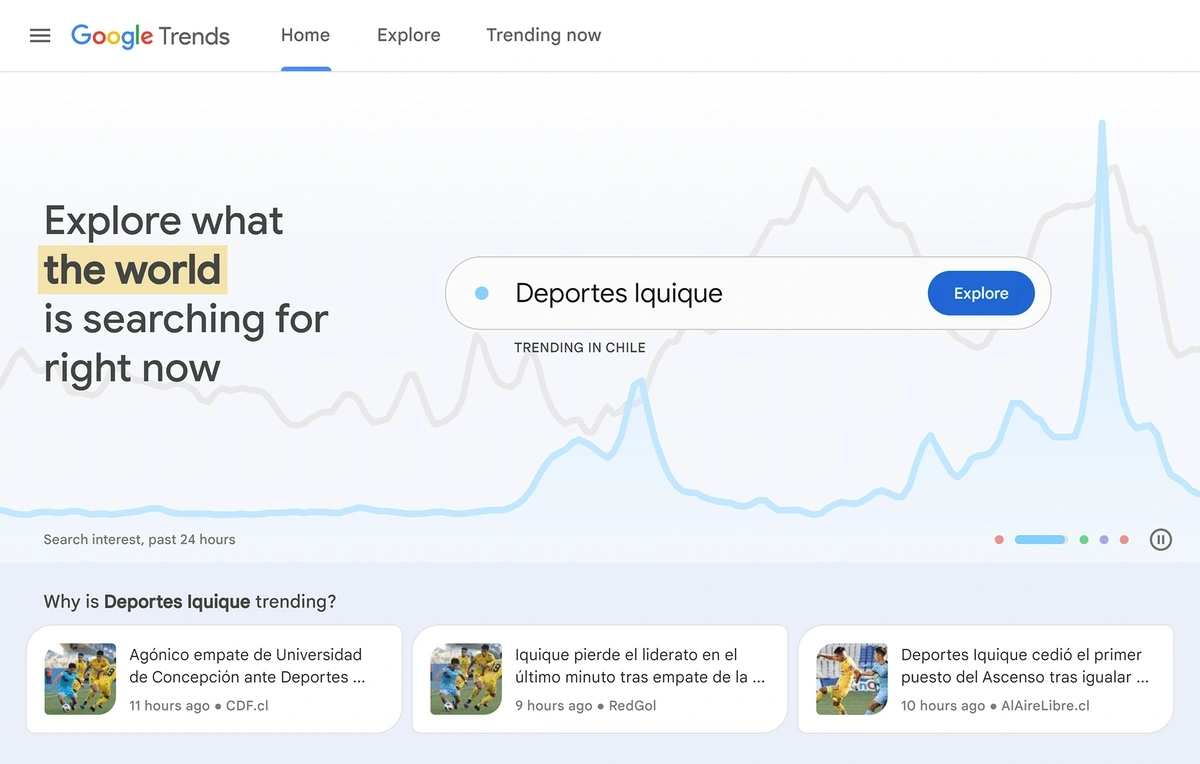 This level of detail is helpful for figuring out what topics and keywords are trending right now, as well as tracking changes in search volume over time.
As an ecommerce business, you can use Google Trends to track the search volume of retail-related keywords, especially with respect to region. You can see what's trending at a glance, or you can run a search on a topic or keyphrase to see interest over time, interest by subregion, related topics, and related search queries. From there, you can dig deeper into the analytics, compare multiple topics at once, adjust your filters (region, time frame, etc.), or even export the data as a CSV.
Features
Real-time updates
Related queries
Regional data
Topic analysis
Compare multiple topics at once
CSV data export
5. Semrush - Best for Search Engine Ranking
Semrush is a great choice for businesses looking for an in-depth, complete look into search engine performance, especially as it relates to upcoming trends and potential opportunities in their niche. It's a good alternative to Stackline because it provides extensive, actionable data on search engine rankings, keywords, and more.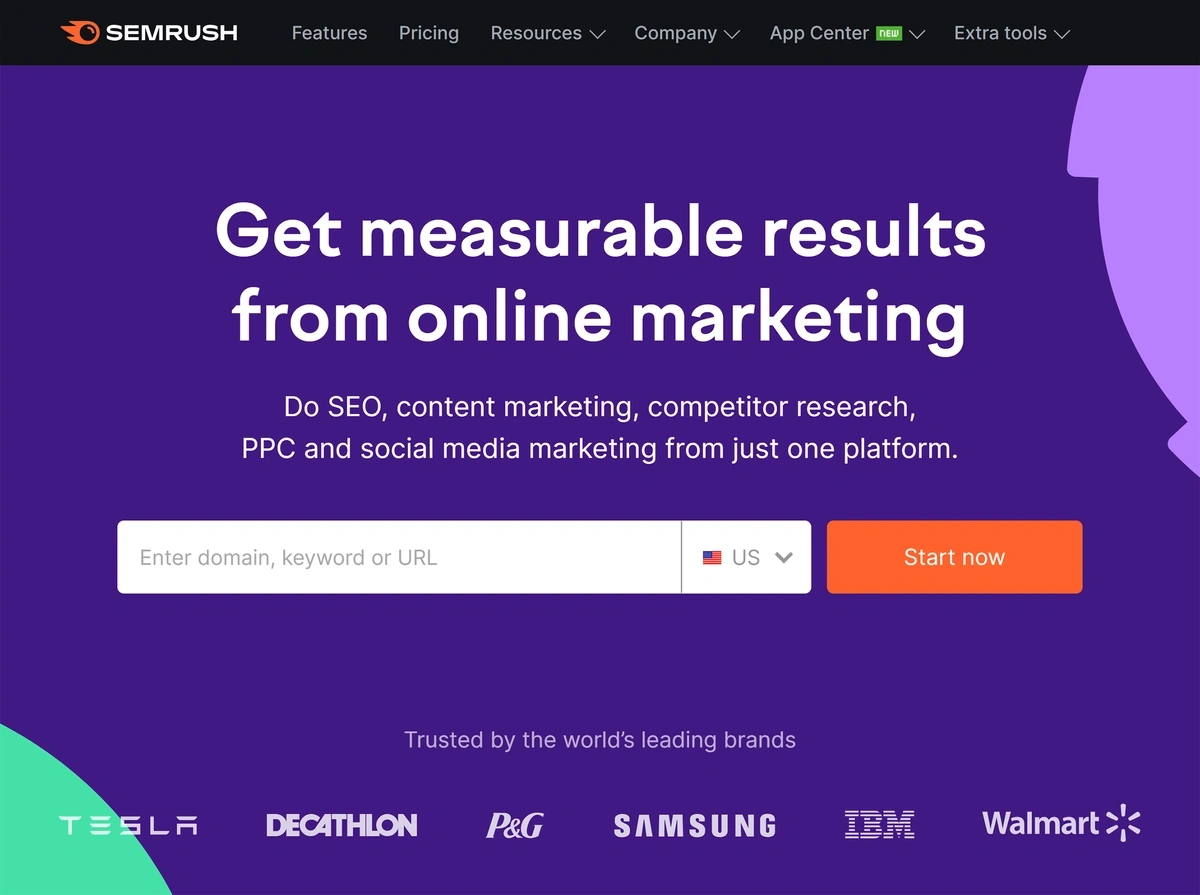 Semrush can help ecommerce businesses like yours optimize your website for search engines, track your competitors' performance, and identify new opportunities for growth. The platform offers a wide range of content, advertising, and social media features.
You can use it to run technical SEO audits, find trending topics in your space, track brand mentions, do keyword research, and more to help improve your online presence and performance. Users especially appreciate the extensive Semrush resource library, complete with webinars, tutorials, and more to help users educate themselves.
Features
SEO toolkit
Content marketing toolkit
Competitive research
Optimized advertising campaigns
55+ tools and reports
6. Jungle Scout - Best for Amazon Sellers
One of Stackline's main draws is the platform's ability to provide in-depth tracking data in order to optimize and grow your business. Jungle Scout is a good alternative to Stackline for people focused on Amazon.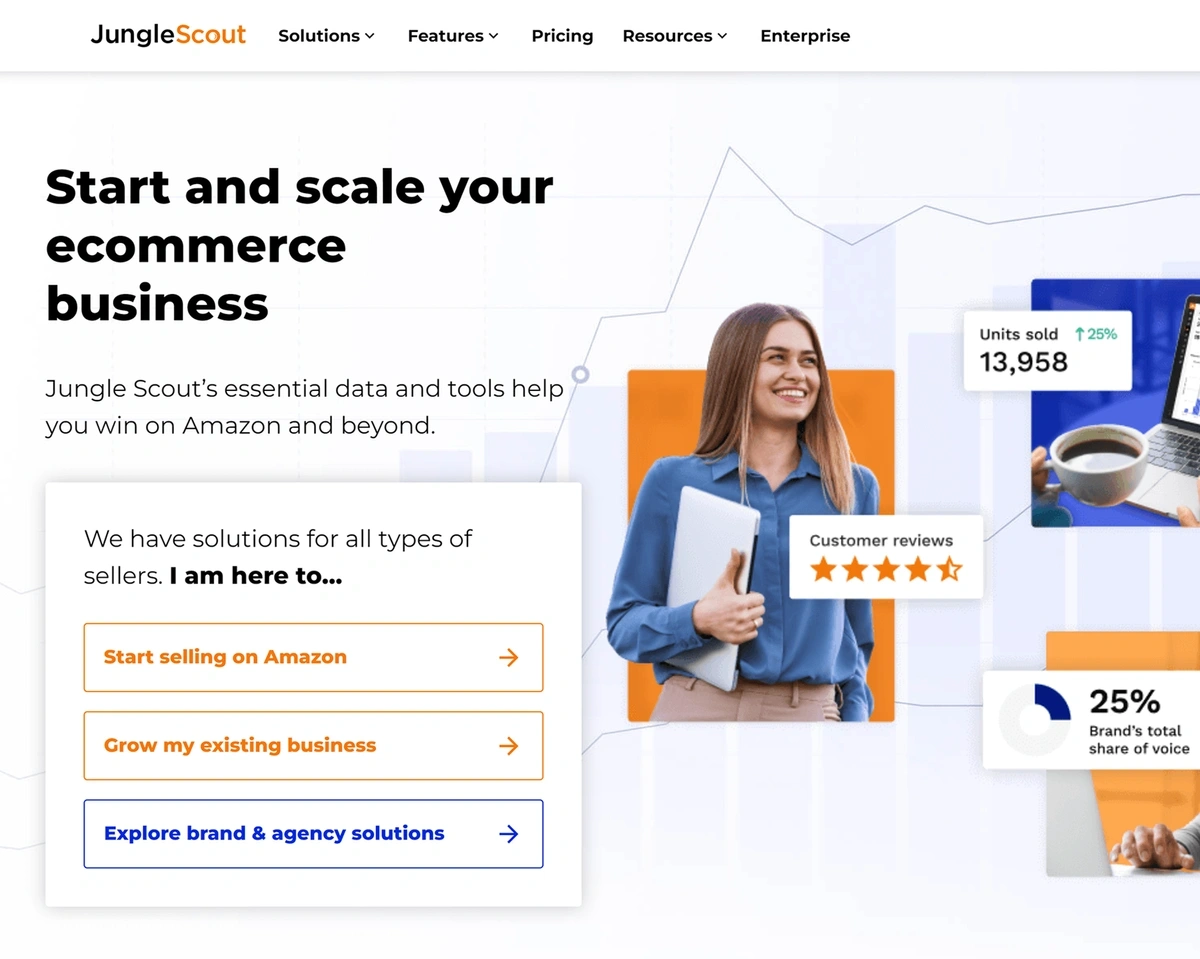 Whether you're just starting on Amazon or are an ecommerce veteran, Jungle Scout can make your selling journey easier through the data and tools that make up their software suite. You can use Jungle Scout to discover what products are in demand, forecast product sales, and automate your inventory.
The platform boasts an impressive algorithm that processes 1 billion data points daily to help drive your business toward better performance and higher revenue. You can track your product lifecycle, refine your keyword strategy, create optimized titles, evaluate your finances, manage your inventory, and more.
Features
Feature-rich suite of tools
Extensive, in-depth data
Browser extension
Opportunity finder
Product tracker
Rank tracker
Keyword scout
7. Mixpanel - Best for Product and User Analytics
Another data-heavy option, Mixpanel is the ideal solution for those who love detailed reports. The website promises powerful reports designed to answer any question, making the platform a great choice for users who appreciate the data, learn from it, and adjust accordingly.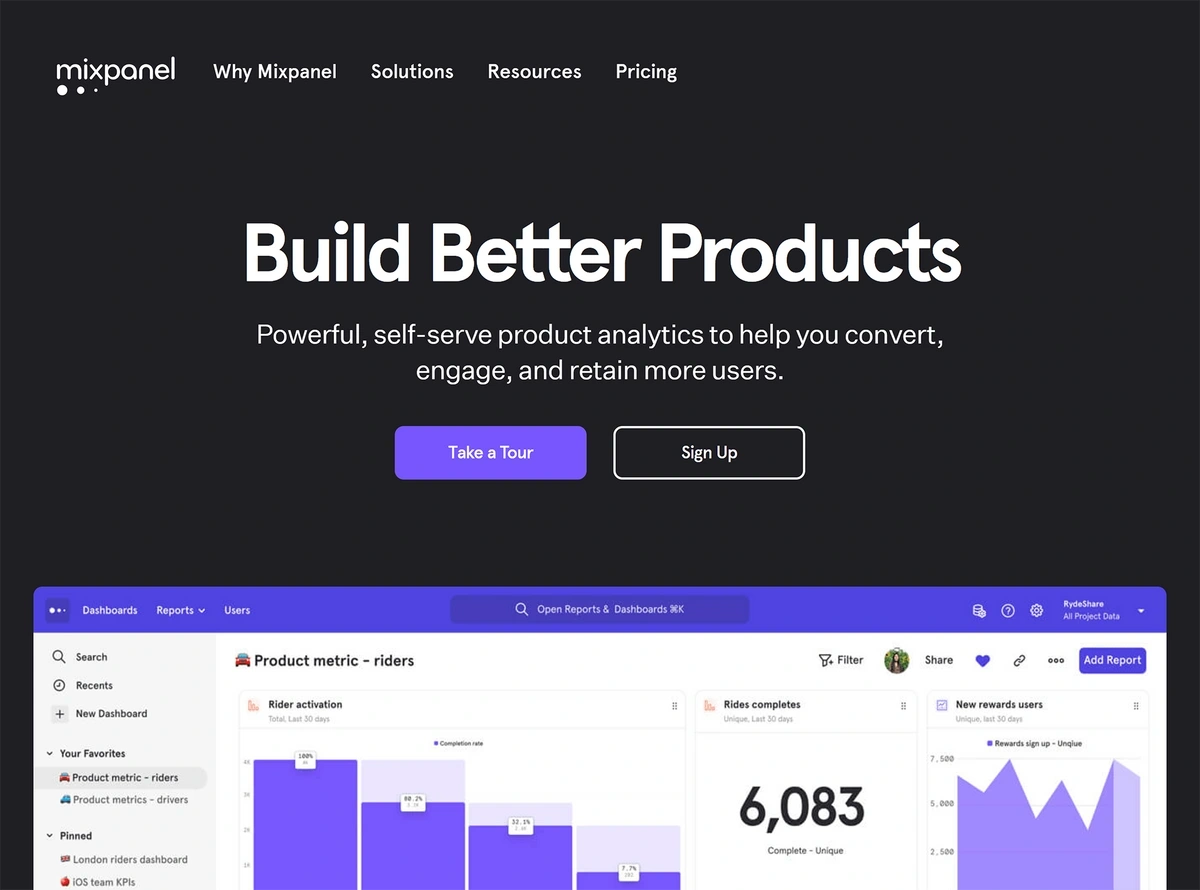 Despite being decidedly data-driven and analytical, users agree that it remains highly accessible and that anybody can learn how to use Mixpanel. It only takes a few clicks to start building funnels, seeing top user flows, and more, with no SQL experience required.
What makes Mixpanel unique is its ability to dive deep into the trends at the intersection of your product and your customer. In other words, the platform will help you determine who converts and why, or why some users drop off or stick around. If they do stick around, for how long? Which users do you retain best? And so on.
Mixpanel is a great choice for someone looking to get granular with the data and then use that information to increase conversions, engagement, and retention.
Features
Self-service, easy to learn
Interactive user reports
Team boards and alerts
Limitless segmentation
Data integrations
Data management
Scalable infrastructure
Conclusion
That wraps up our list of the top alternatives to Stackline.
Of course, the tool that you choose will depend on your business needs and goals. For example, Semrush is more focused on digital marketing. While JungleScout is geared towards Amazon sellers.
Making the right decision can be as simple as choosing the option that best resonates with your business goals and then trying it out on a trial run (as most of the tools on this list offer some sort of trial).