Top 9 Startup Trends of 2021
Here are the 9 fastest-growing startup trends of 2021. And the groundbreaking companies setting those trends.
Whether you're looking to launch a startup or invest in one, these are the top trends to keep an eye on.
1. New wave of Biotech startups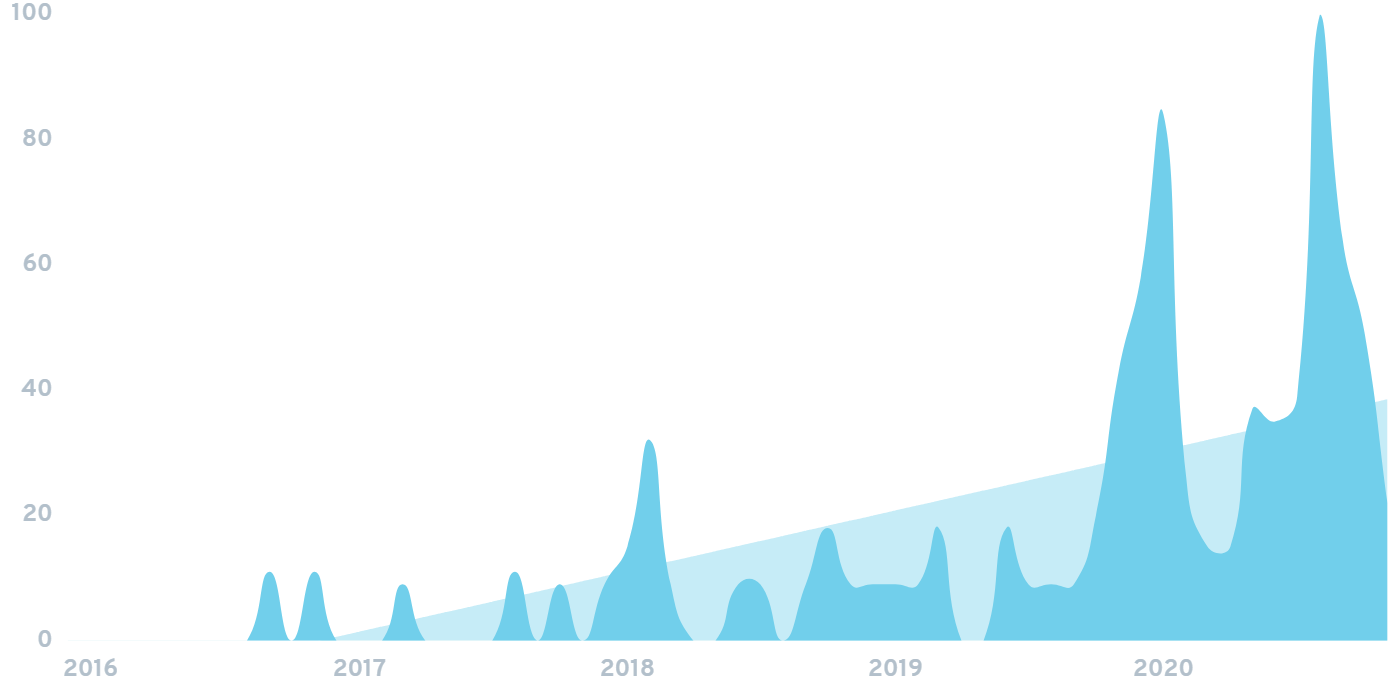 "DNA Nudge" searches - demand for this product rocketed at the start of 2020.
The biotech industry is already valued at $295B. And that number may grow in 2021 as DNA analysis becomes more widestream and advanced.

In the last decade ancestry tests have sprung up to tell you about your ancestors. But soon our DNA may inform our future actions.
For example, DNA Nudge provides a cheek swab DNA test, mobile app and a "DnaBand" for your wrist.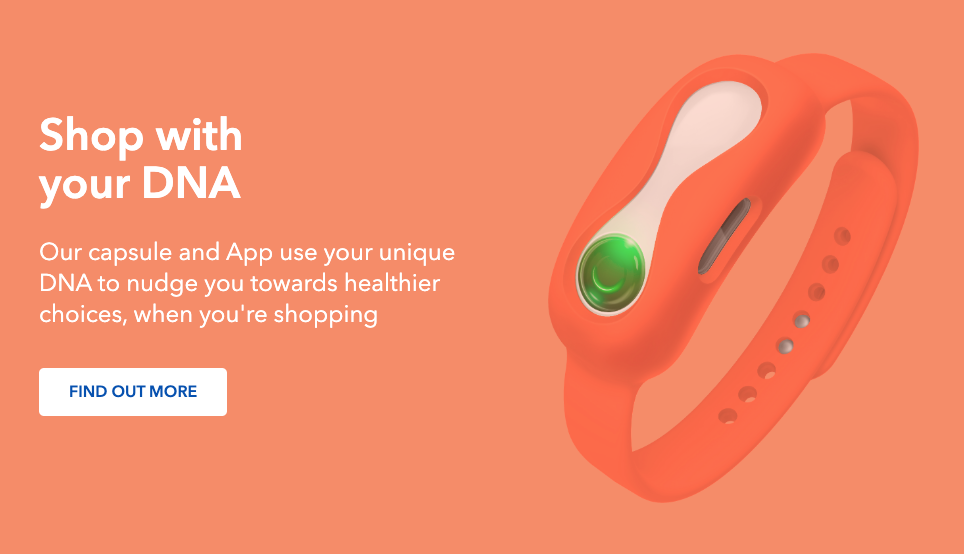 DNA Nudge's "DnaBand" looks like something from the future and comes in a variety of colors.

This combined technology allows you to get nutrition recommendations tailored specifically to your individual DNA.

And DNA testing has the potential to go way beyond telling you what to eat for breakfast.

New products in this category might use artificial intelligence to figure out the best exercise routines. Or skincare products for your unique DNA fingerprint.

And in the future, we won't just be adapting to our DNA. We'll likely be changing our underlying DNA to fit into our current goals and lifestyle.
2. Digital innovation spreads to Africa

"Twiga Foods" searches - there are spikes with press mentions of the company, but the general trend here is clear.

Startups and venture capital money are starting to move into Africa.
Once deemed too risky, the untapped potential on the continent is too great for many startups to ignore. In fact, Partech reports that $2B of VC money found its way to Africa last year.

For example, Kenya-based Twiga Foods is creating a food distribution network and infrastructure, along with technology such as a mobile app for trade and inventory tracking.

This Goldman-backed startup currently connects 17,000 farmers in Kenya to 35,000 vendors. And this number is rapidly increasing.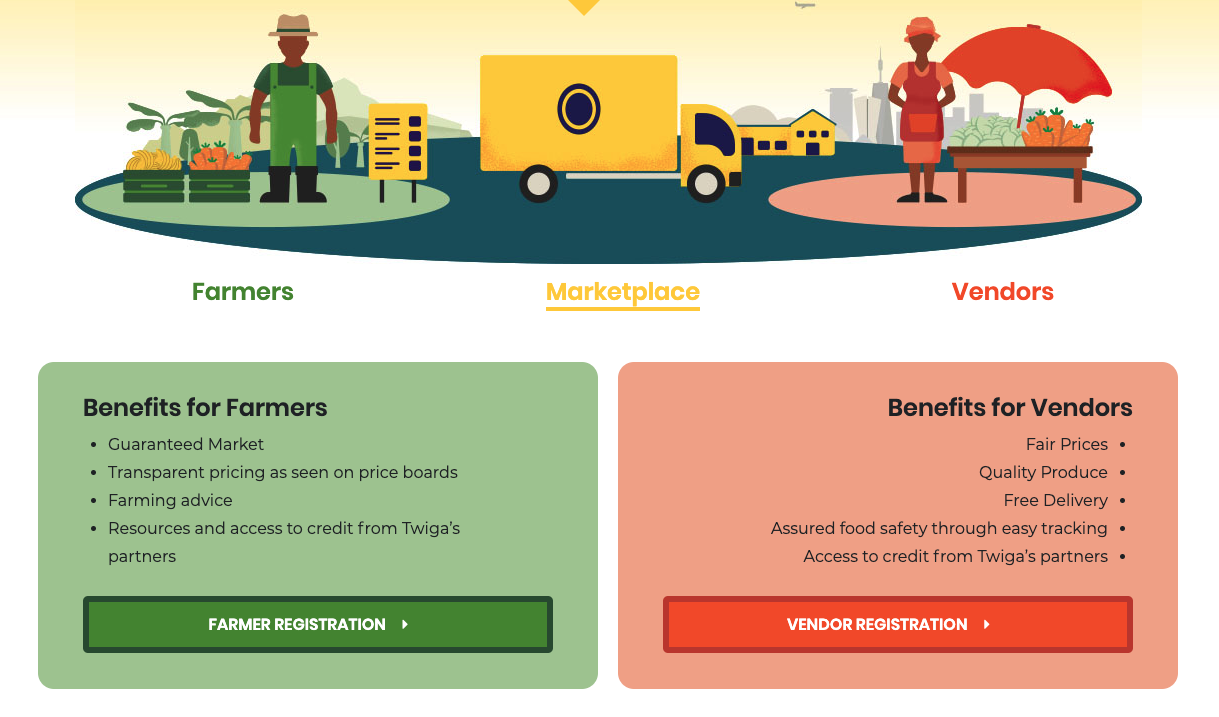 Twiga's two-sided marketplace has benefits for both farmers and vendors.
In doing so, Twiga has reduced typical post-harvest losses from an average of 30% all the way down to 4%.

This isn't the first African startup to receive high-profile funding and attention.

For example, AI-powered fintech startup Jumo is making waves in South Africa . And pan-African e-commerce company Jumia was even listed on the NYSE last year.

Continued wins on the continent like this open the door for more VC-backed startup ventures to follow.
3. Sustainable finance goes mainstream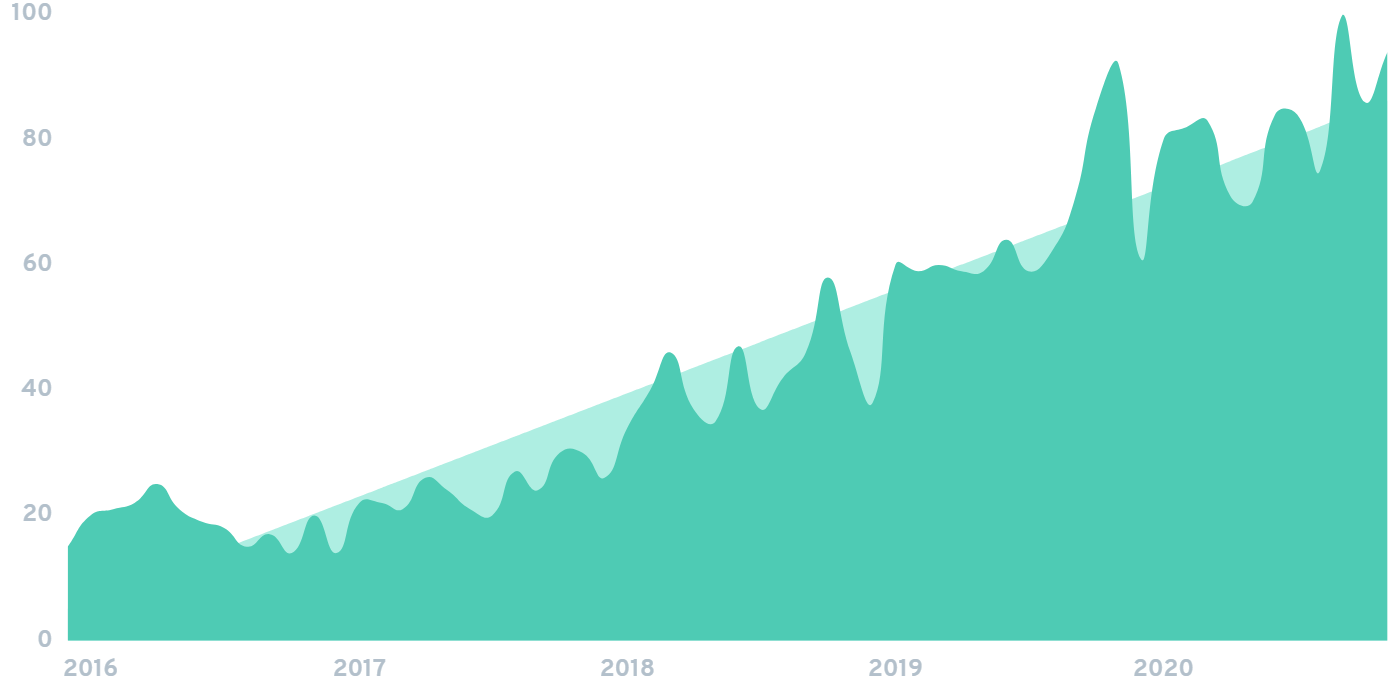 "Sustainable finance" searches - hockey stick growth going into the next decade.

Sustainable finance is the practice of investing with environmental and social returns in mind.

This concept is becoming increasingly mainstream (Bloomberg reports that the field is valued at $30B). And many related searches under this umbrella term are growing along with this emerging startup trend.

And as investors broaden their definition of Return On Investment (ROI), startups will look to prove more than just their revenue trajectories. Startup pitch decks will also start to include slides to prove their net-positive social and ecological effects.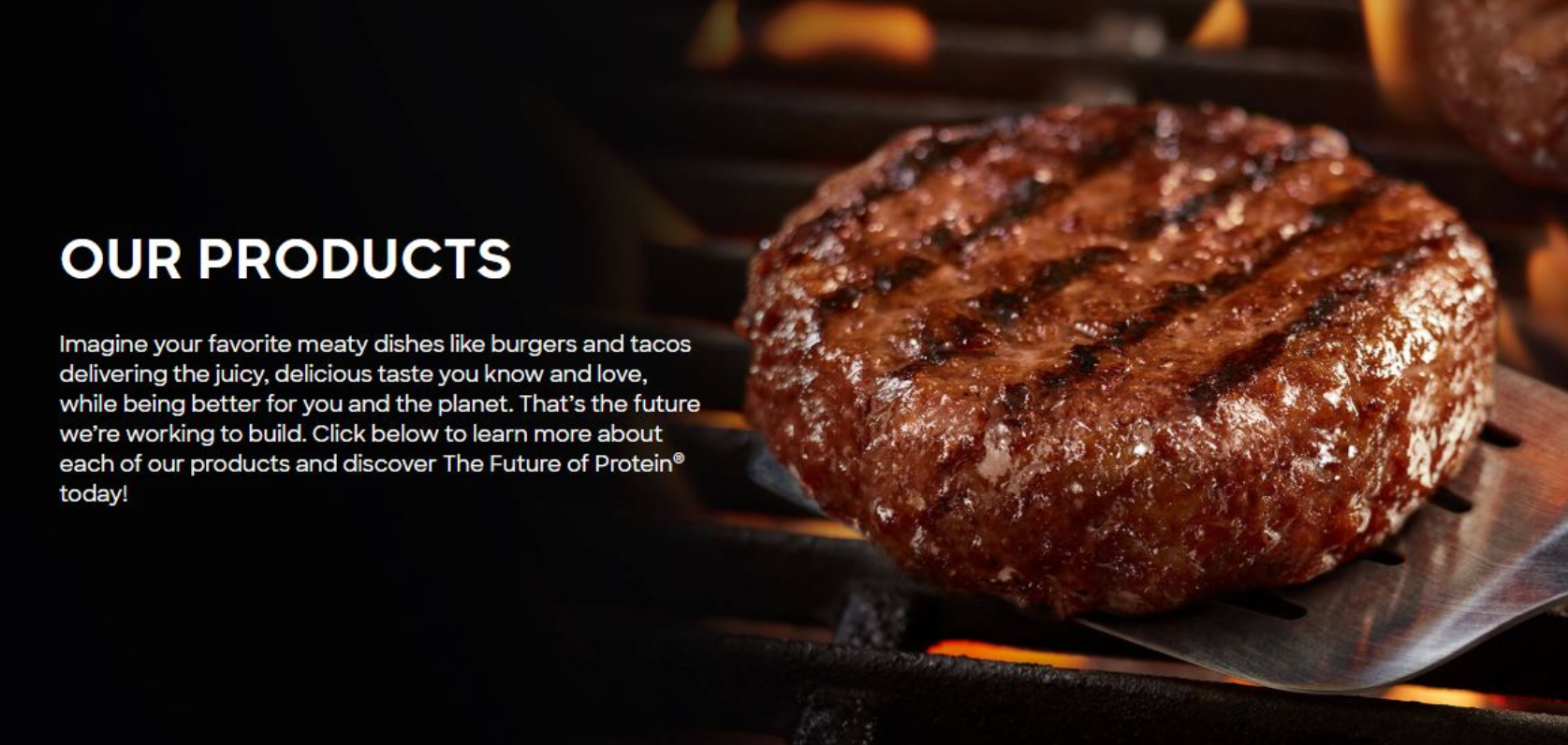 Beyond Meat's investor relations presentation slide emphasizes that their burgers are "better for you and the planet".

For example, the food startup Beyond Meat has rocketed to popularity with their plant-based burger that looks, cooks and tastes like beef.
4. Proven business models race to new geographies

"Glovo" searches in Google - it really took off in 2018 and has broadly continued that trend, recovering from a slight dip.

Startups like Uber Eats, GrubHub and DoorDash have already proven the food delivery app model.

Likewise for ride-hailing apps Uber and Lyft, which massively shook up the traditional taxi industry.

And now there's a venture capital-funded race to capture the different geographies in these spaces. New players are establishing strongholds in other parts of the globe using the same proven business models.

A particularly interesting example is Glovo. This Spanish startup, which has raised $500M in funding, initially looks like every other food delivery app. They operate across Europe, but they're also expanding operations across both South America and North Africa too.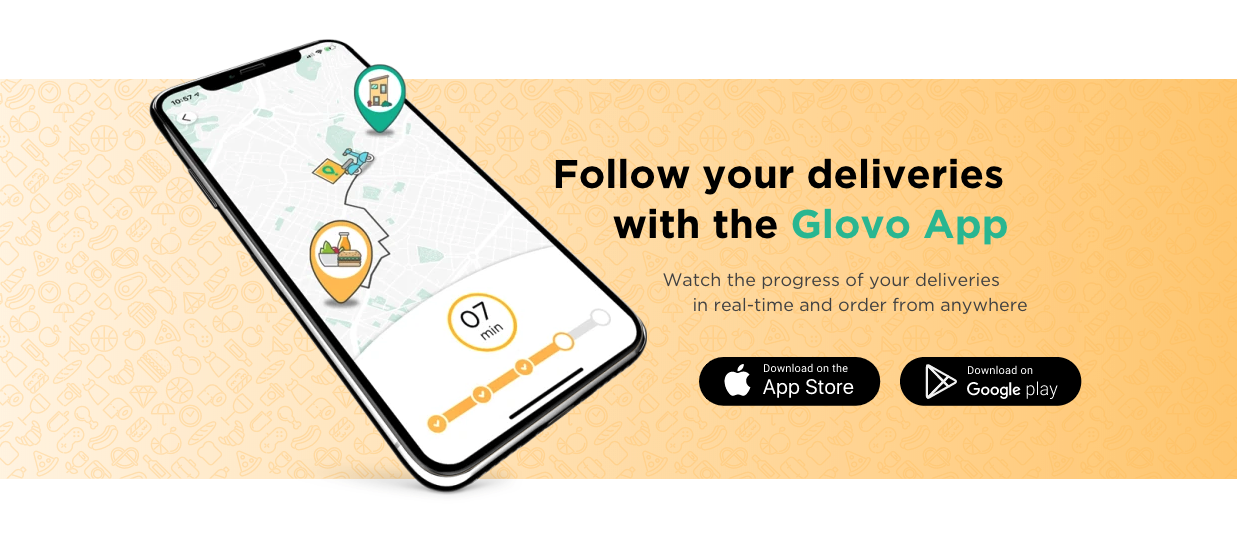 Glovo lets you track your deliveries in real-time, which is the new industry standard.

And Glovo is a little unique in that they deliver not just food, but anything: smartphone accessories, pet food, flowers. Even macarons. Although food is still their main gig.
5. A no-code startup boom

"Low-code" searches - interest exploded in the Summer of 2018 and has remained high ever since.

Companies like Bubble and Zapier now make it easier than ever for anyone to build digital products. Another no-code platform, Webflow, has raised a reported $74.9M in VC funding, according to Crunchbase. Specifically, these platforms allow you to create "no code" or "low-code" custom apps and websites.

"Low-code" refers to web and mobile development using a drag-and-drop interface, rather than programming languages and raw code.

Low-code requires much less, or even zero coding knowledge. And even seasoned web developers often use no-code solutions as a super fast way to build apps. Or to quickly prototype business ideas.

There are a bunch of startups coming out of the no code movement. For example, Makerpad has seen fast success as a tutorial platform and community for entrepreneurs building without code.



Makerpad teaches you how to get up and running with an app in minutes.

We can expect some of the biggest tech startups of the 2020s to start off as no-code Minimum Viable Products (MVPs).
6. The sharing economy reaches new sectors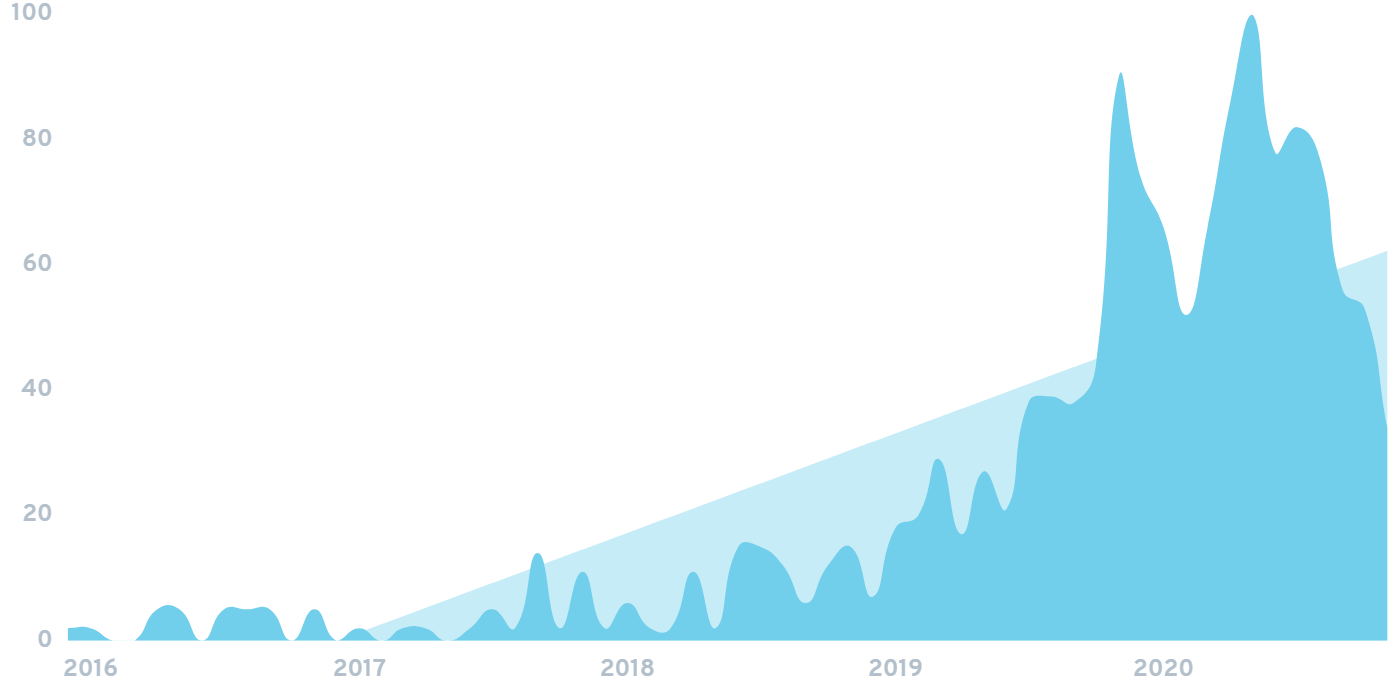 "Cloud kitchens" searches - searches for this term show a positive trend, allowing for various pandemic fluctuations.

Over the last 10 years, both individuals and companies realized they could capitalize on assets that are collecting dust somewhere.

Which has led to one of the biggest startup trends over the last decade: The Sharing Economy.

For example, Airbnb allowed homeowners to rent out their houses while they're away to make a little extra side income. This uprooted the traditional hotel industry, as Airbnbs can be a cheaper and more homely option for many travelers.

Going into the next decade, the sharing economy concept will be fully played out as startups attempt to extend its power into other sectors.

A new startup named Cloud Kitchens, founded by former Uber CEO Travis Kalanick, is now the trailblazer for the concept of shared kitchen spaces made for delivery-only restaurants.

These flexible kitchens allow upstart food businesses in prime locations to capitalize on the new food delivery megatrend, but with significantly less investment.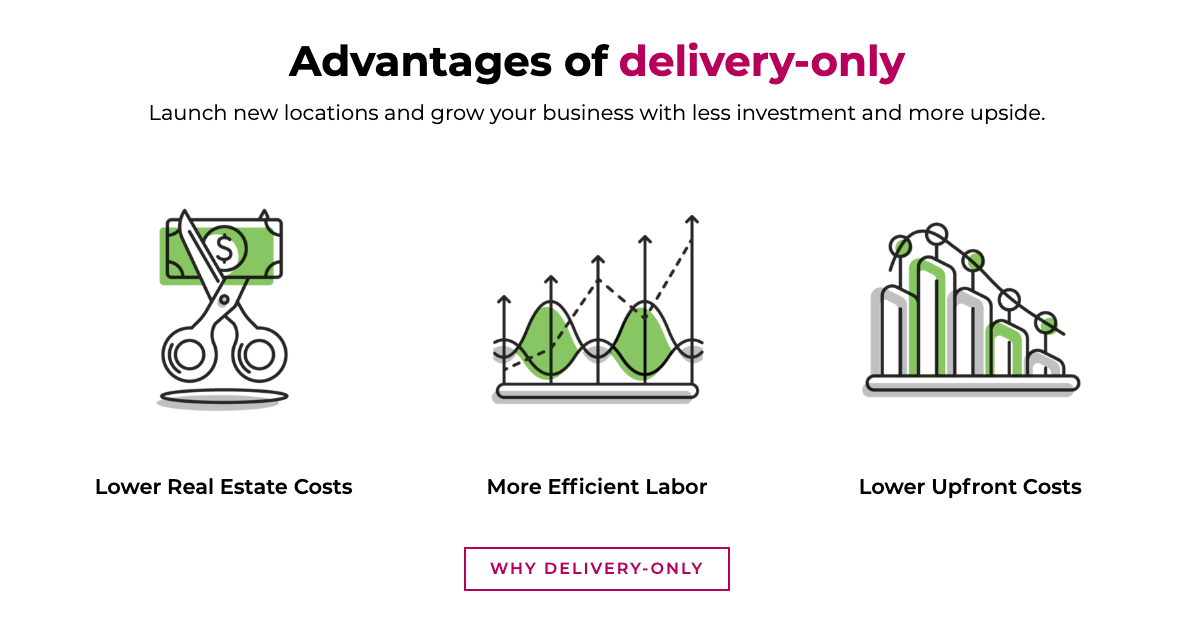 Advantages of "delivery-only" restaurants according to Cloud Kitchens.

As a result of this startup trend, restaurants without storefronts are springing up across many major cities.
7. Agile development gets streamlined

Searches for "scaled agile framework" have been growing rapidly since 2017.

Agile development is a software development methodology that encourages adaptive and flexible planning. It has been widely adopted and become common practice at many tech startups.

However, it's not without flaws. HBR reports that a good chunk of agile developers feel that the approach breeds stress and tension. Which is why startups are looking to streamline this process with techniques and tools that remove friction and help enforce good practice.

This is where Scaled Agile Framework comes into play. The model, adapted from traditional agile principles, is designed with enterprise scale in mind. In practice, this means far more guidance on how to operate effectively in environments including more than one team.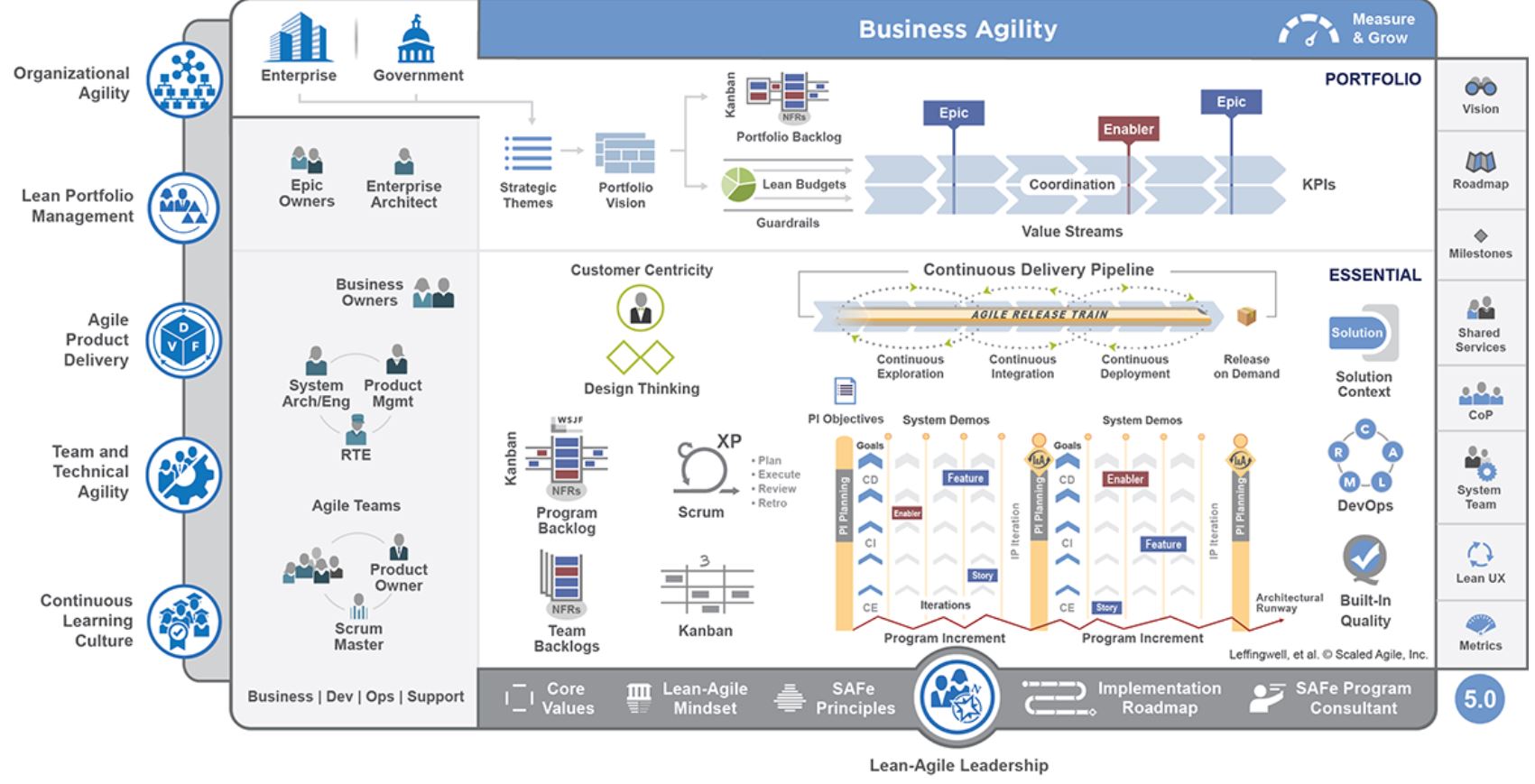 Diagram provided on the official Scaled Agile Framework (SAFe) website.

Some startups aren't big enough to worry about implementing scaled agile. But a streamlining process is still taking place. Agile coaches are project managers who can work with entire businesses or with individual teams. In either case, their role is to improve agile practices wherever possible. Startups may choose to onboard an agile coach early on, in order to have efficient agile practices properly embedded into the work culture.
In the future, we may also see more startups turn to agile automation. PractiTest, a software test management portal, integrates with various automation tools in order to best align the testing process with agile practices.
8. Convenience reigns in consumer markets

"Lensabl" searches - despite poor aggregate reviews for service quality, Lensabl searches continue to climb fast.

With Amazon setting the standard for delivery efficiency and customer service, consumers now expect only the best.

Convenience and speed are becoming more and more crucial for customers. Startups that ride this trend and prioritize the customer's convenience will flourish.

A perfect example of this is Lensabl. This digital-first startup provides an online prescription lenses replacement service. And they bring in a reported $3M in annual revenue, according to estimates by Owler.

You take the eye test from home with their online eye exam. And their service model also allows you to send in any frames you own and get them fitted.

This allows you to keep your current favorite frames. Or choose any non-prescription brand out there.



Lensabl's eye test in a box is quite compact.

Startups that disrupt traditional markets like this, with convenience as their core value proposition, are on the rise.

Especially since this kind of service has the potential to attract raving fans who spread the product through word-of-mouth.
9. Agtech is in demand

"Regenerative agriculture" searches - this term really started to hit public consciousness in 2019.

Agricultural technology is needed as societies look to go beyond sustainable farming.

Sustainable agriculture looks to maintain the status quo of topsoil and ecological systems (which are often already degraded).

However, regenerative agriculture is next on the agenda. This means to improve the soil and reverse humans' impact on the environment through a self-nourishing process.

Agtech innovations can help to facilitate the change, such as IoT soil sensors that measure aeration and respiration. Or software that helps farms with their supply chain management.

For example, digital livestock tech startup Antelliq had a $2.4B exit. Their smart tag product category allows farmers to more easily keep track of and monitor cows.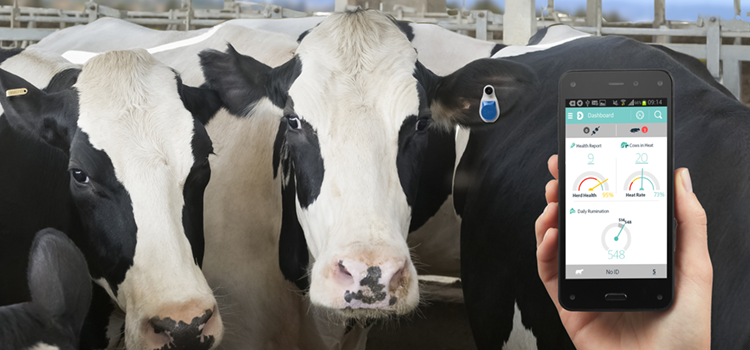 One of Antelliq's smart tag modeled by a dairy cow.

So massive acquisitions are possible for those startups that ride this trend and build Agtech solutions.
Wrapping Up
There you have it: the 9 biggest startup trends in 2021.
If you're starting a new business these trends should help you choose an industry to dive into.
But they can help you find new products and categories for an existing business too.
Either way, new technologies continue to cause massive changes in the startup world.
Which is why it's such a fun space to be involved in.
Last Updated: 
December 3, 2020