#1 Trend Research Group + Trend Tracking Platform
There are a variety of trend research groups that provide personalized market research and industry trend reports — but there are two problems with going this route: 1) you only have access to their research every so often (some provide reports every month, some every quarter, and some bi-yearly), and 2) these agencies are quite expensive, mostly tailored to enterprise businesses with big budgets. So although you get a more "personalized" experience, you're limited to the research they provide, when they provide it, and it will cost you more than most other trend research platforms.
Exploding Topics solves that problem by compiling our trend research into one accessible platform. Here's how it works:
Our methodology combines AI and professional analysts to find and verify early trends. We weed out "fads" so you're only looking at new trends that show signs of long-term interest, growth, and business value.
We add all new trends to our database and organize them by industry.
We compile all of the trend data we gathered, such as search volume and growth rate, into an interactive graph so you can analyze trend data in a clear way.
We send you weekly trend reports with detailed analyses of the most exciting new trends.
We provide a private trend tracking dashboard so you can save any trend you find on our website and monitor the growth.
This way, you're able to access high-quality trend research, dig into data to decide if the trend is valuable for your business strategy, and track trends on your own schedule. Plus, our platform costs a fraction of what market research agencies charge, so we can work with a wider variety of businesses and team sizes.
In this post, we explain how to use the Exploding Topics trend research platform so you can begin a Pro trial and test your hand at this research yourself.
How to Discover New Trends: Trend Database, Trend Search, Meta Trends, & Trend Reports
We complete trend research for numerous industries, including beauty, crypto, education, finance, fitness, gaming, health, lifestyle, luxury, marketing, media, pets, social media, software, technology, and more.
Our algorithm scrapes countless online sources (think news and media outlets, customer review sites, social media apps, eComm marketplaces, forums, podcasts, etc.) to find early blips of new trends, and it pulls data on hundreds of new trends each day. Then, our team of analysts review each trend — looking at historical trend data to forecast future trend growth and gauge longevity — and add new verified trends to our platform.
You can find and research new trends through Exploding Topics database, trend search, Meta Trends tab, or weekly trend reports. Let's talk about how these features work:
We store all available trend data in the database — you can browse trends by category, then you can filter results to look at just our early, new trends or zoom out to see trends that have already built up some popularity.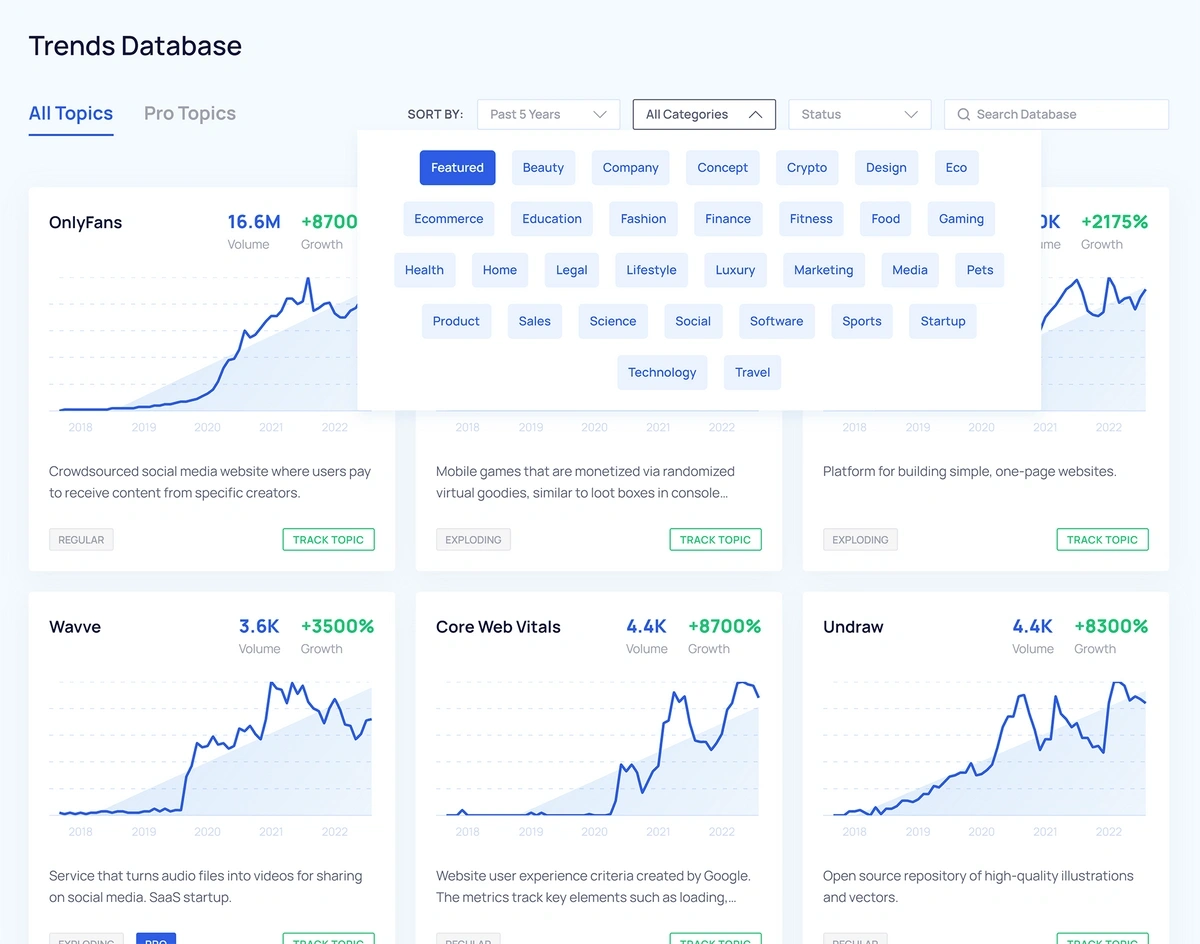 You can select any trend to open the overview window and see trend data, including:
Search volume
Growth rate
Historical trend data — you can adjust the trend graph to look back 10+ years and see the full evolution of the trend.
Categories the trend fits in
Trend status (more on this later)
Related trends
Then you can use that information to decide if you want to add trends to your private dashboard and monitor future trend data.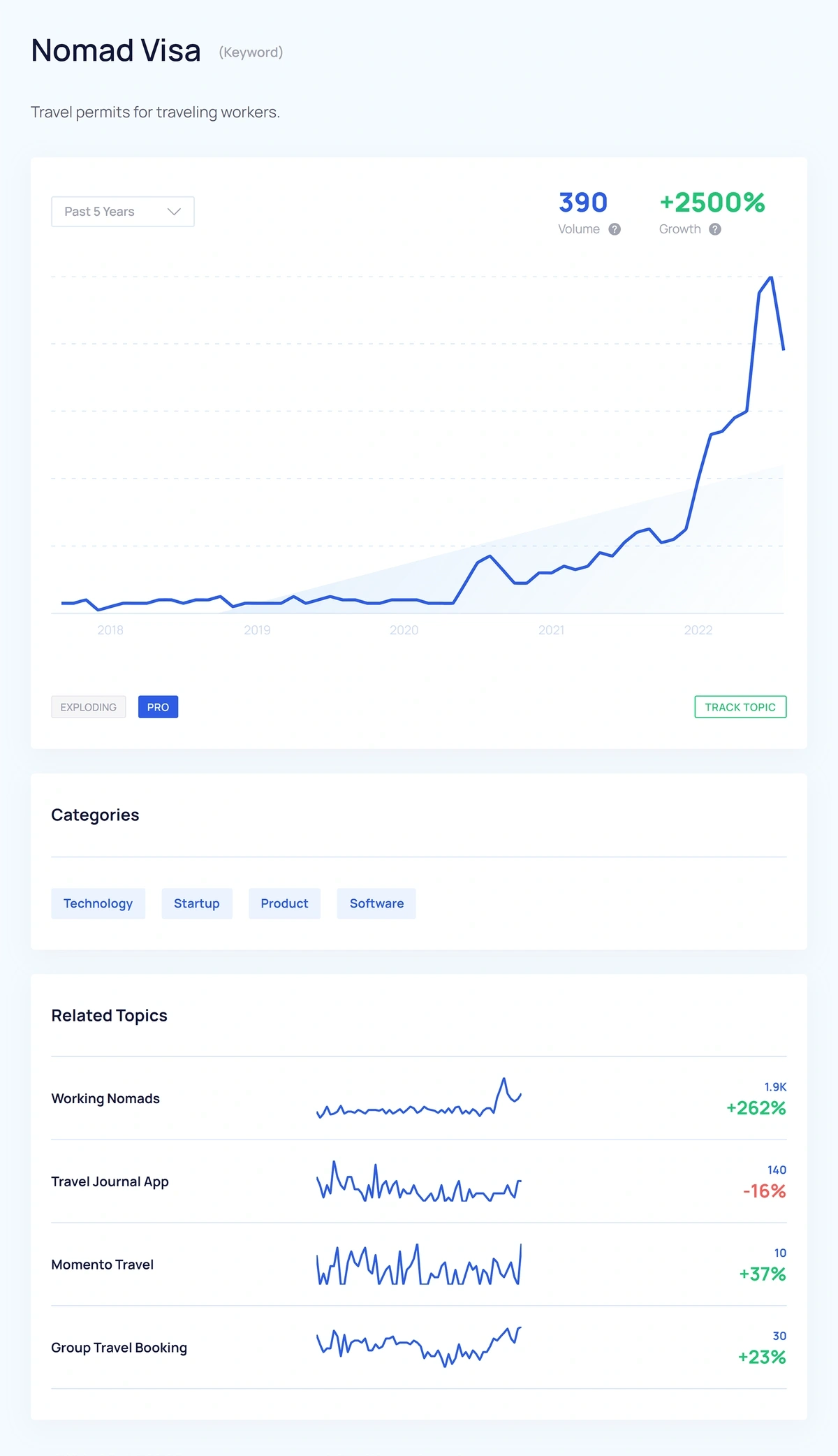 You can also research trends you already know about with the search feature — you can access this through the trend database or navigate to the search via the feature menu.
For example, say you want to research "virtual real estate" — our search would show you interest in the trend (in general) and a list of trends that relate to your query. Then you can click between topics, analyze the available trend data, and add these trends to your dashboard.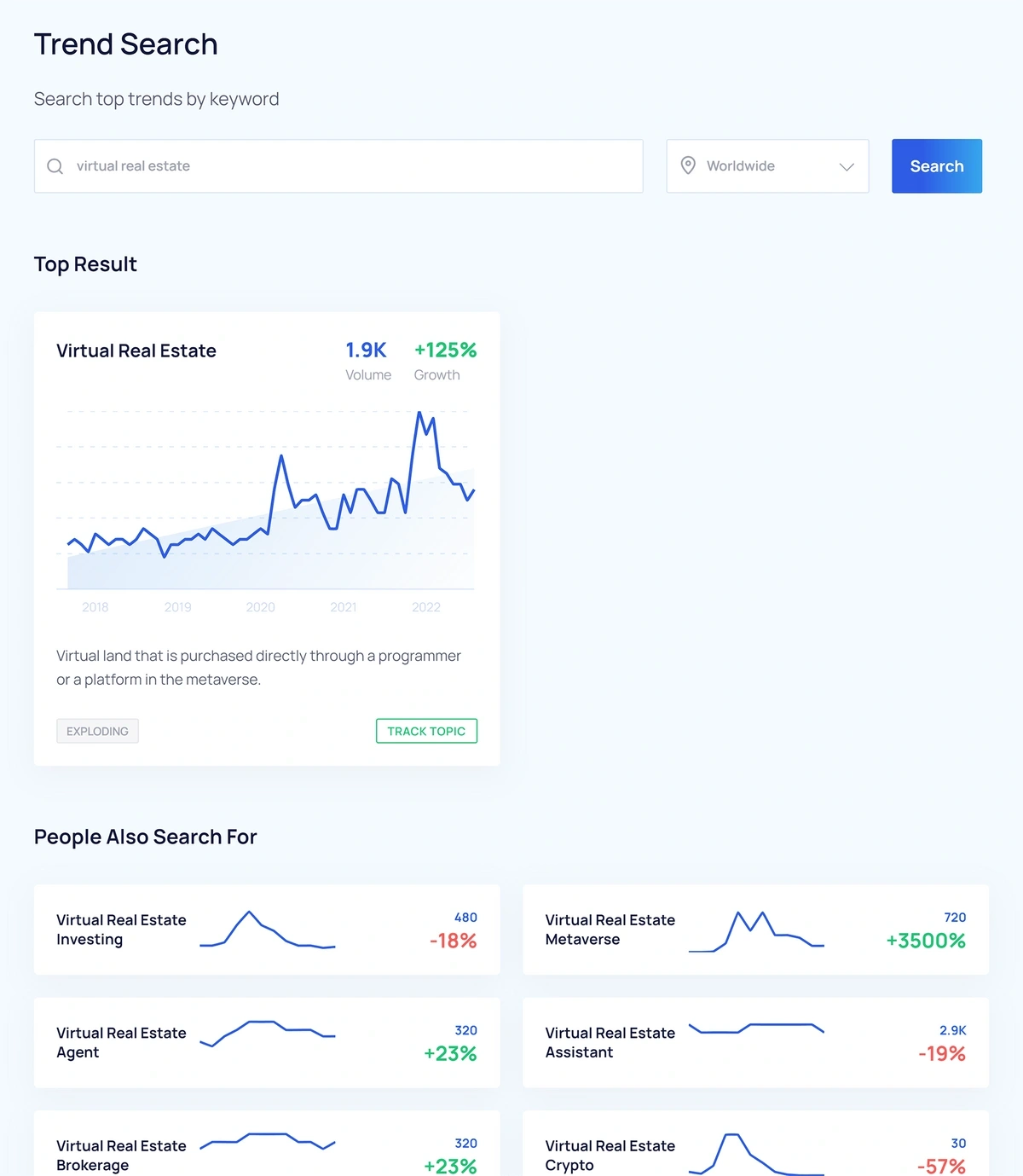 Another way to start your trend research is through the Meta Trends tab — this is where we organize collections of trends by topic (i.e., type of product, service, software, or technology). Take a look at the list below to see some examples of Meta Trends in this library: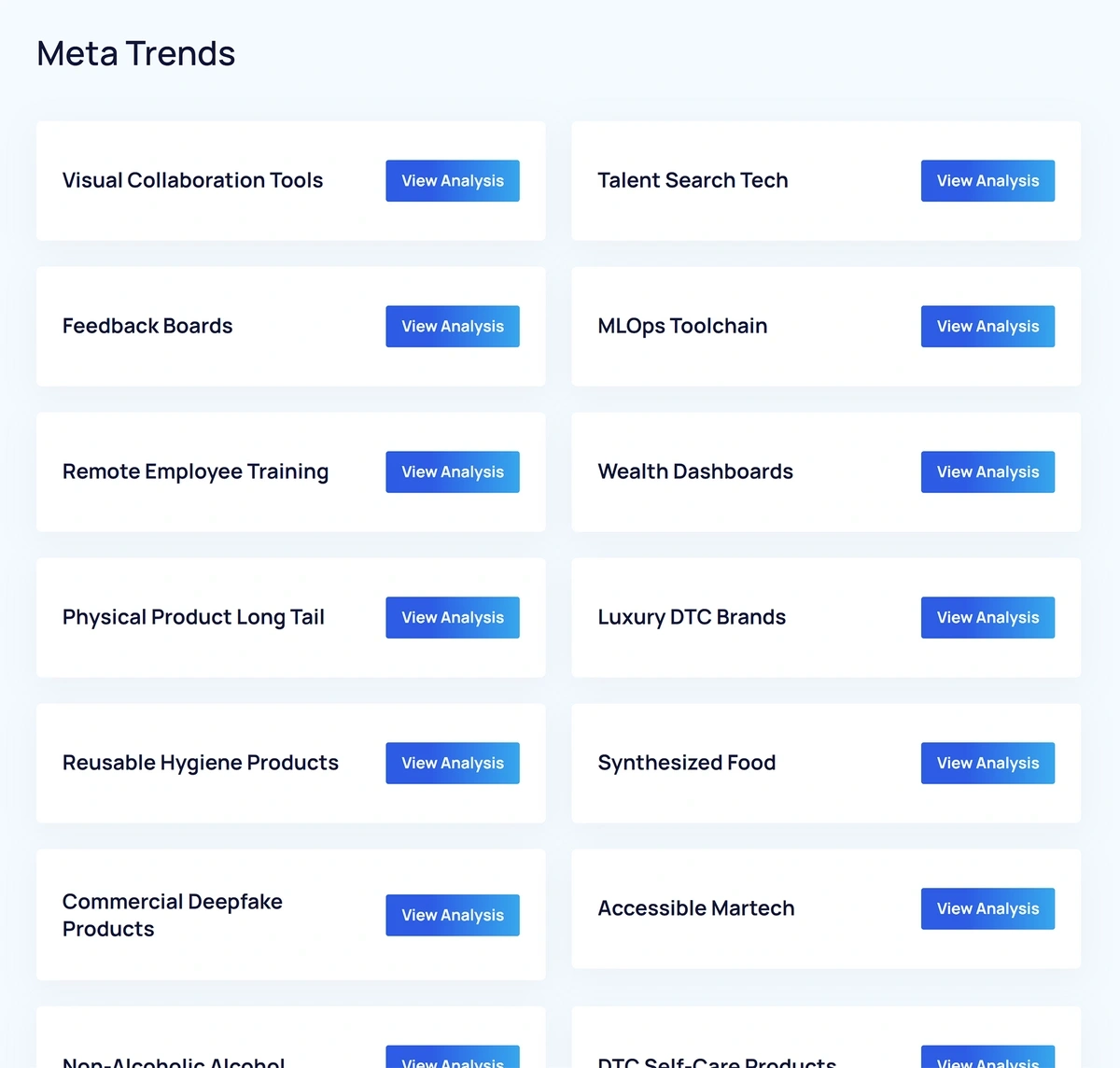 Researching new trends via the Meta Trends library is efficient because you're able to analyze large batches of trends at once, and we provide detailed analysis for each Meta Trend so you can easily get up to speed on why these trends are important (and who they impact).
For example, let's review the "Niche Streaming Services" Meta Trend: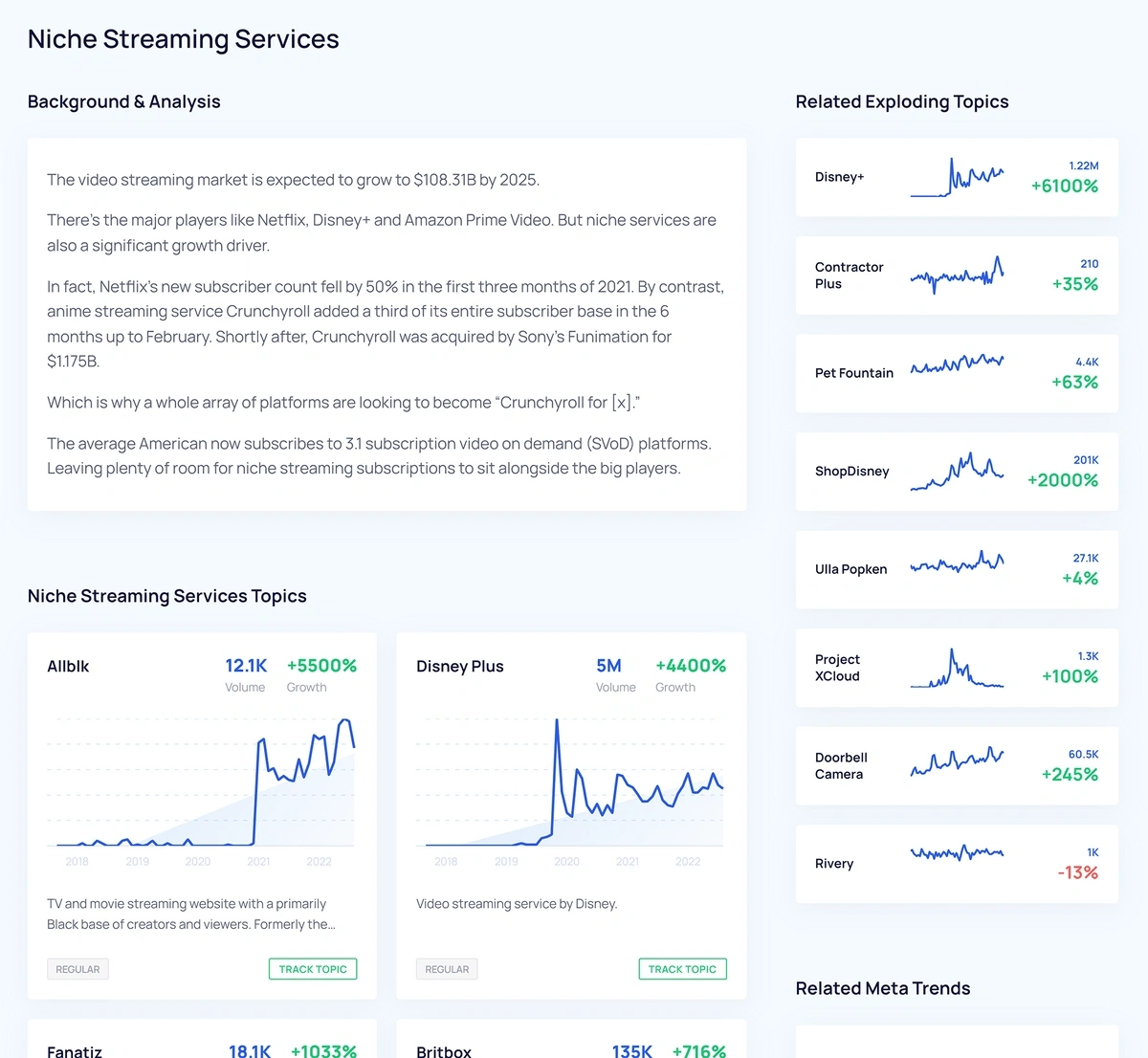 In the write-up, we provide some background on the topic and explain the consumer behavior driving this trend. Below, you can see all of the trends that make up this Meta Trend, including new streaming sites like Allblk and Britbox. On the right-hand side, you can see lists of other related trends and Meta Trends you might want to explore based on your interests. This way, you can continue trend research without jumping back to square one.
We also send weekly trend newsletters to fill you in on early industry and market trends that show signs of fast growth. Our reports contain a mix of 10 new trends (across various categories), each with dedicated trend analysis. We break trend reports into two sections: Early Bird Companies and Tomorrow's Product Today.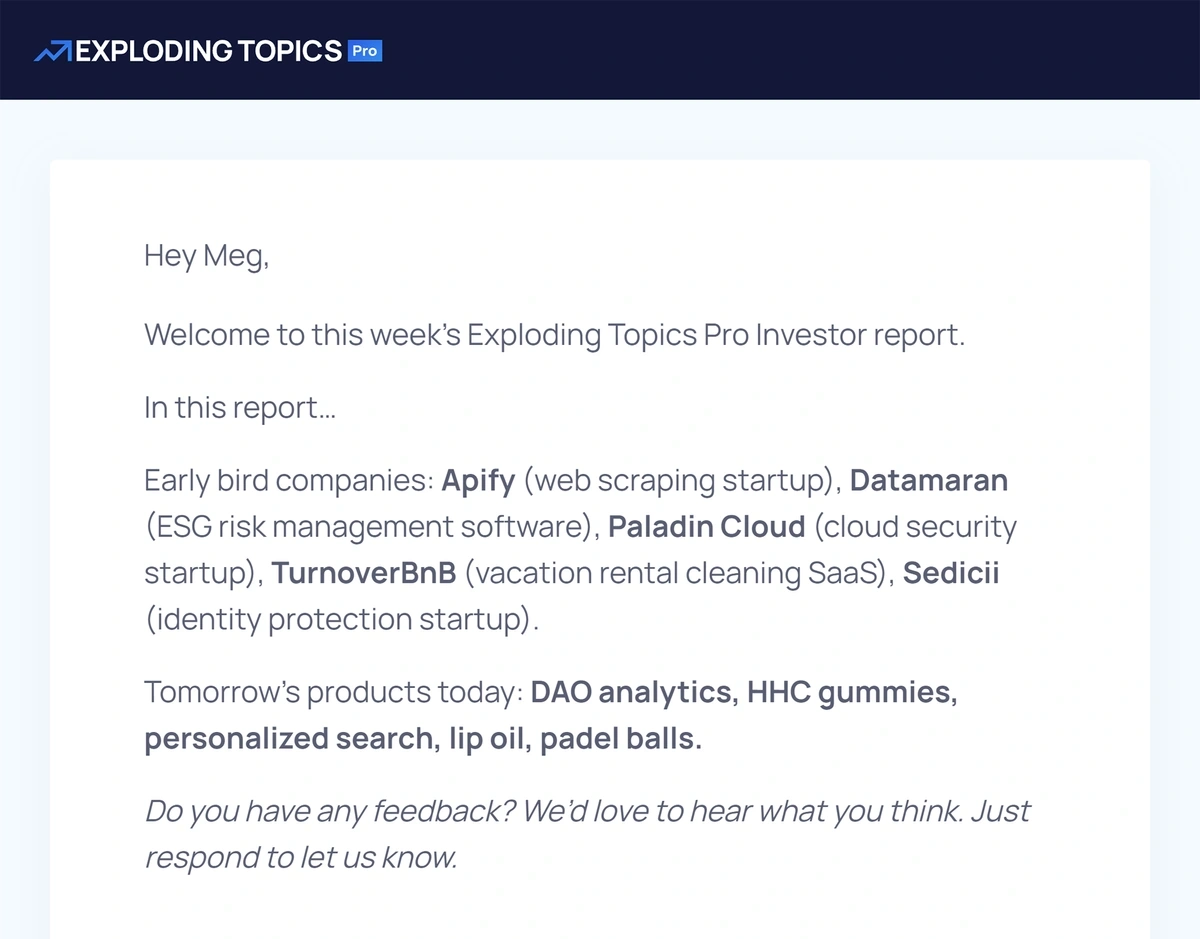 By providing a combination of industry trends, investors, entrepreneurs, media and marketing agencies, and other professionals can reference our trend reports to find unique trending products and jump on early opportunities — and gain a competitive edge.
Here's a glimpse of our trend analysis for "lip oil:"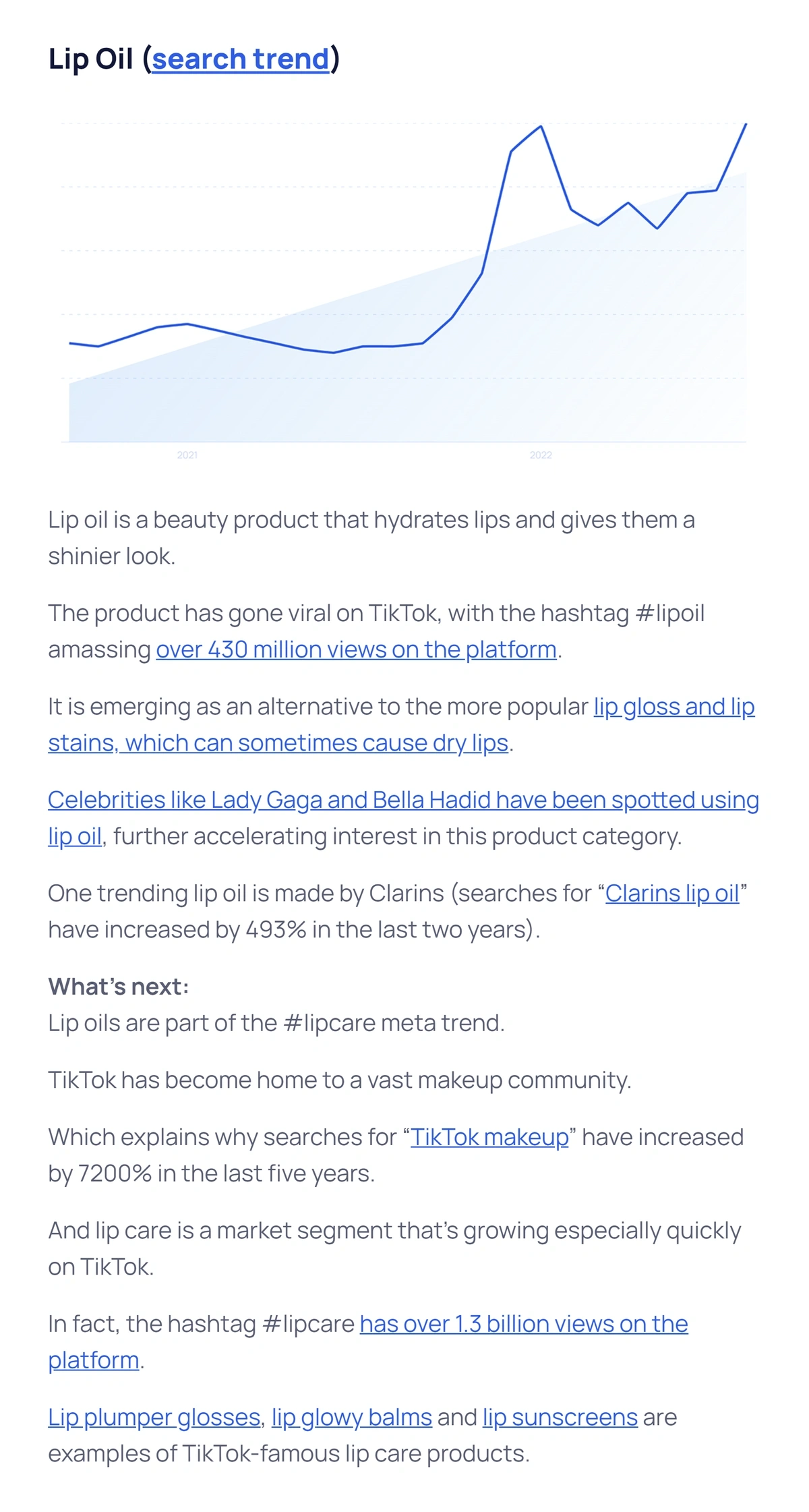 We explain:
What the product is
Which demographic(s) show interest in the product
How the product is becoming popular — where users are talking about it, shopping for it, etc.
Brands that are already popular in the space
Other related products that are gaining popularity
Expectations for market segment growth
Which Meta Trend the product fits into
You can read these reports in your email each week, or you can access them through the Exploding Topics dashboard. We'll save all of your trend reports in the Reports Library so you can reference them as needed.
Read More: How to Find New Trends (Super Early) With Trend Spotting
How to Analyze Trend Data: Trend Searches, Growth Rate, Related Trends
Now that we've talked about trend discovery and the trend data available on Exploding Topics, let's explain how to dig into our market trend analysis tools.
First, click the trend you want to analyze and open the trend overview (and see all of the data we listed above — searches, growth rate, etc.).
Next, adjust the date range to look at data over the desired time frame. You can look at the data we've pulled in the last month, three months, two years, five years, the list goes on. We gather up to 15 years of trend data so you can see exactly when the trend popped up and how interest has fluctuated since.
Then, you can move your cursor along the trend graph to view searches per day. The shaded slope on the graph represents the trend growth rate. This view lets you see the full picture, benchmark trend growth, and do your own trend forecasting.
Let's use OLIPOP, a prebiotic soda brand, as an example.
In the screenshot below, we can see OLIPOP debuted back in 2019-2020, but interest in the brand didn't begin to skyrocket until the end of March 2022 — OLIPOP had two searches per day in 2019, and now they're searched 50+ times per day. The slope shows continued growth since 2019, and considering the significantly high growth rate, we can expect this brand to remain relevant years into the future. So if you were interested in healthy food and beverage trends, this would be a brand to track.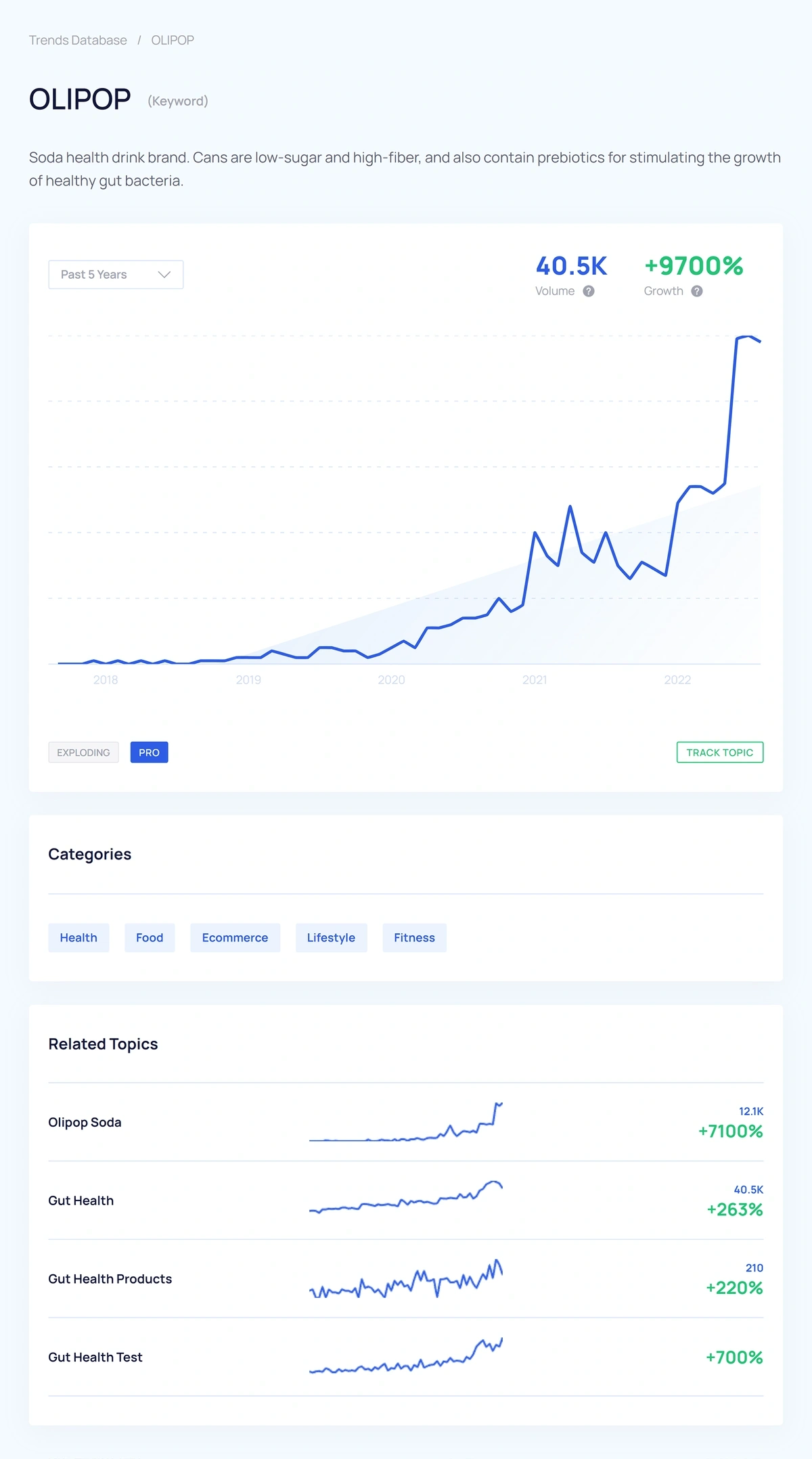 You can also see the trend status from this window — the trend's status gives you a better idea of where it's at in its lifecycle. Is it still an early trend (that your competitors haven't heard of)? Or, has customer interest in the trend already peaked?
Here's what each status indicates:
Regular: These are very early trends that have yet to take off. Our AI discovered them and team verified them, but they may not be on your competitors' or customers' radars yet. These are valuable trends for your business strategy because you can get ahead of what's up and coming, and be the first to leverage these opportunities.
Exploding: These are trends that have already started to gain some traction and proven their popularity — so your competitors and customers may or may not know about these trends. Researching Exploding trends lets you stay on top of what's relevant in your industry.
Peaked: These are widely-popular trends that your competitors and customers (should) know about. Although these opportunities are likely saturated, you can look at trends that relate to Peaked topics for newer, fresher ideas.
We also display Categories and Related Topics (with a preview of their trend data) so you can see which industries the trend affects and continue researching other opportunities.
Then, you can save trends to your dashboard by selecting "Track Topic."
Read More: Market Research Tools to Discover & Track Industry Trends
How to Track Trends & Monitor Growth: Trend Dashboard & Email Alerts
You can navigate to the main dashboard or the My Projects tab to view all of your saved trends. As you save trends, you're prompted to add them to a specific Project — these help you track multiple types of trends and keep everything organized. You can customize Projects any which way to fit your trend research.
For example, in the screenshot below, you'll see two types of tracked trends: Unique Health Supplements and At-Home Fitness Accessories. So this user can open their dashboard and easily jump to the trends they want to check.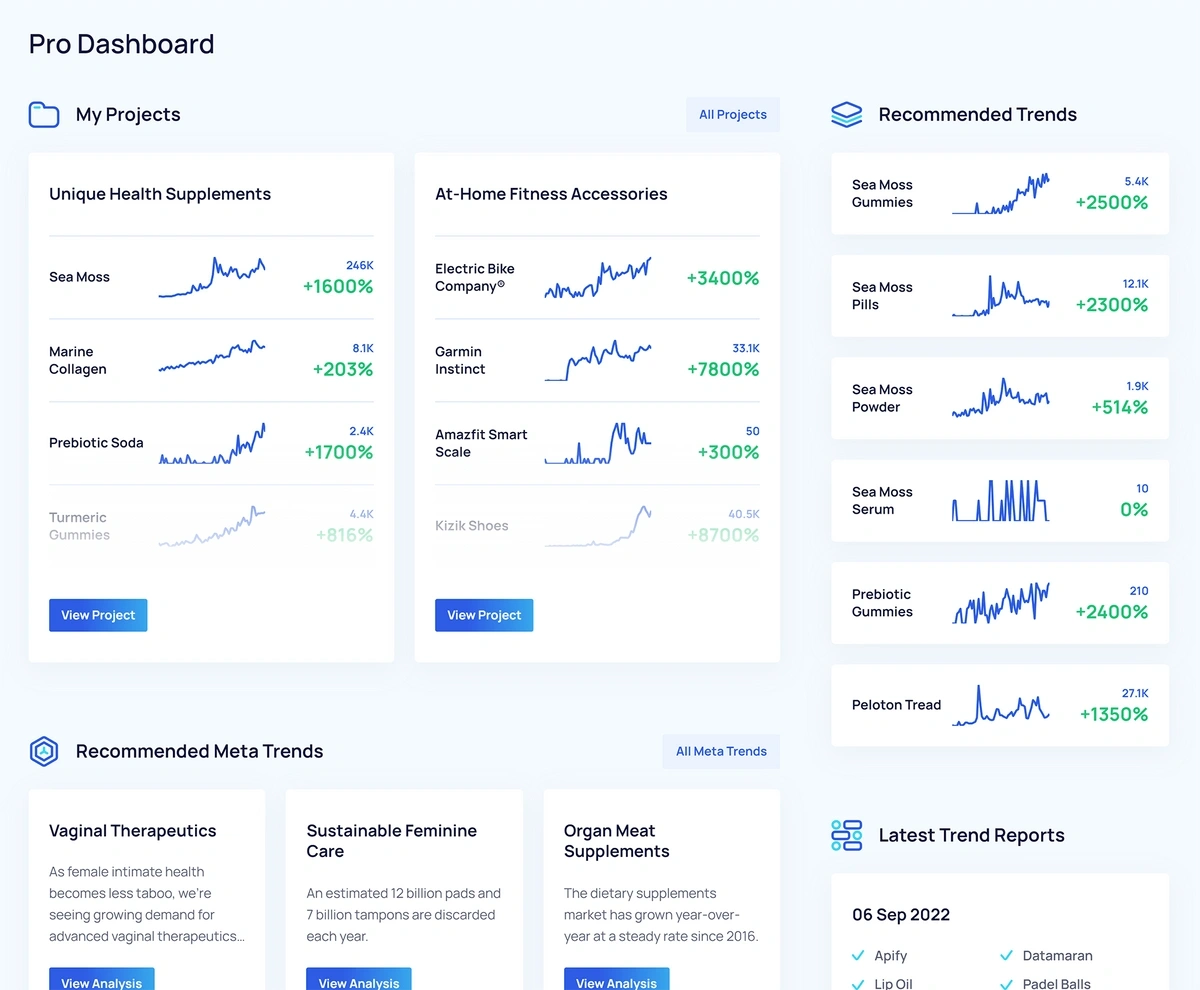 We update our platform daily so you're always working with the latest insights. You can set email alerts to receive instant notifications for trend updates — say if the search volume or growth rate spikes (or dips). Then, you can log in and check trend data when we alert you of major changes, rather than adding this to your daily task list.
We also provide a list of related trending topics, Meta Trends, and recent trend reports in the main dashboard so you can reference all relevant trend data in one spot.
Note: You can use Exploding Topics API to connect our trend research software with other business reporting tools and consolidate data on those platforms. You can learn more about that here.
Time to Get Started!
Exploding Topics gives you the tools to do trend research without hiring or relying on an outside agency. Our team has years of experience in this market research, and we make our trend data available to all of our users, so you can:
Discover early trends, and research startups, products, services, technologies, etc. you already know about.
Leverage actionable insights from Meta Trends and trend reports to guide business decisions.
Explore (current) trend data with interactive graphs and detailed analysis provided by our team.
Save and monitor the trends that interest you, and leverage those opportunities when the time is right for your business.
You can unlock full access to our platform by starting an Exploding Topics Pro Trial for $1 — no contract required!