How to Find Unique Product Ideas (Before Your Competitors)
Ecommerce entrepreneurs typically use one of the following methods to learn about new, popular products:
Check best-selling products on prominent eCommerce stores like Amazon, Etsy, eBay, AliExpress, or Shopify.
Look up "top trending products" lists and see a rundown of the most popular products over the last year.
Use free sites like Google Trends to see what people are searching for online.
The problem with these methods for finding new trending products is that they all show products that are currently trending.
By the time you add the product to your store, the trend will have peaked, and you'll probably be disappointed by the sales numbers.
If you manufacture your own products, the interest in that product may have died out completely by the time you're ready to launch, and you may have to give away the inventory.
That's why it's important to find under-the-radar trends with long-term growth potential.
So rather than showing you how to find the latest hot products, this post will show you how to find unique product ideas with steady positive growth trends.
Search For Trending Products Using A Database
Product research tools, like Exploding Topics, can help you quickly find unique new product ideas in seconds.
The product database has thousands of trending products, and you can easily search for relevant products with the following filters:
Category: It offers 19 product categories ranging from beauty and design to science and tech.
Status: This is the product's growth rate. You can set it to exploding, regular, or peaked.
Best Seller Rating: This is the average Amazon Best Sellers rank for the top products
Monthly Sales: This is the average monthly sales for that product on Amazon.
Price: This is the average Amazon price for the top products.
Revenue: This is the average Amazon revenue for the top products over the past 30 day period.
Review Stars: This is the average review stars for the top selling products on Amazon.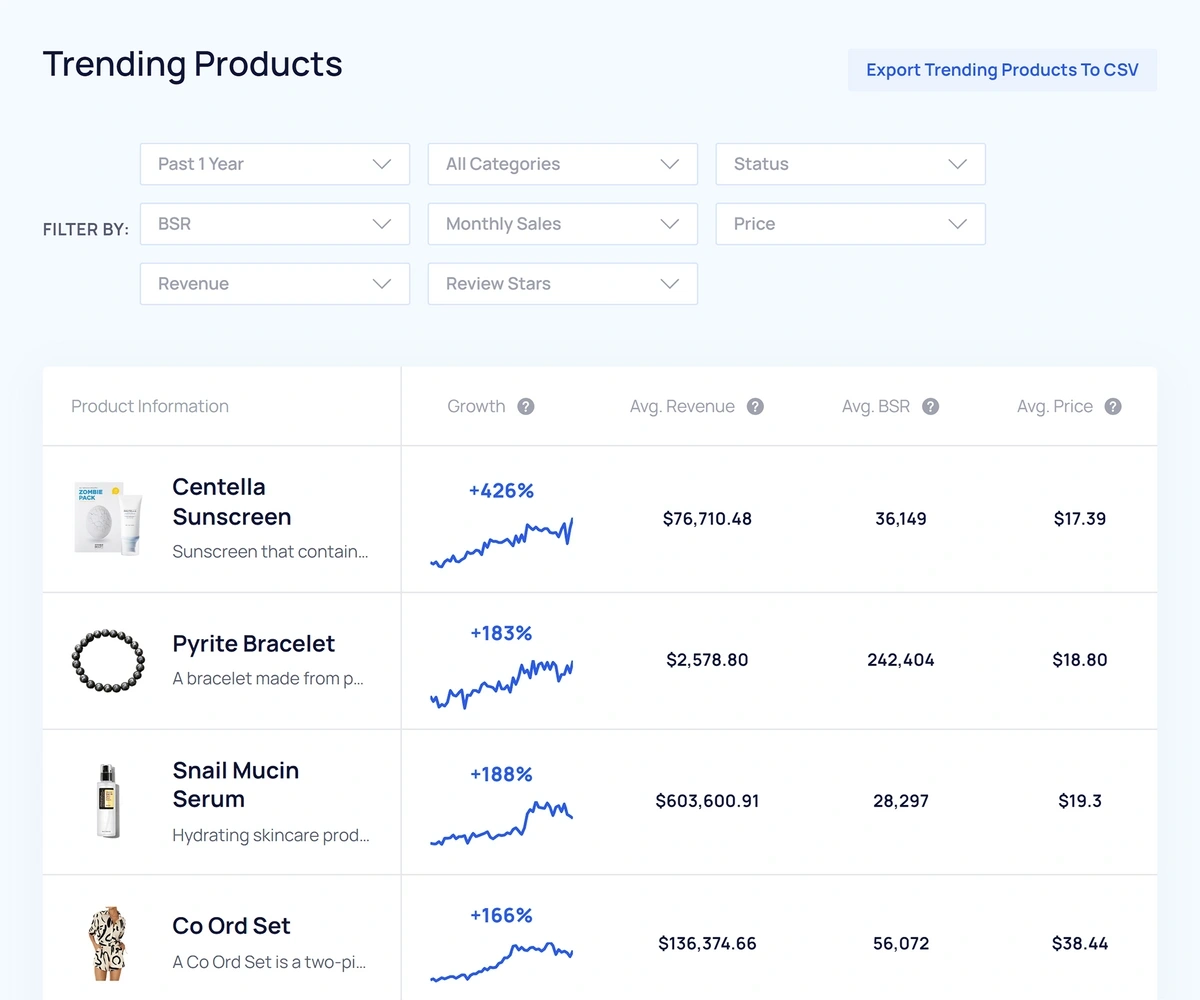 You can then click on any product and quickly see a more detailed overview and a description: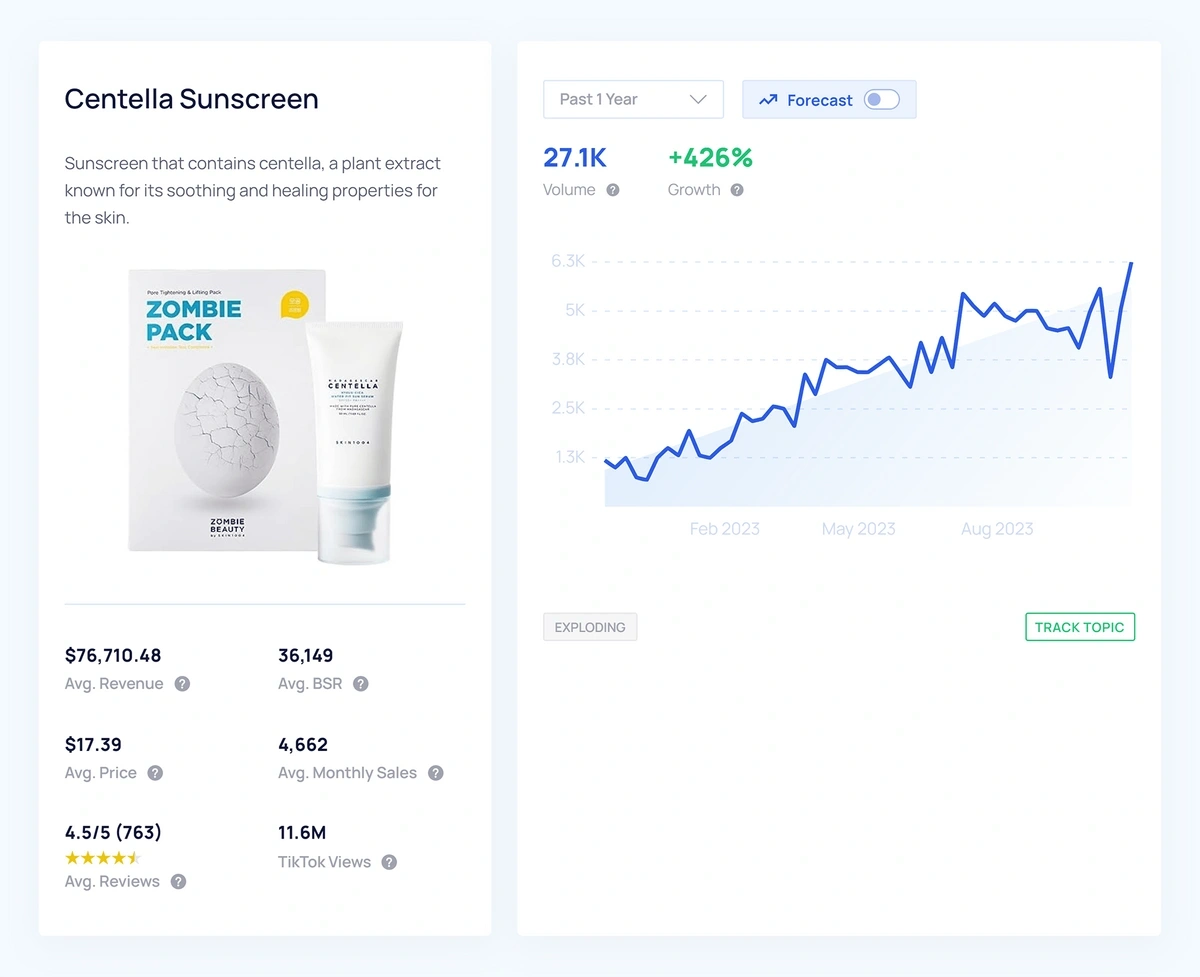 If you scroll down, you'll also see more related products, a breakdown of the product's popularity across social media platforms, other related trending topics, and more.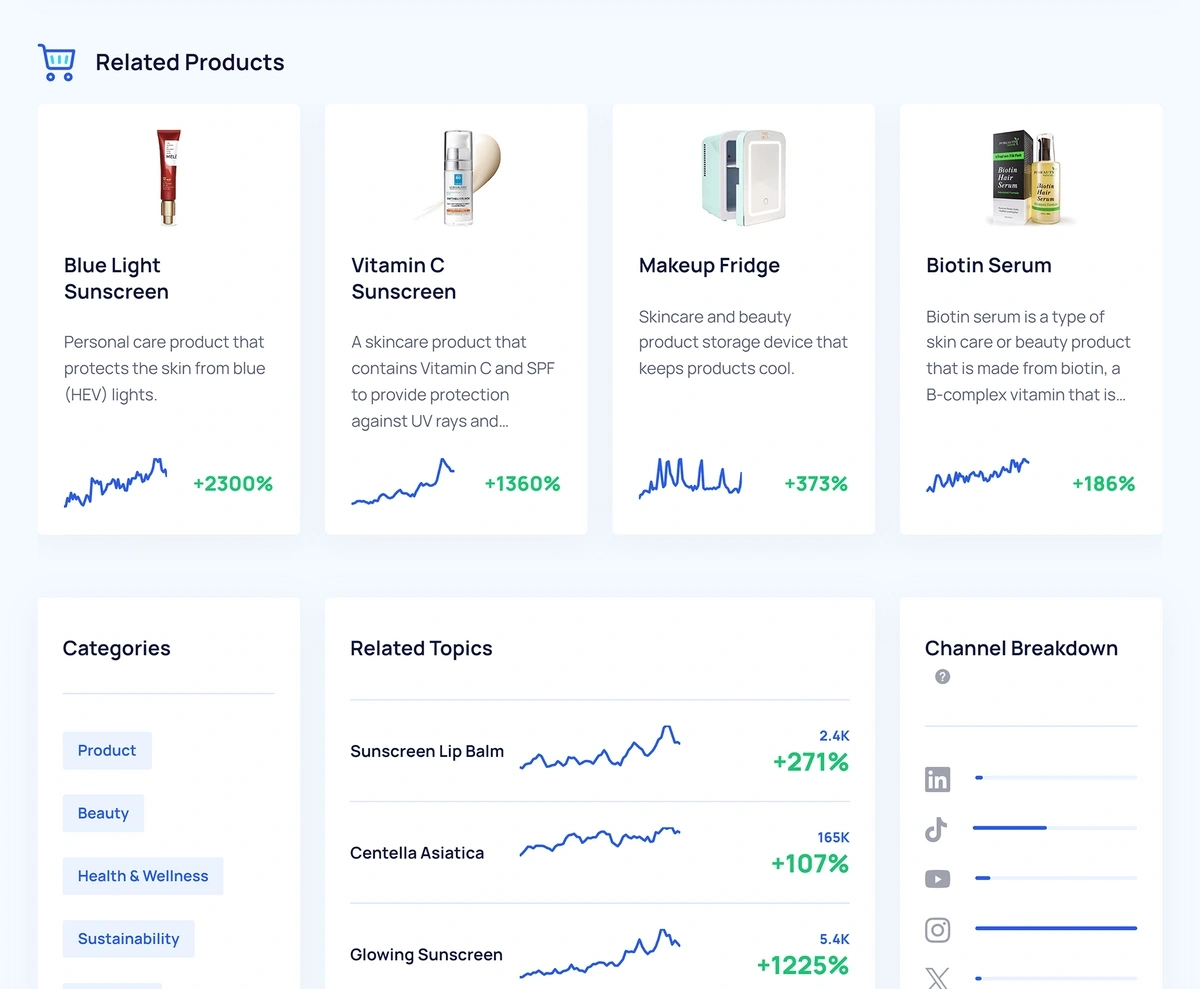 When you find an interesting product, you can select "track topic" and add it to a Project. Projects live inside your dashboard and make it easy to track the product's trend growth over time. We update all trend data daily so that you always have an up-to-date overview of each topic's growth.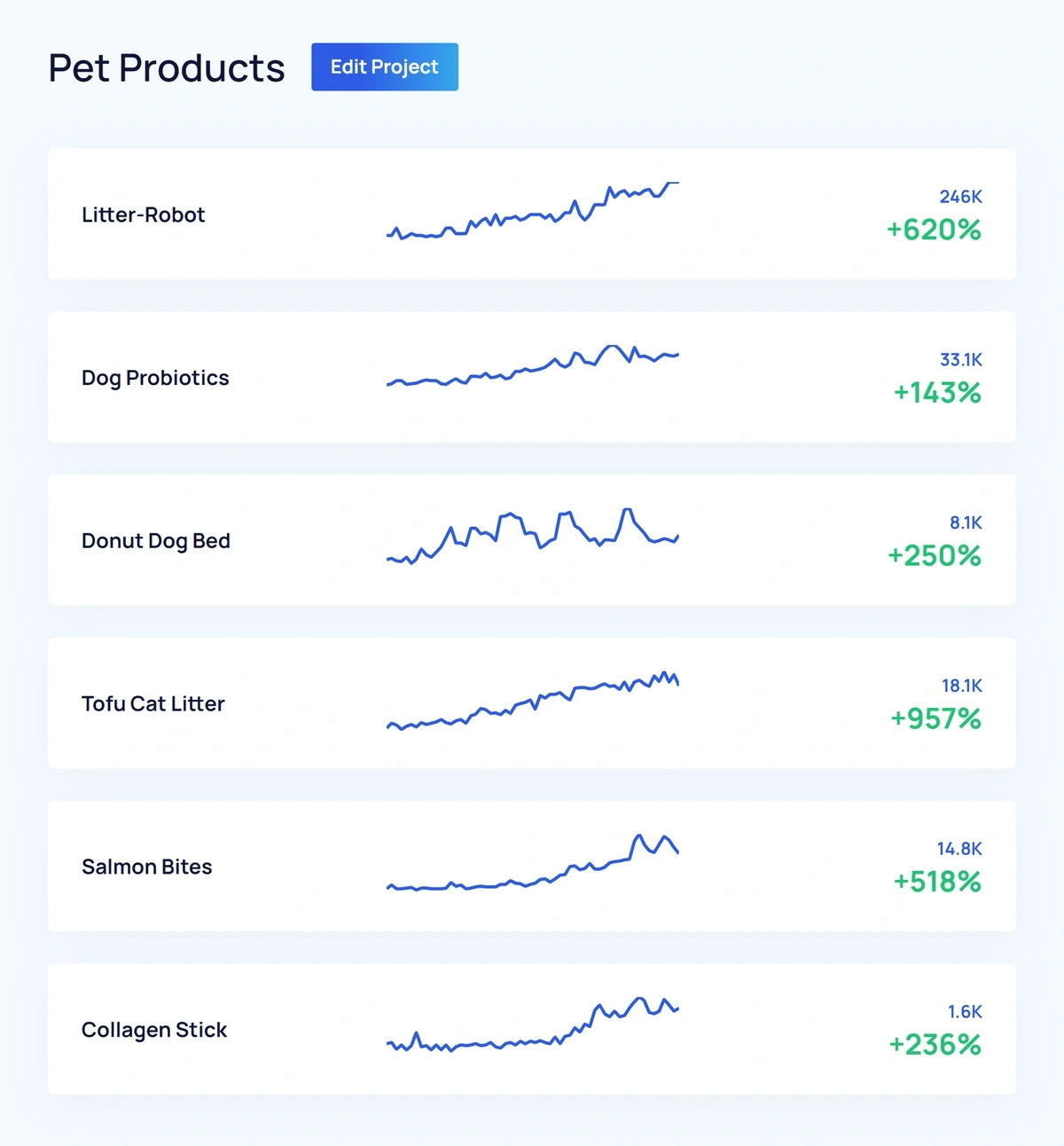 If you've used other ecommerce product research tools in the past, you may have noticed that the market quickly becomes saturated as soon as you add the recommended trending product to your store.
As a result, your products don't sell.
This is because most product finder tools recommend the products that are currently trending (usually based on sales data from suppliers or platforms like Amazon or eBay). By the time you add it to your store, that product has already peaked.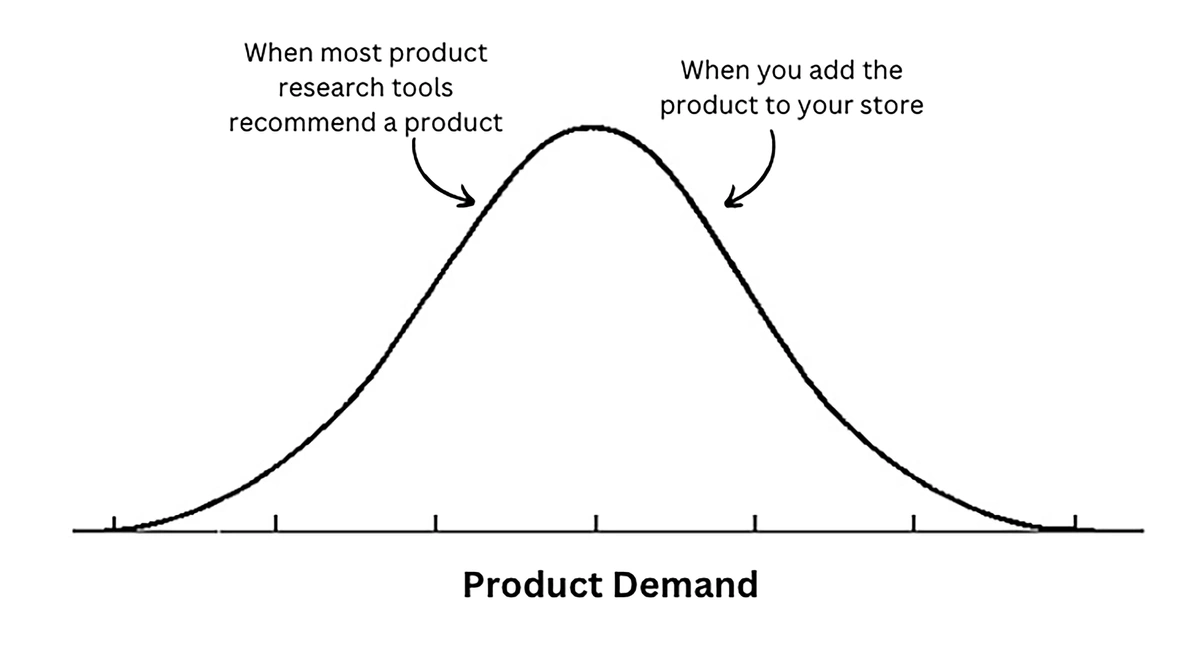 The same is true if the product research tool uses sales growth rate data as this data is usually only based on a matter of weeks.
The solution to this dilemma is to find products that have a long history of steady incremental growth.
So we analyze Google Search volume for product keywords over extended time horizons (at least three months) to identify products with stable, long-term growth potential.
This strategy makes it easy to weed out fads that grow exponentially over a few weeks and then quickly die.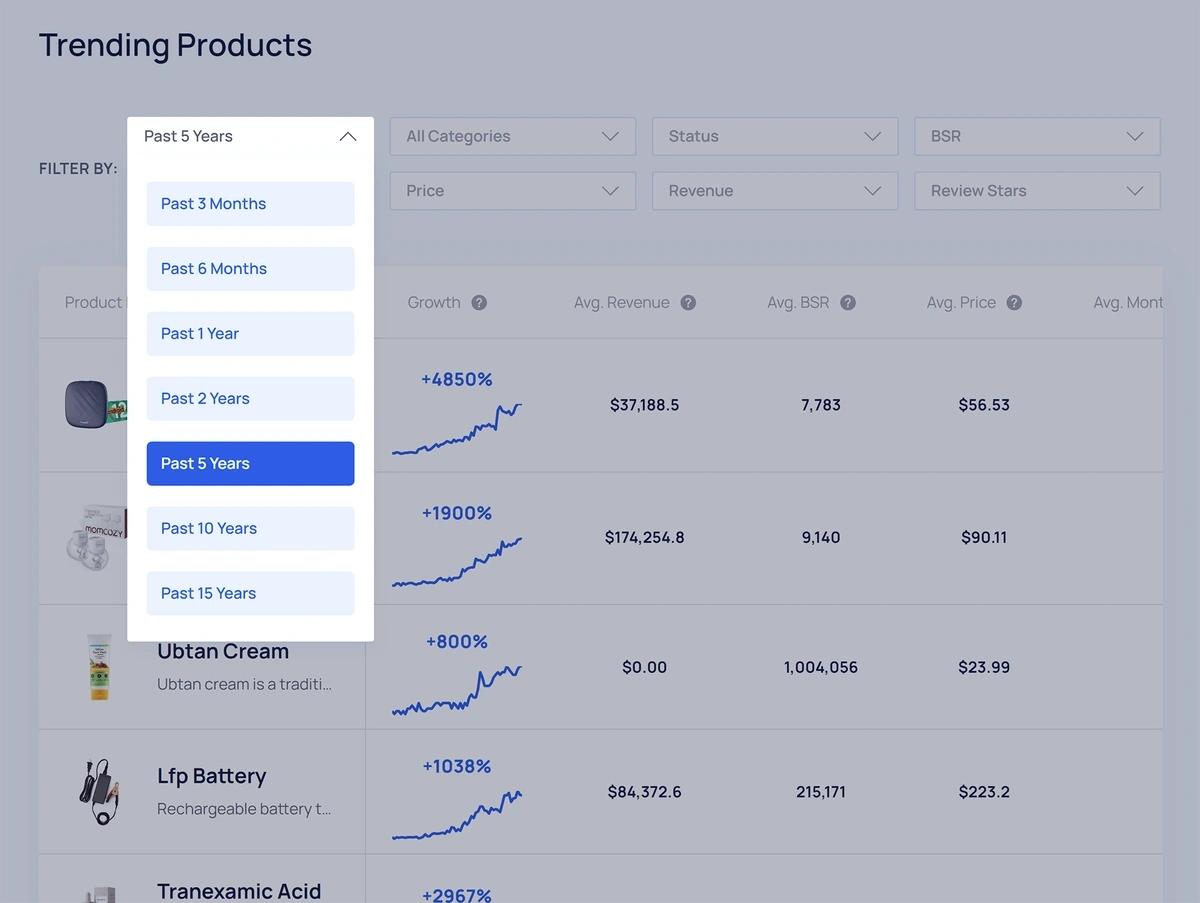 You can adjust the time frame to filter to three months, six months, one year, two years, five years, ten years, or 15 years to see a list of products with the best growth rates over that time frame.
Therefore, risk averse business owners (like those manufacturing their own products in China) can filter to see only products that have shown strong growth trends over the past one, two, or five years.
Alternatively, online business owners with a higher risk tolerance (like dropshippers) can filter to see products with the strongest growth trends over shorter time frames (like three or six months).
Identify Trending Topics In Your Industry
Analyzing trending topics can help you uncover more niches, brands, and even customer pain points, which can lead to more unique trending product ideas.
To make it easy to find under-the-radar trending topics, we built the Trends Database in Exploding Topics.
To spot trends, we have AI and machine learning tools tracking sources like Google, YouTube, Amazon, Spotify, and social media platforms in real time. When a topic receives an uptick in mentions, it's flagged for further analysis by a real human analyst.
This strategy is how we're able to uncover under-the-radar trends and ensure they are high quality and relevant.
To use the Trends Database to find unique product ideas, select one of our dozens of categories, ranging from home office and tech gadgets to beauty and skincare products: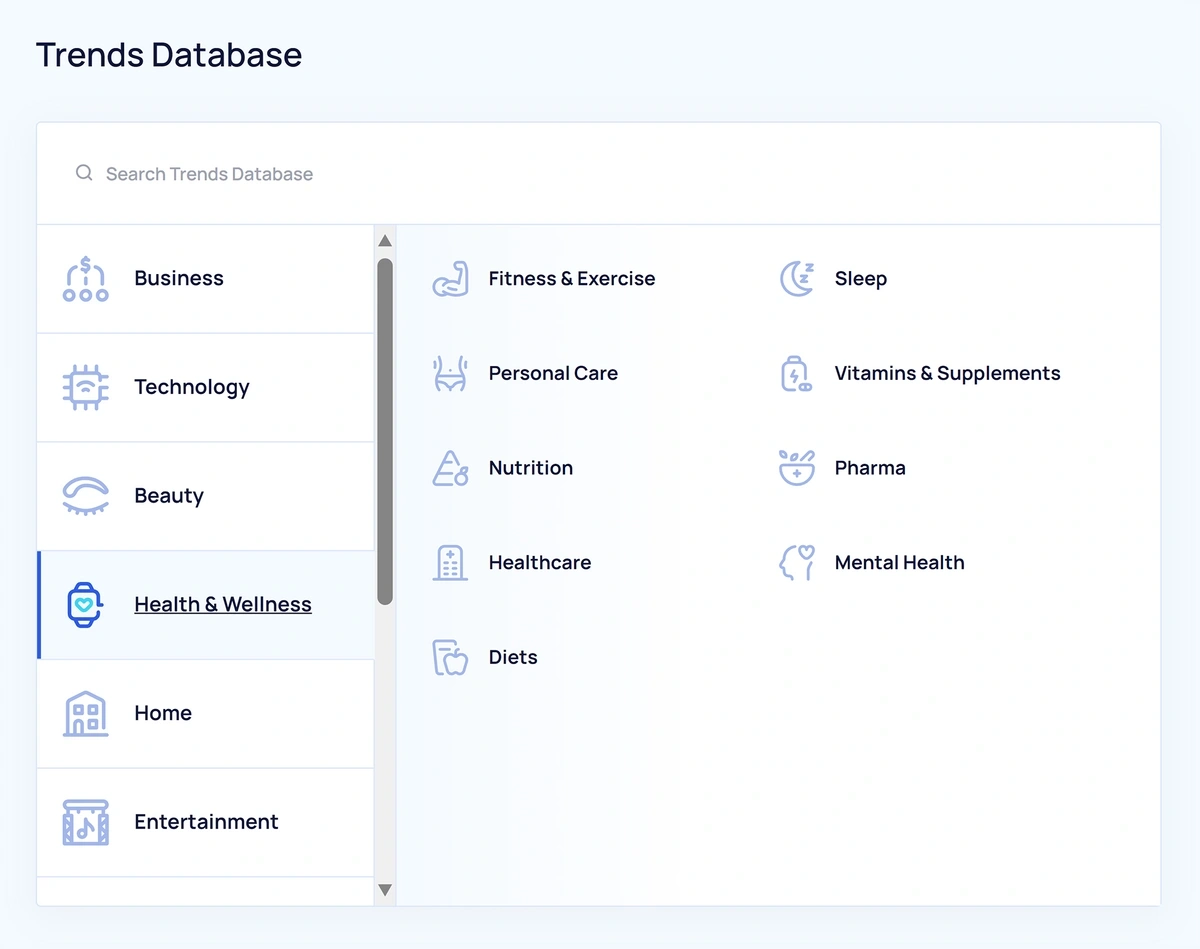 Then, you can sort by trend status, brand, and time frame (from 3 months to 15 years).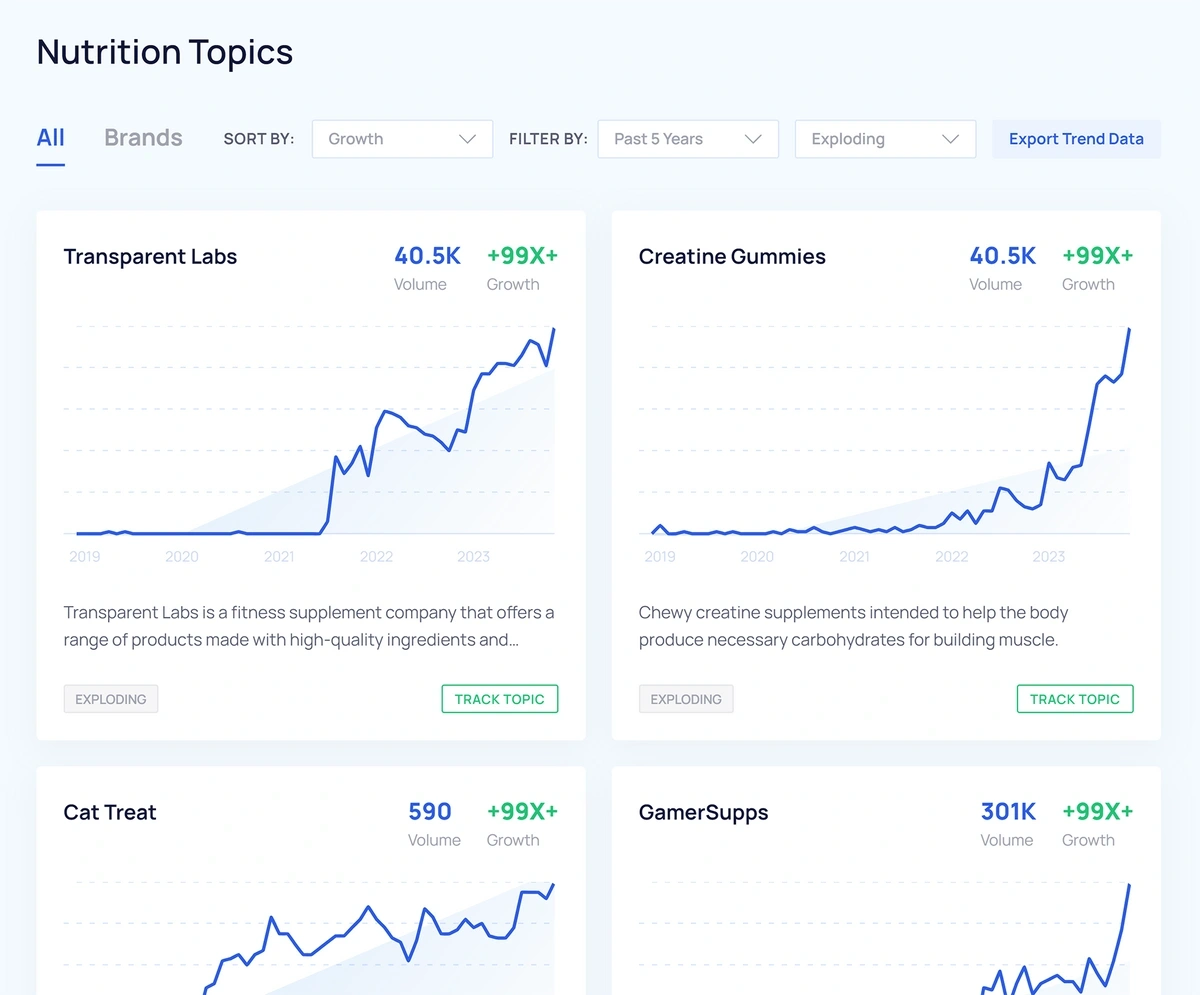 This data is useful if you have a nutrition brand for a few different reasons.
First, you can see that a topic like non-homogenized milk might be a great product to add to your store. If you're only using a product research tool, you might not realize this, as it would probably just show generic milk brands that are trending.
Yet the key here is that people are specifically looking for non-homogenized milk.
Similarly, you can see that GamerSupps is a trending brand.
This is useful information because, while a product research tool might provide a generic product suggestion (an energy drink), this data helps you uncover a new audience that you could target.
With a slight repositioning in your messaging, you could take a generic energy drink, rebrand it as a drink for gamers, and increase your sales.
You can also look at the best selling products from these trending brands to identify other innovative products to sell online.
So write down a list of the trending brands in your industry and then notate:
Their unique messaging/positioning
Their target market
Their best selling products
When you find an interesting trending topic, you can click on it and view more detailed information as well as related trending topics and even a breakdown of the social media channels it's trending on.
For example, you can see that GamerSupps is trending the most on Reddit.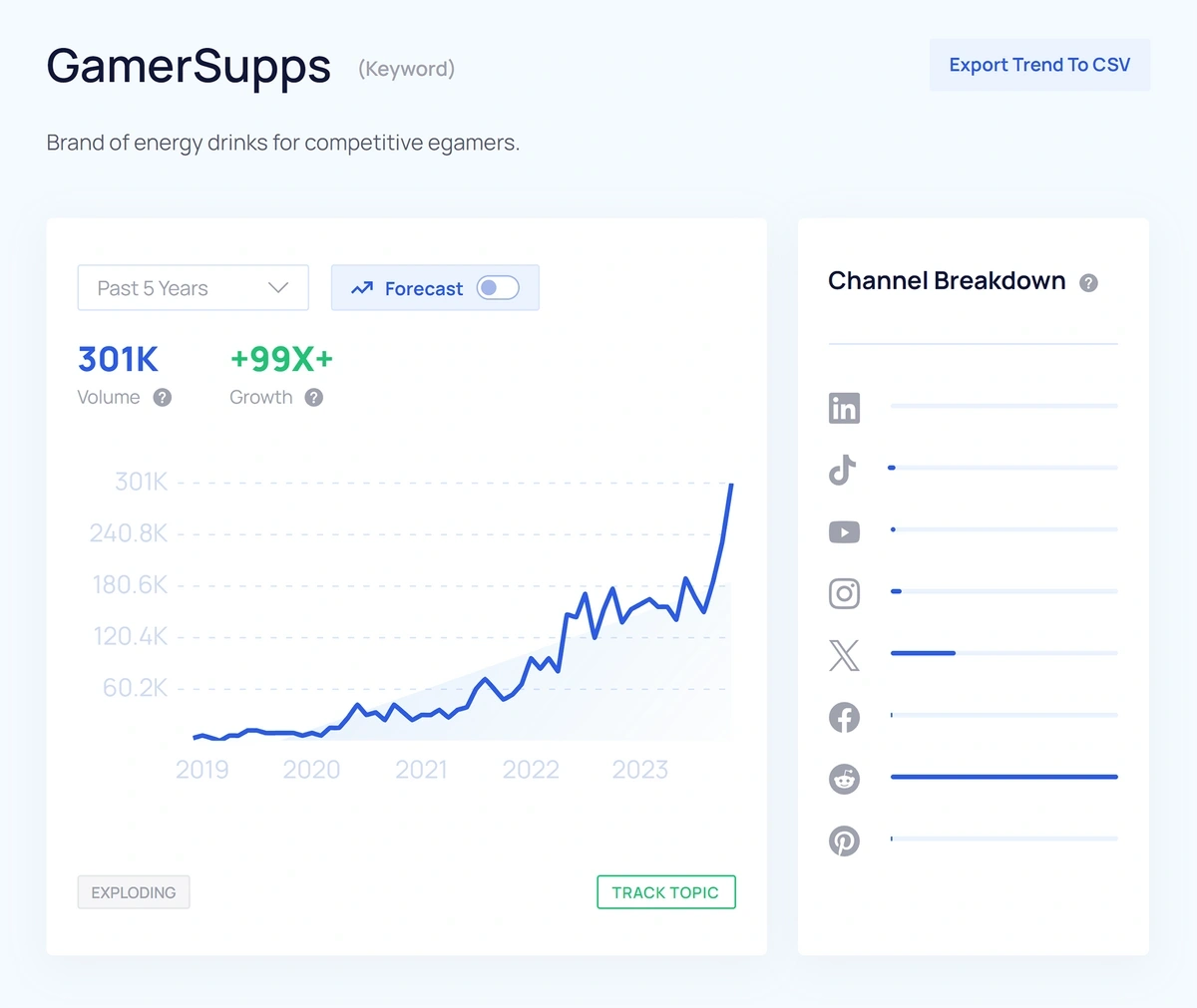 So you could search for it on Reddit and even ask those Reddit users what other types of products they like and why.
You'll see that there is an FAQ thread on the product with over 280 comments. Browse through that thread and see the questions people ask, pain points they mention, and what they like about the product.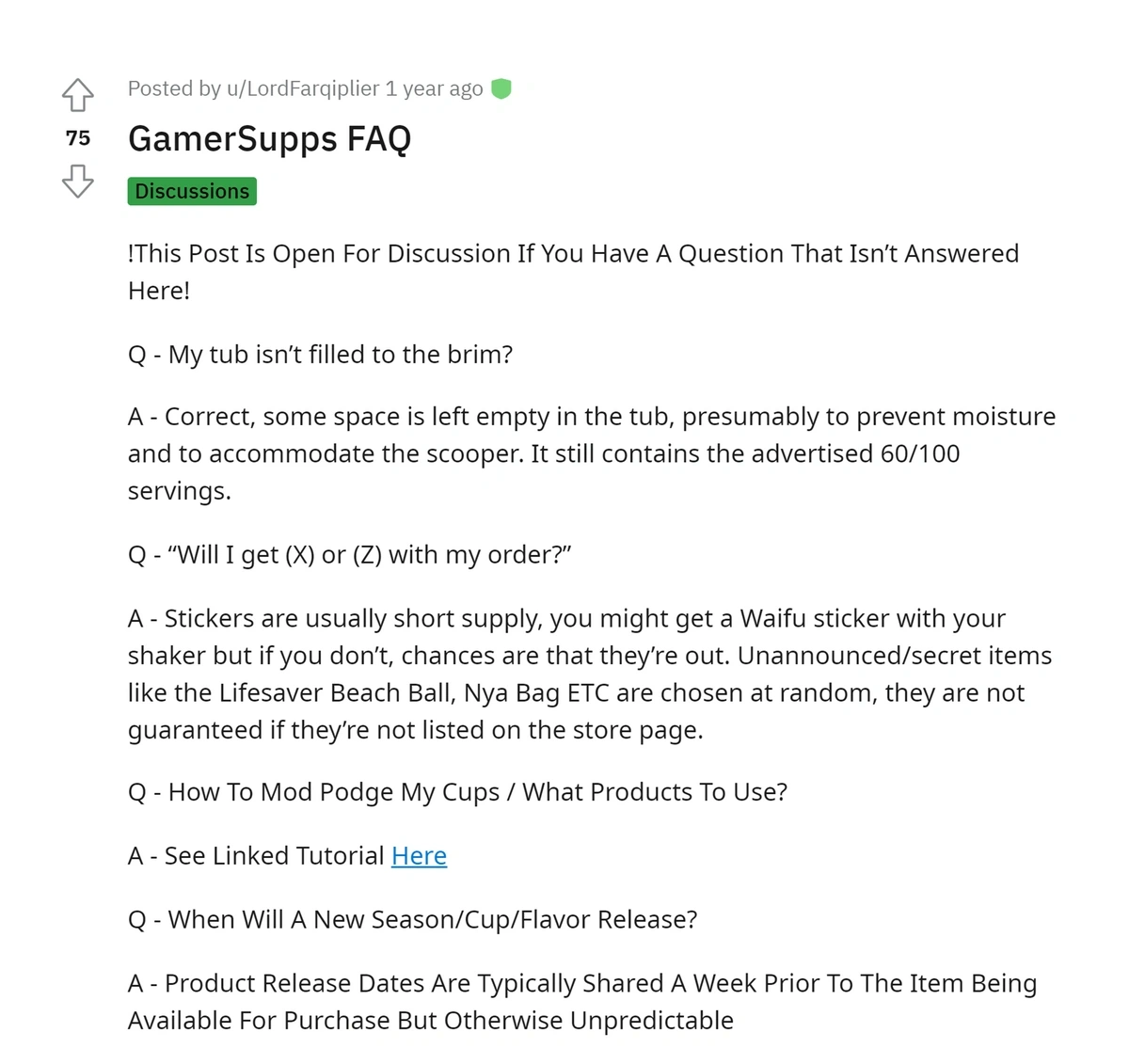 You can also ask questions in the thread.
Conversing with potential customers before launching a product is ideal as you can get their feedback on your idea and even recruit a group of beta testers.
Check Trend Growth For New Product Ideas
You'll probably come across many random product ideas during the research phase, but how can you tell if a product is a high quality trending product?
Instead of guessing, Trends Search allows you to view the historical search volume of any keyword. Just type the keyword into the search bar and you can view its historical search volume trend, total monthly search volume, and even other related searches.
For example, if a friend told you that "bamboo cutlery" is a good product idea, you could type it into Trends Search just to double check. As you can see, that actually would not be a great trend to chase: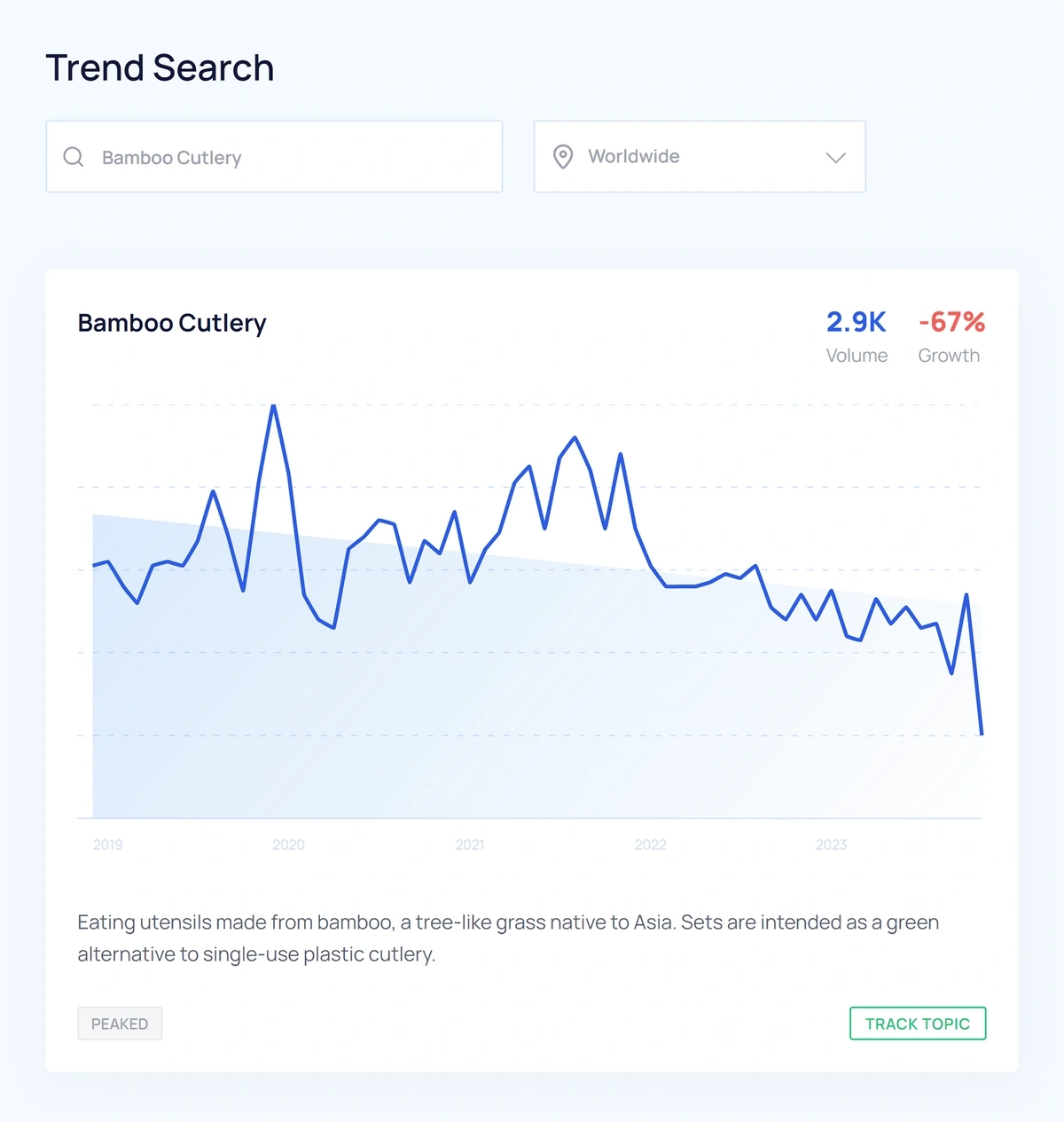 However, you can scroll down and see other related trends, some of which might be much better products. You can even filter the related trends by search volume or growth to see which ones are growing the fastest.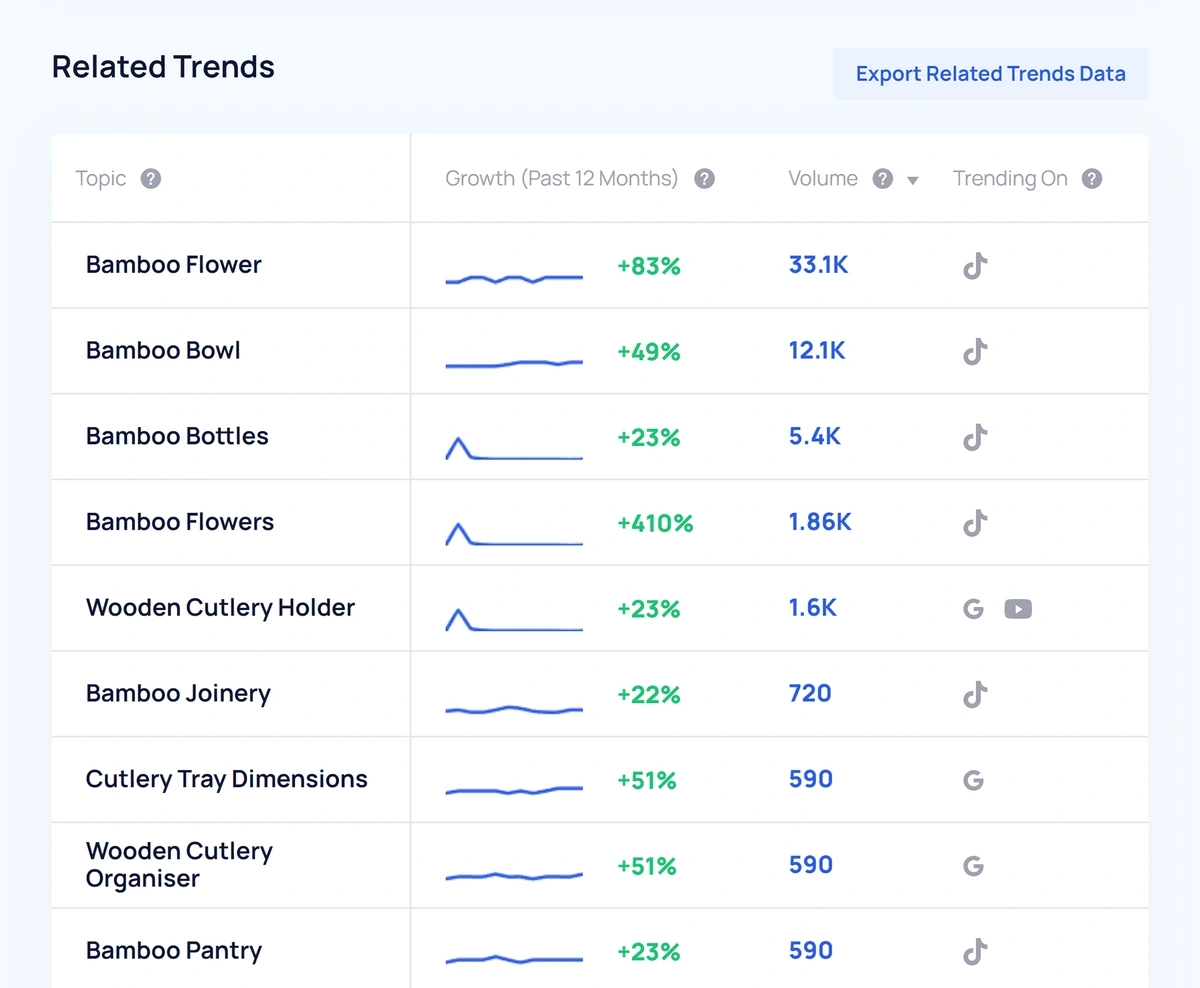 This tool is also helpful if you have existing product lines and just want to expand.
For example, let's say you already sell dog products and are interested in adding feeders to your product line. You could type the broad keyword "dog feeders" into Trends Search, and then you can scroll down to see a selection of trending types of dog feeders: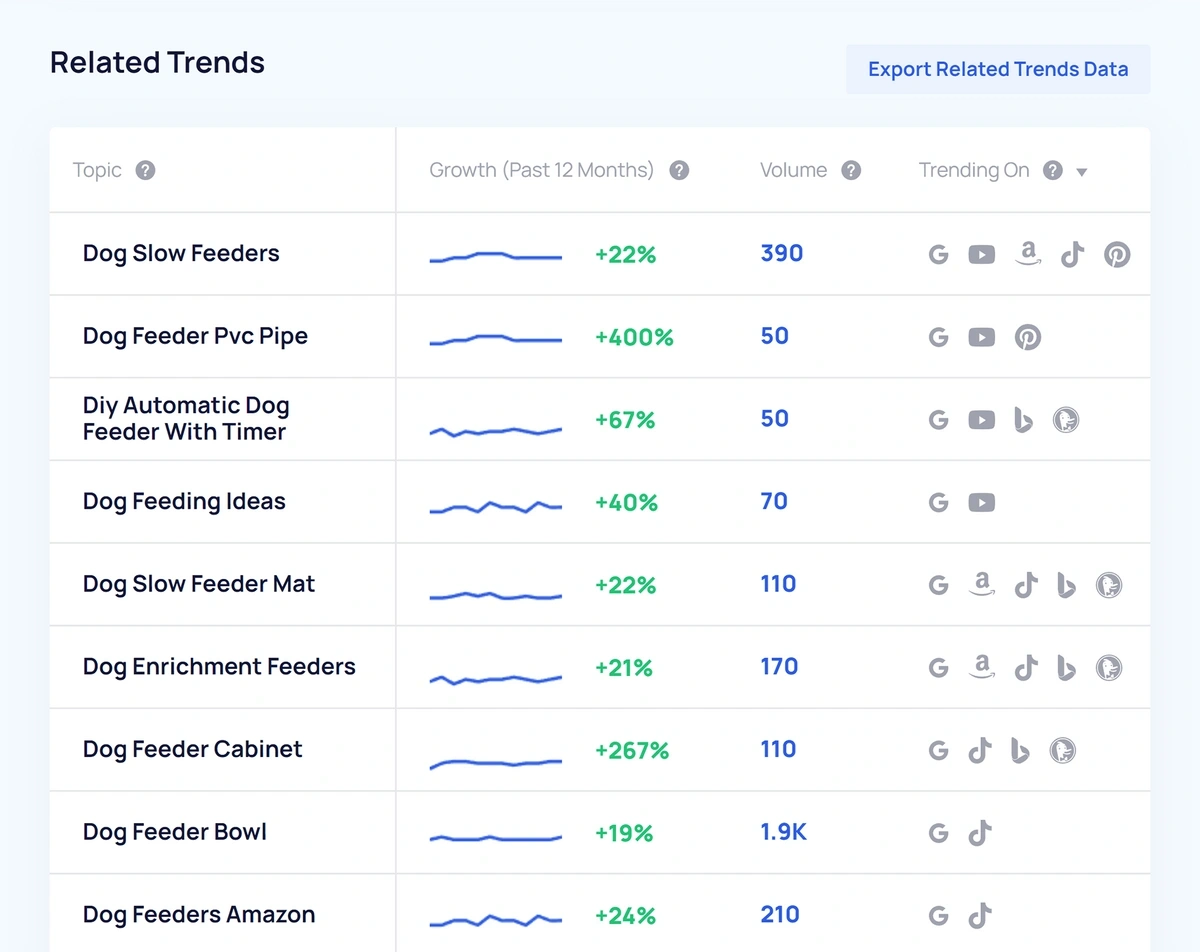 Identify Growing Product Categories (aka "Meta Trends")
If there is a group of related trending products, they're often all part of a larger trending niche.
And if you can identify the trending niche, it's much easier to uncover many more trending products.
Yet finding trending niches is difficult as most product research tools only show trending products.
This is why we built the Meta Trends dashboard.
It shows you trending niches and the trending brands and products within each niche. This makes product research much faster than looking for individual trending products.
For example, we identified that "coffee alternatives" is a trending niche.
Within that trending niche, you'll find topics like "mushroom coffee" and "beet root juice" and trending brands like Toniiq.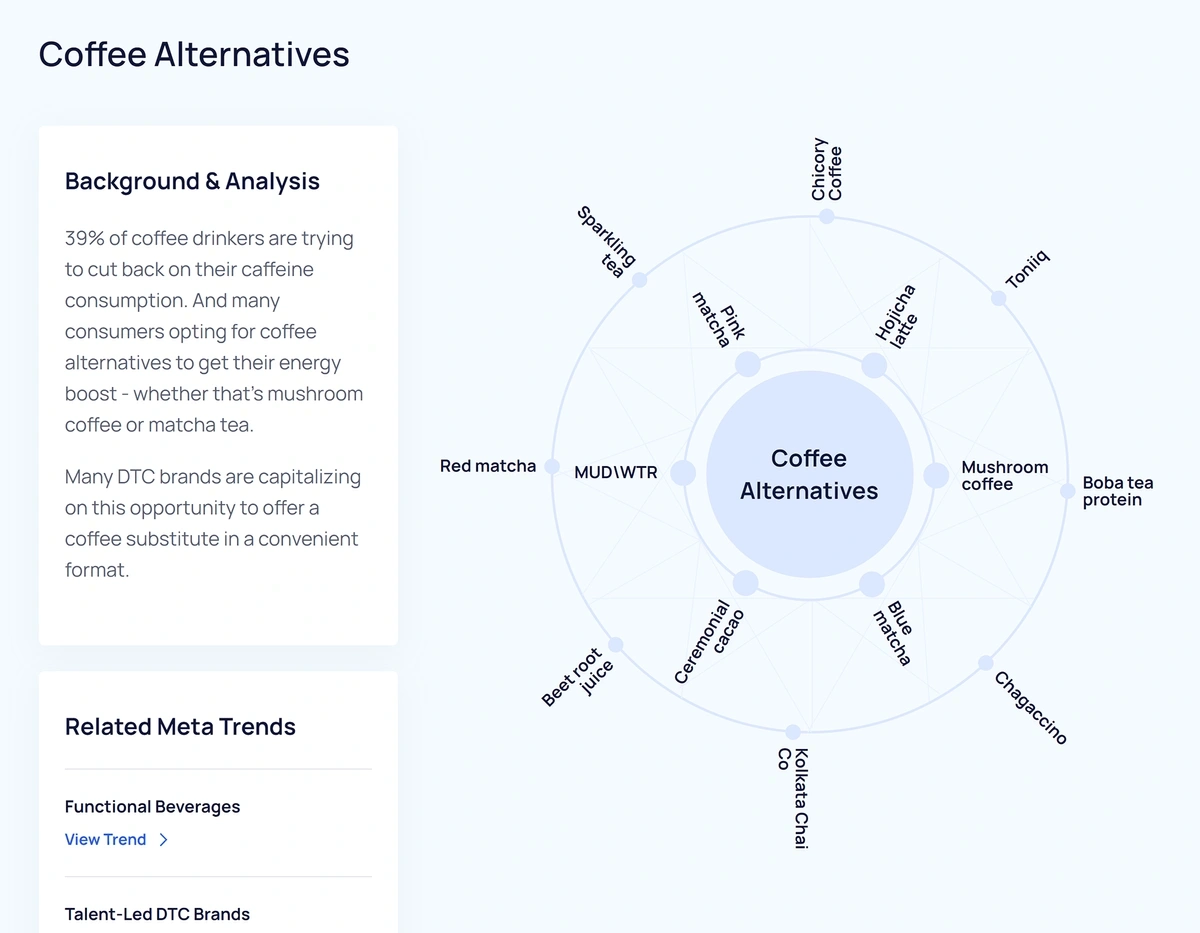 You can also click on any of the brands or topics within the rings to see a graph of their search volume trend and click "Track Topic" to add them to a Project where you can track trend growth.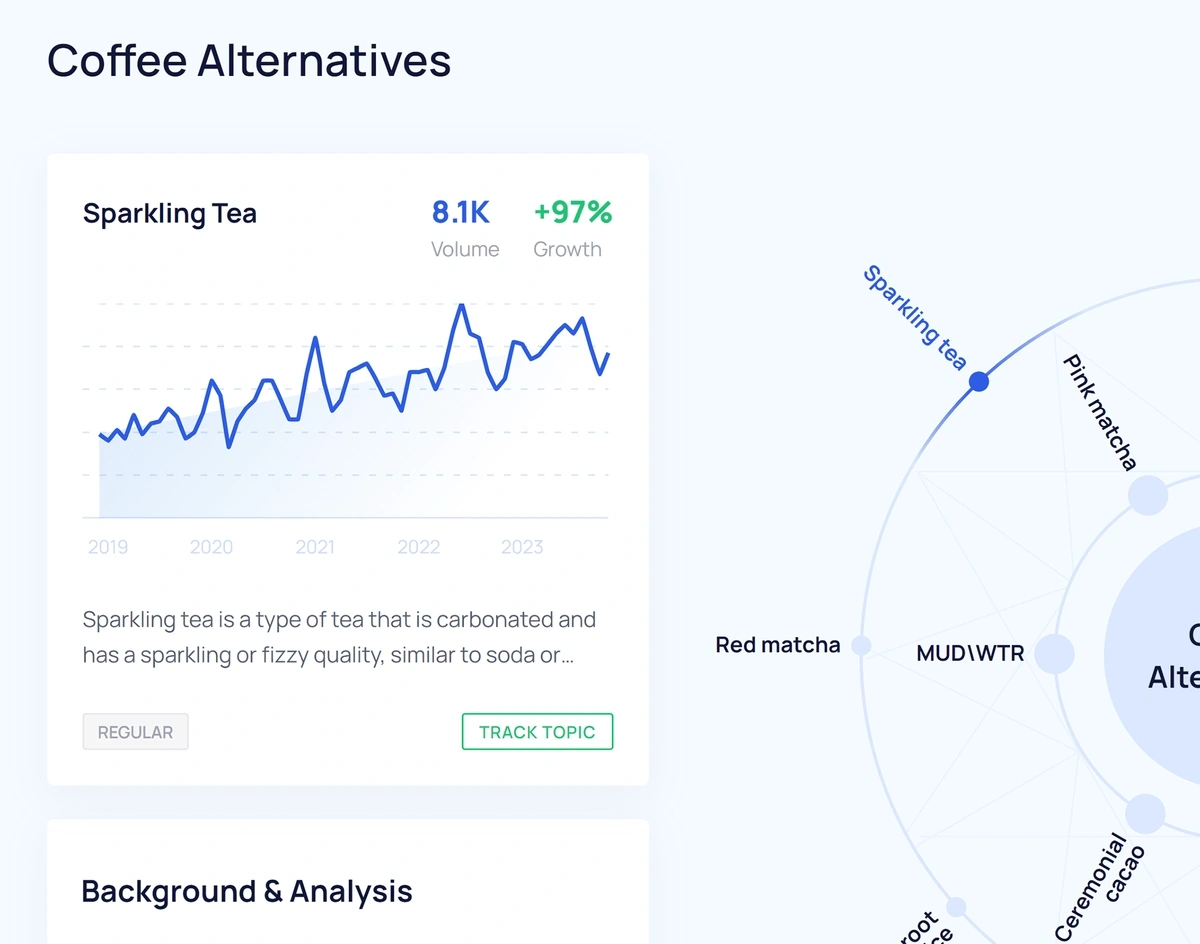 Continuously Search For Product Ideas
Product research is a skill that you can improve over time, yet it takes practice and diligence.
It's easy to forget to routinely research new product ideas, so one method to stay up to date and keep product research top of mind is to sign up for the Exploding Topics weekly trend reports.
Each weekly trend report provides a detailed analysis of four trending products.
You can also learn more about any of the in-demand products listed in the reports by clicking into the Exploding Topics dashboard, where you'll also see other related trends.
We also provide a vault of all the reports we've ever sent, which Pro users can access in the dashboard.
Start Searching For Unique Product Ideas Today
There are plenty of resources that show you which products are currently trending, but these products are typically already peaking. As soon as you add them to your online store (or worse, spend several months on product development), the market will likely be saturated and you'll constantly find yourself on the declining side of a trend.
We built Exploding Topics to solve this problem.
Instead of showing products that are currently trending, or guessing which ones will be trending in the next few weeks, we identify products that have demonstrated rapid, yet consistent growth for the past several months or years.
Products that have a stable history of growth are much more likely to continue growing than products that are currently peaking, meaning demand will likely continue to grow long after you add these products to your ecommerce business.
You can get started with Exploding Topics for just $1 to see some of our best unique product ideas today.