How to Find (& Stay Ahead of) Unique New Trending Products
There are a few ways business owners learn about new, popular products — it's common to:
Check best-selling products on prominent eCommerce stores like Amazon, Etsy, eBay, AliExpress, or Shopify.
Look up "top trending products" lists and see a rundown of the most popular products over the last year.
Use free sites like Google Trends to see what people are searching for online.
However, the problem with all of these methods is that they don't allow you to learn about early trends. By the time you're seeing these items on "trending products" lists, or you know to research them yourself, they're already pretty well-known by your customers and competitors — for example, online flower delivery is a "new trend" mentioned in many 2022 product lists, but it's safe to assume most people have already heard about this type of service.
So sure, you can follow these methods to learn about already-popular products and use that information in your business strategy, but this research doesn't really give you a competitive advantage — you're just keeping up with what's relevant.
If you want to learn about unique new trending products before your customers and competitors, you need trend forecasting software. (Like Exploding Topics!)
Trend forecasting software, as the name suggests, finds super early trends that are predicted to have future growth and interest, so you can find new products early on and capitalize on these opportunities… before everybody else has already heard about them.
In this post, we explain how to use Exploding Topics trend forecasting software to find and track new trending products in your industry. Our platform covers beauty, lifestyle, tech, health, sports, fashion, pet, travel, food, fitness trends (and more) so we can support a variety of business owners in this market research.
You can also start an Exploding Topics Pro Trial to test our platform out yourself.
Let's get started!
Research new industry trends in the trend database.
Analyze collections of trends, by topic, via Meta Trends.
Read about new trends each week via trend newsletters.
Search products you already know about, review trend data, and see related opportunities.
Monitor the product that interest you in a private trend tracking dashboard.
Exploding Topics Trend Discovery: Find New Products via Trend Database, Meta Trends, & Trend Newsletters
When you log into the Exploding Topics platform, you can access a number of tools to find new trending products. You can start research in the trend database and browse products by industry, click into the Meta Trends tab and view trending topics, or learn about new trends by reading trend newsletters.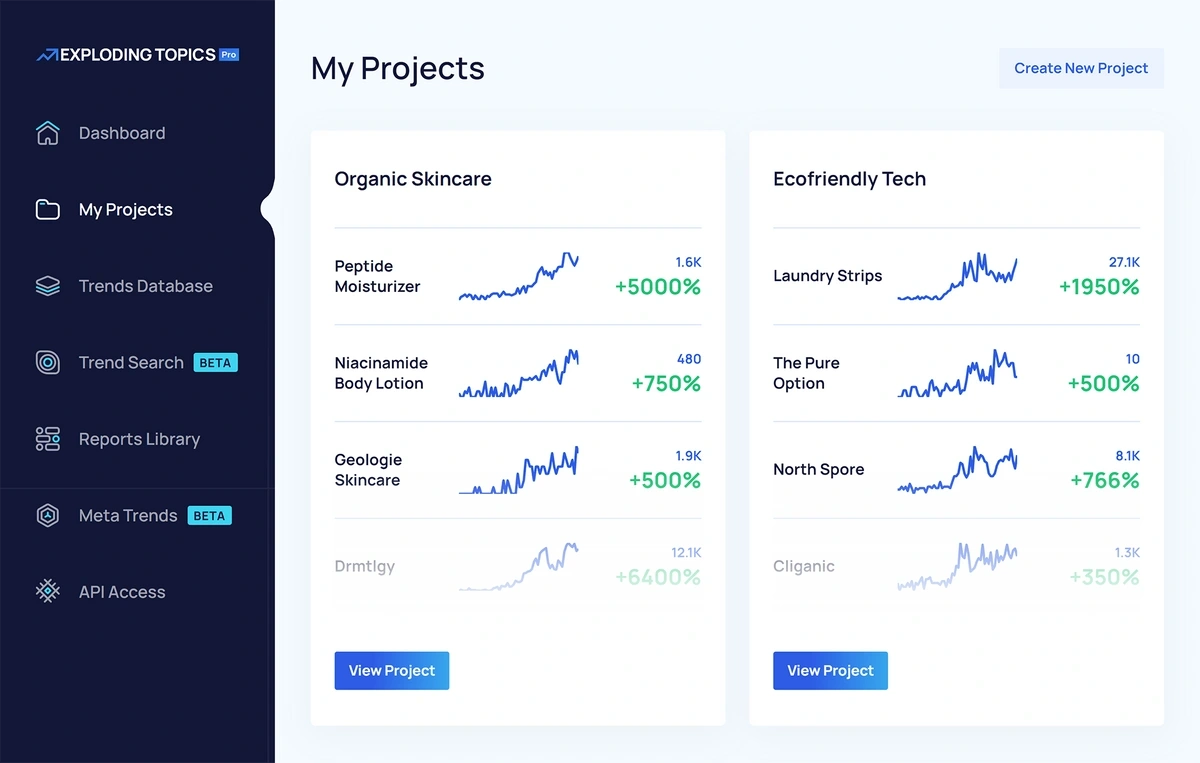 You can use these tools to identify early trends or see what products are trending now. We update our site daily so you have access to new trend data as soon as we do. We'll also show you related products, services, software, (and more) while you browse to help fuel the research process.
Note: All of the trends on Exploding Topics have been verified by analysts and show potential to scale. We weed out products that feel too "trendy" because data indicates they'll only be popular for a short while. This way, you're only looking at high-quality trends that show long-term value for your business.
Trend Database
The trend database is where we store all market and industry trends; we organize trends by category so you can quickly navigate to what interests you (and your target audiences). For example, say you run an online pet supplies/accessories store and want to learn about new brands and pet products, you can click into the "Pets" category, see all related trends, and gather product ideas.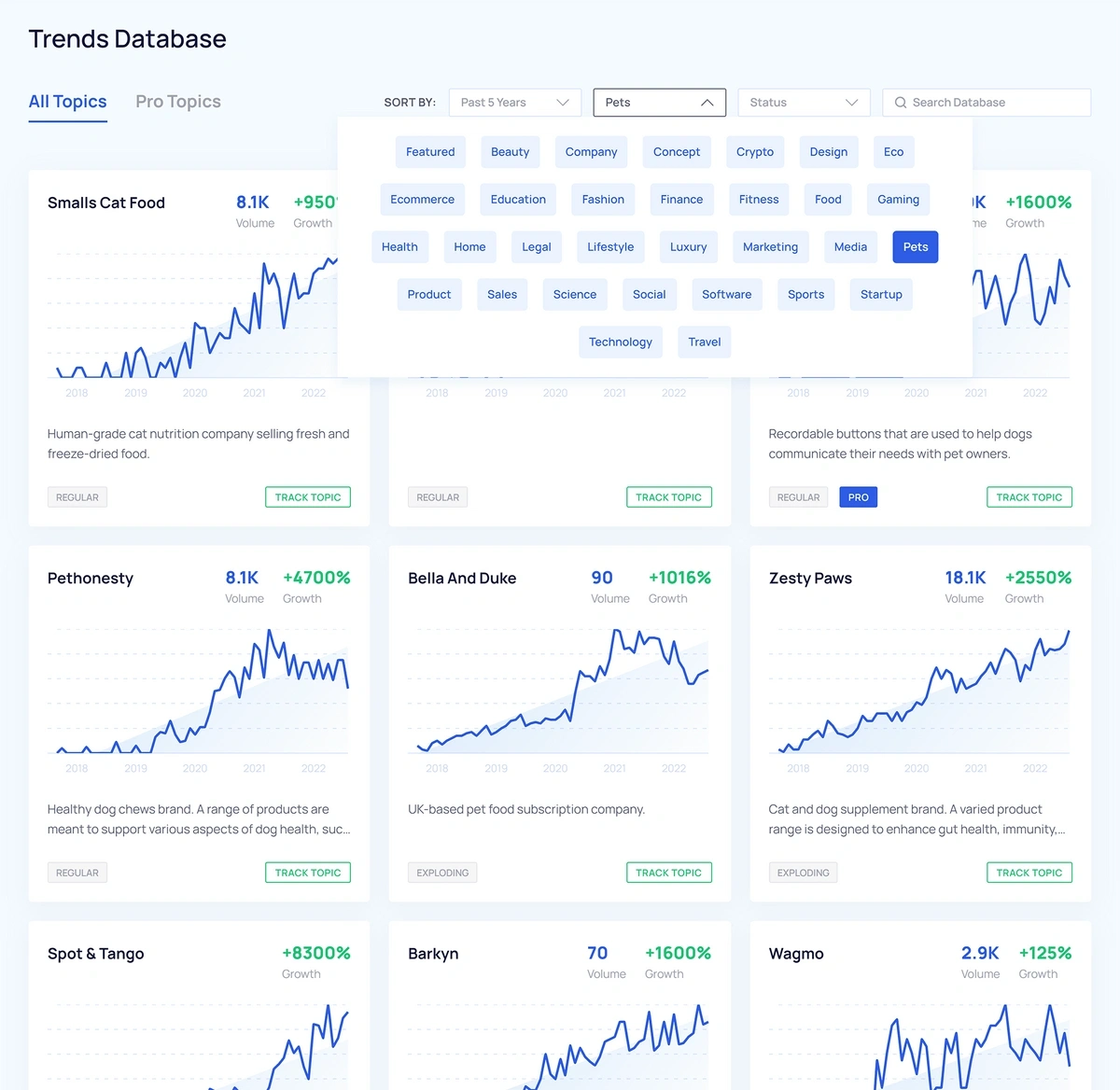 You can filter your search further with the date and status menus. These filter trends by their recency and popularity. So if you want to look at just our brand new pet trends, you could change the date to "Last 1 Month" and status to "Regular." Alternatively, if you want to look at products and services that have already gained some traction and proven popularity over years, you could change the date to "Past 2 Years" and the status to "Exploding."
Here's a breakdown of how the "statuses" work:
Regular trends are early early trends that show potential for growth and long-term interest.
Exploding trends are already somewhat popular, but still provide a lot of opportunities.
Peaked trends hit their peak, but they're still relevant, and they often influence other industry trends.
Then you can click on any product that interests you to view all trend data. In the overview, we show you Google search volumes, growth rates, and other related trends. We also display this information on an interactive graph so it's easy for you to visualize how interest in the trend has evolved over time (and use that data to understand how trending items will be relevant to potential customers in the future).
Going back to our pets example above: Say you want to look at "dog talking buttons" since they've become more talked about on social media platforms, you could click into that trend and see interest in that type of product started growing around 2020 but has fluctuated over the last two years.
You can even hover your cursor over the graph to see search engine data for a particular day — in this example, we see "dog talking buttons" were searched 73 times on July 31, 2022. So although interest in that product goes up and down, there are still a notable number of searches for this gadget.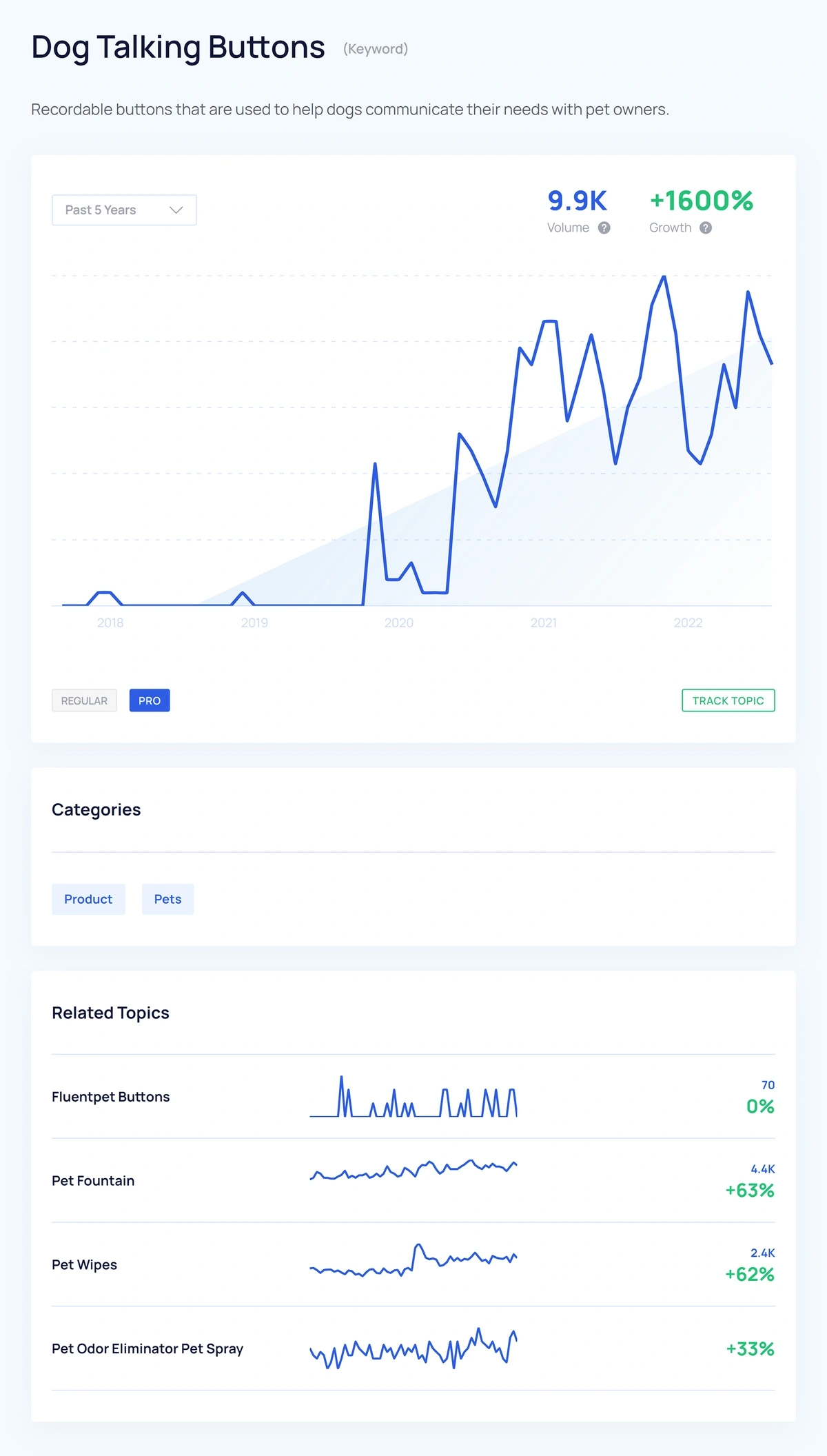 Now, let's say you want to look at a newer trend and predict how interest will fluctuate in the future. Take Mammaly, they're a new pet food distributor that sells healthy snacks and supplements for dogs.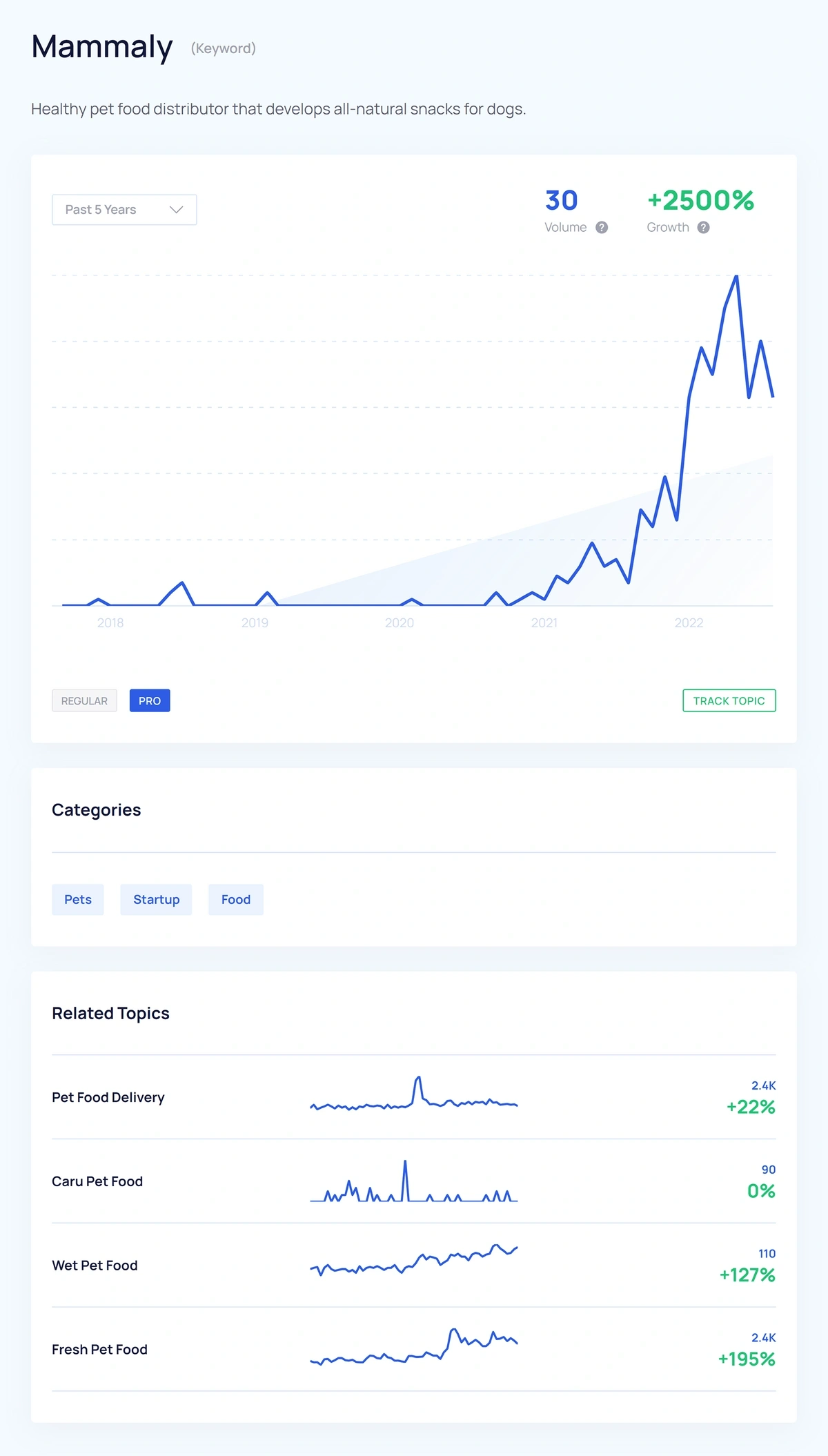 Interest in the brand took off at the beginning of 2022, but you can gauge future growth by looking at the graph's slope. Although search volume varies each month, we can see steady growth since the brand debuted.
You can also see related topics and brands below, with a preview of their trend data. Then, you can use this information to guide business ideas (i.e., decide if this is a brand you want to partner with and sell their products in your online store).
You can track any product or brand (trend) you're interested in by clicking "Track Topic." Our platform automatically saves the trend in your private dashboard so you can easily refer back to it and monitor trend data.
You can also read our other guide to learn more about Exploding Topic's market trend analysis tools.
Meta Trends Collection
You can also research high-demand products through the Meta Trends tab. Here, we organize collections of industry trends by topic or product category — for example, some Meta Trends include, DTC Pet Food, DTC Self-Care Products, TikTok-First Products, Reusable Hygiene Products, Antioxidant Skincare, Hair Wellness, Portable Everything, and Containers As A Service.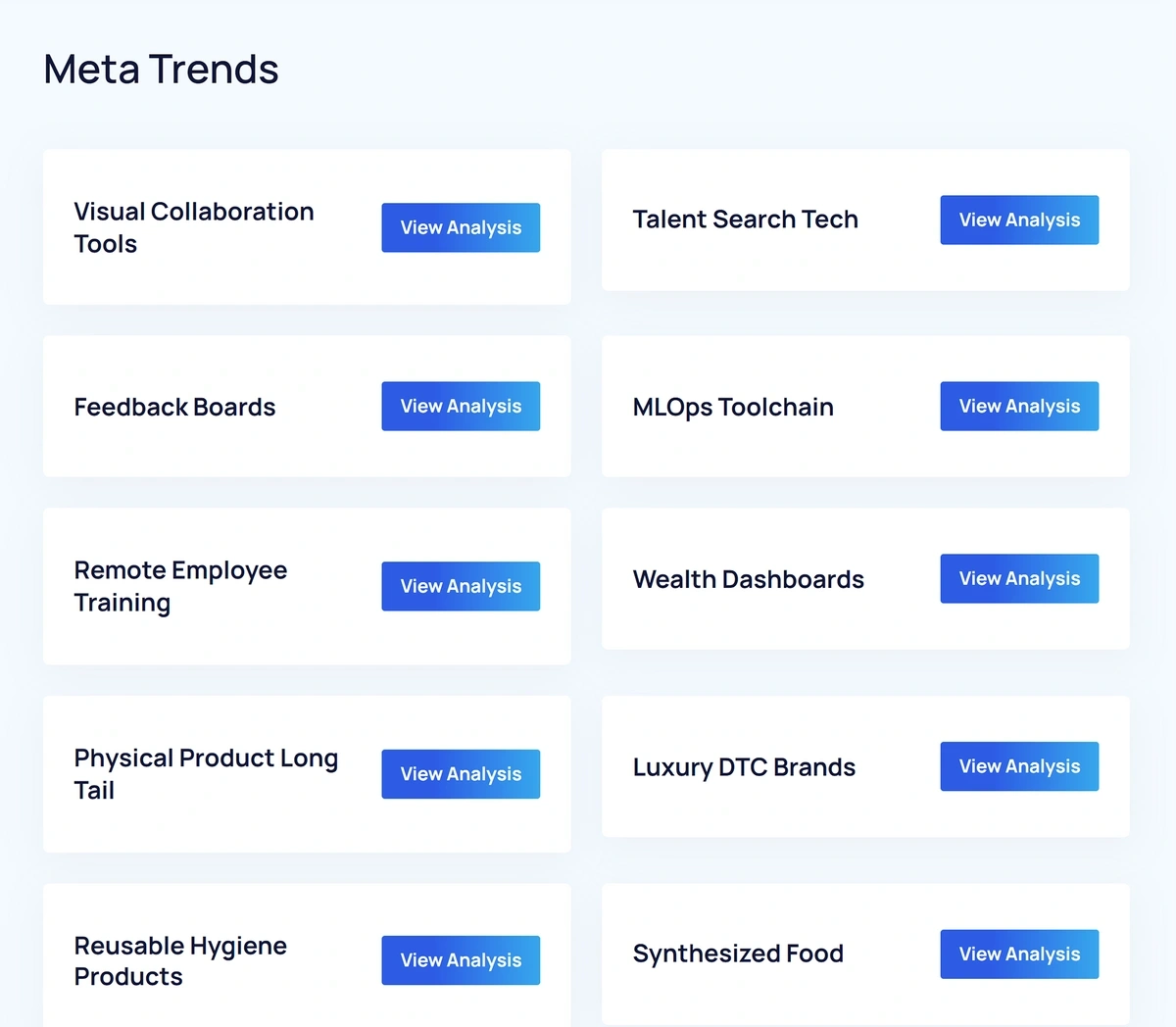 So, let's say you run a large "lifestyle" eCommerce business and sell a variety of goods (home decor, clothing, beauty products) and want to find cool, niche products for your customers. You can get a little more specific in your search by starting from the Meta Trends tab — you can click on the exact product type you're interested in and see all of the related product ideas. In this case, you could click into a number of these Meta Trends (like DTC Self-Care Products, Antioxidant Skincare, Hair Wellness, for example) and find products for your online business.
When you click to view Meta Trend details, you'll see:
Background and analysis of the product category.
A collection of different products that make up the Meta Trend.
Lists of related topics and Meta Trends
Let's look at the data available for Antioxidant Skincare.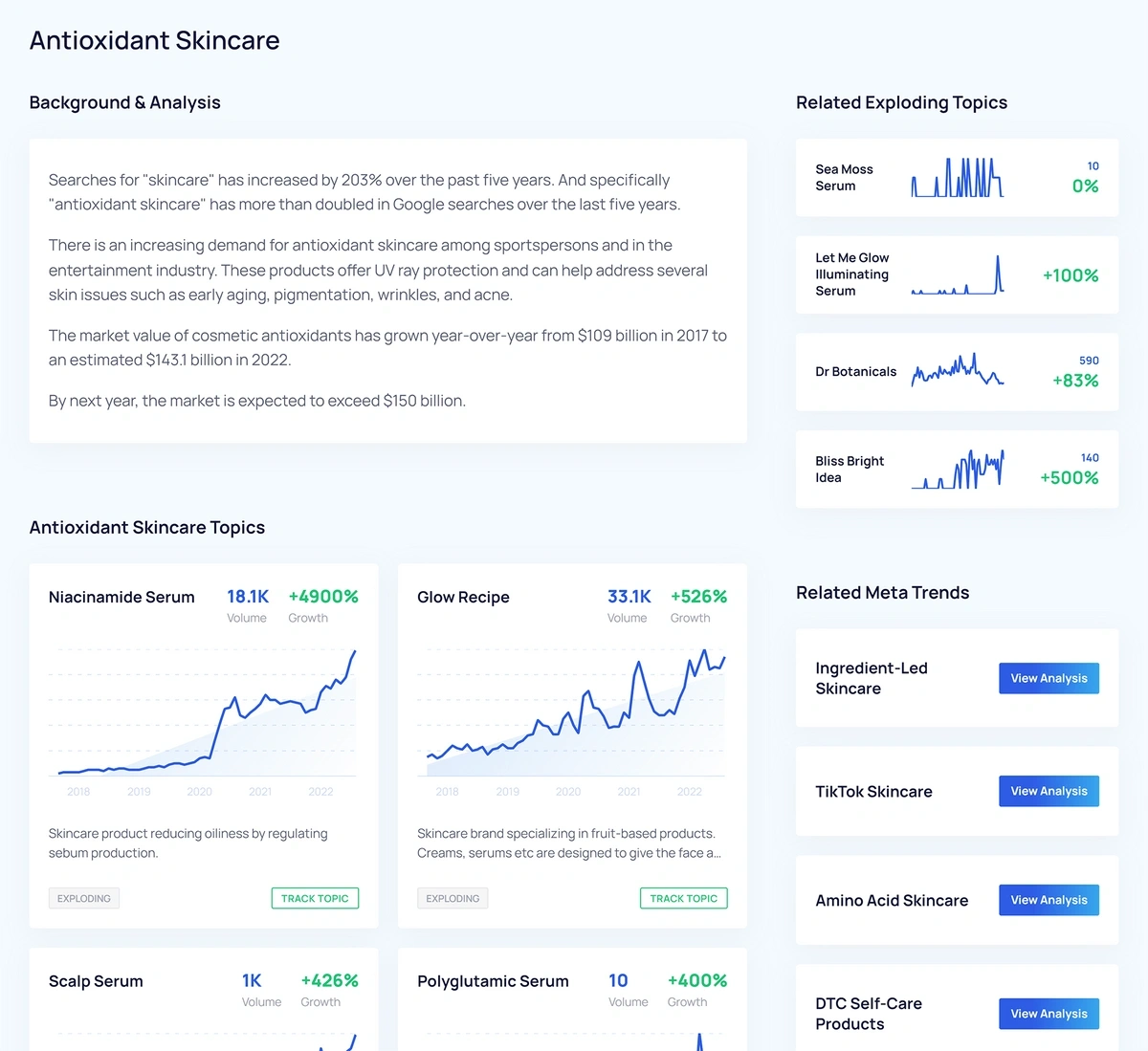 Our research shows that searches for this type of product have more than doubled in the last five years, indicating that interest in this skincare category isn't dying down anytime soon. Then, you can click on the different products listed, analyze individual trend data (as we described in the section above), and decide if these would be profitable niche products for your lifestyle business.
As with trends you find in the database, you can track trends from the Meta Trends library, too. Just select the "Track Topic" button from the trend overview.
Trend Reports
We also supply weekly trend reports to keep you up to speed on the most promising new trends. You can access reports from the Reports Library, but we also send these reports to your email at the start of each week.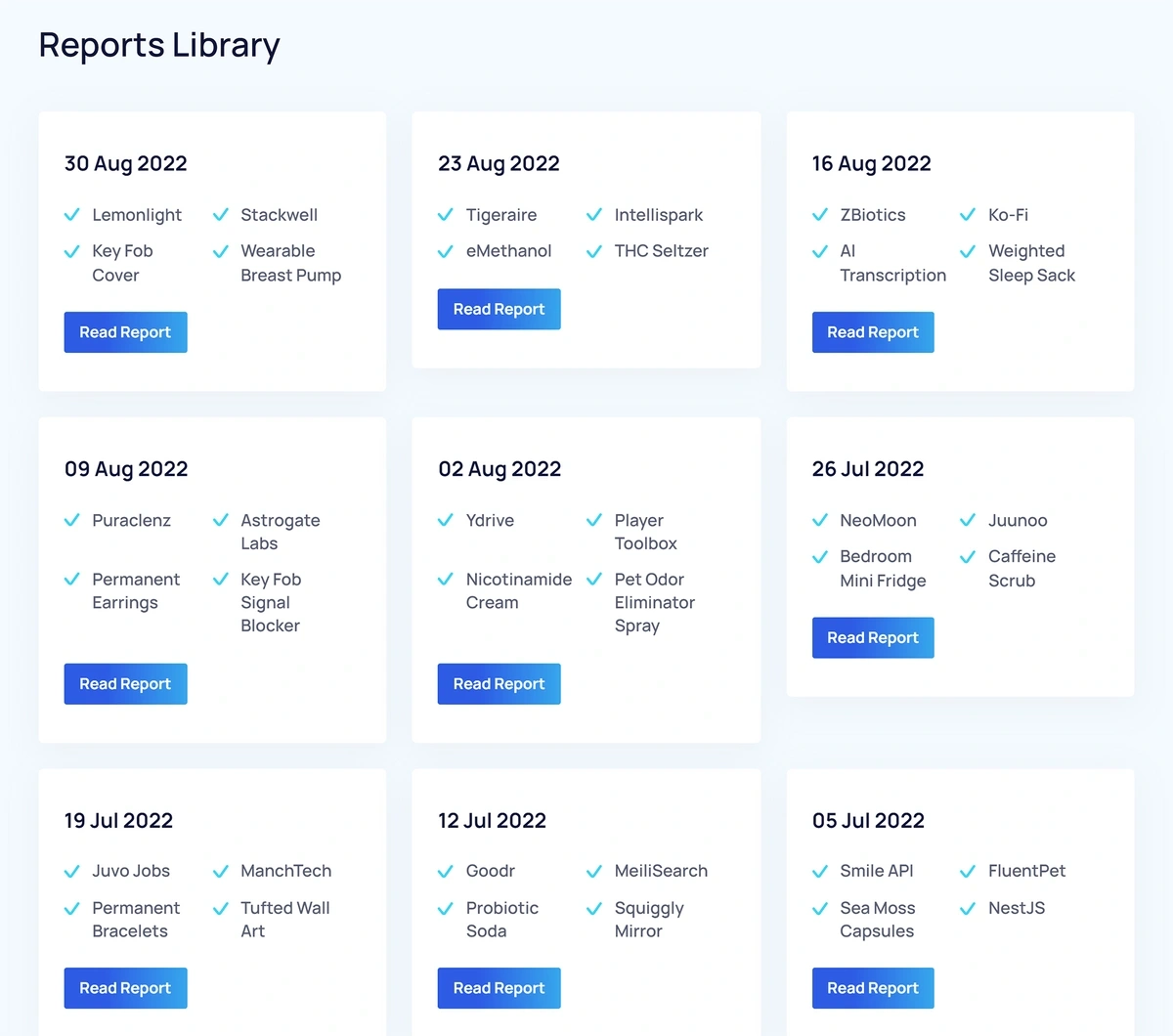 Note: When you start an Exploding Topics Pro Trial, you can access up to 10 of our most recent trend reports.
Exploding Topics trend reports cover new trends across all industries (startups, SaaS, tech, etc.) and include a dedicated section for "Tomorrow's Product's Today" so you can get a broad look at what's up and coming.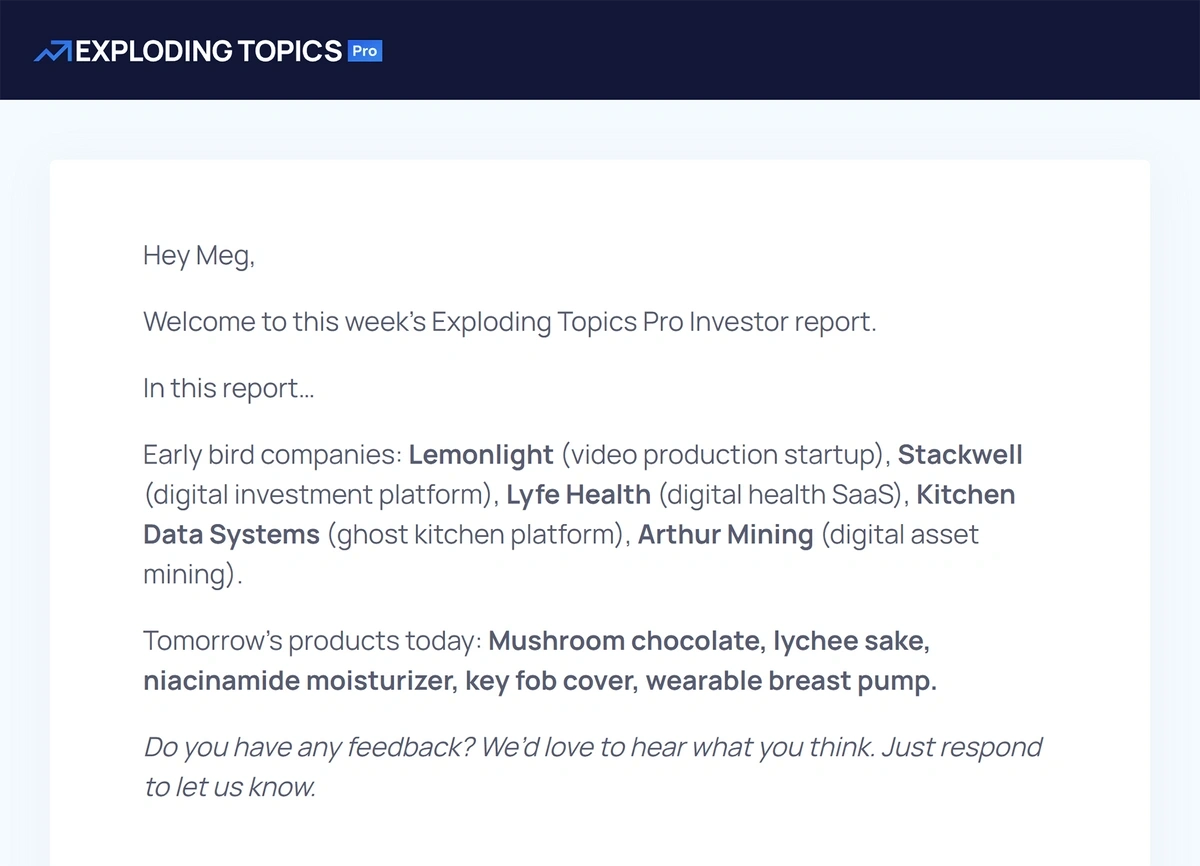 Our trend reports provide a detailed analysis of each new trend so you can learn more about how and why the trend is relevant. We also provide links to our sources in these trend reports so you can do further research on topics that interest you (and provide transparency into our research process). For example, let's look at our write-up on key fob covers from a recent trend report.
Our report explains:
What the product is; what problem it solves.
Who's currently using it; how and why it's becoming popular.
Which online marketplaces this product is popular on.
How much sites like Amazon have already made on the product.
How interest in the product is expected to grow in the future.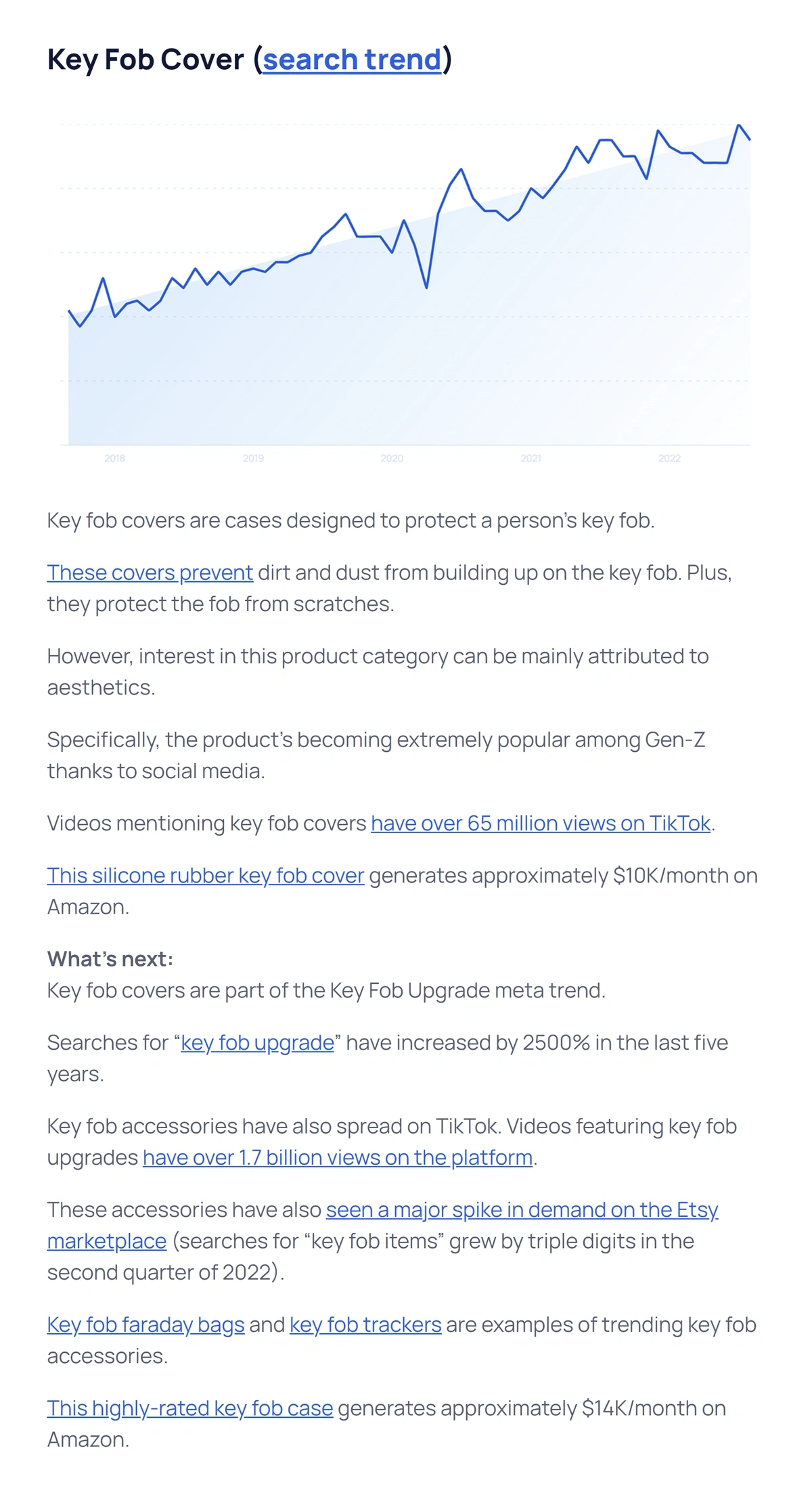 Exploding Topics Trend Lookup: Search Products You Know, Analyze Trend Data, & Find Related Opportunities
Exploding Topics also has search functionality so you can look up products you've already heard about, view the available trend data, and see other products that relate to your search. We automatically pull global trend data, but you can filter this search by geographic location if you want to look at trend data in just the U.S. or just Canada (or any other country).
So say you're interested in fashion trends, but you want to search specifically for fashion trends related to athleisure: You can type "athleisure" into the search, see data on the product category, and view a list of relevant products and brand names below.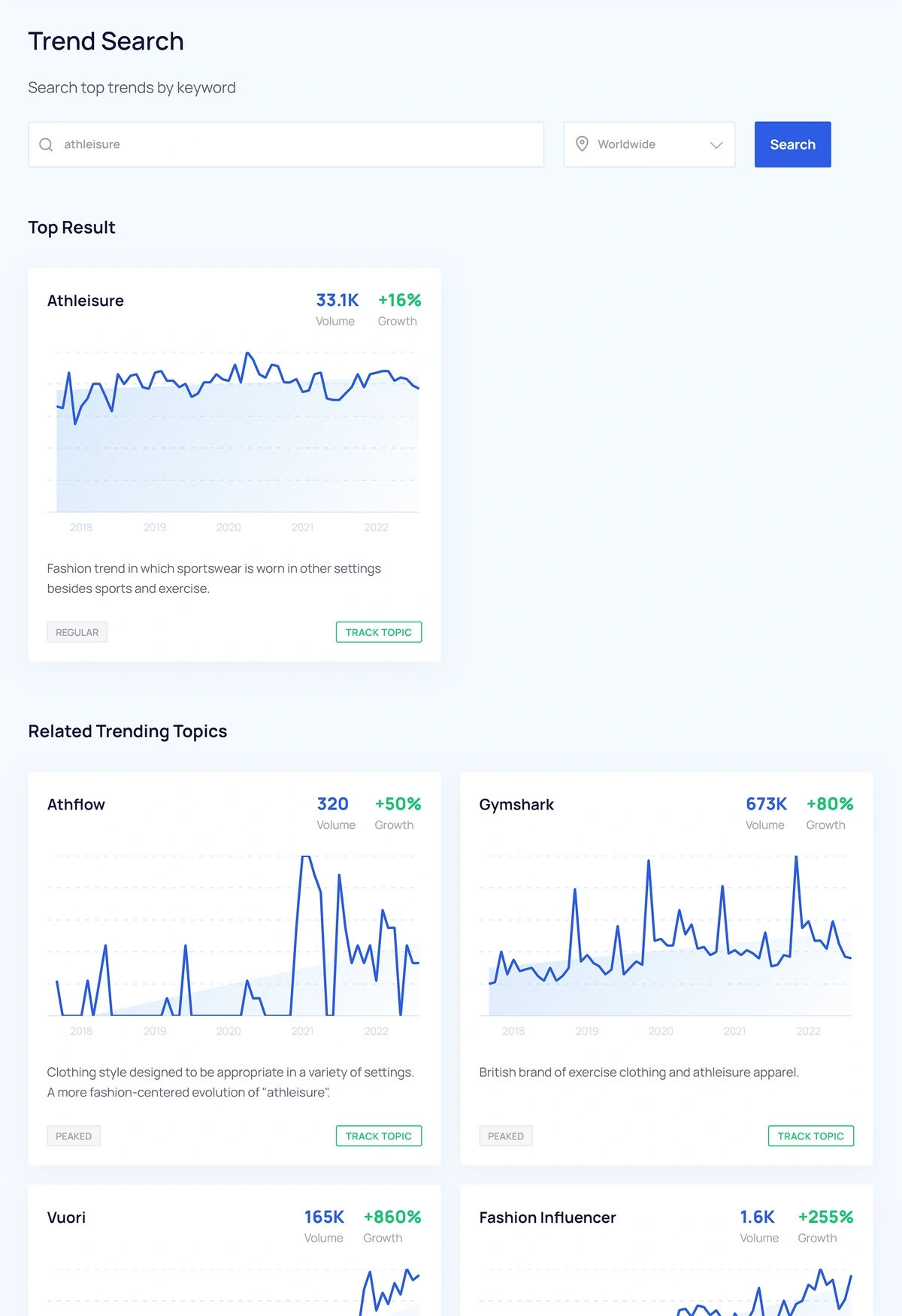 Then you can add these trends to your dashboard to track their growth.
Exploding Topics Trend Tracking: Save & Monitor New Products in Your Dashboard
Lastly, you can monitor trending products in your private dashboard. All of your saved trends are automatically stored here for future reference, and we sort trends into Projects so you can track more than one type of product and keep saved trends organized. (You can specify which Project you want to store trends in as you save so it's all done in one step.)
Here's an example of a dashboard for an eco-friendly health and beauty brand — you can see they have trends saved under "Organic Skincare" and "Eco-Friendly Tech" so they can easily look at products in each category.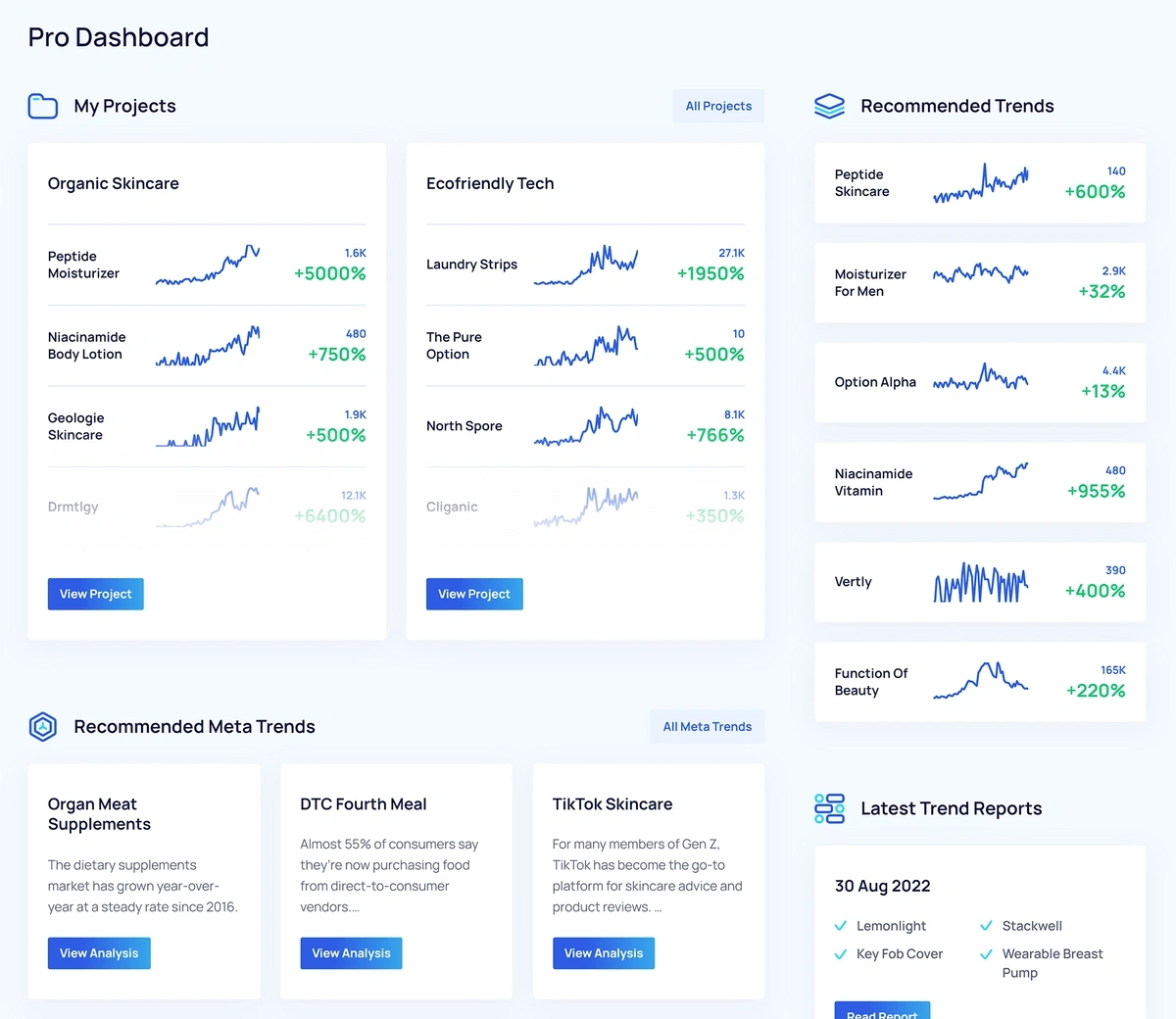 We also show you related trends based on what you have saved so you can quickly add those products to your dashboard. Then, we link to recent trend reports so you can reference those as needed.
You can also set email alerts for saved trends so you're instantly notified if search volume or trend growth spikes. Setting up these alerts makes it easy to keep tabs on saved products without constantly checking the trend dashboard. This way you can leverage opportunities when the time feels right for your business.
Start Exploding Topics to Find New Trending Products (Early On) & Stay Ahead of Your Competition
Exploding Topics makes it easy to find new trending products (before they've hit all of the popular product lists). You can strategically add to your inventory and find new products to sell online just by browsing our trend discovery features — and you can access our platform anytime you wish to find new products or check on the trends you have saved.
Start an Exploding Topics Pro Trial to explore our platform and its features.