Best Trend Forecasting Websites - Beauty, Tech, Media & More
There are two types of trend forecasting websites:
Trend forecasting platforms with features to explore trends in a database and track trends over time.
Subscription-based trend forecasting newsletters and market research reports with in-depth information about upcoming trends.
In our experience, many users are now shifting towards trend forecasting platforms because they're faster, easier, and less expensive: People can discover and learn about new trends on their own, save trends to easily check updated data, and access current trend information any time they wish.
But finding the best trend forecasting website for you depends on the industry you're in and what you want to research. Some platforms are tailored specifically to industries like beauty, fashion, and lifestyle, while other solutions (like our trend forecasting software, Exploding Topics) let you discover and track trends across any industry.
This review guide covers six of the most popular trend forecasting websites and agencies so you can compare these options and decide what works best for you.
The Exploding Topics database has 11,000+ trends across dozens of categories and we update our database daily with the most current trend information. You can discover new trends before they're popular, save trends in a central dashboard, and track trend growth into the future. Start a Pro Trial of Exploding Topics to access our full database of trends.
Our Trend Forecasting Platform: Exploding Topics
Exploding Topics is a trend forecasting platform with a database to discover new trends and extra features to track the trends that interest you. Our database pulls trend data across dozens of categories — design, beauty, technology, media, startups, products, pets, gaming, eCommerce, and more — so you can discover up-and-coming trends in any industry.
Our unique algorithm monitors conversations from multiple different sources including news sites, forums like Reddit, social media sites like Facebook and Twitter, and even platforms like Spotify, and can detect potential trends extremely early on, before the vast majority of people are even aware of a topic, product, company, category or trend.
Then we have a second layer of quality control — our unique human curation process — to ensure the trends that make it to our database have long-term potential and are not short-lived fads (like smartphone updates, TV or movie premieres, sporting events, etc.).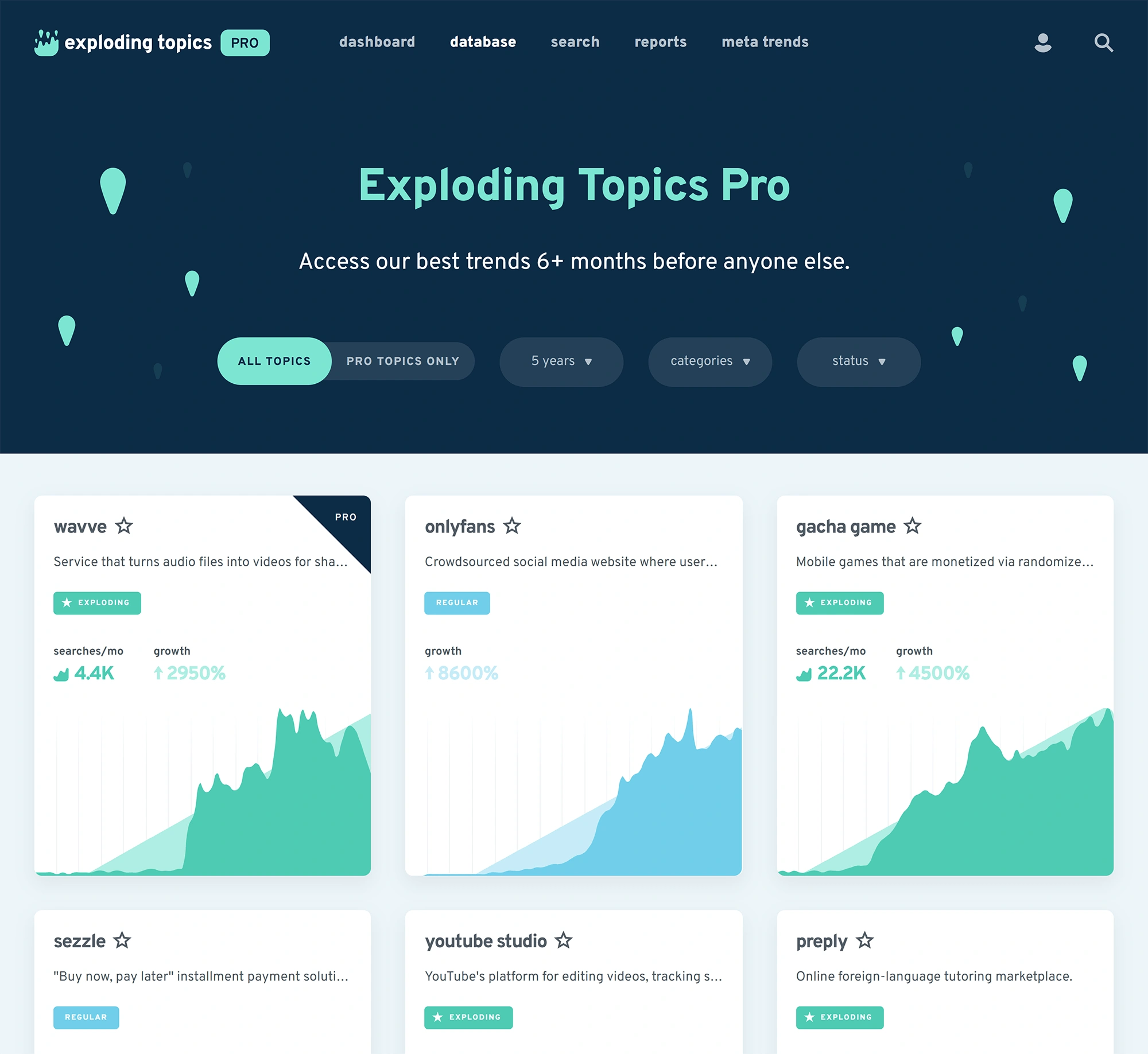 For example, Adalo is a no-code app-building software that debuted in 2018, but interest in the product didn't really take off until 2020 — there used to be two or three searches a day for Adalo and now our data shows 100+ searches a day for this brand. Finding these innovative types of software and business solutions on Exploding Topics is valuable because you can learn about new opportunities before everybody else knows about them.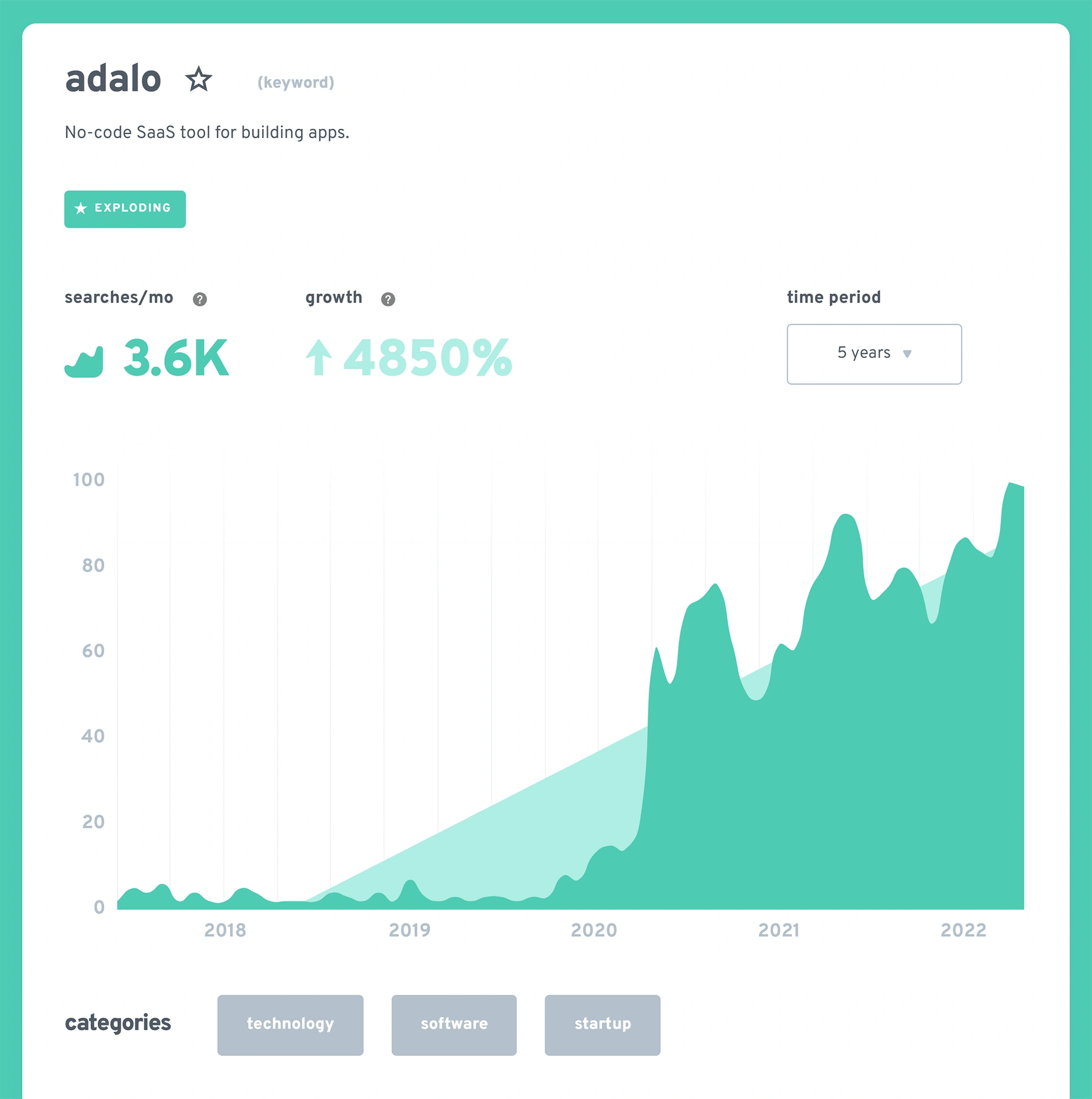 You can access some of the trends on our database for free (say if you want to demo our database before starting a trial) but Pro users have access to new trends 6 months early and can use our trend tracking tools to see how trends evolve over time.
Let's explain how to use Exploding Topics.
Trend Database
You can start by exploring new trends in the Exploding Topics database. The best part of our platform is that you don't have to know exactly what to search for, you can filter by category and discover new trends that way. You can look at trends in industries like:
Crypto
Health
Fitness
Sports
Food
Technology
Software
Travel
And more
You can also filter trends by date or status; these let you look at trend data over different periods or filter down to just the most popular ("Exploding") trends.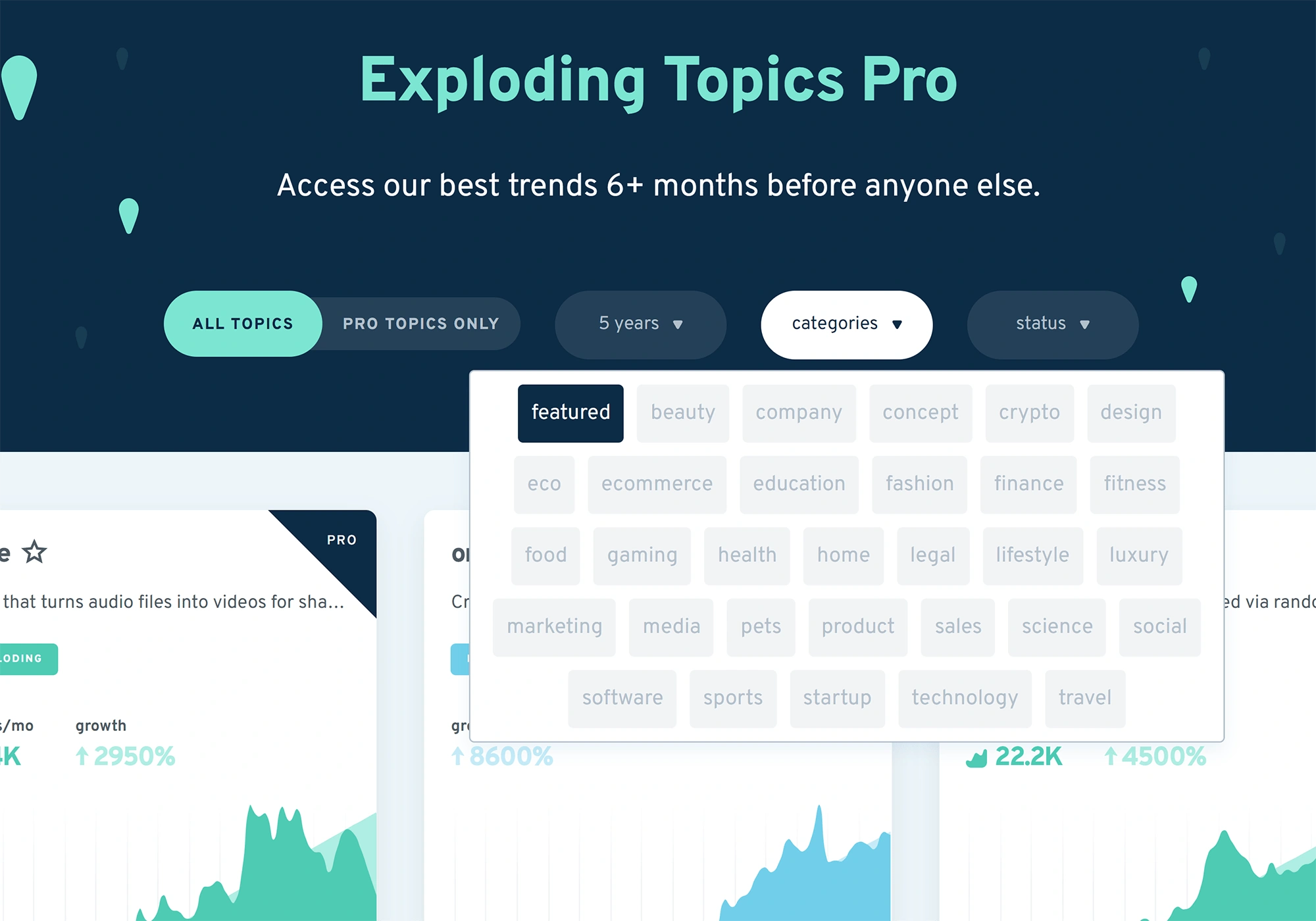 When you spot a trend that interests you, you can click to view related trends or see more detailed trend information (e.g., how many searches per month or trend growth rate). You can also adjust the overview graph to view trend metrics on a longer timeline — so you can look at trend growth over the last month vs. the last 15 years — and this historical data can help you predict trend growth into the future and enable you to make better decisions.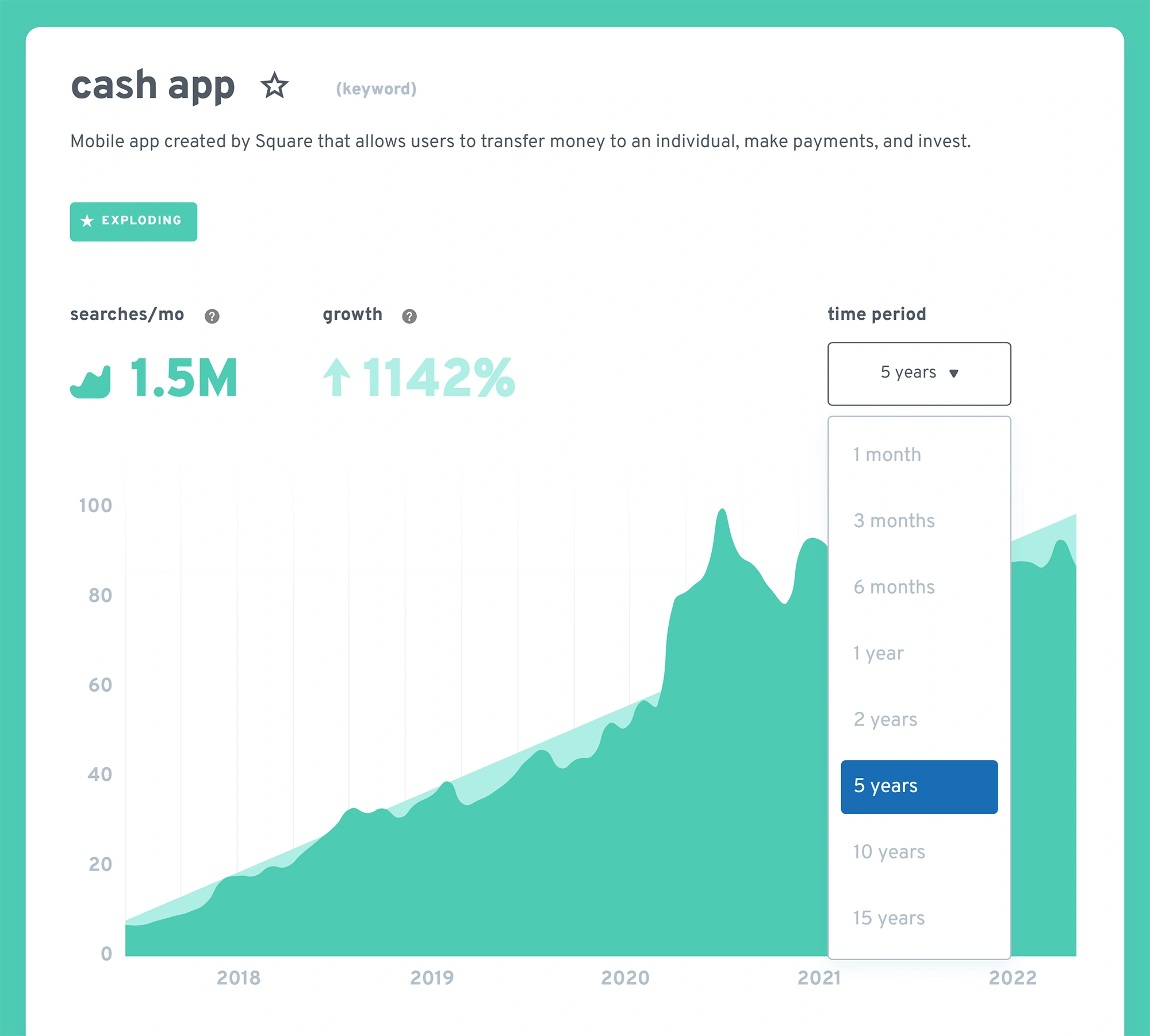 You can save trends to your dashboard by clicking the star. Then you can organize trends by project and track trends into the future — more on these tools below. Our database is constantly updated and we publish new trend data as soon as it's available so you can closely monitor trends and discover new products, topics, business ideas, and more before they're obvious.
Note: Exploding Topics also has a search functionality where you can research trends you already know about, and track and get alerts about them. Key in any word or phrase and our platform will pull relevant trends. Then, you can view trend data and discover related trends in the same way you would if you started browsing from the main database. You can also save these trends to your dashboard and use our monitoring features to track them.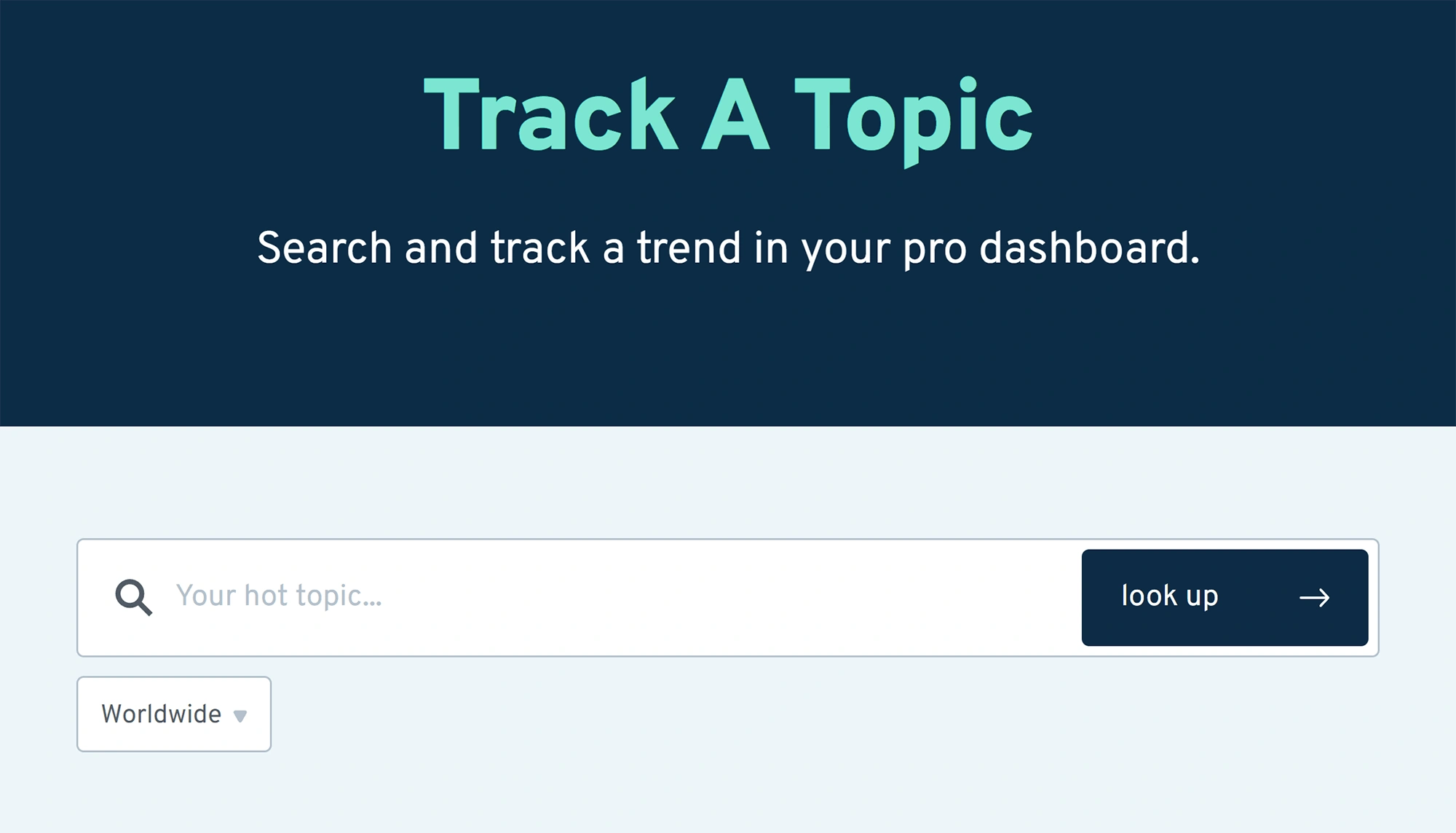 Trend Dashboard + Tracking Features
As we mentioned above, you can save trends to your dashboard by starring them. You can also create dedicated projects to organize and track trends by topic or area of research; just select the appropriate project as you star trends.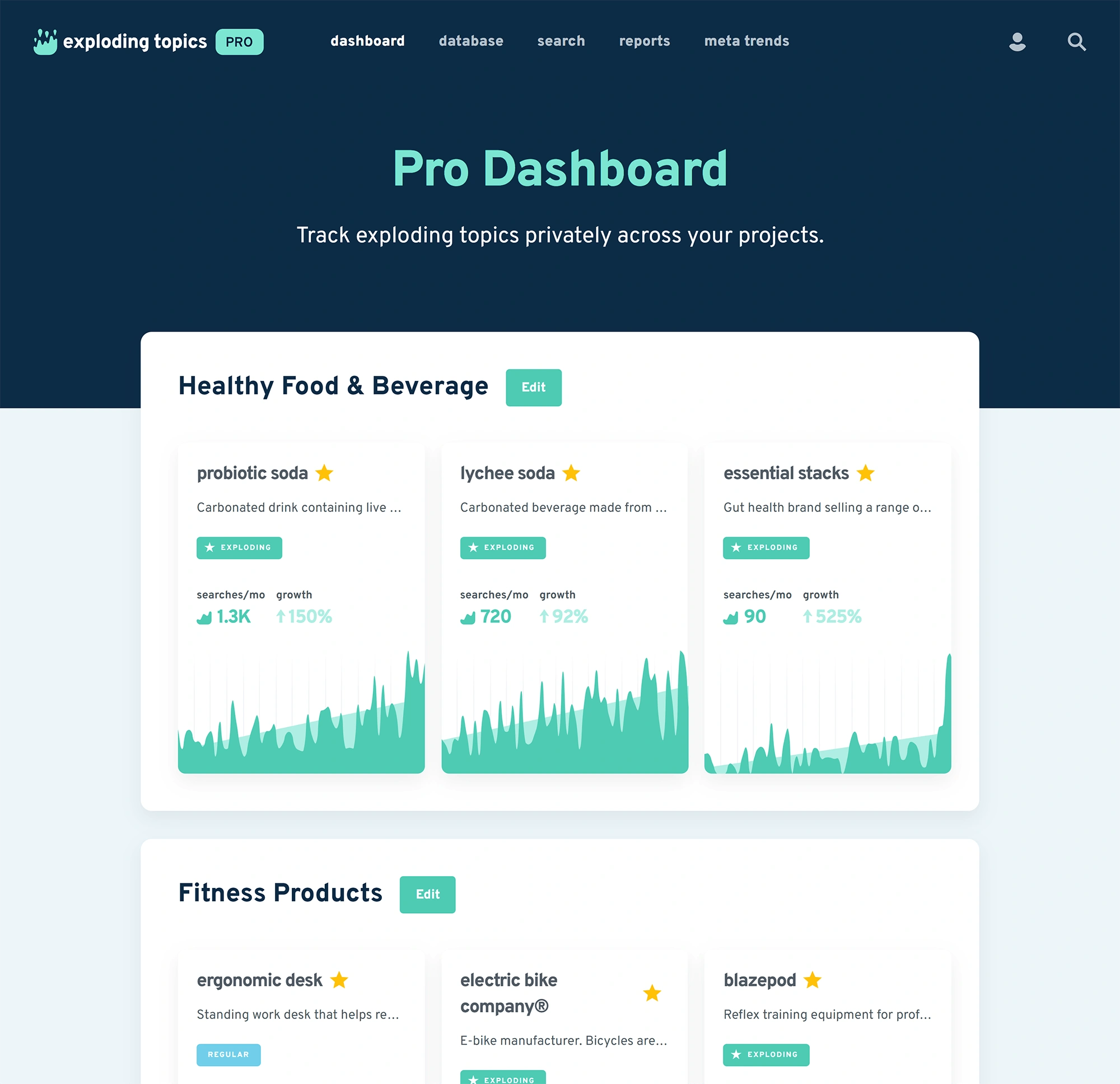 For example, investors and VCs can create separate projects to track new startups, new technology and software, and new physical products so they can use that data to make business decisions.
Saving trends to the dashboard makes it easier to access and track the trends you're interested in, but you can also set email alerts for trend updates so you get real-time notifications when there is a significant change in trend growth.
The dashboard also displays related upcoming trends and meta trends (based on the trends you have saved) so you can easily view other trends you might be interested in and save them to your projects.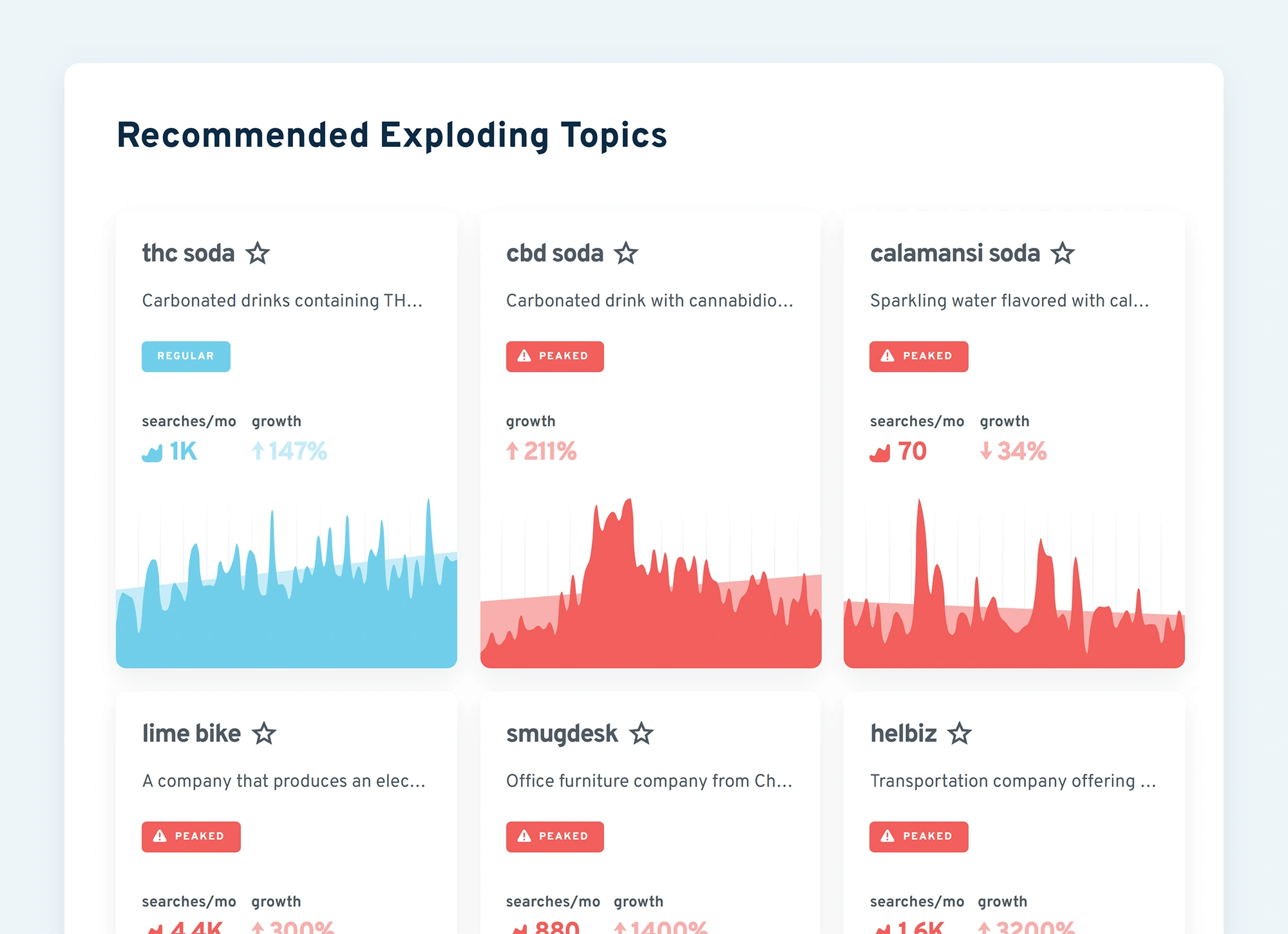 Trend Reports
We also deliver trend newsletters to your inbox so you can view new popular trends at the start of each week. Each newsletter includes 10 new trends — we cover a combination of categories so you can see trends in various industries and save the ones that are relevant to you. Each newsletter has detailed trend insights and related trends, too.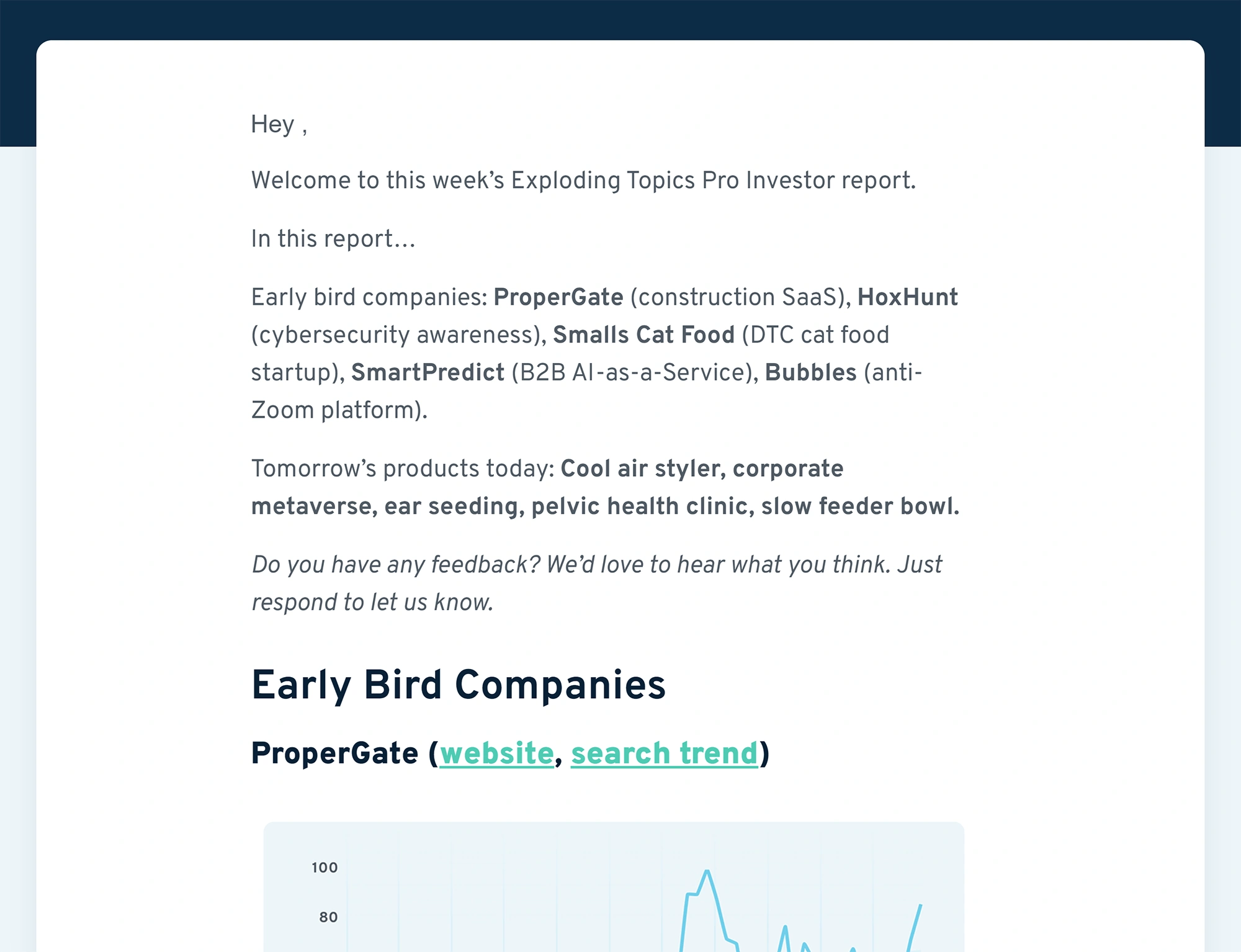 You can also access trend newsletters in the Exploding Topics reports library; you can read the latest trend report or scroll back through previous newsletters and look at trends that have popped onto our radar in the last few months.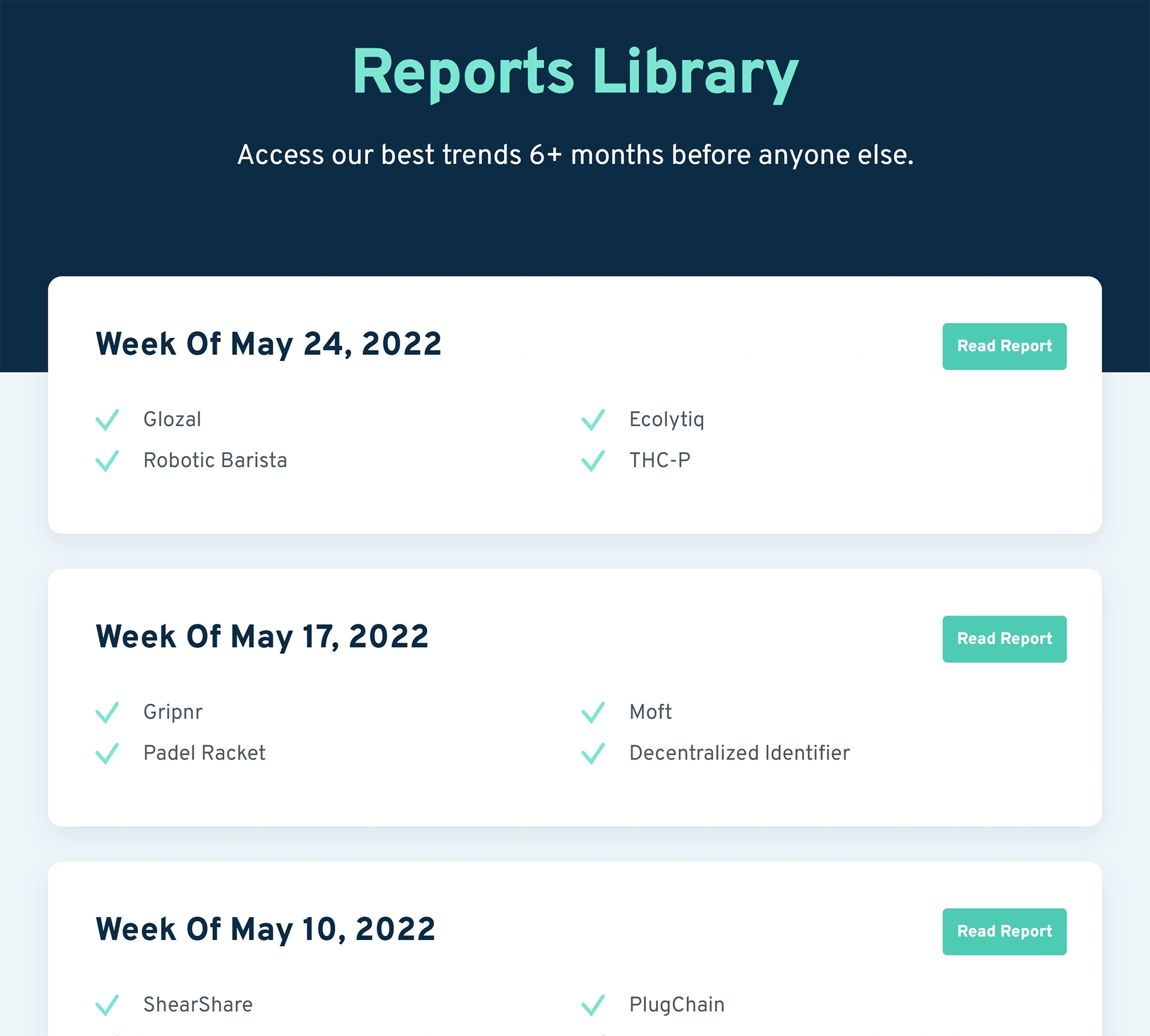 Meta Trends Library
Another helpful resource in Exploding Topics is our meta trends tab. Here, you can view higher-level trends, read the background, and view all of the related trends.
For example, you could click to view a trend like "remote employee training" and see related trends about online learning courses, mobile apps for employees, and tools to upskill remote staff and train management.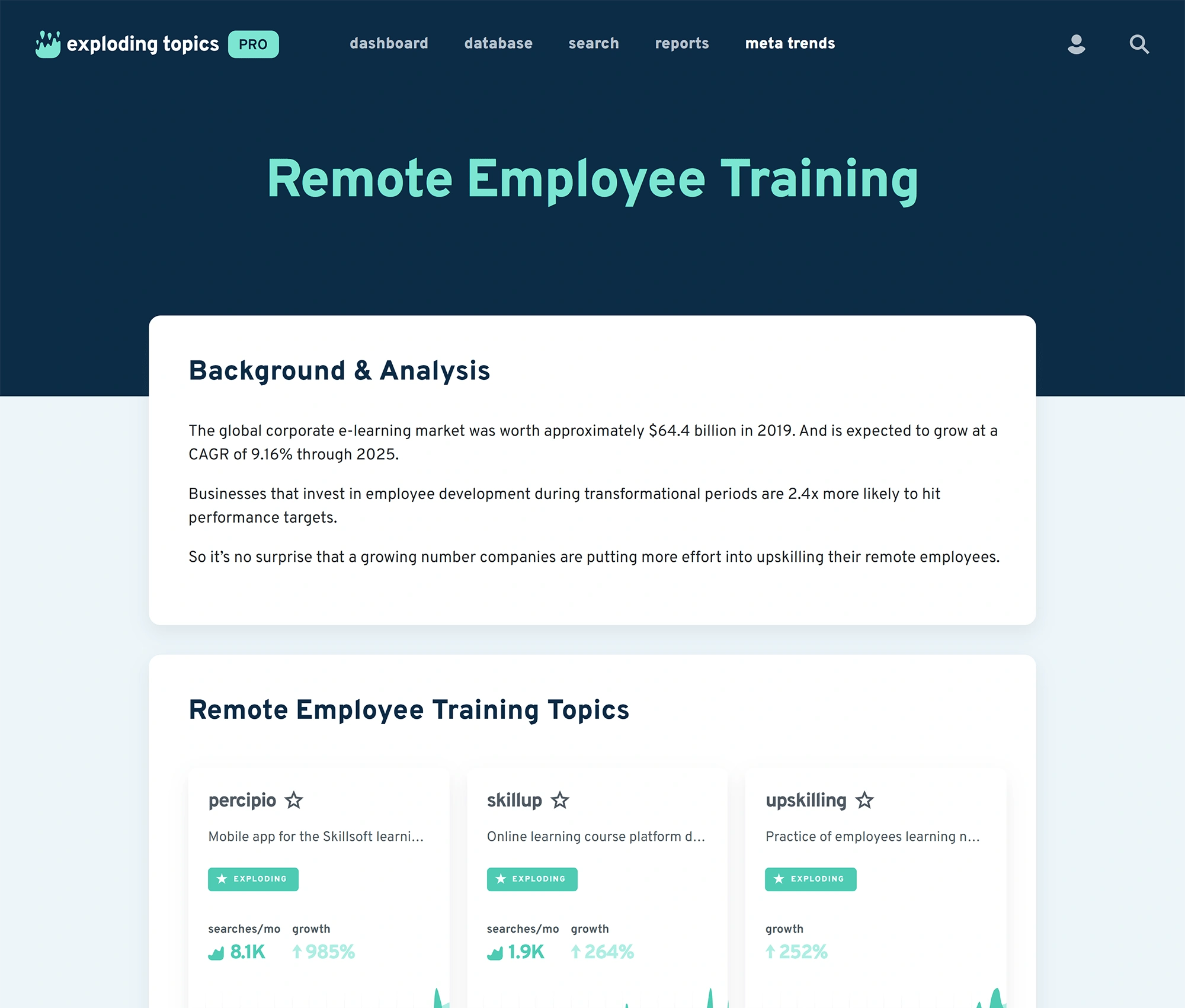 Extras: Exploding Topics API & Pro Trial
Exploding Topics also has an open-source API so you can link our platform with other data analytics tools in your daily operations and view trend information from those systems. This API is also helpful if you want to consolidate data from our software into other business reports.
Connecting Exploding Topics with other software is as easy as copying the API key and pasting it into the software you want to integrate with.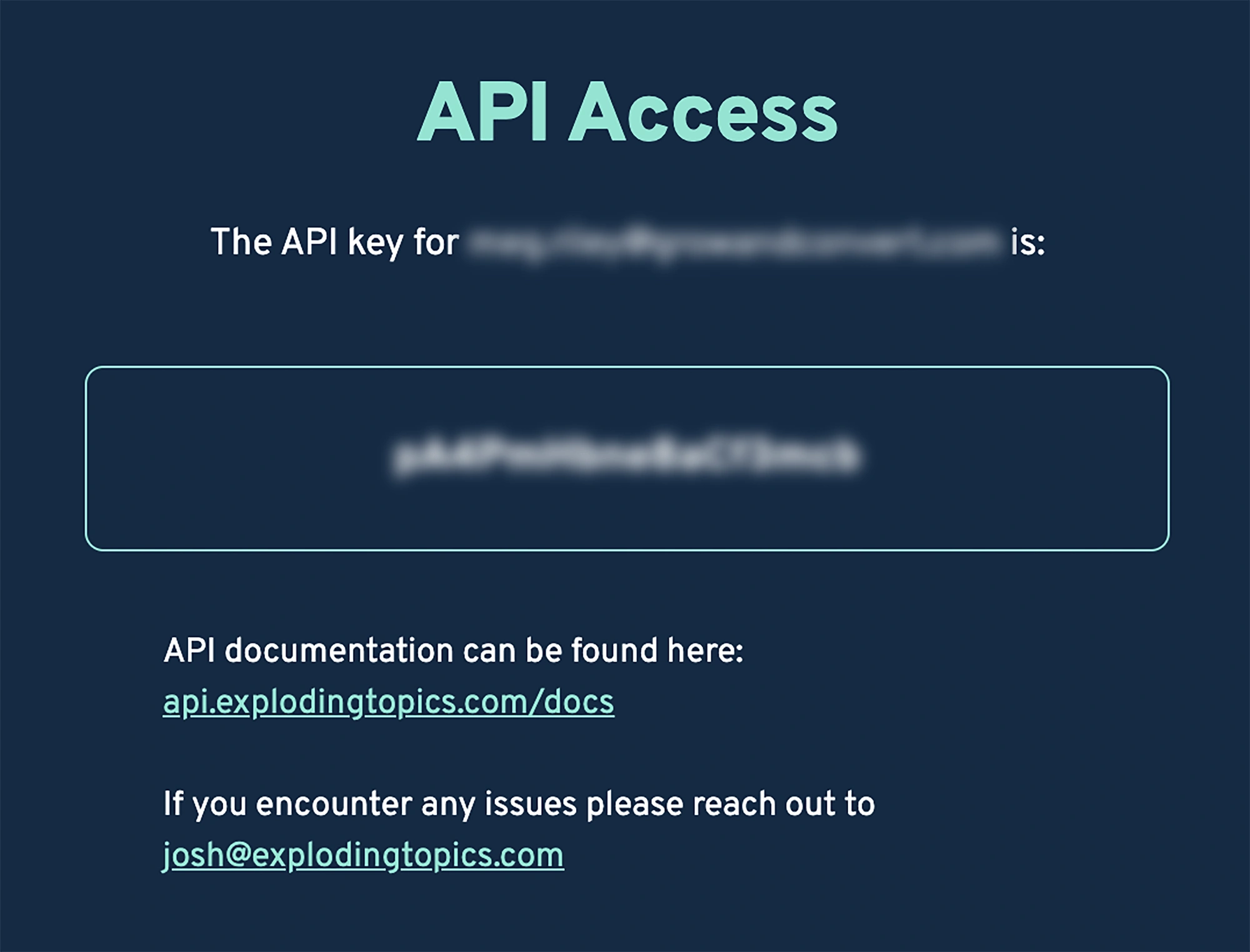 You can explore the free version of our trend forecasting software to see how the database works. But we also offer two Pro subscription packages so you can get access to trends 6 months sooner, view trend reports and meta trend information, and track trends in the Exploding Topics dashboard. Start a Pro Trial for $1.
Five Alternative Trend Forecasting Websites
In addition to Exploding Topics, here are five alternative trend forecasting websites you might see as you research and comparison shop. All five options have good user reviews, but each solution is different and some are tailored for specific end users. Let's review.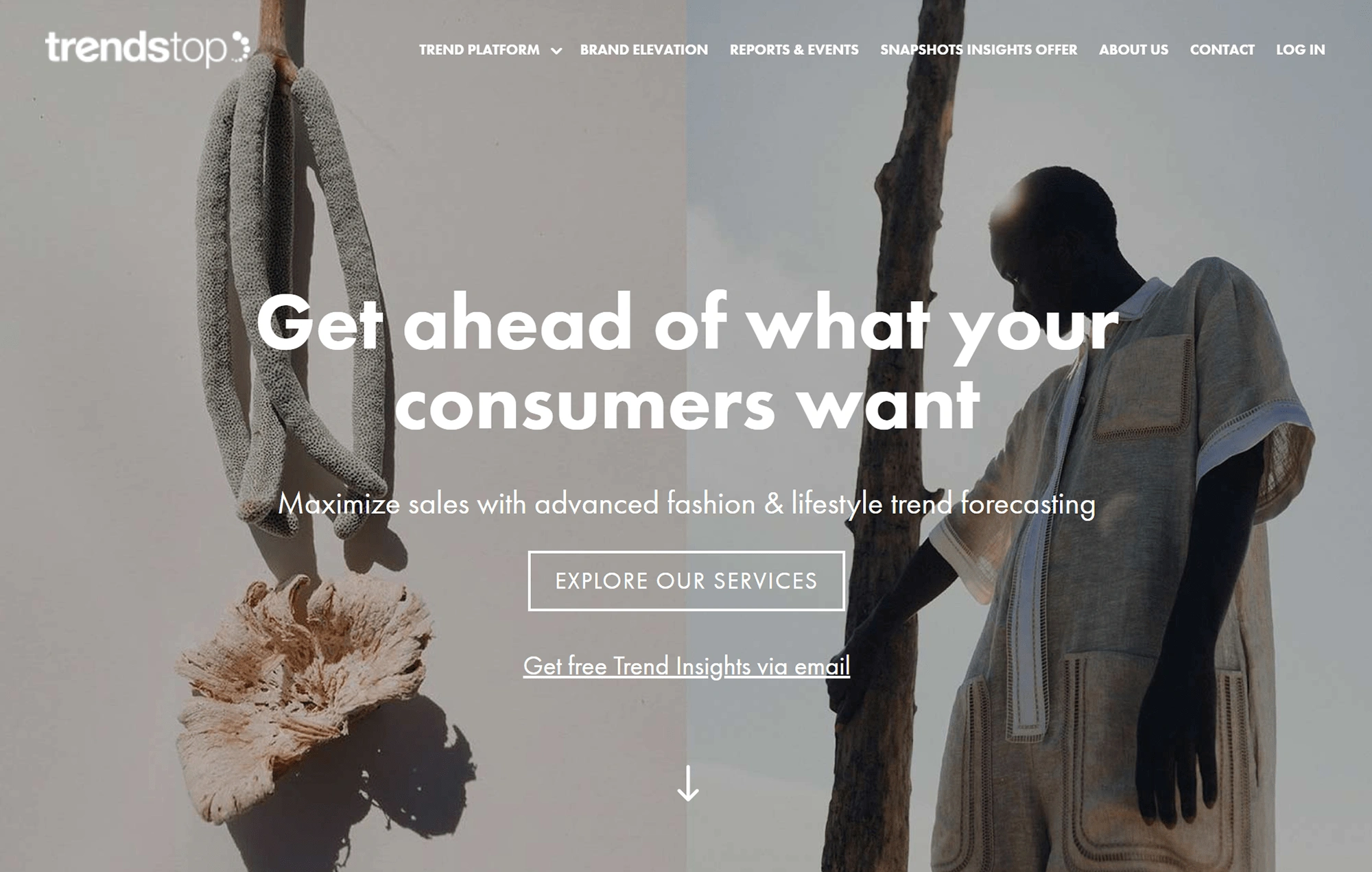 Trendstop is a popular beauty, design, and fashion trend forecasting website and agency. It's recommended for fashion brands and retailers, influencers, or anybody in the lifestyle space, and it has been used by luxury brands like Karl Lagerfeld and Hugo Boss.
Trendstop has email newsletters, a trend database, and features to track trends. They also have three different paid subscriptions to accommodate designers in different growth stages. Since they're also a trend forecasting agency, they also provide trend and data analysis reports, in addition to consultation services to help you leverage that data — so, the cost of working with them is a little steeper.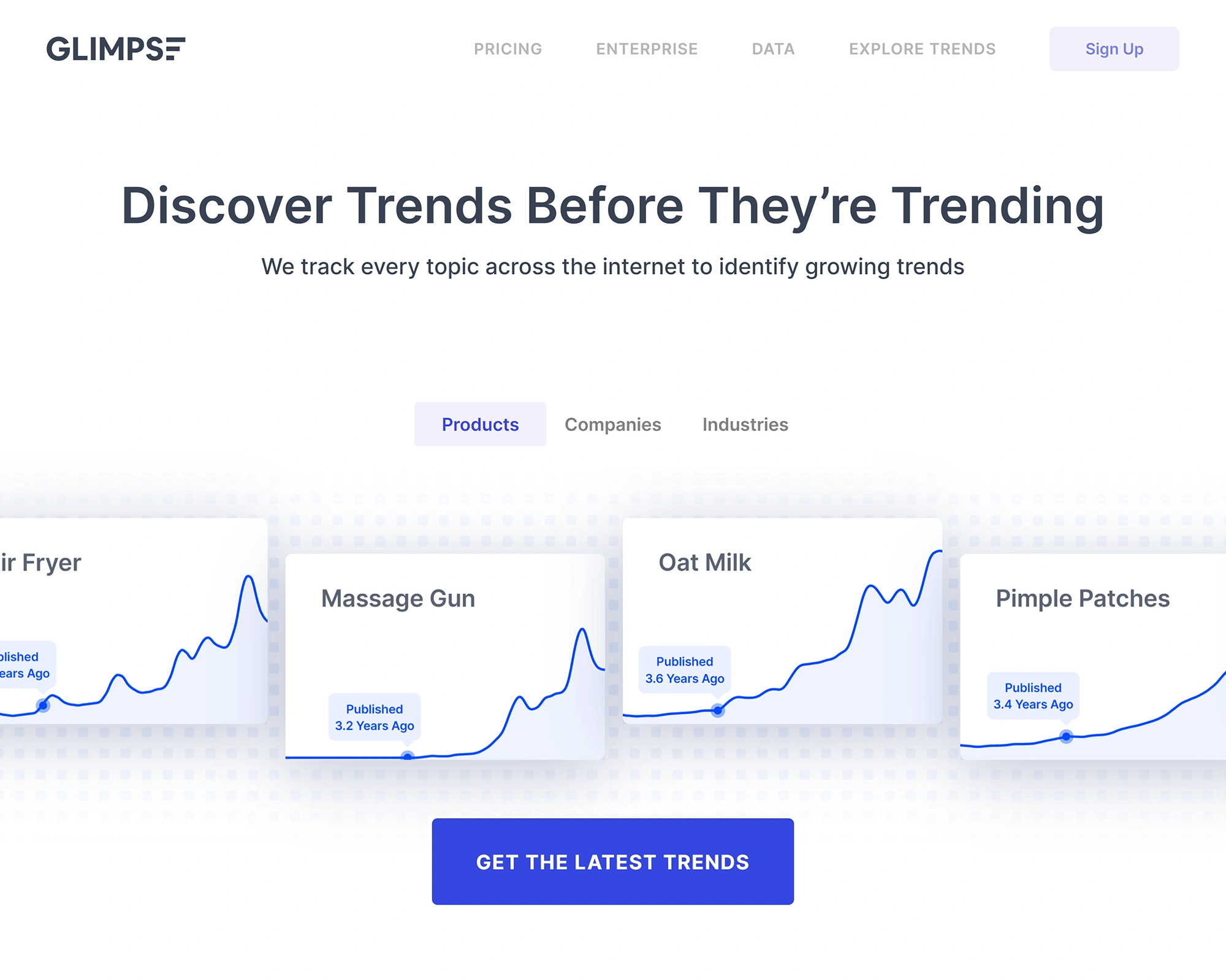 Glimpse is a subscription-based trend forecasting newsletter that delivers new trend information to your inbox once a month. These newsletters include trends in numerous industries and categories so you get access to a good mix of upcoming product ideas, businesses to watch for, and more. They also have a Google Trends extension for teams who use Google to research trends and keyword ideas; this shows more specific data on search volume and makes it easier to predict future popularity.
Glimpse also pulls trends from a variety of online sources and has a team of analysts to discern real trends from fads. However, the biggest difference between Glimpse and Exploding Topics is that Glimpse doesn't have a trend database or features to track trends into the future – it's just a newsletter. Also, their newsletter is monthly whereas ours sends new trend updates weekly. Their paid packages range in price from $29 to $479 per month.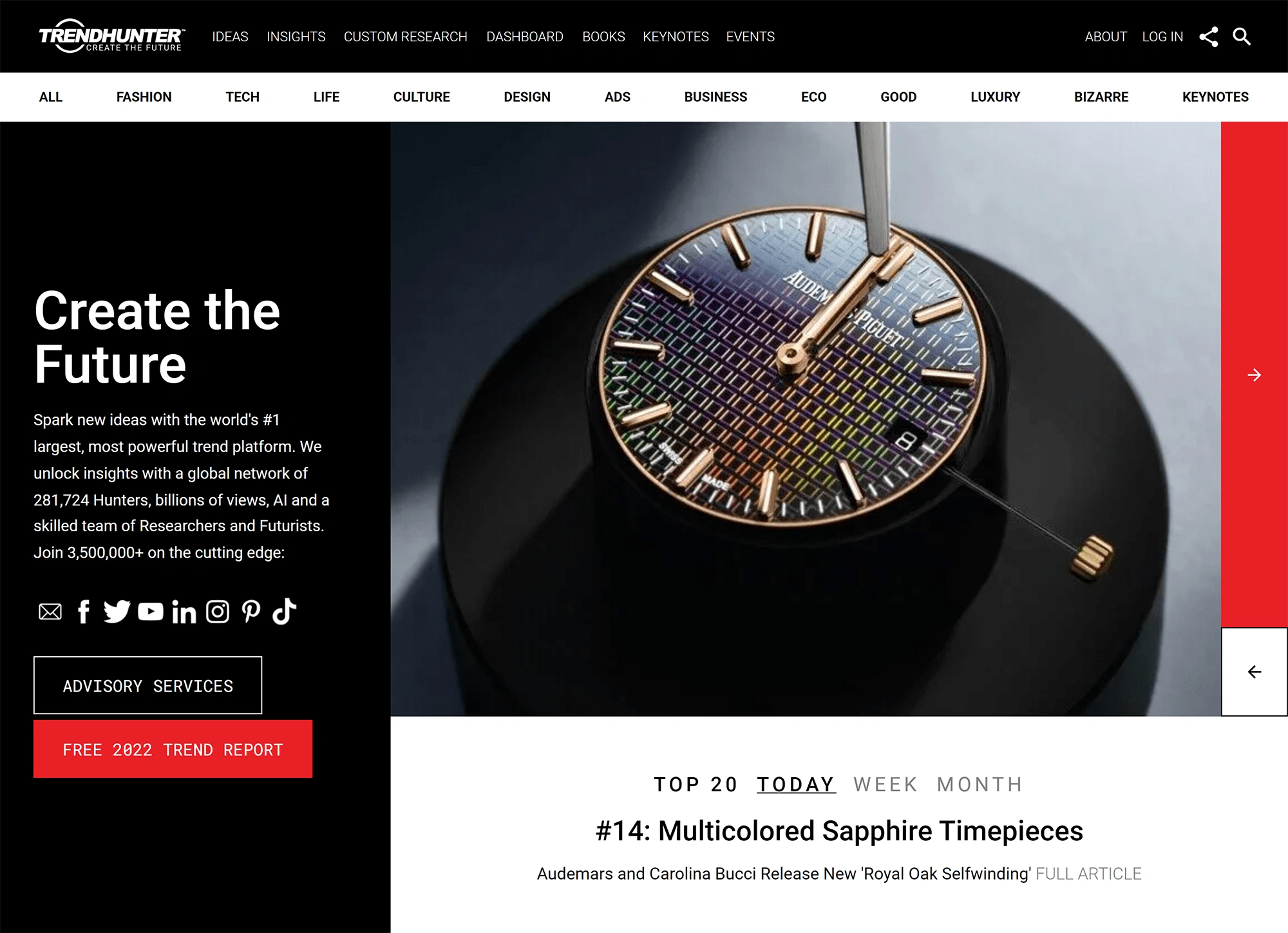 Trend Hunter is a trend forecasting website that is popular in both the US and UK because they pull trend data from both markets. Their product is a little different from traditional trend forecasting tools, though, because the data science is 100% qualitative (or pulled from consumer insights) — there is no "algorithm data."
Trend Hunter offers both a trend database and a weekly trend newsletter, like Exploding Topics, and they appeal to teams across different industries because they cover a wide variety of trends. But they also double as a trend forecasting agency because they provide extras like custom research and advisory services to help you strategically use trend data in your decision-making. You can get started in a self-service package (where you access trend data yourself) or you can enroll in a dedicated program that's tailored to your business needs. Pricing starts at $119 per month.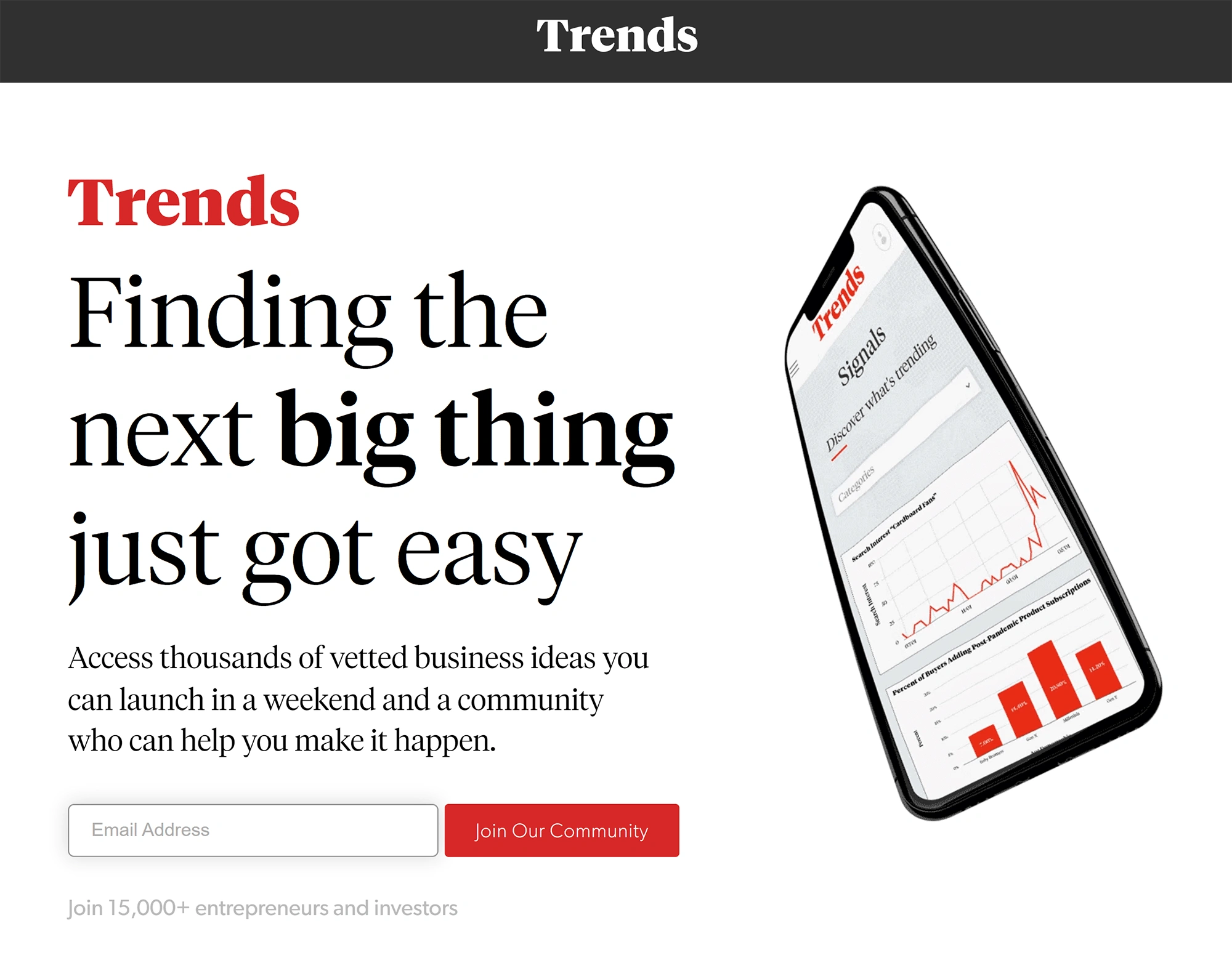 Trends.co is a trend forecasting website for new entrepreneurs that want to research niches where they may want to start new businesses. Their newsletters and trend database feature several categories of market, product, and industry trends; their website doubles as an online community for entrepreneurs across all industries to collaborate and get feedback. They also provide webinars (called "The Lecture Series") from other business owners and entrepreneurs so you can learn about others' experiences.
In addition to its trend database and newsletters, Trends.co offers consultative and advisory services and can help with things like positioning and rebranding. Again, this trend forecasting solution is just for entrepreneurs and business owners that want to be successful in new ventures and need resources to get them up and running.
But it's also worth mentioning that reviews of Trends.co are mixed; some say that the platform and connections are valuable while others say the trends are generic and that you can achieve the same benefits as joining a Facebook group. Trends.co offers a $1 trial to get started and then the platform costs $299 per year.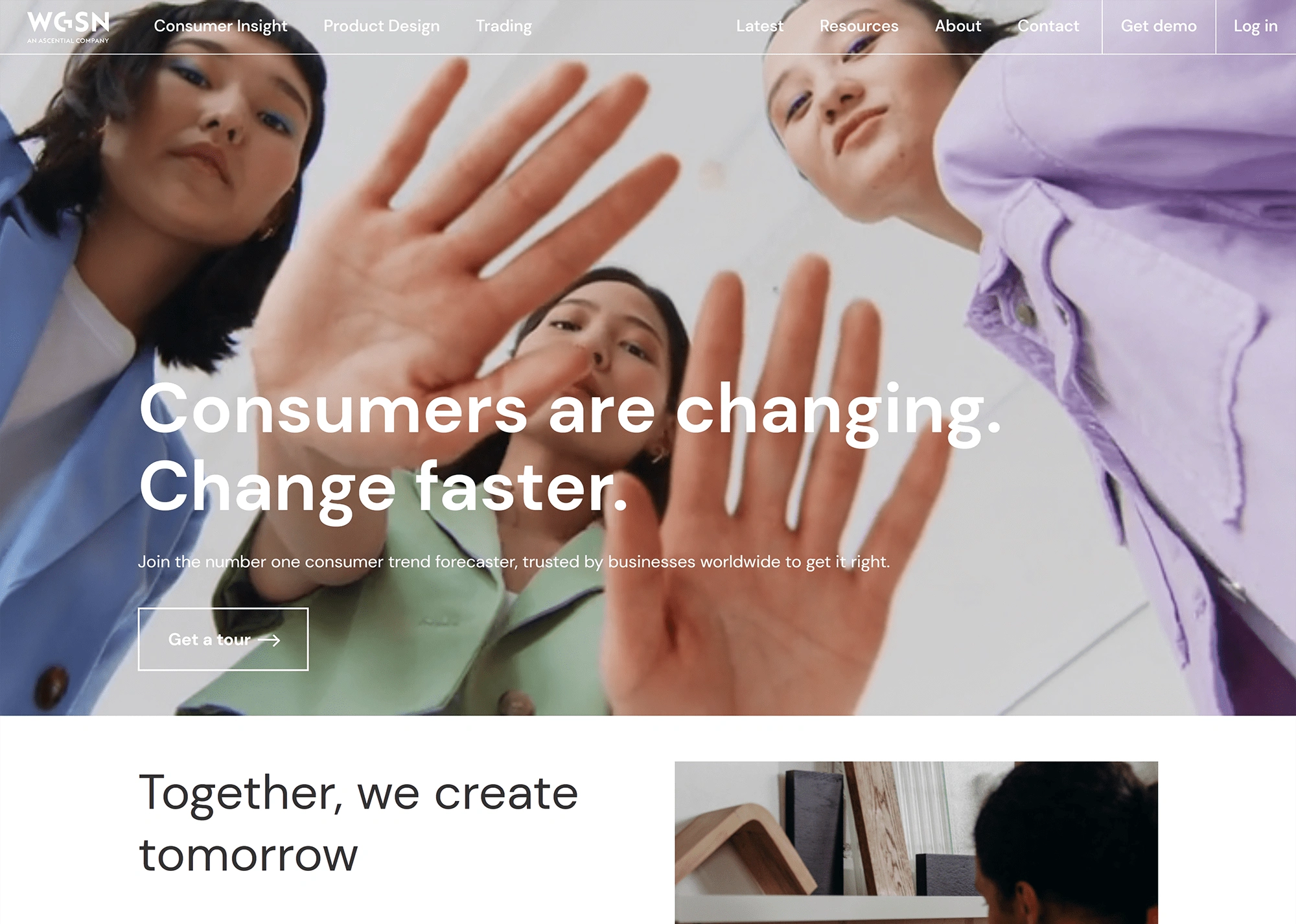 The last option on our list, WGSN, is a consumer trend forecasting solution; like Trendstop, this platform appeals mostly to fashion, lifestyle, and beauty brands as they don't cover trends in industries like crypto, SaaS, startups, technology, food/beverage, etc. They've worked with brands like Levis, Adidas, Coach, Nike, and other well-known names.
WGSN is fully a business consulting agency but they also offer some online tools for customers to access trend data on their own. In addition to trend forecasting, they also offer services to assist with product design and trading. You can customize your program with WGSN, but all packages are priced pretty high. This tool works primarily for global or enterprise businesses that need these extras beyond trend discovery and forecasting.
Get Started With Exploding Topics Trend Forecasting for $1
The Exploding Topics database has trends across dozens of categories (and we update the platform daily with new high-quality trends) so you can discover new products, services, business ideas, topics, and other upcoming trends in your industry. Every trend that makes it to our platform goes through a thorough vetting process to ensure long-term viability. And we deliver the newest trend information to your inbox every week.
We provide key trend metrics, like the number of searches per month, and store trend data over decades, so you can view historical trend data and predict future growth. You can track all of the trends you're interested in and set alerts for real-time trend updates.
But what's even more convenient about Exploding Topics vs. alternative trend forecasting sites is that you can log in and access trend data any time you need. Our platform is entirely self-service; you can search and save new trends every day or check in on saved trends to monitor their progress. But our team is here to help if you have questions about our platform and how to use it.
Start an Exploding Topics Pro trial to unlock full access to our database and see how our trend forecasting features work.