Free and Paid Trend Reports For Market Research
You can quickly find hundreds of trend reports with a quick Google search, but finding one that's relevant to your use case can be challenging.
Some trend reports cost thousands of dollars and might not fit your budget, while others are just SEO-optimized articles that don't contain high-quality or current data.
So here's a list of resources you can use to find quality trend reports for different budgets and use cases.
Exploding Topics is a trend discovery platform that makes it easy to find under-the-radar trends quickly.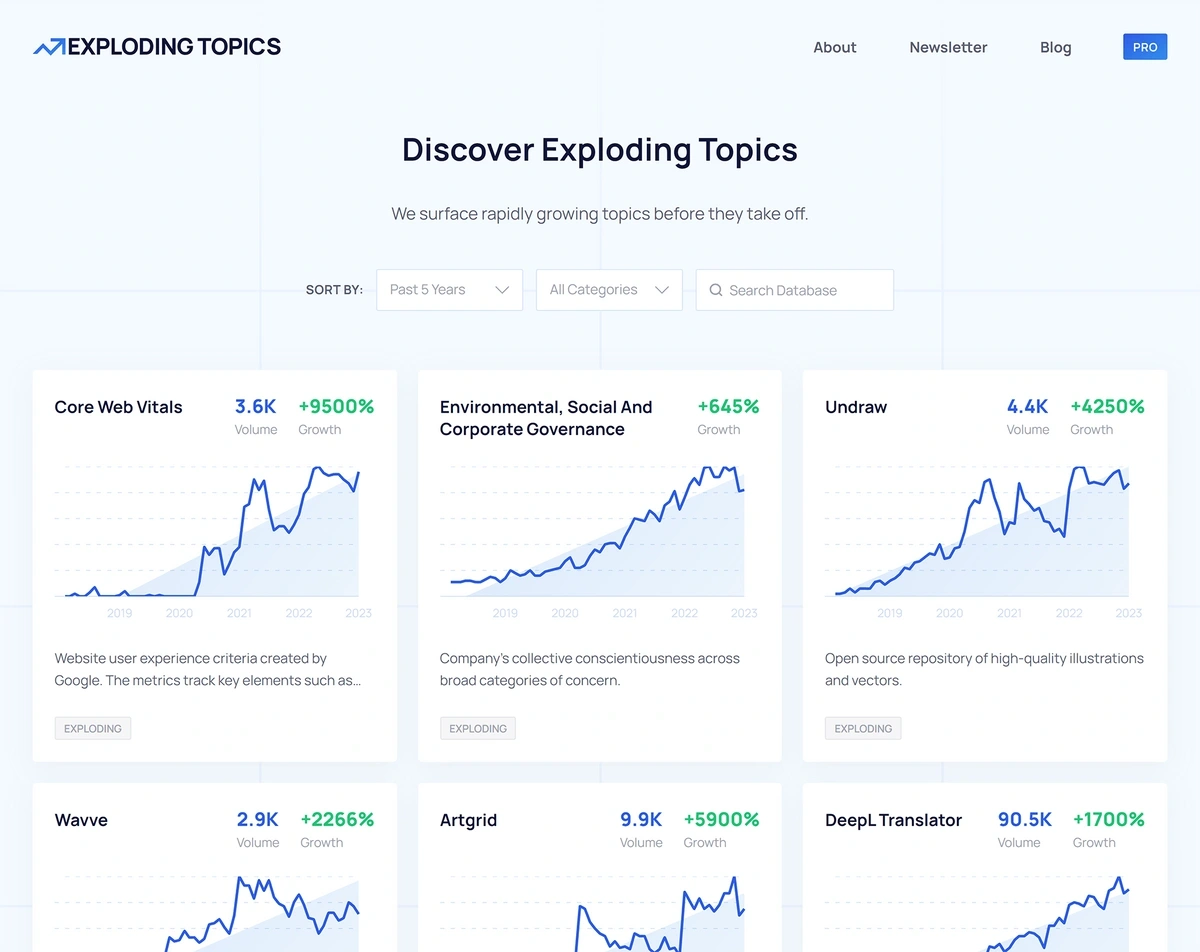 The two most relevant features for trend researchers are:
Weekly Trend Reports
The Trends Database
Weekly Trend Reports are sent to your inbox and cover five trending products and five trending companies.
Expert market researchers execute the analysis in each report, and each one contains actionable insights that investors, founders, and product developers can leverage to make informed decisions.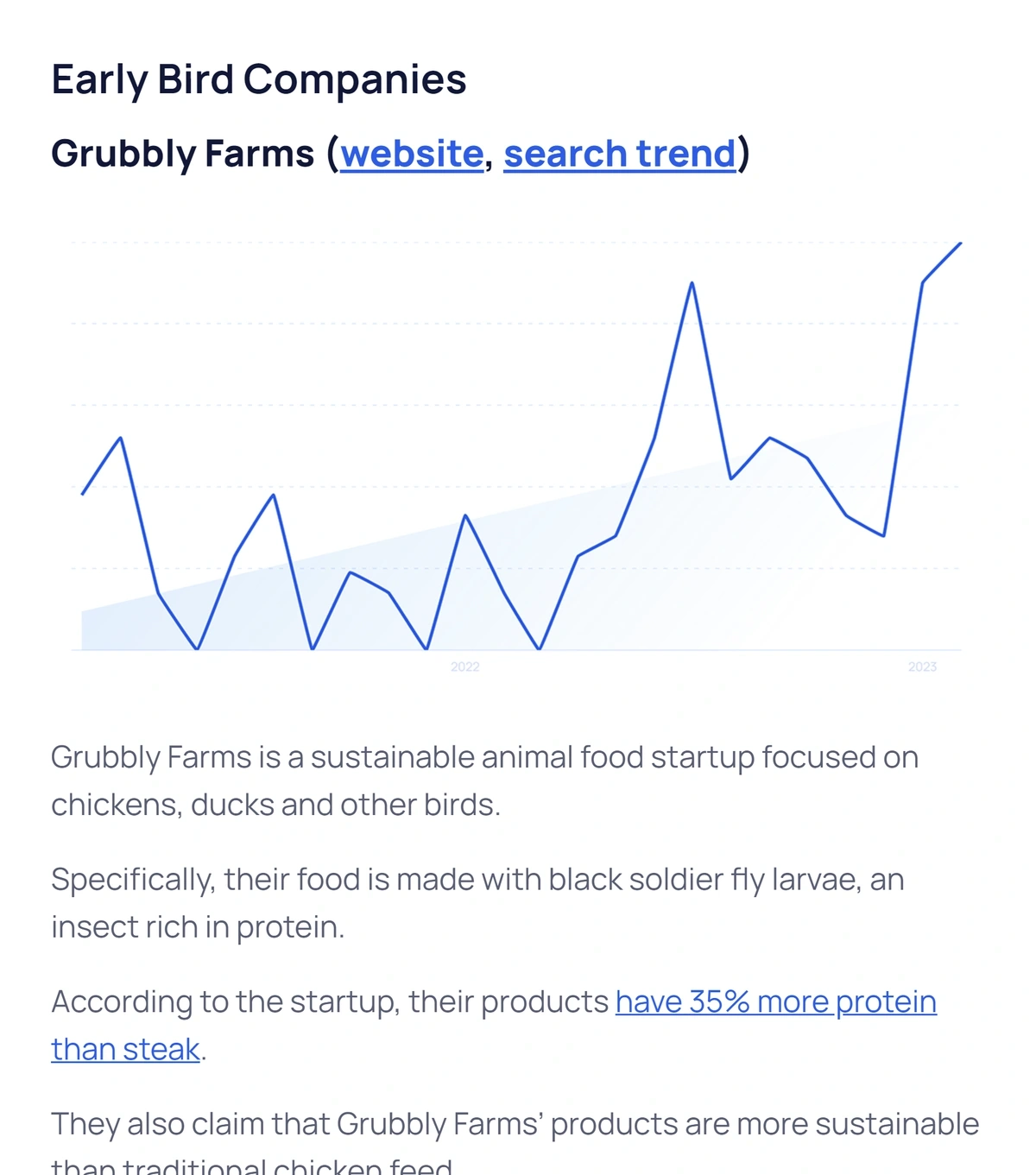 If you missed a Weekly Report, you can always see archived reports in the Exploding Topics dashboard.
In addition to Weekly Reports, the Trends Database is a useful trend research feature as it helps you quickly discover emerging trends.
Many platforms make it easy to find statistics and data on trends, but the problem with these platforms is that you have to know the trend exists to research it.
The Trends Database solves this problem by showing you emerging brands, products, and industry keywords before they take off.
To find new trends, sort the Trends Database by category (fashion, beauty, marketing, finance, etc.), and you'll see a database of topics and a graph of each topic's historical Google Search search volume:
Note: We offer a forever free version of the Trends Database that you can use now to find new trends. Or, keep reading and we'll show you some additional features that Exploding Topics Pro users can access.
When you find an interesting trend, you can save it to a Project and monitor its growth. Projects live inside the Exploding Topics dashboard and make it easy to track trends over time.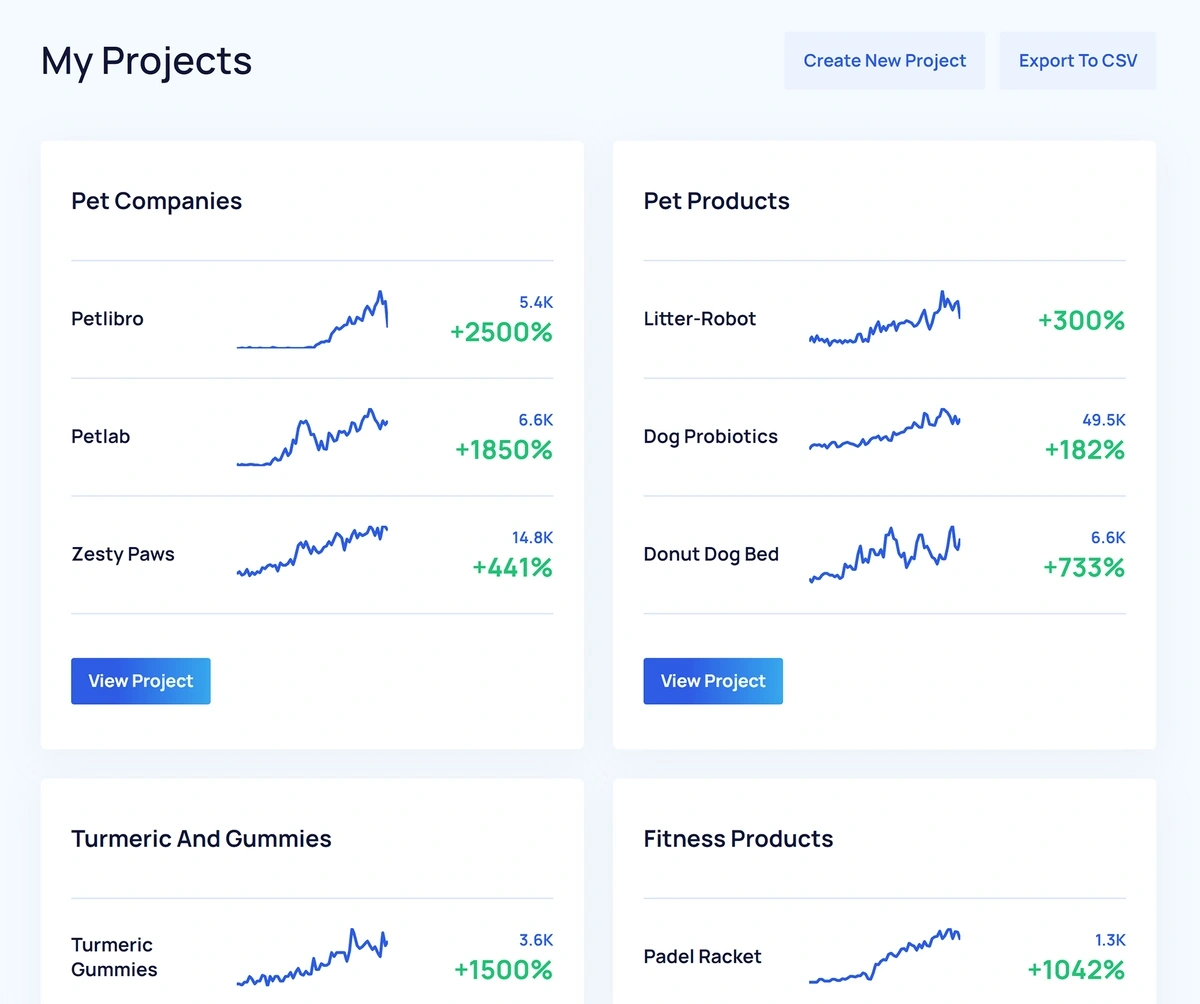 Exploding Topics also offers various other features like:
Meta Trends: There are usually niche trends within a larger market. For example "AI enabled coaching" is a meta trend within the broader artificial intelligence market. So Meta Trends shows you the brands, products, and keywords associated with these larger meta trends.
Trends Search: If you heard about a trend and want to check its growth potential, Trends Search lets you search any keyword and pull up a report with historical Google Search volume data. It also gives you a list of other related trending topics.
API: Exploding Topics also has a flexible REST API to analyze real-time trends.
You can try all of these features for free today by starting your Exploding Topics Pro trial now.
Industries
Target Audience

Investors (VCs, angel investors, etc.)
Ecommerce product developers
Content marketers

Core Focus

Trend discovery is its core focus as the Trends Database lets users quickly relevant, under-the-radar, trends.

Data Quality/Sources
Here's how we find and qualify trends:

AI and ML searches the web (Google, Amazon, Reddit, Spotify, YouTube, etc.) for trending topics.
We use Google Search volume to confirm each topic's growth trend.
A human analyst vets each topic for business relevancy.

Free Plan?
Yes
Pro/Con Considerations

Usability: The database lets users discover under-the-radar trending products, brands, and industry keywords in seconds.
Data Quality: Using a combination of AI and humans to find and qualify trending topics keeps the data quality standards high (unbiased and accurate). This level of data quality is usually only available in enterprise products.
Not for news/fad discovery: It's designed to find long-term trends, not short-term fads or news that fades after a few days.
Pricing
Exploding Topics has three different plans for entrepreneurs, investors, and businesses (prices are $39, $99, and $249 billed annually). All plans offer full access to the premium Trends Database, Weekly Reports, and Meta Trends.
Trend Hunter mainly focuses on providing trend reports for consumer brands and investors.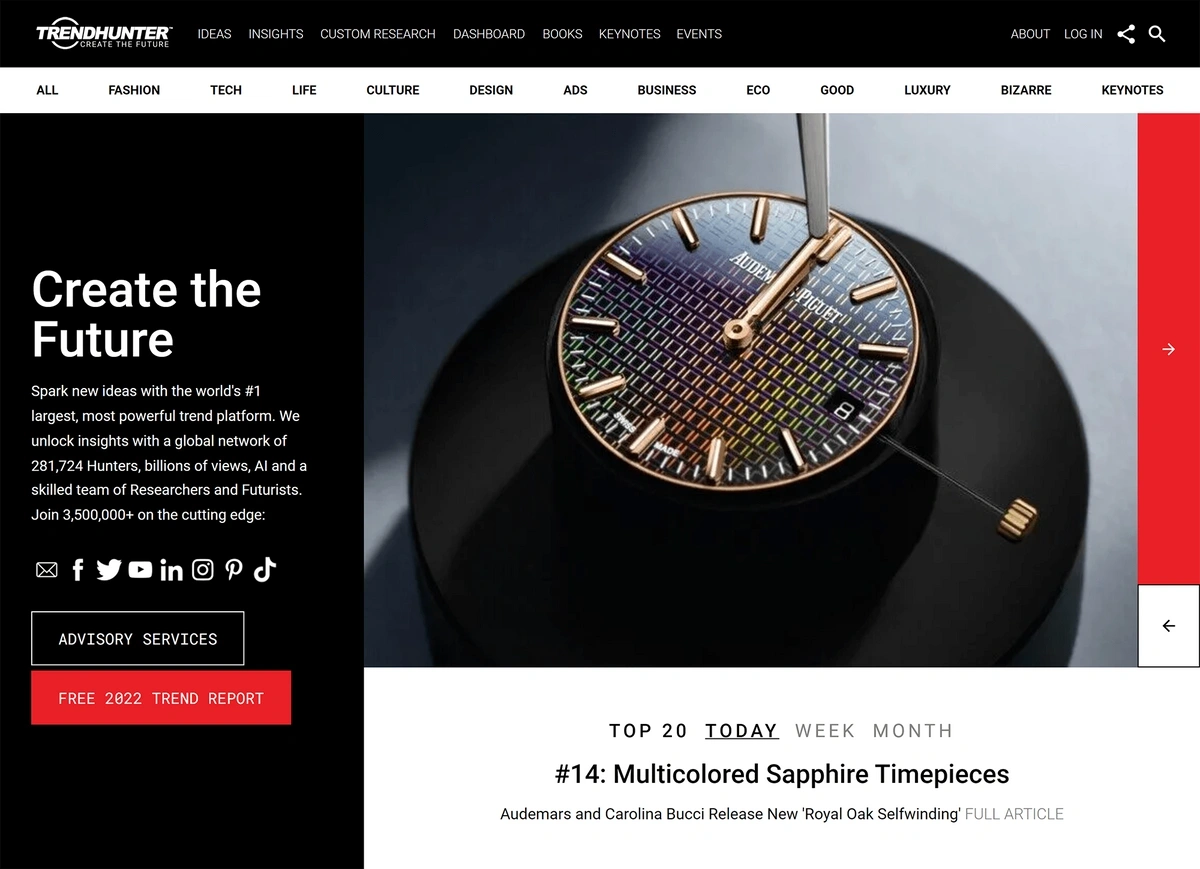 They offer custom trend reports starting at $1,999 and a premium library of over 80 different consumer trend reports. A typical report might be 50 pages with 300 hyperlinked examples of insights.
Trend Hunter also offers Premium Five Plus Year Trend Reports, which are "well-researched guides written by Trend Hunter Futurists" and designed primarily for trend forecasters.
Regarding data quality and capture methods, they crowdsource the data from people who visit the Trend Hunter website.
For each trend, you'll also see a score that breaks down a trend's popularity, interest level, and freshness compared to other topics on Trend Hunter. As this score is calculated based solely on engagement from Trend Hunter's user base, it might not align with your ideal customer's viewpoints.
Trend Hunter offers their general 2023 trend report for free, though all other reports are paid.
Industries
Target Audience

Ecommerce product developers
Investors in consumer markets

Core Focus

It's a trend research firm that specializes in custom research.

Data Quality/Sources

Free trend topics are initially sourced by AI and then ranked by freshness and engagement data crowdsourced from Trend Hunter's website visitors.

Free Plan?
They offer one free trend report that covers a broad range of consumer trends.
Pro/Con Considerations

Fast Custom Reports: If you need a custom trend report in a matter of days, they can deliver.
Data Quality: While they use a large sample of data, the data is crowdsourced from their audience, which may or may not align with your target customer's viewpoints.
Primarily a Research Firm: They offer one free trend report but primarily focus on providing custom research for larger (Fortune 1,000) consumer brands. So it might be too expensive for those who just want a lightweight trend report tool.
Pricing
Trend Hunter's custom reports start at $1,999 and they don't offer pricing information on the trend report library.
CB Insights provides market and competitive intelligence data for investors and company leaders in the tech industry.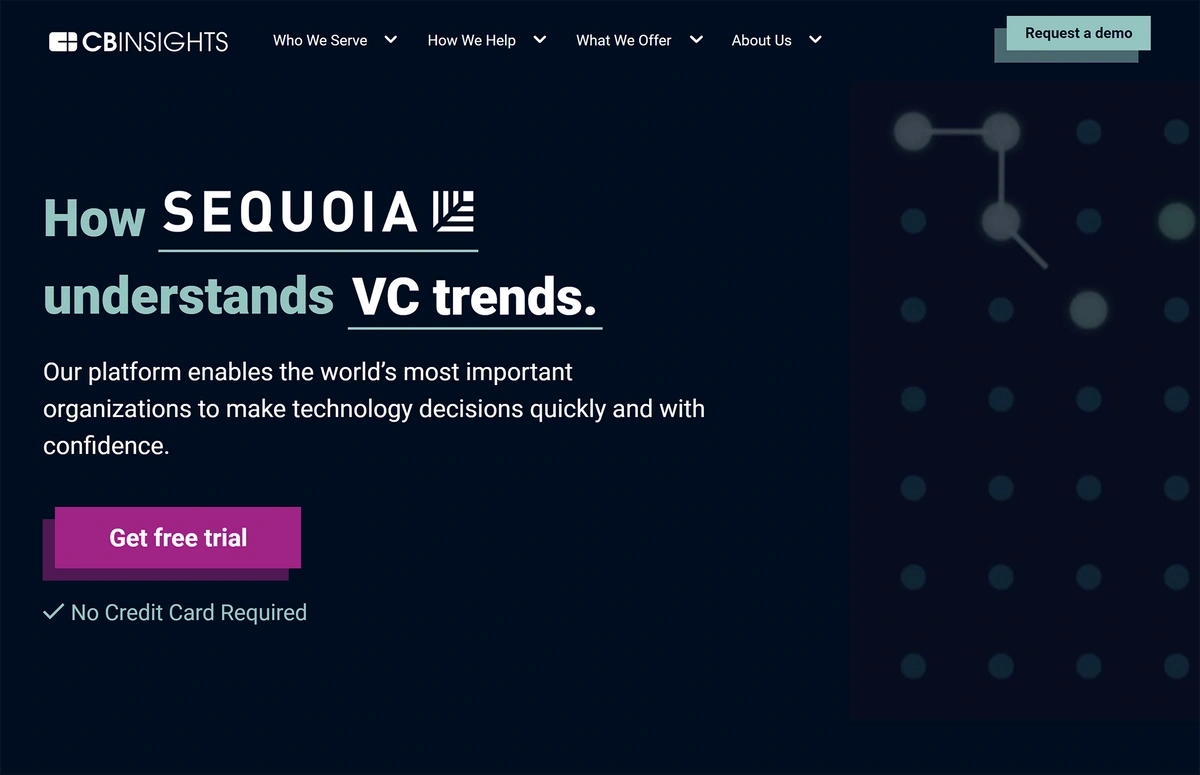 It uses big data tools and algorithms to gather disparate data and combines it with private analyst briefings to deliver valuable insights in an organized, easy-to-use database.
Some metrics it offers include data like financing, valuations, M&A activity, business partnerships, hiring activity, market sizings, and customer activity.
You can search the company database using filters corresponding to the metrics above or track specific competitors and receive real-time alerts for critical movements.
They also offer five types of trend reports:
Quarterly reports major industry trends and funding
Tech trend insights
Competitive strategy deep dives covering investment and partnership strategies
Data-driven guidance on popular vendors
You can browse some of their free trend reports in their research portal or hire one of their researchers to work with you if you need more customized data.
Industries

Tech companies and startups

Target Audience

VC firms
Tech founders
Executives that need competitive intel

Core Focus

It's primarily a database of market and competitive intelligence data (funding, hiring activity, partnerships, acquisitions, etc.) for tech companies.
They also offer a selection of market trend reports for premium users.

Data Quality/Sources

Machine Learning scans thousands of unstructured data and documents (investor/company/acquirer websites, regulatory filings, social media, and news and trade publications.
Analyst Briefings where executives at tech companies provide private data.

Free Plan?
They offer some free market reports.
Pro/Con Considerations

Access private data: The analyst briefings provide users access to exclusive private company data.
Clean organization: It's excellent at organizing disparate data into useful metrics.
Focuses on tech companies: It might not be the best option for consumer brands.
Enterprise product: It might not be feasible for smaller companies to purchase.
Pricing
CB Insights doesn't list its pricing, though they've made it clear that they position themselves as an enterprise offering. Nevertheless, here's an overview of the different plans: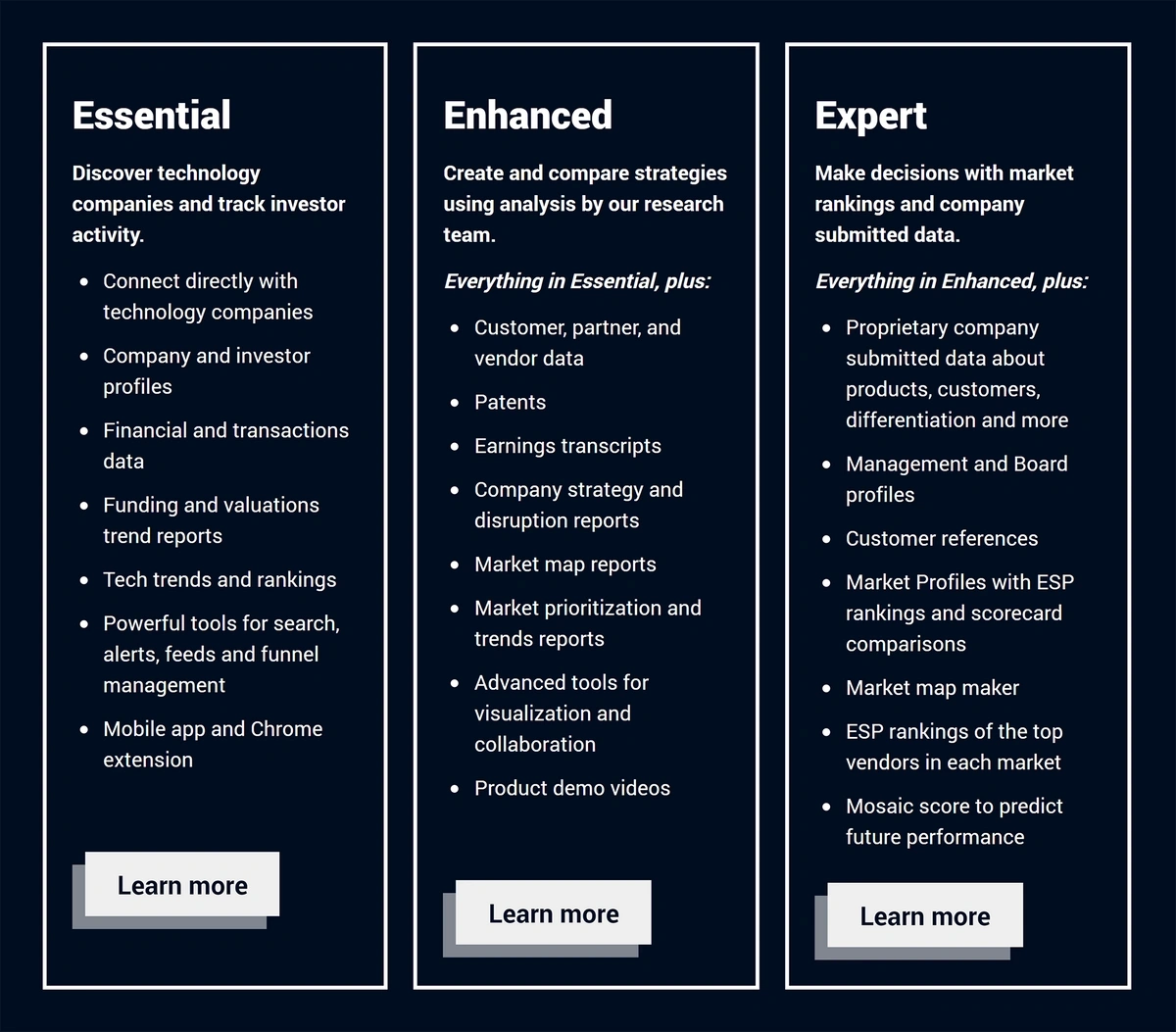 Grand View Research offers custom and syndicated research reports, as well as consulting services.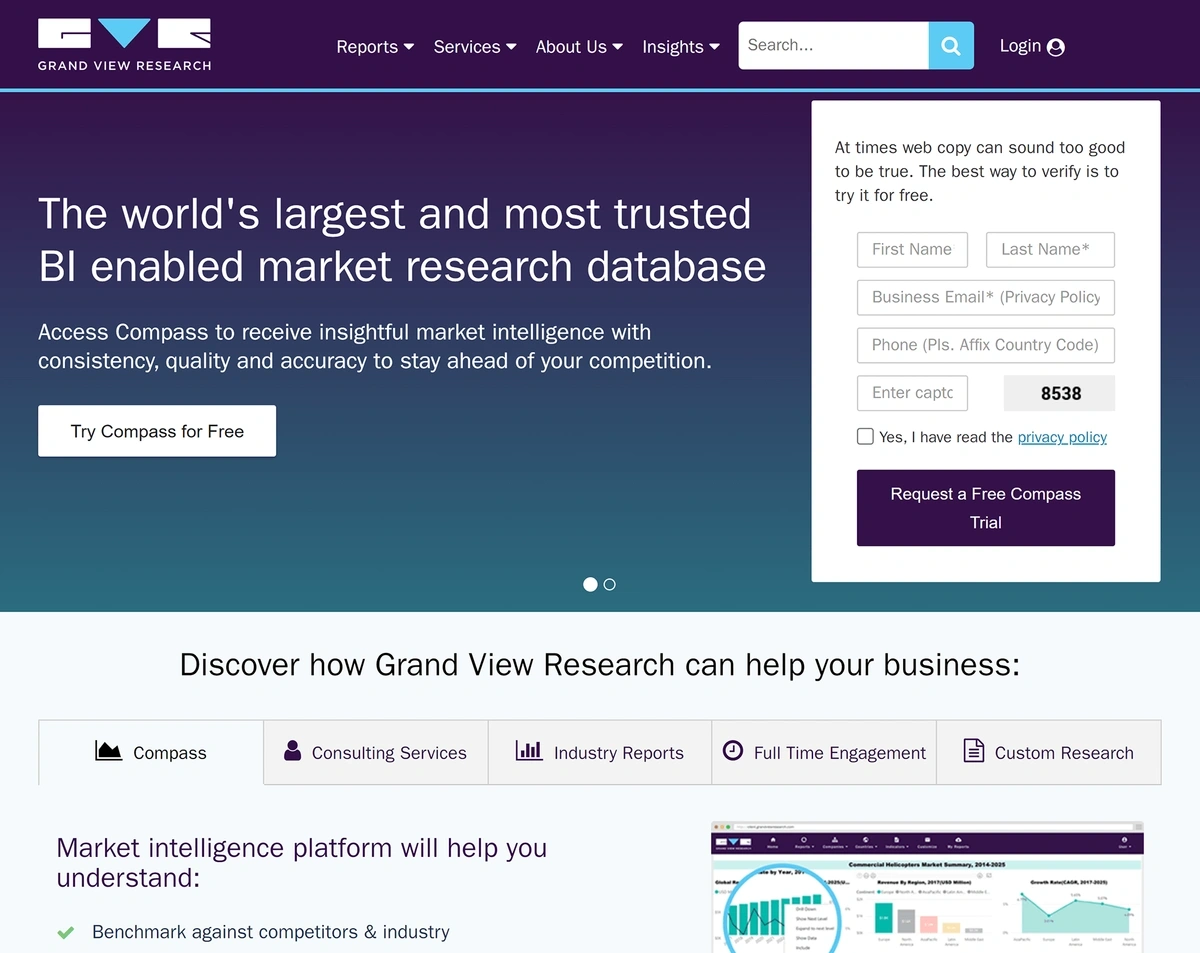 It offers plenty of free market research reports that provide basic market statistics like market size, compound annual growth rate, top players in the space, funding trends, market segmentation, and more.
If you upgrade to their paid offering, you can access more advanced filtering and search for specific metrics. For example, if you want to only see Indian companies in a specific industry, you can use the geographic filter to only view industry stats for the Indian market.
Grand View Research also has a team of analysts and domain experts that can do custom research for larger companies.
Industries
Target Audience

Large companies (Fortune 1,000) doing primary research
Investors/VC firms
Entrepreneurs looking for free market trend reports

Core Focus
It offers three core services:

Market intelligence platform (Grand View's Compass)
Consulting services/custom research
Industry reports

Data Quality/Sources

Purchased database: They have subscriptions to databases like Hoovers & Fractiva.
Primary research: They execute surveys, collect that data and store it in an internal database.
Third party perspectives: They have analysts on staff and interview industry experts.

Free Plan?
They offer some free reports, but their primary offering is paid.
Pro/Con Considerations

Free market data: They offer generous free market research reports backed by quality research with key metrics like market cap, leading brands, and forecasts.
Extensive proprietary data: As a research firm, they have a rich database of primary research.
Enterprise offering: Enterprise offering: Their primary service (executing primary research) isn't affordable for most brands.
Pricing
Pricing for access to research reports across the site starts at $10,500.
IBIS World specializes primarily in creating industry trend reports (it does not offer consulting services).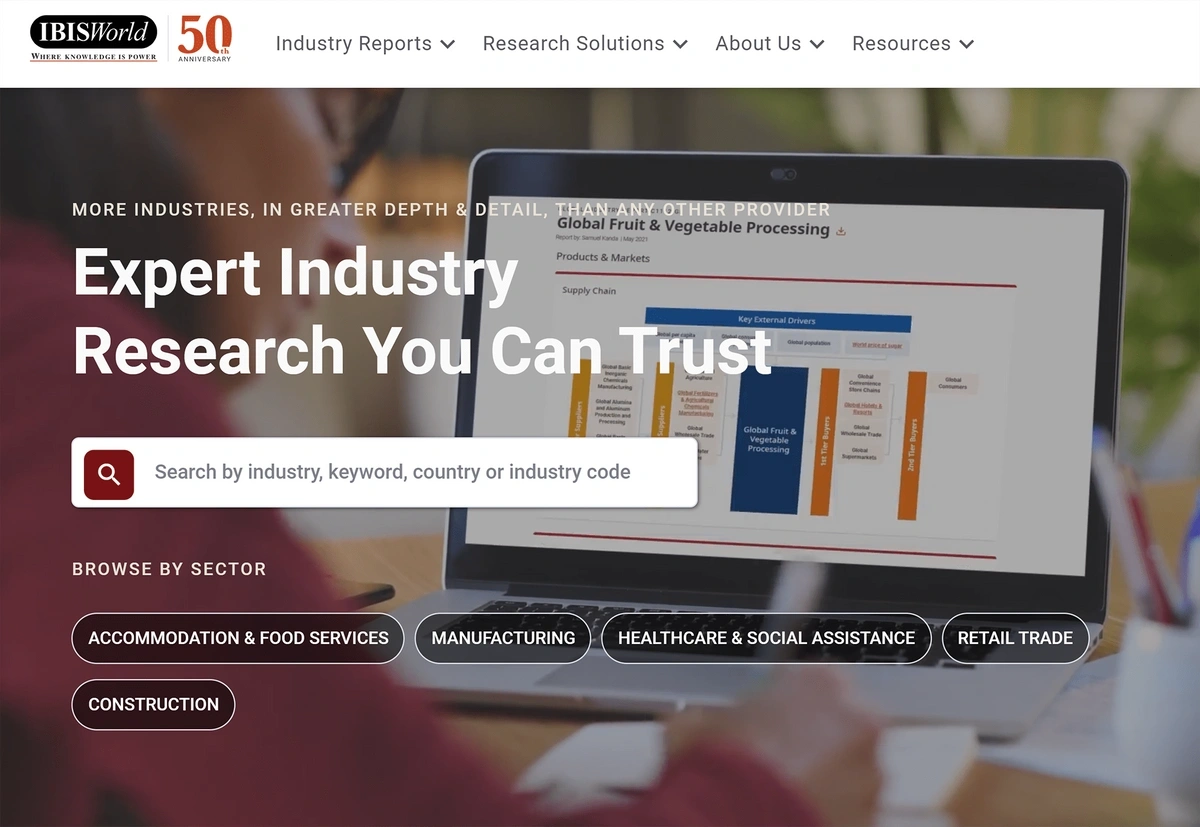 Each industry report is about 30-40 pages long and covers the following topics:
Industry performance
Industry outlook
Products and markets
Competitive landscape
Major companies
Operation conditions
Key statistics
As IBIS World specializes almost exclusively in producing industry reports, it offers a large selection of reports and has data on very specific industries and topics.
For example, they offer a report on the Commercial Property Remodeling industry.
While the industry reports are their main focus, IBIS World also offers a few other products, including an early warning system, risk ratings, financial ratios, early warning system, business environment profiles, and iExpert summary reports.
Members get access to reports and have access to a client success manager.
Industries

No specialization: It lists 20 different industries, from entertainment to healthcare, and specializes in nine countries.

Target Audience

Executives in the following industries: Academics, accounting, business valuations, commercial banking, consulting, government agencies, investment banks, law firms, marketing, private equity, and sales.

Core Focus

Producing high-quality research reports is its primary focus.

Data Quality/Sources

Hundreds of official, public data sources.
Industry contacts, industry associations, and private sources.
Primary research data.

Free Plan?
They offer a handful of free reports
Pro/Con Considerations

Specialization: They specialize exclusively in providing detailed industry reports, so they offer one of the largest selections of quality market research reports.
Data quality: They prioritize offering high-quality market data.
No analysts or primary research offering: They exclusively offer market research reports.
Exclusively paid: It doesn't offer free reports.
Pricing
You can purchase a single report (typically $995) or a three-month membership ($1,295), giving you three months of access to select reports.
Statista offers a large database of free statistical reports, which aggregate popular statistics from various sources for a particular topic.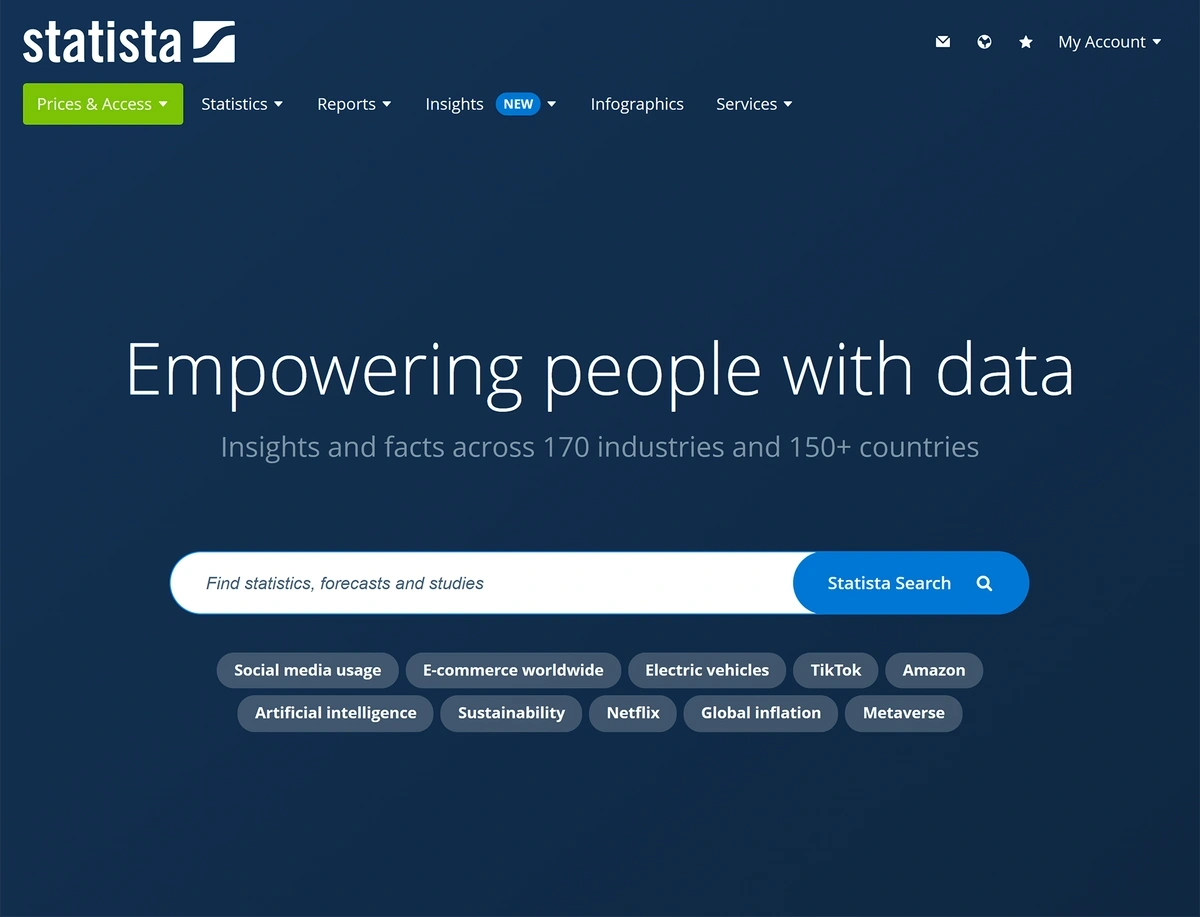 However, they also offer trend and market research reports for various B2B and D2C industries.
Focusing on their trend reports, each tends to be 30-50 pages, and the content types include dossiers, outlook reports, surveys, city reports, brand reports, country reports, and more. Many of these reports are also very specific, like "Precision farming and agricultural digitalization in England."
You can filter by industry, region, content type, recency, and language to find relevant reports.
Statista is also one of the few resources offering more affordable plans for smaller companies and individuals who want basic market data yet aren't willing to pay thousands per report.
Industries

B2B and consumer markets: It lists 22 different industries.

Target Audience

Paid reports: Researchers, investors, business leaders, and government officials that need market data can purchase their paid reports.
Free/low priced statistical reports: These reports are helpful for content marketers, journalists, and anyone doing casual market research.

Core Focus

It's primarily a statistics portal that organizes disparate data into organized reports.
It also offers professional research for select clients.

Data Quality/Sources

Public data sources (It links to them in each report)
Primary research (surveys conducted by their researchers).

Free Plan?
Yes – Statista offers a limited number of free reports.
Pro/Con Considerations

Organized statistics database: It offers one of the largest databases of free statistical reports.
Small business plans: It's one of the few market research tools that offers plans for small businesses and even content marketers or journalists.
Data quality varies: They pull statistics from different free sources, so while you can verify the data quality by checking the link they include to each source, the quality may vary. Some of the statistics are also dated.
Customer service is a common complaint from reviewers.
Pricing
Pricing for statistical reports starts at just $39 per month, though if you want access to trend reports, you'll have to purchase at least a Personal Account subscription, which starts at $490 per month.
Trends.co is a lightweight trend platform for entrepreneurs and tech leaders interested in discovering new business ideas and trends.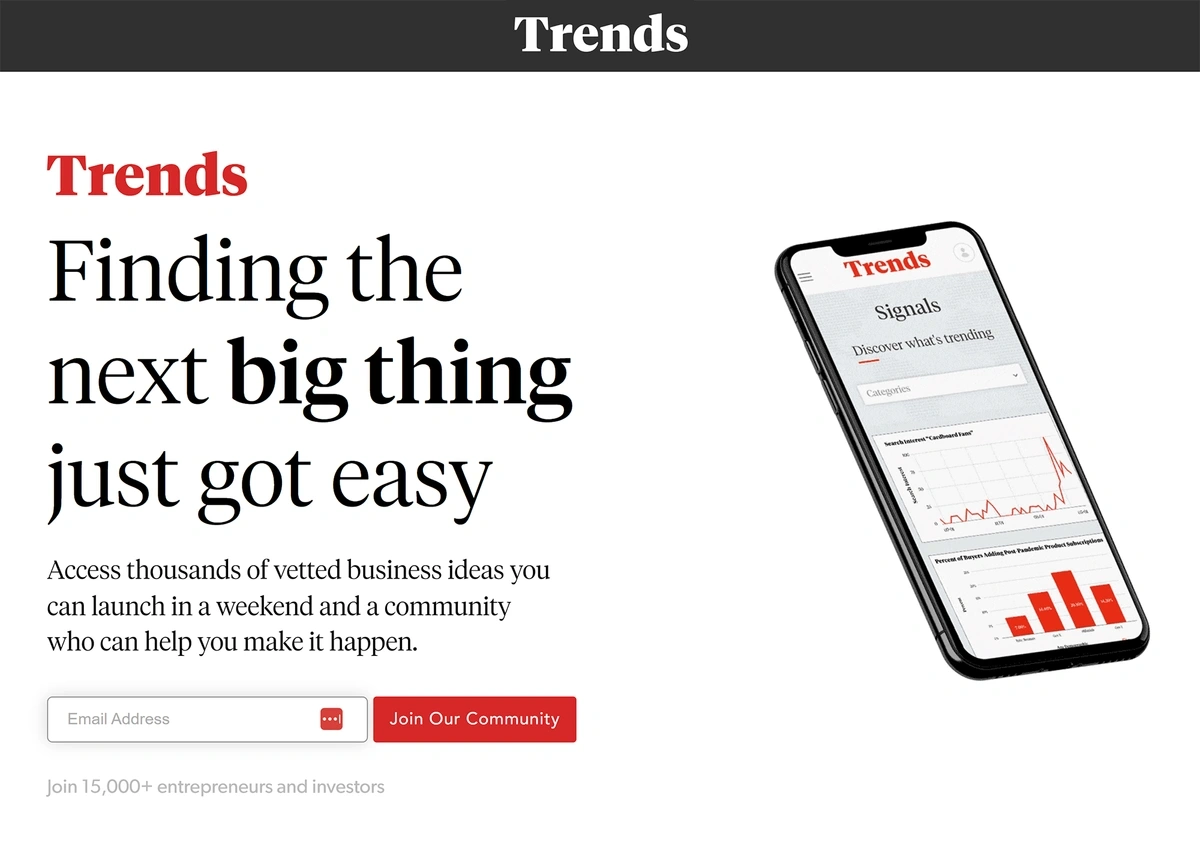 While they publish about two brief trend reports monthly, the main value of the tool is the community. It has a vibrant Facebook group where members can collaborate and brainstorm trend ideas, and they also host virtual events like webinars.
In addition to the community, Trends.co publishes interviews with successful group members and writes stories about how successful members started and grew their businesses.
It's a great community for business ideation and younger entrepreneurs looking to connect with other like-minded individuals.
Industries

Growing tech industries
Some D2C/ecommerce

Target Audience

Tech entrepreneurs looking for business ideas.

Core Focus

The community is the primary focus of the business, with an active Facebook group and a newsletter that shares trend suggestions from analysts and community members.
They offer a handful of market reports (roughly two per month), but it's not the core focus.

Data Quality/Sources

The community and some analyst research are the primary data sources.

Free Plan?
No
Pro/Con Considerations

Vibrant community: It's a great place for tech entrepreneurs to connect and discuss trends.
Few reports: It only publishes a couple of reports per month (most of the archived reports are outdated).
The value you receive correlates with your engagement efforts: Unlike trend databases or reports, you can't just search for trends. Instead, you'll receive more value if you engage with the community.
Pricing
Trends pricing is $299 per year.
LS:N Global is a content-based website that offers trend reports, expert viewpoints, and news on consumer markets. Specifically, they cover eight sectors; beauty, fashion, design, food and drink, health and wellness, media and tech, retail, travel and hospitality, and youth.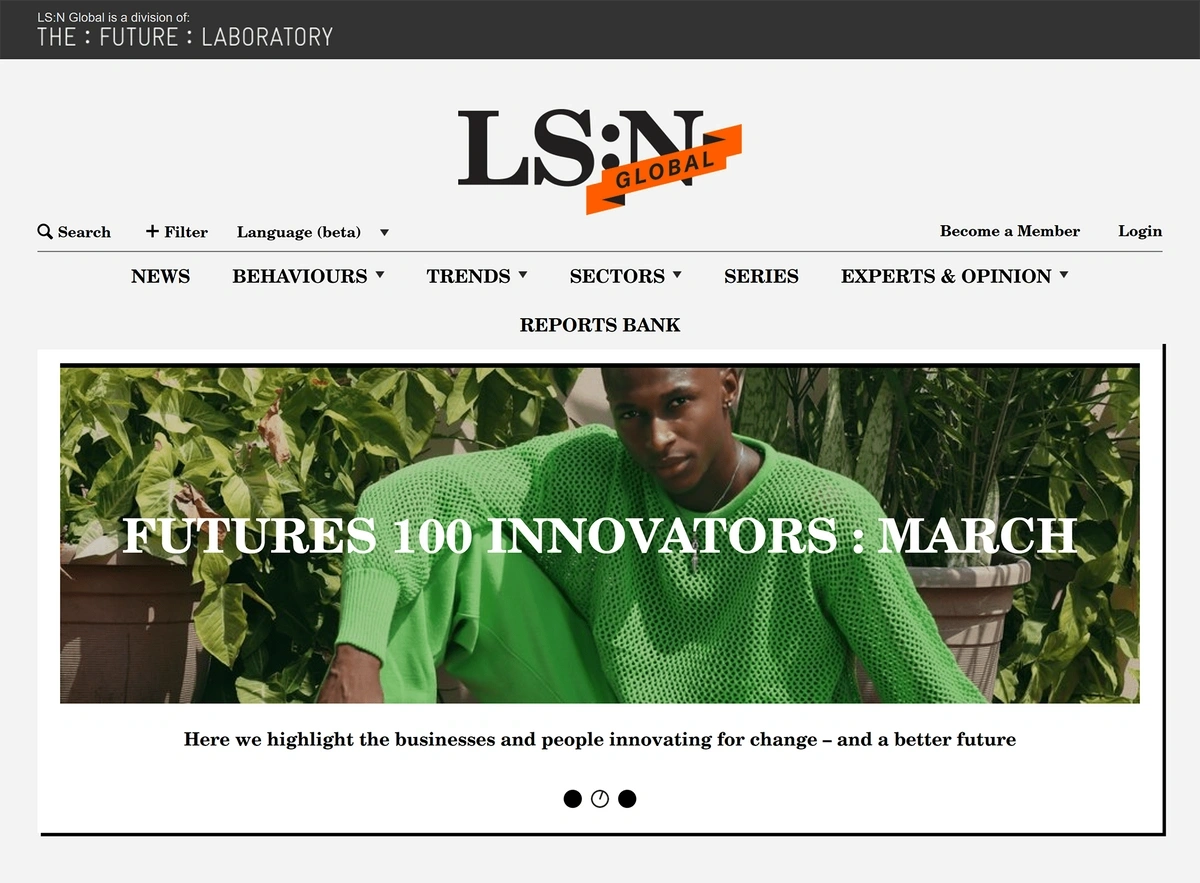 A researcher crafts each trend report and provides examples, statistics, expert quotes, and analysis.
You can also sort trend reports by micro or macro trends, and each report provides historical trend growth, consumer insights, demographic, and forecasting information.
They also offer other reports, including big ideas, market reports, community reports, and statistics.
You can download three reports for free, and the rest are available to paid subscribers.
LS:N Global is a subsidiary of the forecasting consultancy, The Future Laboratory, so they draw from their own proprietary research for trend ideas and supporting data. You can also book one of their professionals to deliver a keynote presentation to your company.
Industries

Consumer markets: Fashion, food & drink, health & wellness, luxury, retail, travel & hospitality, and youth industries.

Target Audience

Consumer brands and market researchers that need forecasting data.

Core Focus

Content database: It offers micro and macro trend reports in addition to other content like big ideas, community reports, and expert opinion articles.
It's a subsidiary of a forecasting consulting company, The Future Laboratory.

Data Quality/Sources

Primary research: Some statistics are sourced from primary research conducted by the parent company, the Future Laboratory (a forecasting consultancy).
Public data sources: Many of the statistics cited in the trend reports are publicly available from sources like Gartner Research, The Cut, and The Independent.

Free Plan?
No
Pro/Con Considerations

Consumer industry specialization: It exclusively covers consumer industries and therefore has plenty of detailed data on them.
Micro/macro segmentation: It lets you sort reports by micro and macro trends.
Extensive content: It offers a variety of other content including expert interviews, market data and statistics, and community reports.
Reports are based heavily on analyst opinions: The trend report topics are selected by analysts, so the trend quality correlates directly with the employee's staff. The trend narrative might also be skewed towards the
It's exclusively for consumer brands: It's only relevant to consumer brand executives.
Pricing
LS:N offers membership based pricing, though it doesn't publicly list its prices.
MarketResearch.com is a searchable database of research reports available for purchase. So unlike many of the tools on this list, most of the research reports are created by third-party sources, and then MarketResearch.com organizes them into a searchable database.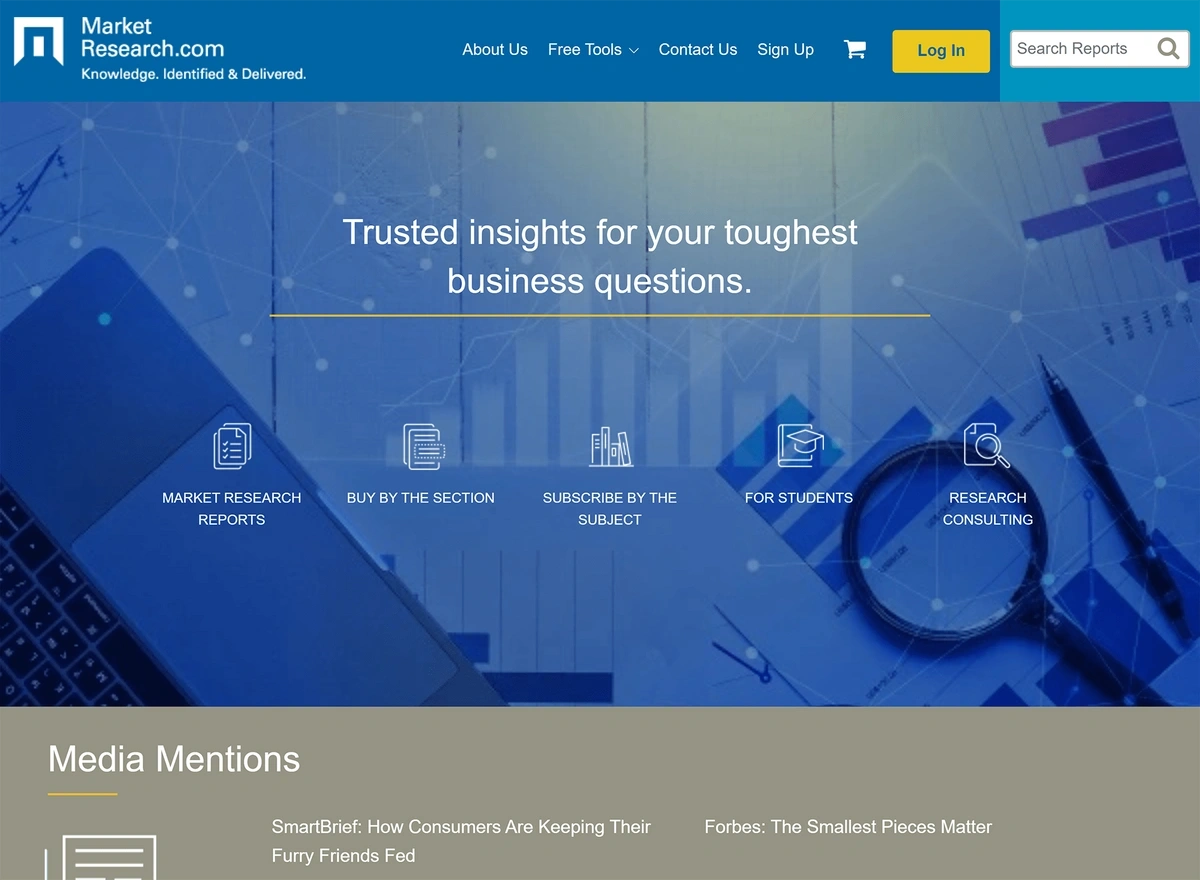 This makes it an excellent resource if you need a trend report for a specific market.
You can filter the database by keyword, price, category, publisher, and region.
The downside of this structure is that the high volume of content can make it very overwhelming to find and select a report.
If you want to work directly with a researcher to develop your own custom research, you can do that as well.
Industries
Target Audience

Business leaders, investors, and market researchers that need to find and purchase relevant reports.

Core Focus

Aggregates market research reports from various third-party research providers and lists them in a searchable database.
Hire their analysts for more customized research.

Data Quality/Sources

It's a database of third-party reports, so data quality varies.
Some of the most common research report providers include GlobalData, MarketsandMarkets, and Freedonia Group.

Free Plan?
No – You must pay for each individual report as reports are supplied by third-party providers.
Pro/Con Considerations

Easily find reports: You can search the database to quickly find very niche reports.
Source quality varies: You have to personally research the report publisher to verify the data in the report is credible.
Reports can be expensive: Prices start at a few hundred dollars per report to over $10,000 per report.
Information overload: With so many reports, it can be overwhelming to sift through the database and find the best report for your needs.
Pricing
Pricing is based on the third-party data provider's pricing, though MarketResearch does publicly list the price of each report.
Selecting a Trend Report Source
There are plenty of different trend report sources that are ideal for different use cases.
Exploding Topics is excellent for investors, entrepreneurs, business executives, and even content creators that want to quickly identify emerging trends before they become popular.
You can explore the free Exploding Topics Trends Database now, or become a Pro user to view premium trends and other more advanced trend discovery and analysis features.