Weekly Trend Reports (With Tools to Discover + Track Trends)
Most trend reports are built specifically for your company and industry and are delivered once or twice a year. While these custom reports tend to be very comprehensive, they're static; meaning you won't be able to track the trends once you know about them (unless you use extra software).
There are more frequent subscription-based trend reporting platforms that email trend reports on a weekly or monthly basis. However, these trend reports typically only have a handful of trends and can be limited in terms of what industries they cover — and they're still plain static reports. If you want to actually track and explore new trends in your industry, you'll need a trend discovery platform like Exploding Topics.
Our weekly trend reports cover 10 new trends across a combination of industries so you can get a broad look at what's up and coming. But our trend reports are just a small part of what we do. We give you access to our entire trend database so you can discover new trends in your industry early, early on, search trends that are already on your radar, and track everything in one dashboard. Each one of our trends goes through an artificial intelligence (AI) and human analyst vetting process to ensure they're real trends with long-term potential and not just short-lived fads.
In this post, we talk about Exploding Topics trend reports and explain how to use our database, search, and dashboard to discover and track new trends.
With Exploding Topics, you can find the best trends for your industry before they're popular, and track these trends on a personalized dashboard. Information on upcoming products, brands, websites, topics (and more) is updated daily and available for you to view up to six months before it's on the general radar. Start a trial of Exploding Topics Pro to receive our weekly trend reports and access our full database of trends.
Exploding Topics Trend Reports: Get Emails On the Newest Trends Every Week
Each week, we email you a new report on 10 of the newest trends.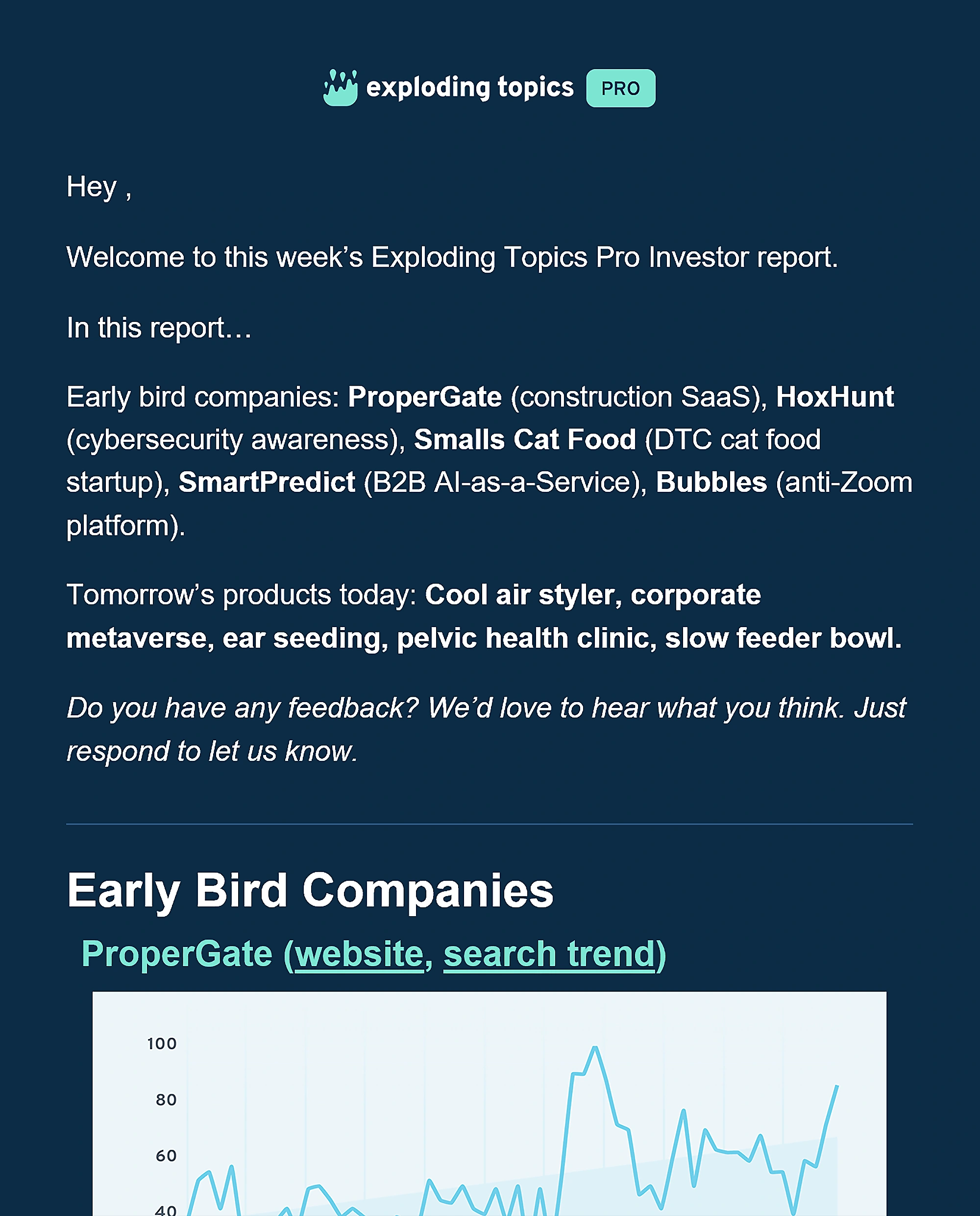 These reports cover a variety of industries — such as food & drink, fashion & design, beauty, technology, and gaming — and include a combination of physical products or SaaS, and startup companies.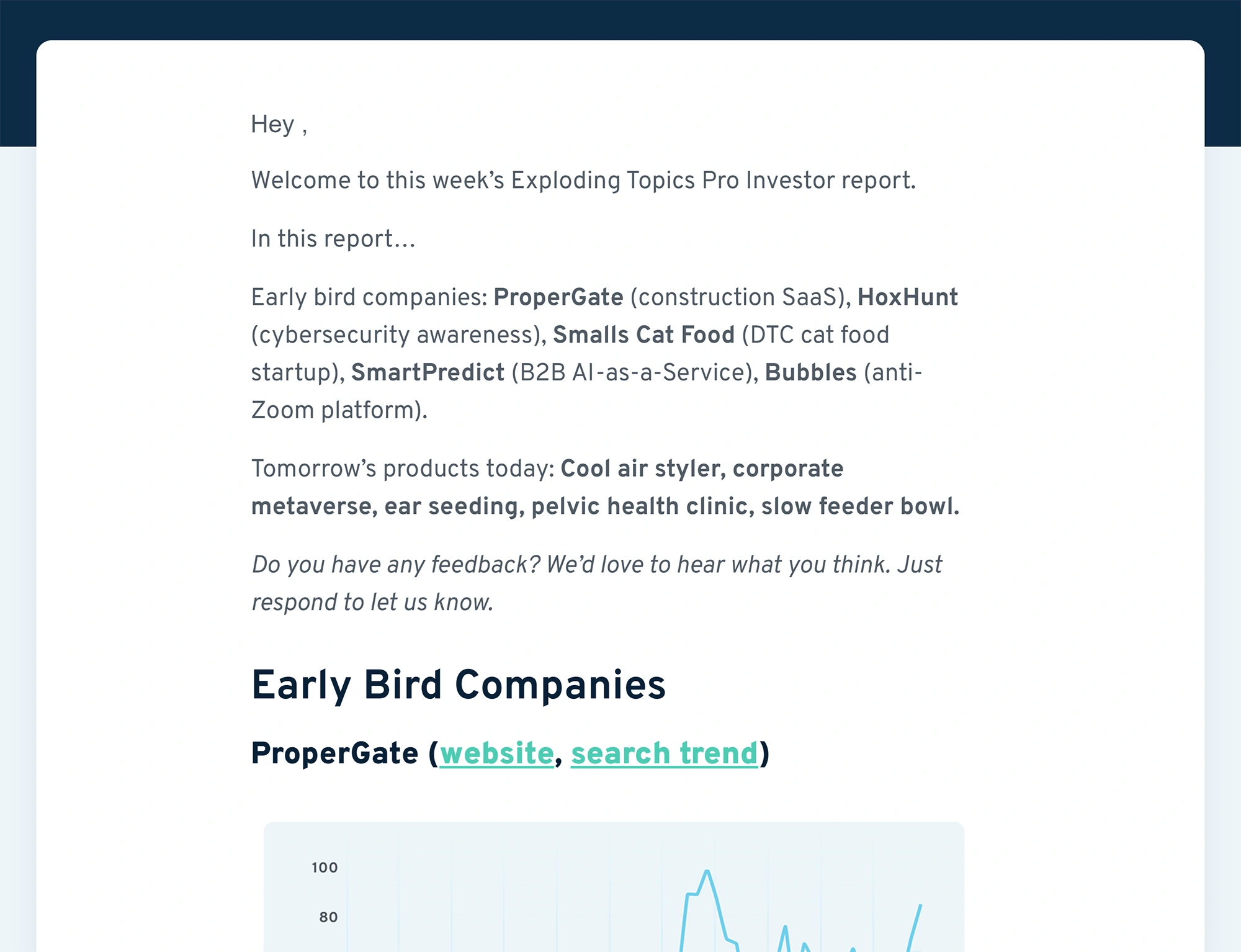 Our proprietary algorithm finds these trends by monitoring a variety of online sources. We look at conversations on news sites, forums, social media platforms, podcasts, streaming sites, and many more to detect buzzwords, consumer behavior patterns, and other indicators of up-and-coming top trends. This lets us detect potential trends super early, way before they take off.
Then, our team of analysts reviews each potential trend to determine its long-term value and sustainability. They weed out fads like smartphone updates, movies, TV shows, and sporting events so all of the trends on our reports and database have growth potential.
For example, information about the latest Marvel movie would be omitted because the movie will only be popular for a short time (until the next one is released). On the other hand, data on an app like TikTok would make it into our reports and database because there were early signs of continued interest in the platform.
You can also access and view trend reports from previous weeks within the Exploding Topics Reports Library.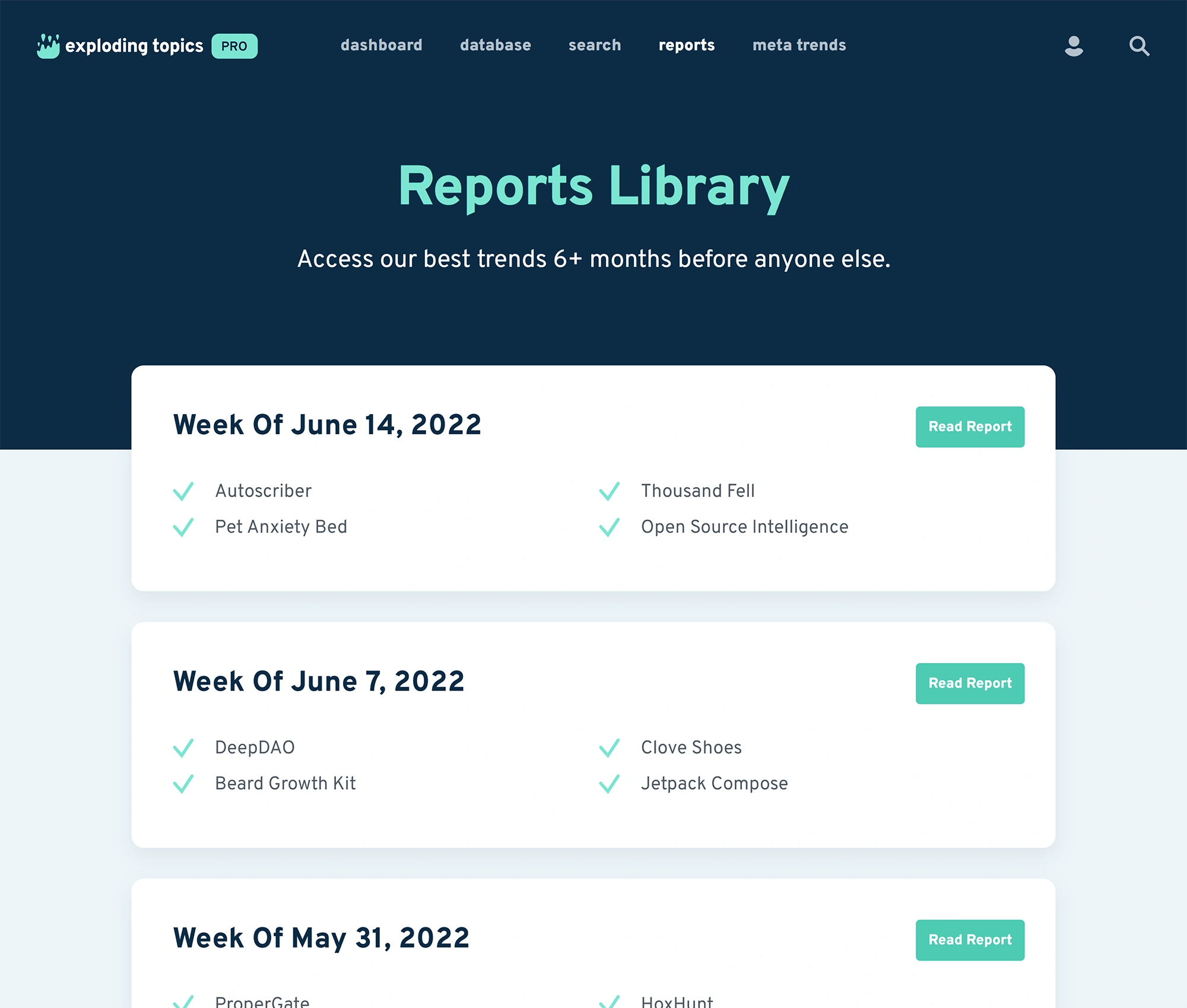 Bonus: We offer free reports for customers to preview our trend newsletters. These also come weekly but they only include four trends per report. You can sign up for that here.
Using the Exploding Topics Database to Discover New Trends
If you want to discover more trends related to a specific industry or topic, our database can help you do that. While the weekly reports provide a broad overview of trends across multiple industries, the Exploding Topics database lets you find lots of new trends related to only the industries you're interested in.
Using our database, you won't have to know exactly what to search for. Instead, you can filter trends by category. Then, you can scroll through all trends under that category.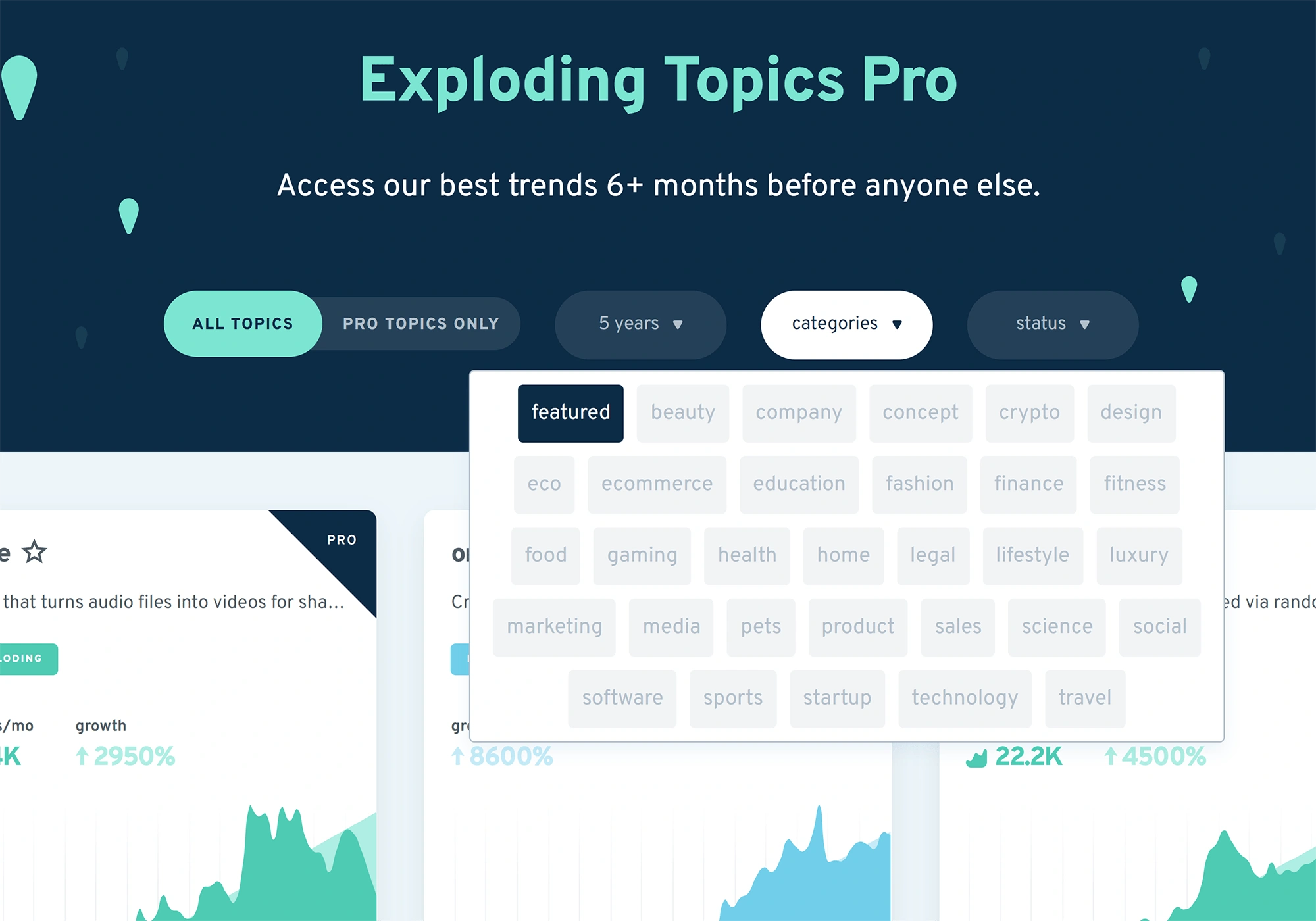 You can also filter trends by popularity — Regular, Peaked, or Exploding. If you want to know more about a particular trend, you can click on it and view additional information such as:
Trend searches per month.
Percentage of growth and a growth graph over different time frames (e.g., one month vs. 15 years).
Related categories, topics, and trends.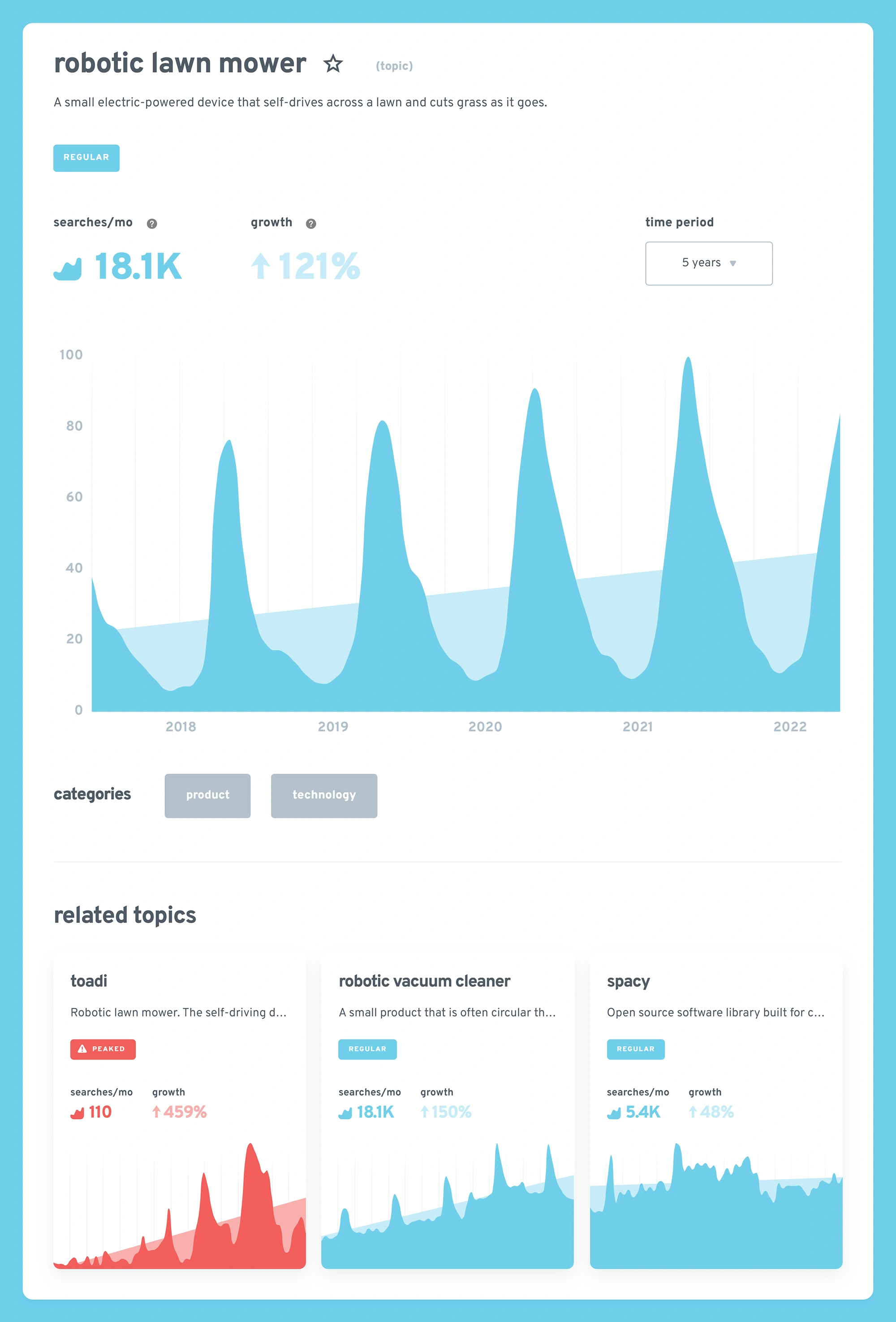 Note: You can demo our database before signing up and view some of the trends for free. However, Pro users have access to new trends 6 months before any other users and can use our trend tracking tools to see how trends evolve over time. You can also start a trial for $1 to experience the full benefits of a Pro account.
Leverage Meta Trends Information
Another way to discover new trends before the general public is to search our meta trends library. Meta trends are a collection of trends that show the bigger picture of what consumers are interested in and how consumerism is evolving. In the meta trend library, you'll see a list of all current meta trends that we've discovered.
For any meta trend you select, you'll be given additional information about the background of the meta trend, which trends are part of the meta trend, and related topics.
For example, if you select the meta trend "visual collaboration tools," you'll see that Loomly, Lucidspark, and Miro app are a few of the product trends that make up the 'visual collaboration tools' meta trend.
Find Information on Existing Trends in Exploding Topics
So far we've shown how Exploding Topics trend framework helps you discover trends you didn't know to look for, but we also let you search and track trends you've already heard about.
You can type a specific product, company, or topic into the Exploding Topics search bar to pull up any information we have for that subject (including related trends). You can even filter results by country. Then you can save and monitor these trends in the dashboard, as well.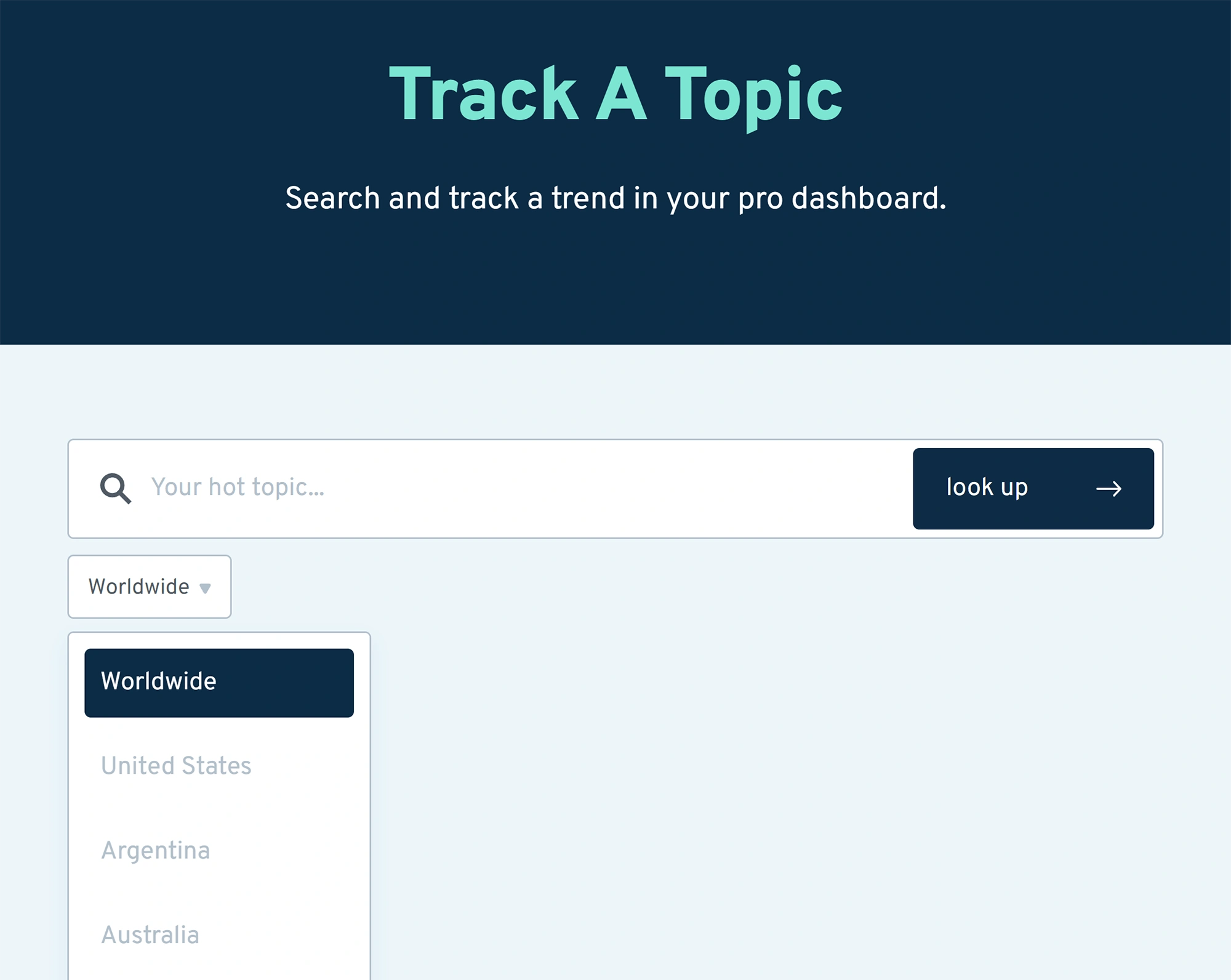 Track Trends in the Exploding Topics Dashboard
Finding trends of interest is just the first step — being able to track those trends and reference important trend metrics is what gives you the information you need to make sustainable business decisions for the future.
Whether you find a trend via the weekly trend reports, the database, meta trend library, or search feature, you can save trends by clicking the star. You can create projects by grouping trends together on your dashboard or by choosing the appropriate project when starting a trend.
Across the bottom of your dashboard, you'll see other topics and meta trends that relate to the trends you're already tracking, so you can easily discover new trends in your areas of interest. You can also set up email notifications to alert you whenever there's a significant change in the trends you're tracking.
Note: The trends you track are only used to recommend additional topics. We don't share information on saved projects so you can rest assured that your activity is private.
This lets you track dozens of trends you're interested in without having to wade through tons of irrelevant information. And, we monitor trends on a daily basis and update them as soon as new information is available. This means you'll be working off the most recent data at any given time.
Bonus: Include Trend Data in Any Business Report via our API
Exploding Topics offers an open-source API that lets you link our platform with other data analytics tools or document templates that you're already using. This lets you consolidate information into one business report and view trend information wherever it's most convenient for you.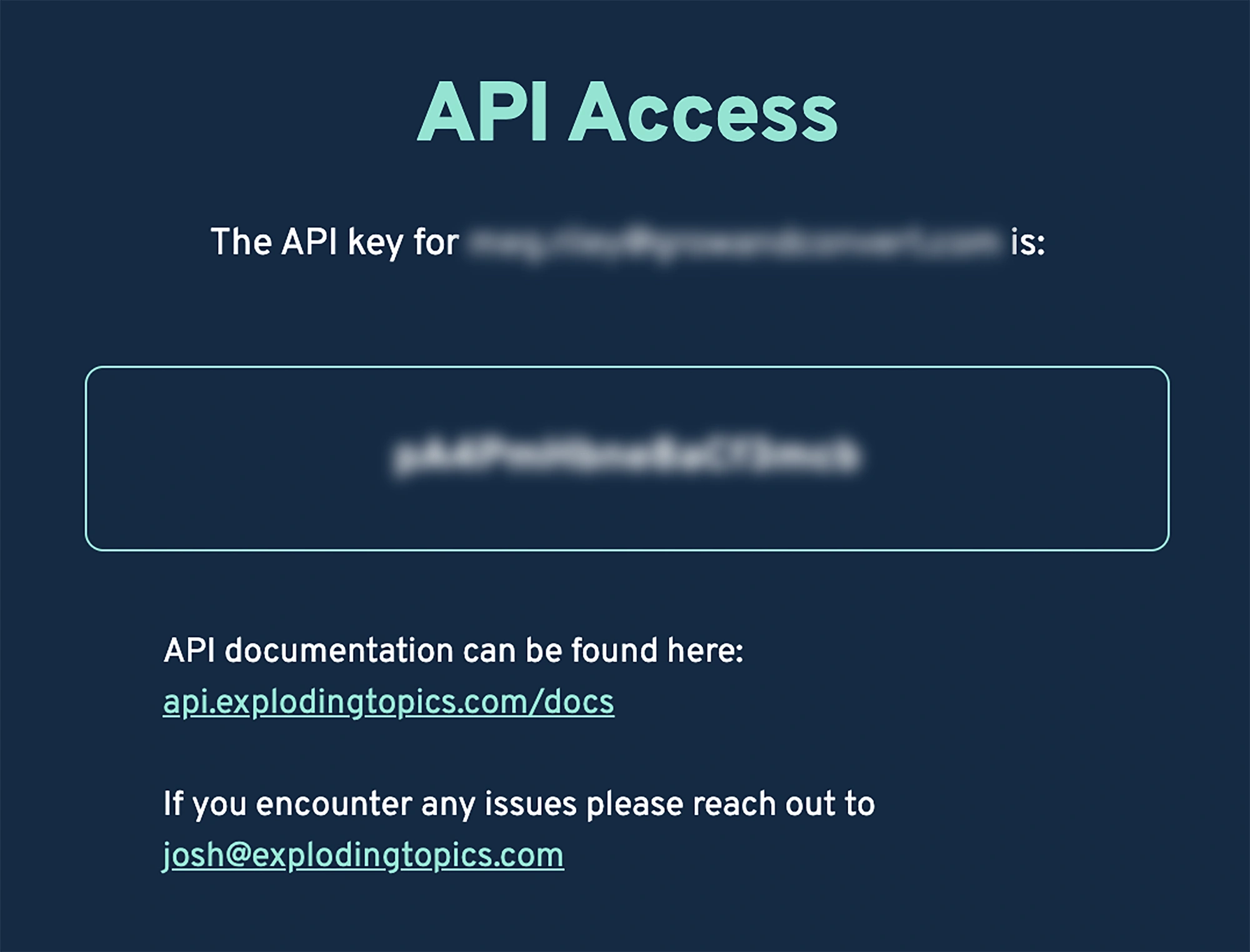 Simply copy and paste the API key from your dashboard to the software you want to integrate with.
Discover and Monitor Trends Early on with Exploding Topics Pro for $1
As mentioned earlier, you can preview our weekly trend reports and explore our trend database for free, but a more effective way to experience the benefits of our trend forecasting software is to start a Pro trial. Pro subscribers have access to trends 6 months before they're publicly available on our database, as well as all of the trend and meta trend information, trend tracking tools, and more.
The Exploding Topics methodology starts by identifying consumer trends with our AI-powered algorithm. Then, every trend is vetted by human analysts to ensure long-term viability. Finally, we update trend information daily so you can work off of the latest information. Our platform is entirely self-service which means you can log in at any time and track just the trends you're interested in.
Start an Exploding Topics Pro trial for $1 to unlock full access to our database and see how our trend forecasting features can help you stay ahead of the curve.