12 Top Market Research Tools (2023)
The market research process is extensive, which is why most tools specialize in just one or two stages of the process.
So to help you quickly find the best tool for your needs in just a few minutes, here's a list of popular paid and free market research tools, categorized by their specialty:
1. Exploding Topics – Best For Discovering Market Trends
One of the hardest aspects of market research is discovering emerging market trends. By definition, these trends aren't in plain sight and can be tricky to find.
However, knowing about them early on will give you a competitive advantage in the marketplace, so we built Exploding Topics to help you efficiently discover under-the-radar trends before they're popular.
The flagship feature is the Trends Database, which contains over 13,000 trending topics across 30 industries like fashion, finance, tech, marketing, pets, beauty, and more.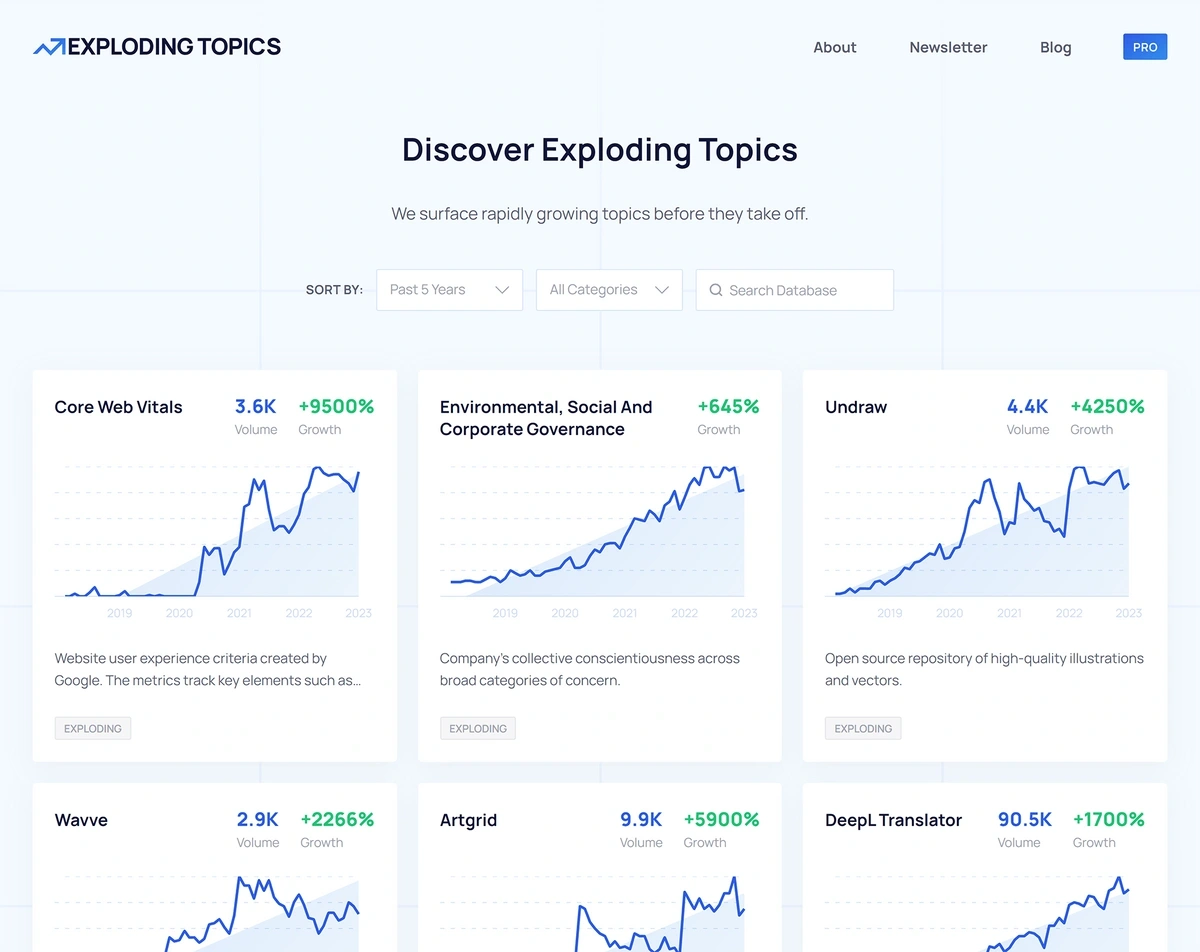 Each topic is a brand, product, or industry keyword, so you can be sure each trend is relevant to business market research.
You'll also see a graph of each keyword's historical Google Search volume growth trend, which you can use to gauge a topic's popularity and stability.
When you find an interesting topic, click "Track Topic" and add it to a Project. Projects live inside your dashboard and are great alternatives to spreadsheets, as you can monitor trend growth in real-time.
So how does Exploding Topics find and qualify trending topics?
We realize you're probably making important investment decisions based on our trend data, so data quality is our top priority. That said, here's an overview of how we identify and qualify trends: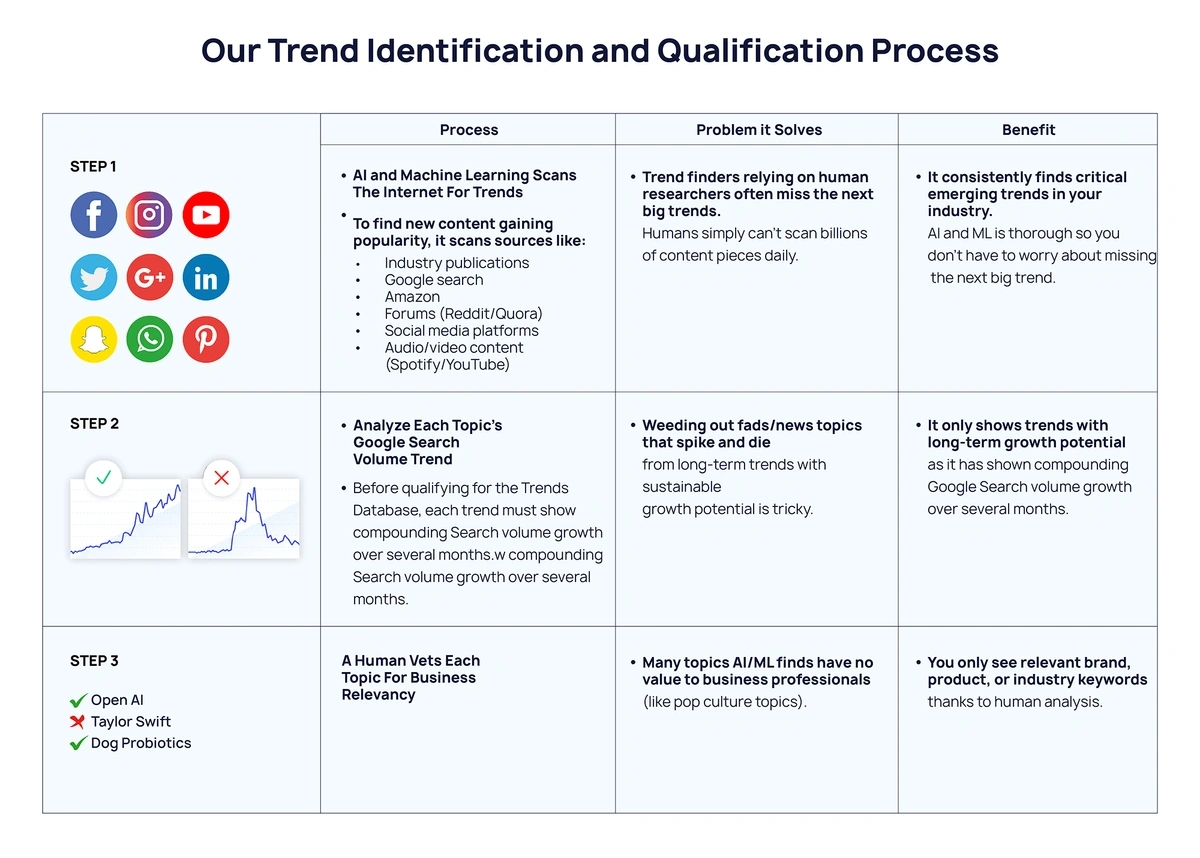 In addition to the Trends Database, Exploding Topics has a handful of other helpful tools to help you conduct market research more efficiently. Here are a few of those features:
Trends Search: While the Trends Database is great for discovering new trends, Trends Search is great if you already know about a trend and just want to see a graph of its Google Search volume history and other related searches and trends. This feature is similar to Google Trends.
Meta Trends: There are usually niche trends within a larger market. So to help you find the products and brands riding that niche wave, we created the Meta Trends feature. An example of a Meta Trend might be "synthesized food." Then, Exploding Topics shows various new products and brands that fall under that Meta Trend, like "Voyage Foods," and "oat milk." This makes it easy to find highly relevant products and brands quickly.
Weekly Reports: To help you effortlessly stay up-to-date with the latest industry trends, we send Weekly Reports straight to your inbox. Each weekly report covers find trending topics and five trending brands.
Trending Startups: If you only want to find trending startups, you can use this feature to sort by category and quickly find the fastest growing startups.
Trending Products: Similar to the trending startups feature, this shows you a list of the fastest growing products based on Google Search volume trends over the past several months.
How to Use it For Market Research

Find under-the-radar trending topics (products, brands, and industry keywords) in seconds.
Gauge a topic's stability and long-term growth potential in seconds by viewing its historical Google Search volume trend.
Stay up-to-date with new trends by reading Weekly Reports.

Who is it For?

Investors researching new markets and looking for trending startups.
Entrepreneurs and business leaders monitoring new industry trends to maintain a competitive edge.

Pros

High quality trend data – AI and ML scans the internet to find under-the-radar topics and historical Google Search volume to gauge a topic's stability/long-term growth potential. Then, a human checks topics for business relevancy.
Ease of use – Find trends in seconds by filtering the Trends Database rather than reading endless industry publications, scanning social media, and attending events.
Free – View thousands of trends for free in the basic Trends Database or upgrade for access to premium trend ideas.

Cons

It doesn't show fads or breaking news – Instead, it's designed to surface trends with long-term growth potential.
You can't talk to a research consultant – Exploding Topics is more affordable than most enterprise tools as it doesn't employ a team of consultants.

Free Plan?
Yes – There is a free version of the Trends Database.
Pricing
Exploding Topics has three pricing tiers at $39, $99, and $249 per month, billed annually. All pricing tiers give users full access to all premium trends, Meta Trends, and the reports library.
2. Market Finder – Best For Analyzing Geographic Markets
Market Finder is Google's free tool that makes it easy to discover international markets ideal for expansion. So rather than uncovering new trends, it's best to identify new geographies and demographics ripe for expansion.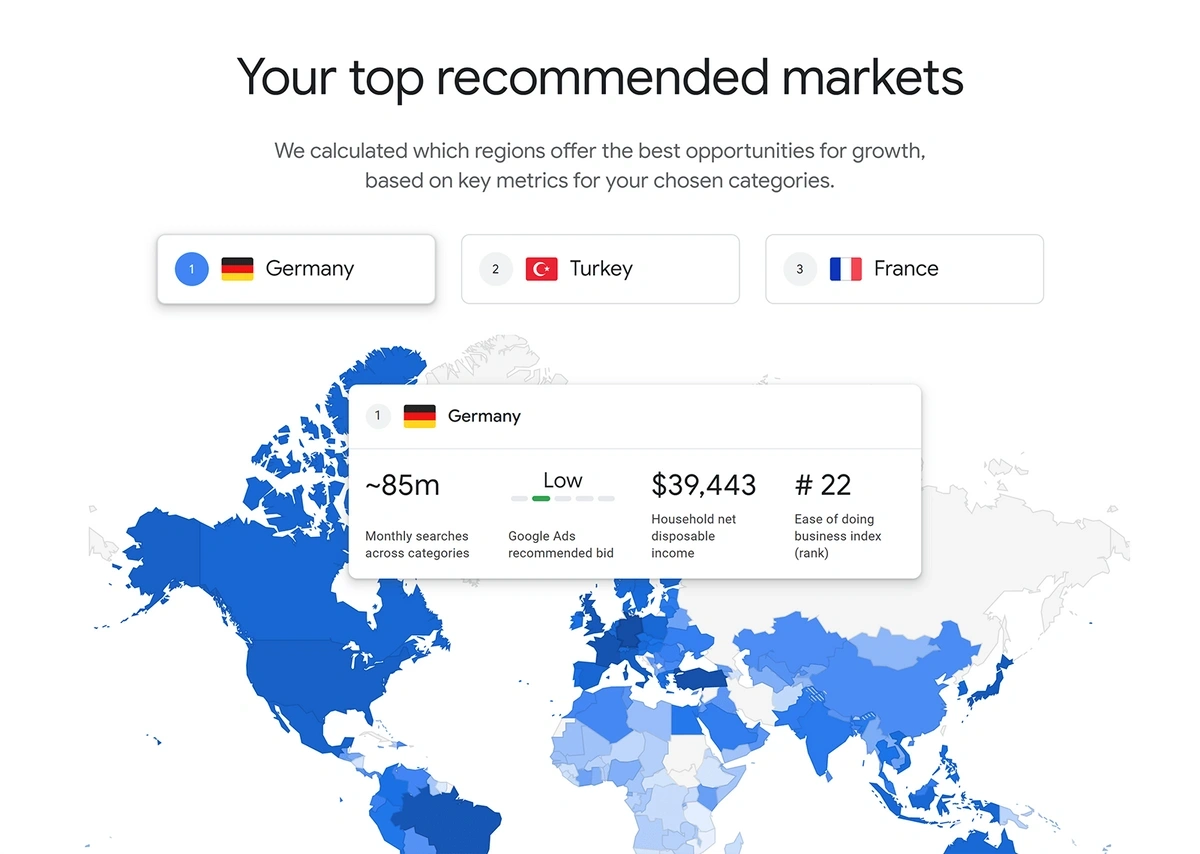 It has two main tools:
Dive into new markets: This walks you through a quick quiz that identifies your industry and other specifications about your company. Then, it shows you which countries would be ideal for expansion based on data from Google Ads, search volume, and household income.
Test export readiness: Enter your website URL, and it analyzes your business's readiness for expansion by various categories like marketing performance (international traffic, ecommerce capabilities, etc.), operational abilities (payment fit, localization capabilities, etc.), and competitive position (like category demand).
If you have Google Analytics set up, it can pull data directly from the Google Analytics dashboard for a more accurate report.
How to Use it For Market Research

Find new geographies ideal for expansion based on data from Google Ads, search volume, and household income.
Gauge your business's readiness to expand based on marketing performance, operational abilities, and competitive position.

Who is it For?

Investors researching new geographical markets.
Business leaders looking for new market expansion opportunities.

Pros

Quickly find general metrics for potential geographic regions you might want to explore in more detail.
Free – The entire tool is free.

Cons

Data is fairly generic – Most metrics, like household income for an entire country aren't very insightful.
Google Analytics users receive more valuable information.

Free Plan?
Yes – It's entirely free.
Pricing
As a Google product, it's completely free.
3. Statista – Best For Free Market Statistics
Statista is primarily a statistics portal for market data though it also offers market reports and consumer and company insights.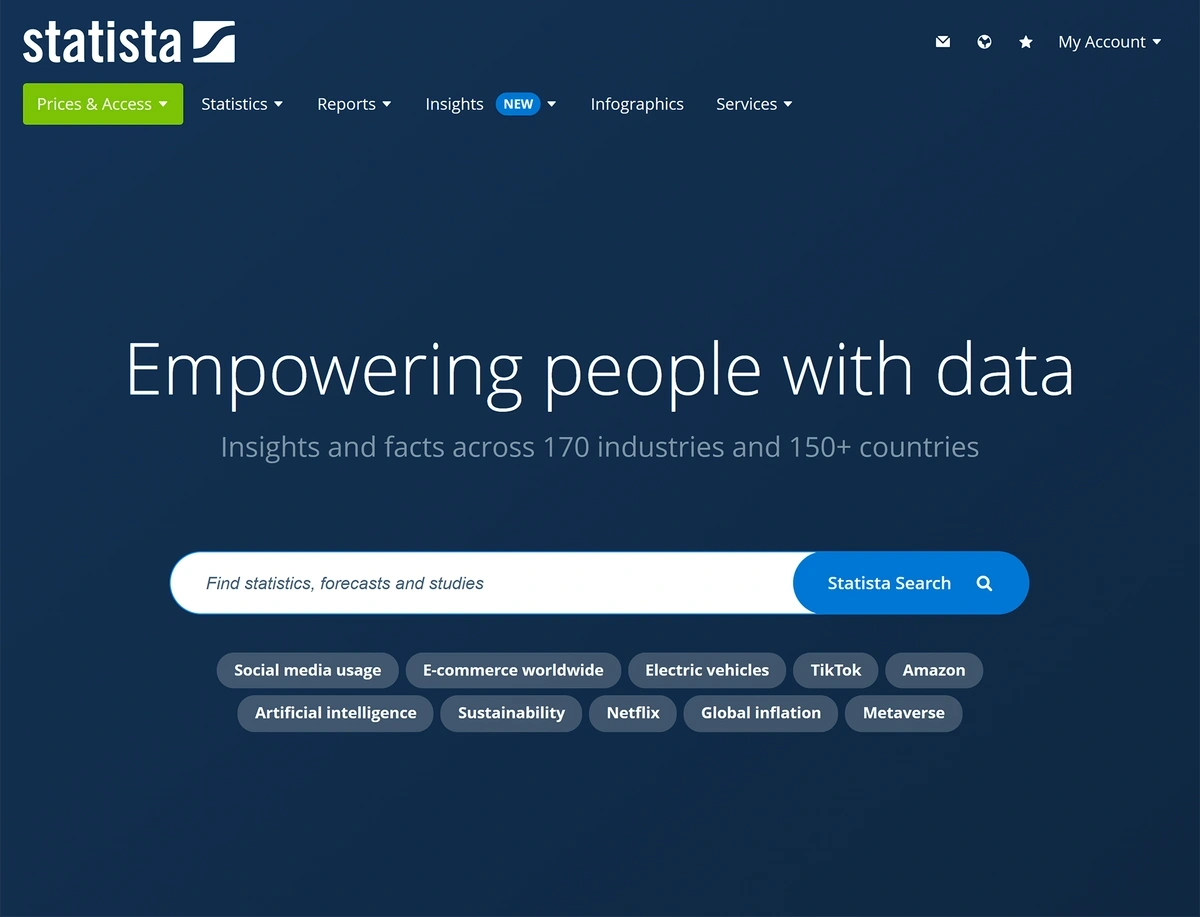 To quickly find relevant reports, just type in a keyword (like "Ethereum"), and Statista will show you a list of these reports.
This information makes it easy to gauge an industry's market cap, trend direction, consumer behavior, and other critical signals to help you decide whether to invest in that market.
So where does Statista get its data, and is it high quality?
Statista's data comes from three primary sources:
49% comes from original research (it employs over 100 data analysts)
16% comes from publicly accessible data sources
35% from unique data partnerships like market research institutions
How to Use it For Market Research

Read market, consumer insight, and company insight, and statistical reports to learn more about an industry.
Talk to one of their professional researchers for more detailed trend information and even create custom research.

Who is it For?

Investors researching markets for expansion.
Business leaders looking for new market trends and analyzing competitor growth and consumer demand trends.

Pros

Many of the statistical reports are free.
Easy to quickly search for reports and purchase individual reports that are relevant to your use case.
Offers small business and individual plans. Most data platform pricing starts at over $1,000, but Statista has cheaper plans.

Cons

Data quality varies as most of the statistics (particularly the free ones) are based on public data.
Reviewers complain that customer support is lacking.

Free Plan?
Yes – They offer many statistics for free.
Pricing
Statista offers accounts for small businesses that start at $39 per month and personal accounts with more forecasts and industry reports starting at $490 per month.
4. Census Business Builder – Best For Brick and Mortar Location Research
The Census Business Builder is an excellent tool for retailers researching geographic markets. You can search by zip code, town, or state and see specific metrics like population, average household income, and education level.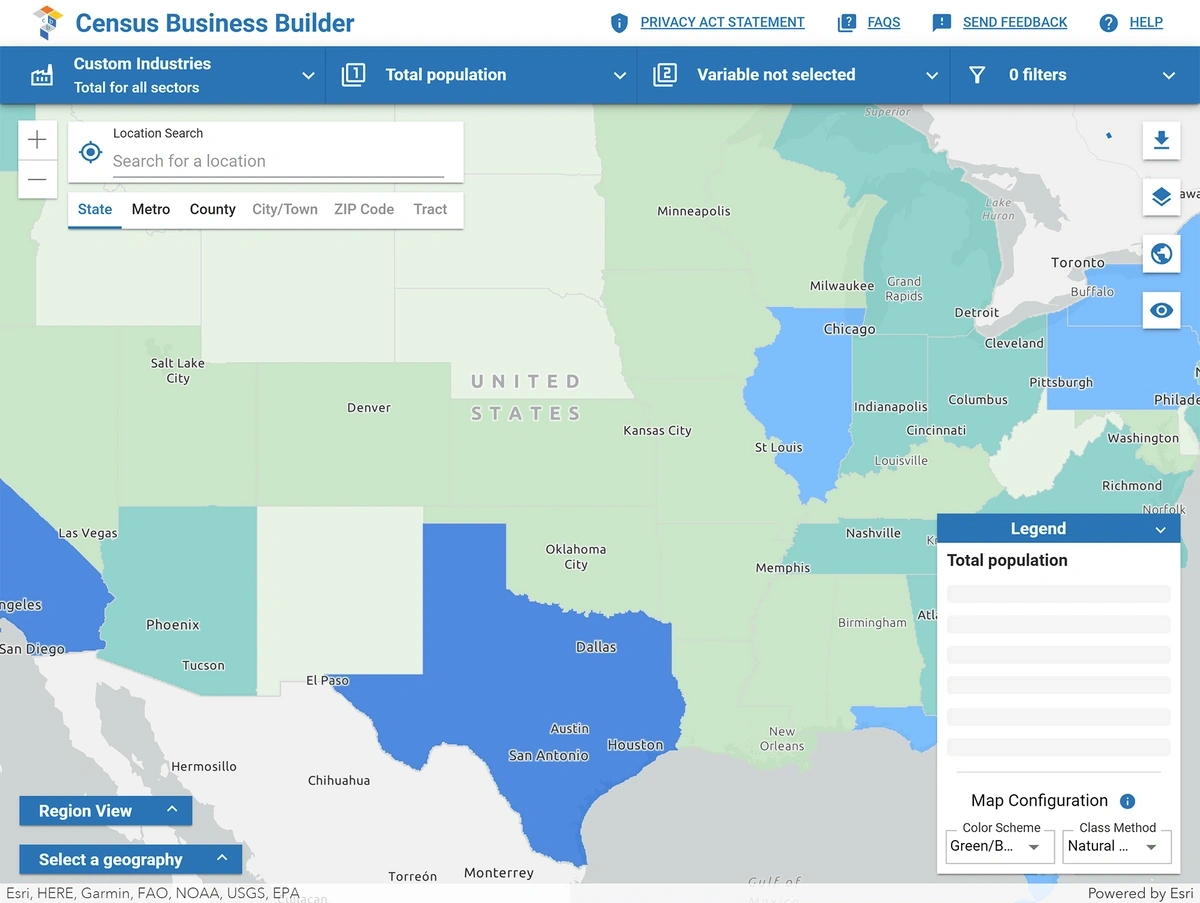 It also has more advanced filters that can provide more detailed valuable insights depending on the business you're launching.
For example, if you're launching a local bar, you can use the "Consumer Spending" filter and see how much people spend on alcoholic beverages and dining out in that selected area.
This can help you identify the best locations to open a new store.
How to Use it For Market Research

Find detailed consumer insights (education, spending on particular products, etc.) for specific geographic locations.

Who is it For?

Retail leaders researching new geographic markets for expansion.
Investors researching the best geographic areas to allocate capital.

Pros

It's free.
Consumer insights are very specific, like average spending on clothing or dining out for a particular zip code.
Data is fairly accurate as it's collected by the Census Bureau.

Cons

It only provides geographical market data, so it's really limited to brick and mortar market research.
It's easy to find metrics and statistics, but you still have to turn those numbers into insights.

Free Plan?
Yes – It's entirely free
Pricing
It's entirely free.
Grand View Research is a research and consulting company that also offers free market reports across a variety of industries.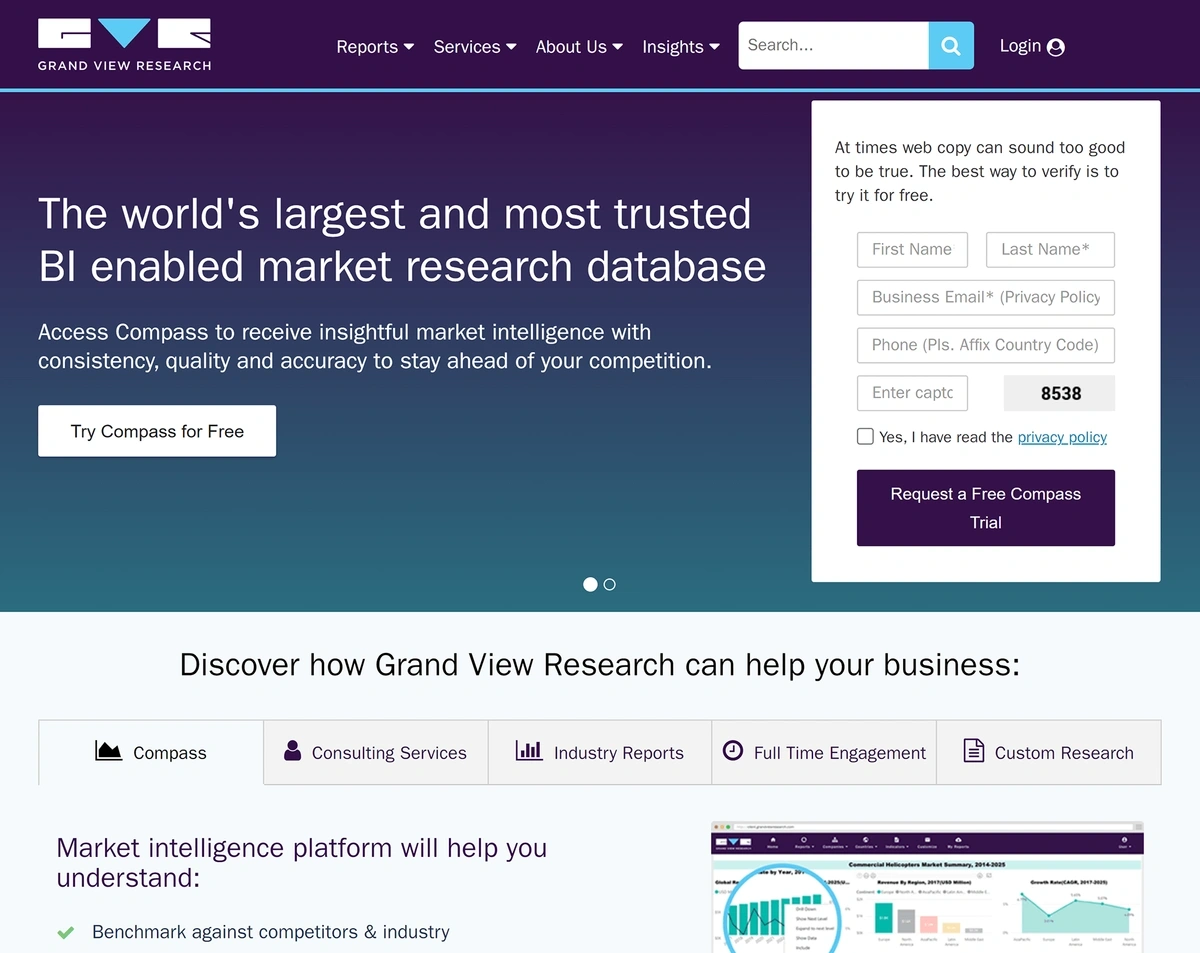 Most of their market research reports provide statistics like market size, compounding annual growth rate, market breakdown by sectors, and competitive analysis.
Their pro offering allows you to segment the data to find more specific metrics (i.e., only data for the Japanese pet market).
In addition to the free reports, Grand View Research also offers custom research services, and you can talk to one of their analysts for more personalized assistance.
How to Use it For Market Research

Read market reports to find general metrics, like market size, CAGR, top competitors in the space, and the fastest-growing sectors.

Who is it For?

Entrepreneurs looking for new markets to launch a business.
Business leaders analyzing the market landscape for new trends and opportunities.
Investors researching market growth trends and opportunities.

Pros

Most market reports are free and offer general metrics that can help you gauge a market's growth potential.
They offer custom research services if you need more specific data.
They have a large archive of market reports covering most industries from pets and beauty to AI and cryptocurrency.

Cons

It's great for finding general market statistics, but most of the insights (at least in the free reports) are relatively limited.
The free versions are great, but upgrading to the pro version is a significant jump to $10,500.
Lacks online customer reviews.

Free Plan?
Yes – Some of the market reports are available for free.
Pricing
They offer plenty of marketing reports for free, though access to premium research reports site-wide starts at $10,500.
6. Spyfu – Best For Competitive Market Research
SpyFu is an SEO (search engine optimization) tool that allows you to do basic tasks like keyword research and backlink analysis. However, it really shines as a competitive analytics tool that makes it easy to track the marketing strategies of other top players in a particular market.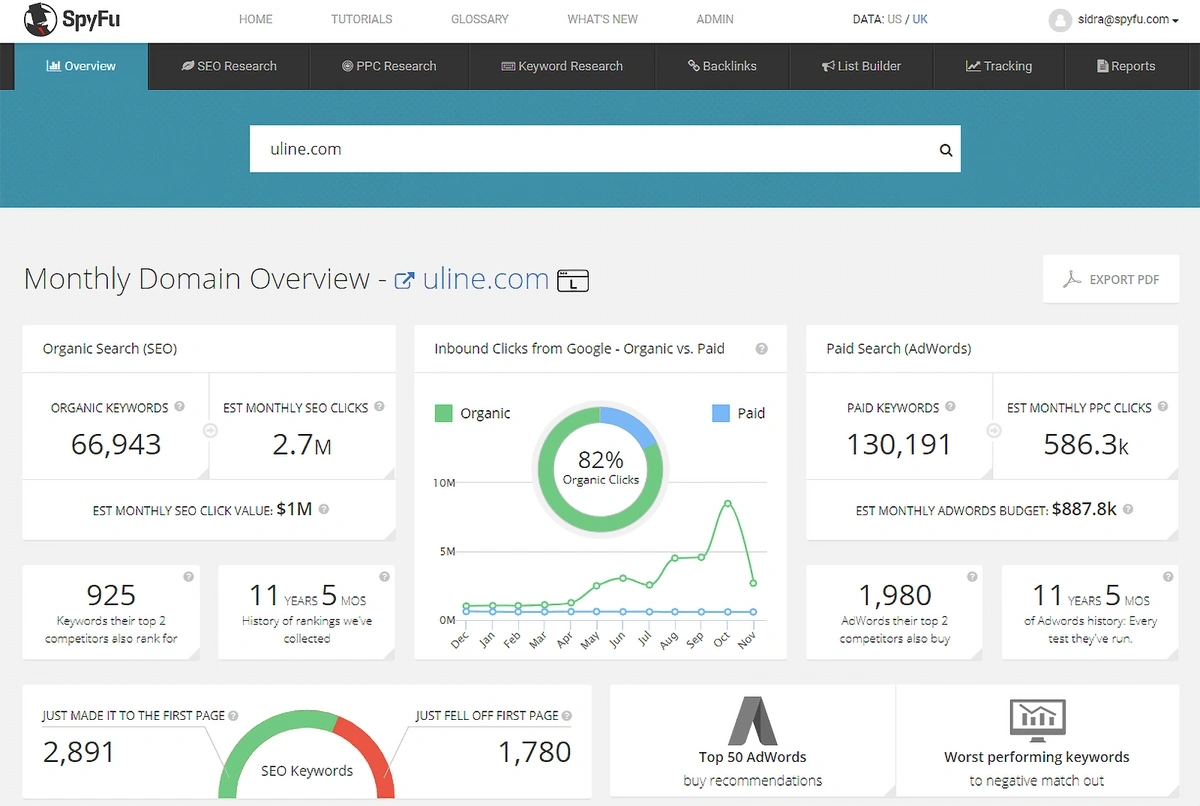 Just type in any URL, and you'll be able to find SEO metrics like total traffic, search term rankings, and backlink analysis. It also shows some PPC metrics like Google Ads they're running, paid keywords, and ad history.
This makes it easy for you to gauge how much search traffic exists for high purchase intent keywords and how difficult it would be to break into the market.
SpyFu also makes it easy to find contact information (social media links, email, and even phone numbers) for key decision-makers at each company. This can be useful for investors that want to invest in some of these leading companies or have a general conversation about the market.
How to Use it For Market Research

Access a 360 degree view of the top competitors' marketing strategies.
Identify your competitors' strongest marketing channels.
Gauge market competition to see how difficult it will be to beat the top competitors.

Who is it For?

Marketers that want more competitive intelligence data to better allocate marketing spend.
Business leaders analyzing the competitive landscape (i.e., spot up-and-coming competitors, understand who owns the most digital real estate, etc.).
Investors researching a company's marketing growth trends.

Pros

It's the only SEO/PPC tool that specializes in competitive market intelligence.
It offers a generous free plan.

Cons

Many features are redundant if you already have an SEO tool, so check if you can access the metrics you need before purchasing.
Many reviewers say it's a great tool if you know how to use it, but it takes some time to learn.

Free Plan?
Yes – It offers a free plan.
Pricing
Spyfu has three different pricing tiers at $16, $36, and $149 per month (billed annually). The main difference between each pricing tier is the number of searches, data exports, and domain overview PDFs.
7. Crunchbase – Best For Market Funding Data
Crunchbase is a database of startups that makes it easy for users to find juicy data like funding round information, investor information, and more.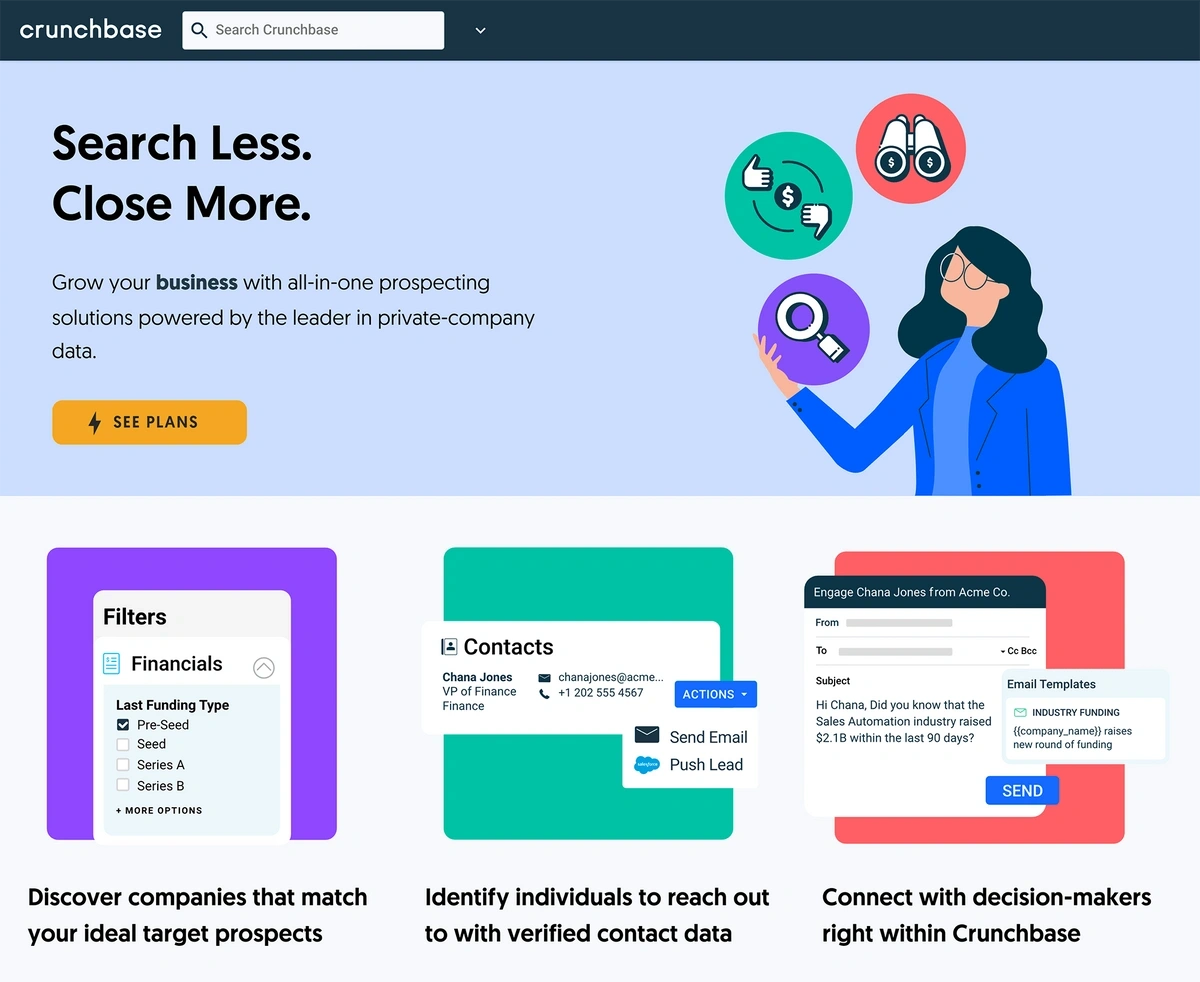 It also has many other metrics like key executives, acquisition data, and employee headcount, but its primary focus is on funding data.
To use the database, just type in a niche (e.g., "cryptocurrency") and filter by other relevant information like total amount raised, location, and more.
From there, Crunchbase will give you a list of companies that meet the defined criteria.
How to Use it For Market Research

Accurately gauge the growth and health of any company (or companies across a specific market) using financial and hiring data.
Stay on top of up-and-coming competitors by seeing which companies have raised what and from who.
Set custom alerts for any companies or important metrics.

Who is it For?

Entrepreneurs exploring new markets who want to see funding and financial data of the industry leaders.
Investors that want to either find promising companies in a particular market to invest in or explore the general growth of an up-and-coming market.
VC firms that want to track the investments of other competing firms.
Business leaders that want to keep tabs on competitor growth.

Pros

Robust filtering options (likely more than 100 different filters) with everything from employee headcount to last funding date/amount.
Data is up-to-date and comes from a range of quality sources, so the information is usually fairly accurate.

Cons

It has a lot to offer, which is great for VC firms and investors, but it might be overwhelming for smaller companies.
Some of the data comes from personal relationships. This gives them access to more data, it also means that the people might not be honest.

Free Plan?
Yes – You can see about five companies for free for each search.
Pricing
The Lite plan is $8 per month and the Pro plan starts at $49 per month.
8. Awario – Best For Social Monitoring
Awario is a social mention and brand tracking tool that also doubles as a market research tool.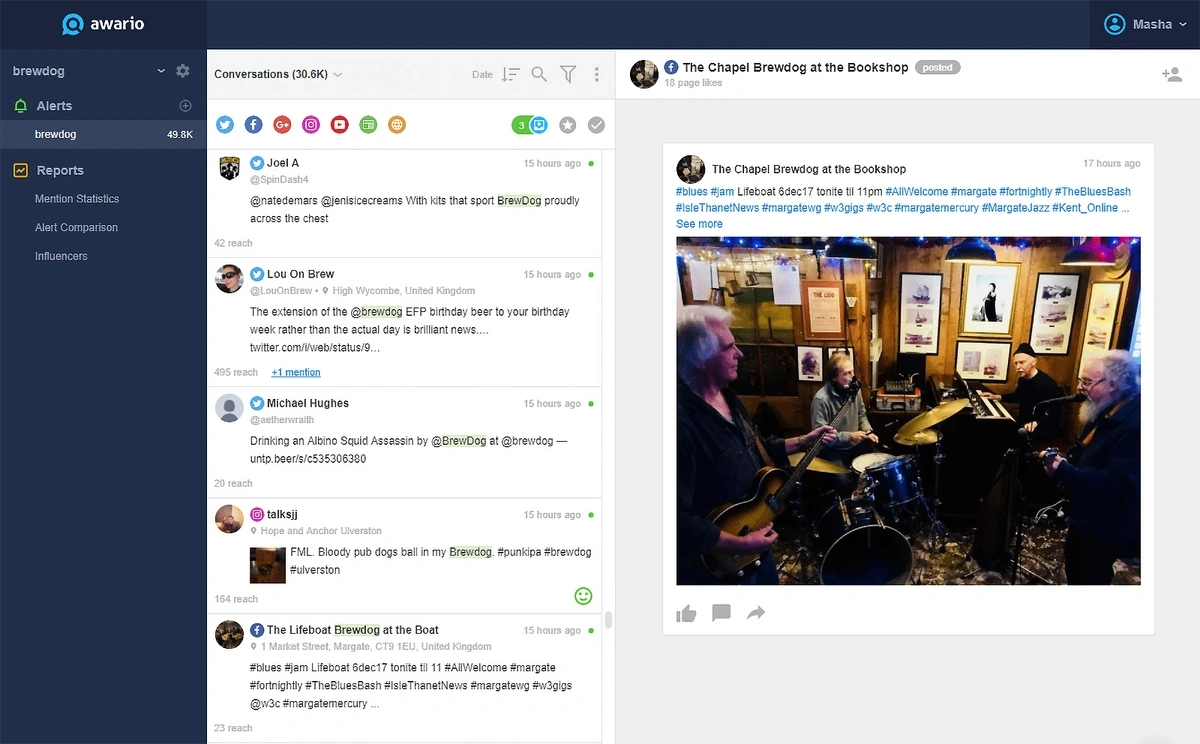 It allows you to track various keywords across social media platforms, like brand names, product keywords, industry influencers, and general topics across the internet. For example, if you're considering building or investing in a mobile app for sleep tracking, you can easily track brand names like Oura Ring or keywords like "sleep tracker."
This makes it easy to listen in on key industry conversations to better understand your ideal buyer persona and identify pain points and gaps in the market.
Awario also tracks sentiment analysis to see how people feel about various competitors in the space, which can give you a competitive advantage and offer a better product/service.
How to Use it For Market Research

Listen to customer conversations on social media to learn why they use the product/service, their general pain points, and what they look for in that product/service offering.
Track brand keywords to learn specific pain points with each competitor in the space.
Find top influencers in the space to follow or reach out to for collaborations.
Set custom alerts to receive relevant reports for the keywords you care about most.

Who is it For?

Marketers who want to keep tabs on the target market's general pain points and needs.
Entrepreneurs and product developers that want to use customer data to make a better product or service.

Pros

Hear directly from the target audience what they want and how they're underserved.
Easily find and track influencers in the space to learn more about the market.
It tracks most mainstream social media platforms and the general internet (this isn't common in all social listening tools).

Cons

Users complain that the results aren't always very relevant if you're not very savvy with the Boolean feature (especially if the keyword is fairly generic).
While it shows individual mentions, it's difficult to identify specific trends and insights within the data.

Free Plan?
No
Pricing
Awario has three pricing tiers at $24, $74, and $249 per month (billed annually). The difference between each pricing tier is mainly the number of topics, new mentions, and stored mentions that you're monitoring.
9. G2 – Best For Competitive Customer Research
G2 is one of the most popular software review websites, making it a great tool to quickly find qualitative customer data on virtually any software market.
First, you can view reviewer details, like title, industry, business size, and region, which is useful for accurately identifying the market's target demographic. You can also filter reviews by any of those categories.
The G2 review structure is also quite helpful as it consists of the following questions:
What do you like best about (product)?
What do you dislike about (product)?
What problems is (product) solving and how is that benefiting you?
This customer experience data is a goldmine for investors and startup founders as it makes it easy to quickly identify gaps in the market and understand key pain points customers are trying to solve.
G2 also provides a list of competitors for each product so that you can easily find other related companies to research.
Finally, G2 makes an effort to ensure that the customer feedback is legitimate by allowing users to verify themselves and even marking incentivized reviews.
How to Use it For Market Research

Hear directly from the top companies' customers what they like and dislike about the product and the company's service so that you can build a better product/service.
Learn about common use cases and how customers use the product/service to solve their challenges.
Accurately identify the target demographic for that market by using the filters to see the customers' title, business size, industry, and region.
Find other related competitors in the side bar and conduct one-on-one comparisons to accurately identify the top competitors in the market

Who is it For?

Entrepreneurs and product marketers who want to identify gaps in a market to create a better product/service.
Investors that want access to unbiased reviews to assess a potential investment opportunity.

Pros

The structure of reviews (with specific questions on what customers like, dislike, and use cases) make it a goldmine for market research.
It verifies reviews and notes reviewers with a conflict of interest (such as a business partner) to improve data quality.

Cons

The ratings aren't always a perfect representation of the company's customer satisfaction as it's easy for companies to encourage only happy customers to write reviews.
Many of the reviews are outdated, so previous complaints and feature requests may now be irrelevant.
It's exclusively for software company reviews, so consumer businesses will need to find an alternative review website (Amazon reviews might be a good option).

Free Plan?
Yes – You can browse reviews for free.
Pricing
G2 is free for users to browse reviews, though it does offer other paid plans for marketers and investors.
10. Prisync – Best For Ecommerce Pricing Research
If you're launching a new ecommerce product, Prisync is an excellent tool for competitor price tracking, as it identifies price changes in real-time.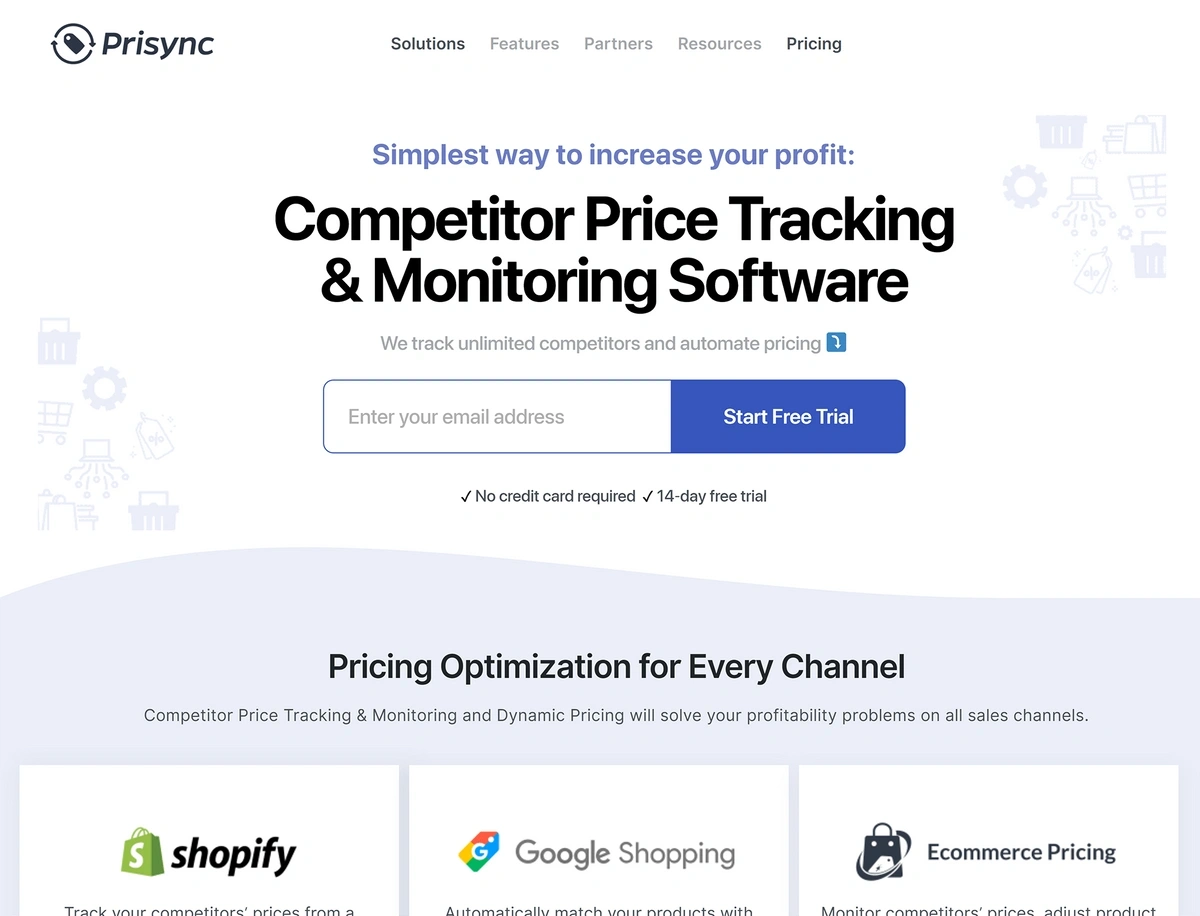 In fact, it can dynamically adjust your store's prices according to the rules you set and the competitive data it gathers.
While Prisync is usually best for ecommerce stores that have already launched, you can also use its competitive analysis features to track pricing trends for top players in any market.
For example, in addition to tracking real-time price fluctuations, Prisync also has a price history tracking feature that provides insight into how prices are trending over time, which helps you identify volatility in the market.
How to Use it For Market Research

Track pricing trends over time. If you notice prices continue to drop, that might be a sign that the market is declining.
Gauge product demand by tracking which competitor products are out of stock most frequently.
Gauge your pricing in comparison to competitors by identifying how many competitors are cheaper than you and how many are more expensive than you.

Who is it For?

Ecommerce entrepreneurs that want to stay up-to-date with the latest pricing trends.

Pros

Specializes exclusively in ecommerce pricing and is one of the top rated solutions on G2.
It can track pricing data across Google Shopping and ecommerce stores.
It claims historical pricing trend data is a feature unique to their platform, which is valuable for analyzing a market.

Cons

It's only relevant to ecommerce stores.
It's designed for live stores. So if you're just doing preliminary market research it might be a bit overpriced.

Free Plan?
No
Pricing
It has three pricing tiers at $99, $199, and $399 per month. Pricing tiers are differentiated by the number of products it tracks (up to 100, 1,000, and 5,000 products at each pricing tier) and it locks premium features behind different pricing tiers, like dynamic pricing, daily email notifications, price history, and API access.
11. Surveymonkey – Best For Market Research Surveys
SurveyMonkey makes it easy to create and send user-friendly online surveys. You can choose from multiple different survey templates (NPS, product testing, customer satisfaction, etc.) and question types (multiple choice, matrix, open-ended, rating scale, image, etc.).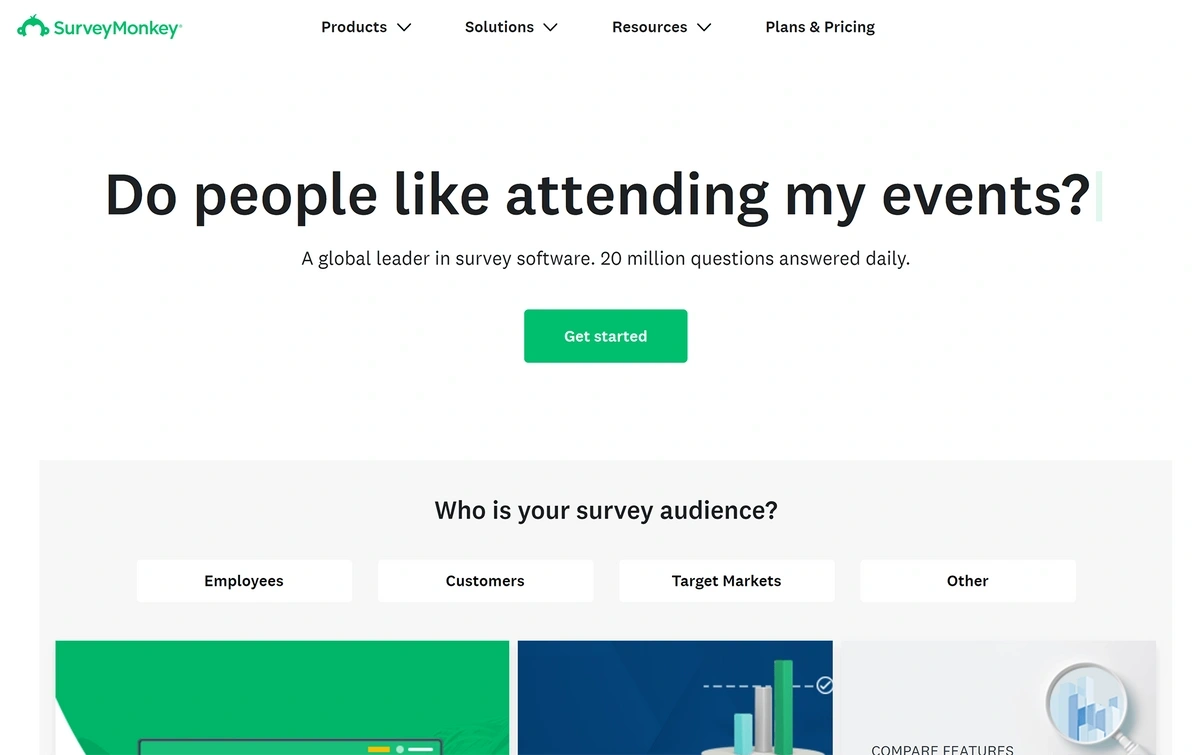 If you don't have an audience, you can use Surveymonkey's audience panel tool, which runs your survey to a specific demographic for you.
Just specify your target market (i.e., mons with a household income of at least $50,000), and SurveyMonkey takes care of the rest.
If you're interested in learning more about how SurveyMonkey ensures you receive high-quality responses, here's a resource on their approach to quality control.
How to Use it For Market Research

Create and send surveys to learn more about a market.
Quickly gather feedback from your target demographic by using its Audience panel feature.
Run side-by-side tests of different product designs with the Product Concept Analysis feature to compare which ones perform best with your ideal audience.

Who is it For?

Any market researchers that want to gather data from their ideal target markets.

Pros

It can run your survey to an audience, which is a great way to get responses if you don't have an audience.
It has a beautiful interface that's easy to navigate and beginner-friendly.
It offers a mobile app.

Cons

Audience panels tend to be relatively broad (e.g., "college graduates," "smartphone owners," etc.).
The paid plans are more expensive than some of the competing survey form tools.

Free Plan?
Yes
Pricing
The survey tool starts at $39 per month, but pricing for the Audience Panel starts at $1 per response, and requires a minimum of 200 responses. So you can expect pricing to start at $200 per survey.
12. Respondent.io – Best For Market Research Interviews
Having a live conversation with your ideal target audience is one of the best ways to learn about a market and the audience's needs.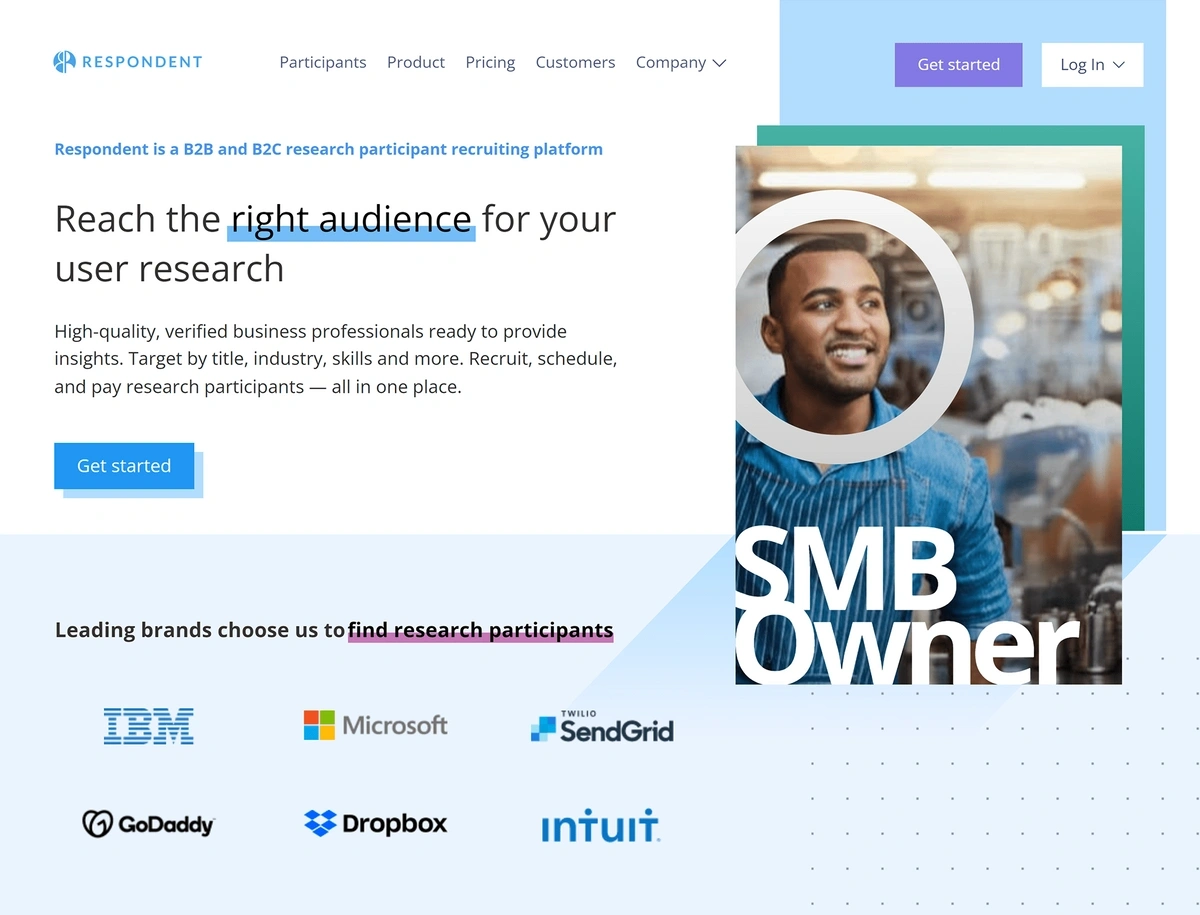 The problem is that it can be difficult to find people to interview and then get them to agree to talk to you.
Respondent solves this problem.
It allows you to submit a request detailing who you want to talk to (e.g., title, company size, industry, etc.), and then it finds people for you.
So if you want to talk to CFOs at healthcare companies, Respondent can help connect you with those people.
If you don't want to get on a call and prefer to just survey an audience, Respondent can run your survey to a specified audience.
How to Use it For Market Research

It connects you with your ideal target audience so that you can get on a call and learn more about the market, customer pain points, and more.
Find survey respondents for your ideal target market.

Who is it For?

Entrepreneurs trying to find product-market fit.
Investors that want to learn more about the target market of a particular market before making an investment.
Business leaders interested in expanding into a new market.

Pros

Bypass finding and cold emailing your target audience so that you can just get on the customer research call.
Cherry-pick who you want to interview from a list of applicants that applied to your submission.
Only pay when you actually interview/survey a person, so you can create as many requests as you want free of charge.

Cons

The audience that applies to your request isn't always relevant, especially as you target higher executives.

Free Plan?
No
Pricing
You choose the incentive that you want to pay respondents, so pricing varies depending on the price you set. Then, Respondent charges 50% of the incentive fee as their service fee.
Selecting The Best Market Research Tool For Your Needs
Hopefully, these tools will help you sift through market research data more efficiently and make better investment decisions.
To start the market research process, browse the Exploding Topics Trends Database for free and find the next up-and-coming trends in your industry.
Or, if you want to unlock premium trends and other market research features, you can try Exploding Topics Pro for free today.