Market Research Tools to Discover & Track Industry Trends
There are many different types of market research software to have in your toolbelt, depending on what you're looking to accomplish. The most common are:
Online survey tools like SurveyMonkey let you create custom questionnaires to collect customer feedback and learn more about the customer experience.
SEO tools like Semrush let you dig into Google search results, check backlinks, and do keyword research.
Social media applications like Hootsuite let you plan and schedule online posts.
Consumer insights platforms like Attest let you gather insights from your target audience and access brand tracking tools to monitor social mentions.
And tools like Make My Persona let you create buyer personas and learn more about your target markets and demographic.
Most of these have been popular in market research for some time. But a new, powerful category of market research tools is trend forecasting websites like Exploding Topics that help you discover new trends in your industry (really early on before they're super popular or obvious). These let you stay ahead of new opportunities and use these insights to do things like research product ideas; make business decisions and plan investments; inspire website content, blog content, or other promotional collateral and refine your marketing strategy.
This article explains the importance of trend forecasting and why you need a tool like Exploding Topics in your market research tool stack. We'll also talk about how to use Exploding Topics features to discover and track trends so you can get started with our software.
You can also start a free trial of Exploding Topics for $1 to access our entire database of trends and test our trend tracking features.
Trend Forecasting in Market Research: How Does Exploding Topics Work?
Trend forecasting software — in contrast to market research tools like Google Trends and other trend analysis tools — is valuable because it shows you new trends and opportunities in your space before you would ever think to Google or research them.
The whole idea behind these platforms is: You don't know what you don't know.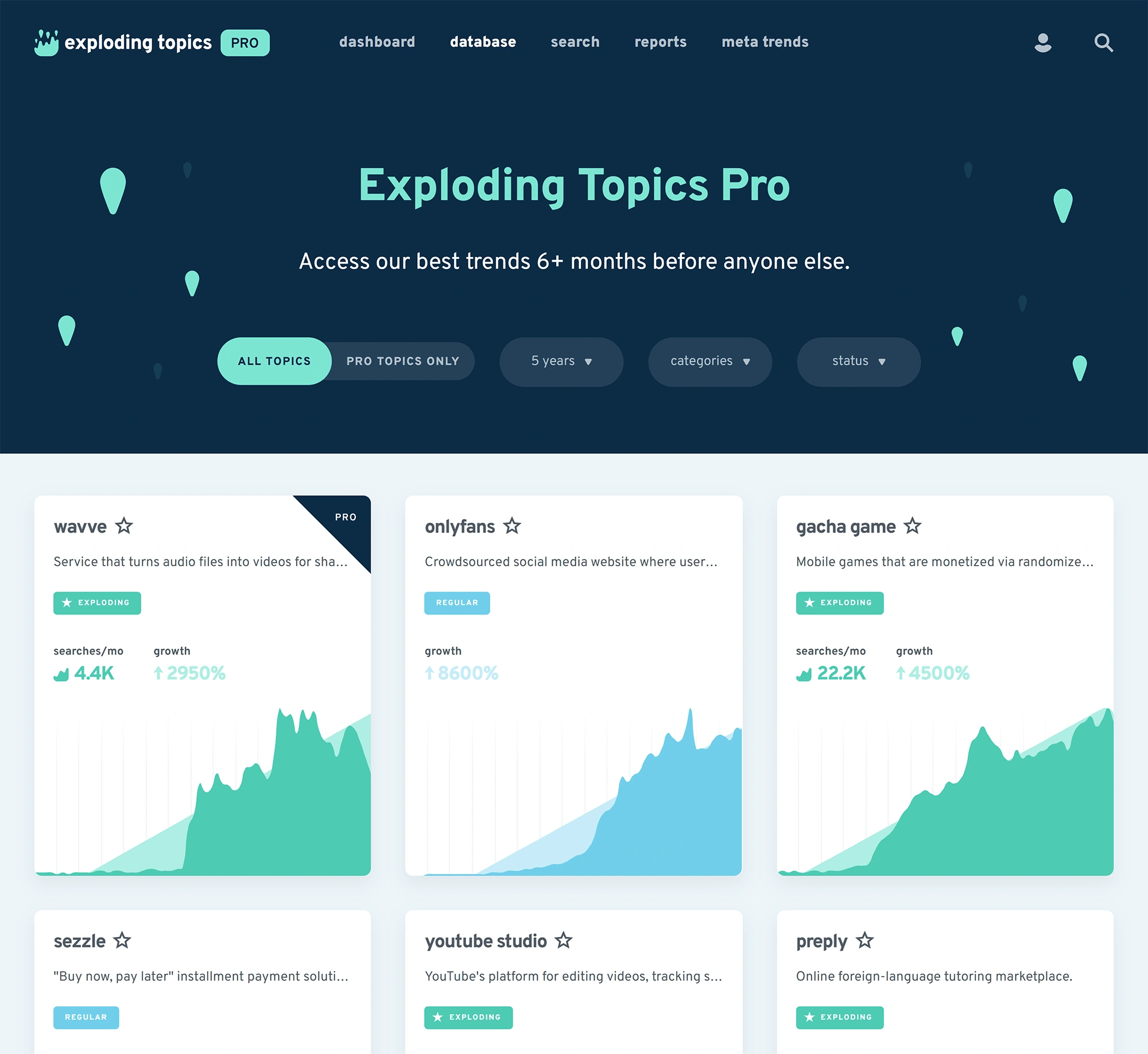 So how do we find and vet these trends? It's a two-step process.
First, our unique machine-learning algorithm scrapes online sources like:
Search engines
News outlets
Social media platforms
Forums like Reddit
eCommerce sites like Amazon
Streaming sites like Spotify
YouTube and other online podcasts
And more
And looks for signs of potential new trends. Our algorithm pulls data on hundreds of new trends each day, but our analysts determine which trends actually make it to our database.
During the human curation process, our team reviews each trend to ensure quality and longevity. We weed out fads, or trends with short-term popularity, like movie releases, upcoming events, and other hot topics in pop culture, so all of the trends on our database show signs of long-term growth potential.
For example, trends that would make it to our database include concepts like micro weddings, apps like Cash App and Substack, products like bakuchiol, emerging technologies like regenerative agriculture and bifacial solar panels, and startups like Nova Farms and GoTrendier.
Information about things like smartphone product updates, popular sports teams, concerts, and trending TV shows would be filtered out by our team.
The most convenient part of Exploding Topics is that we pull trend data for dozens of categories, instead of limiting the scope to one specific industry, so we cater to a variety of business professionals. Just select which industry you want to research and we'll populate all of the relevant trends. And our database is updated constantly so you always have the most current info.
Exploding Topics: Feature Demo & Pro Trial
Now, let's explain how to use the Exploding Topics database and trend tracking features and show you how to get started.
Trend Database
You can explore new trends in your industry through the Exploding Topics database. You can choose which category you want to research from our drop-down menu.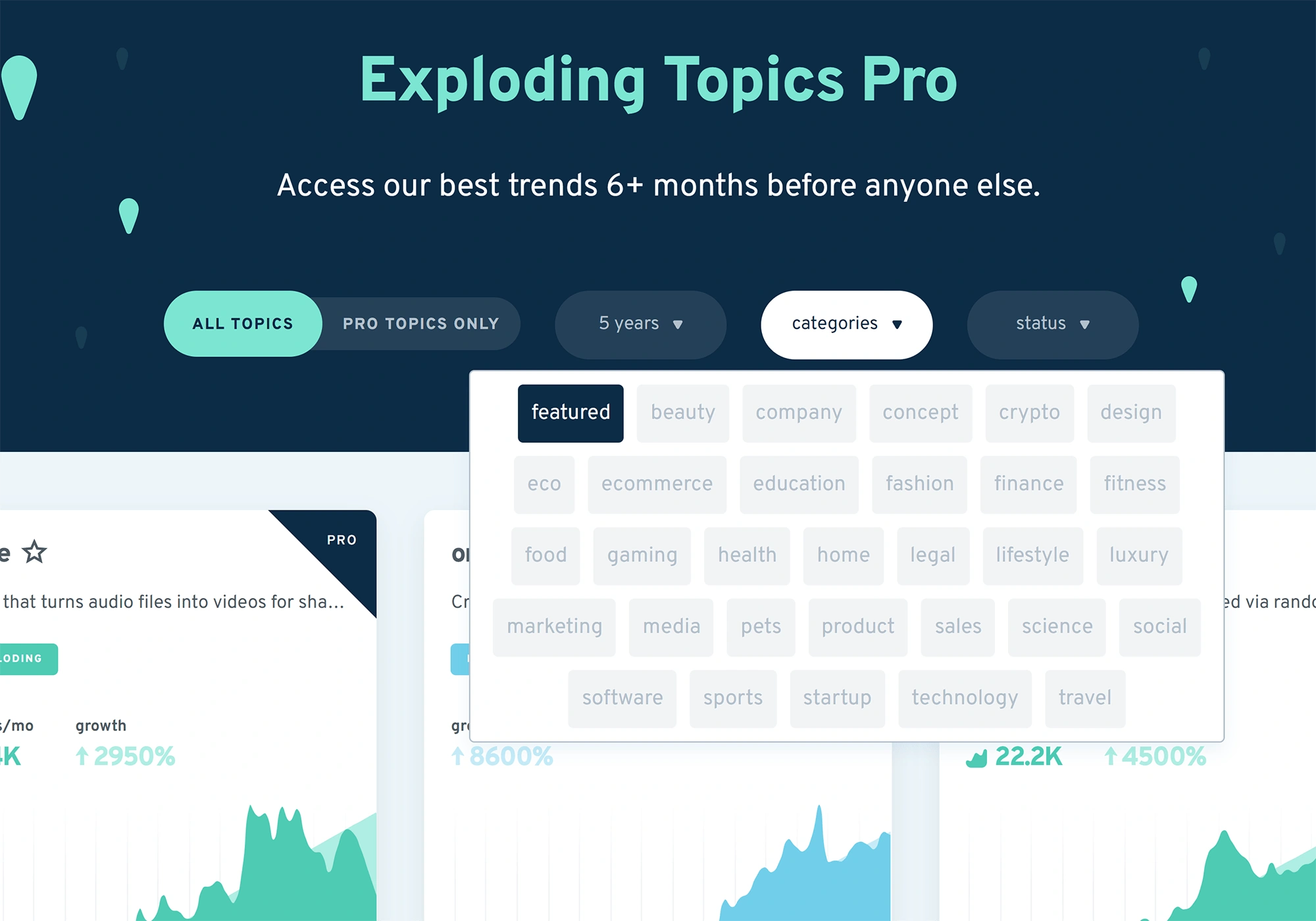 You can also filter trends by date and status, so you can see just the absolute newest trends or look at the most popular trends on our site.
For example, say you want to look at the most popular trends in technology that have been added to our database in the last month — you can: 1) Select the "technology" category, 2) Change the trend status to "Exploding" (i.e., currently taking off), and 3) Set the date range to one month.
As you explore trends, you can click to view more details about trends. In the trend overview, we show you:
Number of searches
Growth rate
Related trends and topics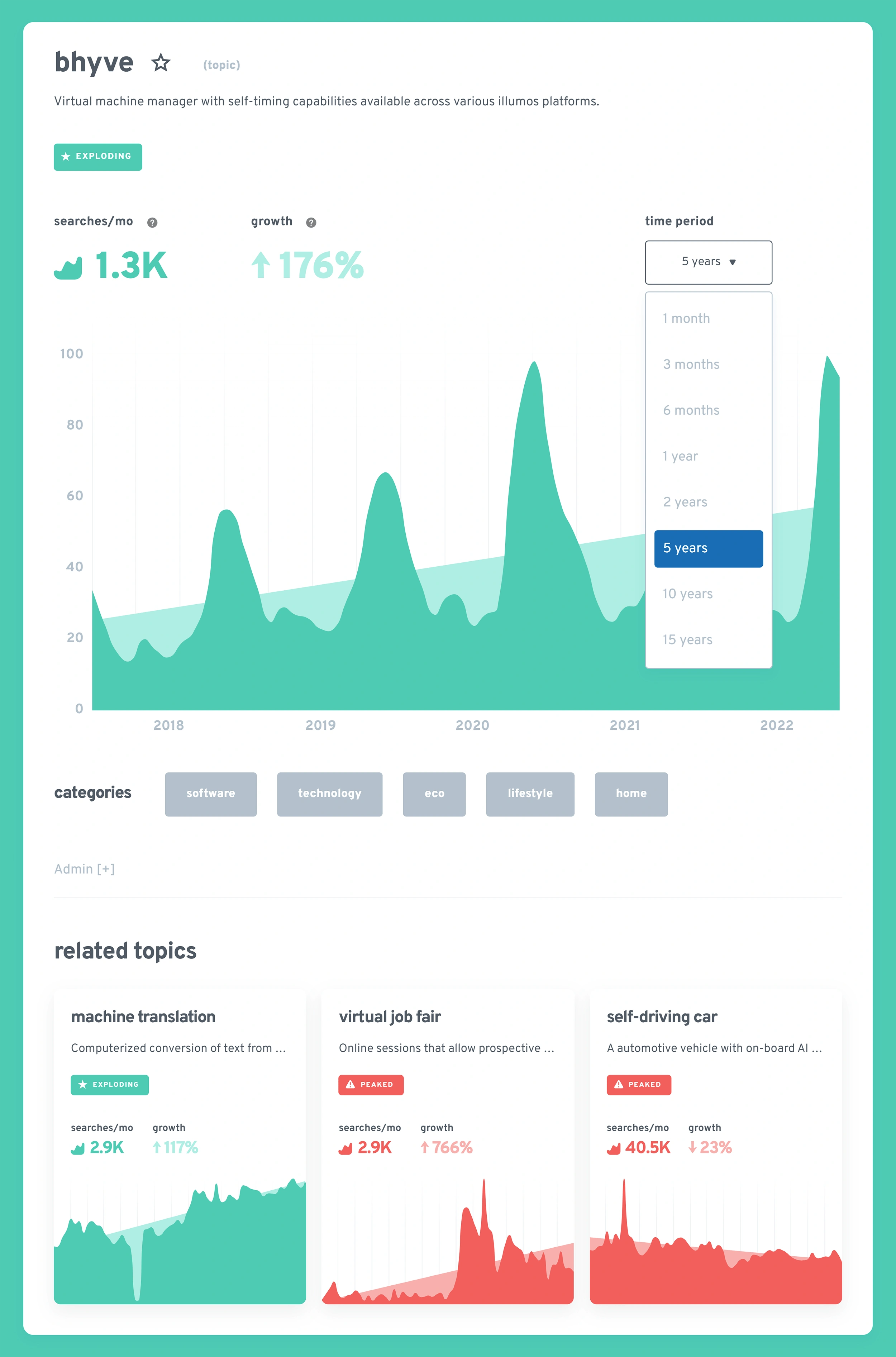 We provide trend data going back as far as 15 years so you can view metrics over different timelines and get a better understanding of how it'll evolve in the future.
As you discover trends in the database that you want to track, you can click the star button and save them to your dashboard (more on tracking later).
We also provide free limited access to our trend database so you can see how it works before starting a trial. You can test it out here. Once you start the Exploding Topics Pro Trial, you have access to trends six months before they're available for free users, and you can explore our other trend discovery and tracking features.
Weekly Trend Reports
You can also learn about new trends in our weekly newsletters. We send you current trend reports each Monday with information about the newest trends on our database. Each email talks about 10 new trends spanning a variety of topics to give you a broad look at the latest market trends.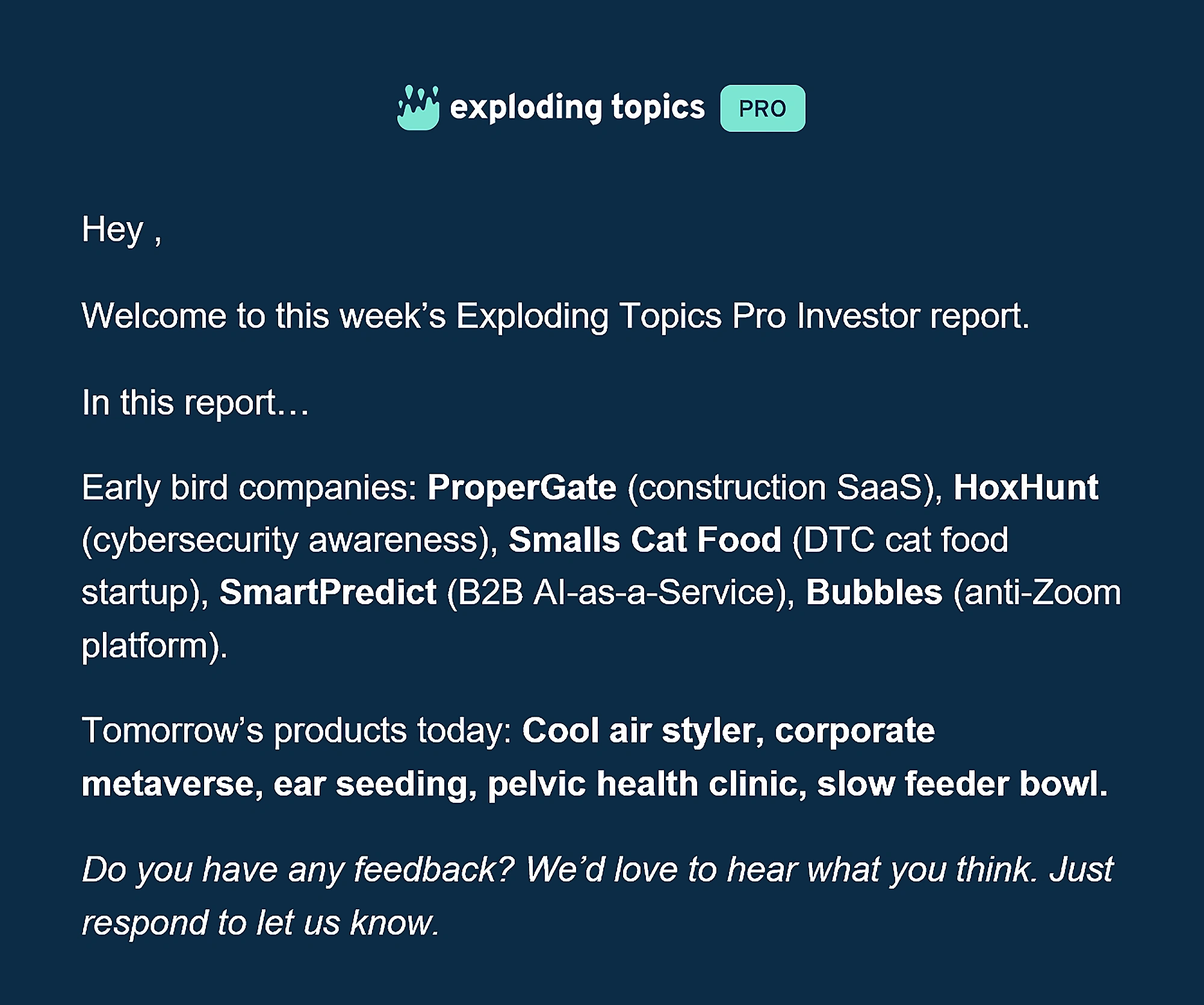 Our trend reports include a detailed overview of each trend so you can learn more about its relevance and how it pertains to you. For example, report data on a new SaaS company could cover what their software does, what industries and companies are already using it, who else could benefit from it, and other pertinent market research data. We also link out to other valuable resources and reports so you can see where we gathered our data and do extra digging on topics.
Then, you can view and track any trend you're interested in from these reports in the main Exploding Topics dashboard.
Pro subscribers also have access to the Exploding Topics Reports Library. Here, you can view our previous trend reports and read all of their data.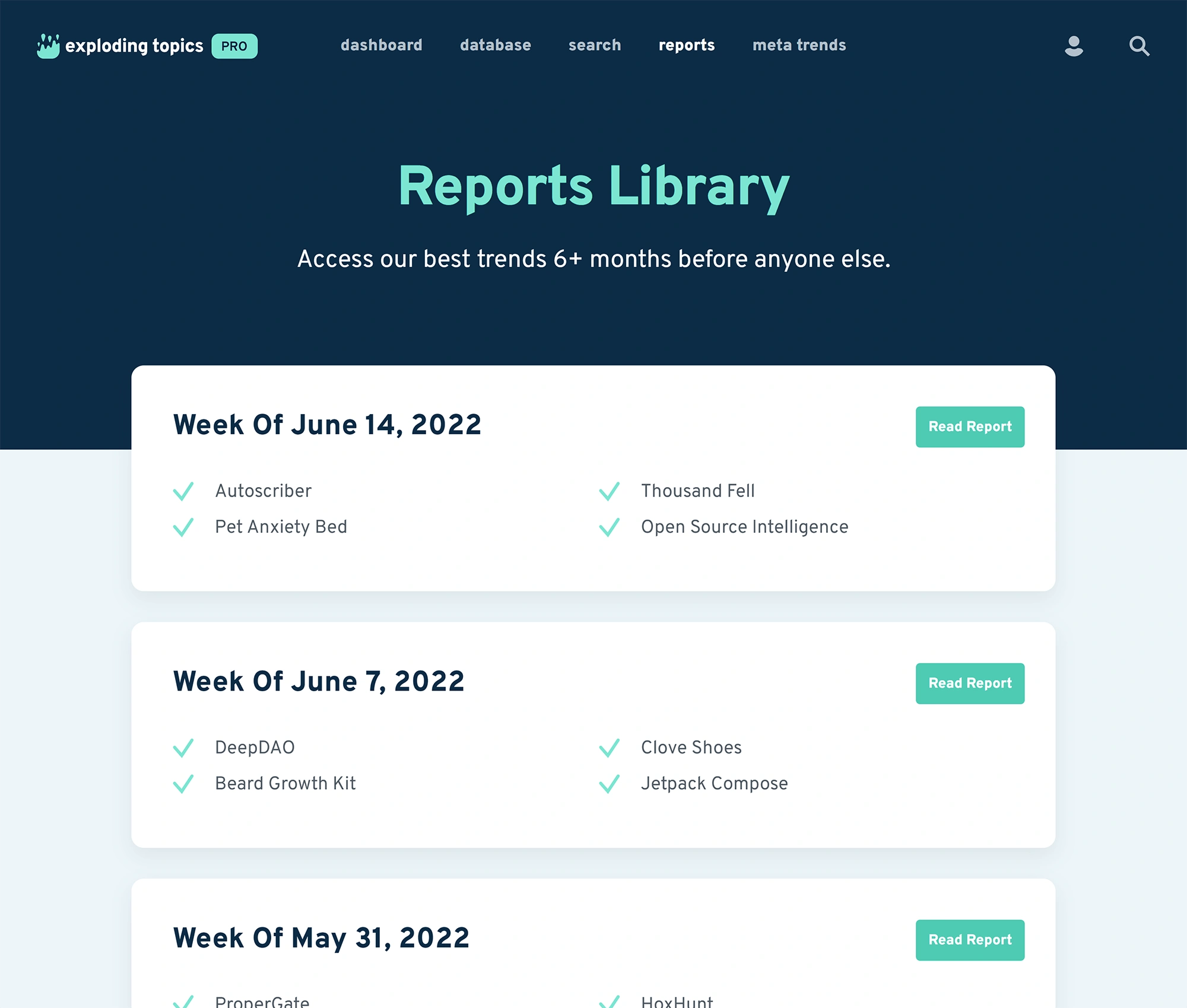 Like our database, we offer a free version of our trend reports to give you a preview of these, as well. Our free market research newsletters only cover four new trends as opposed to ten, but they still cover all of the major details about these upcoming trends.
Meta Trends
Another way to research and find new trends is through the Meta Trends tab. Here, you can explore higher-level trends and topics — for example, functional pet food — and view all of the topics that make up this trend. We also provide a brief description of the trend to give you a quick background.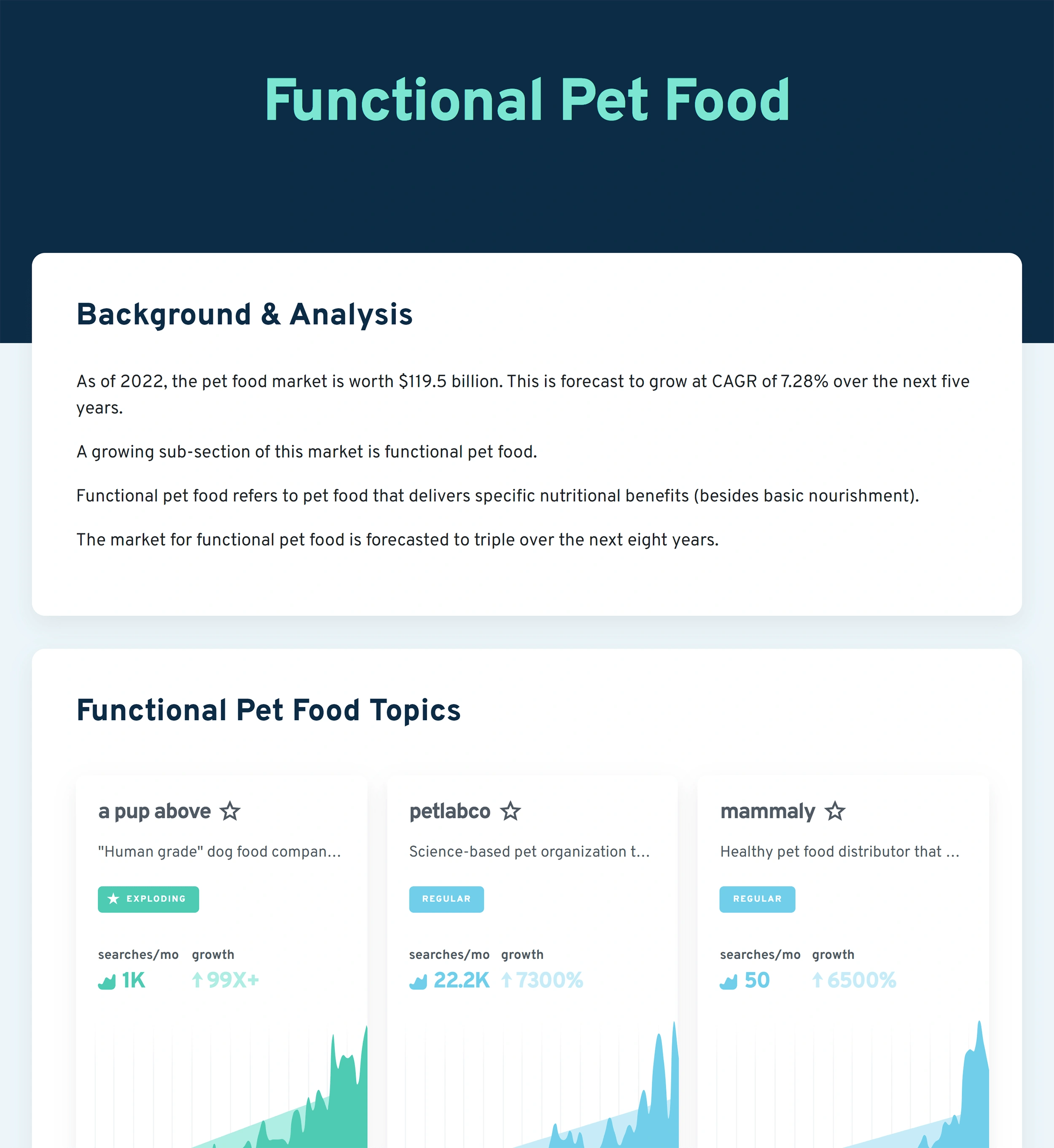 Then you can open trends to see their data and save trends from this view to track them in your dashboard.
Search & Tracking
Although our platform is mostly used for trend discovery, we also provide a search functionality so you can look up and track trends you've already heard about.
You can view all of the same trend data (e.g., number of searches, growth rate, historical trend data) and see other trends that relate to your search term. We also provide a filtering option so you can refine trend data and view results by geographic location.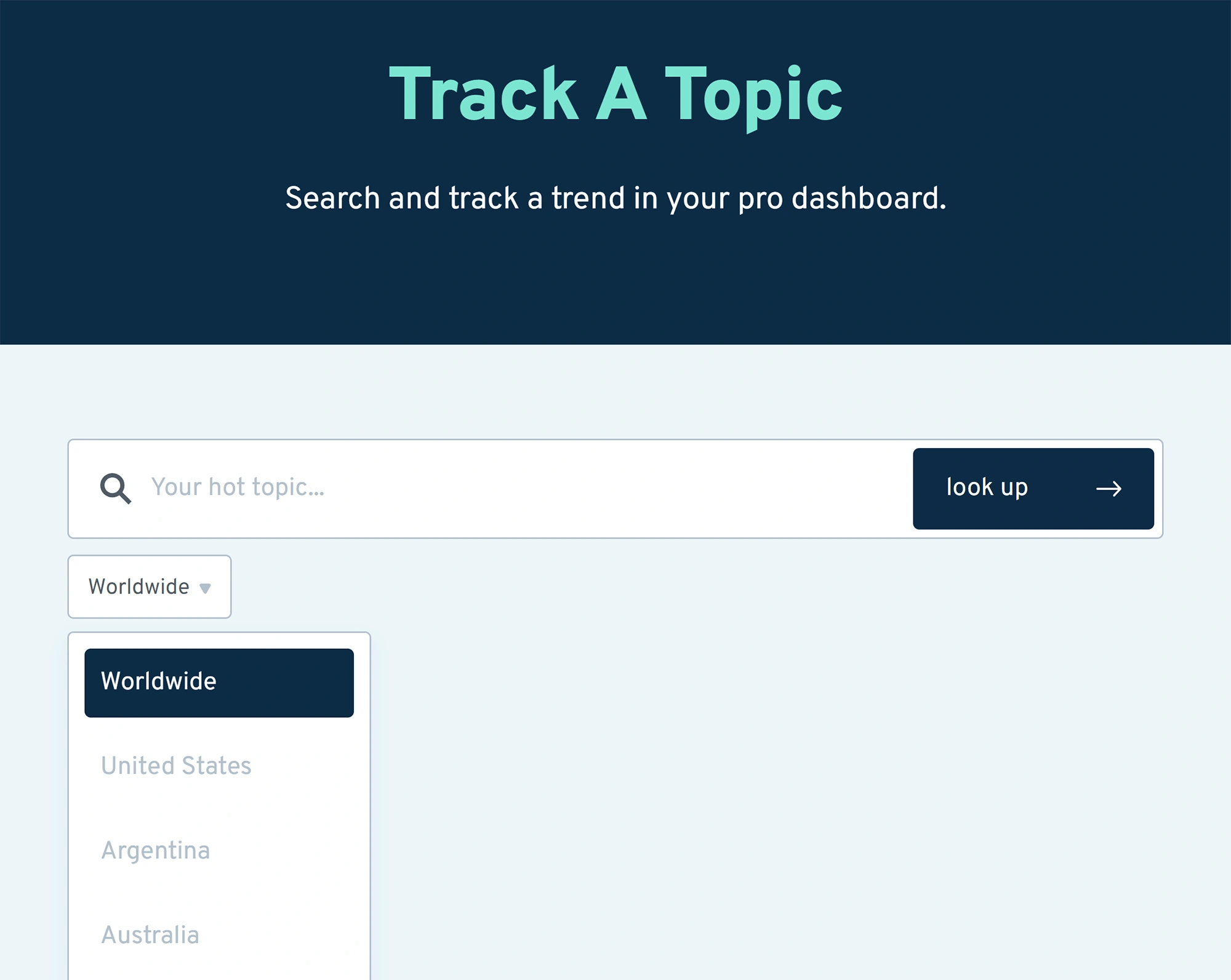 Trend Dashboard
You can view and monitor all of your saved trends in the Exploding Topics dashboard. You can organize saved trends into projects if you are researching trends in more than one category. We also display other related trends at the bottom of the page so you can easily see other topics in your area of interest and add them to your dashboard.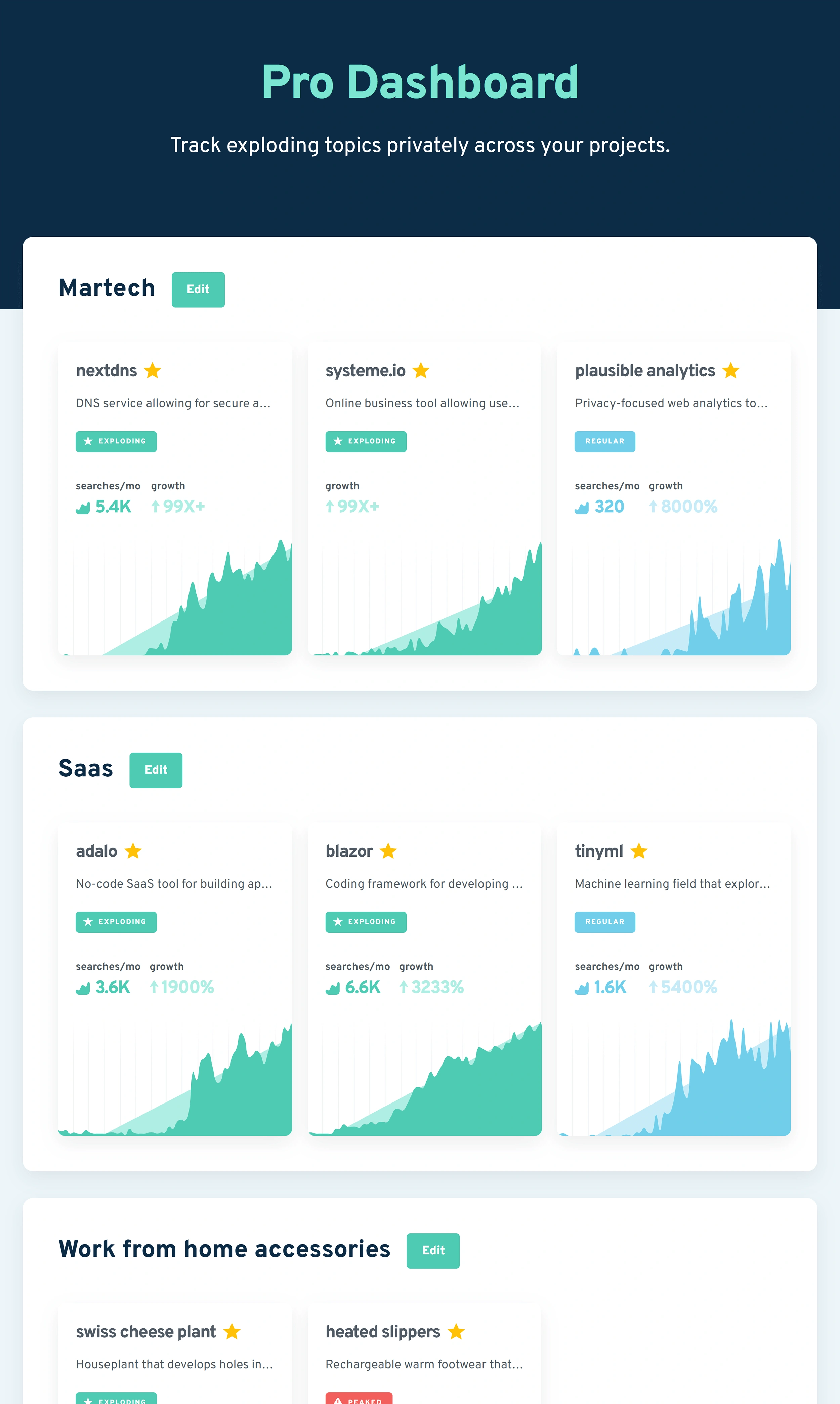 What's more convenient about using trend forecasting websites vs. referencing static trend reports (ex. "Top 10 Trends of 2022" lists) is that you can log in to Exploding Topics any time you wish and check your dashboard to see the most current trend information. Our platform is refreshed every day so you have access to all of our newest trends and trend data. You can also set email alerts to receive real-time updates about your saved trends.
You can use the Exploding Topics API if you want to connect our platform with data visualization software, survey templates, or other tools you use to conduct market research or data analysis. The API integration allows you to consolidate trend data in those external reporting dashboards.
Start a Pro Trial of Exploding Topics for $1
Exploding Topics is one of the best market research tools to learn about upcoming trends before your competition because we source these trends super early on and we pull trend information for virtually all industries and categories. You can use our database to gather valuable insights on:
Up-and-coming startups and small businesses to invest in.
New product ideas.
Emerging technology and software.
Innovative services or concepts that your potential customers are interested in.
Ideas for marketing campaigns, promotions, and other digital projects.
You can demo our database and preview our weekly newsletters for free, or you can start an Exploding Topics Pro Trial for $1 to unlock: 1) complete access to our database, 2) comprehensive weekly trend reports, and 3) our full suite of trend discovery and tracking features.