13 Market Research Tools To Discover and Assess Opportunities
The market research process can be extensive, which is why most tools specialize in a particular stage of the process.
So to help you find the best tool for your needs in just a few minutes, we divided the market research process into the following four stages:
Discovery: Finding new emerging markets to explore.
Assessment: Find statistics and data on a particular market.
Competitor Analysis: Find the top players in a specific market and analyze growth trends, marketing, and customer reviews.
Survey: Talk directly to the customers in that industry.
We analyzed all the most popular market research tools, and below, you'll see a handful of the best market research tools for each stage of the process.
Discovery
The first step to conducting market research is identifying emerging market trends. Here are a few tools that make this process easier.
Moving into an emerging market before it becomes popular can give you a first-mover advantage and can increase your chances of success.
So the big question is: how do you find promising emerging markets before everyone else?
If you rely on your network or Twitter to hear about emerging markets, you'll probably be late to the game and miss out on early opportunities.
So to help you take a more proactive approach to trend discovery, we built Exploding Topics.
Instead of making you search for trends, Exploding Topics brings promising trends (like markets, companies, and products) to your attention before they take off.
Below we'll give you a detailed overview of how it helps you discover promising trends you never knew existed so that you don't miss the next big opportunity.
How Exploding Topics Works
There are three main components of Exploding Topics Pro:
Trends Database
Trends Search
Weekly Reports
Let's discuss each of these three components in more detail below.
Trends Database
Instead of scouring Twitter, talking to friends, and going down Google rabbit holes hoping to find the next big trend, the trends database is a collection of 13,000 manually approved trends brought to you.
To find the most relevant trends, you can sort the database by category (e.g., beauty, fitness, ecommerce, legal, etc.), growth status (e.g., trends that are exploding, regular, and peaked), and timeline (e.g., past five years, past year, past three months, etc.).
Once you find an interesting trend, Exploding Topics Pro users can track it by creating a new Project or adding it to an existing Project.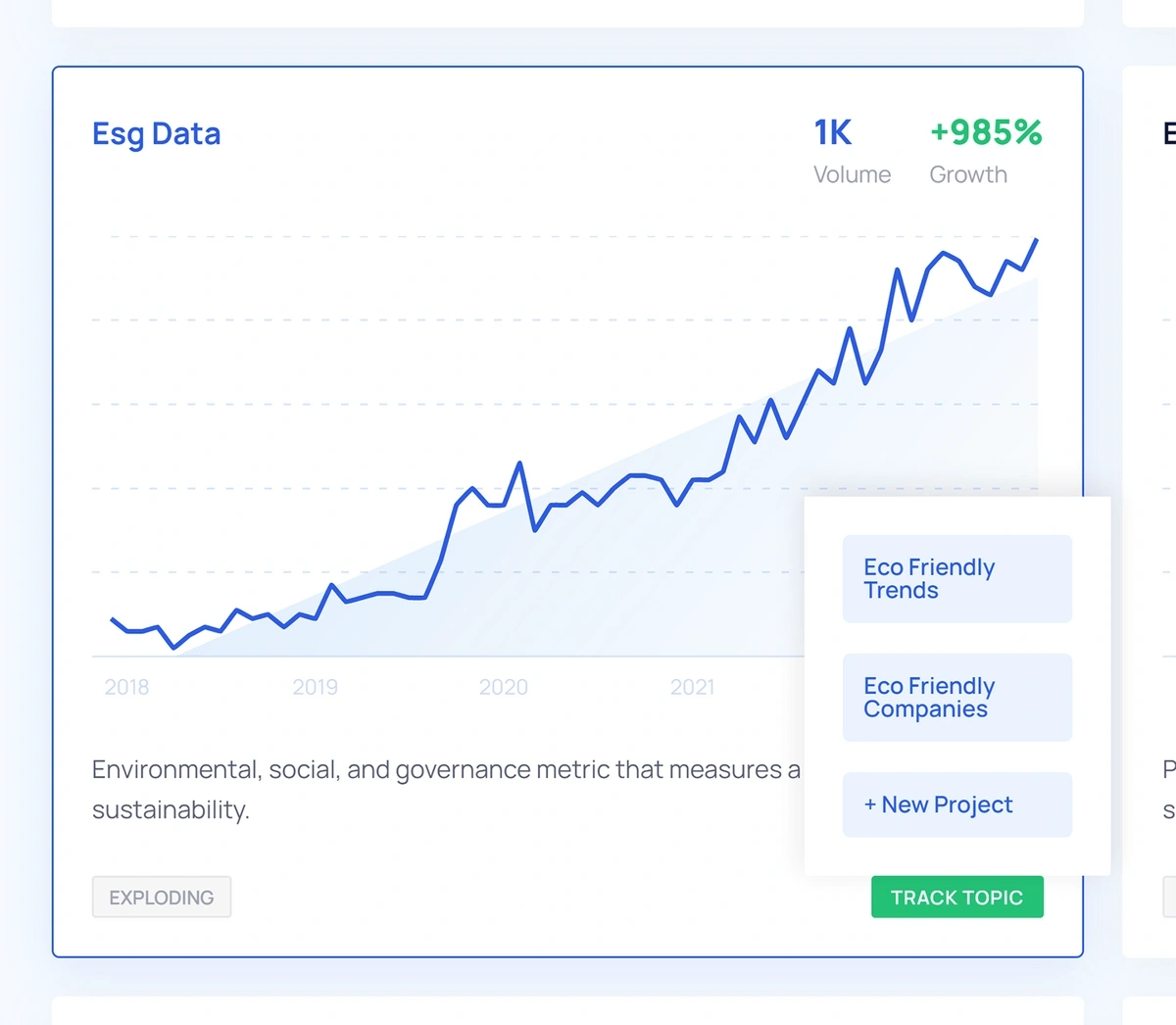 Projects are personalized boards you can create to categorize and track particular trends. For example, if you're in the eco-friendly space, you could create a Project for Eco-Friendly Trends to keep a pulse on emerging markets and another Project for Eco-Friendly Companies to stay up-to-date with the hottest companies in the space.
Then, when you log into the dashboard, you'll see those trends in the corresponding Project so that it's easy for you to monitor them: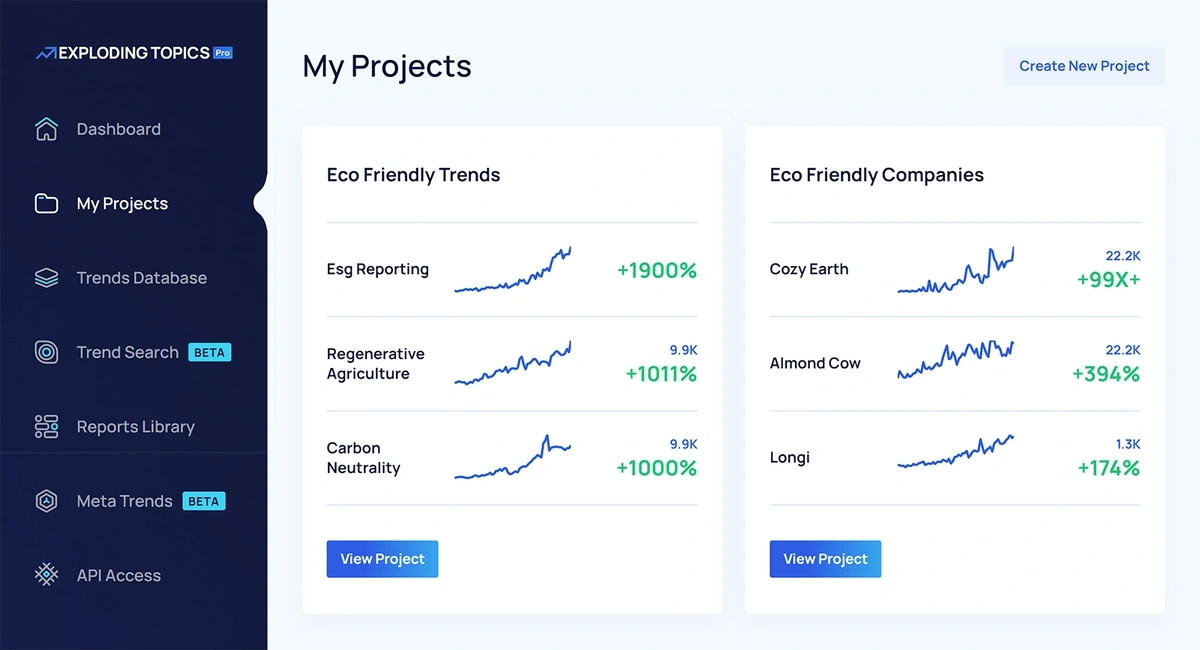 The main benefit of the Trends Database is that it brings unknown trends (markets, companies, and products) directly to your fingertips.
While uncovering trending topics isn't necessarily a new concept, the key difference between Exploding Topics and other trend scrapers is the quality of the data we collect.
Our secret sauce is using both humans and AI to approve topics before adding them to the Trends Database.
Here's a brief overview of how we identify and qualify trends:
AI scans the internet (e.g., Amazon, Reddit, Twitter, podcasts, Google Search, etc.) and flags topics that have received significant traction.
Once the AI has curated a list of trending topics, a human analyst combs through the topics and only approves those that are both relevant to business and sustainable trends rather than fads.
For example, our analysts reject movies, celebrity gossip, and other topics that are irrelevant to businesses or investors.
In addition, we use Google Search volume data to track each trend (a trend is a keyword such as a company name, product name, or industry term). Then, only those trends which have shown steady search volume growth over the past several months are added to the database. This is how we prevent fads from leaking into the database.
As you can see, this method ensures that the Trends Database provides signal rather than noise.
To see for yourself how the Trends Database works, you can try out the free version now!
Search Trends
While the Trends Database is a carefully curated list of 13,000 trends that surface the topics you didn't even know you should know about, you might also want to access trend data on topics you've already heard about.
So we created Trends Search to help you analyze any keyword.
Simply type in the keyword, and you'll be able to see its trend data instantly: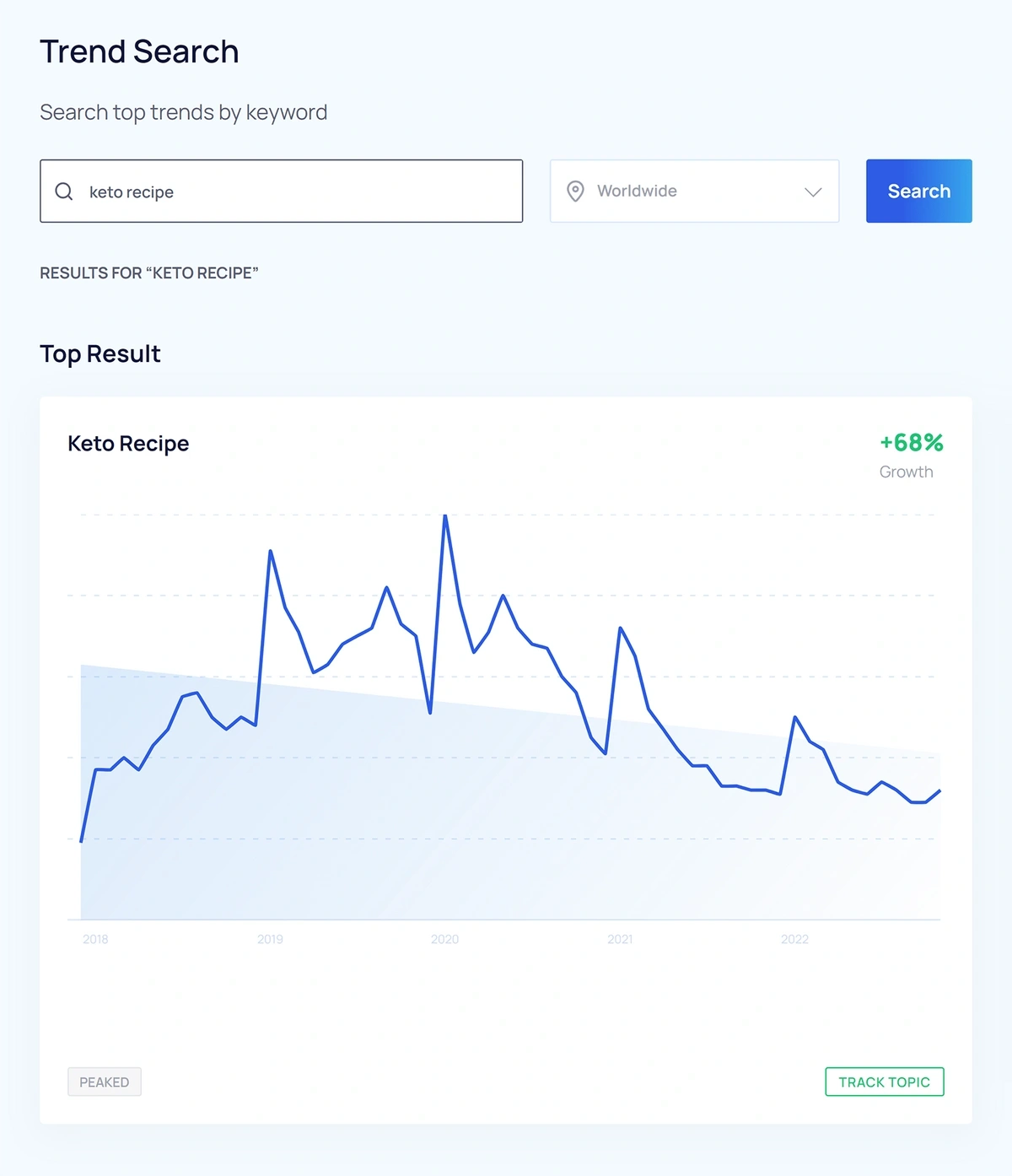 From there, you can add that keyword to a Project, or you can scroll further down in the report and find other related search terms: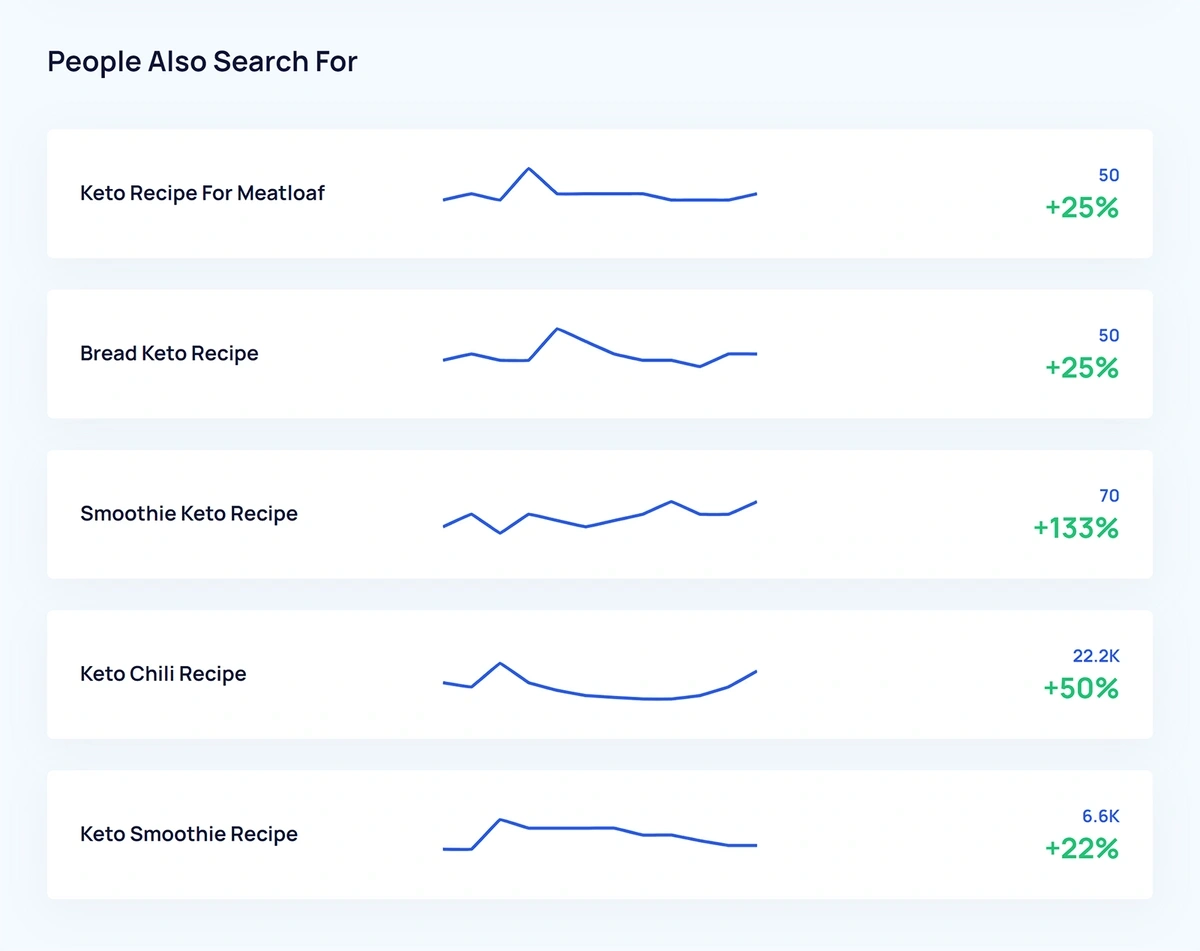 The main benefit of Trends Search is that it enables you to take a topic you might have heard of and pull search volume-based trend data to determine whether it's a fad, if it's already peaked, or if it still shows promising compounding growth.
In addition, the recommendation engine makes it easy to find other adjacent topics that might be helpful during your research.
Weekly Reports
Finally, we realized that you might not have time to check Exploding Topics each week to find the newest products and trends.
So to ensure you still stay up-to-date on the latest industry trends, we decided to create a weekly newsletter (Weekly Reports) that presents five early bird companies and five new products. This way, you'll still stay on top of recent trends without needing to login to the Trends Database.
What Makes Exploding Topics Different From Other Discovery Tools?
There are plenty of different trend tools available, but we decided to build Exploding Topics because we couldn't find a tool that included the two key differentiators discussed below.
Surface Relevant Trends: Discover What You Never Knew Existed
Plenty of keyword research tools like Semrush and Ahrefs make it easy to find search volume data on keywords.
There's just one problem – you can't research a trend you don't know about yet.
So, in addition to providing search history on each trend, Exploding Topic's main benefit is that it makes you aware of trends you never even knew existed. This allows you to take a more proactive approach to trend discovery and gives you the first-mover advantage.
Data Quality: AI and Human Analysis
Even if you find a tool that scrapes the web for trending topics, we found that most topics receiving a lot of attention are noise rather than signal.
Sorting through the noise is time-consuming and inefficient, so to solve this problem, we have a human analyst that does the heavy lifting for you.
After our AI scrapes the web (Amazon, Reddit, Google, etc.) and flags popular topics, a human analyst manually approves each topic before adding it to the database.
To see for yourself how Exploding Topics can help you discover critical trends, you can try out the platform for free today!
Google has a free tool that makes it easy to discover international markets ideal for expansion. So rather than uncovering new trends, it's best to identify new geographies and demographics ripe for expansion.
It has two main tools:
Dive into new markets
Test export readiness
The dive into new markets tool walks you through a quick quiz that identifies your industry and other specifications about your company. From there, it shows you which countries would be ideal for expansion based on data from Google Ads, search volume, and household income.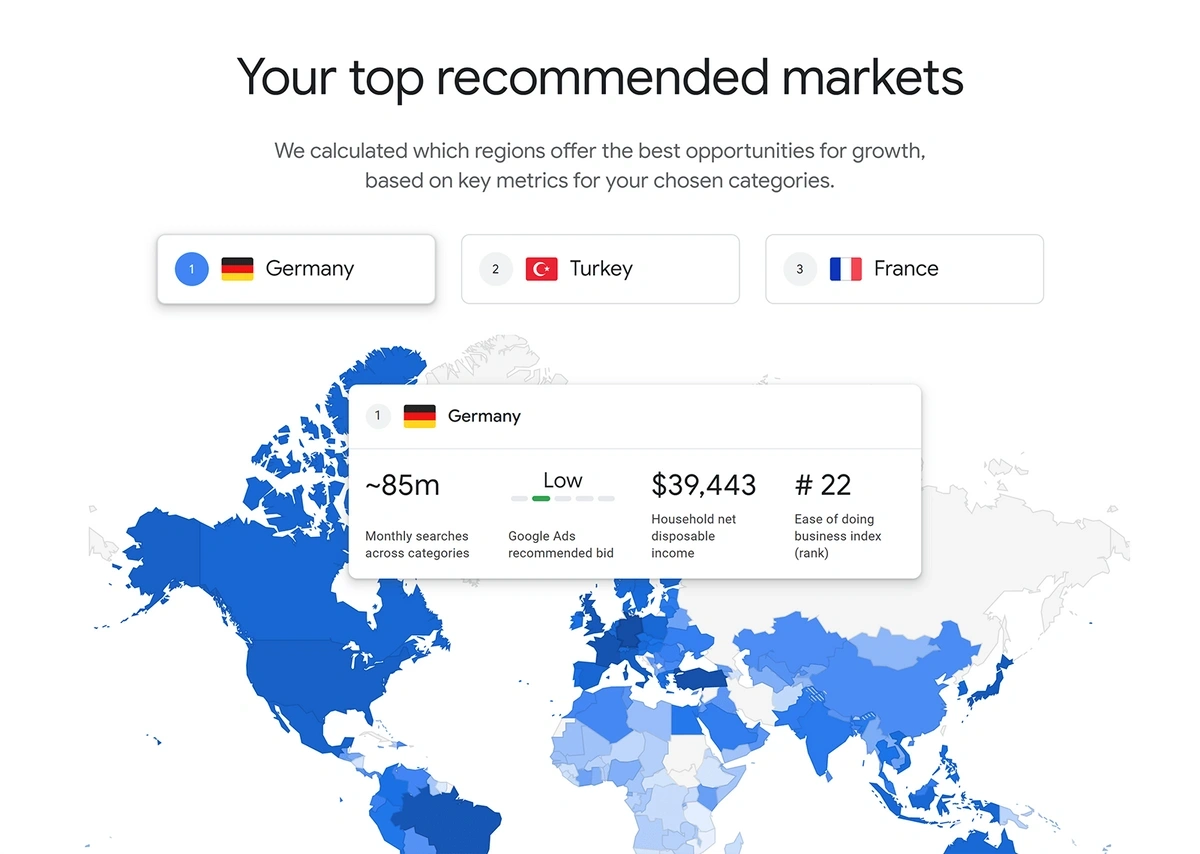 The tool designed to test export readiness takes your website URL and analyzes it by various categories like marketing performance (international traffic, ecommerce capabilities, etc.), operational abilities (payment fit, localization capabilities, etc.), and competitive position (like category demand).
If you have Google Analytics set up, it can pull data directly from the Google Analytics dashboard for a more accurate report.
While the data is still relatively surface level, it's one of the best free market research tools to discover potential geographies for expansion that you can investigate later.
Assessment
Once you've identified various new markets or trends, the next step is to research that market in more detail to identify whether or not it's worth pursuing.
So here are some tools that make this process easier.
Statista is a statistics portal for market data. While it's most known for its detailed statistical data, it also offers market insights, consumer insights, ecommerce insights, company insights, and even market reports.
For example, if you're investing in cryptocurrency, you can type in a relevant keyword, like Ethereum, and identify various data on the industry: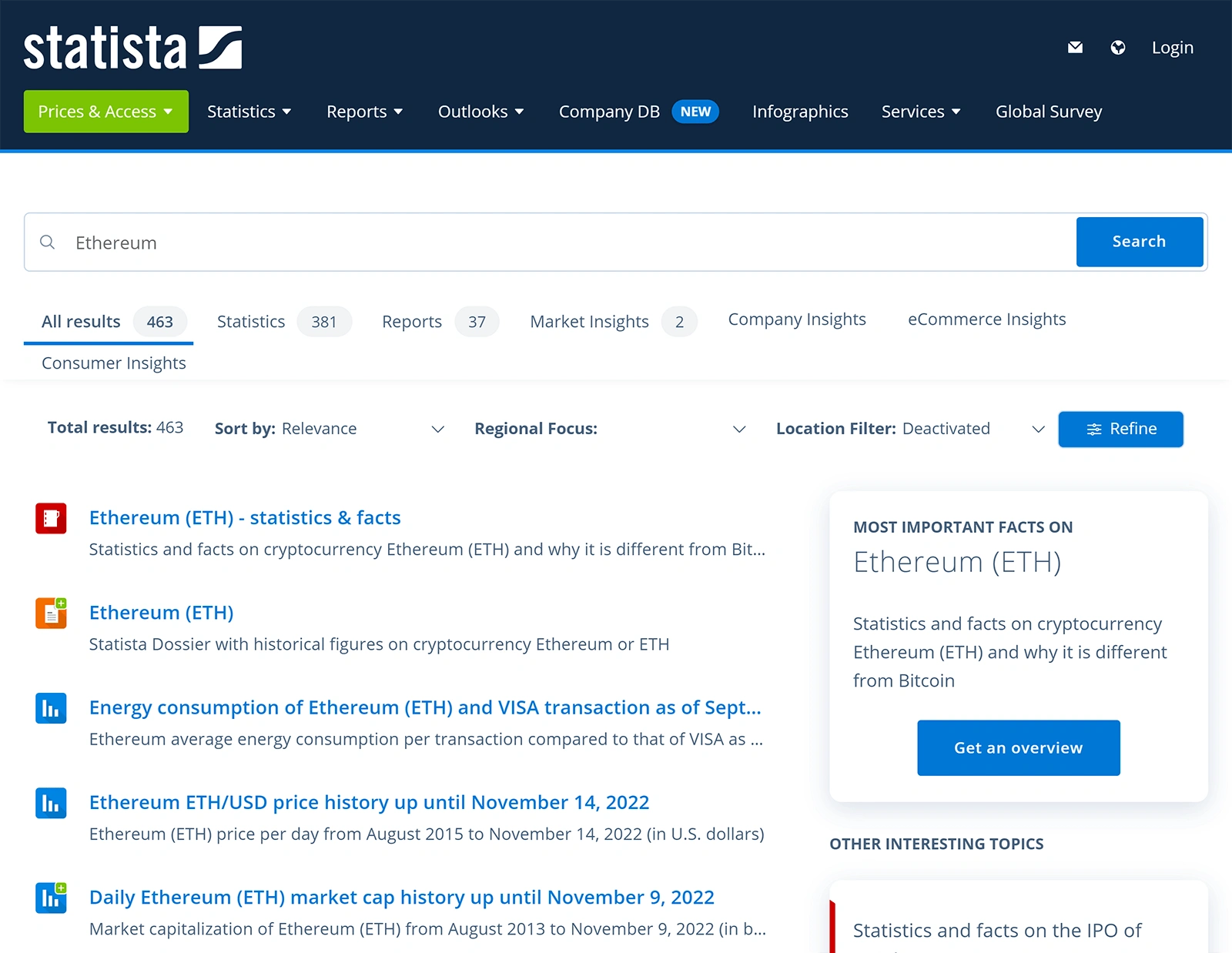 This information makes it easy to gauge an industry's market cap, trend direction, consumer behavior, and other critical signals that can help you decide whether to invest in that market.
Statista also prides itself on providing high-quality data. It claims to employ over 100 data analysts who identify information gaps and execute research based on those trends, so about 49% of the statistics come from their own original research. The platform also pulls about 16% of its data from publicly accessible data sources and an additional 35% from unique data partnerships like market research institutions.
As with any data platform that relies heavily on original research, there's usually only limited data available on newer trends or very specific market sectors.
The Census Business Builder is an excellent tool for researching geographic markets. You can search by zip code, town, or state and see specific metrics like population, average household income, and education level.
It also has more advanced filters that can provide more detailed valuable insights depending on the business you're launching.
For example, if you're launching a local bar, you can use the "Consumer Spending" filter and see how much people spend on alcoholic beverages and dining out in that selected area: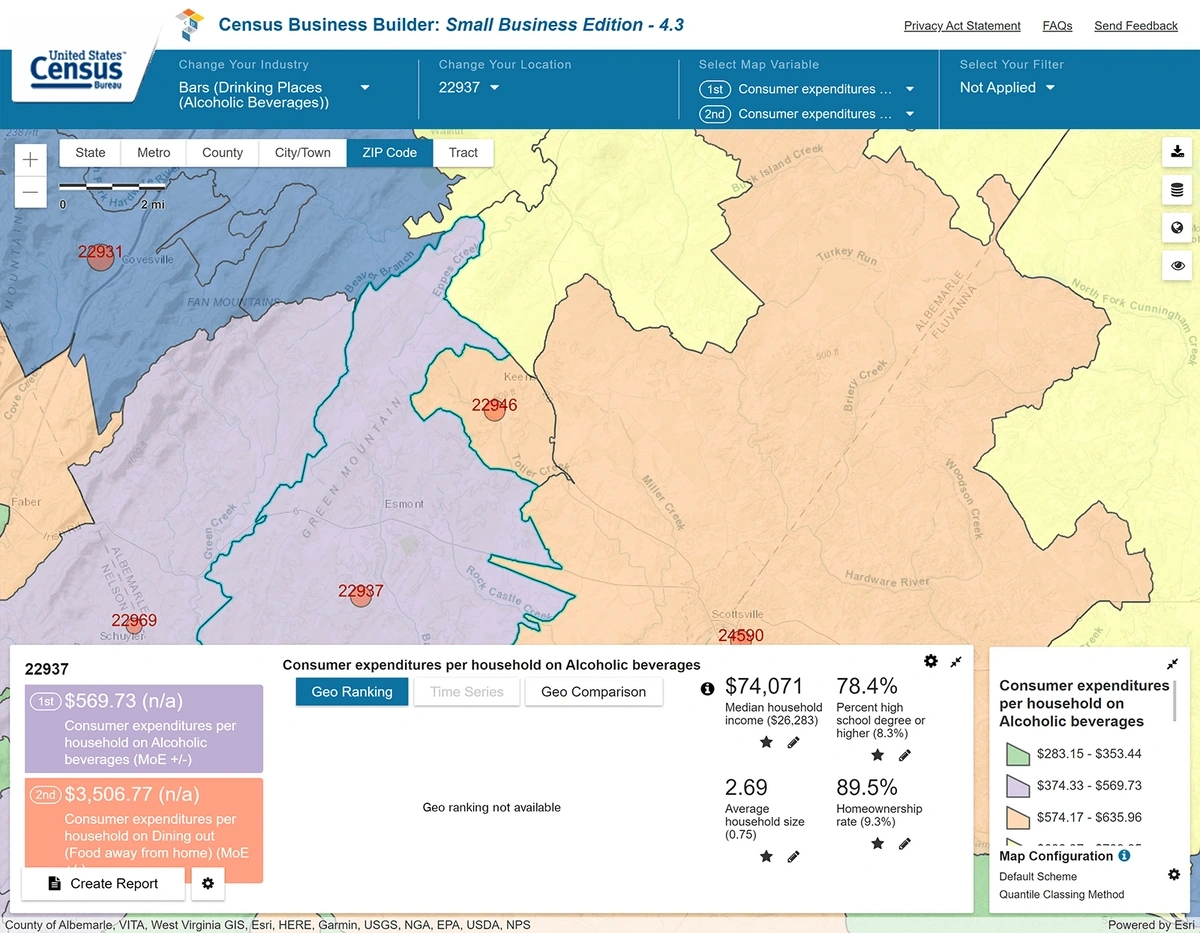 This data makes it easy to quickly gauge whether or not a particular geography has enough of a target market to support your new business or if you should pursue a different location.
Gartner is a tech-based research and consulting firm that conducts studies across various industries, including education, retail, finance, healthcare, and more.
You can select an industry and then pull up all of Gartner's research reports on that topic. For example, if you're venturing into the supply chain market, you can select the supply chain industry and then view all of the research on that topic: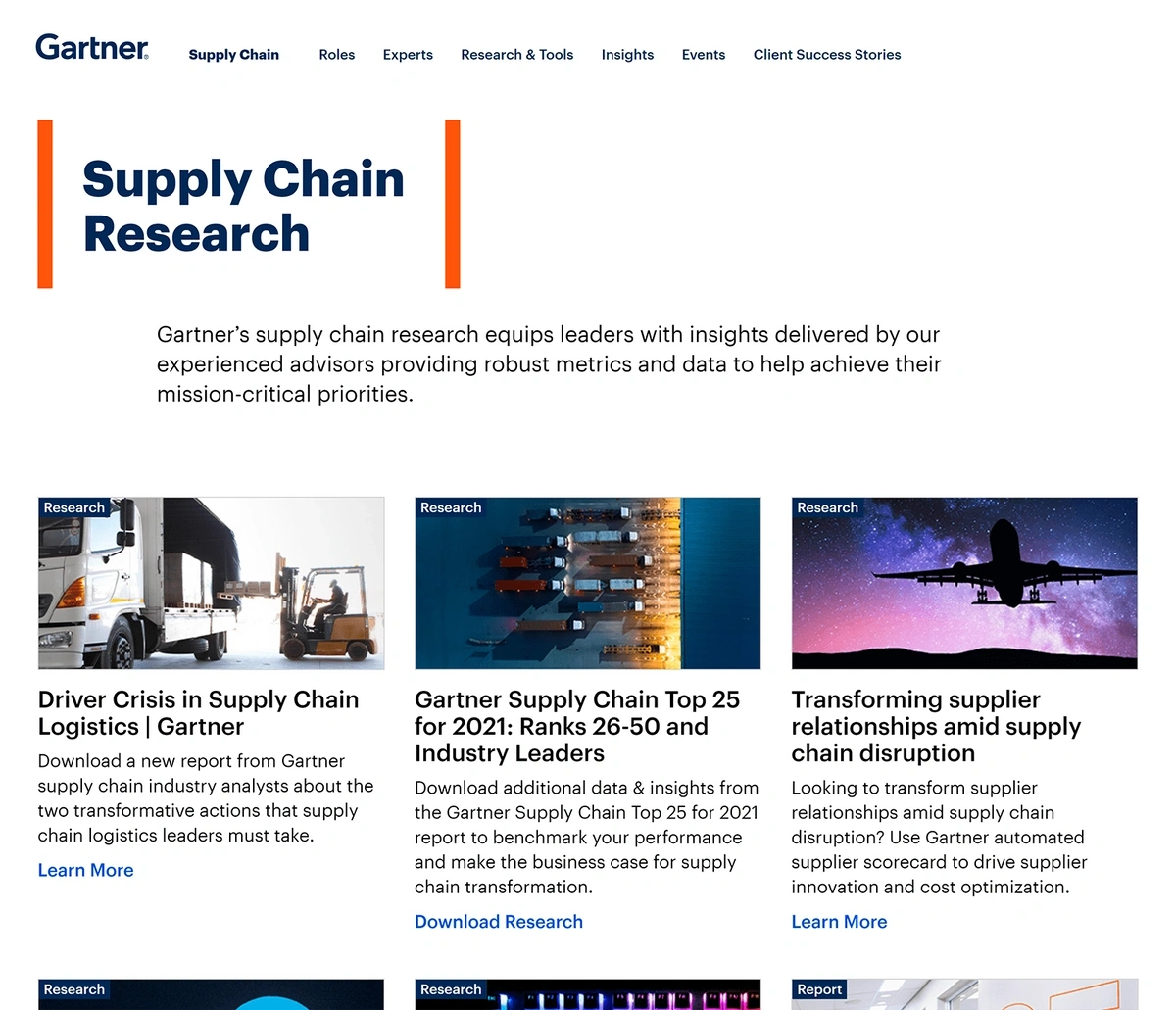 Gartner also has a lot of informative content on each topic which can provide data-backed insights into where the market is going and help you make better business decisions.
Under the "Insight" tab, Gartner also has a "trending topics" section for each industry which can help you stay updated on the latest industry news. For example, this report on the Top Healthcare Supply Chain Management Companies gives an overview of important news, statistics, case studies, and poll results from industry leaders.
Competitor Analysis
Once you've uncovered a few interesting markets, you can research a few of the leading companies in that market to learn:
If it's a lucrative and sustainable market
Each company's marketing strategy approach
Gaps in the market
Here are a few tools that can help you answer these questions.
SpyFu is a competitive analytics tool that makes it easy to research any website's SEO and PPC performance.
From an SEO perspective, you can access all of the following metrics for a particular URL:
Total traffic
Keyword rankings
Backlink analysis
Uncover up and coming competitors
From a PPC perspective, you can uncover:
Google Ads competitors are running
Paid keywords
Ad history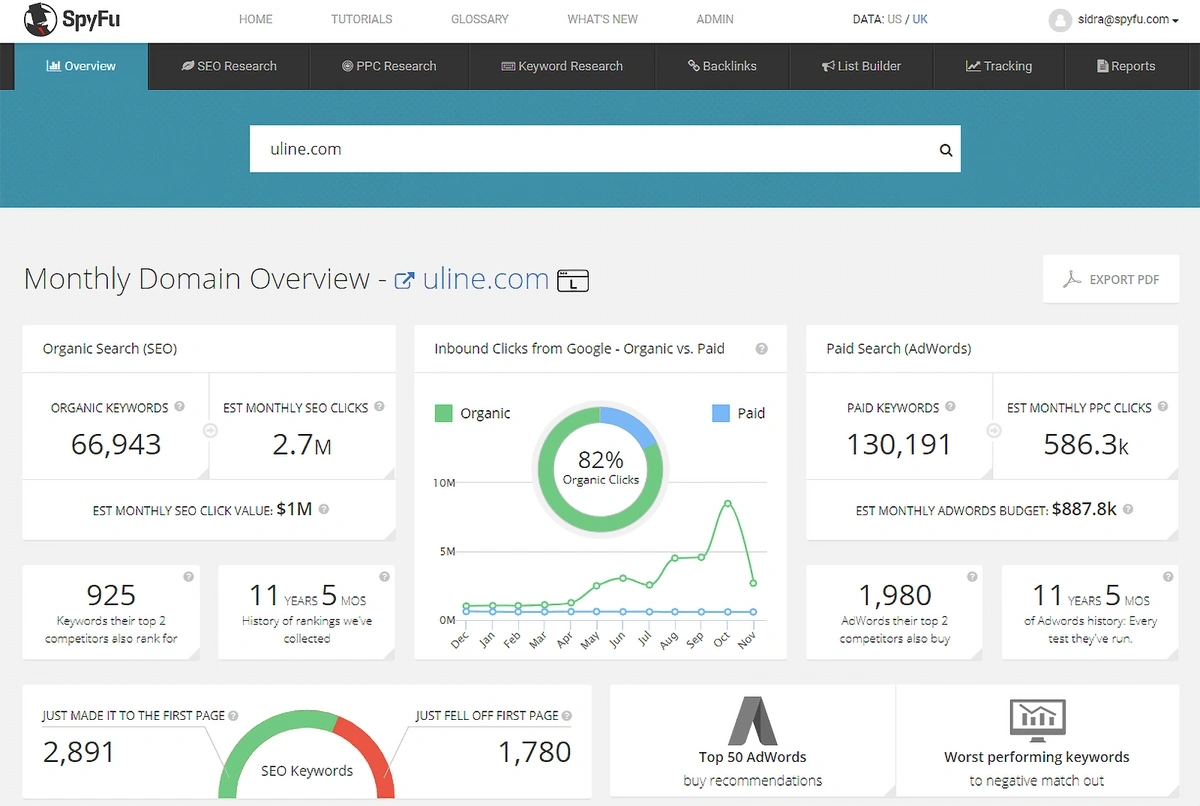 This makes it easy for you to gauge how much search traffic exists for high purchase intent keywords and how difficult it would be to break into the market.
SpyFu also makes it easy to find contact information (social media links, email, and even phone numbers) for key decision-makers at each company. This can be useful as you could reach out and have a conversation before jumping into a particular market.
Awario is a brand tracking tool that also doubles as a market research tool.
It allows you to track various keywords across social media platforms, like brand names, product keywords, and general topics, across the internet. For example, if you're considering building or investing in a mobile app for sleep tracking, you can easily track brand names like Oura Ring or keywords like "sleep tracker."
Awario also delivers user-friendly reports on those mentions directly to your inbox.
This makes it easy to listen in on key industry conversations to better understand your ideal buyer persona and identify pain points and gaps in the market.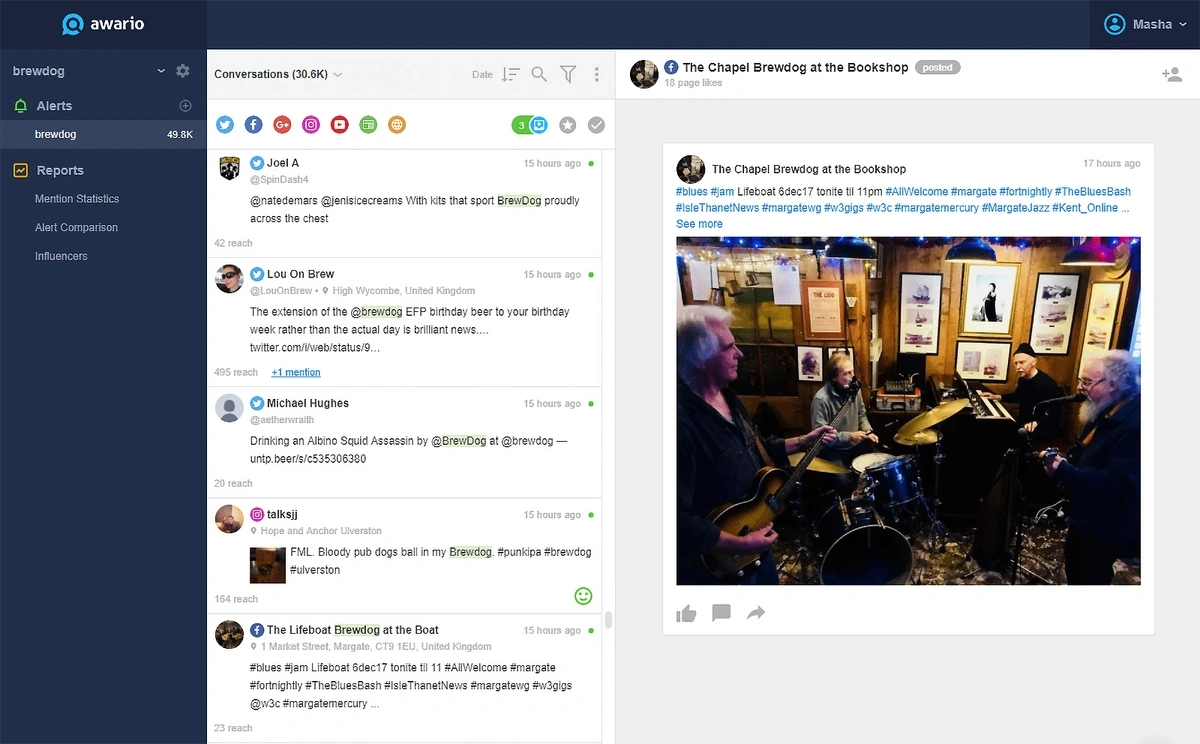 In addition, because it monitors social mentions, you can reach out directly to those discussing those keywords to initiate one-on-one conversations and further your market research. You might even find some influencers in the space, which can lead to potential brand partnerships and other opportunities.
Awario also tracks sentiment analysis to see how people feel about various competitors in the space.
G2 is one of the most popular software review websites and makes it easy to quickly find qualitative customer data on virtually any software market.
First, each reviewer can fill out a profile with details like:
Title
Industry
Business size
Region
This information alone is valuable for understanding the target demographic, and you can even sort reviews by the above categories.
In addition, the reviews themselves are structured with the following questions:
What do you like best about (product)?
What do you dislike about (product)?
What problems is (product) solving and how is that benefiting you?
This customer experience data is a goldmine for investors and startup founders as it makes it easy to quickly identify gaps in the market and understand key pain points customers are trying to solve.
G2 also provides a list of competitors for each product so that you can easily find other related companies to research.
Finally, G2 makes an effort to ensure that the reviews are legitimate by allowing users to verify themselves and even marking incentivized reviews.
If you're launching a new ecommerce product, Prisync is an excellent tool for competitor price tracking, as it identifies price changes in real time.
In fact, it can even dynamically adjust your store's prices according to the rules you set and data the platform gathers.
While Prisync is usually best for ecommerce stores that have already launched, it offers some competitive analysis features that you can use to track an unlimited number of competitors.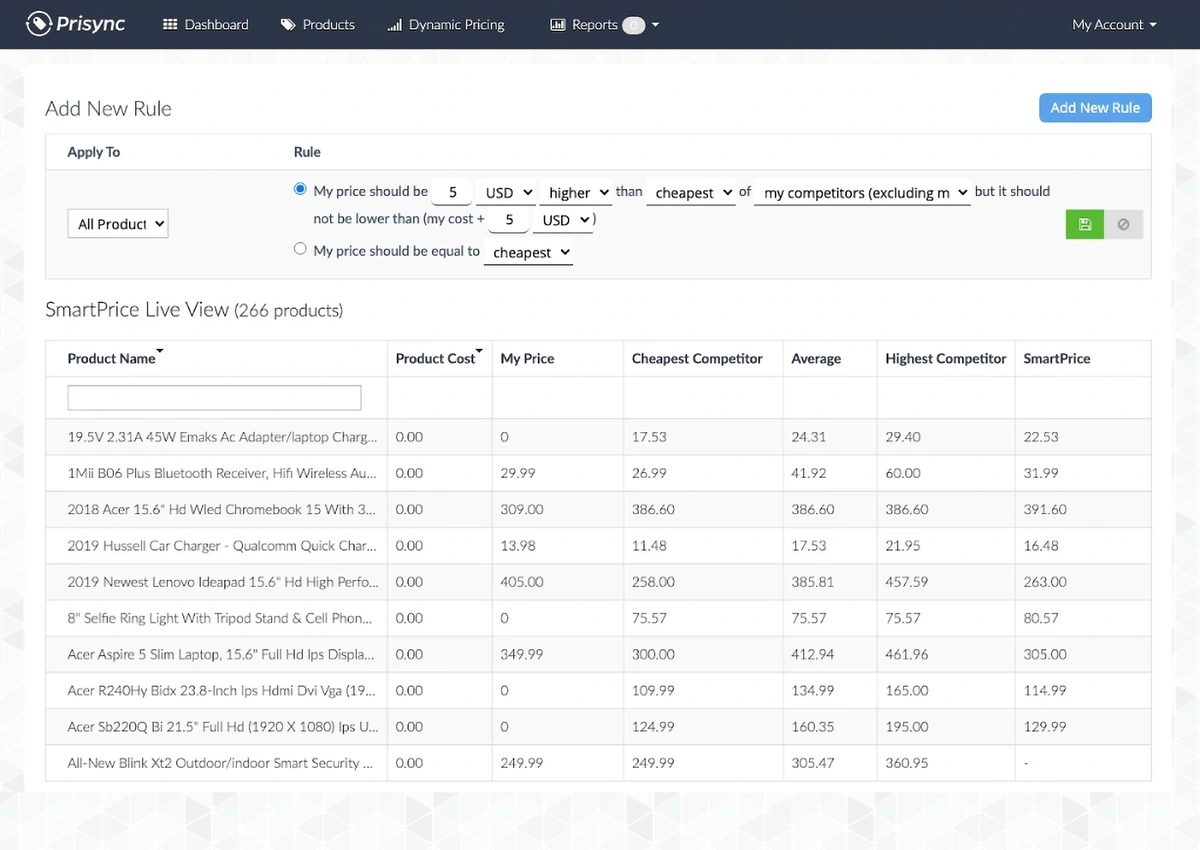 For example, in addition to tracking real-time price fluctuations, Prisync also has a price history tracking feature that provides insight into how prices are trending over time which helps you identify volatility in the market.
Crunchbase is a database of startups that makes it easy for users to find juicy data like funding round information, company size, and more.
To leverage Crunchbase as a discovery tool for market research, you can type in a niche and filter by other relevant information like total amount raised, location, and more.
From there, Crunchbase will give you a list of companies that meet the defined criteria.
For example, if I type in AgTech companies that received at least $1 million in funding in the last funding round, Crunchbase spits out all of these results: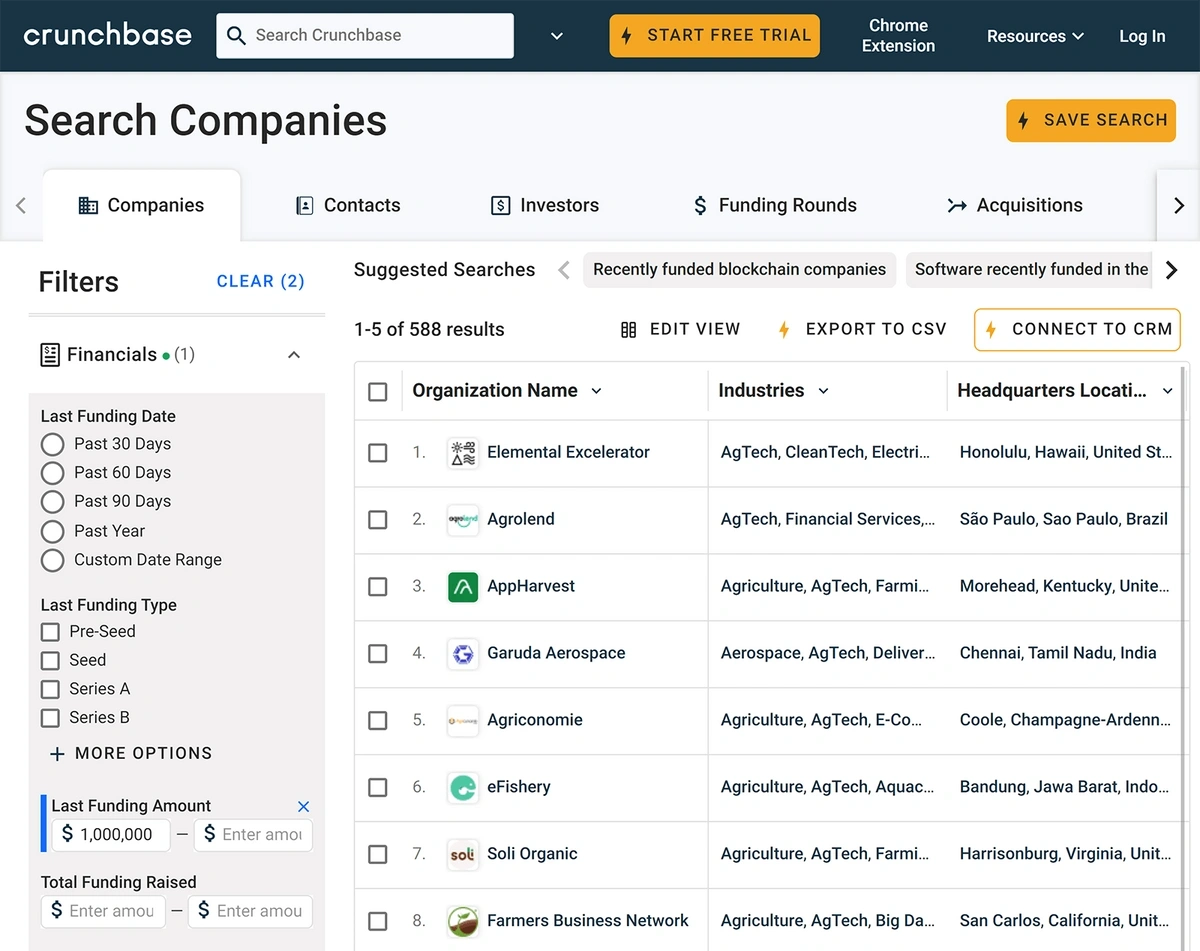 You can then click on each company and view more detailed information like investors, funding round details, employees, and more.
Customer Research
While all of the above resources are excellent for gathering initial information on a market, talking directly to customers is the best way to really understand if the market is ready for your product. So here are a few market research survey tools that make it easy to identify your target audience's key pain points.
SurveyMonkey is one of the most popular customer feedback and research tools as it allows you to create and launch an online survey in minutes.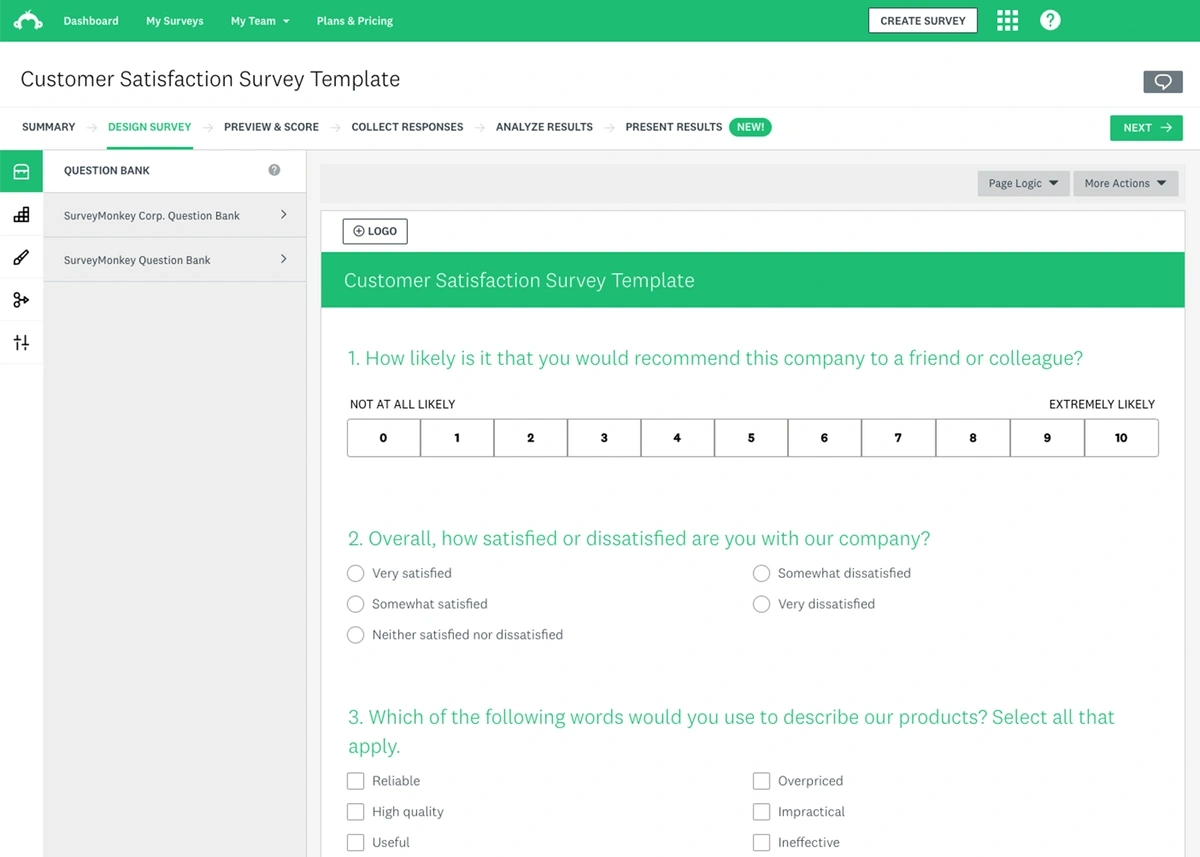 Given that you're still in the market research phase, you probably don't have customers to survey yet.
So to gather survey respondents, you have two options. First, you can partner with a company that already has a following of your ideal customers and ask them to run your survey to their audience.
Or, you can use SurveyMonkey's market research tool, which runs your survey to a specific audience that SurveyMonkey recruits.
SurveyMonkey's audience panels tend to be relatively broad (e.g., "college graduates," "smartphone owners," etc.), though it can be a great place to start. Pricing starts at $1 per response, and it requires a minimum of 200 responses, so you can expect pricing to start at $200 per survey.
If you need help launching the survey, they also provide expert help for survey design, translations, customer reporting, and more.
If you're interested in learning more about how SurveyMonkey ensures you receive high-quality responses, here's a resource on their approach to quality control.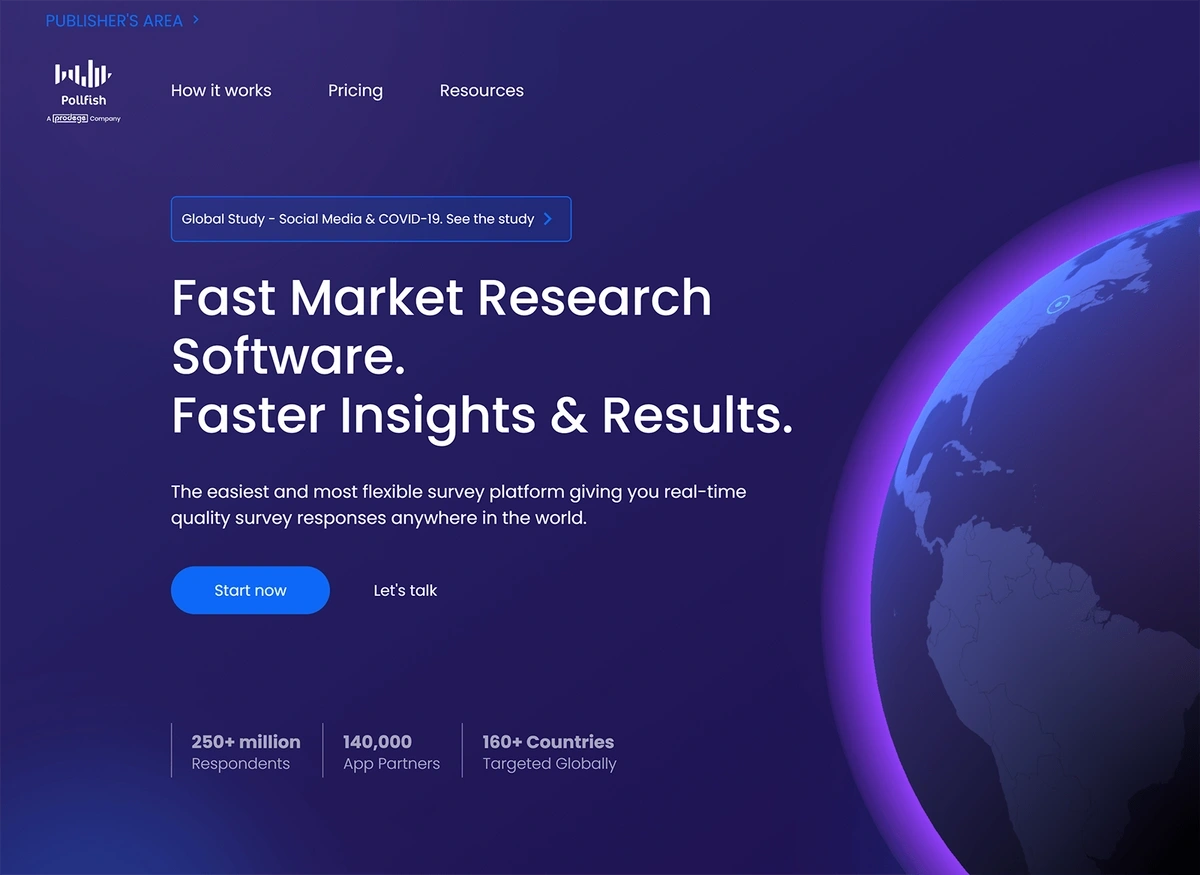 You can design the survey yourself from scratch, leverage a premade template, or hire one of their experts to do it for you. Even if you design the survey yourself, Pollfish has a team of real humans who review your questions before launching the survey to ensure responses are high-quality.
Pollfish also offers various question types, including multiple-choice, open-ended, ranking, and more.
Another benefit of Pollfish is that it allows you to survey a very specific audience. First, you can select specific audience criteria (e.g., smartphone usage, location, gender, etc.), and then you can narrow it even further with screening questions. m
For example, you can run a survey to females in the United States and ask a screening question like "How much have you invested in cryptocurrency?" Then, you can pass only respondents that have invested above a certain threshold in cryptocurrency.
You can read how Pollfish approaches survey accuracy and prevents fraud in its policy guide.
You'll probably do several live calls with potential customers during the market research process. Discuss makes it easy to initiate and store these conversations, and it also helps you later turn them into actionable insights.
To get started, you can set up interviews with your target audience directly inside the Discuss platform. On the call, you can explore the potential customer's key pain points, gaps in the market, and other relevant information.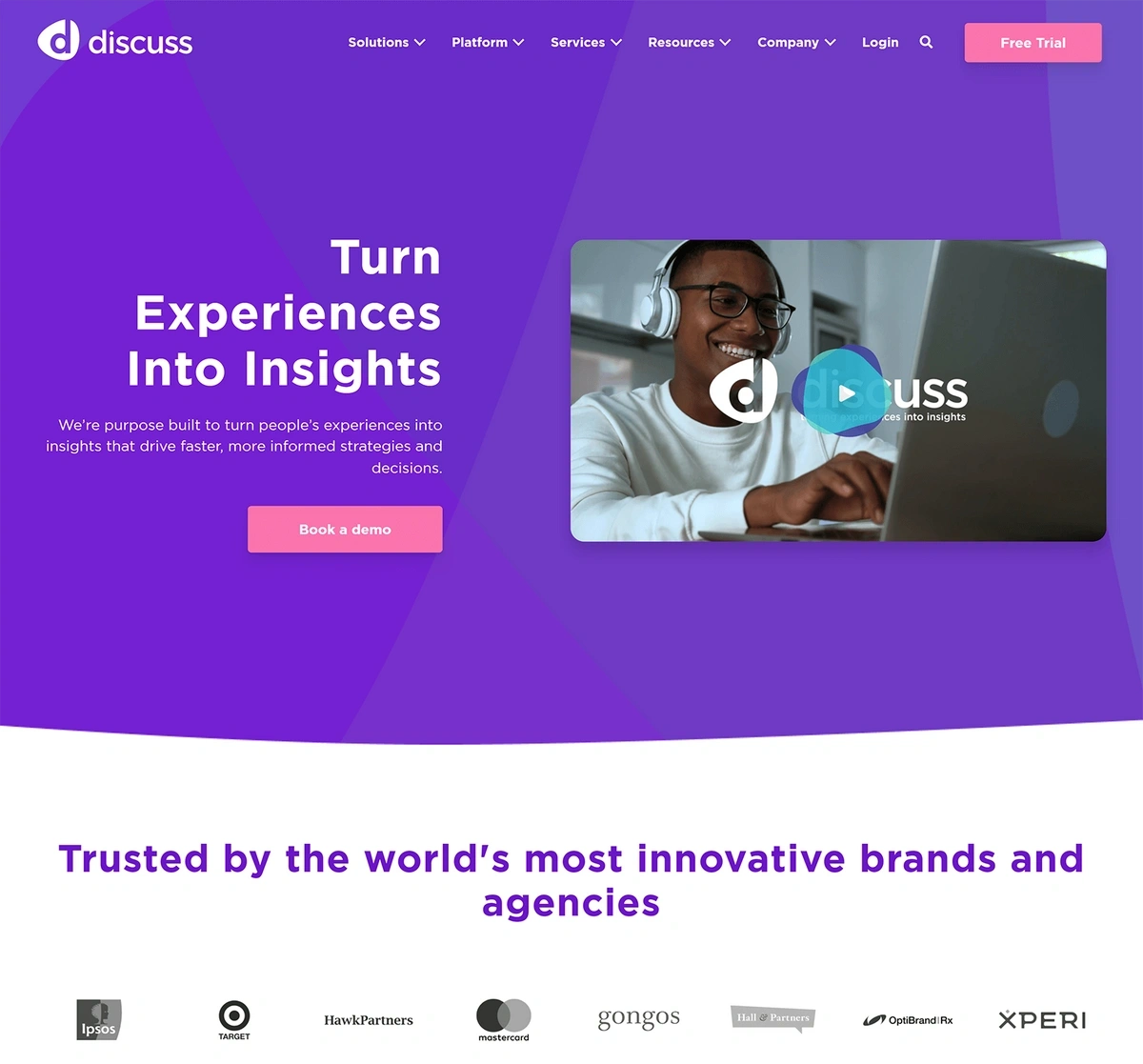 Discuss captures the entire recording and generates a corresponding transcript. Once you've recorded several calls, Discuss makes it easy to pull key insights from each call.
Here are just a few of the features Discuss advertises for research teams:
Dedicated observer backroom
Integrated discussion guides
Interactive Stimuli Sharing
Auto-clipping with 'Save Moment' button
Live polling and analysis
Selecting A Best Market Research Tool
Hopefully these tools help you sift through market research data more efficiently and make better investment decisions.
If you don't yet have a solid market research process, consider adopting the four step strategy outlined in this post. So to get started, browse the Exploding Topics Trends Database for free right now and start monitoring the latest up and coming trends.