10 Trends to Watch For Investors and Entrepreneurs
There are plenty of trend predictions each year, but this list covers trends showing promising long-term investment opportunities for investors and entrepreneurs.
For each trend, we provide market metrics and cover examples of growing brands and products in the industry that you can research in more detail.
Here are the ten trends to watch for 2023 and beyond:
1. AI
Spurred by the launch of OpenAI, the general AI industry is quickly becoming one of the most exciting trends to watch for the coming years.
Since the release of ChatGPT in November of 2022, the keyword "OpenAI" has received nearly 22,000 global monthly searches and shows no signs of slowing down.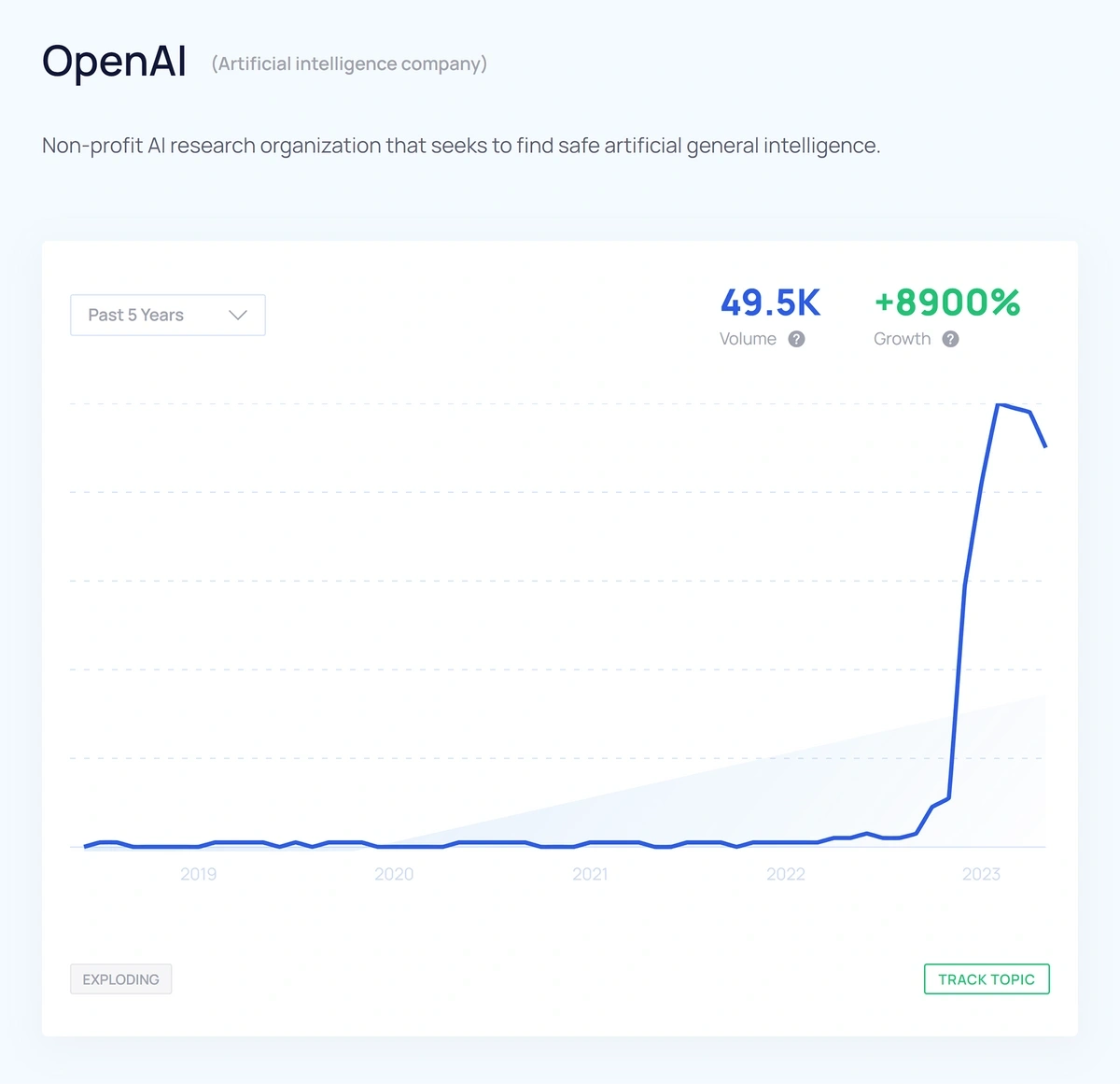 VC firms are also clearly interested in AI because funding for AI startups has skyrocketed despite a general decline in investment activity.
Data from Pitchbook shows that the total investments in AI startups for the first quarter of 2023 have already reached $90 million. That's more than double the total funding AI startups received in all of 2022: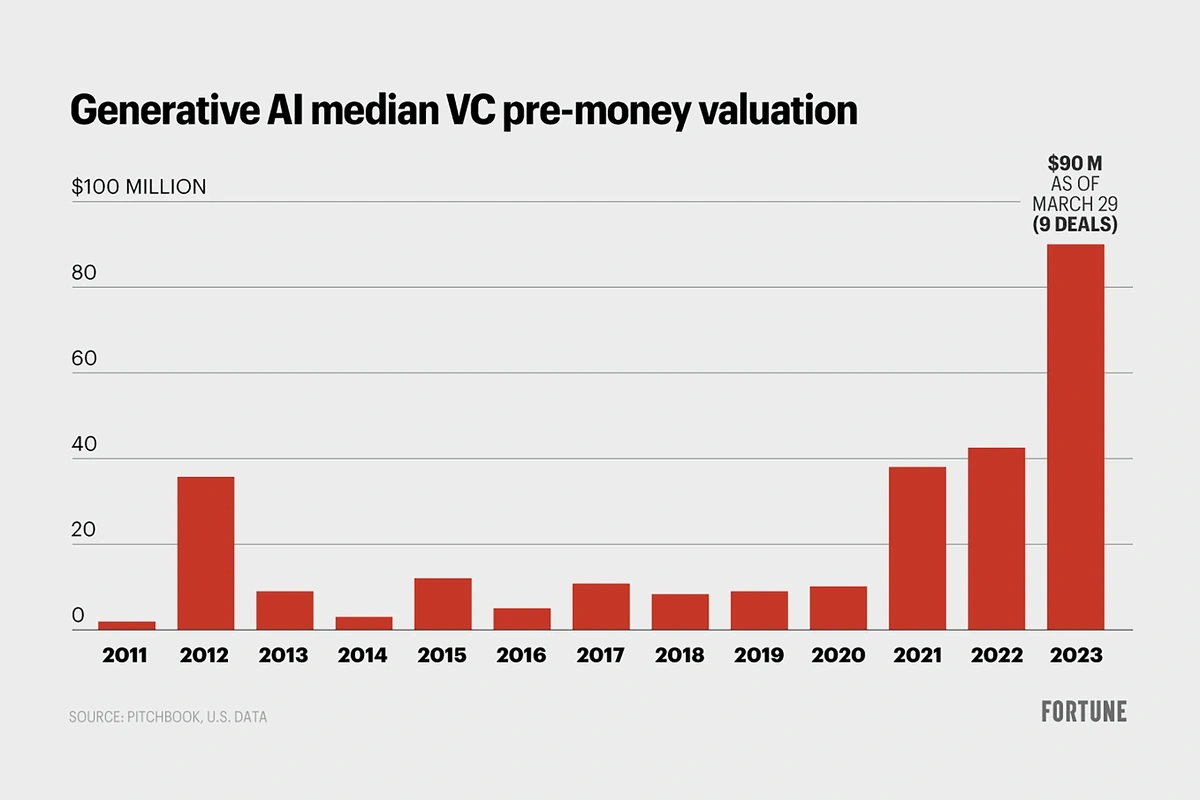 There's been an explosion of demand for AI engineers as companies scramble to incorporate AI.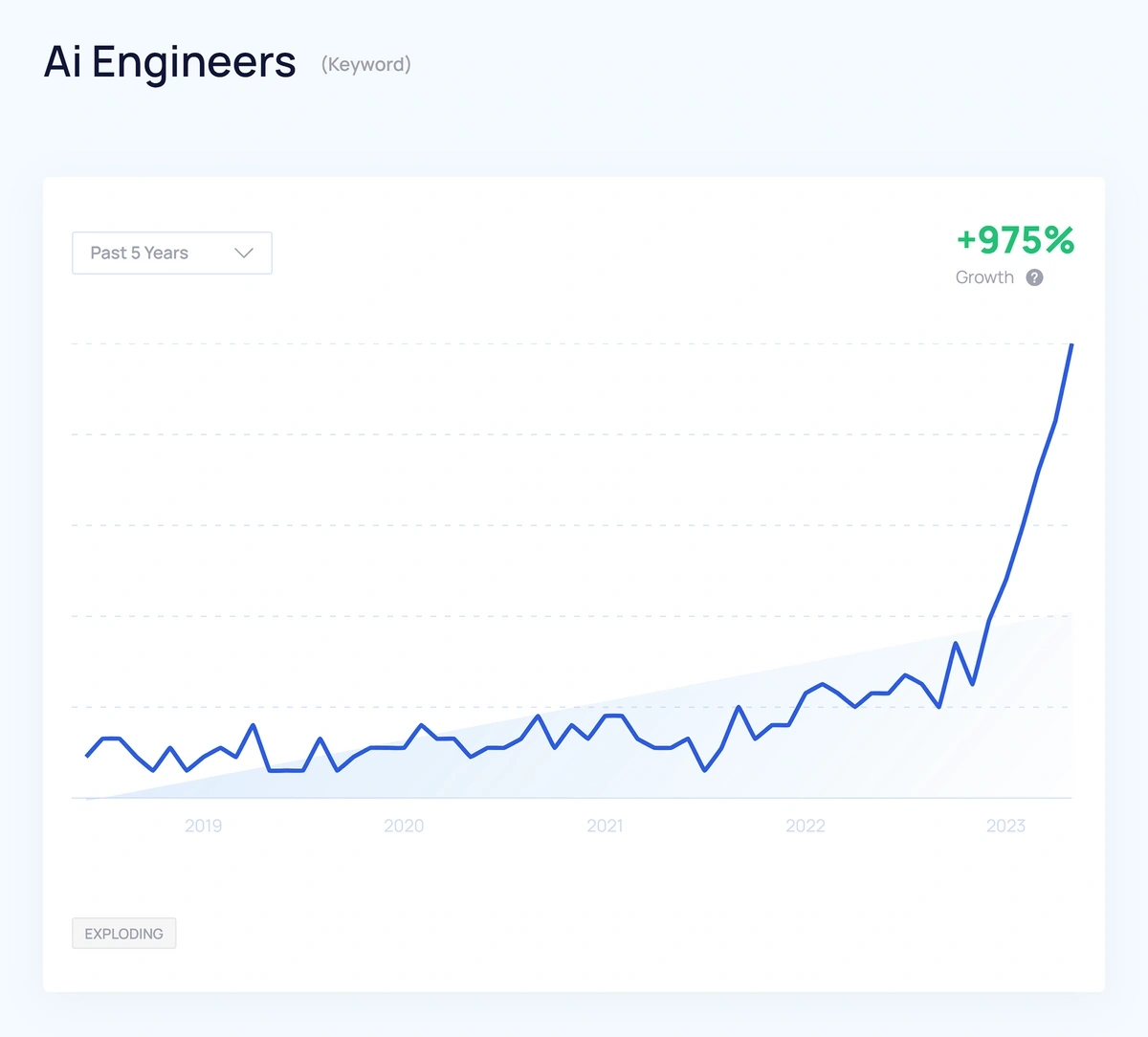 In addition to Open AI, a few of the most promising AI startups that have seen explosive growth over the last year include:
Frame AI: A customer success platform that helps companies improve customer retention and acquisition.
Moveworks: AI software for HR that answers employee questions and automates tasks like granting software access and routing documents.
CloudMinds: It's end-to-end software for robots and can function as a receptionist, security bot, or even handle customer support.
While AI is still in its infancy, it's one of the fastest growing trends in history and many business leaders have stated that they're confident it will continue to be a significant trend well into the future.
2. Remote Work
The pandemic may have spurred remote work growth, but it has continued to grow at an explosive pace even as the pandemic subsides.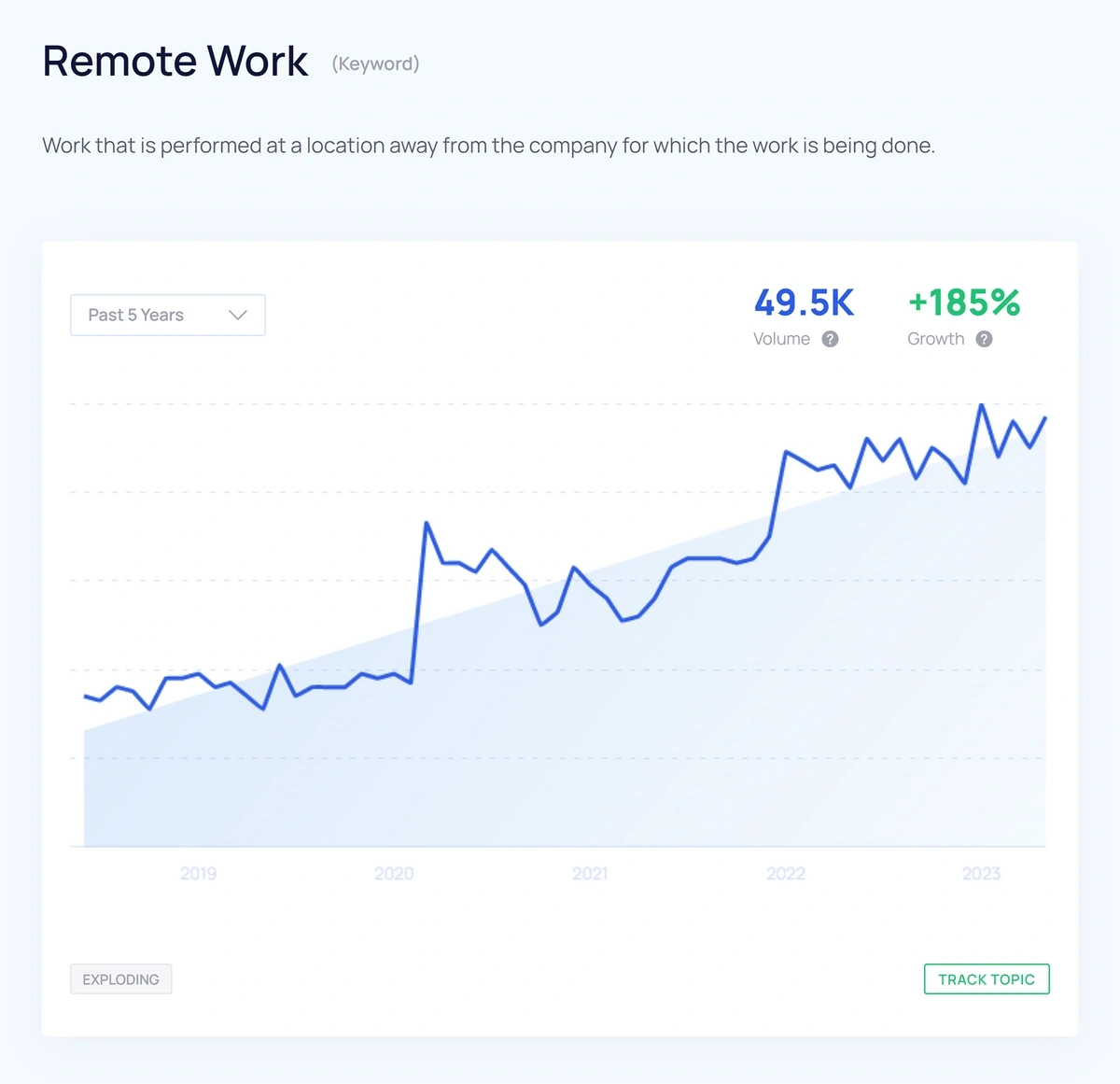 According to Buffer's State of Remote Work survey, about 64% of employees are fully remote, a significant increase from 2022, when only 49% operated fully remotely.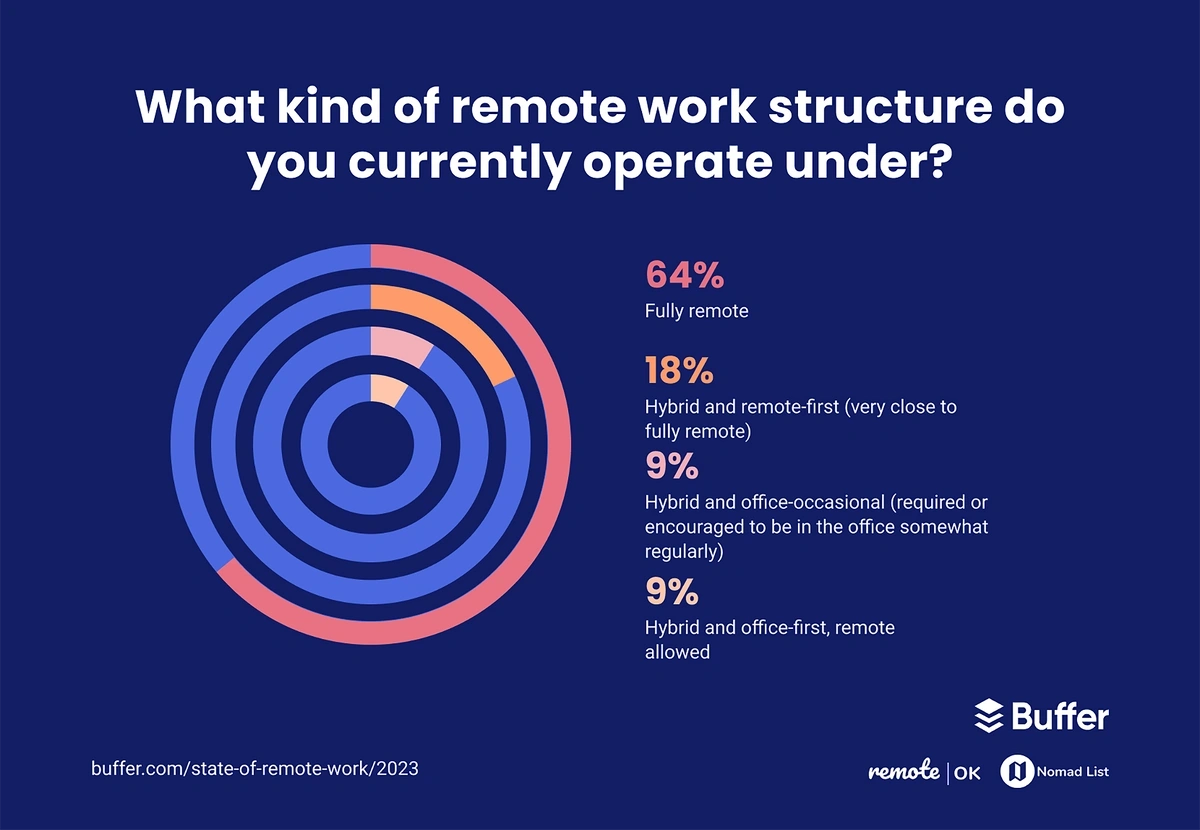 A recent study by Bloomberg also showed that 39% of employees are likely to change jobs if their employers require them to work at the office, so offering remote work options is now critical to retaining top talent.
Searches for various remote jobs have also increased: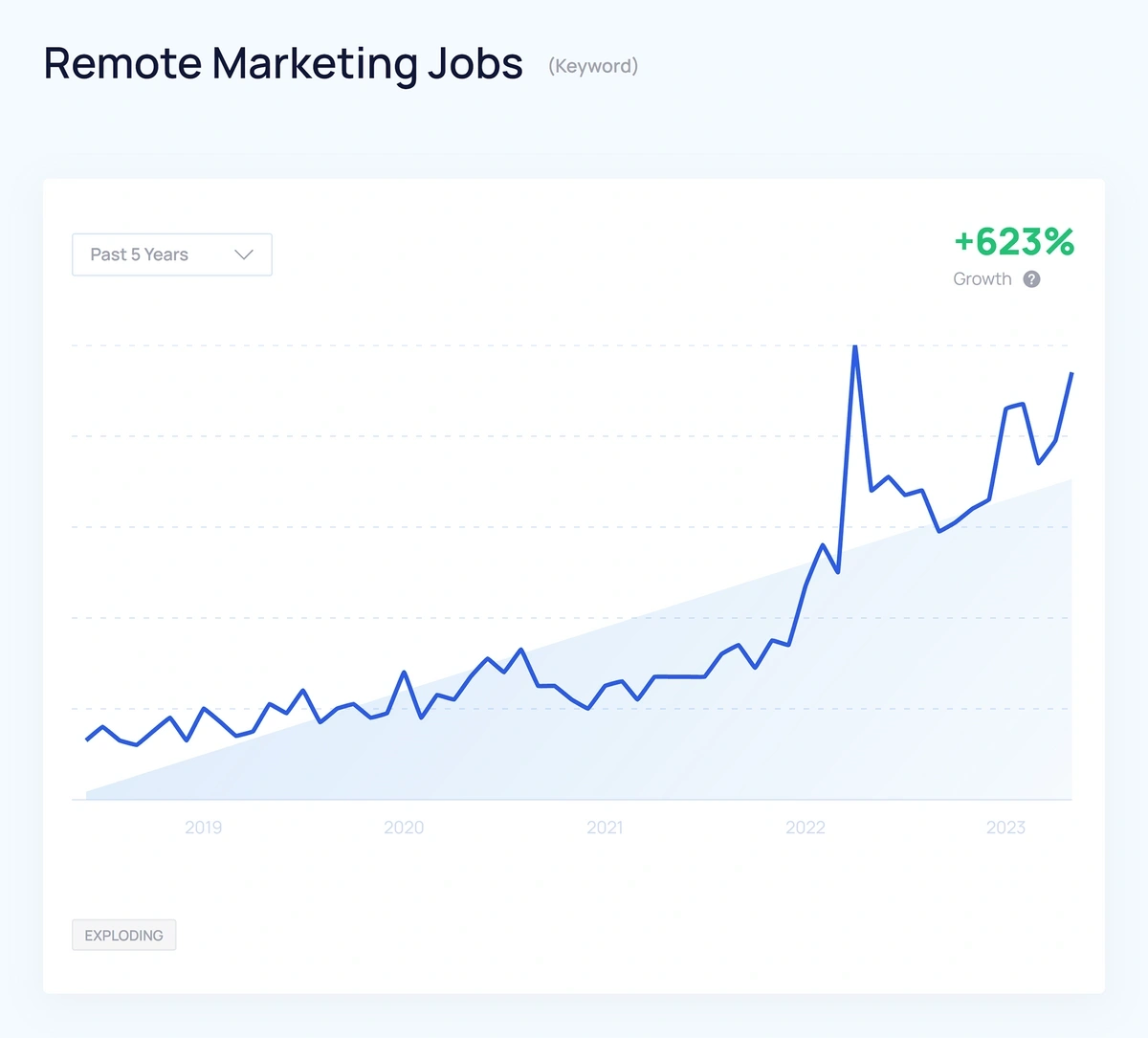 Another factor that suggests the remote work industry will continue to expand in the coming years is the steady growth of brands selling remote work software.
Miro, a visual collaboration tool, is one of the startups that has ridden the remote work wave and is now valued at over $17 billion.
There's also an uptick in search volume for remote employee training tools like Skillup, Percipio, and Ubits.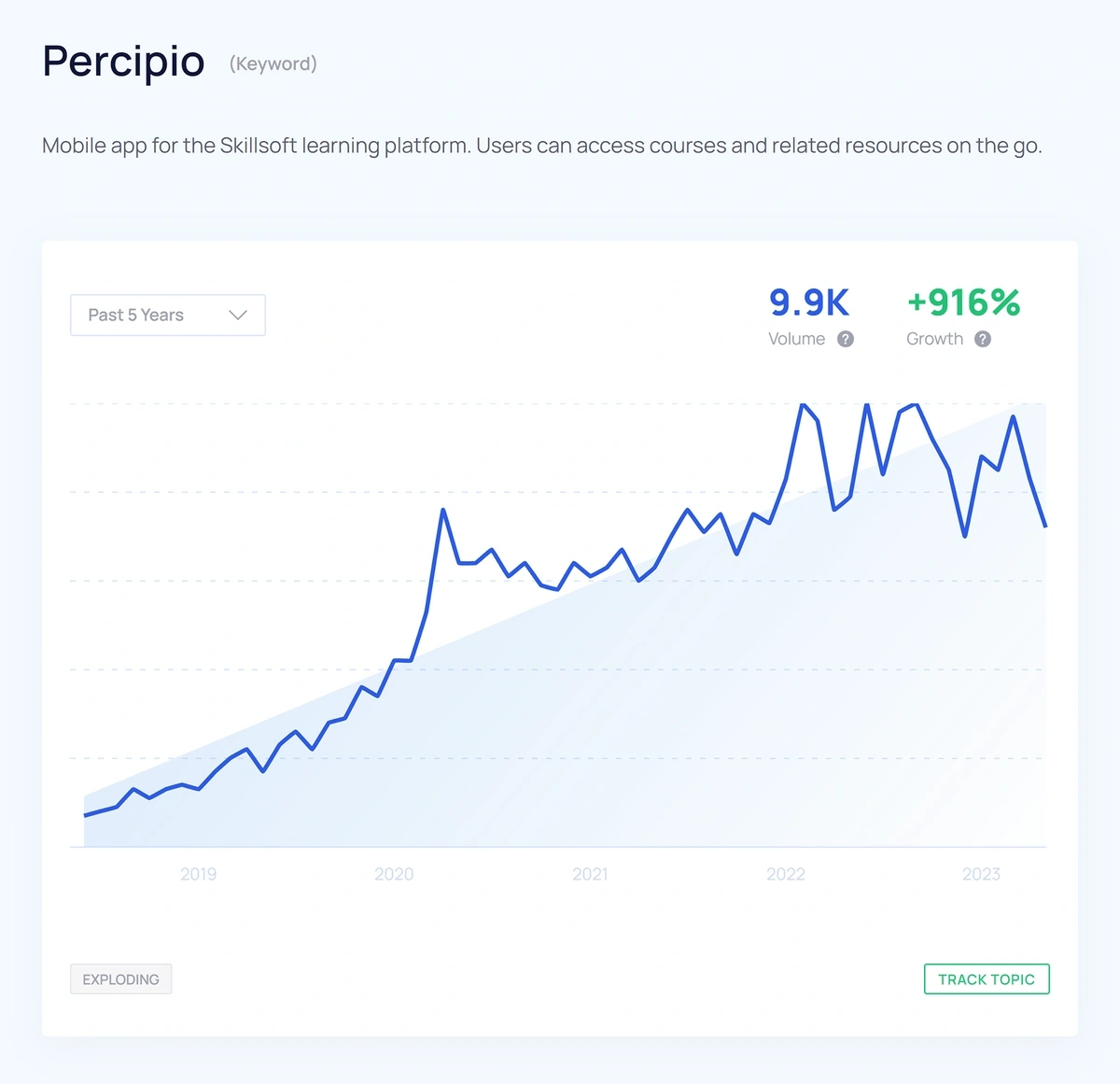 3. Creator Economy
The creator economy is currently valued at just over $100 billion, though it's expected to double to about $200 billion by 2026.
As capturing audience attention becomes increasingly challenging, the value of attention is also skyrocketing, which creates the perfect storm for successful creators to make a comfortable living promoting products and services to their audiences.
As more people treat content creation as a full-time job, the demand for tools and services to make the content creation process easier has soared.
First, AI writing tools like Hyperwrite and Copy.ai have exploded to automate text-based content creation.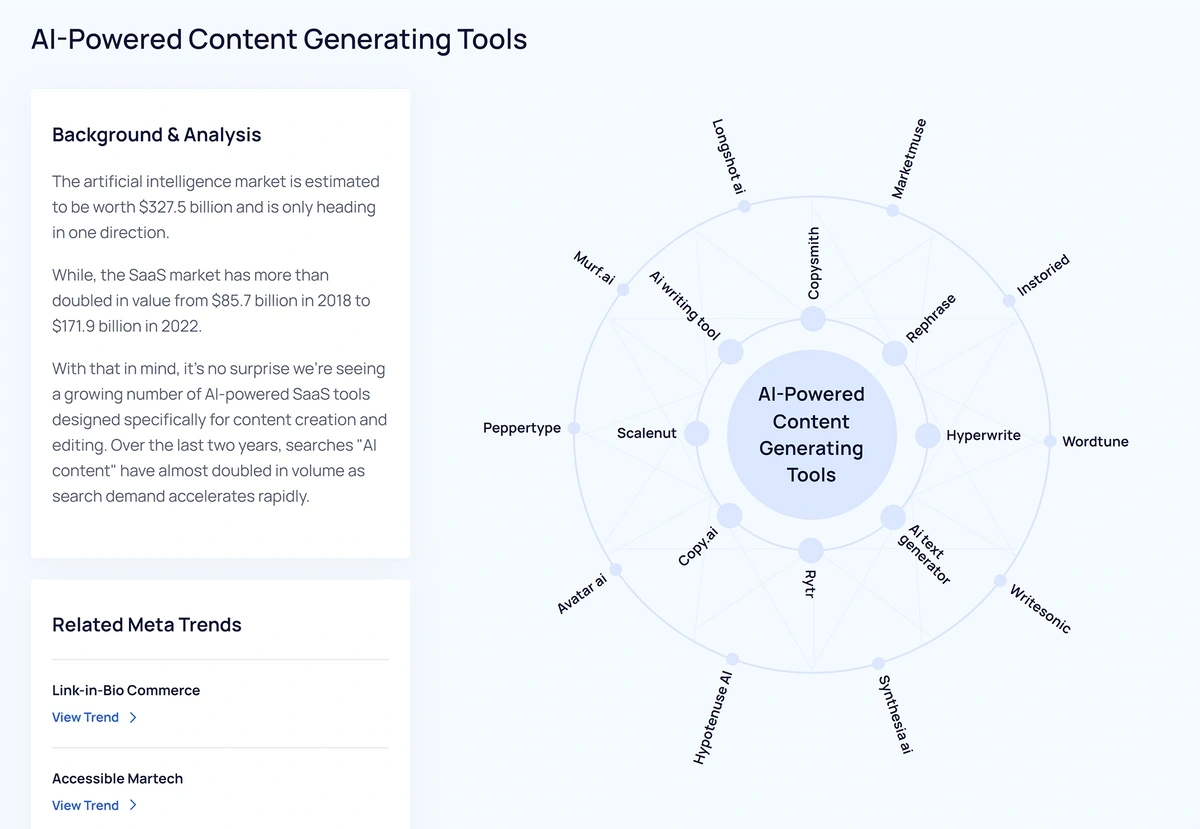 Canva, which makes it easy for creators to design simple graphics, is another great example of a company riding the creator economy wave as it recently reached a stunning $40 billion valuation.
ConvertKit is also profiting from the creator economy trend, as it recently reached $29 million in ARR with 36,000 customers.
Influencers with strong audiences are also proving to be valuable business partners.
For example, Mint Mobile founder, David Glickman, approached influencer Ryan Reynolds and offered a 25% stake in the company to aid the company's PR and branding.
It worked out well, as the company was sold just a few years later for more than $1 billion to T-Mobile.
4. Pet Healthcare
Pet ownership has steadily increased over the past several years, though the total pet care market has risen significantly from $90.5 billion in 2018 to $136.8 billion in 2022.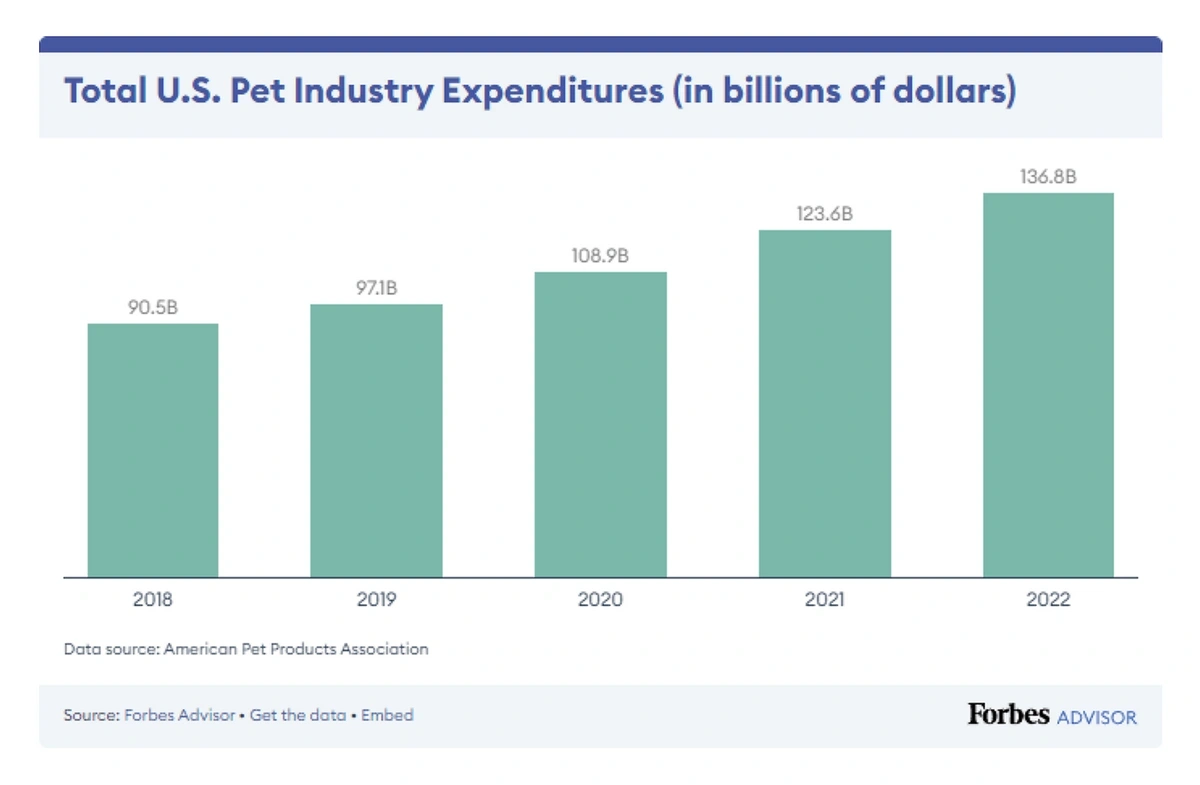 The dramatic increase in total pet expenditure is probably thanks to new pet products and services that previously weren't available.
Some new popular pet products include healthier pet food, pet insurance, pet supplements, and even pet DNA kits.
The financial data of these pet companies also looks promising.
For example, the pet supplement brand, Zesty Paws, was sold for a staggering $610 million, and Bond Vet, a New York-based vet care clinic, recently raised $170 million.
The insurance company, Lemonade, also recently expanded to offer pet insurance with great success.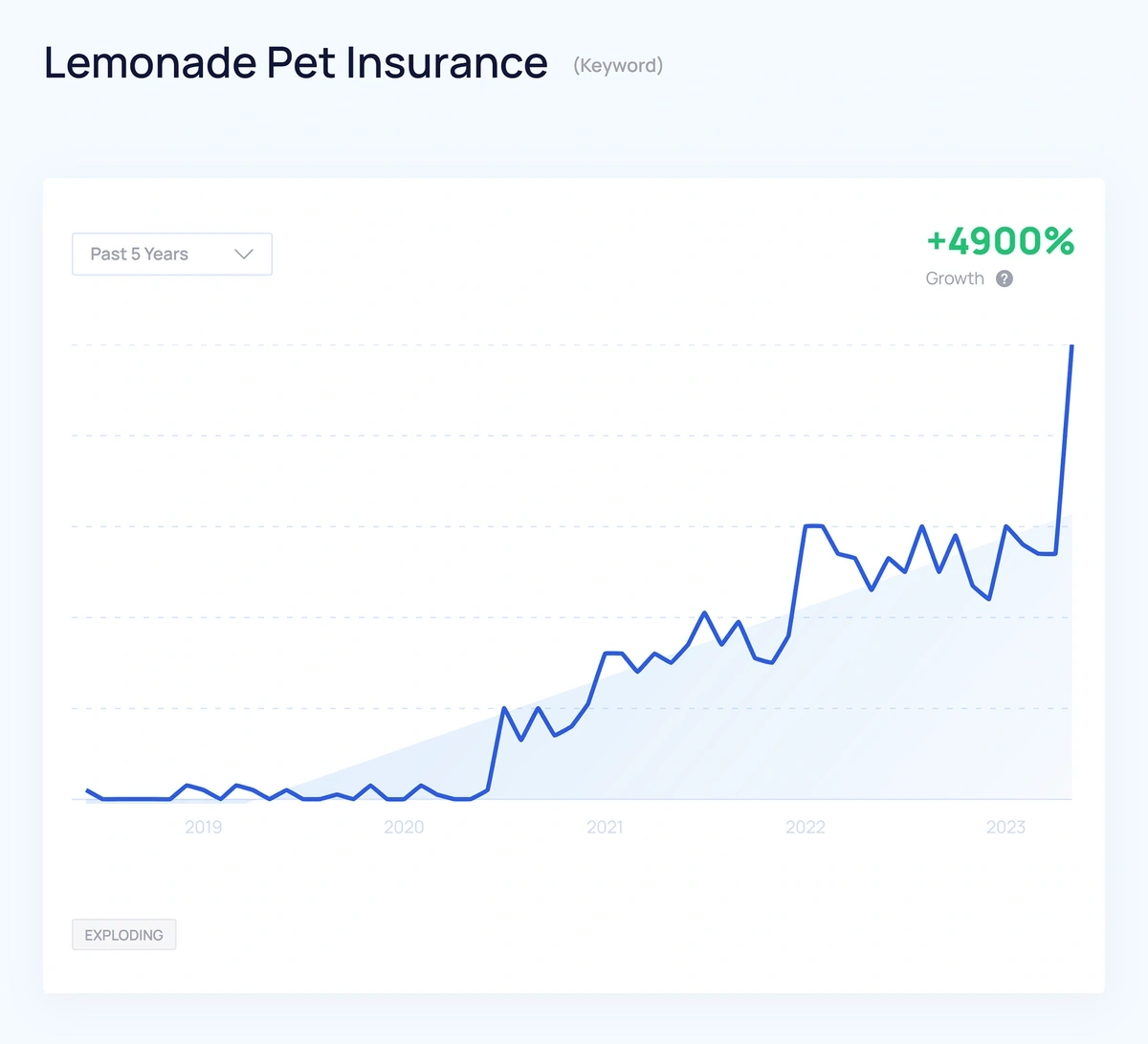 5. Wearable Technologies
The general fitness and wellness market has expanded significantly in the past several years, and wearable technologies have emerged as one of the fastest-growing niches within the industry.
The wearable technology market is expected to reach $265.4 billion by 2026, and the growth trajectory of the leading startups in the space further supports this forecast.
Sleep and general fitness tracker WHOOP was recently valued at $3.6 billion and is just one example of a wearable technology brand that has taken off over the past few years.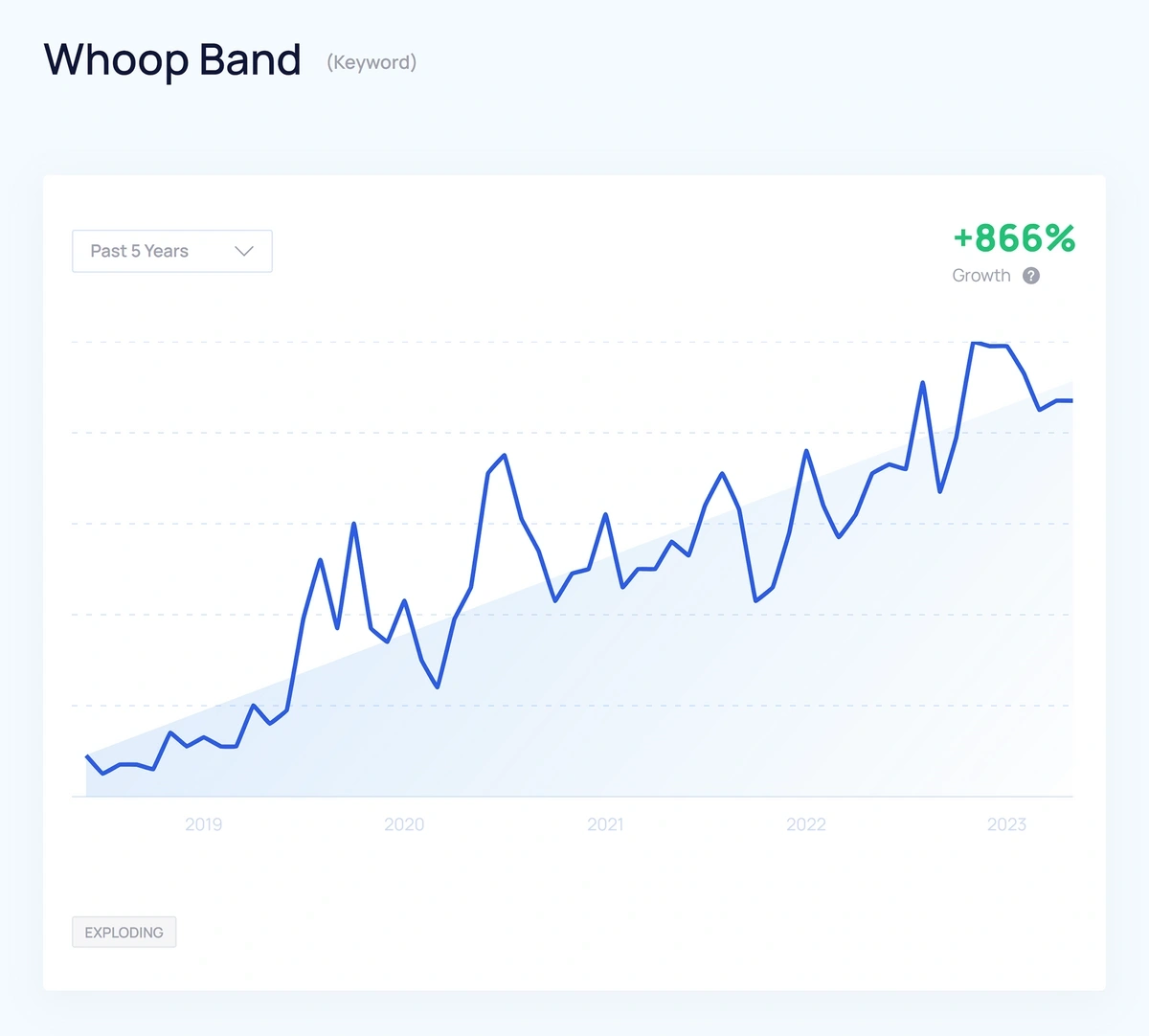 Another wearable device that has exploded in recent years is the Oura ring, which is currently valued at $2.55 billion and has sold more than a million rings worldwide.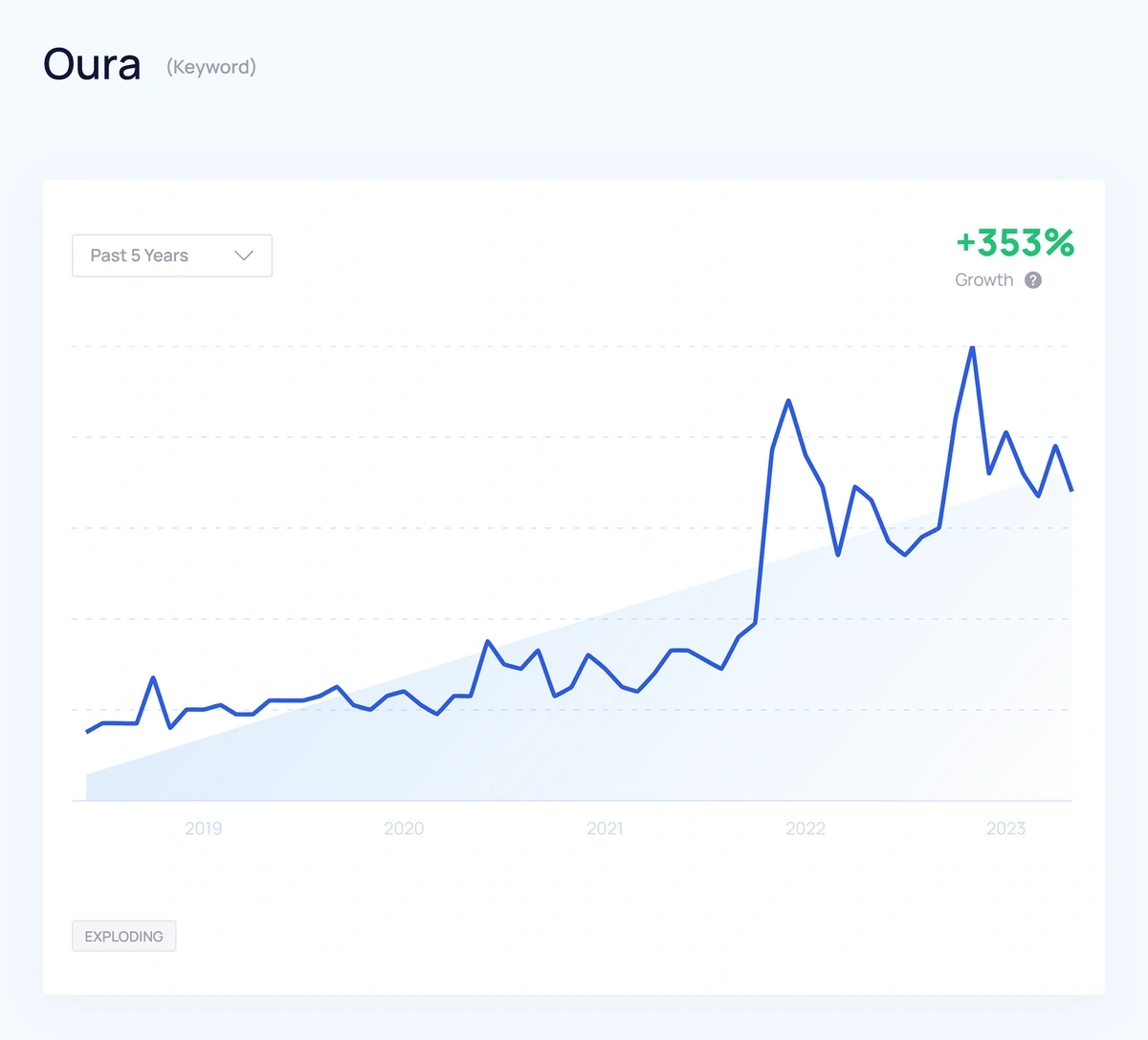 However, it isn't just casual fitness enthusiasts using wearable technologies.
Many healthcare professionals are now leveraging wearable blood pressure and ECG monitors to monitor patients remotely.
Recent VC funding activity also shows that investors are confident that interest in wearable technologies will continue to grow.
For example, SiFive, a hardware company for next-generation wearables, recently raised $175 million to push its valuation over $2.5 billion.
6. Extended Travel
As more companies shift to remote work policies, interest in the digital nomad lifestyle has risen exponentially, especially among gen z and millennials.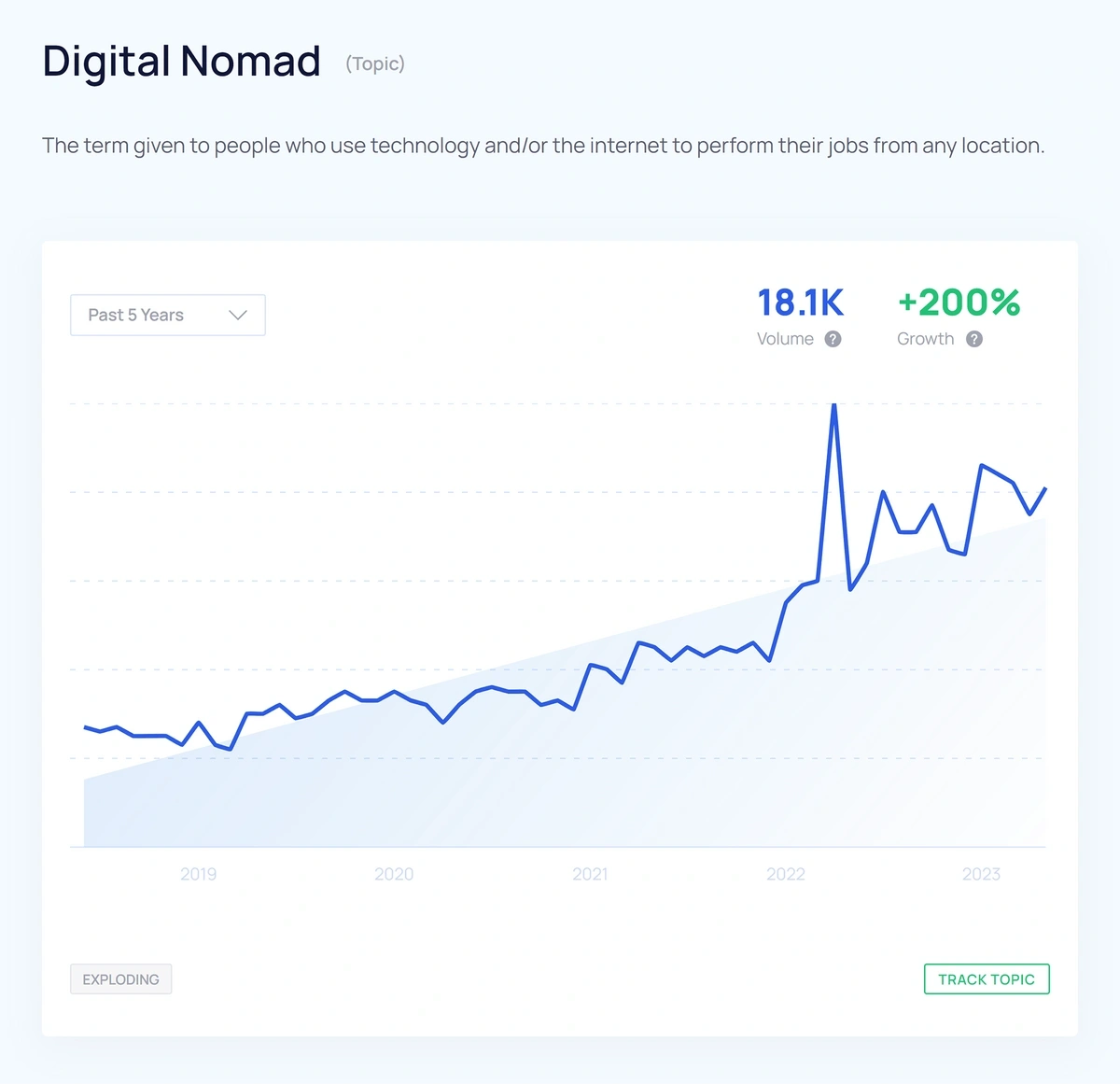 However, travel can be complicated and expensive, so this trend has created demand for various travel startups.
Avelo Airlines is a perfect example of a startup that has benefited from the increased interest in affordable travel from gen z and millennials as it recently closed a $42 million Series B round.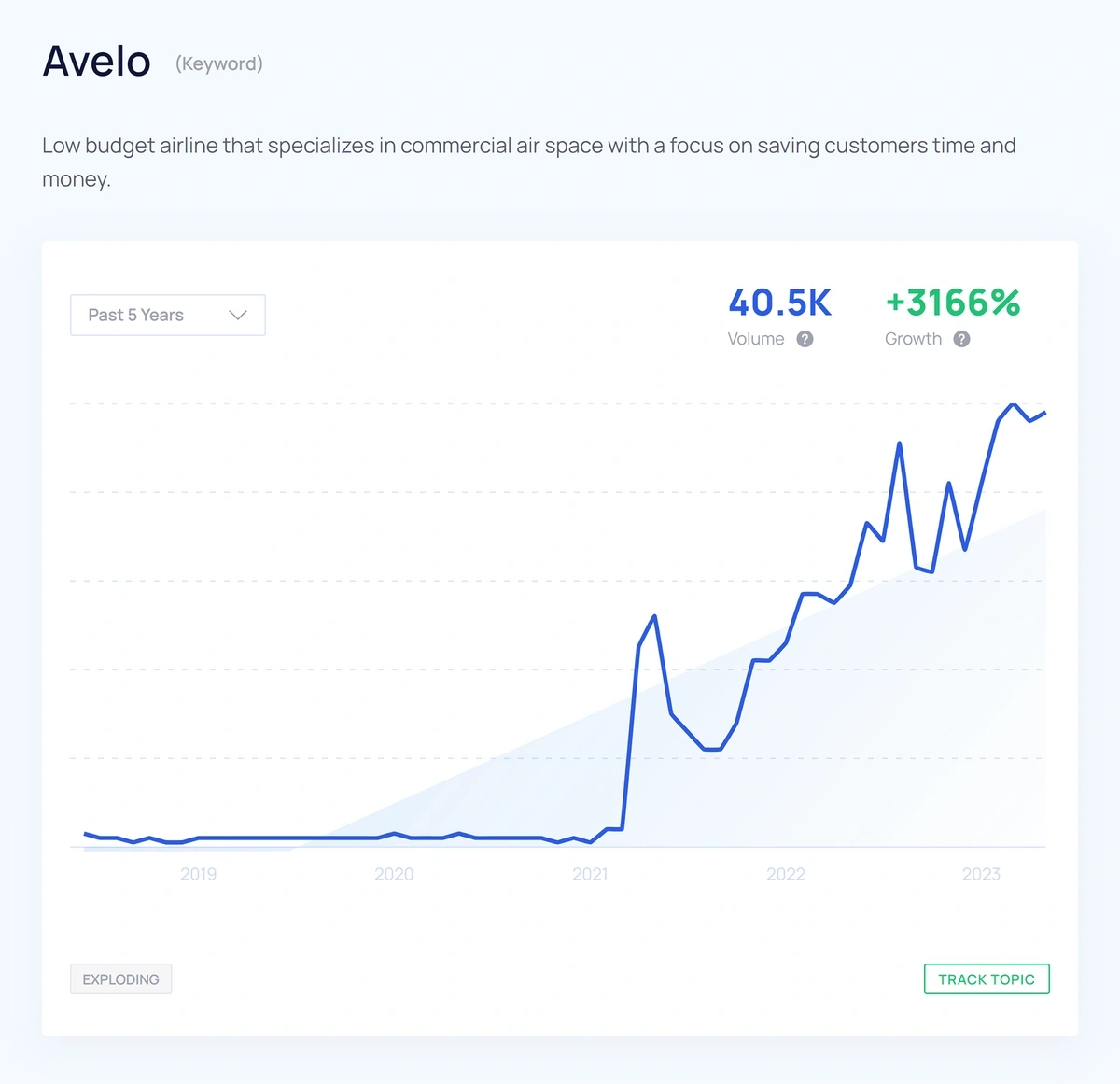 Another key challenge digital nomads face is language barriers, so the demand for language learning apps like Duolingo continues to grow.
In 2022, Duolingo reported an annual revenue of $369.5 million, which was an increase of 47% from the previous year. It also recorded record-breaking sales, and general engagement continues to trend steadily upward.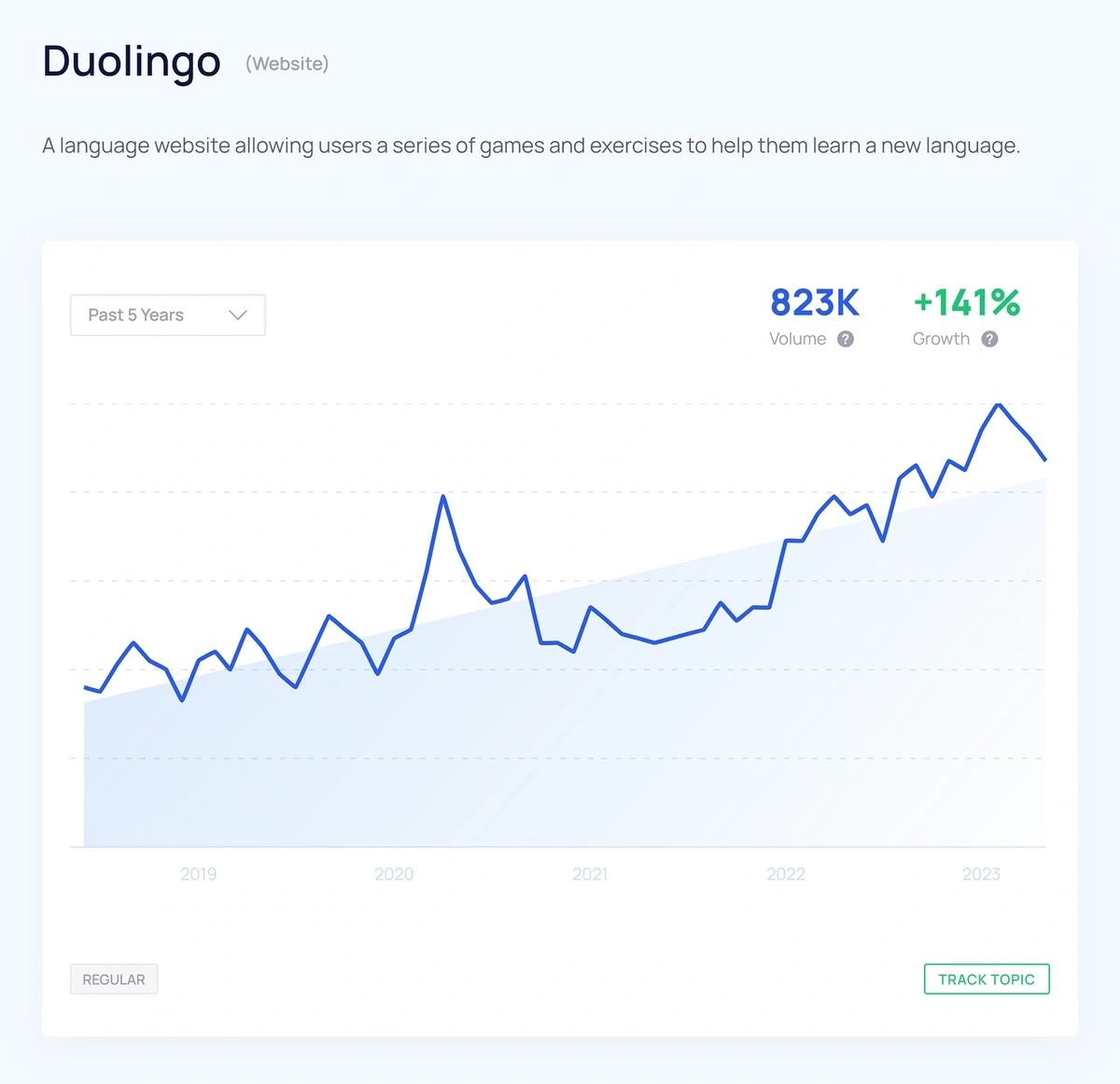 Another startup helping travelers enjoy a more authentic travel experience is TasteAtlas, which helps travelers quickly find the best local food.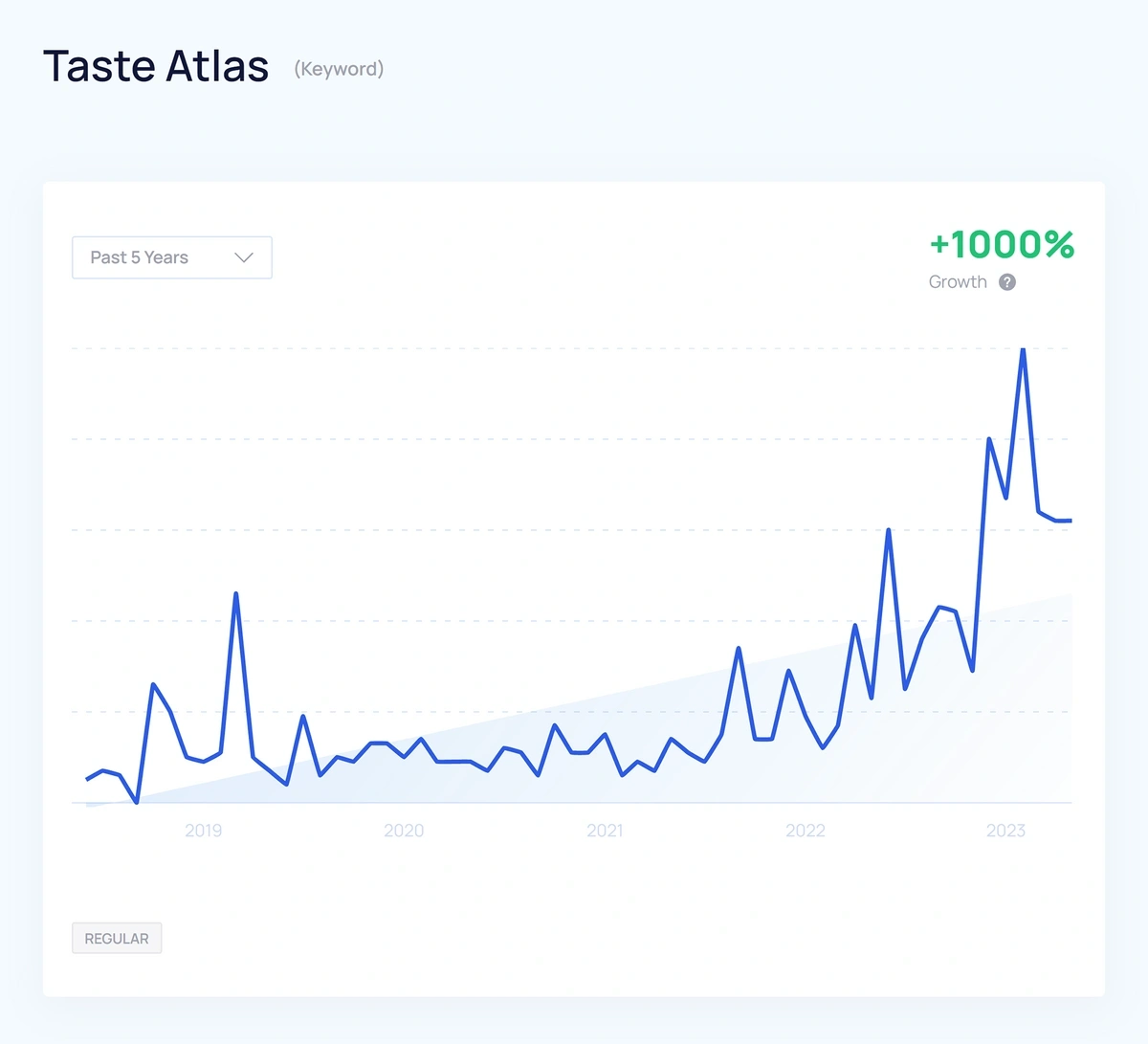 Medical care is also a major concern for digital nomads, and several growing startups are leveraging this trend with great success. The startup SafetyWing has raised nearly $50 million to help nomads get insurance and is showing promising general search growth.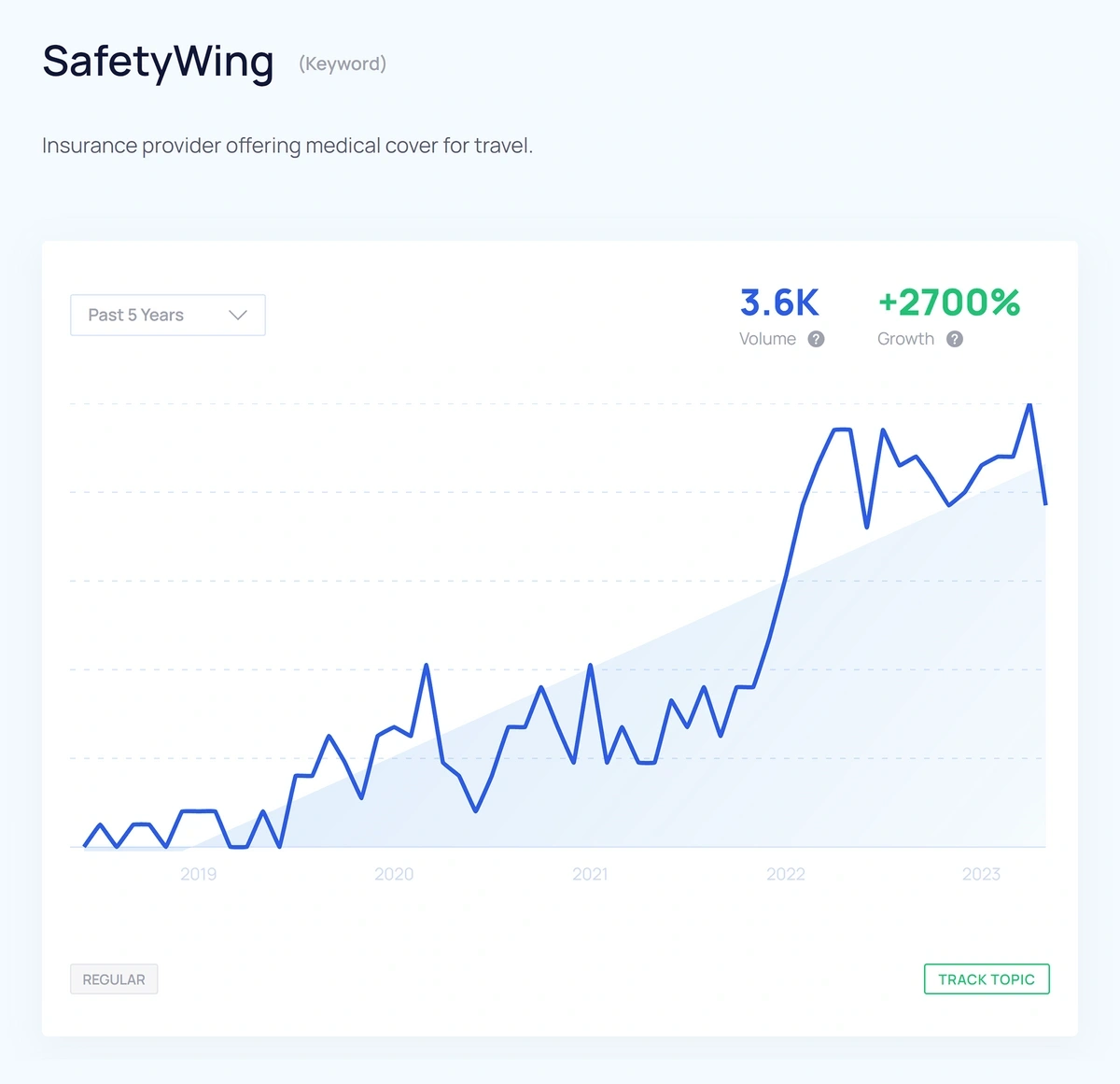 7. FemTech
After several decades of minimal innovation in feminine care, women are demanding higher-quality products that are more convenient and sustainable.
The total number of femtech companies has skyrocketed in recent years, and the femtech sector's market share of the total digital healthcare market nearly doubled from 7.6% in 2020 to 13.26% in 2022.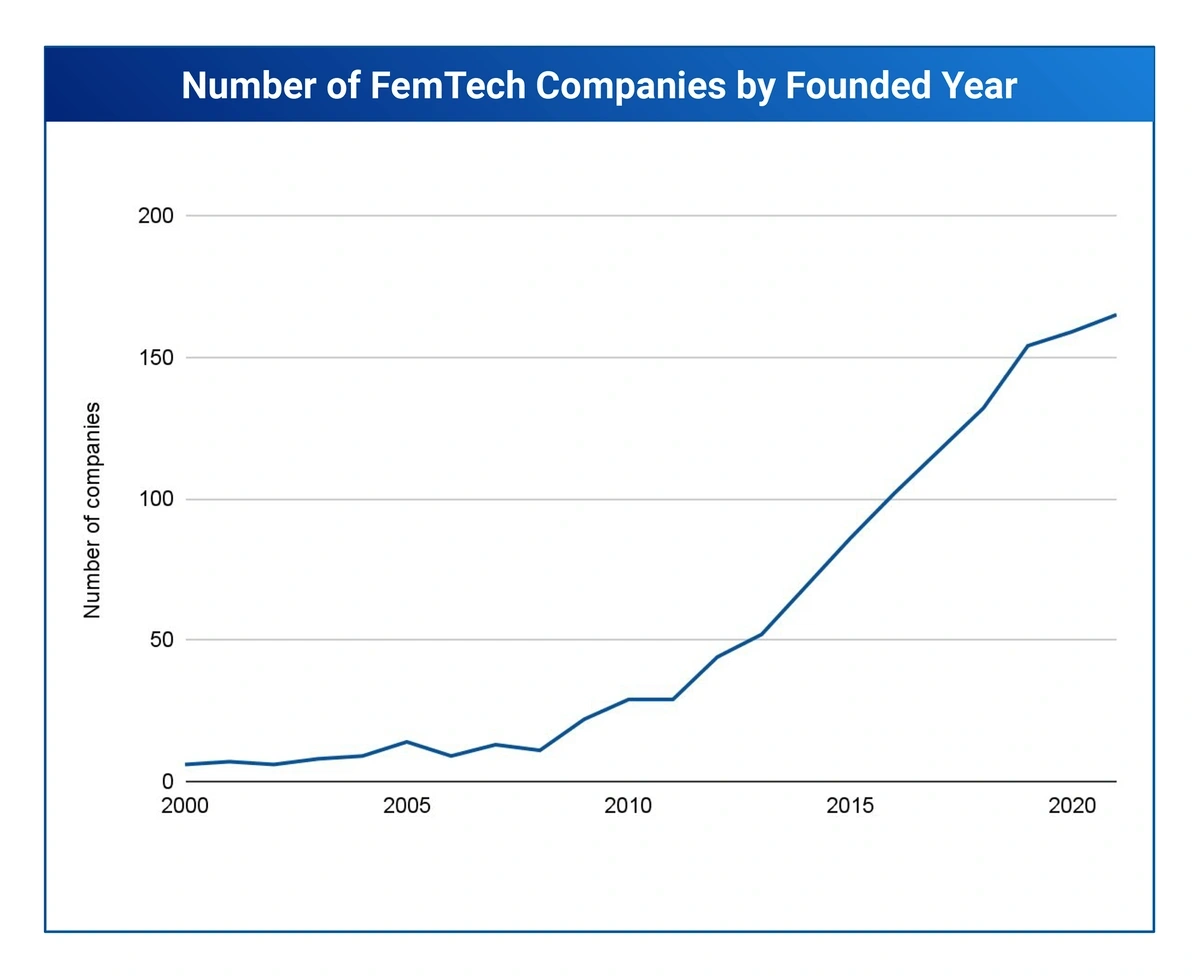 Within the femtech market, pregnancy and nursing is the leading subsector at 20%, while reproductive health and contraception is the second largest subsector at 17%.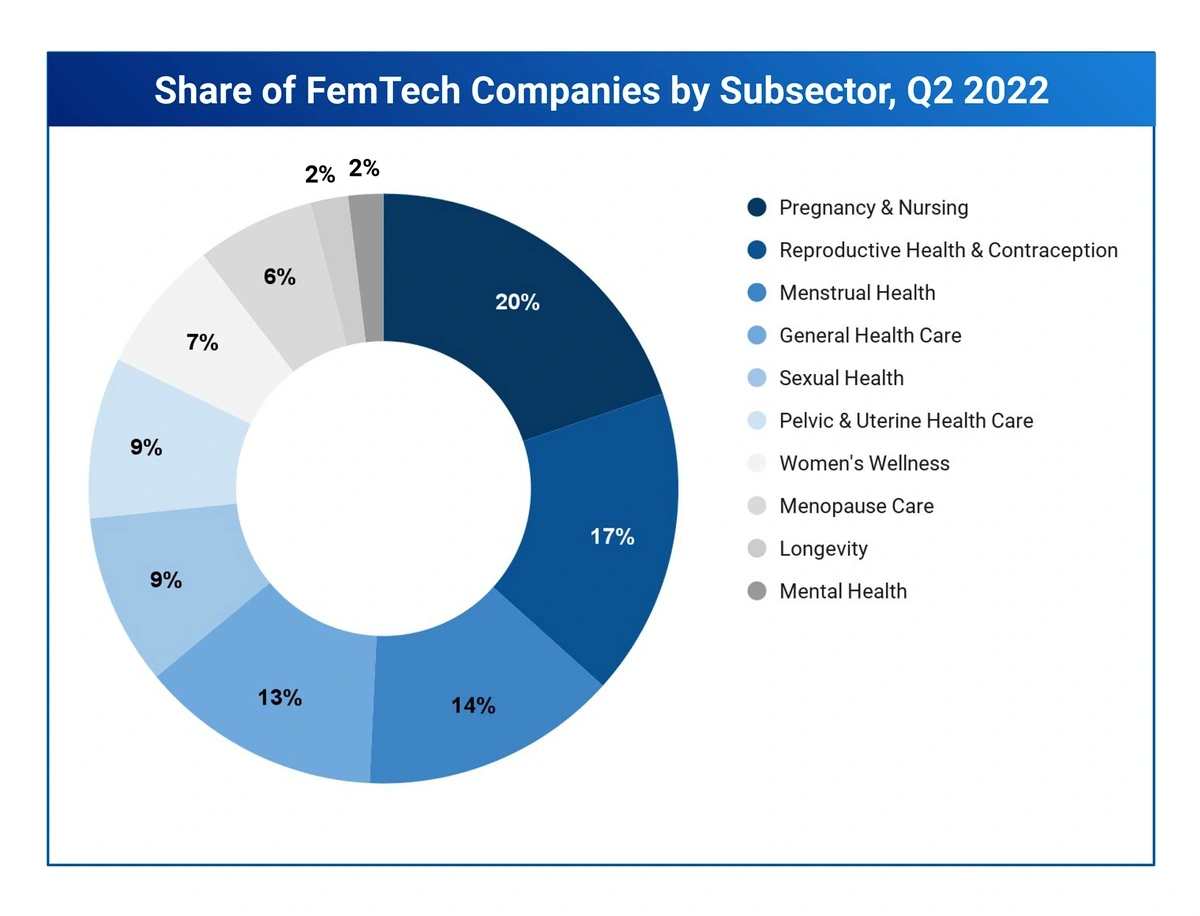 Some of the leading femtech brands that suggest the femtech market will continue to growth include:
You'll also see that all of these brand names have steadily generated more and more search volume over the past several years: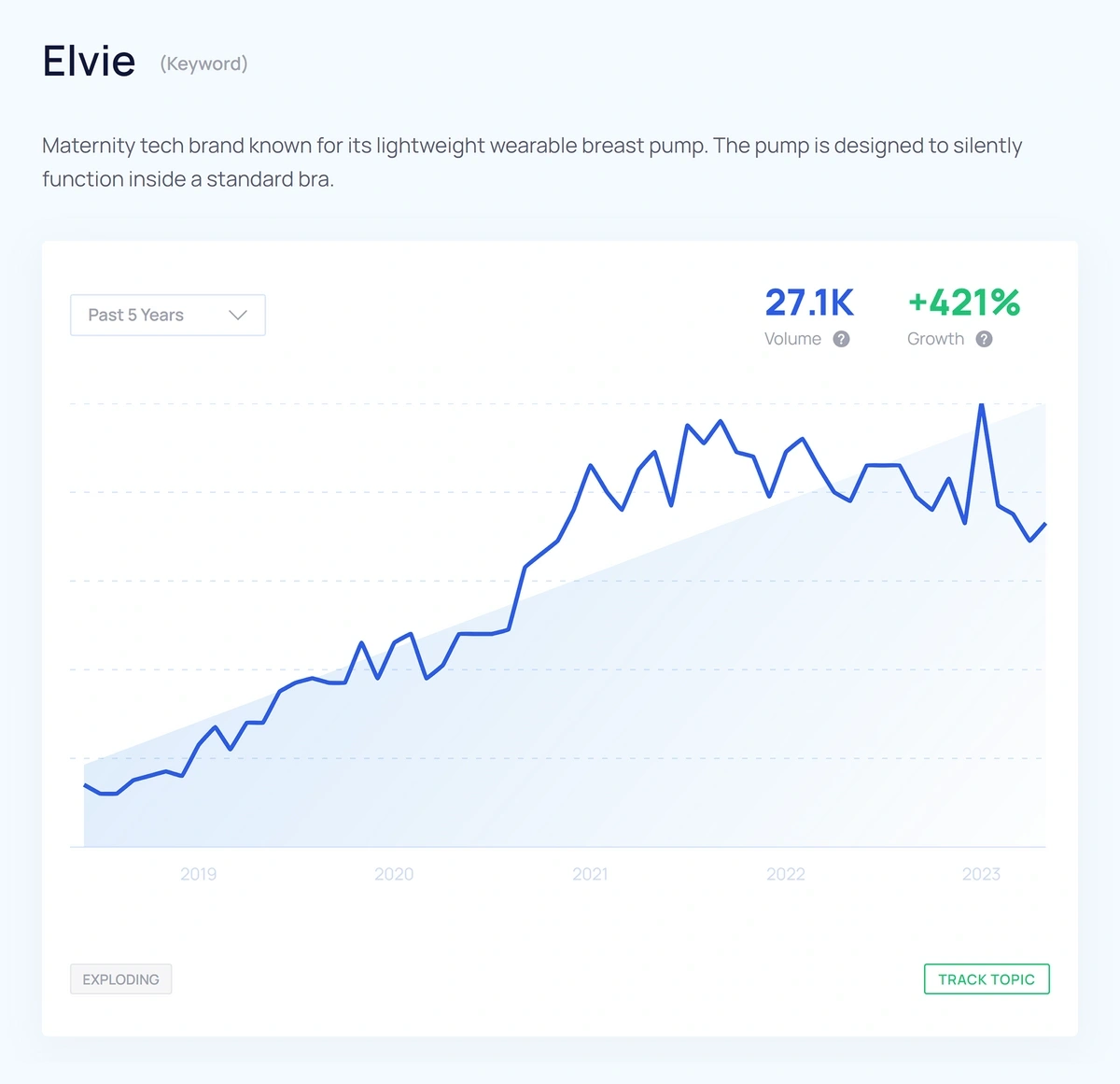 8. Embedded Finance
Embedded finance refers to non-financial companies (like ecommerce stores) offering enhanced payment options. This trend is steadily growing as companies realize they can increase conversions and the overall customer experience by improving the payment process.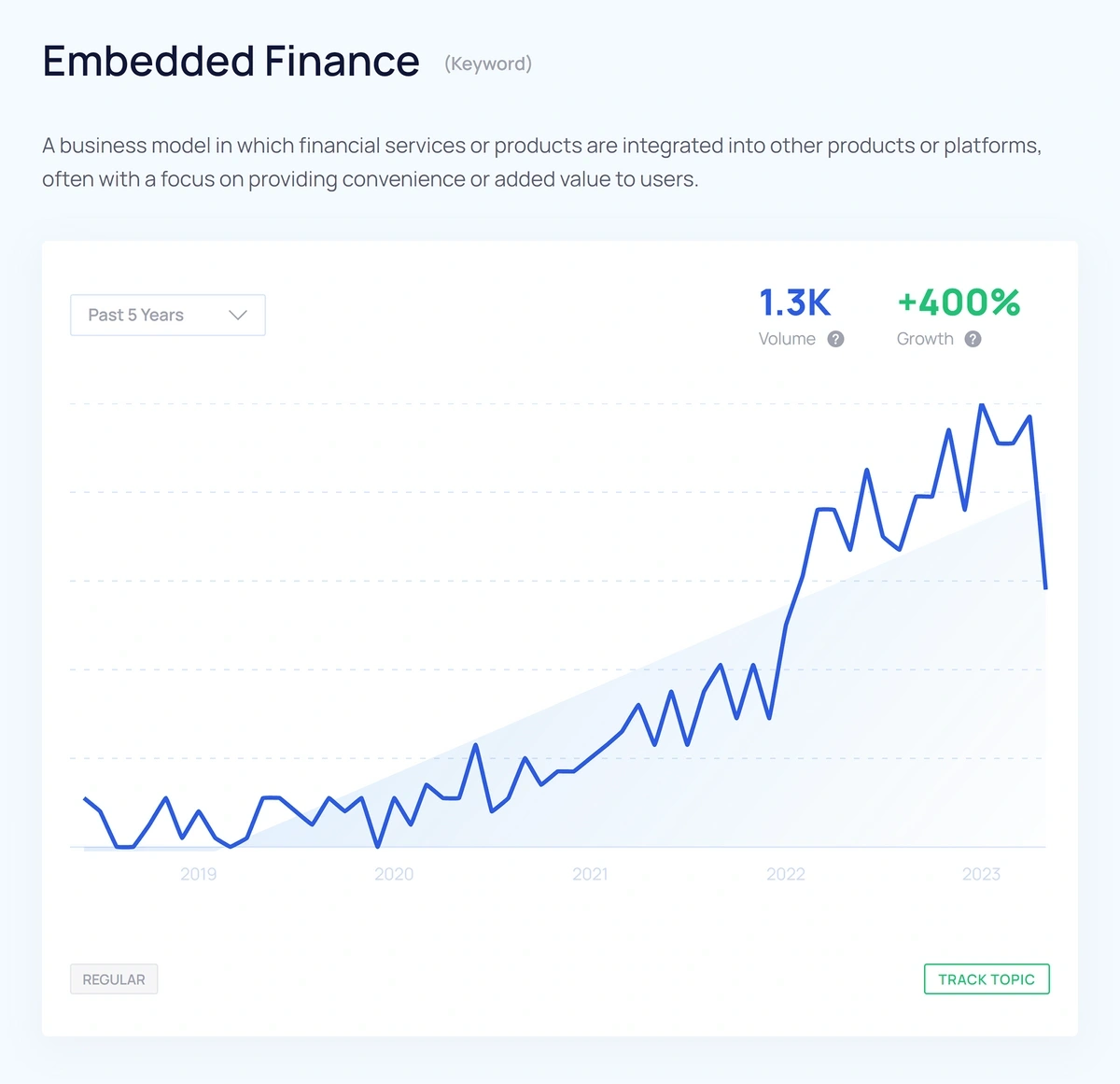 An example of embedded finance is an ecommerce company offering buy-now-pay-later (BNPL) options or one-click checkout. PayPal's Pay in 4 and Amazon Pay Later are just two examples of BNPL options that have quickly become quite popular.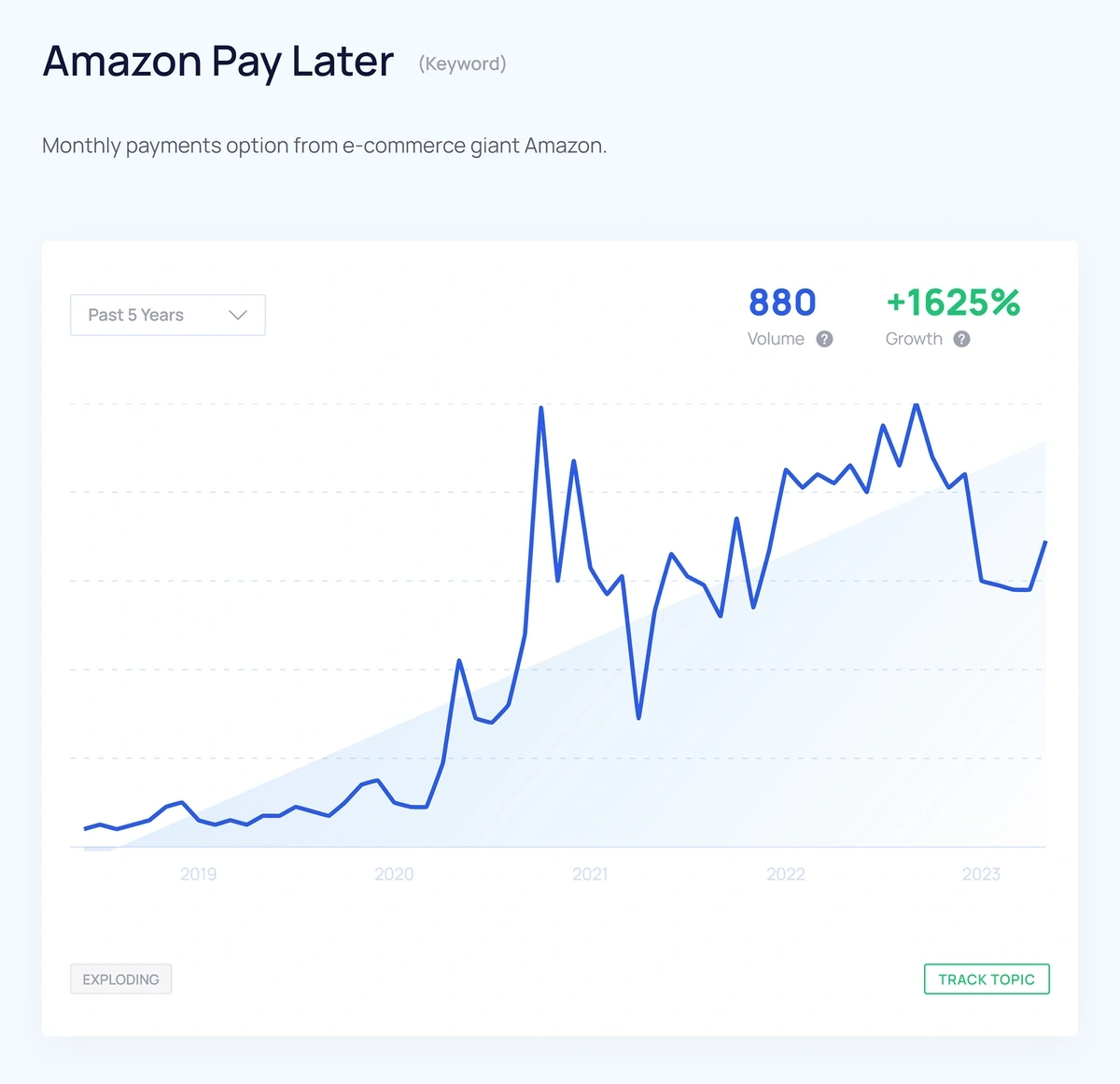 However, embedded finance isn't limited to just ecommerce. Lyft's new debit card for drivers is an excellent example of embedded banking, as it allows drivers to get paid instantly.
Market data suggests that embedded finance has a bright future as the market size is currently about $54 billion, and forecasts predict it will expand to more than $248 billion by 2032.
Venture capitalists are also pouring a substantial amount of money into the companies that make embedded finance possible.
Total venture capital funding in the embedded finance sector nearly tripled from $1.5 billion in 2020 to more than $4.2 billion in 2021.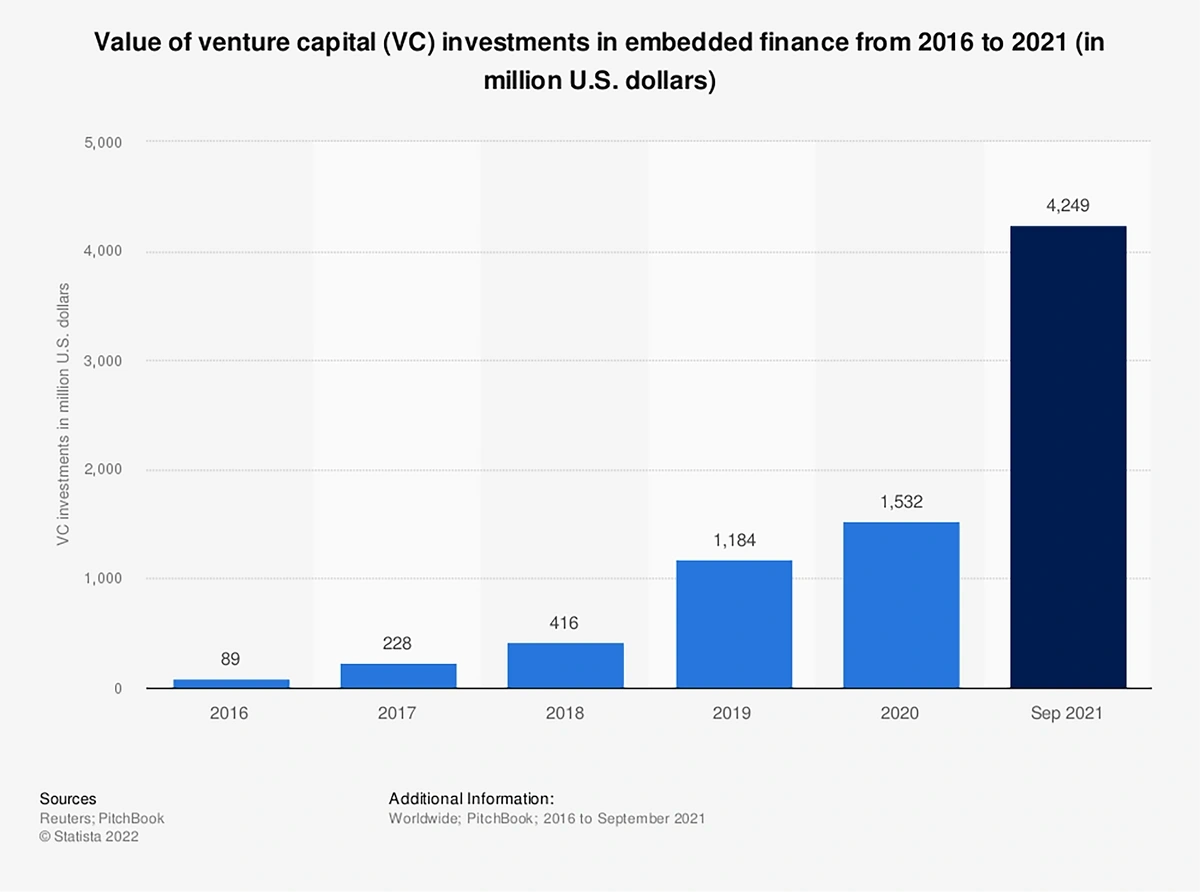 Some of the most noteworthy startups profiting off the interest in embedded finance include:
9. Cybersecurity
The sudden shift to remote work spurred by the pandemic created a perfect opportunity for hackers to steal sensitive proprietary data.
While the pandemic has slowed, remote work continues to increase, and cybercrime has mirrored its growth. In 2022, global damages from cyber attacks totaled over $8 trillion, and experts predict that cybercrime will continue to grow in volume and magnitude.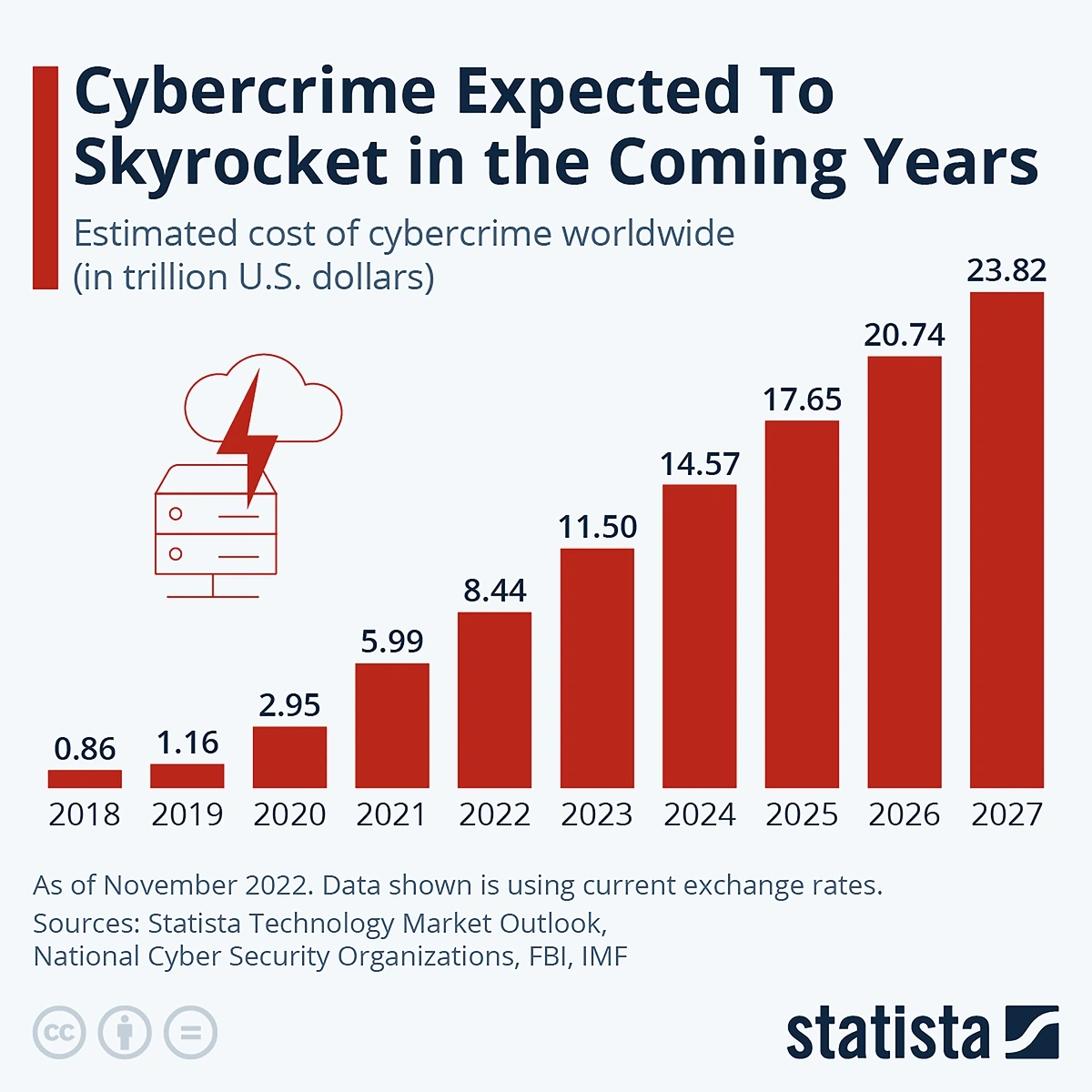 As a result, the demand for cybersecurity solutions has exploded.
A recent survey shows a $2 trillion market opportunity for cybersecurity providers, and venture capital firms poured over $11.5 billion into startups tackling cybersecurity challenges in 2021.
Here are just a few cybersecurity companies that have grown to impressive valuations:
Lacework: A cloud security automation platform currently valued at $8.3 billion that handles configuration assessment, threat detection, compliance checks, and more.
Snyk: A cybersecurity startup currently valued at over $7 billion that gives developers the tools they need to identify and solve open-source vulnerabilities.
Deep Instinct: An AI cybersecurity startup that uses a deep learning cybersecurity framework to prevent ransomware and other malware attacks. It recently closed an impressive $100 million Series D round.
However, it isn't just tech startups that are solving cybersecurity challenges. Interest in cybersecurity training for employees and students has also increased over the past few years.
An excellent example of a company riding the demand for cybersecurity training is Hoxhunt. It provides phishing training so that employees recognize suspicious activity and protect their companies from cyberattacks.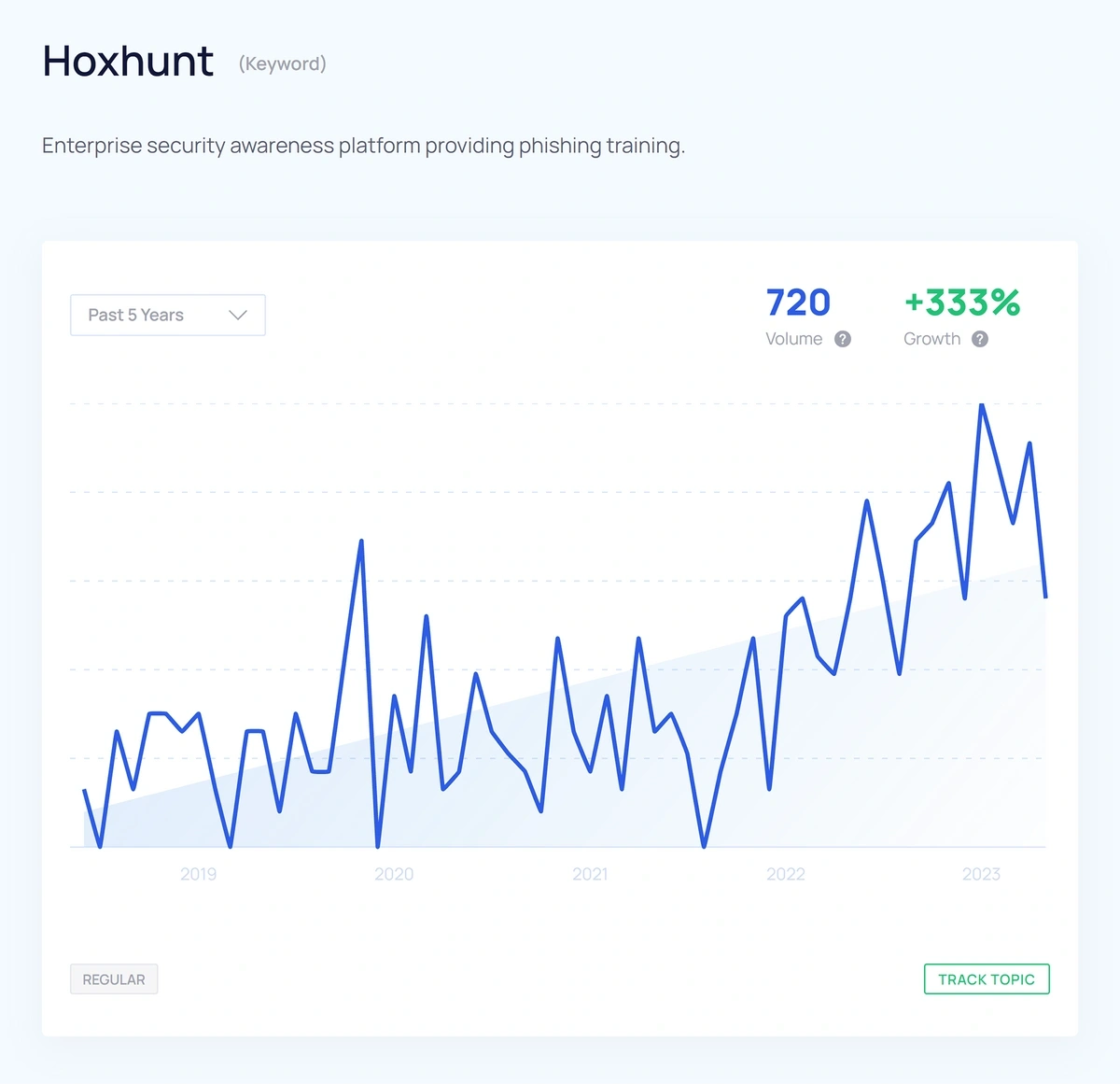 10. EdTech
While schoolwork used to be confined to notebooks, various startups are making the learning experience easier for students.
The current edtech and smart classroom market is valued at $125 billion, and forecasters predict it will grow to nearly $233 billion by 2027.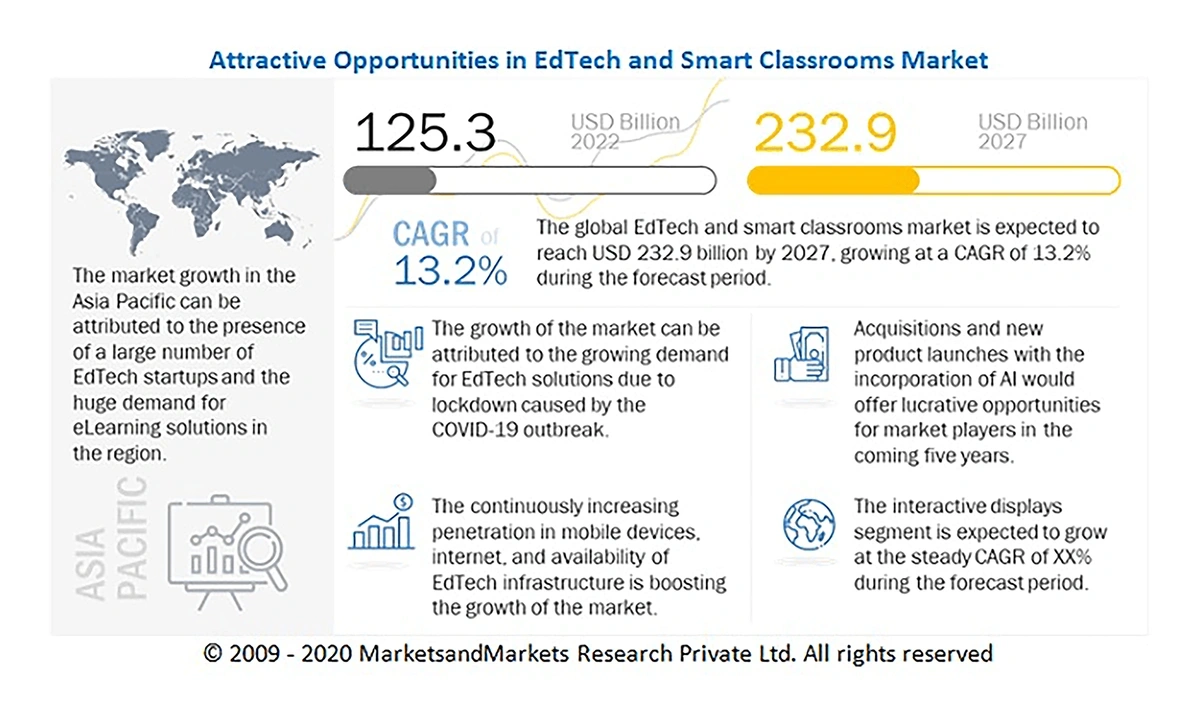 While general VC funding contracted in 2023, many VCs are still bullish on edtech. As an added bonus, the government offers funding for educational institutions to invest in edtech platforms, so demand continues to grow even as the general economy takes a downward turn.
A few of the noteworthy edtech companies that have sprouted up in recent years include:
StuDoc: A database of lecture notes, study guides, and other study materials for students.
Mathpix: Digitize math problems from textbooks, notebooks, and other physical surfaces.
Gostudent: An online platform where students can find a tutor.
Studypool: An online learning platform that leverages video chat, interactive tools, and collaborative workspaces for students to learn more effectively.
What You Should Do Next With This Trend Information
If any of these trends piqued your interest, you can do more detailed research on the leading brands and products in the space to better understand if it's a market you want to invest in.
We built Exploding Topics specifically for in-depth trend research, so you can use the free Trends Database now to find growing brands, products, and services in each of the trending markets mentioned above.
If you want more trend research tools, Exploding Topics Pro offers additional features like Meta Trends (find growing niches within broader markets), and Trends Search (which gives you search growth data for any keyword).