30+ VPN Statistics, Trends & Facts (2023-2027)
VPNs—or Virtual Private Networks—are powerful tools. By connecting to a VPN, you can browse, stream, work, and game with total anonymity.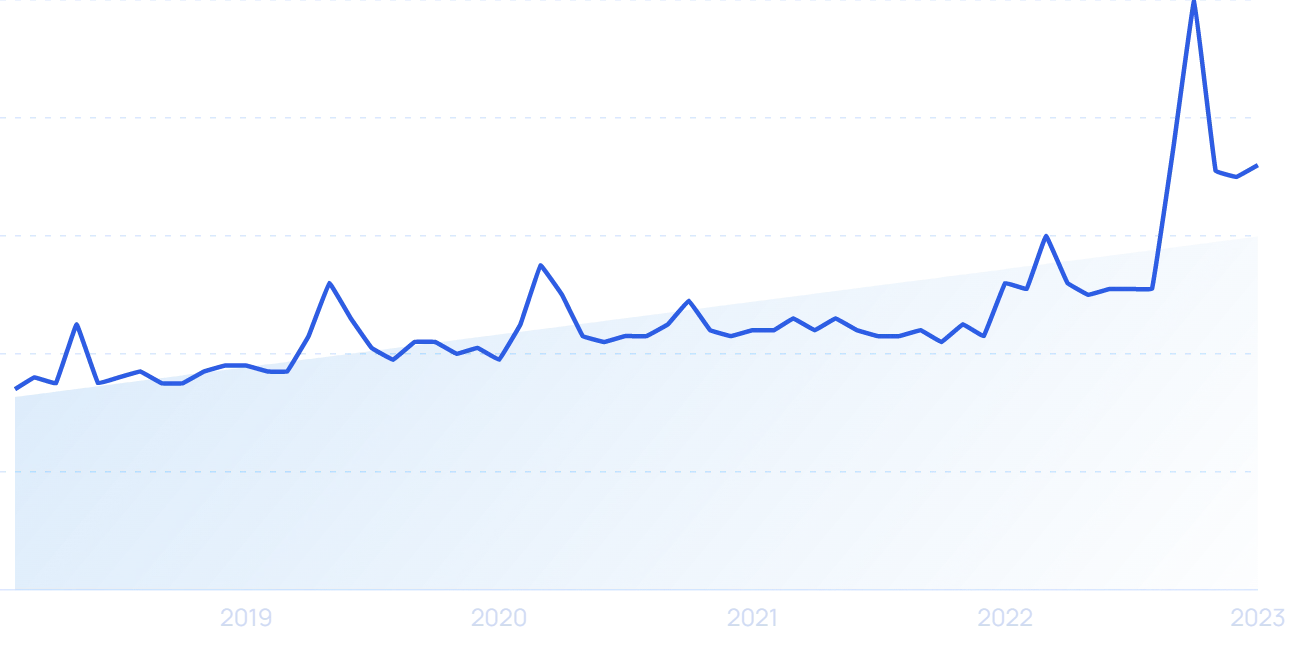 Google searches for "virtual private network" over the past 5 years
Live in Australia but want to access Netflix's American library? A VPN can route your IP address to a server in Nebraska, giving you full access to your no-longer-restricted favorite shows.
Want to do some remote work during a long layover? VPNs can help keep your data and privacy safe while connecting to public WiFi networks.
Thanks to the flexibility they offer, VPNs are more popular today than ever before. Here's the state of VPNs today in 20+ up-to-date statistics.
Contents
Top VPN Stats
Before you dive into the full list of statistics, here's a quick overview of the top 6 VPN statistics for 2023:
There are 1.5 billion VPN users in the world.
The global VPN market is worth $44.6 billion.
The global VPN market is projected to grow to $87.1 billion by 2027.
93% of organizations currently use a VPN.
39% of Americans use VPNs for either work or personal use.
Half of all users say they use VPNs for better access to entertainment content.
VPN Market Statistics
The VPN market accounts for dozens of VPN providers and the billion-plus people who use them. It all adds up to a global, multi-billion dollar industry that continues to grow each year.
There are 1.5 billion VPN users in the world (Top10VPN)

According to Top10VPN's most recent report, 31% of global internet users have a VPN. Going by Data Reportal's numbers, there are 5.03 billion internet users in the world today. Which amounts to over 1.5 billion VPN users globally.
The global VPN market is worth $44.6 billion (StrategyR)
The growth of remote workforces and the increased threat of cyberattacks have contributed to the global VPN market nearly doubling in size between 2019 and 2022. In the United States, the VPN market is valued at $16.5 billion, good for a 34.83% global market share.
The global VPN market is projected to grow to $87.1 billion by 2027 (StrategyR)
VPN market growth doesn't look to be slowing down anytime soon. In China, the VPN market is expected to perform at a 17.4% CAGR between 2020 and 2027. Its VPN market could reach $12.9 billion by 2027. Other high-growth markets include Canada, Germany, and Japan.
The United Arab Emirates has the highest VPN adoption rate (AtlasVPN)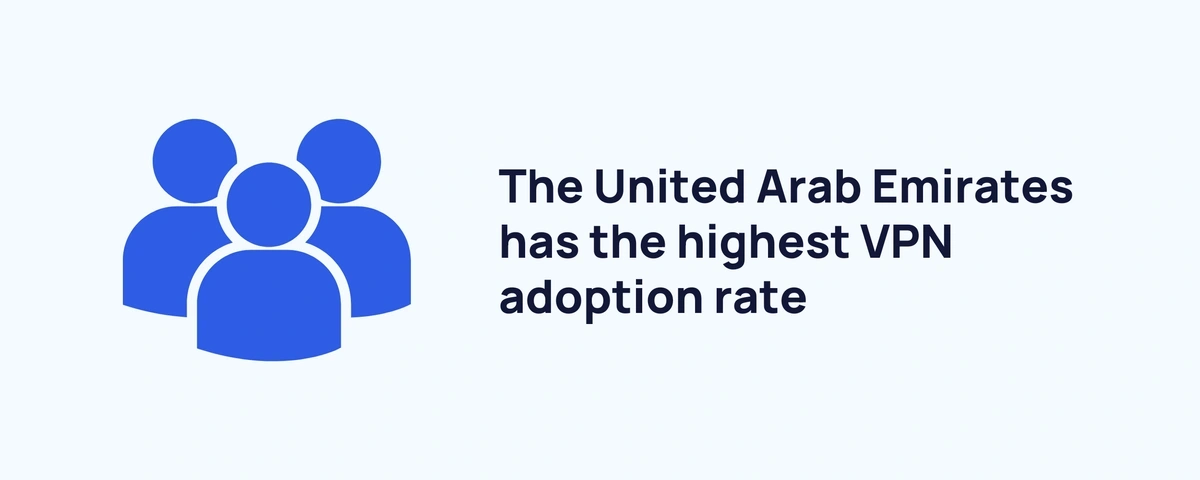 According to the latest available data, 25.72% of the UAE's population downloaded a VPN, giving it the highest global adoption rate. That high rate is curious as VPN usage is heavily restricted in the UAE. On the other side of the spectrum, Japan has the lowest adoption rate at 0.17%.
VPN usage is limited in 19 different countries (Surfshark)
In 5 countries—Belarus, Iraq, North Korea, Oman, and Turkmenistan—VPN usage is illegal. VPN usage is heavily restricted in Russia, Uganda, and the United Arab Emirates. 11 additional countries have lighter VPN restrictions.
Cisco has a 54% share of the VPN software market (Datanyze)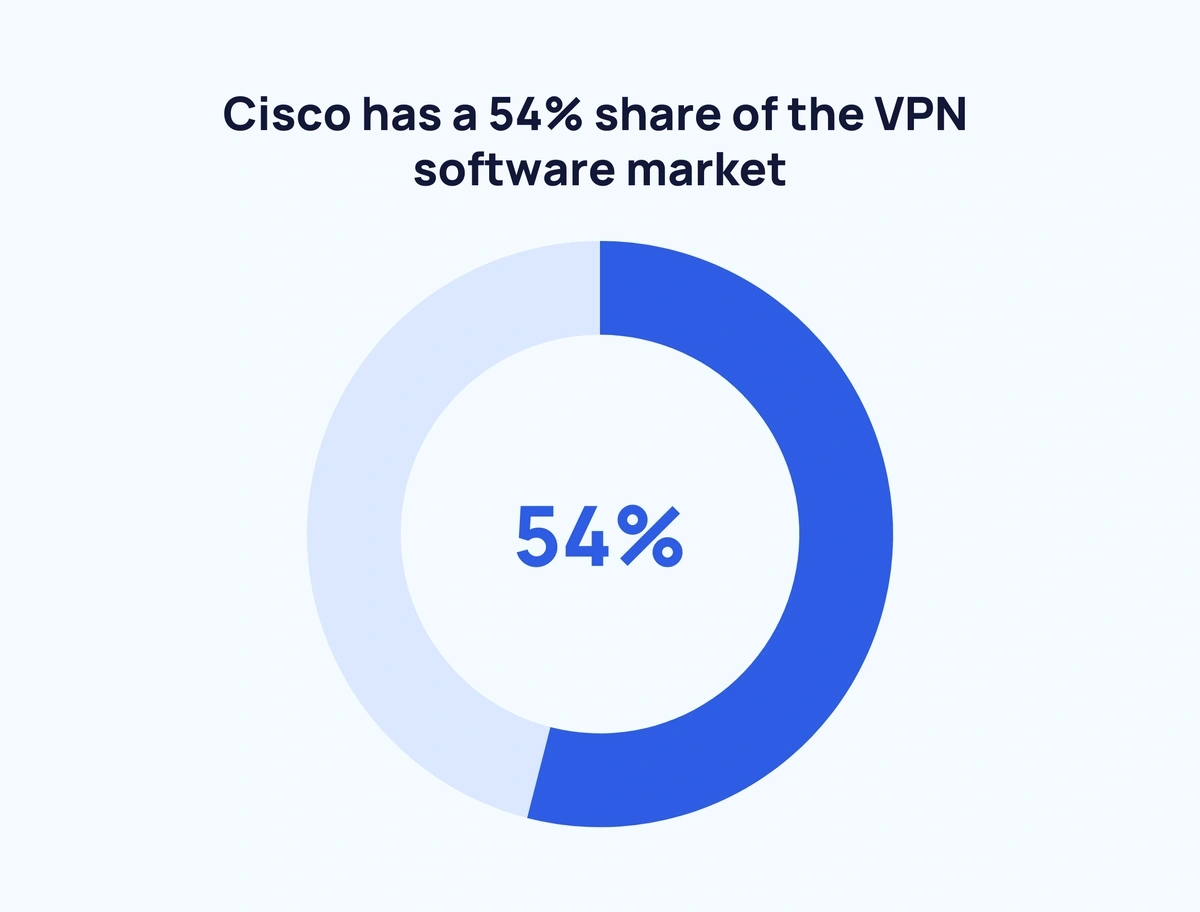 Between Cisco AnyConnect and Cisco VPN, Cisco controls over 50% of the VPN software market. Other top software vendors by market share are Juniper VPN (10%), Citrix Gateway (8%), and OpenVPN (6%).
IPVanish is the fasted VPN in terms of download speed (Forbes)
Forbes Advisor did a side-by-side comparison of 10 of the top VPNs. IPVanish had the highest average download speed at 362 megabytes per second. The VPN with the highest upload speed was Hotspot Shield at 36 megabytes per second.
VPN User Demographics
What does the average VPN user look like? Let's turn to the most recent data on VPN user demographics to find out.
62% of VPN users are male (GWI)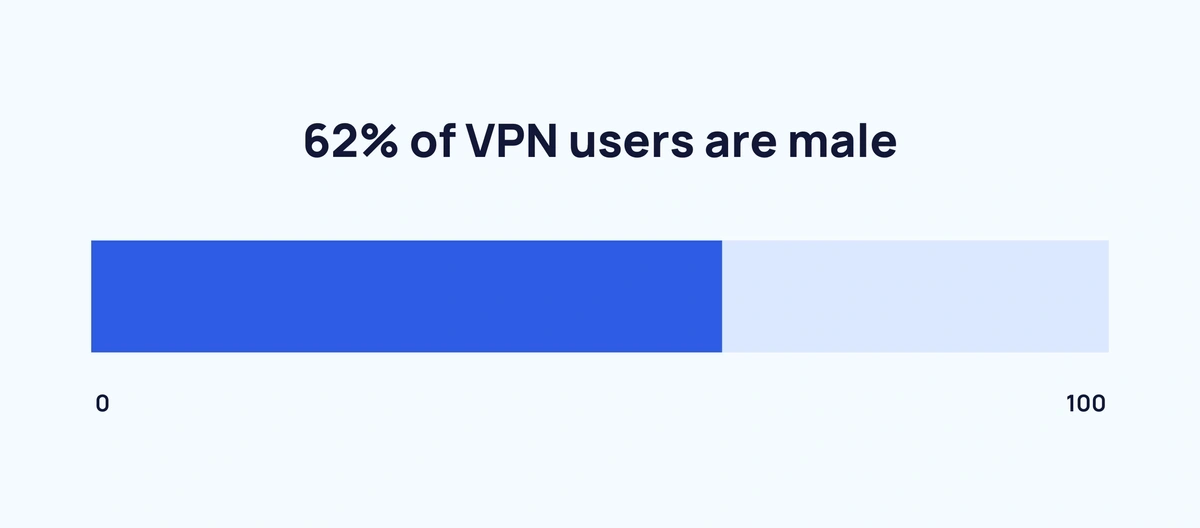 There's a clear gender divide when it comes to VPN use. VPN users are predominantly male, according to data from Global Web Index. Only 38% of current VPN users are female.
Two-thirds of VPN users are between 16 and 34 years old (GWI)
While it's expected for Gen Z to be using VPN technology more than say, Baby Boomers, the difference in adoption rates between generations is stark. The 16-24 demographic makes up 35% of all VPN users. The 25-34 demographic is the second largest cohort at 33% of all users. Boomers—or those 55 or older—make up only 4% of the VPN user base.
VPN Usage Statistics
Privacy. Security. Work. Entertainment. There are countless reasons people use VPNs. These statistics explore who uses VPNs the most and for which reasons.
39% of Americans use VPNs for either work or personal use (Security.org)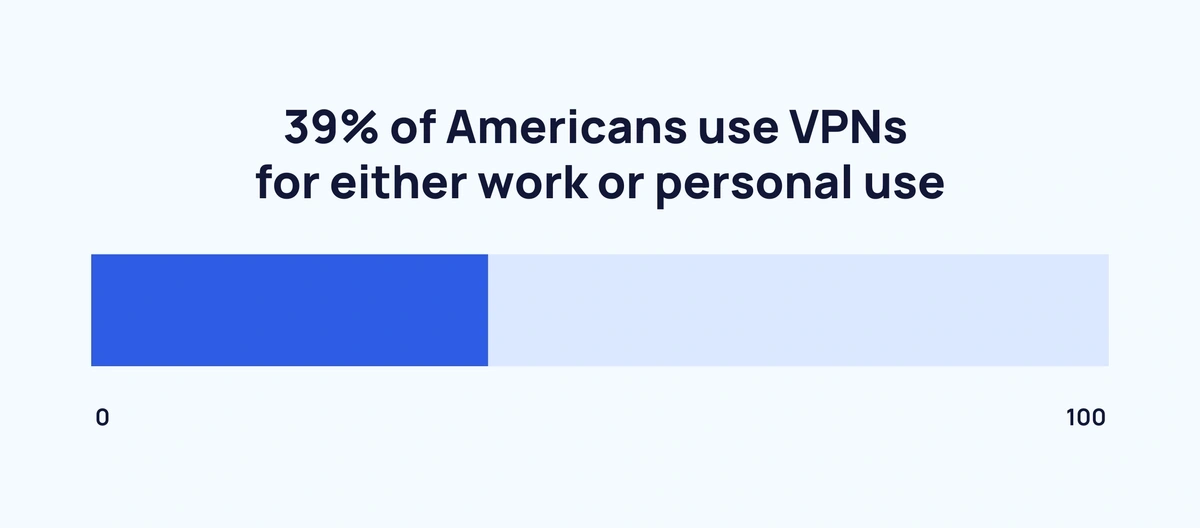 Awareness around VPNs is increasing rapidly in the United States. 88% of Americans now know what VPNs are, up from just 72% in 2020. VPN providers like Mullvad have seen their Google searches explode in recent years: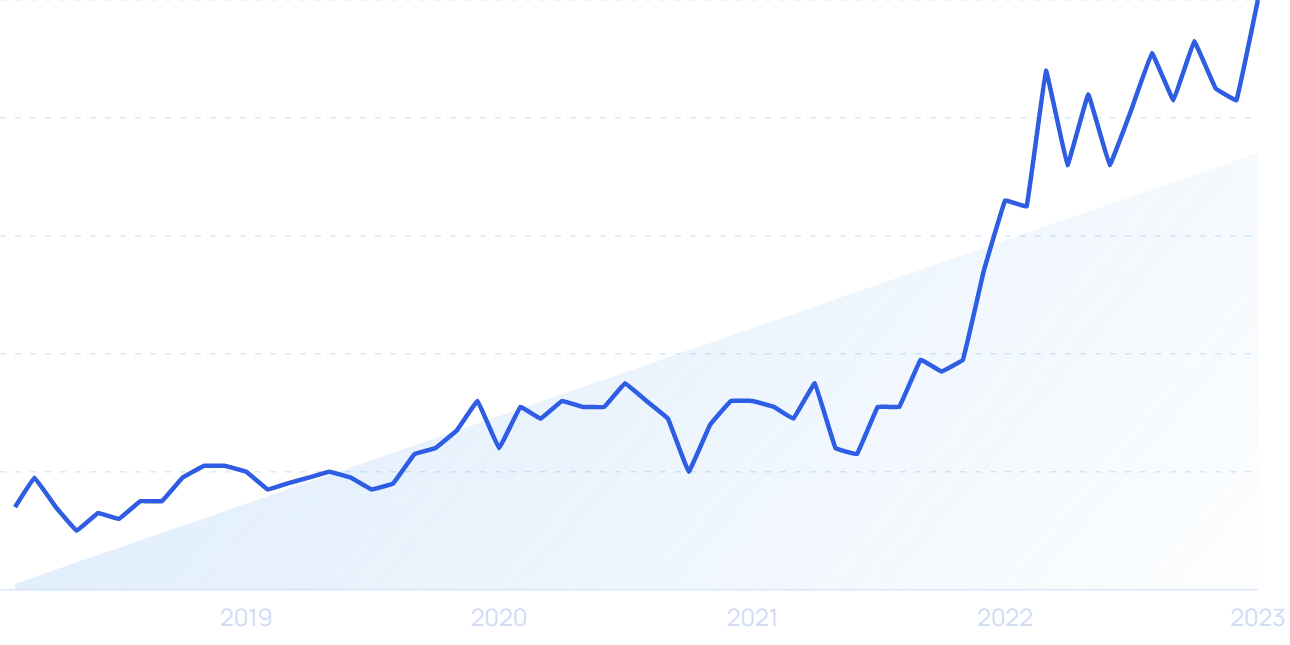 Google searches for "mullvad vpn" are up 614% since 2018
36% of US and UK VPN users use their VPN at least once per day (Top10VPN)
In the US and UK, where the primary motivations for VPN usage are security and privacy, daily VPN use is the norm for over a third of users. An additional 41% use their VPN at least once per week. Only 10% use their VPNs less than once per month.
Half of all users say they use VPNs for better access to entertainment content (GWI)
Streaming channels like Netflix and Hulu offer different libraries depending on the user's location. VPNs provide a workaround for people to gain access to content they wouldn't normally be able to stream. In fact, it's the top non-work reason people use VPNs. Other reasons for VPN use include accessing social networks (34%), browsing anonymity (31%), and accessing files and services while working (30%).
47% of personal VPN users use a free VPN service (Security.org)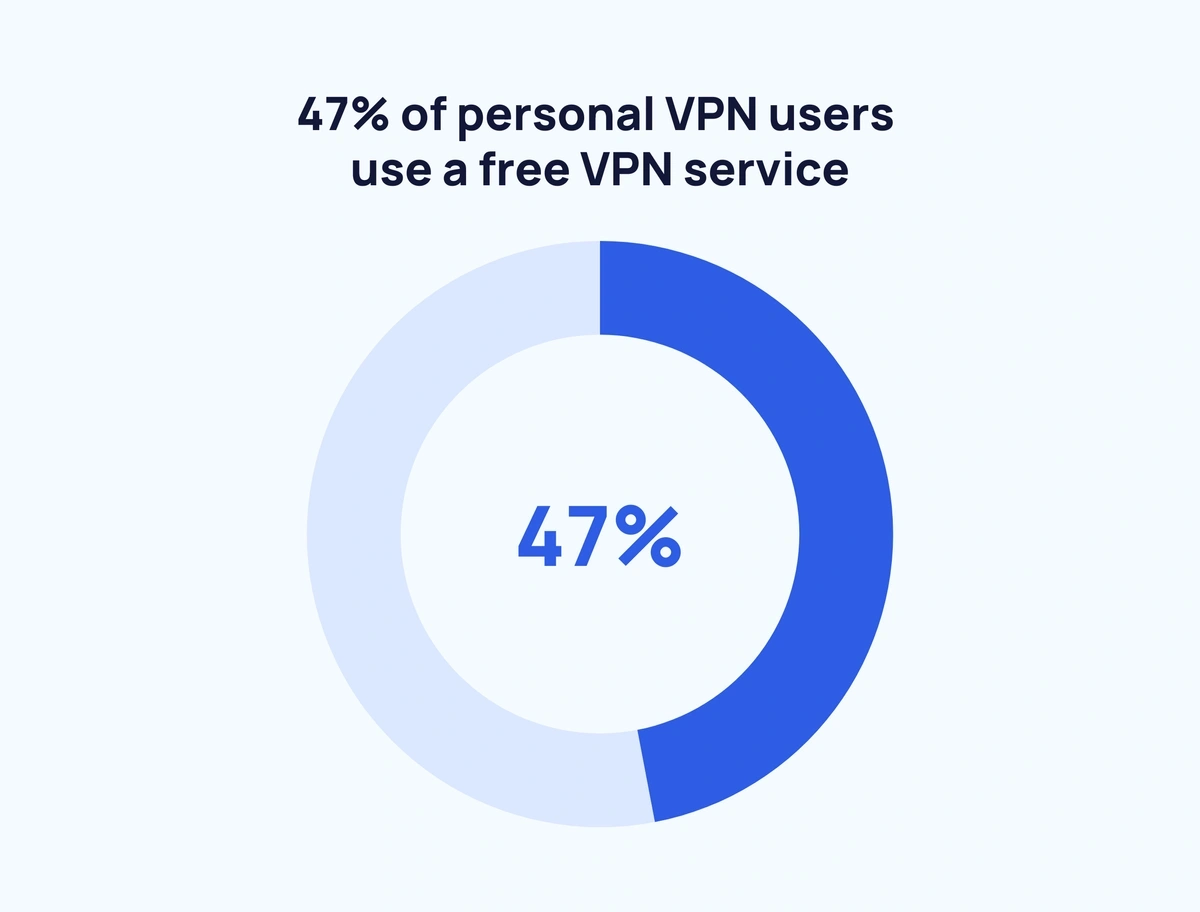 Nearly half of personal VPN users opt for a free service. The tradeoff for free service is usually lack of functionality: over 60% of free VPN users encounter problems with their connections, the most common being slow internet speed (39%), numerous or buggy ads (13%), and streaming issues (12%).
59% of Americans who don't use VPNs believe they don't need one (Security.org)
When asked in a survey the reasons they don't use a VPN, 59% of non-users responded that they "don't need one." 22% said that VPNs were too expensive and 20% said they were unsure of the benefits VPNs could provide.
A significant majority of companies now use VPN. For many, a single VPN isn't enough: 41% of organizations have 3 or more global inbound VPN gateways.
71% of companies scaled up VPN capacity during the COVID-19 pandemic (Cybersecurity Insiders)
The global pandemic forced companies to shift to more remote work, which in turn put a strain on their VPNs. Over two-thirds of organizations were forced to increase capacity. 20% of companies report increasing VPN capacity by at least 76%.
43% of remote workers use a VPN (PCMatic)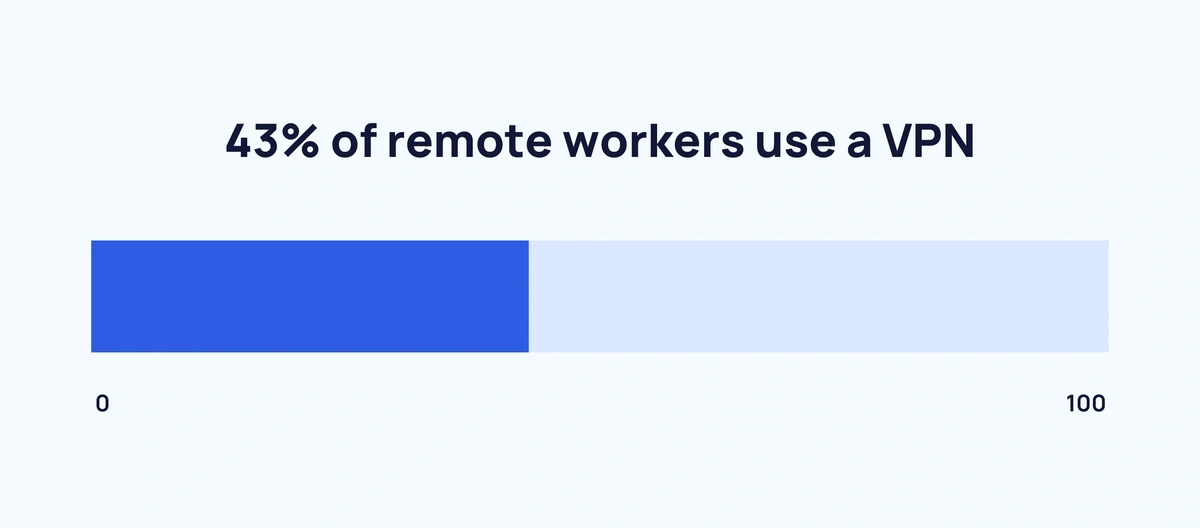 In PCMatic's study of post-COVID remote work trends, 43% of respondents said they use a VPN while working from home. 38% said they didn't use a VPN, and 19% were unsure whether they did or didn't use one.
VPN Security Statistics
VPNs are fantastic at keeping users secure, especially in places with public WiFi like airports and coffee shops. But using VPNs can also raise security concerns. In corporate environments, keeping networks secure is a full-time job.
Improving security is the most common reason people purchase a VPN (Surfshark)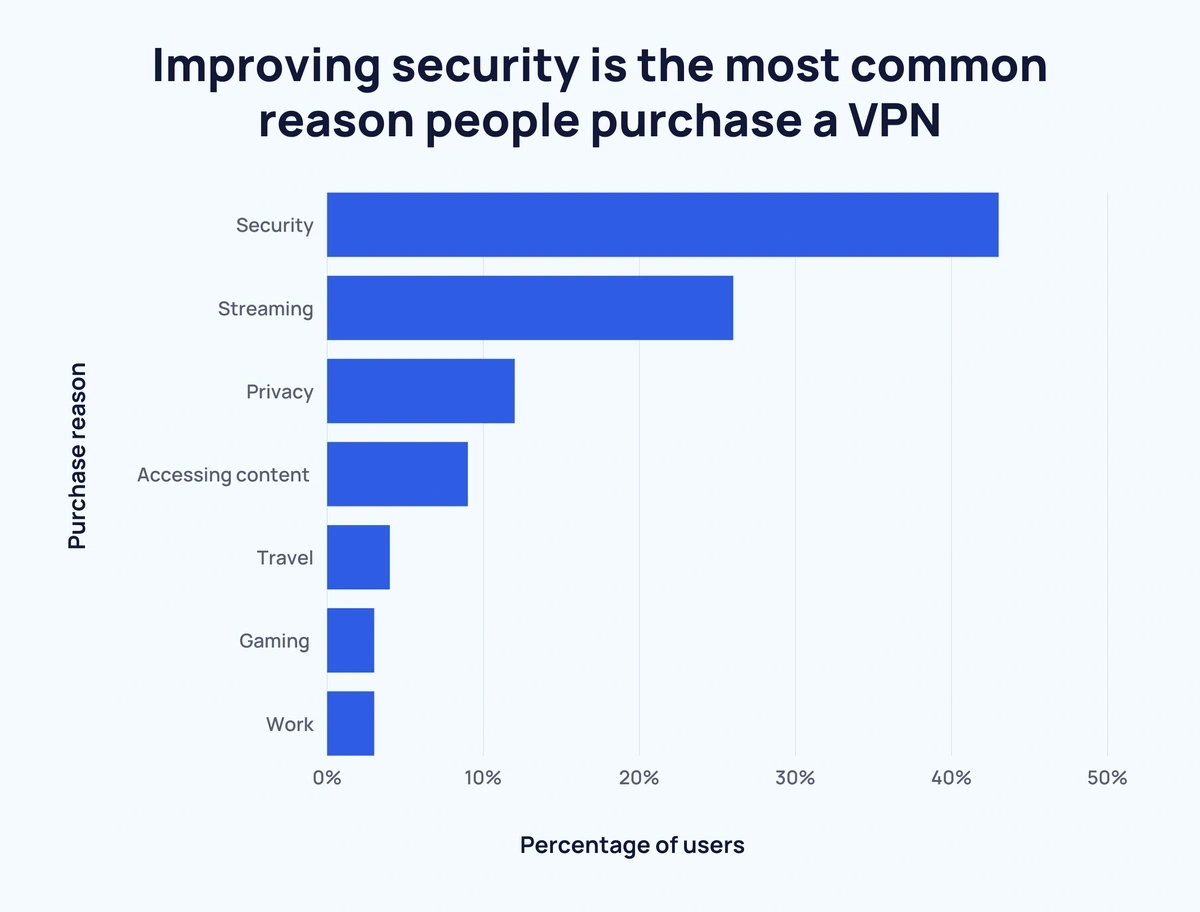 VPN provider Surfshark conducted a private, post-purchase interview asking users their primary reason for using a VPN. Here are the top reasons for purchasing a VPN, ranked:
Security (43%)
Streaming (26%)
Privacy (12%)
Accessing content (9%)
Travel (4%)
Gaming (3%)
Work (3%)
Lack of visibility into user activity is the number one challenge companies face with VPNs (Cybersecurity Insiders)
When asked what their top VPN challenge was, 24% of IT and cybersecurity professionals said lack of user visibility. 23% stated the high cost of maintaining security and infrastructure was the greatest challenge.
72% of cybersecurity leaders are concerned about security risks surrounding VPNs (Cybersecurity Insiders)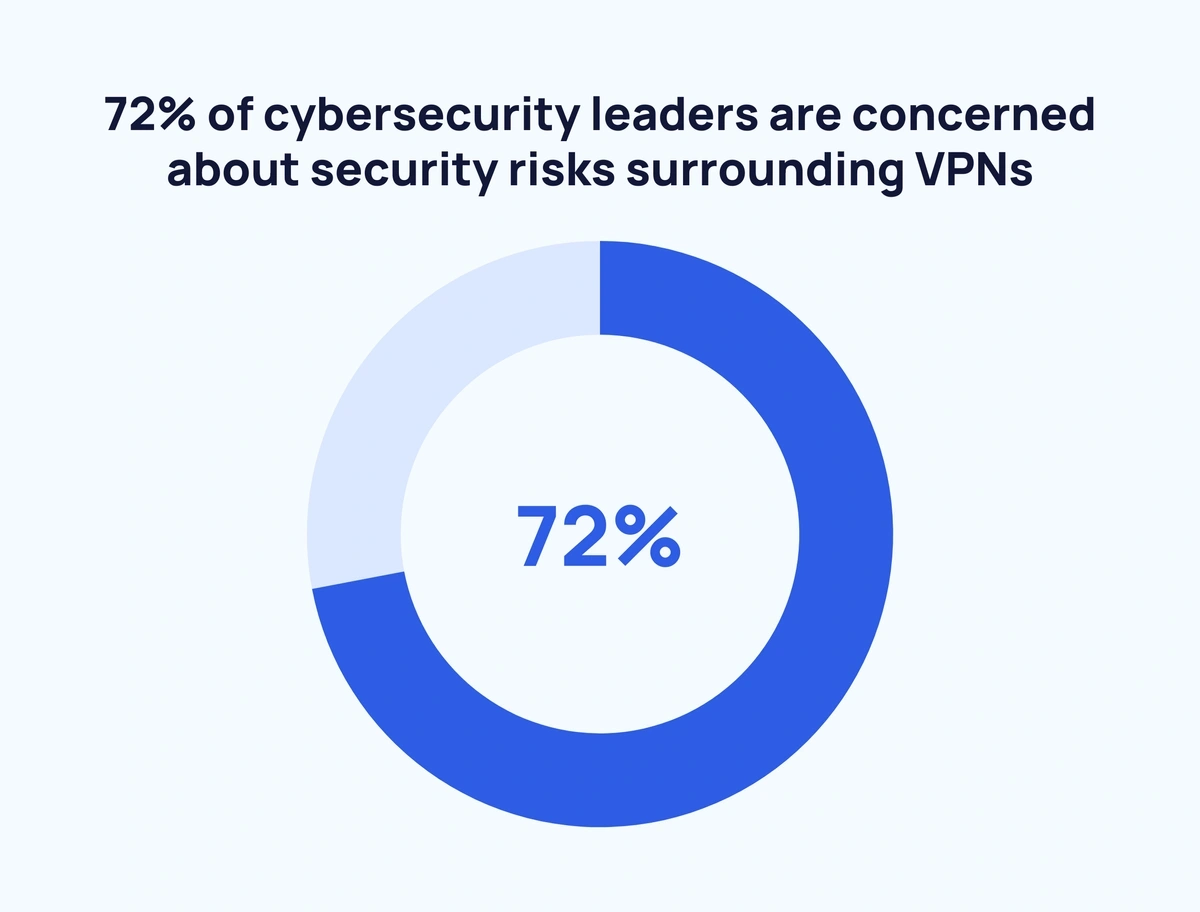 94% of organizations are aware that their VPNs are potential targets for cyberattacks, and 19% are "very concerned" about VPN compromising their security. The big three concerns are social engineering (75%), ransomware (74%), and malware attacks (60%).
Wrap Up
For decades, VPNs were a mostly corporate technology, used to keep companies' data and remote workers safe. Today, millions of internet users enjoy the flexibility and security VPNs provide.
VPNs have given users around the world a safer, more flexible way to enjoy the internet. With the rise of remote work and the surge in popularity amongst private users, the VPN market is poised to keep growing in the near future.