8 Top Business Intelligence Tools (2023)
Business intelligence (BI) tools can help you analyze and understand data from various areas of your business operations.
Because BI tools collect, store, and process data, they can make it easier to glean insights on things like:
How your customers are finding you online
Where leads begin to churn and drop out of your pipeline
The areas of the world your followers or customers live in
Whether your employees are satisfied in their roles
Many of these programs include tools to help you visualize or model your data—and can even include machine learning capabilities to speed up the process.
These are eight of the top business intelligence tools available right now.
1. Snowflake: Best For Data Storage
Snowflake is a cloud-based data warehouse solution. It allows businesses to store their big data sets in one spot.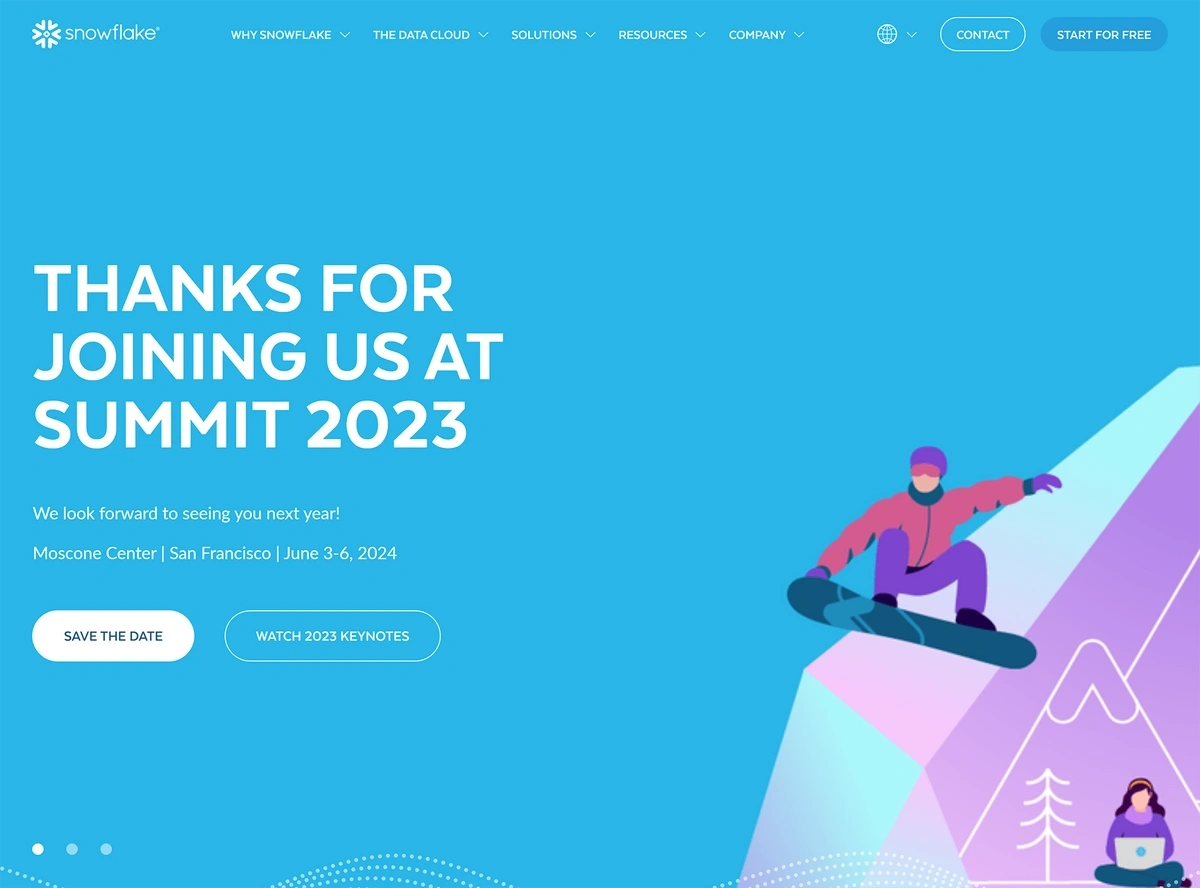 The tool integrates with other enterprise-level software like Amazon Web Services (AWS) Microsoft Azure, and Google Cloud Platform. By pulling data from these—and other—sources into Snowflake's data cloud, companies can:
View data with no silos
Make connections about how data points relate to each other
Use data while working remotely with other stakeholders
Build custom applications using data stored in Snowflake
Improve decision-making across company departments or verticals
Snowflake pricing is unique to each company. It's based on how much data you store and how much time you spend managing it with Snowflake's resources.
However, the sheer scale of the platform—and the fact it links with enterprise applications like Azure—means that it's probably best suited to large companies that have a lot of data to process.
2. Zoho Analytics: Best For Data Dashboards
Zoho Analytics is a dashboard-based BI solution.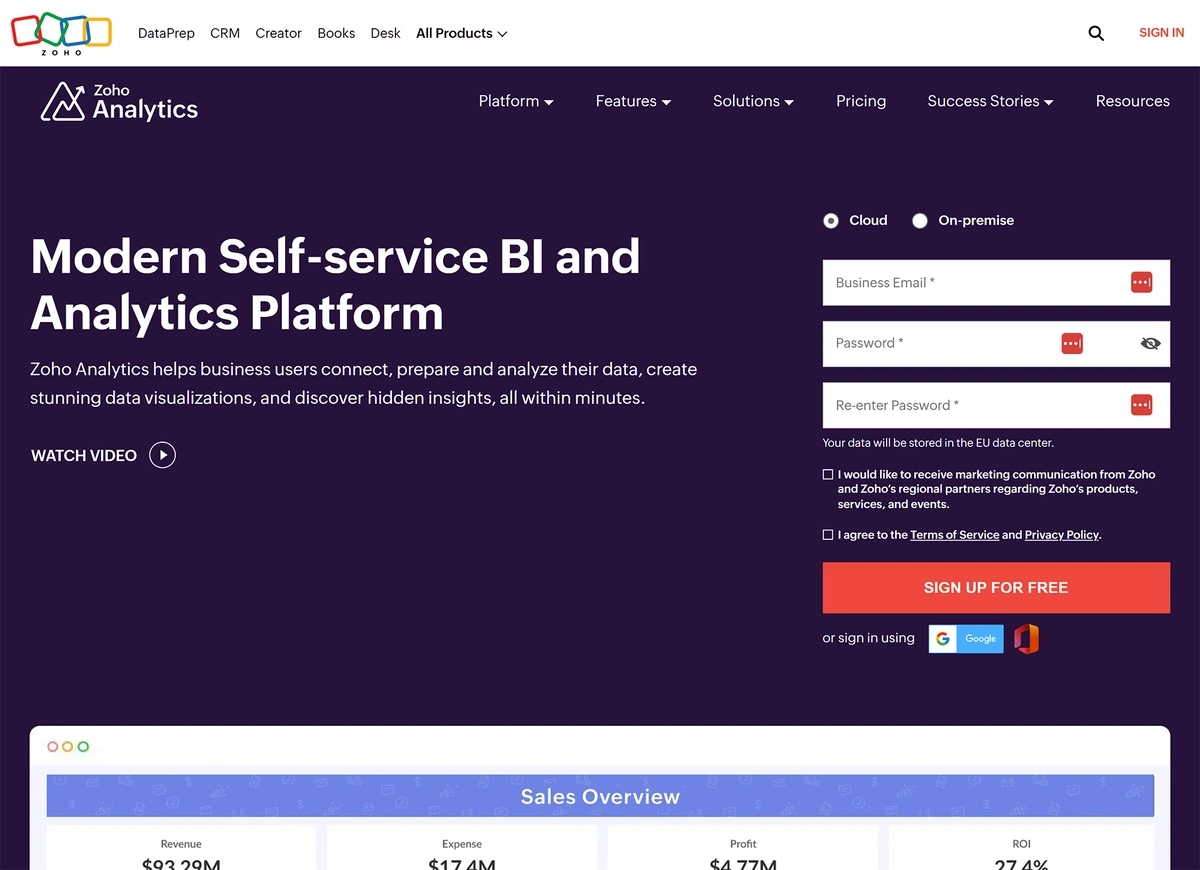 If you need to examine info from different data sources, but don't quite need the enterprise-grade storage offered by Snowflake, then Zoho Analytics could be a good choice for you.
You can connect a variety of tools and services to Zoho Analytics, including:
Google Drive
Hubspot
Salesforce
QuickBooks
Survey Monkey
PPC ad platforms
Social media accounts
Analytics platforms
Zoho also accepts spreadsheet uploads in the event you need to input data that isn't directly supported by the platform.
Once your raw data gets loaded into Zoho Analytics, you can build dashboards with rich charts and graphs. Non-technical users even explore their data by chatting with Zoho's AI assistant.
You can use Zoho Analytics for free, but there's a limit. You can only analyze up to 10,000 rows of data, and the data has to be stored on your device.
If you'd like to use the Zoho cloud or analyze more data, you can do so with paid plans that start at $24 per month (billed annually).
3. Exploding Topics: Best For Industry Data
While Snowflake and Zoho Analytics can help you manage data, Exploding Topics helps you find it.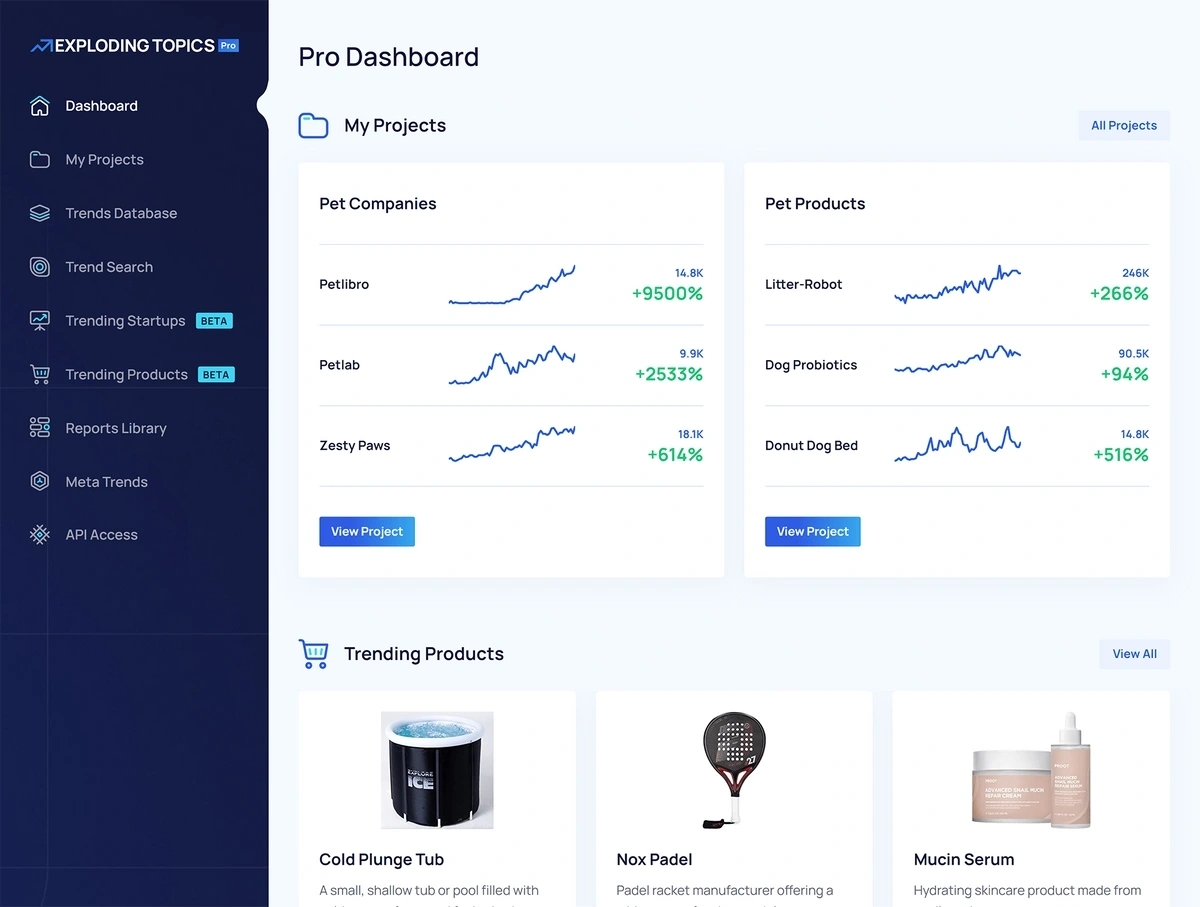 As a business intelligence tool, Exploding Topics lets you:
Explore how interest in—and search volumes for—trends have changed over time
Pull data about growing startups' valuations and funding rounds
Research the average sale price and monthly revenue for trending products
Track how different trends interact and relate to industry segments
All this data can be used to:
Identify new audience segments
Develop new products for your customers
Hone your marketing campaigns
Plan a pricing strategy
Keep pace with competitors
Find companies to invest in
It's easy to analyze the data with other tools, too: use our API or simply export trend, startup, and company data directly to a CSV file.
Access to every Exploding Topics feature, including the API, is available with a paid business plan—$249 per month, billed annually.
4. Looker BI: Best for Google Users
Looker BI is a web-based, Google-owned tool for storing, searching, and visualizing data.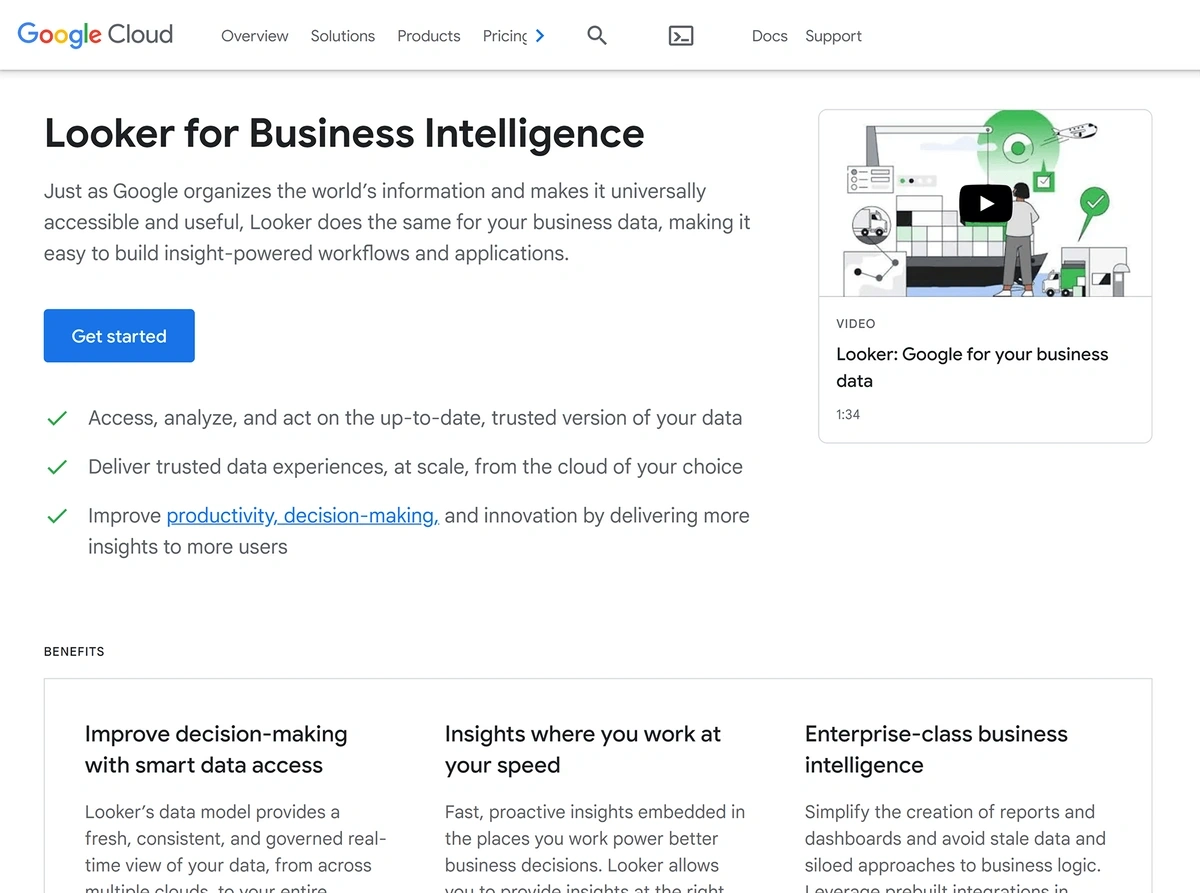 Because it's a Google product, Looker is a straightforward way to analyze and manipulate data from tools like Google Analytics, Google Search Console, and Google Cloud SQL.
However, you can bring in business analytics from other sources like Shopify, Salesforce, or Facebook with the help of plug-ins.
When your data is in Looker, you can:
Create visualizations with Looker Studio
Organize and search through your business data
Free up data from tool or department silos and analyze it all in one spot
Create data models
Build custom applications
Standard Looker BI access costs $5,000 per month that you use the tool.
If all of your data is stored in Google services, you can also try using Looker Studio—there's no charge to access its user-friendly drag-and-drop visualization tools as a standalone product.
5. Salesforce Tableau CRM: Best For Pipeline Development
Salesforce CRM Insights uses features from another Salesforce-owned tool called Tableau.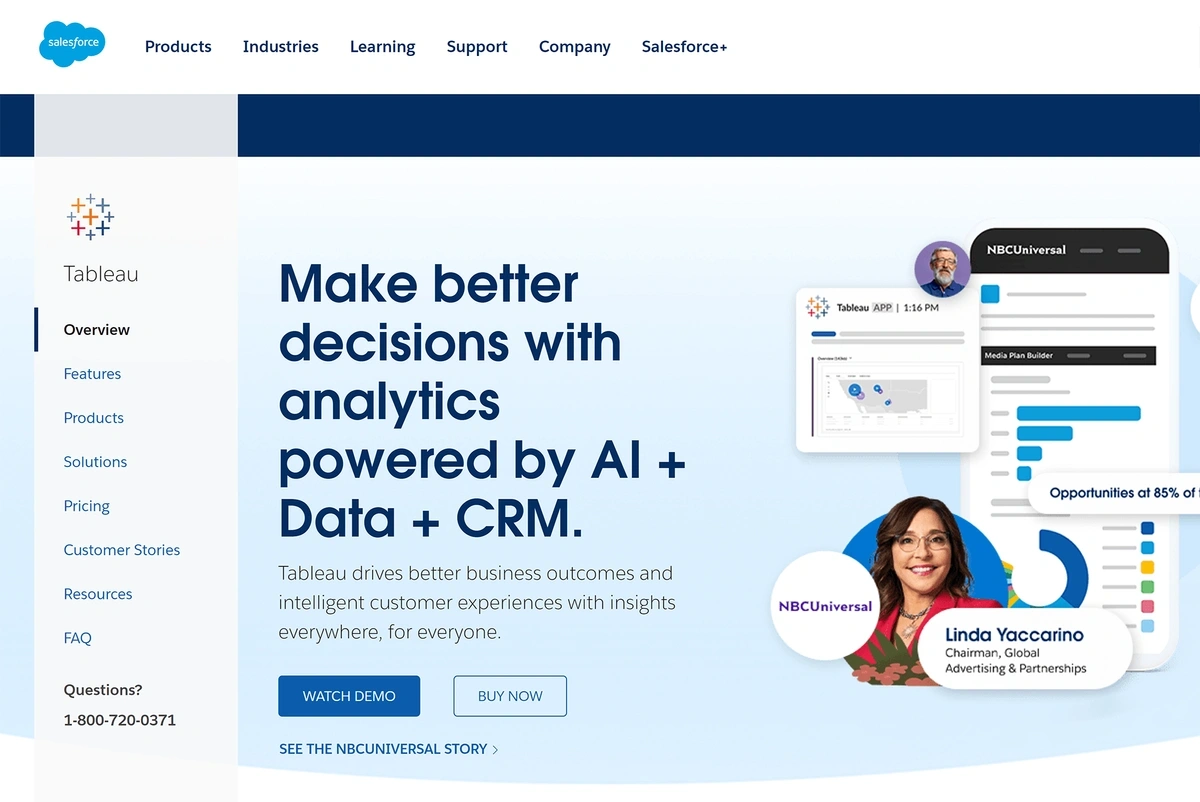 Explore, analyze, and visualize Salesforce data
See what happened in your pipeline, when, and why
Track changes in your sales metrics
Visualize sales data
Import additional data from tools like AWS and Microsoft Dynamics
Chat with team members and share dashboards directly in the app
Use the built-in Einstein service to create AI data models and dashboards
If you're already a Salesforce user and do most of your analysis with CRM data, this could be a good choice to help you make informed decisions.
Access to the suite of Insights tools starts at $75 per month (billed annually), per user.
And if you aren't a Salesforce user but like their CRM Insights features, you can use some of the same features with a standalone Tableau subscription.
6. Domo: Best For Data Visualization
Domo is a business intelligence platform that places an emphasis on visualization.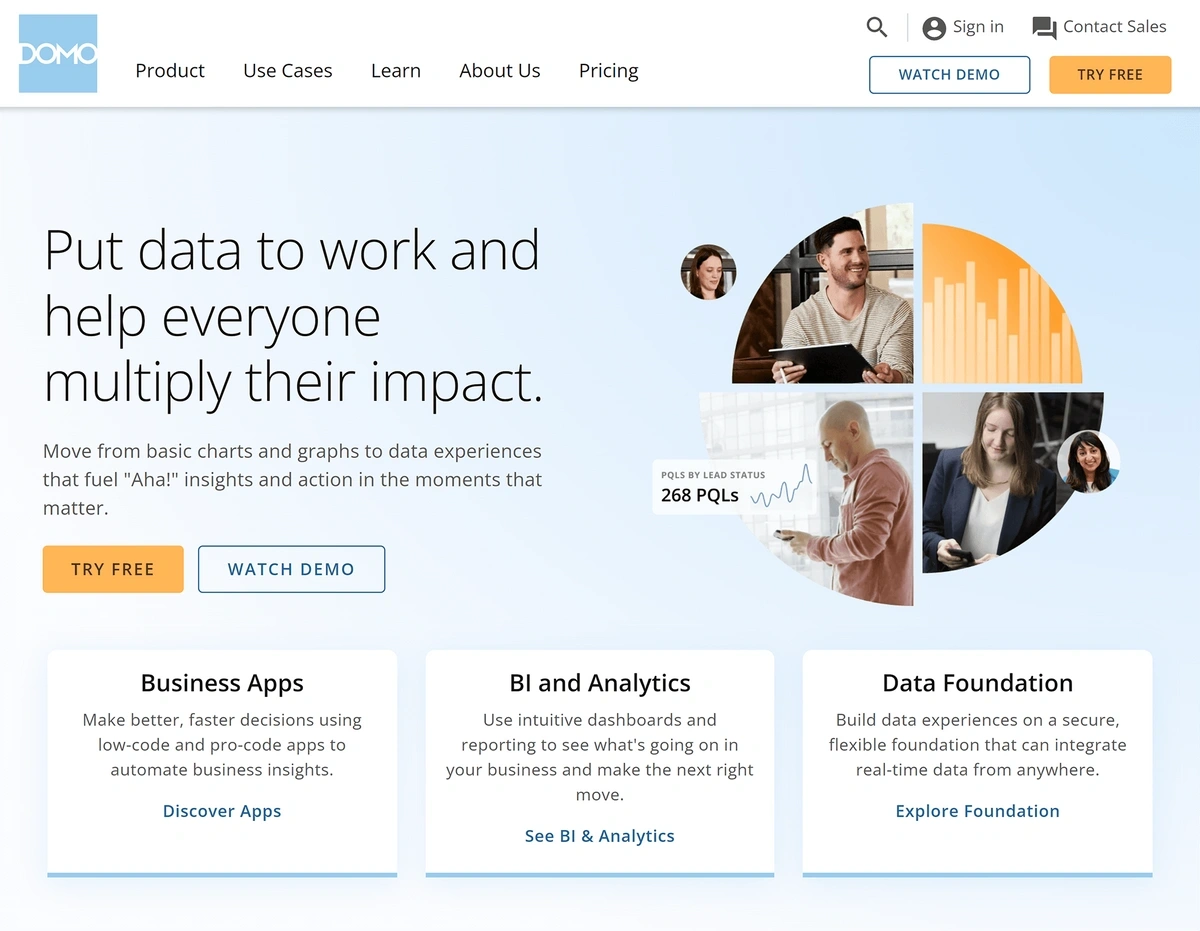 By putting your data into Domo, you can:
Build low- and no-code apps to automate business processes
Create graphs, charts, and interactive dashboards
Send real-time notifications about changes in your data to mobile devices
Use AI and machine learning to tweak data and model potential outcomes
Domo says that its customers use the platform to:
Track customer service issues
Improve customer experiences
Automate your BI reporting
Glean actionable insights for marketing
Remove data silos
Forecast event attendance with predictive analytics
If a dashboard-focused tool like Zoho Analytics isn't quite full-featured enough for your company, then you may want to give Domo a try.
Like Snowflake, Domo uses a variable pricing model based on features and usage. You'll need to discuss your specific needs and goals with the Domo sales team in order to get a price quote.
7. TIBCO Spotfire: Best For Location-Based Analysis
TIBCO Spotfire is a data analysis tool that leverages AI to help you understand key BI metrics.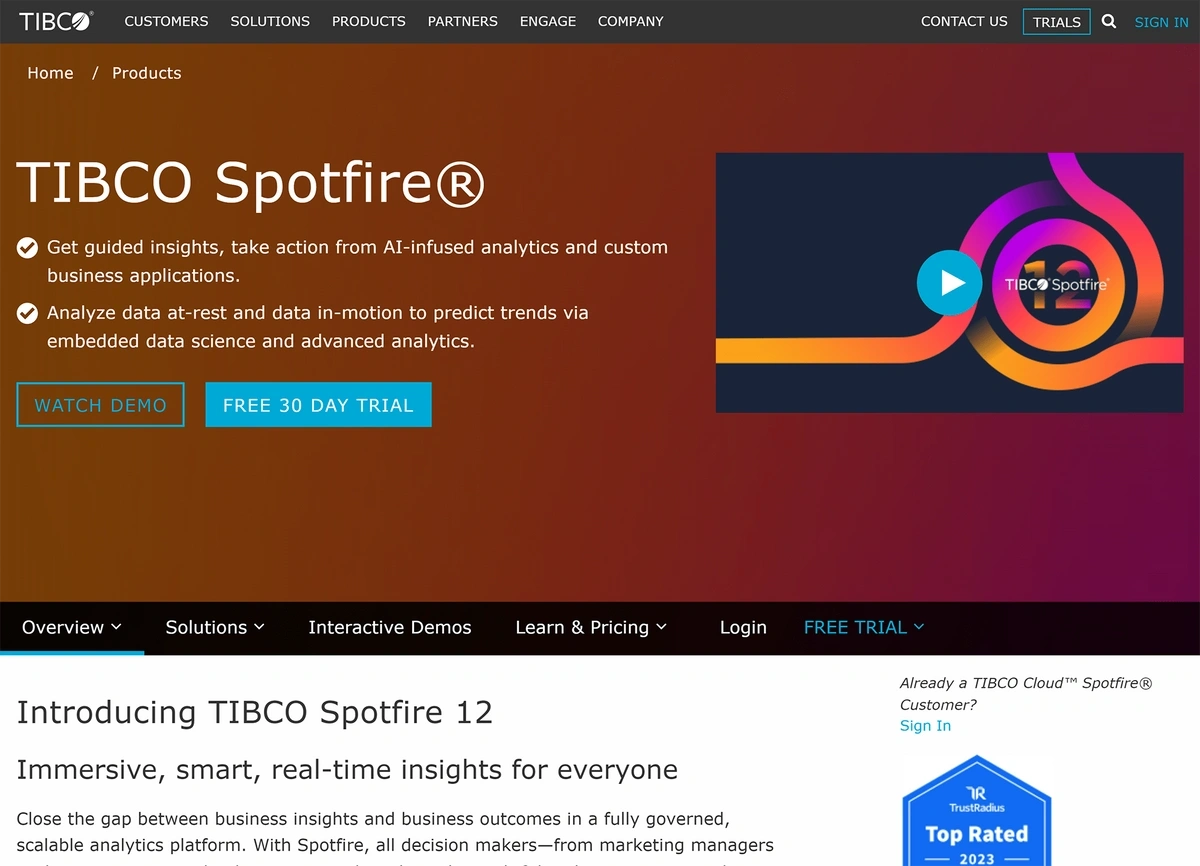 With the TIBCO platform, you can:
Take real-time actions on data as it arrives
Build responsive visualizations
Write Python scripts to manipulate data
One of its more unique features, though, its location analytics capabilities. If your data includes any geographical information, you can:
Create interactive maps based on your data
Drill down through multiple layers of geographic data (i.e. from country level down to specific addresses)
Change map views based on each data set
Convert data into latitude and longitude coordinates
So if your business relies on geographic data for transportation, logistics, marketing, sales, or other purposes, then TIBCO Spotfire may be a valuable addition to your BI toolkit.
You can launch a 30-day free trial right from TIBCO's website, but you'll need to chat with their sales team to learn more about ongoing pricing options.
8. Workday People Analytics: Best For HR Data
Workday People Analytics helps HR teams and business leaders use BI analysis to improve internal operations.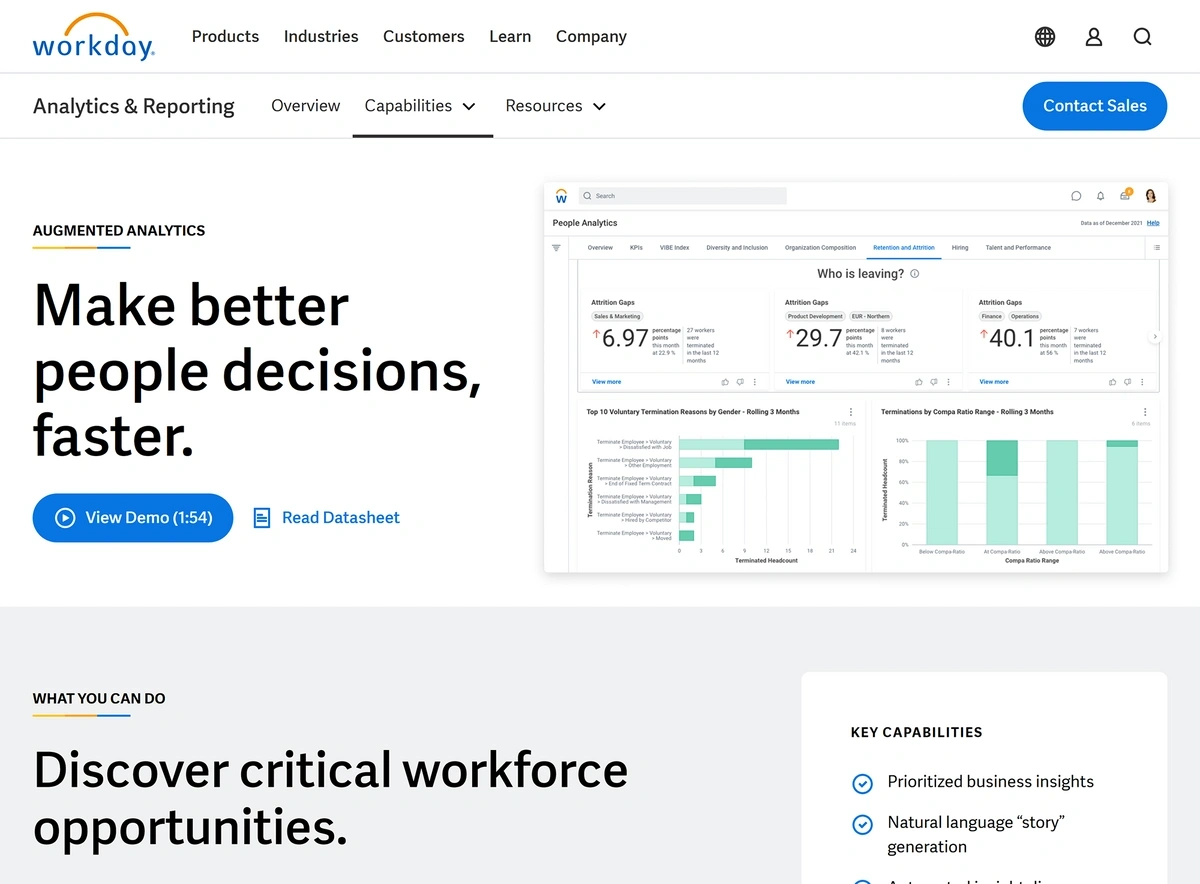 The program presents data visualizations and overviews in natural language, which Workday calls "stories." You can use these stories to:
Understand changes in staff demographics
See why employees are leaving the company
Develop targeted hiring plans
View the overall makeup of your organization
Improve retention rates
People Analytics is just one part of the Workday platform.
There are a variety of other BI and data analytics features available to Workday's business users—such as Workday Prism, which can help you see how external factors relate to internal operations.
You'll need to get in touch with Workday to discuss your needs and develop a price quote.
Conclusion
There isn't one right business intelligence software solution for every company—and some businesses will find that they need a combination of tools for research, storage, and data visualization.
But there's one thing that's true for all BI software, and that's that they require data in order to work. Without data to analyze, your BI tools of choice won't be much use.
It's easy to find, export, and save data about your industry with Exploding Topics.
We offer a trial period so you can test out our Business plan with no risk—search our databases, test out the API, and see how easy it is to export the data into other platforms with CSV files. It's just $1 for your first two weeks of Exploding Topics Pro access.