5 Key Data Analytics Trends (2023-2026)
You may also like:
At the heart of nearly every recent innovation is data analytics. Be it in health care, decentralized work (work from home), online shopping and customer care, or internet banking, collecting and analyzing data is often the foundation of each new space.
A report by Allied Market Research projects that the field of big data and business analytics will grow at a CAGR of 13.5%.
This would mean that the industry could grow from its $198.08 billion value in 2020 to reach an estimated $684.12 billion by 2030.
Read about the top 5 trends in data analytics that are revolutionizing how we deal with everything from economics to education to the environment.
1. Businesses Emphasize Business Intelligence
Over the last decade, the field of data analytics has spawned a suite of tools and techniques with widespread application in the field of BI, or business intelligence.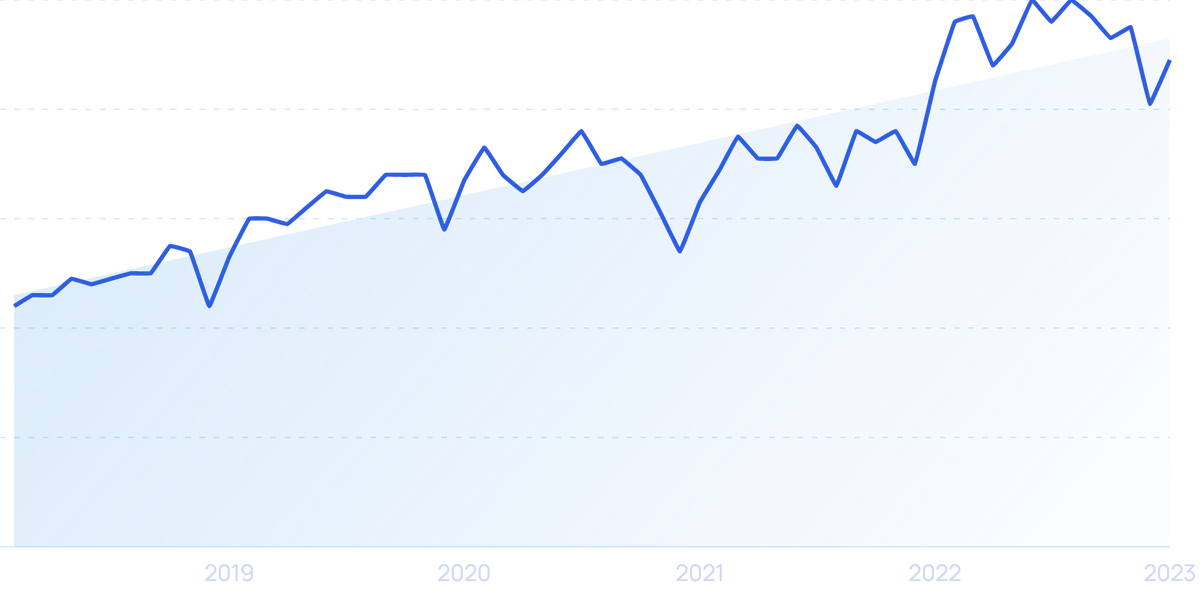 Search interest in "Business Intelligence" has grown by 102% over the last 5 years.
Put simply, business intelligence harnesses data analytics ‒ including, but not limited to AI ‒ to extract meaningful patterns from raw data and translates these into actionable insights
BI has rapidly grown into the go-to resource for leaders and planners in an era where fact-based decision-making is the holy grail of government, commercial, and social organizations.
Spearheading the transition to BI-based practices is the use of predictive analytics, which mines existing data for knowledge that can be used to forecast future events and trends.
The use of analytics in forecasting business growth is not new.
For decades, the greatest growth has been posted by those who predicted future trends most accurately — Uber's rise from a simple taxi app to the world's leading cab service provider is an eloquent example.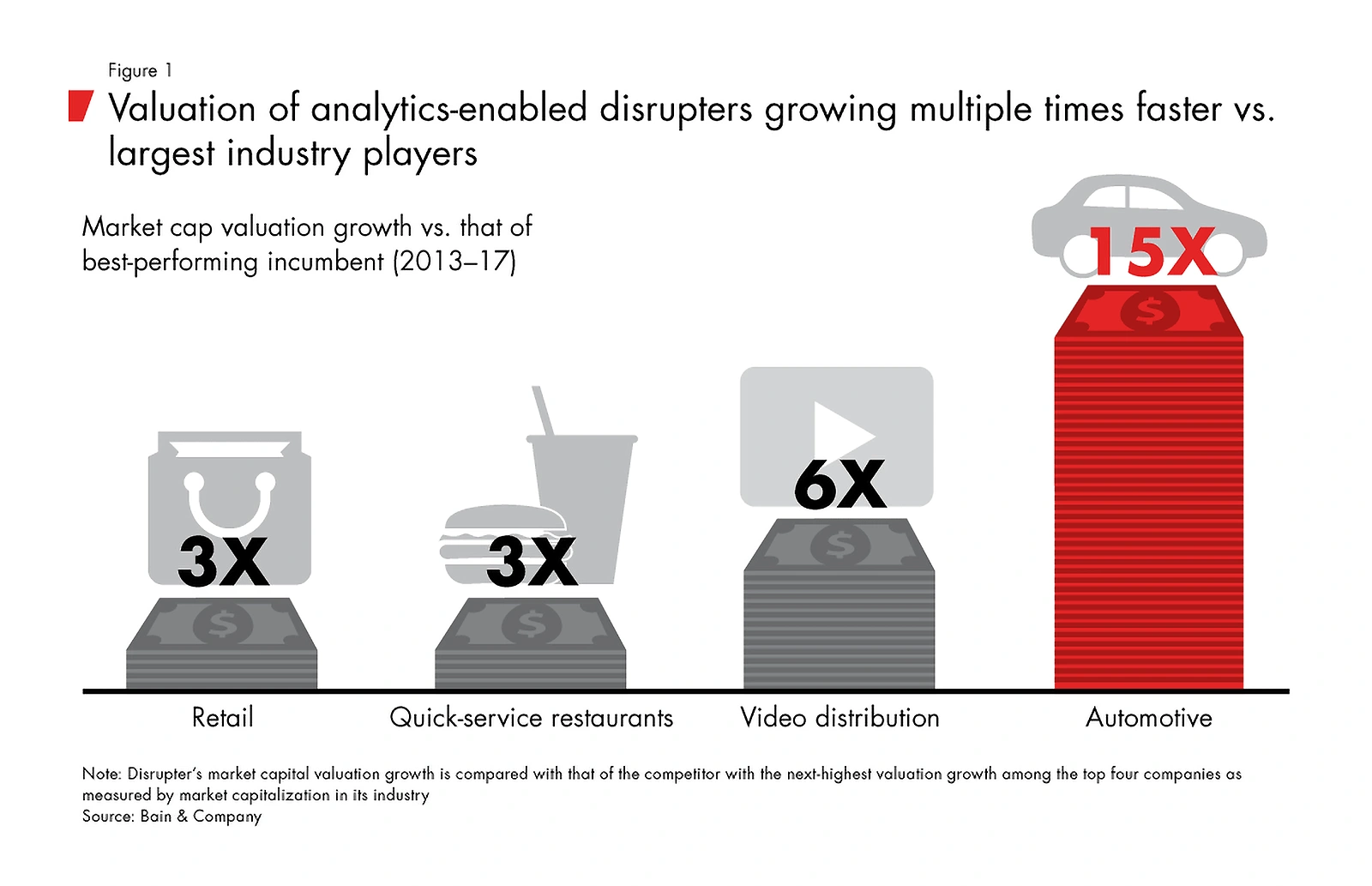 The automotive industry in particular has been a good environment for analytics-based startups.
However, many consider BI as an imperative for organizational survival and success.
Dresner's Business Intelligence Market Study 2021 concluded that BI is a key focus across sectors, with tech firms, manufacturing, retail, as well as finance increasing their investments in BI by as much as 50%.
For example, US chocolatier Hershey's successfully used predictive analytics to post a $70 million jump in sales.
Foreseeing that consumer preference for backyard activities during the 2020 pandemic would elevate demand for camp-fire snacks like s'mores, Hershey's upped production and saw sales sharply increase.
Another critical use of predictive analytics is in risk management.
This keeps organizational down-time to a minimum by averting equipment failures, accidents, security incidents and other stoppages.
For example, oil behemoth Royal Dutch Shell, an early adopter and huge investor in predictive analytics, is trialing technologies such as AI cameras that warn gas station operators about fire hazards such as customers smoking cigarettes.
Another initiative in AI-aided risk assessment by US food giant Cargill led to the creation of iQuatic, which helps shrimp farmers across several countries predict risks to their shrimp ponds based on patterns in local weather, pond pH, and nutrition intake.
With such a diverse array of applications, it is natural that BI, and predictive analytics in particular, looks to become a universal standard for enterprise.
According to analyst Facts & Factors, the predictive analytics market is expanding at a CAGR of 24.5% from its 2019 value of approximately $5.7 billion, to hit $22.1 billion by 2026.
2. Edge Data Takes Center Stage
IDC predicts that, in 2023, over half of new enterprise-class IT will be deployed at the edges of networks, rather than in centralized data processing units.
Gartner extends this forecast to over 75% by 2025, with both firms estimating present-day edge computing adoption at less than 10%.
Why the rapid transition towards edge computing?
The world today generates over 64 zettabytes of data in a year — that's 64 trillion gigabytes of data, from a total of 23.8 billion connected devices.
By 2025, the world's data will exceed 180 zettabytes, from over 41 billion connected devices.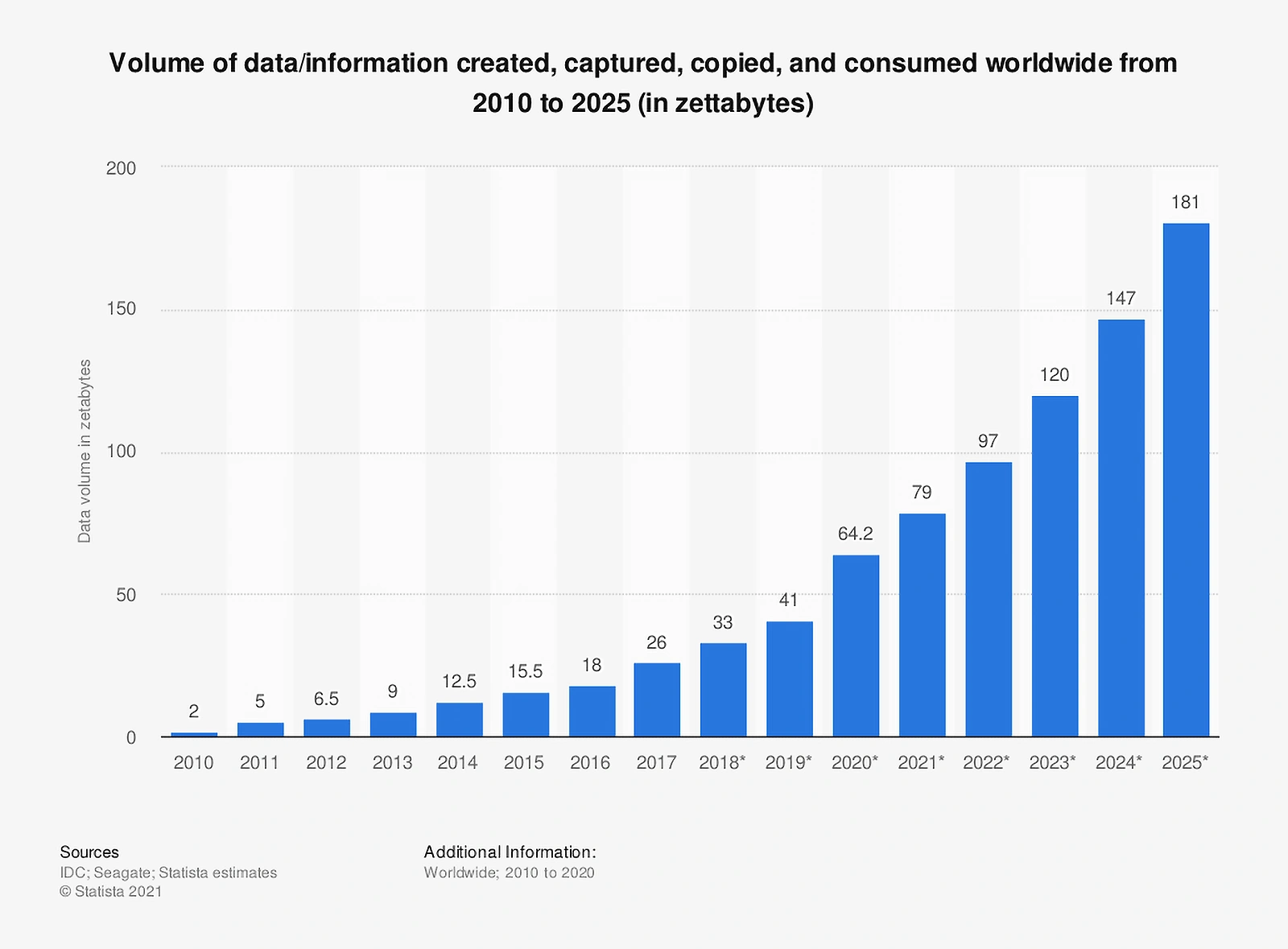 Volume of data/information created, captured, copied and consumed by 2025.
With the growth of data as the arterial blood of business, organizations are trying to liberate themselves from data storage and processing constraints by shifting from on-premise computing to partly or fully cloud-based architectures.
Business research firm Markets and Markets projects a 17.9% CAGR over the next few years, taking cloud computing from a $545.8 billion market to $1.24 trillion in 2027.
Nevertheless, even conventional cloud computing is under-equipped to handle the vast, ever-growing ocean of real-world data being generated every day.
Limitations in bandwidth, lag in data relay, as well as network disruptions can cripple critical industrial and commercial processes.
This, in turn, escalates operating costs and damaging risks.
One such example is the May 2017 IT crash that cost British Airways $68 million in a single weekend, which caused its parent company International Airlines Group's stock to nosedive by 2.8%.
Experts propose edge computing as the technology solution for the future.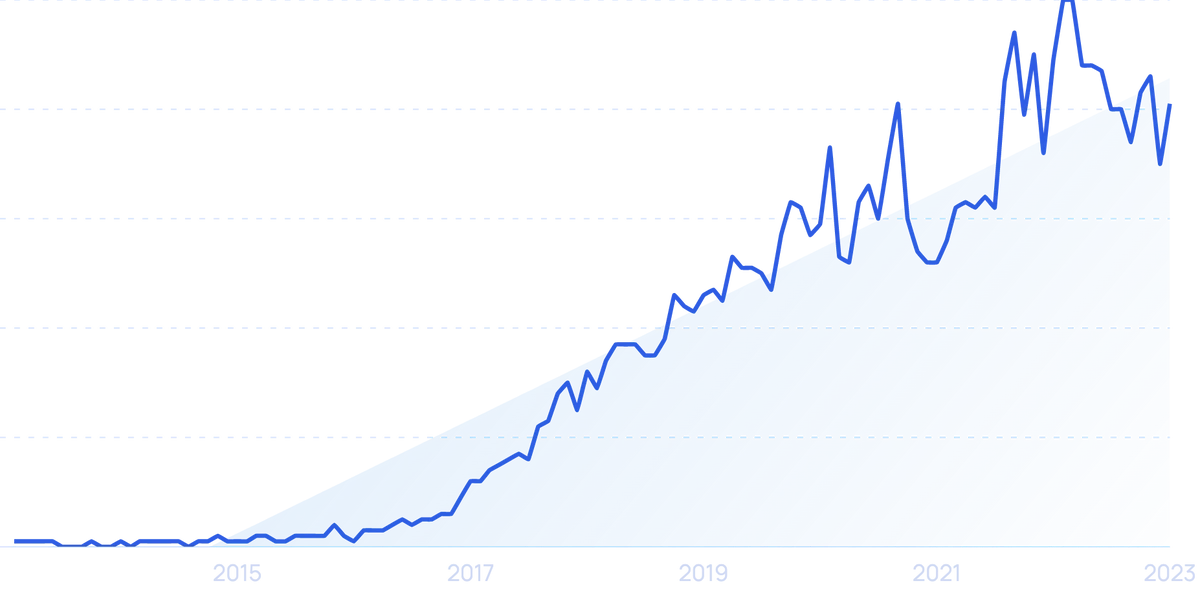 Searches for "Edge Computing" have grown by 8,000% over the last decade.
Edge computing involves processor-intensive, often repetitive, mission-critical data analytics within devices on the outer edge of a network.
Only data summaries are relayed to "fog" nodes, which are then passed on to cloud storage for higher-level processing.
To illustrate, a building may be given an "intelligent edge" by equipping it with AI-enabled sensors in each room.
These sensors can then directly communicate with local light fixtures and air vents to regulate ambient conditions, send security alerts on detecting unauthorized entry, and so on.
Indices of the forthcoming edge data explosion include:
The heightened importance of edge data and "distributed everything" will also lead to an increased demand for Software-as-a-Service (SaaS) products.
For instance, McKinsey pegs the sector's market share at anywhere from 50% to 80% of all IT enterprises by 2025, depending on the rate of adoption, a steep increase from its current 23%.
Another wave of change sweeping across data analytics as edge computing accelerates is a strategic shift towards "small and wide data".
Unlike the exclusive focus on "big data" in older approaches, evolving AI and ML (machine learning) technologies are specializing in extracting patterns and insights from "wide" data as well as small data sets.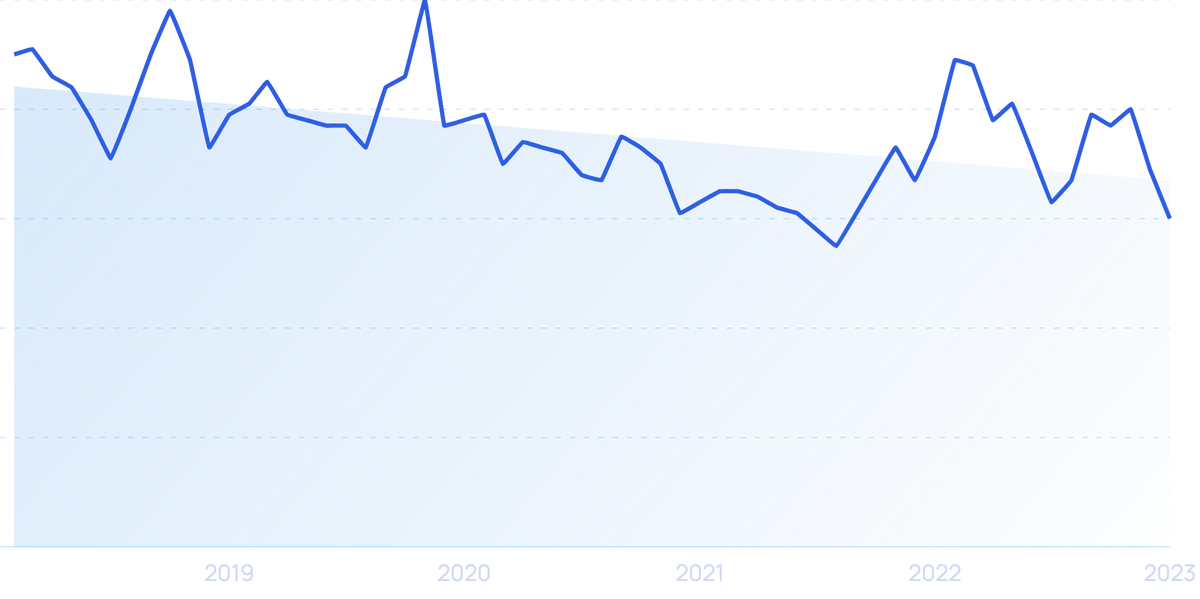 Searches for "Big Data" have dipped by 32% over the last 10 years as data analytics shifts.
The now-infamous example of US retailer Target using analytics for targeted advertising of baby care products to customers expecting a child is an example of "wide" analytics.
This type of analytics examines data across product categories and diverse customer profiles.
Similarly, toy giant LEGO's ability to turn around LEGO building block sales is attributed to their refocusing on "small data".
This, in turn, allowed for a concentration on children's hobbies instead of on sweeping "big data" trends highlighting children's preoccupation with computer games.
Data experts are also advocating for the creation and adoption of the data fabric.
This architecture provides a single, unified structure for the collection, organization, analysis and interpretation of large quantities of data.
Using data fabric also allows organizations to effect seamless connectivity across large networks
Widespread adoption, particularly in the North American market, is likely to drive up demand for data fabric services, netting it a market share of $4.54 billion by 2026.
3. Organizations Favor Cloud-Native Technologies and Self-Service Data Analytics
Leading analyst Gartner evaluates that the cloud migration trend has already percolated widely, with over 70% of businesses have moved at least part of their IT operations to cloud computing.
Yet, a 2019 McKinsey survey of 750 businesses found that 30% reported wasted budgets on failed cloud projects, while an additional 23% reported going over budget.
The Gartner report identifies issues with software (app) and technology migration as one of the foremost challenges of migrating to the cloud.
The transition to cloud computing has been smooth for some organizations, like Shopify, Spotify, and Evernote, but fraught with challenges for others like Netflix, Symantec and Waze.
No matter the experience, an emerging consensus is that developing (or adopting) cloud-native technologies is the only truly sustainable solution to distributed IT infrastructure.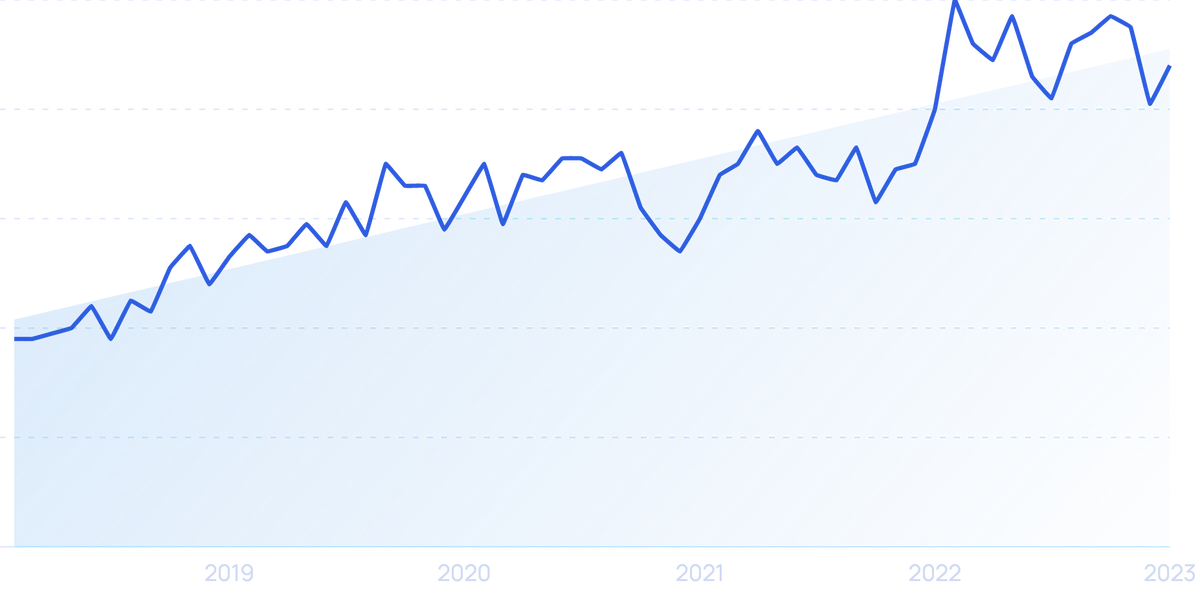 Searches for "Cloud Native" grew by 131% over the last 5 years.
The booming cloud-native market is being fueled by a global perception that this technology presents opportunities for near-limitless business growth and diversification.
Others peg current market capital value more broadly at $2 trillion, with an expected CAGR of over 45%.
On the heels of the cloud-native movement comes the push for more self-service analytics, which will allow even non-technical adopters and end-users to collect, analyze and interpret their own data.
Many standardized tools already exist, including Microsoft's Power BI, Tableau, SiSense and Alteryx.
The growth of companies offering self-service analytics products and services proves that technology is becoming more important.
Alteryx, which makes a variety of advanced data analytics software accessible to ordinary data workers, went public in 2017.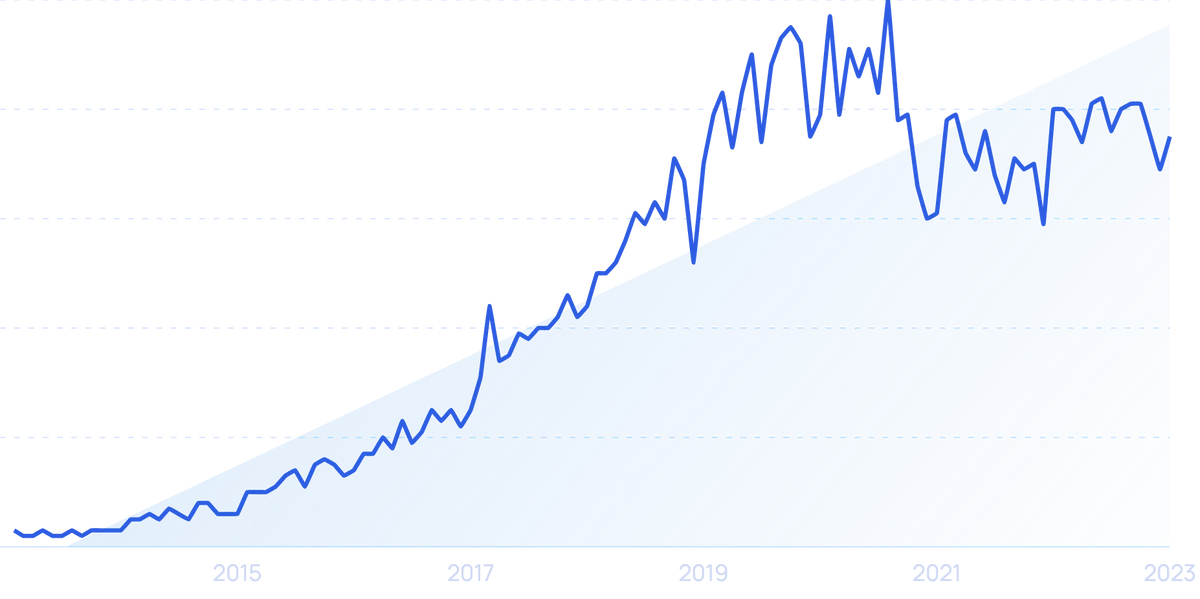 Searches for "Alteryx" have grown by 2,400% over the last 10 years.
At that time, it was valued at just under $800 million.
Today, it's valued at roughly $3 billion.
Much like Alteryx, Sisense was founded in the early 2000s but has experienced rapid growth in recent years.
The company focuses on helping businesses understand and use insights generated from big data.
It was founded in 2004 and operated in relative obscurity until it started to receive significant venture funding in 2010.
By 2020, the rush to monetize data analytics insights made the company a unicorn.
The tremendous room for growth, especially in customized analytics tools, prompts market analysts to project a galloping CAGR of 14.8%, expanding self-service analytics from a value of $4.73 billion in 2018 to $14.19 billion by 2025.
4. Growing Use Cases for Data Management and Analytics
As more data is generated every day, it is becoming apparent that every business must utilize data to stay competitive.
And not every business will be able to source, store, and analyze data as easily as the largest tech companies.
That is where Data as a Service (DaaS) comes in.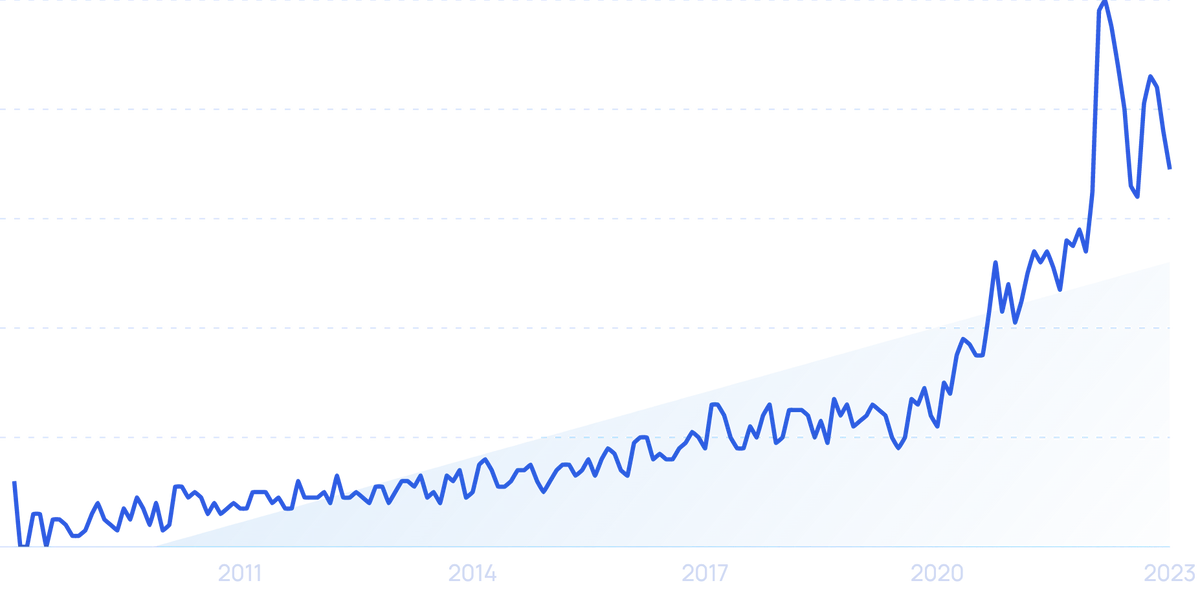 Searches for "Data as a Service" have grown by 475% over the last 15 years.
DaaS companies typically offer data collection, storage, and analysis services on a subscription basis.
Depending on the customer, the DaaS provider could collect and utilize internal data that is native to the customer or supply the customer with data sets it might not have access to on its own.
As more of the business world moves to cloud-first technology, it seems likely that the switch to DaaS will be swift as well.
In fact, Research and Markets predicts that the DaaS market will grow at an impressive 56% CAGR over the next five years.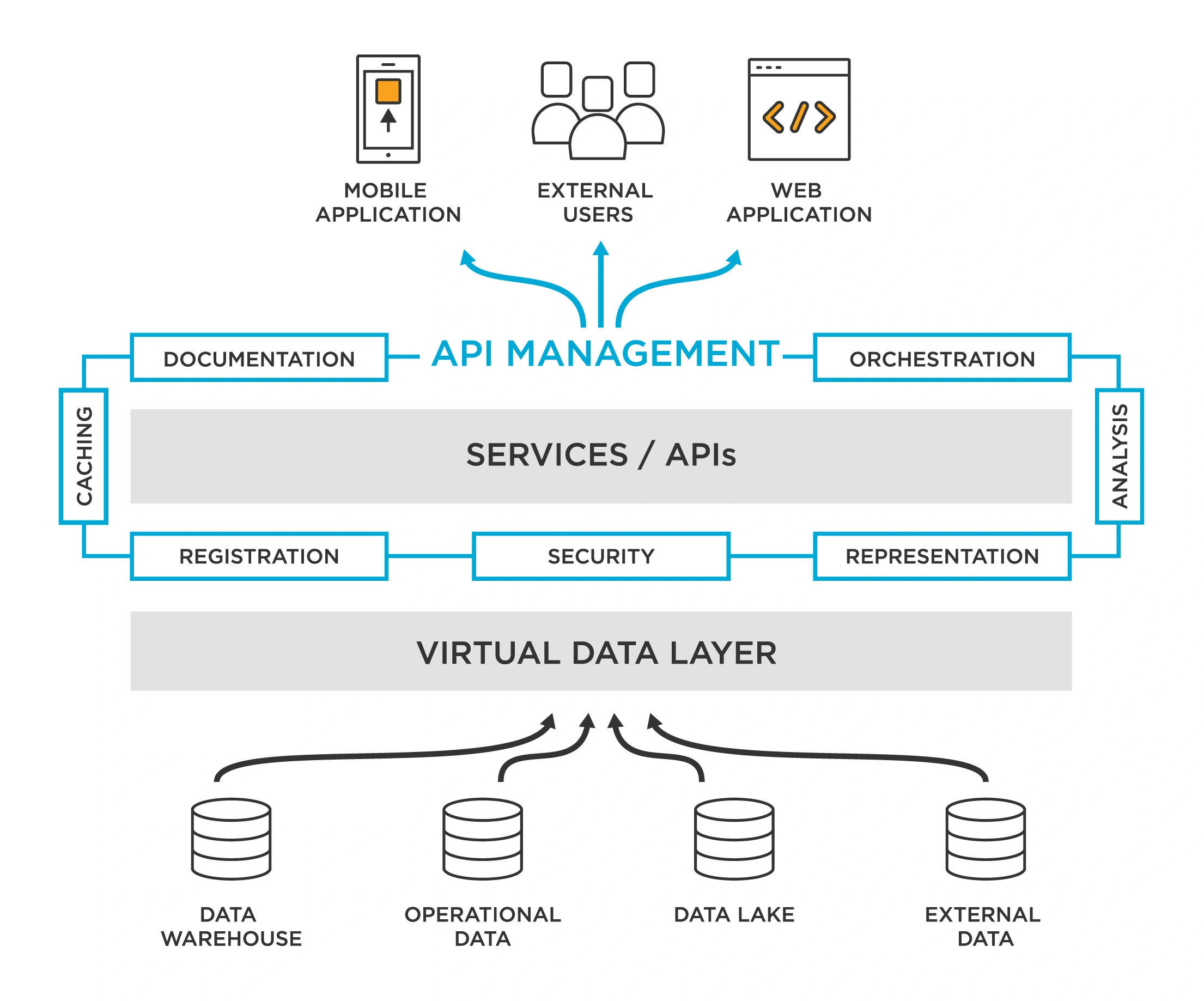 A snapshot of the many features DaaS is outsourcing for companies.
Snowflake is one of the largest and most popular companies in this market.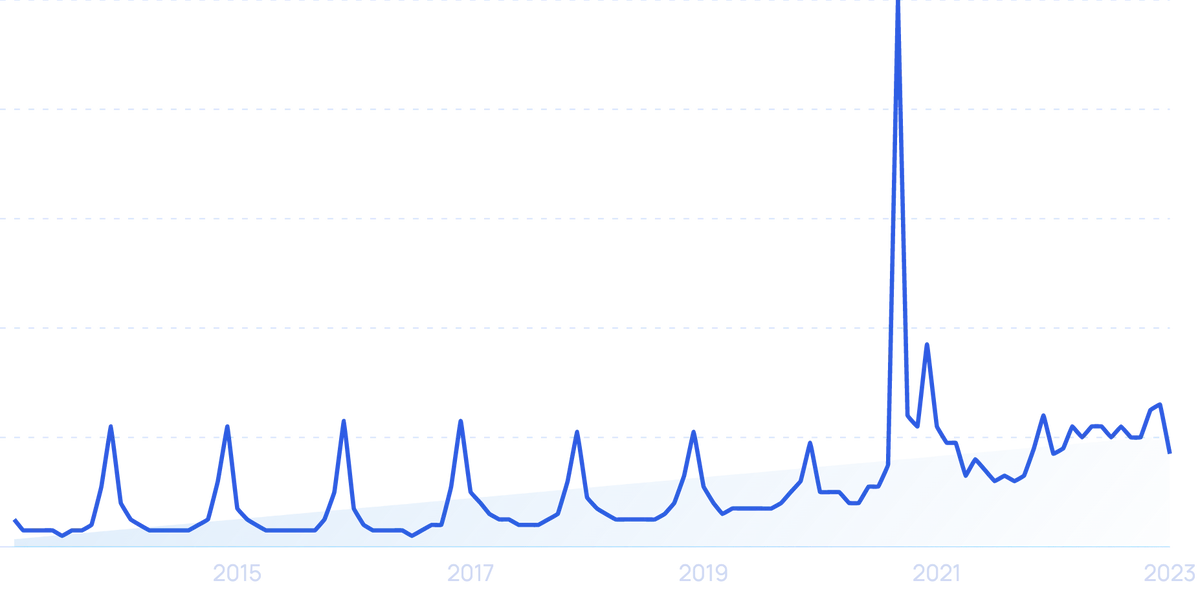 Searches for "Snowflake" shot up at the end of 2020.
Famous for its data warehousing services, the company can also act as a pure DaaS provider.
It allows customers to store and analyze data on its platform as well as vendors to sell data through its platform to end customers.
Started only in 2014, Snowflake is now publicly traded (it went public in 2020), with a valuation of more than $100 billion.
Underlying the DaaS ecosystem is the seamless transfer of data from one or user to another. Much of this takes place on data marketplaces.
In fact, almost a third of respondents to IDC's Data Buyer's Survey said that they purchase data through data marketplaces.
Snowflake, which was mentioned above, also has its own data marketplace. On its platform, the company offers close to 1,000 active data sets from over 200 vendors.
Customers can simply query the set of their choice and use Snowflake's analytics to derive insights.
In addition, the AWS Data Marketplace currently lists around 4,000 data products available for analysis.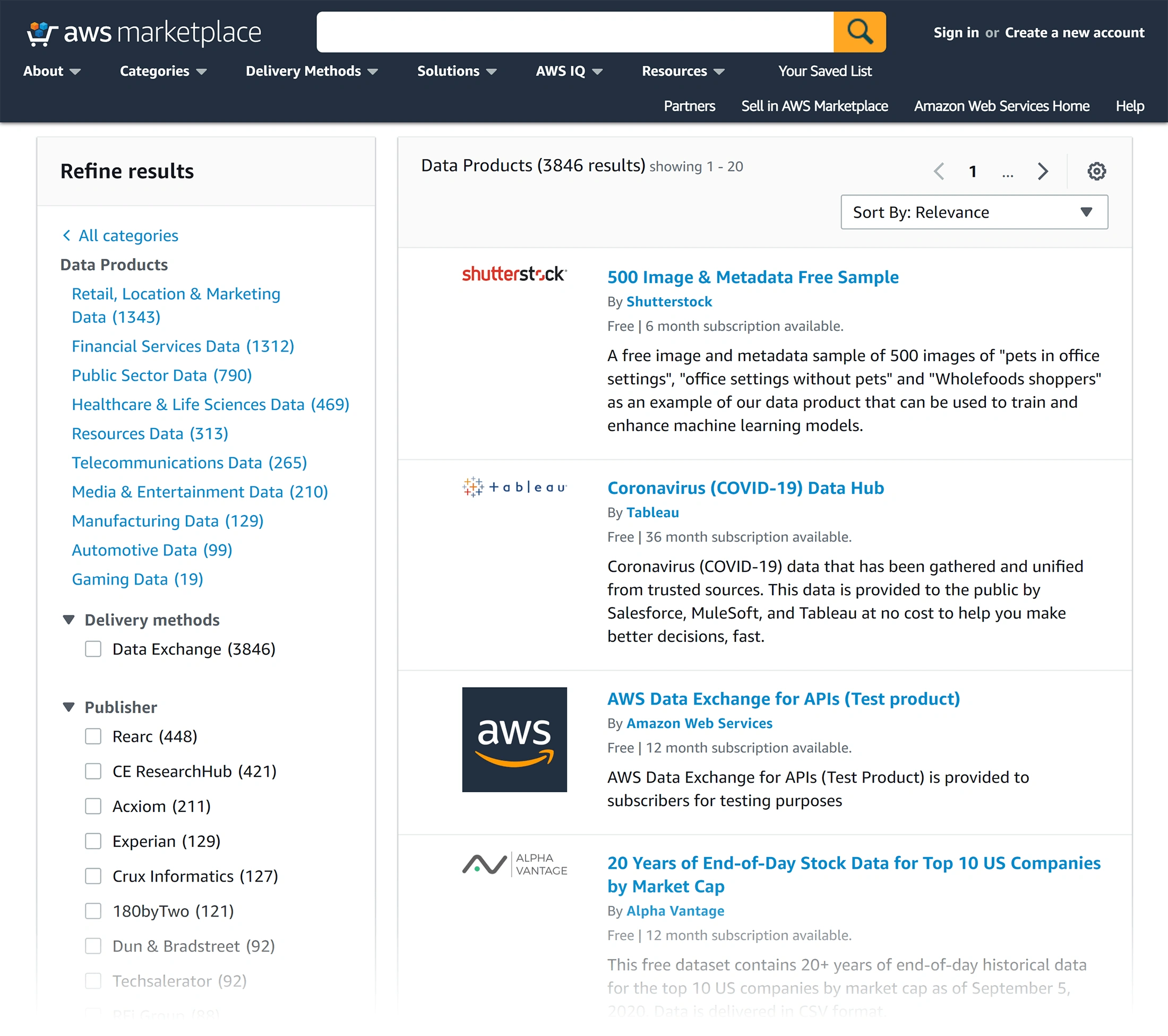 Screenshot of the AWS Data Marketplace
All of this is to say that it has never been easier to find, store, and analyze data.
Thousands of unique data sets are at the click of a button. And non-tech savvy companies don't have to build out a data science arm to keep up with the competition either.
5. Democratization of Data Systems
Recent events have highlighted the potential for bias in AI-based decision-making, reflecting its vulnerability to demographic and culturally skewed training data sets.
However, the power of AI is simultaneously being harnessed to promote justice, achieve inclusive education and improve food security for disadvantaged communities across the world.
Yet another key area in which advanced data analytics is setting the pace is that of bio conservation.
Mid-2021 saw the launch of the world's smallest, AI-equipped trail camera with an incredibly long battery life of 1.5 years.
Developed by Intel and software developer CVEDIA in collaboration with environmental agency RESOLVE, TrailGuard can accurately distinguish animals from humans, and identify vehicles carrying potential poachers before alerting park rangers.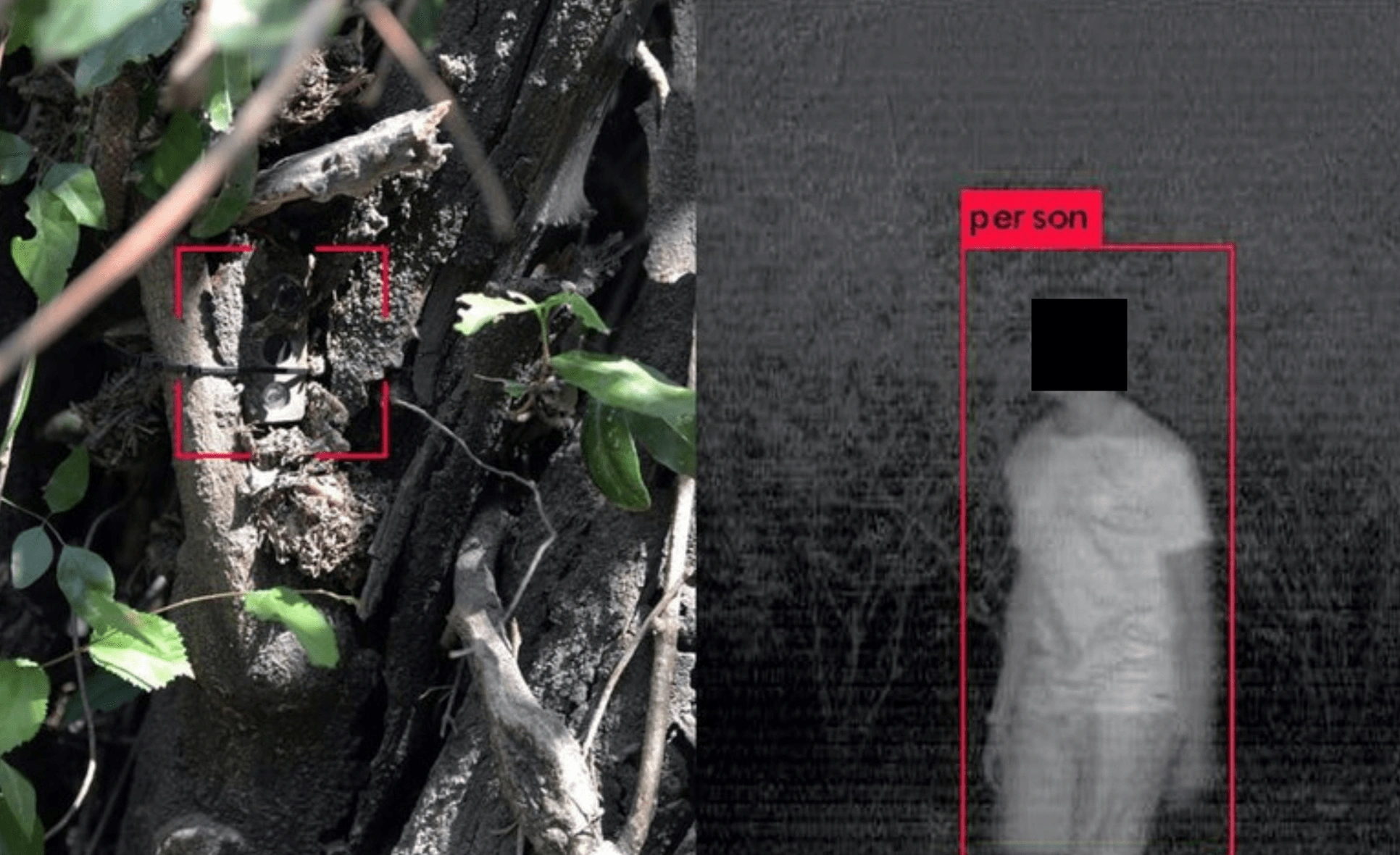 Example of TrailGuard AI used to prevent poaching.
An AI-based bio-acoustic analysis system called RFCx developed by US not-for-profit Rainforest Connection is already in use across 16 countries. RFCx can isolate human sounds like trucks and heavy machinery from normal rainforest noises, alerting authorities to illegal logging.
Conclusion
Data analytics sits at the heart of a digital world.
As organizations across the globe race to keep pace with the digital transformation, the ability to generate and use business intelligence is a critical determinant of enterprise growth.
As real-time data processing and fact-based decision-making become the cornerstones of commerce and governance, a growing number of businesses now recognize the power of edge computing.
To unleash the potential of edge data and BI, commerce and industry requires a foolproof, distributed computing network that relies on cloud-native technology.
Also, as businesses big and small grapple with the economics of the digital age, they see the long-term benefits of self-service analytics tools. In short, the data analytics space still looks to have plenty of room for future growth.