#1 Site for Business Trends Research: Identify + Track Trends
Knowing how to identify upcoming business trends in their early stages is crucial to understanding what's relevant in your industry, what your customers are interested in, and how to leverage new opportunities before they're overdone.
But the problem, if you try to do this kind of business research without trend spotting software, is that:
It's nearly impossible to detect early trends by just keeping tabs on news sites, social media platforms, streaming sites, forums, and online retailers like Amazon (and more) yourself. It's simply too much to tackle unless you have an entire team dedicated to the task.
And typically, by the time you've heard about new products, technologies, startups, etc. from these sources, they're already pretty well-known (by your competitors and customers).
So you spend a ton of time and energy trying to keep up with dozens of websites, what users are talking about, popular products, and more, and you're still unable to spot new trends before competitors.
Trend spotting software, like our solution, Exploding Topics, solves this problem because it has advanced artificial intelligence that constantly monitors hundreds of websites for blips of new industry and market trends. It pulls data on dozens of new trends each day. Then our team of analysts reviews this trend data to find high-quality business trends that have indicators of long-term interest and growth — in other words, the trends that show value for your business. This way, you can start your business trend research with this information already at your disposal (and you don't have to hire an expensive market research agency to obtain it) — it saves you a ton of time (and money) and allows you to learn about upcoming trends while they're still up-and-coming.
In this post, we explain how to use Exploding Topics trend spotting software to learn about and track new business trends. We talk about our:
Trend database where you can browse business trends by category (e.g., tech, beauty, lifestyle, eCommerce, SaaS, startups, etc.).
Weekly trend reports with analysis of 10 of the best new trends with the most potential for future growth and business value.
Meta trends library where you can explore collections of business trends organized by topic.
Trend search feature where you can look up trends you've already heard about, review trend data, and see all of the trends that relate to your search.
Trend tracking dashboard where you can save the trends you're interested in, set alerts for trend updates, and monitor trend growth.
You can also see how the platform works by starting an Exploding Topics Pro Trial.
Trend Database: Explore Business Trends by Category
The easiest way to begin trend research in Exploding Topics is by browsing through the trend database. This is where we store all of the business trends on our site — we organize trends by category so you can quickly select the industry you're interested in and see relevant results.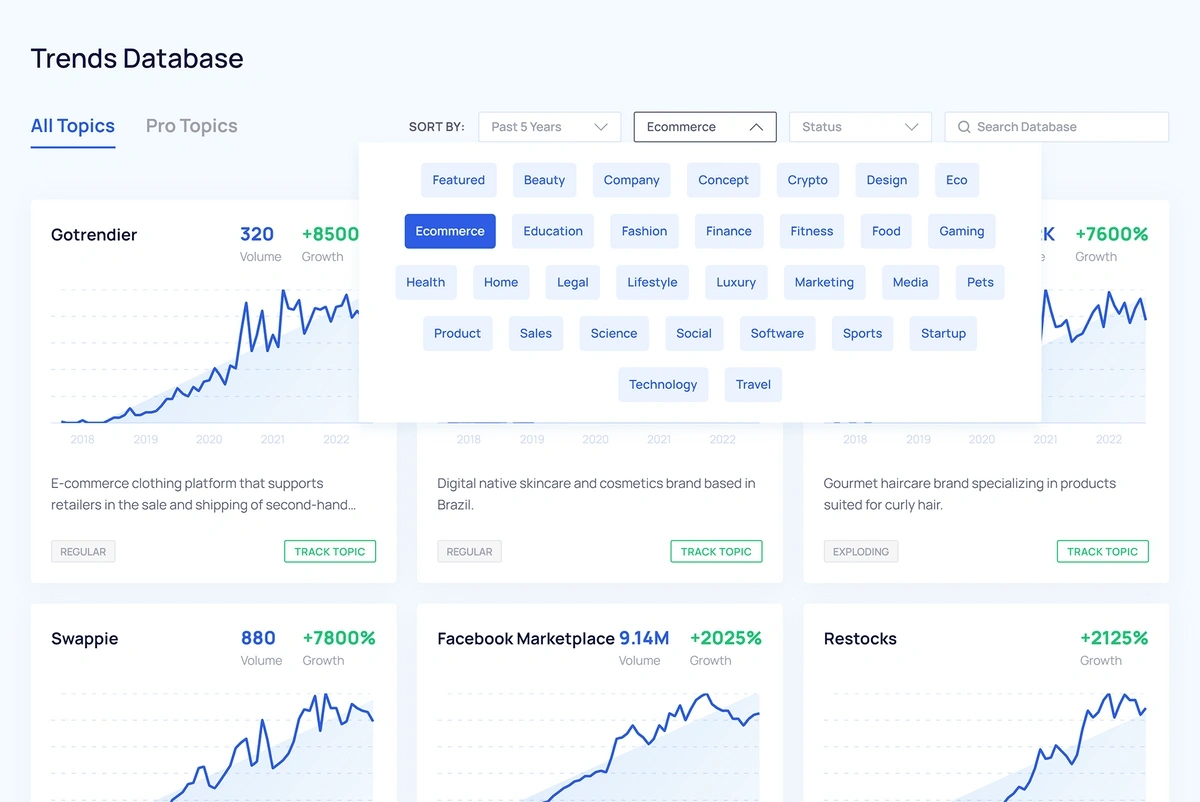 You can filter the results further with the "date" and "status" menus; these let you sort trends by recency and popularity (respectively). So if you wanted to look at emerging trends in the past month, you could change the date to "Last 1 Month" and the status to "Regular" or "Exploding."
Pro Tip: "Regular" trends are trends that are still in the early stages; "Exploding" trends have already started to gain popularity and become more well-known; "Peaked" trends are older trends that have (as the name suggests) already hit their peak.
As you scroll through the database, you can click on a trend to see detailed trend information. Within the trend overview, we show:
A quick description of the trend.
Trend search volume and growth rate — we also display these metrics in an interactive graph so you can easily dig into historical trend data and use that information to predict future interest in the trend.
A breakdown of the categories in which the trend is relevant.
A list of other related trends that might interest you (making it easy to continue research and find new trends that are beneficial for your business).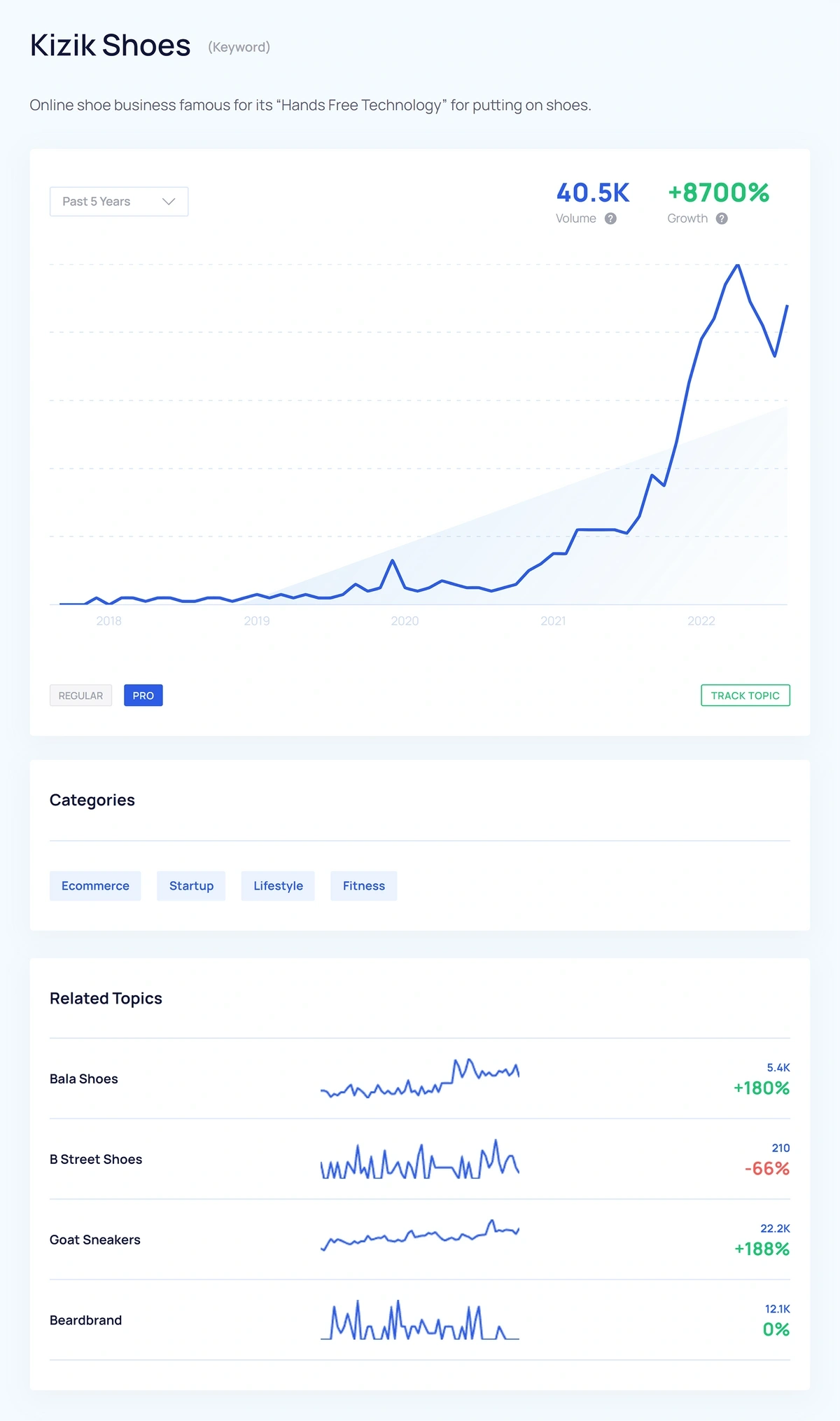 Then, you can save any trend you're interested in (by selecting "Track Topic") and monitor trend growth in your private dashboard.
Weekly Trend Reports: Get Details on 10 of the Newest Trends Right In Your Inbox
We update you on the newest (most promising) trends each week via trend newsletters. Each trend report contains a batch of 10 trends, across all industries, with a detailed write-up of each — this variety of trends is especially helpful for entrepreneurs, investors, and media groups that want a broad look at potential new opportunities.
For example, here's a preview of a recent trend report and the different trends it covers: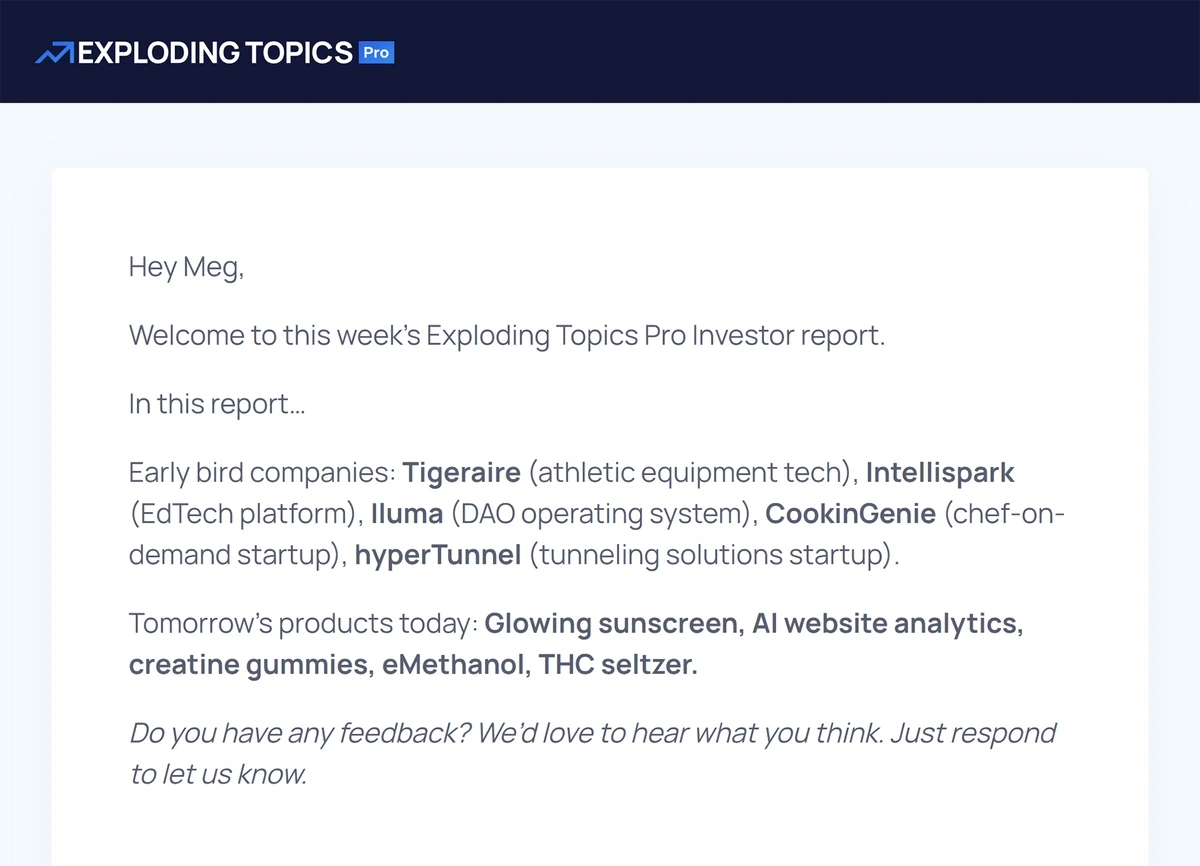 In our trend analysis, we provide some background on the trend — what it is, how it came to be — explain how the trend is already relevant — what industries it impacts, what businesses and customers are already benefiting from it — and how interest in the trend may fluctuate in the future.
Let's take a look at Tigeraire from this recent report, our analysis covers:
What the company is — an athletic equipment technology startup.
Description of their product and their target audience — a cooling mechanism for football helmets that is popular for professional athletes.
How they've grown and how they plan to expand their market share — raised $2.3 million in funding and they're expanding their product line to appeal to construction and field workers.
How their company is expected to remain relevant in the future — wearables like what Tigeraire offers are only becoming more popular, and uses for them are plenty, they can collect performance analytics, prevent injury, and so on.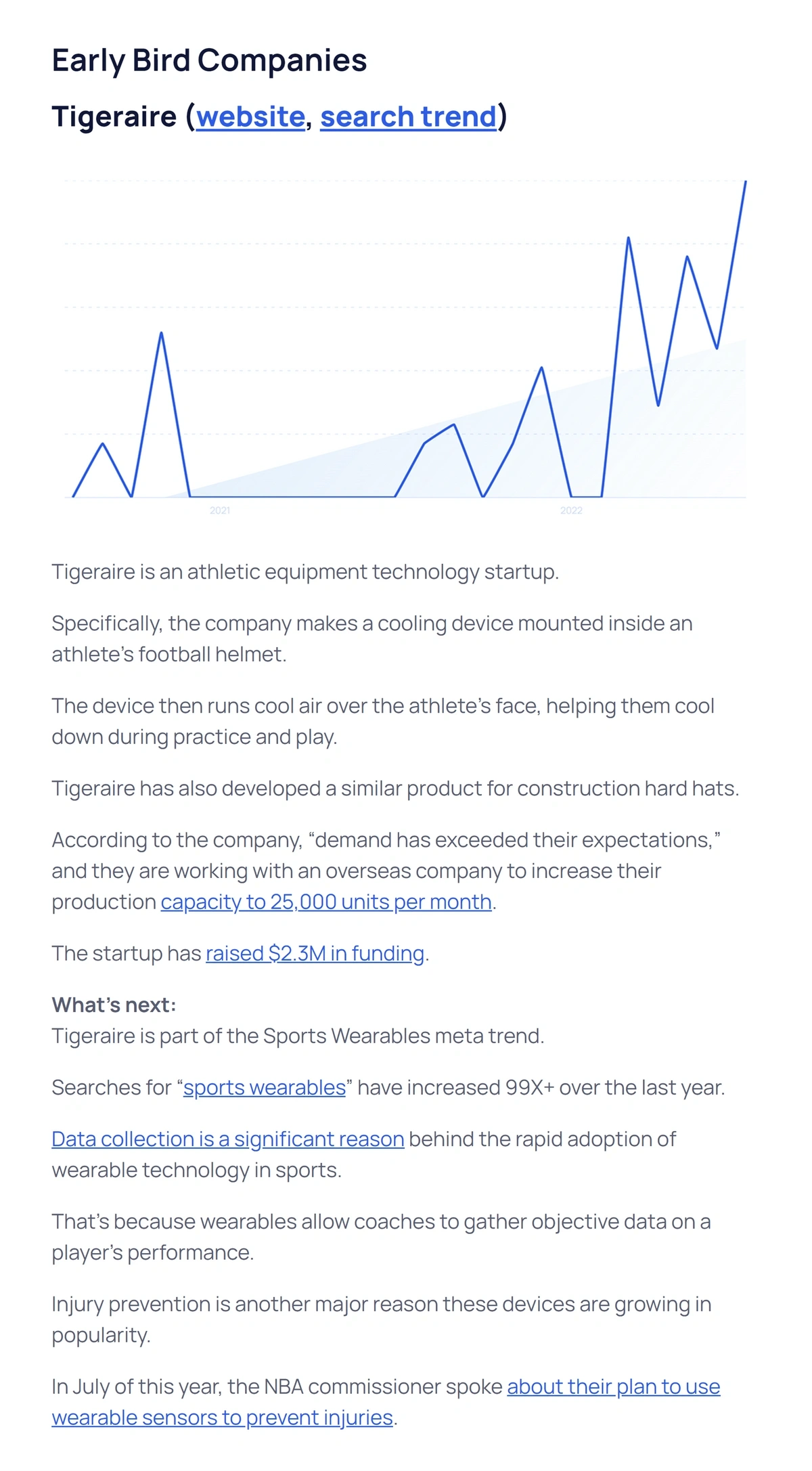 All of this context lets you get a better understanding of upcoming trends so you can use trend data in your decision-making.
You can read more about Exploding Topics trend reports here: Weekly Trend Reports (With Tools to Discover + Track Trends)
Meta Trends Library: Review Collections of Industry Trends
You can also research business trends through the Meta Trends tab. Here, we organize collections of related trends by topic so you can start your search from a different view and analyze large batches of trends in one swoop.
For example, some of the meta trends in our collection include…
Workflow Automation Tools
Containers As A Service
eSports Training And Accessories
Machine Learning Assisted Image Classification
DTC Pet Food
Cash Flow Management Software
Antioxidant Skincare
So you can see we provide a variety of business trends here, as well.
You can still search trends by category/industry, but it lets you get a little more specific in your jumping-off point. So say you were interested in eSports accessories — instead of choosing the "Sports" category in the trend database, you can start your search specifically in the "eSports Training And Accessories" meta trends tab, and see all of the trends that specifically relate to that topic.
Let's take a look: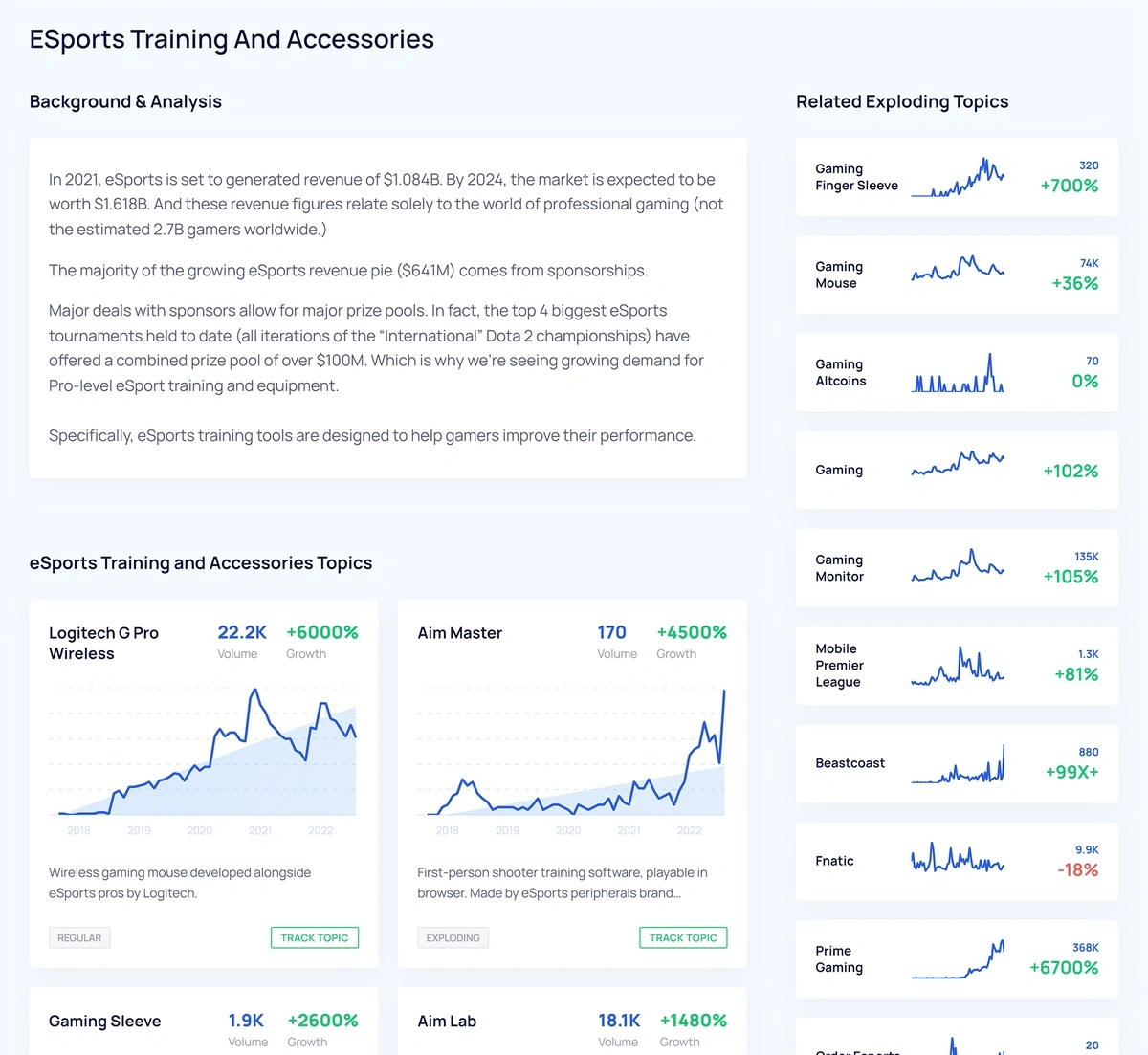 The meta trends analysis includes 1) background on the meta trend, 2) a collection of trends that make up the meta trend, 3) a list of related topics, and 4) other suggested meta trends. This way, you can see all of the most valuable trends that encompass the eSports Training And Accessories topic, and easily jump to other related opportunities.
Trend Search: Look Up, Analyze, & Save Business Trends
Exploding Topics also provides a trend search feature so you can look up trends you've already heard about, view all of the data we've collected on the trend, and see related opportunities. This makes it easy to find specific products, technologies, and startup businesses that you're interested in, gauge the long-term viability of the trend, and use that information to take action or pivot to another opportunity.
Say you want to look at new online healthcare providers: You can search "online healthcare" in Exploding Topics, see data on the topic, and view the related trends.
So, we see that "online healthcare," in general, is a trend most people already know about. But, Hurdle Health and Roman Health are two online healthcare providers that are not as well-known (labeled as "Regular" trends), so they're two small businesses you might be interested in learning more about.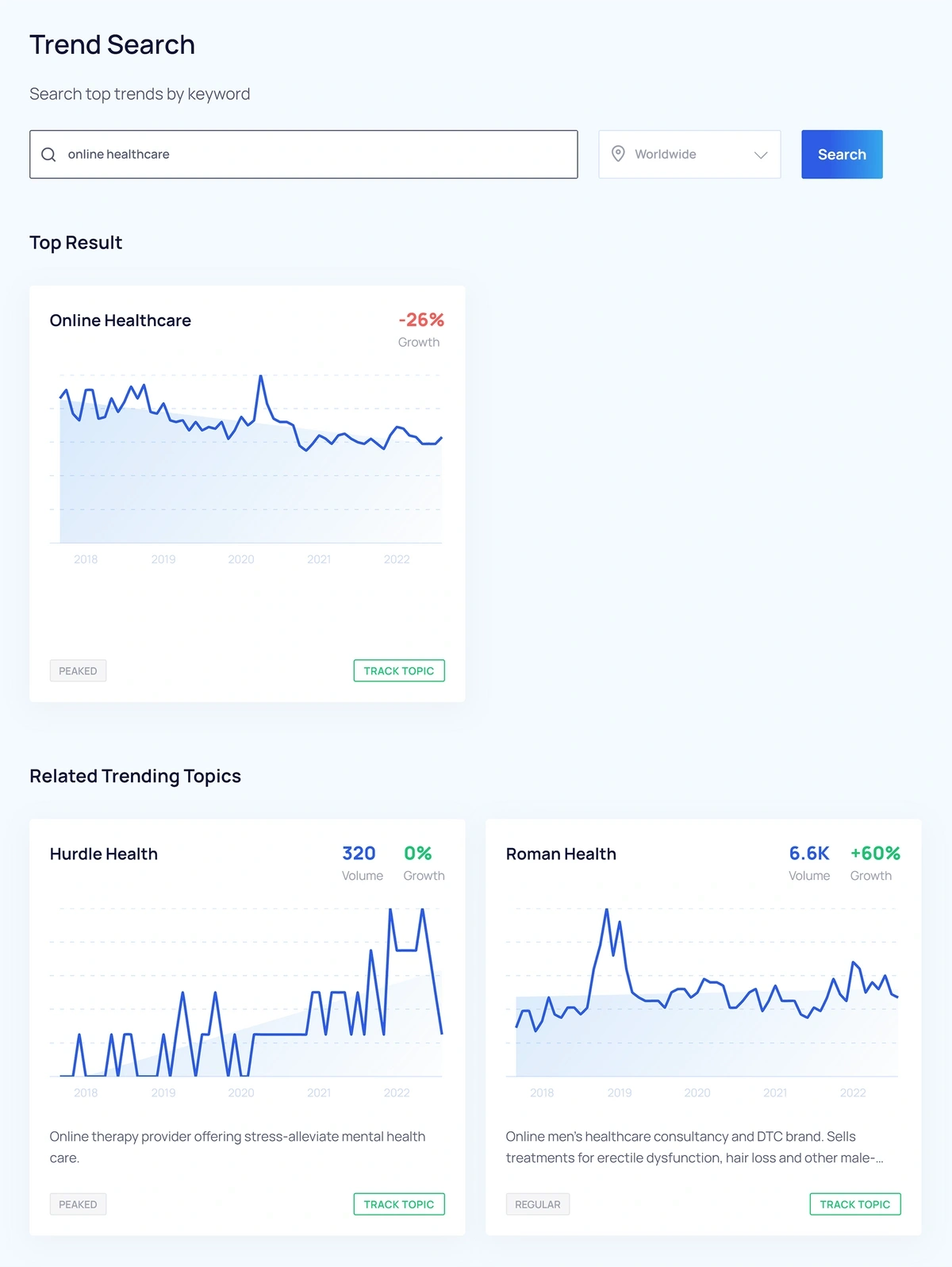 Pro Tip: You can filter your search to look at trend data for just a single country or geographic location. So if you wanted to look at online healthcare trends in just Canada, or Spain, or Poland, you could specify where you want to pull trend data.
Trend Tracking Dashboard: Monitor Business Trends in One Hub
You can track business trends from the private trend tracking dashboard. As we mentioned above, you can save trends to this dashboard by clicking the "Track Topic" button as you view trends.
In the trend dashboard, you can:
See all of your saved trends — organized by Project so you can track trends in different categories and quickly find saved trends without scrolling through a huge library.
Set alerts for trend updates — we'll send you an email any time there is a significant change in trend activity so you can stay in the know without constantly checking the dashboard.
View a list of related trends and meta trends, based on the information you already have saved, so you can easily pluck new opportunities and track them in the dashboard.
Access recent trend reports and review the data.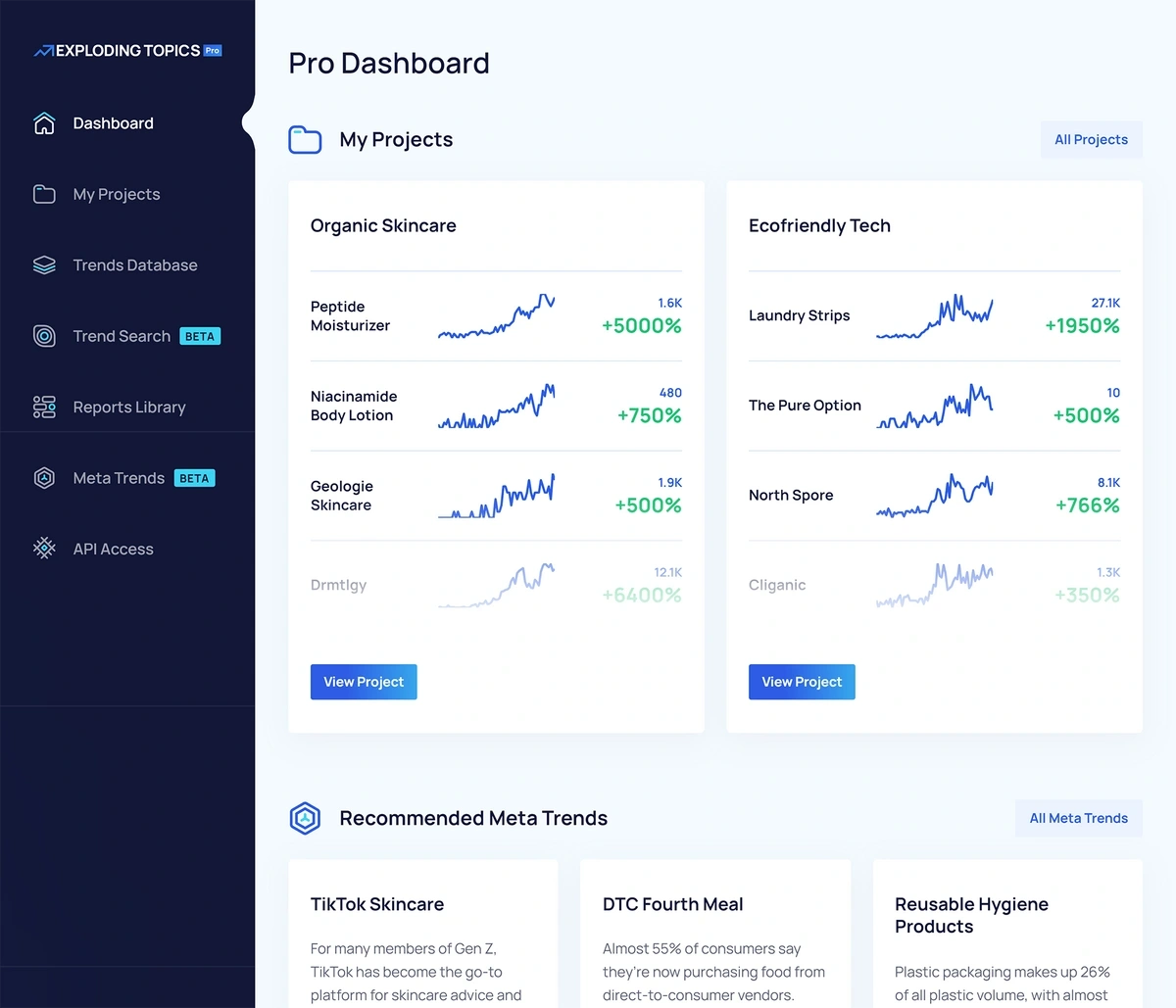 Exploding Topics also has an API so you can connect the trend tracking dashboard with other data analytics or reporting software you use in your daily operations. That way, you can consolidate trend information with other business reports and use that data to guide business decisions and marketing strategies.
Get Started With a $1 Trial
Exploding Topics trend spotting website makes researching business trends straightforward — even for professionals without a lot of background in market trend analysis.
Whether you're researching global market trends, or you're a small business owner who wants to stay ahead of industry trends to improve the customer experience, you can leverage Exploding Topics trend data to find new opportunities for your business.
We offer pricing options to suit small and enterprise businesses, but you can demo our platform and its features by starting a $1 Pro Trial.
Related Read: Market Research Tools to Discover & Track Industry Trends