Jungle Scout vs Helium 10 for Amazon Product Research: A Comprehensive Comparison
In this detailed breakdown, we'll cover everything you need to know about making the choice between Jungle Scout and Helium 10.
Jungle Scout vs. Helium 10: Detailed Breakdown
Here's the TLDR:
If you're looking for an easy-to-use to determine which products will be profitable for you, Jungle Scout is the smart choice. You get a ton of value for the money, it's a great product research tool, and you won't be overwhelmed by the interface.
If you're looking for a more robust feature set (and have the budget for it), Helium 10 offers a lot more functionality as an all-in-one tool. This comes with a steeper learning curve but the platform offers plenty of webinars and training to help you understand and use each built-in tool effectively.
Key Differentiators
Jungle Scout
Helium 10
Key differentiators
Solid platform, easy-to-use, no free plan, better customer service
Free plan available, more comprehensive tools, harder to learn, poor customer service
Target users
New sellers, private label sellers, brand owners, seasoned sellers
Large sellers, Amazon and Walmart sellers, brands and agencies
Features
Highly accurate product research tools combined with accessibility and a rich learning library - unique feature: supplier database
30+ tools including product research, keyword research, maintenance, product launch tools, optimization, and more
Interface
Intuitive, easy to learn
Steeper learning curve
Customer support
Good customer support with notable user satisfaction
Lacking customer support and billing transparency
Pricing
Basic: $49

Suite: $69

Professional: $129

Starter: $39

Platinum: $99

Diamond: $279
Target Users
Jungle Scout might be a better fit for the following:
New sellers: Jungle Scout's product research tools can help new sellers find profitable products to sell on Amazon, plus its academy is a great resource for beginners.
Private label sellers: Jungle Scout's product research and listing optimization tools can help private label sellers develop and launch successful products on Amazon.
Brand owners: Jungle Scout's sales tracking and competitor research tools can help brand owners track their products' performance on Amazon and identify opportunities to improve their listings.
Seasoned sellers: Jungle Scout's advanced product research and listing optimization tools can help seasoned sellers find new product opportunities, optimize their listings, and improve their sales performance.
Helium 10 might be a better fit for the following:
Large sellers: Helium 10's scalability makes it a good choice for large sellers who need to manage a large number of products and listings.
Amazon and Walmart sellers: Helium 10 is designed to take the guesswork out of selling with better descriptions, find profitable opportunities, and save you time.
Brands and agencies: Helium 10 has built-in automated PPC campaigns, which can be used alongside product research and optimization tools to drive results.
Features
We'll highlight these features below in more detail as we cover each platform individually. Neither list is comprehensive.
Once again, the main thing to note here is that Helium 10 is more feature-rich, but that doesn't mean that Jungle Scout is only a product research tool. Jungle Scout also offers features like listing optimization, review automation, and access to an exclusive supplier database.
Helium 10 has plenty of other unique tools like Magnet, Cerebro, Frankenstein, Xray, Mispellinator, and more.
Jungle Scout:
Browser Extension
Keyword Scout
Product Tracker
Rank Tracker
Opportunity Finder
Listing Builder
Product Database
Review Automation
Supplier Database
Sales analytics
Academy
Advertising Analytics
Inventory Manager
Alerts
Promotions
Category Trends
Helium 10:
Insights Dashboard
Chrome Extension
Black Box
Xray
Cerebro
Magnet
Frankenstein
Scribbles
Listing Analyzer
Listing Builder
Trendster
Inventory Management
Refund Genie
Alerts
Follow Up
Seller Assistant
Profits
Market Tracker
Keyword Tracker
Market Tracker 360
Adtomic
Amazon Anomaly Tracker
Amazon Sales Estimator
Amazon Trending Products
Customer Support
In consulting the user reviews between both platforms, Jungle Scout comes out on top for customer service. Jungle Scout seems to have better response times and more satisfactory customer service interactions.
Helium 10's generally lower reviews seem to stem from a customer service issue rather than platform or feature issues. Numerous reviews cite poor customer service interactions, lack of response, and an unpredictable billing cycle. More than a few users noted that they were charged by Helium 10 without notice, so if you're seeking to pursue Helium 10, it's important to keep close track of billing time frames. This should prevent most of the issues brought up by unhappy reviewers.
JungleScout: Product Overview
Jungle Scout is a platform that helps Amazon and ecommerce sellers identify profitable products, optimize listings, manage inventory, track sales performance, and research various markets.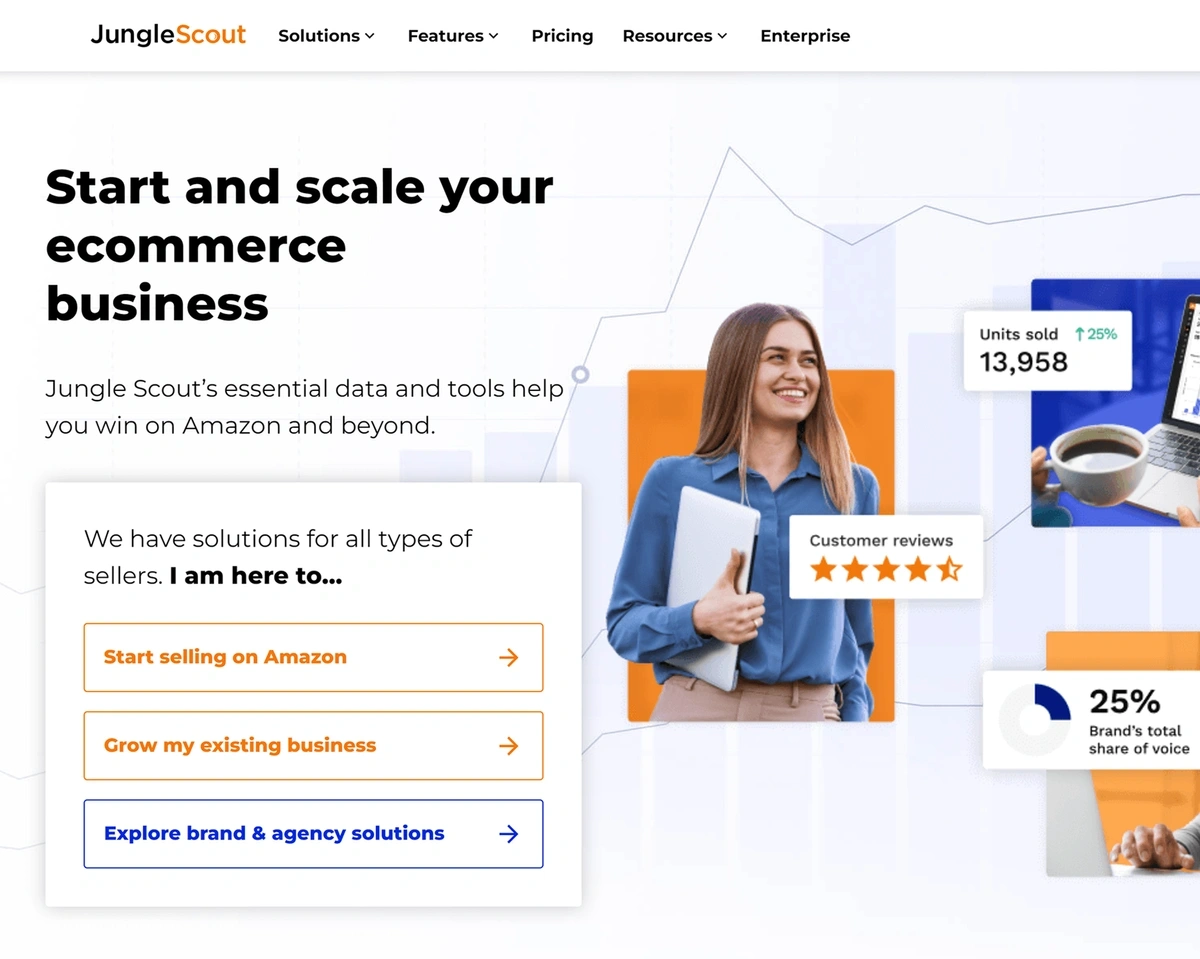 Jungle Scout's major selling point is its product database, which contains millions of products with detailed data points such as price, sales rank, reviews and ratings. This allows you to quickly find profitable products and identify gaps in the market.
Jungle Scout: Key Features
Product Database
Jungle Scout's Product Database is a searchable resource consisting of 475 million products pulled directly from Amazon. This is ideal for users interested in finding a new product but unsure where to start. Searching the database starts with choosing your intended country (the database is global), category, product tier, date first available, and a wide range of filters.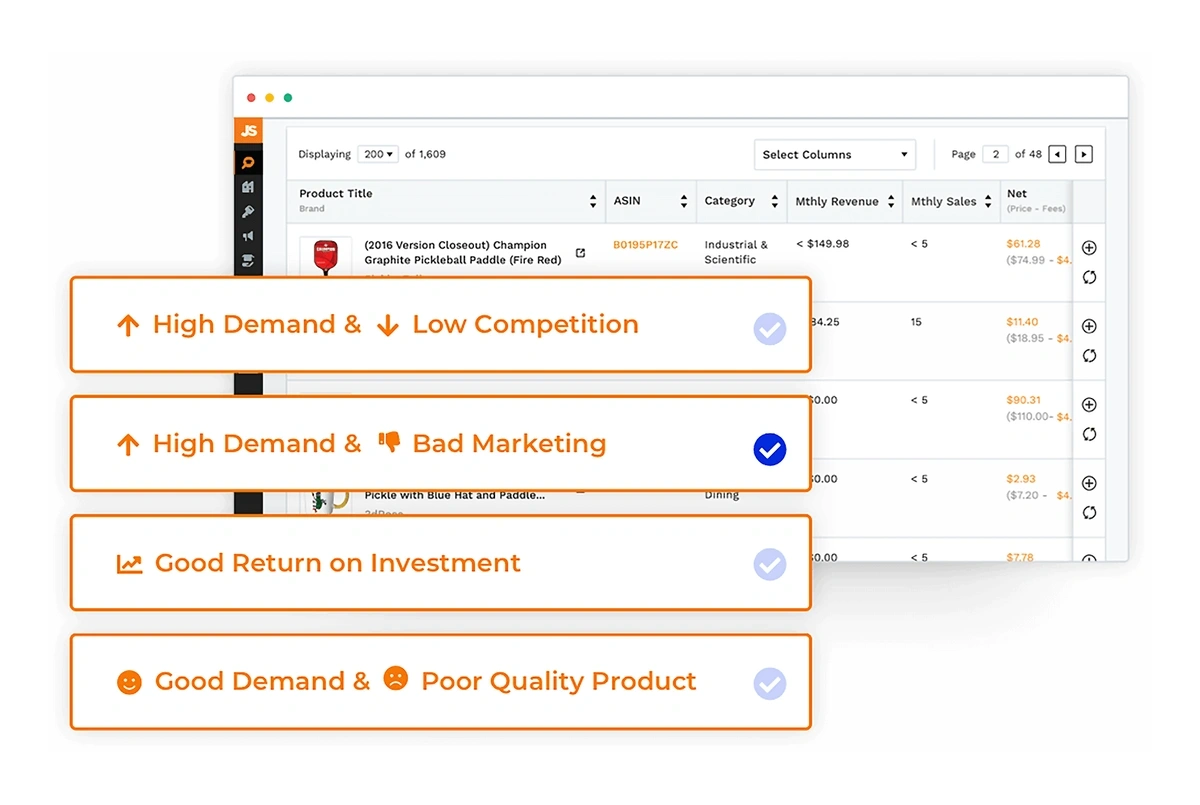 Once you run your search, you can browse product results which include at-a-glance stats such as category, price, revenue, rank, and more. Since Jungle Scout has a built-in FBA Fee Calculator, the overhead costs of each item will be displayed in the results, as well.
If you've found a product you're interested in and want to track its performance, you can create a Product Group or add it to an existing Product Group (which you can share with your team). Not only can you export your results directly to a CSV, you can also create an unlimited number of filter presets for future use.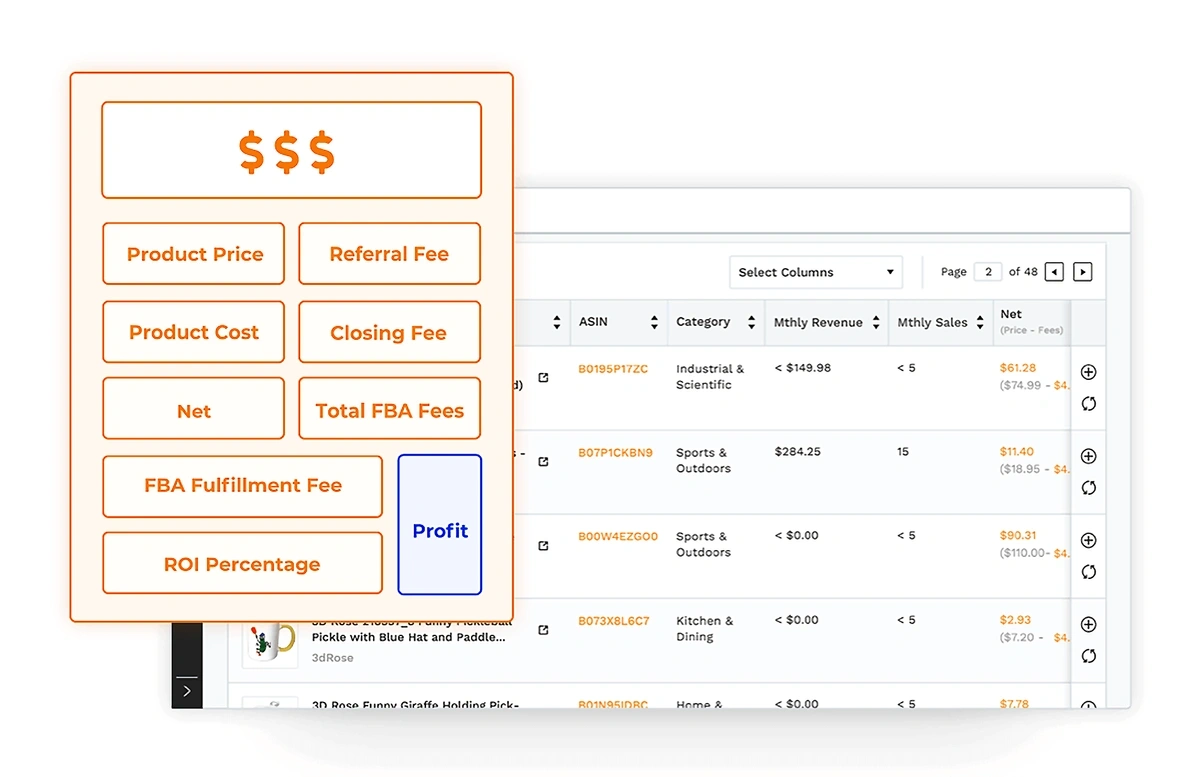 Listing Optimization
Jungle Scout's listing builder helps you create and optimize listings for better performance, whether you'd like to import existing listings or start from scratch. You start by selecting the keywords of your choice and Jungle Scout will pull up related keywords you can use. You can sort out these keywords by search volume and see which keywords you can include for maximum impact.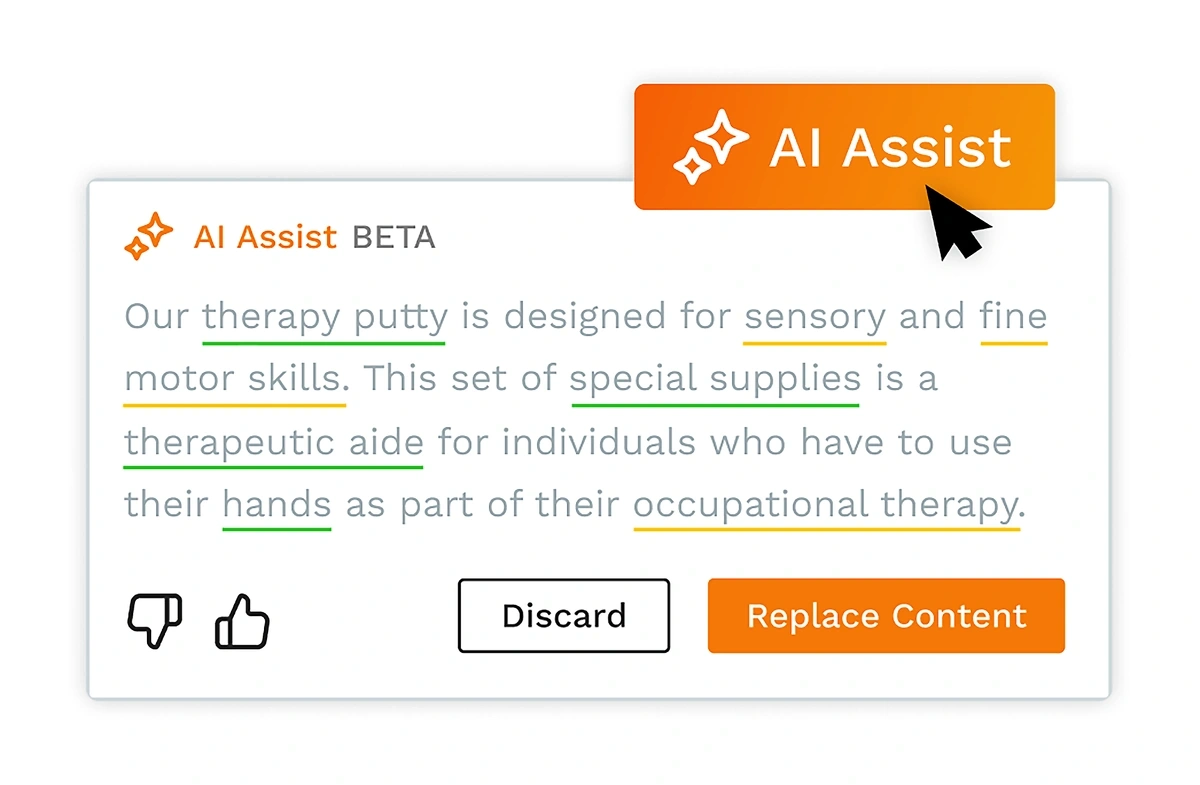 The AI Assist tool then will help you draft your product title, features, and description in a way that incorporates your keywords. As you edit your listing, Jungle Scout will show you a Listing Optimization Score between 1-10, makes suggestions to help you score higher, and automatically saves your changes as you go.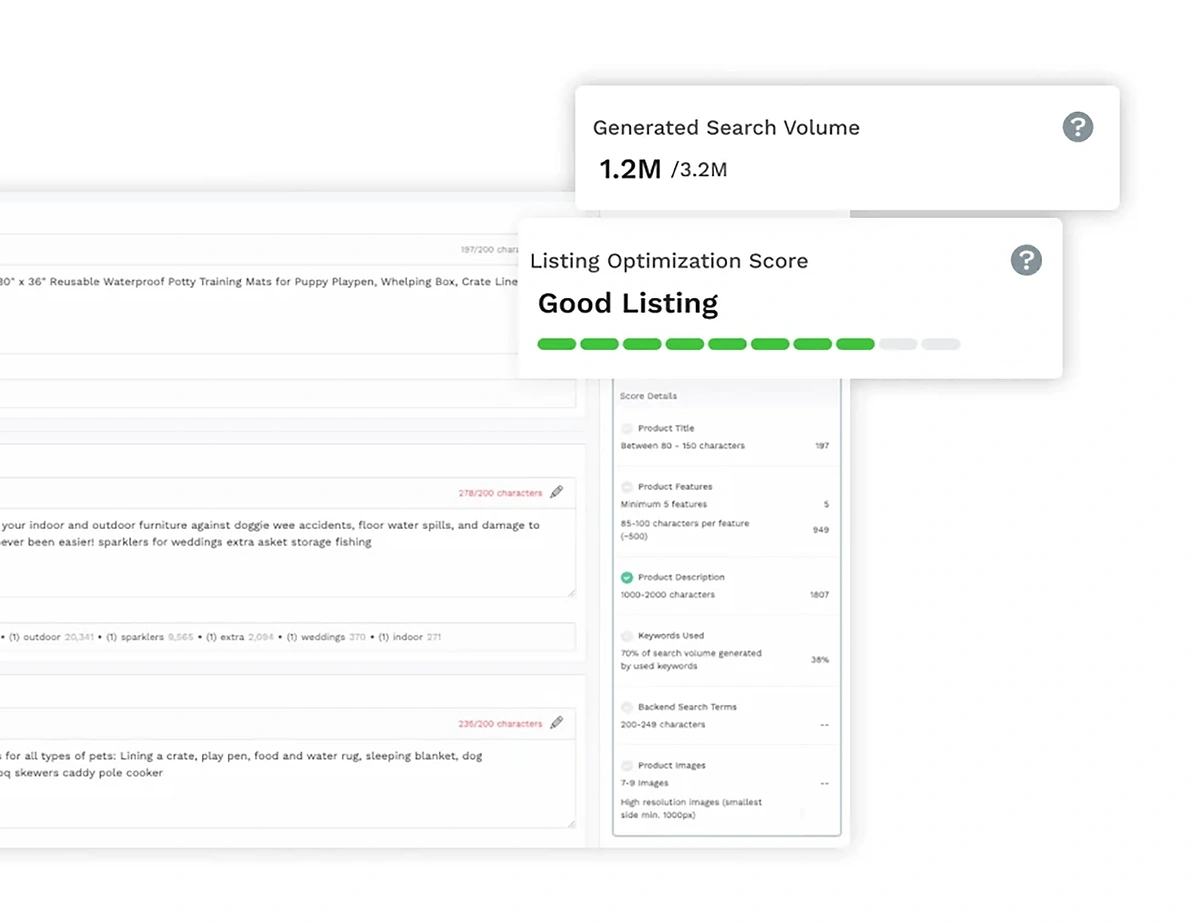 Opportunity Finder
To help you find profitable products, Jungle Scout's Opportunity Finder enables you to track emerging trends and competitive insights. While the interface is similar to the Product Database, this tool pulls up niches which then drill down into specific products.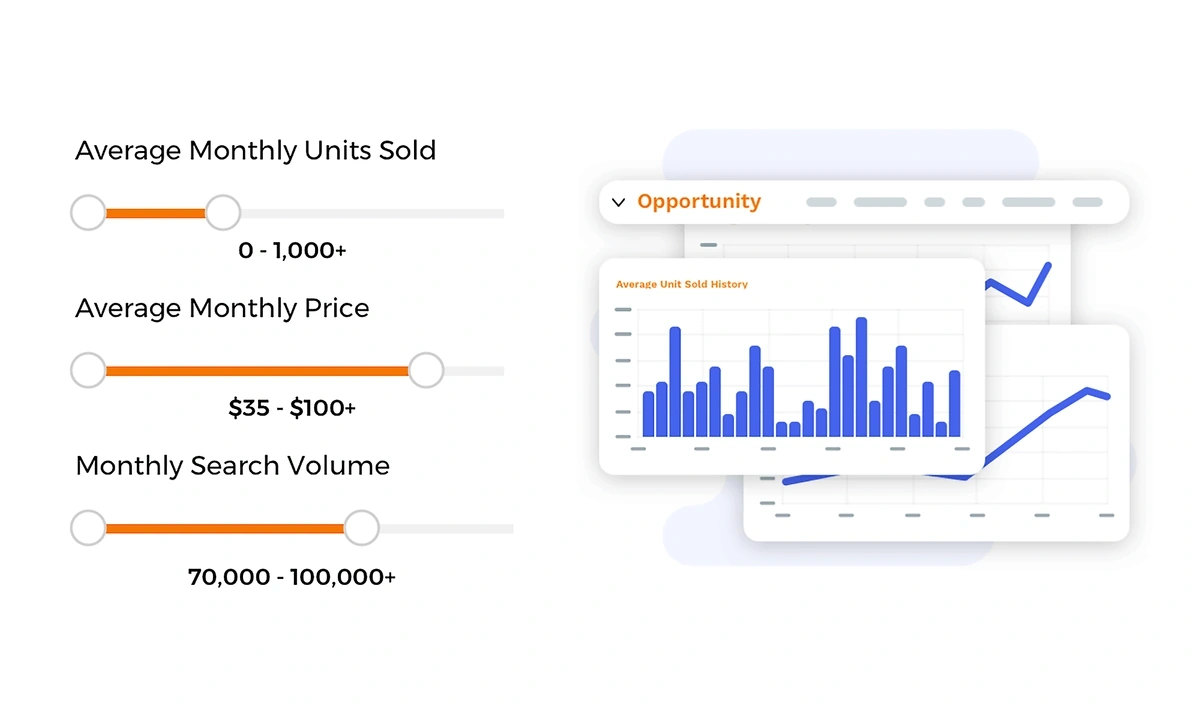 Your search results will consist of niches represented by keyword searches on Amazon. You'll be able to see how products in that niche are selling, search volume, and more, so that you can keep an eye on what's trending (or what's expected to be trending). Each niche will receive a Niche Score that factors in demand, competition, and keyword listing quality.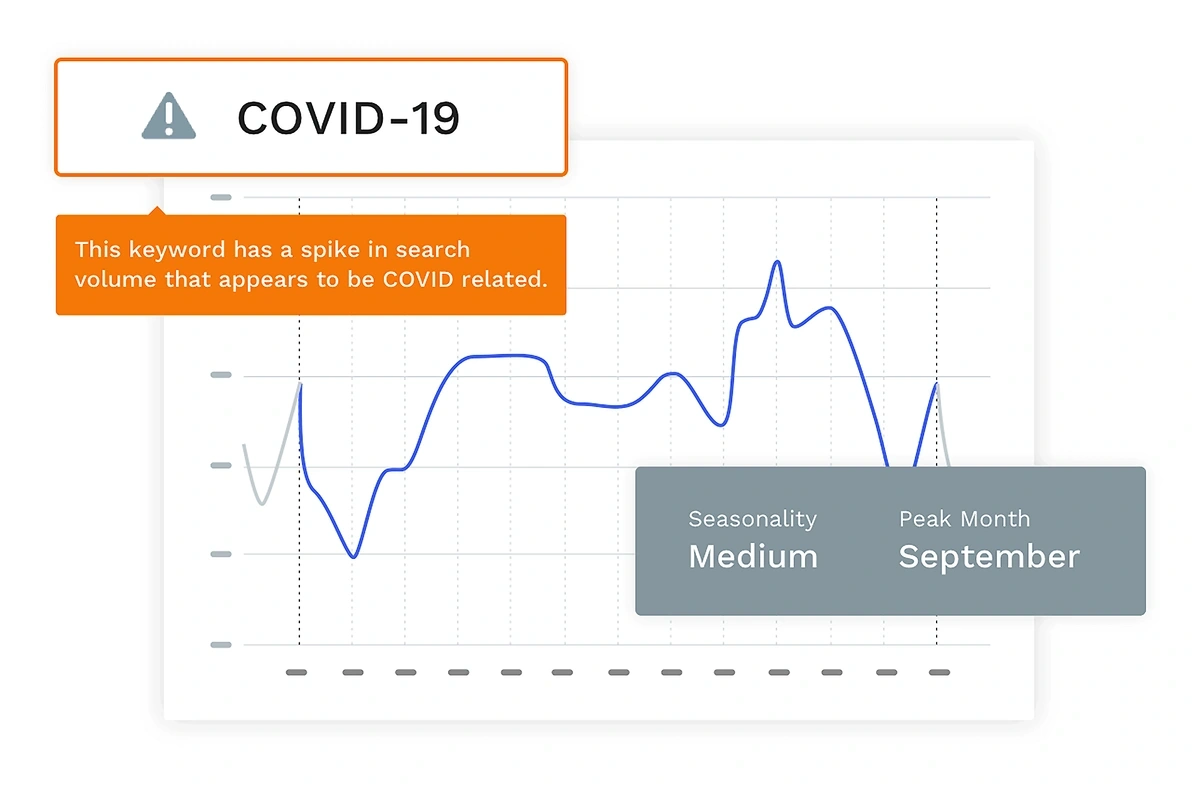 Review Automation
Jungle Scout enables you to automate the process of requesting reviews in Amazon Seller Central. Doing this for every order can be a tedious manual process, as it requires you to open each order individually and request a review.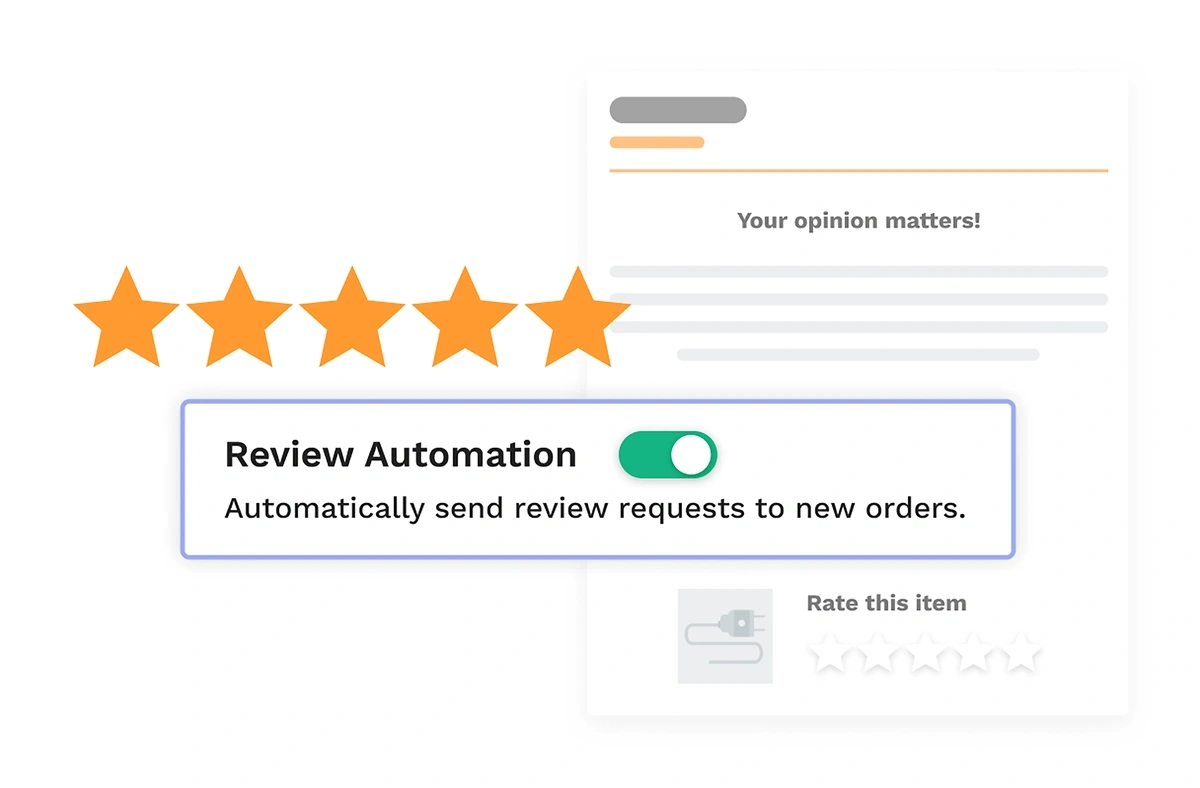 With Jungle Scout, you can toggle on the Review Automation switch, and it will automatically send review requests for every incoming new order. Or, if you'd like to customize your automation settings, you can choose which items request reviews and when requests get sent post-purchase.
Supplier Database
Creating good products starts with good suppliers and manufacturers, but they aren't always easy to come by. Jungle Scout's Supplier Database is full of high-quality manufacturers exclusively available to Jungle Scout users (Helium 10 lacks this feature).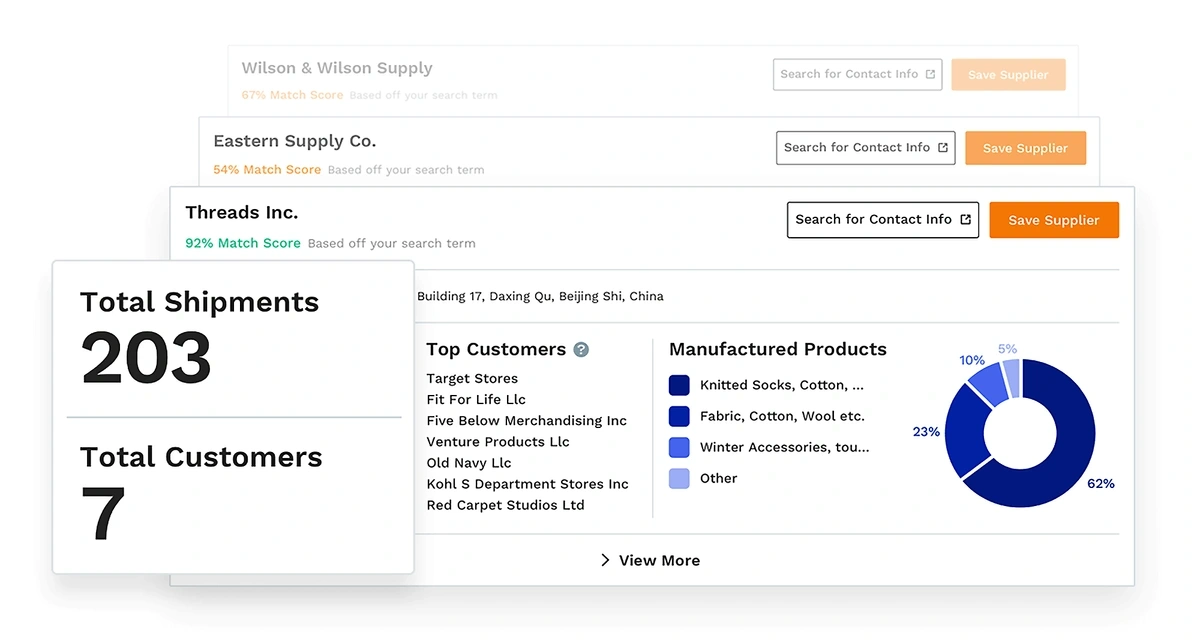 Jungle Scout presents top quality manufacturers with data that includes their total shipments, total customers, top customers, and a pie chart of their manufacturing categories, among other things. If you want to find the manufacturer behind a specific product, you can easily search by ASIN, brand, or manufacturer, and Jungle Scout will provide a match score based on how closely the item and manufacturer line up.
Supplier Tracker works like Product Tracker, as you can track suppliers, add them to groups, and track contact info all in one central hub. When you're ready to work with a supplier, you can create purchase orders right in Jungle Scout and track all of your transactions.
Jungle Scout: Reviews
Scores
G2 score: 4.7 out of 5 (based on 106 reviews)
TrustRadius score: 9.0 out of 10 (based on 10 reviews)
3 Things People Like About Jungle Scout
1. Comprehensive tools:
"Jungle Scout has it all. They are regularly rolling out new features to complement their already robust functionality."
"I've had the opportunity to explore its tools. I enjoy the product database and the product tracker as well as the listing creator. I've been able to optimize my listings and increase my sales following jungle scout's tutorials, videos and newsletter."
"The biggest benefits of using this software are it has tons of cool features that can help new or already established amazon seller to sell more and crush competition."
2. Valuable historical and product data:
"Supplier data base is so precise, and product data base as well as the product tracker are so helpful and will give us better understanding of the product research"
"Jungle Scout delivers important real-time and historical data to make selling and listing decisions easier. There are so many analytical pieces that go into their reports, that it reduces a lot of time and risk involved with bringing products to Amazon."
"Also, the data capabilities are super useful. They're constantly making it better, and I know that my clients and prospects are always impressed with the level of data we can show them (via Jungle Scout)."
3. The academy:
"Their training, the webinar or however they call is also excellent. They're defintely very legit!"
"They have many videos where they teach you all the features of the platform, which helps to understand it."
"I would recommend it for any one starting or at the advanced levels, because of the in-depth explanations, case studies, and tips on how to use the Jungle Scout tools to your advantage. This information is also being taught by the actual owners who use the tools to research and the share the results they have gotten."
2 Things People Dislike About Jungle Scout
1. Performance and loading issues
"Sometimes the loading time is long for the results but I think this also depends on the load of the device and soon after it goes faster and it loads the desired results eventually."
"I would say the only thing I dislike is how slow the browser extension is and how much it crashes."
"Sometimes their keyword research tool on their website is working slow. Not sure if it's because of some server issues once in a while or because some selected keywords generate a too "heavy" dataset which their algorithm has to process."
2. Data inaccuracies
"Sometimes the data is not totally accurate, so we have to hedge that when presenting to clients."
"The data for the extension when viewed on Amazon is not as accurate as monitoring products through the JS site. There seems to be a large discrepancy in the sales numbers and we always have to validate those numbers through the product tracker. The sales analytics is interesting, but do not see how we can input actual data regarding products or wondering if this is pulled directly from Amazon site."
"It's not very accurate when it comes to the sales data of products."
Jungle Scout: Pricing
Basic
$49/month or
$349 billed annually ($29/month)
Full access to the browser extension (Chrome + Firefox)
Single user license
Review Automation core tool
Suite
$69/month or
$589 billed annually ($49/month)
Full access to the browser extension (Chrome + Firefox)
Single user license
Review Automation core tool:

Unlimited product and keyword research searches
Listing Builder with AI Assist (Beta)
Review Automation with Advanced features
Advanced seller features
PPC analysis
Professional
$129/month or
$999 billed annually ($84/month)
Full access to the browser extension (Chrome + Firefox)
Single user license
Review Automation core tool
Unlimited product and keyword research searches
Listing Builder with AI Assist (Beta)
Review Automation with Advanced features
Advanced seller features
PPC analysis:

Track up to 1000 ASINs
6 users included
6 months of historical data in Product Tracker
2 years of historical keyword data
Helium 10: Product Overview
Helium 10 is an all-in-one ecommerce tool designed to help Amazon and ecommerce sellers grow their business through data, insights, and specialized tools.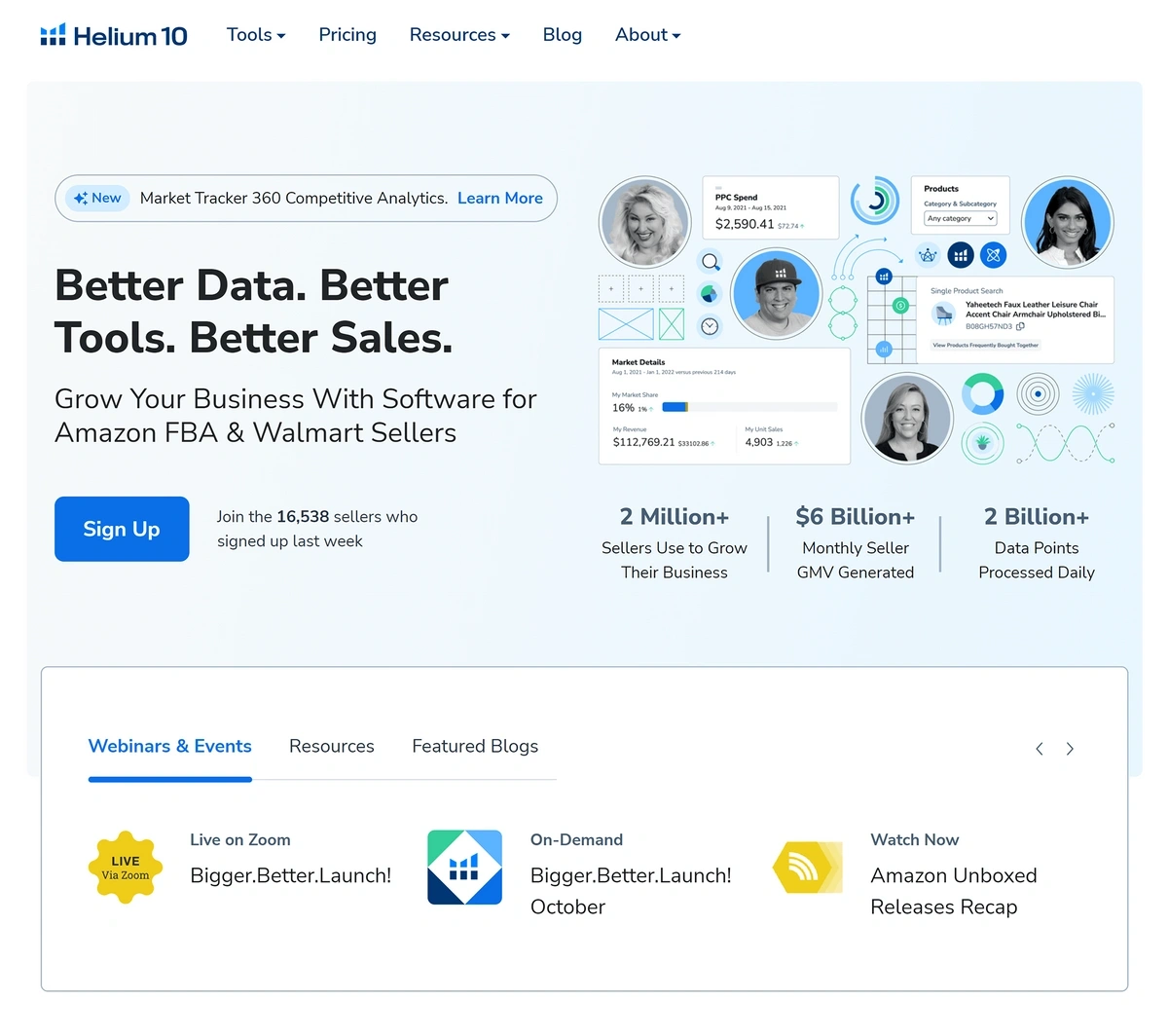 According to their website, the platform is used by over 2 million sellers generating over $4 billion in monthly seller GMV, backed by over 2 billion data points processed daily.
Helium 10's standout features include its recently-updated Insights Dashboard and its over 30 tools for Amazon sellers.
Helium 10: Key Features
Product Research
Helium 10 includes a number of keyword research tools built in, including a Chrome Extension, Black Box, Xray, Magnet, and more, with each one offering a different functionality. For example, Black Box presents a ton of filters by which you can search for Amazon products.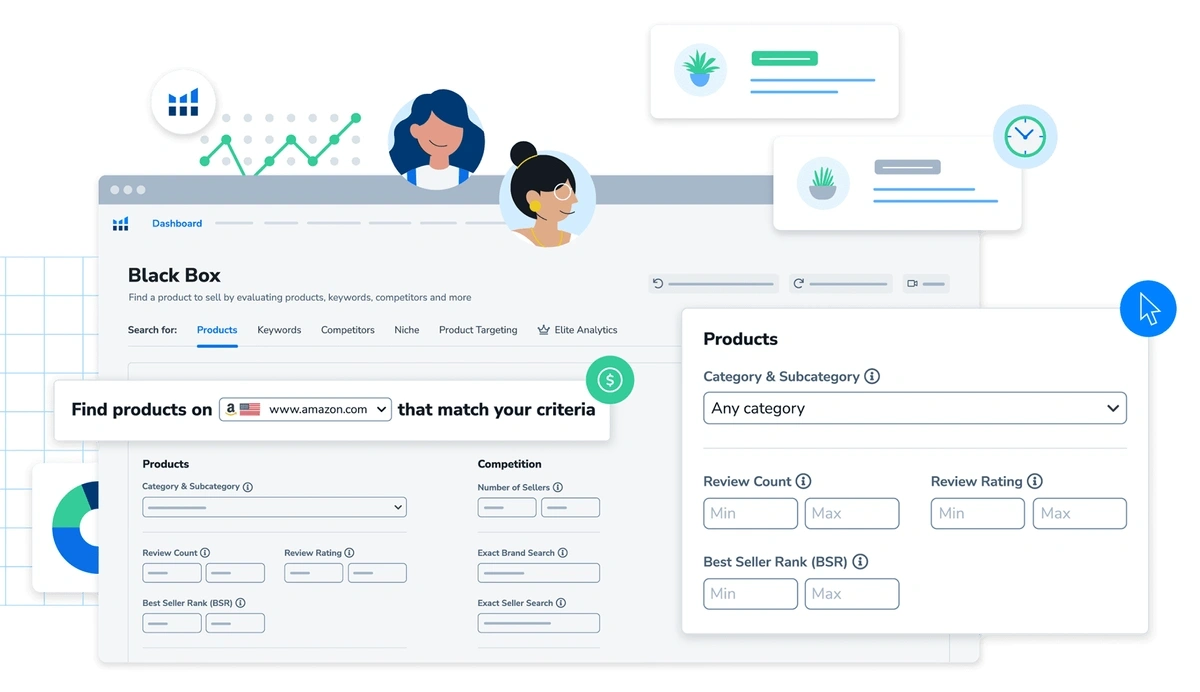 With the Helium 10 Chrome Extension, you can do product research as you browse specific items on Amazon, or you can use it to pull up the Xray tool, which will show you how that particular item is doing in sales, ranking, average price, and more stats. You can also use the extension to search specific keywords for research or estimate sales for products you're considering selling.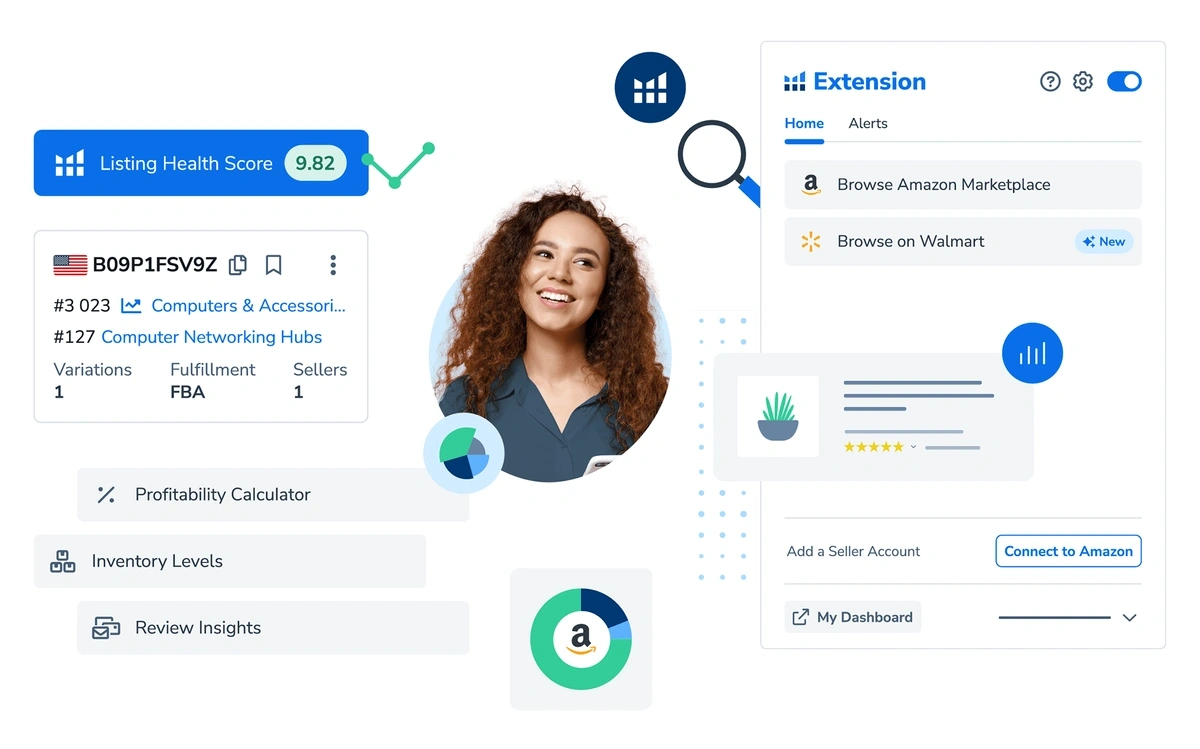 Amazon Keyword Research Tools
Much like the Product Research tool, you can search for specific keywords within a highly granular search engine to see how certain keywords are ranking, search volume, and related keywords to help you determine which ones are the best-performing in your categories, in real time. You can use this information to optimize your listings based on keyword performance.
There are a few tools included in addition to Keyword Manager, such as Cerebro and Magnet. Cerebro allows you to reverse search using a product's ASIN in order to find high-ranking keywords related to that specific product. Magnet reveals high-volume search terms relevant to keywords you'd like to search, which is especially important in discovering popular keywords you might not have known about or non-English phrases (and common typos).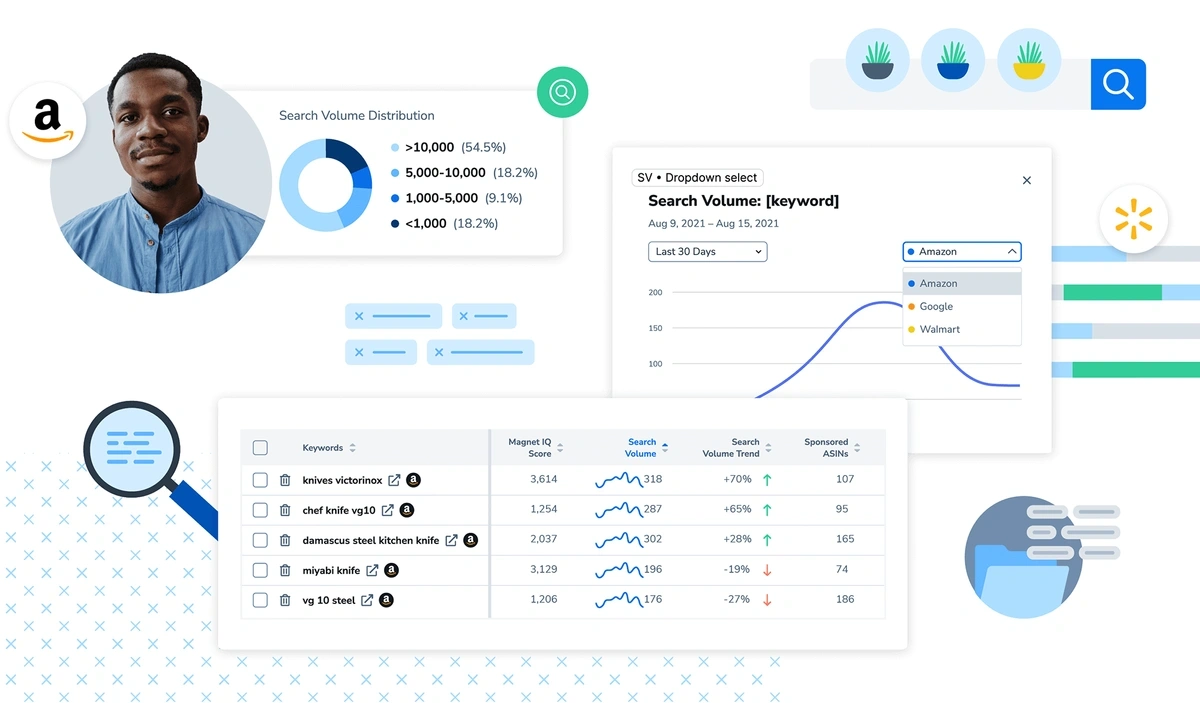 Mispellinator is another tool that ensures you've covered all your bases with keyword variations, pulling up the most-searched variations, with random misspellings included.
Listing Optimization
Helium 10's product listing optimization tools include Listing Analyzer, Frankenstein, and Scribbles. Listing analyzer helps you analyze your product listings and identify areas for improvement. It provides data on your title, bullet points, and product description, as well as your competitors' listings. You can use this data to make changes to your listing that will make it more likely to rank higher in search results.
Frankenstein is a keyword processor that helps you sort out your keywords (that you may have pulled from Magnet). You can use it to sort keywords by single line (important when drafting descriptions in Scribble), removing duplicate entries, and other straightforward keyword tasks.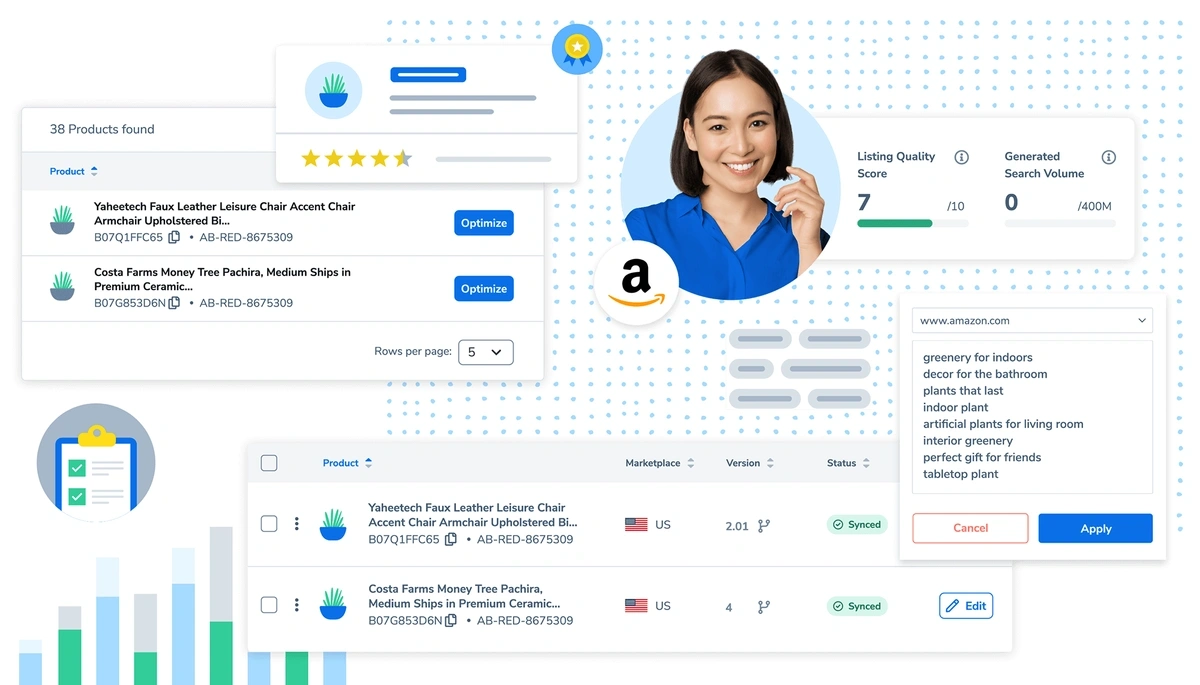 Scribbles helps you write informative, engaging product descriptions with the help of preset templates and suggestions to write the best description possible. While you create your listing, you'll be able to see which keywords and phrases are being used (or not) with an intuitive color-coded system. Now that the platform is integrated with ChatGPT, you can use AI to quickly write elevated descriptions.
Operations
Helium 10's operations tools help you manage your day-to-day Amazon business with the help of 4 tools: Inventory Management, Refund Genie, Follow-Up, and Alerts.
With Inventory Management, Helium 10 uses forecasting models to assess your sales and inventory data so it can provide restocking suggestions. The Refund Genie helps you get reimbursed for lost or damaged inventory by connecting to Amazon's Seller Central and automating the process. With the Follow-Up tool, you can create customized, automated customer follow-up workflows. Alerts allows you to track price changes from your competitors, new listings, and new customer reviews.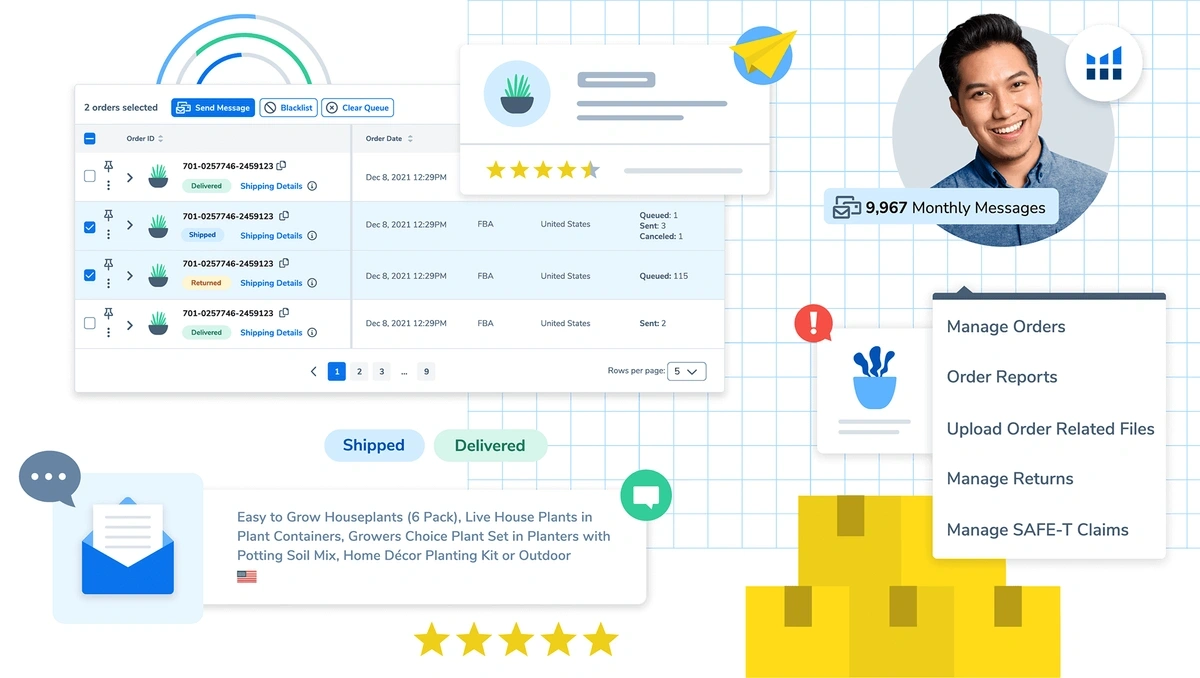 Analytics
With a wide range of fields to track, you can always get a pulse on your sales and profits, conduct market research, keep up on trending keywords, or track your performance compared to your market.
Sales Tracker is compatible with Amazon and Walmart. It enables you to manage orders, units sold, ROI, profit margins and more, so you can meaningfully track sales and profits. One dashboard offers a comprehensive view of everything you need to know about your profits in real time. Market Tracker helps you track where you stand in relation to your competition, the overall health of the market, product performance, and other past data so you can make smarter future business decisions.
Helium 10: Reviews
Scores
G2 score: 4.3 out of 5 (based on 159 reviews)
TrustRadius score: 7.7 out of 10 (based on 7 reviews)
3 Things People Like
1. Wide range of tools
"Helium 10 is really helpful to boost your account sales. It helps to analyze data, keyword research, competitor analysis, and so on."
"A lot of different features especially to check competitor sales in chrome browser."
"They offer you many different tools, statistics, metrics and valuable data to do what you must."
2. Keyword research
"Helium has created a lot of value for us in mainly three tasks: keyword research, tracking keyword tracking over a period of time and searching top-performing ASINs on Amazon in different categories."
"The best thing about Helium 10 are the tools you can use to research."
"It helps speed up and save tons of time for doing keyword research and product selection to understand the search volume and estimated revenue. Other tools such as the keyword tracker and portal are also my favorite to help me know where I rank and collect information."
3. Webinars/ learning
"Excellent webinars. Perfect how-to videos for every tool in Helium's toolbox."
"I like that they constantly update the podcasts and the learning section with videos."
"The training, the support, blogs and podcasts! This is in addition to the data. ALL of the data you need to succeed."
2 Things People Dislike
1. Billing issues
"I haven't paid for Helium 10 for months and they would automatically charge my card for the Diamond plan randomly."
"I tried to reach out to billing and customer rep and they refuse to refund."
"The payment method is not satisfactory. They automatically deduct payment in the next month without proper notification or consent."
2. Complexity and Pricing
"While very powerful, this is not a software that you can set up and walk away from. It will require some setup and maintenance."
"It can be overwhelming at first; take your time and use it step by step."
"It is quite expensive. The Diamond plan should come down to enjoy full functions for a seller just beginning their Amazon journey."
Helium 10: Pricing
Starter
$39/month or
$349 billed annually ($29/month)
Full access to Helium 10's Chrome Extension
Access to Freedom Ticket
Product Research
Keyword Research
Add an additional user
Platinum
$99/month or
$948 billed annually ($79/month)
Includes everything in Starter, plus:

Targeted Analytics on 20 Products
Training Courses
Product Research
Keyword Research
Listing Optimization
Operations
Analytics
Diamond
$279/month or
$2,748 billed annually ($229/month)
Includes everything in Platinum, plus:

Automagical Insights on 200 Products
Inventory & Refund Management
Advanced Brand Analytics
Multiple Users & Tokens
Conclusion
With both options offering great depth of features and functions, choosing the right one will come down to what your business needs. You might favor Jungle Scout for its supplier database or Helium 10 for its more in-depth data and functions.
However, if your main concern is doing product research and you want to get ahead of important trends in your niche or industry, there is a third research platform.
Bonus Option: Exploding Topics Pro
Exploding Topics Pro is a tool that helps you to research trends in products or industries so that you can know what will take off long before it does (6 or more months in advance, in some cases).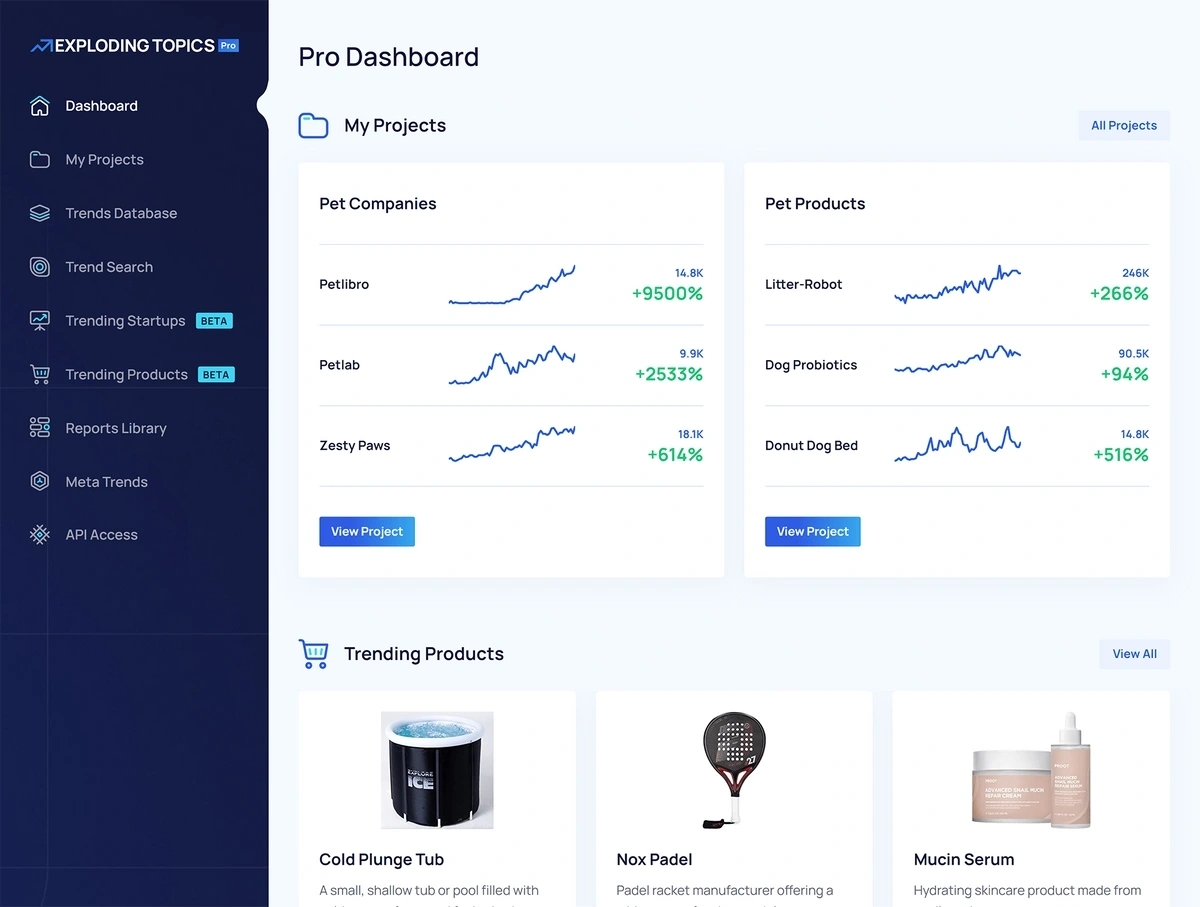 While it isn't a comprehensive ecommerce platform, it's the best way to get ahead of trends before they explode so that you can find that perfect intersection of high demand and low competition. If you like to keep up with what's going on in trends in ecommerce itself, you can track that, as well, so you can stay ahead of your competition.
When you sign up for Exploding Topics Pro, you get full access to its exclusive, extensive Trends Database and you can save and track important product trends or overarching Meta trends.