50+ Incredible NFT Statistics (2022)
This is a list of interesting 50+ non-fungible token (NFT) stats worth knowing.
2021 was the year NFTs were put on the map.
But how popular are NFTs, exactly? And how much are people willing to invest in them?
Read our list of up-to-date NFT industry stats to find out.
Contents

Top NFT Stats (Editor's Picks)
The NFT market is worth an estimated $11.3 billion.
Between 2020 and 2021, the NFT market increased by over 20x.
The most expensive NFT sold for over $90 million.
Half of the top 10 largest NFT sales were for CryptoPunks.
The top five projects have each exceeded $1 billion worth of sales.
Nifty Gateway launched nearly 2000 NFTs in the first four months of 2021.
NFT Sales Statistics
The global NFT market is worth around $11.3 billion (Nansen)
The rise in cryptocurrency use has heavily influenced the rise in the NFT market.
NFT transactions have risen from $40.96 million in 2018 to $338.04 million in 2020. That's an increase of over 8x in two years.
And the total market value has followed suit.
In 2020, the NFT market was valued at $100 million. By late 2022 this had increased by 113x to $11.3 billion.
The most expensive NFT sold for over $91 million (Coins Creed)
NFT sales continue to push new limits. This is best exemplified by the top five current most expensive NFTs sale to date:
Pak's The Merge - December 2021
Beeple's Everydays: the First 5000 Days - March 2021
Pak's Clock - February 2022
Beeple's HUMAN ONE - November 2021
CryptoPunk #5822 - February 2022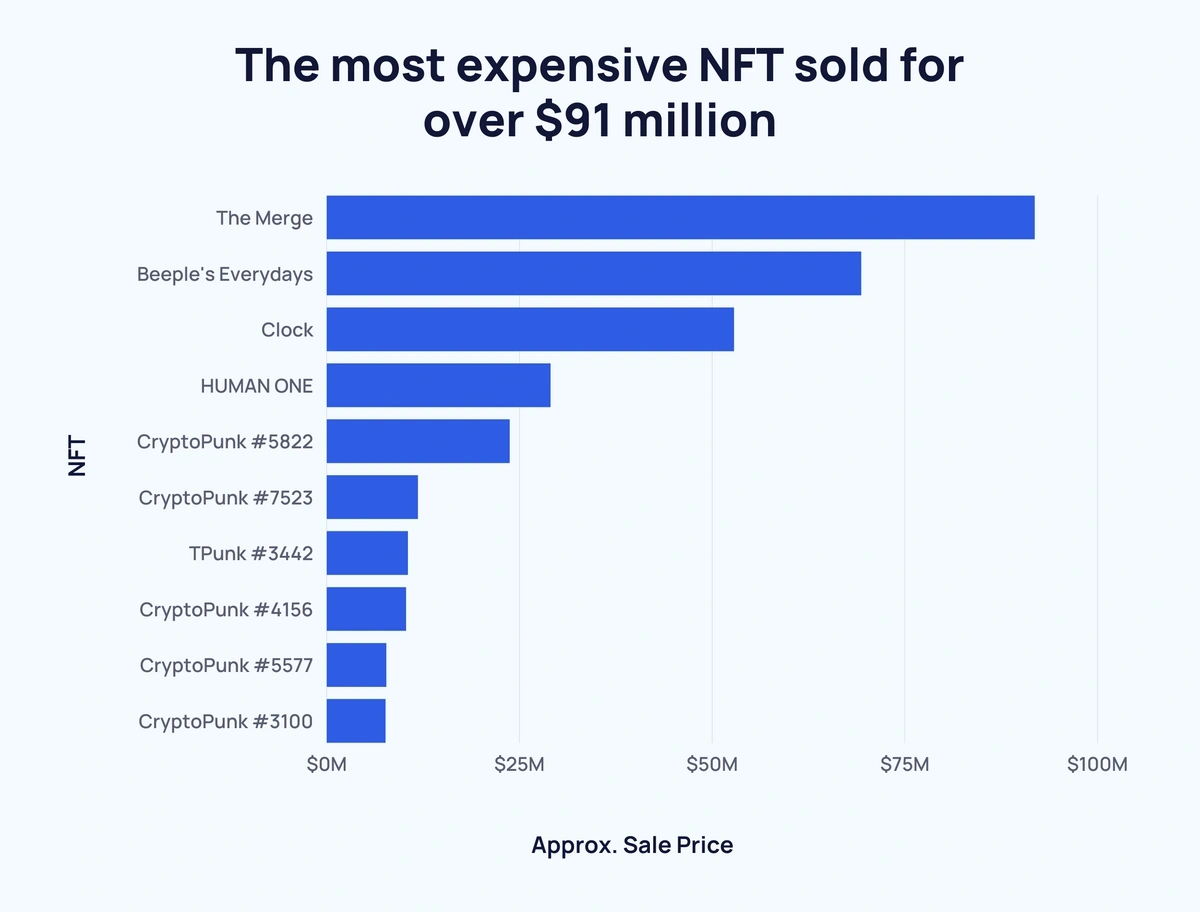 Four of these five artworks were sold during or after November 2021.
The top figures dwarf the rest of the most expensive NFTs.
Rank
NFT
Approx Sale Price
#1
The Merge

$91.8 million

#2
Beeple's Everydays: The First 5000 Days
$69.3

million

#3
Clock
$52.8

million

#4
HUMAN ONE

$29 million

#5
CryptoPunk #5822

$23.7 million

#6
CryptoPunk #7523
$11.8

million

#7
TPunk #3442
$10.5

million

#8
CryptoPunk #4156
$10.26

million

#9
CryptoPunk #5577
$7.7

million

#10
CryptoPunk #3100
$7.6 million
CryptoPunks NFTs make up 5 of the top 10 largest NFT sales (Various Sources)
The series of NFTs known as CryptoPunks was created by Larvalabs on the Ethereum network. These NFTs have become incredibly valuable due to their rarity.
The fifth-highest NFT sale as of October 2022 was a CryptoPunk NFT that sold for the equivalent of approximately $23.7 million.
The top 5 CryptoPunks by largest sale value total over $60 million combined.
Bored Ape Yacht Club has sold over $4 billion worth of NFTs (NonFungible)
As of October 2022, Bored Ape Yacht Club has generated more than $4.63 billion from NFT sales. That makes it the number 1 project by all-time sales value.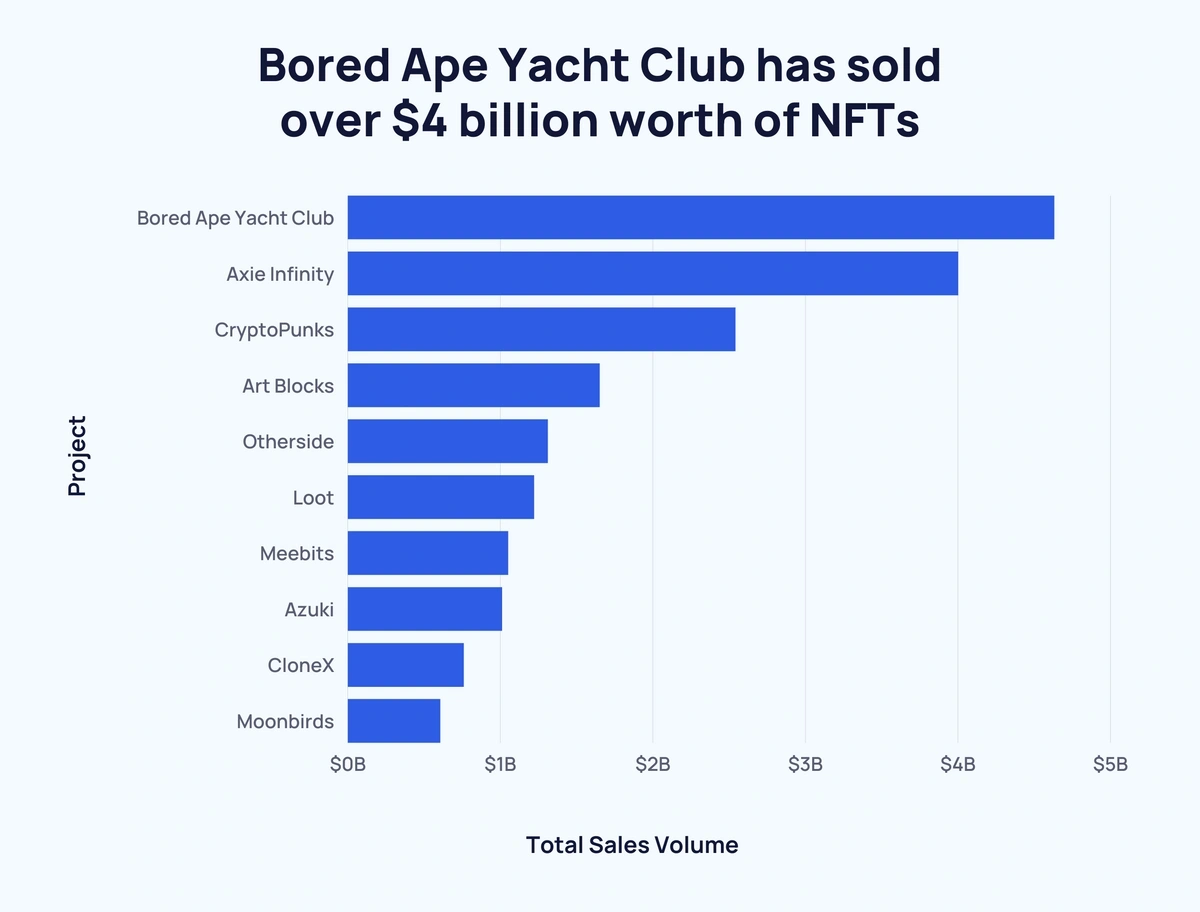 Axie Infinity, an NFT-based online video game developed by Vietnamese studio Sky Mavis, is ranked second with a figure of $4 billion.
CryptoPunks rank third with a total of $2.38 billion.
| | | | |
| --- | --- | --- | --- |
| Rank | Project | Segment | Total Sales Volume |
| #1 | Bored Ape Yacht Club | Collectibles | $4.63 billion |
| #2 | Axie Infinity | Games | $4 billion |
| #3 | CryptoPunks | Collectibles | $2.54 billion |
| #4 | Art Blocks | Art | $1.65 billion |
| #5 | Otherside | Games | $1.31 billion |
| #6 | Loot | Games | $1.22 billion |
| #7 | Meebits | Collectibles | $1.05 billion |
| #8 | Azuki | Collectibles | $1.01 million |
| #9 | CloneX | Collectibles | $759 million |
| #10 | Moonbirds | Collectibles | $605 million |
NFT marketplace OpenSea is valued at $13.3 billion (CoinDesk)
OpenSea is an NFT marketplace established in 2017. The marketplace is now considered a "decacorn" thanks to its $10+ billion valuation.
Of 936 companies classed as "unicorns'' in December 2021, 194 are fintech startups, including OpenSea.
NFT Markets and Demographic Statistics
29% of US adults are interested in getting involved with NFTs (Morning Consult)
A March 2021 survey found that 20% of US adults are "somewhat interested" in acquiring, investing in, or trading NFTs. And 9% of US adults claimed to be "very interested" in getting involved with NFTs.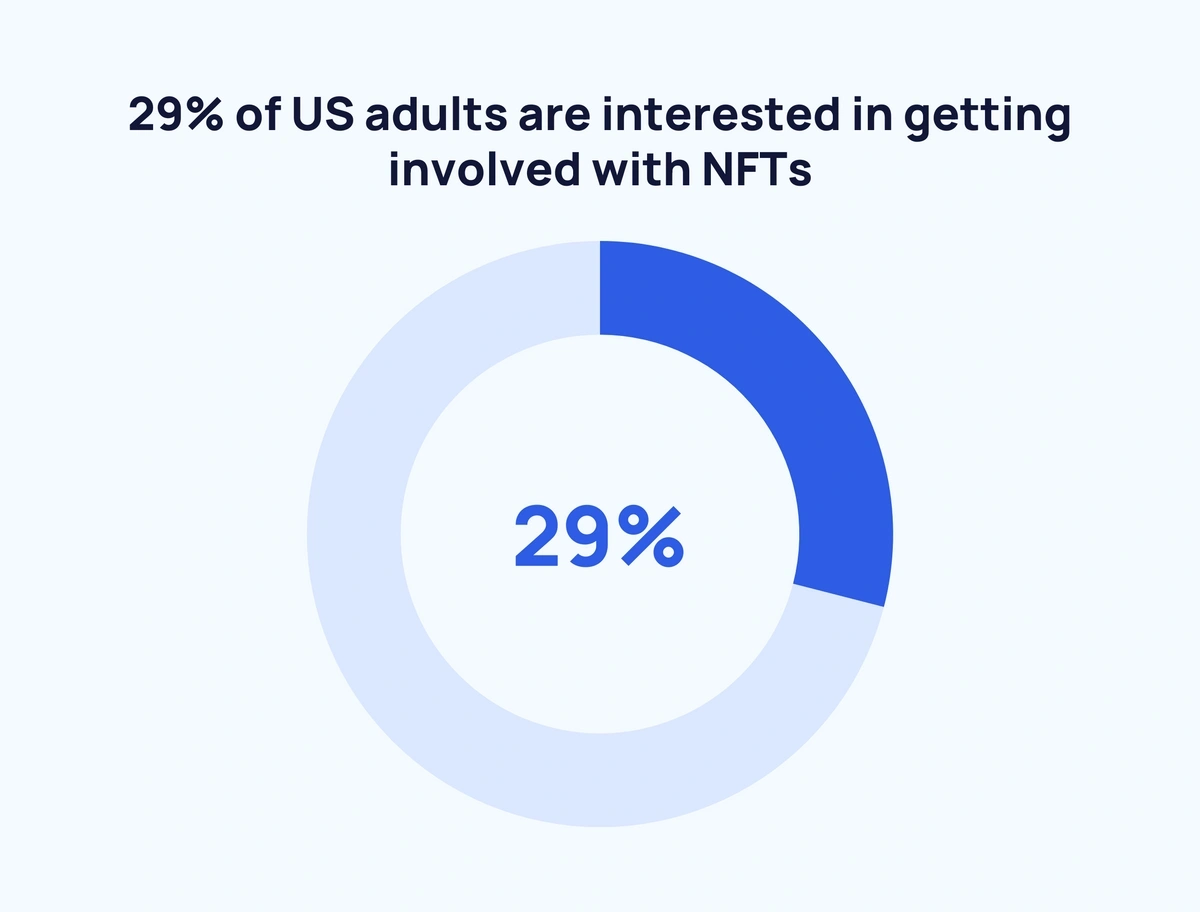 The survey split respondents into various demographics. Of the four demographics included, Esport fans are the most receptive to NFTs, with 58% confirming at least some interest. Specifically, 35% of Esport fans answered "somewhat interested" and 23% replied "very interested" in response to NFT interest.
The second most interested demographic are physical collectors. Over half of these respondents claim to be interested in NFTs with one in five responding "very interested".
Of the remaining stated demographics, 37% of gamers and 34% of sports fans reported at least some interest in NFTs.
Americans make up over half of NFT investors (Christie's)
Christie's auction of "Everydays: The First 5000 Days" by Beeple featured the sale of an NFT fetching 42,329 ETH (approximately $69 million at the time).
The auction took place between February 25th and March 11th with 55% of bidders based in America.
The second-most active bidding region was Europe, responsible for 27% of all bids during the Beeple auction.
The other 18% of bidders in the Beeple auction were based in Asia.
23% of Millennials collect NFTs (Morning Consult)
A survey conducted this year found that Millennials are the most likely generation to collect NFTs. 23% of Millennial respondents claim to collect NFTs as either a hobby or an investment.
The next most prevalent collectors of NFTs by generation are Gen Xers with 8% of respondents claiming to do so.
Gen Zers ranked third of four generations surveyed for the proportion of respondents collecting NFTs with 4%.
Lastly, only 2% of Baby Boomers claim to collect NFTs as either a hobby or investment.
Over 40% of Millenials collect physical items (Morning Consult)
The collection of physical items as a hobby or for investment follows a largely similar trend to NFT collections. Once again, Millennials are the most frequent collectors with 42% of Millenial respondents claiming to collect physical items.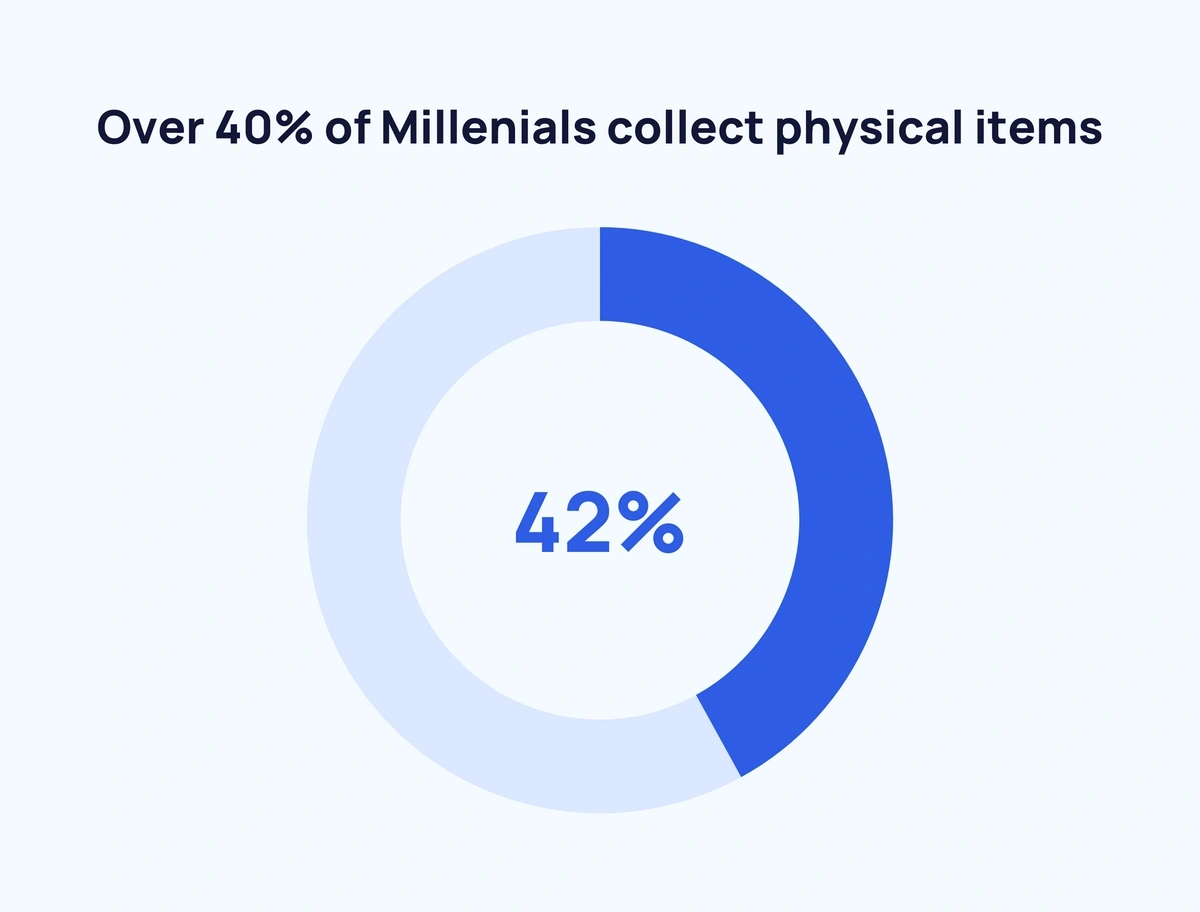 The second-most likely collector of physical items is once again Gen Xers. However, there is a smaller disparity between generations in the collection of physical items compared to NFTs. This is highlighted by the fact that 37% of Gen Xers collect physical items.
One notable difference between NFT collection statistics and physical item collection statistics is that Baby Boomers outcollect Gen Zers in physical items. 29% of Baby Boomers collect physical items compared with 20% of Gen Zers.
Men are over 3x more likely to collect NFTs than women (Morning Consult)
A 2021 survey found that 15% of US males surveyed collect NFTs as either a hobby or investment.
By contrast, just 4% of US females surveyed claim to collect NFTs.
Men are over 2x more likely to collect physical items than women (Morning Consult)
A share of 45% of US men surveyed stated that they collect physical items as either a hobby or investment.
Comparatively, just 22% of women surveyed collect physical items. This same disparity was seen in NFT collections by gender.
NFT Category Stats
Total NFT sales equate to approximately $1.8 billion per month (Statista)
Total NFT sales in collectibles, the metaverse, and art each exceeded $150 million in November 2021.
The collectibles category fell from over $156 million worth of sales in 2018 to around $6.2 million in 2020. But was responsible for over $745 million worth of NFT sales last year.
And the metaverse category was responsible for around $222 million worth of NFT sales.
The art category also grew considerably. In 2018 and 2019 NFT art accounted for a combined estimated total of $3 million worth of sales. In 2020 this jumped to $12.9 million. And in 2021 this skyrocketed to over $161 million.
The most expensive meme NFT sold for $4 million (Mashable)
Memes are being turned into valuable NFTs and sold at increasingly high prices.
The record fee for a meme-turned-NFT stands at $4 million for the now-iconic Doge. And the owner of this NFT intends to auction it off in 17 billion pieces.
This replaced the previous record-holder, known as "Disaster Girl" which sold for the equivalent of $573,136. The person in the picture, Zoë Roth, sold the image taken in 2005 and will receive 10% of profits from future sales.
This follows the sale on the "Nyan Cat" meme as an NFT. The GIF first went viral in 2011 and features a cat in a pop tart. This NFT also sold for over $500,000.
The fourth-most expensive sale of a meme-turned-NFT surpassed the $450,000 mark. "Overly Attached Girlfriend" is a viral image from 2012 taken from a YouTube parody video about Justin Bieber's single "boyfriend".
Here's the full breakdown of the most expensive meme-turned-NFT sales to date: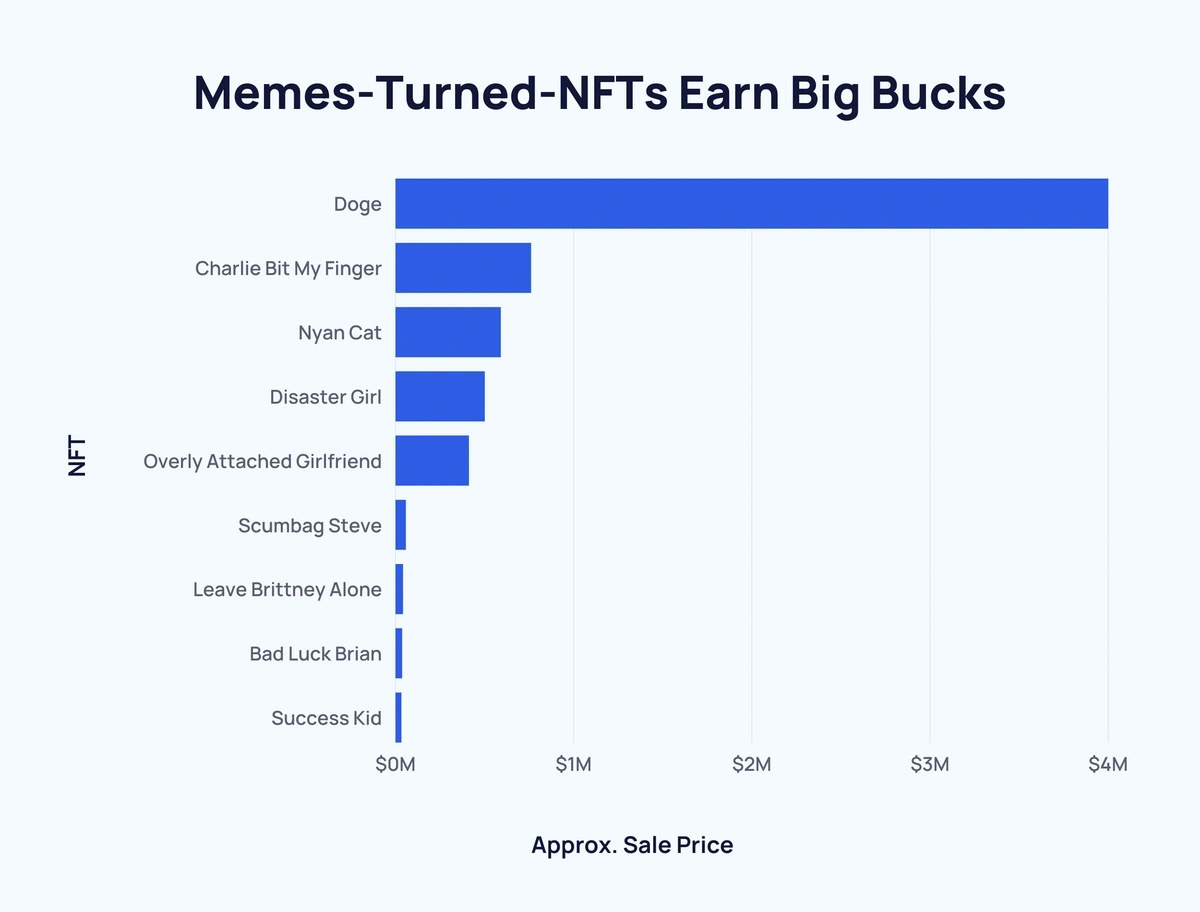 Art Sector NFT Statistics
The total sales value of NFT art surpassed $1.5 million in six months (NonFungible)
Between August 16, 2021 and February 15, 2022, the total sales of NFT art reached approximately $1.7 million.
The six-month period saw approximately $500,000 worth of primary sales. And around $1.2 million of secondary NFT art sales.
NFT art sales peaked at over 220,000 sales in one day in 2021 (NonFungible)
NFT art sales took off in 2021.
July to October 2021 saw several peaks in daily sales including August 9th's 220,450 sales.
Across 2021, a total of over 11 million NFT art sales were made.
Online sales of art more than doubled in 2020 (UBS)
The art industry has been growing online. Since 2013, there has been year-over-year revenue growth from art sales online (with the exception of 0% growth between 2018 and 2019).
A total of $3.1 billion worth of art was sold online in 2013. That figure almost doubled to $6 billion in 2019.
Last year, online art sales totaled $12.4 billion. The pandemic can be attributed to much of this growth as auction houses were forced online. However, the emergence of NFT art sales also contributed to this total figure.
Nifty Gateway Statistics
NFT art sales on Nifty Gateway have surpassed $250 million (ArtTactic)
Nifty Gateway is a popular online digital art marketplace for NFT art. Since launching in 2018, Nifty Gateway has grown rapidly in terms of sales.
In December 2020, the total sales figure for NFT art on Nifty Gateway soared to $29.54 million .
This total increased by over 2.5x to $76.79 million worth in February 2021. And increased further to $105.71 million in March 2021.
All recorded figures since October 2020 have surpassed $5 million worth of monthly NFT art sales.
Almost 2000 NFTs were launched on Nifty Gateway in the first four months of 2021 (ArtTactic)
Given the increase in value of monthly sales, it isn't surprising to discover an increase in both new NFT artists and the number of NFT launches.
In May 2020, 31 NFTs were launched on the Nifty Gateway platform. This number increased month-over-month for six months, reaching 166 NFT launches in October 2020.
The October 2020 total doubles to 332 in December 2020. And increased by over 2x to 688 in March 2021.
The number of new artists has also steadily grown from six in June 2020 to 418 as of September 2021.
Conclusion
That's all for our list of statistics covering the current NFT space.
As you can see, even if the initial wave of interest has died down, the NFT space still has plenty of room for growth. Along with potentially interesting future use cases for the technology (like owning land or accessing exclusive events).

One thread that ties many of these stats together is the fact that NFTs largely appeal to younger generations. Which also bodes well for future growth.
If you enjoyed these stats, check out our list of growing NFT startups and important NFT trends.