6 Product Development Trends (2023-2025)
You may also like:
Whether they're creating physical products or engineering a new software solution, how companies develop a product is constantly changing.
From IoT to big data, here are the top trends impacting product development in 2023.
1. Mass Adoption of 3D Printing
As of 2022, the market for additive manufacturing, otherwise known as 3D printing, is estimated to be worth $17.4 billion. And is expected to increase to $24.9 billion in 2024.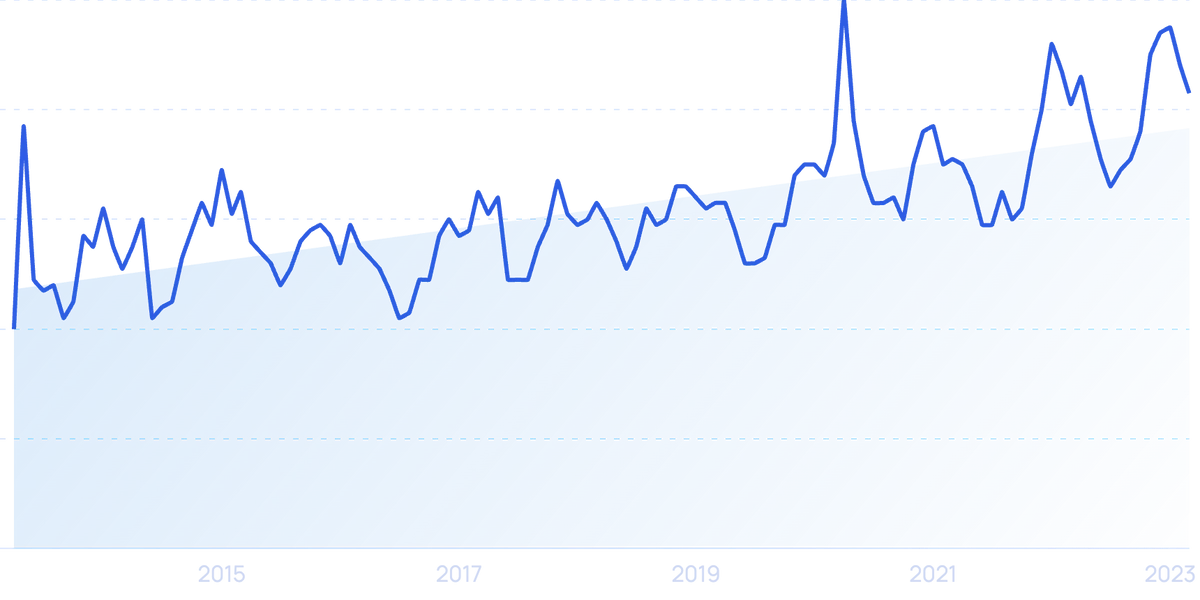 Searches for "3D printing" have grown by 107% over the last decade.
This figure is expected to grow further to $37.2 billion by 2026.
Paired with things like generative design, 3D printing is lowering costs and putting less emphasis on physical testing.
Once relegated to limited use cases, 3D printing is now being used for full-scale production.
In fact, according to one survey, roughly 40% of manufacturers used 3D printing for full-scale production by the end of 2019. This is compared to just 21% in 2018.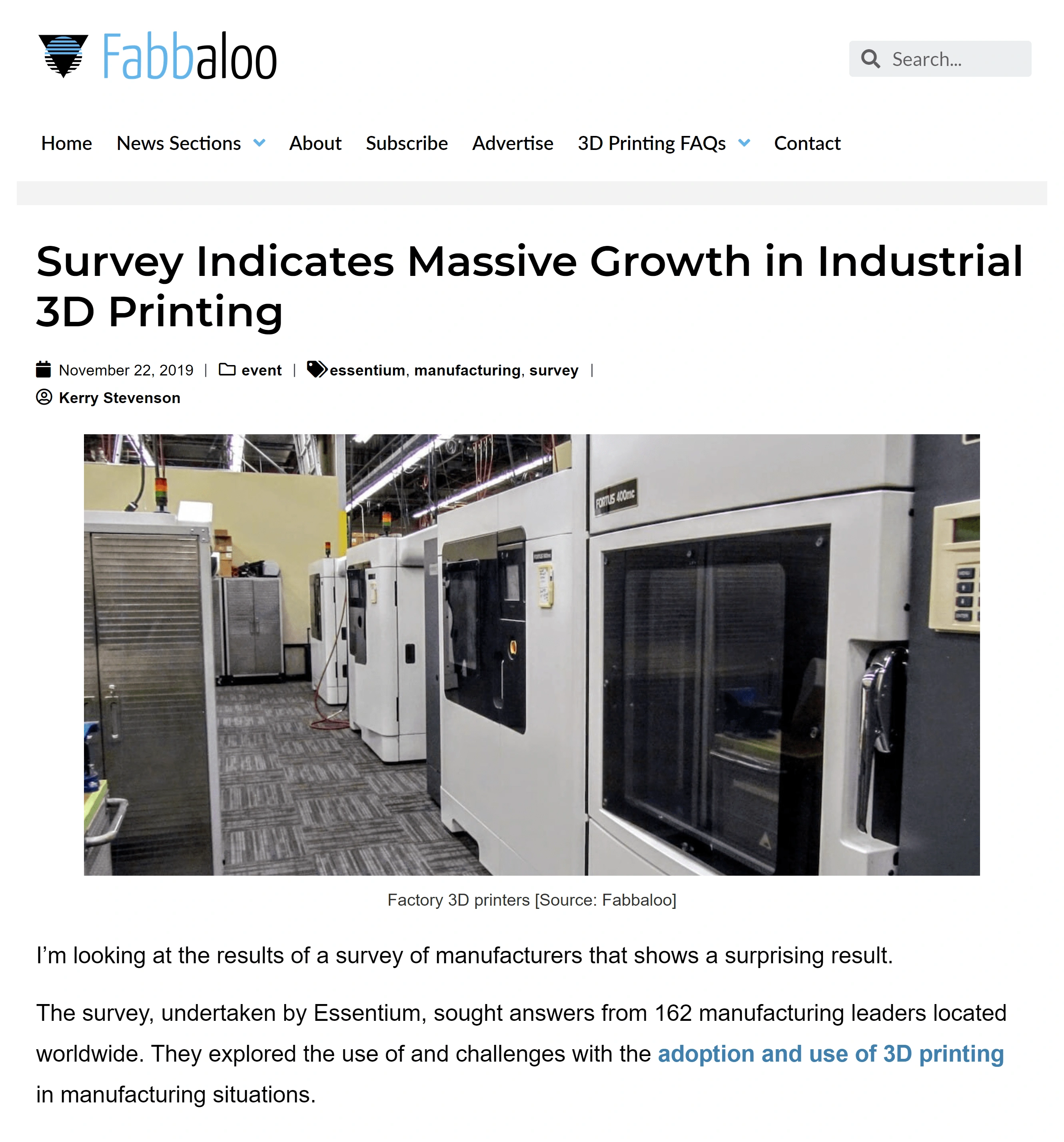 Industry studies show that 4 out of 10 manufacturing plants use 3D printing for actual product production (not just prototyping).
Currently, most of the demand comes from producers that develop industrial, electronic, or consumer goods.
Some studies have found that roughly 65% of industrial companies are currently using 3D printing in their product development process, up from 24% in 2016.
Adoption is, however, starting to increase in places like the aerospace and automotive industries.
In 2019, a spacecraft manufacturer for NASA announced plans to build a $59 million 3D manufacturing hub at a NASA rocket testing facility.
And in the automotive industry, BMW, Audi, and Volkswagen have all begun using relatively large-scale additive manufacturing in some stage of the product development cycle.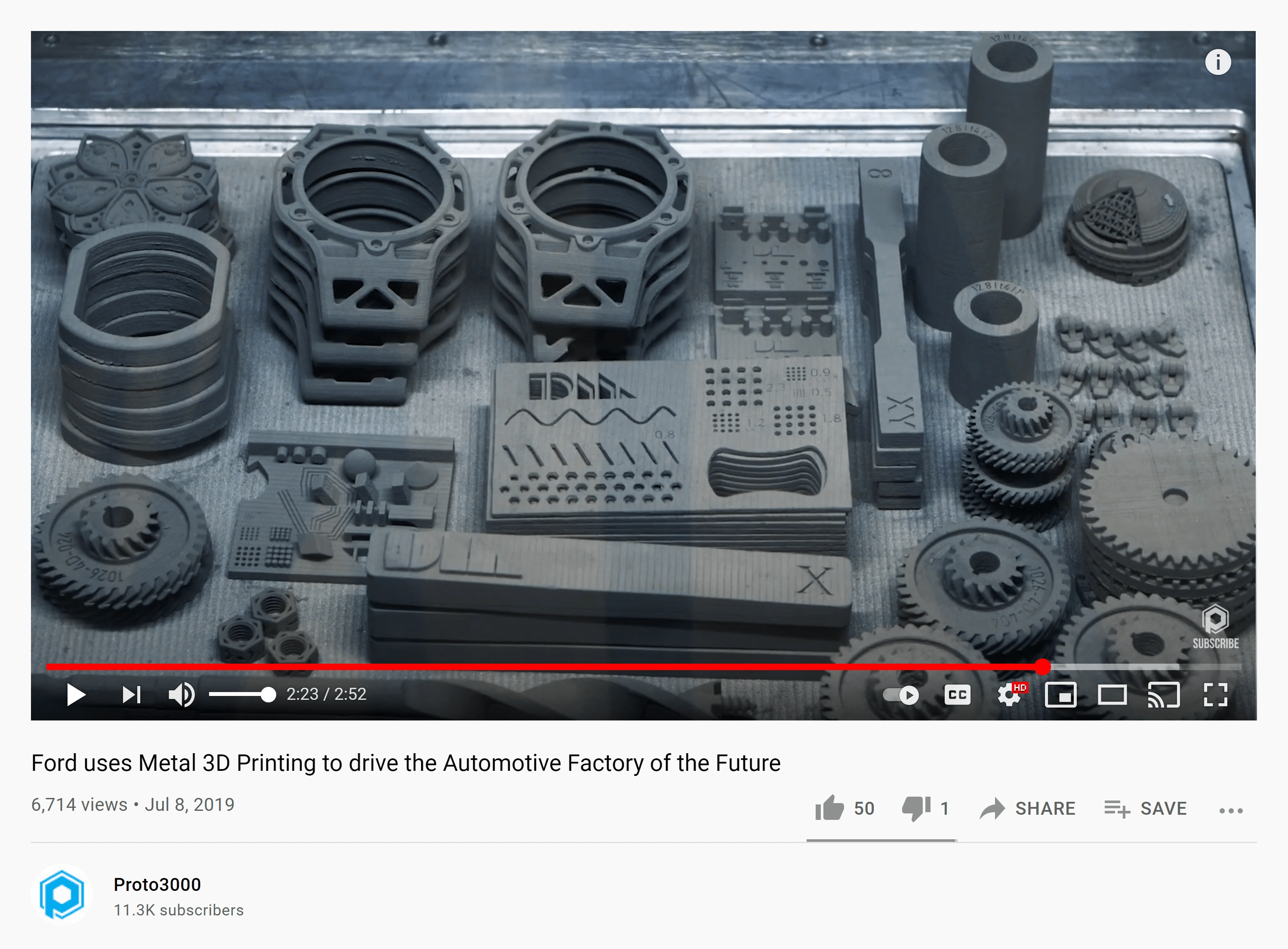 Example of 3D printing being used in the car manufacturing process.
Currently, polymer is the most-used 3D printing filament (72% of companies surveyed by EY). But metal is catching up, as 49% of manufacturers also say they use the tougher substance as a filament.
Silicone is also beginning to emerge as an essential substance for certain products, especially in the medical device industry.
Spectroplast AG is a Swiss startup that specializes in 3D printing using silicone filament.
It claims the substance can be used to create made-to-order heart valves or prosthetic limbs that match the original limb or organ perfectly.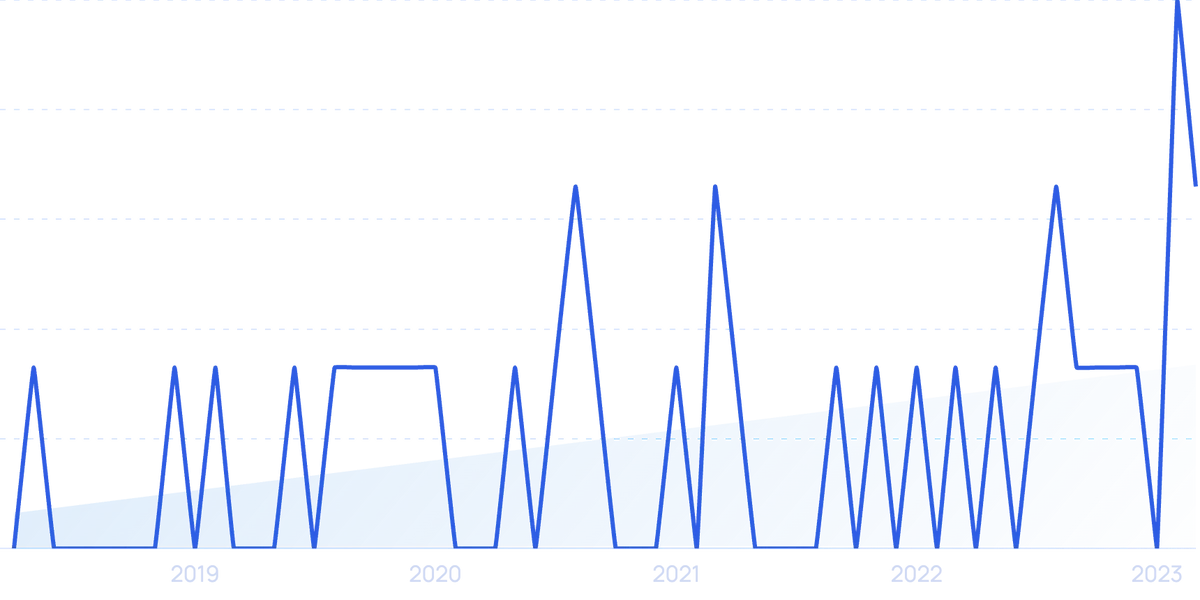 Searches for "Spectroplast" over the past 5 years.
The company raised €1.4 million from AM Ventures in a seed round in 2019.
2. Internet of Things Aids Product Integration
Products are increasingly being created specifically to connect with other products and databases.
Obviously, pure software products must be able to interact with other software, APIs, etc.
But, now hardware is taking the plunge.
This is what is known as the Internet of Things (IoT).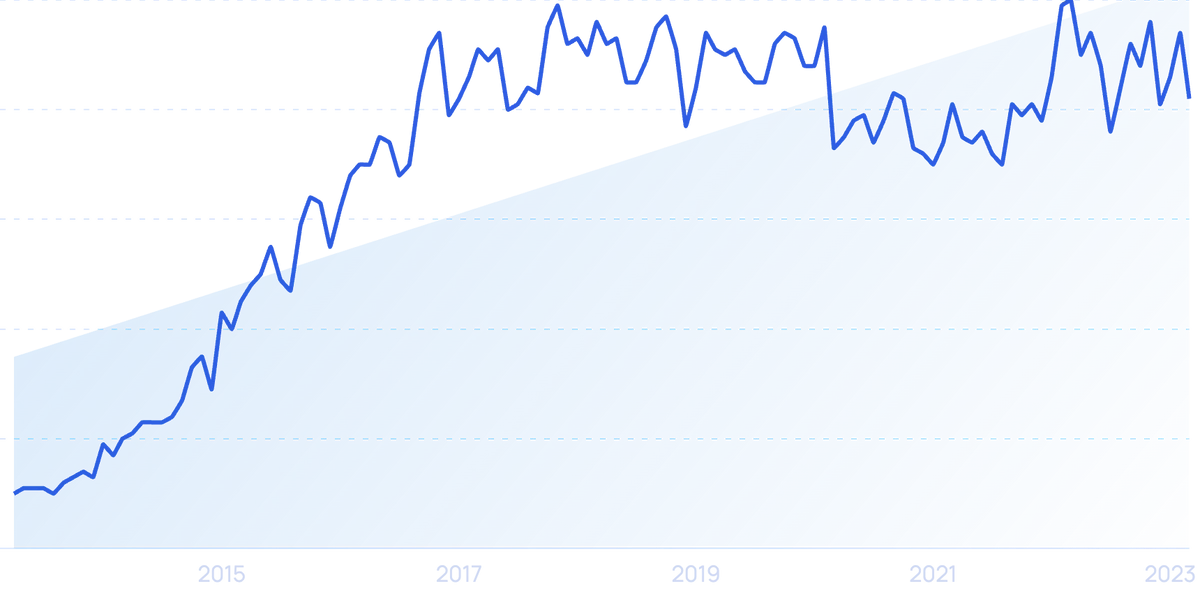 Google search growth for "IoT" has increased by 720% over the last 10 years.
Physical devices are manufactured with components that allow for data collection, connectivity to other products, and integration with software.
In 2010, there were an estimated 800 million IoT connected devices worldwide.
By the end of 2020, the number of IoT devices had grown to 11.7 billion.
This means that the number of IoT products has grown by about 15x over the last 10 years.
And that number is only expected to increase.
As IoT adoption accelerates, some estimates indicate there will be more than 41 billion IoT devices by 2027.
In fact, it's believed that 54% of all internet connected devices are now IoT products.
Essentially, this means that there are more IoT-connected products (industrial sensors, vehicle monitoring software, home speaker assistants, etc.) than there are cell phones, laptops, and PCs in the world.
And future growth in internet-connected devices is expected to be primarily driven by production of new IoT products.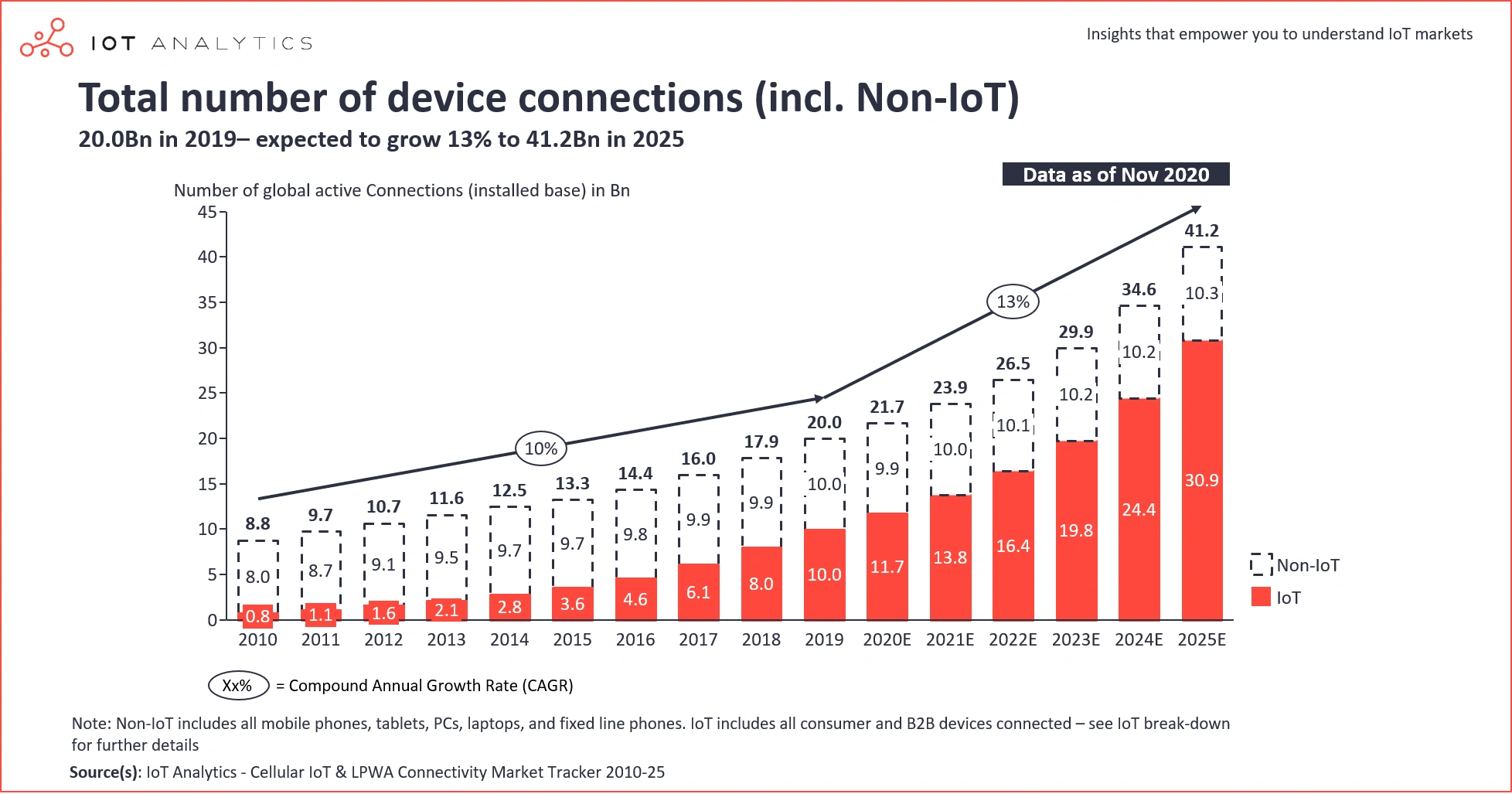 Source: IOT Analytics
Tesla is a well-known example of this trend.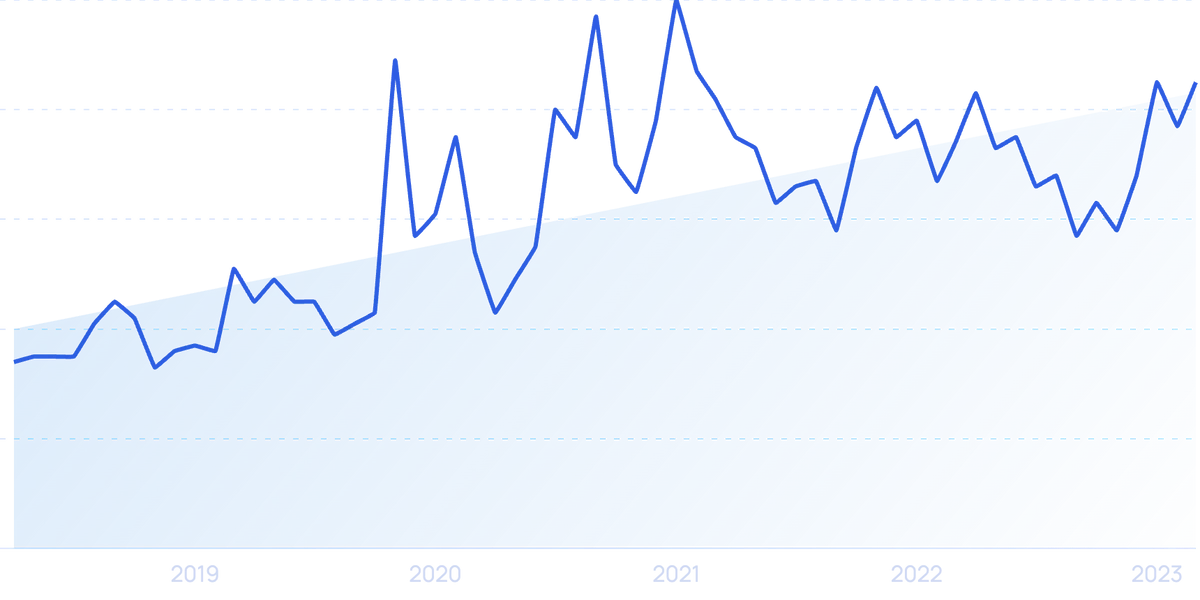 Search interest in "tesla, inc." has grown by 150% in 5 years.
Since 1980, vehicle manufacturers have been required to include some form of on-board diagnostics (OBD) in the cars they manufacture.
The vast majority of these OBDs monitor a vehicle's systems and alert the driver when there is a malfunction or when maintenance is needed.
By contrast, Tesla has included software in its vehicles that can self-diagnose problems and automatically order the replacement part for the driver.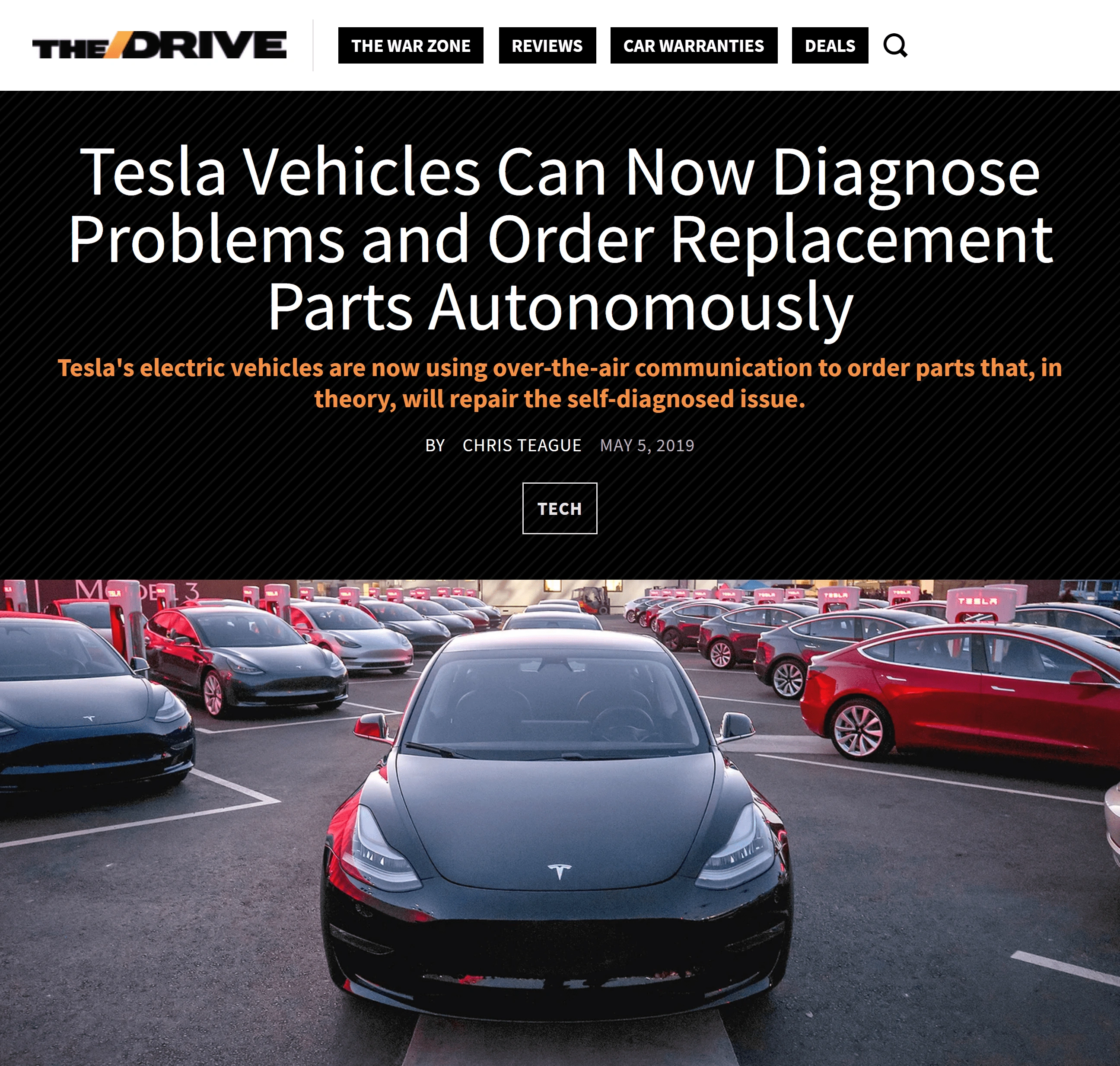 Tesla's OBD system uses IoT tech to find replacement parts.
The company even claims that this software can help resolve 80% of all maintenance problems without the need to visit a service station.
Tesla also updates the software in the vehicle remotely. And it uses the data it is collecting to price its own insurance products.
This trend has also spread to other aspects of consumers' daily lives.
Smart meters are increasingly being used by utilities to monitor customer use, collect data, and prevent waste or leakage.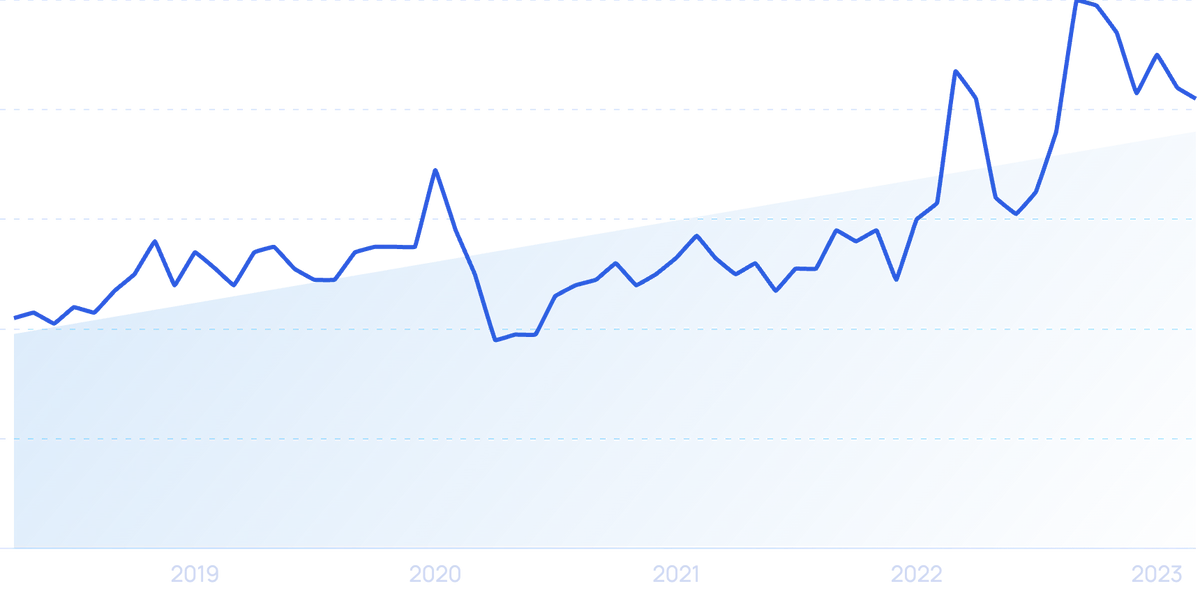 Search growth for "smart meter" has steadily increased by 95% in 5 years.
According to the US Energy Information Administration (EIA), as of 2020, there were 102.9 million smart electricity meters installed in the United States.
That's roughly 61% of the total installed base in the US – up from nearly half in 2016.
The advent of 5G cellular technology will only increase the adoption of IoT products.
As of 2019, the majority of IoT devices were still connected by Wireless Personal Area Networks (WPAN), Wireless Local Area Networks (WLAN), and existing cellular networks (2G/3G/4G).
5G wireless networks possess an increased spectrum that allows for the collection of more data at greater distances and higher speeds.
This opens the door to entirely new use cases for products that were not feasible with the old wireless networks.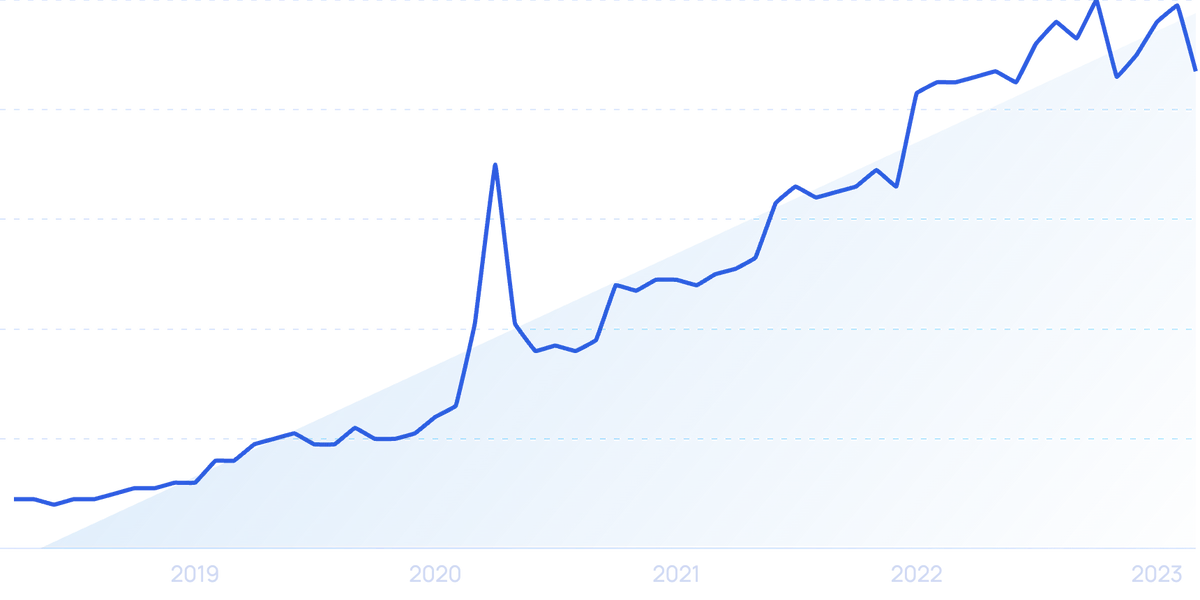 Search interest in "5G" has increased by 866% over the last 5 years.
In fact, some analysts predict that the entire 5G industry (which would include IoT products) will grow at a CAGR of 43.9% from 2021 to 2027.
The medical device industry is expected to be one of the largest beneficiaries of the adoption of IoT.
A study by Deloitte found that medical device manufacturers believed that 68% of all medical devices produced over the next five years will be IoT devices.
Those same medical device manufacturers also said they expect to allocate 42% of their R&D budgets to IoT devices over the next five years, compared to 34% in 2018.
Already, smart thermometer company Kinsa is using data from its thermometers to map the spread of COVID-19 in the US.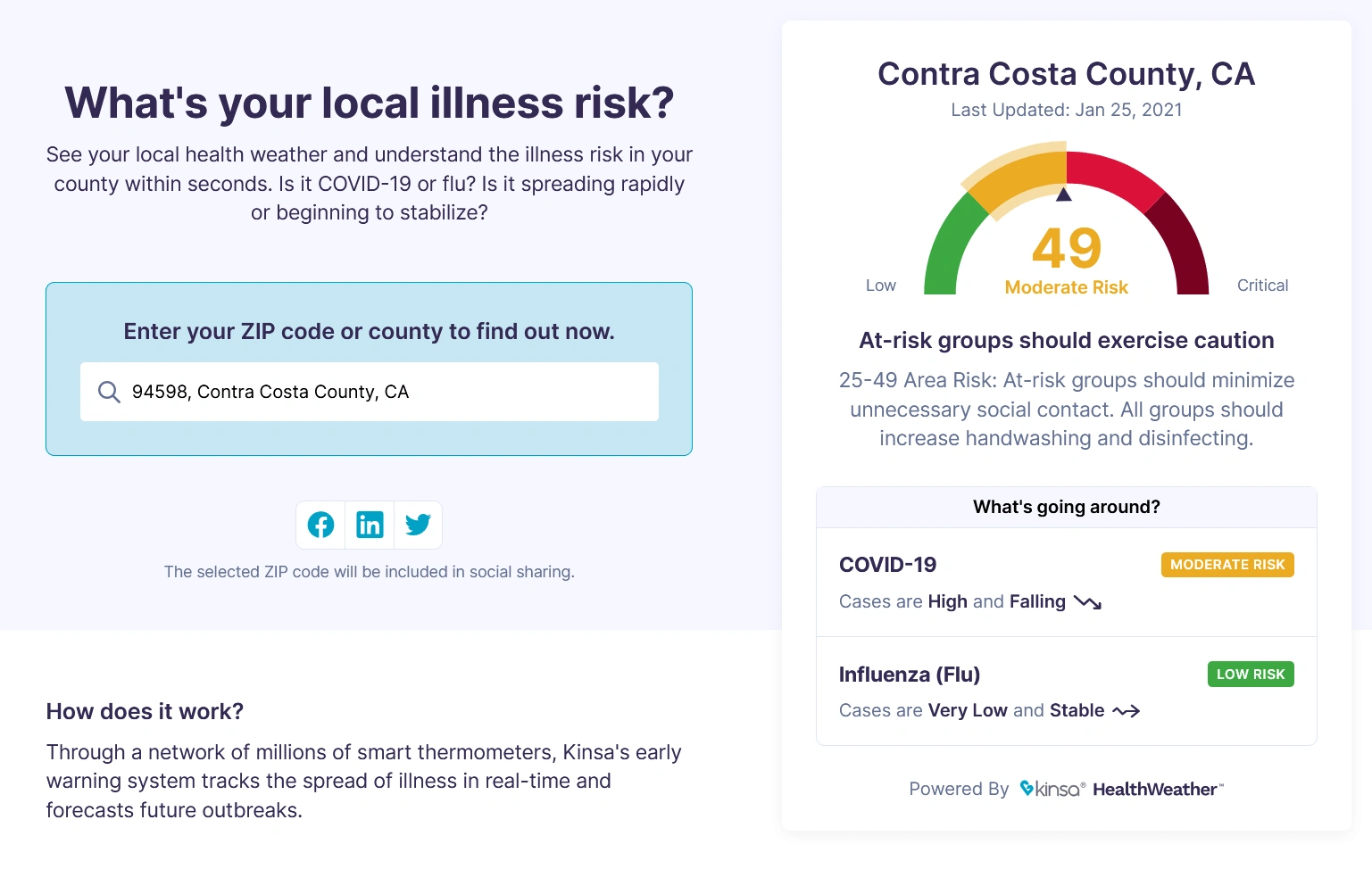 A shot from Kinsa's HealthWeather page.
3. Vendors Use Data For Rapid Product Development Feedback
As data is collected on more products everyday (especially with the increasing adoption of IoT products), vendors and manufacturers will be able to shorten product development life-cycles and quickly improve prior designs.
Over a third of companies believe that at customers are their most important innovation partner.
Therefore, collecting data from these "partners" is becoming a priority.
To accomplish this, the products themselves need to collect data.
It makes sense then that roughly three-quarters of independent software developers are expected to create products with embedded usage analytic tools by 2021.
For physical products, however, there's probably still low-hanging fruit.
McKinsey found that over 40% of companies weren't getting feedback from end customers during product development.
In the automotive industry, machine learning has allowed some manufacturers to reduce physical product testing obligations by 90%.
GM utilized its "Dreamcatcher" machine learning technology to produce a seatbelt bracket that is 40% lighter and 20% stronger than its original concept.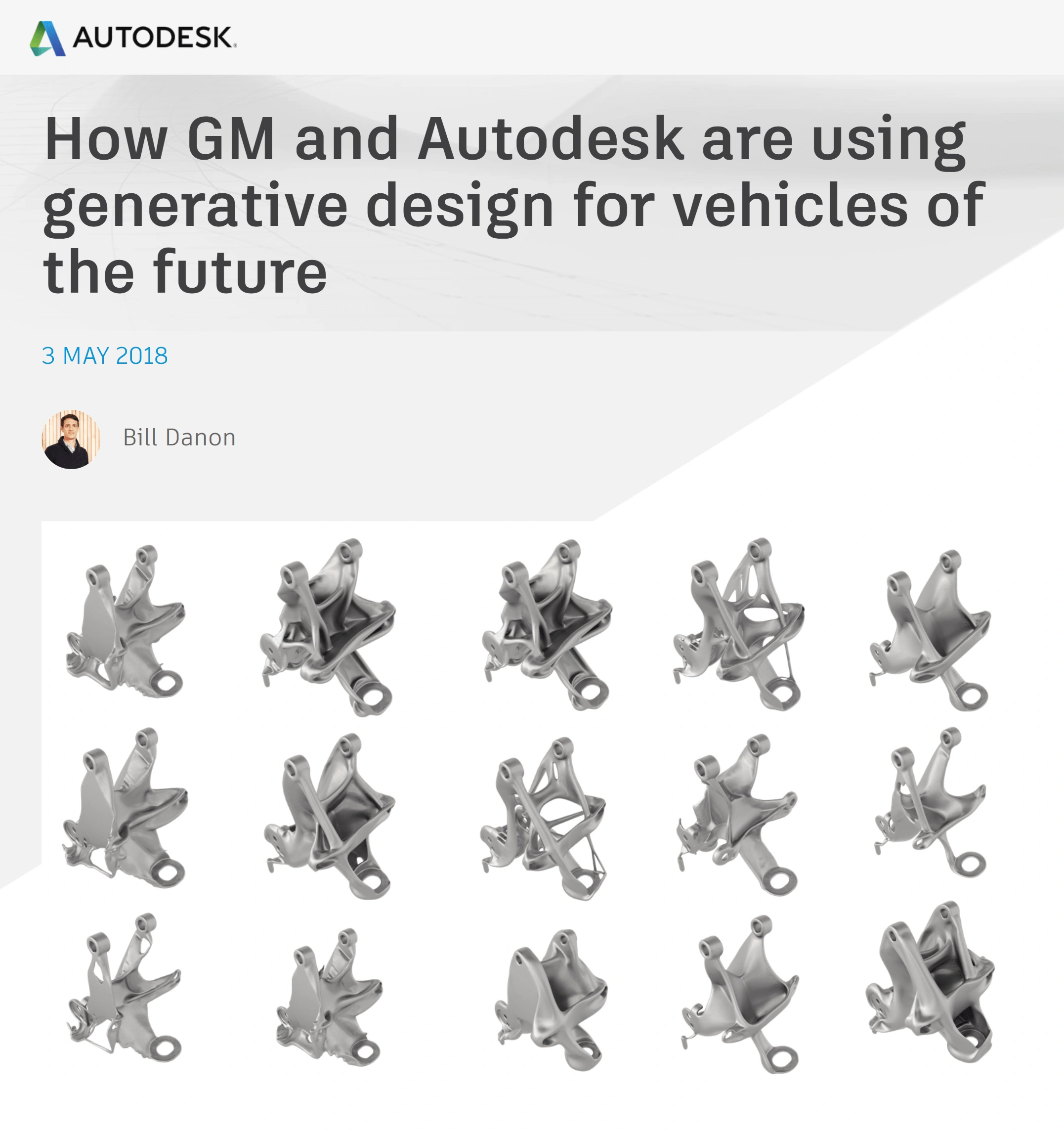 GM used machine learning to help develop a new seatbelt product.
And Continental, an auto parts supplier, is able to simulate in just one hour what used to take 20 days to test physically.
The financial incentives for adoption seem to be there too.
A recent study by Capgemini estimates that large automotive original equipment manufacturers (OEMs) can increase operating profits by up to 16% with the help of scaled AI.
Collecting data also becomes more relevant as product life cycles decline and competition heats up.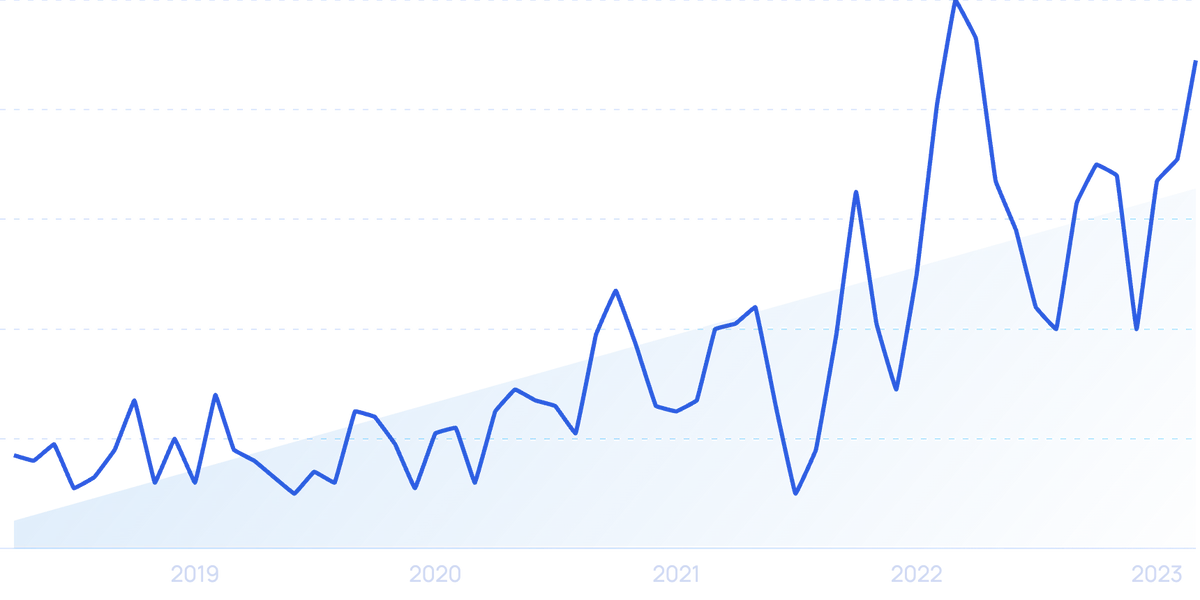 Searches for "product researcher" increased by 420% over the last 5 years.
Global R&D spend has increased to roughly $2 trillion in 2018 from $676 billion in 2000.
Yet, McKinsey estimates that more than half of new product launches fail to hit their internally-generated targets.
In a world where you can spend so much and miss so often, data collection will be paramount to future product development.
Curion is a company that is trying to fix this.
Founded in 2017, Curion provides data collection and consumer analysis to corporations throughout the United States.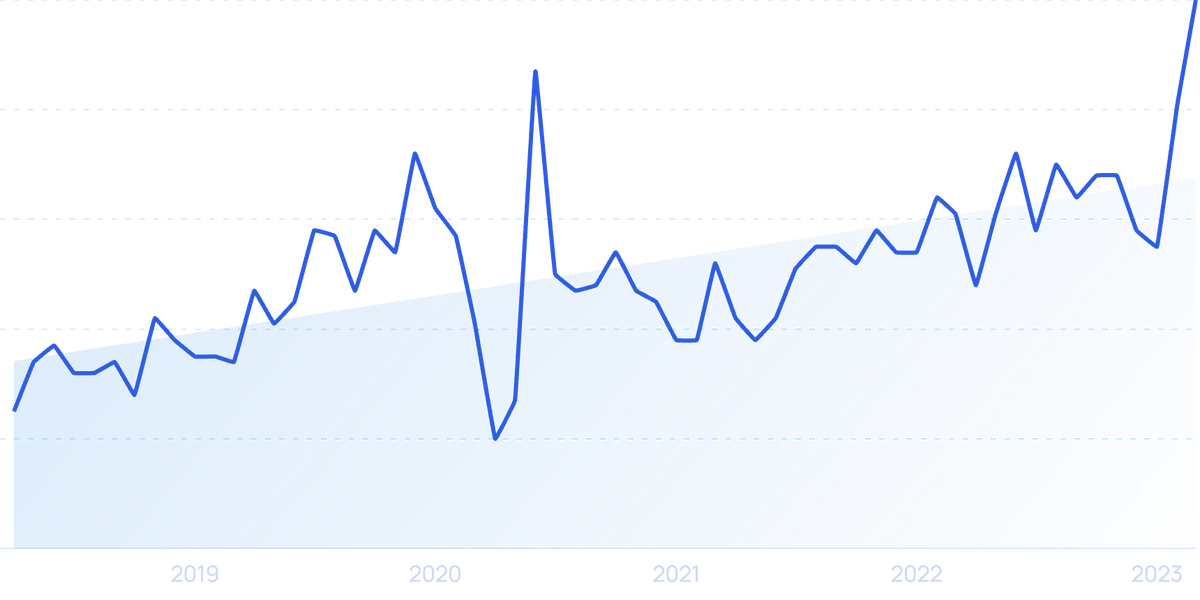 Searches for "Curion" have gone up 288% in 5 years.
The company claims it already provides research for 65% of Global 100 companies.
Since its inception, Curion has collected data by testing over 7,000 products on more than 500,000 consumers.
In 2019 alone, Curion collected product data from 105,000 consumers across some of the largest metro areas in the US.
4. Digital Design Lowers Costs and Increases Efficiency
For physical products, data is increasingly being used in digital design.
Digital design is a form of product design that takes place in a digital environment instead of a physical lab or studio.
Digital twins are a good example of this trend.
Digital twins are digital representations of physical products. They are informed by data in order to test a product before it's put to use.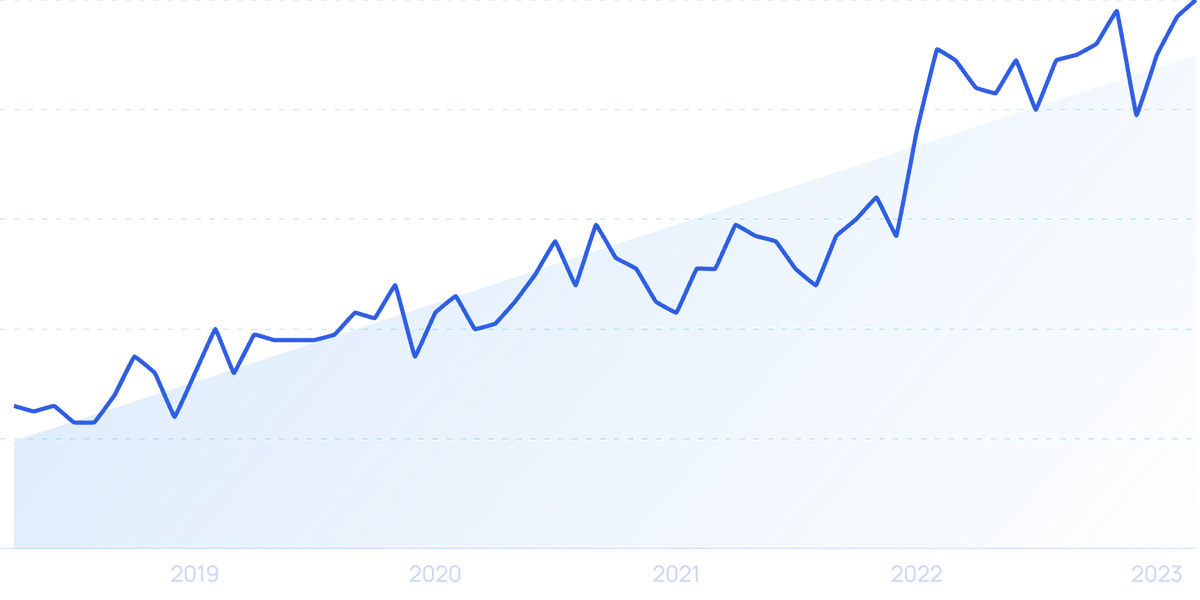 Search interest in the term "digital twin" is up 279% over the last 5 years.
This is where the internet of things comes into play.
Digital twins can be modeled based on data collected through physical products that contain sensors or collect information in some other way.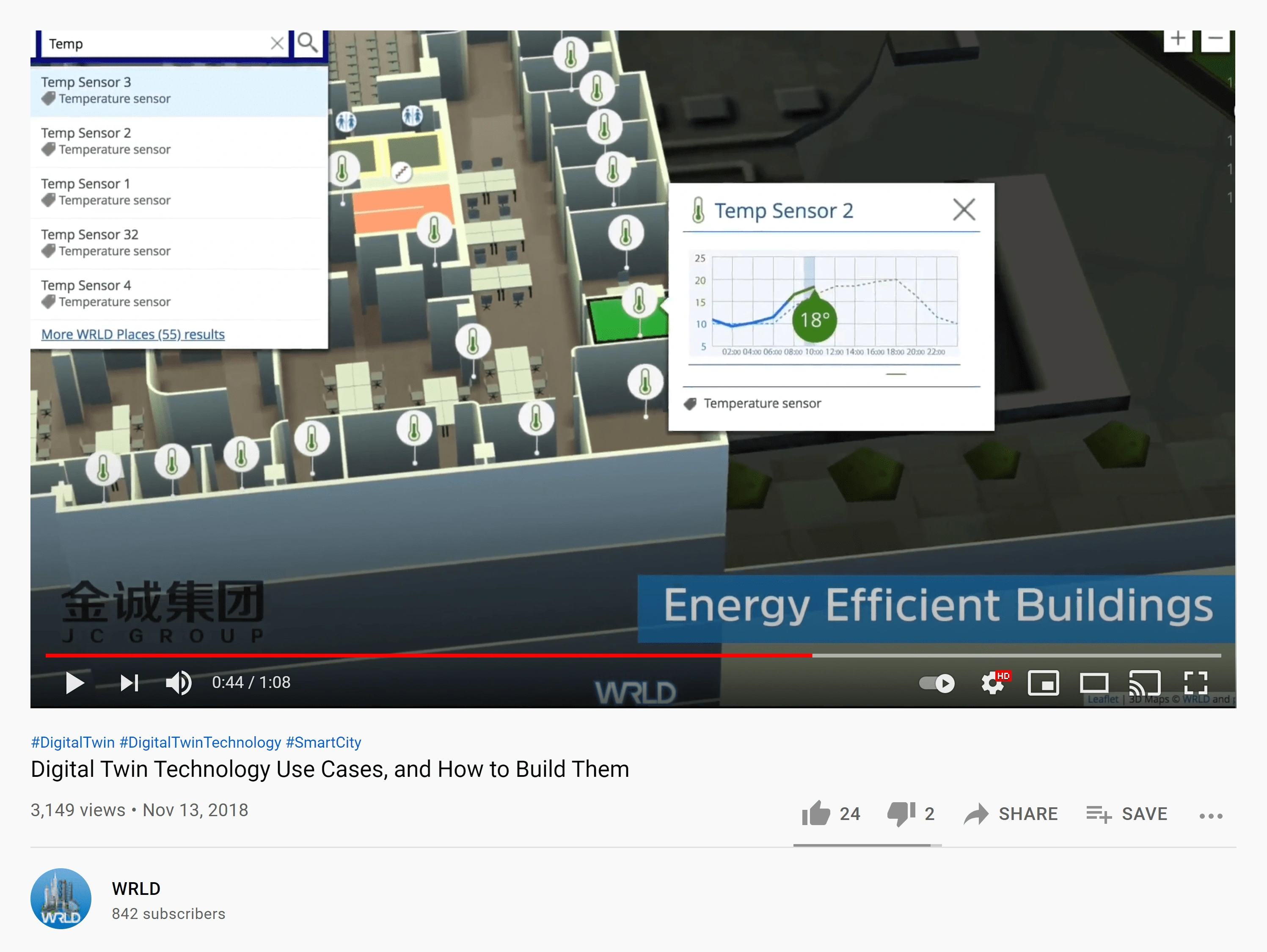 Example of a digital twin.
That information can then be used to improve or create new products.
This reduces errors during physical product development, and allows teams to implement new ideas before they actually engineer a new product.
Boeing predicts that digital twin technology will be the leading driver of its own efficiency improvements over the next decade.
And Global Market Insights estimates that overall demand for digital twin technology will grow by more than 30% per year for the next six years.
PWC found that this kind of digital product development is expected to increase efficiency by 19%, reduce time to market by 17%, and reduce production costs by 13% for manufacturers leading up to 2025.
The companies that PWC classifies as Digital Champions – the leading 10% in digital product development – reap the benefits of this efficiency as well.
More than a quarter of the Digital Champions earn 30% of their revenue from a product that is less than two years old.
By contrast, the average company earned just 8% of their total revenue from new products.
Generative Design is another way for companies to reduce production time and expense.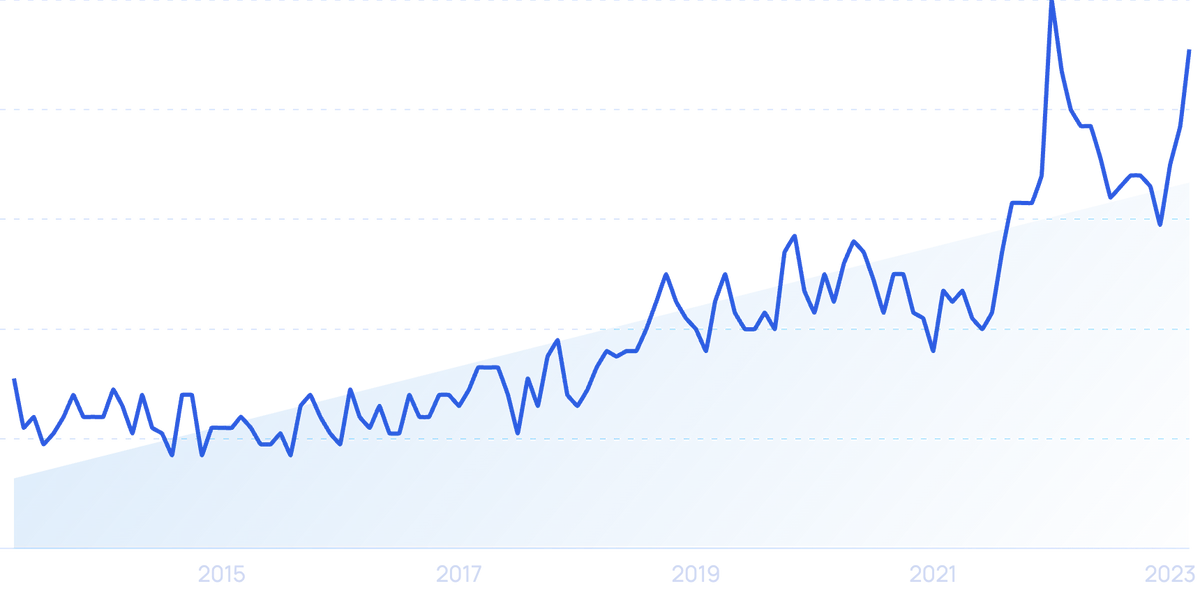 Searches for "Generative Design" have increased by 188% over the last 10 years.
Using this method, an algorithm typically generates millions of different permutations of a product based on inputs such as size, material, etc.
This algorithm digitally tests millions of "designs" that humans would have never imagined on their own.
For example, after struggling to reduce the overall weight of its vehicles, Honda partnered with Autodesk to use generative design technology in creating a new crankshaft.
This resulted in a new crankshaft design that was 50% lighter than previous models.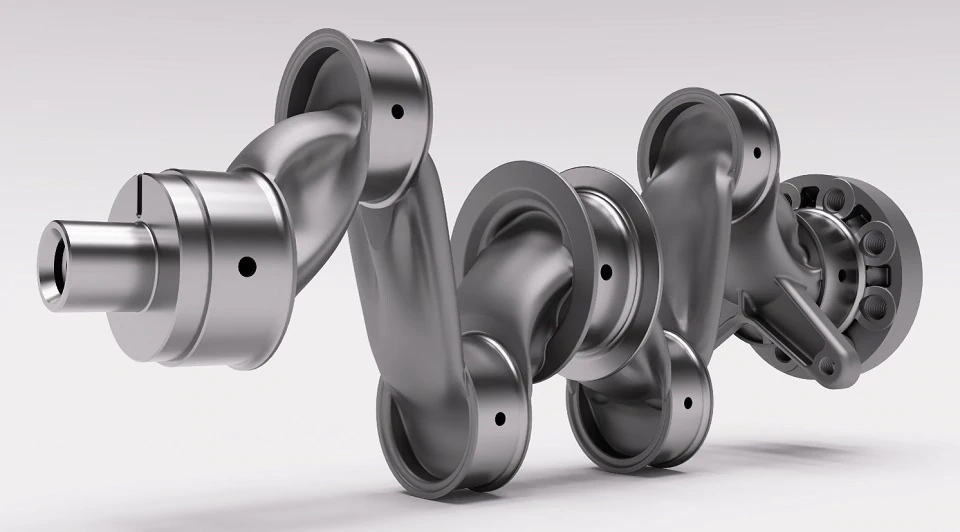 A rendering of the generative-design crankshaft.
Honda even claims the generative design technology has caused them to rethink the way crankshafts and other products are designed.
Generative design can help create things that humans just can't visualize.
Japanese automotive components manufacturer DENSO, for instance, created a new engine control unit (ECU) that was far lighter than its previous iteration.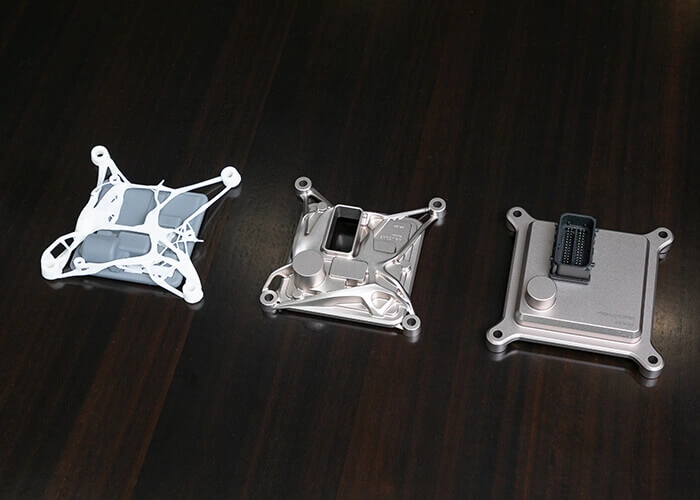 The generative-design frame (left), classic general-purpose design (right), generative-design frame combined with a circuit board cover (center).
DENSO accomplished this by using generative design technology to form a design that was atypical but much lighter than other models.
The generative-design ECU frame is obviously something a human wouldn't design. But that's why it is being used.
To meet weight and size requirements for certain products, sometimes unconventional changes are needed.
Now, these changes can be made with efficiency and speed, using methods that human designers would have never thought of.
5. Personalized Products Drive Development
According to a Deloitte study, 20% of consumers are willing to pay a premium for a personalized product.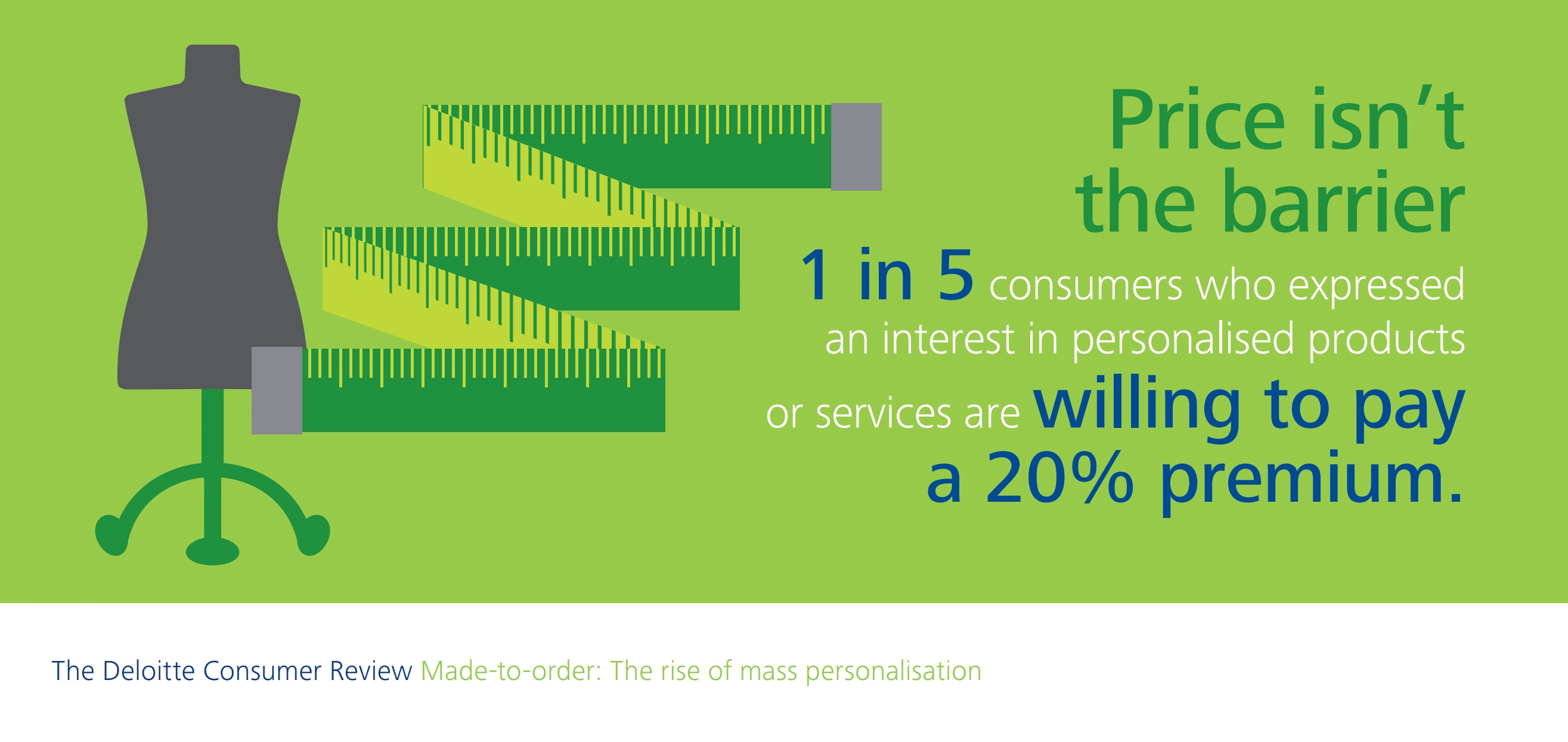 One survey discovered that consumers are happy to pay more for products tailored to their needs.
The desire for personalization even influences some customers to give up more data.
The same study found that about 22% of consumers were willing to share data in order to receive a personalized product.
Because of this demand, many companies are basing their product development on the personalized requests of the consumer.
To take advantage of this, many companies are focusing on what is called zero-party data.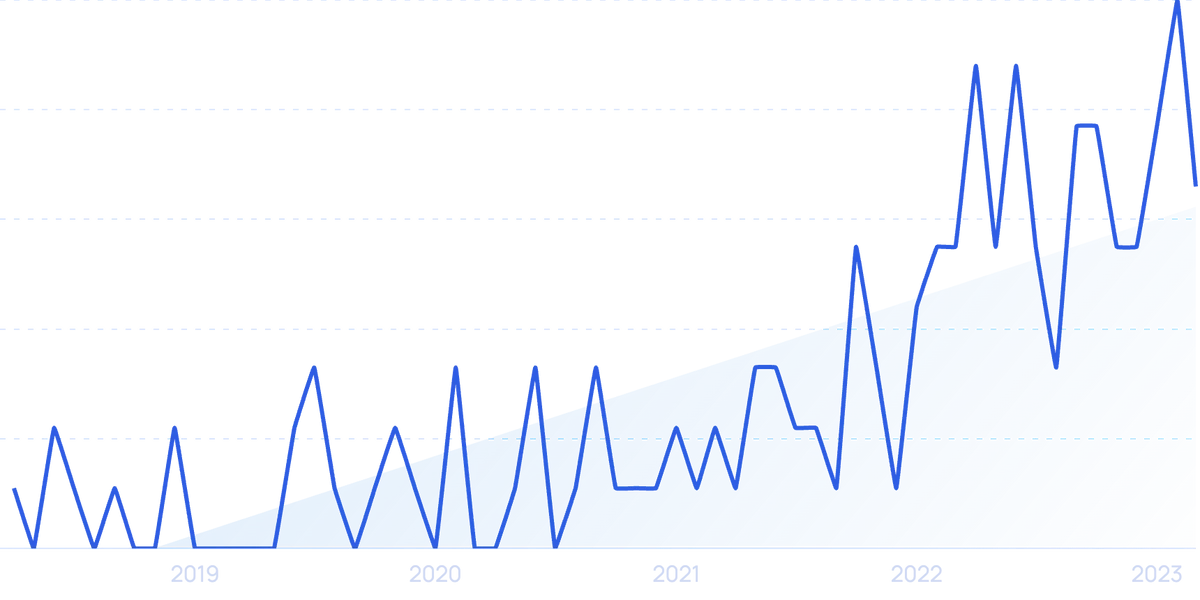 Searches for "zero party data" are up 500% over the last 5 years.
Zero-party data is data that customers intentionally give to companies so that they can improve their products or customer experience.
For example, skincare company Nomige creates products for customers based on their DNA and data about their lifestyle.
These customer inputs are central to Nomige's product development. In fact, Nomige's products don't exist without customer input.
In the physical products space, there are entire companies whose business model is based solely on the idea of personalization. Gloveleya is a good example.
Gloveleya creates plush dolls and backpacks with users' names on them. Here the product design doesn't matter as much as the consumer's requests.
Without the consumer's name, the product would be just like any other doll or backpack.
But, since Gloveleya includes customer preferences in its product development process, it has a differentiated product.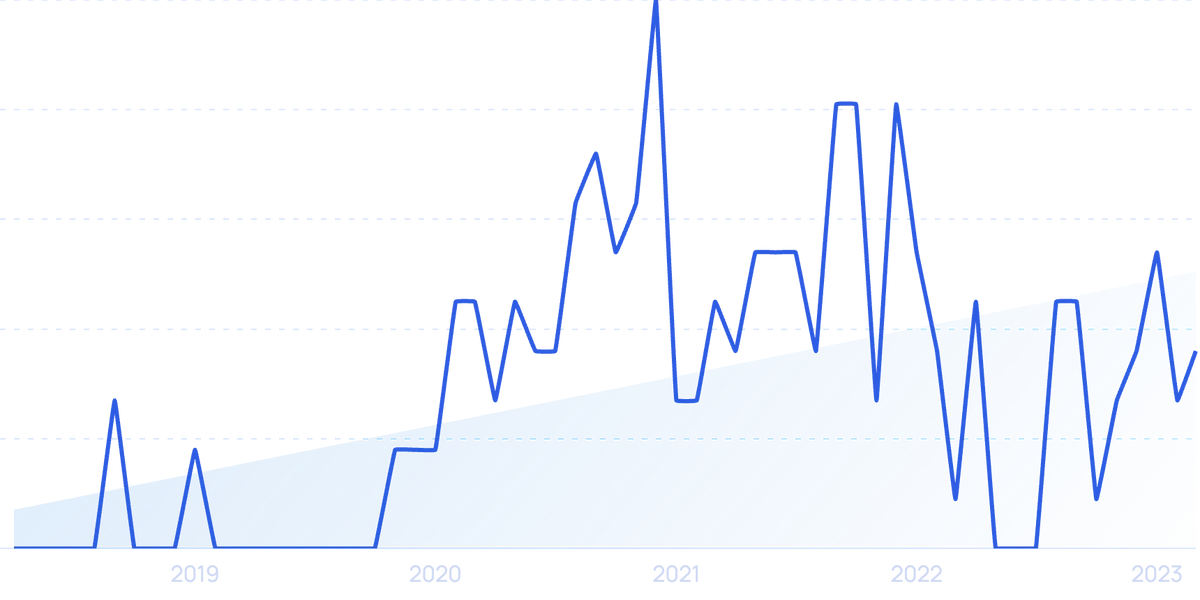 Searches for "Gloveleya" are up 300% over the last 5 years.
This trend has spread to the self-care industry as well.
Vitamin and supplement company Careof asks new customers to take a quiz and share data about their health goals.
And consumers aren't shy about giving away this information. Since 2016, over 5 million people have taken their quiz.
As more companies collect data on consumer preferences, expect personalization to play an ever-important role in product development.
6. Product Development is Being Outsourced
A growing number of companies are starting to outsource product development.
Once thought of as a core competency, product development is now viewed as a business process that can, in many cases, be better accomplished through outsourcing.
This has become even more true as a growing number of products include some kind of software component.
Take, for instance, large automotive companies.
As mentioned above, they now find themselves building software into every car they create.
Because of this, they are increasingly outsourcing more of their product development process to places like Ukraine.
And as more offshore firms prove themselves, their value proposition becomes hard to beat.
A study by Avasant even found that application development was one of the most commonly outsourced IT functions, with 60% of tech companies choosing to outsource.
And among small businesses, development was the fourth most outsourced business process, according to a 2019 study by Clutch.
All components of the product development cycle are being outsourced.
This even includes research and development.
Technavio predicts that the R&D outsourcing market alone will grow by $6.7 billion between 2019 and 2023.
Conclusion
That's all for the product development trends to watch for 2023 and beyond.
While there are many different trends originating throughout this industry, the largest have a couple of things in common: a) they involve increasing digitalization, and b) they utilize customer data.
Expect these trends to drive more changes in the product development market.