6 Important IoT Trends For 2023-2025
You may also like:
There are currently well over 13 billion Internet of Things (IoT) devices installed throughout the world.
That number is expected to rise to over 30 billion by 2025.
The economic impact of this technology is even more impressive. Deloitte predicted that by the end of 2023, global spending on IoT initiatives would exceed $1 trillion.
To learn about the most important trends impacting the IoT space in 2023, read on.
1. IoT Data Feeds AI Models
Artificial intelligence (AI) and the IoT are natural complements to one another.
And when combined, they allow for insights that were almost unimaginable before.
This combination is known as AIoT.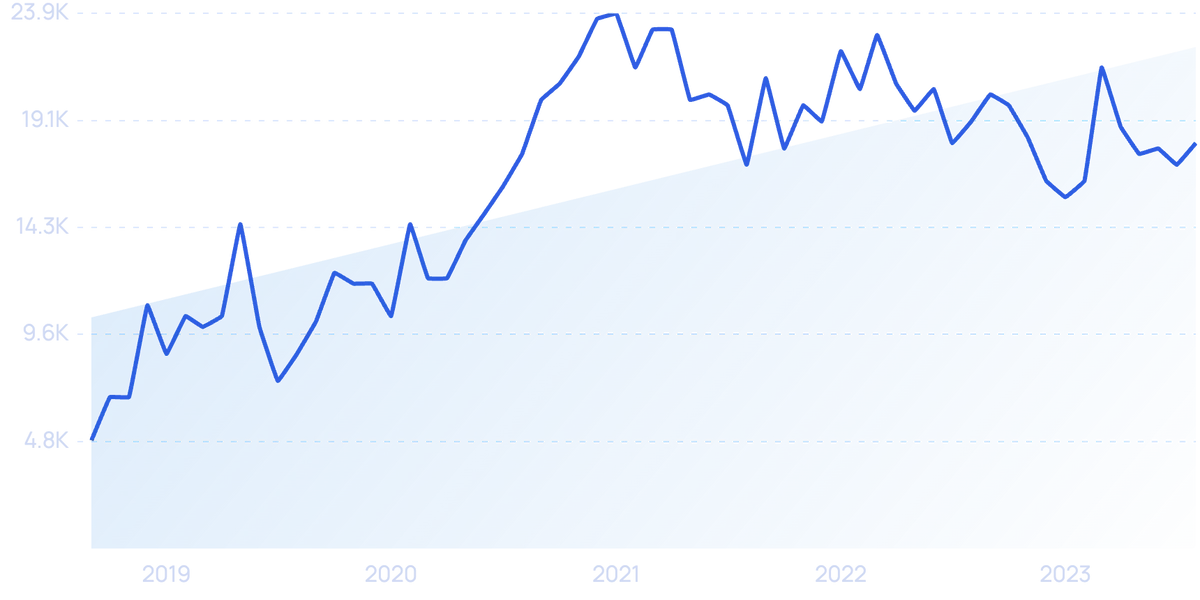 Searches for "AIoT" have increased by 275% in 5 years.
Back in 2019, Gartner found that only about 10% of IoT projects were utilizing AI to develop insights.
But as the IoT installed base grows, it's inevitable that AI will help parse the reams of data that are collected via IoT devices. And the data will be essential in "training" AI systems.
By 2025, it is expected that IoT devices will generate roughly 73.1 ZB of data.
That's roughly 4x the 18.3 ZB generated in 2019.
With all this data, the use of AI and machine learning will be essential.
Because of this, Gartner predicted that over 80% of IoT initiatives would be paired with AI by the end of 2022.
For instance, Voice AI and Vision AI at scale seem to be impossible without the help of the IoT.
Approximately 74% of consumers between 18-24 report using a mobile phone voice assistant in their home.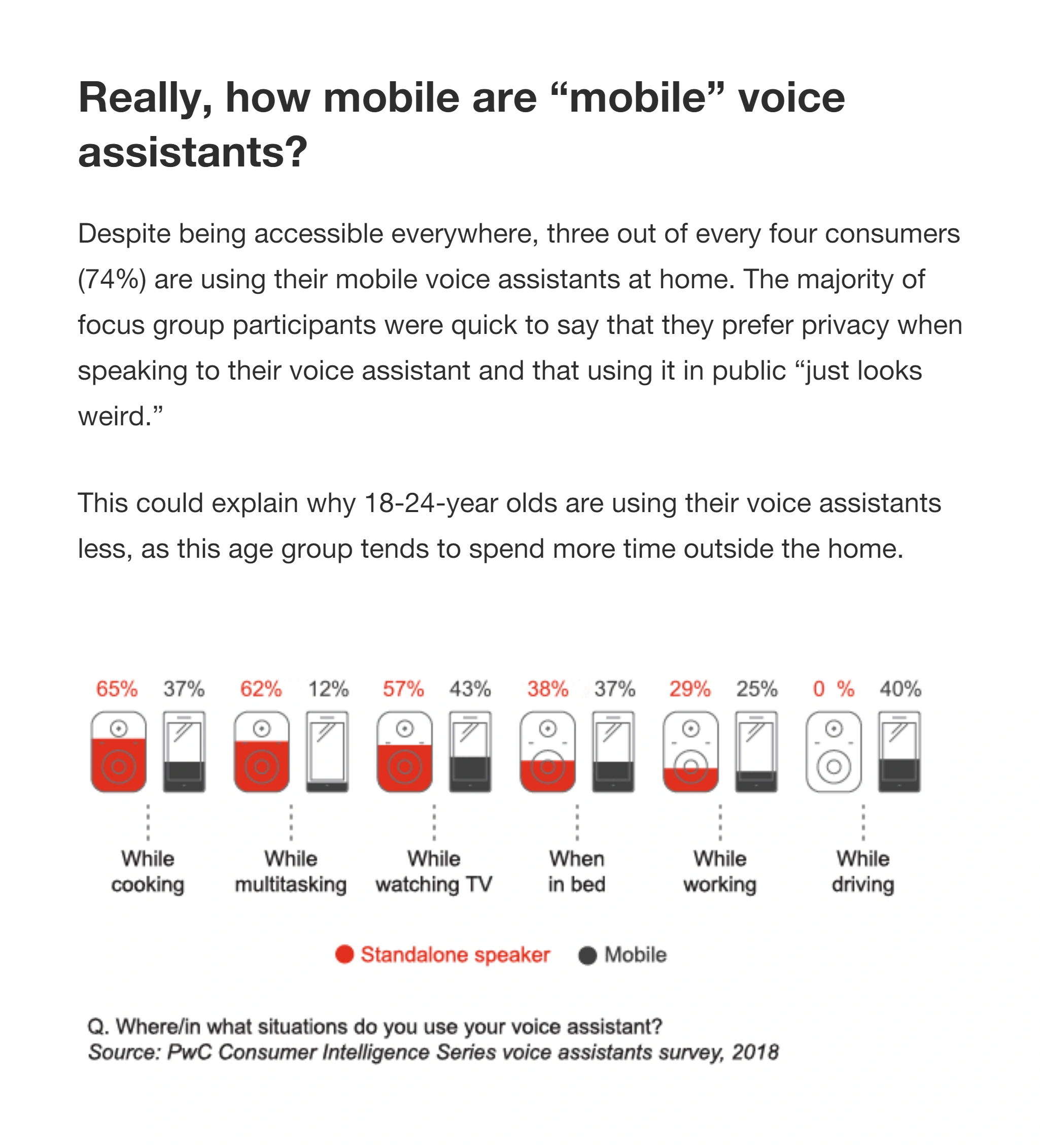 A report by PWC discovered that many members of Gen Z use voice-enabled assistants.
Younger generations are quickly making the switch to voice-first search.
And there would be no practical way to analyze the mountains of difficult data produced by this without AI in connection with IoT.
In retail, companies like Walmart and Amazon are using IoT to manage inventory and make supply chains more efficient.
Walmart manages about 1.5 billion messages from IoT devices each day.
They use this data to manage key tasks, like predicting in-store maintenance needs.
In Canada, the retail giant is partnering with DLT Labs to reduce inefficiency in its supply chain.
As a result of DLT's IoT implementation, Walmart Canada claims it has been able to eliminate about 97% of shipping discrepancies.
Even with these stories of success, it is obvious that the market is still in its early days.
Gartner found in 2019 that almost nine out of ten businesses said they failed to extract enough value from their data.
And it's estimated that about three-quarters of enterprise data are not being utilized.
Take another example: SenseAware.
FedEx developed SenseAware in 2016 in order to equip IoT sensors to its delivery trucks.
But it wasn't until it partnered with Microsoft that the courier actually developed real IoT use cases.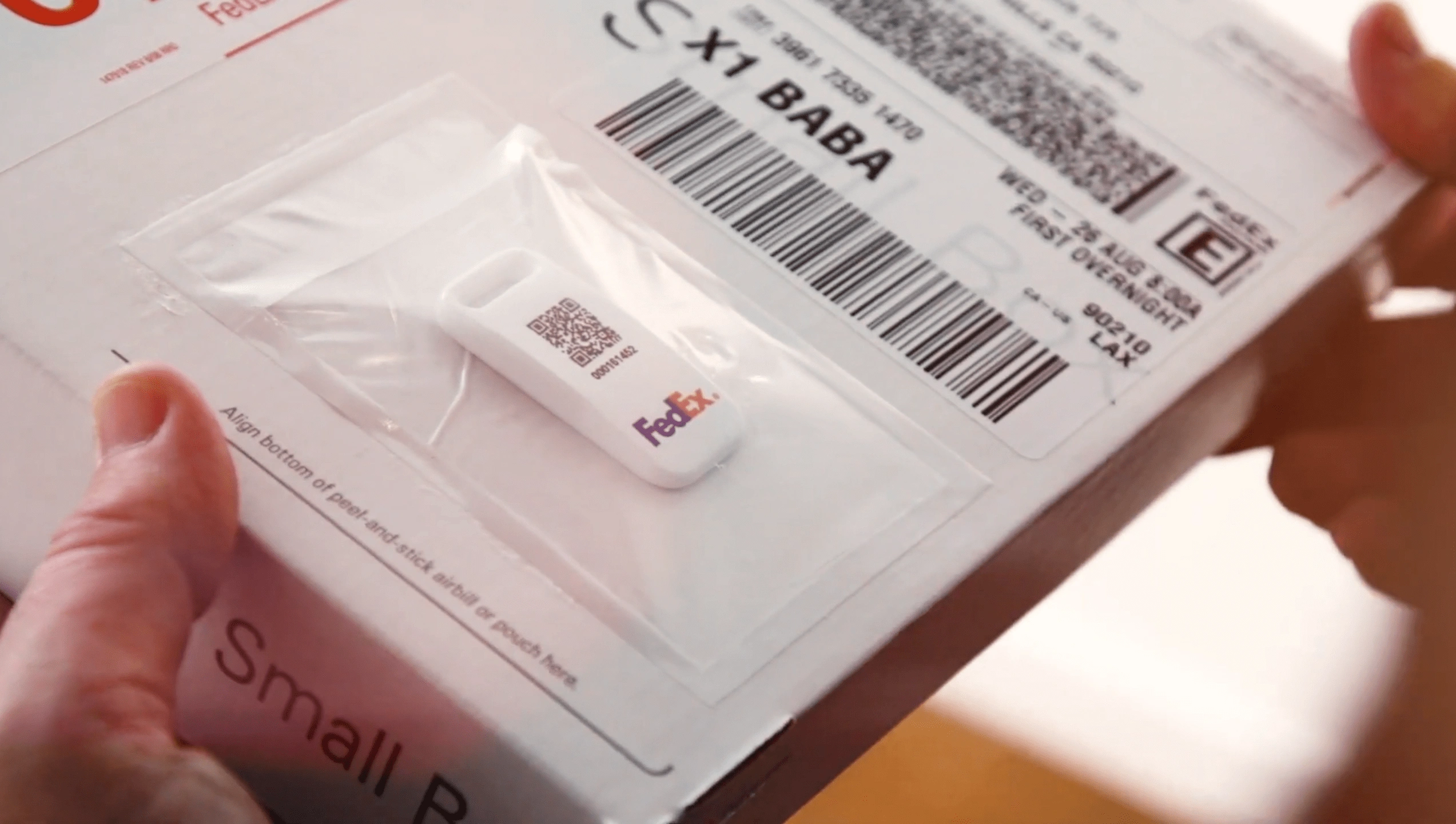 SenseAware being used in the field.
FedEx is now able to utilize the tech giant's AI capabilities to put the data it gathers into use. And Microsoft is able to train its algorithms on a data pool that would be impossible to collect without IoT.
All in all, without effective AI, much of the data collected by IoT devices is practically useless.
2. IoT Platforms Look to Improve Functionality
With the complicated nature of IoT data collection and analysis, it's inevitable that applications will come along to help inexperienced businesses cope.
For instance, spending on IoT software grew by over 24% in 2021.
While spending on the actual hardware only grew by around 5%.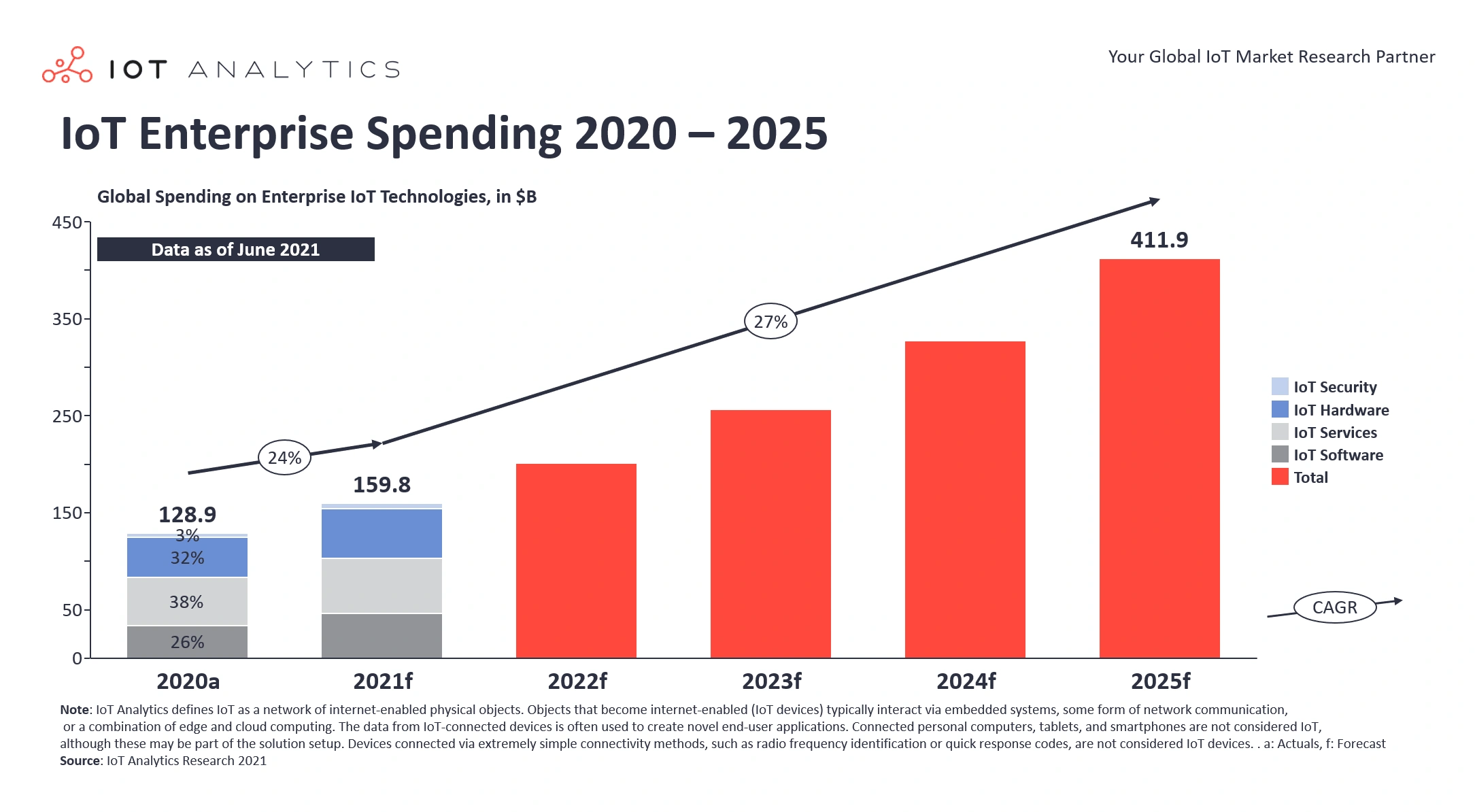 While IoT hardware still comprises about 32% of overall spend, IoT software spend is rapidly catching up at 26%.
It's obvious that the most important changes are taking place in the software ecosystem that supports IoT.
As more companies deal with IoT devices manufactured and maintained by a variety of vendors, they need ways to manage the software associated with all of these devices.
Containerized applications are one way to do this.
Containers are, simply put, a way to virtualize an entire software ecosystem.
Specifically, contailers alow developers to observe and understand different operating systems that are working together inside an organization. Which makes them essential for large-scale IoT.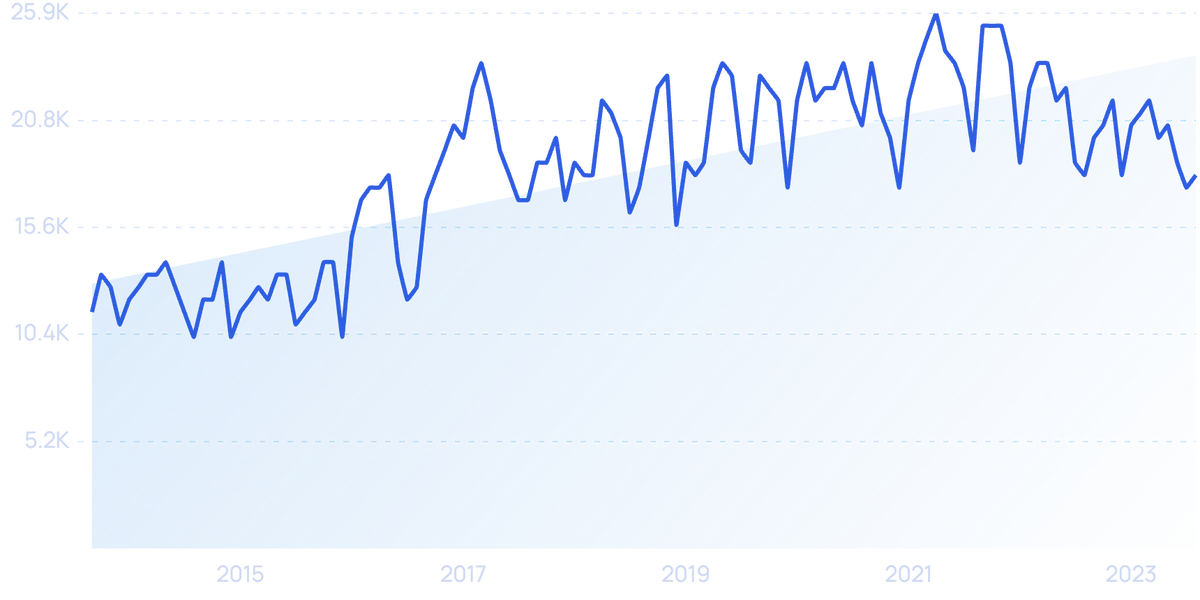 Searches for "Containerization" have increased slightly by 58% in 10 years.
In fact, containers are so essential that Gartner predicted that three-quarters of global organizations would be using containerized applications by 2022. That is compared to under a third of businesses using them the year before.
Blynk is a platform that is enabled by containerization.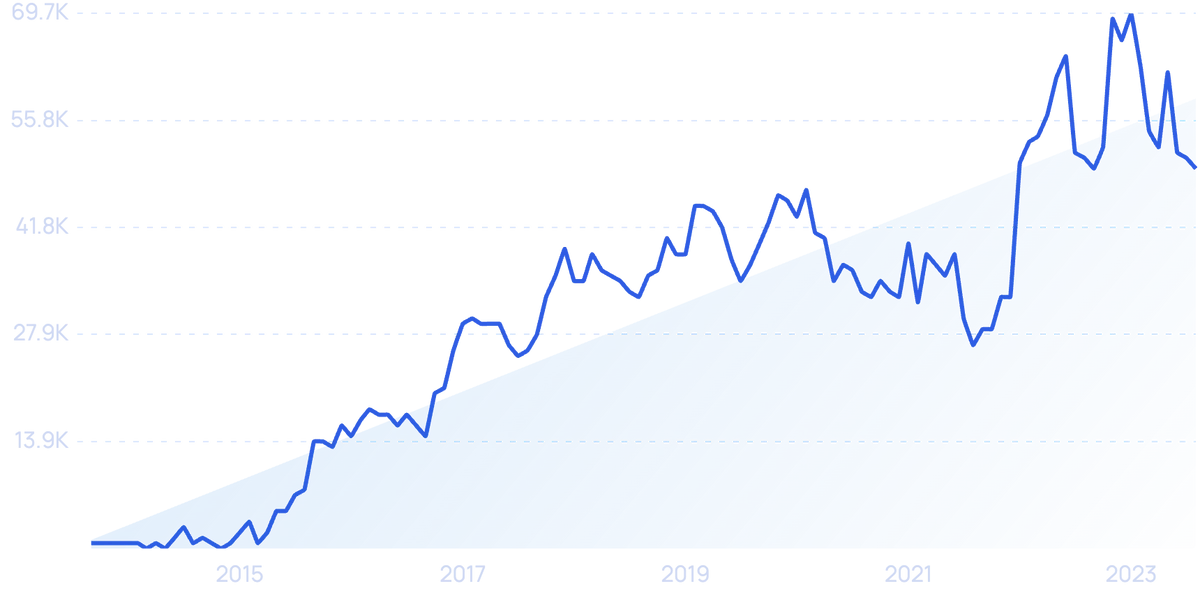 Searches for "Blynk" have grown by 7,000% over the last 10 years.
The company provides no-code software that allows businesses to build APIs to manage and interact with connected devices they use.
And it's not just startups or high-tech companies that are creating these apps.
Automotive companies like Volkswagen are developing IoT apps as well.
The company's We Connect app is a way for car owners to use embedded IoT devices to control and monitor their car's use.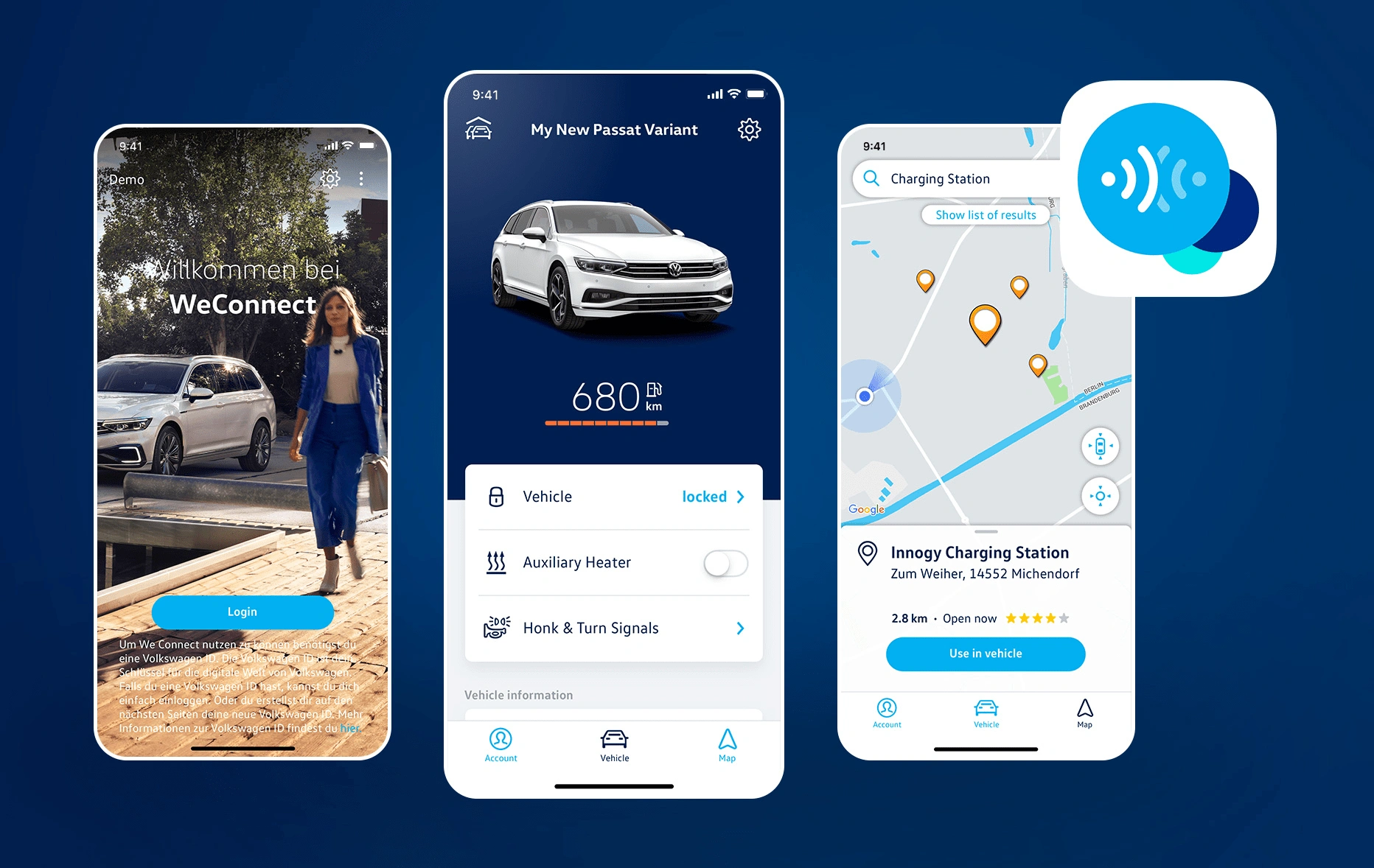 VW's We Connect app.
And while there are a lot of startups in the IoT platform and app market, larger competitors are starting to take notice.
IoT Analytics found that some of the largest cloud companies (like Microsoft Azure and AWS) have driven the market forward faster than previously thought possible.
In fact, as a result, the IoT platform market has grown in value from around $300 million in 2015 to about $5 billion in 2020.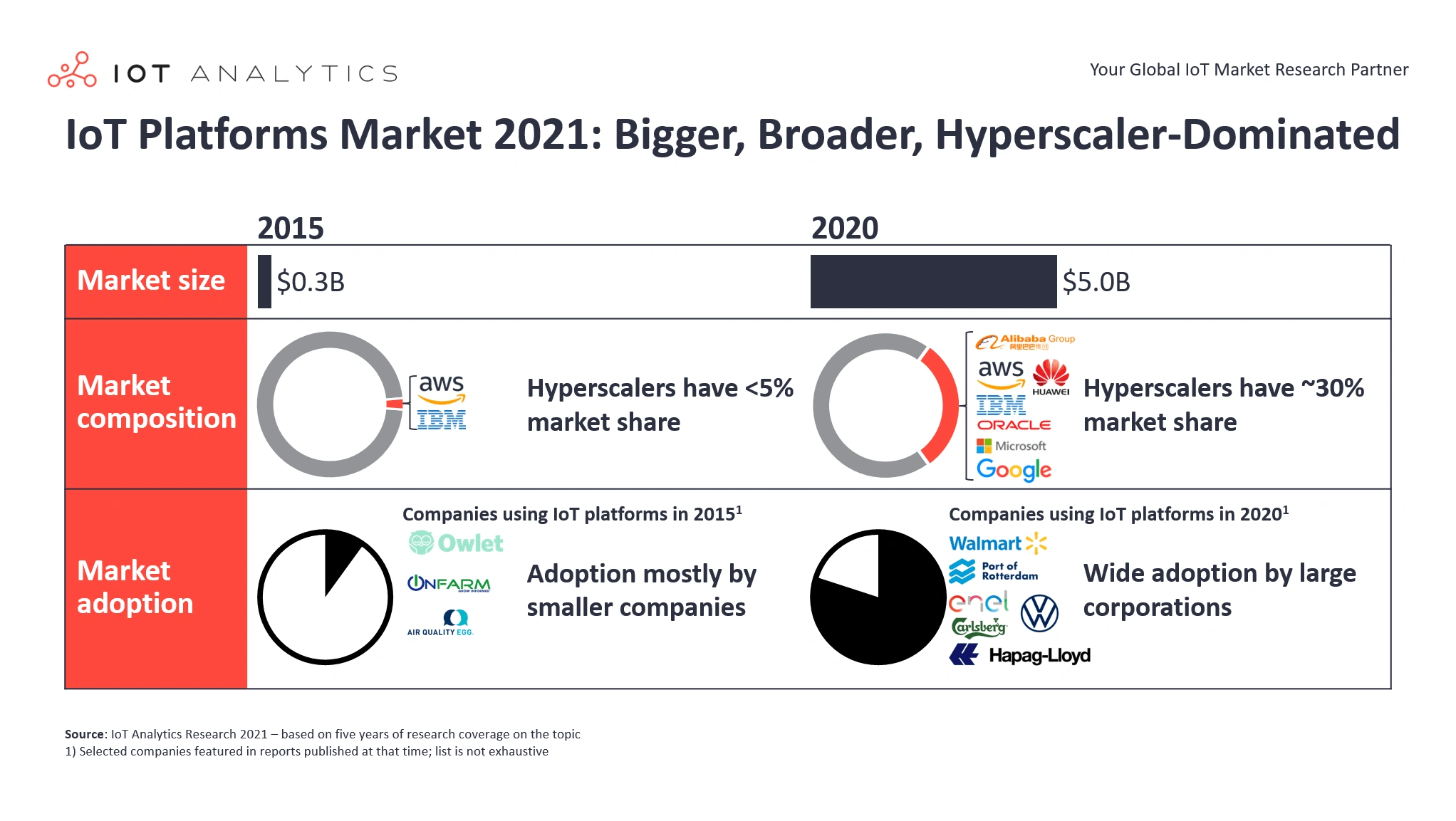 Hyperscalers like IBM, AWS, Microsoft, Google, and Oracle now have about 30% of the market.
3. IoT Connects Healthcare to Patient Needs
COVID-19 lockdowns changed the way healthcare was delivered in the US.
Before 2020, there were around 36 million estimated virtual health visits a year.
This number quickly jumped after the beginning of COVID, with some experts estimating around 1 billion telehealth visits in 2020.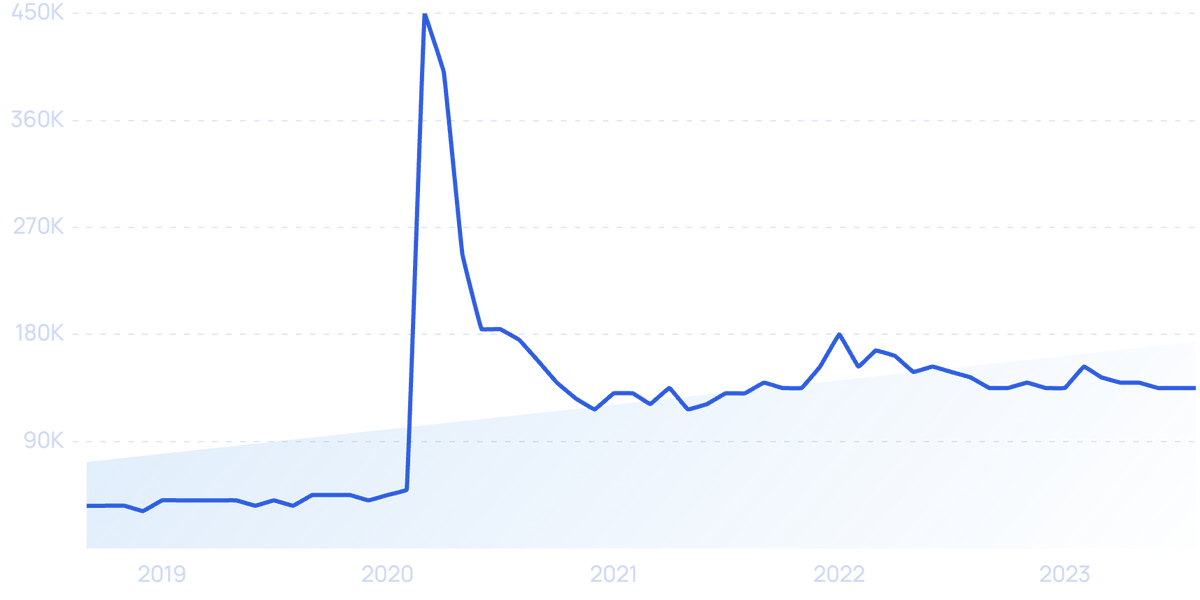 Searches for "Telehealth" have spiked. But are still well above pre-pandemic levels.

McKinsey has found that telehealth visits to doctors' offices and outpatient facilities have stabilized at roughly 38x higher than it was pre-pandemic.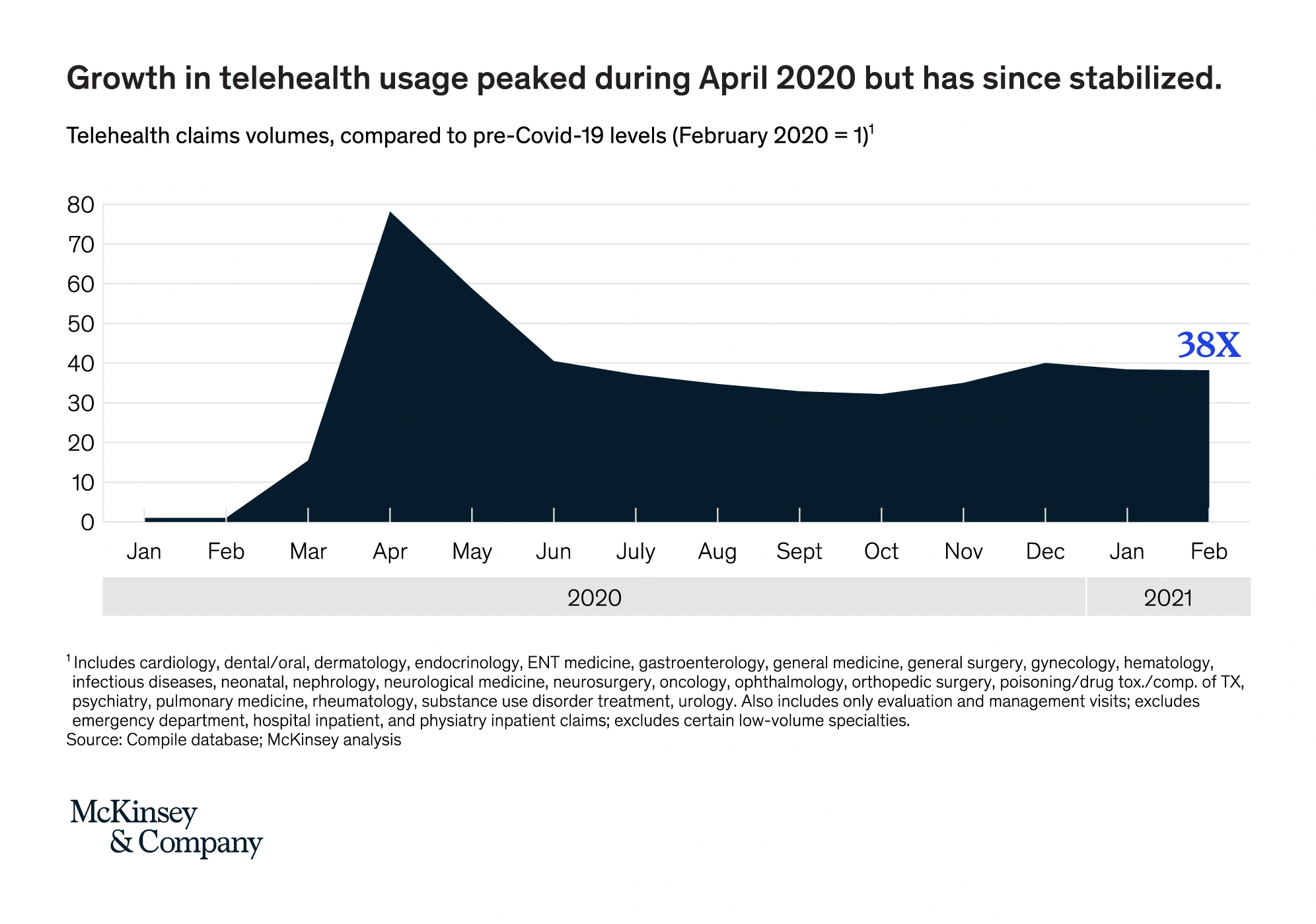 Telehealth claims per month.
Now, roughly 84% of physicians also say they provide some kind of telehealth offering for patients.
This sudden shift has opened up a whole new set of opportunities for the Internet of Things.
The industry, dubbed the Internet of Medical Things (IoMT), is expected to be worth over $350 billion by 2027.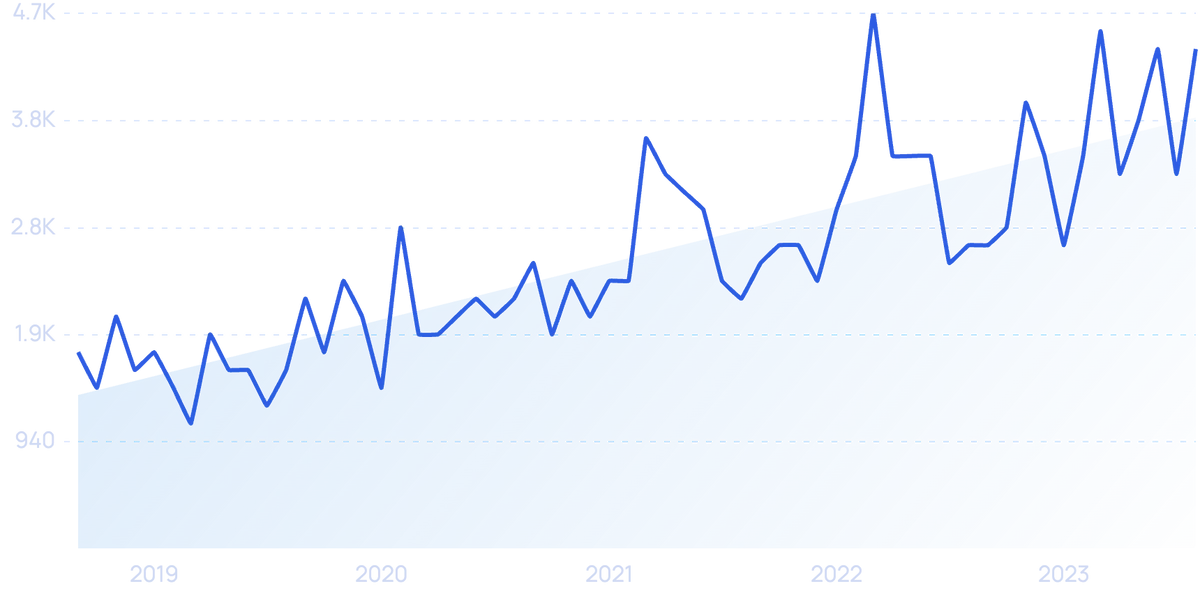 Search interest in "IoMT" has risen by 155% over the last 5 years.
And McKinsey suggests that roughly 20% ($250 billion) of outpatient and office medical visits could currently be digitized.
To see how fast the market has grown, look no further than the number of devices in use.
In 2015, there were about 4.5 billion IoMT devices in circulation.
By the end of 2020, there were an estimated 20-30 billion IoMT devices being used.
The total market is wide-ranging and consists of anything from medical device sensors to hospital bed management software.
For instance, remote monitoring of elderly patients is an area ripe for improvement.
Remote patient monitoring could prevent countless trips to the doctor's office as well as catch health issues before they happen.
AliveCor has created one of the most effective IoMT devices on the market.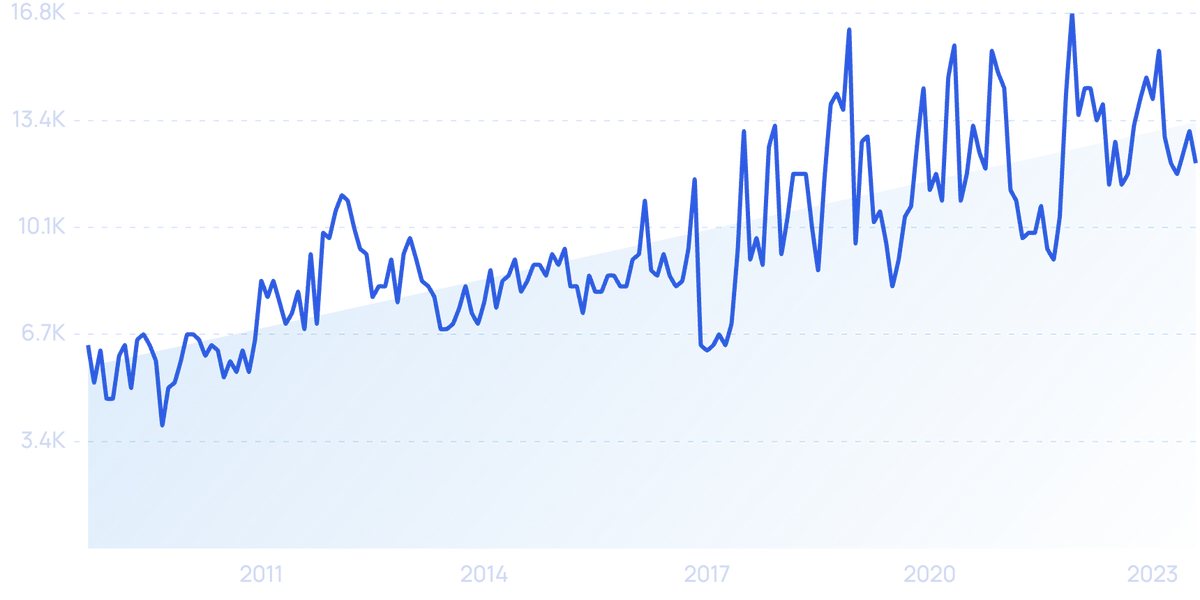 Searches for "AliveCor" have grown by 89% over the last 15 years.
The company's Kardia products gather data on a customer. Then, using proprietary AI, AliveCor develops a heart profile of a particular user.
One of the company's most successful products is KardiaMobile.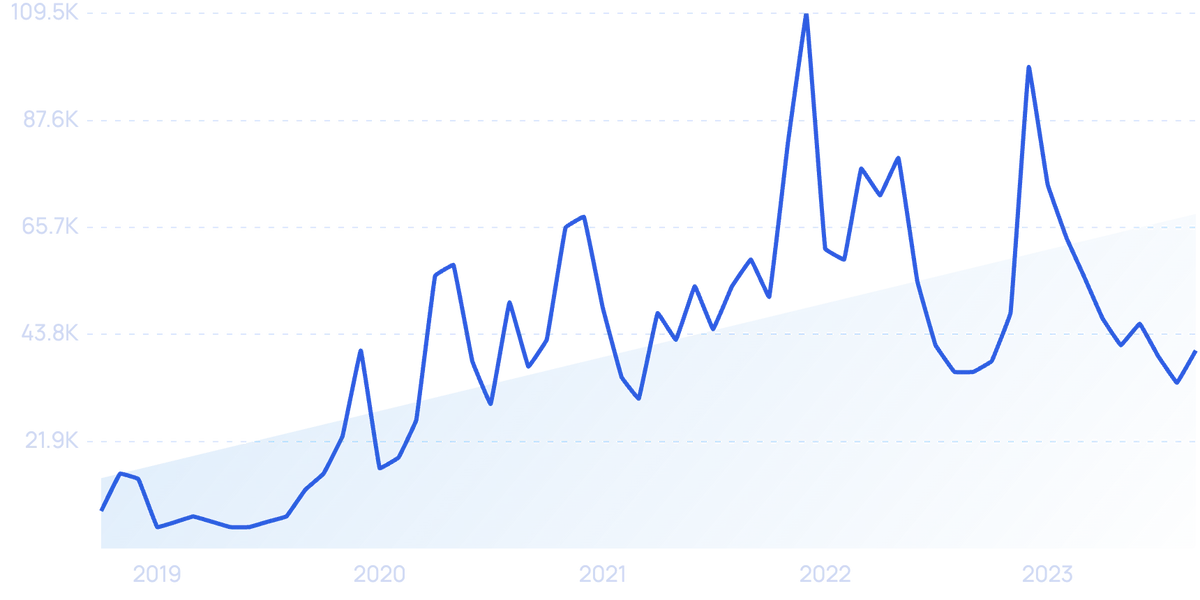 Search interest in "KardiaMobile" has jumped by over 400% in 5 years.
The product is a finger-reading electrocardiogram (ECG) device that offers "medical grade" heart readings in as little as 30 seconds.
The KardiaMobile device is paired with an Android or Apple phone to allow the customer to visualize their heart rhythms.
In addition, for a monthly subscription, patients can get KardiaCare. This service provides monthly health reports as well as regular ECG readings by cardiologists.
In 2020, AliveCor raised $65 million in venture funding, a trend that we will probably accelerate in the near future.
4. Industry 4.0 Increasingly Relies on IoT
Industry 4.0 (or the Fourth Industrial Revolution) is a term that refers to vast improvements in manufacturing and industry brought about by widespread automation and increased efficiency.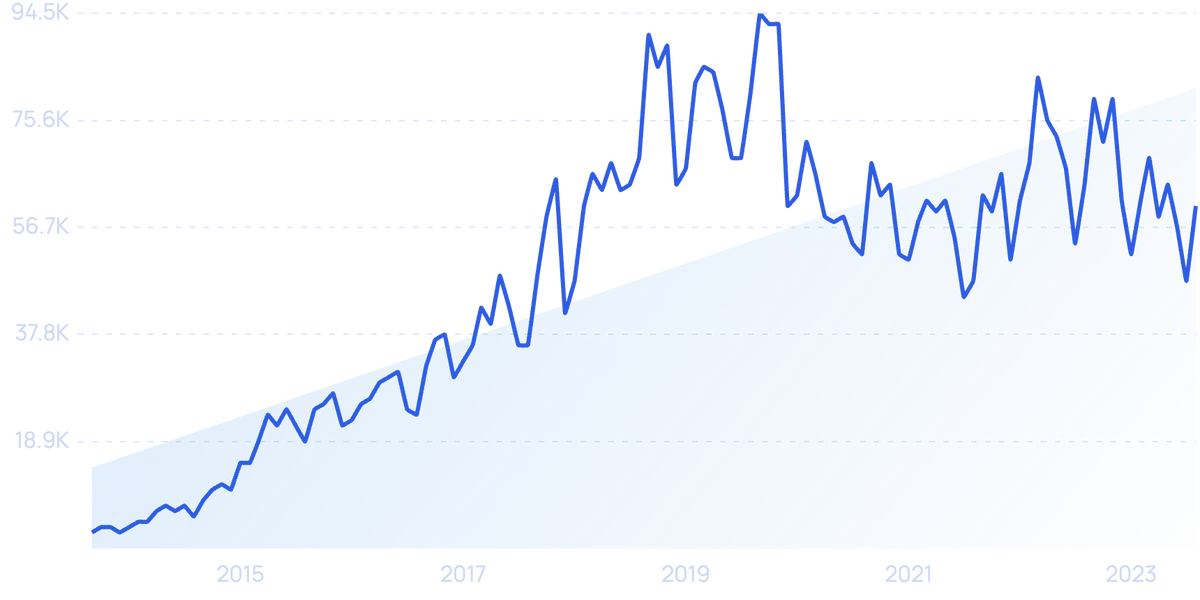 Searches for "Industry 4.0" have increased by around 2,000% over the last decade.
A major component of this concept is IoT. Without IoT, the large-scale data collection and monitoring required to improve industrial capacity would be impossible.
And of the four major components of Industry 4.0 (IoT, AI, cloud infrastructure, and big data/analytics), Statista reports that industrial organizations find that IoT is the most important (72% of them said so in a study).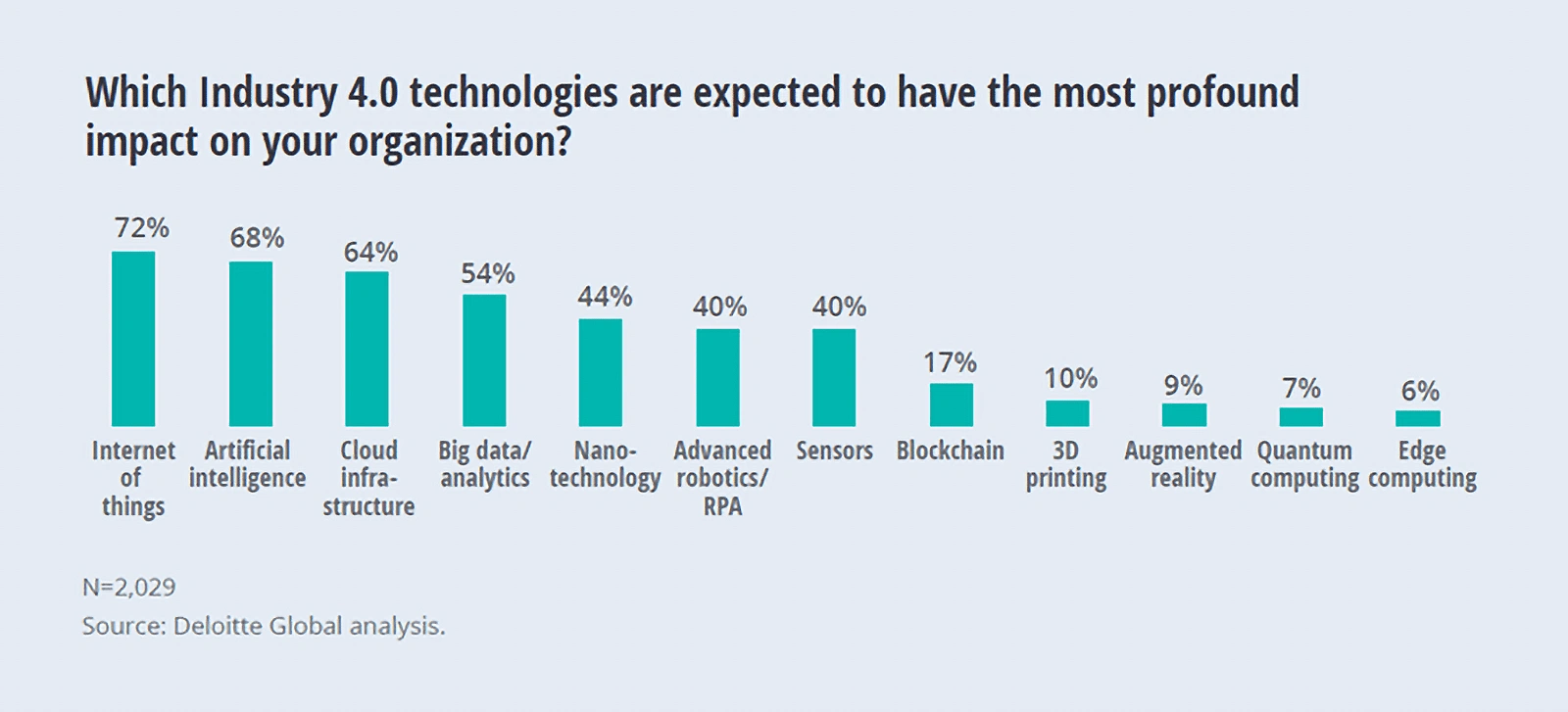 Results of Deloitte's Industry 4.0 survey
This makes a lot of sense considering data collection and factory monitoring is the ground on which every other component of Industry 4.0 is built.
Industry 4.0 isn't necessarily industry-specific.
The benefits of IoT combined with other technologies can help transform any sector reliant on manufacturing and industrial processes.
Overall, the improvements brought about by Industry 4.0 are expected to add roughly $7.1 trillion to US GDP by 2030
Much of this will be a result of widespread IoT adoption.
5. Cybersecurity and Data Privacy are Very Serious Concerns
Because IoT could be so integral to the infrastructure of a country or the health of its citizens, it is also subject to serious cybersecurity threats.
Palo Alto Networks found that a concerning 57% of IoT devices are susceptible to attacks by malicious actors.
Even more worrying, the same report found that a whopping 83% of medical imaging devices are running on unsupported operating systems. This leaves their entire network vulnerable to attack.
This is even more serious when you consider that over half of all hacking threats to healthcare providers involve imaging devices.
This is where a company like SentinelOne comes in.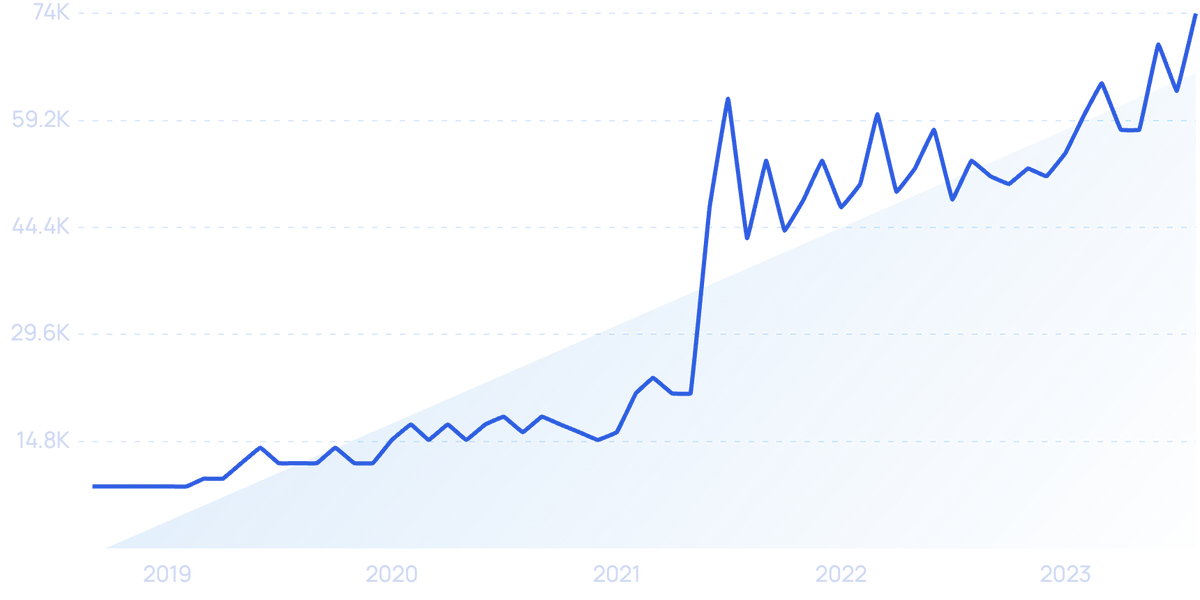 Search interest in "SentinelOne" has grown by 763% over the last decade.
The cybersecurity company has developed an AI-based platform that focuses on endpoint security.
This kind of security deals with stopping threats that attack endpoints of a network (i.e., things like IoT devices and laptops).
It's estimated that the endpoint security market could be worth over $18 billion by 2024. And it's only expected to get bigger as the IoT market grows at a rapid rate.
In fact, TechCrunch has reported that just under a third of all IT managers didn't know how many endpoints they managed.
This makes an offering like SentinelOne's essential to the IoT revolution.
And because of this, the company has attracted a lot of attention. It went public in 2021 at the highest valuation ever for a cybersecurity company.
IoT devices are also collecting a very large amount of data. Because of the sheer breadth, it is possible that consumer privacy concerns could be an issue.
Palo Alto Networks reports that 98% of data handled by IoT devices isn't even encrypted.
This is a serious issue, especially considering that much of this data is sensitive healthcare data.
In addition, 63% of people say they find IoT data collection "creepy".
If IoT is expected to achieve the level of growth that many are predicting, the industry will have to deal with these two large obstacles in the near future.
6. IoT Transforms the Global Supply Chain
Global supply chains have become increasingly complex and interdependent.
This has allowed for amazing improvements in transportation and delivery. But it has brought headaches as well.
For instance, in the past manufacturers and logistics companies may have been aware that certain product components had left a port or were en route to a certain country.
But they had no way to track every piece of this complex supply chain.
With IoT, this is no longer a problem.
Every shipment can be tracked and monitored. And mistakes can be caught as soon as they happen.
It's no wonder then that 70% of retailers are attempting to make their supply chains IoT-complaint.
International courier company, DHL, is already taking matters into its own hands.
The company has pledged that it will have a full fleet of 10,000 IoT-enabled trucks by 2028.
The trucks will be equipped with sensors that will hopefully cut delivery times by half.
And DHL isn't alone.
According to TechRepublic, UPS is heavily reliant on IoT devices.
It reported that roughly 100,000 IoT tracking devices are attached to UPS transportation assets. And these devices generate 60 million messages every week.
Conclusion
That's all for the top IoT trends of 2023.
Overall, IoT is rapidly changing many parts of the manufacturing supply chain as well as industries you may not expect (like the medical field.)
However, to expand at the pace many expect, the IoT industry will have to overcome serious cybersecurity and data privacy concerns.