Top 5 Qualtrics Alternatives & Competitors [2023]
Making the wrong move based on poor or limited market data can hurt your brand.
That's why brands turn to market research tools like Qualtrics to quickly get a pulse on consumer insights, market trends, and customer perception.
That said, Qualtrics isn't for everyone.
Which is why we've put together this list of the top Qualtrics alternatives below:
Exploding Topics surfaces growing market trends by analyzing millions of social feeds, mentions, searches, and conversations across the web.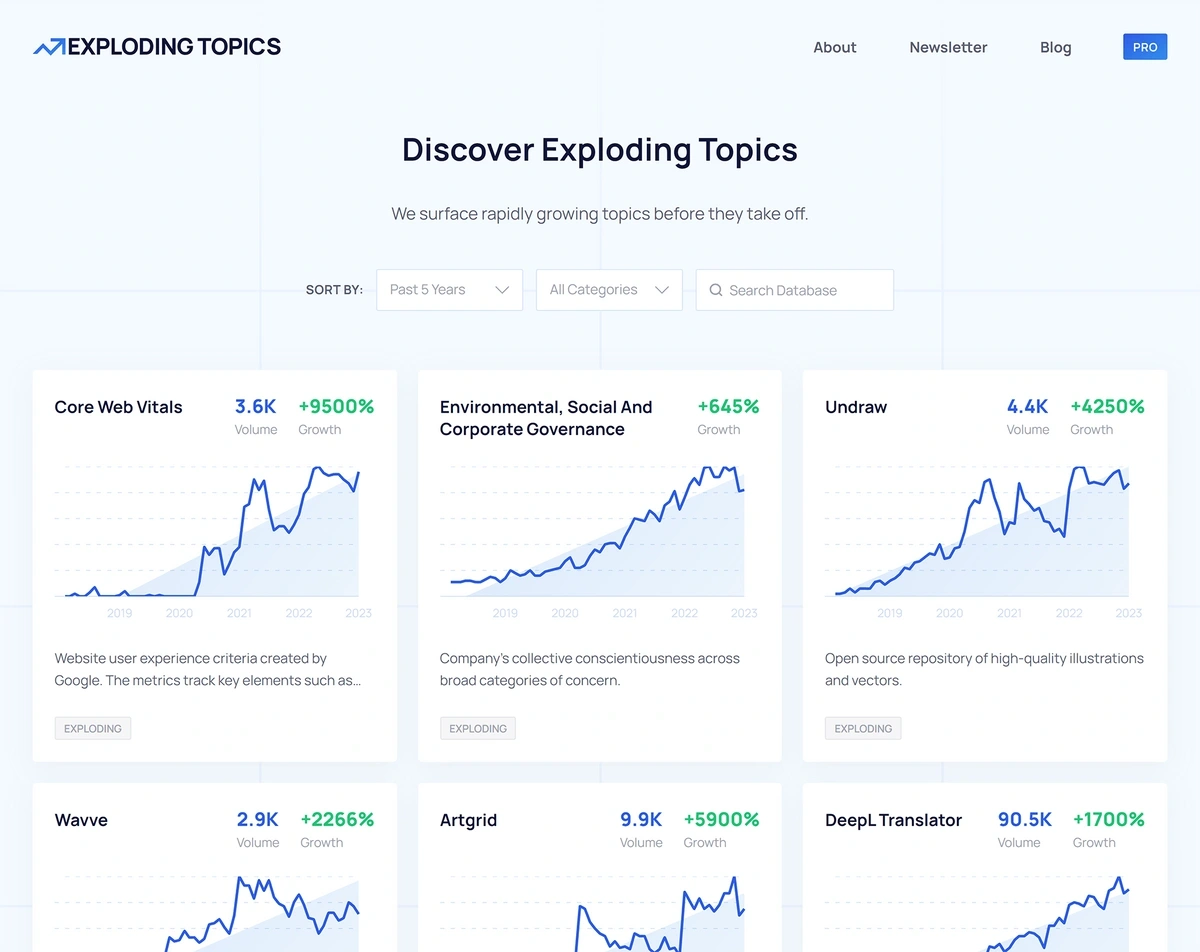 The best part?
Unlike Qualtrics, you don't have to create, manage, send, or analyze surveys.
We comb through the existing to provide the most accurate product, brand, and market trends.
Specifically, Exploding Topics allows you to:
Explore the Trend Database and sort by category, brand, and growth.

Review high-level meta trend dossiers to understand the macro forces at play.

With Exploding Topics Pro, you can create your own project, add topics and products, analyze trending related products, and track them over time.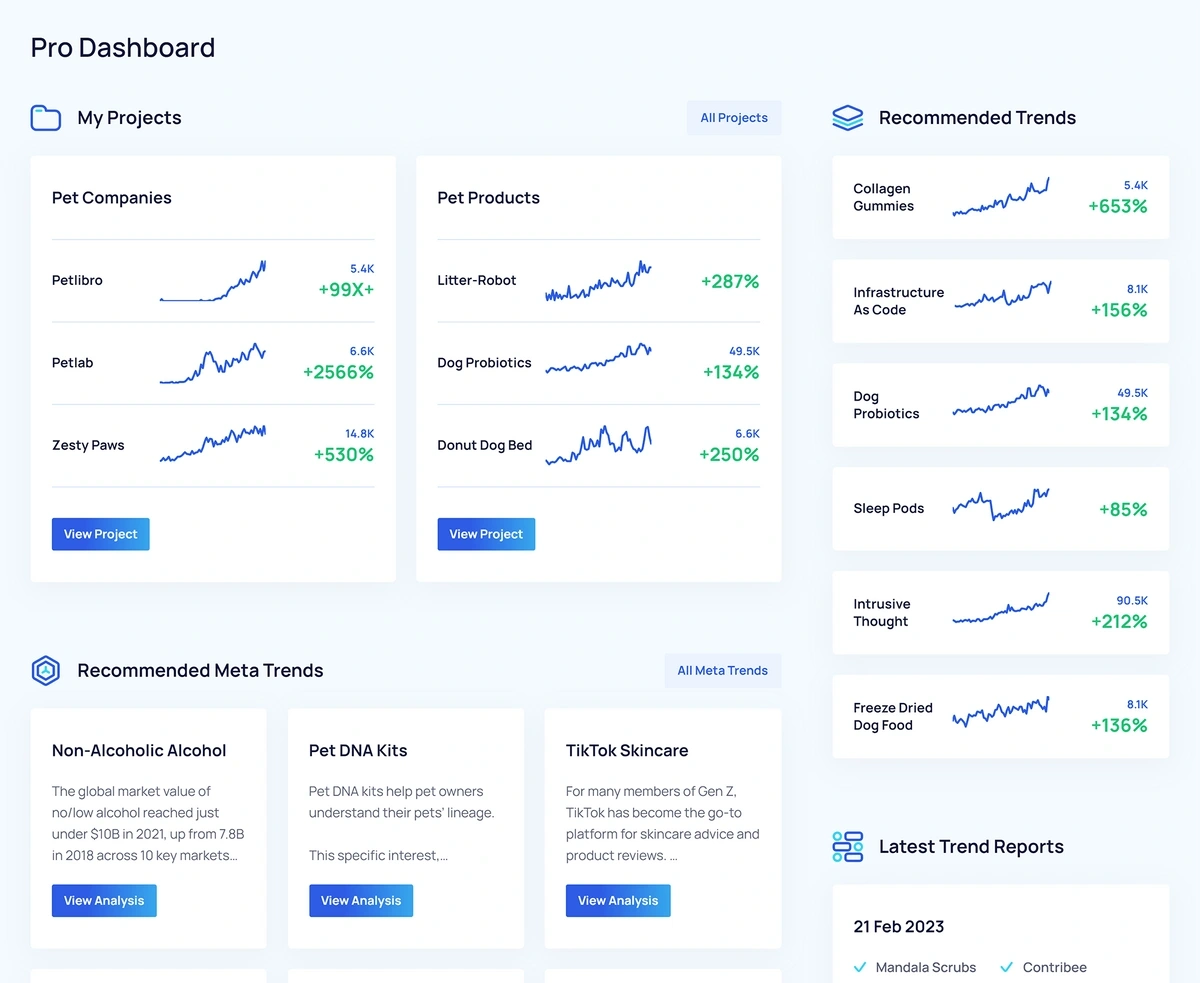 For example, you can create your own project to track topics and brands in the "beauty" category. You can also limit the database to beauty topics that have been "exploding" over the last six months.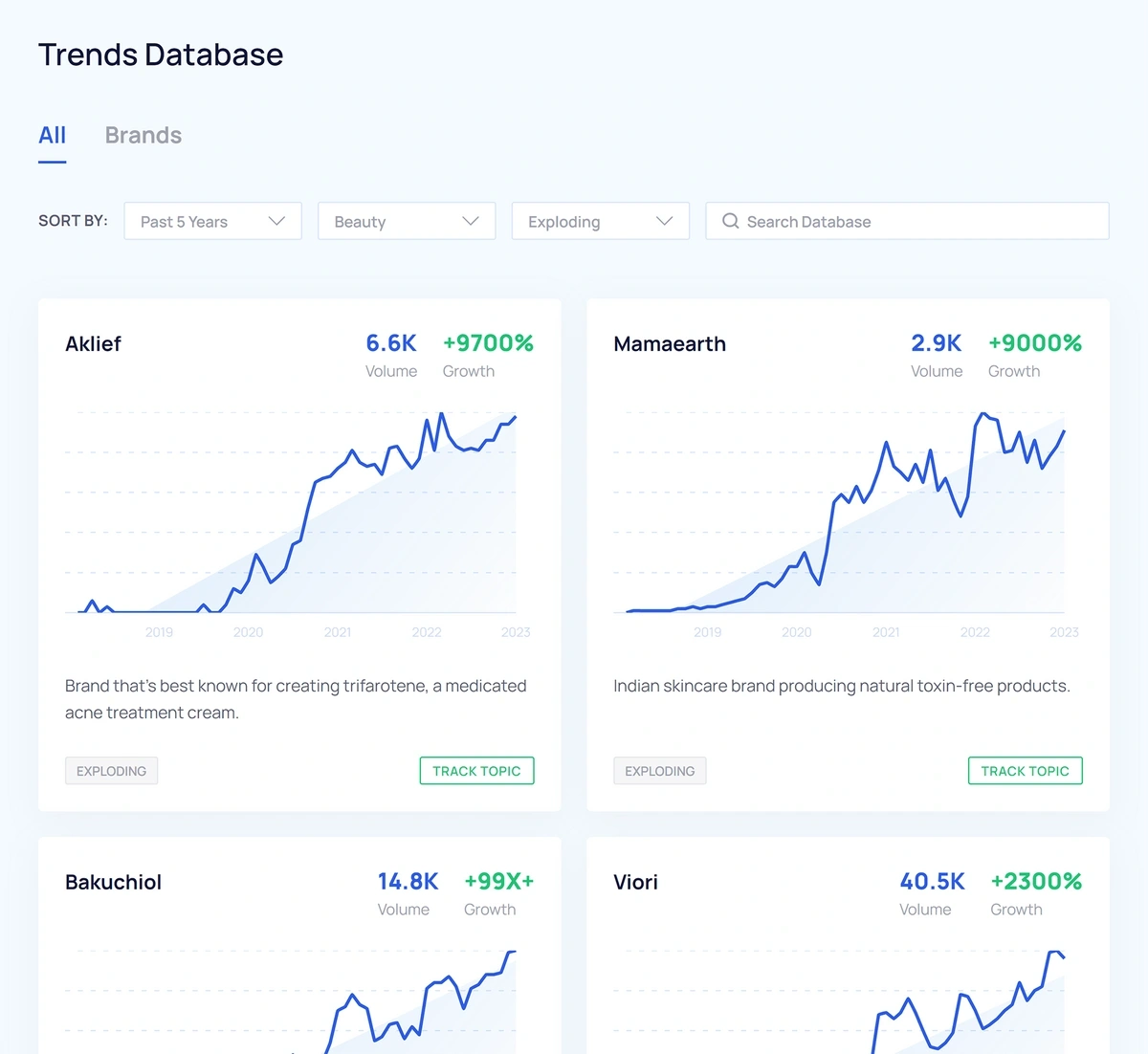 You can then check out a few trending beauty brands and identify related topics.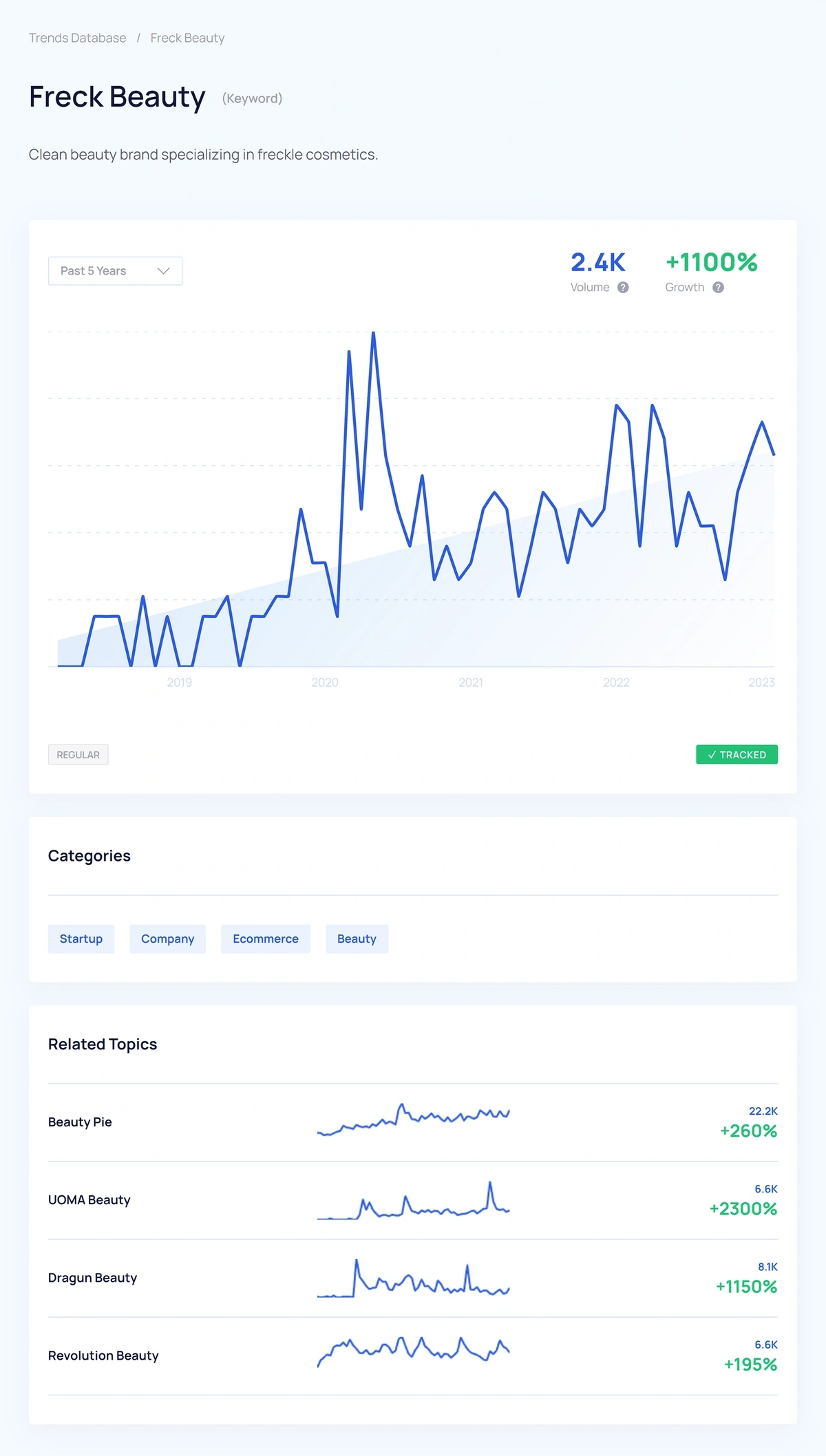 Finally, you can add promising products to your "Beauty" project for easy tracking over time.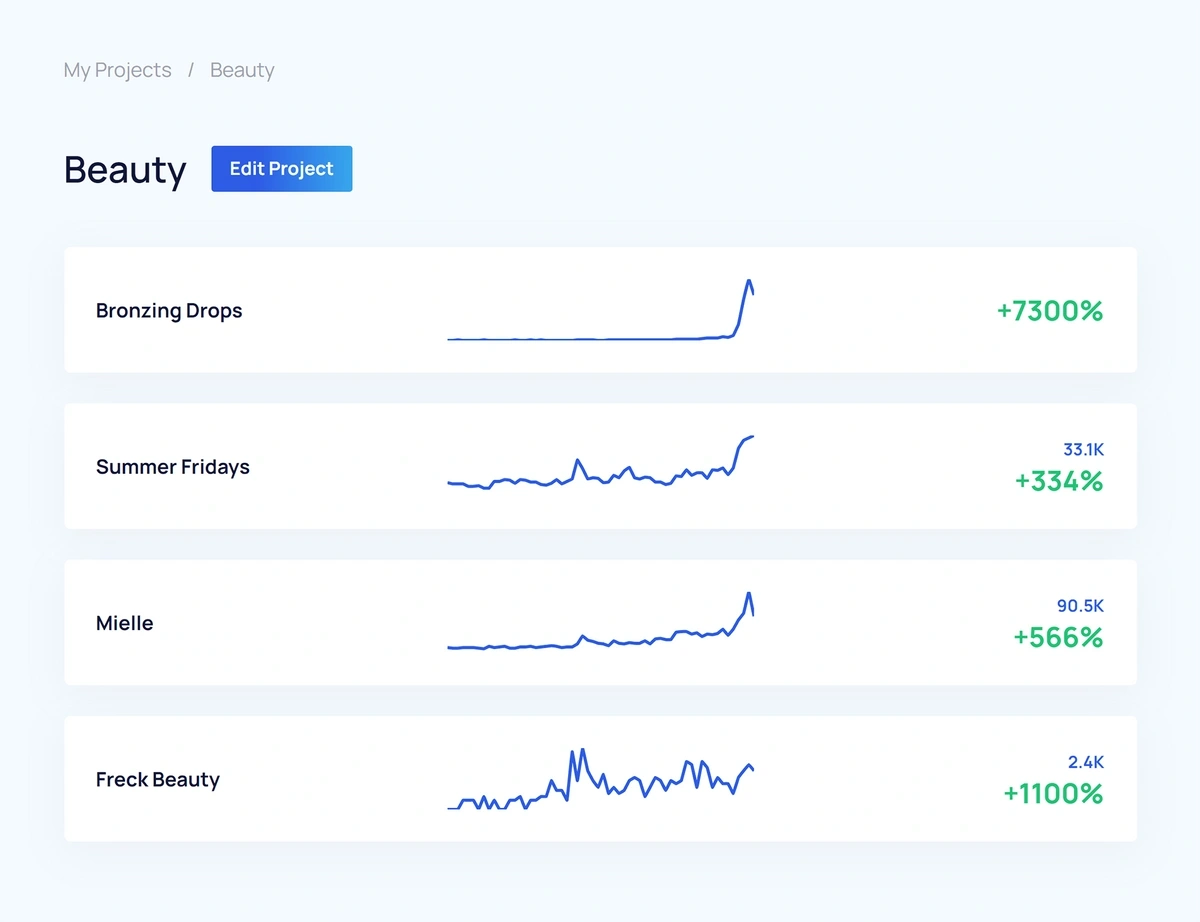 How does Exploding Topics compare to Qualtrics
Exploding Topics isn't a survey tool. Instead, it crawls the web for nearly every topic and trend. This means you don't need to manage audiences and analyze survey results for relevant market information.
If you've got a large brand audience and you're looking to get more detail around how they perceive you, Qualtrics may be better suited for you.
Pricing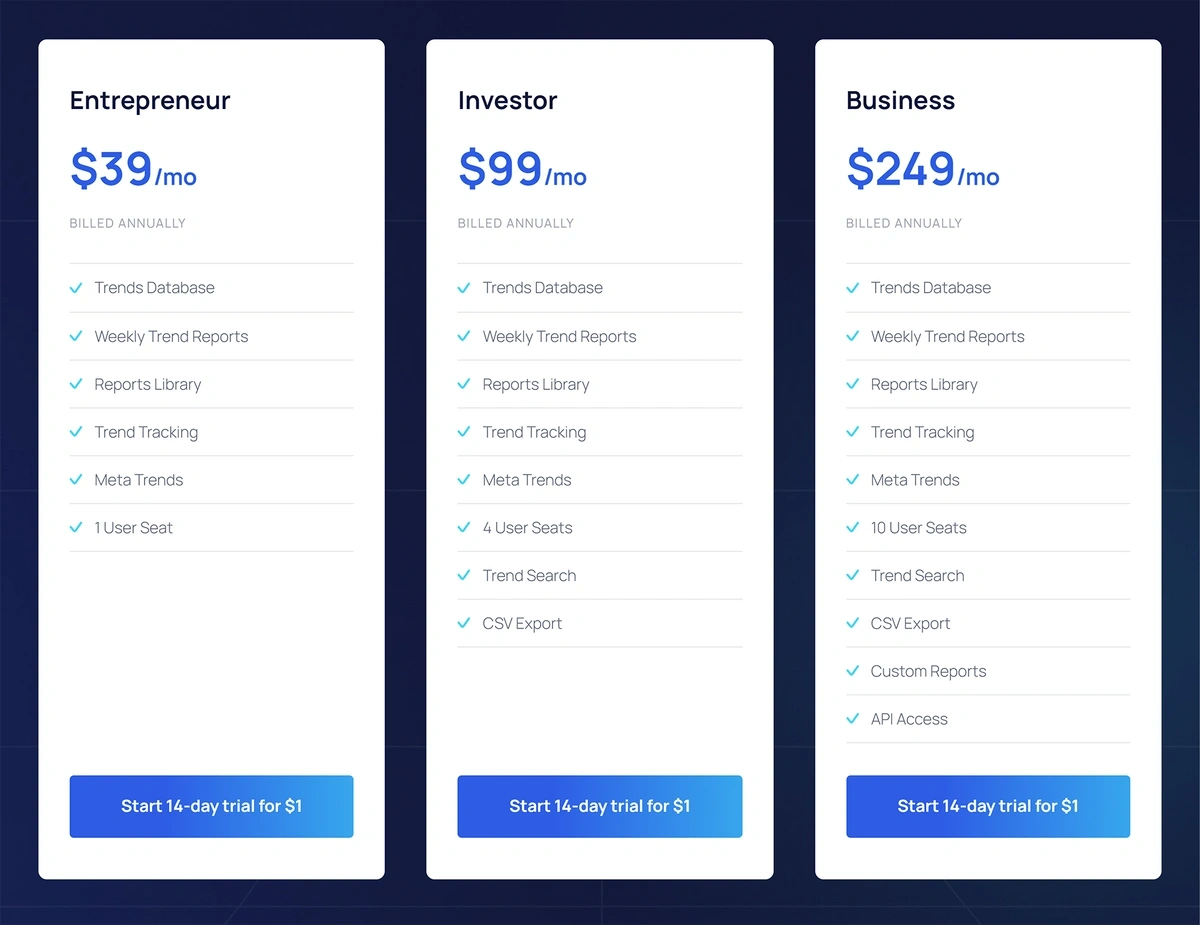 Formerly known as ConfirmIT, Forsta is a survey platform that helps organizations gather insights about their brands, their product, and conduct market analytics.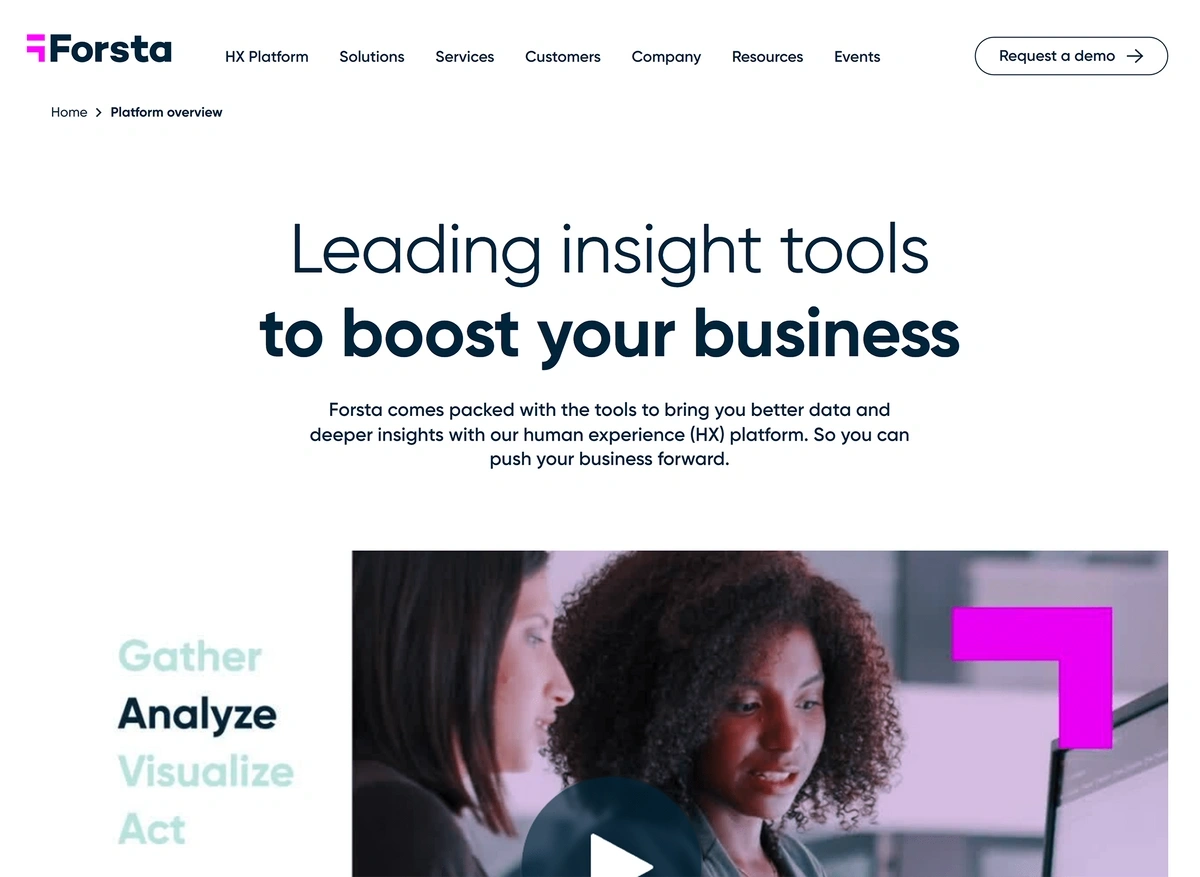 You can run the end-to-end experience lifecycle from survey design and creation to response automation. They offer a large selection of products related to tracking customer experience.
Here are just a few:
Market research survey software. You can create interactive, highly professional surveys with an easy-to-use survey builder. Then, deploy them to your customers or sample audiences of your choice. Watch the answers come in and analyze the results and make changes on the fly.
Social Listening Tools. Forsta gathers reviews from Glassdoor, Google, Yelp, Twitter, Facebook, and blogs to provide clear and actionable insights. Like Qualtrics, you can set notifications when negative or positive reviews come in from any channel.
Product experience. You can strengthen your product launch by testing product names, testing your message, and iterating on real audience feedback.
How does Forsta compare to Qualtrics?
Compared to Qualtrics Core XM, Forsta is a little more advanced in terms of capabilities. However, people like Qualtric's ease of use and predictable pricing structure.
Pricing
Because Forsta is a large enterprise software platform with different solutions, the pricing depends on a consultative discussion with sales.
Alchemer positions itself between SurveyMonkey and Qualtrics as a robust but not complex tool.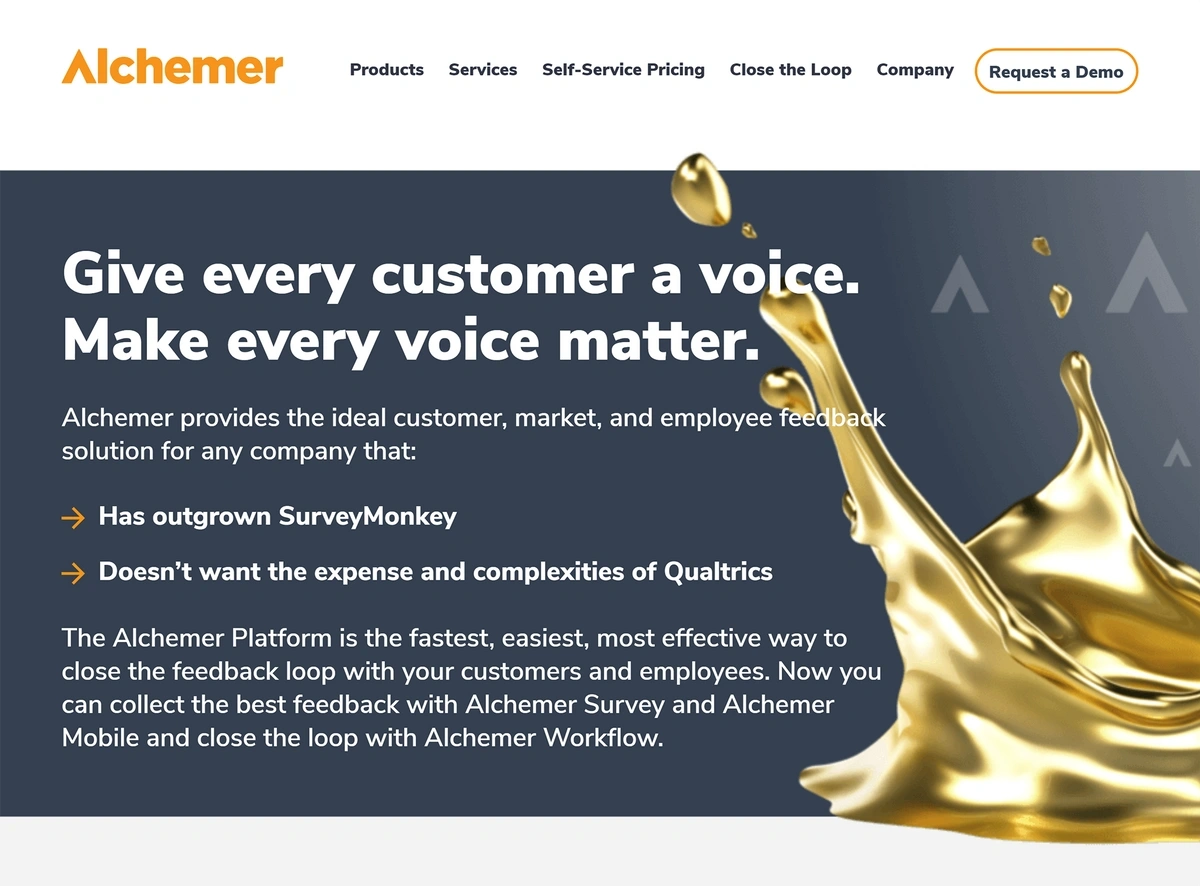 With Alchemer, you can build and send surveys, manage complex workflows, and analyze results with flexible reporting capabilities.
Alchemy Survey is a flexible and feature-rich survey building tool. You can choose from up to 43 different question types. If something doesn't work, you can leverage their custom question development kit to build your own.
With its advanced logic capabilities, you can customize the entire survey experience to maximize response rate and quality. The platform also allows you to string multiple surveys together in a single workflow so that you can close the loop with your customer.
One of the coolest features of Alchemer is the no-code workflow builder, which allows anyone to create comprehensive and engaging survey workflows.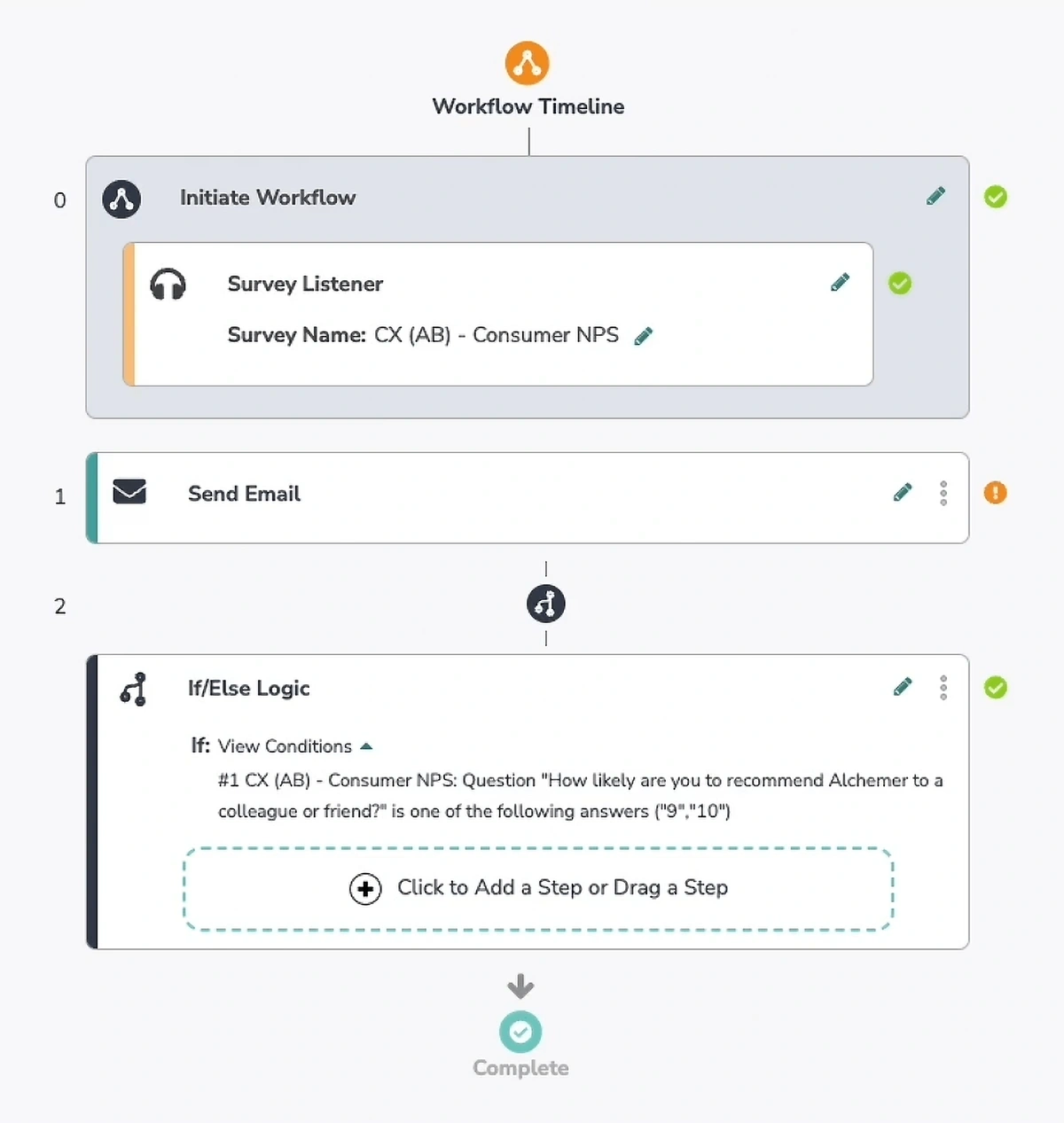 How does Alchemer compare to Qualtrics?
Alchemer doesn't provide as many features as Qualtrics. One of the bigger drawbacks is that it doesn't provide sample audiences, so you need to rely on existing customers to survey.
That being said, as a survey building tool, Alchemer provides a much easier user experience for survey builders looking for flexibility.
Pricing
Alchemer offers three self-service pricing options and an Enterprise Platform option.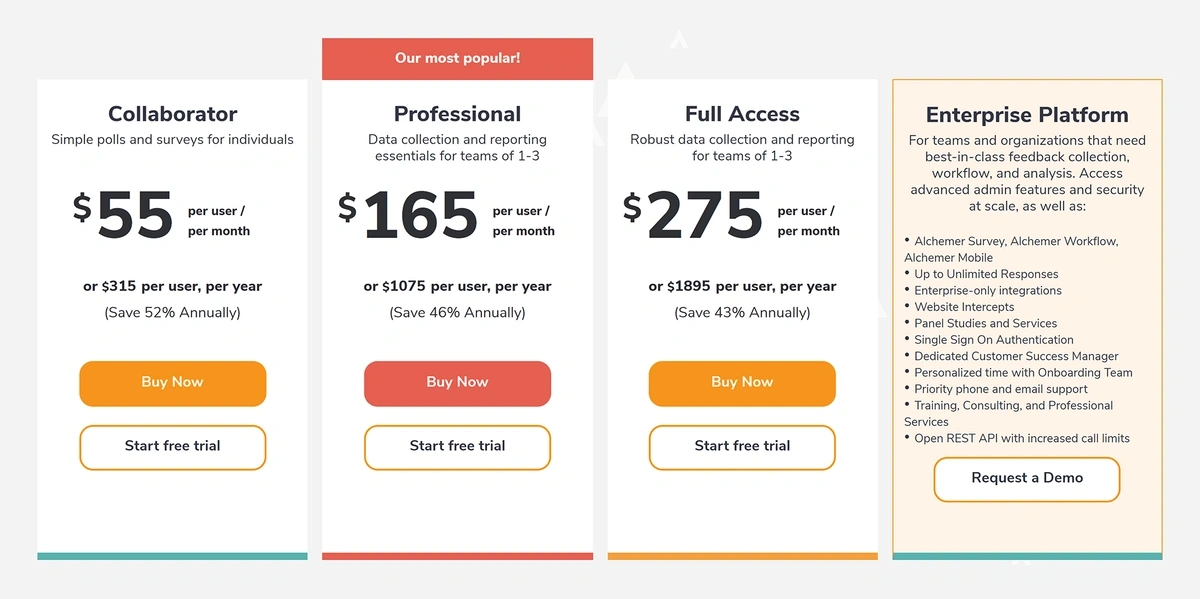 If you've ever looked for statistics, you've likely landed on Statista. Statista serves market researchers with statistics, forecasts, and studies across over 170 industries.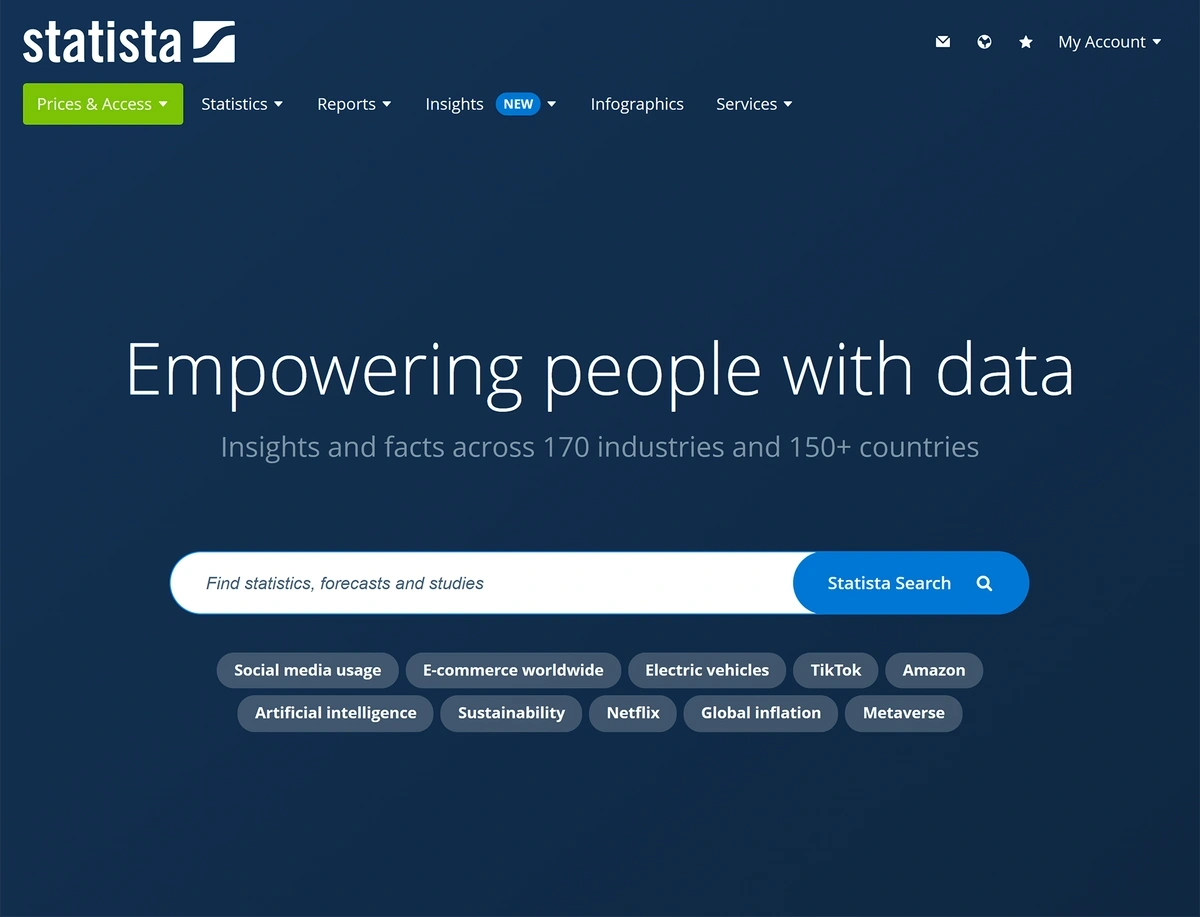 You can search popular topics such as social media trends, ecommerce, and fashion to find tons of insightful information.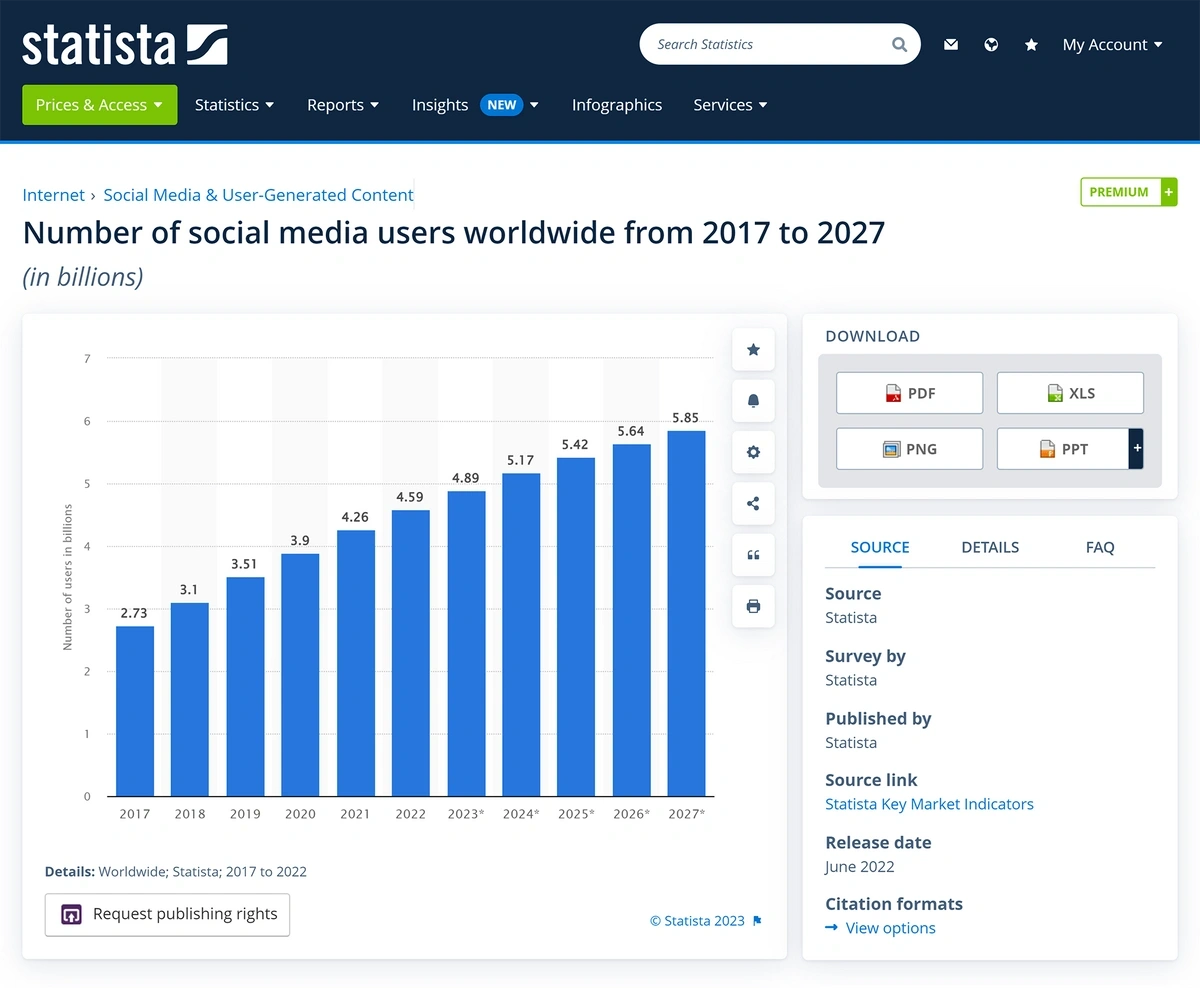 You can get a quick glance at statistical information, examine the underlying sources, or access dense, data-packed dossiers for an additional price.
Recently, Statista started providing higher level market and consumer insights. These insights let you do things like analyze rising trends across categories. For example, here are some consumer insights related to the alcohol industry.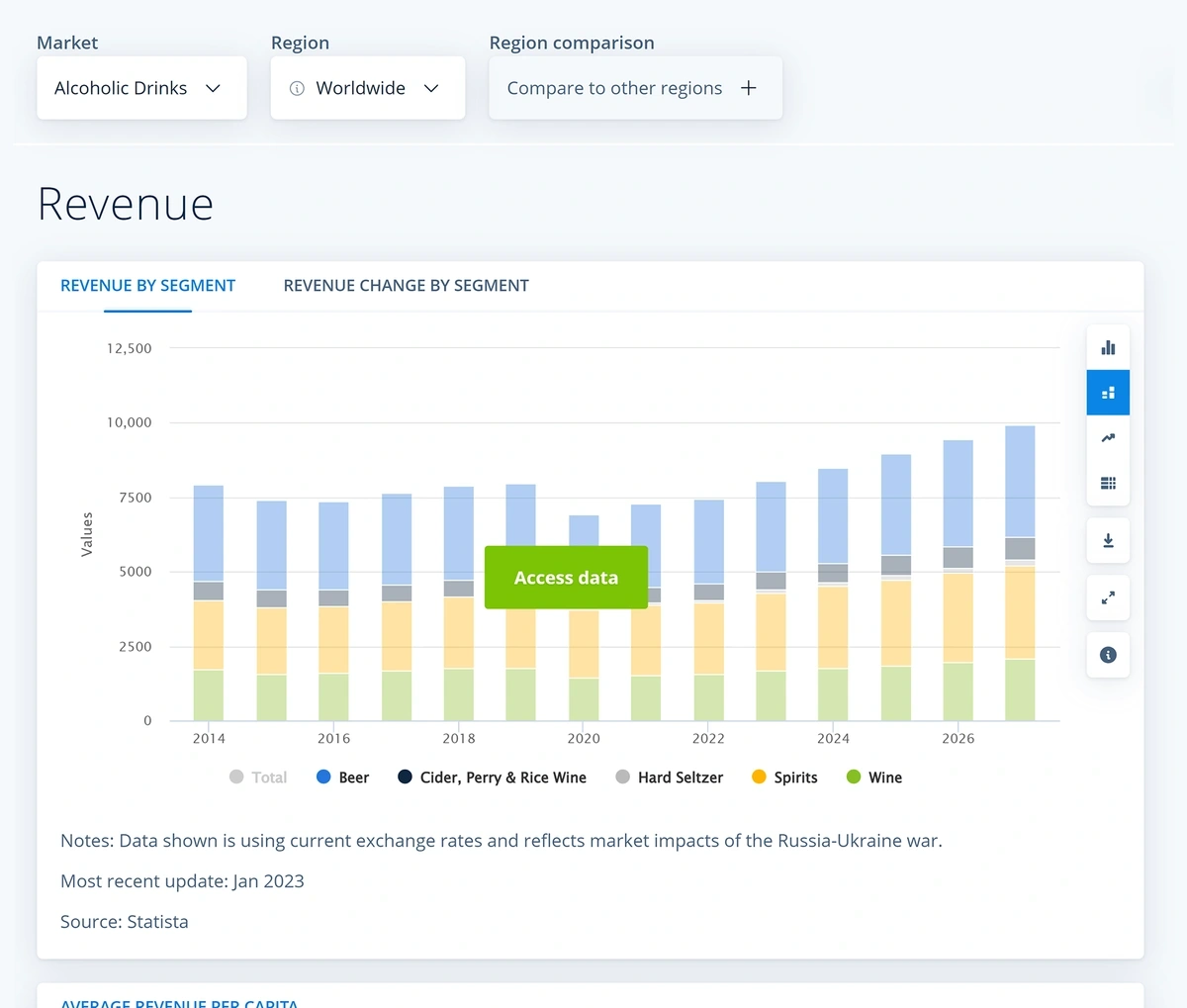 You can even drill down by sub-category and see the sales channel to help plan a go-to-market strategy.
How does Statista compare to Qualtrics?
Statista pulls from multiple sources to provide a large amount of quantitative research. However, it only curates existing data sets. Unlike Qualtrics, they don't provide survey features, nor does it give the ability to set alerts based on new trend information.
Pricing
Statista provides different pricing for a single user and corporate. They also have a government and academic pricing model, which are consultative. You can also purchase reports on an ad-hoc basis.
Single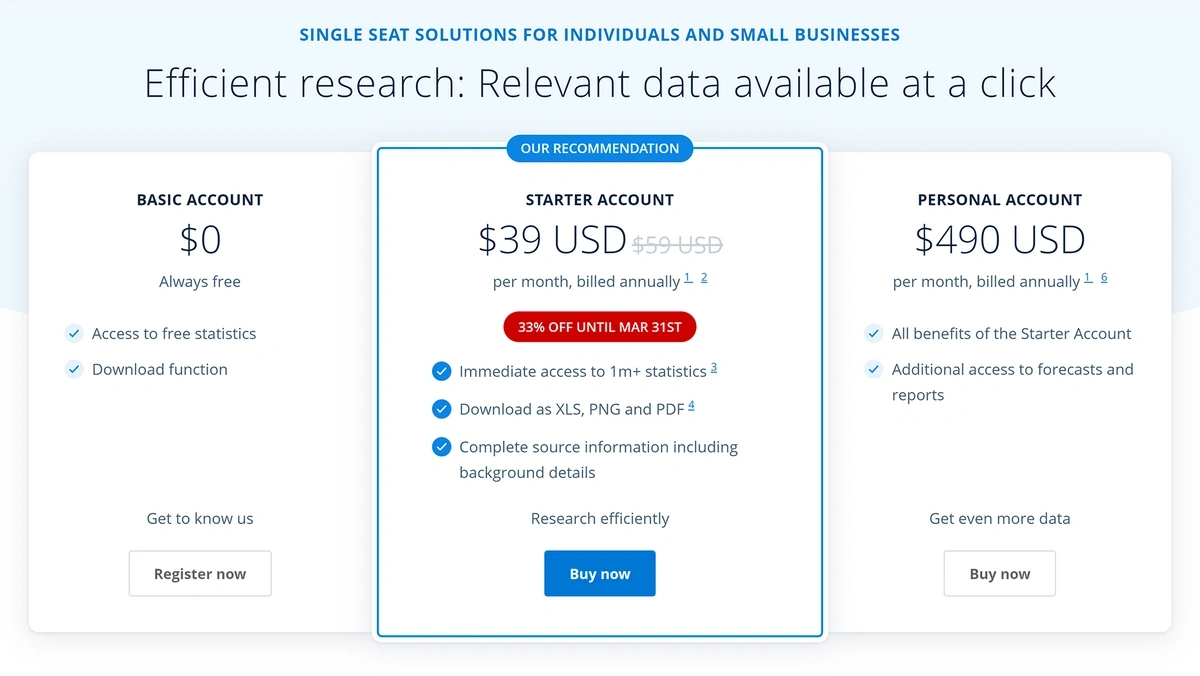 Corporate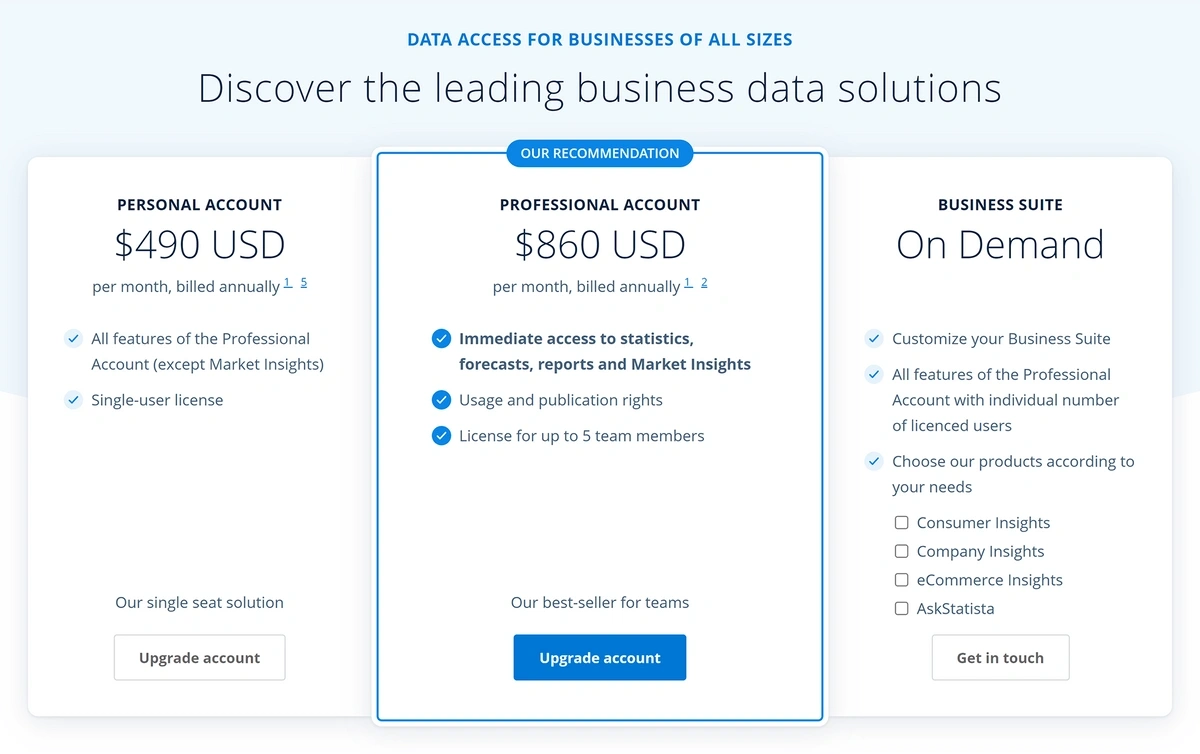 Purespectrum is another end-to-end market research platform. They offer an agile research tool that lets you create and launch custom surveys quickly.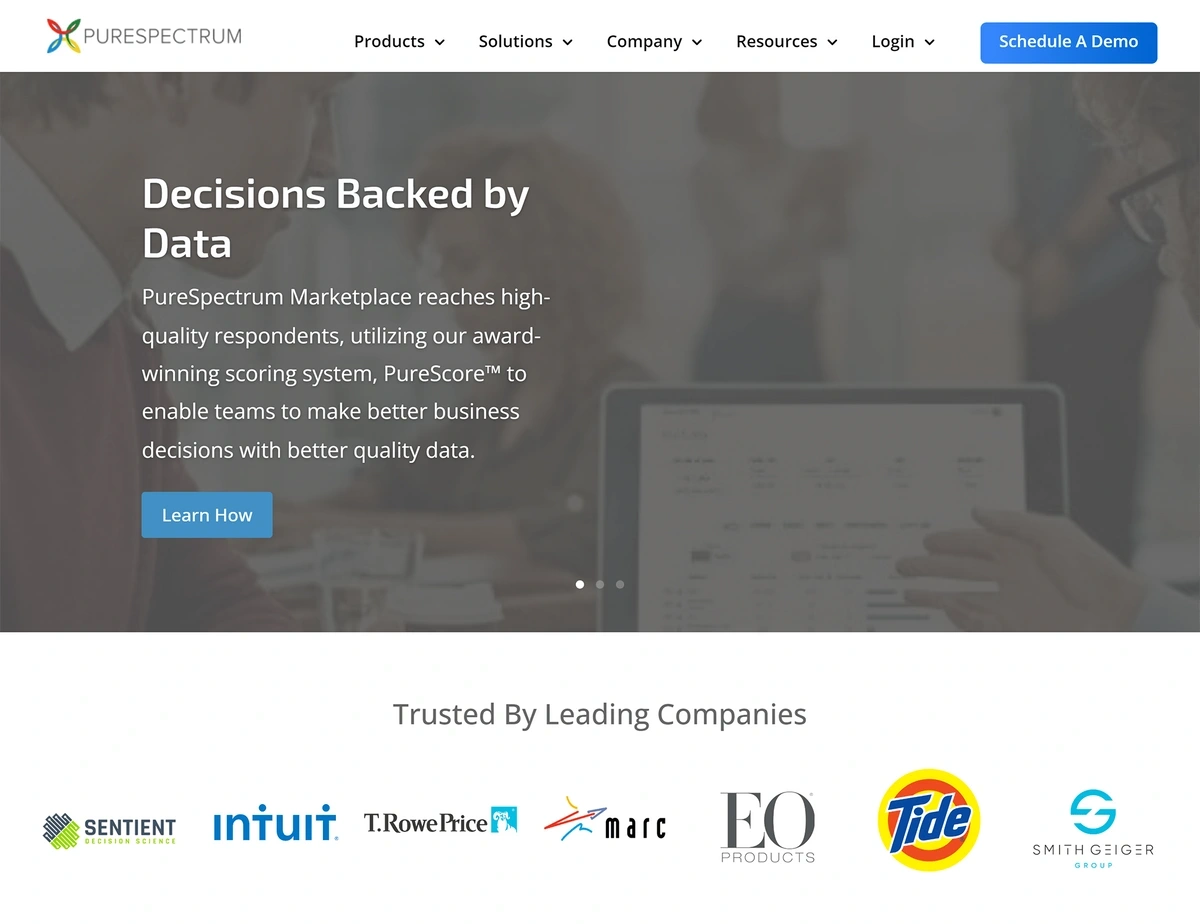 Purespectrum provides the sample audience, so you can get answers to the questions you're asking quickly.
You can analyze response data through simplified reports and dashboards as they come in so you can pivot if needed. You can also export data easily for reports or presentations.
One of Purespectrum's interesting features is that you can test ads and offerings on real people and collect opinions and data about their effectiveness.
You can also test your assets and product concepts to see how they're perceived before you commit to an expensive product launch.
How does Purespectrum compare to Qualtrics?
Purespectrum supports the entire research collection lifecycle, so they are more of a hands-on service than anything.
In fact, PureSpectrum is a partner of Qualtrics. What Purespectrum offers above Qualtrics is its large network of verified respondents and hands-on support.
So, if you're new to market research or don't have the team to dedicate to survey building - Purespectrum is a great option.
Pricing
Purespectrum's pricing is unique. There are no license or platform costs. You only pay the cost of your sample, which can vary depending on your needs.
Conclusion
There is no consensus on which survey-based market research tool is the best. However, pros largely agree that market research is too challenging to go it alone. Data helps answer questions that "gut" and "intuition" just can't.
Depending on your needs, market research tools can be pretty complex and overwhelming. We know we are biased, but we think tools like Exploding Topics make it simple.