The Ultimate List of Beauty Industry Stats (2023)
The beauty industry is always evolving.
After taking a performance dip in 2020, beauty brands are finding new and innovative ways to connect with their customers. Beauty influencers and DTC brands are both influencing and adapting to buyer preferences.
Meanwhile, top industry players are expanding their product lines and web experiences to meet new demands.
So what does the beauty industry look like in 2023?
In this article, we'll cover all of the most important beauty industry stats, from industry-wide trends to consumer behavior to the rise of eCommerce and new technologies.
Contents
Top Beauty Industry Statistics
Overall, the future looks bright for the beauty industry. Here are a few eye-opening statistics to get you started:
The beauty industry generates over $100 billion in revenue worldwide.
The men's personal care market is projected to hit $276.9 billion by 2030.
Skincare is projected to generate up to $177 billion by 2025.
Beauty companies spent an estimated $7.7 billion on advertising in 2022.
Cosmetic retailers report $17.09 billion in online sales.
Keep reading to discover 35+ beauty industry stats.
Beauty Industry Statistics
Let's begin with some industry-wide statistics:
The beauty industry generates over $100 billion in revenue worldwide (Statista)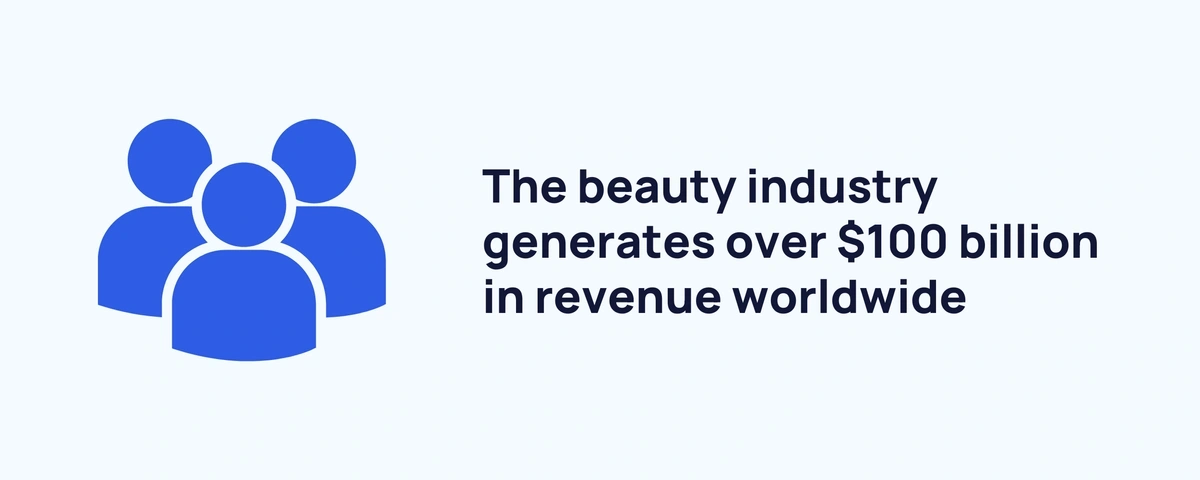 The beauty industry took a hit during the pandemic, decreasing by 8% in 2020. But things are looking up as 2021 marked the best year ever for cosmetics. And overall beauty industry revenue is expected to surpass $120 billion by 2025.
L'Oréal is the leading beauty products company with over $35 billion in global sales (Statista)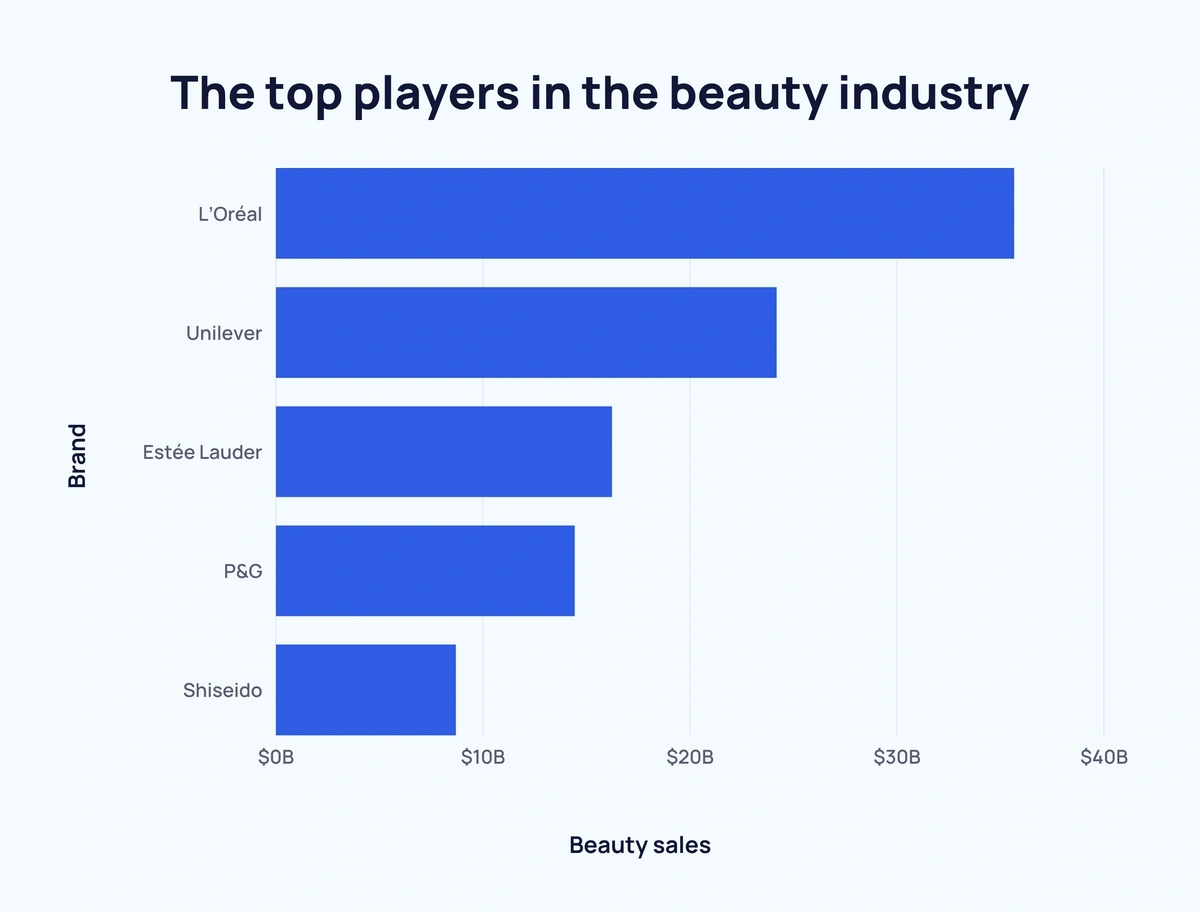 L'Oréal remains the top player in the beauty industry, with nearly $11 billion more in sales than second-place Unilever. Rounding out the top 5 are Estée Lauder, P&G, and Shiseido.
| | |
| --- | --- |
| Brand | Beauty Sales |
| L'Oréal | $35.64 billion |
| Unilever | $24.17 billion |
| Estée Lauder | $16.22 billion |
| P&G | $14.42 billion |
| Shiseido | $8.68 billion |
North Asia represents 35% of the global beauty market (L'Oréal)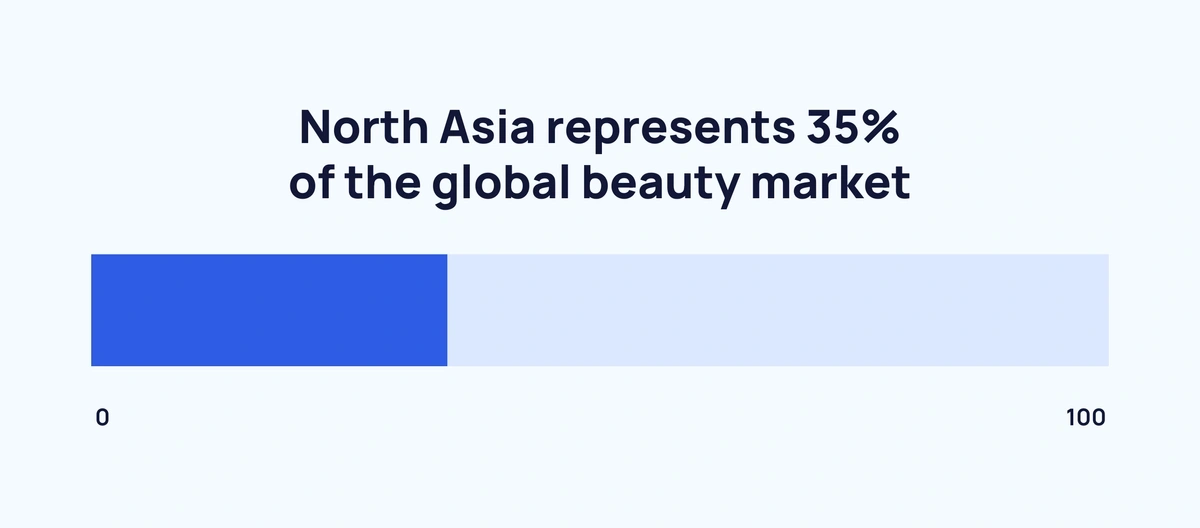 North Asia is the largest market for beauty and personal care products. In 2021, North Asia made up over one-third of the market. China has risen to become the industry leader in this region.
North America makes ups around 26% of the market. While Europe makes up 22%.
The global cosmetics market fell by 8% in 2020 (L'Oréal Finance)
The COVID-19 pandemic had an effect on nearly every global industry, and beauty was no exception. Consumers' preference to shop for cosmetics in-person contributed to the market's 8% decline.
1 in 5 women changed their skincare routine because of the COVID-19 pandemic (NPD)
Lockdowns and remote work ushered in a change in personal care routines. While overall sales were down, 22% of women reported spending more time and money on skincare.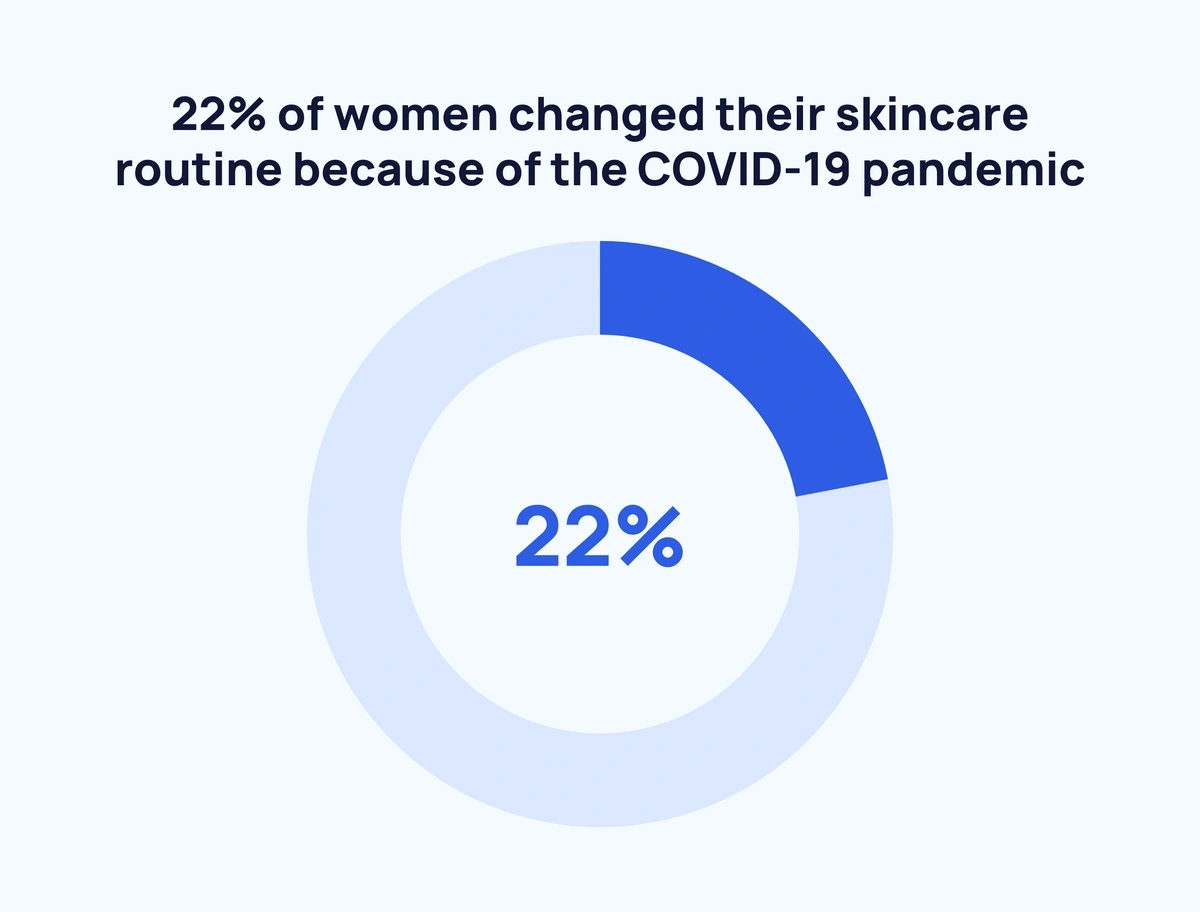 40% of facial skincare users reported using the products more often. Cleansers, moisturizers, exfoliators, and scrubs all saw increased usage. On average, women use 5 skincare products per day.
The beauty industry can be divided into 15 distinct sub-categories (British Beauty Council)
The British Beauty Council and Oxford Economics recently divided the beauty industry into 3 categories: personal care and maintenance, personal enhancement, and services. Within those categories are 15 sub-categories:
Personal care and maintenance: personal care and hygiene, skin and body care, hair, dental care, hair removal, sun care, and nail care.
Personal enhancement: cosmetics, accessories and applications, fragrance and perfume, nail color, and hair enhancements.
Services: hair services, beauty treatments, and holistic treatments.
American women spend an average of $3,756 per year on beauty products and services (Groupon)
Self-care is a serious investment. Women in the US average just over $10 per day on beauty spending. Haircuts, makeup, and skincare are the top 3 spending categories, totaling $85 per month.
What about men? They spend nearly as much on their appearance. The same survey by Groupon and OnePoll found that American men spend an average of $2,928 per year across the same categories.
The men's personal care market is projected to hit $276.9 billion by 2030 (Allied Market Research)
In 2023, the message is clear: men need to take care of their appearance too. The men's personal care market is expected to see significant growth throughout the 2020s. According to Allied Market Research, this segment of the industry is projected to grow at an 8.6% CAGR between now and 2030.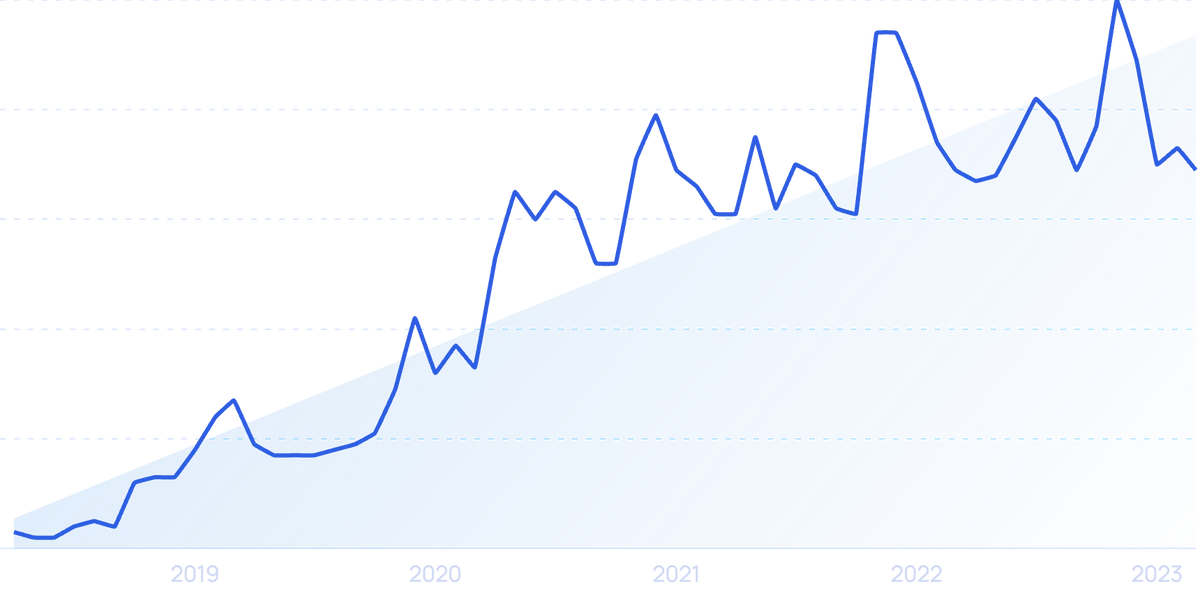 Search volume for "Manscaped", the DTC men's grooming brand has exploded by 2,200% over the past 5 years.
Skincare Products Statistics
Skincare represents a significant portion of the overall beauty market. Data indicates that the use of cleansers and other skincare products is on the rise:
The skincare industry is worth an estimated $171.7 billion globally (Statista)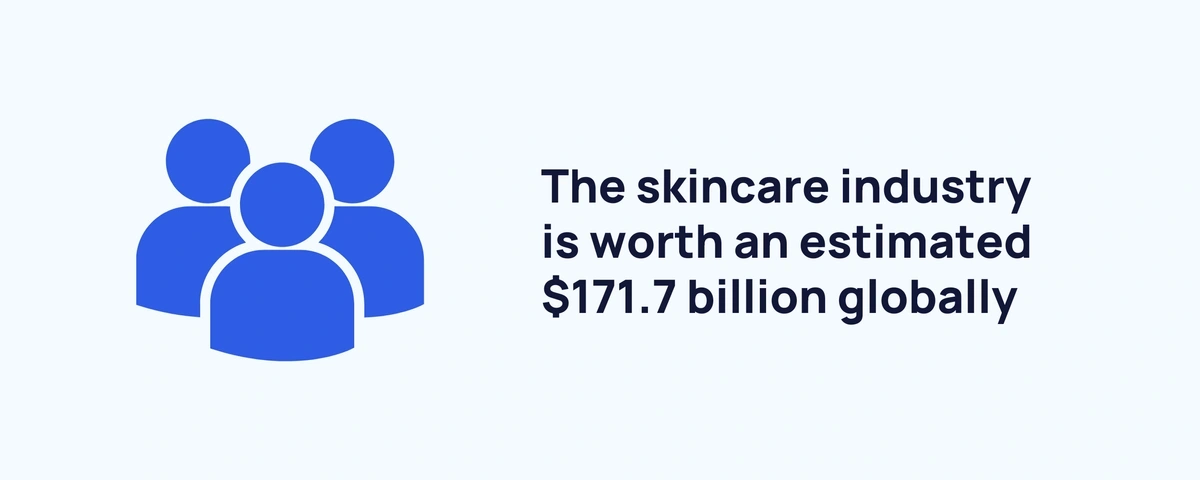 The skincare market is vast and ever-growing. While it's dominated by large companies (Estée Lauder reports $7.4 billion in annual sales), niche brands are finding plenty of eager consumers.
Skincare is projected to generate up to $177 billion by 2025 (Statista)
New skincare products are hitting the market every day, from organic anti-aging serums to gender-neutral foundations and concealers.
Skincare is the dominant segment of the beauty industry with 42% of the market share (Statista)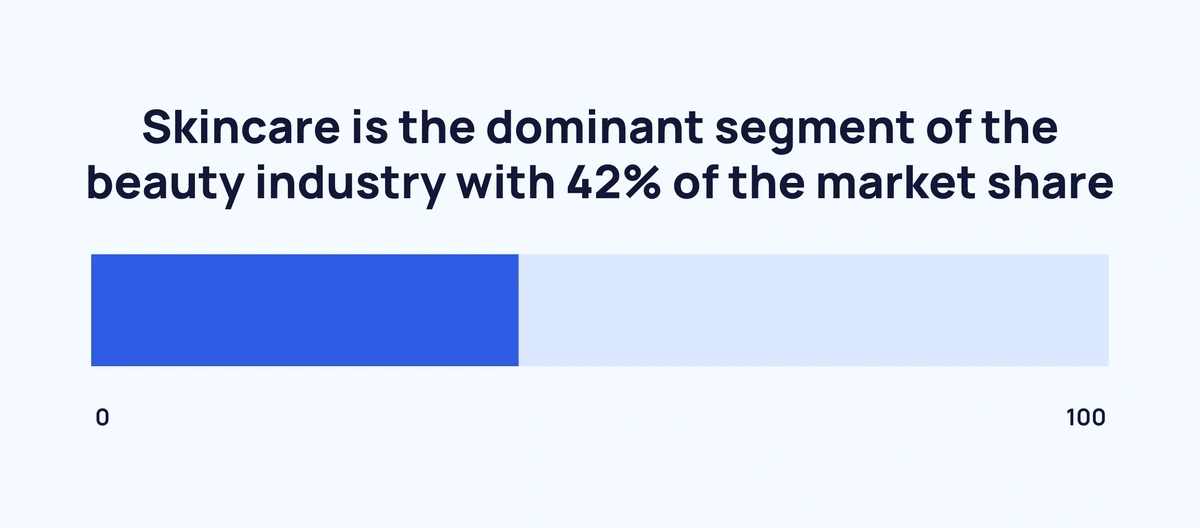 Skincare has more beauty industry market share than hair care (22%) and make-up (18%) combined. The Asia-Pacific region is currently the global leader, owning over 40% of the market.
38% of US consumers use cleanser products (NPD)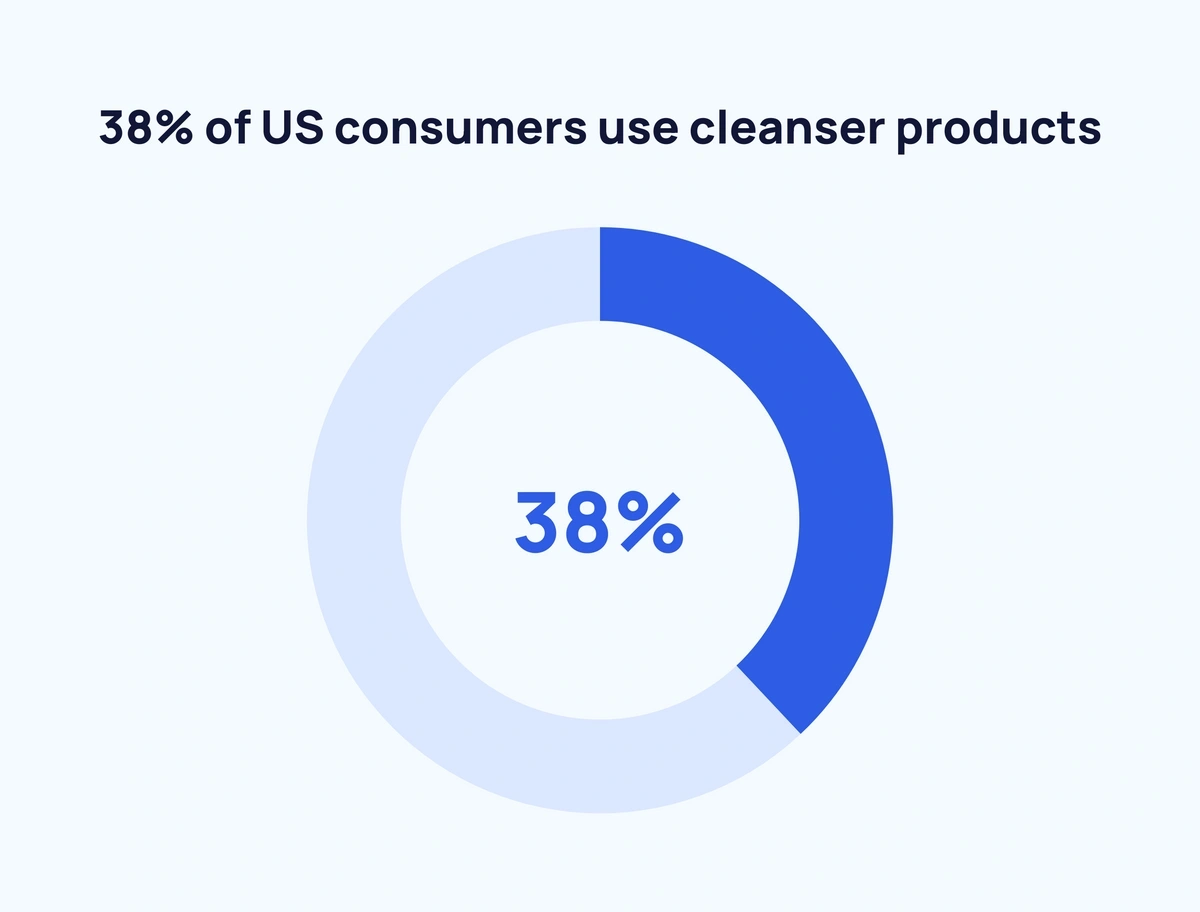 Cleanser products have seen a resurgence since the onset of the COVID-19 pandemic. With more time at home, people are investing more in their skincare routines. Over one-third of cleanser users report using products multiple times per day.
Beauty Marketing and Social Media Statistics
Beauty, cosmetics, and personal care influencers have some of the largest followings on social media. Brands can leverage these influencers' reach, but they must be thoughtful in doing so:
Beauty companies spent an estimated $7.7 billion on advertising in 2022 (Bandt)
In an industry with so much capital, it's only logical that beauty brands spend billions on advertising. Beauty advertising grows at a rate of 2.2% per year. The top advertising channel is still television, but digital advertising is gaining traction.
Digital advertising makes up 34.1% of the total ad spend in the beauty industry (Social Samosa)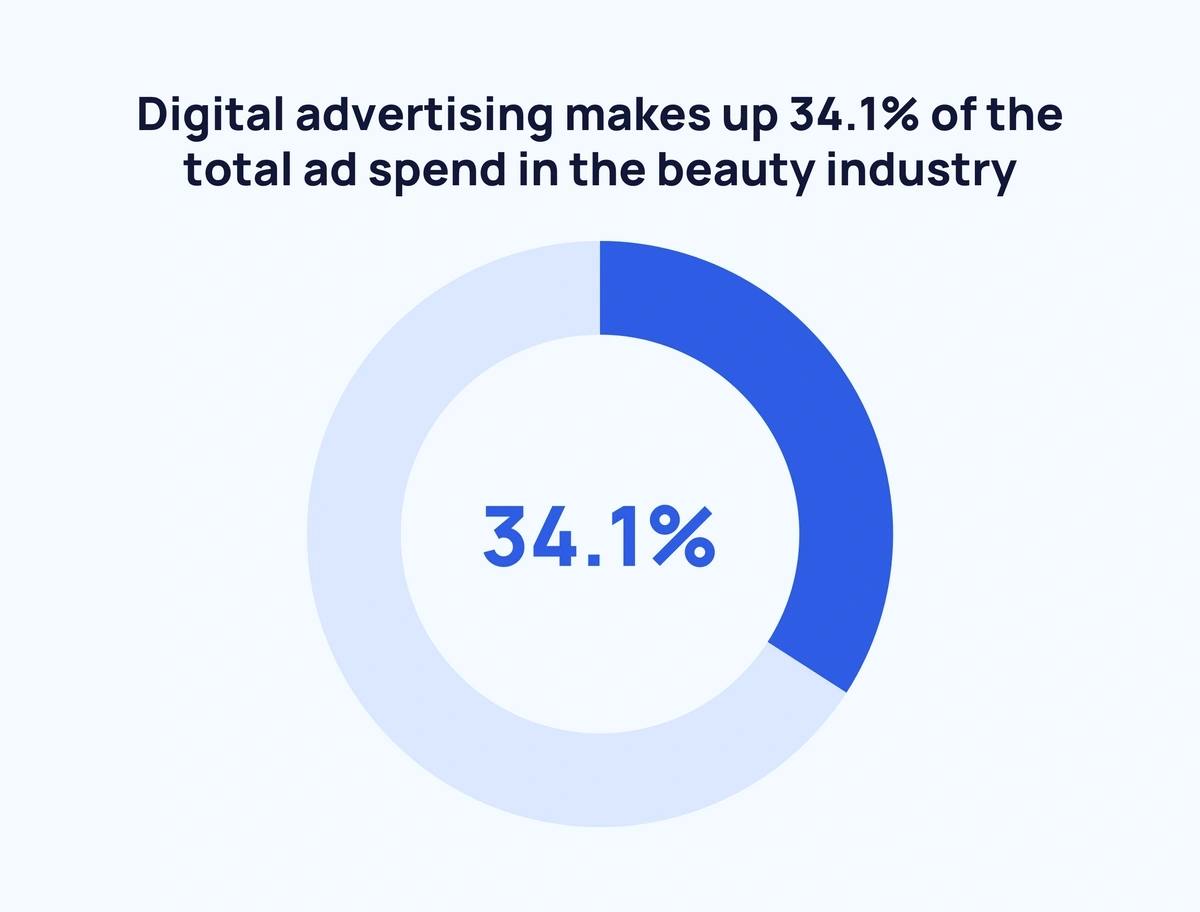 Beauty products may be slower than other categories at transitioning to online sales (many consumers still prefer to test and buy products in person), but as their target audience moves online, so do brands' marketing efforts.
One-third of beauty product buyers interact with brands on social media. Marketing emails have seen success, with a solid 11.5% open rate. Finally, the average CPC for beauty and personal care ads is $1.68.
Beauty shoppers say YouTube is their top source for beauty-related content (Think With Google)
Google's study found that YouTube was the number one source for beauty content among women aged 18-54. Watch times for "makeup transformation" videos more than doubles each year. Videos showcasing sustainable and eco-friendly products are trending in both uploads and views.
82% of beauty shoppers use Instagram at least once per day (Harvard Business School)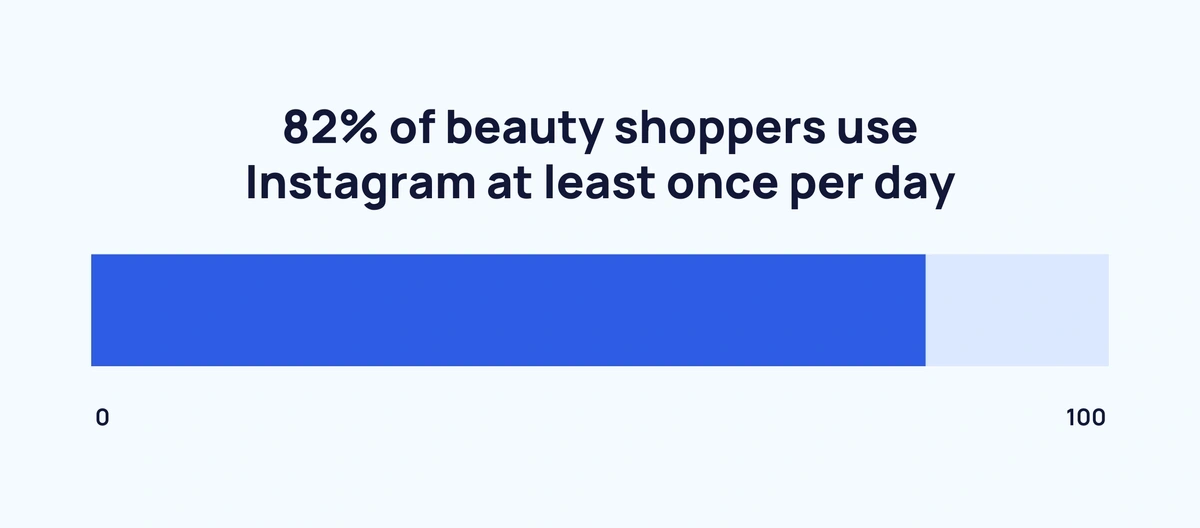 As a visual medium, Instagram is the perfect match for beauty brands to connect with their audiences. The interactive nature of Instagram plays a key role in building a trusting, loyal following. In fact, brands report that influencer marketing is more effective than direct mail.
67% of beauty shoppers say they turn to influencers to discover new products (Harvard Business School)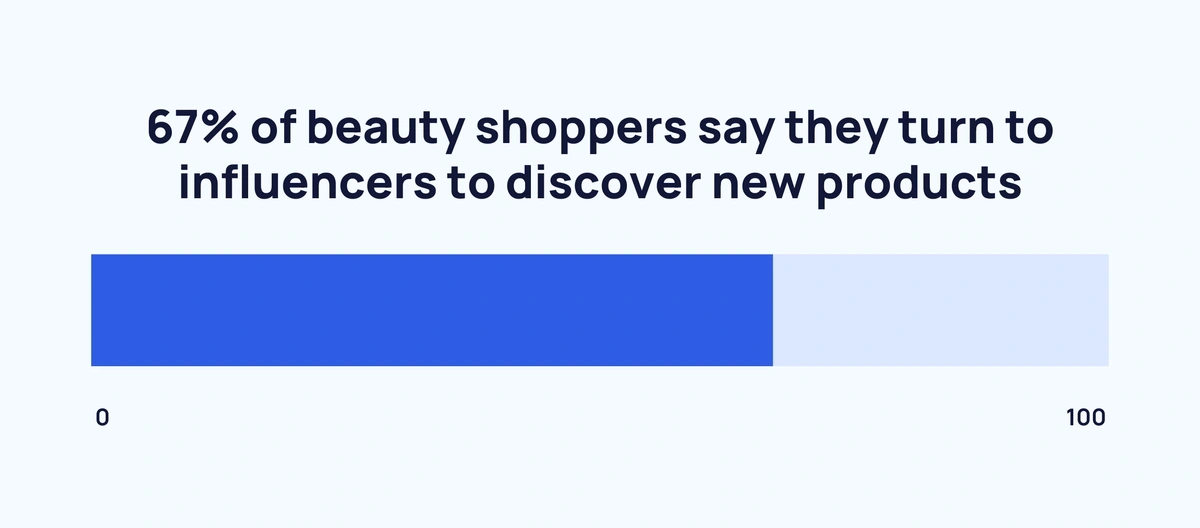 Beauty influencers have tremendous reach. Dutch beauty influencer Nikkie de Jager has around 14 million YouTube subscribers. And makeup artist Huda Kattan has over 50 million Instagram followers.
Influencers play a critical role in social media marketing, but brands should tread these waters carefully. Consumers know that influencers are paid to promote, so likeability and trust are crucial. 42% of consumers say they'd buy a product promoted by an influencer, while 43% said they were unsure and 15% flat-out said "no".

Influencer Susan Yara launched her own cosmetics brand Naturium. The brand gets over 27,000 monthly searches, up 9,000% from 5 years ago.
Kylie Cosmetics is the most followed beauty brand on Instagram, with over 25 million followers (Trackalytics)
While established corporations lead the pack in global sales, up-and-coming brands are dominating social media. Kylie Jenner's cosmetics brand has had a tidal wave of impact on Instagram, while her own personal account has over 300 million followers.
Beauty eCommerce and Technology Statistics
The need to sample and try on beauty products makes generating online sales a challenge. But companies are finding new and exciting ways to give shoppers that "in-store" experience online:
Health and beauty eCommerce sales are projected to grow by 77% between 2021 and 2026 (Ascential)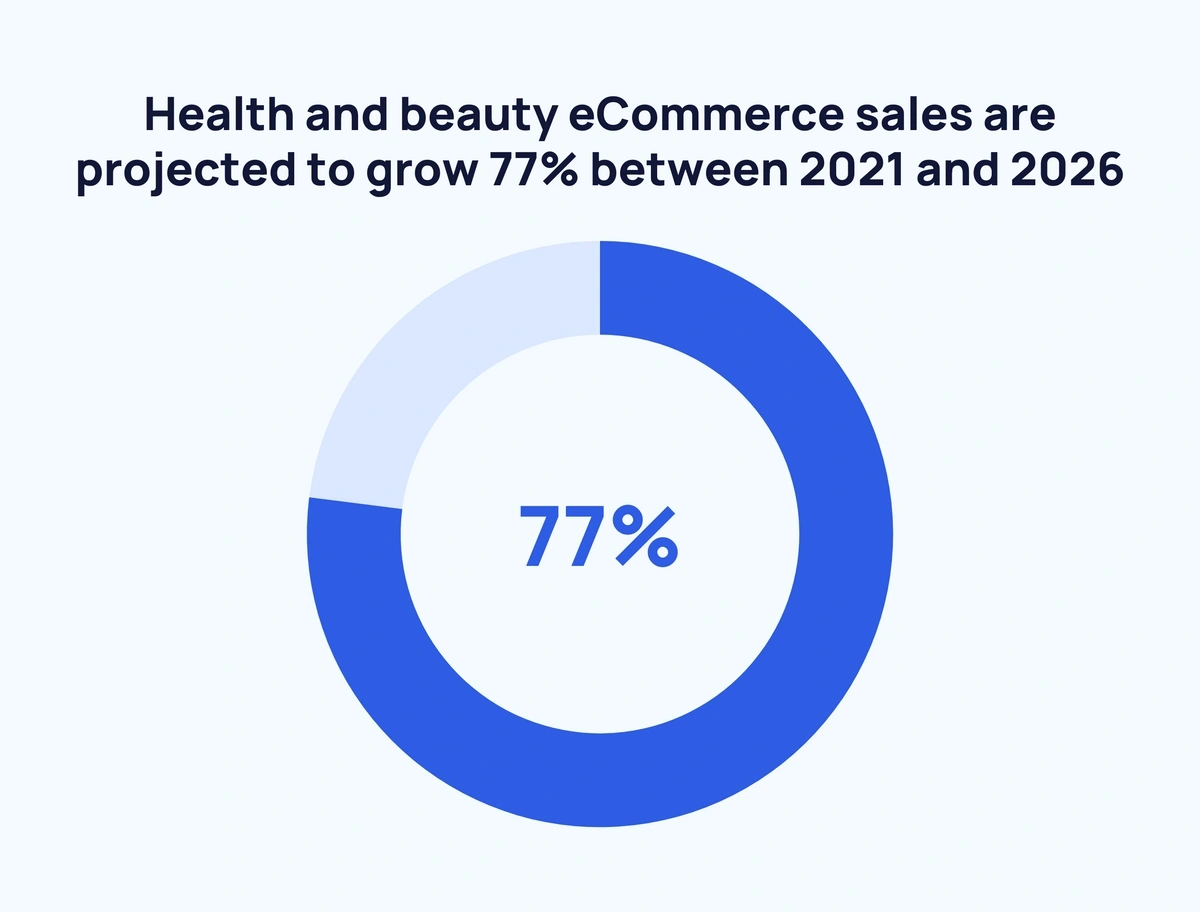 As consumers explore more options for previewing products online, eCommerce sales are expected to climb in the coming years. By 2026, eCommerce beauty sales could reach $358.4 billion.
Prior to COVID-19, 85% of beauty products were purchased in-store (McKinsey)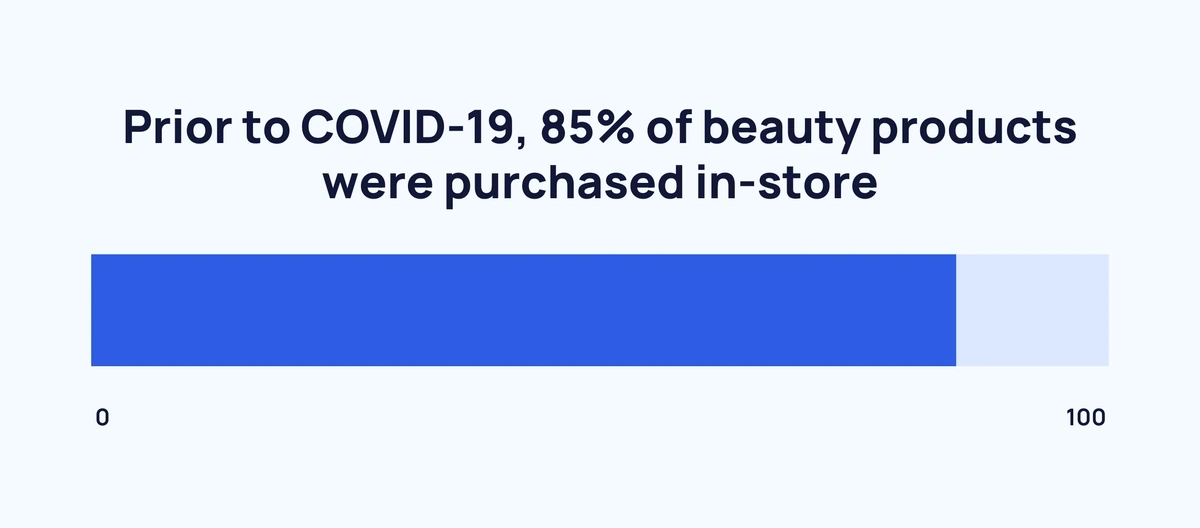 The pandemic racked an industry that's heavily reliant on consumers' ability to test and purchase products in person. The majority of shoppers across all demographics prefer to browse and shop in-store. According to McKinsey, the increase in online sales during the pandemic did not make up for the drop in sales at brick-and-mortar locations.
Despite the rise of online purchasing, 46% of consumers say they prefer to see beauty products in-person (Digital Commerce 360)
Cosmetics consumers are fickle. They want to see products in person before committing to a sale. 18% of consumers say they seek out guidance from in-store professionals, an experience that brands will need to replicate online if they want to stay competitive.
Cosmetic retailers report $17.09 billion in online sales (Digital Commerce 360)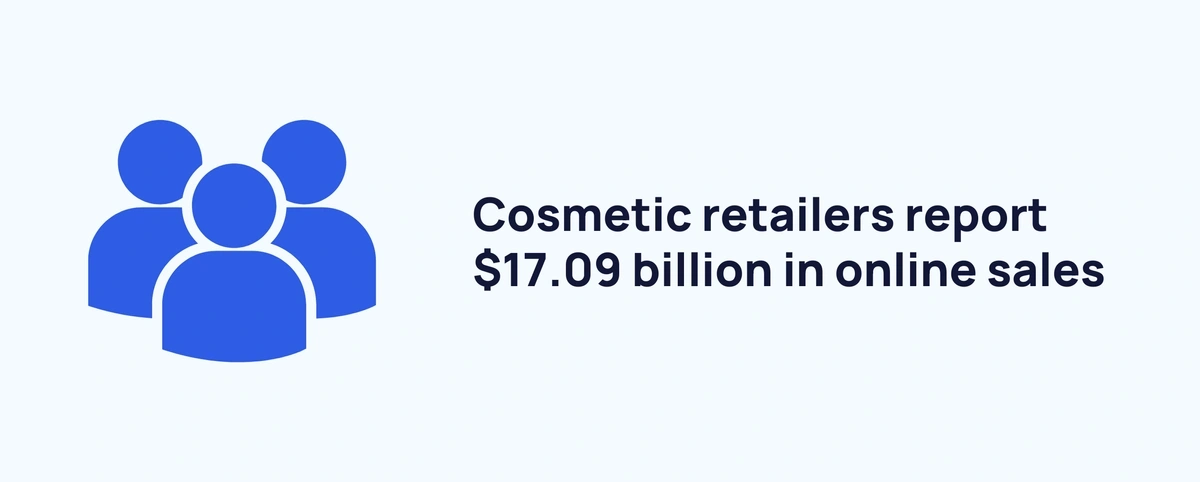 To bolster their online sales, brands are finding ways to give shoppers the "browsing" experience online. Virtual and augmented reality, color-picker apps, and online consultations are all strategies to help shoppers choose the best products.
Consumers who get personalized recommendations are 75% more likely to make a purchase (CB Insights)
Accenture's study makes it clear: 3 out of 4 beauty customers respond well to personalized recommendations. Consumers are willing to shell out more cash for the extra attention, as another study by Forrester points out. They found that 78% of consumers will gladly pay more for a personalized shopping experience.
74% of consumers are more likely to make a purchase from a company that hosts reviews on its website (Nosto)
Across all industries, social proof is a powerful tool for wooing new customers. Beauty brands who host reviews on their own channels are winning loyalty from an audience that is 80% women.
62% of consumers prefer brands that feature user-generated content on their websites (Nosto)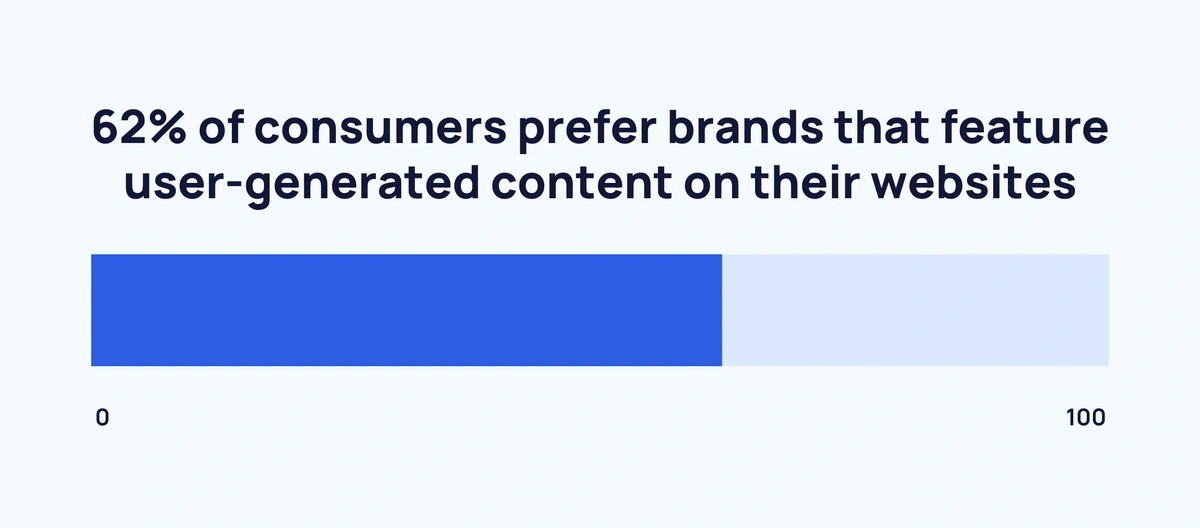 Allowing users to upload their own content — including photos and videos — is another cost-effective means to increase brand loyalty.
65% of beauty retailers offer interactive quizzes to help customers choose the right products (CB Insights)
For online customers missing in-store recommendations, virtual quizzes could fill that gap. Companies like Function of Beauty offer interactive quizzes for hair and skincare that allow users to order — and even name — their own customized products.
6% of consumers use augmented or virtual reality technology when purchasing cosmetics (CB Insights)
If shoppers can't get to a store to try on makeup in person, augmented reality try-ons might be the next best thing. ModiFace has partnered with over 70 beauty brands to bring augmented reality to the masses.
Clean, Natural, and Organic Beauty Product Statistics
Concerns over harmful chemicals, environmental responsibility, and animal cruelty have all shaped consumer habits in the beauty industry:
Clean beauty products generate $400 million in annual sales (Neilson)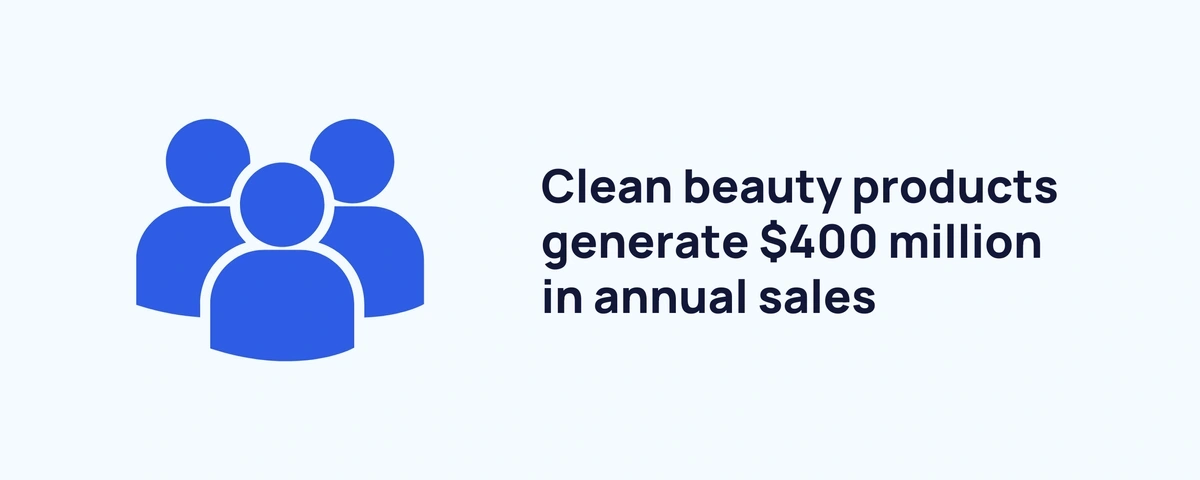 Clean beauty has been on the rise for over three decades. As with the clean food movement, consumers are becoming more aware (and concerned) about the products they put on their bodies.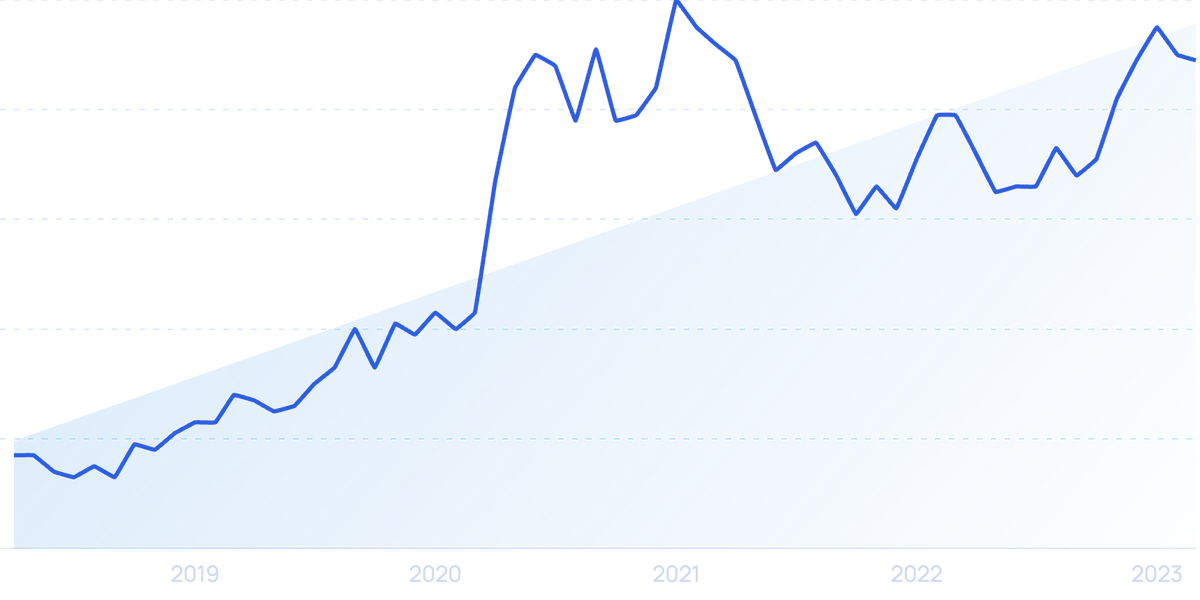 The Ordinary is a leading clean beauty brand. Searches for "the ordinary. hyaluronic acid 2% + b5" have increased more than 423% over the past 5 years.
Sales of paraben-free beauty products are growing 80% faster than the overall market (Neilson)
"Paraben-free" is bandied about often enough that it's become the "no MSG" of the 21st century. No scientific studies have linked parabens and cancer to date, but products without the common preservative are out-selling the competition.
40.2% of consumers say they look for natural ingredients when making a purchase decision (Neilson)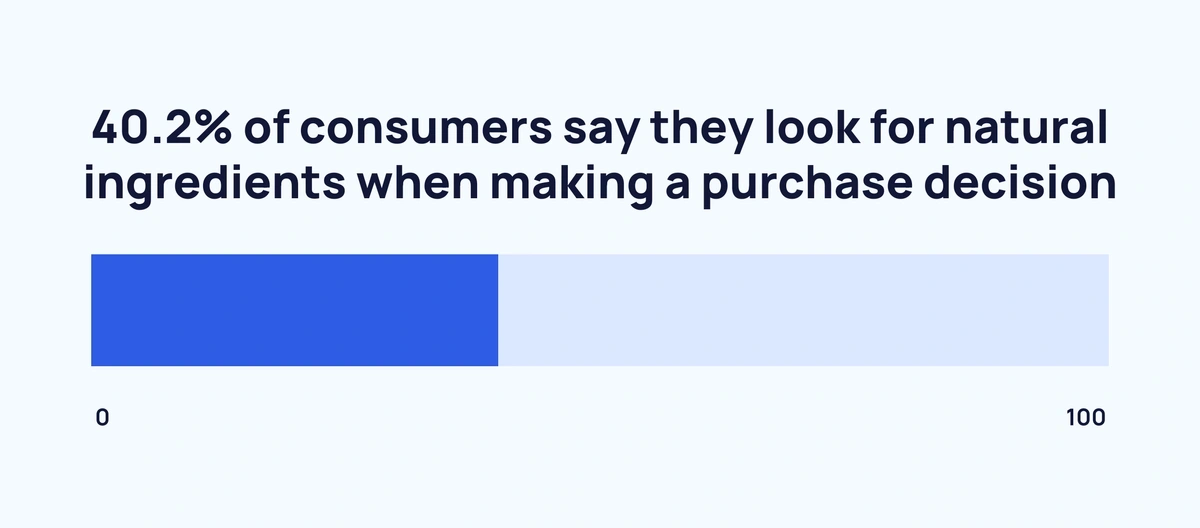 Sustainability is a top priority for many of today's consumers. 17.6% say they seek out brands that are environmentally friendly, and 15.8% prefer products that use recyclable packaging.
The organic skincare market is expected to grow by 8.72% per year through 2027 (Mordor Intelligence)
The pandemic has helped accelerate the growth of the organic skincare market. Health concerns combined with an increase in online shopping have steered more consumers toward brands that display "organic" or "natural" on their product labels. The market is still dominated by a handful of large companies, but eCommerce brands should be able to capitalize on this trend.
The EU has banned over 150 times more ingredients than the US for use in beauty products (FDA, European Cosmetic Commission)
US-based brands looking to expand into the European market should be aware of the massive gulf between the two regions' ingredient restrictions. The EU currently prohibits 1,680 ingredients from use in cosmetic products.
Haircare Industry Statistics
Haircare has always been a stable segment of the beauty industry, but recent trends in hair coloring point to even more growth potential:
The global haircare market size is worth over $75 billion (Fortune Business Insights)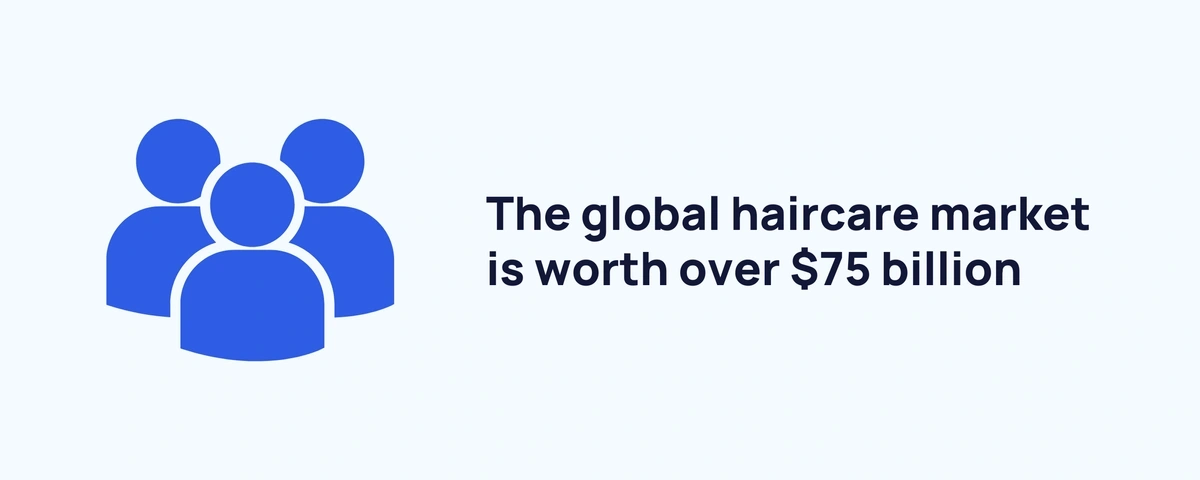 Virtually all demographics use hair products, giving this category a sizeable moat despite global economic and health conditions. Haircare includes shampoo, conditioner, colorants, and hair oil.
The haircare market is expected to reach $134.3 billion by 2028 (Grand View Research)
After a rocky 2020, the hair care market is poised to surge. Some of the forces driving this trend are demand for more organic and natural products, hair loss solutions, and dandruff-related products.
Hair coloring products make up 1/5th of the global haircare market (Fortune Business Insights)
Wildly colored hair has entered the mainstream. Hairstylists need products to serve their clients, and consumers need products to manage their colored hair at home.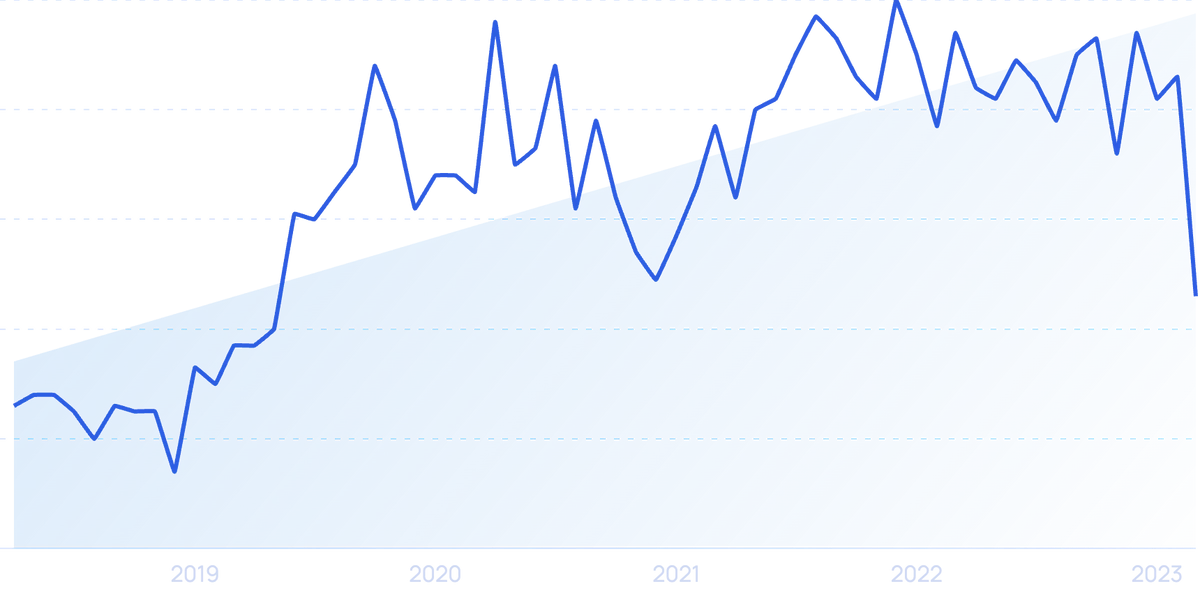 Searches for "color depositing conditioner" have gone up 75% over the past 5 years.
Wrap Up
The future looks bright for the beauty industry.
Online experience innovations, new clean and organic product lines, and a willingness among consumers to buy premium products indicate growth opportunities across all categories.
Social media's influence on the beauty industry and the shift from in-store to online shopping points to a potential explosion of DTC and eCommerce brands.
And while big brands like L'Oreal and Estee Lauder will still get the lion's share of sales, there's plenty of room at the table for up-and-comers able to get in front of the right audience.
If you enjoyed these stats, why not take a look at 7 beauty industry trends and 30 notable beauty startups.