10 Best Sites for Market Research (2023 Guide)
There isn't one single best website for market research — there are a number of different market research solutions, and different resources provide different insights. So if you want to get a holistic view of what your customers and competitors are up to, and gather actionable insights to improve your business strategy, you need a mixed bag of market research tools in your tool belt.
In this post, we talk about the ten best sites for market research, the types of data they provide, and how you can use this data in your business strategy. We start with our market trends research site, Exploding Topics.
You can also start a Pro Trial of Exploding Topics to explore our trend database (with industry trends across dozens of categories), check out recent trend reports, and begin tracking trends in a personalized dashboard.
1. Exploding Topics — Best market research tool to identify, analyze, & track early trends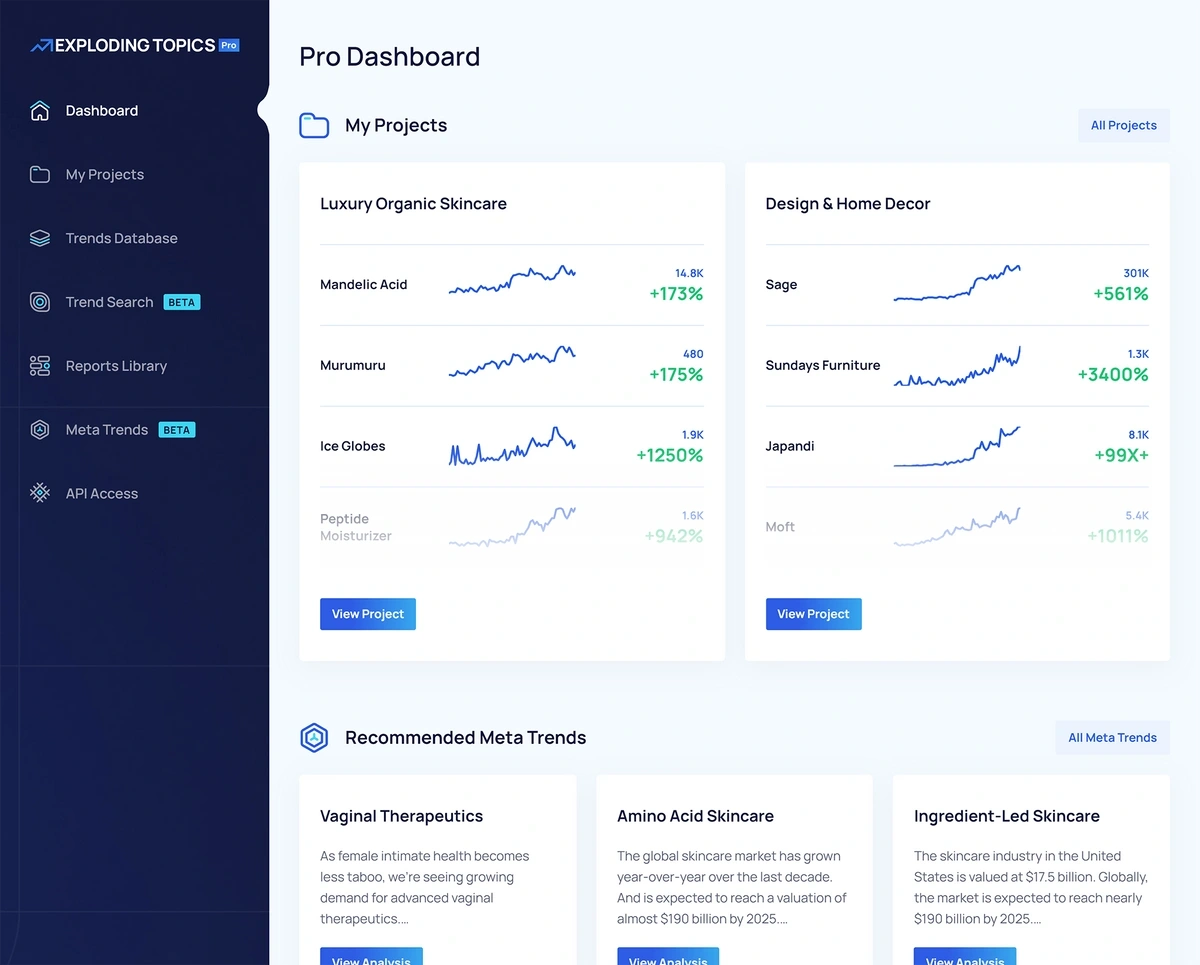 Exploding Topics offers one of the best ways to learn about and track early industry trends. You can skip challenging (and time-consuming, tedious) trend monitoring, and avoid expensive market research agencies — and instead, discover new products, technologies, startups, trending topics, and other business opportunities from our database.
Our proprietary AI constantly monitors online sources like news outlets, social media platforms, streaming sites, eComm marketplaces, forums, etc. looking for signs of early new trends. Then, our analysts take over and do more in-depth digging into each opportunity our AI finds. We pull extra market data and look at consumer behaviors to understand which trends are likely to be short-term "fads," and which trends will remain relevant long into the future.
Every trend that makes it through the two-step verification process is added to our database so you can start trend research knowing all data is sourced and vetted by industry experts. Then we offer several tools so you can find new trends in your area of interest, analyze the available trend data, and track saved trends.
Now, let's explain how to use our trend research features and gather insights to make data-driven decisions.
Exploding Topics Feature Demo
We send you details on the fastest-growing, most promising trends each week via trend reports. But you can also access our trend database, trend search, and Meta Trends library to find trends on your own. Then, you can save trends in your dashboard if you want to keep tabs on them.
Weekly Trend Reports
Exploding Topics trend reports cover ten emerging trends across a mix of categories. We organize topics in two categories — Early Bird Companies and Tomorrow's Product's Today — so you can jump to the section you're most interested in.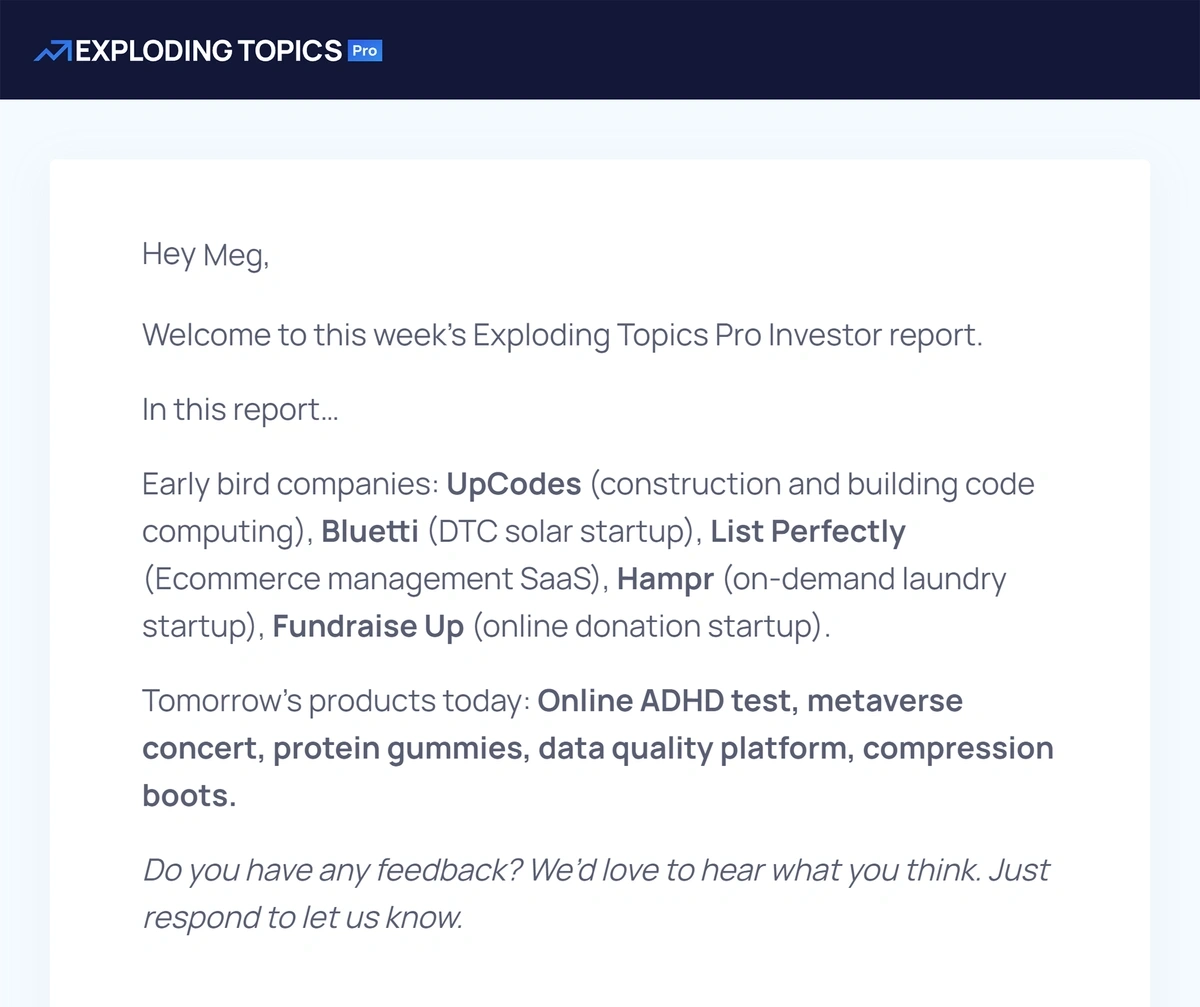 We provide a detailed analysis for each trend listed in reports so you can understand more about:
The background and history — why each trend is becoming relevant.
Target markets and audiences — who the trend impacts.
Predictions for future growth — how interest in the trend is expected to evolve.
For example, here's a look at our write-up on Bytebase, a new software solution for businesses to monitor and manage database changes.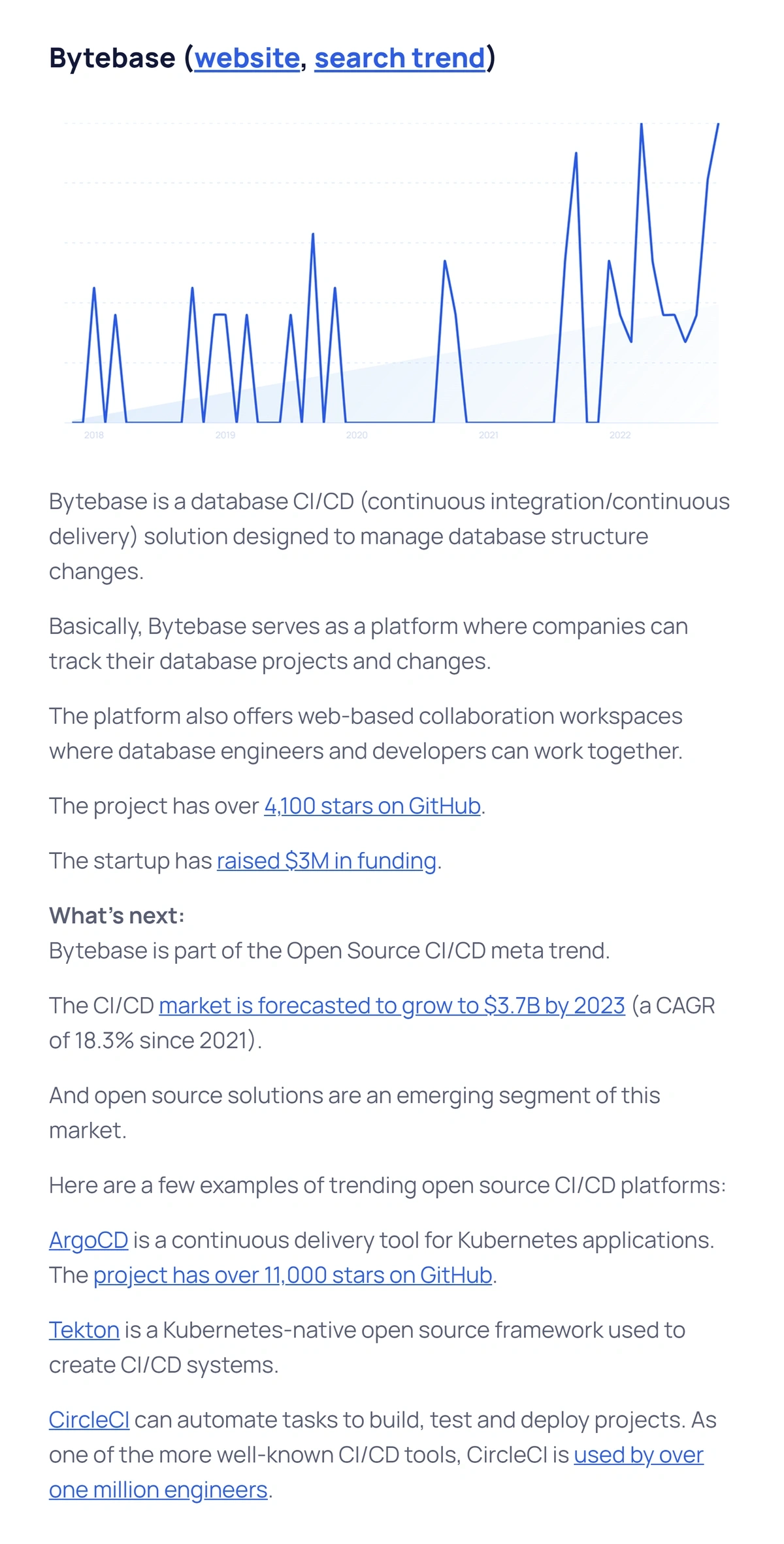 We explain what the software does and who's using it, how much funding the startup has already received, and how the market for this technology is forecasted to grow. We also list a few other software solutions in that same realm so you can explore related opportunities.
Read More: Market Trend Reports (+ Trend Discovery, Analysis, & Tracking)
Trend Discovery Tools — Database, Search, & Meta Trends
Our platform is entirely self-service, so you can login and research new trends any time you wish.
One of the easiest ways to find new trends is through the trend database — this is where we store all available trends and trend data. When you get to this page, you can sort trends by category to find opportunities you're interested in. We cover trends in beauty, fashion, fitness, health, eComm, crypto, tech, SaaS, marketing, media, lifestyle, sports, gaming, and more.
We also have extra filtering options so you can tailor results to your research goals. For example, you can sort by date to look at the most recent trends added to our database. Or, you can sort by status to look at just the most popular trends.
Pro Tip: To get ahead of early early trends, change the date range to "Past three months" and the status to "Regular" — we'll show you brand new opportunities (that your competition probably doesn't already know about).
After you find a trend you're interested in, you can look at more detailed trend data by opening the overview window. We show you search volume and growth rate — displayed on an interactive graph so you can see metrics by day and look at growth over different timelines — as well as trend status and category. Then, if you want to monitor trend growth, you can click "Track Topic" and we'll automatically save trend data in your dashboard.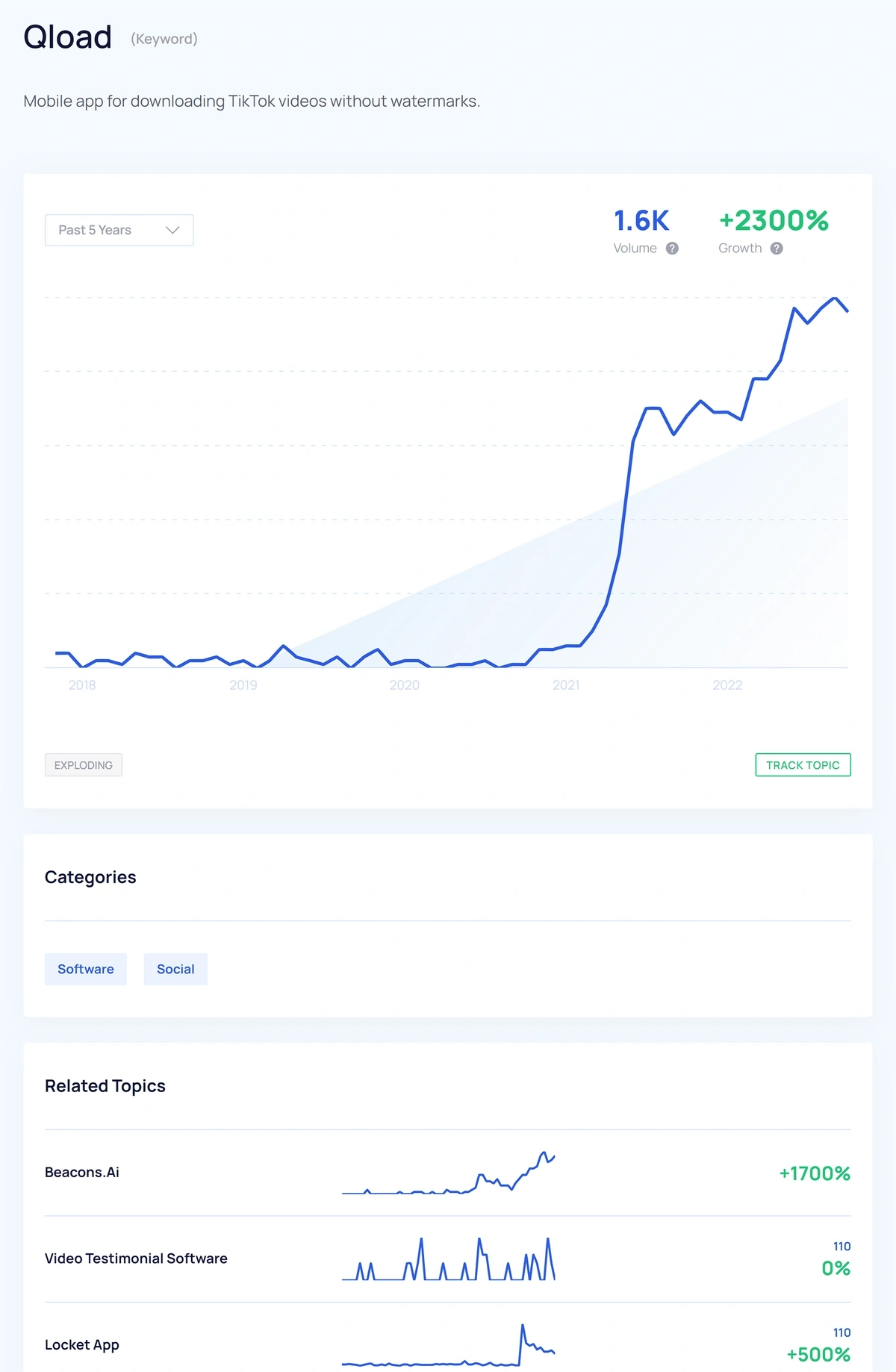 Plus, we list related trends in the overview window so you can jump to other opportunities without starting your search over.
Read More: Best Market Trend Analysis Tool for Detailed Insights & Tracking
You can also access the search feature (from the database or the left-hand menu bar) if you want to look up trends you've already heard about. Type in any word or phrase and we'll show you interest in the general category and other trends that relate to your search.
So for example, say you're curious about collagen peptides and want to see which collagen products are most popular — you could search "collagen peptides" to gauge interest in the product category…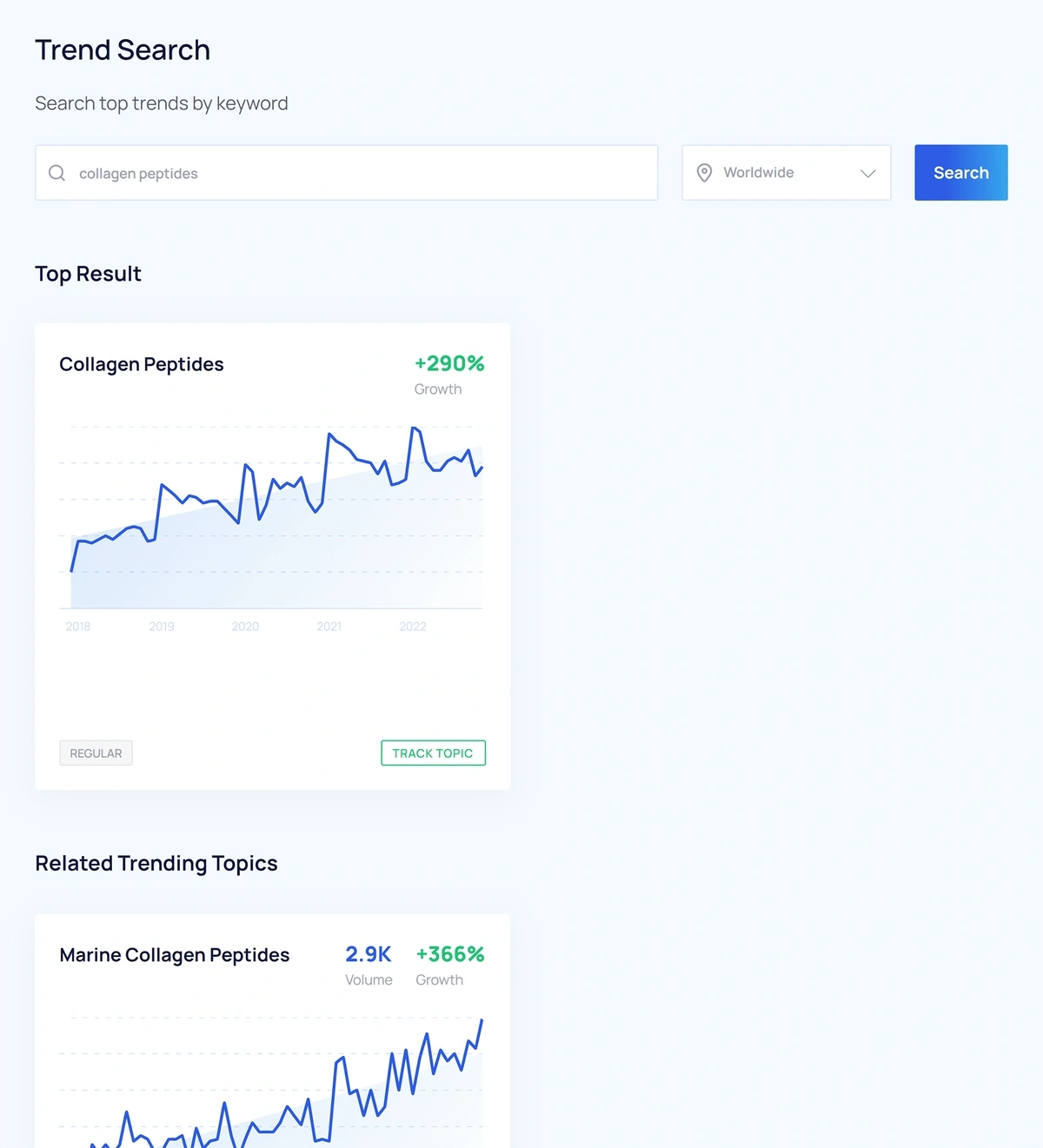 And see a list of collagen products, with associated trend data.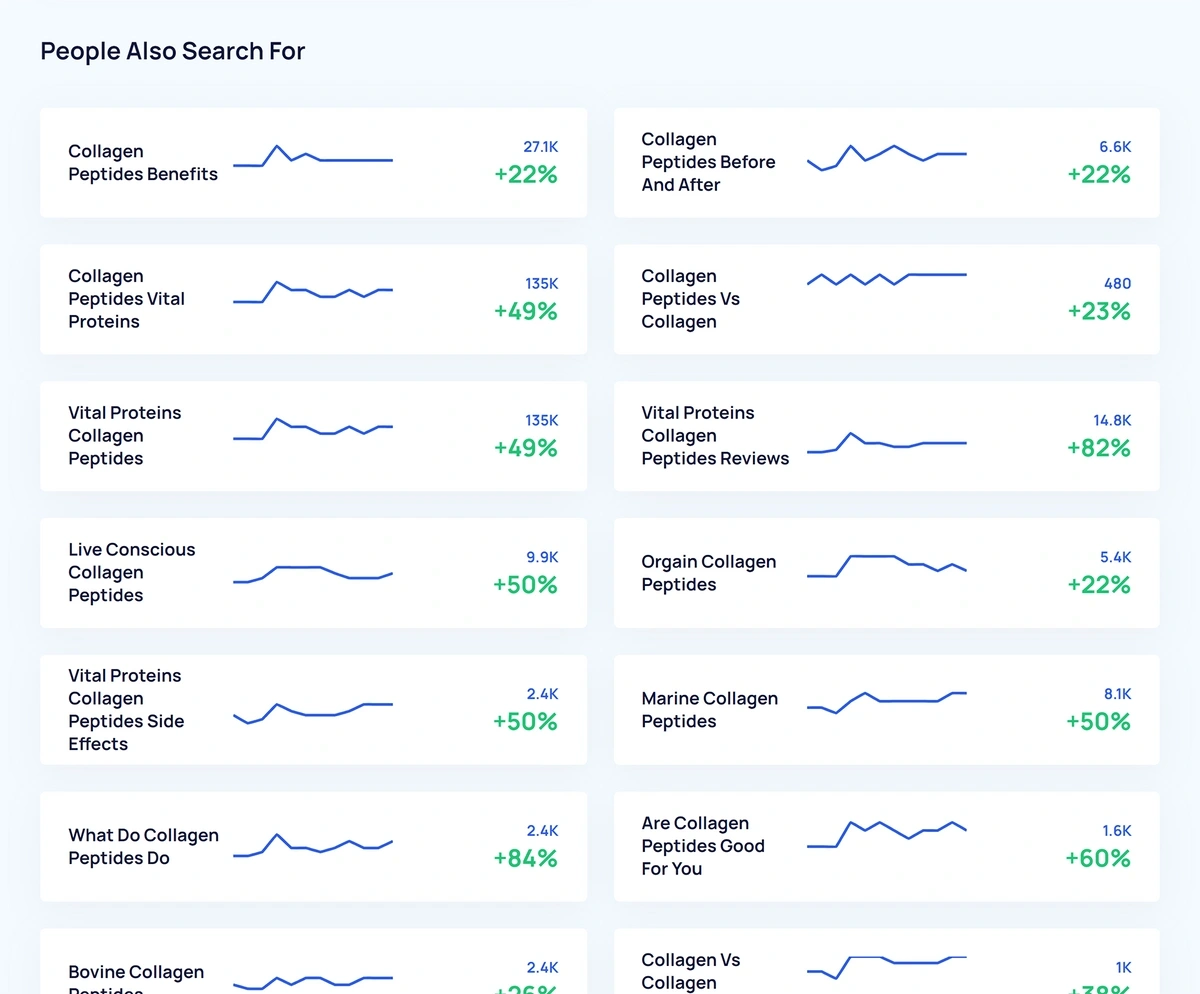 You can even refine the search results and look at data in different geographic locations (if you plan to sell products in international markets).
Then we have our Meta Trends library — here, you can get a little more specific in your research and browse collections of related trends by topic. You can see product categories like "DTC Self-Care Products" and "Enterprise FinTech" or concepts like "Kits for Everything" and "Link-in-Bio Commerce" — we provide a background on each Meta Trend and show you all of the topics that relate.
Here's a look at the page for Pre-Employment Testing Tools as an example: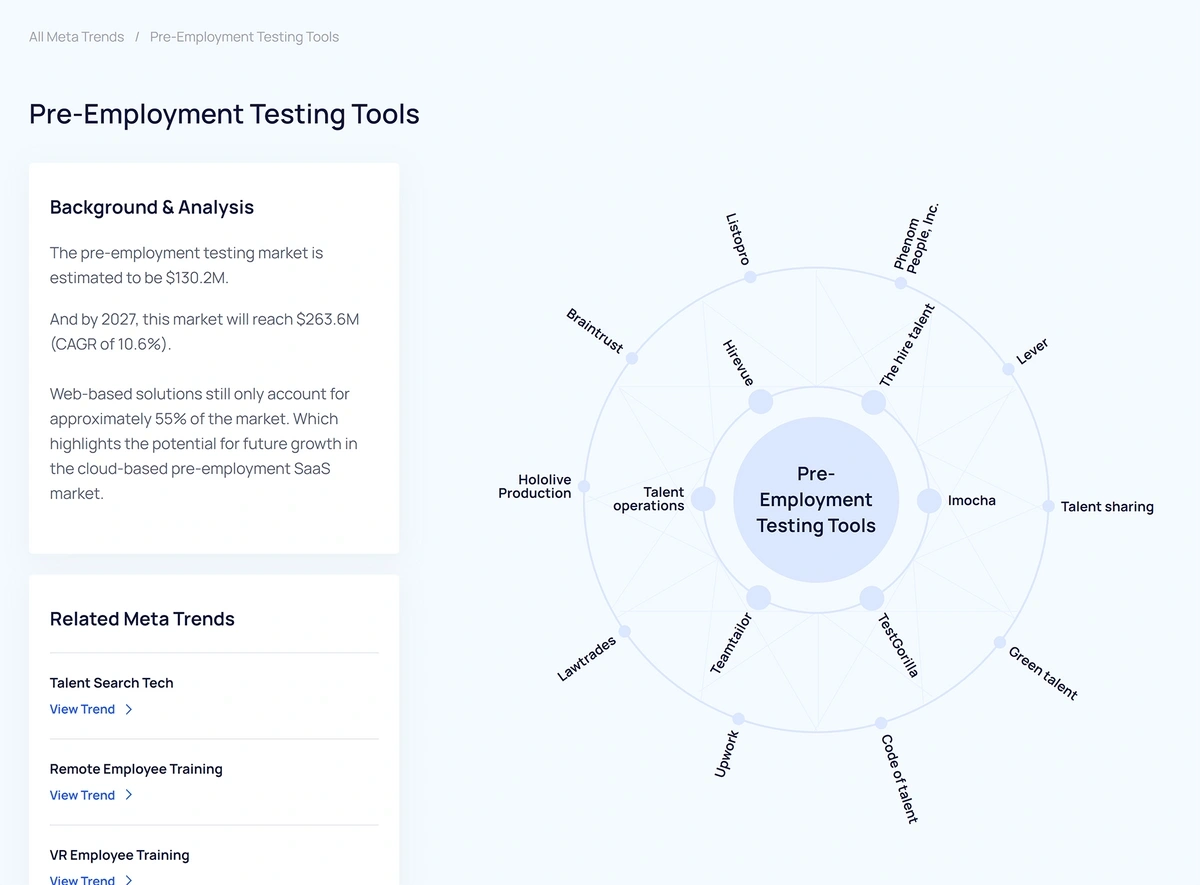 And as we mentioned earlier, you can save trends to your dashboard at any time by clicking "Track Topic."
Trend Tracking Dashboard
We automatically save trends to your personal dashboard so you can check trend growth and set real-time alerts for major updates. This way, you can use trend data to guide decision-making and act on opportunities before popularity surges.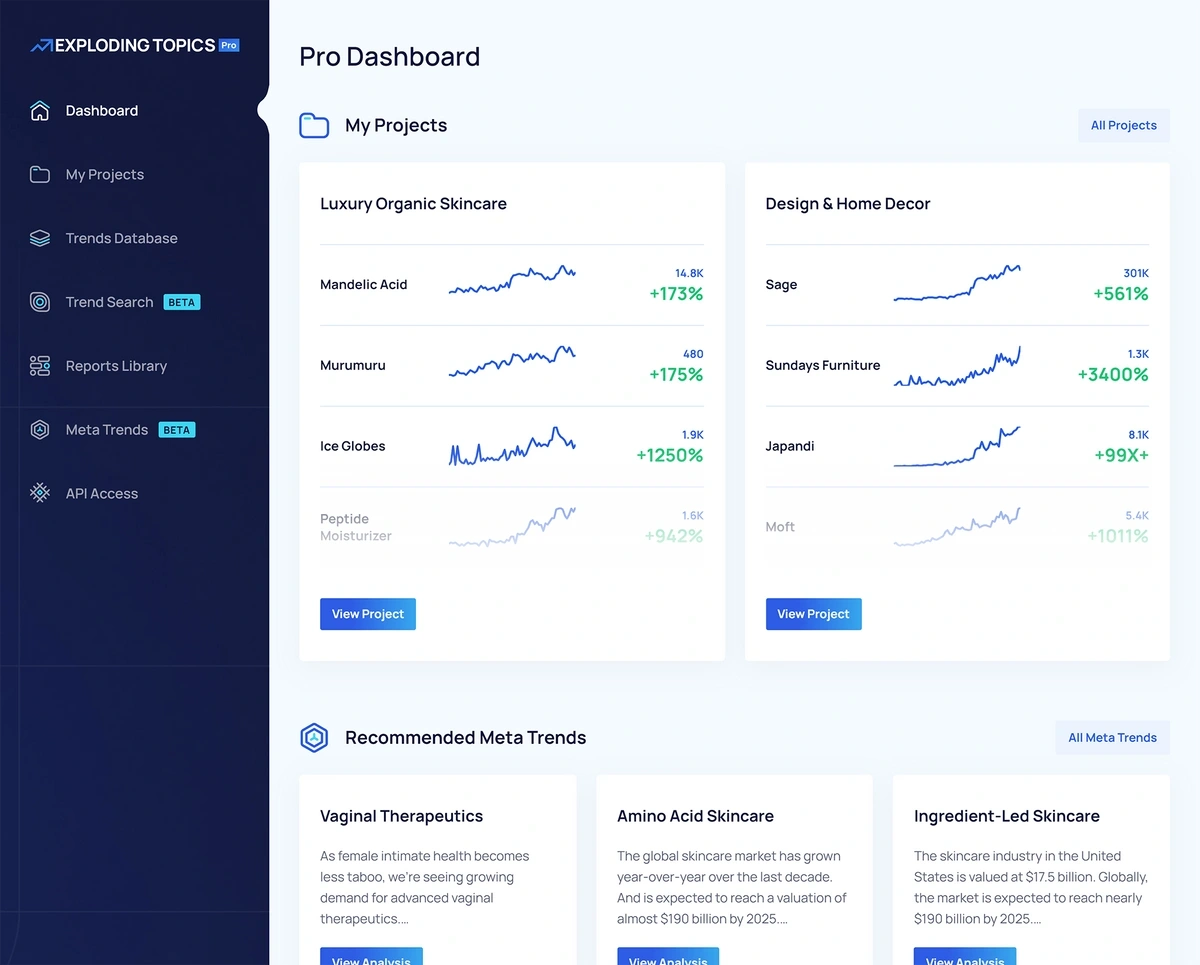 As you save trends, you drop them into Projects; this lets you segment and organize saved trends so your dashboard doesn't become cluttered. For example, in the screenshot above, trends are organized by "Luxury Organic Skincare" and "Design & Home Decor," so this user can navigate to the category of trends they're interested in and quickly find the products they want to check on.
We also display lists of related trends and Meta Trends, based on what you've saved, so you can easily see new opportunities in your category of interest and save trends to Projects. Plus, we provide quick links to the latest trend reports so you can reference those as needed.
And we can't forget to mention — theExploding Topics API lets you connect our platform with other business intelligence tools to consolidate market research data. This is helpful if you want to use our trend monitoring tech in other research reports, or do further trend analysis in outside data visualization tools. But you can learn more about the API and how to use it here.
Get Started
Exploding Topics simplifies trend research and lets you get ahead of early opportunities: all of the trends on our site are verified by experienced analysts, and our tools are user-friendly enough that even beginners can learn the ropes quickly.
We offer two different plans — Entrepreneur and Investor — but you can start a Pro Trial for $1 to unlock full site access and see how our platform works.
Now, Exploding Topics isn't the only resource to conduct market research — let's look at some other resources to have on your radar.
2. Buzzsumo — Best market research tool for marketing & social media content creation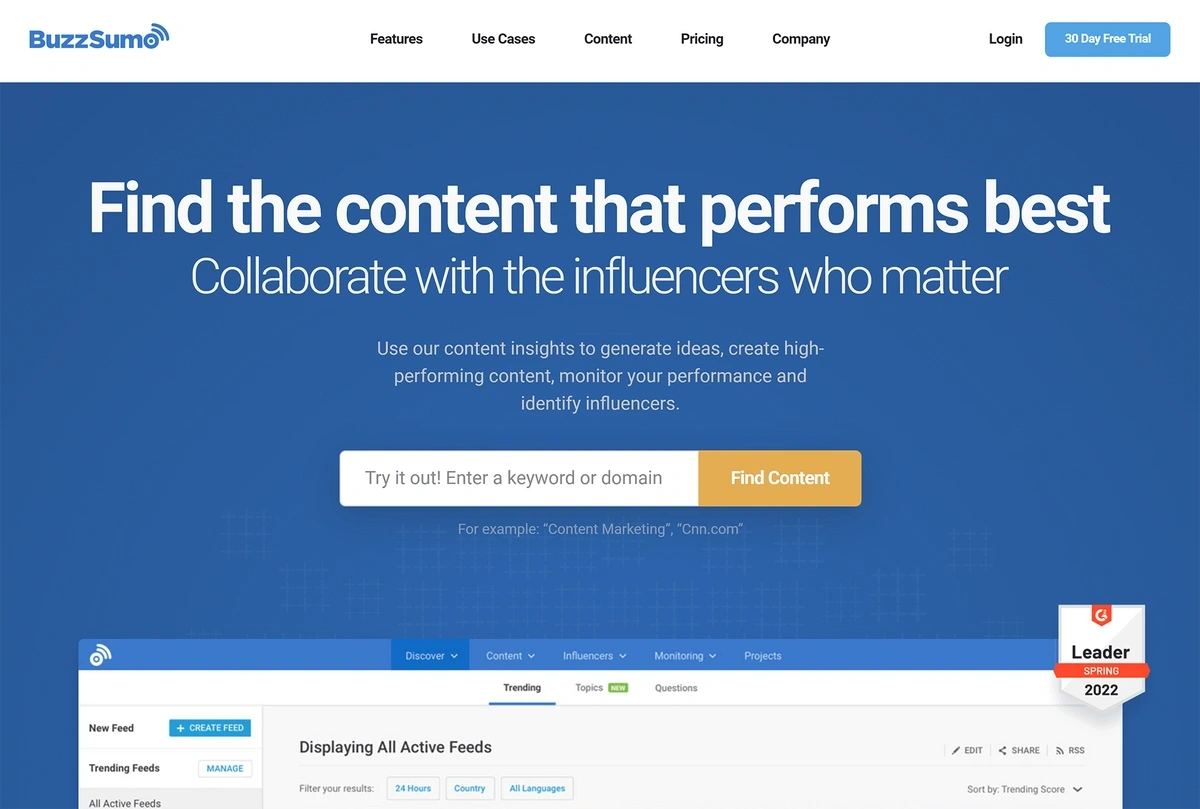 While Exploding Topics lets you find long-term trends, you can use Buzzsumo to see popular topics on sites like Facebook, Twitter, and YouTube and strategically plan new social posts and blog topics. This site is widely popular amongst social media and content marketing teams because it allows them to stay ahead of what's trending and produce more "viral" content. You can also use Buzzsumo to monitor what customers are saying about your business and better manage brand perception.
Some of the features include:
Content Discovery — to see what's trending now and find new content ideas.
Content Research — to dig into previously-popular topics and see what your customers are talking about most frequently.
Find Influencers — to find the right influencers to promote and represent your brand.
Monitoring — to monitor trending topics and brand mentions, and keep tabs on what interests you most.
Plans & Pricing:
Buzzsumo offers a 30-day trial and a free plan with limited access. Paid packages range in price from $99 to $299 per month. You can learn more here.
3. Hootsuite — Best market research tool for social media monitoring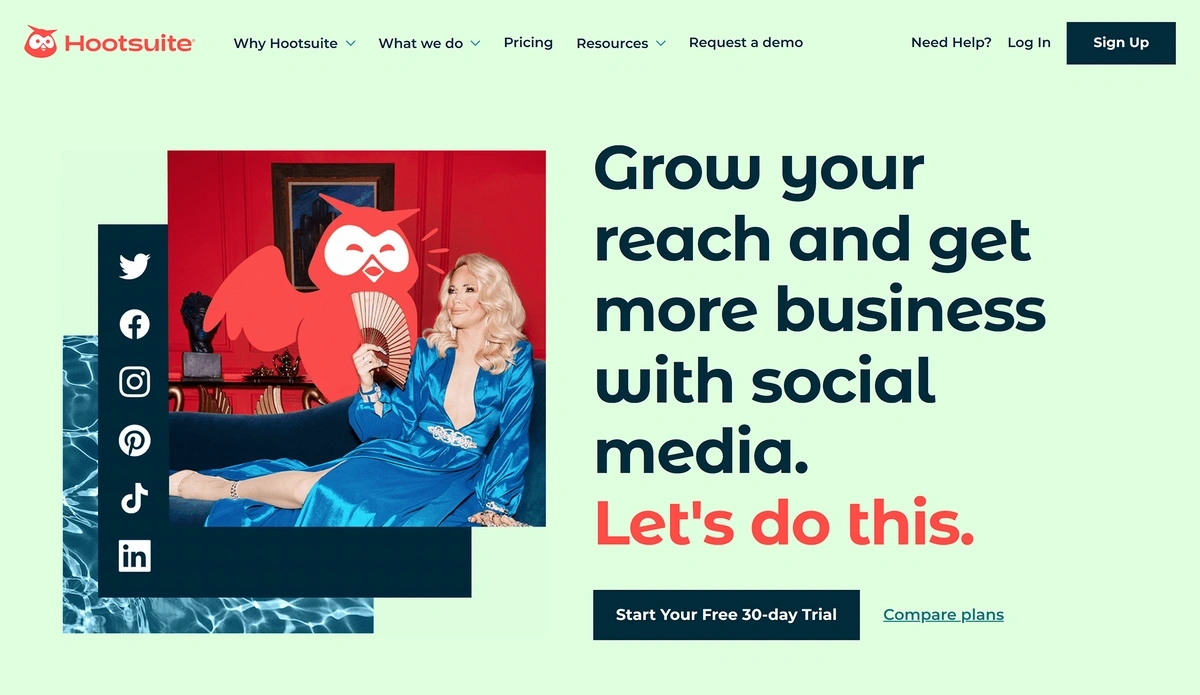 Hootsuite is a helpful market research tool to plan, create, and schedule social media posts and blog content — so you can use Buzzsumo to brainstorm ideas and Hootsuite to execute them. Hootsuite and Buzzsumo have some overlapping functionality (for example, both sites offer online monitoring), but you can use them in tandem.
Hootsuite is especially helpful if you manage social media and content marketing for more than one brand, or you simply have a high volume of postings to keep track of — you can "set it and forget it." The platform also has features to plan PPC campaigns and track the success of your content, on both the paid and organic side.
Hootsuite's features let you:
Plan, publish, and schedule content.
Plan and manage paid ads.
Manage and respond to incoming messages from your website and social media channels.
Monitor social listings and keep up with trending topics.
Track and report on the success of your social media and blog content.
Plans & Pricing:
Hootsuite offers a 30-day free trial and has a variety of packages, including custom plans for enterprise businesses. Pricing starts at $49 per month. Learn more here.
4. Semrush — Best market research for keyword research & SEO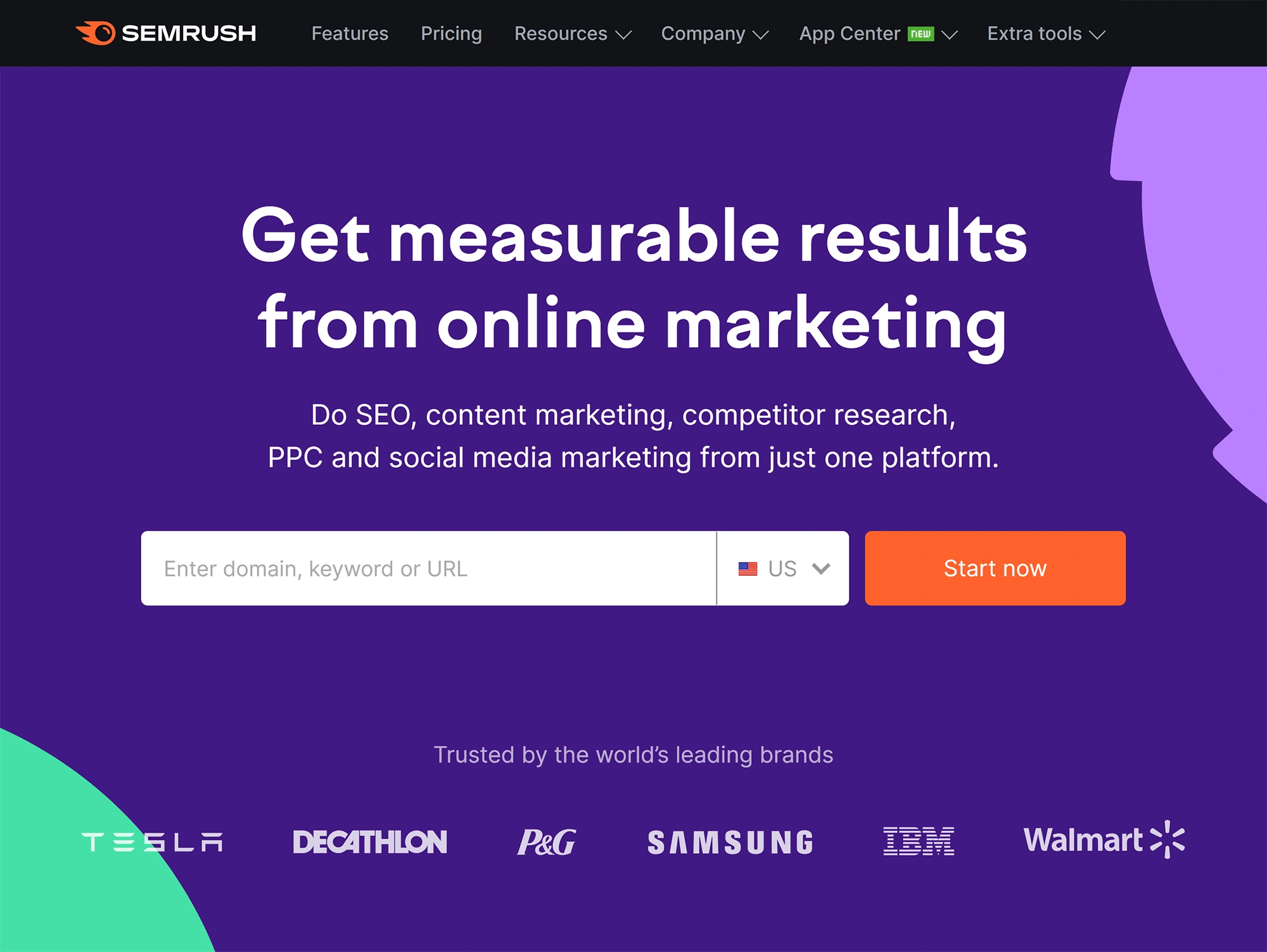 Semrush is a valuable marketing tool for SEOs, content marketers, social media teams, and advertisers because it has a pretty heavy-duty suite of features to power keyword research, optimize website content, track website performance, and keep tabs on competitors.
First, it's one of the best sites for keyword research because you can explore search engine activity to see popular keywords (and keyword volume). You can look at what your target audiences are searching to jump on board what's trending, find "evergreen" content ideas, and plan paid ads.
Then, it has tools so you can check out what's happening on the back-end of your website: run technical SEO audits, see where web pages rank for certain keywords, analyze backlinks, and monitor the overall "health" of your website.
Semrush has dozens of tools depending on the research you want to do — these include:
Keyword research tools
On-page SEO tools
Competitor analysis tools
Link building tools
Rank tracker
PPC keyword research tools
Plans & Pricing:
Semrush offers a variety of plans, all tailored to different end users and their research goals. The most basic plan includes just SEO, social, and PPC tools and costs $119.95 per month. The Guru and Business plans give you access to more features, and they range in price from $229.95 to $449.95 per month. You can see the options here.
5. SurveyMonkey — Best market research tool for direct customer feedback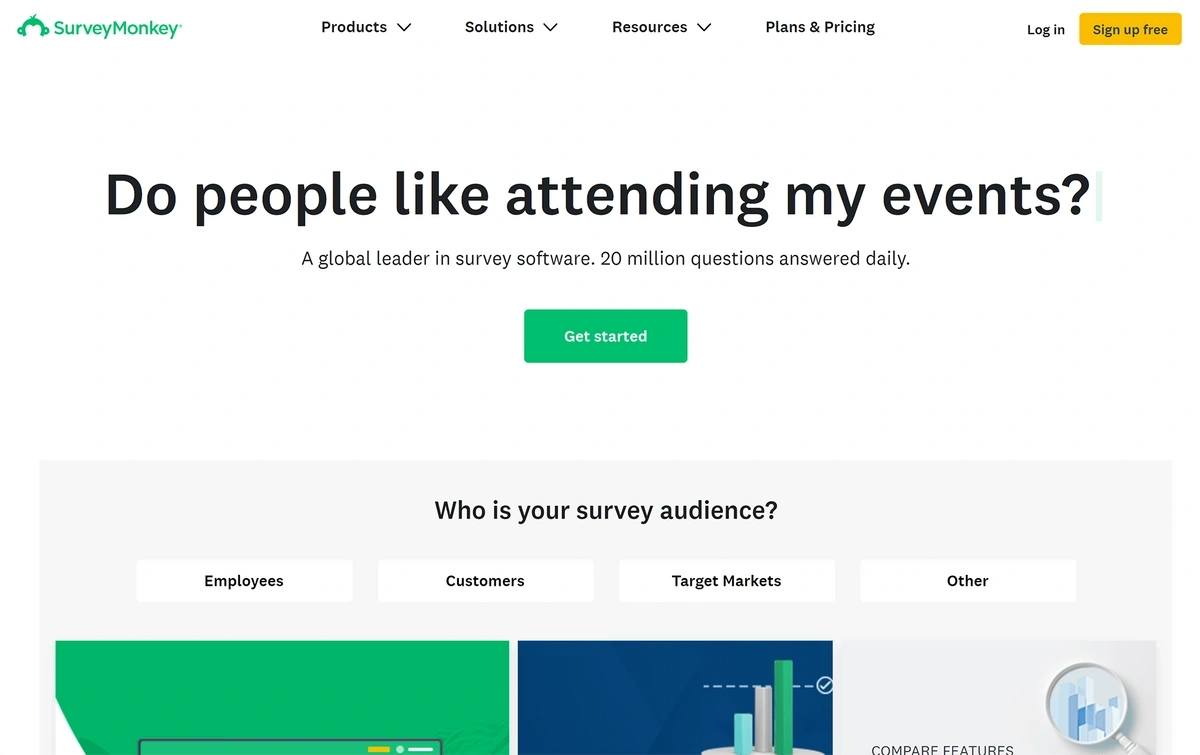 SurveyMonkey is a popular site to create and distribute online surveys, and report on feedback — so you can easily gather valuable insights straight from your target audiences. They provide questionnaire templates and tools to brainstorm what questions to ask. Then, they offer collaborative services to help you analyze and interpret feedback from your respondents.
SurveyMonkey offers a great way to conduct qualitative research within your own customer base. But they're an especially helpful resource for teams without any experience in this type of market research because they have extras to help you craft effective surveys and collect consumer insights.
Some of the features include:
Survey templates (for a wide variety of survey types and research goals).
Customization options, to add branding elements like logos, fonts, and colors to surveys.
"Different question types," to provide guidance and insights on the types of questions to ask.
Collaborative services, to aid in feedback analysis.
Plans & Pricing:
You can access some of SurveyMonkey's tools for free, but they offer a variety of packages for teams, individuals, and enterprise businesses. Business users can contact them for a custom quote, or you can check out the paid plans here.
6. Make My Persona — Best market research tool to create buyer personas & understand target audiences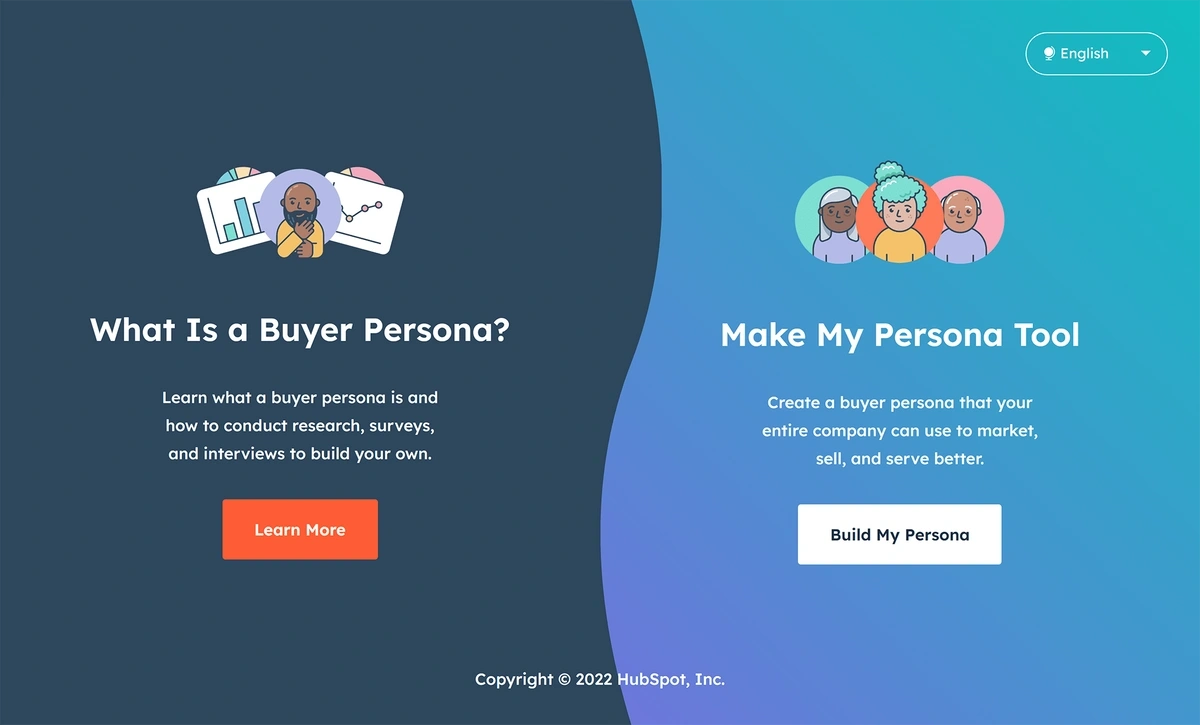 Make My Persona (powered by HubSpot) is a buyer persona generator that lets you compile demographic information to learn more about target audiences. The platform is pretty user-friendly — they even offer a whole course so you can learn more about buyer personas and the benefits of doing this research.
The platform has intuitive features to conduct research surveys and draft productive interview questions. But it also shows you how to work with the customer information you already have. For example, you can compile data like customer age, highest level of education, job titles and responsibilities, social media handles, preferred contact methods, etc. to understand who your customers are, what pains they have, and more.
When you enter the site, it walks you through each step of the journey, from gathering data to interpreting findings. And the best part of HubSpot's tool is that it's entirely free.
7. Tableau — Best market research tool for data analysis & visualization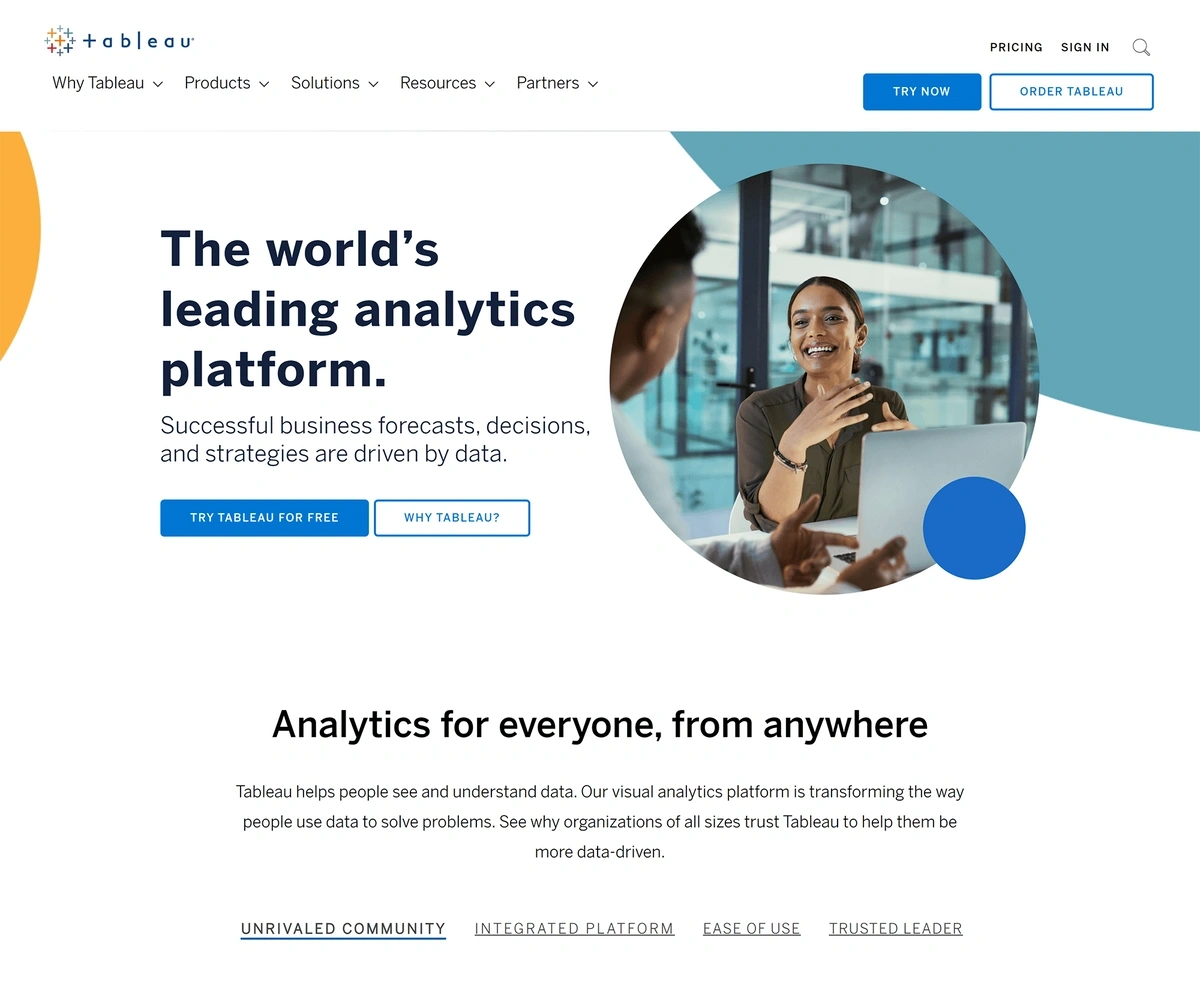 Tableau is a great market research tool for data analysis and visualization, and they have several business intelligence applications, depending on the type of in-depth analysis you need.
The platform can be a little complex at first, but you can ask for help from their team or watch some of the available webinars to learn the ins and outs. But the concept is simple: you connect all of the data sources you want to pull from and analyze, then Tableau AI extracts data and compiles it into intelligible reports. You can look at and graph data out data in different ways, and the platform will even refine data for you based on research goals. Then you can create and save research dashboards to monitor insights and forecast future developments.
Plans & Pricing:
You can download a free trial of Tableau to demo some of the features and see if they're a good complement to your tech stack. You can also start in one of the paid packages, ranging in price from $5 to $70 per month. Learn more here.
8. Loop11 — Best market research tool for website usability (UX) testing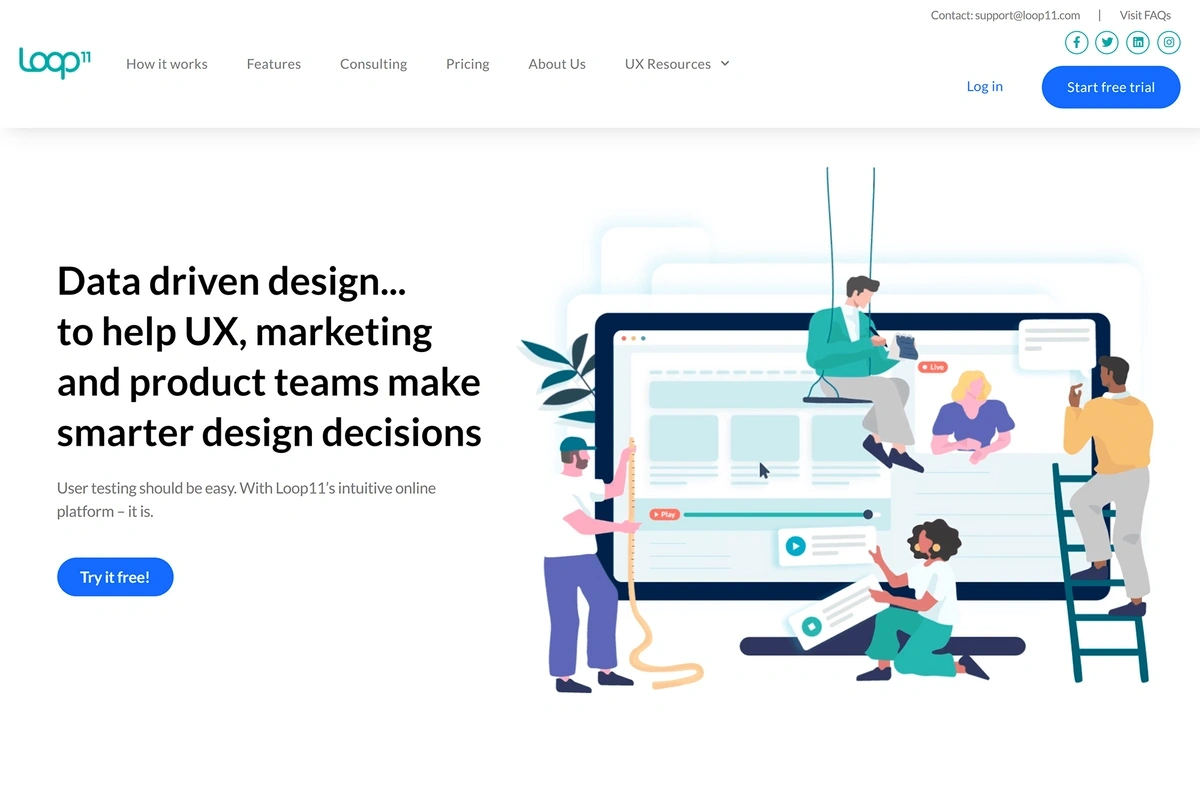 Loop11 is a great tool to check your website's usability and pinpoint ways to optimize your site and improve the user experience (and increase conversions). And you don't need any dev experience to use it! The process is simple:
Enter your website and project details.
Set up "tasks" you want participants to complete — for example, navigate to a trial sign-up page or add an item to the cart.
Choose the device(s) you want to conduct usability tests across.
Add participants (from your own customer base or select target audiences from Loop11's user groups).
Kick off testing and review results.
Loop11 provides detailed reports on the outcome of each test — you can look at things like task completion rates (and time spent on tasks) and heat maps — but you can also request video and screen recordings to get more detailed feedback from participants.
Some features include:
Online usability testing
Mobile and tablet testing
Prototype testing
Benchmarking
A/B usability testing
Search engine findability
Plans & Pricing:
Loop11 offers a 14-day free trial to get you started with the platform. Then paid packages range in price from $199 to $599 per month. You can learn more here.
9. Statista — Best market research hub to access reports & statistics for a variety of topics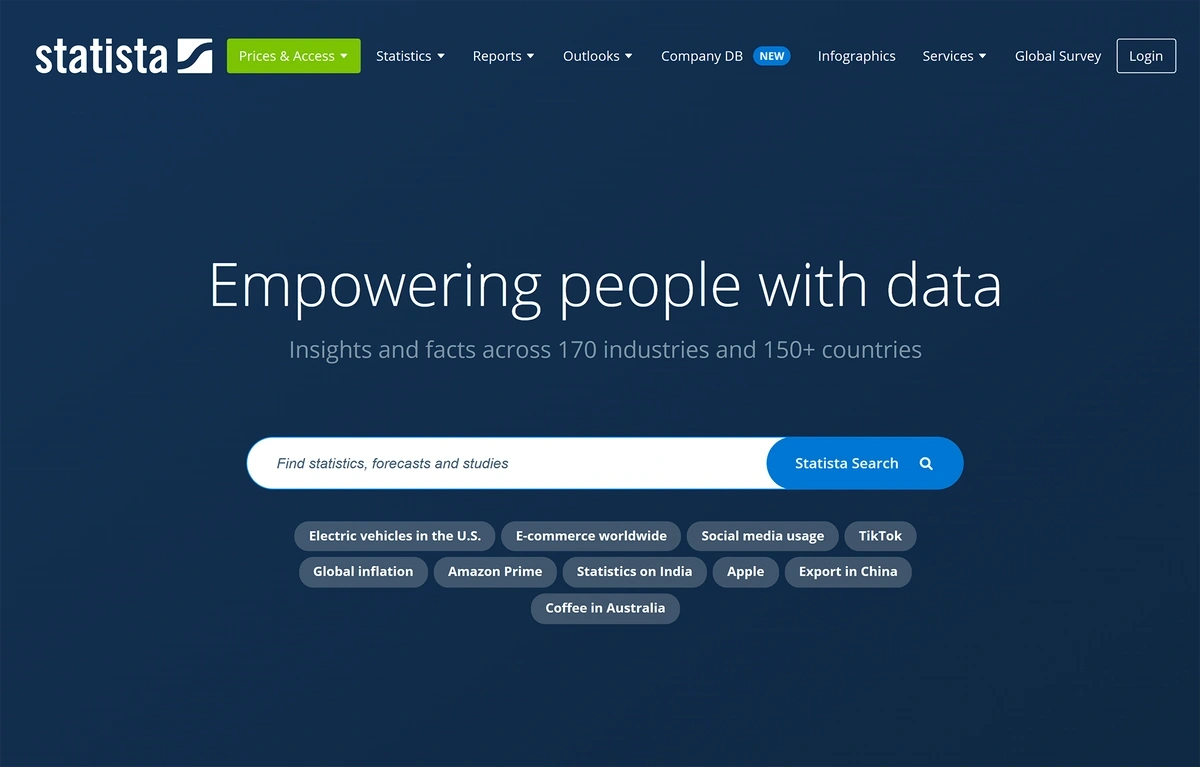 Statista is an online research portal to find statistics on just about any topic. You can find research reports on a wide range of topics — for example, recent reports cover smartphone app market share and annual oil prices.
Statista's market insights span across industries like Consumer Goods & FMCG, Media & Advertising, Retail & Trade, Transportation & Logistics, Travel & Hospitality, and more. They report on both current events and "market outlooks" so you can understand what's happening now and plan for the future.
In addition to the free report available on the website, Statista also offers custom market research services so they can learn more about your goals and conduct targeted research to help you gather valuable insights.
Plans & Pricing:
Statistia offers plans for individuals, businesses, and academic institutions — you can access all of the reports on their site for free, and paid plans range in price from $39 to $785 per year. If you're interested in custom market research, you can contact them for a free quote. Learn more here.
10. Gartner — Best market research agency for consulting and personalized solutions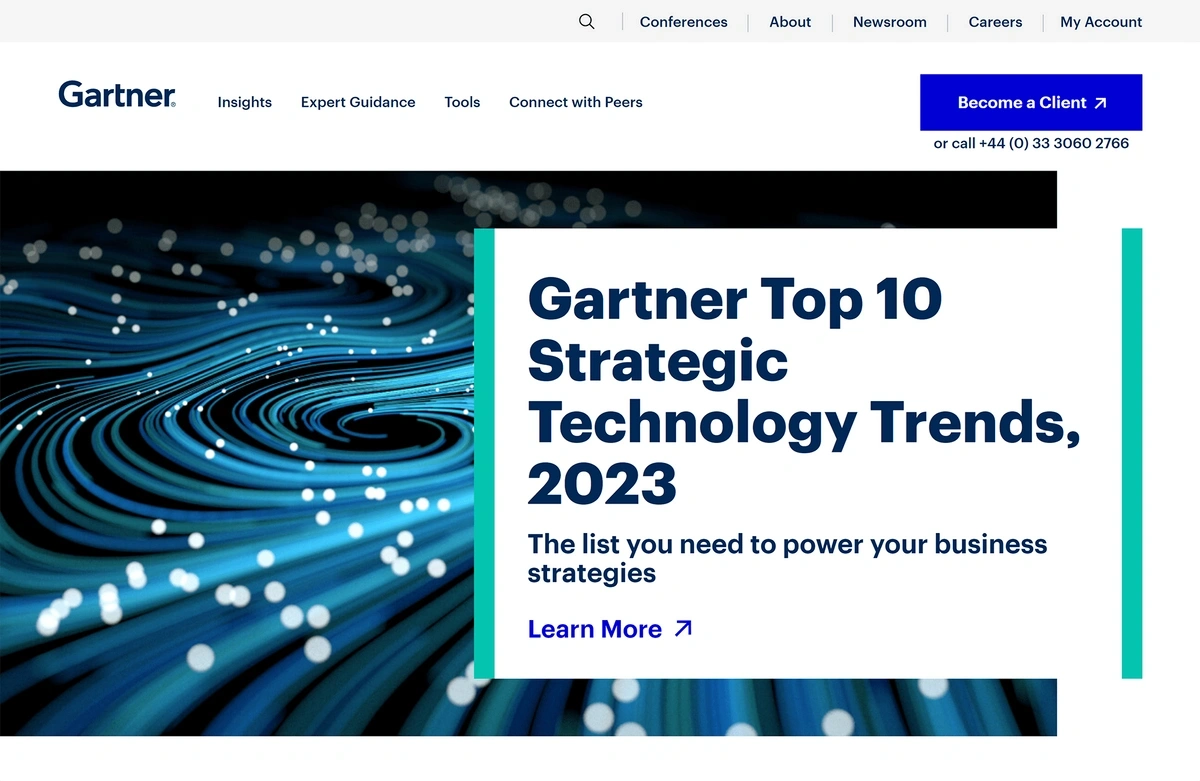 The last option on our list is not necessarily a market research site, but rather, a market research agency that you can hire to do personalized research based on your business goals (though they have some free resources available on their site). These types of services are often reserved for enterprise or global businesses that have the budget to outsource market research, but if you don't have the bandwidth to tackle this research in-house, you might find the investment worth it.
If you're interested in hiring a market research agency, you can contact Gartner to discuss your goals, receive a custom quote, and gameplan next steps.
Honorable Mentions & Free Market Research Sites
Some of the tools we mentioned above (like Make My Persona) are available for free or offer free trials to demo their software. But we wanted to mention a few other free tools in case you're working with a tight budget:
Google Apps — Google offers a handful of free tools to conduct market research:

Google Trends lets you search trending topics to look at keyword search volume and related opportunities. (You can also read our post on Google Trends alternatives here.)
Think With Google shows you popular topics so you can plan your digital marketing strategy and come up with new content ideas around what's currently trending.
Google Analytics lets you dig into website traffic (so you can see where users are coming from, which pages they're finding, and how long they stay on your site) and measure website conversions.

Facebook Page Insights — You can use Facebook analytics to measure engagement with your Facebook page. See how often you're being found and look at what users are doing once they reach you.
Living Facts — Part of Pew Research Center, this site pulls data from PRC, American Trends Panel, U.S. Census Bureau, and other market research resources so you can access insights all in one place. They provide reports on a variety of topics, and the entire site is free to use.
Customer review sites — Last but not least, customer review sites provide valuable insights on what your customers like and don't like about specific brands and products. Reading through reviews can be time-consuming, but it provides direct feedback from customers that you can use in your business strategy.
Exploding Topics is the best site to research early market and industry trends — you can explore trends across dozens of categories, analyze trend data, and track trends in a private dashboard. Start a Pro Trial to demo our platform and see if we're the right market research solution for your business.
Related Read: List of Alternative Data Providers: 7 Unique Options (2022 Guide)