Market Trends Website to Discover & Track New Trends
Exploding Topics offers one of the easiest websites to learn about and track new market trends because there's no in-depth digging or market research on your end — our unique algorithm is able to detect trends super early on, so we can show you new products and technologies that are soon to be relevant, the fastest-growing startups to invest in, and other up-and-coming opportunities in your space.
We update the database daily so you're always viewing the most current trend information when you log in to our site. Here's how it works:
Our analysts compile vetted trends into a searchable database so you can click your category and instantly see dozens of new trends in your industry.
We pull and display important trend details (e.g., searches per month) so you can analyze trend data and compare across different time periods.
You can save and monitor trends in a private dashboard and set alerts for important trend updates.
In this post, we explain how to use the Exploding Topics trend forecasting platform to find and track new market trends.
Start a Pro Trial for $1 to access the Exploding Topics trend database (with 11,000+ trends spanning dozens of industries) and demo our trend discovery and tracking features.
Find New Trends in the Exploding Topics Database
You can find all of our vetted market trends from the Exploding Topics Database — this is where all trends are displayed and organized by category. For example, you can see beauty and fashion trends, health trends, digital marketing trends, eCommerce trends, media trends, eco trends, new products and software, new trends in tech, and more.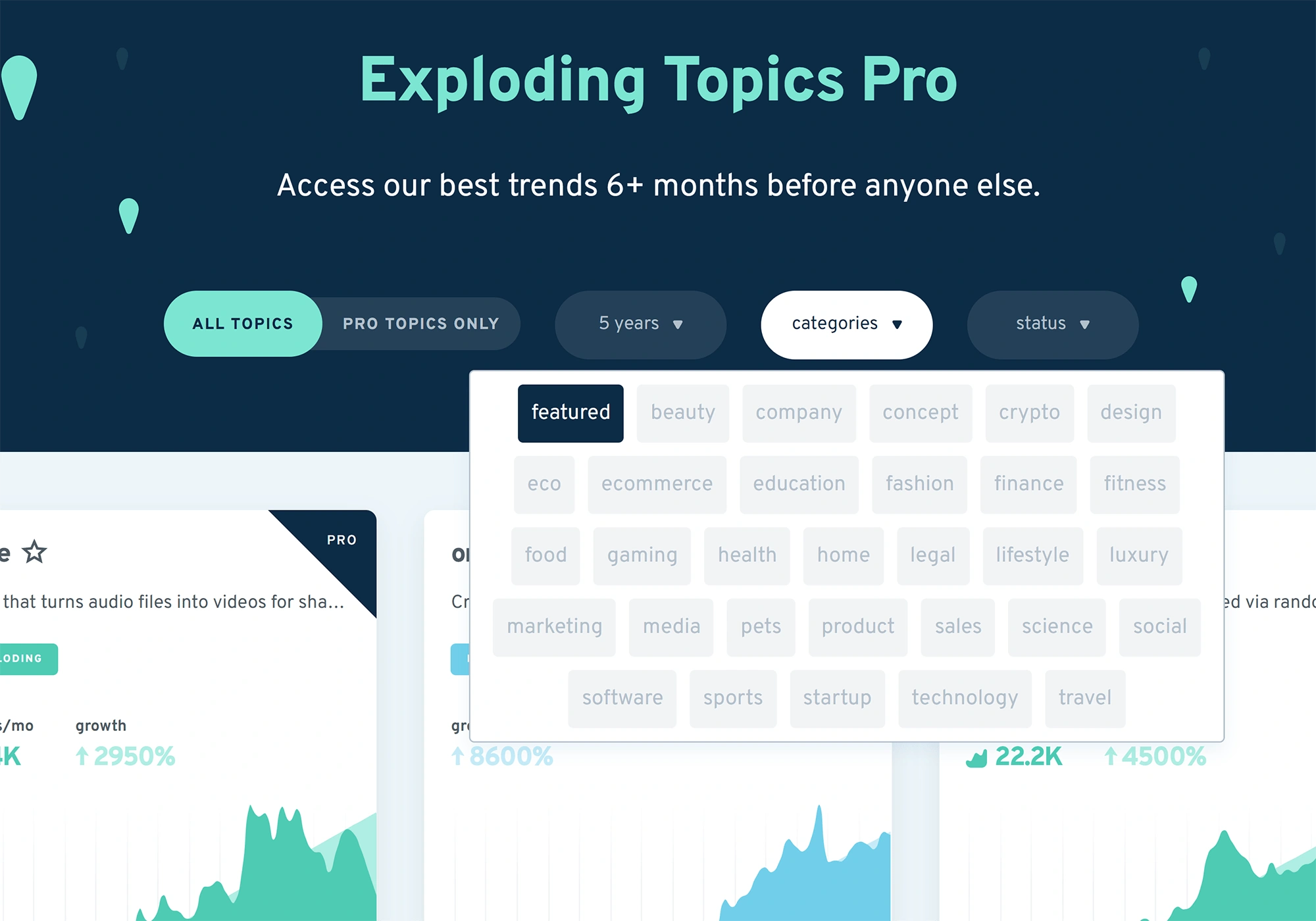 You can also filter industry trends by recentness and popularity.
The "date" dropdown lets you view the absolute newest trends vs. long-standing trends; we store historical trend data going as far back as 15 years. For example, if we zoom out and look at health trends that have shown steady growth over the past decade, we see things like almond milk, mushroom powder, and vitamin C serum.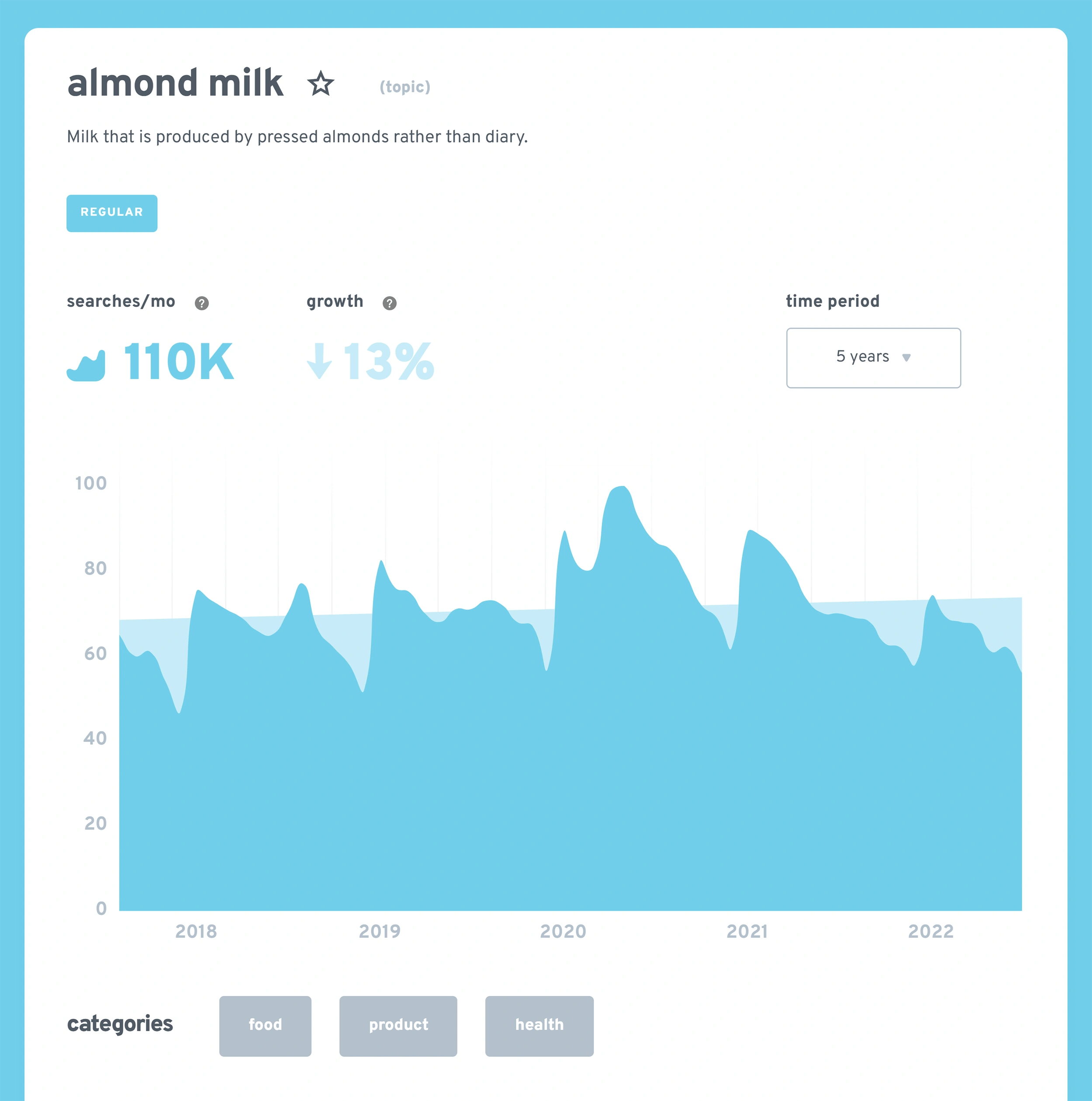 But if we filter to just the health trends that have started gaining traction in the last month, we see SuperMush (a startup creating an innovative mushroom mouth spray), DripDrop (a new type of Pedialyte drink for adults), and products like probiotic soda.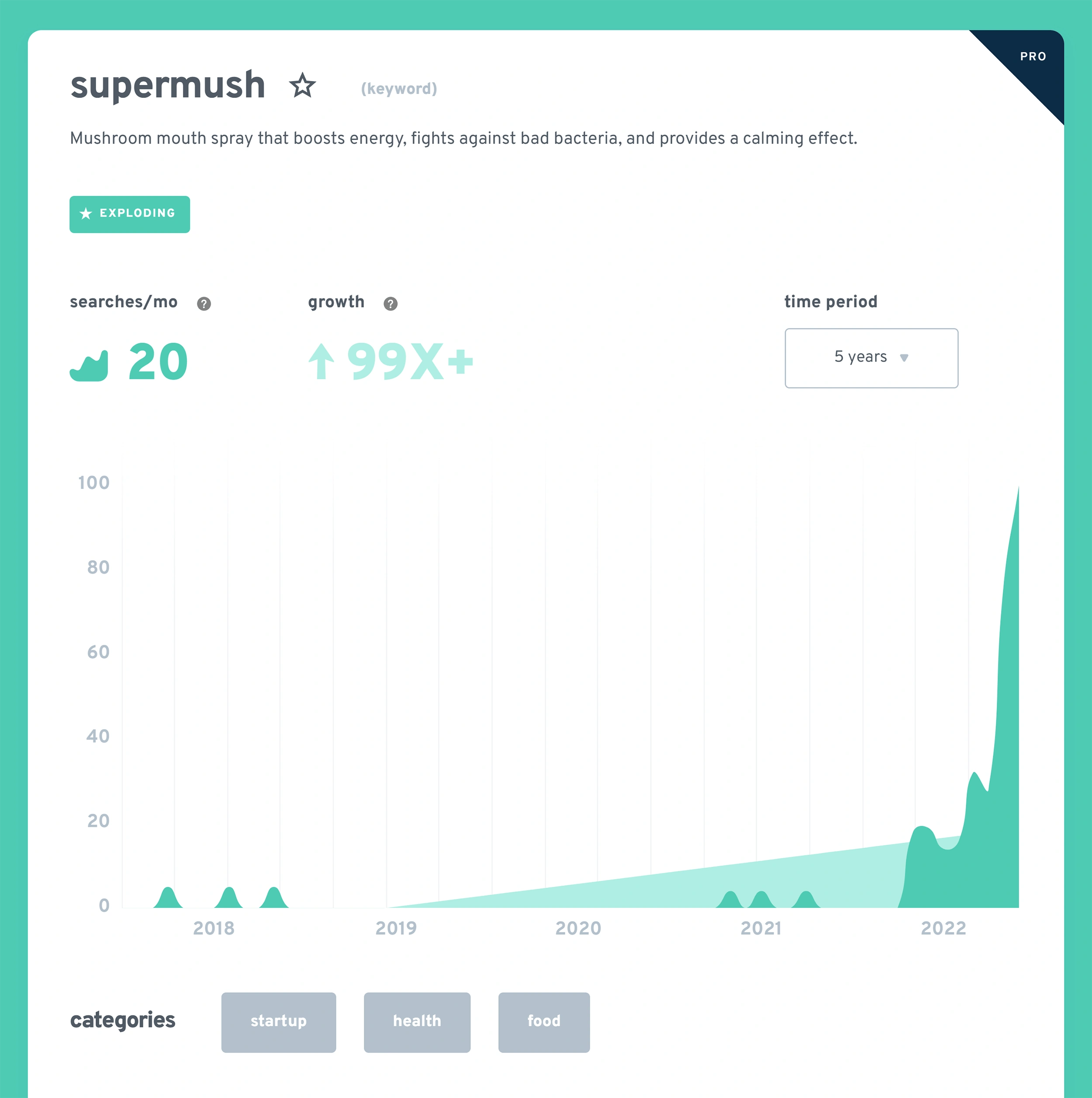 Note: Notice the SuperMush trend shows a Pro banner — that is because Pro users have access to new trends six months before they're available on our public database. You can view some of the trends on our website without a subscription, but a Pro subscription lets you learn about the newest trends as soon as they hit our platform.
Next, the "status" dropdown lets you segment trends by their current popularity. There are three buckets:
Regular: These are starting to gain traction but are still very early trends — plenty of new opportunities here.
Exploding: These are currently taking off or trending, but still growing (and showing future growth potential).
Peaked: These already soared in popularity and aren't as hot of topics anymore, but they're still relevant.
So if you wanted to see emerging software trends, you could select "software" from the category dropdown and change the status to "Regular."
When you spot a trend you're interested in, you can 1) open the overview window to view more detailed trend information, and 2) click the star to save and track the trend in your dashboard.
We show you important trend data, including the number of searches (you can adjust the timeline to view trend searches over days, months, or years) and growth rate. These trend metrics let you see past popularity, understand the current relevancy, and forecast future interest, so you can track, measure, and benchmark trend growth.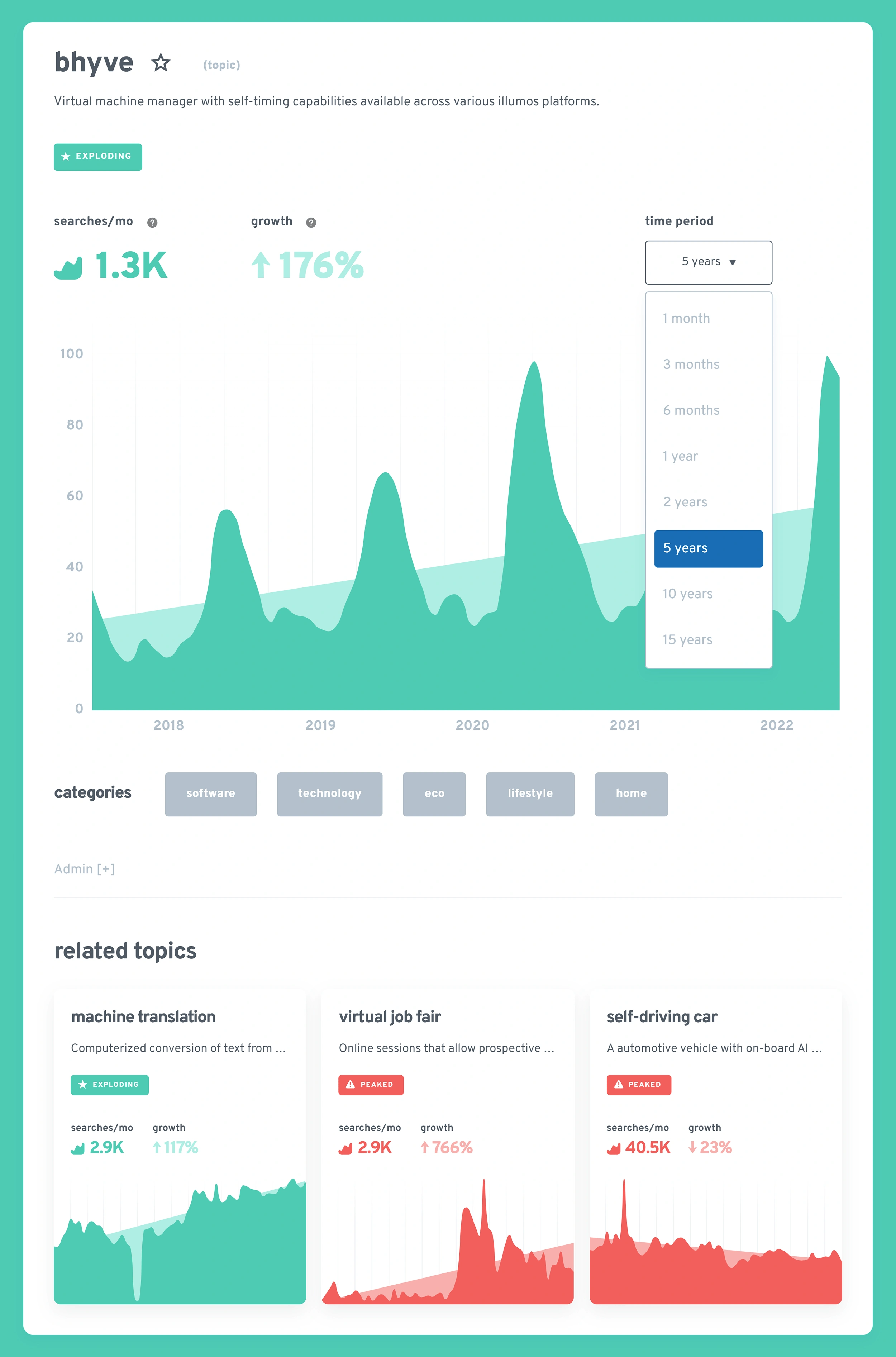 We also show you related trends as you browse so you can easily see other trends in your topic of interest and save them to your dashboard (more on tracking later).
And this is what makes us so different from other "trend research" tools, like Google Trends: We show you trends based on your category and interests — you don't have to find and vet them yourself or know exactly where to start your search. Plus, our platform has simple navigation and intuitive features, so anybody can learn how to use it and strategically leverage trend data to guide investing opportunities, refine marketing strategies, update products, improve user experiences, and make other business decisions.
A Note On Our Methodology
So how do we research and identify market trends? Or make sure there's potential for continued interest in new trends? It's a combination of our proprietary algorithm and human curation process.
Our algorithm is constantly monitoring:
Online sources like search engines, news publications, and forum sites.
Mentions on social media platforms like Facebook, TikTok, and LinkedIn.
Streaming sites, podcasts, YouTube, and other media outlets.
Shopper patterns on eCommerce platforms like Amazon.
And more.
It looks for patterns and behaviors that point to early signs of new trends — sometimes pulling hundreds of potential opportunities in a single day. So that's where our analysts come into the picture.
Our team reviews every new trend and weeds out anything that could be considered a "fad" — in other words, trends that will only be relevant for a short time. This way, every trend that makes it to our database shows signs of long-term growth.
For example, information on a new type of technology (like 5G) would pass our analysts' review. But we'd weed out information on topics like new smartphone updates or upcoming events (like Apple's iPhone updates or yearly developer conferences) because people will only be talking about those things for a couple of weeks (until the next update, or the next conference).
We tackle two big aspects of market research — spotting new trends and analyzing the long-term viability — to simplify trend discovery for all teams and professionals who want to follow market trends. All you have to do is log in to our site, see what's new, and add trends to your dashboard to track them.
Explore More Opportunities With Trend Discovery Features
In addition to our database, we provide extra features to support other methods of trend discovery and keep you in the loop about new opportunities. These include:
A search feature where you can look up trends you've already heard about, see all related trends, and add trends to your dashboard.

A meta trends library where you can view collections of trends by topic — for example, "workflow automation software" or "visual collaboration tools." So instead of starting your search from the database and choosing a category, you could start your search from the meta trends tab, click on a topic that you're interested in, read some quick background info, and view all of the trends that tie back to the parent topic.

Weekly trend newsletters with updates about the newest and most popular trends on our database. Each report covers 10 new trends, including all pertinent trend details, and we report on a variety of industries so you can get a broad look at what's to come. We send these trend reports to your email at the start of each week, but we also save them in the Exploding Topics reports library so you can easily find and access previous reports.
Track Trends in a Private Dashboard
You can save and monitor the trends you're interested in from the Exploding Topics dashboard. Just "star" the trends you want to save and they'll automatically appear in your dashboard for quick reference later.
You can also organize trends into projects if you are tracking trends across multiple topics or categories. For example, think about an eCommerce mattress brand that sells bedding and "better sleep" gadgets like wearable sleep trackers. They could create dedicated projects to track new sleep technologies and products, interest in other mattress brands, and other relevant health and lifestyle topics.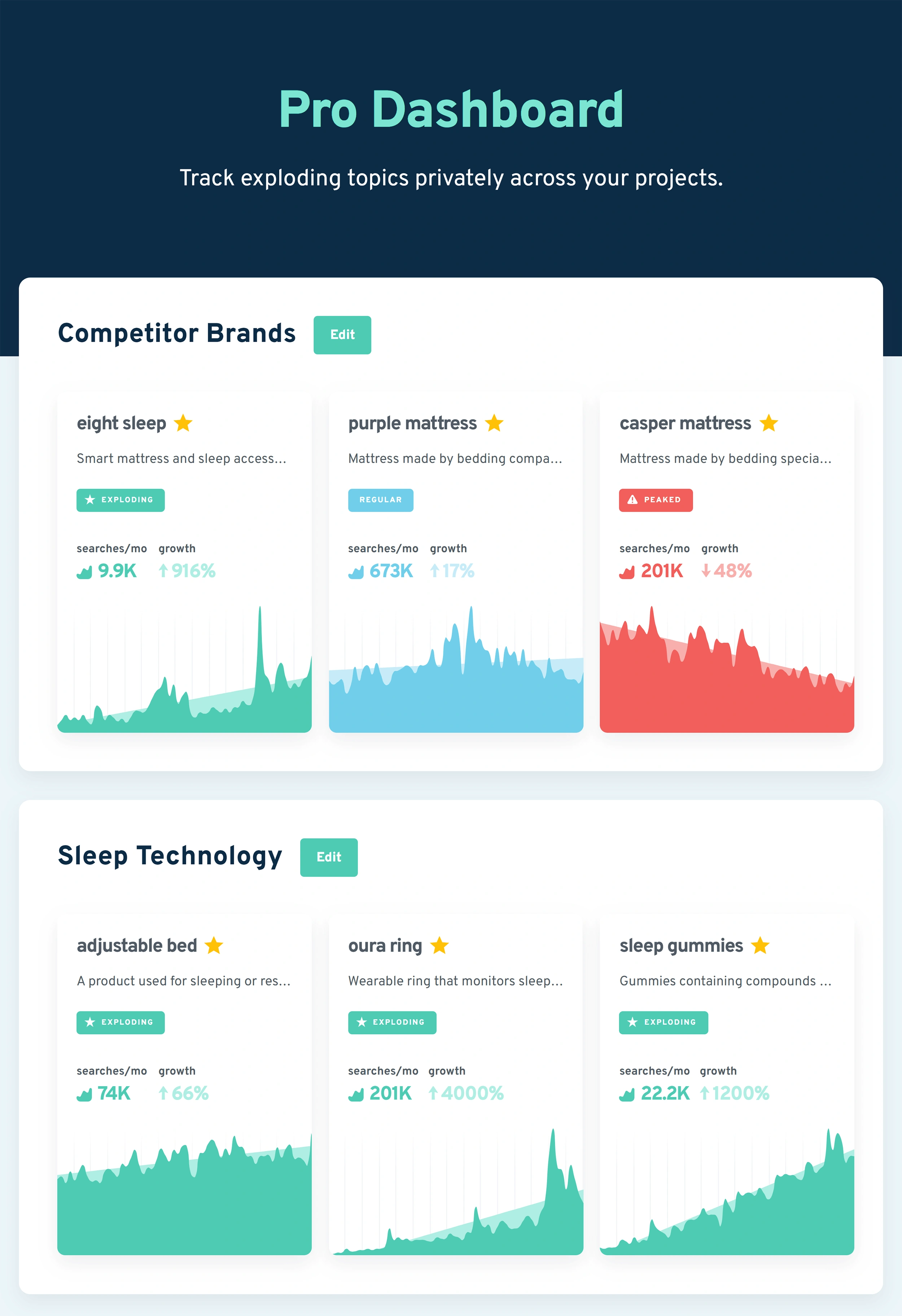 Then, product designers could leverage that data to expand their inventory and modernize existing products, while marketing teams could use it to plan new content marketing ideas and improve online advertising like PPC campaigns to better attract target audiences.
Below your saved projects, we display related topics and meta trends so you can see other trends in your category. Then you can quickly save those to your dashboard, too.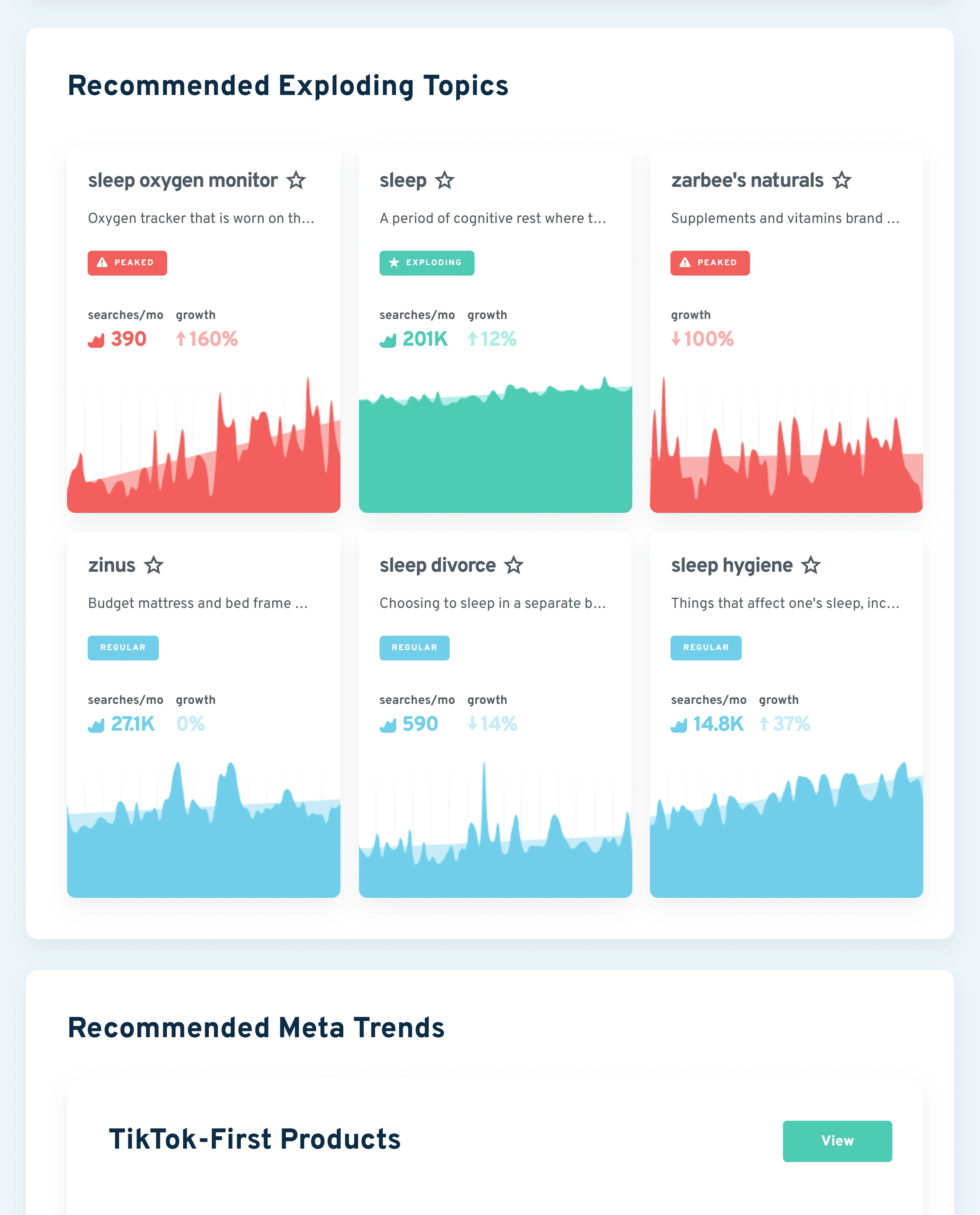 Projects are completely customizable: you can change the name and add or remove trends. We don't put limits on how many trends you can track or projects you can create.
You can access your dashboard and pull current trend information any time you want to check on data — our platform is entirely self-service so you don't have to wait on updates from our team. We also offer a feature to set real-time email alerts for trend updates so you're instantly notified of any significant changes in trend activity.
Exploding Topics also has a native API so you can integrate our trend tracking dashboard with other software in your workflows — for example, another business reporting software or data visualization tool. Then, you can consolidate that information in other reports and reference Exploding Topics data from outside platforms.
Start an Exploding Topics Pro Trial for $1
The Exploding Topics platform makes trend discovery and tracking easy by doing time-consuming research for you. You can see all of the newest market trends in our database, search trends by category, and track everything you're interested in one central hub — all with a few clicks.
You can test our trend database on our website for free — we even offer a free version of our trend newsletters so you can preview those before subscribing — but our Pro subscription gives you access to:
The entire trend database (so you can learn about new trends six months before they're available on our free platform).
Our trend search feature, meta trends library, and weekly trend reports to dig deeper and find related opportunities.
The trend tracking dashboard so you can monitor and report on trend performance.
Start an Exploding Topics Pro trial for $1 to learn more about pricing and see if we're the right solution for your business needs.