31+ Marketing Automation Statistics & Trends (2023)
Marketers have a lot on their plates. Between planning, launching, monitoring, and reporting on marketing campaigns, there's never enough time in the day. That's where marketing automation comes in.
Marketers can use automation tools to offload busy work, which lets them focus on ramping up their marketing ROI. How big is the marketing automation industry, and how are marketing professionals using automation tools to get an edge? Read on to discover the latest marketing automation stats and trends.
Top Marketing Automation Statistics
Before you get too deep into the stats, take a look at some of the more eye-opening marketing automation stats:
The global marketing automation market is projected to reach $13.71 billion by 2030.
76% of companies use marketing automation.
10% of customer journeys are fully automated.
91% of marketers say marketing automation helps them achieve their objectives.
Automated emails generate 31% of all email orders.
Marketers who use automation are 46% more likely to report having an effective marketing strategy
Ready to immerse yourself in the world of marketing automation?
Marketing Automation Industry Statistics
The marketing automation industry is mostly made up of software designed to automate certain aspects of marketing. Some software, like Hubspot and Marketo Engage, are all-encompassing. Other software solutions (like Mailchimp) focus on a single channel. Together, they comprise a high-growth market worth billions of dollars.
The global marketing automation market is projected to reach $13.71 billion by 2030 (Polaris)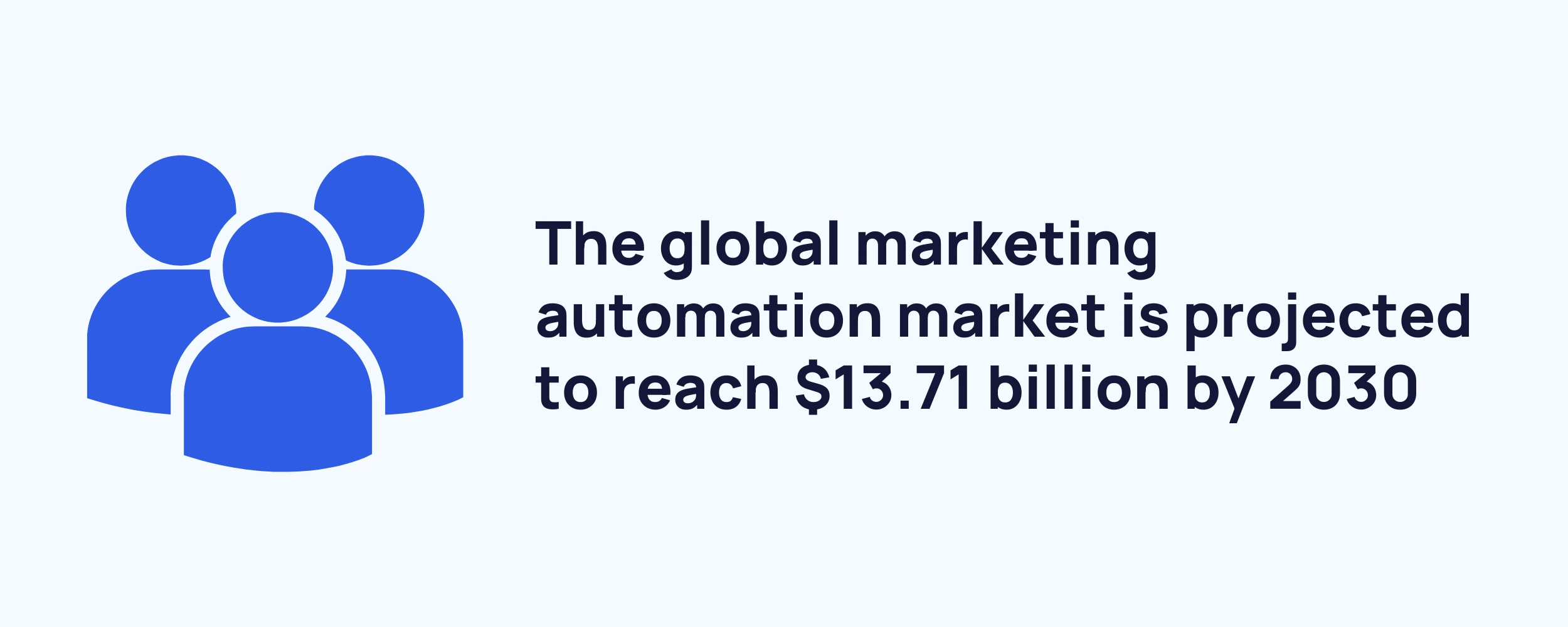 The marketing automation market was worth $4.79 billion in 2021. Experts expect its value to nearly triple to $13.71 billion by 2030. That's a 12.9% CAGR.
Hubspot leads the marketing automation software market with a 37.5% market share (Datanyze)
Software makes up the bulk of the marketing automation industry, and Hubspot has a commanding software market share. Its closest competitors are Adobe Experience Cloud (7.73%), Oracle Marketing Cloud (7.45%), Active Campaign (7.34%), and Welcome (6.85%). .
Global programmatic advertising spending is projected to reach 724.84 billion by 2026 (Statista)
Display and video ad campaigns are expensive. Programmatic advertising automates the buying and selling of digital ads, ensuring advertisers target the right demographics.
The United States and Canada make up the lion's share of programmatic ad spending at 42.3% of the global total. Asia makes up 35% while Europe accounts for 18% of global spending.
Marketing Automation Adoption Statistics
The majority of today's businesses are automating at least some aspects of their marketing efforts. Adoption may be widespread, but the degree to which companies automate varies. These stats explore how many businesses use—or plan to use—automation tools.
76% of businesses use marketing automation (Hubspot)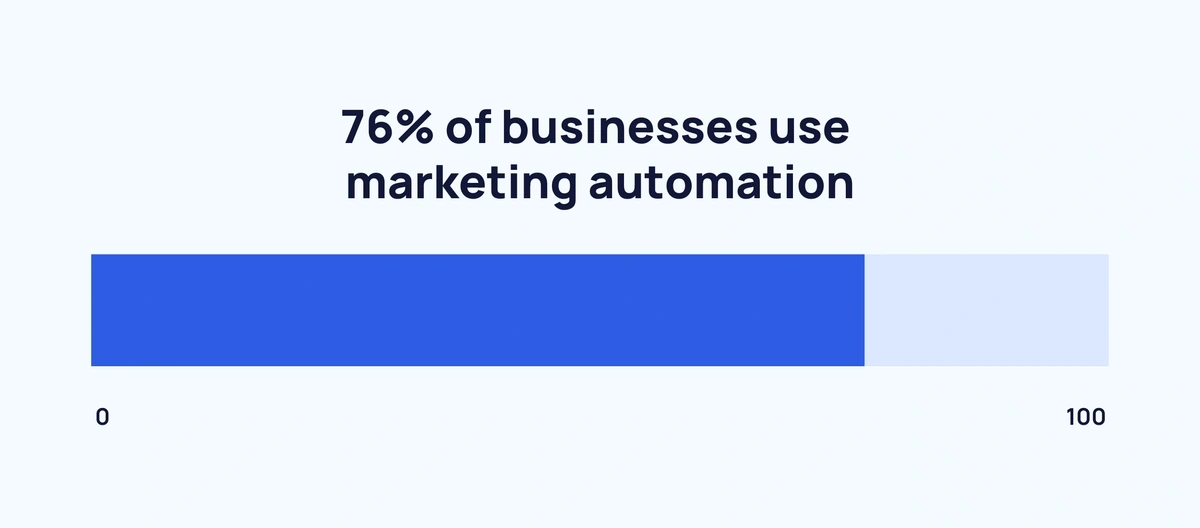 26% of companies not currently using automation plan on adopting it in the future. Marketing teams are also using automation software 76% more than sales teams and 139% more than finance teams.
10% of customer journeys are fully automated (Ascend2)
Over three-quarters of customer journeys are at least somewhat automated. 25% of marketers say their customer journeys are mostly automated, while 44% say they are partially automated. 21% of marketers say they don't use any automation at all in their customer journeys.
Using automation to optimize overall strategy is the top goal for marketers (Ascend2)
When asked what their primary marketing optimization goals were, 43% of marketers mentioned optimizing their overall strategy. Other top answers were improving data quality (37%), identifying ideal customers (34%), optimizing campaigns (31%), and improving personalization (30%).
59% of marketers foresee an increase in automation budgets in the upcoming year (Ascend2)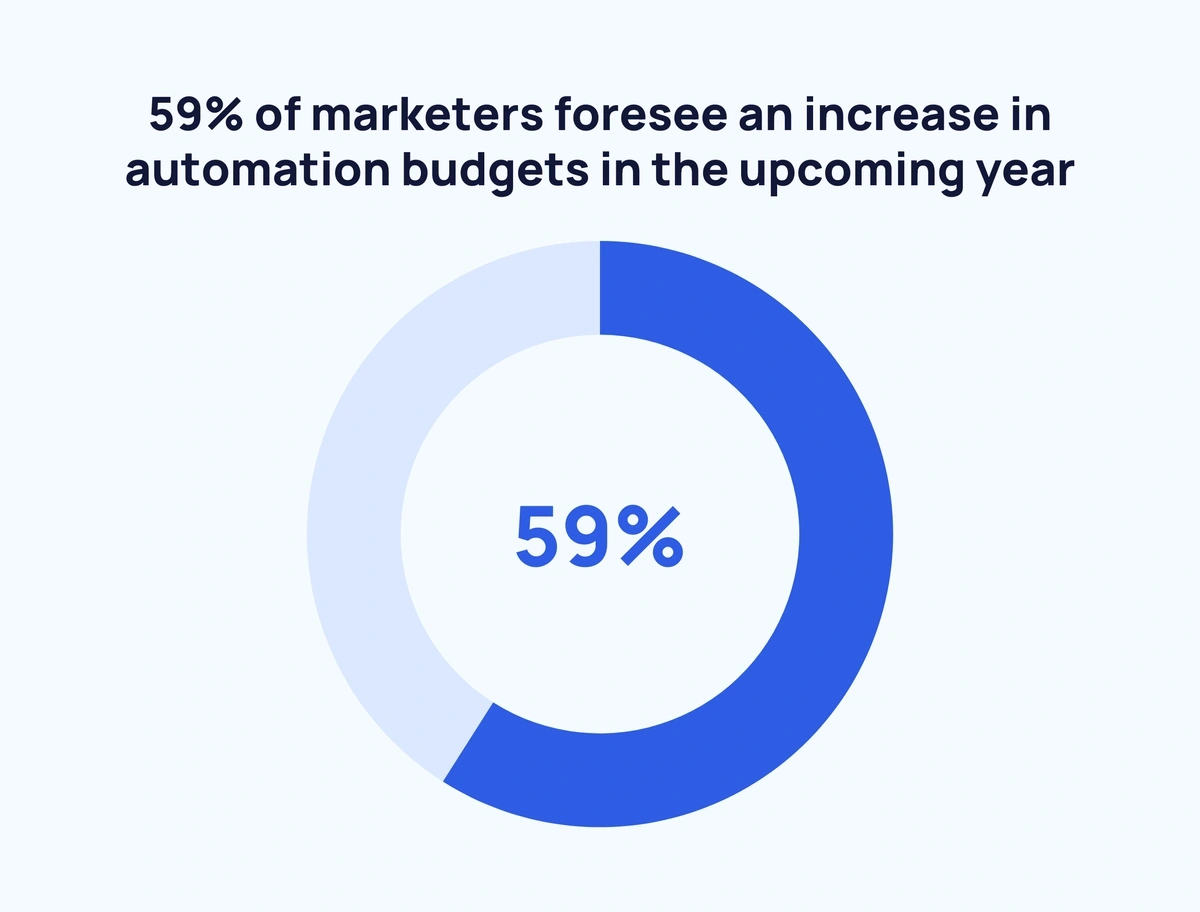 391 marketing professionals offered insights into automation budget outlooks for the upcoming year. 8% said budgets would increase significantly while 51% expected a more moderate increase. 11% of marketers say automation budgets will shrink during the next year.
91% of companies say demand for automation has increased over the past 2 years (Salesforce)
Organizations use automation across multiple departments, from research and development to sales and marketing. Marketing is in the top 4 departments in which businesses see a surge in automation demand.
Pricing is the most important factor when choosing a marketing automation tool (MarketingCharts)
ROI is king in marketing departments, so it's no surprise that 53% of marketers consider pricing a top factor when selecting a marketing automation tool. Learning curve is important, too—47% of marketers say they factor ease-of-use into their decision.
Marketing Automation Benefits
Automation software helps marketing teams become more effective in many ways. At its core, marketing automation is all about curbing inefficiencies. That allows marketers to scale their campaigns, capturing more leads and sales.
91% of marketers say marketing automation helps them achieve their objectives (Ascend2)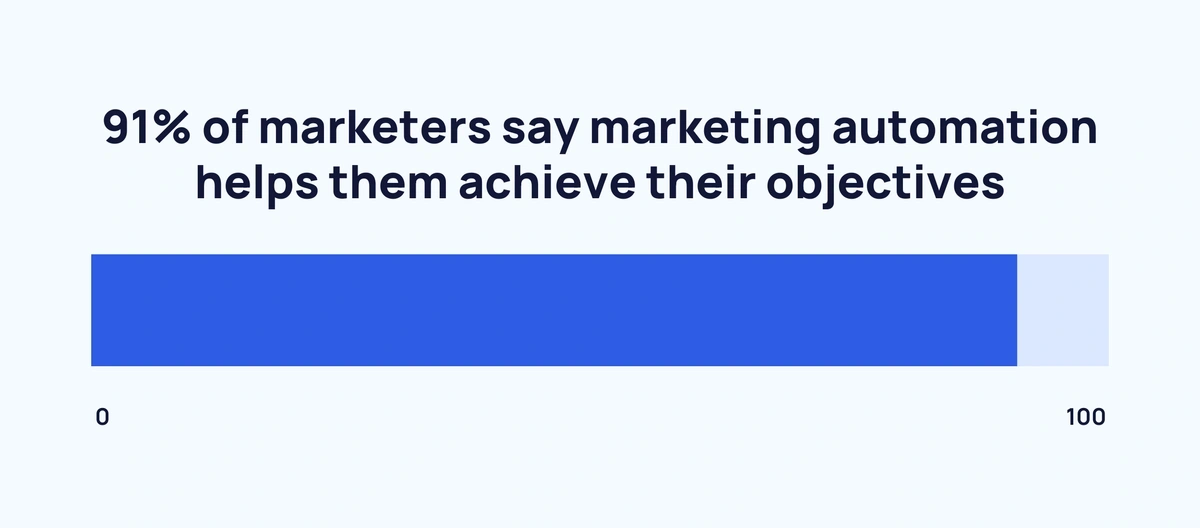 Most marketing professionals are successful in using automation tools to hit their KPIs. 25% of marketers feel that automation is very effective in helping achieve objectives, while 66% say it's somewhat effective. Only 9% of marketers report little to no success in leveraging automation.
Improved targeting is the top perceived benefit of marketing automation (Liana)
When asked to name the main benefits of marketing automation, 60% of marketing professionals mentioned improved targeting. Other significant benefits are improved efficiency and ROI (41%), improved customer experience (39%), increases in number of leads (34%), and increases in lead quality (33%).
Marketers who use automation are 46% more likely to report having an effective marketing strategy (Hubspot)
The average marketer runs 9 campaigns per quarter and spends 6 hours per day on manual tasks—many of which are administrative or repetitive in nature. Automation lets marketers offload mundane work so they can focus on hitting their goals and improving ROI.
Marketing automation improves collaboration between sales and marketing (MarketingCharts)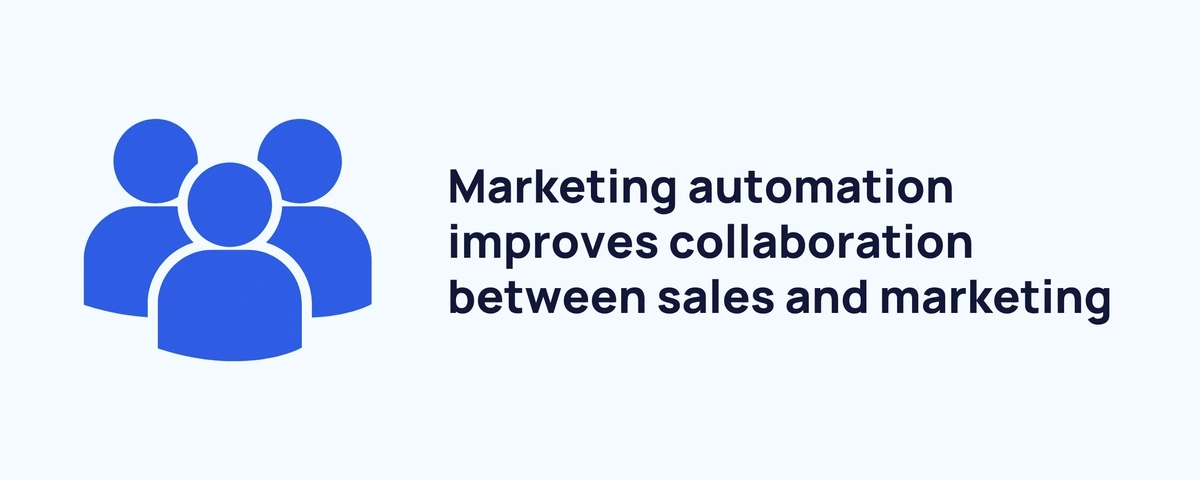 51% of CMOs say that investing in marketing automation has increased accountability across sales and marketing teams. Furthermore, 47% say automation helps move leads from marketing to sales faster.
Marketing Automation Challenges
As with any new technology, introducing automation software into established marketing workflows can be challenging. Here's how marketers are struggling to get the most out of automation software.
Insufficient training and knowledge is the biggest barrier to fully adopting marketing automation tools (MarketingCharts)
Bringing automation tools into an established marketing ecosystem can prove challenging. Knowledge around automation is the greatest barrier to adoption, with 39% of marketers reporting a lack of training or knowledge. Lack of resources, budget constraints, complicated setup, and slow onboarding processes round out the top 5.
Marketing professionals say lack of expertise is their top automation challenge (Liana)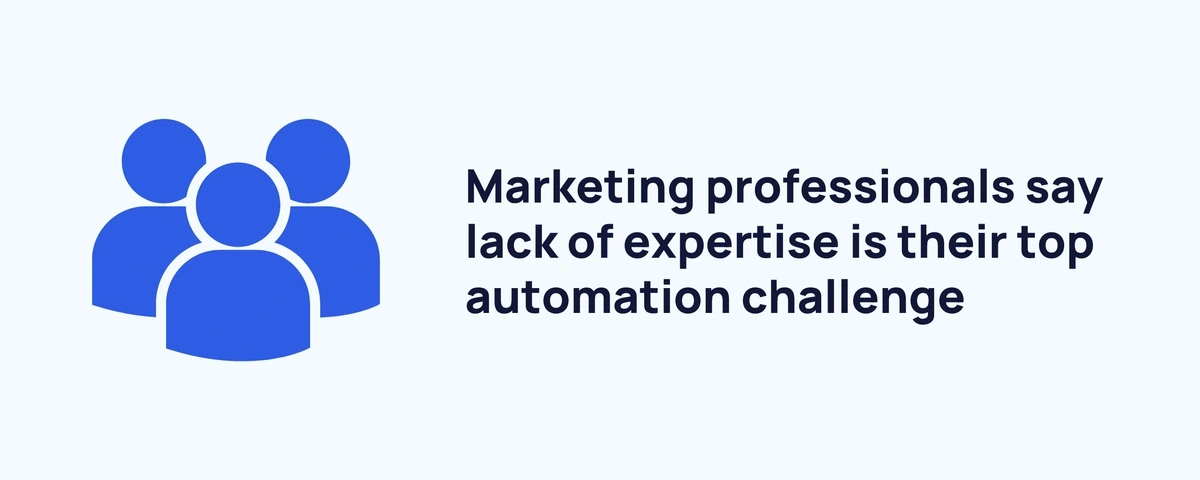 Marketing automation isn't without its challenges. 49% of marketing pros say they're held back by a lack of expertise, and 43% say their companies lack the human resources to tap automation's full potential. Other challenges include usability issues (35%), lack of strategy (31%), and insufficient customer data (28%).
Email Marketing Automation Statistics
More marketers are automating email than any other marketing channel. Marketers use automation to leverage massive email lists by sending onboarding emails, cart abandonment emails, and elaborate nurture campaigns to turn prospects into customers.
Email marketing is the most automated marketing channel (Ascend2)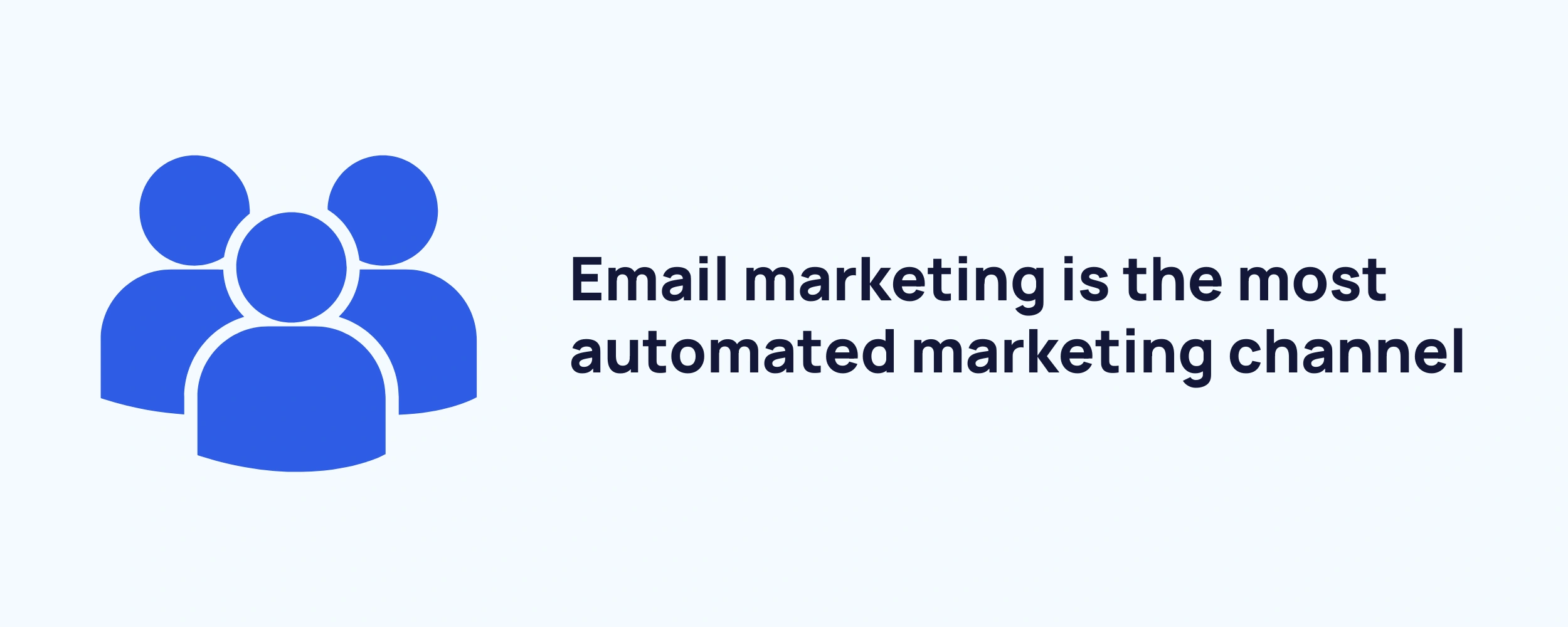 When asked which channels marketers are currently automating, 63% name email marketing—making it the most automated marketing channel. Social media management is the next highest, with 50% of marketers reporting using automation.
Beyond that, over one-quarter of marketers use automation for paid ads (40%), content management (35%), landing pages (29%), SMS marketing (28%), and campaign tracking (26%).
18% of companies use automation as their primary email marketing tactic (Hubspot)
Email marketing is always a bread-and-butter channel for marketing departments. 77% of companies report an increase in email engagements over the past 12 months. Automation plays a key role in email nurture campaigns—which can bring in an ROI of $36 for every $1 spent.
Automated emails generate 31% of all email orders (Omnisend)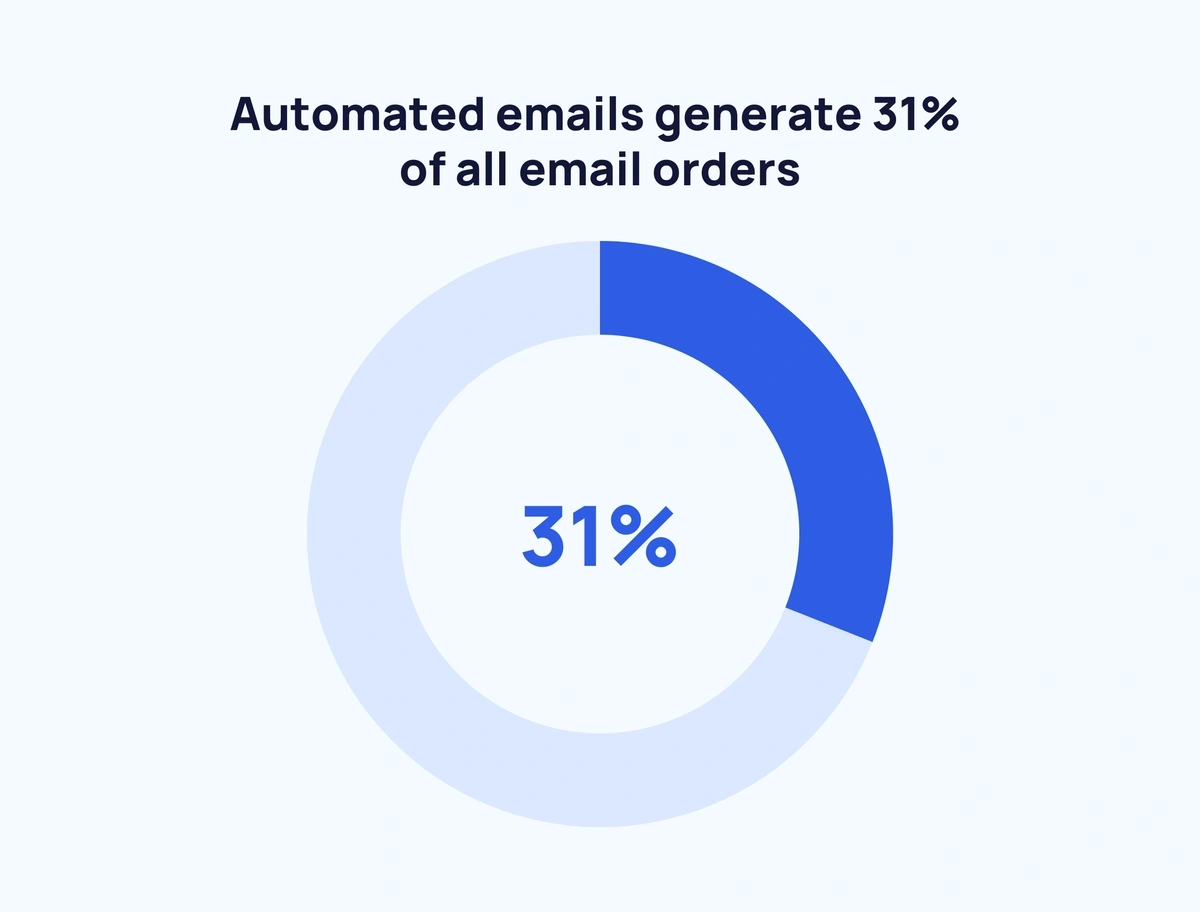 Omnisend ran the numbers on 17 billion emails sent through their platform, and the metrics on automated emails are encouraging to say the least. Automated emails achieved 84% higher open rates, 341% higher click rates, and a staggering 2,270% increase in conversion rates.
In fact, the numbers showed that one-third of customers who opened an automated email made a purchase, and that automated emails generated 31% of all orders—despite making up less than 2% of emails sent.
48% of email marketers hope to increase automation in the next 12 months (MarketingCharts)
A May 2023 poll found that ramping up automation was the #2 priority among email marketers. Increasing personalization (55%) was the only priority that outscored automation.
Onboarding and post-purchase emails are the most common email sequences marketers automate (Litmus)
55% of email marketers report automating onboarding and post-purchase emails. Other email sequences prone to automation are subscriber reengagement emails (32%) and customer reactivation emails (31%).
In terms of single automated emails, birthdays, anniversaries, and other milestone emails take the top spot with 48%. 31% of email marketers also send automated emails prompting reviews, ratings, or net promoter scores.
Automation is the 3rd most effective email marketing strategy (Hubspot)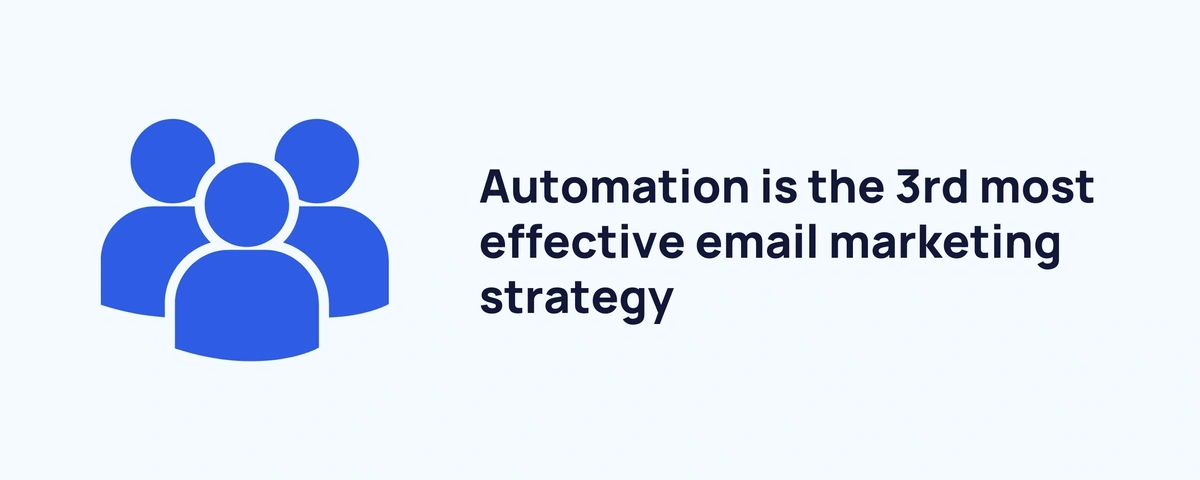 What strategies can marketers leverage to get the most out of their email campaigns? 71% of marketers in a 2021 Hubspot survey mentioned automation, ranking it 3rd among all strategies. The two that ranked higher? Subscriber segmentation and message personalization.
Wrap Up
The marketing automation industry is trending up, and plenty of companies are using automation to its fullest potential. Still, some marketing departments are in the middle of fine-tuning their approaches. Many who haven't started automating yet plan to do so in the near future.
Marketers who are on the fence about automation only need to look at the data.