33 New Startup Statistics for 2023
Looking to start a $500 billion company from your college dorm room?
While many people dream of taking a startup from idea to billion-dollar IPO, the vast majority of startups eventually fail.
But the startups that do succeed become industry disruptors, creating thousands of high-paying jobs and introducing exciting new innovations to the world.
For startups to becomes "Unicorns", they typically need to raise money. Angel investors and venture capital firms invest millions into companies before they have a single customer.
It's a high-stakes world where failure is common but the payoffs can be astronomical.
What does the startup world look like in 2023?
Here's a look at today's startup landscape in 33 statistics.
Contents
Top 2023 Startup Statistics
There are 1,215 billion-dollar startups in the world today
TikTok parent company ByteDance is the world's most valuable startup
JUUL Labs is the highest-funded American tech startup
1 in 5 startups fail in the first year
Most startups fail because they run out of money
Key Startup Statistics
There are 1,215 billion-dollar "Unicorn" startups in the world (as of June 2023) (CB Insights)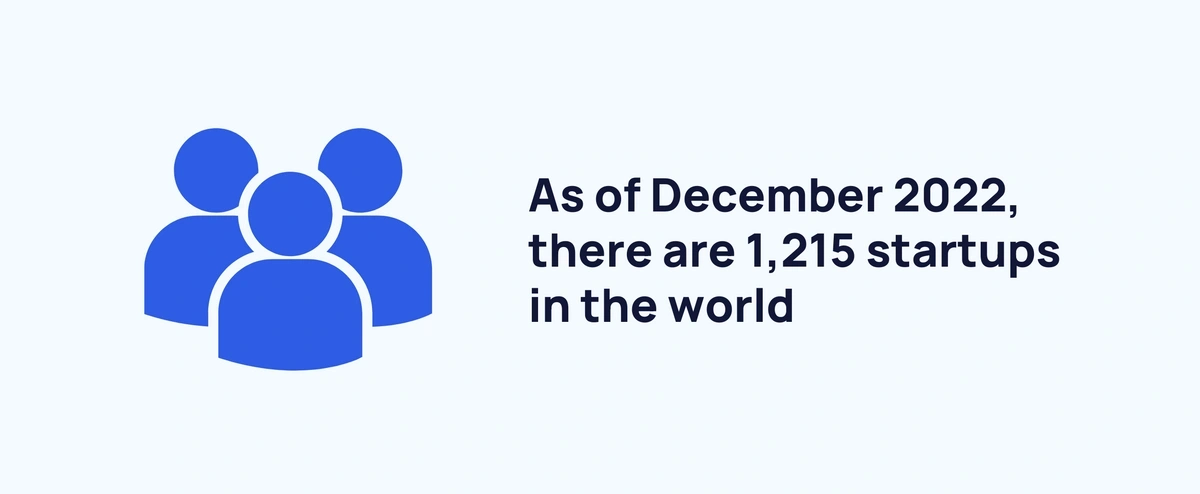 Startups that are worth over $1 billion are called unicorns. Each year, the number of unicorns continues to rise — the number almost doubled between 2020 and 2021. And there are currently well over 1,000 of them.
TikTok parent company ByteDance is the world's most valuable startup (Hurun)
While the short-form video social media app took the world by storm, it also became the world's most valuable startup.
Over 50 billion-dollar tech startups were founded during a recession (Startup Genome)
Global economic downturns often lead entrepreneurs to find innovative solutions to life's problems. The tech unicorns founded during the 2008 recession are collectively worth nearly $150 billion.
Agtech & New Food is the fastest-growing startup industry (Startup Genome)
Agtech & New Food startups experienced a 128% increase in funding between 2021 and 2022, the largest increase among all industries. Only 2% of global startups are Agtech & New Food.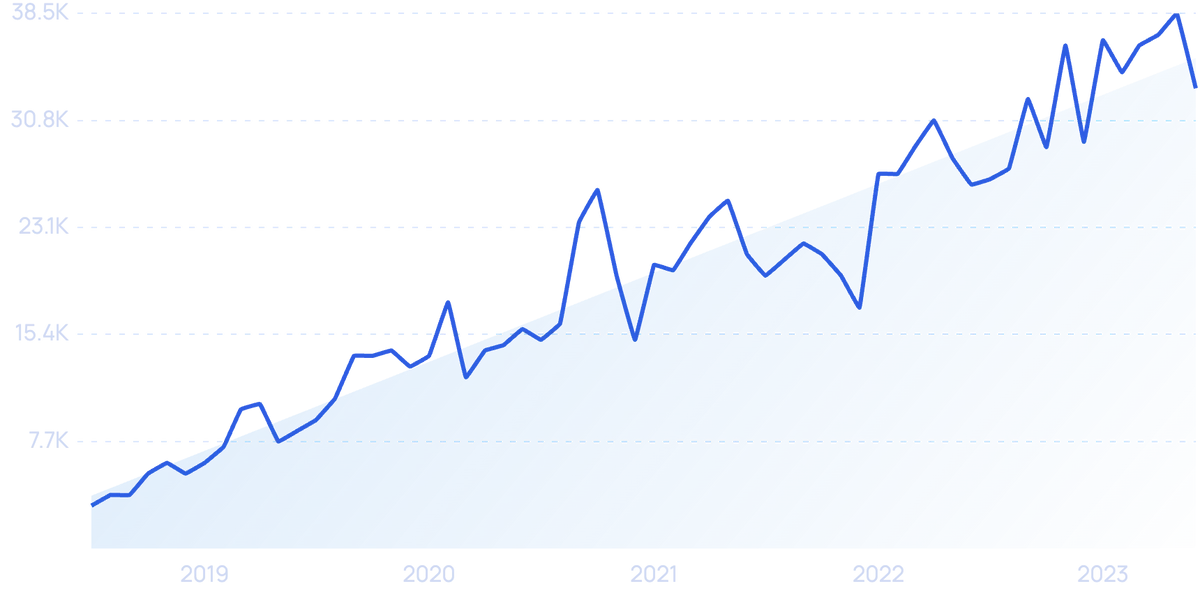 Agtech concepts like "regenerative agriculture" get more popular year after year (975% rise in 5 years).
Overall, startups have a 21% chance of failure during their first year. Startups fail for a variety of reasons, from financial struggles to getting outcompeted to poor product-market fit.
Startup Location Statistics
Silicon Valley might be the most famous startup hub, but cities all across the globe are attracting innovative new companies every day.
The United States is the highest-ranked country for startups (StartupBlink)
At a country level, the US vastly outranks the competition according to StartupBlink's rating system. The top five countries by Startup Ecosystem Score are: United States (198.08), United Kingdom (51.218), Israel (46.573), Canada (34.49), and Sweden (27.074). In other words, the US is considered almost 4x more friendly to startups than the UK.
San Francisco is the highest-ranked city for startups (StartupBlink)
StartupBlink ranks every global startup city based on startup quality, quantity, and the overall business environment. San Francisco leads the rankings by a huge margin with a 546.427 score. Rounding out the top 5 best cities for startups are New York (223.407), London (127.426), Los Angeles (116.943), and Boston (103.337).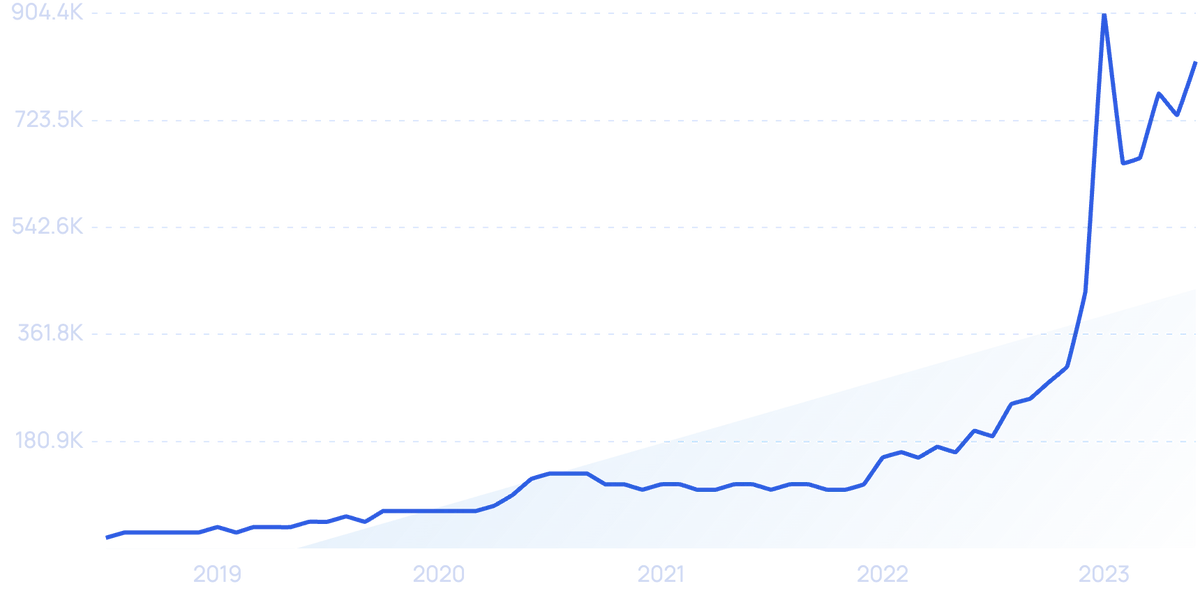 San Francisco-based Printify, an on-demand custom product printing and drop-shipping startup, gets over 4,450 Google searches each month.
New York City is home to over 9,000 tech startups (Tech:NYC)
The NYC startup ecosystem is worth over $189 billion, making it the second-largest ecosystem in the world behind the Silicon Valley-Bay area.
Latvia has the highest rate among European countries of adults actively involved in new startups (GEM)
15.1% of working-age Latvians are either in the process of founding or are owner-managers of a new startup.
Asian smart city startups are projected to generate 45% of global revenue in the industry by 2025 (Statista)
Smart city technology connects public urban infrastructure with the Internet of Things (IoT). Asian smart city startups are forecast to earn nearly $50 billion in revenue by 2025, up from $10 billion in 2020.
Unicorn Startup Statistics
Every founder's dream is to grow their company to unicorn status — a private company valued at over $1 billion. Only a fraction actually get there.
The total value of all unicorns in the world is $4.3 trillion (Hurun)
Today's 1,200+ unicorns are worth approximately $4.3 trillion collectively, which equals an average unicorn value of around $3.5 billion. ByteDance — the social media startup behind TikTok — is the most valuable unicorn in the world at $225 billion.
FinTech has more global unicorns than any other industry (Hurun)
Approximately 171 of the world's unicorns are in the FinTech industry. Nearly one-third are in the payment technology sub-category. Top FinTech unicorns include Ant Group, Stripe, and Klarna.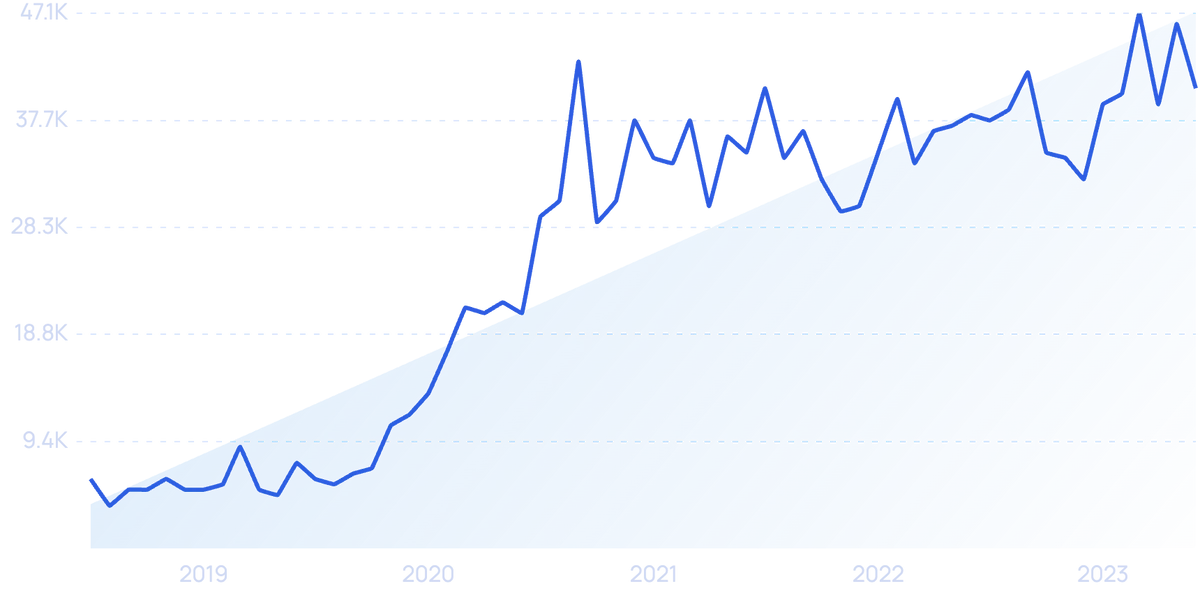 Paymentech unicorn Melio has raised over $504 million to date and is valued at around $4 billion.
49% of the world's unicorns are headquartered in the US (Hurun)
The number of unicorns has grown by 29% since 2022, up to 1,361 according to Hurun. In total, 666 of those unicorns are based in the US, 316 are based in China. And 68 are in India.
20% of US-based unicorns are SaaS companies (Hurun)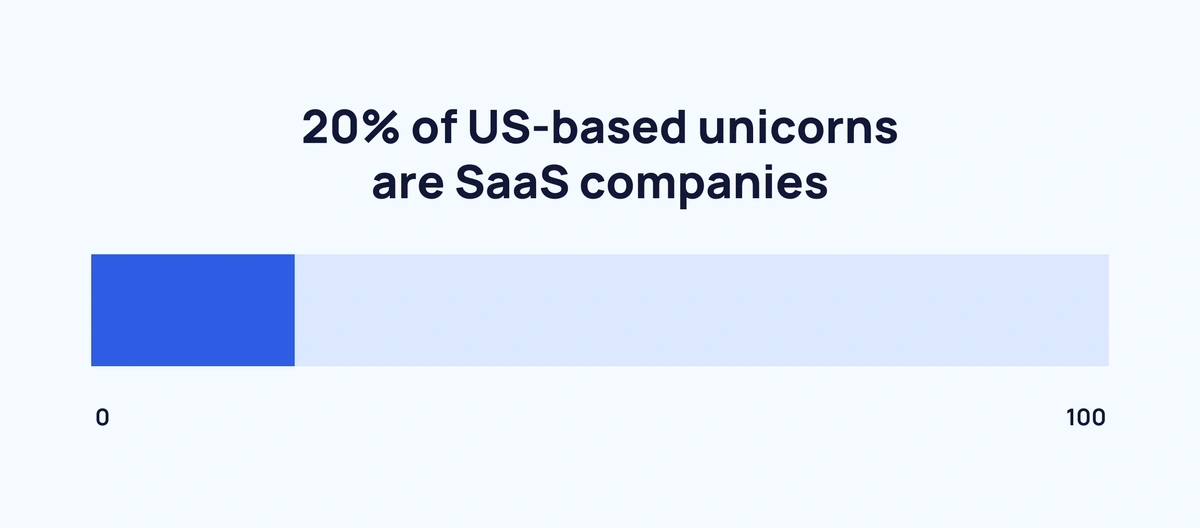 SaaS startups account for 1 in 5 American unicorns. Together, SaaS companies make up 16% of the total US unicorn value. The most valuable American SaaS unicorn is Figma ($10 billion).
Other top US unicorn industries are FinTech (12% of companies, 19% total value), AI (9% of companies, 9% total value), and HealthTech (9% of companies, 6% total value).
Russia is the largest country in the world by GDP that hasn't produced any unicorns (Hurun)
Italy has the world's 8th-largest GDP, yet it only produced its first unicorn in February 2022. That leaves Russia, Saudi Arabia, and Venezuela as the highest GDP nations without a unicorn.
There are 53 total "Decacorn" startups (CB Insights)
"Decacorns" are private companies with a known valuation of at least $10 billion. There are currently 53 decacorn startups in the world today.
Startup Funding Statistics
For startups to get off the ground, they need capital. Angel investors, accelerators, and venture capital firms invest hundreds of billions into startups every year.
Early-stage funding totaled $210 billion across 8,000 startups in 2021 (Crunchbase)
VC funding for early-stage (Series A and Series B funding rounds) startups jumped 99% from 2020 to 2021. Early-stage startups raised $61.1 billion in Q4 2021 alone, more than double the $27.6 billion raised in Q4 2020.
FinTech startups received $121.6 billion in VC investments in 2021 (Dealroom.co)
After a down year in 2020, FinTech funding almost tripled in 2021 from $42 billion to $121 billion. That makes it the most invested-in startup industry in the world.
AI startups attract over $24 billion in funding per year (Statista)
Funding for AI startups increased 327% between 2016 and 2020. Grammarly is currently the highest-valued AI startup at $13 billion.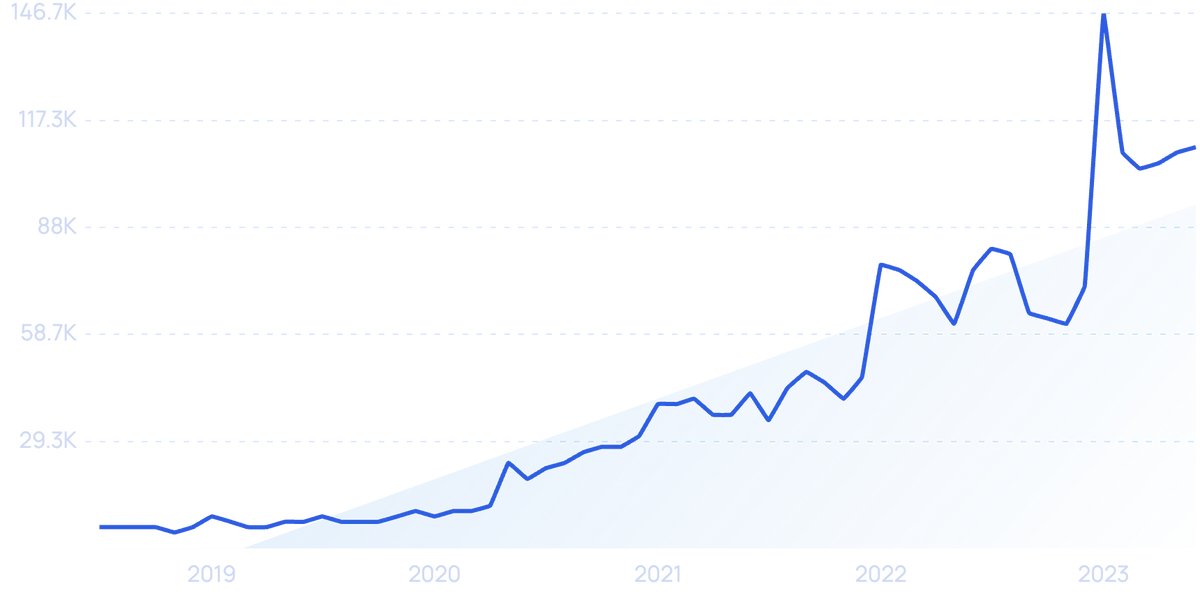 Let's Enhance — a Ukrainian-American AI image enhancement and upscale startup — has seen search growth of 1,775% over the last 5 years.
JUUL Labs is the most funded VC-backed tech startup in the US (CB Insights)
As of February 2021, JUUL Labs had over $15 billion in disclosed funding, making it the highest-funded tech startup in America.
Cannabis startups raise an average of $1.86 million from seed-stage investors (TechCrunch)
As more US states legalize recreational marijuana, investors are seeing opportunities in cannabis startups. Online retailer Dutchie — valued at $3.75 billion — pulled in $350 million in Series D funding.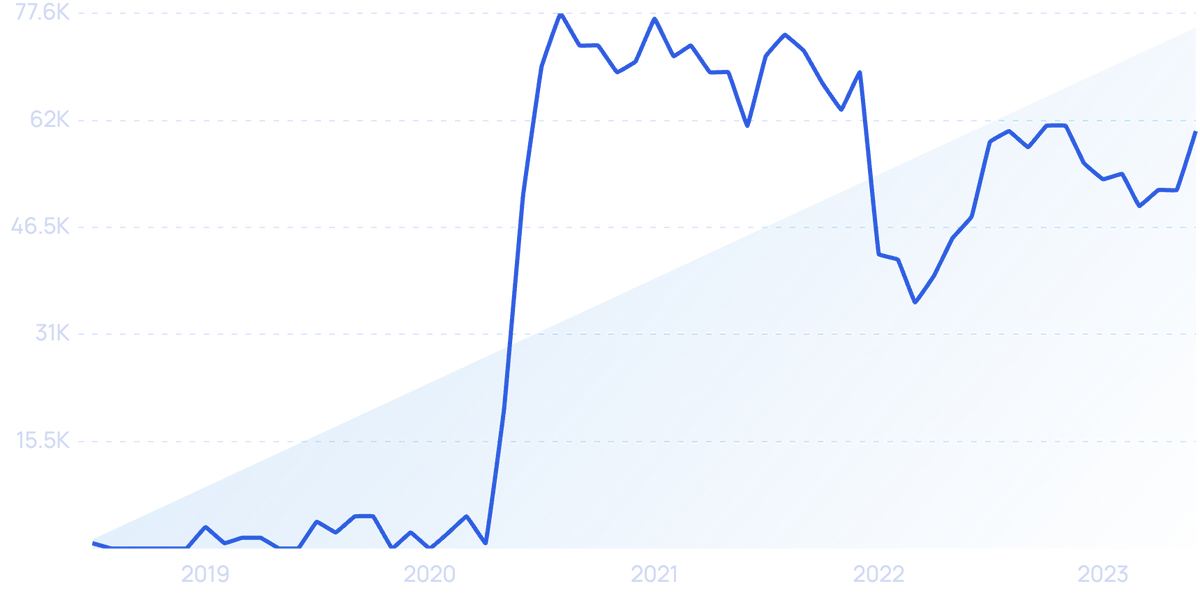 Interest in recreational cannabis and dispensaries like Nova Farms has exploded over the past 5 years.
Equity funding in AI healthcare startups increased by 835% between 2015 and 2020 (Statista)
The intersection of healthcare and artificial intelligence has created a huge growth sector for startup investors. Companies like Freenome and Babylon have already surpassed $1 billion in funding.

Babylon uses AI technology to power its remote healthcare services app.
Y Combinator has had more startup exits than any other US-based accelerator (Statista)
As of July 2021, seed money accelerator Y Combinator has logged a record of 351 startup exits — among them Airbnb, Stripe, and Dropbox. Techstars has had 303 exits and 500 Startups has had 282 exits.
The median time between initial VC funding and IPO exit for US-based startups is 5.3 years (Statista)
95 VC-backed companies went public in 2020. 5 of those startups raised over $1 billion from their IPOs: Airbnb ($3.49 billion), DoorDash ($3.37 billion), Snowflake ($3.36 billion), Unity Software ($1.3 billion), and Wish ($1.1 billion).
Less than 1% of Kickstarter projects raise more than $1 million (Kickstarter)
Since its launch, Kickstarter has helped fund 241,203 projects. Out of those projects, only 743 raised $1 million or more. The majority of Kickstarter projects (53%) raise between $1,000 and $9,999.
75% of VC-backed startups never return cash to their investors (Failory)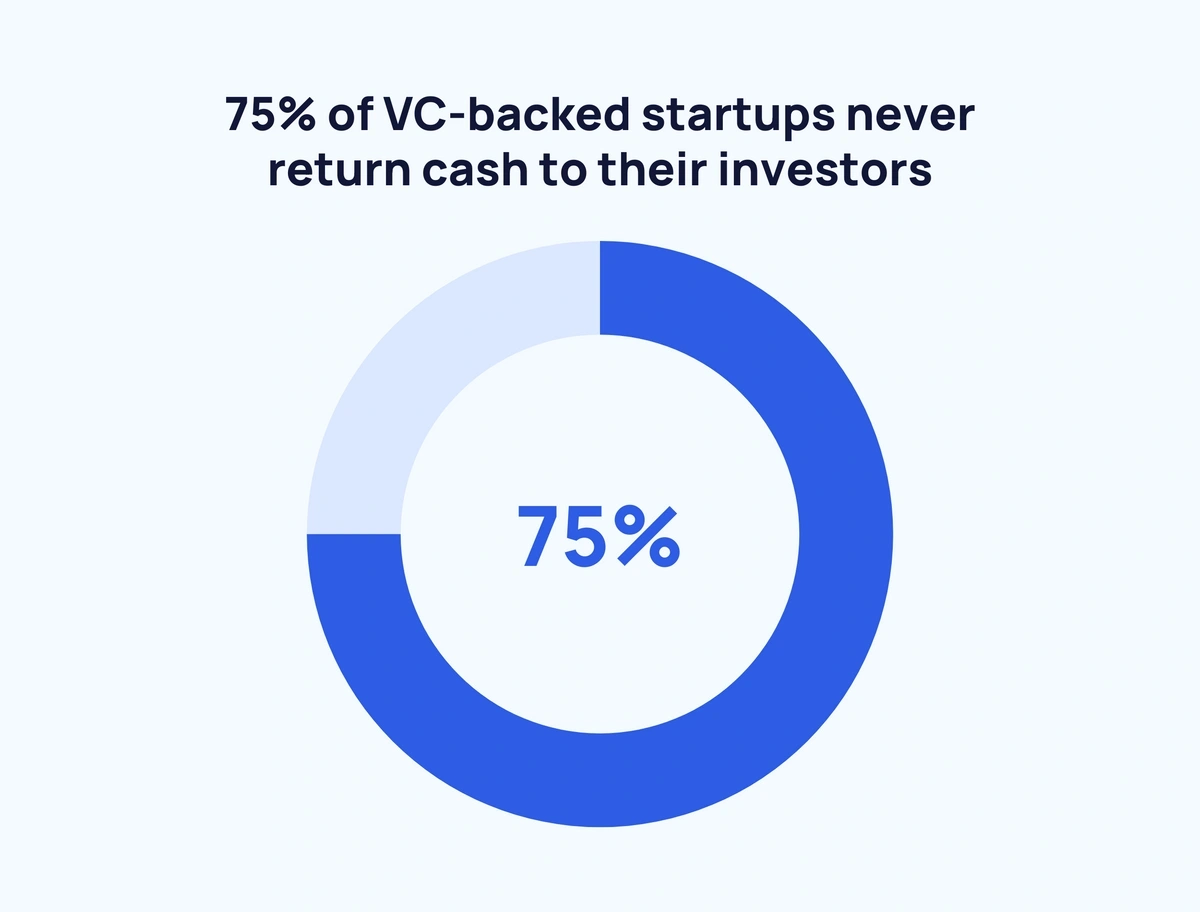 VCs tend to invest in established startups moving into the "scale-up" phase. But even those investments are risky. VCs lose their entire investment in 30-40% of scale-up cases.
Startup Failure Statistics
Starting a business is a high-risk endeavor for both founders and investors. The first year is the riskiest — startups are more likely to survive the longer they're in business.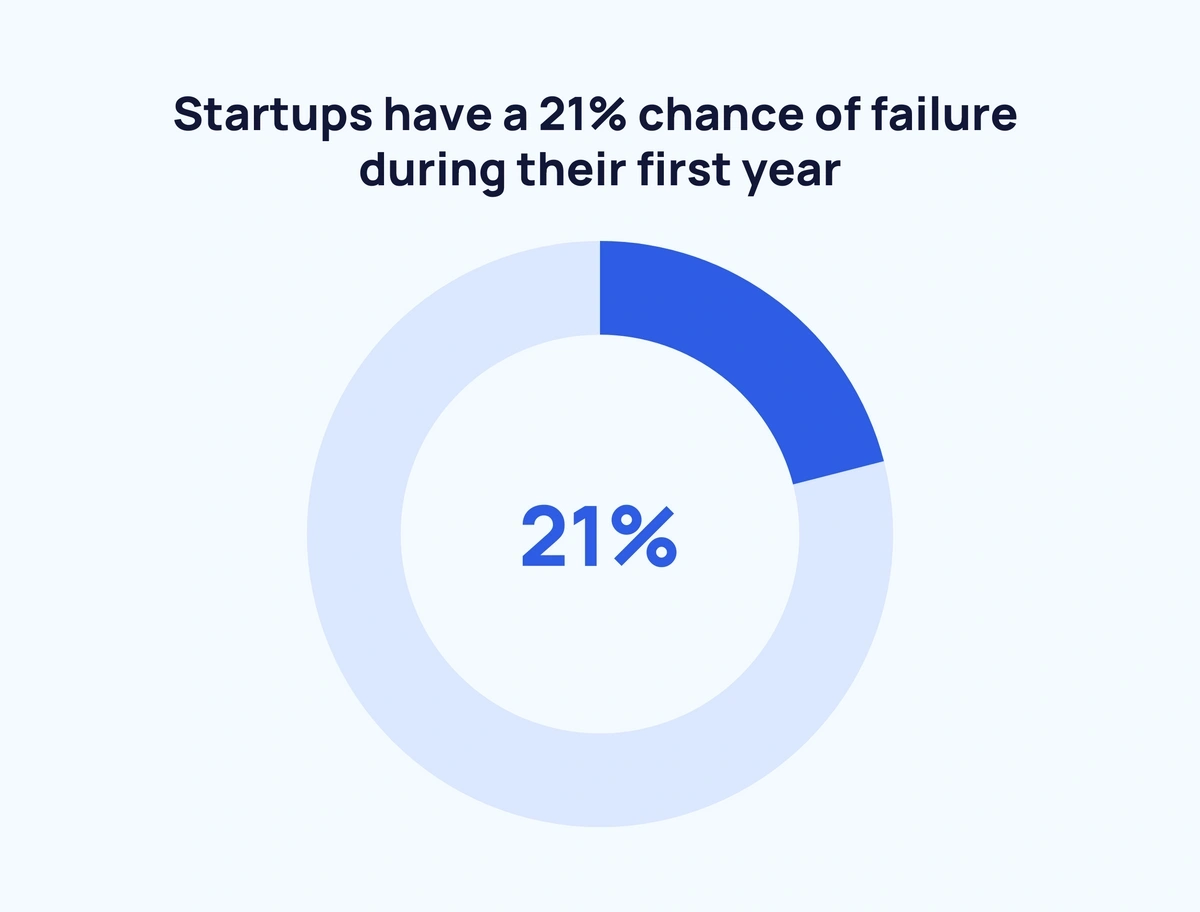 Startup failure rates have consistently been around 90% for years. Here's a more detailed breakdown: 21% of startups fail in the first year, 30% within two years, 50% by the fifth, and 70% within a decade.
Lack of funding is the number one reason startups fail (CB Insights)
CB Insights analyzed 110 startup failures to learn what factors caused them to fail. 38% pointed to running out of cash or failing to raise new capital. 35% said there was no market need for their solution.
Quibi was the most expensive failed startup with $1.75 billion in funding (CB Insights)
Quibi was founded in 2018 and looked to become the latest disrupter in the video streaming market. It drew investments from Goldman Sachs, NBC Universal, and JPMorgan Chase among others before launching in April 2020. It debuted at #3 in the App Store before dropping out of the top 50 within a week. The company shut down six months later.
43% of US entrepreneurs have fears about startup failure (GEM)
Entrepreneurs are known as risk-takers, but that doesn't mean they're not afraid of failing. 43% of US entrepreneurs fear their startups will fail, compared with 52% of UK, 48% of Japanese, and 38% of German entrepreneurs.
Information startups have the highest failure rate (Failory)
Information companies have a 63% failure rate. Other industries with failure rates over 50% are transportation & utilities (55%), retail (53%), construction (53%), and manufacturing (51%).
Startup Demographic Statistics
Startup founders represent all genders, ethnicities, age groups, and education levels. Here's a deeper look at how different demographics perform in the startup world.
Stanford University has graduated more startup founders than any other university in the US (Crunchbase)
465 Stanford graduates have gone on to found startups, including industry leaders like Google, Stubhub, and Zillow. Other top founder-producing universities are MIT (367), Harvard (293), UC Berkeley (277), and Cornell (143).
The average startup founder is 42 years old (HBR)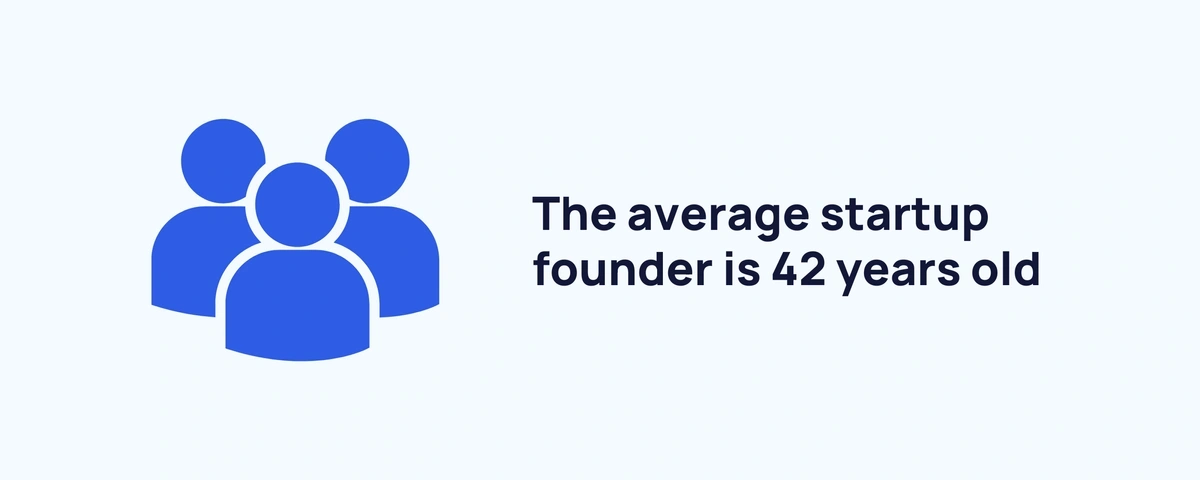 The idea of the startup founder being a 20-something college dropout is mostly a myth. The US Census Bureau puts the average age of founders across all business types at 42 years old. For the top 0.1% of the highest-growing startups, the average founder is 45 years old.
Startups with a founding team aged 25 or younger outperform every other age demographic (FirstRound)
While the average age for a first-round founder is 32, founders aged 25 or younger perform almost 30% better than the average.
Startups with a female founder or co-founder perform 63% better for their VC investors (FirstRound)
VC firm FirstRound analyzed 10 years of data from over 300 companies and found that female-led startups outperform their male-led counterparts. 3 of their top 10 investments went to startups with at least one female founder.
30% of female-founded startups only have enough funding for 4-6 months (500 Startups)
In the startup world, the amount of time a company has before it runs out of funding is called a runway. In 2020, 30% of female-founded startups had just 4-6 months of runway. 25% had 1-3 months and just 8% had more than 1 year of the runway.
Health, medicine and wellness is the top business sector for female-founded startups (500 Startups)
14% of female-founded startups in 2020 were in the health, medicine and wellness verticals. 9% were in finance, 8% in retail and e-commerce, and 7% in food.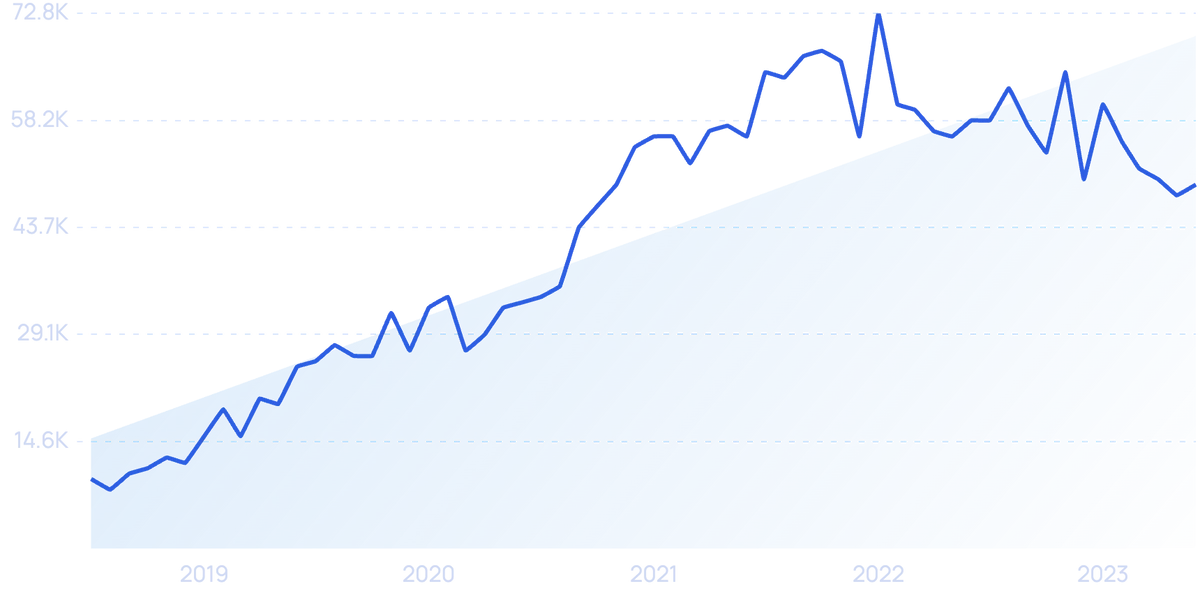 Elvie, a female-led maternity brand famous for discreet, wearable breast pumps, has raised over $150 million in investments.
Just 9% of startup founders in India are female (Statista)
India lags behind the 20% global average for female startup founders, but female-led Indian companies are starting to make waves. Mamaearth, a female co-founded personal care startup, has raised over $110 million in funding.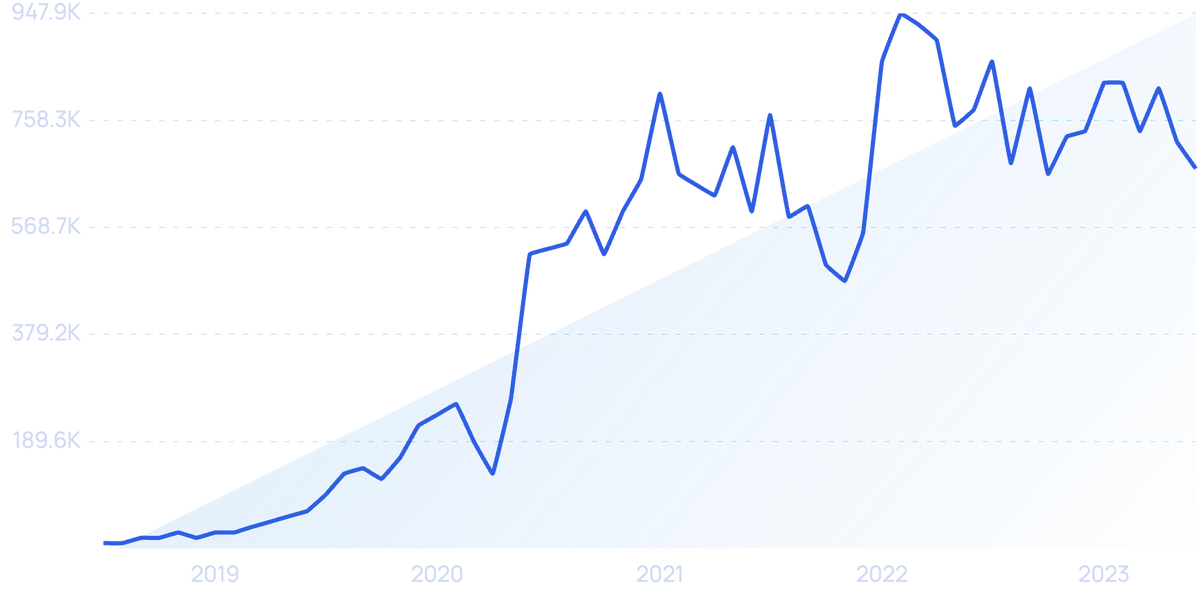 Google searches for "mamaearth" have increased by 7,000% over the past 5 years.
Startups with black founders represent just 5% of Y Combinator-backed startups (Y Combinator)
YC launched its black-owned startup directory in 2020. At the time, there were 101 companies with a combined valuation of $2.08 billion. Today, those numbers have jumped to 201 startups with a combined valuation of $6.7 billion and $1.7 billion in investor funding.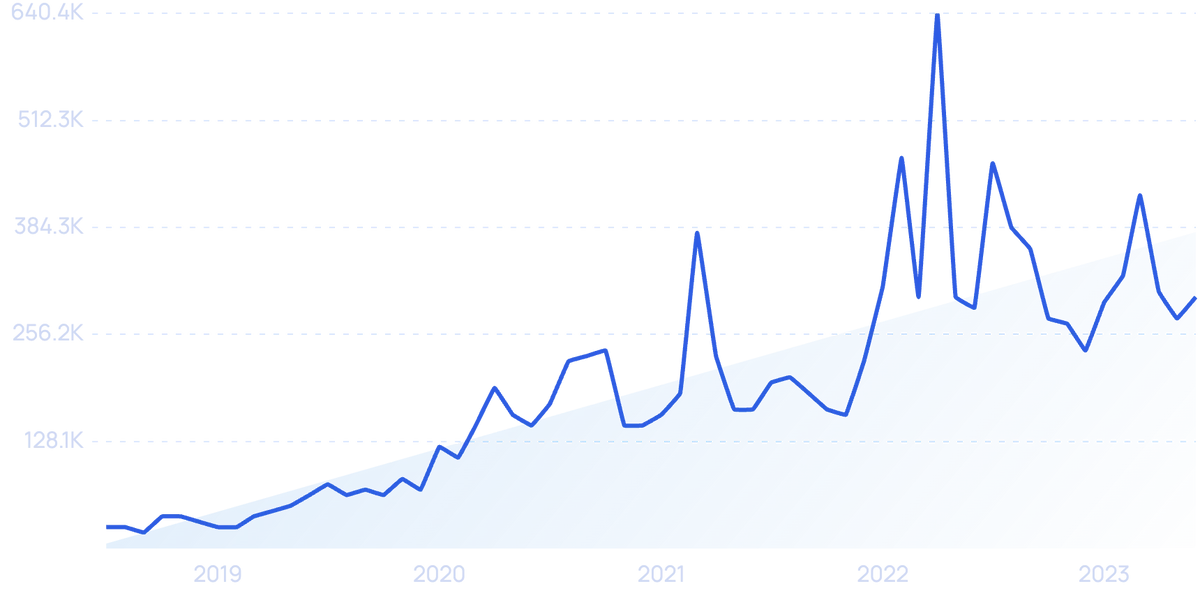 Flutterwave, a Nigerian-based payment processing startup, was recently valued at over $3 billion. Search interest is up 1,075% in 5 years.
Wrap Up
Many of today's giant companies — the Metas, Googles, and Amazons of the world — started with a founder and an idea.
Today, there are tens of thousands of startups around the world looking to disrupt industries as diverse as gaming, healthcare, and banking. Most will probably fail. But a lucky few will see their ideas grow into billion-dollar companies.
A lot of things need to go right to reach unicorn status: the right product, the right market, and the right time are essential to attracting investors and growing a new venture.
Every year, the startup landscape grows more diverse. Founders from different places and backgrounds are attracting investors and bringing ideas to market more than ever.
Silicon Valley may still be the startup capital, but the next unicorn could come from just about anywhere.
If you found this page interesting, take a look at our other related pages: 50 Fast-Growing Tech Startups and 25 Fastest Growing Startups.