7 Top Attest Alternatives (2023)
Attest is an online survey and market research platform. It helps brands better understand their customers' preferences and motivations.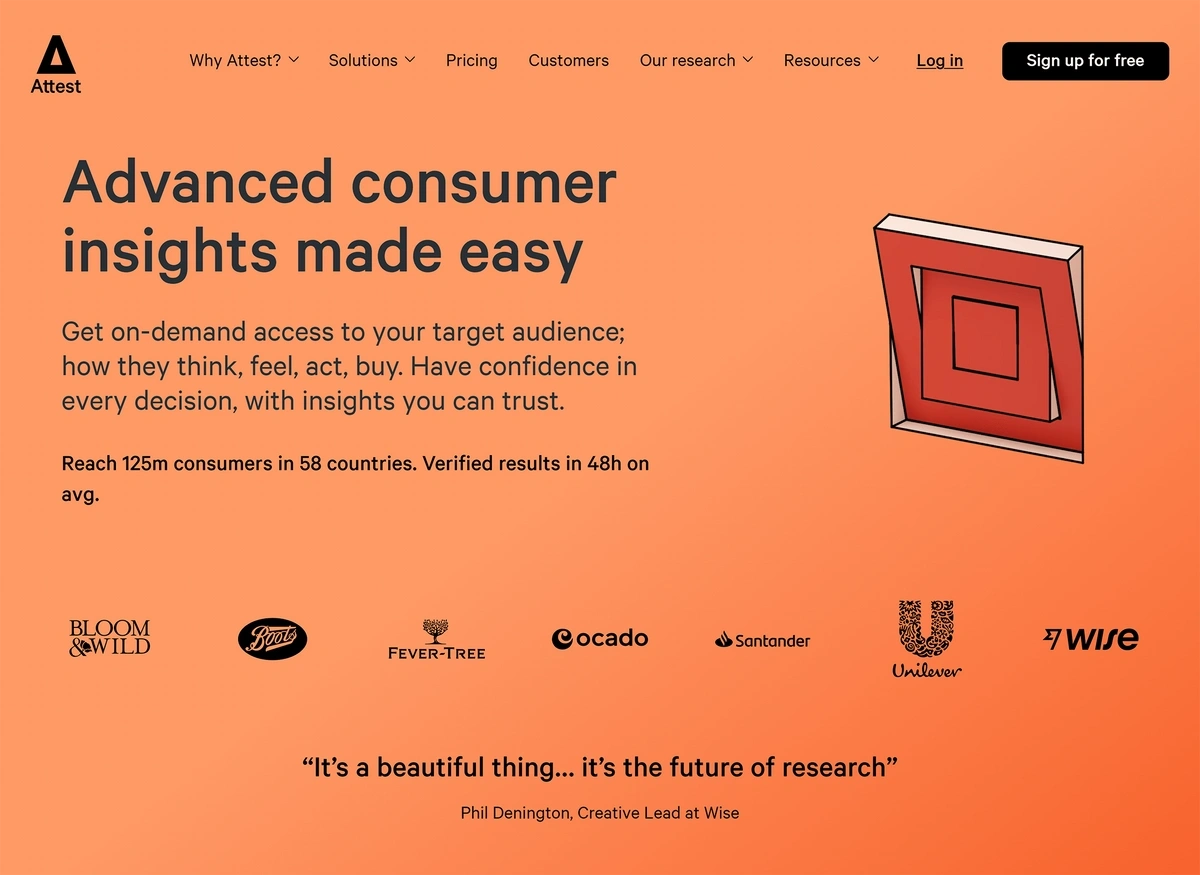 When using Attest, you'll need to move through several steps:
Build a survey by inserting your own questions into a template
Select an audience based on demographics including age, location, and income—you can connect with up to 125 million people in 58 countries
Begin monitoring responses as they populate over the next few days
Work with a member of Attest's customer research team to understand your results and develop any necessary follow-up surveys
Attest charges its users per response. Standard rates range from 44 cents to 50 cents per response, so a large survey can quickly become quite expensive. You can try it out, though, with a free five-question survey targeting consumers in the U.S. and U.K.
The platform is very focused on consumer product trends, so Attest is best suited for B2B and DTC brands focused on topics like beauty, fashion, and technology.
If you want to learn more about what your audience is talking about in their free time, need B2B data, or want a more done-for-you solution, check out one of the seven Attest alternatives in this guide.
1. Exploding Topics
Exploding Topics is a trend spotting tool that helps companies of all sizes better understand their target audience and market by analyzing trends. Every day, we update our database with data on currently trending topics—and ones that have the potential to blow up in popularity.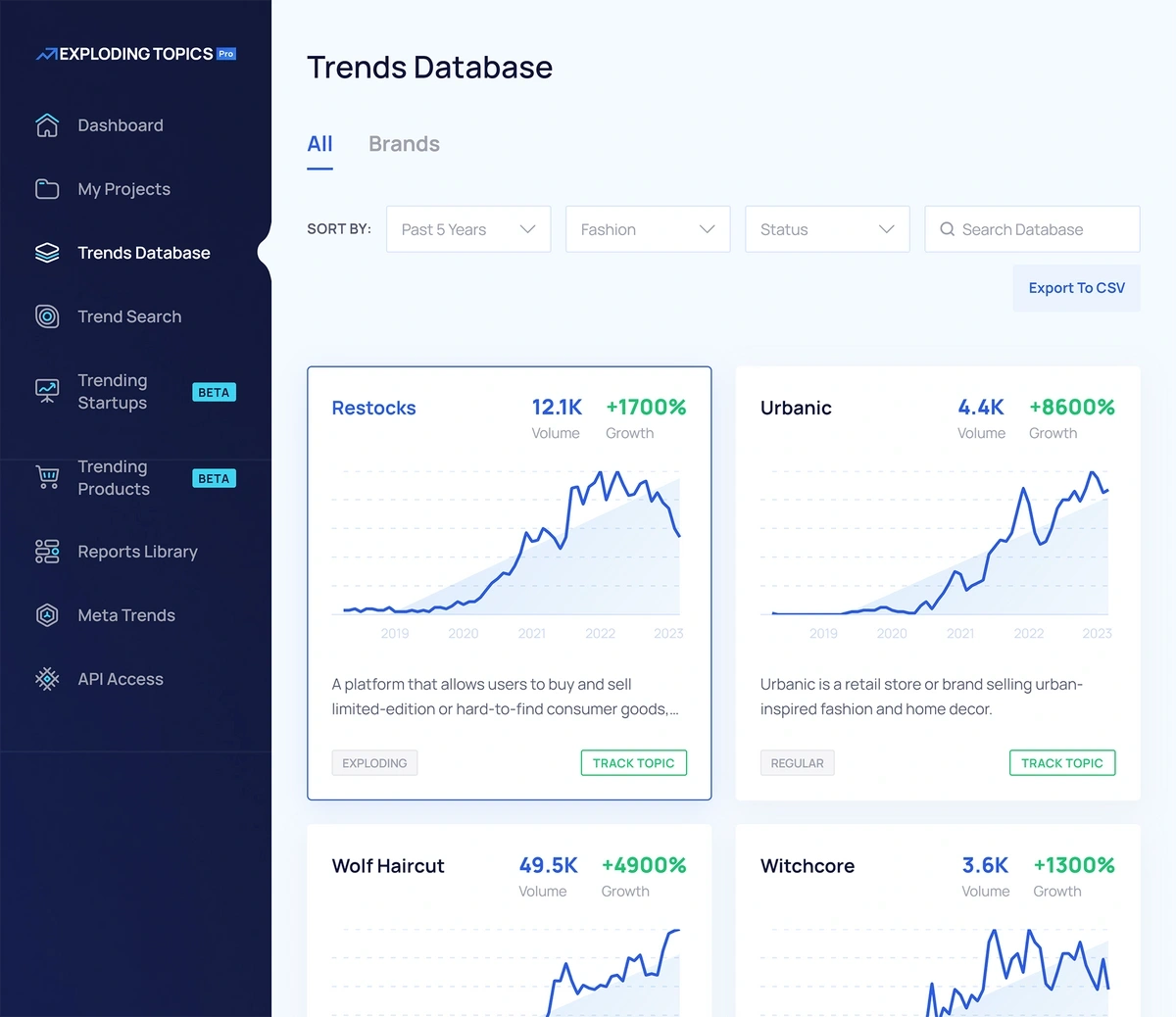 When you use Exploding Topics, you can listen in on what people are talking about and searching for online. Our trend-spotting AI gathers data from sources including:
Search engines
Blogs
News outlets
Social media platforms
You aren't limited to the responses that a specific pre-selected audience gives you. This makes Exploding Topics a great choice for:
Customer insights research
Trend analysis
Social listening
Every trend is reviewed by an expert data analyst before it goes live on our site, and our data goes back 15 years—so you can really track how consumer sentiment has changed toward topics and brands over time. And with over 30 industries covered, you can use the platform for any B2C, B2B, or DTC consumer research needs.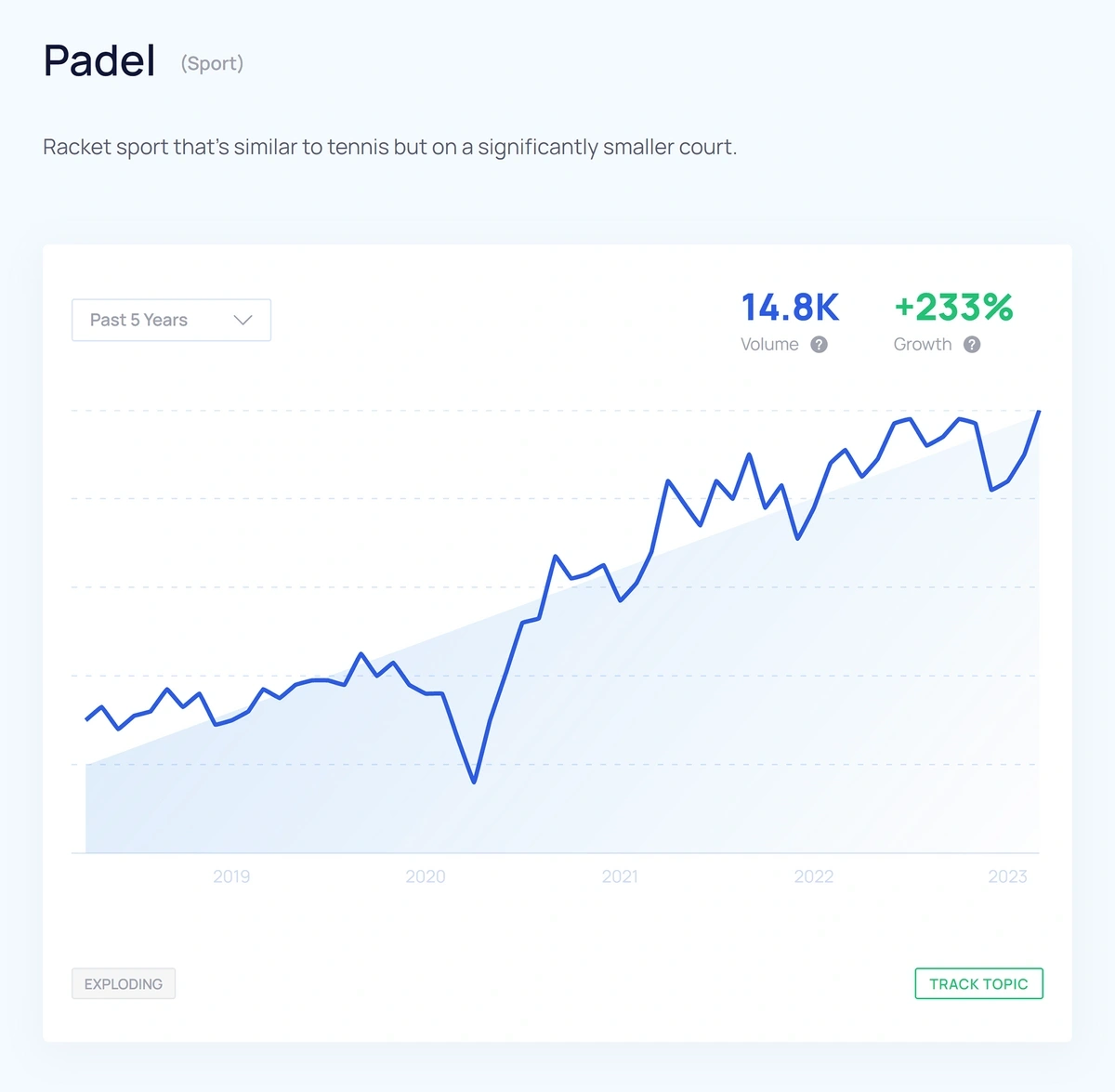 How Much Does Exploding Topics Cost?
You can start using Exploding Topics for free right now. It's easy to search the Exploding Topics database right from the home page and see details on countless data points.
If you want to comb through even more data and get deeper trend spotting insights, you'll want to give Exploding Topics Pro a try. It costs as little as $39 per month (billed annually) and gives you access to:
The full Exploding Topics trend database
Advance trends (up to a year before anyone else sees them)
Weekly trend reports
Instant trend alerts
Lists of top trending startups and products
A reports library
Additional trend research and organization tools
API access
You can sign up today and get a two-week Exploding Topics Pro trial for just $1.
2. QualtricsXM
QualtricsXM offers a research tool to help brands track market trends and identify changes in consumer behaviors.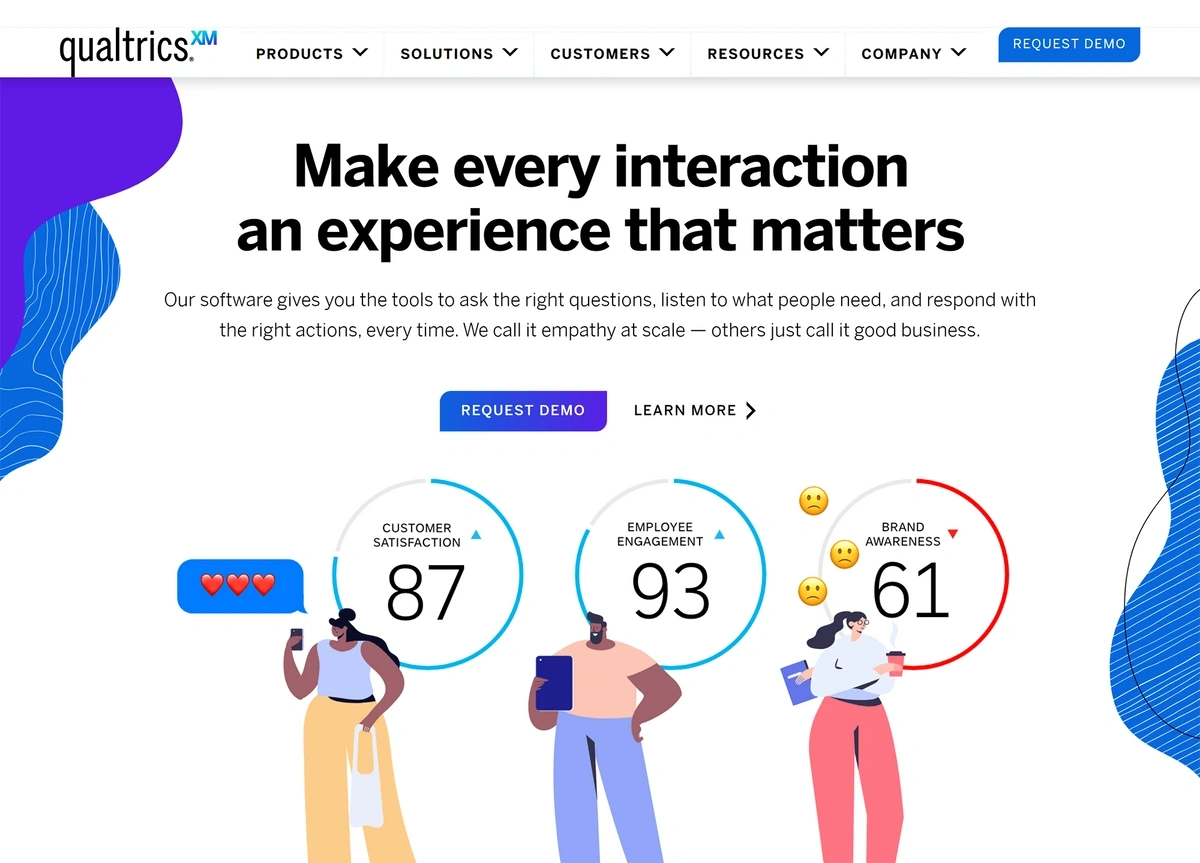 This platform is useful when you need to:
Assess brand awareness
Monitor sentiment toward your brand
Engage in social listening
Get feedback on new products and services
Test new user experiences
If you already have a survey audience in mind, then QualtricsXM is a nice choice. It gives you the flexibility to use your own panels or buy access to third-party groups that match your target audience demographics.
Unlike some other competing tools, you can use QualtricsXM to gather multimedia feedback including video responses—not just text.
However, using QualtricsXM is a very hands-on experience. The service is a tool to help you conduct research; it doesn't facilitate that research and data collection for you.
How Much Does QualtricsXM Cost?
The full QualtricsXM suite, including all brand and UX research tools, is only available through a custom quoting process. You'll have to request a demo and talk to someone at Qualtrics about your company's needs.
3. Brandwatch
Brandwatch is an insights platform for monitoring consumer sentiment. When using Brandwatch's social listening tools, you can:
Search through social media posts by keyword, trend, and sentiment
Track mentions of your brand across social platforms
Plan and manage your brand's social content
Engage with key customers amplifying your brand on social media
Discover new industry trends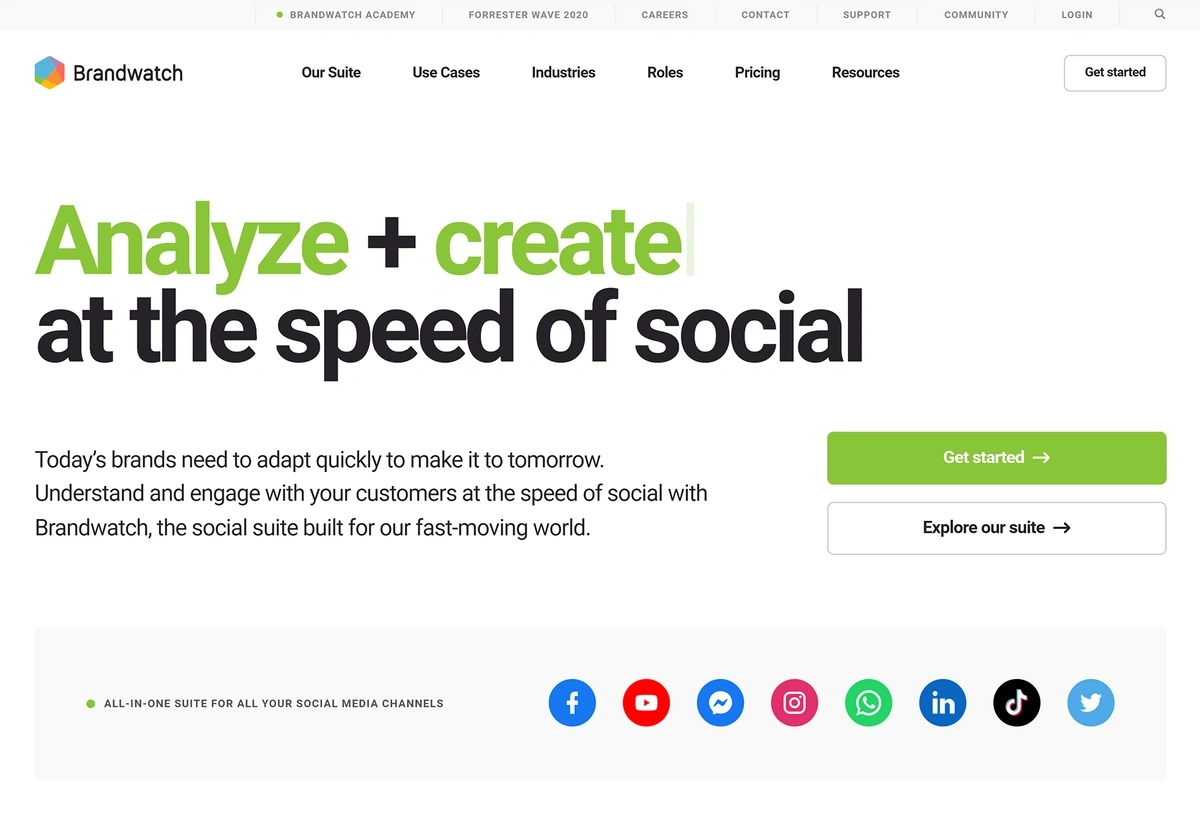 Brandwatch also helps you remain aware of negative brand sentiment, too. This way, you can be ahead of the curve if there's negative news about your brand or industry—which is very helpful for public relations.
The platform's focus on social media makes it a good choice for companies that do most of their marketing to consumers (either B2C or DTC) though social channels.
If your audience isn't very active on social media, though, or you're targeting a B2B market, you'll want to try a different tool.
How Much Does BrandWatch Cost?
You can subscribe to three different Brandwatch services:
A consumer intelligence tool that allows you to build dashboards and track trends
A social media management solution that gives you access to Brandwatch's posting and commenting tools
The full Brandwatch suite, which includes access to every feature and product
Regardless of the plan you choose, access to Brandwatch is based on custom pricing. You'll need to book a meeting with the Brandwatch team to get started.
4. GetFeedback
GetFeedback is a customer experience (CX) platform that helps brands listen to social conversations, collect feedback, monitor brand sentiment, and nurture customers.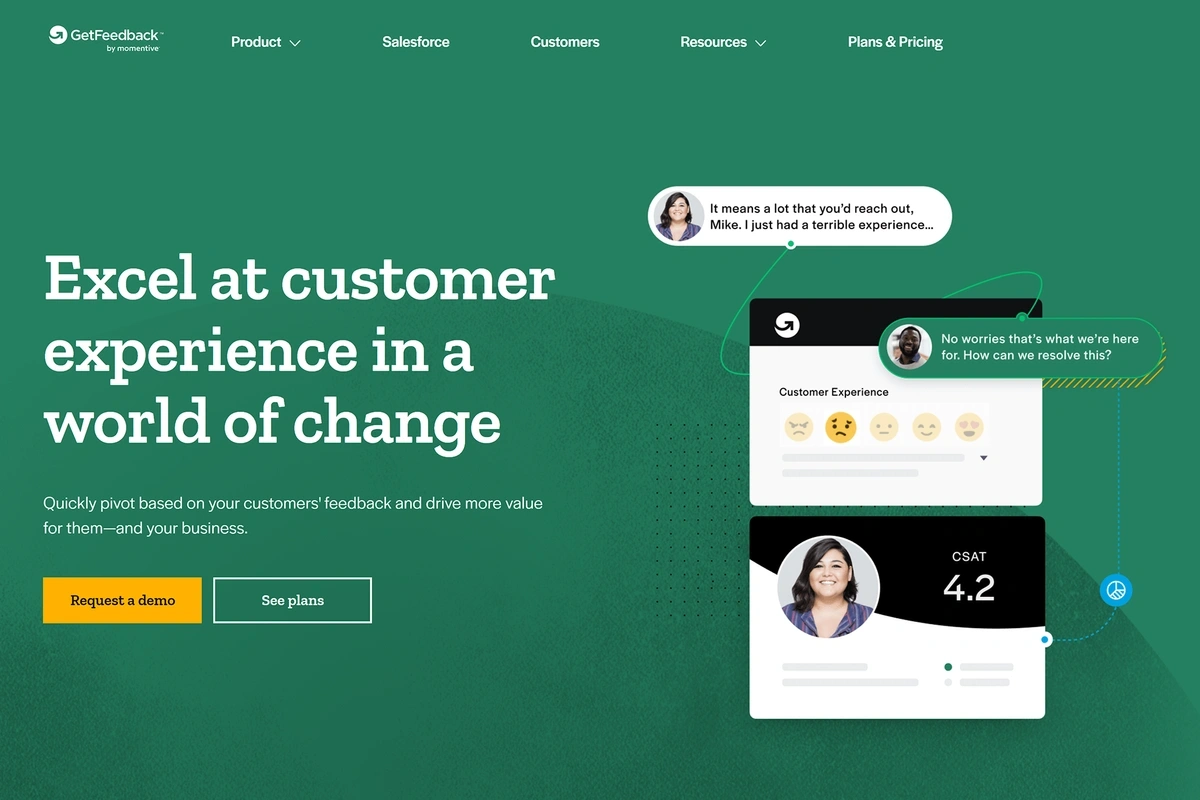 You can use the tool in a few different ways:
Consumer research: Create surveys for specific audience segments
User experience research: Ask your audiences how easily they can adopt new tools, services and features
Customer experience management: Collect customer feedback and use those data points to create personalized, high-quality customer interactions
Churn mitigation: Win back customers who have stopped engaging with your brand
One of the nice things about GetFeedback is that it gives you multiple ways to reach customers and members of your target audience. You can:
Set up automations to send feedback surveys to consumers via email and SMS
Prompt respondents to provide photos and videos
Integrate response data into Salesforce
GetFeedback is a solid choice for any team that needs to do consumer research and improve customer experience at the same time. It's very focused on your brand's current customers—if you're interested in a more future-focused research tool, you'll want to opt for another alternative.
How Much Does GetFeedback Cost?
GetFeedback offers custom plans based on your company's needs and required feature sets—like many Attest competitors, you'll need to talk to a member of their sales team for a pricing quote.
5. Medallia
Medallia is a consumer insights, customer experience, and digital marketing tool all in one. You can use the platform's CX and survey solutions to:
Connect with your customers and target audiences
Get written and video feedback
Collect social content and reviews from third-party sites
Use AI to analyze the sentiment in call center recordings
Ask customers using a retail point of sale (POS) device for feedback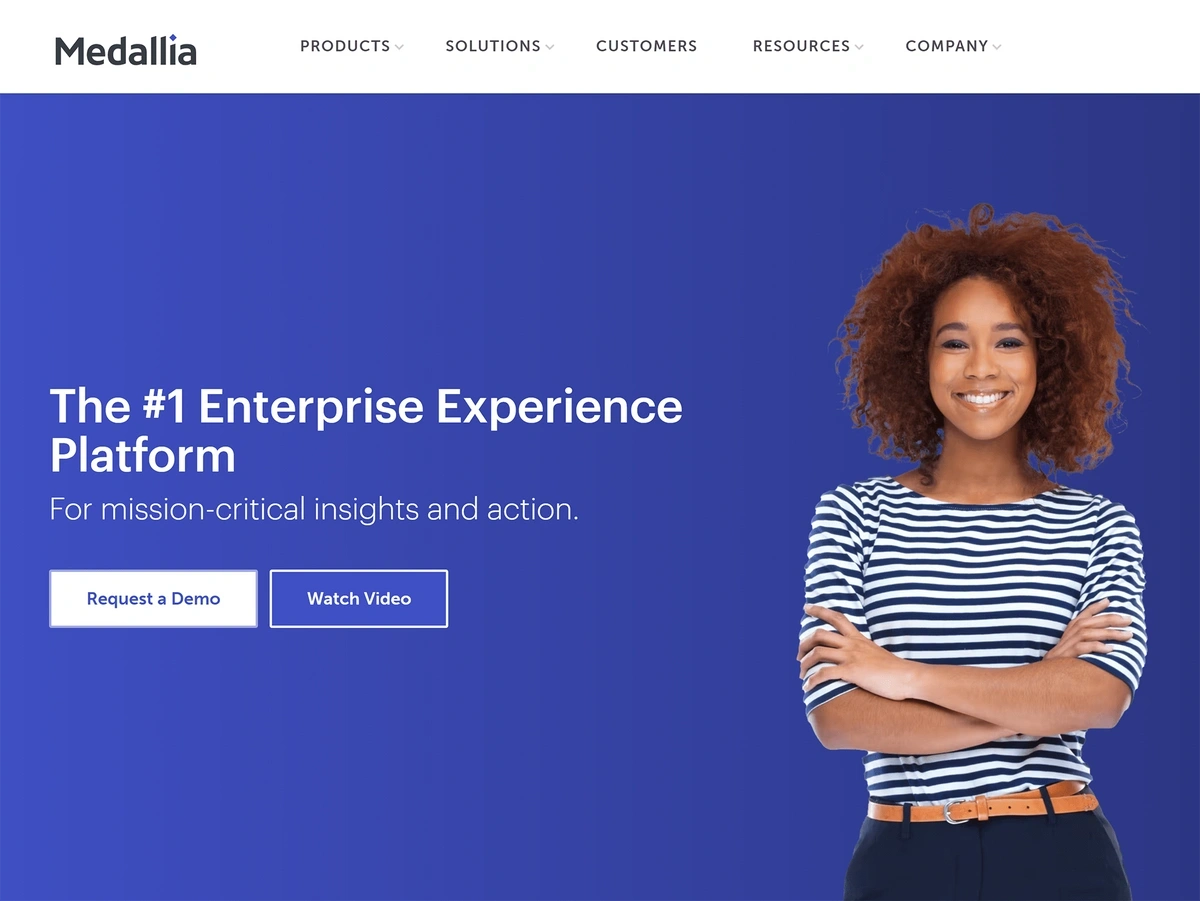 Medallia doesn't bring any audiences or data points to you. Instead, you have to structure the tool to suit your needs. Because of this, though, it can be adapted for B2B or B2C use.
The wide-ranging suite of tools offered by Medallia makes it a good choice for companies that have a large, active audience supported by an internal customer service team. It's also a nice choice if you need to connect feedback about your digital operations with in-person retail data.
However, if you're only just beginning to understand and grow your audience, Medallia is probably going to be too robust for your current needs. In that case, you'll likely be better suited by another Attest competitor.
How Much Does Medallia Cost?
Medallia bases its pricing on something they call an "experience data record." This refers to everything involved in one customer's chain of interaction with your company.
These data records can look different for every company and its customers, so you'll need to get in touch with a Medallia representative for a pricing quote.
6. QuestionPro
QuestionPro is an online survey platform and market research tool for businesses. You can use it to:
Get feedback from your target audience and customers with multilingual surveys
Find and connect with market research panels
Nurture relationships with your best customers and turn them into brand advocates
Aggregate and review market data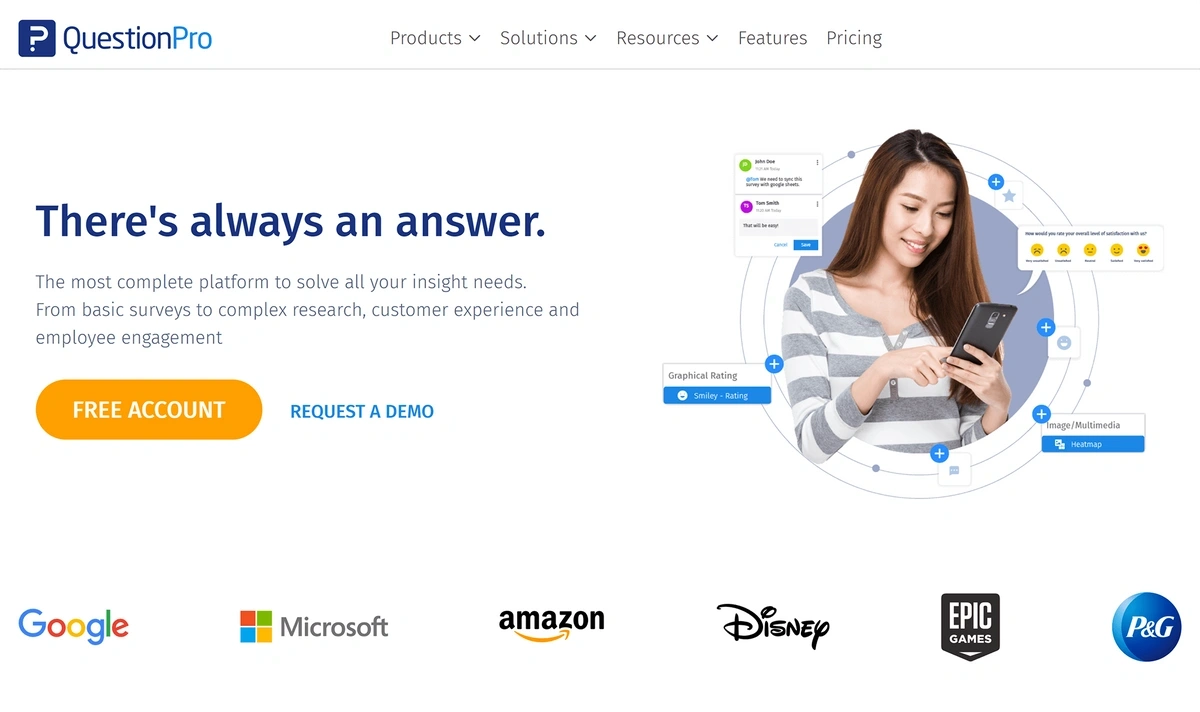 Like Attest, QuestionPro connects its users with panels of survey respondents from around the world.
With QuestionPro's complete set of tools, including A/B testing, you can turn your data into:
Market segments
New product ideas
Industry benchmarks
Competitive pricing models
Effective digital ads
Strong value propositions
QuestionPro is very customizable and is used by a variety of B2B and B2C companies, as well as academic institutions.
If you want to actively survey panels of people, and aren't as interested in social listening or customer experience management, QuestionPro could be a good choice for your needs.
How Much Does QuestionPro Cost?
You can start using QuestionPro's free tier and create unlimited surveys with up to 300 responses. While this tier doesn't include access to the full QuestionPro suite, you can export survey results data into an Excel or Google Sheets file.
For access to more in-depth survey and research tools, you'll need a paid QuestionPro plan—starting at $99 per month (billed annually) for one user.
7. SurveyMonkey
SurveyMonkey is a self-service online survey software platform. It lets you ask anyone questions via a simple web link, and you can:
Create custom surveys
Survey your own audiences
Purchase access to targeted audience groups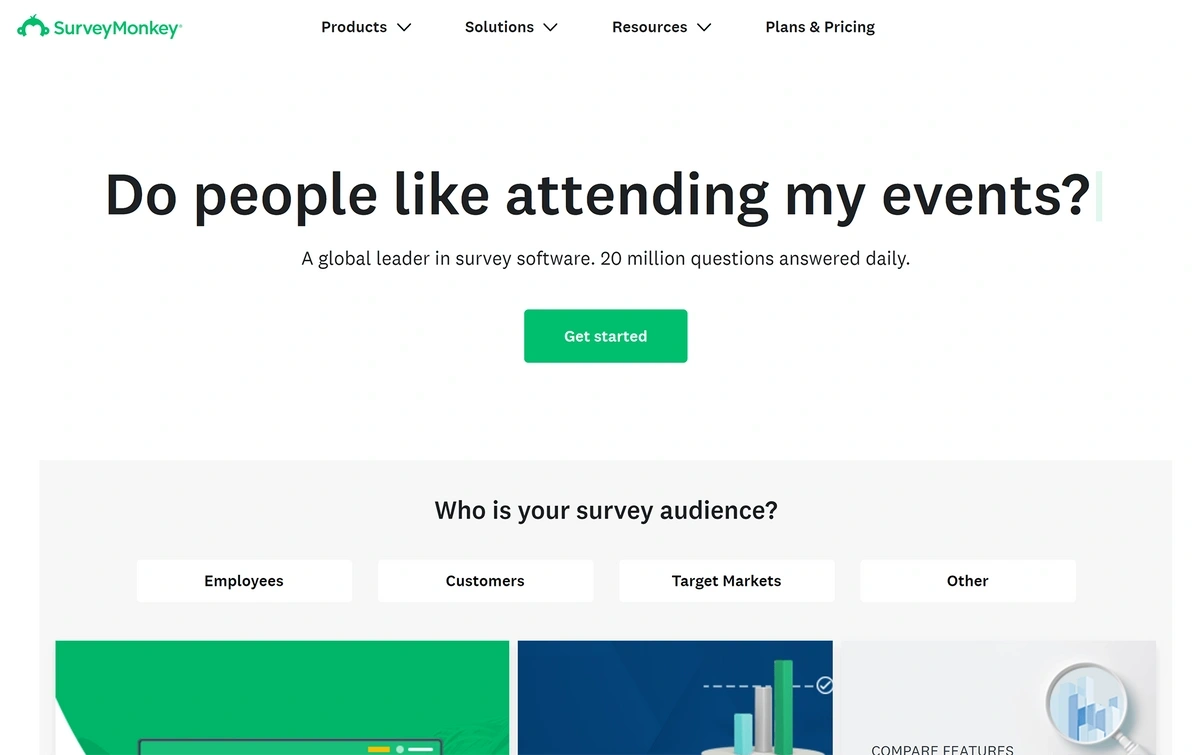 This SaaS tool is a relatively blank slate when you first start building a survey—though you can get help from one of SurveyMonkey's existing templates. As a result, you can modify this platform suit a wide variety of needs like:
Assessing brand sentiment
Researching aided and unaided brand awareness
Exploring new audiences and markets
Collecting feedback on user experiences
Requesting feedback from customers
Getting details on why someone stopped subscribing to your product or newsletter
SurveyMonkey's versatility and pricing structure make it a nice choice for anyone who is just starting to conduct survey-based research. If you're in need of done-for-you data collection or more customer experience insights, though, you'll want to try another Attest competitor.
How Much Does SurveyMonkey Cost?
SurveyMonkey offers a free plan that allows users to create an unlimited number of surveys with up to 10 questions.
If you expect to collect a high volume of responses, or need to ask more questions, though, you'll want to choose a paid plan. Options start at $22 per user, per month (billed annually).
You can also opt to add on some additional CX features, but you'll need to contact SurveyMonkey for a price quote.
The Best Tool to Quickly Discover What Your Audience is Talking About Online
If you need instant access to data about your audience's favorite brands, trends, and topics, then you may want to give Exploding Topics a try.
Our trends database is automatically populated with information about the topics your current and future customers are discussing organically, and you aren't limited to a predefined set of survey respondents.
Start browsing the Exploding Topics database right now for free and see if it's the right Attest alternative for you—or try out a Pro subscription for just $1.