7 Top GigaOm Alternatives (2023)
GigaOm is a technology advisory company that compiles reports on top tech trends for IT professionals and vendors. You can also use GigaOm to connect with tech industry analysts who have experience working in a variety of technical fields.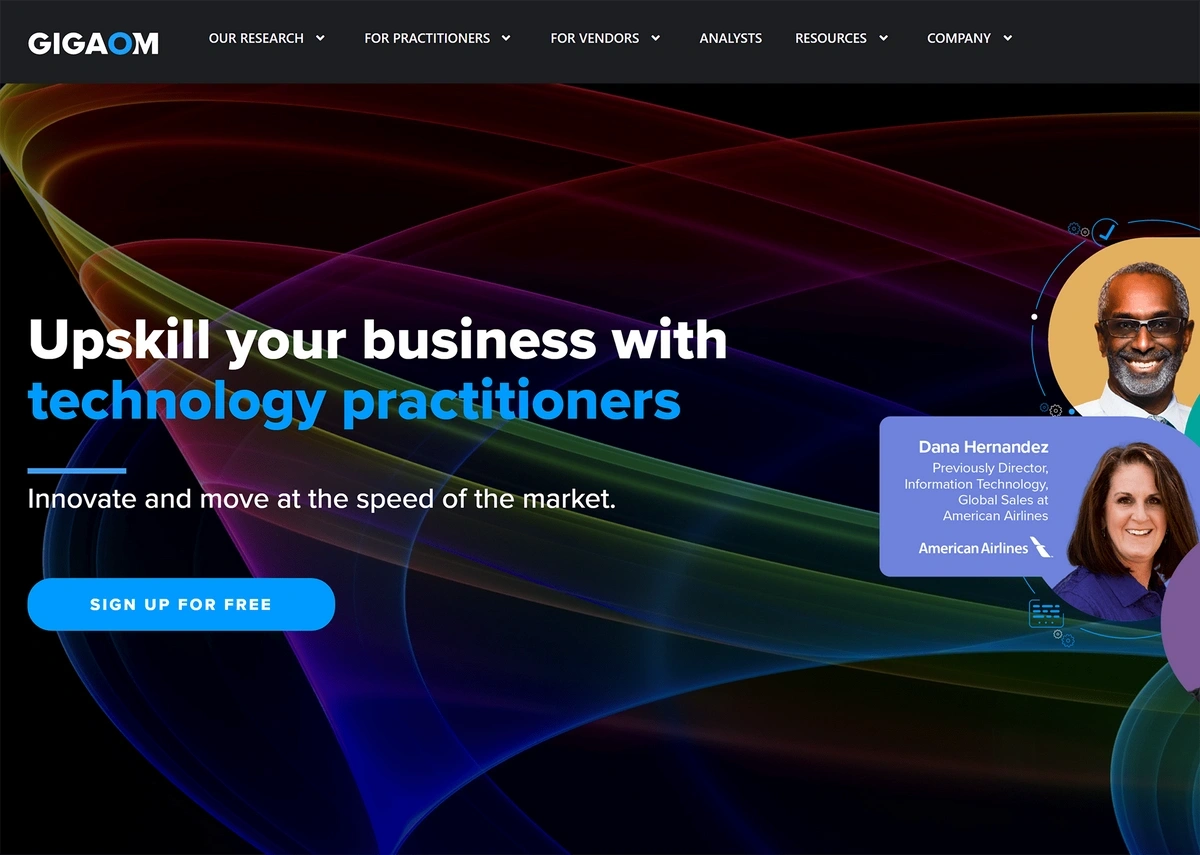 GigaOm offers a few different pricing models to meet varied business needs. Self-service access to GigaOm reports is $99.99 per month or $989 per year, per person. This doesn't include one-on-one time with analysts.
If your company needs multiple licenses or is interested in working directly with GigaOm analysts, you'll need to contact the company for a custom quote.
According to an example provided by GigaOm, custom pricing is based per project, not per month, and is often in the ballpark of 10 user licenses for $10,000. These custom packages can also include two hours of calls with advisors.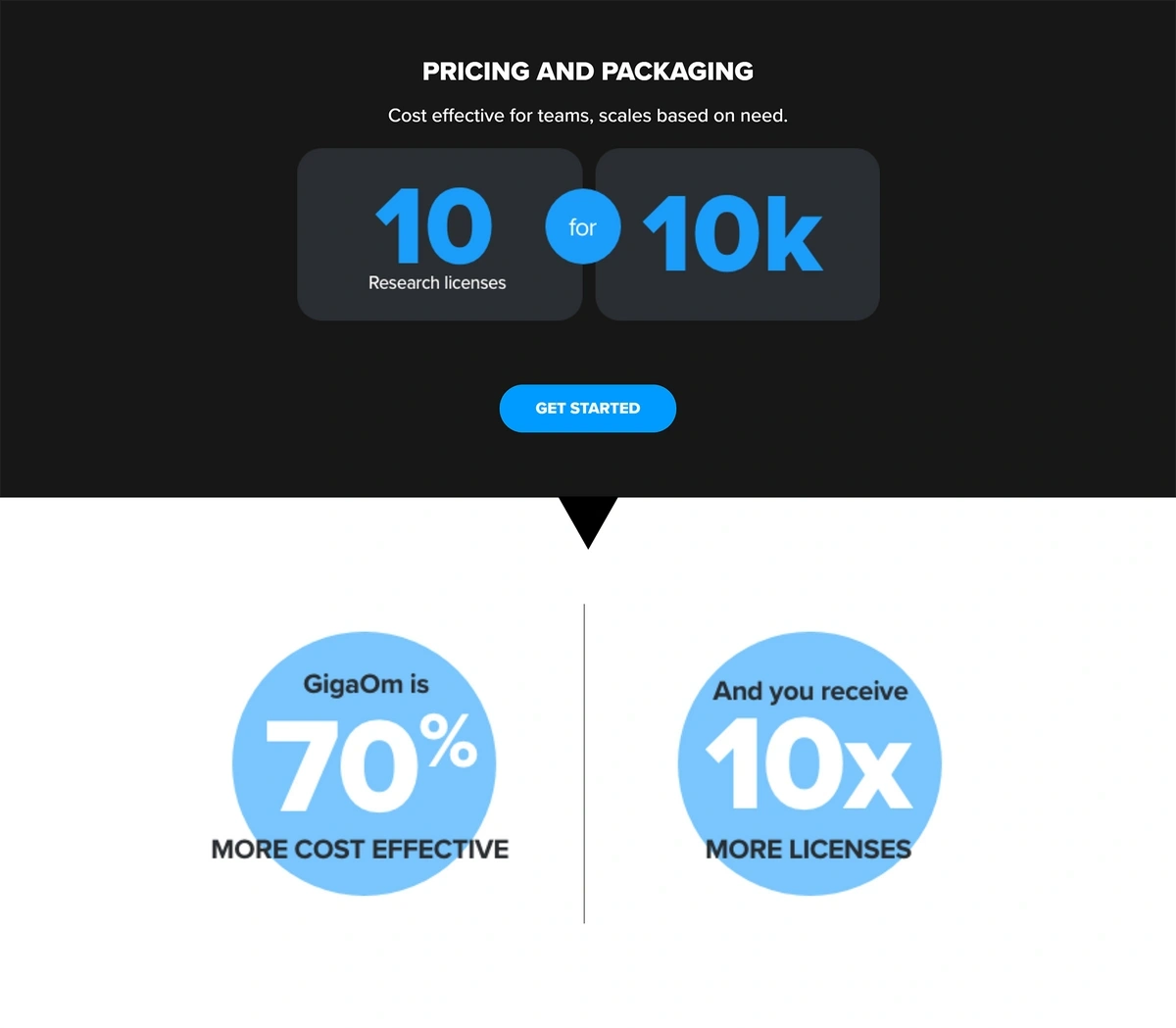 GigaOm might be a good choice if you're looking for information and advice to guide internal processes. Companies that are more interested in discovering emerging technology solutions—or uncovering the tech trends their customers are talking about—should probably look at these GigaOm alternatives, instead.
1. Exploding Topics
Exploding Topics is a trend spotting platform that can be used to:
Research emerging technology companies and service providers
Figure out what your customers are looking for in a tech solution
Keep tabs on competitors' market share
Identify opportunities to launch new technology products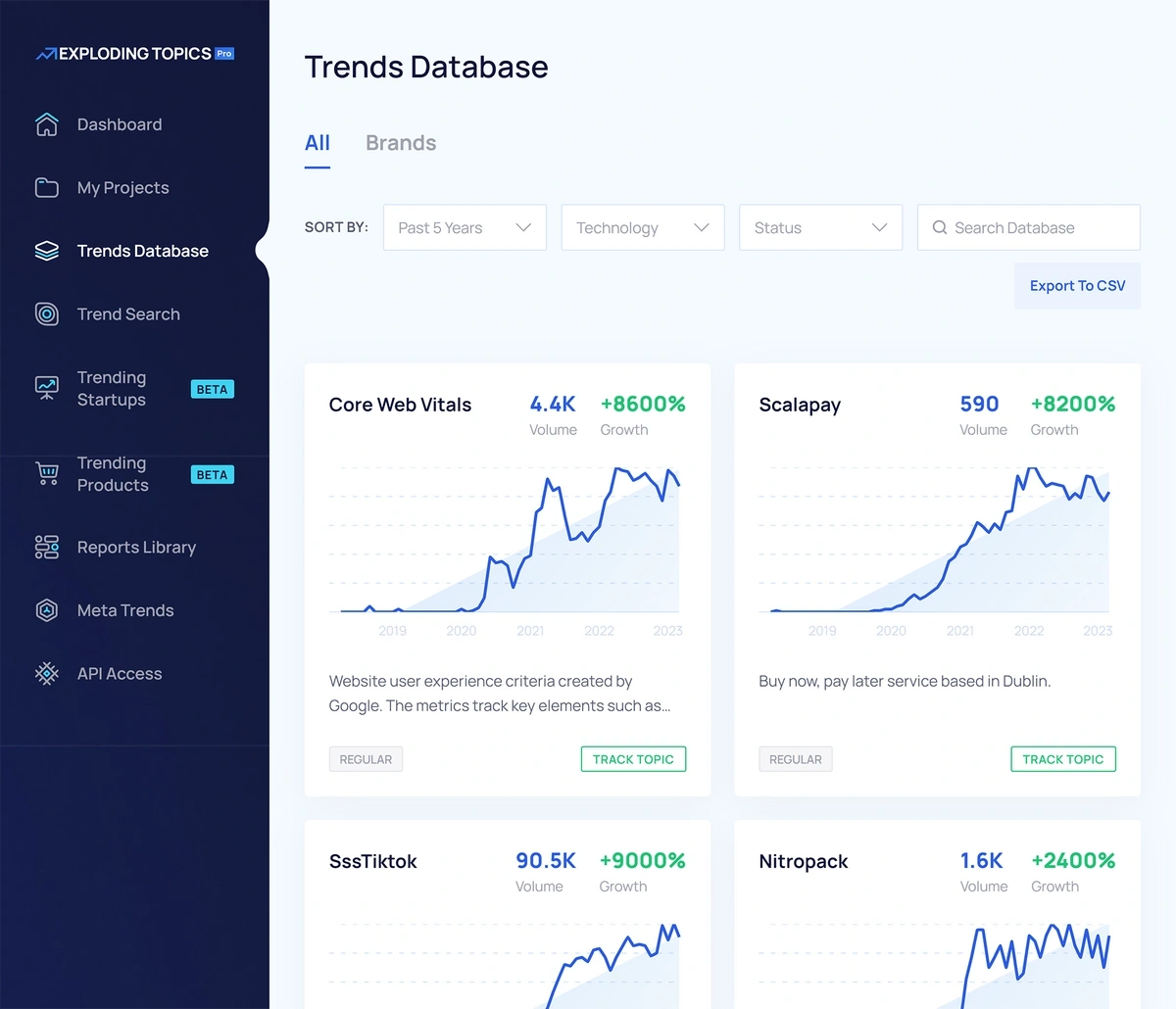 Our platform uses a mix of social listening and expert data analysis to identify the top tech trends being discussed across:
Search engines
Blogs
News outlets
Social media platforms
Who Should Use Exploding Topics?
Whether your focus is on consumer or B2B technologies, you can use Exploding Topics to view changes in trends over the past 15 years. And because we update our trend graphs daily, you never have to wait to get the most up-to-date insights.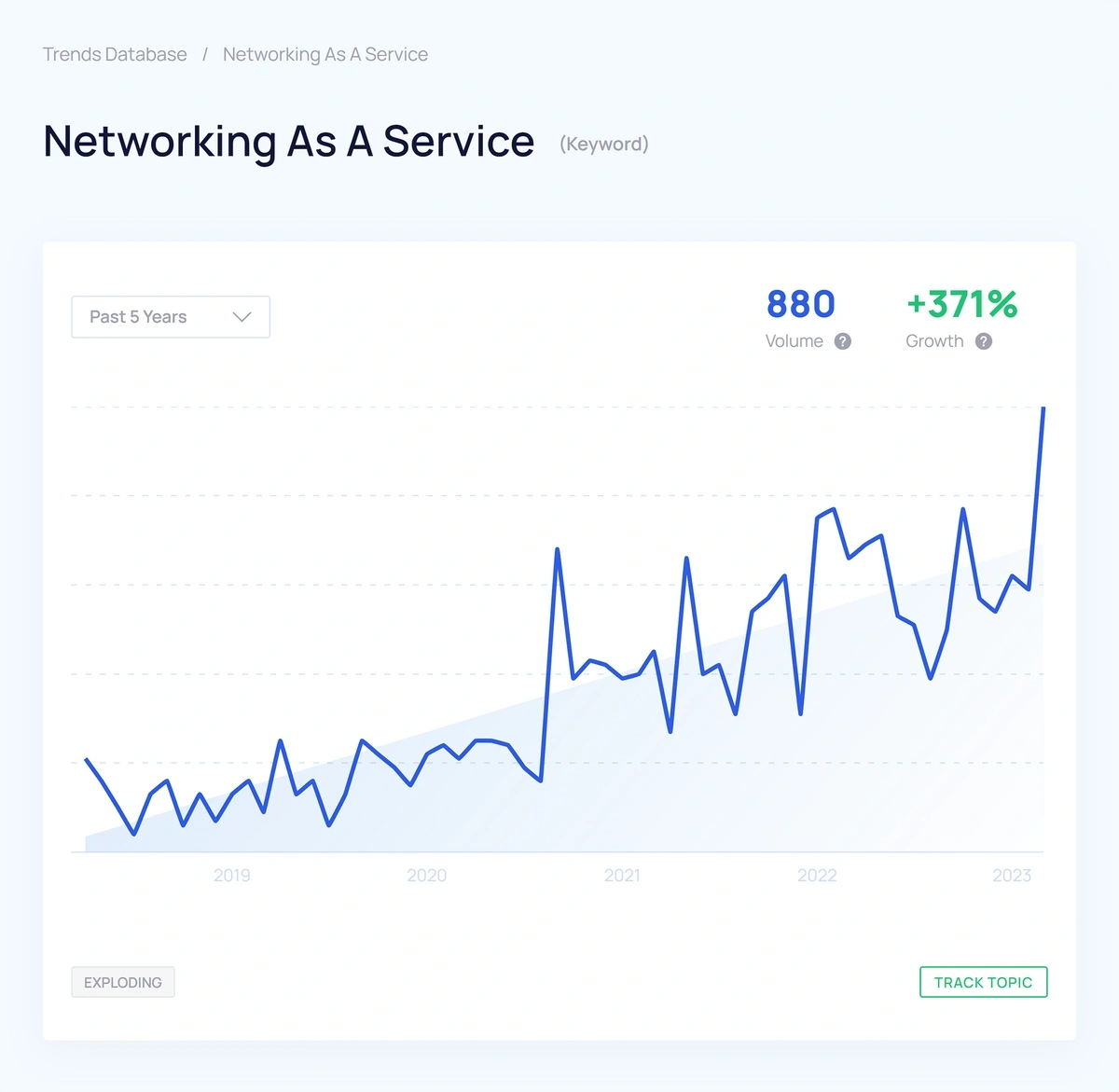 With an Exploding Topics Pro subscription, you'll also get access to our new feature: a regularly updated list of the top startups in tech. This feature lets you see essential information on competitors and potential investment opportunities, including:
Founding date
Total number of companies
Total funding
Funding stage
Changes in online conversations about a brand over the past 15 years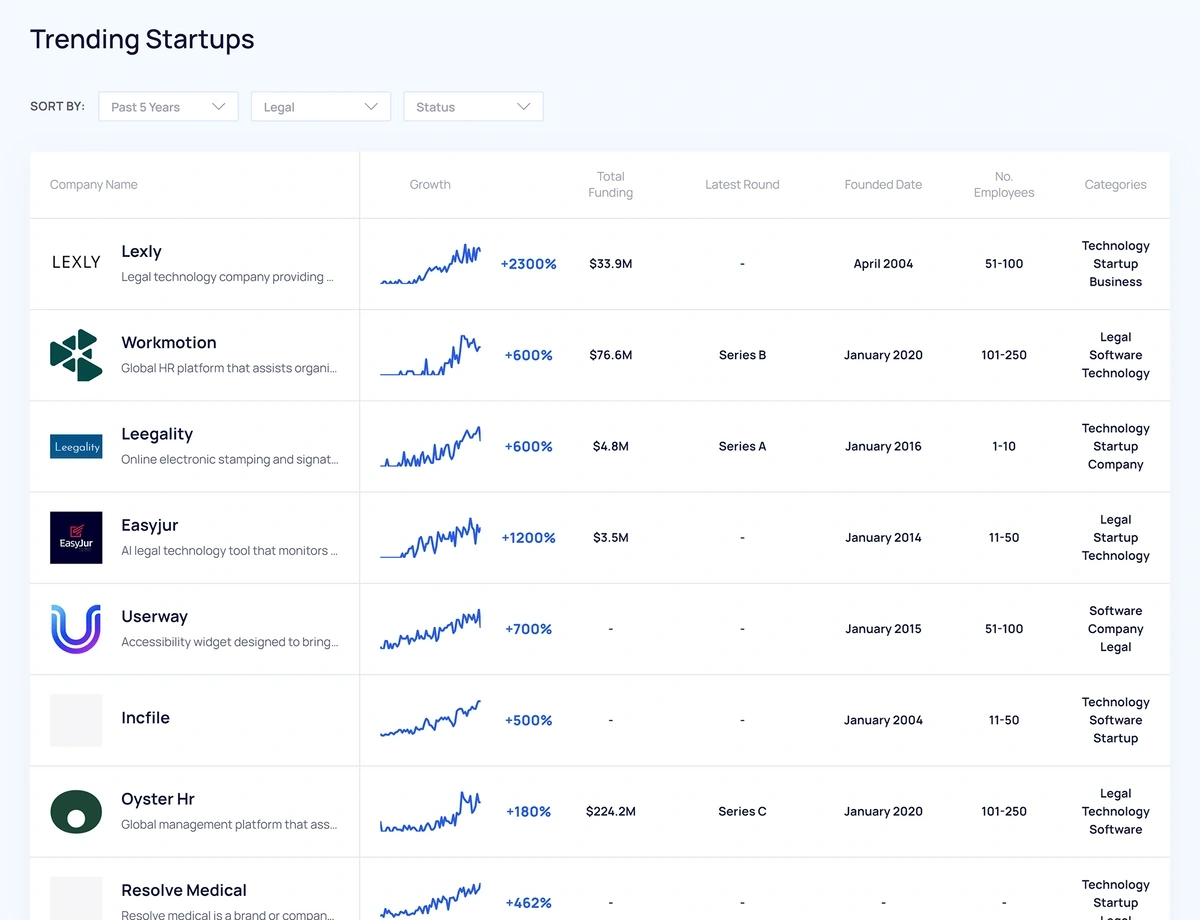 How Much Does Exploding Topics Cost?
You can start using Exploding Topics to explore technology trends right now. Or, try out an Exploding Topics Pro subscription and get access to our exclusive startup feature, plus:
New trend data up to a year before anyone else sees it
Instant trend alerts
Keyword-based trend search
Tech trend reports
CSV file export
API access
Project folders and workspaces
It's just $1 for your first two weeks of Exploding Topics Pro access—and it's as little as $39 per month (billed annually) after that.
2. Accenture
Accenture is a research and consulting firm offering insights into a variety of technology topics like:
5G
AI
Blockchain
Cybersecurity
Digital transformation
Edge Computing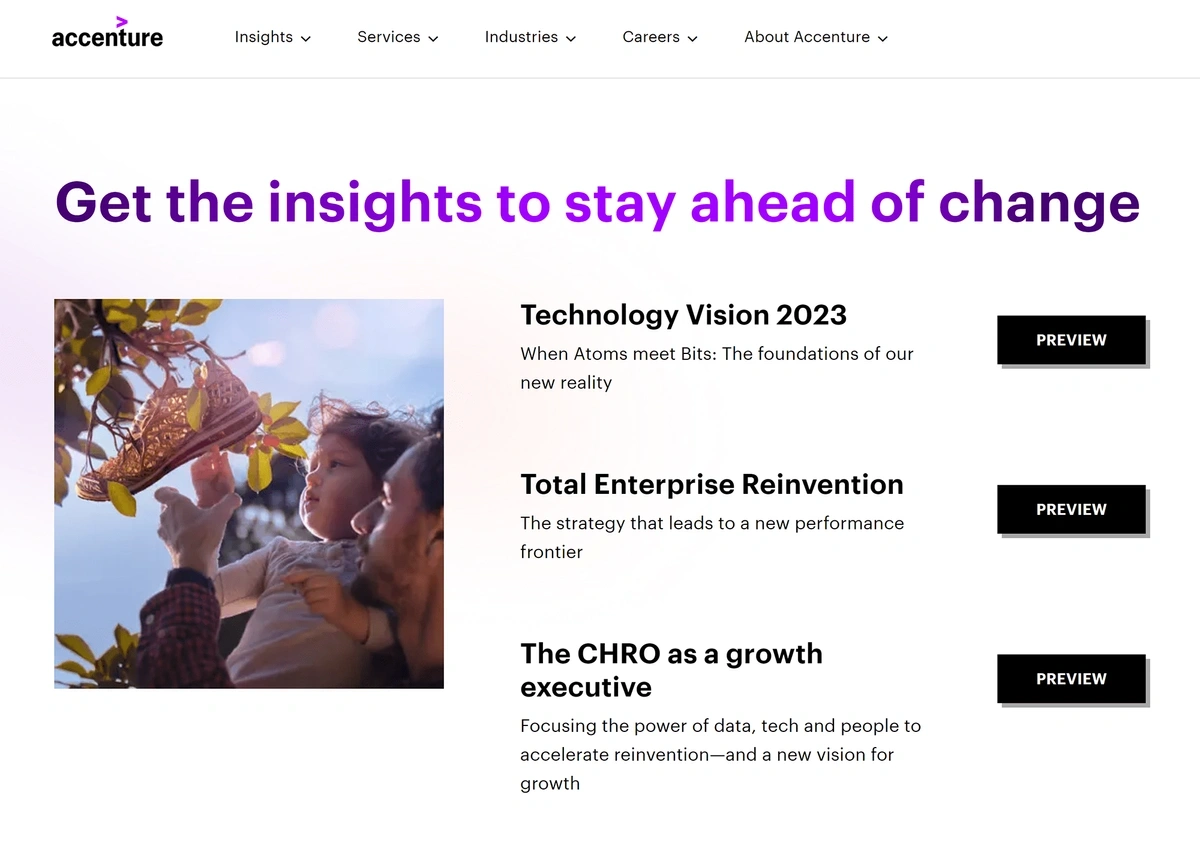 The company also offers bespoke technology consulting services that can help companies:
Learn to manage cloud-based systems
Build a future-proof tech stack
Leverage analytics and automation
Undergo a successful digital transformation
Who Should Use Accenture?
While Accenture customers can access data and reports online, much of the company's consulting and development work happens at one of seven in-person Accenture Labs locations around the world.
Companies interested in this kind of one-on-one consulting may find an Accenture partnership beneficial. Accenture's advisory services are also likely to be of use to more than just IT professionals.
How Much Does Accenture Cost?
Accenture's consulting services are bespoke, so you'll need to contact the company to find out more information.
If you're strictly interested in do-it-yourself research, you can access Accenture's reports online for free.
3. Gartner
Gartner is a research firm that provides data insights and consulting services for business leaders.
While Gartner's reports and services aren't exclusively focused on the technology industry, their offerings can be useful for tech leaders focused on:
Cybersecurity
Data analytics
IT
Software engineering
Who Should Use Gartner?
There are a few different ways to work with Gartner, including engaging in one-on-one advisory meetings and by attending conferences.
Gartner's services are a possible fit for technology professionals in leadership roles who want a fully bespoke solution.
Similar to GigaOm, many of Gartner's resources are focused on supporting their users internally—think strategy, operations, and advice for building a tech stack.
If you're looking for more external or customer-facing insights and resources, though, you'll likely want to try another solution on this list.
How Much Does Gartner Cost?
You'll need to set up a sales call in order to access all of Gartner's research reports and get customized advice from their team of experts.
Some Gartner reports are available online for free (you may need to put in your contact information to gain access) but further support is priced per customer.
4. Forrester
Forrester is another research and consulting firm that serves a similar audience to GigaOm. The company offers three options to interested clients. You can:
Access technology insights by reading Forrester reports
Get one-on-one advisory help from a Forrester consultant
Attend a Forrester event centered around an industry vertical or topic of interest to you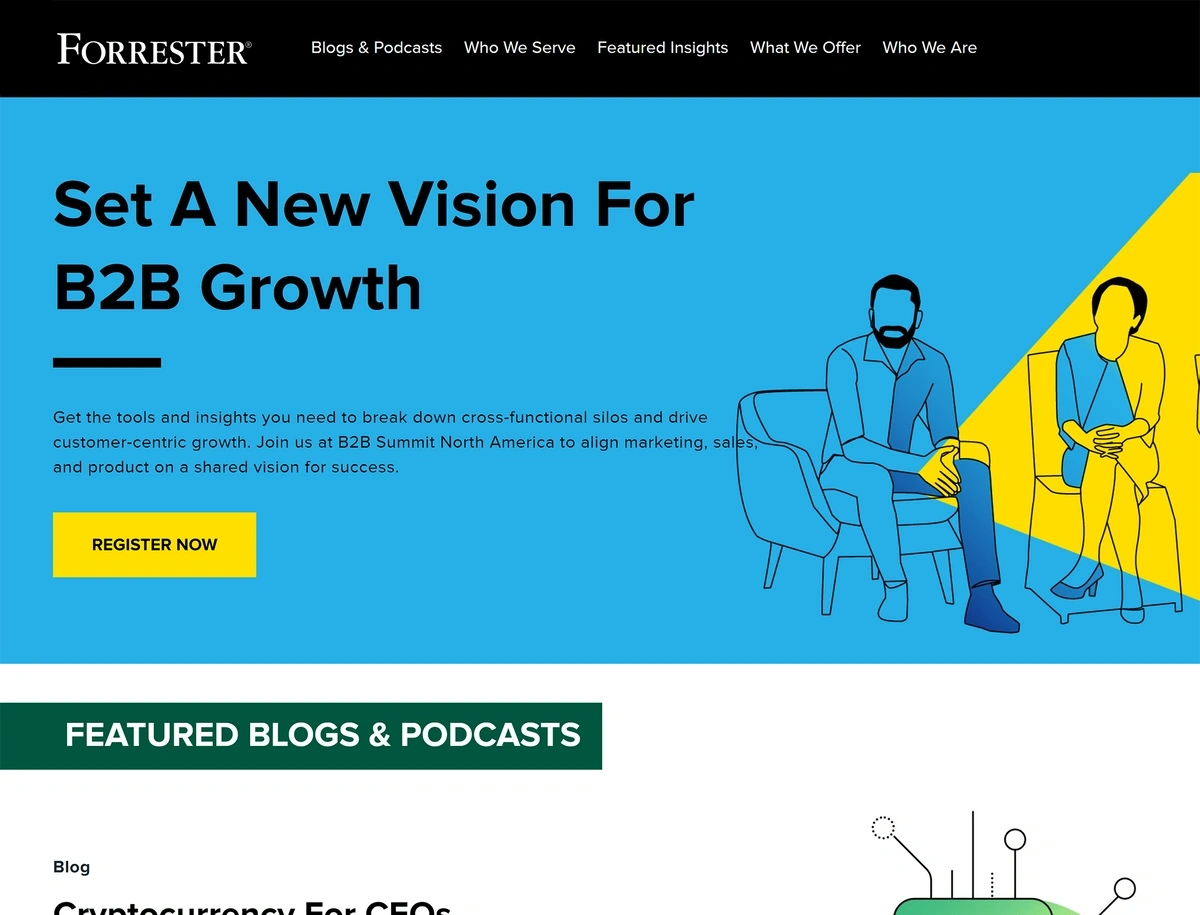 Forrester stands apart from GigaOm and some other competitors due to its broad industry coverage. The company provides solutions for leaders and executives in industries including:
Technology
Customer Experience
B2B and B2C marketing
Sales
Government
Who Should Use Forrester?
If you're looking for a research and advisory solution that can apply to multiple industries, Forrester might be a good fit. It's also a nice choice for professionals interested in attending events to learn and network.
However, if you're primarily interested in accessing data and research, another GigaOm alternative like Exploding Topics (which covers 30+ industries) might be more suited to your needs.
How Much Does Forrester Cost?
You can access some of Forrester's content, including blogs and podcasts, for free. If you'd like to work directly with a Forrester analyst or access more data, you'll need to talk with a member of their team to learn about pricing options.
5. IDC
IDC provides customized data, analytics, and advisory services for companies and professionals in the technology space. They offer solutions for:
Tech suppliers and vendors
Client side technical product buyers
IT executives
Tech investors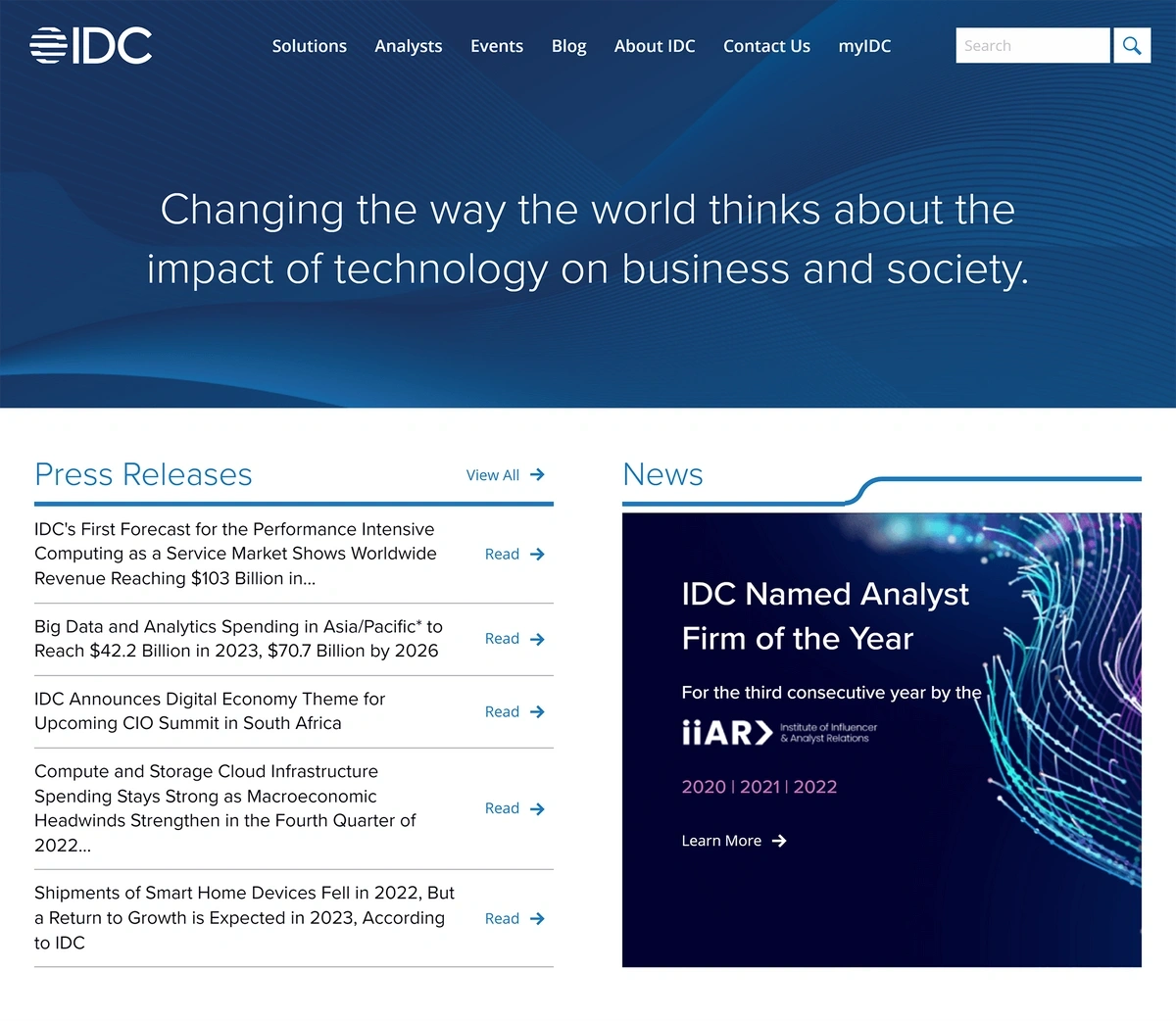 The company maintains a database of more than four billion data points of interest, including information about:
Market intelligence
Tech sales
Benchmarks and guidance for tech budgets and spending
Product management
Company valuations
Who Should Use IDC?
IDC provides several guided services to help tech executives achieve and improve corporate initiatives. If you want a dedicated partner to help source and interpret data for your company, IDC might be a good fit.
Investors who want one-on-one guidance from analysts may also find value from IDC's services.
If you aren't looking for a hands-on service, though, you might not use IDC's full slate of offerings. Plus, you can often find similar tech industry and company funding data through other sources.
How Much Does IDC Cost?
You can buy individual IDC reports and presentation recordings for $4,500 each. Personalized advisory services are an additional cost, and you'll need to get in touch with IDC for a quote.
6. Experts Exchange
The Experts Exchange platform allows users to ask questions and get responses from tech experts. Rather than working one-on-one with a specific consultant, you post your questions to Experts Exchange and wait for an expert to respond.
As a subscriber, you can use Experts Exchange to get:
Recommendations for tools that solve specific problems in your tech stack
Help troubleshooting problems in your enterprise cloud storage ecosystems
Getting support for cloud connectivity questions posed by your customers and clients
The platform's experts include professionals skilled in programming languages, Microsoft applications, Amazon AWS, enterprise-grade cloud services deployments, server management, and more.
Who Should Use Experts Exchange?
If you like using platforms like Reddit and Quora to crowdsource answers to questions, the Experts Exchange interface will feel familiar. When using the platform, you know you're getting connected with people who have experience in specific areas.
However, Experts Exchange isn't the place to source data, trends, and consumer insights. It's best if you need help for clearly defined problems—if you want to conduct research or get broader strategy support, you'll want to check out some of the other alternatives on this list.
How Much Does Experts Exchange Cost?
Expert Exchange access starts at $14.99 per month (billed twice a year) for individual access. You can also subscribe to team plans with multiple user seats.
All Experts Exchange plans come with the ability to ask unlimited questions and engage in direct messages with experts.
7. Omida
Omida is another technology research and advisory firm that offers research reports, personalized consulting, and events for tech professionals.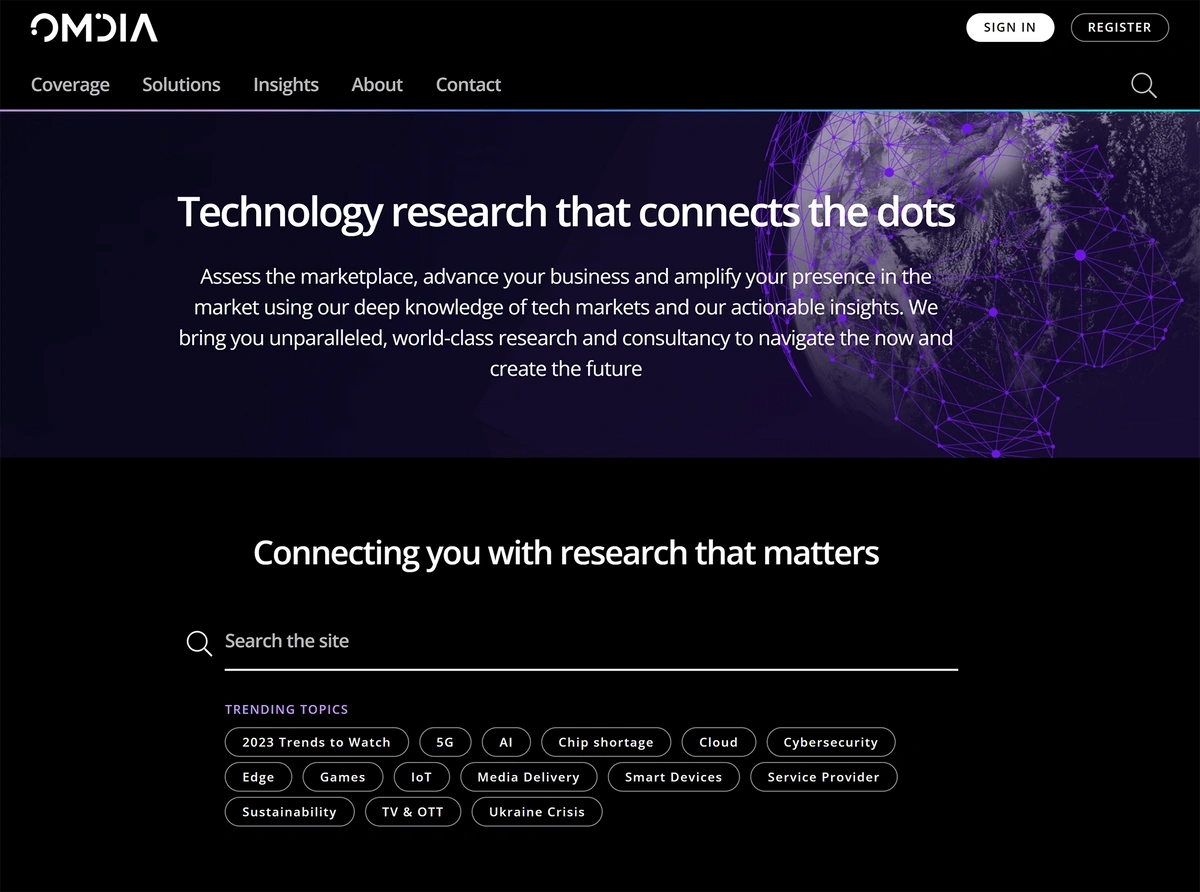 The company's research is focused on both B2B and B2C tech—and unlike some other GigaOm alternatives, it isn't solely focused on enterprise tech stacks. You can use Omida to learn more about topics like:
How inflation impacts the consumer gaming industry
The differences between competitors providing similar B2B tech services
How eSIM technology impacts digital transformation
Developments in healthcare technology solutions
Omida also offers data analysis and consulting related to the Internet of Things, manufacturing, cybersecurity, and more.
Who Should Use Omida?
If you want access to consulting and reporting services in one, and are focused on consumer technologies, then Omida could be a good GigaOm alternative for your needs.
However, if you're mostly interested in exploring data yourself, you may find yourself paying for some Omida services that you aren't able to take full advantage of. In this case, a service that delivers data and reports to you may be more well-suited to and cost-effective for your needs.
How Much Does Omida Cost?
You can read a number of Omida's analyst reports and articles for free, which is a nice way to figure out if their experts' insights are in line with what you need.
To become a client or get a briefing prepared for your company, you'll need to get in touch with the Omida team and request a quote.
Get Instant Access to Tech Industry Data For Companies and Investors
If you need access to continually updated, reliable trend data about the tech industry and consumers, Exploding Topics can be a good fit. Our platform lets you look at trending topics across the tech industry at large, uncover information about potential startups to invest in, and more.
Take it for a spin and see how Exploding Topics Pro technology data can help you optimize your marketing, product development, and investment operations—it's just $1 for your first two weeks.