80+ SaaS Statistics and Trends (2023)
This article is a list of 80+ insightful software as a service (SaaS) statistics and trends for 2023.
Organizations are increasingly using SaaS applications as part of their business operations.
But just how popular is SaaS? And how fast is the SaaS industry growing?
Discover more in our list of up-to-date SaaS stats below.
Click for a specific section:
Contents

Top SaaS Stats - Editor's Picks
As of 2023, the SaaS space is worth over $195 billion.
The SaaS industry has increased in size by around 500% over the past seven years.
SaaS is thought to be the most important tech in business success.
The US has approximately 8x more SaaS companies than any other country.
The fastest-growing segment in the IT security market is cloud security.
SaaS Trends and Growth Statistics
The SaaS industry is worth approximately $195 billion (Gartner)
Since 2015, the SaaS industry grew from $31.4 billion to an estimated $1617.1 billion in 2022. That equates to over 5x growth in only seven years.
The SaaS industry is projected to experience its largest annual growth between 2022 and 2023, reaching a value of $195.2 billion by the end of this year.
Organizations with more than 1,000 employees use 150+ SaaS applications (BetterCloud)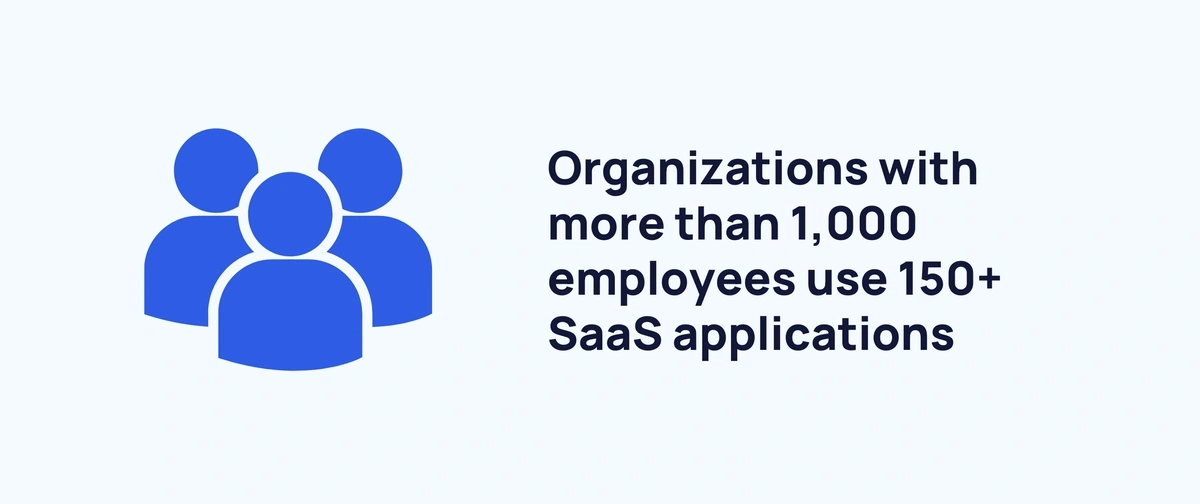 A recent study shows that companies with more employees use more SaaS applications.
Companies with fewer than 50 employees use an average of only 16 SaaS applications. Meanwhile, companies employing 50 to 99 employees use an average of 24 SaaS applications - a 50% increase.
Organizations with 100 to 499 employees use almost 2x more SaaS applications than organizations with 50 to 99 employees (47 vs 24).
The largest organizations, those with over 1,000 employees, use an average of 177 SaaS applications.
SaaS applications make up 70% of total company software use (BetterCloud)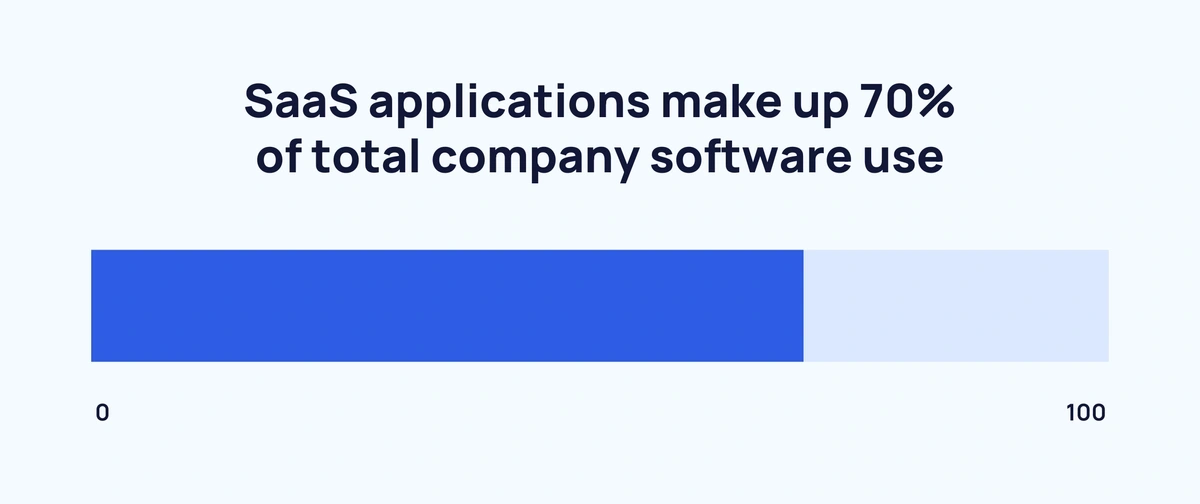 The average number of SaaS applications used by organizations has increased rapidly in recent years.
This figure has increased year-over-year from an average of 8 apps in 2015 to 12 apps in 2016, and 16 SaaS apps in 2017.
Last year, the average number of SaaS apps used per organization stood at 80.
It is projected that 85% of software that organizations use will be SaaS by 2025.
"As-a-service" annual contract values have increased by over 5x in six years (Information Services Group)
Annual contract value (ACV) in the SaaS sector has steadily grown since 2015.
ACV of the as-a-service sector reached $2.1 billion in Q2 2015. This figure grew by almost 3x by Q2 2018 ($6.2 billion).
As of Q2 2021, as-a-service ACV surpassed $10 billion, increasing from $9.9 billion in Q1 2021 to $11.2 billion.
The cloud application market has grown year-over-year since 2013 (Apps Run The World)
The cloud application is a growing market that shows few signs of slowing down. The market has grown from $30.3 billion in 2013 to over $124 billion in 2019.
It's projected that by 2024, the cloud application market value will reach $168.6 billion.
1 in 5 companies' SaaS spending was unaffected by the pandemic (IDC)
According to 908 respondents, 22.5% reported no impact in organizational spending on SaaS as a result of the COVID-19 pandemic.
A total of 23.5% of respondents reported decreased spending on SaaS as a result of the pandemic. 11.9% of total respondents cited a slight 10% to 20% decrease in SaaS spending. While 11.6% reported spending over 20% less on SaaS as a result of the pandemic.
Interestingly, 30.4% of respondents claimed to spend more on SaaS due to the pandemic. Perhaps in response to the increasing prevalence of remote work.
Half of all companies using multiple SaaS applications will centralize management in the next five years (Gartner)
By 2026, it is predicted that 50% of organizations will centralize SaaS application management. This will include usage metrics of these apps using project management tools.
Views on SaaS
SaaS is considered the most important technology in business success (Harvey Nash)
A recent survey found that SaaS was voted the most important technology in helping achieve business goals (from a list of ten technologies).
In total, 73% of 1,724 respondents consider SaaS to be of some importance. Breaking down those figures, 38% deem SaaS to be "very important" to their business' success. While 35% consider SaaS to be "quite important".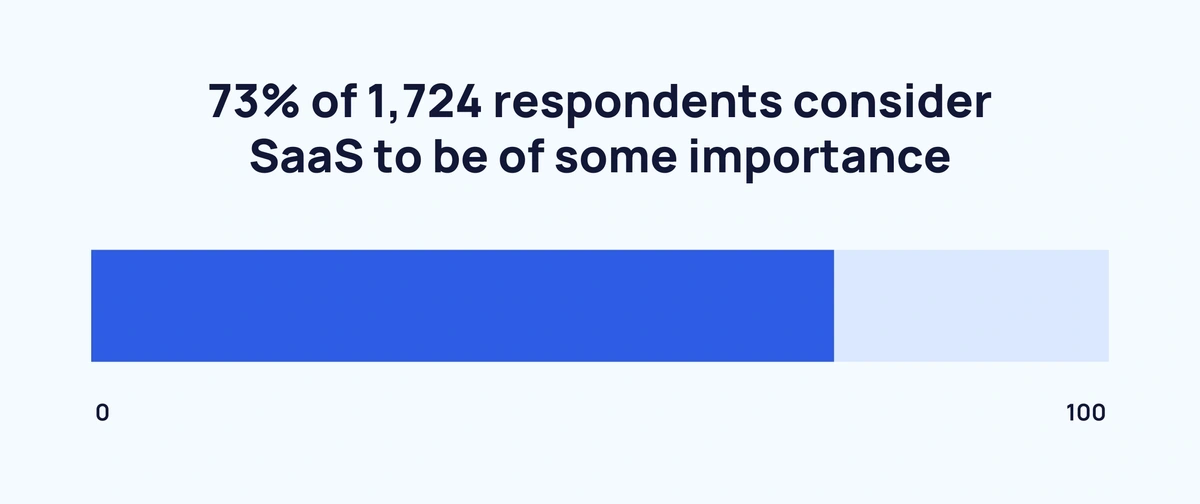 Big data is considered the next most important technology for business success with a total of 72% claiming some importance.
The least important technologies for business success according to the survey were blockchain (26%), virtual reality (25%), and augmented reality (24%).
Encryption worries are the biggest SaaS-related security concern (Thales Group)
The two most common concerns from a list of surveyed SaaS security concerns are both related to encryption.
"Encryption of my organization's data within the service provider's infrastructure with keys stored and managed by the service provider" is a SaaS security concern for 38% of respondents.
Meanwhile, "Encryption of my organization's data with the ability to store and manage my encryption keys locally" followed closely behind with 37% of respondents citing this as a concern.
All 10 security concerns listed received at least 32% of votes as a SaaS security concern. The least worrying security concern is "support for hardware modules (HSMs) - either for a local generation or as infrastructure for rent in the cloud" (32%).
Regional SaaS Stats
The US has over 8x more SaaS companies than any other country (The Latka Agency)
The US accounts for approximately 17,000 SaaS companies (that's 15,000 more than the next leading market, the UK.)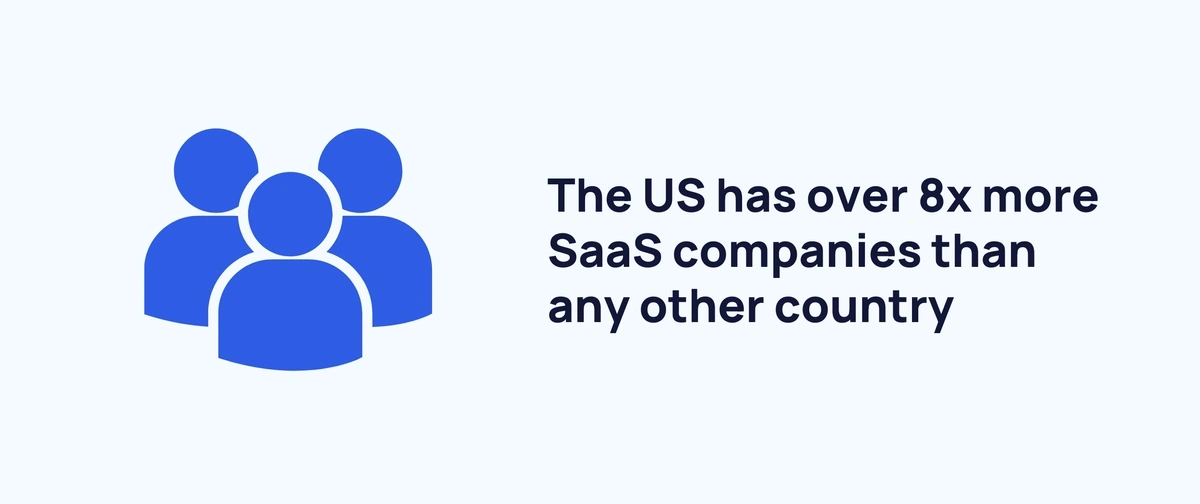 Canada (2,000), Germany (1,000), France (1,000), and India are the next highest countries.
India is currently the top Asian SaaS market.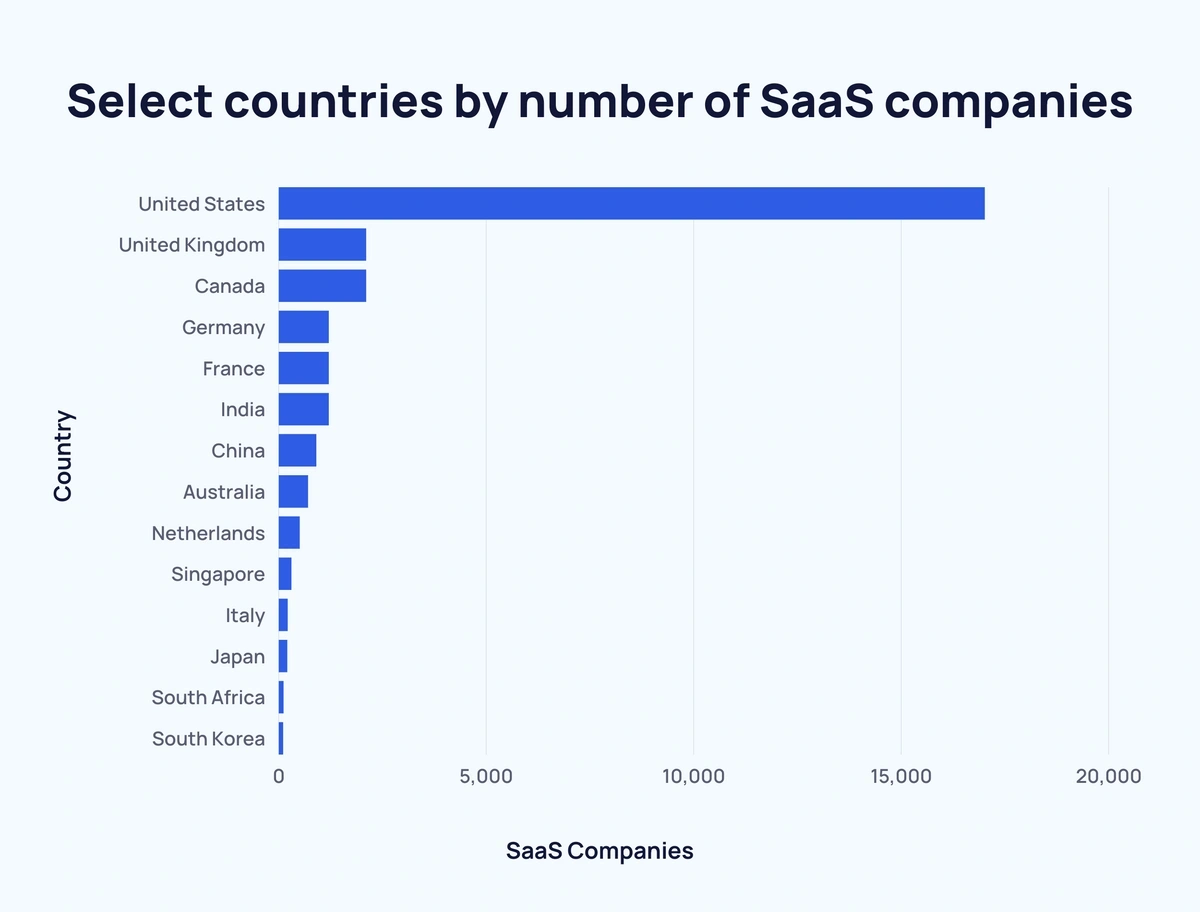 Here is a breakdown of an assortment of leading SaaS countries:
| | |
| --- | --- |
| Country | No. of SaaS Companies |
| United States | 17,000 |
| United Kingdom | 2,000 |
| Canada | 2,000 |
| Germany | 1,000 |
| France | 1,000 |
| India | 1,000 |
| China | 707 |
| Australia | 635 |
| Netherlands | 402 |
| Singapore | 327 |
| Italy | 244 |
| Japan | 241 |
| South Africa | 63 |
| South Korea | 48 |
The US SaaS industry is set to grow by over 2x by 2025 (Reply)
The US SaaS sector is the largest in the world by a considerable margin. And was worth an estimated $108.4 billion in 2020.
This figure is forecast to increase to $225 billion in 2025. That's an increase of over 100%.
It is predicted that the US will maintain its number 1 spot as the world's largest SaaS market over that time span.
The UK SaaS industry is expected to almost double between 2020 and 2025 (Reply)
The UK is another major market for SaaS applications.
In 2020, the UK SaaS sector was worth approximately €7.5 billion. And is expected to almost double to €14.5 billion over the next 3 years.
Similarly, the SaaS industry in China, India, and Brazil is expected to grow by over 2x between by 2025.
SaaS industry value is expected to increase by over 2x in major European markets (Statista)
At €6.85 billion, Germany leads the way in SaaS European market revenue. This is set to increase to €16.3 billion in 2025.
France has the second-highest SaaS European market revenue with €4.75 billion last year. This figure is projected to rise to €11.05 billion in 2025.
Italy, the Netherlands, and Belgium make up the rest of the top five SaaS European market revenue countries, each forecast to generate between €1.6 billion and €4.1 billion by 2025.
Germany is expected to experience the largest increase in SaaS market growth from major markets by 2025 (Statista)
In 2020 the German SaaS market was estimated to be worth €6.85 billion.
This figure is set to rise to €16.3 billion in 2025 - a growth of almost 3x in five years.
End-user cloud SaaS expenditure is predicted to grow by almost $365 million in 2022 (Gartner)
Australian end-user spending on cloud SaaS has increased year-over-year from 2019 to 2021.
2019's figure of approximately $243 million of end-user cloud SaaS expenditure increased by over $60 million (to $305 million) in 2021. And is set to increase by a similar value to reach $362 million in 2022.
The Latin American SaaS industry is forecast to surpass a value of $5 billion in 2022 (Research and Markets)
The SaaS sector is also expected to grow significantly in Latin America.
Between 2017 and 2021, the Latin American SaaS industry has grown year-over-year from a valuation of $1.48 billion to $4.11 billion.
The SaaS sector in Latin America is set to grow by over $1 billion in 2022 - a five-year high. It is forecast that the Latin American SaaS sector will be worth an estimated $5.31 billion.
The SaaS startup model accounted for at least 2x more than any other startup model last year in Brazil.
In total, 41.12% of all Brazilian startups in 2020 were part of the SaaS sector.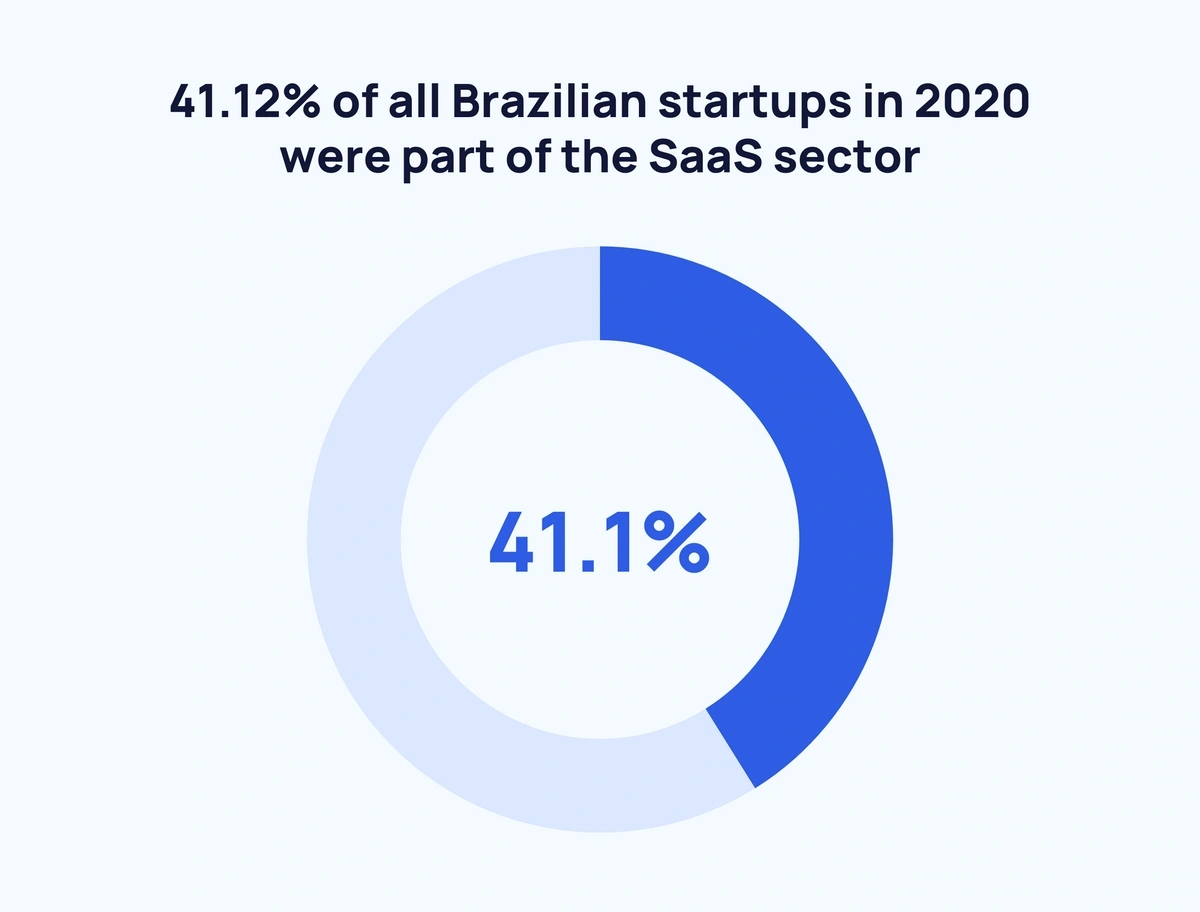 The next most popular startup model in Brazil was marketplace startups with a 19.4% share of all startups.
China's SaaS cloud market size has grown year-over-year over the past decade (China Briefing)
The SaaS market size in China has risen steadily since 2013 from ¥3.49 billion to ¥16.87 billion in 2017.
The projected market size for SaaS in China last year was ¥47.34 billion.
Japan's SaaS market value is predicted to surpass ¥1.5 billion in 2023 (Yano Research)
Japanese SaaS market value has grown year-over-year since 2017. And is forecast to continue to grow year-over-year until 2023.
In 2017, the SaaS market value in Japan stood at approximately ¥430 million.
That figure has grown to approximately ¥1.22 billion in 2021. And is expected to reach ¥1.67 billion in 2023.
SaaS Category Statistics
Zoom increased market revenue by 5x between 2018 and 2020 (Statista)
Within the SaaS sector, certain conferencing companies have seen strong year-over-year growth.
Leading the way in this space is Zoom. The conferencing company generated $45 million in revenue in Q1 2018. This figure doubled to $90 million in Q1 2019. And rose further to $225 million in Q1 2020.
Other major conferencing SaaS companies have seen limited growth. An example of this is Cisco with the company generating $290 million in both Q1 2018 and Q1 2020.
Cloud security is the fastest-growing segment in the IT security market (Gartner)
A 2021 report shed light on global IT security spending by sector.
Cloud security is forecast to grow by 41.2% in 2021 compared to last year. This makes it the fastest-growing sector within the IT security industry.
Experts suggest this is heavily influenced by the COVID-19 pandemic and the increase in remote work.
Data security (17.5% growth), infrastructure protection (16.8%), and identity access management (15.6%) are the sectors in the IT security industry with the next-highest annual growth projections.
Visma generate approximately 3x more revenue than any other B2B SaaS CRM company (The Latka Agency)
Visma is the market leader in B2B Saas CRM revenue with $2.2 billion generated in 2021.
Qualtrics generated the second-most revenue in this space, racing a figure of $763 million in 2021.
This is followed by Zoho with $500 million generated. And Lime with $338.7 million earned from the B2B SaaS CRM market.
SaaS Organization Stats
Salesforce employs over 73,000 employees (Macrotrends.net)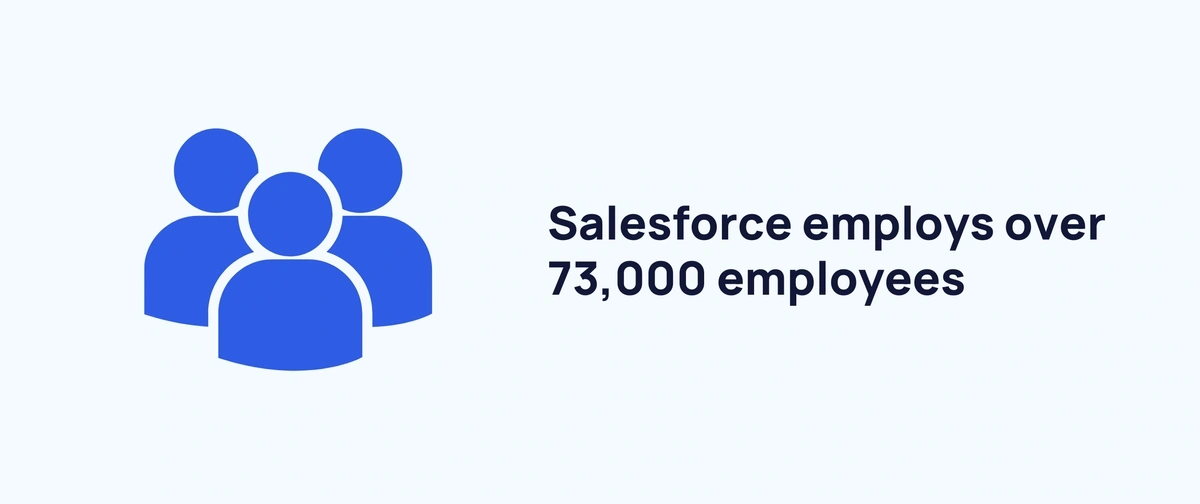 The largest publicly listed SaaS provider (as of July 2022) is Salesforce, employing approximately 73,000 employees.
That figure has increased by 29.92%, up from 56,606 employees in 2021. And has more than doubled since 2019 (35,000 employees.)
As of July 2022, Salesforce has a market capitalization of $167.36 billion.
Microsoft generated over $15 billion in a 2021 fiscal quarter (cloudwars.co)
Microsoft is the leading cloud vendor in terms of revenue by the fiscal quarter this year. The tech giant generated $17.7 billion in its third fiscal quarter of 2021.
Amazon generated the second-largest revenue in this quarter by a cloud vendor ($13.5 billion).
In third place, IBM generated less than half of Amazon's fiscal quarter revenue with a figure of $6.5 billion.
In total, seven different cloud vendors generated over $1 billion in a single fiscal quarter in 2021.
Adobe has a SaaS market capital of over $170 billion (Mike Sonders)
As of July 2022, the top public SaaS company on the US stock exchange by market capital this year is Adobe Incorporated.
The SaaS organization amassed $174.1 billion in market capital - approximately $6.7 billion more than any other US SaaS company.
Salesforce has a market capital exceeding $160 billion (Mike Sonders)
Salesforce ranks second on the list with a market capital of $167.4 billion.
Three other SaaS organizations have a market capital exceeding $50 billion. And a further 27 have a market capital exceeding $10 billion on the US stock exchange (as of July 2022).
Azure has a leading SaaS usage of over 35% in three major African nations (F5 Networks)
Azure is the leading cloud provider in Nigeria (50% usage), South Africa (49%), and Kenya (37%).
Google is the second-most prevalent provider in the selected African markets. 28% of Nigerian respondents, 29% of Kenyan respondents, and 25% of South African respondents claimed to use Google cloud services.
Over two-thirds of Oracle's revenue is derived from cloud services (Oracle)
Oracle is a global brand that has turned its focus to SaaS in recent years.
From 2018, cloud services and license support made up over two-thirds of Oracle's total revenue.
In 2021, cloud services accounted for $28.7 billion of Oracle's total revenue.
Conclusion
That's it for our list of SaaS statistics and trends.
As you can see, SaaS organizations are becoming increasingly prevalent in modern business. And are forecast to continue their steady growth.
A trend that ties many of these stats together is the fact that organizations are utilizing remote work more often. Which is likely to encourage further demand for cloud-based computing and apps.
For more content on SaaS, we recommend: 11 Important SaaS Trends.