Top 5 Trend Hunter Alternatives (2023)
Trend Hunter offers a mixed bag of market research and trend forecasting solutions. They provide a self-serve trend platform, one-on-one consulting with custom trend reports, as well as private keynotes and workshops for your business. They also publish articles on the latest trends, gadgets, and startups that you can access on their trend site for free.
So when comparing different Trend Hunter alternatives, think about the specific services you need — do you want a trend spotting website to learn about, research, and monitor trends? Personalized consulting to strategically build your brand? Or do you just want a free site to learn about new trending topics and unique product ideas?
In our guide, we review five Trend Hunter alternatives, explaining what they offer and who they're designed for. We start with our site to discover and track industry trends — Exploding Topics. Then, cover 4 other sites that offer trend-spotting features.
You can also start an Exploding Topics Pro Trial for $1 — Pro users have full access to our trend database, weekly reports, trend analysis features, and private trend tracking dashboard.
1. Exploding Topics — To identify, analyze, and track early trends in any industry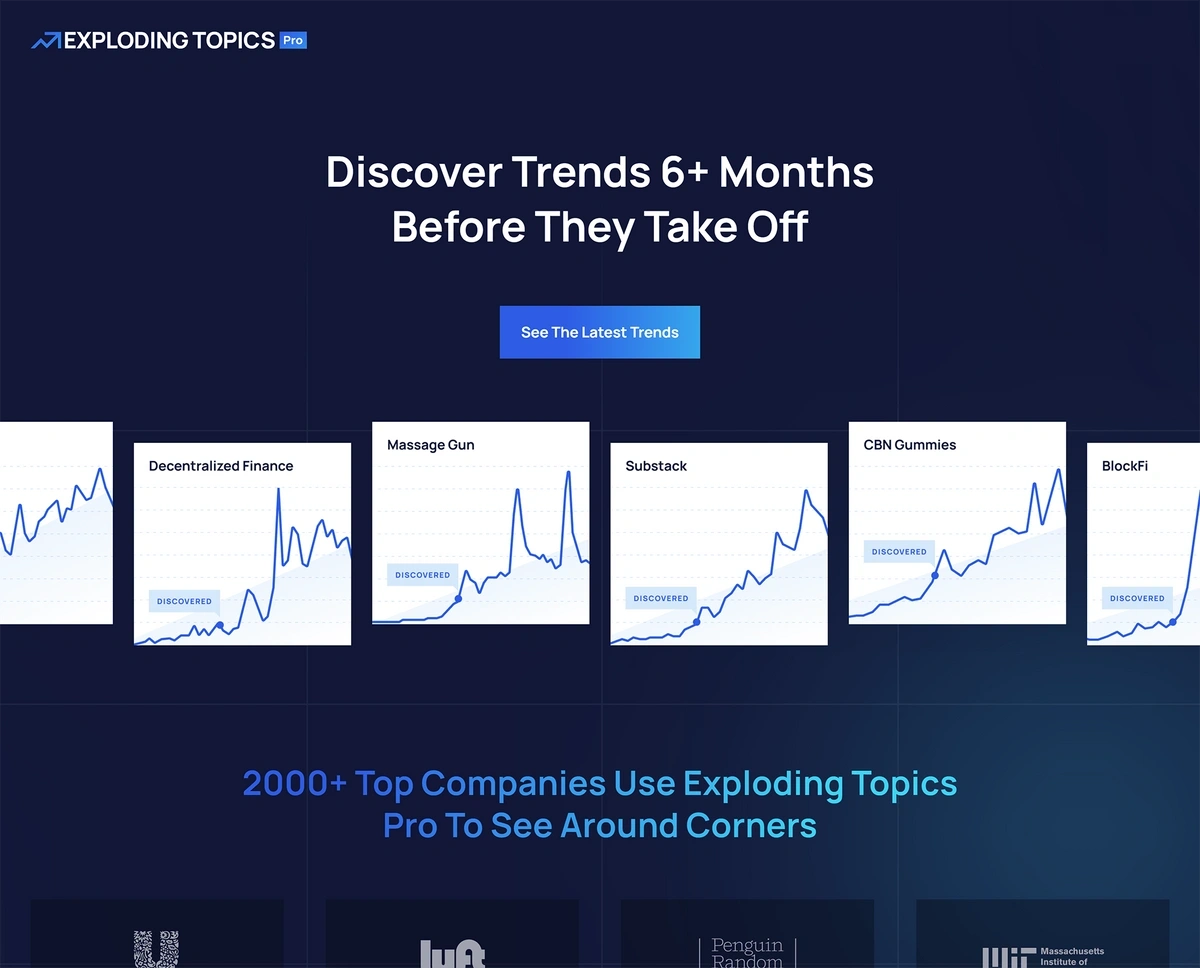 Exploding Topics is an entirely self-service trend discovery platform where you can access and track market and industry trend research for 12+ different categories. Our trend site covers beauty, crypto, finance, eco, food, health, lifestyle, eCommerce, media, pets, sports, tech, startups, and more.
Here's how it works:
You can use our trend database to learn about early trends - there are multiple ways to filter the database and explore just the type of trends you want to research, like new trends in technology, popular fashion trends, or potential business ideas. You don't have to know exactly what to search, and navigating the trend discovery features is simple; choose the category, topic, date range, or status and we'll show you the latest trends.
We display all of the available trend data, like search volume and growth rate, in the trend overview so you can look back at historical data and forecast future interest in trends.
Pro users can save trends to a private trend tracking dashboard and monitor trend growth into the future. We update our site constantly and even send email alerts for trend updates so you're always in the loop.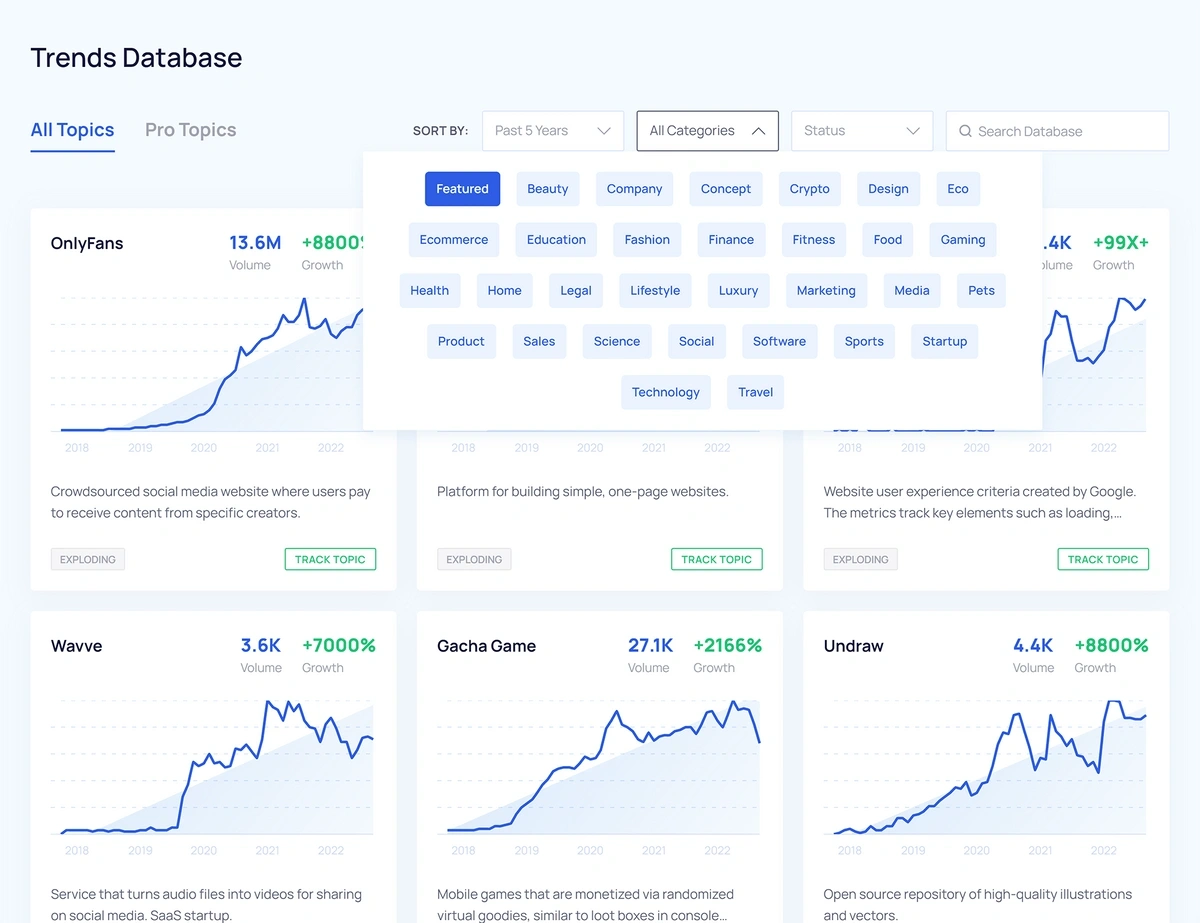 We use a two-step process to identify early trends and verify long-term business value before approving trends for our database: our tech scrapes dozens of online sources — news and streaming sites, posts on social media platforms, consumer behavior on online marketplaces, feedback on review sites and forums, and more — looking for early new trends. This approach generates hundreds of potential new trend opportunities every day.
But it's our analysts who review incoming trend data and identify which trends have the potential to scale (i.e., which trends are likely to stay relevant long into the future).
Then, we update our database with the most recent trends and analytics so you can learn about unique new product ideas, technologies, brands, and other business opportunities while they're still in the really early growth stages.
Read More: #1 Site for Business Trends Research: Identify + Track Trends
In addition to our trend database, we also email weekly trend reports with analyses of 10 of the fastest-growing trends. Along with a brief overview of the trend, details on target markets and audiences, information on how the trend is currently relevant, and what we expect for the future. These trend reports cover new products and startups across a combination of industries.
For example, here's a preview of a recent trend report: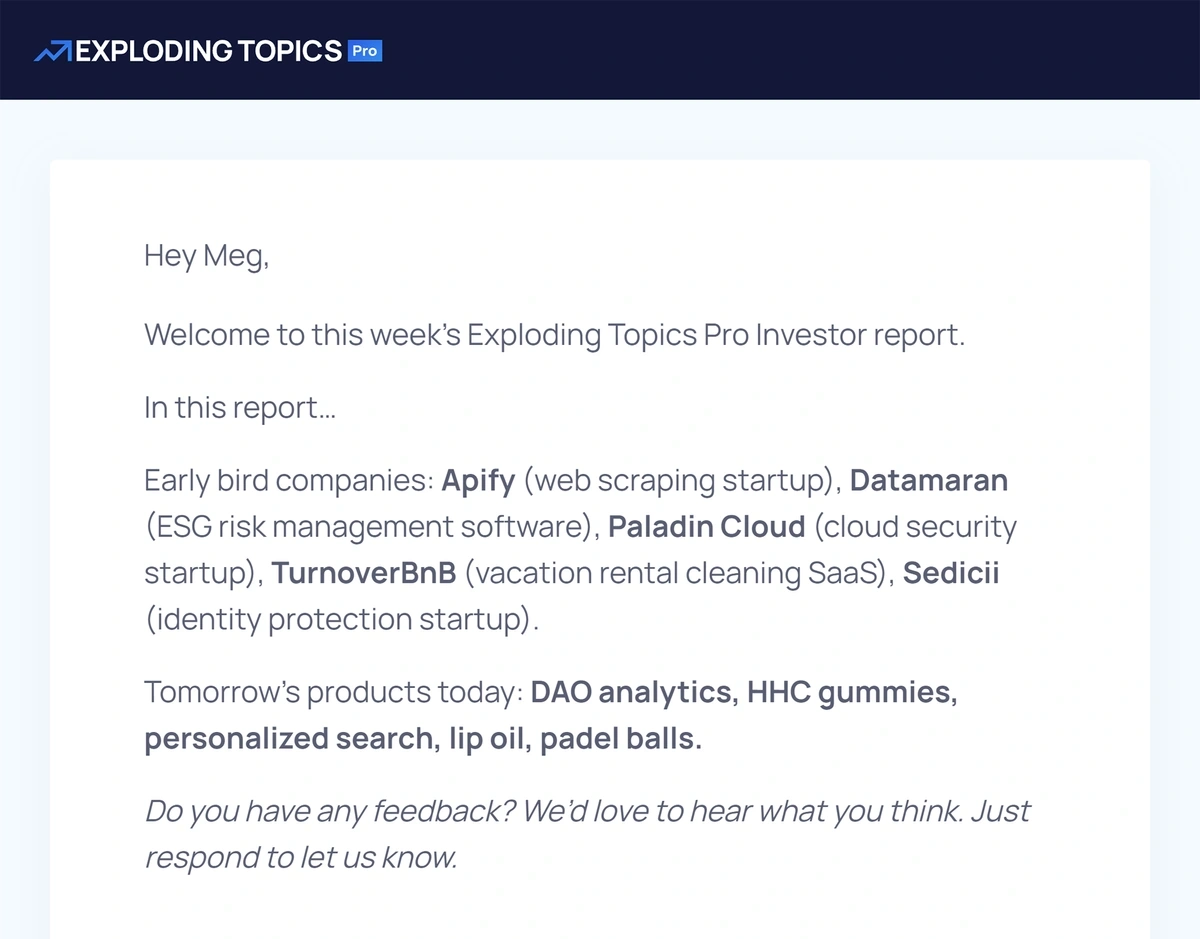 Read More: Market Trend Reports (+ Trend Discovery, Analysis, & Tracking)
Our market research tools are ideal for investors, ecommerce business owners, media and marketing agencies, and entrepreneurs who want to do trend research independently and get a big-picture view of emerging business trends.
You can get a feel for our trend spotting site through some of our free features: You can see a limited number of trends on our public database (Pro users can access the newest trends at least six months before they're on the public database) or sign up for our free trend newsletter.
Or you can start a Pro trial to check out all of the trend discovery features mentioned above.
2. Springwise — For one-on-one market research and consulting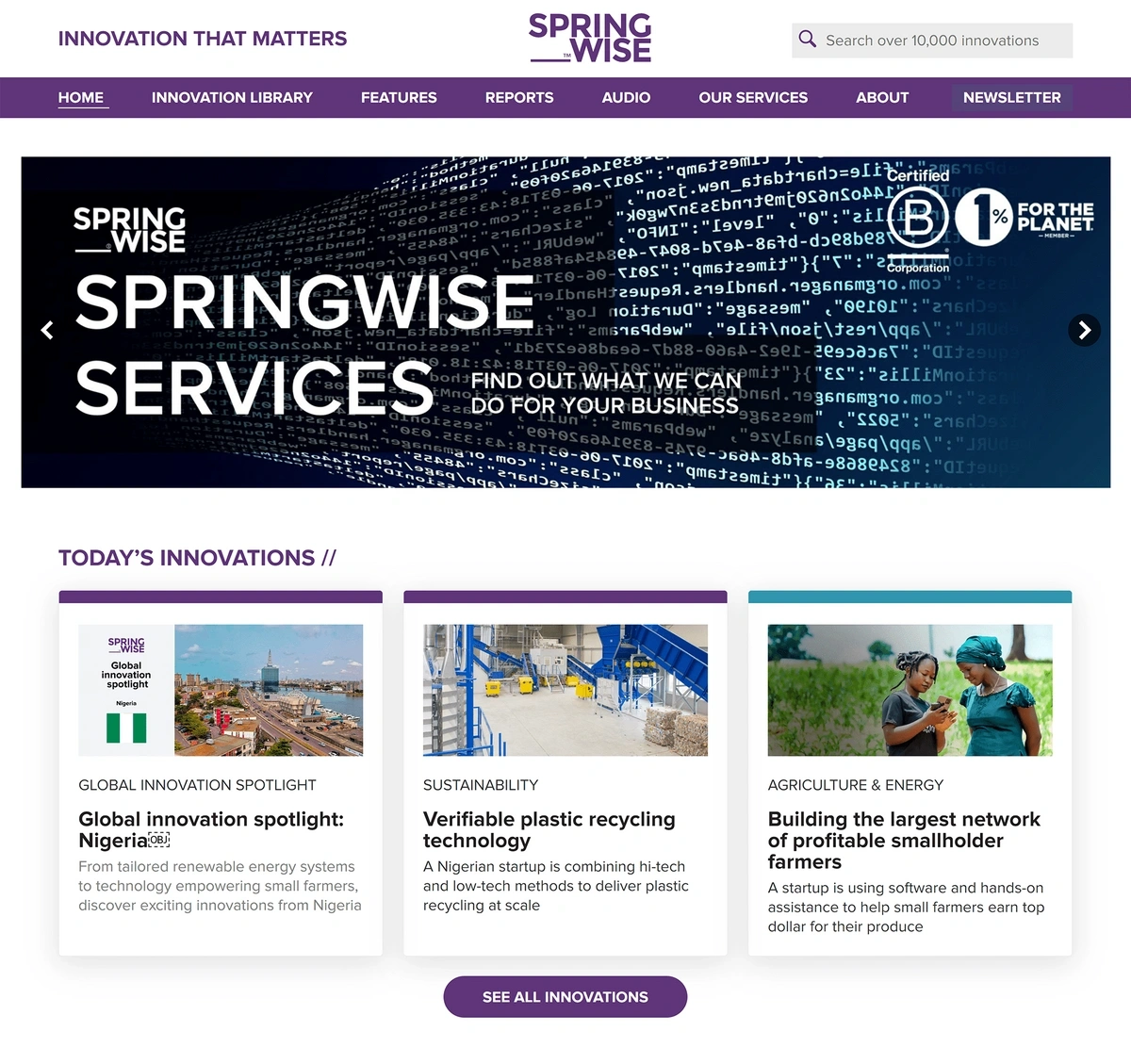 Springwise is a "global innovation intelligence platform" that offers articles on market and consumer trends, bespoke trend reports, and custom consulting services. Springwise's market research focuses on upcoming innovations (technology, software, products, concepts) and sustainability (eco-friendly or "green" industries). And since their research spans internationally, they can work with businesses all around the globe.
Some of their services include:
Live Innovation Content Feed, where Springwise's trend spotters send you a monthly brief based on your particular interests or needs.
Innovation Library Sponsorship, where Springwise will post about your business, product, etc. on their website for other users to discover.
Private keynotes, where you can book an industry expert to speak at your business or event.
Business consulting through Re-Set, Springwise's sister company that specializes in helping businesses evolve with industry trends and stay ahead of what's up and coming.
Free email newsletters and weekly trend podcasts.
Springwise may be a good fit if you need a firm that offers global trend research, or if you want to dig into consumer trends and innovations in a specific country or region. However, Springwise services fall on the pricier side — access to just the Live Innovation Content Feed costs over $5K per month, and they require a minimum 12-month contract to use their market research tools. Therefore, this site might be best for enterprise businesses that have a more flexible budget for this type of investment.
3. TrendWatching — To research trends & book private keynotes and workshops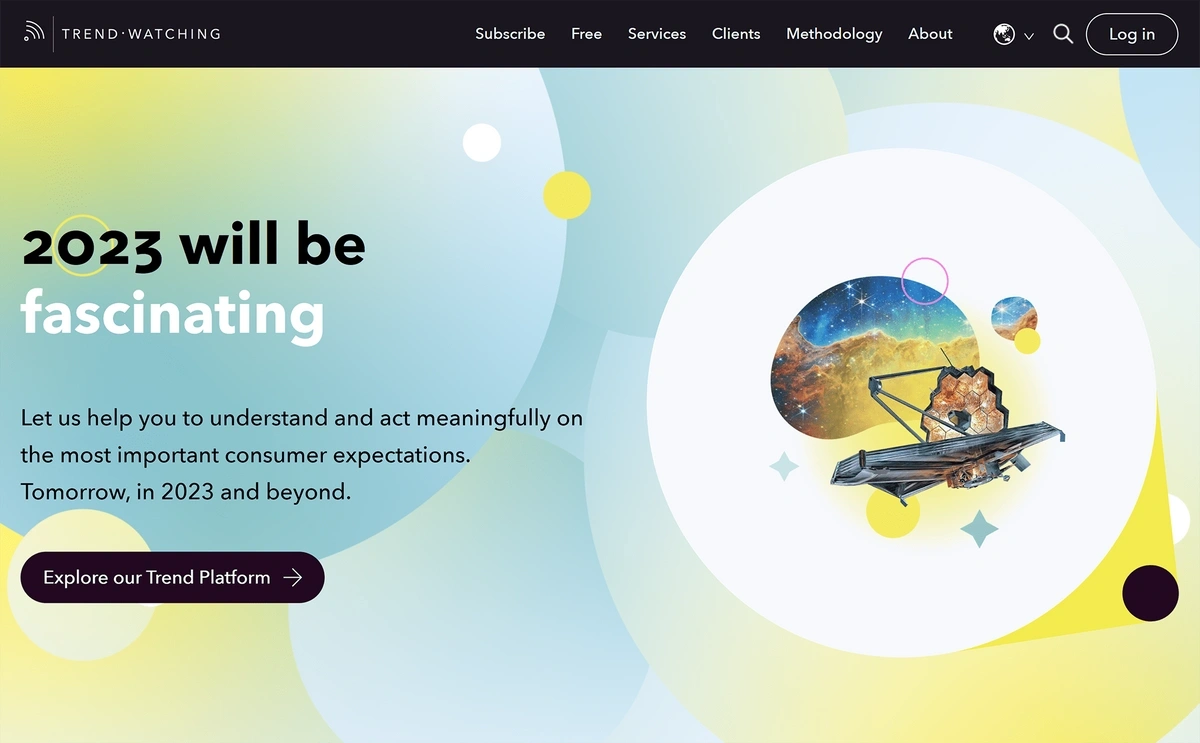 TrendWatching is a leading consumer trends firm that partners with businesses, universities, and industry professionals all around the globe. Specifically, they provide custom solutions so they can work with large enterprises or SMBs. Their market research tools and services include:
Trend intelligence platform (Amplify), where you can access trend discovery features and trend reports, view trend analytics, track trends, and watch Academy lectures. Every member is assigned a dedicated analyst to answer questions and provide guidance.
Online "Academy" with courses that teach professionals how to act on trend data. Instead of offering private consulting, they give users resources to do this market research themselves.
Corporate keynotes and workshops.
Free offerings like monthly trend newsletters, "Innovation of the Day," and Trend Canvas (where you can dissect trend details and predict future opportunities).
A big selling point of TrendWatching's site and services is affordability — they offer inexpensive pricing plans and discounts for students and non-profits. However, this platform may have a learning curve, and understanding how to track trends and leverage trend data comes with some trial and error. But the availability of their trend analysts is a major perk of their offering. And something that sets them apart.
4. The Cool Hunter Journal — To find cool new products & learn about international art, architecture, and travel trends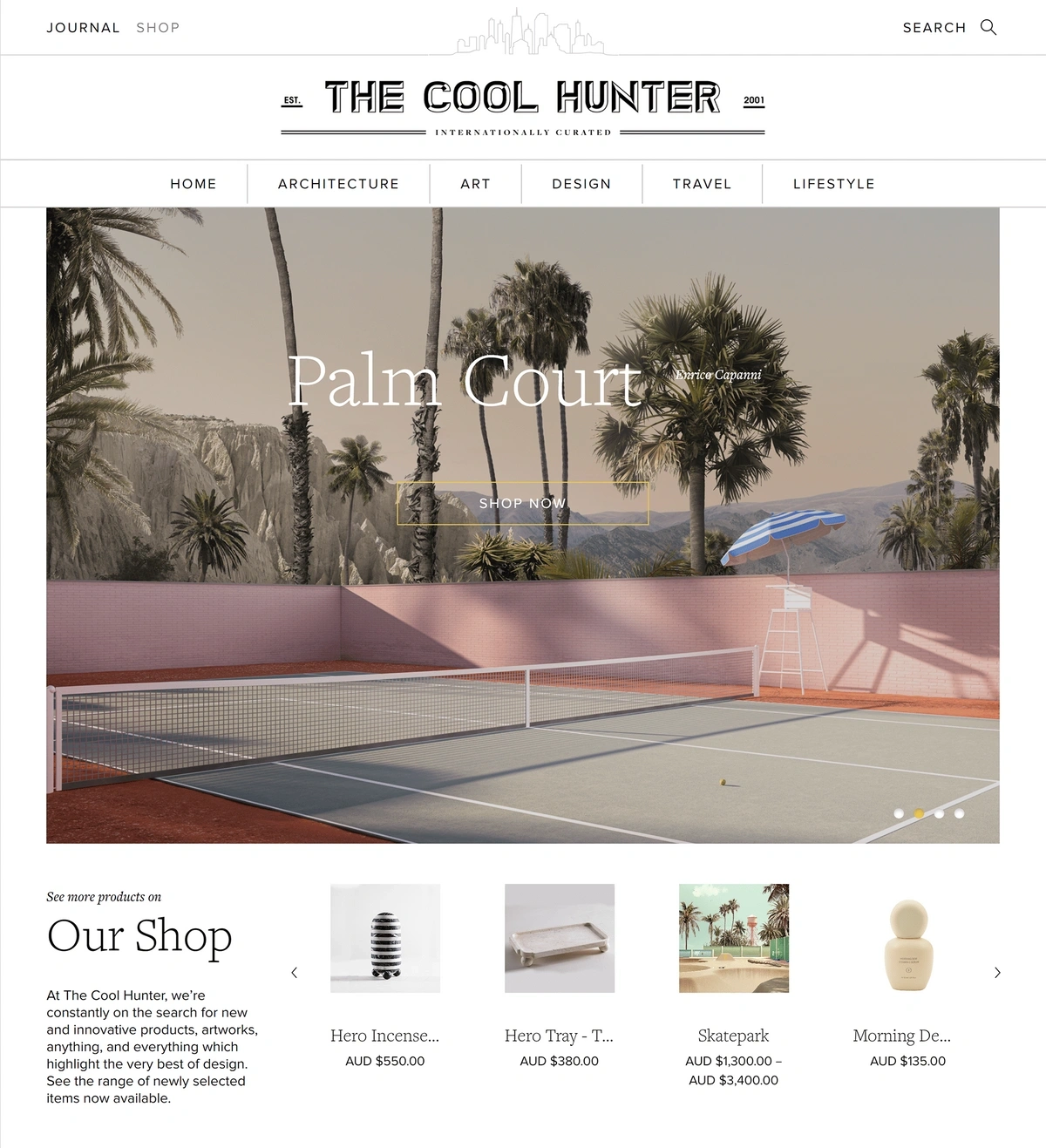 The Cool Hunter is a blog and online marketplace for users to learn about lifestyle trends and new trending products. The site focuses on architecture, art, design, travel, and lifestyle trends, and their contributors cover worldwide topics and trend data so you can browse around the site and find what fits your interests.
You can read all of the articles on The Cool Hunter for free, but it's worth mentioning that all of their trend data is written in an article-style format — you can't access metrics like trend search volumes, but you can read a synopsis written by their team.
(If you want to research some of the trends you find on The Cool Hunter, you can supplement with a free tool like Google Trends.)
The Cool Hunter is a good choice if you want to shop for eclectic, luxury products or read insights from artists and writers from around the world. It's not a solution for trend discovery, analysis, or tracking, and they do not offer any personalized market research.
5. Cool Hunting — To read articles about the latest design, technology, and pop culture trends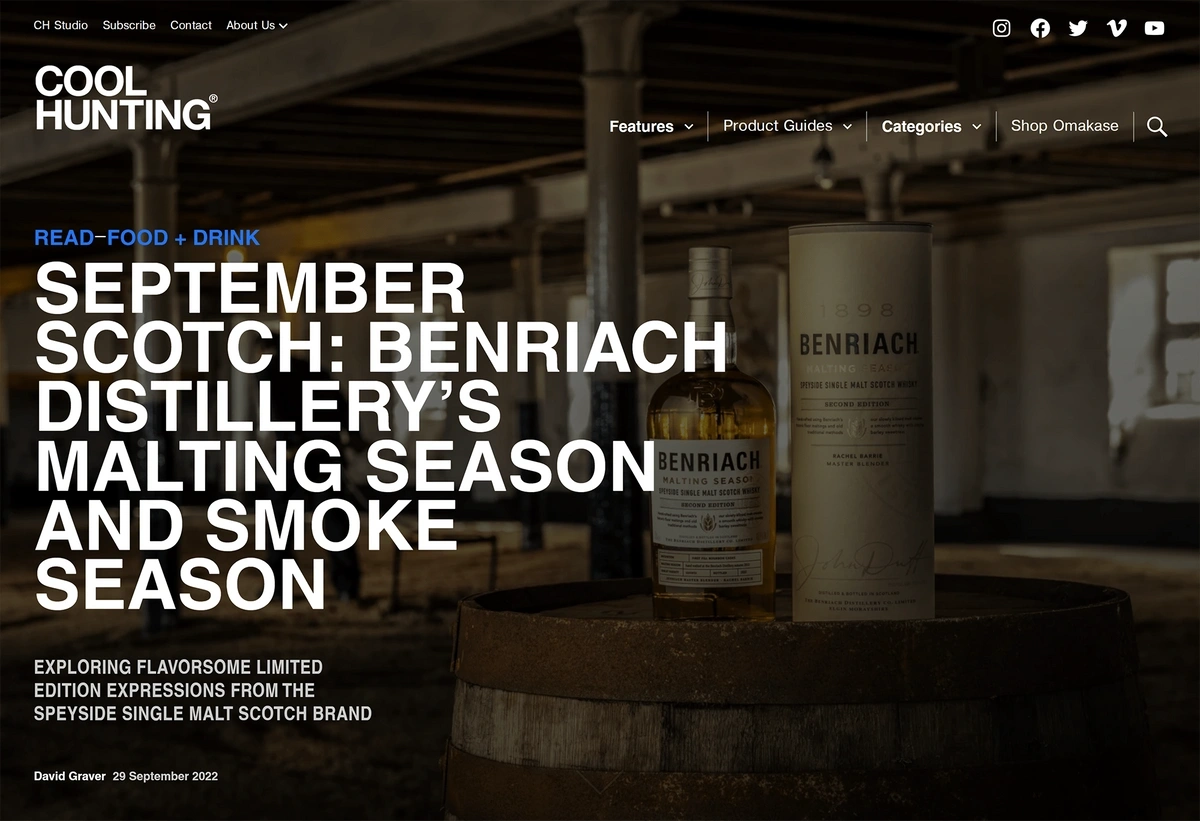 Cool Hunting is an online publication that covers trends, innovations, and pop culture events in industries like design, technology, travel, food, and fashion.
They also publish interviews with public figures, product and gift guides, "word of mouth" travel guides with insights from people from all around the world, and other content so readers can learn about the most cutting edge trends. Cool Hunting also has a free daily newsletter with new stories and insights.
As you might have been able to guess, this is a site you can reference to spot new trends (i.e., "keep up with cool new trends"). It's free to use and rely on insights from industry experts to guide trending topics. However, they do differ in the topics they cover, and as such, who they appeal to. Nevertheless, these resources are good for professionals, students, and small teams to learn about new products and stay on top of industry topics — but just remember that you'll need other market research tools to dig into the information you find on these sites.
Conclusion
That wraps up our list of sites like Trend Hunter.
As you can see, it's not so much that one site is necessarily better than the other. Each Trend Hunter alternative on our list has a unique set of features, tools, pricing and use cases.
Hopefully this post helped you learn more about the various trend-spotting tools out there. That way, you can find one that's an ideal fit for you.
Want to explore the Exploding Topics platform and test our trend discovery and tracking features? Start a Pro Trial for full access to our trend research and weekly reports.