Top 7 Alternative Data Providers (2023)
There are dozens of different types of alternative data you can use to guide business and investment decisions.
That's because alt data is loosely defined as "data that comes from non-traditional sources," including web traffic data, news analysis, mobile app activity, social media trends, satellite imagery, GPS and geolocation data, foot traffic, credit card transaction data, SEC filings, and more.
In other words, alt data comes from a web of sources that gives you day-to-day data on what consumers and target audiences are doing, as well their interests, opinions, and pain points.
When you use alternative data sources in combination with your existing market research and data analysis tools, you can see a fuller picture of what's up and coming in your industry, uncover more unique insights to guide decision-making, and gain a competitive edge.
There's no shortage of alternative data providers out there. Choosing the right one to invest in ultimately depends on the kind of research you want to do. So in this list of alternative data providers, you can read more about the most popular names in this space and what type of insights they provide — starting with our market trends website, Exploding Topics.
With that, here's our list of the top alternative data providers:
1. Exploding Topics — Early access to new industry & market trends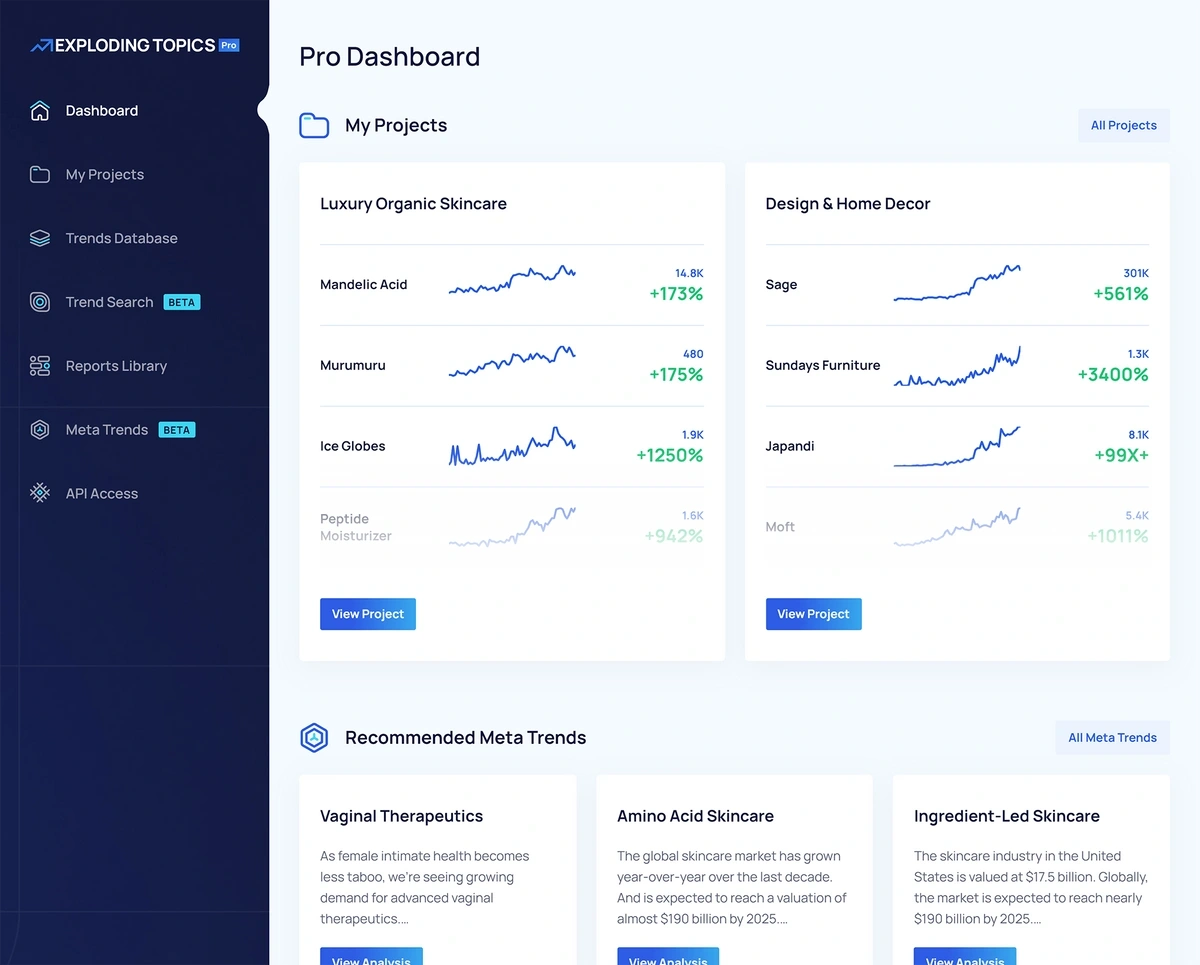 Exploding Topics is an industry and market trends research site — you can use our website to identify new products, technologies, software, services, startups, and other trending topics in your industry and get ahead of early opportunities before competitors.
Our market research tool lets you:
Identify super early trends across dozens of categories — for example, marketing, eco, fitness, health, food, lifestyle, design, crypto, technology, SaaS, startups, etc.
Access detailed trend analyses and look at data like search volume and growth rates to understand more about the background of each trend and forecast future interest.
Save trends to a private trend tracking dashboard and set email alerts for trend updates so you're instantly notified when there are significant changes to trend search volumes.
We're a popular solution for teams that want to understand and leverage trend data in their business strategy, but don't: A) have experience in this type of research or know the best methods for finding early trends, B) want to dedicate resources to do this type of in-depth trend research independently, or C) want to hire a costly market research agency to take over the entire research process for them.
Exploding Topics is a happy medium because all of the trends on our site are vetted and verified by trend analysts. Plus, our trend discovery and tracking features are easy enough for anybody (even professionals with zero market research experience) to learn and use.
On our website, you can access features like our trend database and Meta Trends library, and we deliver new trend reports to your email each week. But before we talk about how to use our website features, let's explain our research method and how we find new trends.
Our Methodology
Our trend research method is a two-part process that involves both artificial intelligence and trend analysts to:
Scrape dozens of online sources for indicators of early new trends.
Review trend data to sort the long-term trends from the short-term fads.
Exploding Topics AI is constantly monitoring sites like news outlets, social media platforms, streaming sites, podcasts, customer review sites, Ecommerce platforms like Amazon, forums like Reddit, and more. It looks at common topics, popular products, and consumer behaviors to detect blips of early new trends and gather key data about each potential new opportunity.
Then our team takes over.
This second half of our trend research is what makes our trend data so valuable — our site isn't full of "trendy" topics, like what movies or TV show finales that people are talking about. Instead, our team analyzes each trend, researching search volumes and target markets where the trend is relevant, looking just for the opportunities that show signs of continued interest and growth.
This way, you're not investing time and money into chasing "hot topics" or fads — you can feel confident that every emerging brand name, technology, product idea, etc. that you find on our site holds value for your business and investment strategies long into the future.
Now, let's talk about how you can use our features to explore the trends on our site and find new opportunities that interest you.
Our Features
You can find new trends on our website via the trend database, search, and Meta Trends library, but you can also read about promising new startups and unique product ideas in the trend reports we send each week. Regardless of how you find trends, you can access detailed trend info and add topics to your dashboard to easily track trend growth.
Trend Discovery Features — Trends Database, Search, & Meta Trends
First, we have the Exploding Topics database where we store all of the trend info on our site. Our site covers thousands of trends across a variety of industries — when you reach this database, you can use the drop-down menu to select the category you're interested in (e.g., eco, fashion, beauty, marketing, technology, gaming, sports, science, product, luxury) and we'll automatically show you the related results.
We also have extra filtering options so you can update results based on the research you want to do. For example, you can change the date range to look at trends that have popped up over the last couple of months (vs. trends that have shown steady growth over past years). Or, you can adjust the trend status to see early trends with high-growth. Or trends that are gradually growing in popularity.
When you find a trend you're interested in, you can open the overview window to view all of the associated data, including search volume, growth rate, status, and category — and we display this information in an interactive graph so you can hover your mouse over and view data points along different timelines. We also list related trends in the overview window so you can continue researching your area of interest.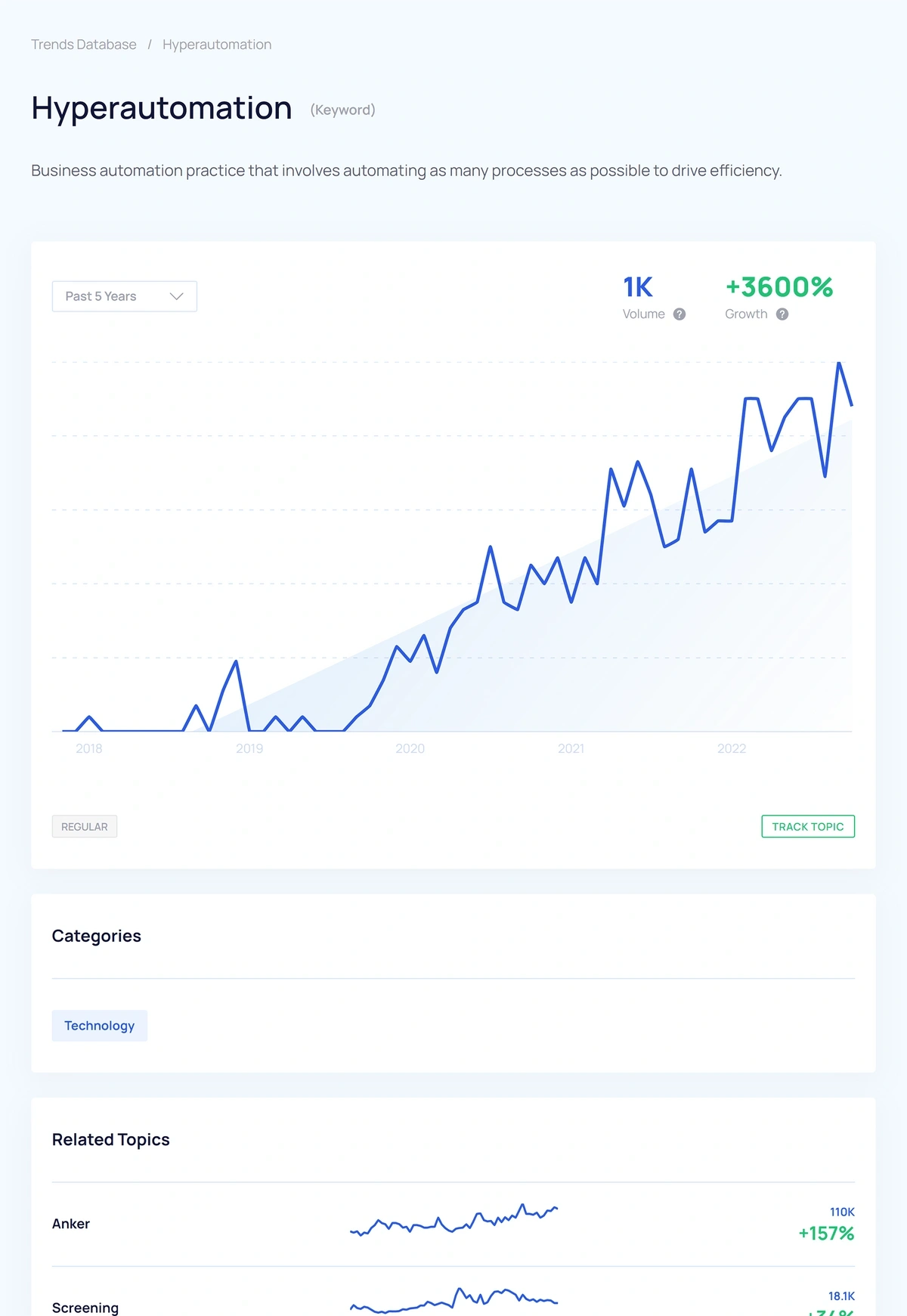 You can also access our trend search feature to look up products, brand names, and other topics you've already heard about (this is similar to Google Trends where you can search by geographic region and look at corresponding trend data).
When you search trends on our site, we show you all of the data associated with your search term, alongside a list of trends that relate to your query. This lets you gauge the viability of business and product ideas you've heard about elsewhere and assess other opportunities that could be a better fit for your use case.
You can also explore new trends through the Meta Trends library. Meta Trends are groups of trends that all relate to a higher-level concept or idea — so here, you'll see trends arranged by type of product, technology, or service, such as Pre-Employment Testing Tools, Crowdsourced Fulfillment Startups, and Scaled Data Labeling, for example.
Within each Meta Trend, you can see:
Quick background and analysis on the topic, explaining past growth and future expectations.
A graph of trends that relate to the topic.
A list of related Meta Trends to continue researching.
Let's look at the page for Pre-Employment Testing Tools as an example: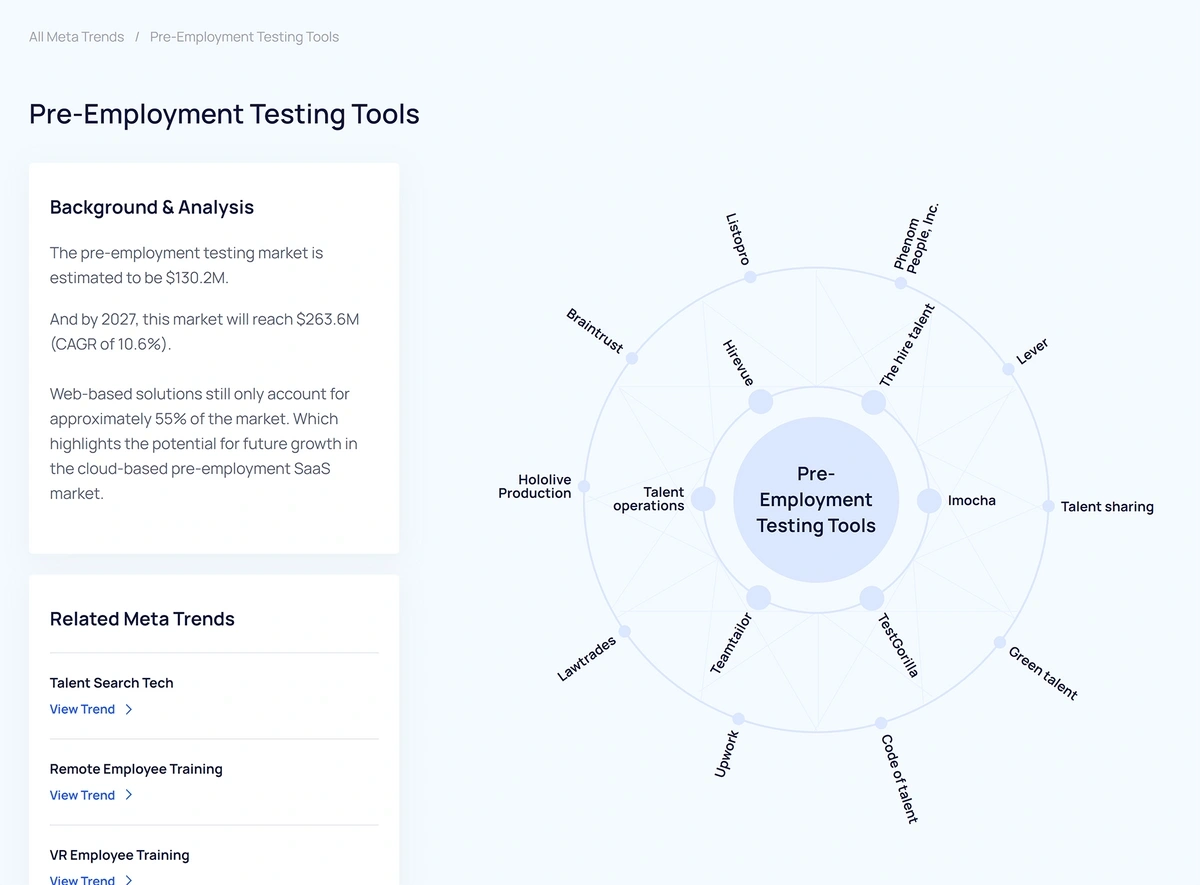 You can see the pre-employment testing market is valued at $130.2M, and at a 10.6% average growth rate, is expected to climb to $263.6M by 2027. Popular software in this space includes TestGorilla, Teamtailor, and Hirevue. And other users who were interested in this Meta Trend were also interested in topics like Talent Search Tech, Remote Employee Training, and VR Employee Training.
Lastly, adding trends to your dashboard is easy. Whether you find trends through the database, search, or Meta Trends library, you can save trends by clicking "Track Topic" in the trend overview.
Weekly Trend Reports
You can also stay up-to-date on emerging trends via Exploding Topics weekly trend reports. Every report covers ten new trends that show signs of fast growth. Reports aren't exclusive to one industry, instead, we cover early bird companies and new product ideas across a combination of categories. For example, take a peek at the topics from a recent report: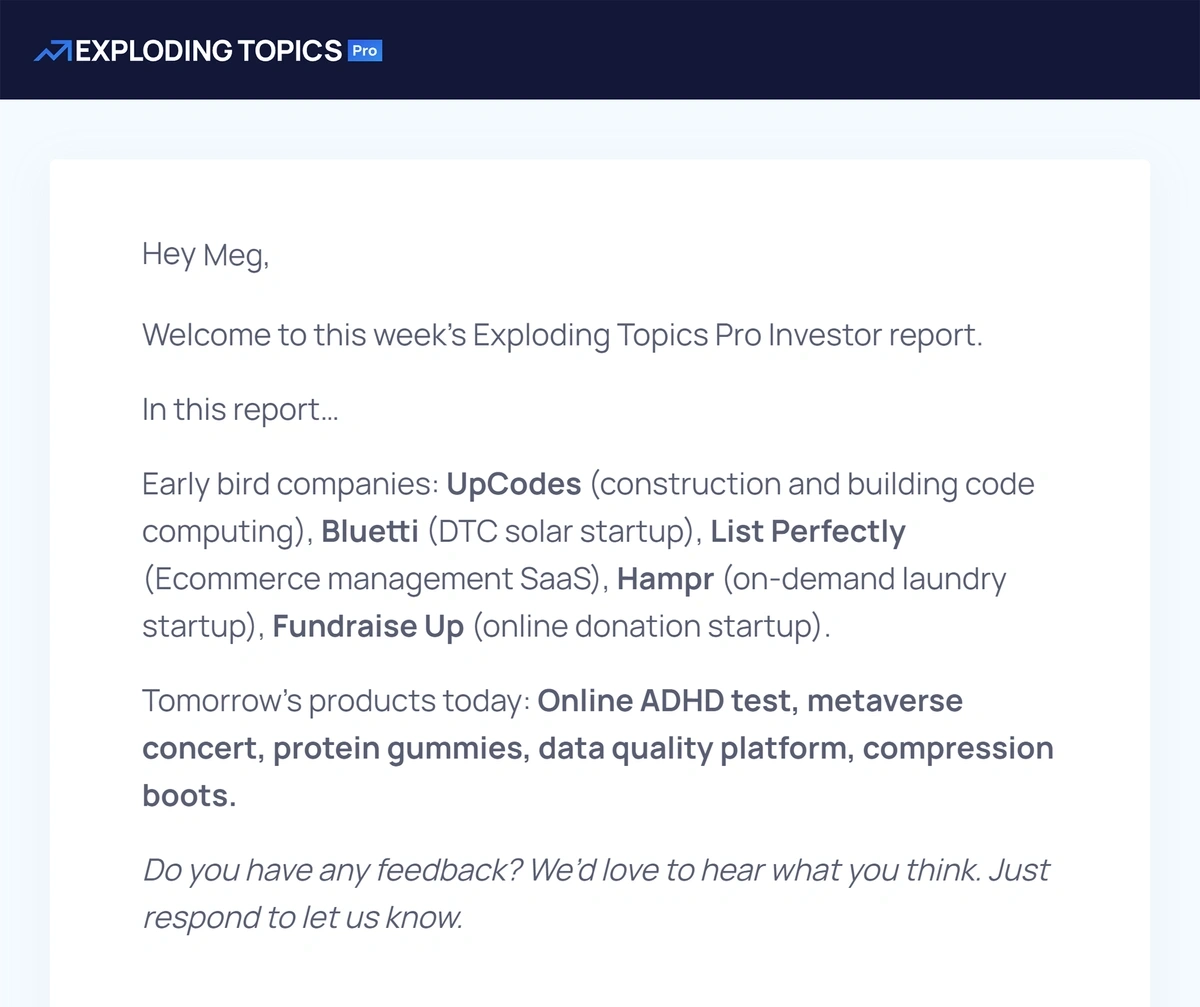 Our analysts provide a detailed write-up on every trend listed in reports, explaining how and why the trend is becoming popular and what we expect for trend growth in the future. We also link to the other market data sources we use during our research so you can see where we gather information and do additional digging.
Our goal is to provide all of the necessary context about opportunities so you can decide if you want to continue researching or monitoring trends. For example, here's our write-up for Payhip, an emerging eCommerce management platform: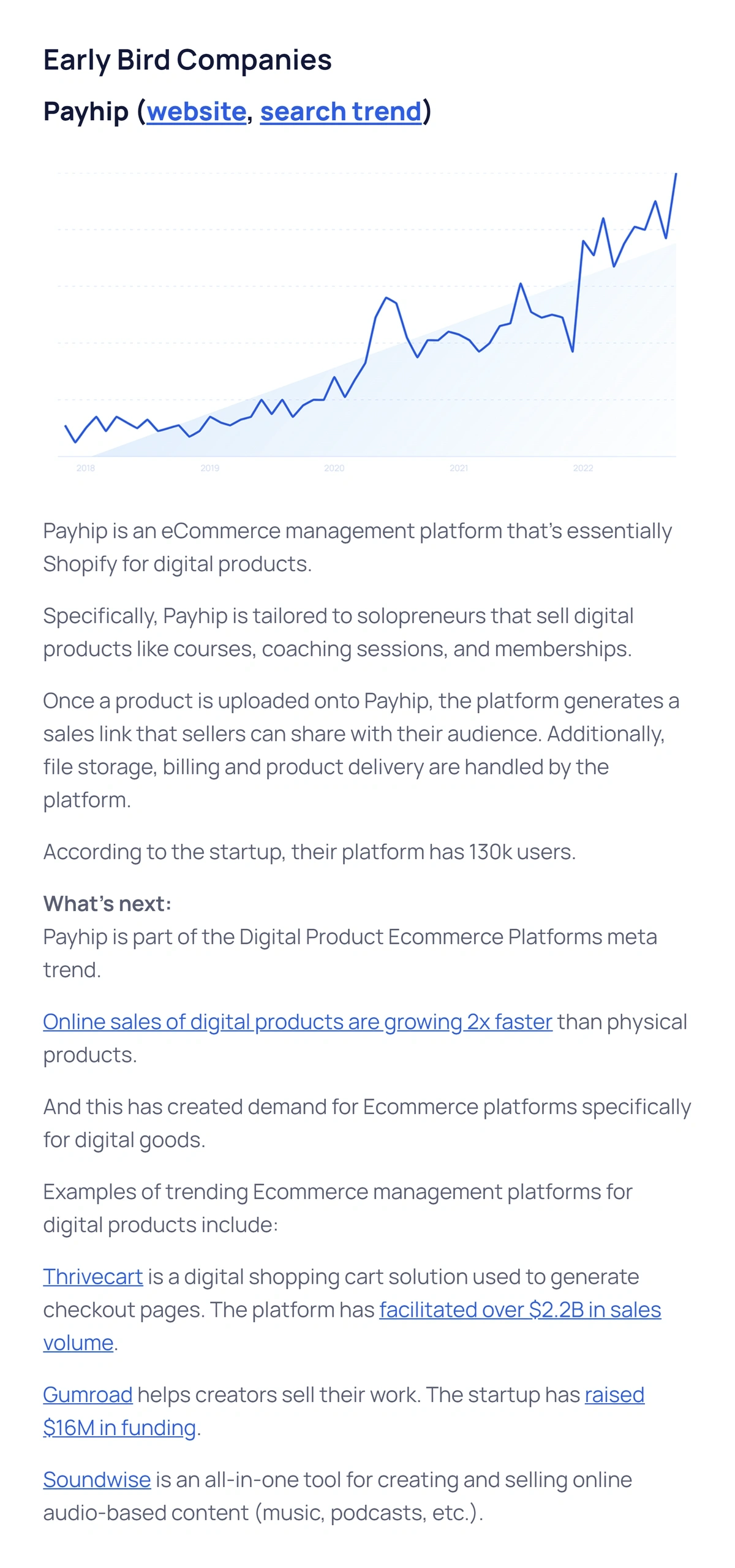 You can also learn more about our trend reports here: Market Trend Reports (+ Trend Discovery, Analysis, & Tracking)
Alternatively, you can sign up for our trend newsletter to receive a free version of our weekly reports.
Trend Tracking Dashboard
We provide all Pro users with a private trend tracking dashboard so you can save trends you're interested in, organize them into Projects (by topic, category, and use case), and check on growth. We update our site daily so you can always see current trend data, but you can also set alerts for trend updates and we'll email you if trend growth spikes or we notice significant shifts in activity.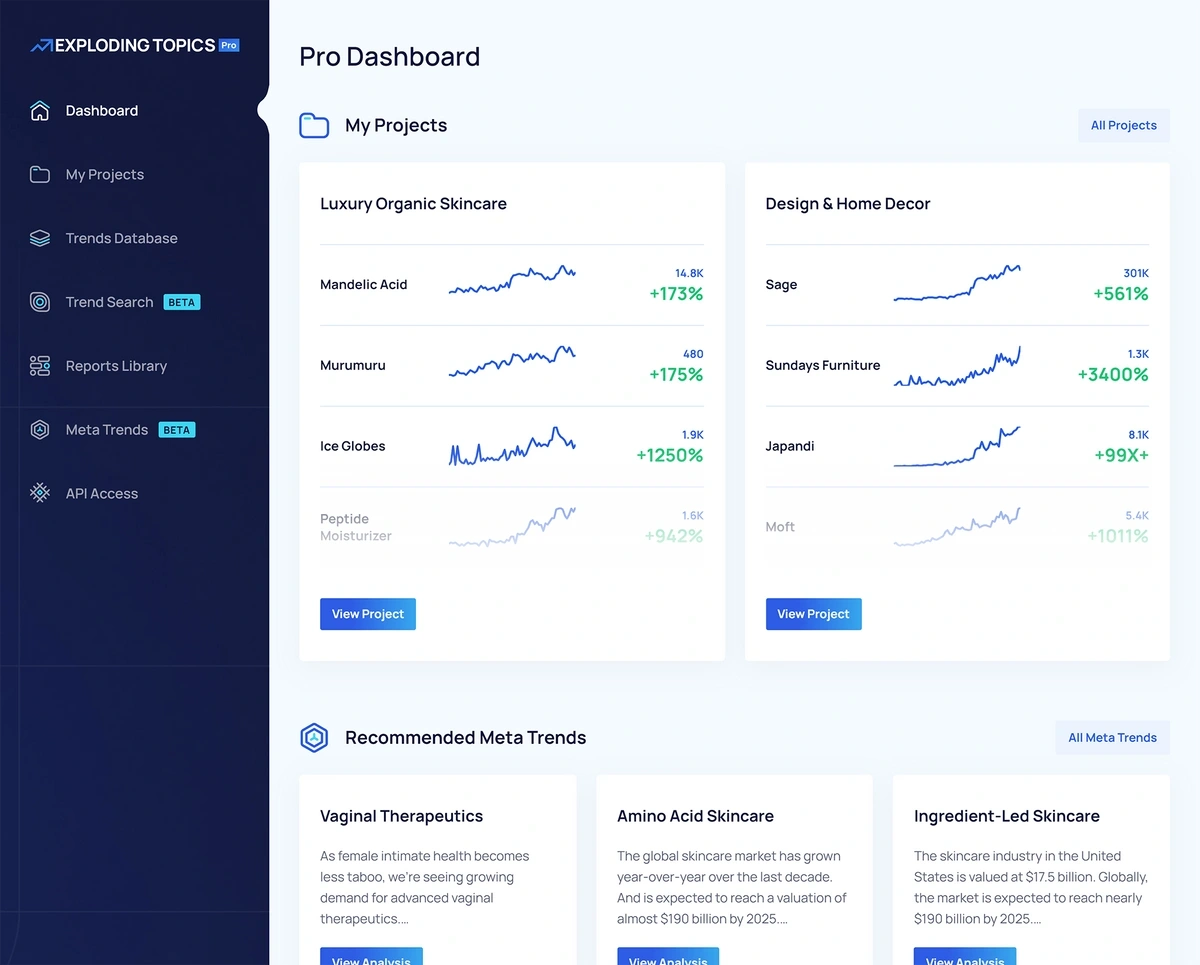 Our trend tracking dashboard is convenient because it lets you store and keep tabs on trend data in a central hub. You can easily open your trend dashboard, find the trends you want to check on, and access updated trend data.
But Exploding Topics also has an API so you can create integrations with other reporting tools in your daily operations and aggregate datasets. The API is helpful for teams that want to do additional web scraping and incorporate findings from both trend research and other sources in business reports. For example, hedge funds or asset managers might integrate Exploding Topics with their main investment dashboard so they access data in one place and get a more holistic view of research findings.
Getting Started
Exploding Topics is a great resource for teams that want to research business trends and use those insights to brainstorm product ideas, discover new technologies, guide investment decisions, and get ahead of trending topics. We do the tedious web scraping and social listening to uncover new trends, and analysts do a deep dive into every potential trend to find the most promising opportunities. You're always working with high-quality trend data delivered straight from our market research team.
Want to demo our platform to learn more about how our insights can support your business strategy? Start an Exploding Topics Pro Trial for $1 to receive full access to our trend discovery features and start building out your trend dashboard.
2. Thinknum — Exclusive insights from public & private companies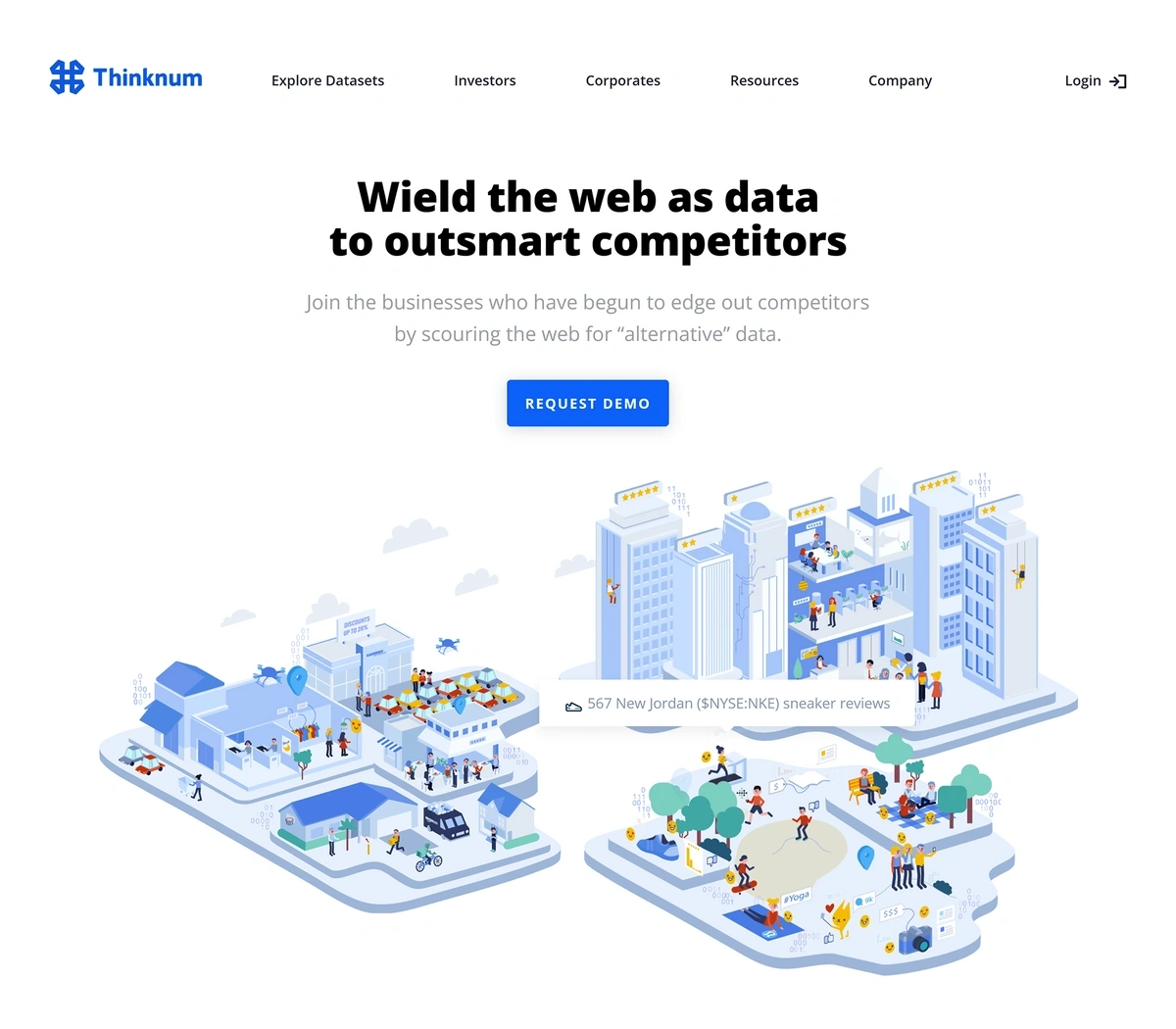 Thinknum is an alternative data provider that monitors online businesses (both public and private companies) and what customers are doing on those websites. Their web scraping AI tracks product inventory, pricing, POS transaction data, retail store locations, customer reviews, employee feedback, and job listing details — all of this data lets you understand more about company performance and what customers like/dislike about brands they shop with.
Thinknum is an entirely self-serve website with features that let users 1) build out reports with real-time data, 2) identify patterns and outliers across datasets, and 3) monitor company and customer activity into the future. In addition, the Thinknum team provides weekly reports, case studies, white papers, and webinars so you can access insights and learnings from their expert analysts. You can also use the Thinknum API to consolidate alternative datasets in other traditional data tools you use in your research methods.
While Thinknum provides an array of handy features to understand more about popular brands and consumer behaviors, learning the ins and outs of the platform and how to fully take advantage of features requires some training unless you have a background in this type of data analysis.
3. Transparent — Vacation rental data for insights on the housing market & tourism industry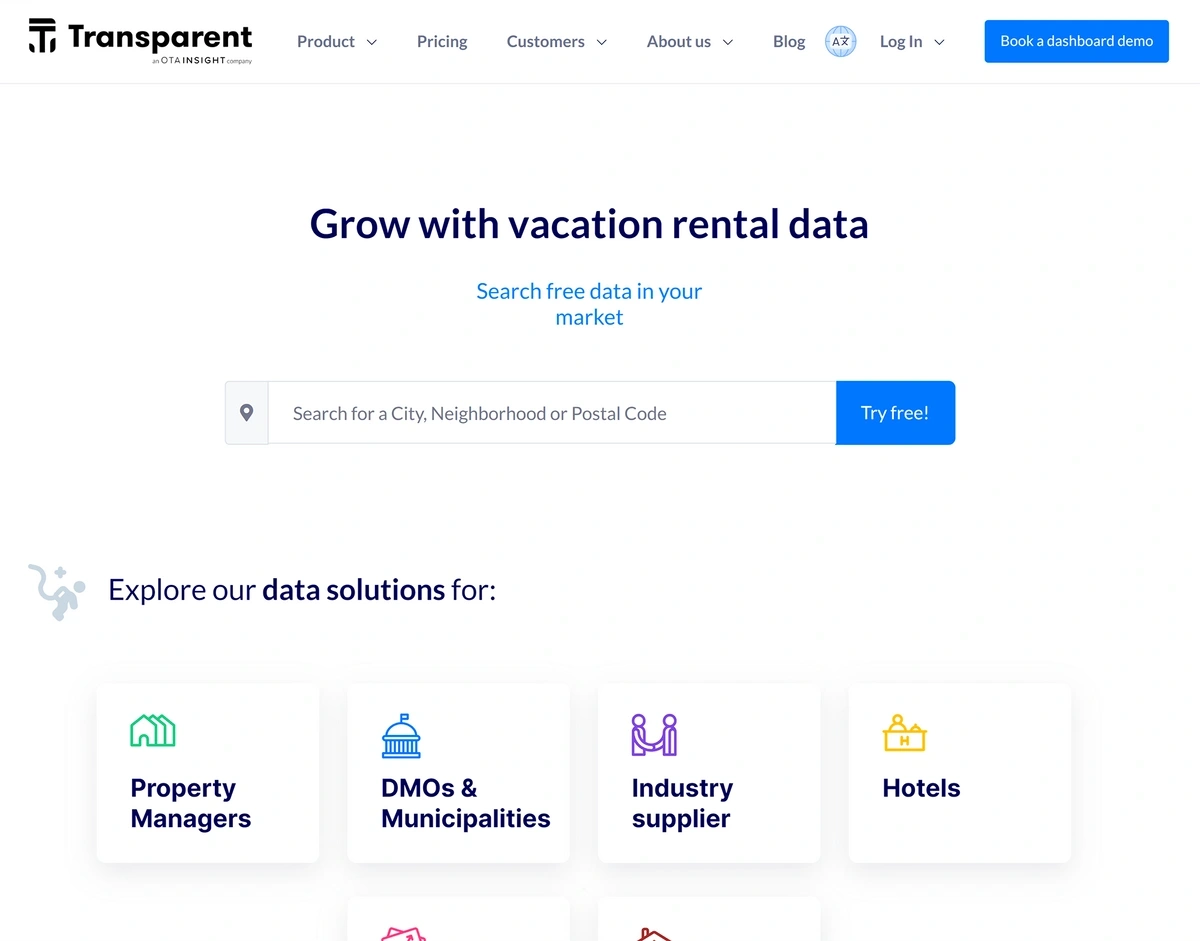 Transparent is a vacation rental (VR) data provider with insights on major booking companies and over 35 million listings. They pull data on everything from listing price, to property type, to amenities, and they gather worldwide data so you can look at insights in different geographic regions. It's a valuable tool for property managers, hotels, DMOs, real estate companies, investors, industry suppliers, and government municipalities.
The features include:
Rental data dashboard where you can find and analyze listings on an interactive map.
Analytics tools that let you build out reports and monitor listings/bookings (to increase occupancy, optimize booking rates, and maximize revenue).
Blog posts with more detailed VR data, curated by the Transparent team.
Online courses so you can learn more about the data Transparent provides and how to leverage it to guide business decisions and investment opportunities.
API to aggregate Transparent data in other business reporting tools.
You can demo some of Transparent's online tools for free, but they also have custom plans that are tailored to different industry professionals and their research goals.
We should note — like Thinknum above, Transparent has modern and intuitive tools to build out reports and analyze VR data. However, you can expect a slight learning curve as you get to know the platform.
4. Quiver Quantitative — Stock research platform for retail investors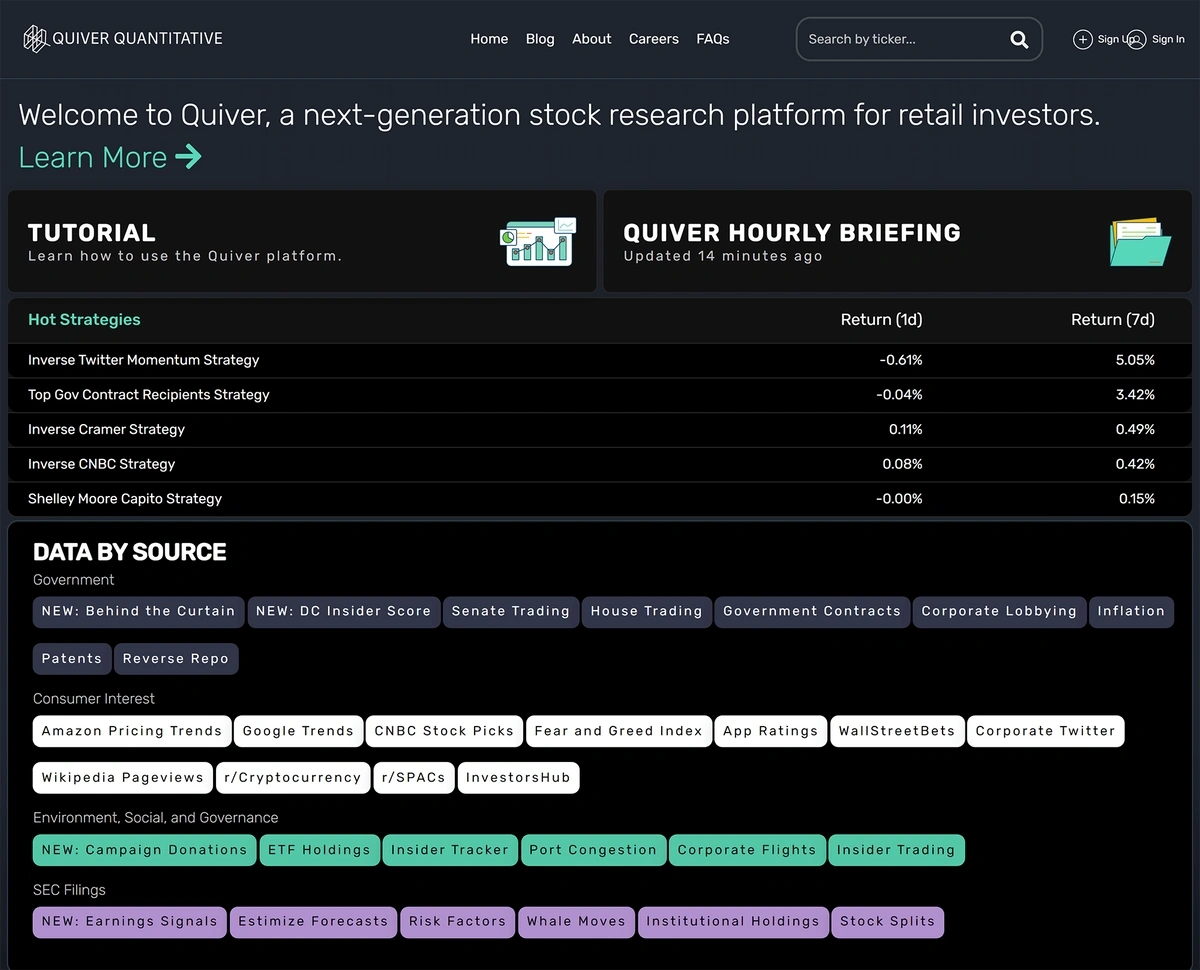 Quiver is a relatively new (founded in 2020) stock research website that's designed to help non-professional investors understand stock data, accurately predict FinTech trends, and make more data-driven investing decisions. It's also popular for experienced money managers that want to supplement research methods with alternative data sources.
Quiver Quant has user-friendly features that let you break down and more easily interpret big data, but they also provide tutorials on their website that show you how to access data, build reports, and interpret findings. Plus, the Quiver team provides free resources on their blog so you can read analyses from experienced pros.
On Quiver's stock research website, you can:
Check the Quiver hourly briefing (updated every hour with the most recent trading activity).
Learn about popular trading strategies, put together by Quiver data analysts.
Review alternative data by source (Government; Consumer Interest; SEC Filings; Environment, Social, and Governance) and use advanced filtering options for deeper analysis.
See which stocks have the highest return each day (Today's Biggest Gainers) and check stocks that are trending on Quiver.
Quiver is a great resource for both newbies and experienced retail investors because it provides real-time stock market data with easy tools to analyze and understand financial data.
5. Infutor — Detailed customer insights to understand your target audiences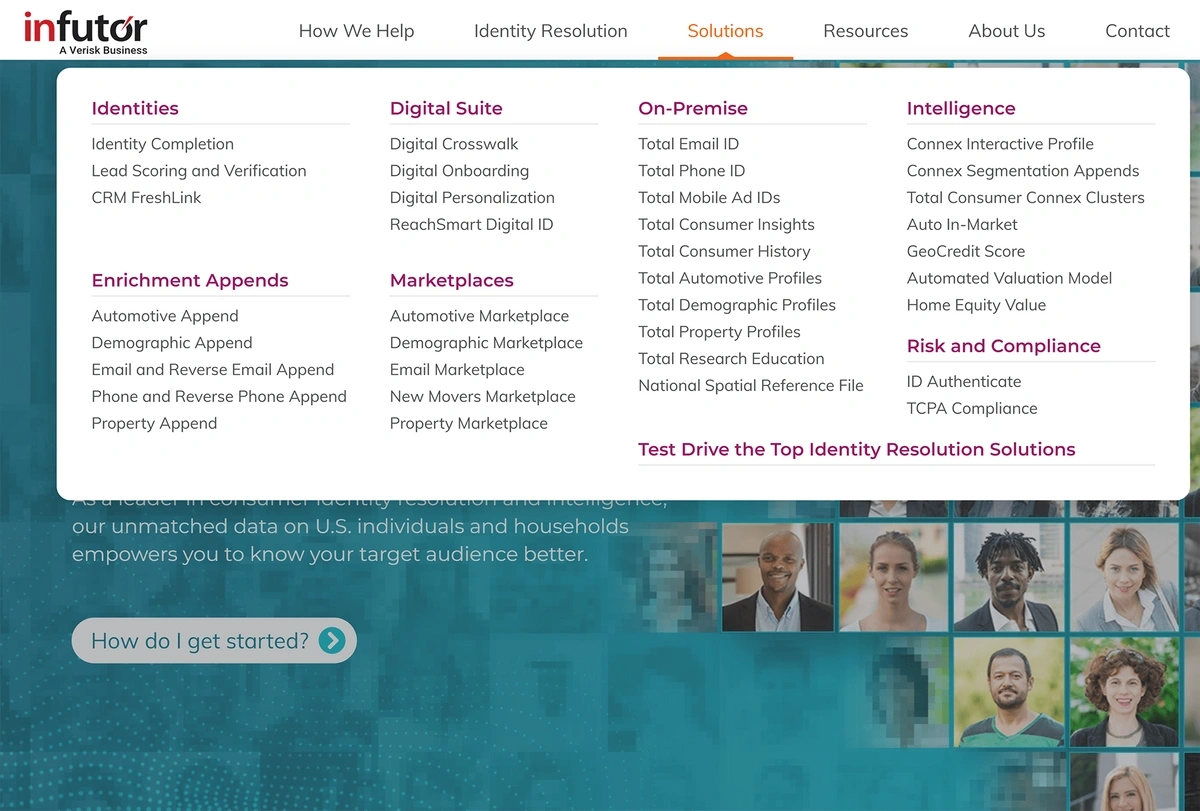 Infutor is a customer identity resolution and intelligence platform that provides data on:
Who your customers are — names, addresses, demographic information, lifestyle preferences, and interests.
Shopping habits and the customer buying journey — how customers find you, which devices they shop on, and when they make purchases.
How customers spend their money — what products and services they purchase.
All of this information enables you to learn more about your customer base and effectively target new buyers. You can use this data to, 1) refine marketing and customer acquisition strategies, 2) pivot customers to the right channels and increase sales, 3) optimize website UX, and 4) access detailed customer information in your CRM and better tailor the customer experience to suit user preferences.
In addition, Infutor has a powerful analytics tool so you can build custom reports and segment data any which way (then use findings to increase conversions and improve customer retention).
Overall, Infutor is a pretty robust platform with a variety of software solutions you can choose from to suit your research goals.
6. Dataminr — Real-time event & risk detection for effective crisis management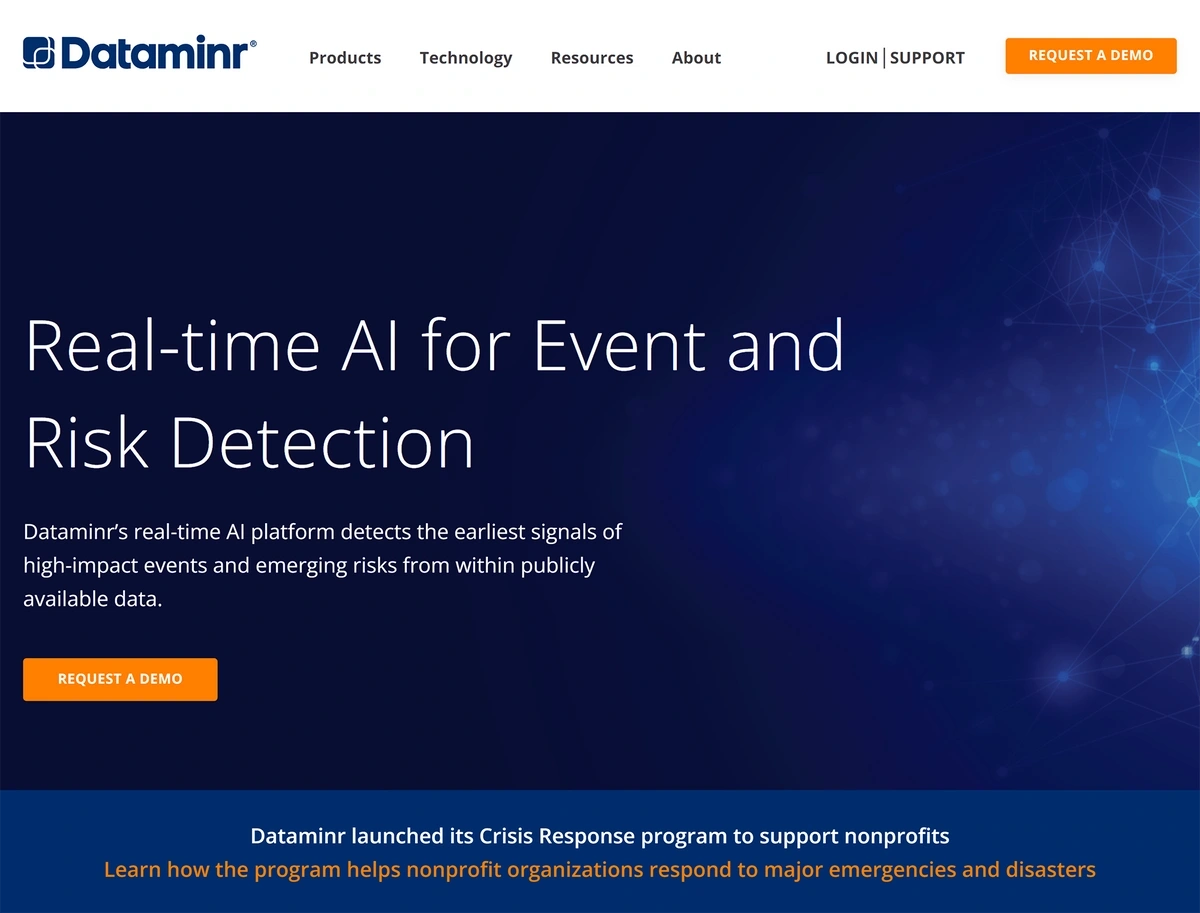 Dataminr is popular for nonprofits, media brands, news outlets, VCs, and investors because it provides real-time data to alert you of high-impact events so you can strategically manage crises and mitigate risks to your business, customers, and brand assets.
Their proprietary AI scrapes public web data and utilizes alt sources like satellite images and climate data, to detect everything from ransomware attacks and data breaches to natural disasters and severe weather events. With this data, you can stay ahead of big news before it's public knowledge and deploy the most effective risk management methods.
In addition to their main offerings, they provide a free "Risk in Real Time" newsletter and resources like blog posts and webinars on their website so you can learn more about what type of insights Dataminr offers.
7. Greenwich.HR — Comprehensive labor market data with workforce & compensation analytics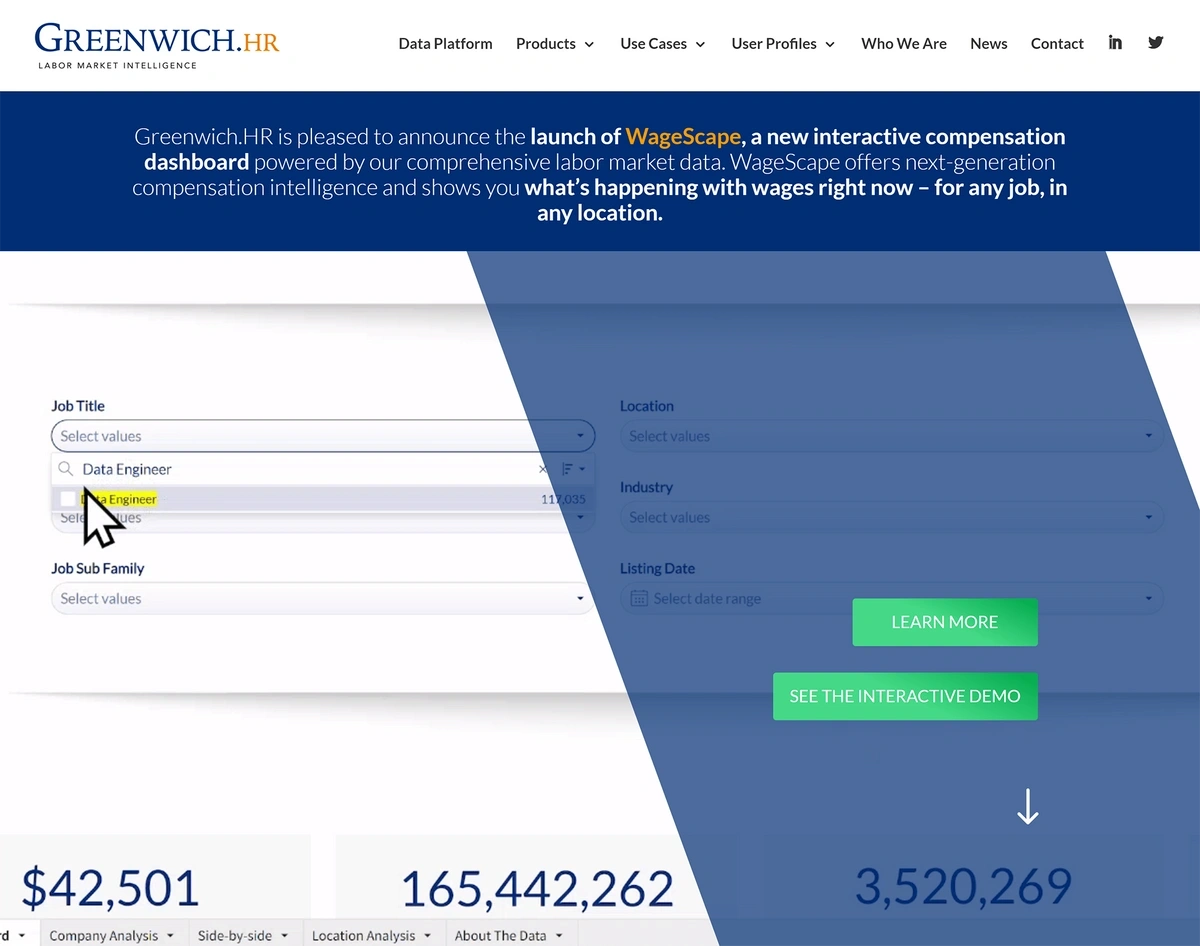 Greenwich.HR is a popular alt data provider for businesses that want deeper insights into corporate hiring practices. They source insights from standard financial data, as well as public and private business reports. Aside from corporate brands and recruiting firms, Greenwich.HR is used by data science teams, consulting firms, and app developers.
Some of the use cases for this product include:
Business and economic forecasting — identify trending topics and valuable business opportunities, and detect and minimize risks.
Benchmarking compensation and salary data — understand how to align compensation and benefits with market demand and stay competitive when hiring new talent.
Talent and recruiting — find the right candidates for your employment opportunities and streamline the recruitment process.
Workforce analytics — stay in the know about competitor recruitment practices, identify ways to attract the best talent, and dig into talent-flow analytics.
Like some of the other names on this list, Greenwich.HR is a self-serve product that offers insights via their Data Platform — once you know how to use the software, you can log into the dashboard and dig into insights on your own. However, learning the platform and understanding how to leverage insights can take some training.
Overall, Greenwich.HR is great for teams that need better insights when recruiting and hiring new talent so they can find the best candidates for roles, offer competitive salaries and benefits, and improve employee retention once roles are filled.
Want to learn more about our market trends website to get ahead of new opportunities before your competition? Start a Pro Trial of Exploding Topics to access our database, analytics tools, and trend tracking dashboard.