7 Top Product Research Tools (2023)
If you sell physical goods to consumers, access to a good product research tool will be invaluable at all stages of your business. From developing a business idea to delivering the products your most loyal customers want, the right product research software will help you with things like:
Monitoring product trends
Identifying hot products for sale right now
Conducting a competitor analysis
Researching keywords related to top products
Developing new product ideas
In this guide, we're exploring 7 of the best product research tools on the market today for Shopify stores, retail merchants, Amazon sellers, dropshipping entrepreneurs, and everyone in between.
1. Exploding Topics
Exploding Topics is a trend-spotting tool that provides valuable insights about the products people are interested in right now.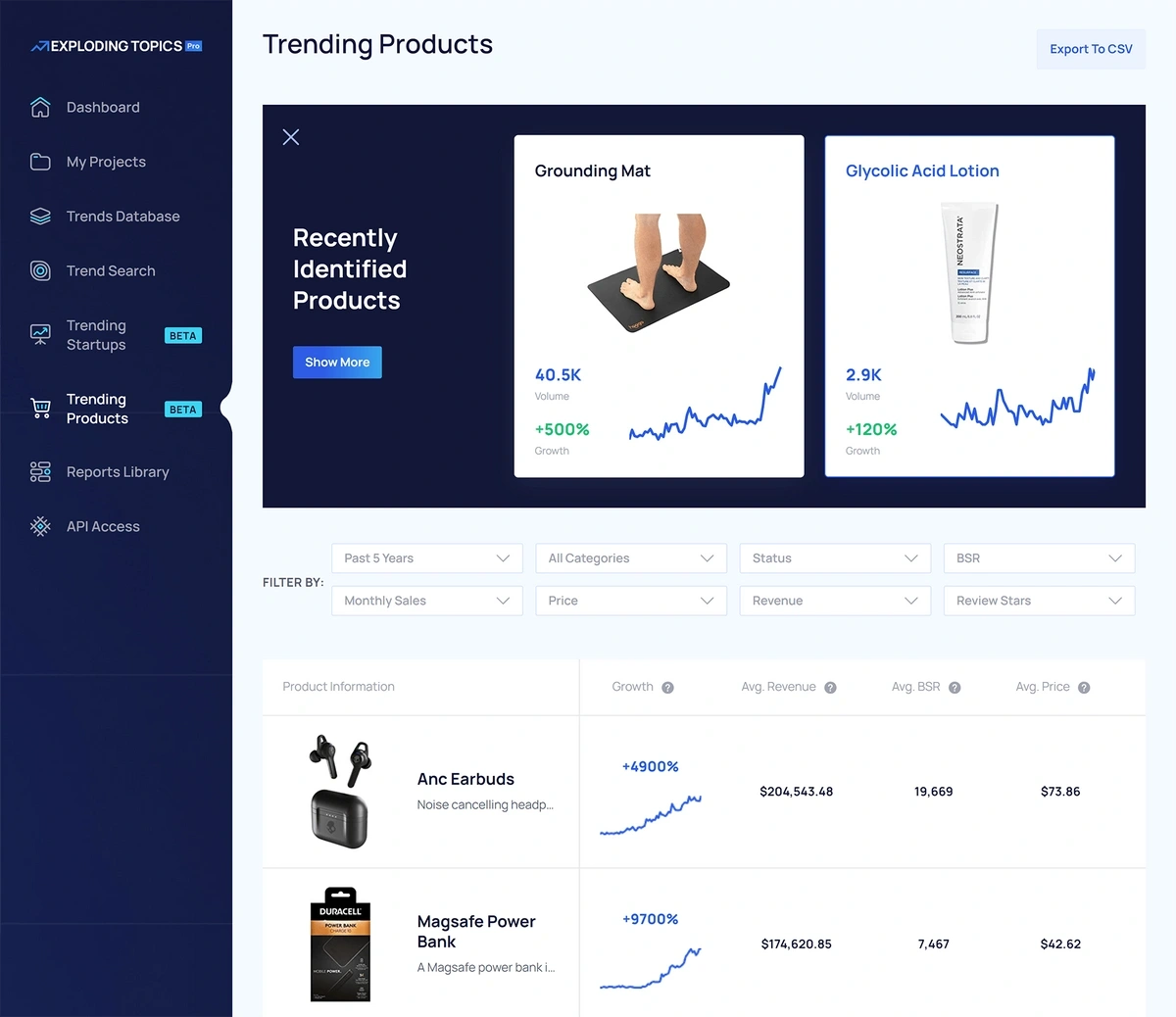 We use artificial intelligence (AI) to scan the Internet and see what products, trends, and companies people are talking about. We look at blogs, news sites, social media platforms, and more, so you get a complete picture of people's interest.
From there, our team of expert (human) data analysts evaluate the data and identifies the top trends online. These results go into our large trend database, where you can:
See which topics are currently exploding in interest online
Get information about which products are increasing in popularity
Discover details about how top products are selling
Learn what reviews these top products are getting
You can then use this information to do things like:
Build profitable ecommerce sites
Develop new products in line with consumer interest
Outpace your competitors by offering trending products for sale before anyone else
Here's an example: we identified "mushroom coffee" as a trending product category in October 2019.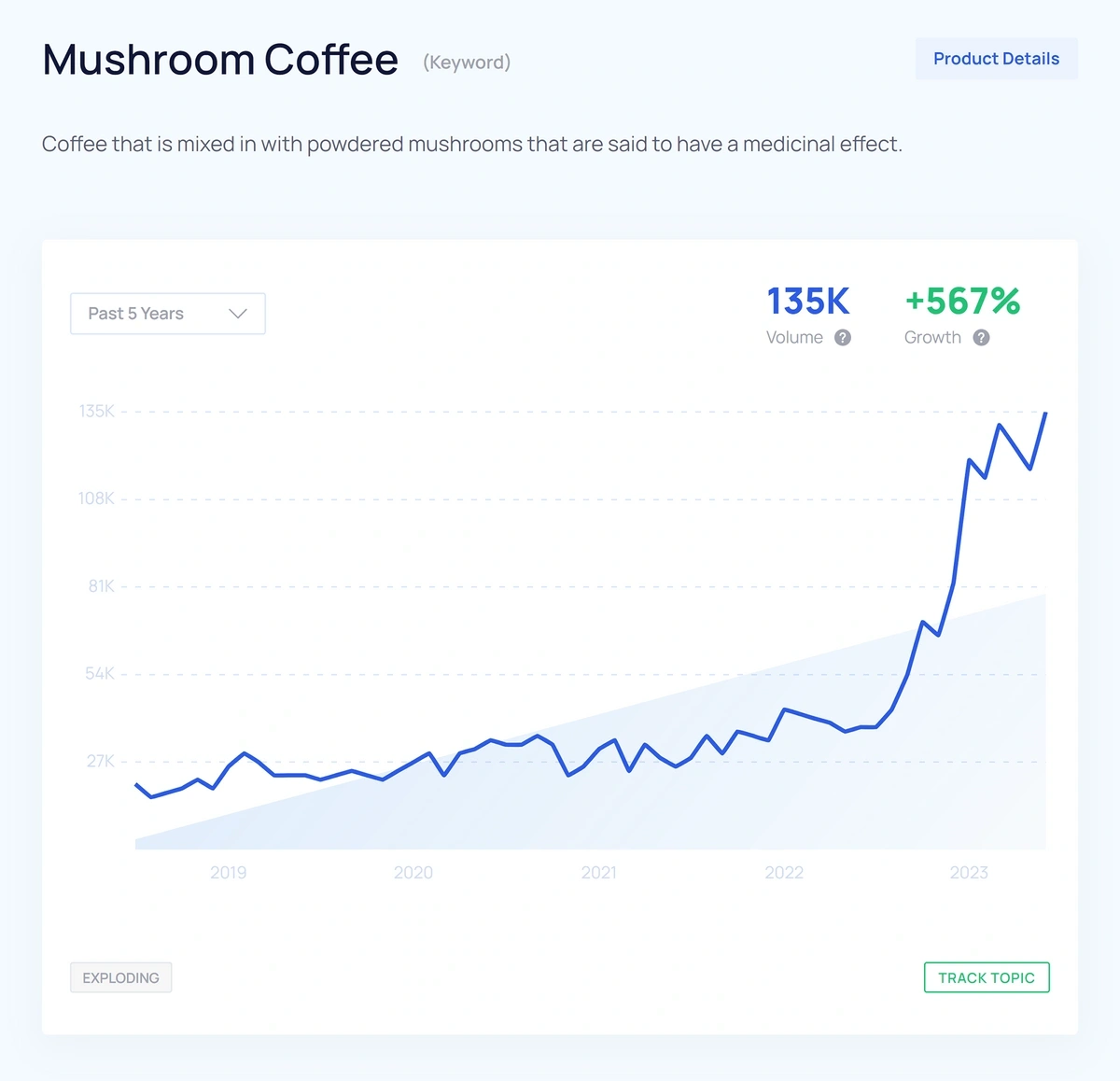 While there were already searches for and sales of this product at that time, organic search interest in this product really took off in early 2023.
Exploding Topics users already had mushroom coffee on their radar. If this product was one that aligned with their business, they were well poised to take advantage of the explosion in interest.
You can begin using Exploding Topics to find trending products for free. If you'd really like to stay ahead of new product trends, though, an Exploding Topics Pro membership can give you that additional competitive edge. Our pro users get:
Access to the entire trends database
The ability to conduct trend database searches by keyword
Every trend report we publish
Instant trend alerts
Enhanced details about trending products' performance
You can give Exploding Topics Pro a try right now with our two-week trial for $1. After that, Pro plans are as low as $39 per month (billed annually).
2. Dropship Spy
Dropship Spy is a product research tool for e-commerce businesses that use drop shipping services to sell goods.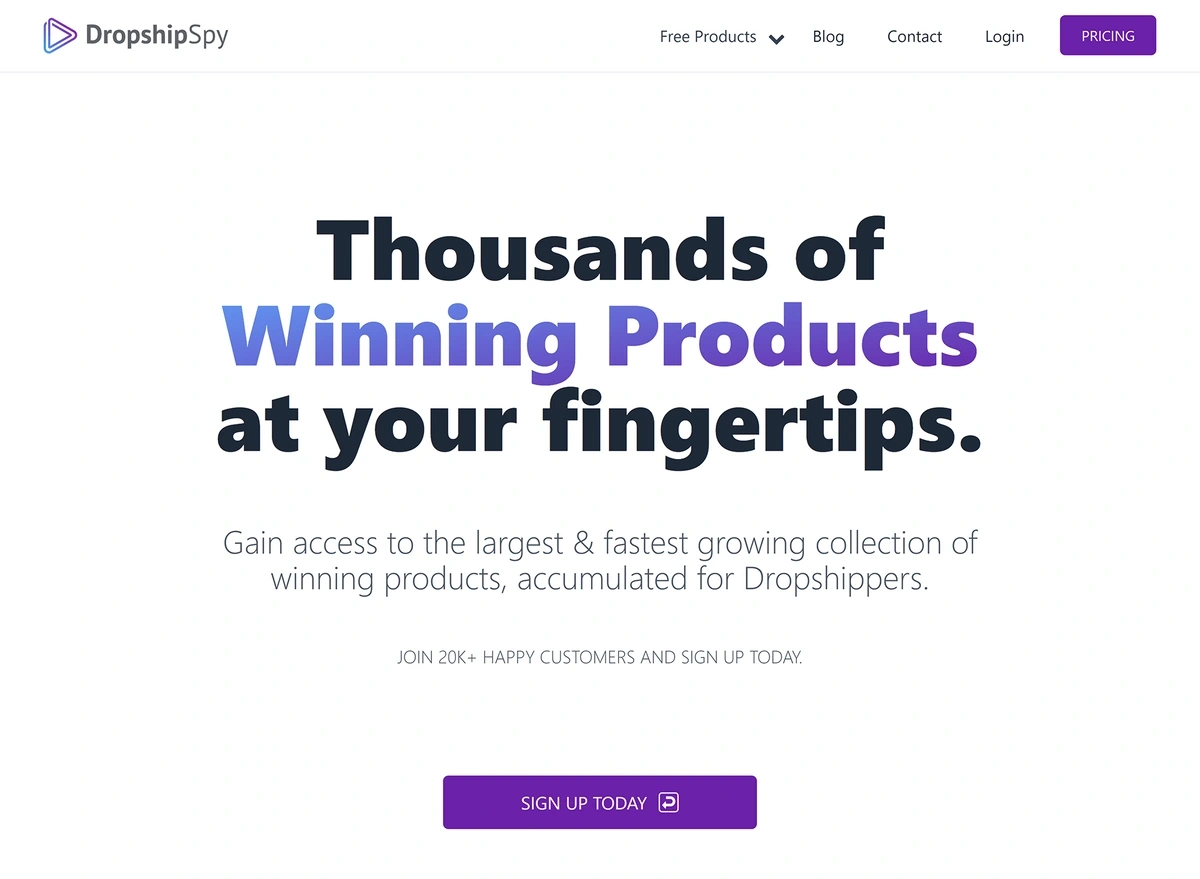 The tool works for Amazon and Shopify sellers and can help you connect with dropshipping suppliers on Aliexpress and other sites.
When using Dropship Spy for product research, each item you view includes details on:
Best-selling products across a variety of social media platforms
Aliexpress sales volume
Amazon product ranking stats and keywords
Historical sales metrics
Instagram influencers who promote similar products
The services offered by each influencer, and at what rates
Dropship Spy is a comprehensive solution for dropship businesses, as you can also get access to:
Pricing and profit calculators
CSV files of existing product reviews
Product videos
Facebook ad audience segments
Pre-written social media ad copy
If you're trying to make your e-commerce business as hands-off as possible, then Dropship Spy's data and library of resources could be a suitable solution.
However, because it's only focused on products for dropshipping stores, this won't be the best solution for anyone who plans to make, source, stock, and ship products themselves.
Access to Dropship Spy costs $39 per month, or $119 for an entire year.
3. Helium10
Helium10 is a product research platform that offers paid and free tools for businesses using Walmart or Fulfillment By Amazon (also known as Amazon FBA).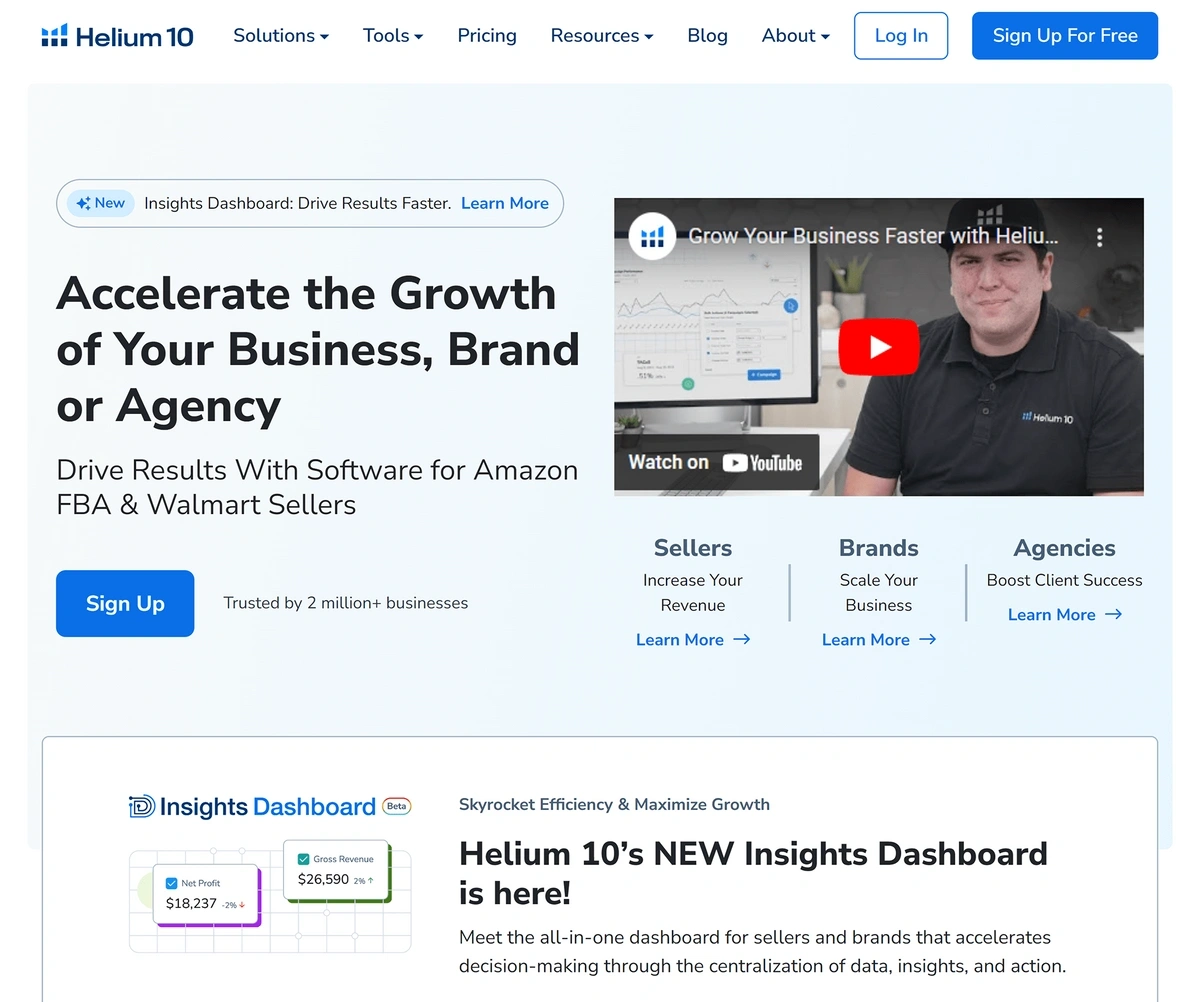 With a Helium10 account, you can:
Use a Chrome extension to pull up details on Amazon and Walmart product listings
Generate sales estimates for products that interest you
Find the highest performing keywords for each product
Identify trending products at Amazon and Walmart
The platform also offers additional insights to help you optimize existing product listings. If you're committed to selling through Amazon and Walmart's marketplaces, then this could be a good tool to have on hand.
With Helium10's free plan, you can get access to the Chrome extension, keyword tool, trending products database, and PPC audit along with a few other resources.
However, this free access comes with limits. To use more of Helium10's features, you'll need to opt for a paid plan that starts at $39 per month (or $29 per month when billed annually).
4. TikTok Creative Center
The TikTok Creative Center has a top products list that's free to use—you don't even need a TikTok account to browse the data.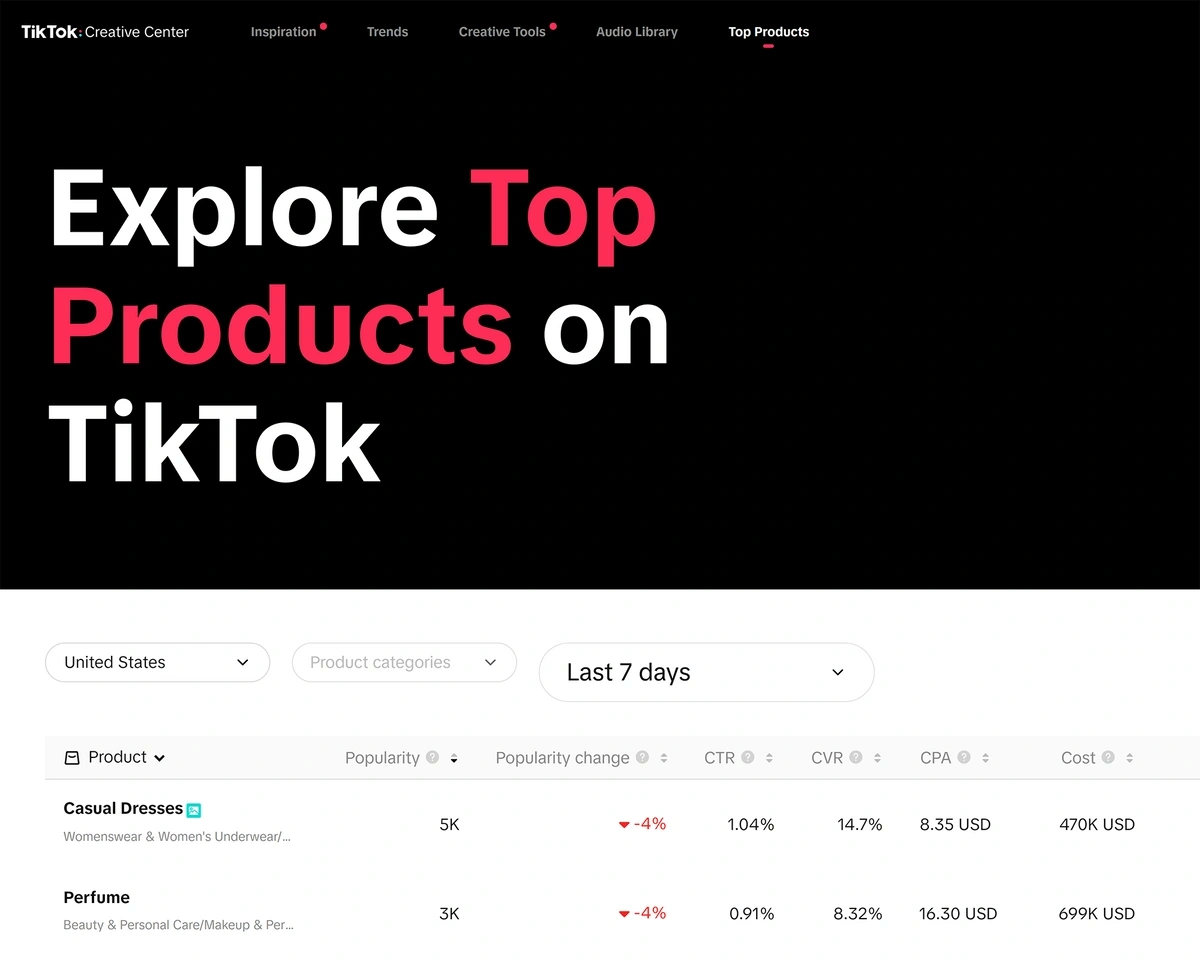 The Creative Center can give you insights on:
Best sellers by region, organized by popularity
Changes in popularity over a time period
The standard click through rate on TikTok ads for a popular product
The typical amount of money spent by advertisers to achieve one sale
The total amount of money spent on ad campaigns for a popular product
Related product categories for each popular item
While much of this data is only directly usable if you're going to run product ads on TikTok, the ability to search top products by region can be useful for product marketers on any e-commerce platform.
There are over 800 million people using TikTok, so it's often a useful source for understanding what people are interested in.
You'll just need to remember that this data is specific to TikTok users, who are typically under 40 years old—and many of them under 20. If that's your target demographic, then it might be worth looking at the Creative Center data.
If not, or if you want a more holistic picture of what all internet users are interested in, you'll want to pick a more comprehensive trend spotting website.
5. Thieve.co
Thieve is another dropshipping product research tool and a potential alternative to Dropship Spy.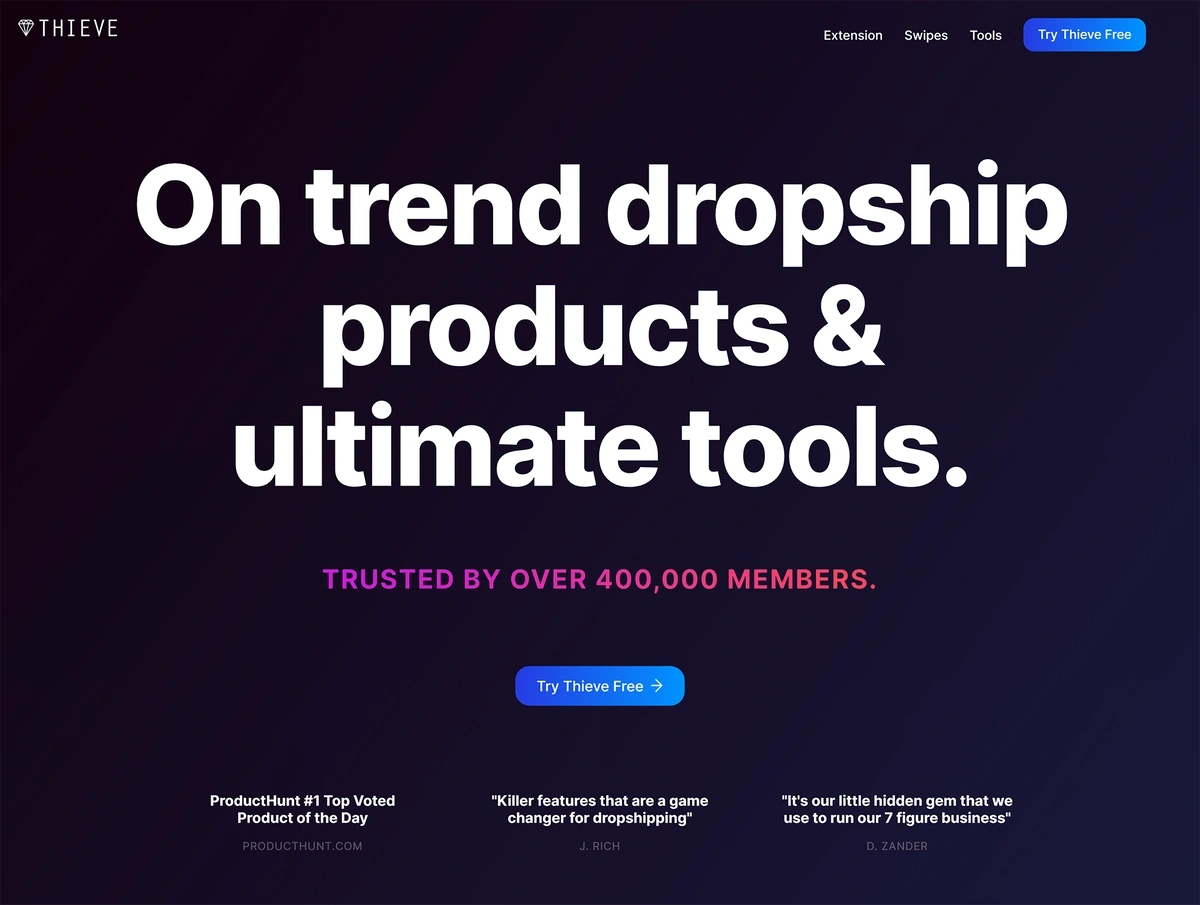 There are four primary ways that you can use Thieve to identify products:
Browse lists of popular products by category, such as electronics and homeware.
Swipe through popular products from all categories to generate a list of products that interest you.
Read about trending product niches, such as "Zoom Flex," which refers to looking good on video calls.
Upload an image you find online and locate potential product manufacturers and sources.
Once you've identified products you like, you can use Thieve's other key features to:
Find Aliexpress suppliers making profitable products
See how much it costs to source particular products
Generate product page descriptions
Find product images
Remove product logos and split grouped images into individual files
Thieve only works with Aliexpress products, so if you prefer to source goods elsewhere, you won't get much value out of Thieve.
If you use Aliexpress, though, you can start browsing a limited number of products on Thieve for free. To use every feature, you'll need a paid plan.
Thieve doesn't make its pricing public, but they offer a two week free trial to test the service and get pricing information.
6. JungleScout
JungleScout is another Amazon market research and product analysis tool for FBA sellers.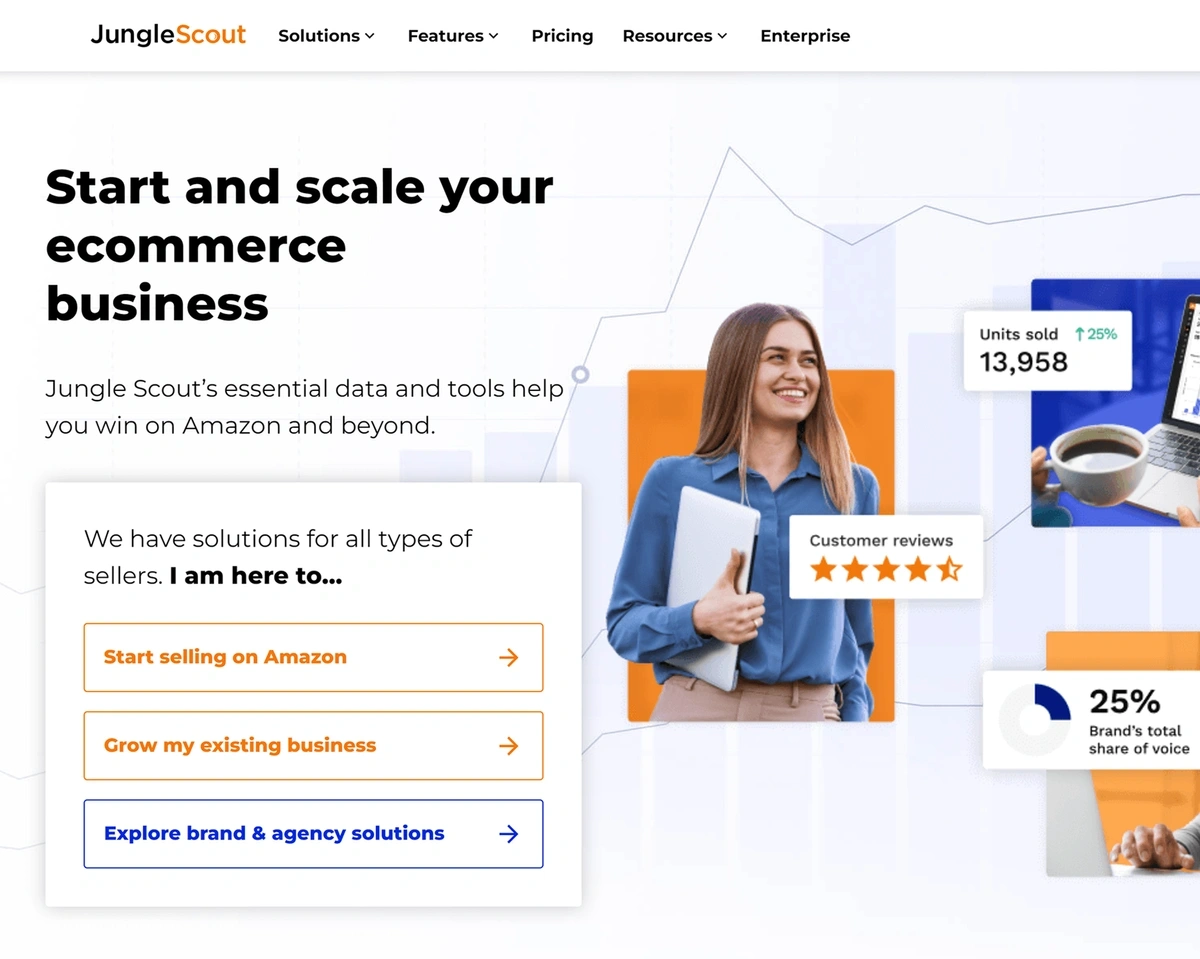 When using JungleScout, you can:
Look at product sales and performance
Forecast how many products you may sell
View Amazon product reviews
Conduct Amazon product keyword research
Track seasonal shifts in purchasing habits
Verify which manufacturers your competitors use
Like Helium10, JungleScout offers a Chrome extension to help you quickly access product data while browsing Amazon.
Once you've found trending products to sell on Amazon, you can continue to use JungleScout to help you request customer reviews, track sales data, optimize listings, and run promotions.
JungleScout plans start at $49 per month, or $29 per month when billed annually, and include a seven-day free trial.
7. Pinterest Trends
Pinterest Trends is like the TikTok Creative Center in that it lets you see which products and niches are popular among users in your region.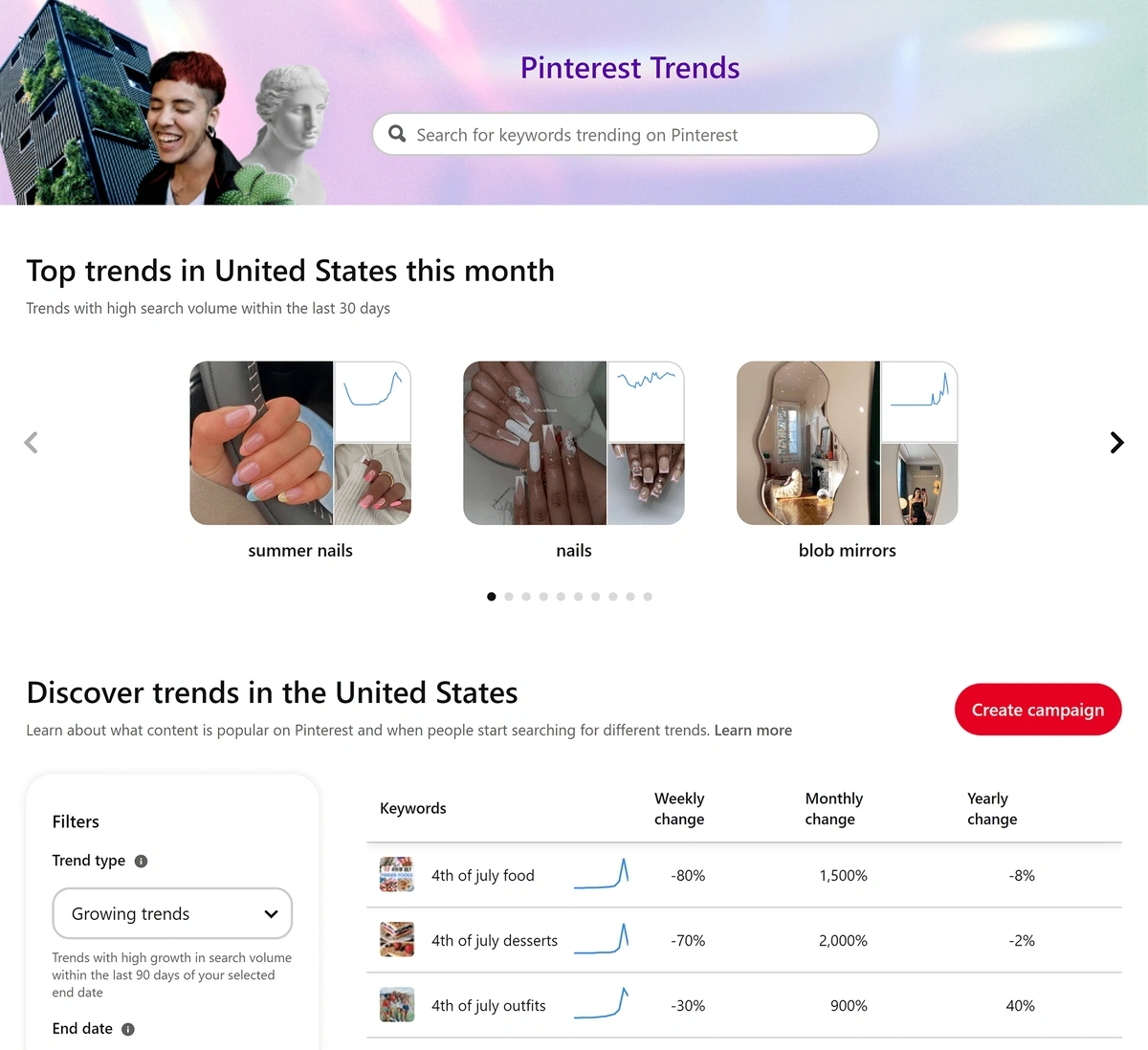 You can use Pinterest Trends to research:
Current products of interest
Products of interest by season
Products related to specific consumer interests or keywords
Product interest by user age and other demographics
The weekly, monthly, and yearly change in product interest
Clicking on any trend or product gives you an in-depth look at:
How interest fluctuates over time
Related trends and products
Demographic details about the users interested in this item
Related Pins
Because many people use Pinterest to save links from all over the web, you can use the Pinterest trends feature to get an idea of what might be popular on various e-commerce and dropship platforms.
There's no charge to use Pinterest Trends, so you can use it by itself or as a supplement to any of the other tools on this list.
Conclusion
Many product research tools are product-specific—and if you know you're going to source through Aliexpress or sell on Amazon, then this might be fine.
But if you're still deciding where to sell products—or you want to know what consumers everywhere are interested in, then you'll want to enhance your research process with a tool that has a wider scope.
Exploding Topics is a great product research resource for beginners and experienced retail entrepreneurs. Try it out with a 14-day trial for just $1, and see how access to our trending product data can help you scale your business.